If you have always admired body art but are not yet ready to commit to permanent ink, then a henna tattoo could be just the thing for you. Henna tattoos are made from a plant-based paste, and they naturally fade over time. What's more, they are totally painless and come in various shades, which allows you to experiment with different henna tattoo designs to suit your style.
What Is Henna?
Henna is a flowering plant found in Africa and many Asian countries like India, Pakistan, and the Middle East. Its leaves have a strong staining pigment (called lawsone or hennotannic acid) that can produce various hues, ranging from burnt orange to deep red. The leaves of the henna plant are dried and crushed into a fine powder form to make a henna paste, which is then used as a dye for clothes, hair, nail, and creating temporary tattoos on the skin.
Henna tattoos have been around for centuries, and they are still used in many cultures as part of weddings and festive celebrations. Henna art has also been used for its natural cooling properties in tropical regions – it protects the skin from the harsh sun rays in the desert and helps to control the body temperature. As the cooling sensation can be felt as long as the henna stains remain on the skin, it makes henna tattoos a great option for flaunting your beautiful body art in summer.
Common Placements for Henna Tattoos
Similar to any other form of body art, henna tattoos can be applied anywhere on your body as you fancy. However, as henna is tied to many traditional cultures and religions across the globe, certain placements hold more significance than others.
For instance, getting a henna tattoo on the inner hand and palms is believed to bring joy, harmony, and good luck to the wearer. Other than the palms, henna tattoos are also generally placed on the back of the hand, wrists, fingers, feet, and ankles. In some Eastern traditions, women paint their bellies during pregnancy with adorable henna designs too.
Henna tattoo designs are often intricate, featuring different symbols and illustrations. However, you can choose from various complex to simple design options to match your style and taste, as well as the area that you'd like the artwork. For example, a larger area like the upper back would allow you to play with an elaborate mandala design and add more depth and meaning to your tattoo. At the same time, a simple circular henna tattoo will suit your fingers charmingly.
Here are some of the best henna tattoo ideas that you can try for your temporary ink. No matter whether you are a DIY person and looking to experiment with henna tattoos on your own or planning to visit a professional salon to get it done, these design inspirations will surely come in handy to get you started.
1. Foliage-Inspired Henna Tattoo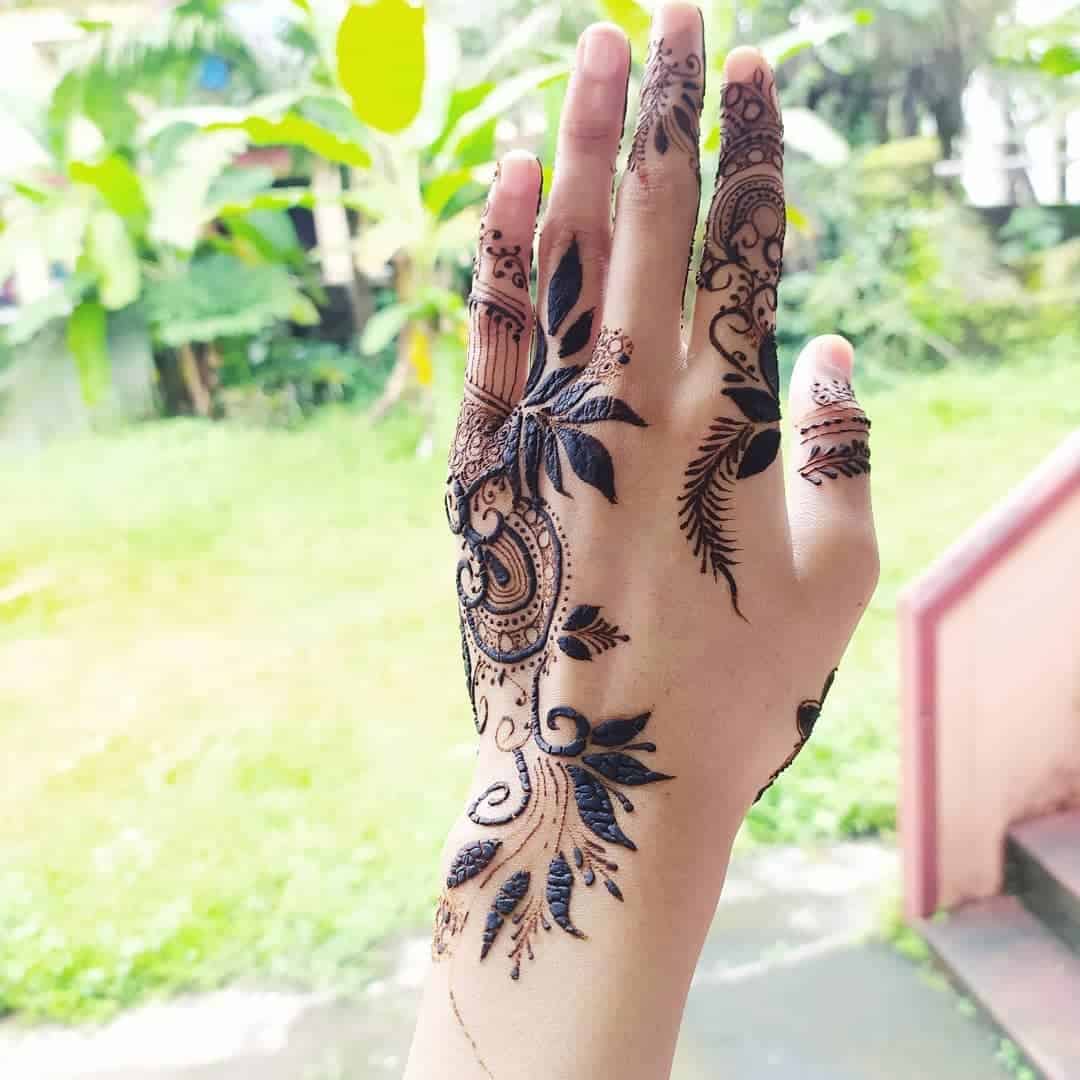 Image source
This classy henna tattoo design with leaves and curly strokes is ideal for nature lovers. The foliage-inspired design is elegantly placed on the back of the hand, extending to the pinkie and ring finger, with leafy accents on the index finger to keep it balanced. The small details on the middle finger and the thumb further accentuate its overall appeal.

2. Mandala Palm Henna Tattoo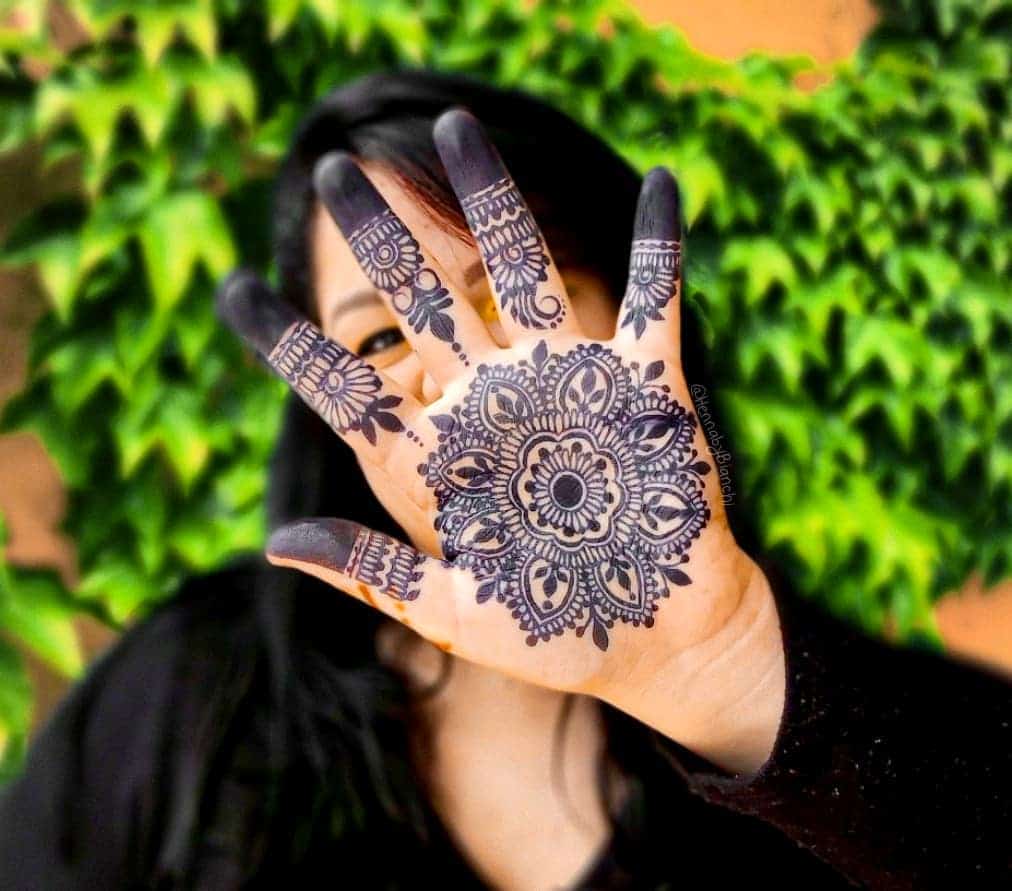 Image source
Mandala art is one of the most popular trends in the henna tattoo world. This incredibly complex circular tattoo design will adorn your hands magnificently, while also giving your design a deeper meaning of balance, eternity, and perfection. Each of the fingers in this henna tattoo idea is painted with different accents leading to the mandala circle on the palm.
3. Henna Tattoo Bracelet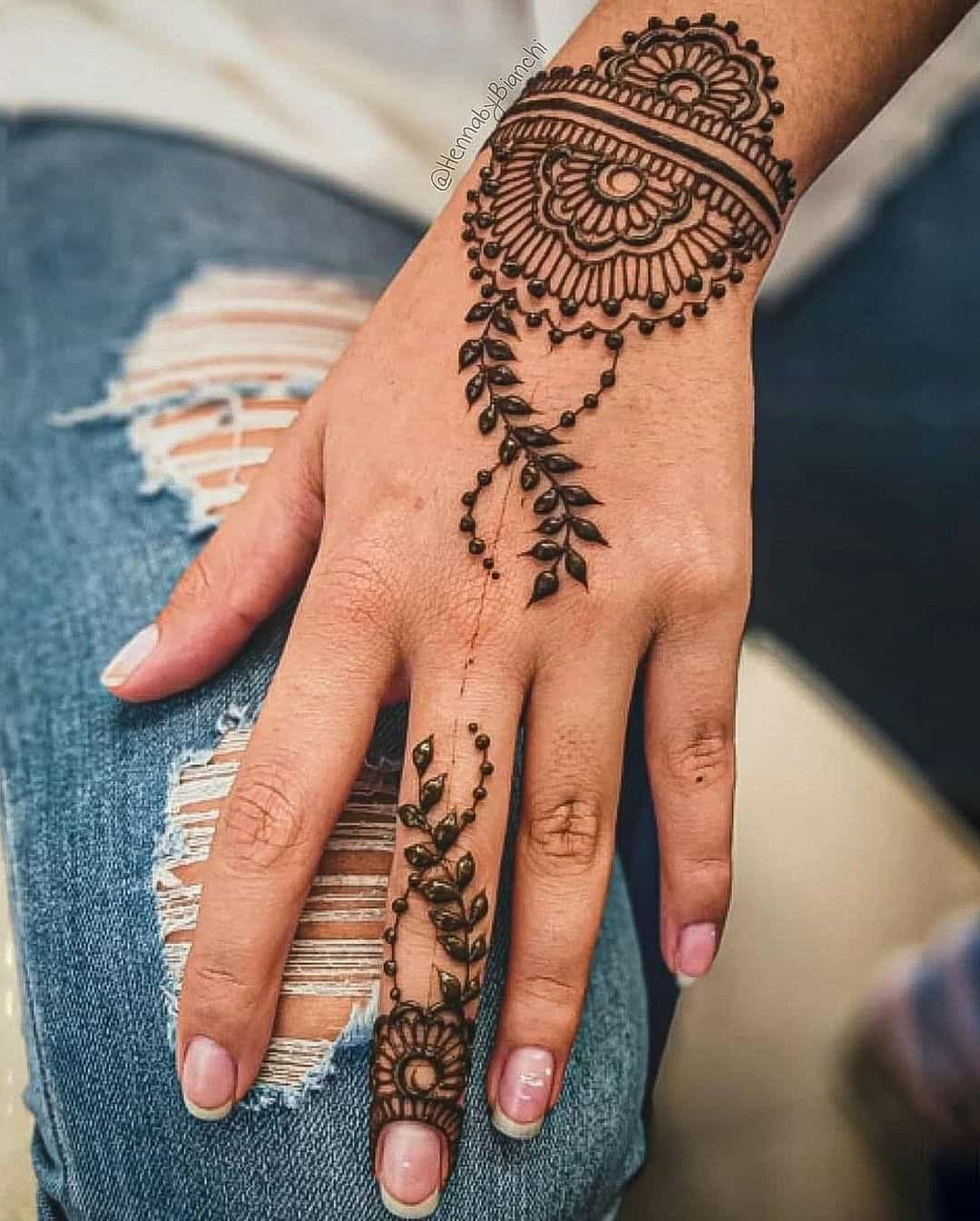 Image source
This henna tattoo idea is a unique take on traditional designs that cover the entire hand with henna. Here, a floral band design is placed as a bracelet on the back of the wrist, while a leafy vine and a string of beads extend to the knuckles. The ring finger features a similar design too, with the vine and string of beads extending toward the knuckle, making it a cute henna tattoo idea to exemplify balance and harmony in your life.
4. Shoulder Necklace Henna Tattoo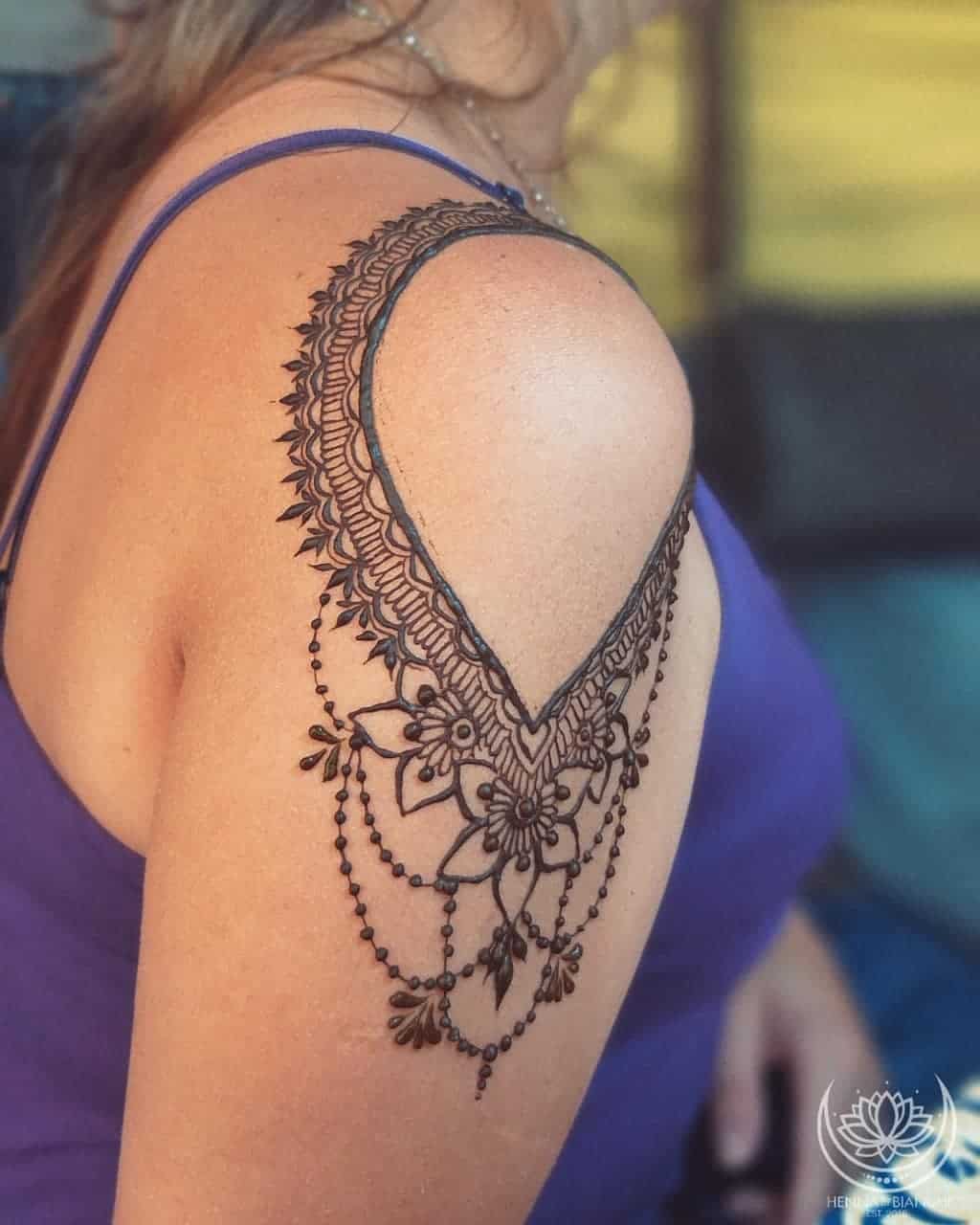 Image source
Henna tattoos on the shoulder look gorgeous and make for the best designs to flaunt in summer. You can either go with a traditional-style henna tattoo with complex designs or keep it simple with this minimal shoulder necklace design, with floral trim. This circular tattoo design will sit snugly on the curves of your shoulder, and you can also add more embellishments to suit your styling and preferences.
5. Lion and Arrow Henna Tattoo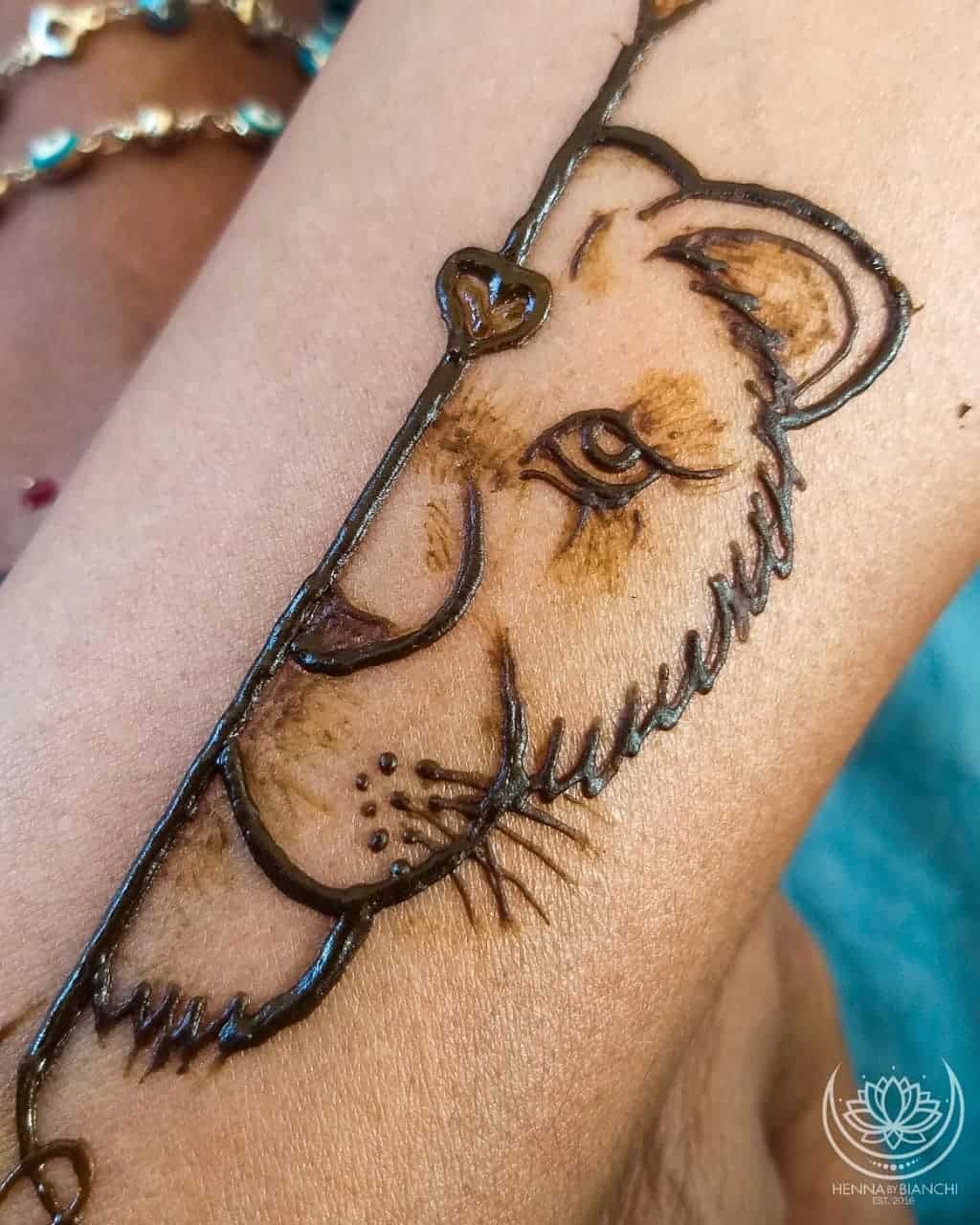 Image source
A lion tattoo can be a powerful symbol of strength, protection, and loyalty, while an arrow tattoo can resemble direction in life. Here, an arrow splits the face of a lion, which you may use to signify how you have stood tall to overcome every challenge in life. You can also add your name to the arrow, as shown in this tattoo design, to give it more personal meaning.
6. Rose Henna Tattoo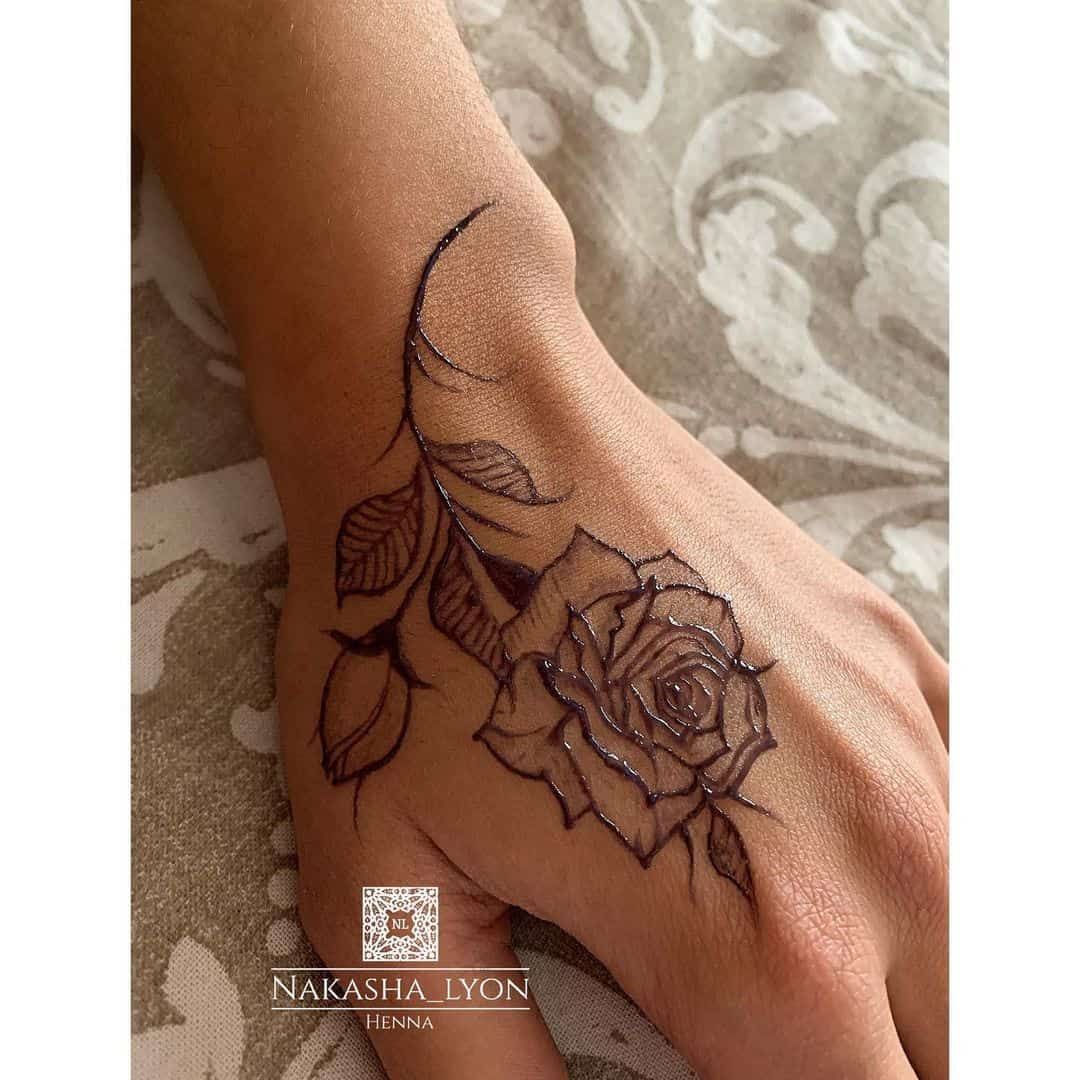 Image source
Roses have always been popular flower tattoo designs. The sheer beauty of the rose makes it an elegant piece of body art, no matter where it is placed. This henna tattoo design features a full bloom rose across the back of the wrist, which can symbolize promise, hope, and new beginnings. You can also add a rosebud, as shown here, to represent your child and make this henna tattoo even more special.

7. Geometric Shapes Henna Tattoo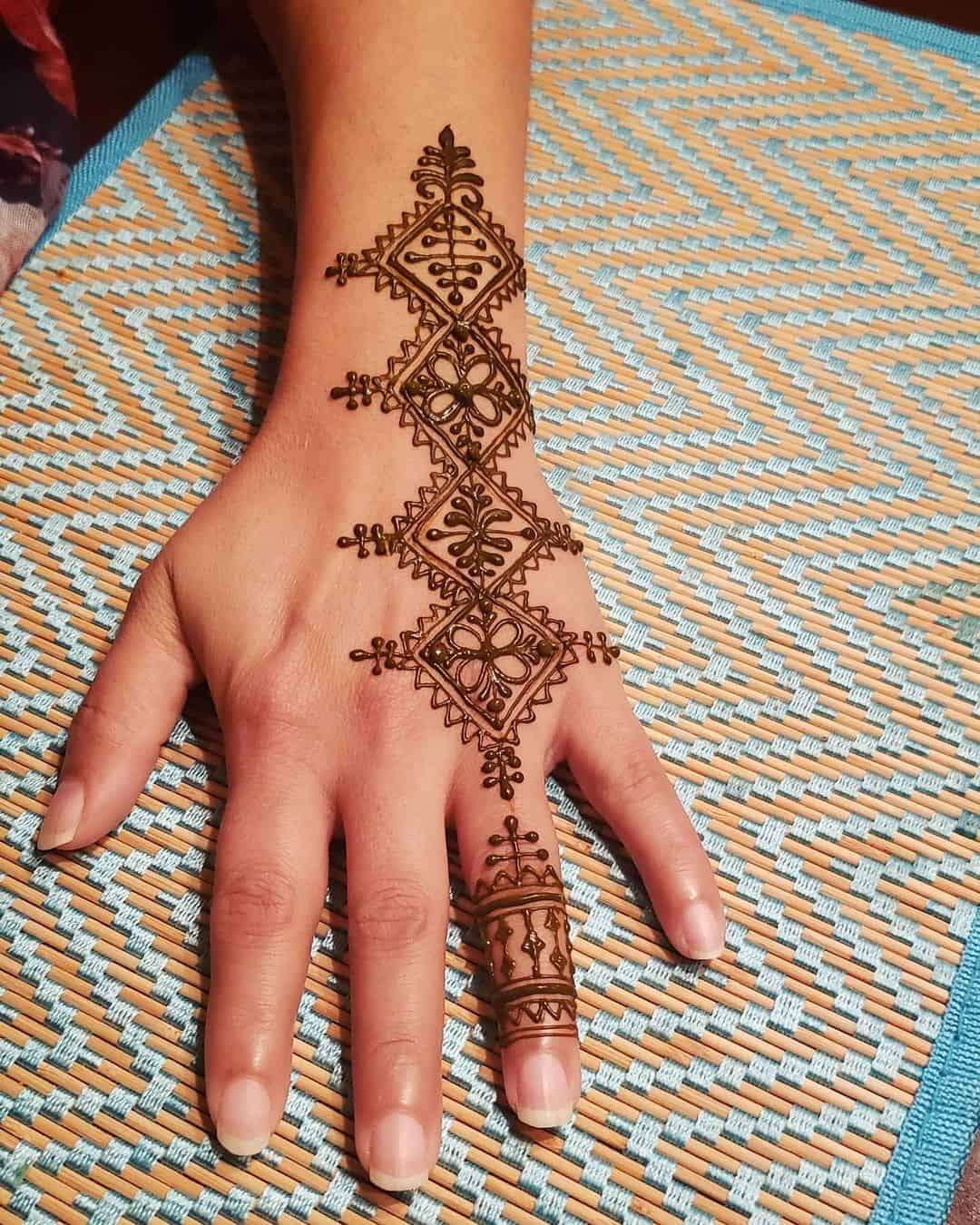 Image source
Geometric shapes are not too common in henna tattoos, which makes this one a unique idea to flaunt your creativity and style. This tattoo design runs from the outer wrist to the back of your hand over the knuckles and leading to the ring finger. The symmetry in this henna tattoo design is amazing, which makes it a great choice for formal events.

8. Tribal Symbol Henna Tattoo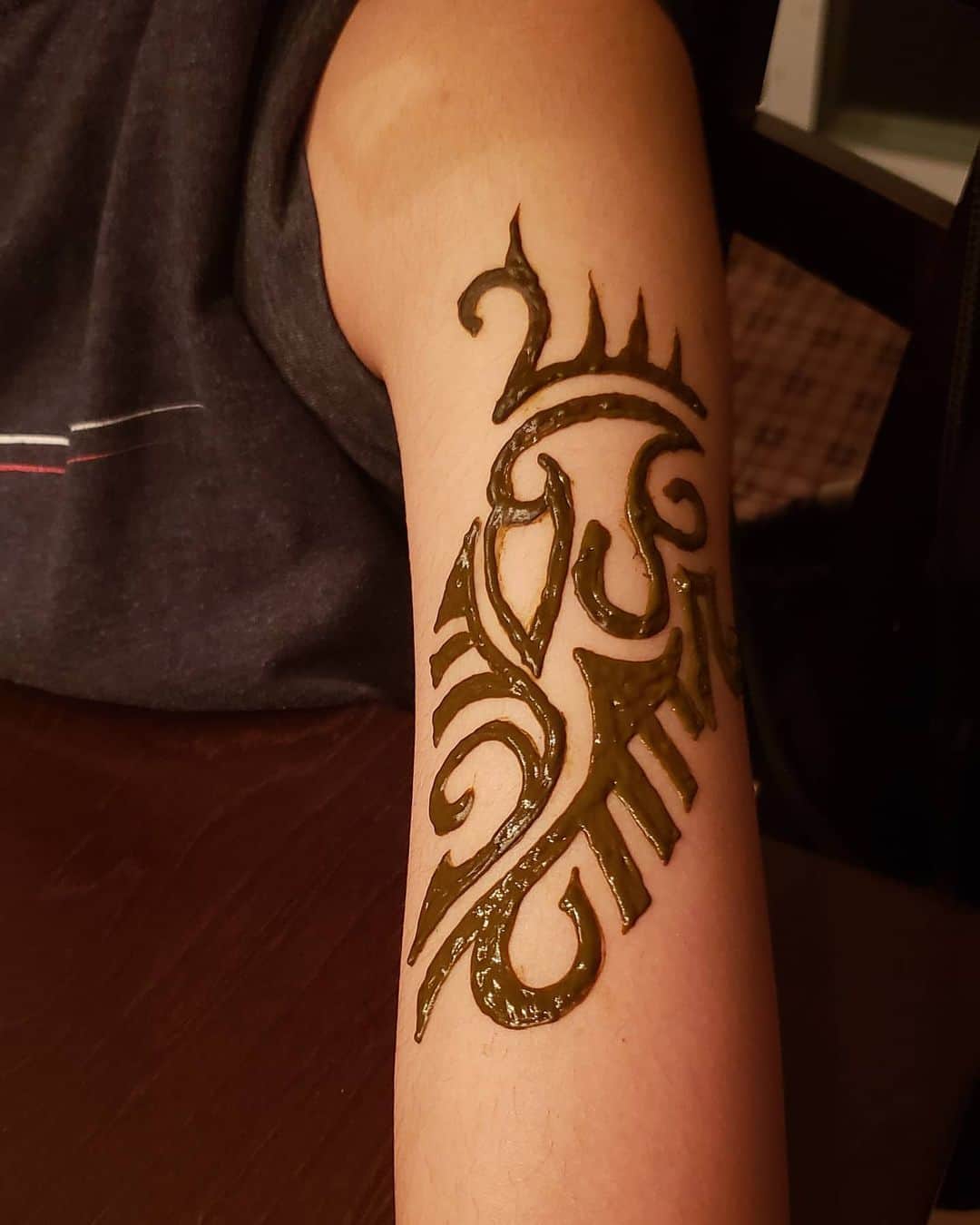 Image source
Tribal symbols are visible emblems that represent your family and lineage, with an intricate design and aesthetic appeal. As shown here, the upper arm makes for the ideal location for a tribal symbol as it gives sufficient space to proudly showcase your heritage. This design idea is ideal if you are looking for a stunning design to pay tribute to the artistic magnificence of traditional tribal symbols.
9. Floral Henna Thigh Tattoo

Image source
The thigh is one of the trendiest areas for body art among women. This henna tattoo design features a floral, mandala-inspired centerpiece, which is embellished with jewelry-like accents and unalome symbols to make it unique. Adding the unalome symbol also infuses the meanings of enlightenment, peace, and harmony to this tattoo design.
10. Full Sleeve Henna Tattoo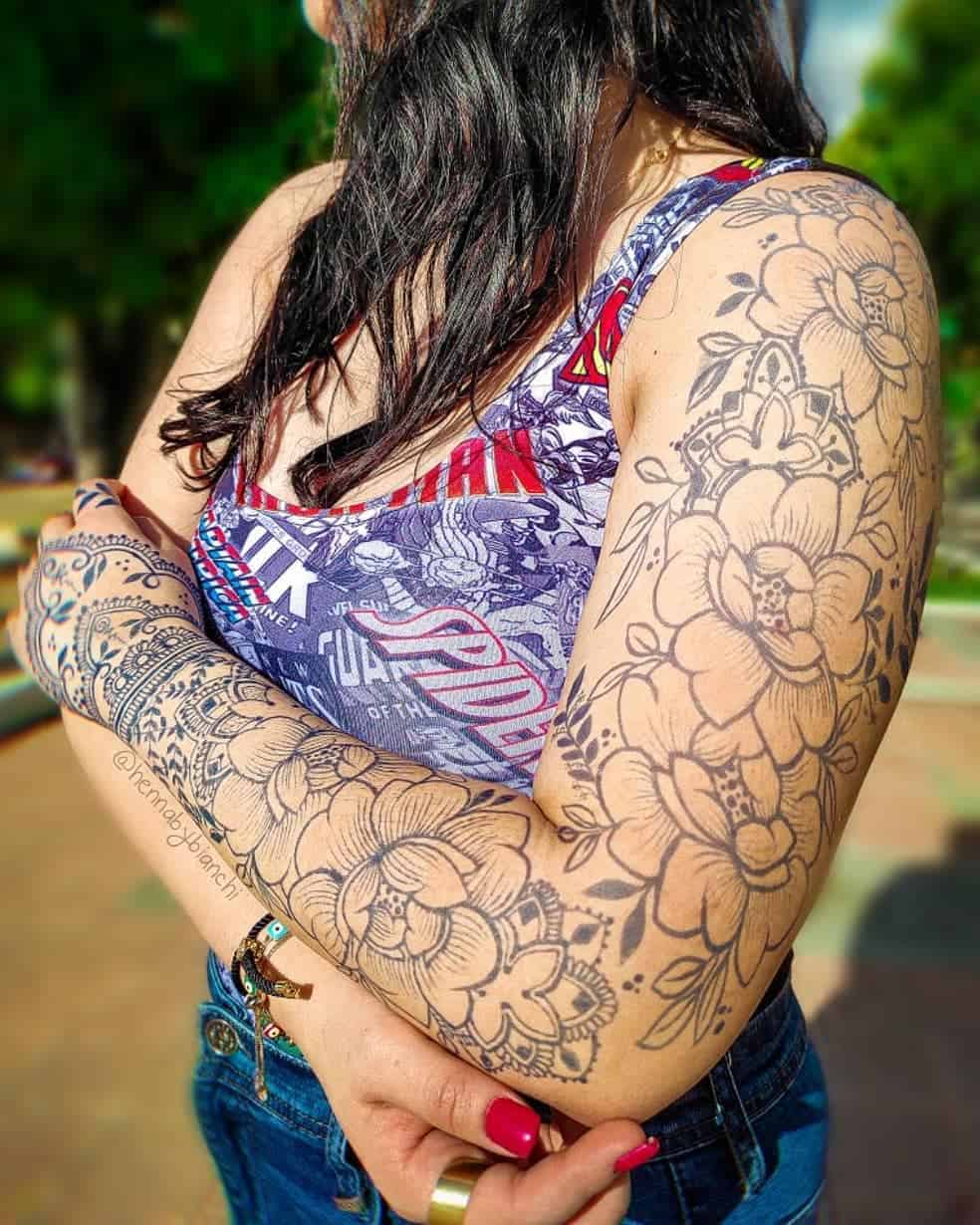 Image source
A full sleeve tattoo allows you to flaunt a collection of various designs stretching from your shoulder to the wrist. This henna tattoo idea allows you to ink multiple tattoo designs that you love together, creating a single masterpiece without having to go under the needle. You can try the floral design as shown in this tattoo idea or experiment with other shapes and features as you like to create a bold statement.
11. Pregnant Belly Henna Tattoo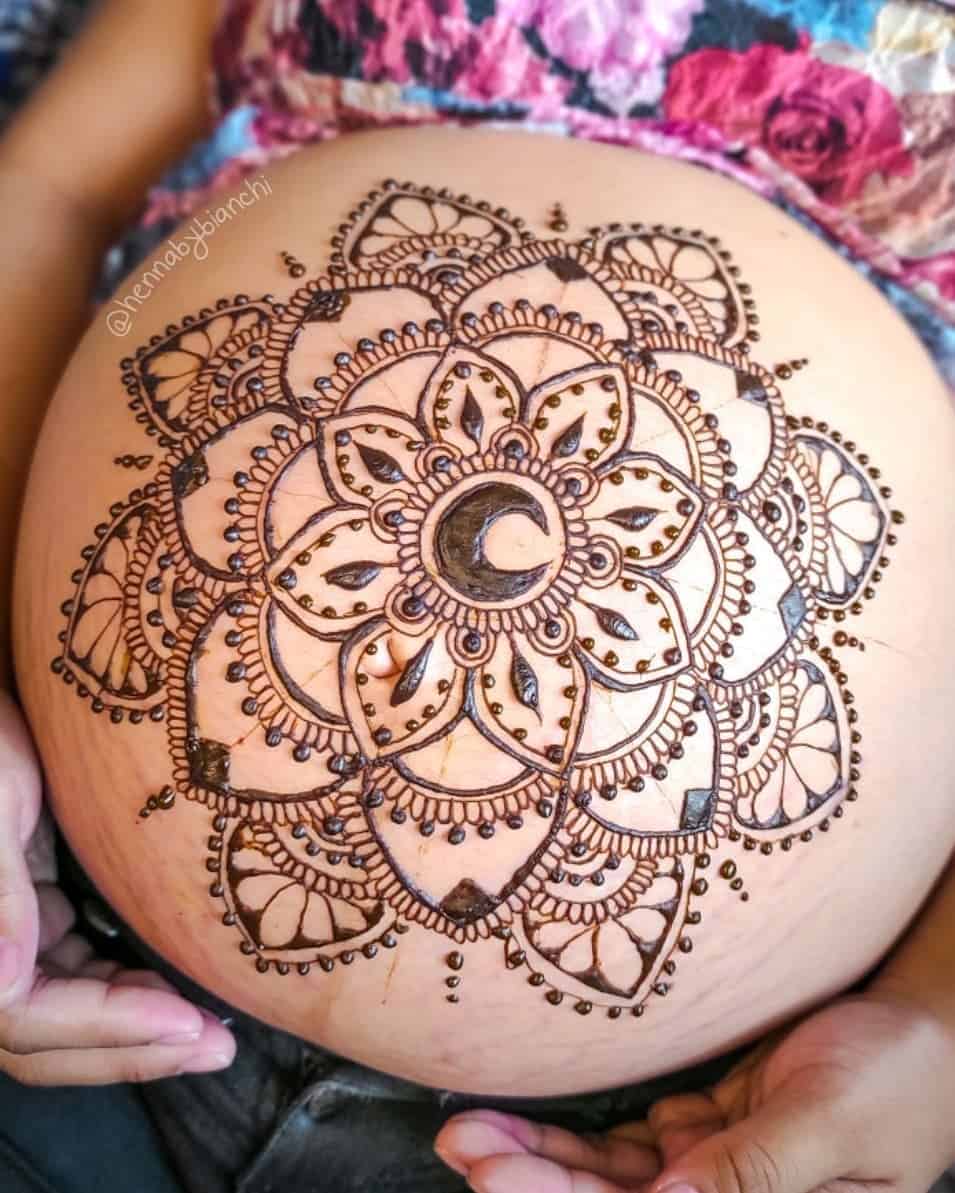 Image source
Henna tattoos on the belly can be an amazing idea to celebrate pregnancy and can be safely applied at any time during the gestation period. This tattoo features a familiar, circular mandala design, but with a tiny crescent moon at the center. This gives your henna tattoo a symbolic meaning of fertility and transformation, while the natural soothing properties of henna calm your skin.
12. Floral Wrist Henna Tattoo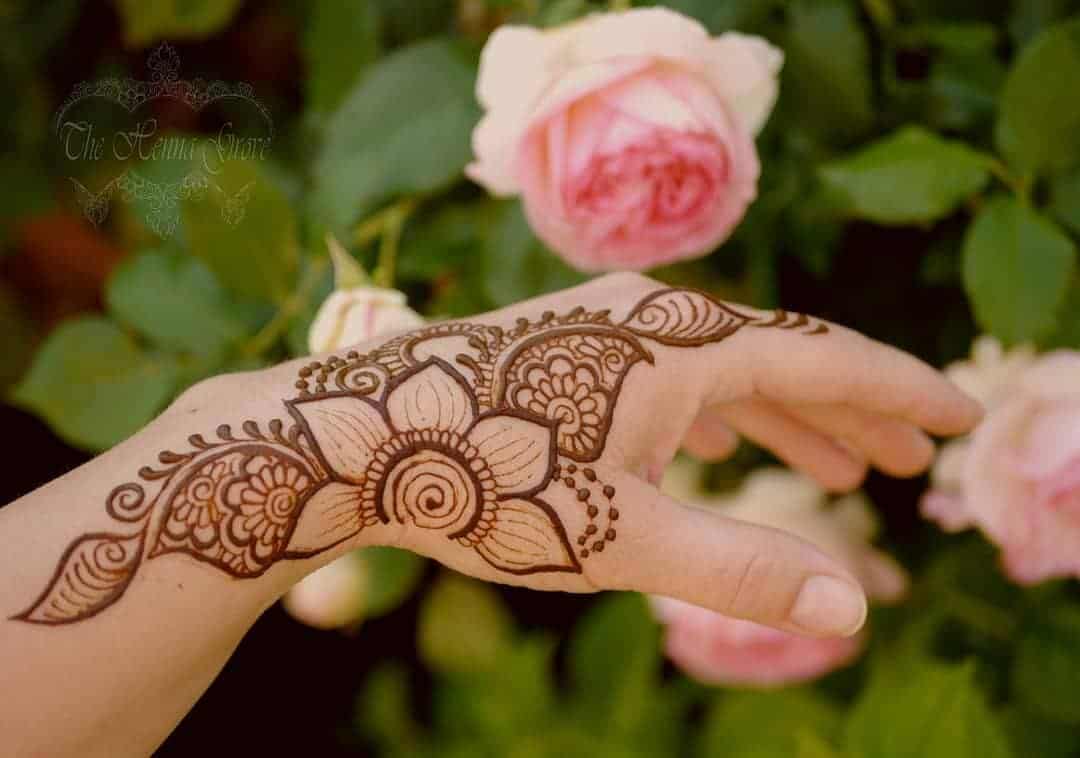 Image source
Henna tattoos look especially beautiful when applied to the wrists and hands. This simple tattoo design could be an ideal choice if you wanted something subtle, yet interesting that appears elegant for every occasion. It features a flower at the center, while mango-shaped paisley designs accentuate the outside of the floral design.

13. Feature Finger Henna Tattoo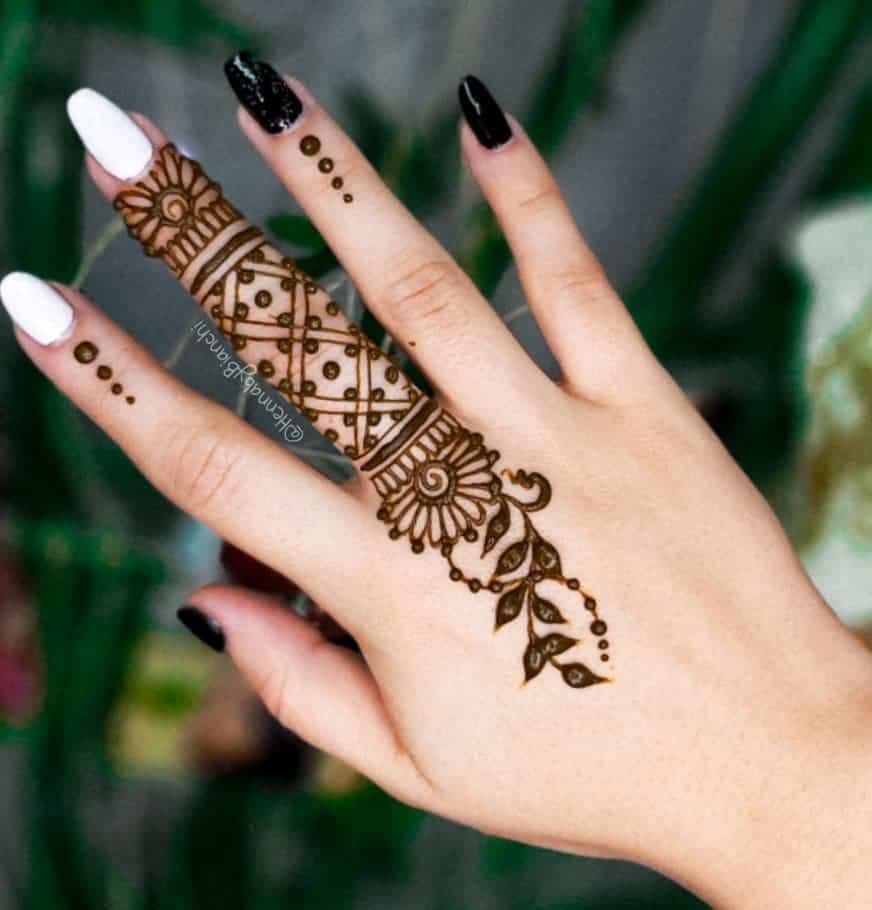 Image source
While most henna tattoo hand designs have henna art on the fingers as an extension of the main design, this one takes the opposite route, using the middle finger as the centerpiece. This henna tattoo design even adds tiny dots on the neighboring fingers to further draw attention to the feature finger art.

14. Dreamcatcher Henna Tattoo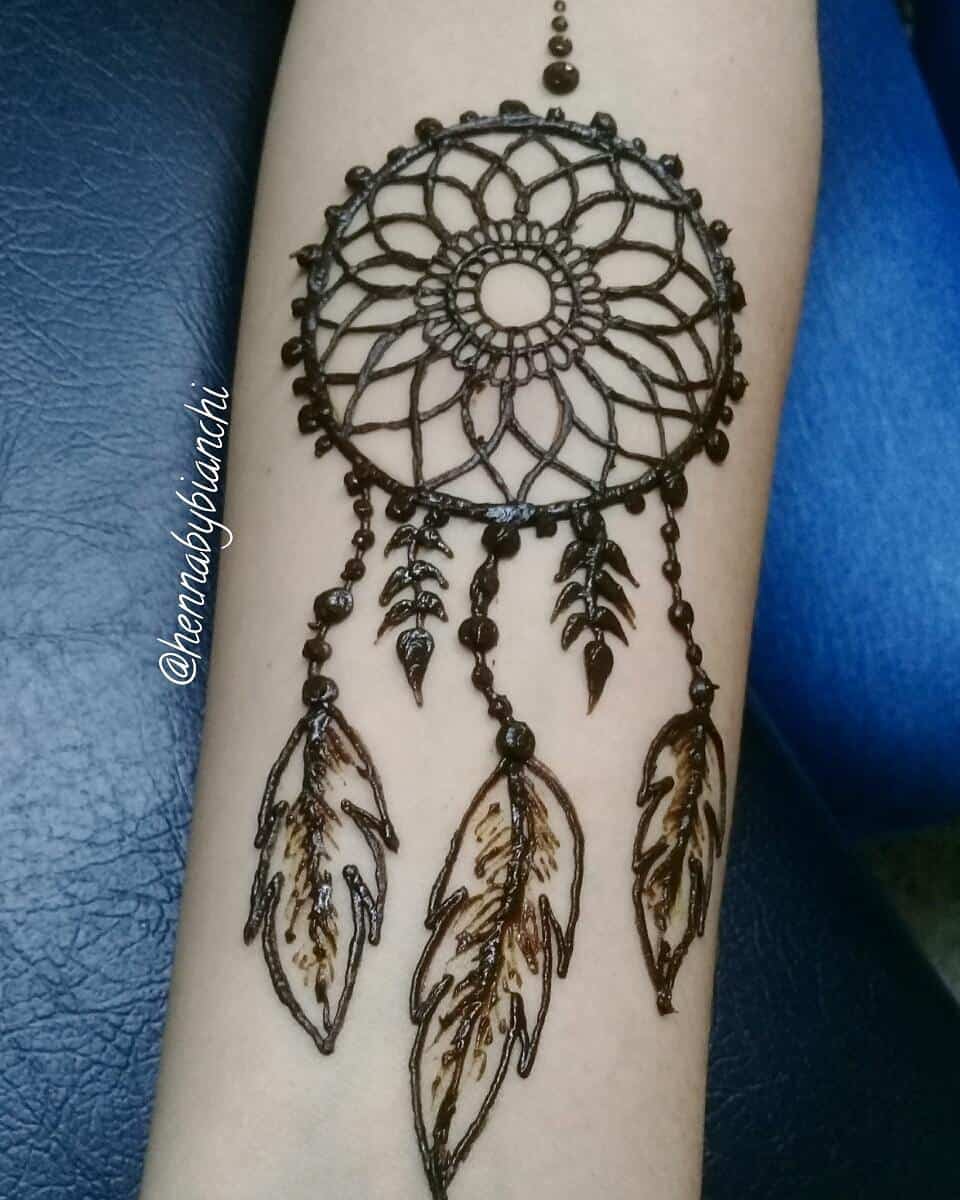 Image source
Dreamcatcher tattoos are very popular among Native Americans, and are considered sacred amulets that keep the wearer protected from bad luck. Dreamcatchers also symbolize a feeling of wellbeing and harmony, which makes this tattoo design a cool idea to try. You can even mix this simple henna tattoo with floral accents to make it unique and elevate your personal style even further.
15. Minimal Arabic Lettering Henna Tattoo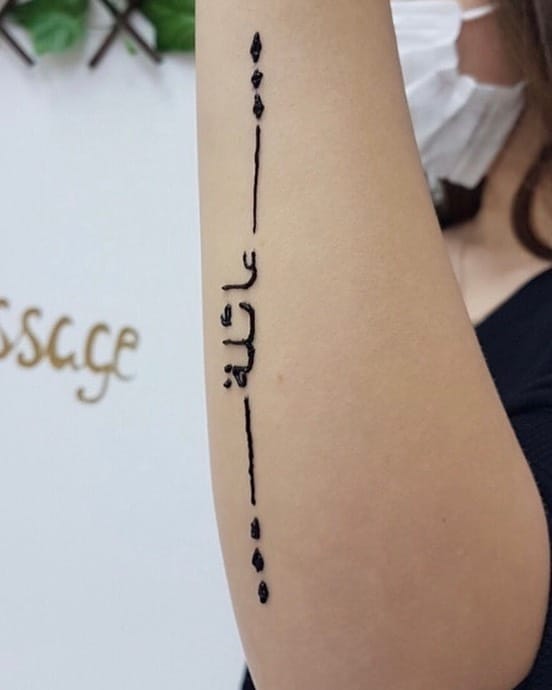 Image source
If you are a true fan of minimalist art, then this cute henna tattoo will be perfect for defining your style. It features simple Arabic lettering bordered by a straight line with a few subtle dots at the end. This Arabic writing can be your name, your partner's name, or even a small quote that you love. While the Arabic lettering pays tribute to the origins of henna art, you could also try this tattoo idea in any language or font that you prefer.

16. Yin and Yang Henna Tattoo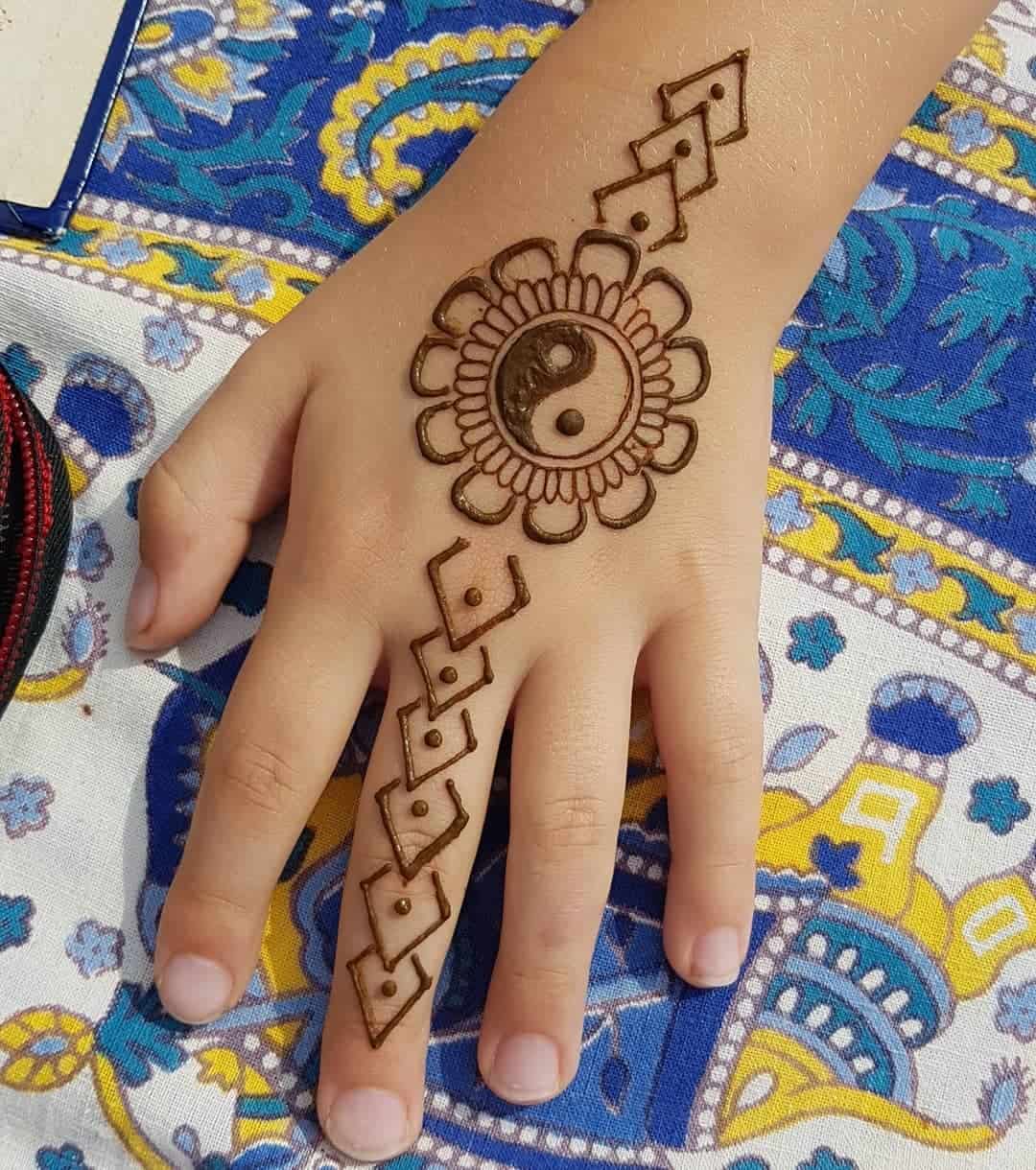 Image source
Yin and yang tattoos are highly coveted among fans of henna body art. This is not only because they look super cool, but also because in Ancient Chinese philosophy, the yin and yang symbol represents a concept of dualism. As yin and yang describe the complementary nature of contrary forces, it symbolizes balance in the natural world. That makes your henna tattoo more significant.
17. Lunar Cycle Henna Tattoo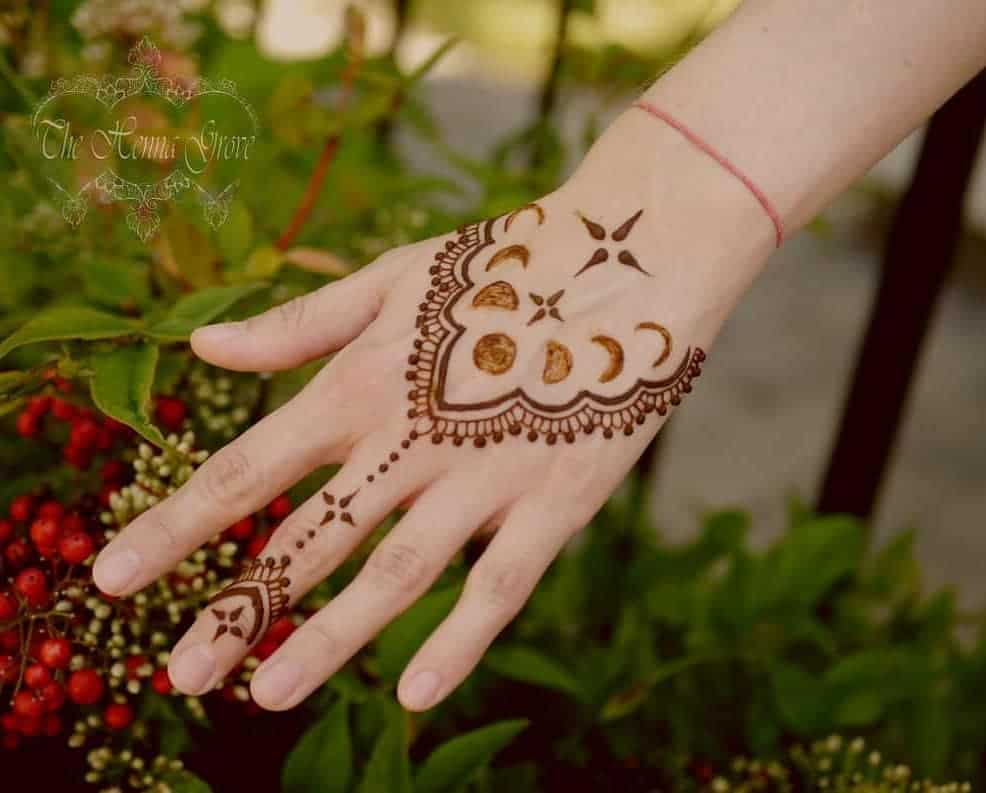 Image source
This is a unique henna tattoo design that features the full lunar cycle on the back of your hand. It gives your tattoo a deeper symbolic meaning of continual transformation, while the starry accents on top can resemble guidance and hope. Encasing the entire moon cycle inside a necklace-like design with the ball end of the chain leading to the finger art makes it look even more magical.

18. Little Anchor Henna Tattoo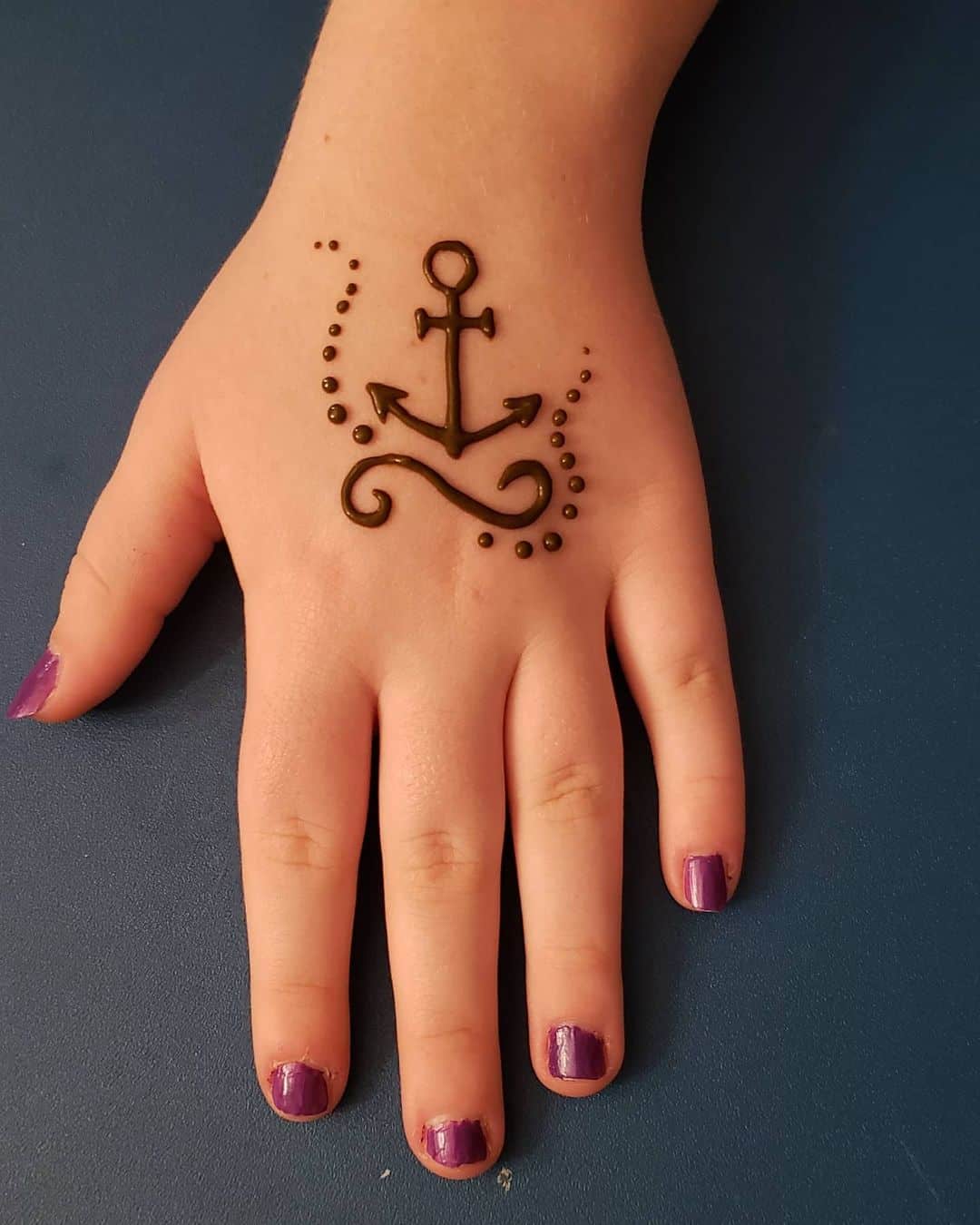 Image source
Traditionally, sailors used to ink anchor tattoos on their bodies as a talisman that would guide them through their voyages. Today, anchor tattoos have become a popular classic tattoo design and are associated with virtues like protection, hope, and steadfastness. All of that makes this cute anchor henna tattoo a great idea to try for your first temporary tattoo.
19. Sahasrara Palm Henna Tattoo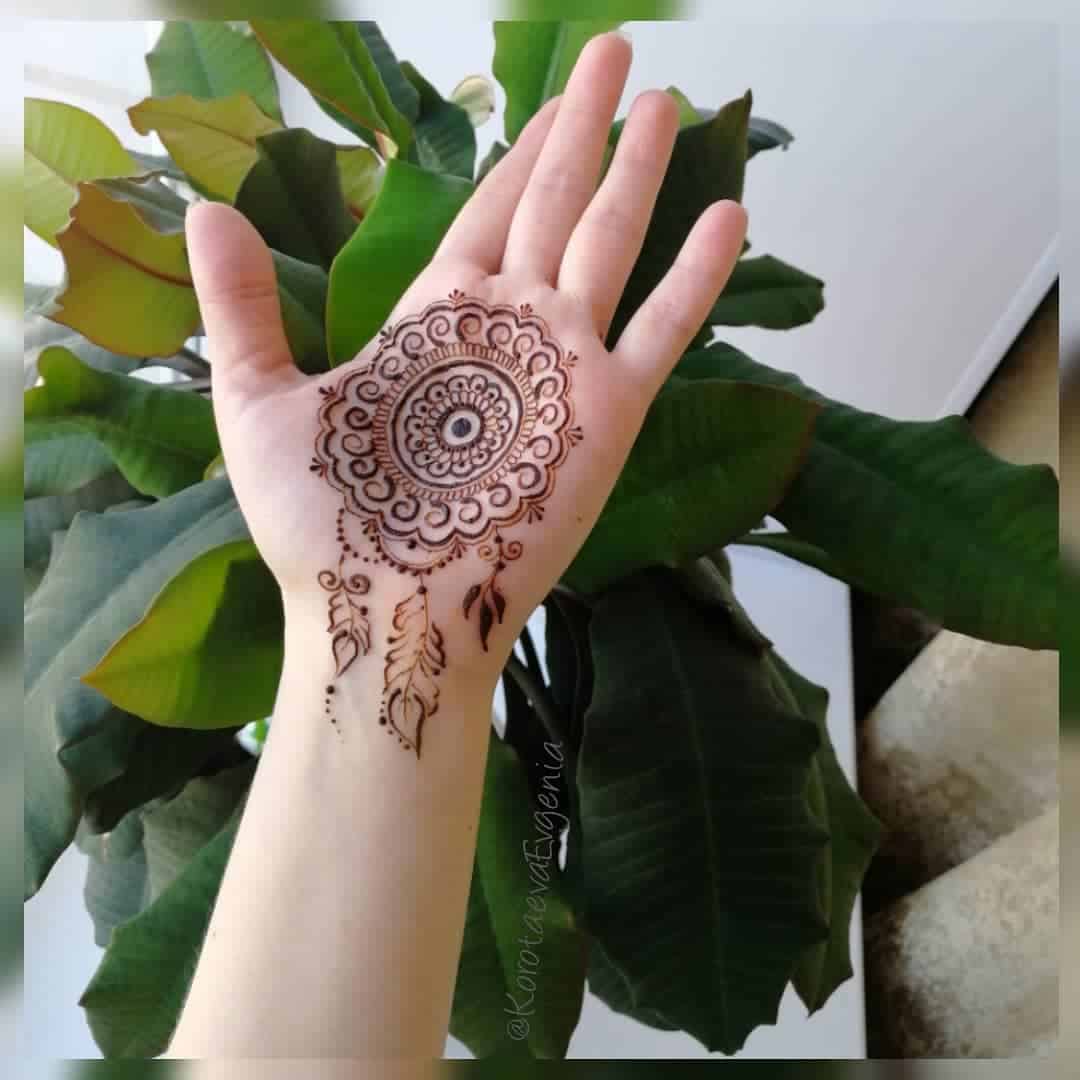 Image source
Sahasrara is a popular henna tattoo design, featuring a lotus-like symbol that represents unity and fulfillment. Sahasrara or Crown Chakra is the last one of the seven chakras, which creates a deep connection with the supreme self, symbolizing a universal flow of energy and spiritual enlightenment. This henna tattoo design blends the Sahasrara symbol with a dreamcatcher design to further add to its symbolic meanings and significance.
20. Flowers and Butterfly Henna Tattoo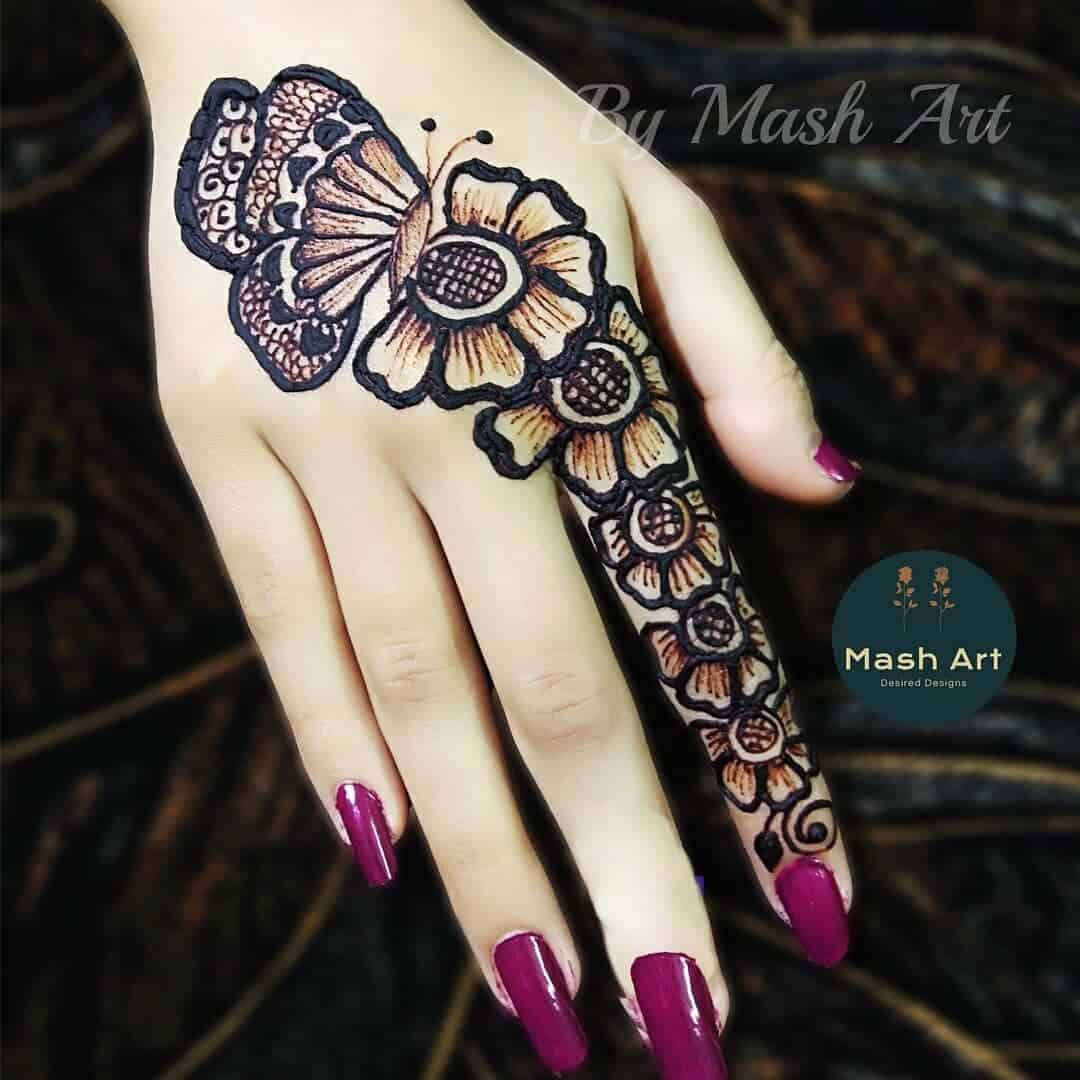 Image source
This floral henna tattoo features blossoming flowers extending from the index finger to right above the knuckles, where a butterfly sits on the top of a flower to expand the tattoo design to the back of your hand. Adding the butterfly not only makes the henna tattoo look unique and special, but it also gives it the symbolic meanings of transformation and new beginnings.
21. Peacock Henna Tattoo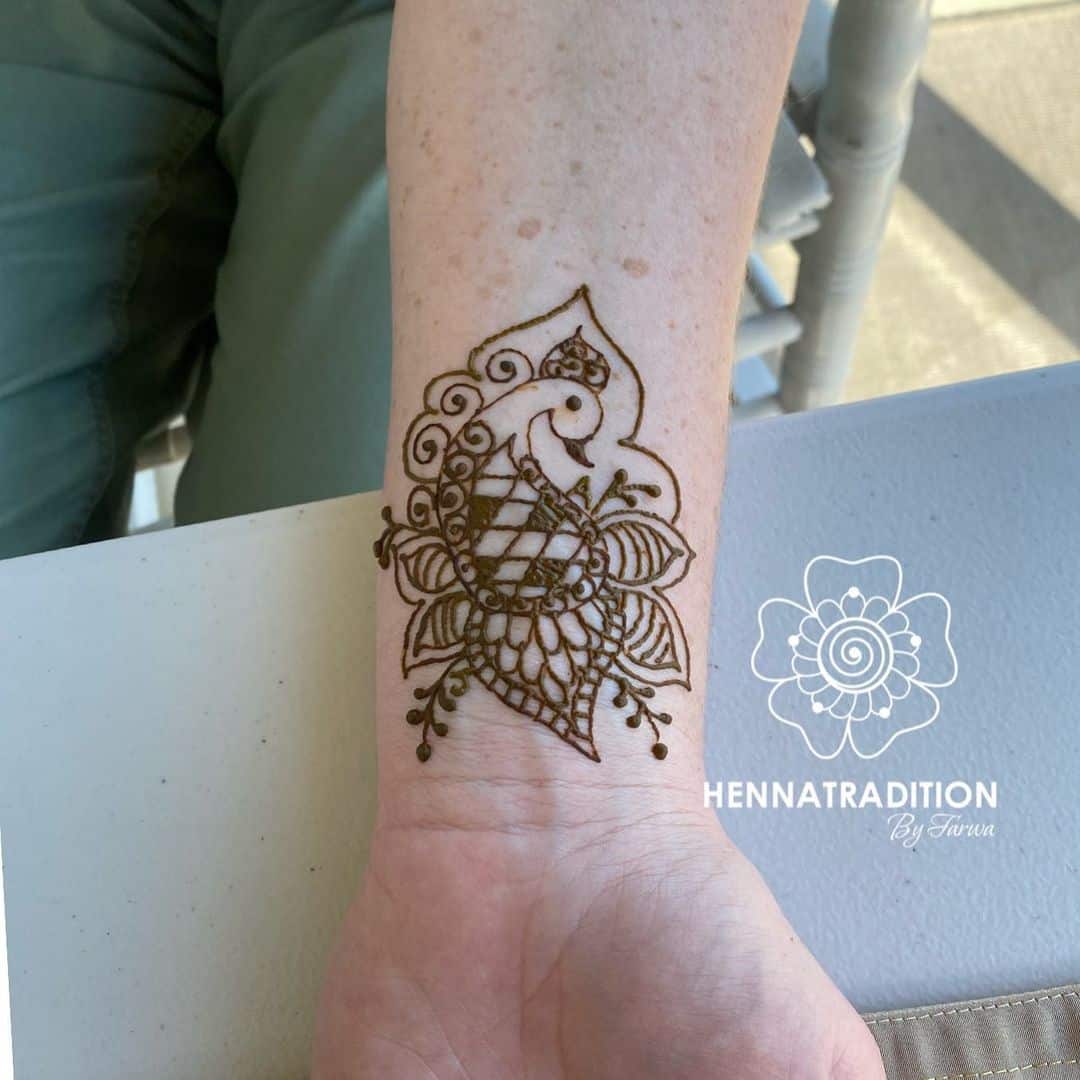 Image source
Peacock henna tattoos are quite famous in India, as they are associated with beauty and are believed to bring prosperity. A peacock henna tattoo design could be the perfect way to honor Indian culture and traditions, while it can also symbolize your own spirituality. As shown here, you can also have a peacock henna tattoo accentuated with floral accents.

22. Paw Prints Henna Tattoo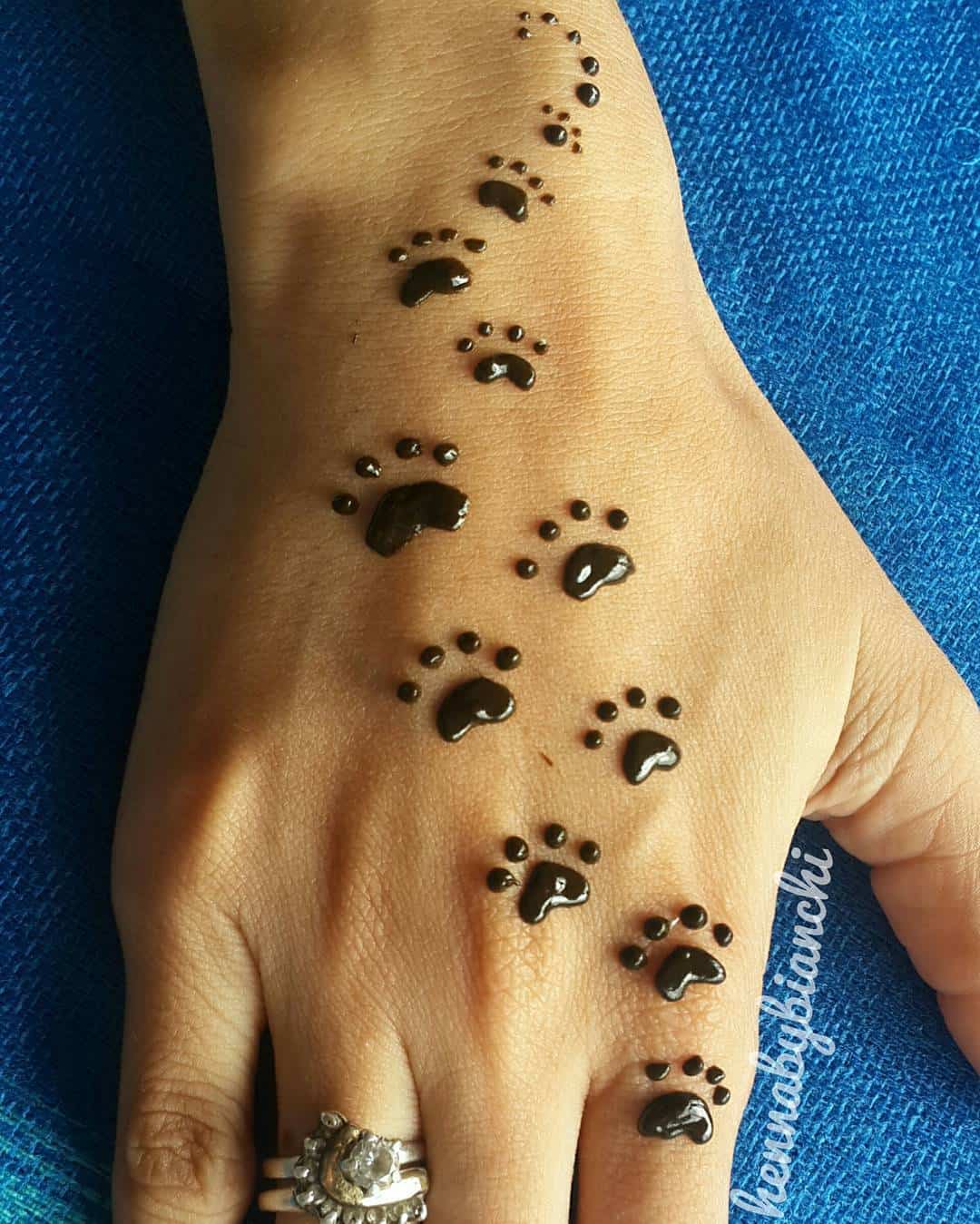 Image source
Express your love for animals to the fullest by applying this henna tattoo design. It can be the best way to remember your canine or feline friend, and stand as a symbol of your personal growth and remind you to move forward in life no matter what comes your way.
23. Floral Moon Henna Tattoo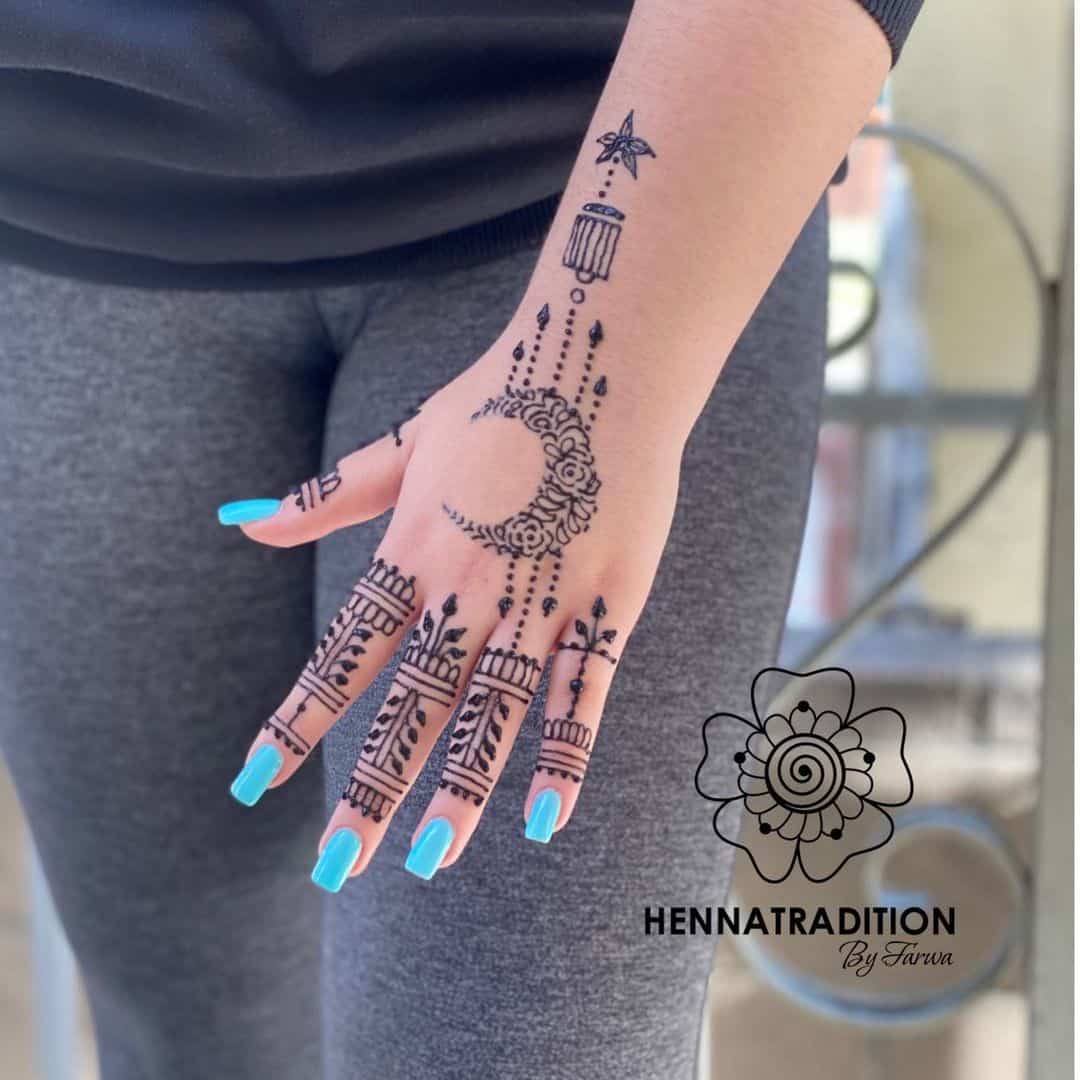 Image source
The crescent moon has always been popular among body art fans. It symbolizes womanhood, peace, harmony, and transformation. This henna tattoo design takes the idea to a whole new level by creating a crescent moon with detailed floral patterns and accentuating it with dropping jewelry designs. That makes it an incredibly unique henna tattoo idea to flaunt when attending an event or during a night out with friends.
24. Snake Henna Tattoo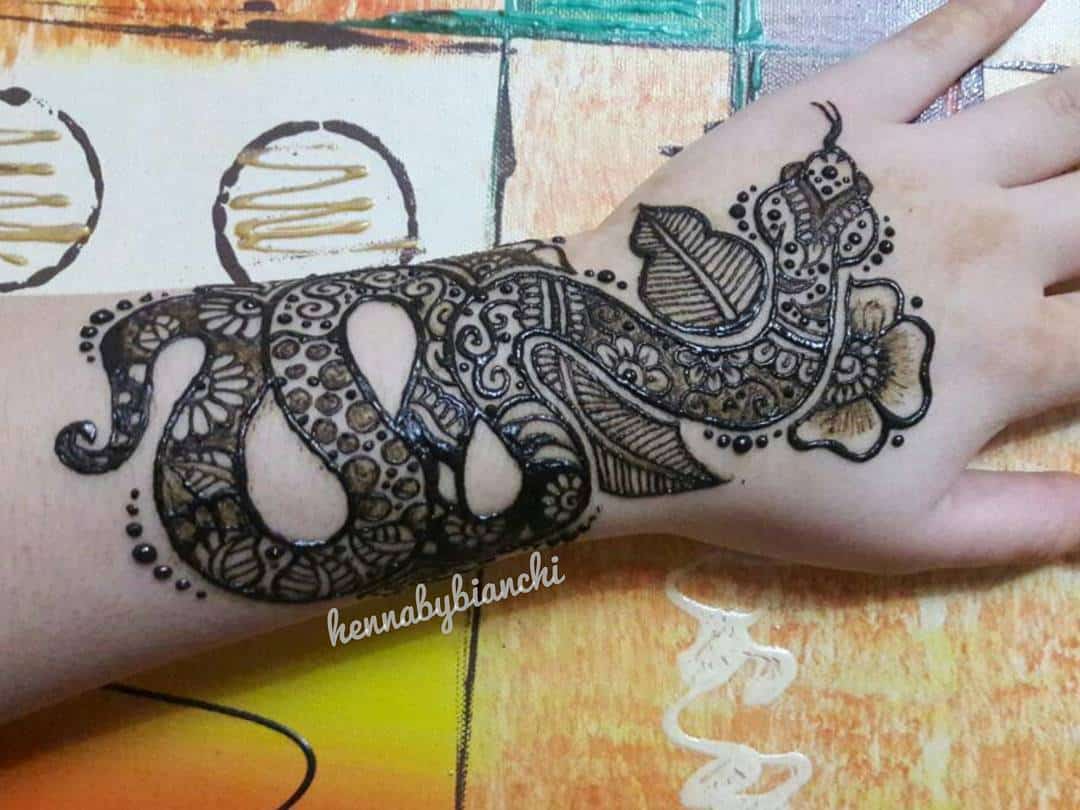 Image source
Snakes are not that popular in traditional henna designs, but they have been an important part of ancient Asian cultures for centuries. A snake tattoo can represent fertility, knowledge, and creative life force, while serpents are also associated with transformation, rebirth, healing, and immortality in many cultures. This gives your henna tattoo a new dimension with deep symbolism and significance.
25. Floral Fingers Henna Tattoo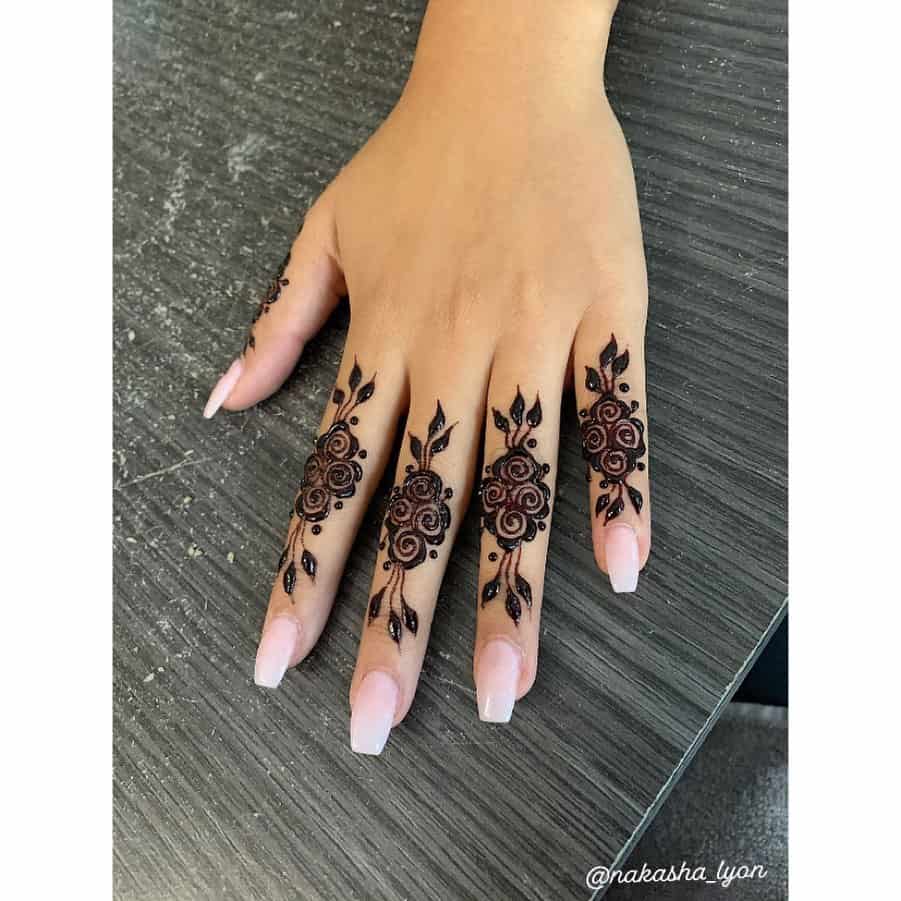 Image source
This is a unique take on a Feature Finger Henna Tattoo design. In this one, floral designs are applied on all the fingers to make the design look more symmetrical. As flowers and vines represent happiness and joy across different cultures, this can be a great henna tattoo idea to celebrate a wedding or engagement. You can also add a floral-inspired design on the back of the hand to give it a more traditional look.
26. Minimal Bracelet Henna Tattoo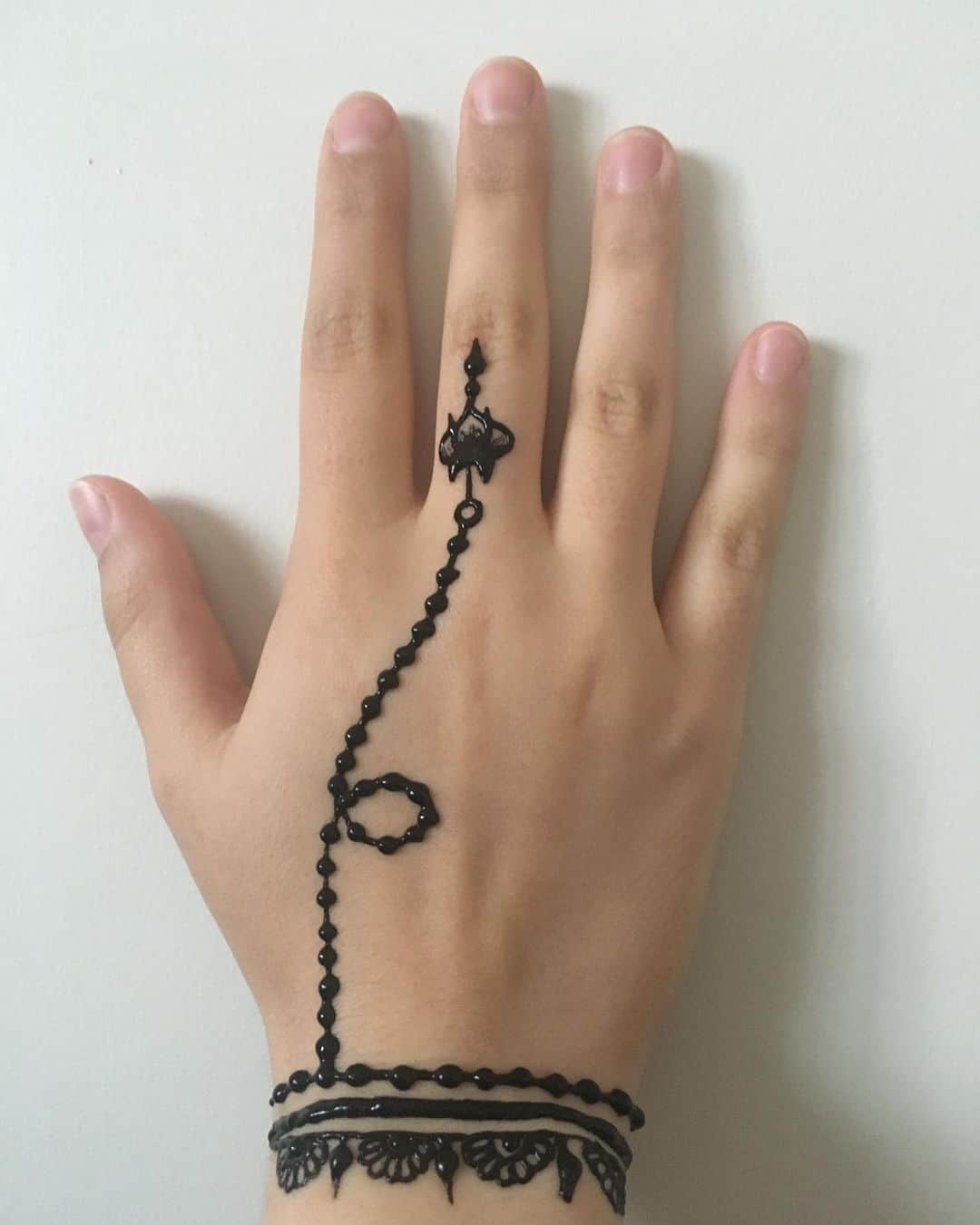 Image source
If you are looking for a simple yet trendy henna tattoo design to express your love for minimal art, then this one will perfectly suit your tastes. Here, the henna tattoo artist has created a lace bracelet-like design with a string of beads extending across the back of the hand to the middle finger. This gives you a unique and stylish henna tattoo design to wear for any formal or casual event.
27. Vine Ring Henna Tattoo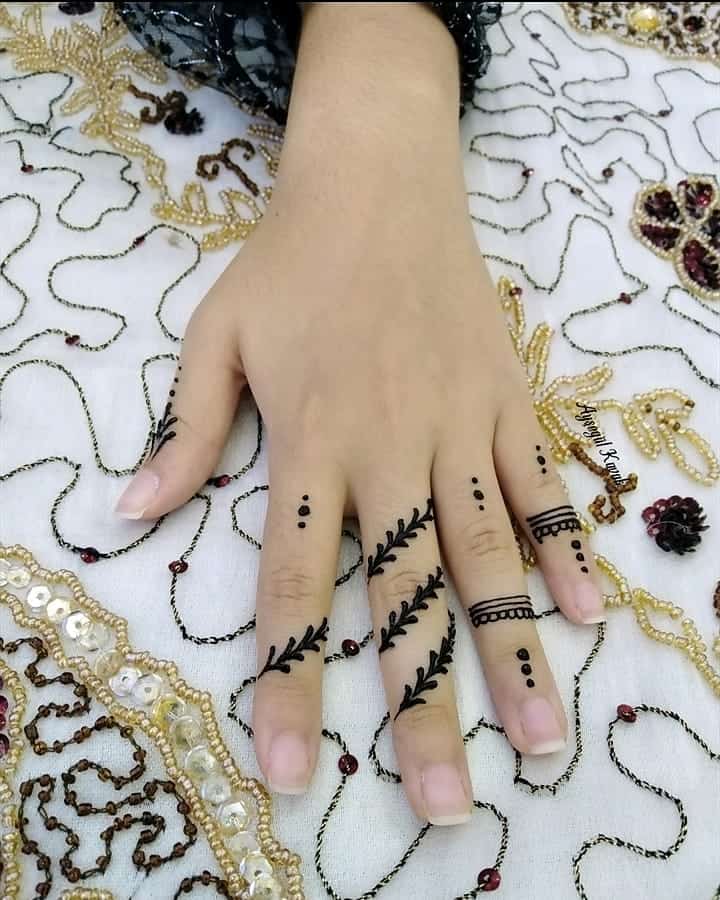 Image source
Give a unique twist to your finger henna tattoo designs. This one features a cute vine swirling around your middle finger, which extends to the index finger, while simple ring-like designs adorn your pinkie and ring finger. Adding tiny dots in the mix accentuates the overall design perfectly, making it exciting yet elegant enough to be worn at any casual or formal party.
28. Circle and Flowers Henna Tattoo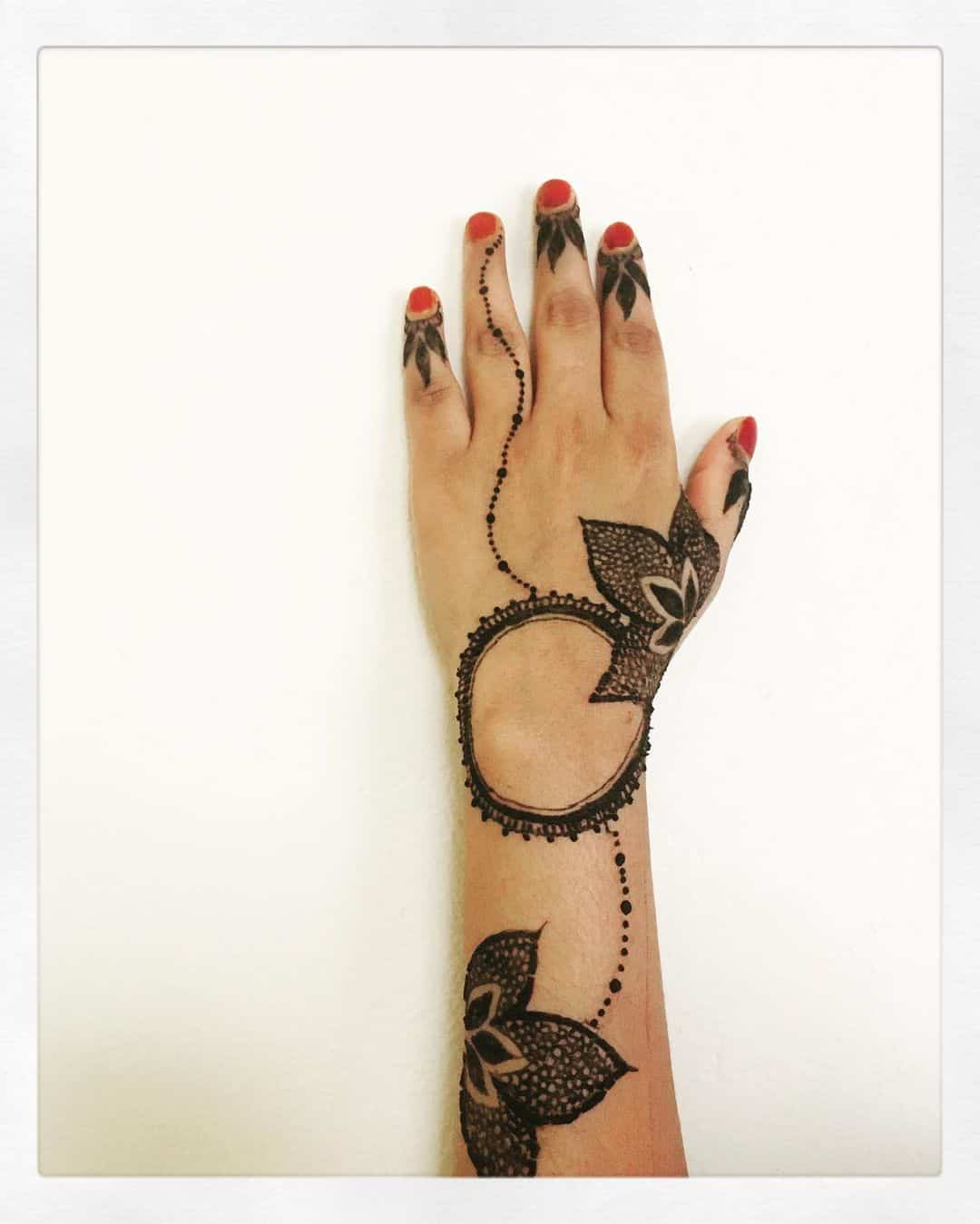 Image source
This is an adorable henna tattoo design that can be the perfect idea for your wedding. The intricate details on the flowers make it appear soft and graceful, while the floral accents on the fingertips and connecting beads accentuate the elegant design. You could even choose to include you and your partner's name or initials in a stylish font inside the circle on your outer wrist to make it more special.
29. Tribal Art Henna Tattoo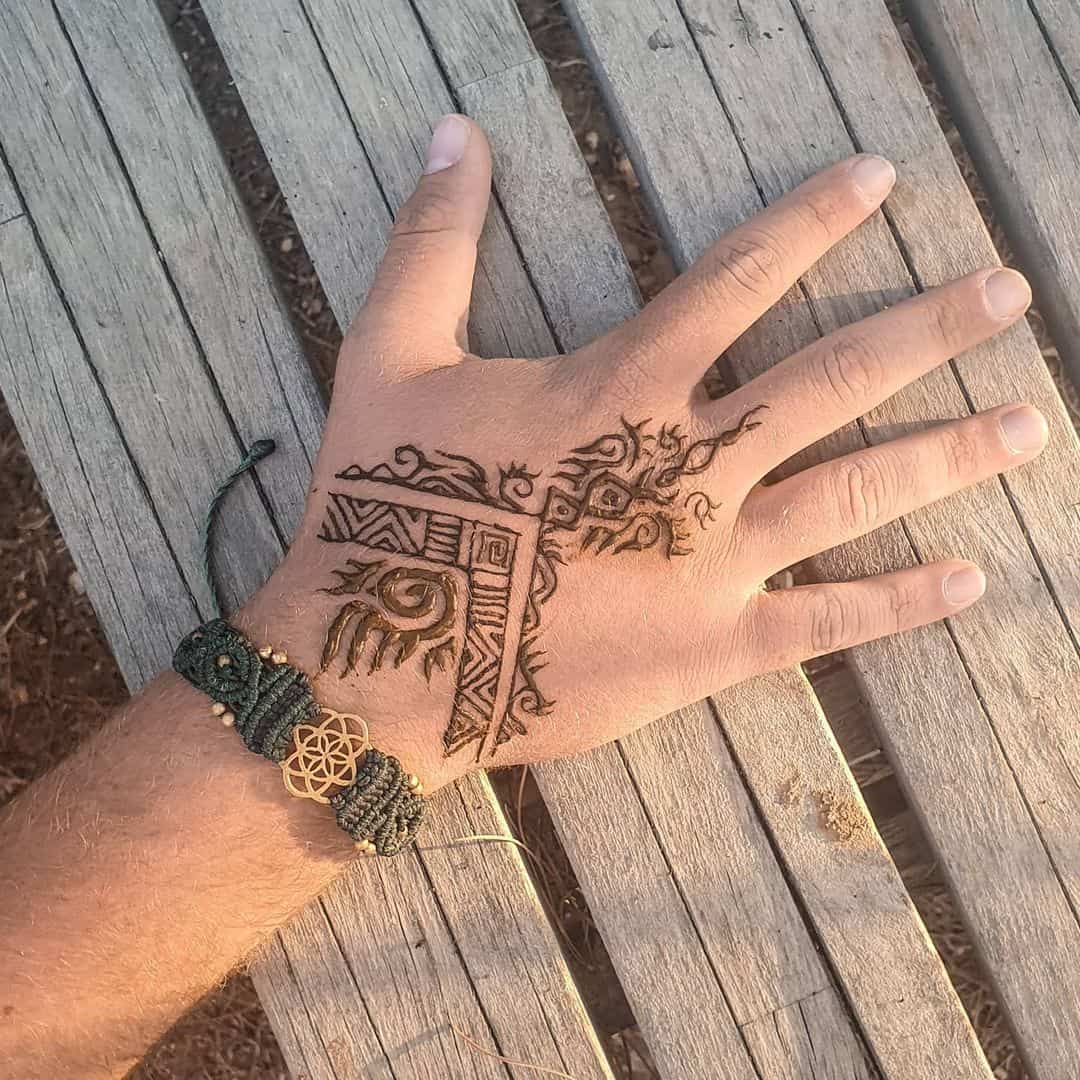 Image source
This is another stylish henna tattoo idea to honor your family and ancestry. Unlike the Tribal Symbol Henna Tattoo, which sports a specific tribal art, this one combines different ethnic symbols into a single design on the back of your hand. Pairing it with a braided leather bracelet will make it look exceptionally awesome.
30. Eye Henna Tattoo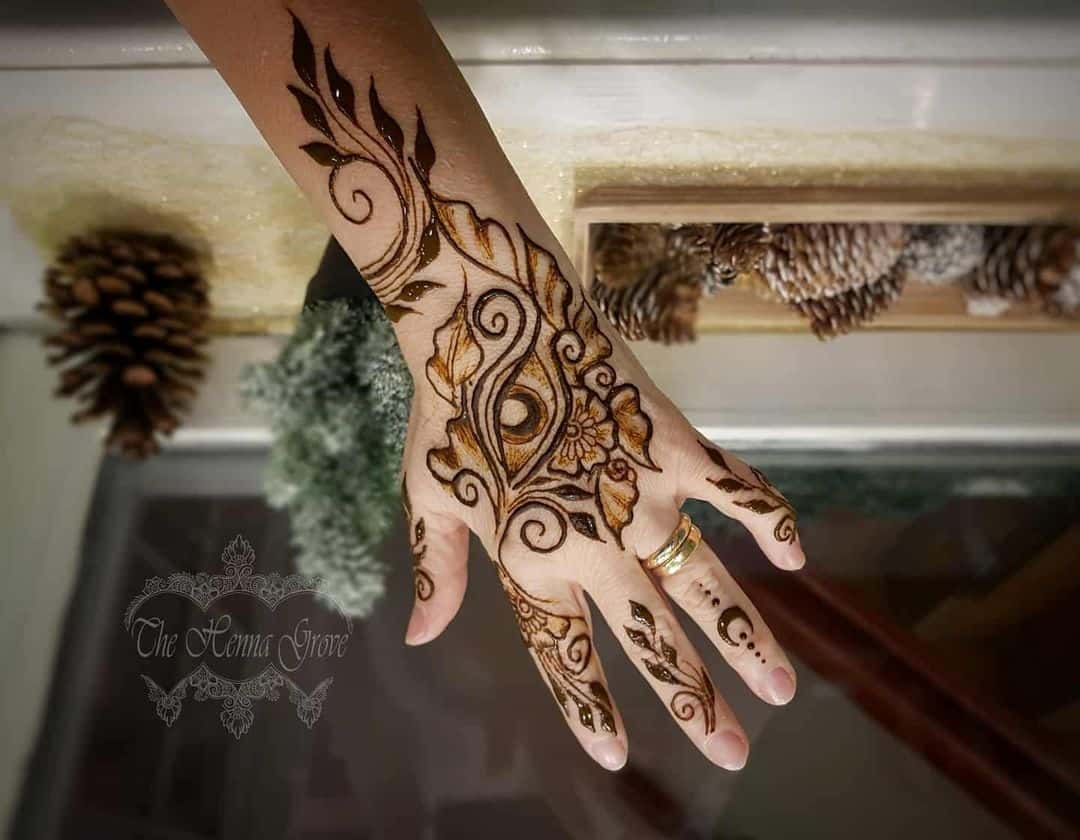 Image source
The eye is a common tattoo element, which symbolizes protection from evil forces and bad fortune. This henna tattoo design features an eye in a floral design to give it added beauty and balance. You can also add a crescent moon on the finger as shown in this one or replace it with your preferred symbol to signify your spiritual side.
31. Floral Vine Forearm Henna Tattoo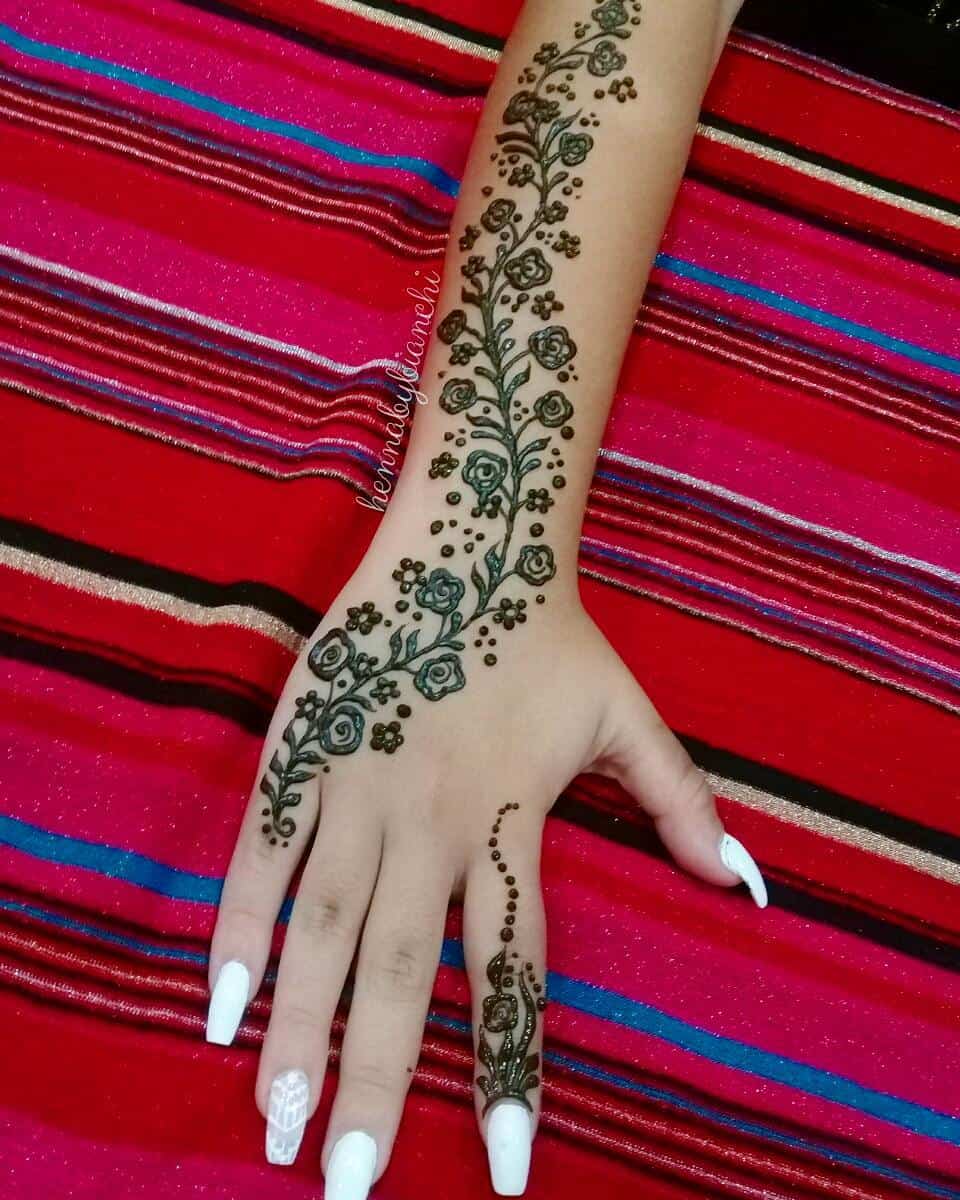 Image source
Forearm henna tattoos allow you to show off your body art anytime, anywhere. This floral vine henna tattoo extends from your elbow, twirling through the back of your hand and knuckles to the pinkie. Meanwhile, a floral design on the index finger gives it added flair. You could also keep the vine tattoo design up to the outer wrist and skip the design on the index finger if you wanted something that you can easily cover up with a shirt when needed.
32. Geometric Palm Henna Tattoo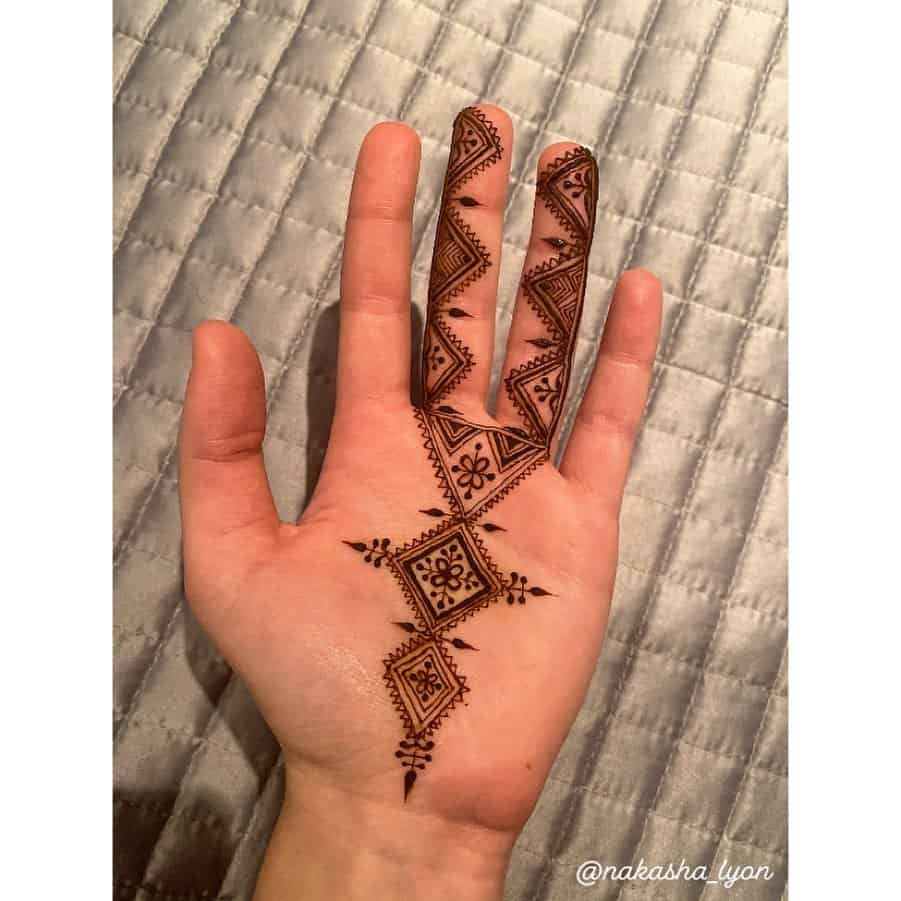 Image source
If you liked the Geometric Shapes Henna Tattoo design, but want something a bit less showy, then try this design on your inner hand. The geometric design of this henna tattoo sits cozily on the palm, while embellishing your fingers symmetrically. This inward-facing design can be a great design to subtly express your creativity.
33. Assorted Finger Designs Henna Tattoo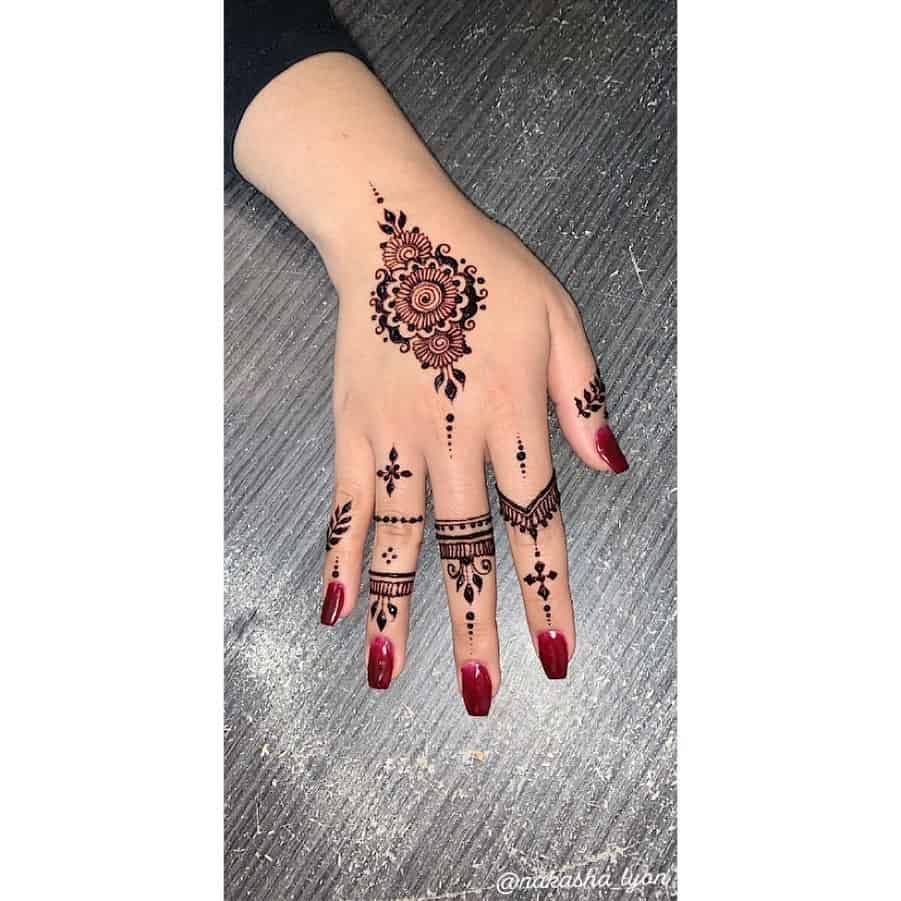 Image source
Flowers give henna tattoos a gorgeous, feminine look. Here, a beautiful floral pattern sits on your outer hand while your fingers are inked with assorted features like leaves, lace rings, and Greek cross designs. Together, they make a unique and stylish henna tattoo design that you can flaunt on any occasion.
34. Simplistic Forearm Henna Tattoo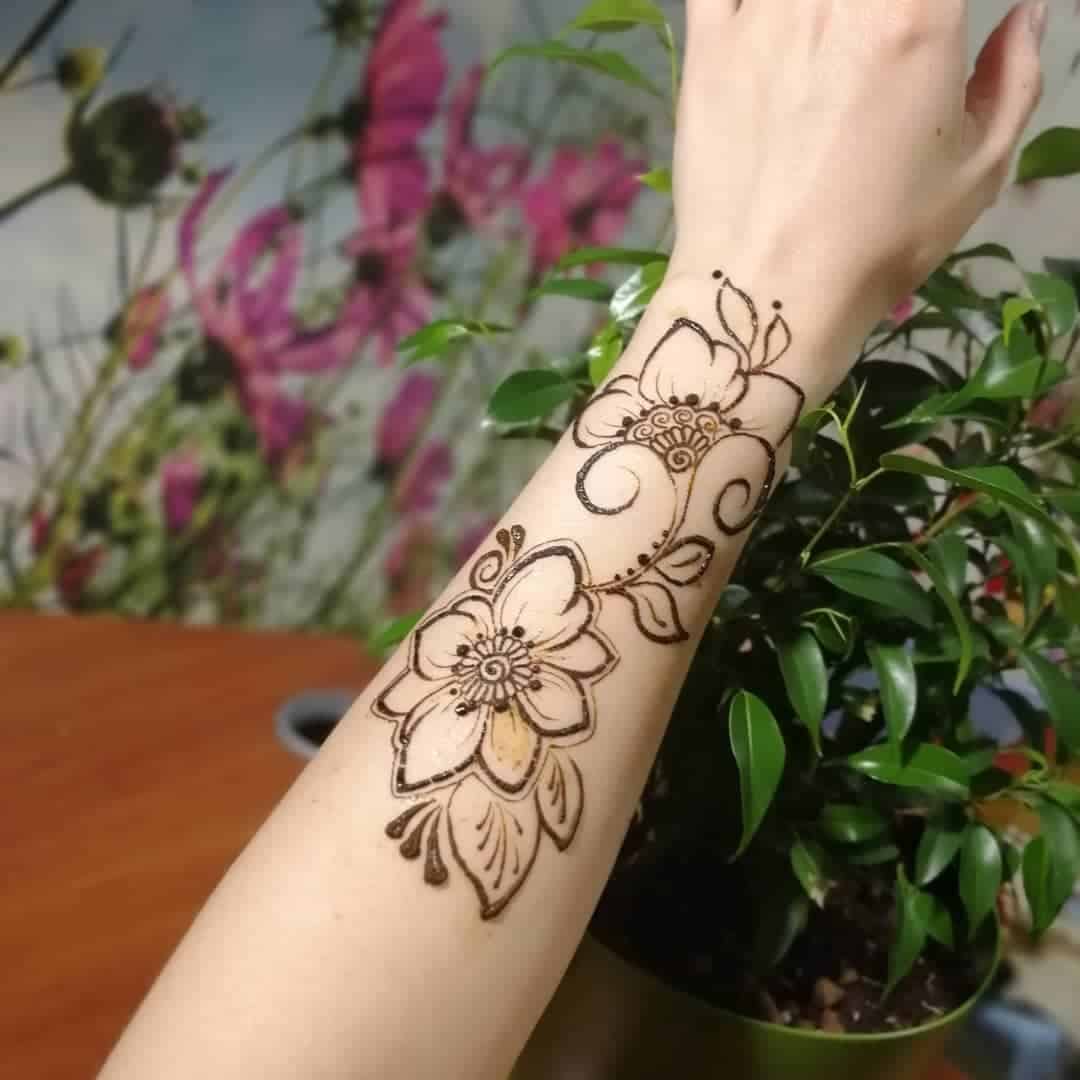 Image source
This is a charming henna tattoo design that beautifies your forearm perfectly with lovely floral features. The design is simple and it allows you to choose any flower you like as well to represent your innate characters and make it more personal. Likewise, you can also customize it to a half-sleeve henna tattoo by expanding the design to wrap your forearm entirely.
35. Golden Features Henna Tattoo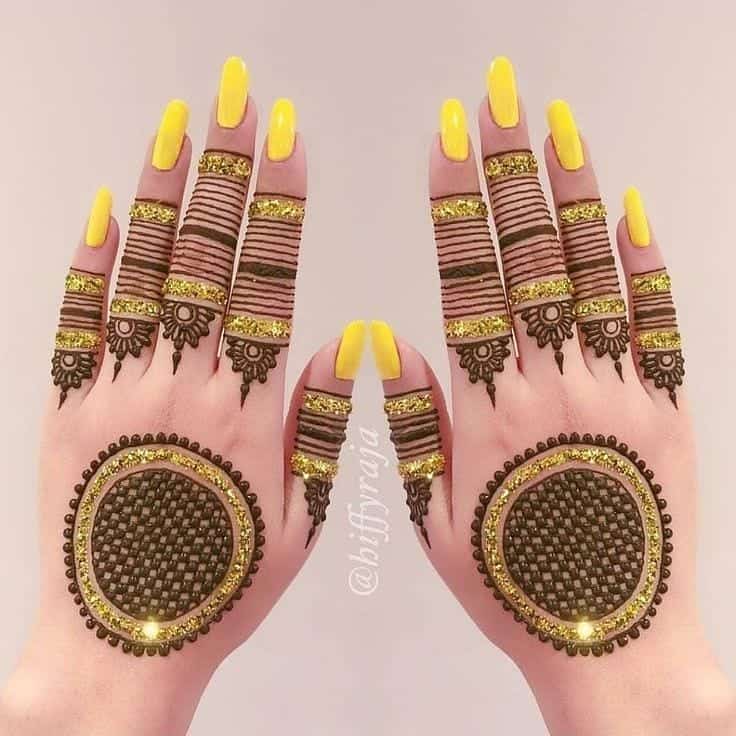 Image source
This dazzling henna tattoo design can be another good choice for celebrating your wedding or engagement. It features simple looping strokes on the fingers with floral accents up top, while a circular checkered pattern sits on the back of your hand. Adding golden accents to the mix makes the design pop and look ravishing. You can also pair it with yellow nails as shown in this one to elevate your style.
36. Small Flower Henna Tattoo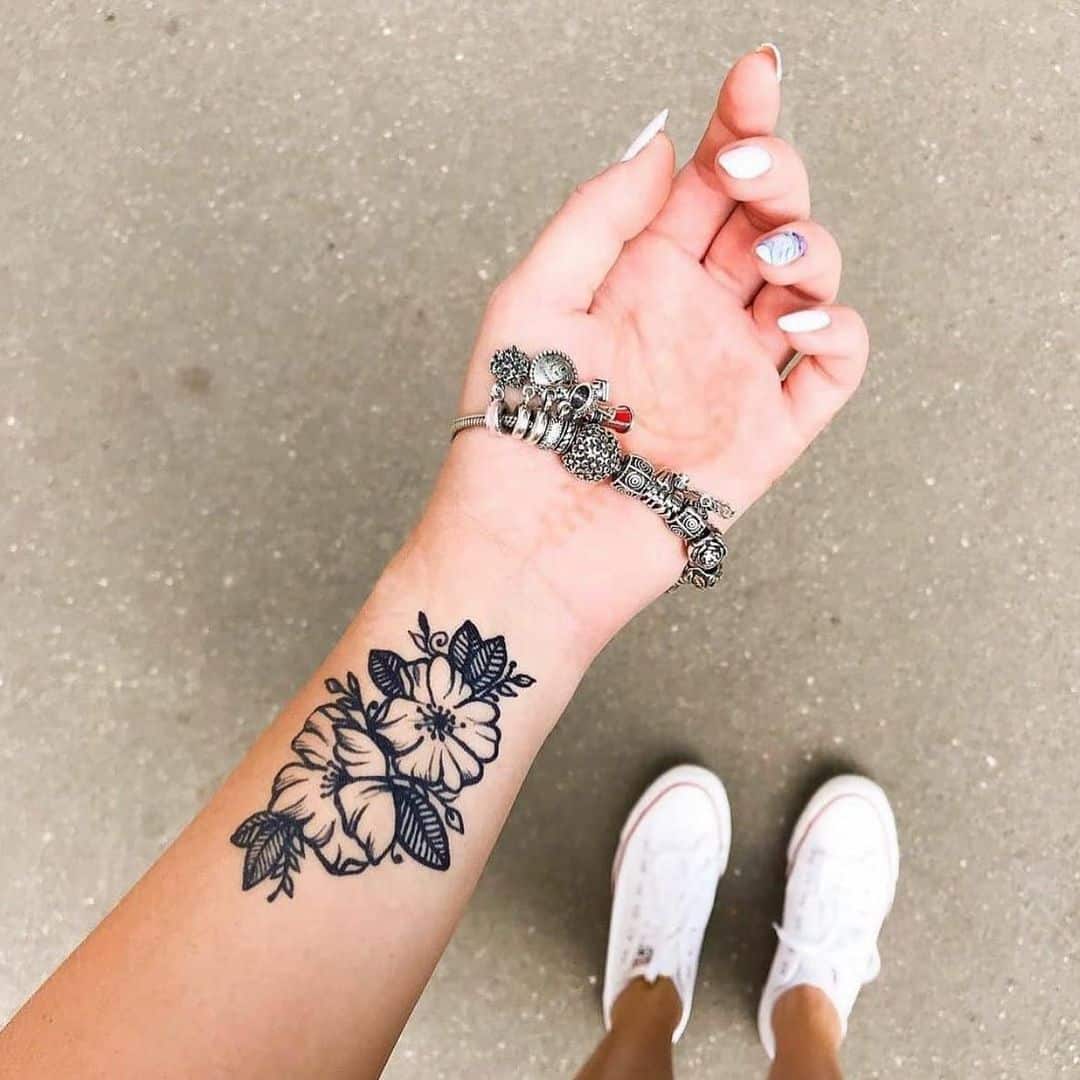 Image source
Flowers are common in henna tattoo designs. As they symbolize beauty, purity, and new beginnings, they can be used to make your body art more personal. This idea, instead of creating an intricate floral design, keeps it simple with a couple of stunning flowers just above the wrist. You can choose any preferred flower for this henna tattoo design and personalize it to your tastes and styling.
37. Feather and Foliage Foot Henna Tattoo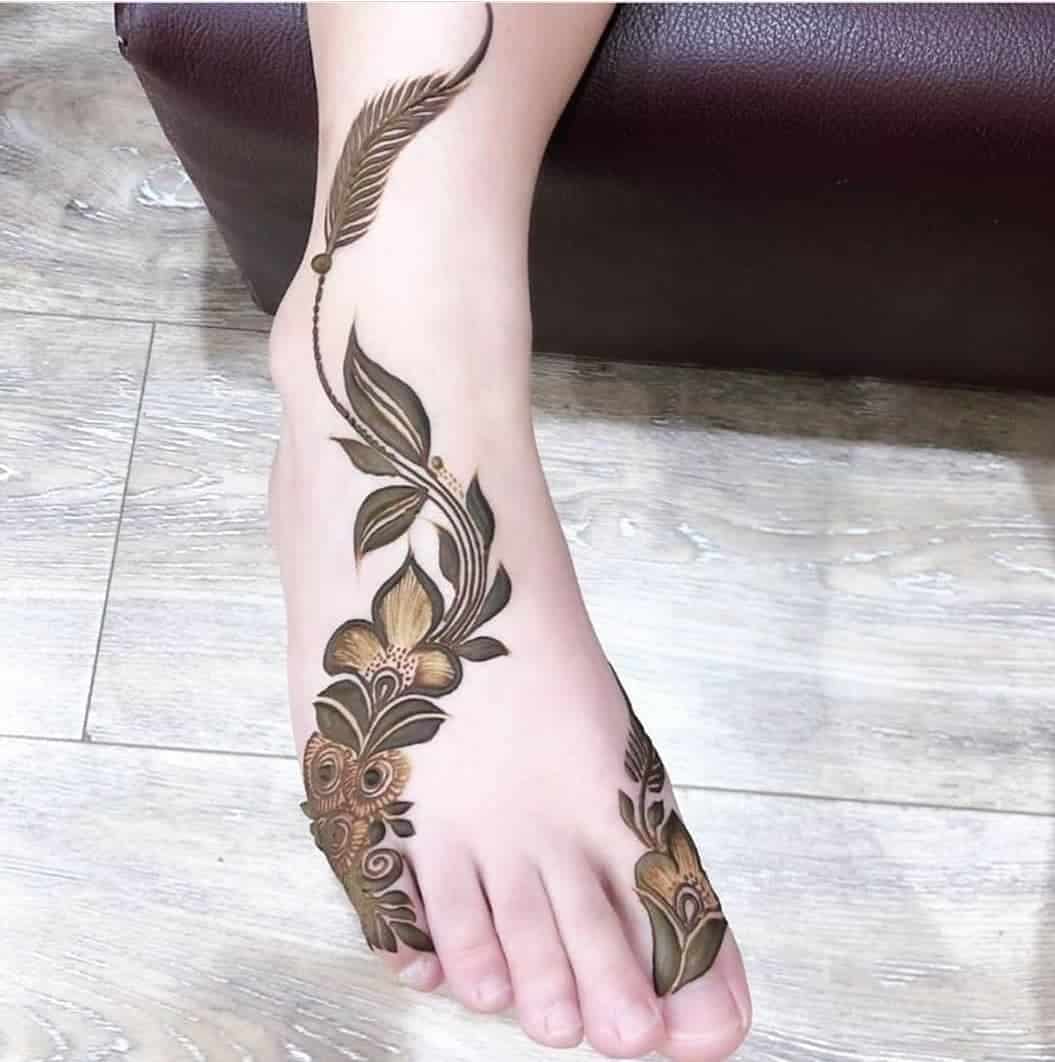 Image source
Foot henna tattoos are popular in many Asian traditions and cultures, as they believe it allows the person to represent their connection to the natural world. This henna tattoo design features a foliage-inspired design with a feather—making it a tad less traditional, while adding to the symbolic meaning of the tattoo. This twisting pattern makes it a great henna tattoo idea to wear as a fashion statement for your next event.
38. Inverted Feature Finger Henna Tattoo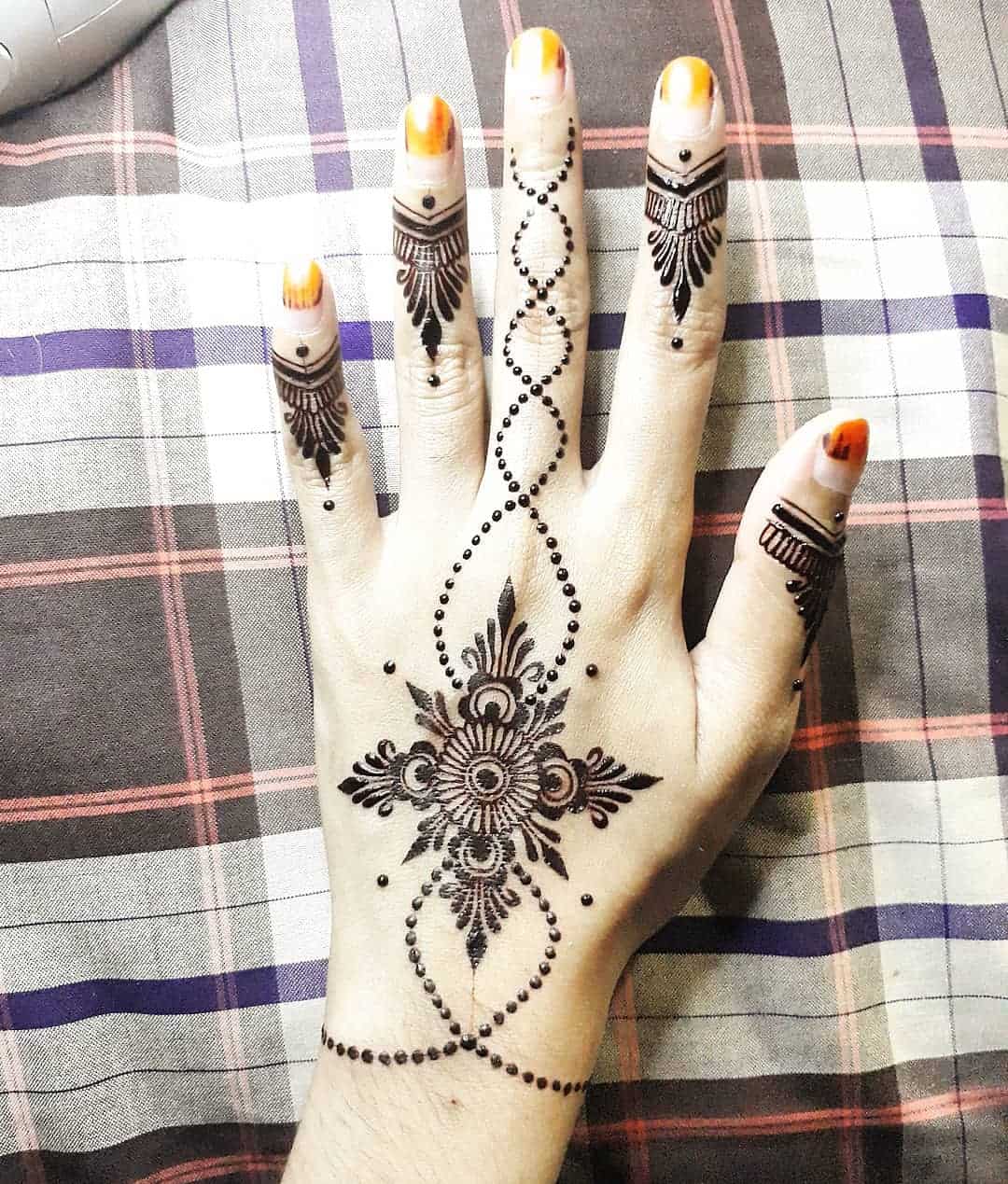 Image source
This is a modern take on the Feature Finger Henna Tattoo design. Here, instead of going with a striking tattoo design on the feature finger, this design keeps the feature finger subtle, and draws focus on your other fingers and the main design on the back of your hand. Pairing it with a halfway-style nail art further accentuates the henna on your hand.
39. Wristband and Flowers Henna Tattoo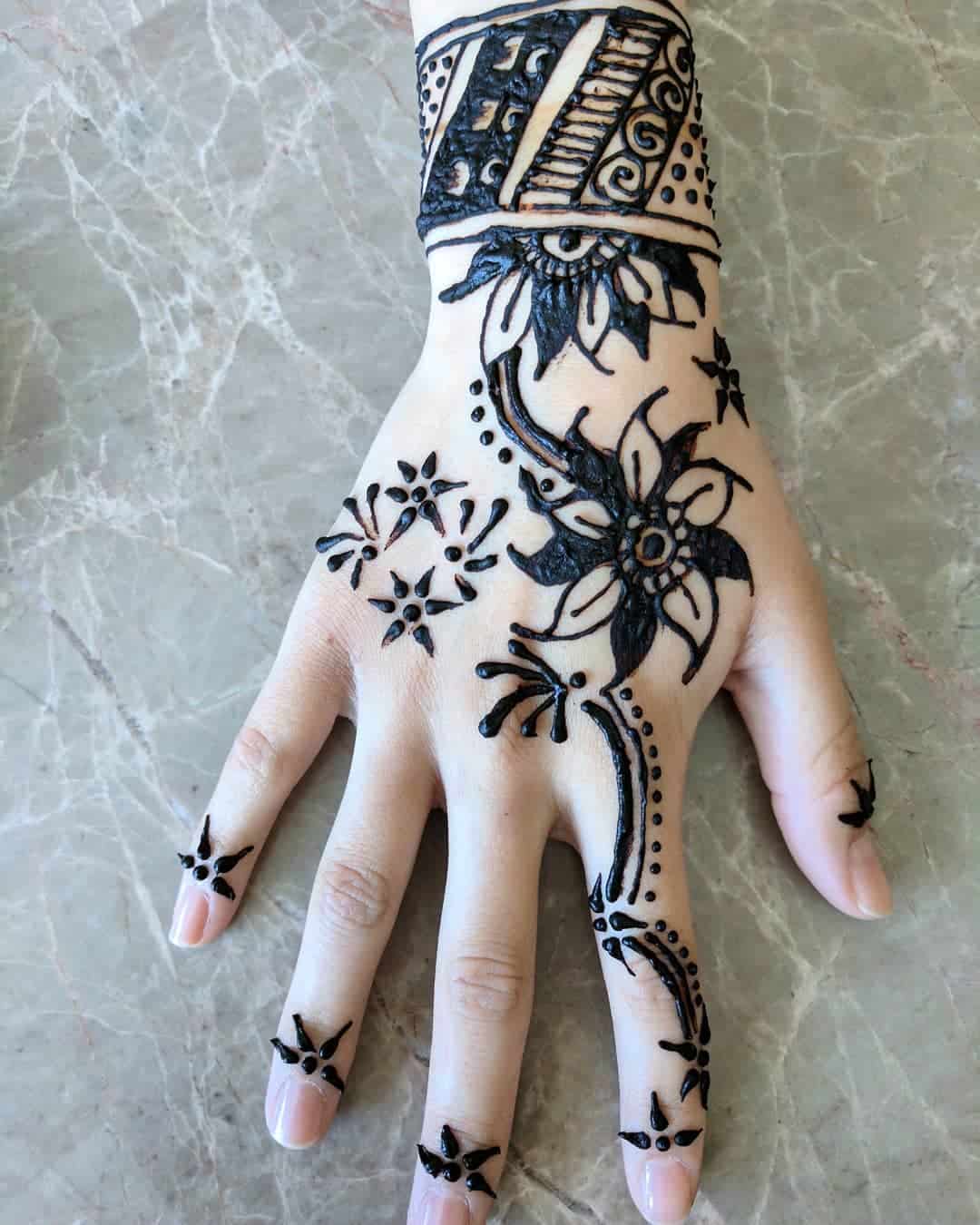 Image source
This henna tattoo idea combines minimalism and complexity in a single design. Here, the henna band wrapping the wrist gives it a stylish and chic look, while the floral elements on the hand make it look more elaborate. It is reminiscent of Arabian aesthetics without being too ostentatious, making it a go-to choice for lovers of intricate line-work and patterns.
40. Red Palm and Fingers Henna Tattoo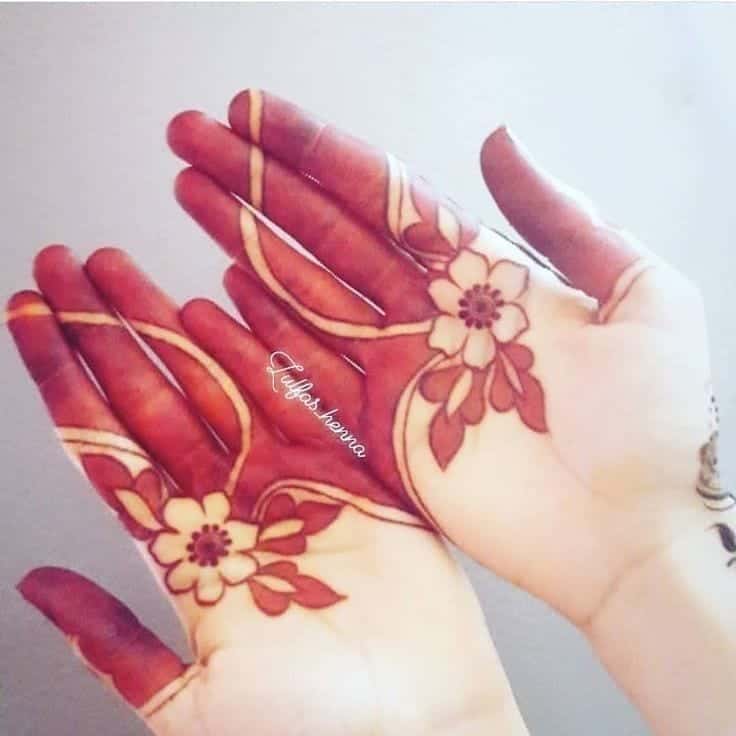 Image source
If you wanted a graceful henna tattoo that resembles the origins of henna art, then this one will be just the thing for you. Here, your fingers are painted in red henna and the design uses negative space to create the illusion of vines from a beautiful flower adorning your palm. As always, you can choose the flower of your choice to give the henna tattoo design a personal touch and add to its elegance.
41. Forearm Bird Henna Tattoo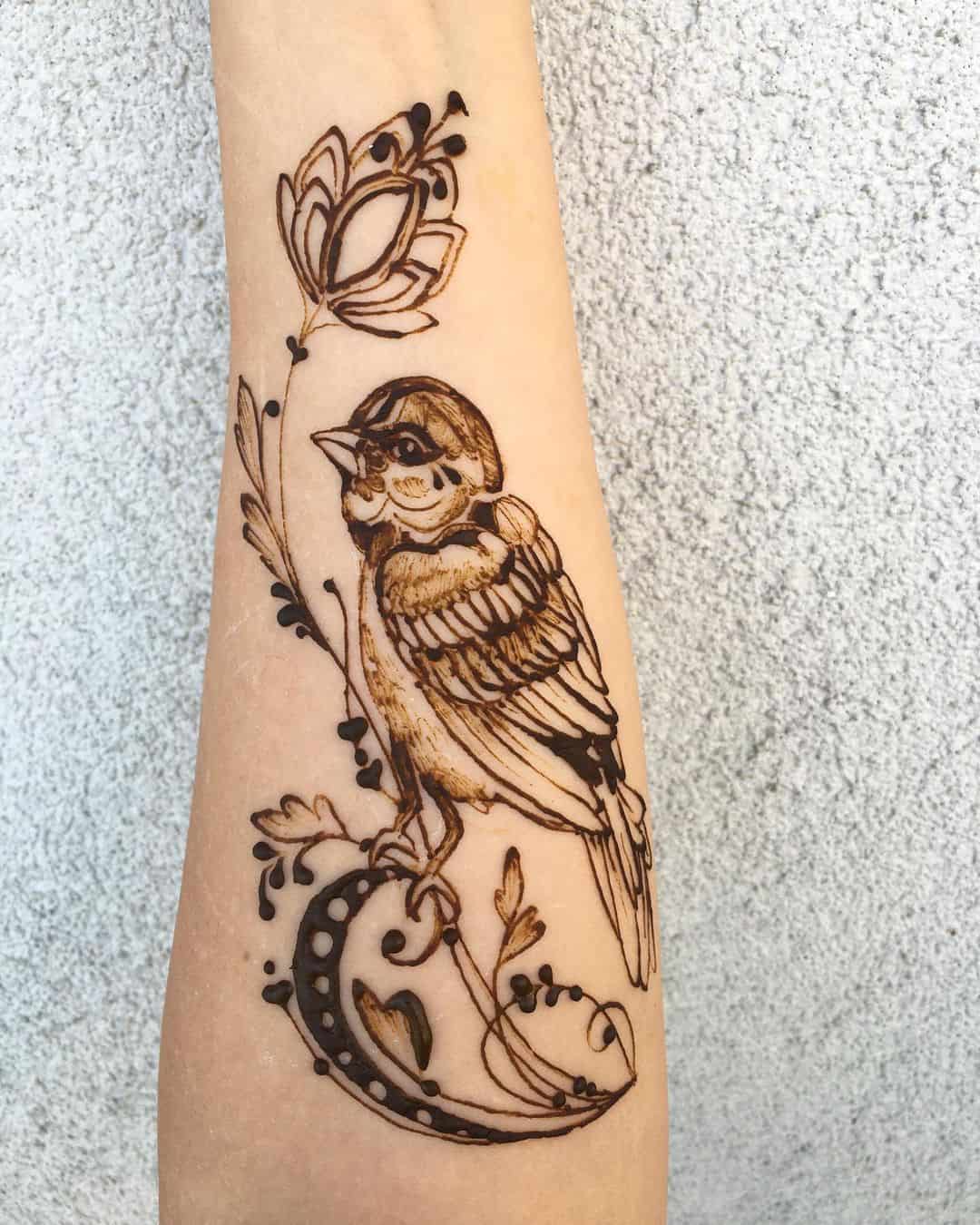 Image source
Birds are very popular in tattoo designs, and they have made their way to henna tattoos as well. This one features a beautiful little bird perched atop a branch, giving your tattoo the symbolic meanings of freedom, truth, courage, and bravery. You could also extend the henna of the branch and flowers all the way down your fingers to give more depth to the overall design.
42. Wrapping Wreath Henna Tattoo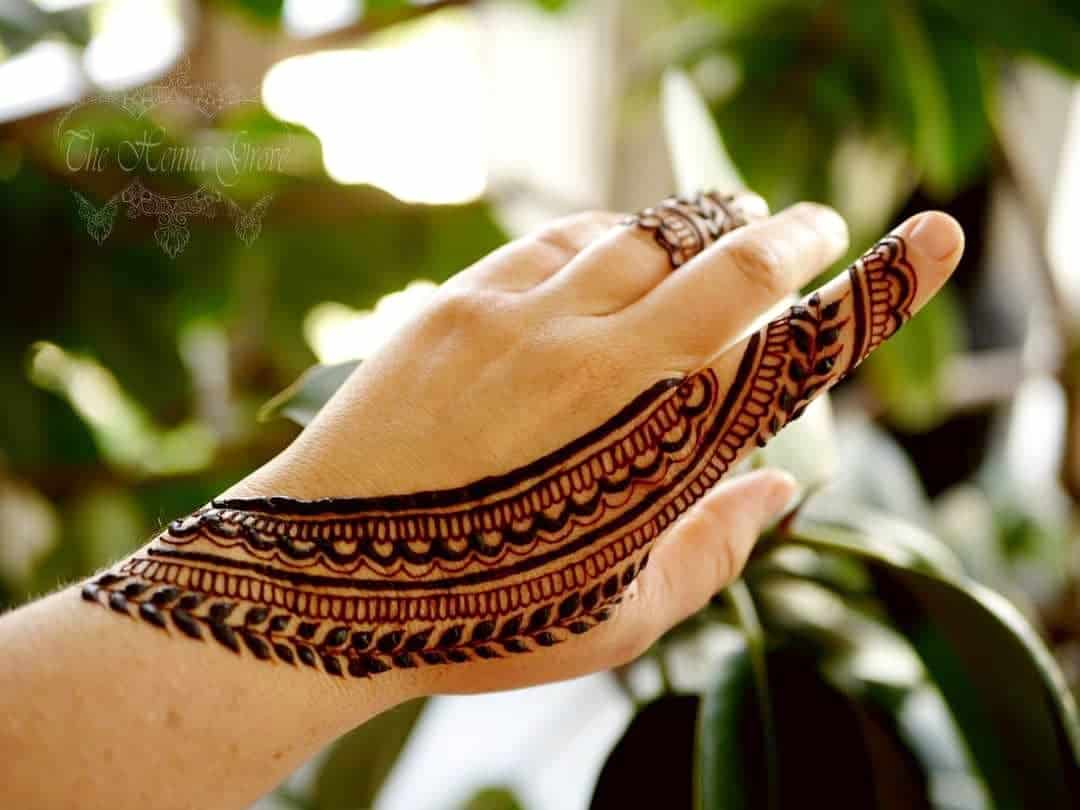 Image source
This is a unique henna tattoo idea that features a wreath-like design painted across your hand. The design extending to the index finger makes it look like the wreath is wrapping your hand. It can be a great way to tie Middle Eastern and Western tattoo styles together in stylish henna art.
43. Paw Prints and Infinite Love Henna Tattoo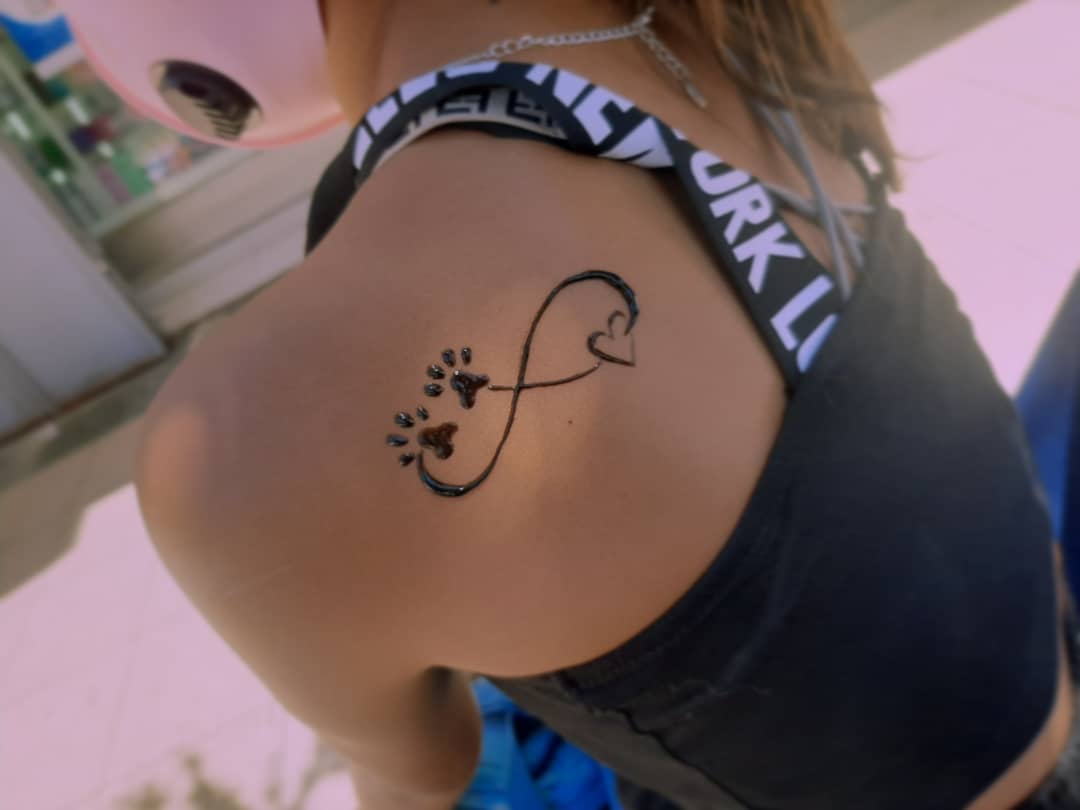 Image source
This one is another version of the Paw Prints Henna Tattoo design. Here, the paw prints are coupled with an infinity symbol and a tiny heart shape to symbolize your love and affection for your pet. As it is a pretty simple and small henna tattoo design, you can easily have it applied on your inner wrist, arm, or any other area of your body.
44. Red Flower Henna Tattoo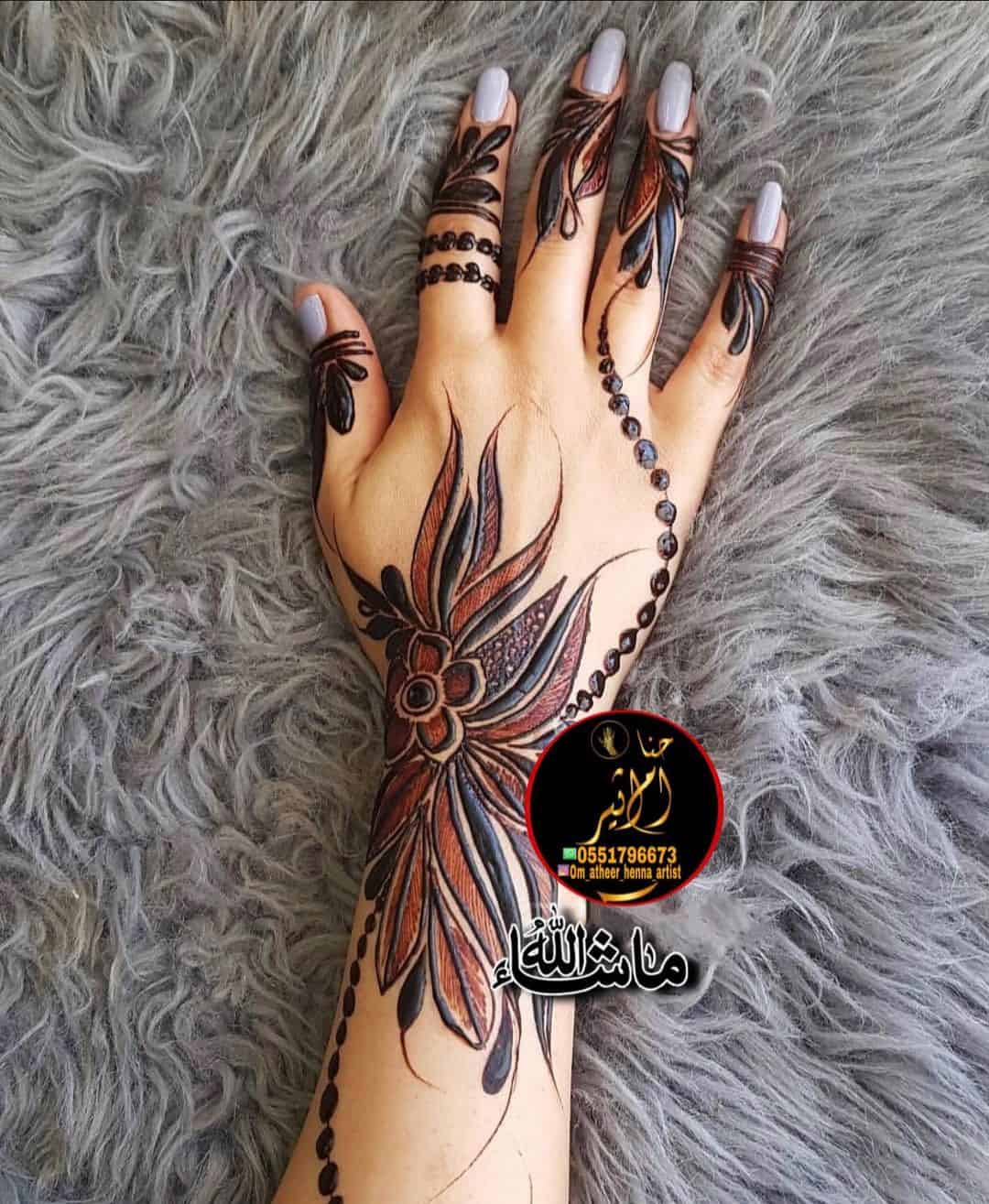 Image source
This is another amazing henna tattoo art featuring a floral design. Here, a vibrant red flower sits on the wrist with its petals spread magnificently over the hand and forearm. The floral accents on your fingertips and the connecting string of beads make it look even more exquisite. If you are a nature lover, then this one can be the best henna tattoo design to match a bridal look.
45. Dragon Henna Tattoo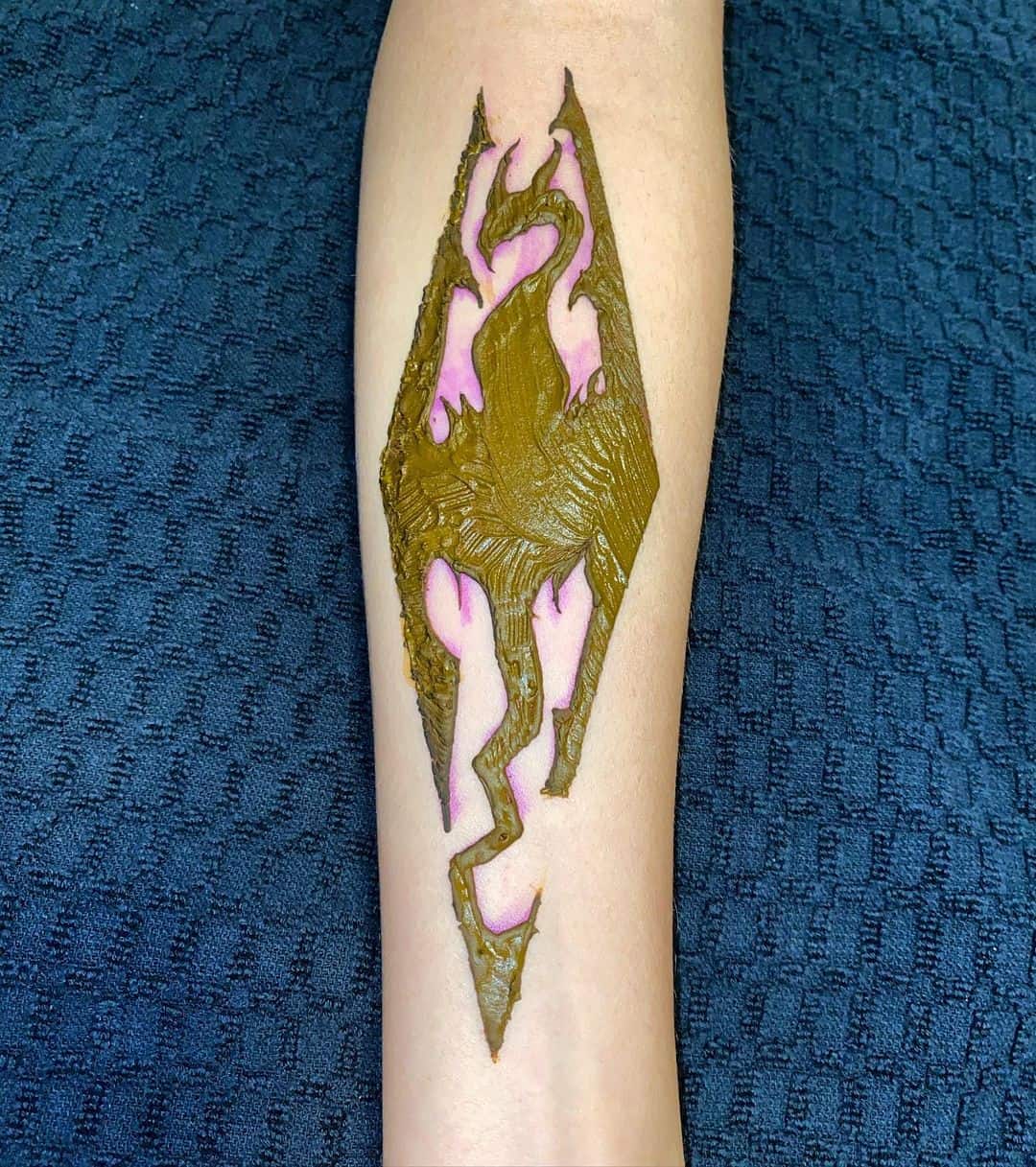 Image source
Dragon tattoos are becoming more and more popular these days, and these mythical creatures seem to be present everywhere from movies and TV shows to video games. This henna tattoo design features the dragon logo of The Elder Scrolls V: Skyrim, making it an ideal choice for video game lovers. Yet you can always take the inspiration and choose from any of the amazing dragon tattoo ideas for your henna tattoo as well.
46. Lotus Henna Tattoo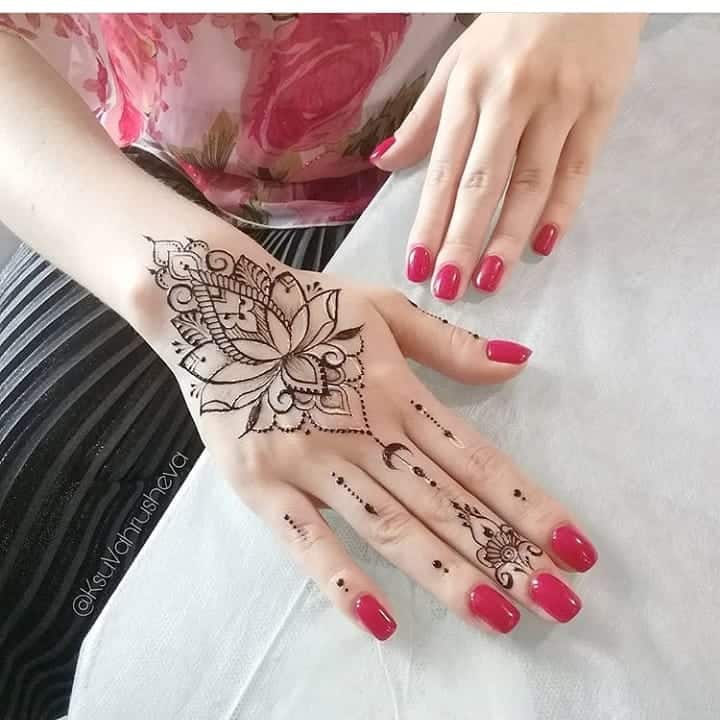 Image source
The lotus flower has a special place in Indian cultures. Lotus tattoos symbolize many different things, but generally, they are associated with beauty, femininity, spiritual enlightenment, and love. This makes a lotus henna tattoo a great option for expressing your personality, while having a stylish accessory that you can flaunt any day.
47. Red Bridal Henna Tattoo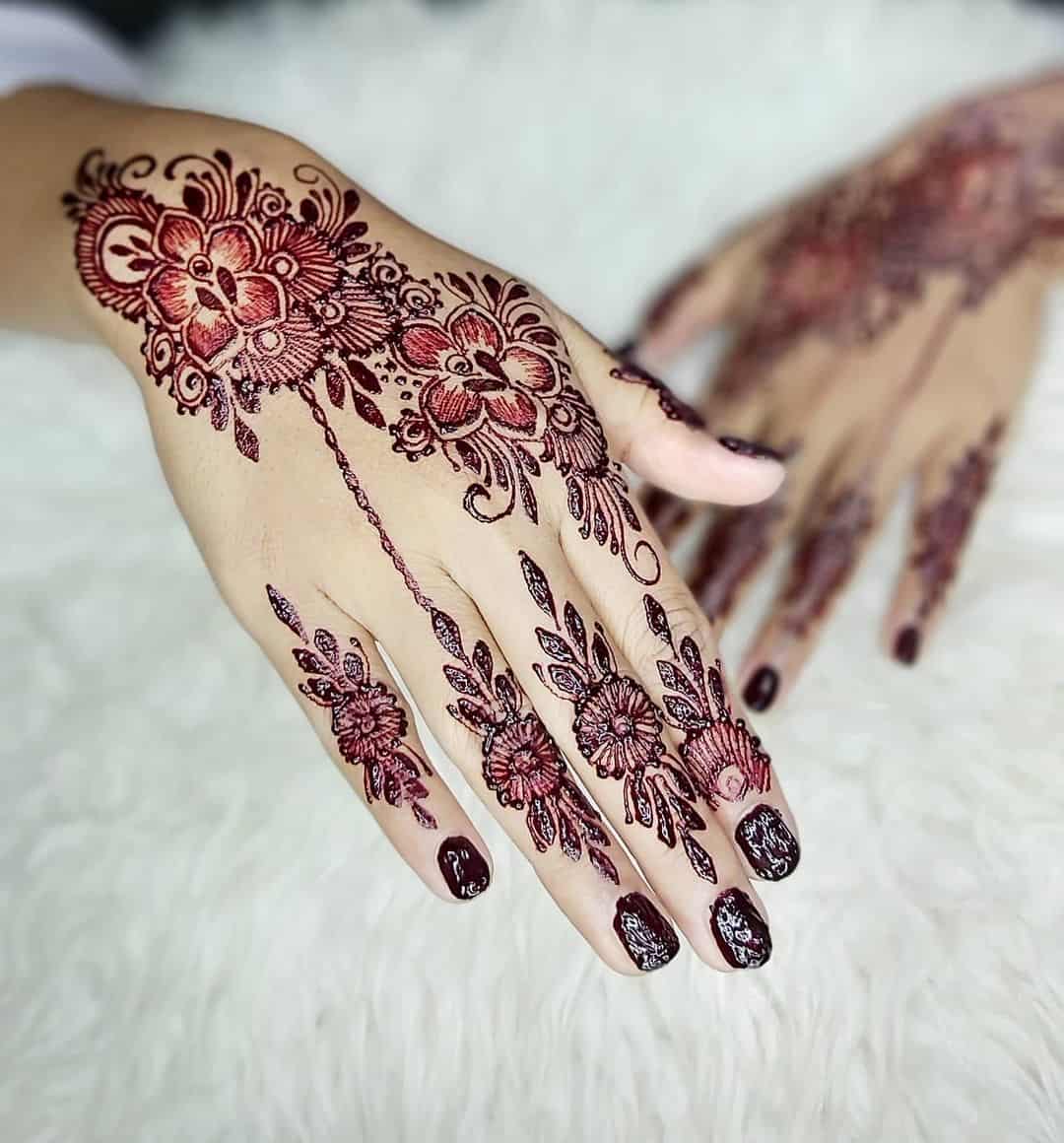 Image source
This is another bridal henna tattoo design that features floral features to represent your innate beauty and persona. Keeping the floral accents in a similar pattern across the fingers makes it look more symmetrical, but you can swap that with tiny dots and fingertip design too if you wanted to keep it subtle. In any case, this red henna tattoo will look even more gorgeous when you pair it with deep red nails.
48. Ornate Finger Henna Tattoo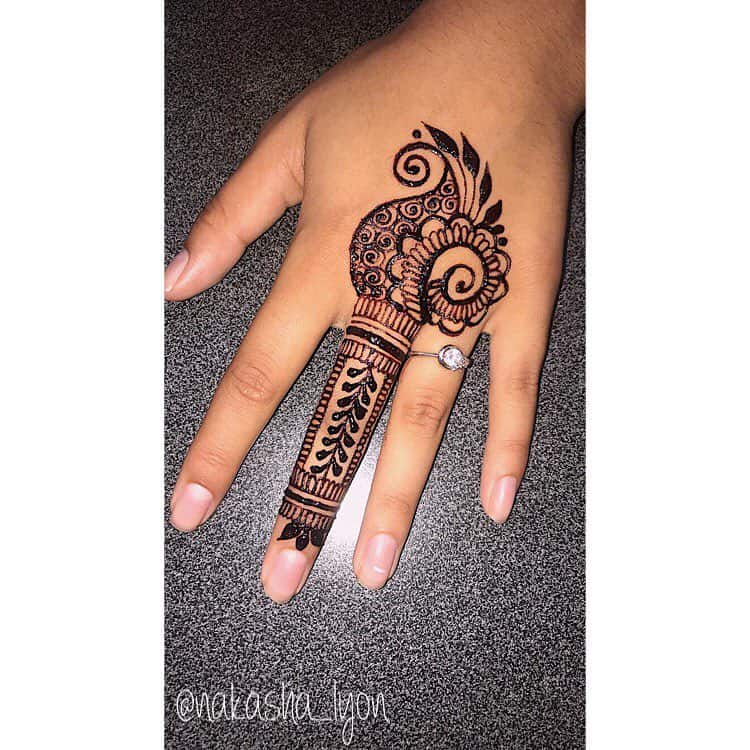 Image source
This henna design is similar to the Feature Finger Henna Tattoo, but with more elaborate details. Here, a paisley design on the back of your hand is blended with intricate henna art on the middle finger. As the paisley design spreads to the ring finger knuckle as well, you are left with a flamboyant henna tattoo to match your style.
49. Asymmetrical Floral Henna Tattoo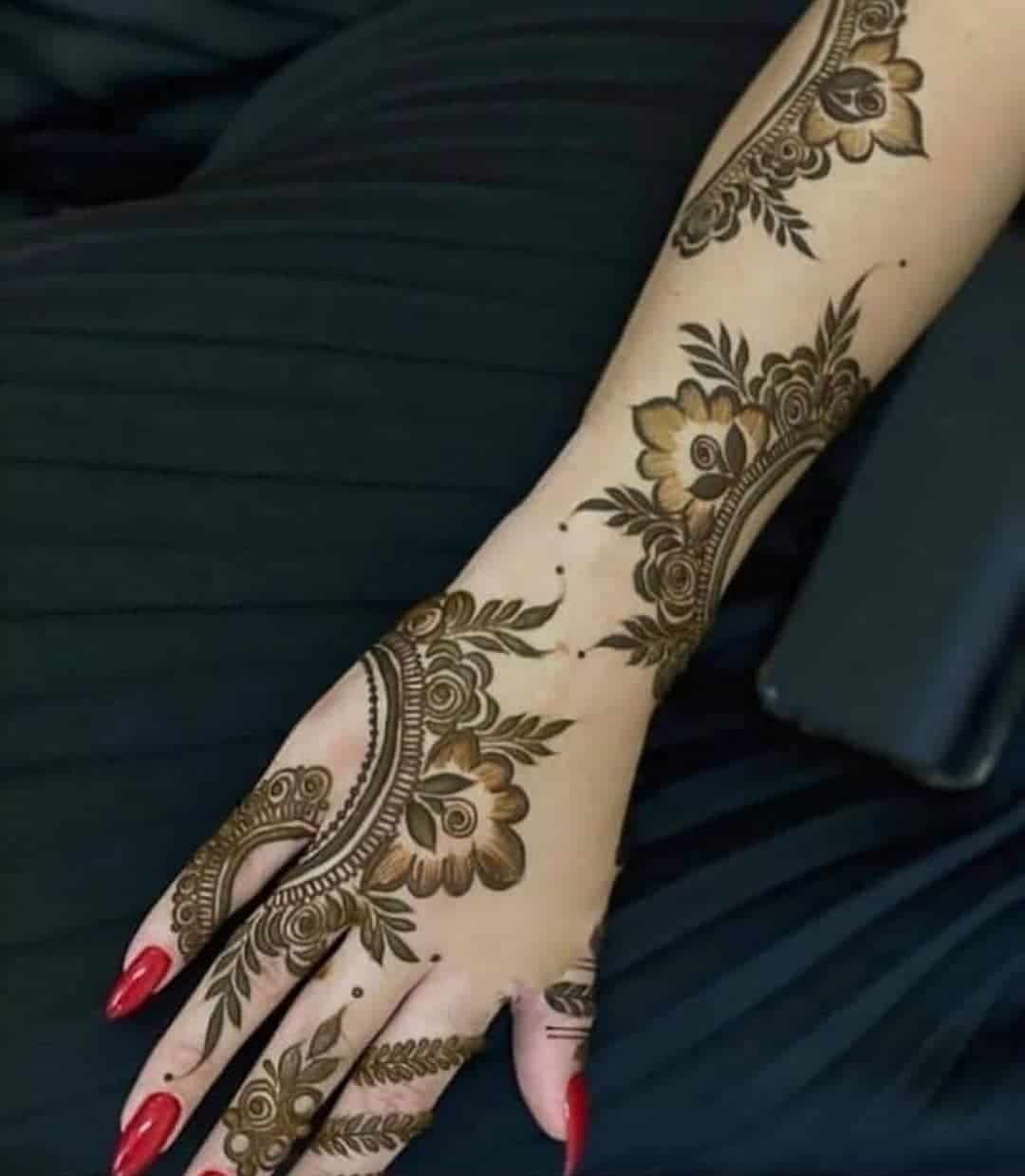 Image source
This is an exquisite henna tattoo idea, featuring a mirror frame-like design extending from the forearm to the fingers. The entire design is accentuated with floral elements and leaves, while the half mirror frames add a touch of mystery to the tattoo. You can wear this henna tattoo for any casual party or a girls' night-out and pair it with your favorite dress.
50. White Henna Tattoo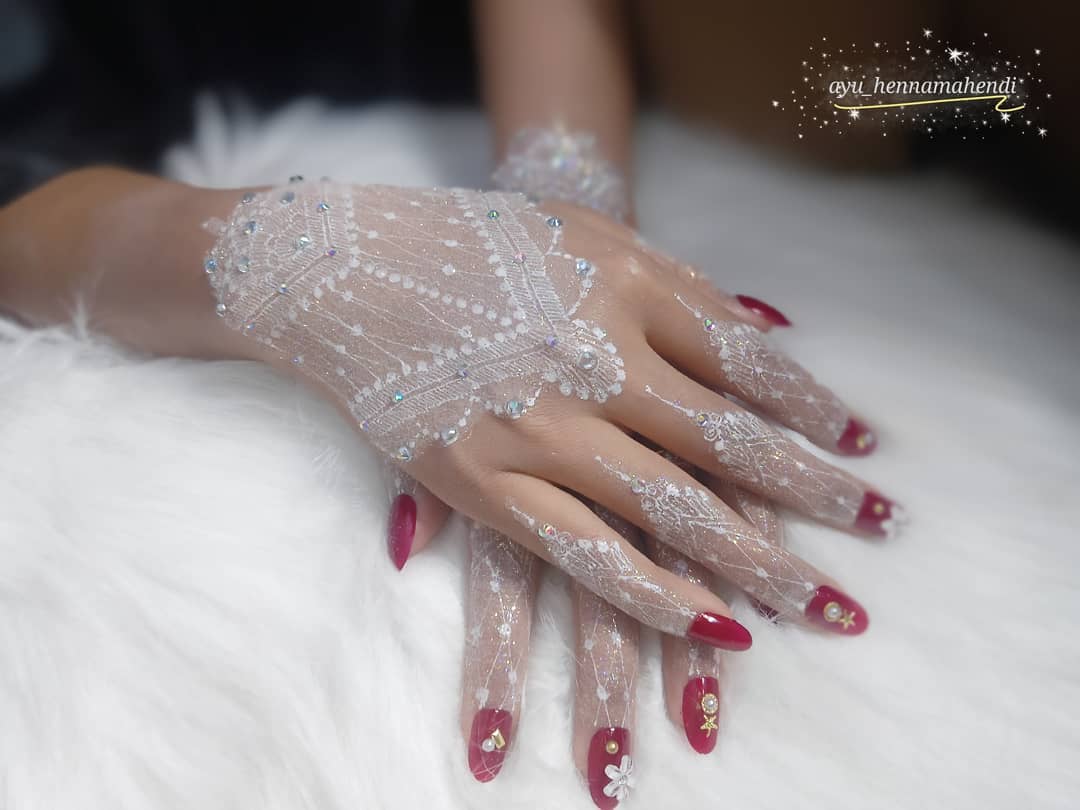 Image source
White henna tattoos create an appeal of wearing a lacey-white glove when applied to your hands. They are great for those who want an eye-catching alternative to traditional henna designs. However, white henna is not made with natural henna plant extracts, but a mixture of cosmetic adhesive and skin-safe pigment. You should carefully look at the ingredients of white henna and be wary of allergic reactions when applying to your skin.
Our Recommendations for Henna Tattoos
Now you've seen our favorite henna tattoo ideas, here are some top tips for how to make the most of your beautiful new artwork.
How to Care for Henna Tattoos
After you get a henna tattoo, you need to take good care of it to ensure that your favorite design lasts longer. While the normal lifespan of henna tattoos is 3 to 4 weeks, not caring for them can make them fade faster. Therefore, you need to follow some aftercare practices for henna tattoos as well, just as you would for your permanent ink. Here are a few tips to help you with that.
Do not touch the henna tattoo for at least half an hour after it is applied to your skin. This will help henna to set well and avoid any smudging of the tattoo.
Prevent your henna tattoo from coming into contact with water for 24 – 48 hours. Cover it up when you are taking a shower so that the color pigments of henna get absorbed in your skin well.
Avoid any contact with chemicals as well, such as saltwater, hand sanitizer, bleach, chlorine, etc. These substances can affect how the henna dye matures to give you a deep color.
Keep your tattooed area moisturized to prolong its fading. As henna works like a self-tanner, it needs proper hydration to deliver the best results.
Although henna tattoos are temporary and will fade away naturally, there are some factors which can have a significant impact on how long they will last. For instance, the type of henna and the amount of time you leave the paste on your skin will determine how well it will absorb into your skin to produce the desired shade, as well as how fast it fades away.
Likewise, the placement of your henna tattoo will also affect its longevity. Placing the henna tattoo on your hands, for example, will keep it more exposed to water and soap. This may result in fading away of your henna tattoo quicker and it may fully disappear within a couple of weeks. On the contrary, if you get the henna tattoo on areas like your forearms, shoulder, or thighs, then it may even last for up to four weeks.
Henna Tattoo Removal
If you don't like the way your henna tattoo turned out, you can use a pumice or bath sponge, and a good quality body scrub to exfoliate and remove the dye from your skin. Using a mixture of sea salt and olive oil can also be a good homemade scrub to exfoliate your skin and remove your henna tattoo.
A Word of Caution
While most henna pastes have organic ingredients and work by improving the natural colors of the plant pigment, there are some types that may contain harmful substances. Black henna, for instance, can sometimes include a chemical known as paraphenylenediamine (PPD) to make the hue darker and the tattoo last longer. Yet this chemical additive can lead to allergic reactions, blisters, open sores, and pose various other risks to the skin as well. So, make sure that the henna products you use are free from such harmful chemicals.
If you are a DIY person and want to try some henna tattoos at home, then henna powder from MB Herbals or Aysha Organics will be good options to get you started. You can also get temporary tattoo kits with applicator bottles to create your masterpiece with organic henna paste. However, make sure to start with simple designs like or this anchor design before moving onto more elaborate and complex designs.
Ink Up
Henna tattoos are no longer just used for religious or cultural traditions; they're also personal expressions of identity and accessories to fashion. As henna tattoos are completely organic, pose no risk of causing infections, and can be removed easily, you can try as many of the above-mentioned henna tattoo ideas as you want. So pick out the henna tattoo design that looks most appealing to you and elevate your style today!