Trendy is the name of the game at Princess Polly. This online store is a mecca for those who take their style tips from Instagram and TikTok. It caters to the young and trendy, with new releases on a weekly basis and an endless stream of influencer collaborations. It's no surprise that young Millenials and Gen Z shoppers are the prime target audience.
The company is based in Australia, but it has fans all over the world, thanks to its fast shipping and great quality items. Despite a rapid release schedule and a focus on quick-fleeting trends, their clothes are very well-constructed. They definitely justify their prices, which are just slightly higher than the average fast-fashion brand.
If you've found yourself enamored with what you've seen in thousands of TikTok videos and Youtube hauls, here are a few stores that manage to curate a similarly zeitgeisty selection. Whether you're looking for stores that are like Princess Polly but cheaper, more feminine, or with better sustainability initiatives, we've got you covered with a selection of trendy stores.
1. For a Femme Aussie Vibe: Hello Molly

Hello Molly is another Australian retailer that shares a lot of similarities with Princess Polly (beyond just the rhyming store names). Both stores carry trendy yet-well made clothes designed for an Australian climate. The prices at each store are quite similar, too.
The main difference is that the vibe at Hello Molly is a little more frilly and feminine, while Princess Polly has a bit more of a "baddie" vibe. If you want to round out your wardrobe with some more femme pieces, give Hello Molly a try.
2. For Eccentric Trends: Storets
Storets is another one of those fashion brands that blew up on TikTok. It manages to capture shoppers' hearts with a more eccentric approach to trendy fashion. Their items include asymmetrical cardigans, oversized knitted vests, and extra wide-legged pleated pants.
The designs are just over-the-top enough to really stand out, giving an absurd but chic take on youth fashion. Their prices are about similar to Princess Polly, and they consistently use very nice fabrics and materials, so their clothes are designed in a way that will likely outlast the trends.
3. For California Style: PacSun
Once upon a time, PacSun was a go-to for skater and surfer fashion. These days, they're one of the trendiest stores on TikTok, with a massive social following. What Princess Polly is to Australia, PacSun is to California, with styles that suit the warm, beachside state in an American way.
PacSun primarily carries casual wear, with a lot of activewear-inspired clothes as well as some boho-inspired designs. They do frequent influencer collaborations, most recently with Emma Chamberlain. The store also has a dedicated unisex section, which is great for those who find that shopping by gender is too restrictive.
Another bonus is that since PacSun is based in the US, their prices are more accessible for a North American audience than Princess Polly's, while still offering better quality than fast-fashion brands.
4. For a More Subdued Style: Lulus
Lulus is another online store based in California that manages to do a lot of the same things as Princess Polly while courting Gen Z a little less aggressively. They carry a lot of trendy styles, and you can actually sort through them based on specific trends like "ruched" or "90s."
While their designs definitely suit the current tastes, even as they change from month to month, their selection is a little more subdued than Princess Polly. The cuts are less racy, which makes them a great choice if you don't like to show a ton of skin.
We also appreciate that Lulus also has a robust selection of more timeless and formal styles, including an amazing range of dresses for every occasion.
5. For Affordable on-Trend Clothes: Pretty Little Thing
Pretty Little Thing shares the same "baddie" aesthetic as Princess Polly, albeit for much lower prices. Since so many of the designs at Princess Polly are not necessarily going to stay in style for more than a season or two, it makes sense if you don't want to drop $50 on some of their items.
That's when buying from Pretty Little Thing might be more reasonable. You can try a trend for cheap, so it's less of a risk if you end up not liking the look. If you do end up liking a certain style, it's always possible to buy a higher quality version of the same item at Princess Polly or one of the other stores on this list.
6. For Multi-Brand Shopping: ASOS
ASOS is more of a marketplace, which is why you can end up with some amazing finds when shopping there. Like Princess Polly, it's also a fantastic destination when you want to keep your look in-line with current trends. It allows you to shop from a range of both ultra-affordable as well as mid-range brands. ASOS keeps a close eye on social media and curates a specific section that's based on the current trends, no matter how recently they've popped up.
Since ASOS is based in England, their styles are not as summer-ready for warmer climates. In fact, you'll find a wider selection of winter-appropriate clothes, but with that same trendy vibe that's sure to be a hit on Instagram. Compared to Princess Polly, the prices are more budget-friendly, which is another plus.
7. For Sustainable Trends: Reformation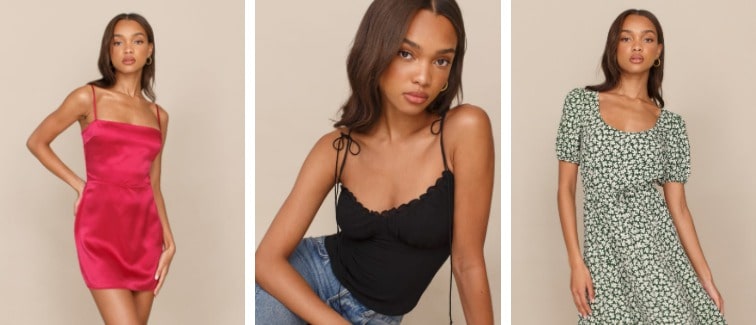 Reformation has the same trendy vibe as Princess Polly, but with one big added bonus—sustainability. Reformation prioritizes the environment by using eco-friendly materials and having a process that limits waste and uses few resources.
While most sustainable brands opt for either minimalist or eccentric styles, the Reformation style is just as trendy and shareable as Princess Polly's. The dresses at Reformation are anything but boring or demure, with modern silhouettes that show off the figure beautifully. They also produce other on-trend designs, like matching two-piece sets, skin-tight bodysuits, and ruched tops with low necklines.
8. For Skin-Baring Trends: Verge Girl
Verge Girl is another Australian store that really exploded on social media, with a distinctly Gen Z-inspired selection. Their overall approach, quality, and price point are nearly identical to Princess Polly, but with an even stronger emphasis on revealing designs (and it's not like Princess Polly is close to demure).
While this store carries a full range of clothes for any occasion, the standout items are skin-baring crop-tops and bikinis. At the time of writing, ruching and added ties around the midriff are easy favorites, but Verge Girl is the type of brand that'll quickly change course as the tides of fashion turn.
9. For Luxury Trends: Revolve
If your tastes run a little more towards designer fashions, have a look at Revolve. Like Princess Polly, Revolve also has a trend-aware selection of clothes that's always right on the money. The major difference is that instead of designing in-house, Revolve works with a massive range of designers and labels.
If you like to invest in a high-end, designer wardrobe, it's by far the best destination. Revolve collaborates with a long list of brands, including Free People, ALLSAINTS, and Zimmermann. Their selection is massive, so you can shop here for any event.
10. For American Trends: Urban Outfitters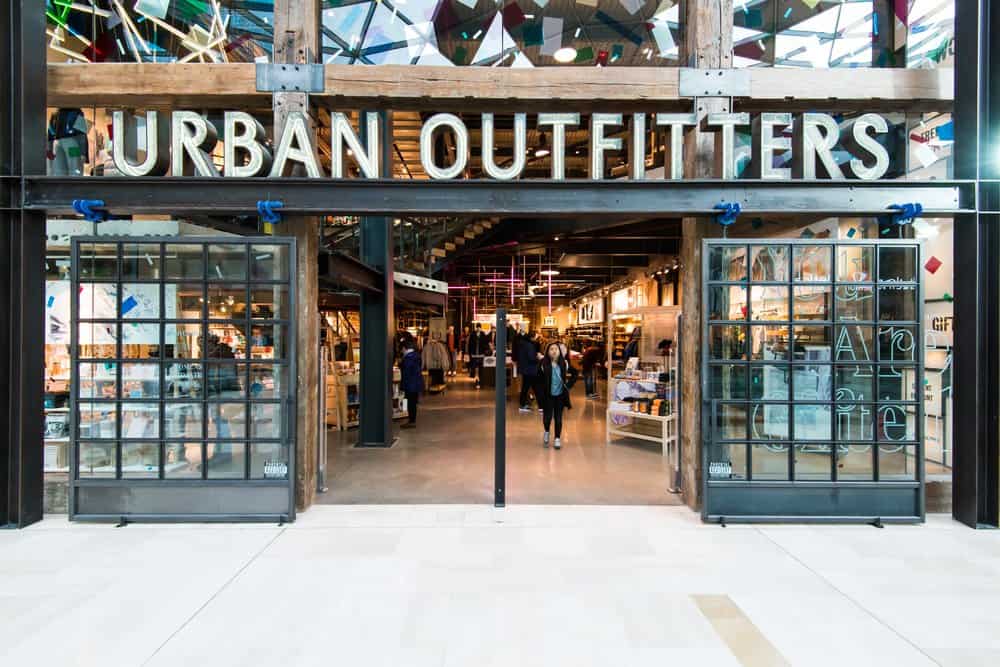 If we had to find an American counterpart to Princess Polly, Urban Outfitters probably comes the closest. Much like Princess Polly, Urban Outfitters also pursues frequent influencer collaborations. The selection of styles at Urban Outfitters is a little wider, thanks to the range of brands they source from, but what they all have in common is that they're youthful, trendy, and casually stylish.
Compared to Princess Polly, the most major branding difference is that Urban Outfitters is a little more boho-chic. Right now, they're leading the tie-dye comeback, and we know they'll always be on top of whatever styles come next.
Social media has influenced fashion in a significant way. New trends pop up on a monthly basis, and most of them are really unique. Those who share their fashion on TikTok choose interesting clothes with unusual design elements because that's what sparks the most interest.
If you'd like to curate a dynamic closet that represents those shareable trends, Princess Polly is one of the leading stores to buy from, but it's not alone. Around the world, different retailers are showcasing their own designs that inspire and are inspired by Gen Z. Shop from all of them to create a wardrobe that's trendy but also unique to your style.