Dressing up for any occasion is no easy task, and this applies to concerts even more than with most events. When getting ready for a music festival or concert, you want your outfit to vibe well with the venue and genre. The last thing you would want is to look like the misfit in the crowd – after all, concerts are buzzing with cameras and paparazzi. This article will guide you through the outfits you can sport at various concert events so that you can show up looking your best!
How to Determine a Style to Wear for a Concert
Concerts are a great place to flaunt your wardrobe's best- knowing what to wear is crucial to fit in with the crowd. While pop concerts warrant bright, peppy colors, a rock or a metal concert requires a toned-down look in blacks and greys.
Pop Concert Look
A pop concert is a great place to flaunt an outfit that is fun and playful. You can keep your look as simple as a band T-shirt with ripped jeans or perhaps a more detailed look with peppy dresses, crop tops, spaghetti tops, denim shorts, loose trousers, and miniskirts.
Sporting a bright, bold look is possible with pops of colors in subtle and not so subtle ways! A cropped jacket with skinny jeans and a pair of heels should do the trick for you. Light makeup to showcase your cheekbones and a high ponytail can work just as well.
Rock Concert Look
Rock concerts are leather jacket-friendly, and there's no reason why you shouldn't be too! Black skinny jeans, shorts, graphic T-shirts, and denim dresses are the way to go. Leather biker boots with detailed buckles and straps are ideal when it comes to footwear.
The entire vibe can feel edgy and intense but also relaxed at the same time. You can tie your hair in a high bun or pony with the hair off your face. For makeup, you can go with a simple look that isn't too over the top.
Hip-Hop Concert
Dressing for a hip-hop concert is easier than you might think – all you need is to combine equal parts of chic and street styles. A relaxed ensemble with a subtle oomph factor is what you need.
Loose trousers, boyfriend jeans, and a cropped T-shirt with a graphic logo or print should do the trick for you. A pair of comfortable sneakers or boots are a must if you intend on dancing the night away!
Indie Concert Look
An indie concert is a great place to try out a bold outfit. The crowd is typically relaxed and judgment-free, giving you that much-needed space to try out new funky outfits. Denim shorts or overalls with a quirky graphic t-shirt along with casual sneakers go a long way. You can try a dewy makeup look with a messy bun or loosely curled hair.
Country Concert Look
It is easy to choose the wrong attire for a country look – people often think that a plaid shirt with a cowboy hat is the perfect way to dress. While this is not necessarily the wrong approach, too much of it could make you look rodeo-ready!
You could instead choose an outfit that features denim – a jacket, t-shirt, or mini skirt. A pair of tan leather suede boots with fringes is the best way to reel in a country vibe.
Metal Concert Look
A metal concert is a great place to unleash your inner rebel and all that pain you keep hidden away. Stick to an all-black ensemble, and be sure to stay away from bright and loud colors.
Ripped black jeans, leather trousers, and a graphic band tee in conjunction with a leather or biker jacket are perfect. Don't forget to apply plenty of black eyeliner, and opt for heavy-duty boots to complete the look.
Music Festival Outfits
Music festivals have cameras all over the place – this warrants a chic outfit that makes you look your best. Sport a bohemian look with loose styles and colored prints for Coachella. Strappy sandals and knee-length boots are a perfect fit. You can leave your hair out, or braid it and combine it with a simple makeup look.
Winter Concert Outfits
A winter concert is a great place to showcase your best sweaters, beanies, and hoodies. Begin with a pair of jeans or jeggings that will keep you warm right through the day and night. A chic top with a flannel or denim shirt serves as a great accessory that you can tie around your waist if the weather gets warm. Sneakers or boots that keep you snug are the ideal pairings.
Opera Concert Dress
For an opera, avoid wearing denim jeans or leggings, although they seem like comfortable options. Dress up in pencil skirts, dresses, shawls, gowns, and blazers to reel in a formal vibe. A statement necklace or large earrings helps to give your outfit a much-needed bling factor. Keep your hair fuss-free and keep it simple in a sleek low ponytail with minimal makeup and bright lips.
The concert outfit ideas mentioned here are bound to leave you looking chic and stunning without a doubt. Whether it's a loud rock concert or subtle opera night, this list has got you covered!
50 Concert Outfit Ideas to Experiment With
1. Olive Green Shirt With Black Skort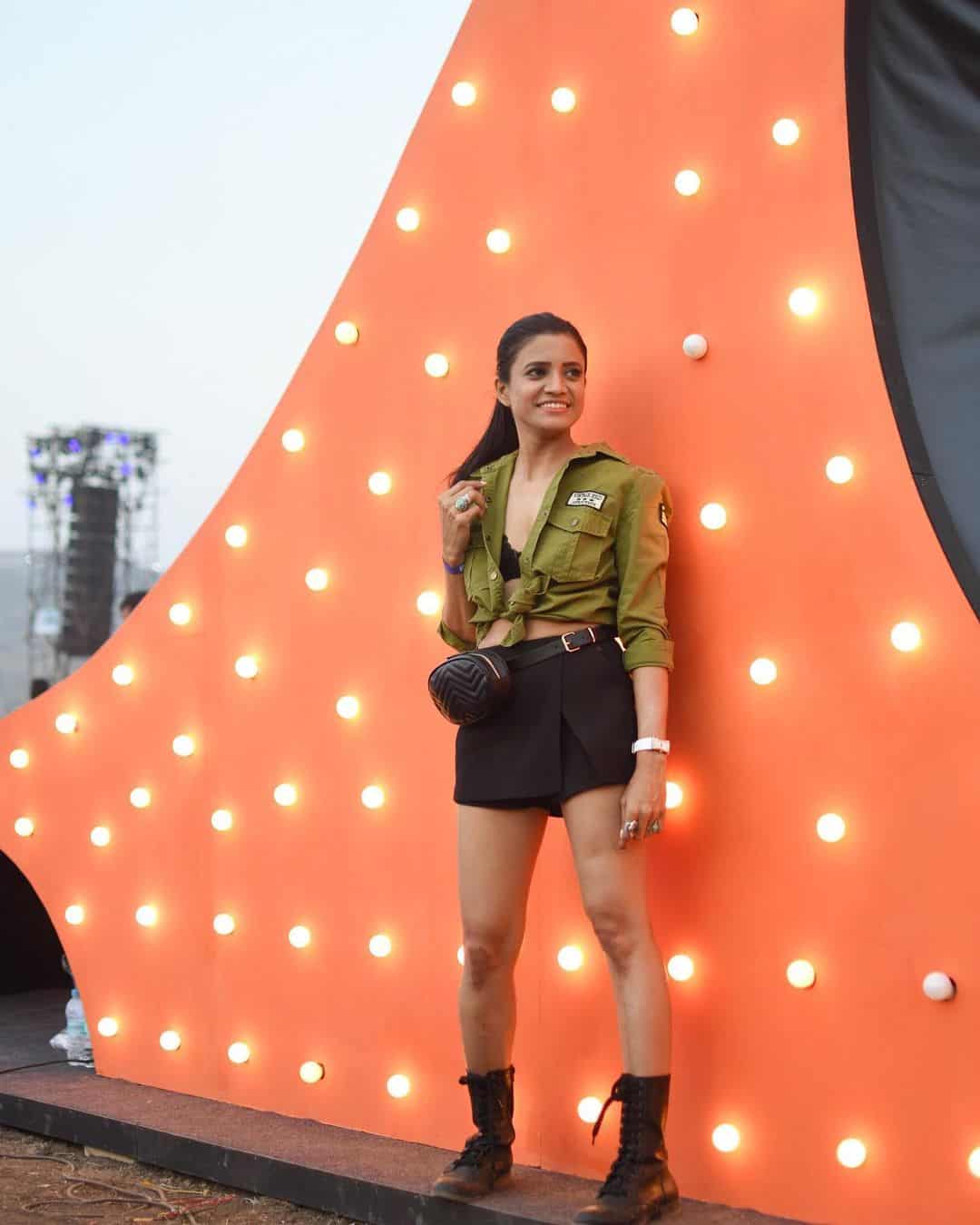 Image Source
This olive green, army-style, collar neck, full sleeve shirt with mustard buttons and large pockets comes with bold, white prints on the shoulder and chest. The unbuttoned tie-up shirt, in conjunction with the asymmetric black skort, is the perfect match.
A simple ponytail, light makeup, a white wristwatch, finger rings, black lace-up mid-calf leather boots, and a leather waist pouch makes you rock concert ready!
2. Denim Jacket and Ripped Denim Mini Skirt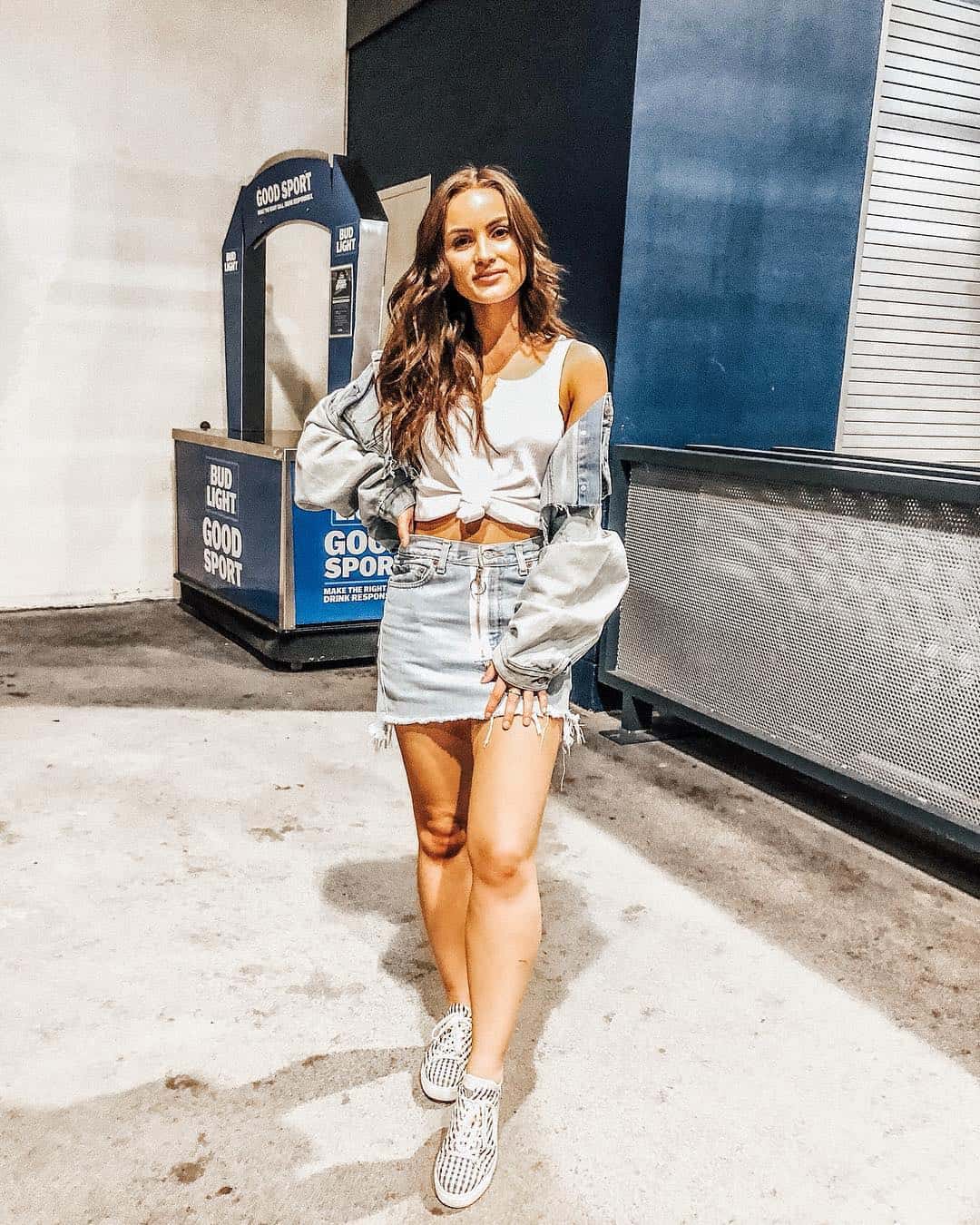 Image Source
A white boat neck sleeveless top knotted at the bottom when paired with a light blue denim mini skirt with a jagged, ripped hemline and a metallic zipper in front makes for a casual, laid-back look. A loose batwing sleeved denim jacket worn off the shoulder adds a rustic finish.
Sport this outfit with a pair of black and white sneakers for a spring concert-ready tribal-themed look!
3. Off-Shoulder Multicolor Romper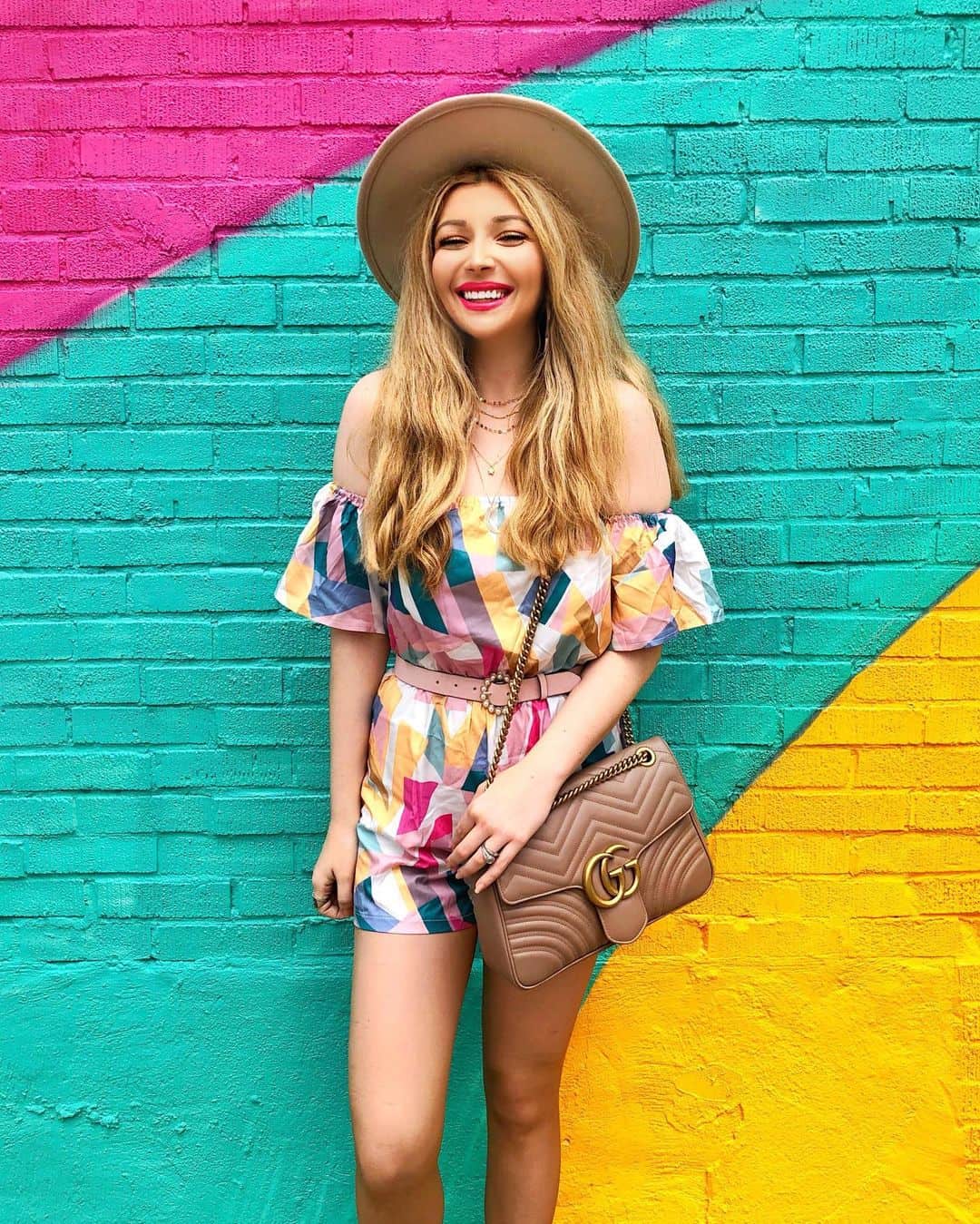 Image Source
This off-shoulder sleeve, elastic waist romper with multi-color asymmetrical blocks is perfect for a summer concert. A peach belt around the waist adds to the color palette while giving the romper a streamlined fit. Bright lip color, finger rings, a necklace, brown fedora, and a mauve sling bag work well with the outfit.
4. Cherry Strapless Mini Dress With Black Wool Shrug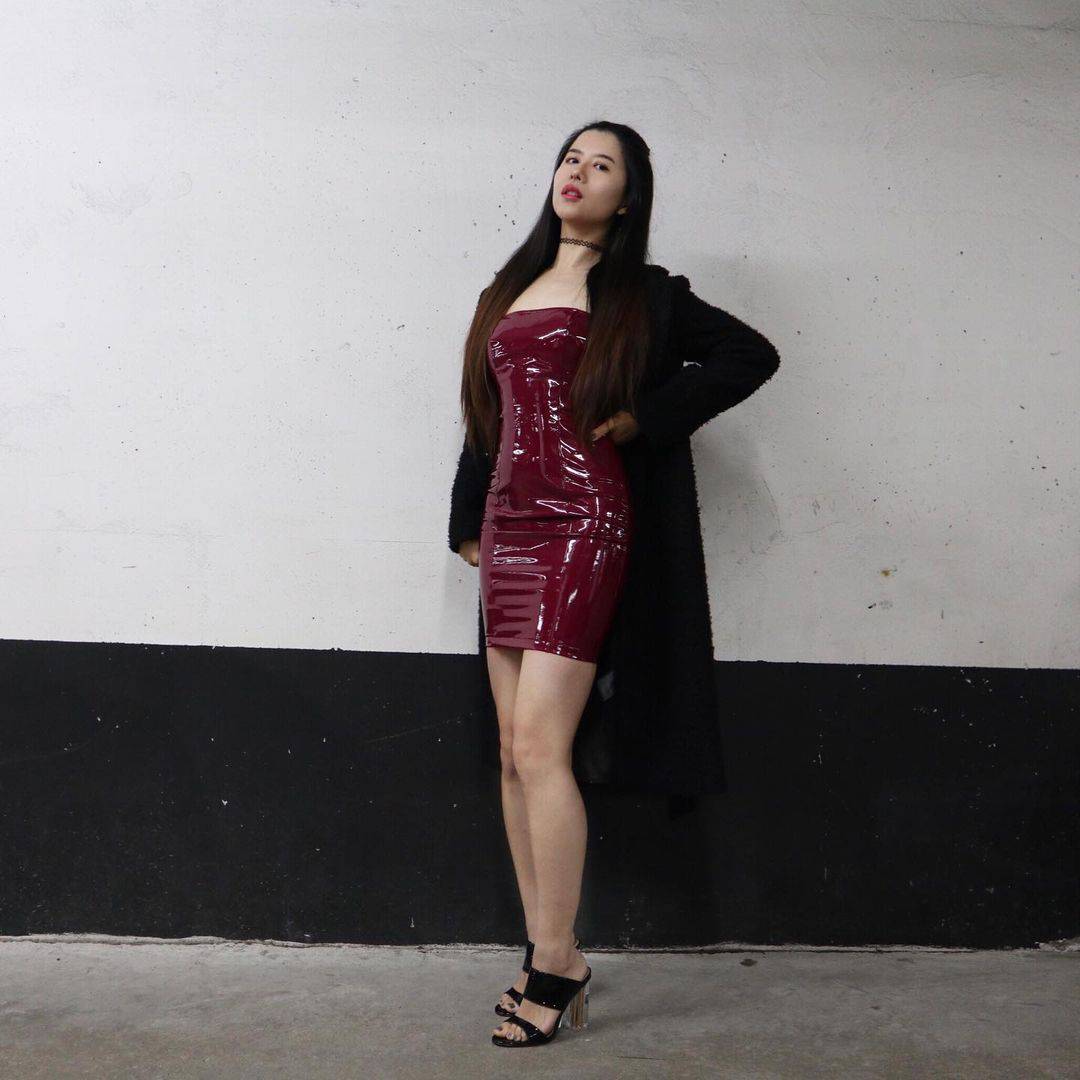 Image Source
This synthetic faux-leather, cherry body-fit strapless dress comes with a glossy finish making it perfect for an EDM concert. A black Wool shrug, slightly longer than the dress, balances the glamour of the dress.
Sport this outfit with simple makeup, bright peach lipstick, a black hollow-out choker, and a pair of black leather mid-high stiletto heels.
5. Black Graphic Crop Top With Black Mini Skirt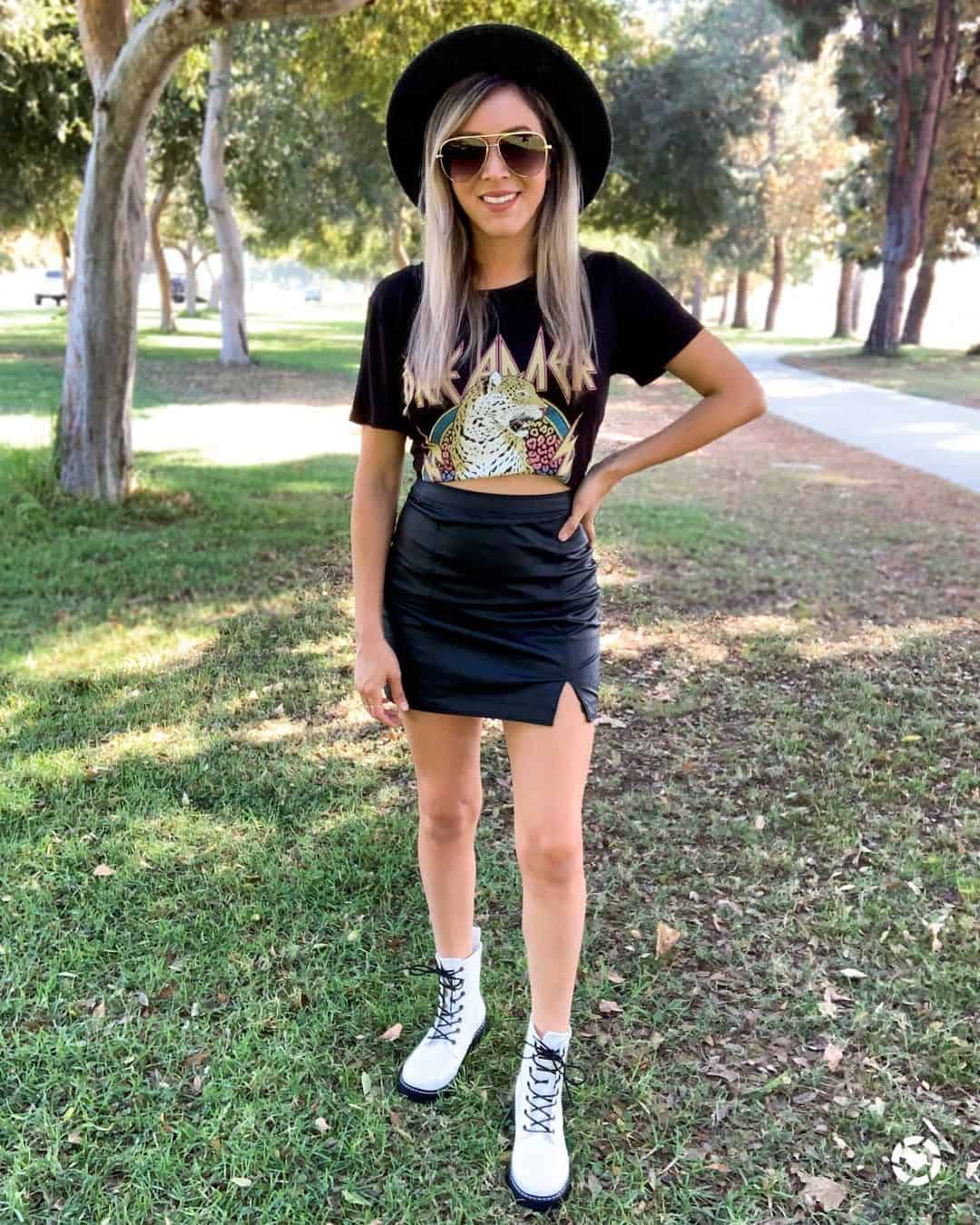 Image Source
Wear this black, leopard printed, graphic crop top with raglan sleeves and a high-waist, black, faux leather mini skirt with a side slit for a rock concert. Dye your hair platinum blond, wear a black fedora, and complete this look with white, mid-calf, lace-up boots. Dark brown aviator shades complement the black theme of the outfit perfectly.
6. Black Crop Top With Ankle Length Fringed Trousers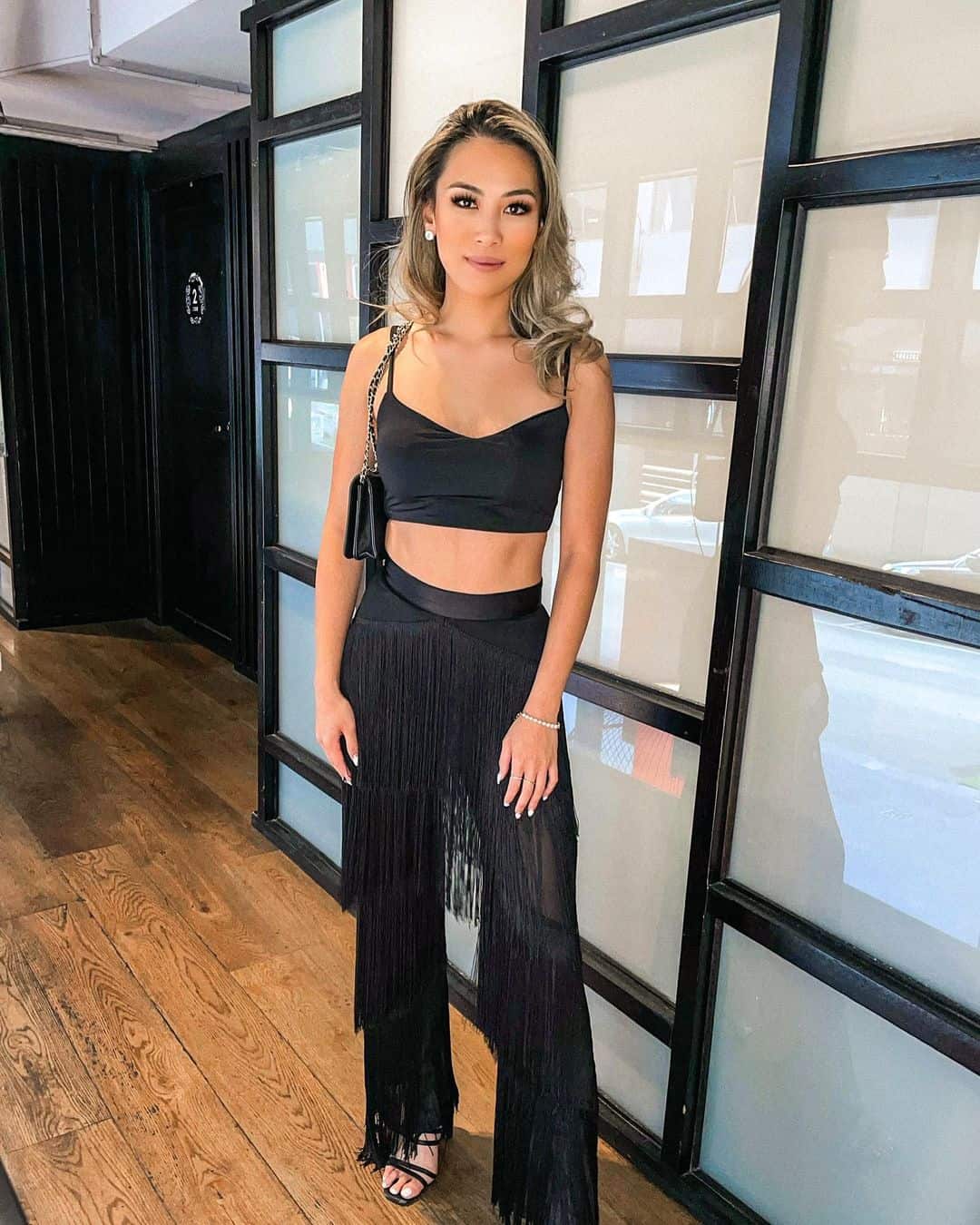 Image Source
A sweetheart neckline black crop top with spaghetti straps and high-waist, ankle-length, straight, tasseled trousers is ideal for a retro pop concert. The tassels along the length of the trousers create texture and layers.
Stylize the outfit with fewer accessories like a black mini quilted sling bag, shiny earrings, black peep-toe stiletto heels, bracelets, and smokey eyes.
7. Red Tiered Mini Flare Dress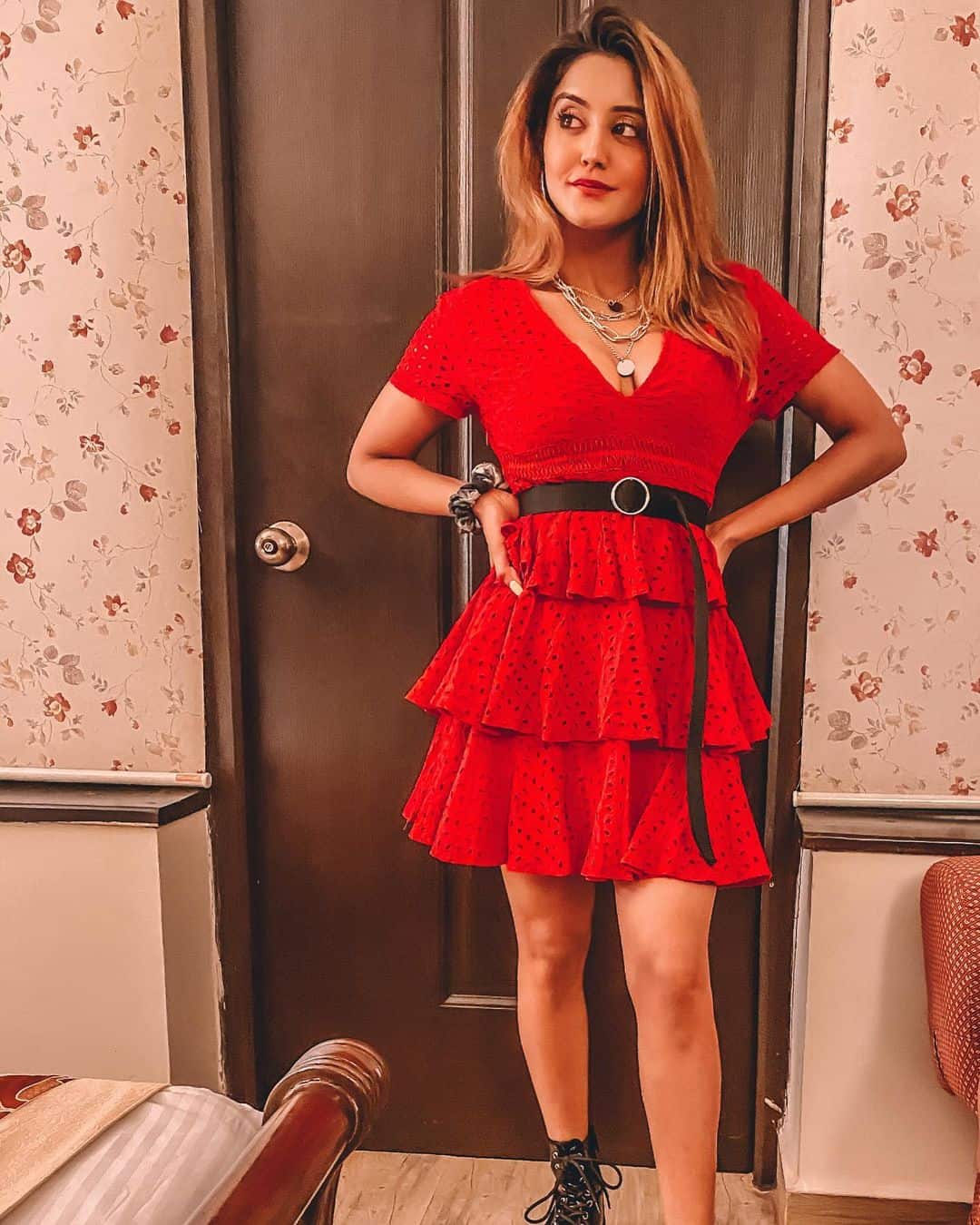 Image Source
This red short-sleeve mini-tiered skirt has eyelets along the length of it. A black leather belt with a silver buckle around the waist gives the dress a streamlined fit. Sport this outfit with bright red lips, golden highlighted hair, bold necklaces with pendants, and a pair of black faux leather ankle-length lace-up boots for the perfect summer concert look.
8. Black Hoodie Dress With Printed Red Hearts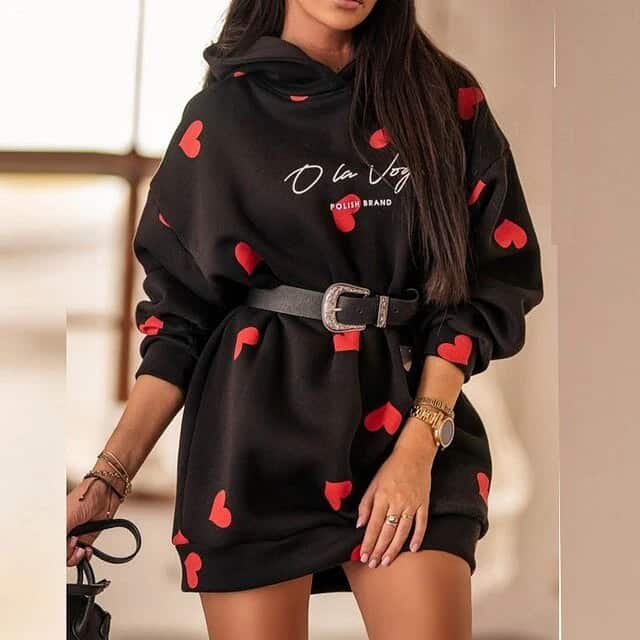 Image Source
This round neck, full sleeve, thigh-length hoodie dress is suitable for fall or winter concerts. The black polyester material adds a velvet-like finish that is balanced perfectly by the printed red hearts. A black leather belt with a stone-studded buckle around the waist gives the dress a sheath fit. Team this dress up with a mini leather purse, bracelets, finger rings, and a gold wristwatch.
9. Pastel Purple Plunging Neckline Sleeveless Maxi Dress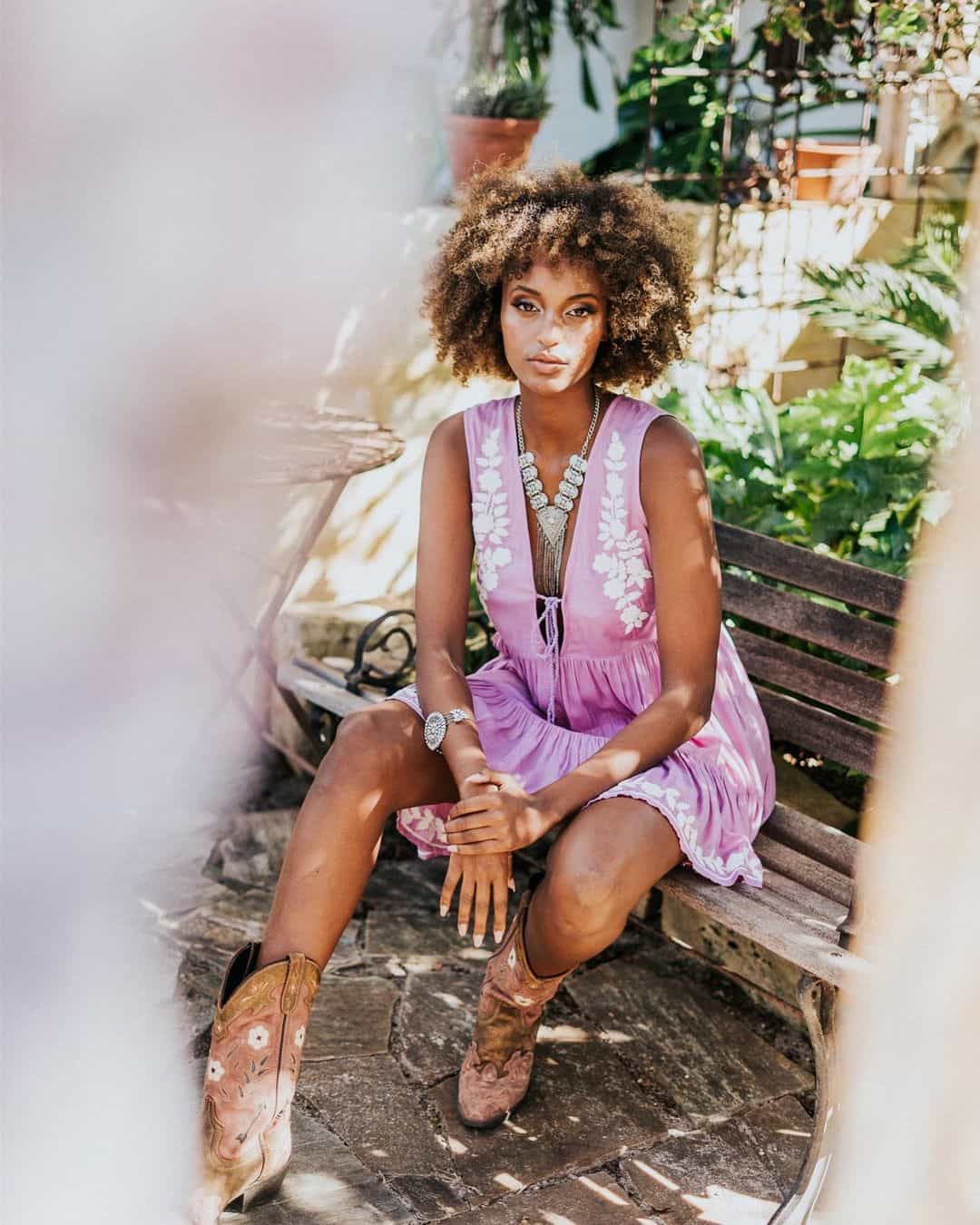 Image Source
This pastel purple, sleeveless, cotton thigh-length maxi dress comes with a plunging neckline, aesthetically strung together by the tie-up bow. White floral prints on the bust and hemline and the pleated waistline give the dress a boho, hippie vibe making the dress perfect for a summer music fest. Sport this dress with bold eye makeup, a pair of brown cowboy boots, and chunky jewelry.
10. Black Velvet Crop Top With Animal Print Midi Skirt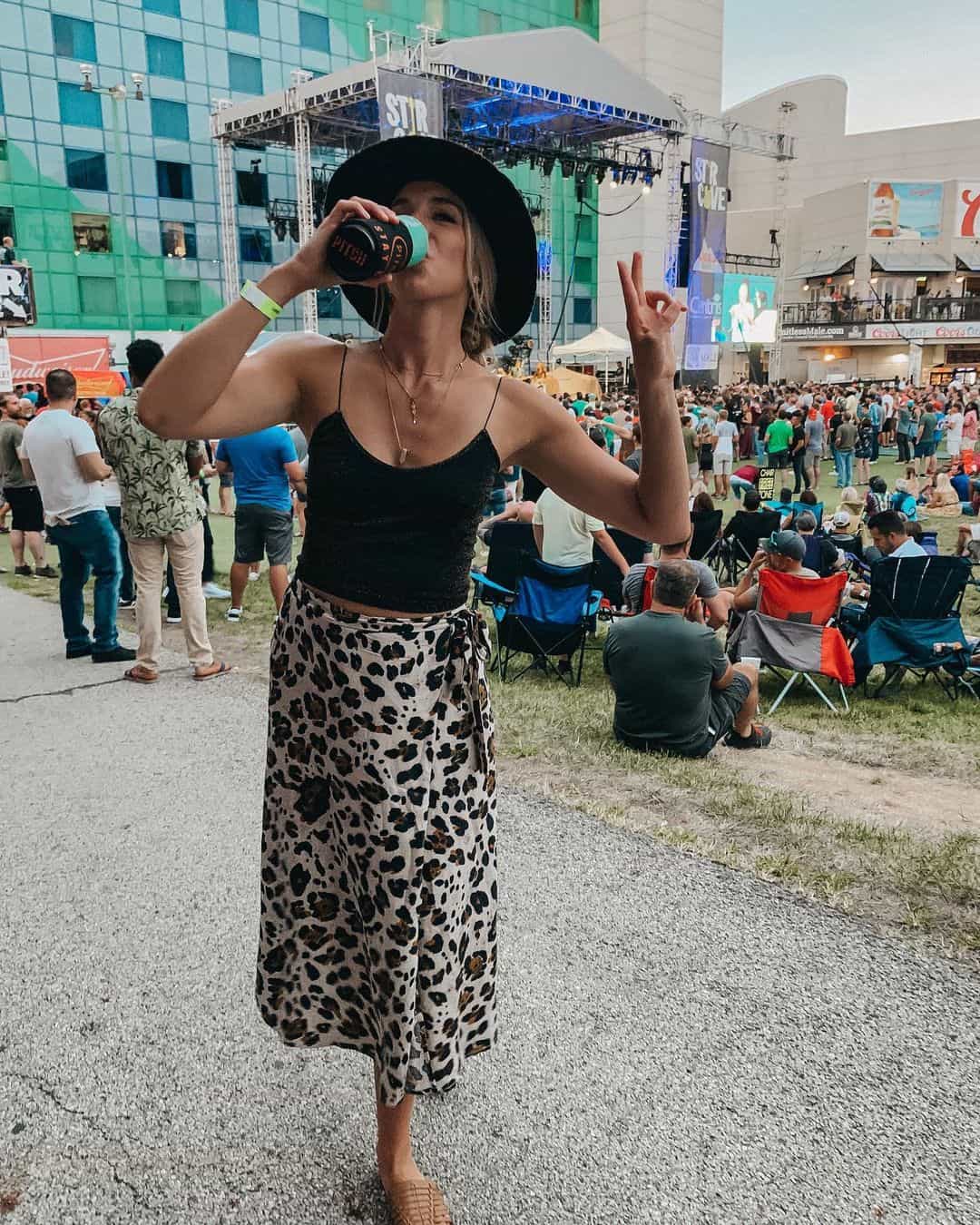 Image Source
Get ready for an outdoor live music festival with this spaghetti black velvet crop top and leopard-print wrap midi skirt. The skirt comes with a tie-up belt making a bow on the side of the waist. Sport this outfit with minimal accessories such as a multi-layer necklace, a black fedora, and a pair of light brown casual sandals.
11. Peacock Green Halter Neck Romper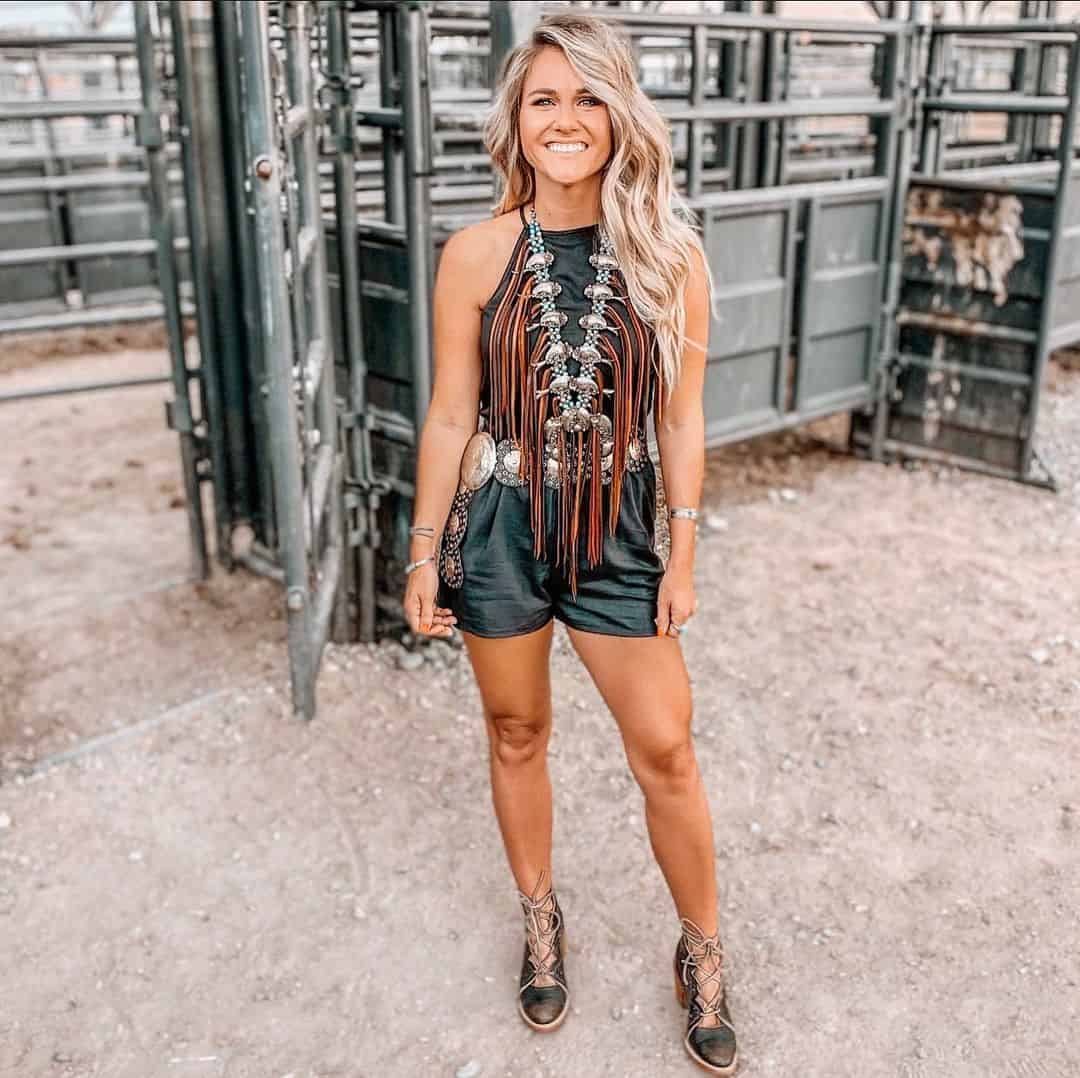 Image Source
This deep peacock green, halter neck romper with a metallic plated girdle that spills over to the side is suitable for a rave concert. The silk-blend of the material creates ruffles that add texture to the outfit. Wear a customized long fringe necklace with metallic fish plates to keep up with the girdle, chunky bracelets or bangles, and a pair of almond ankle-length lace-up boots to finish off the look.
12. White off-Shoulder Top With Mini Skirt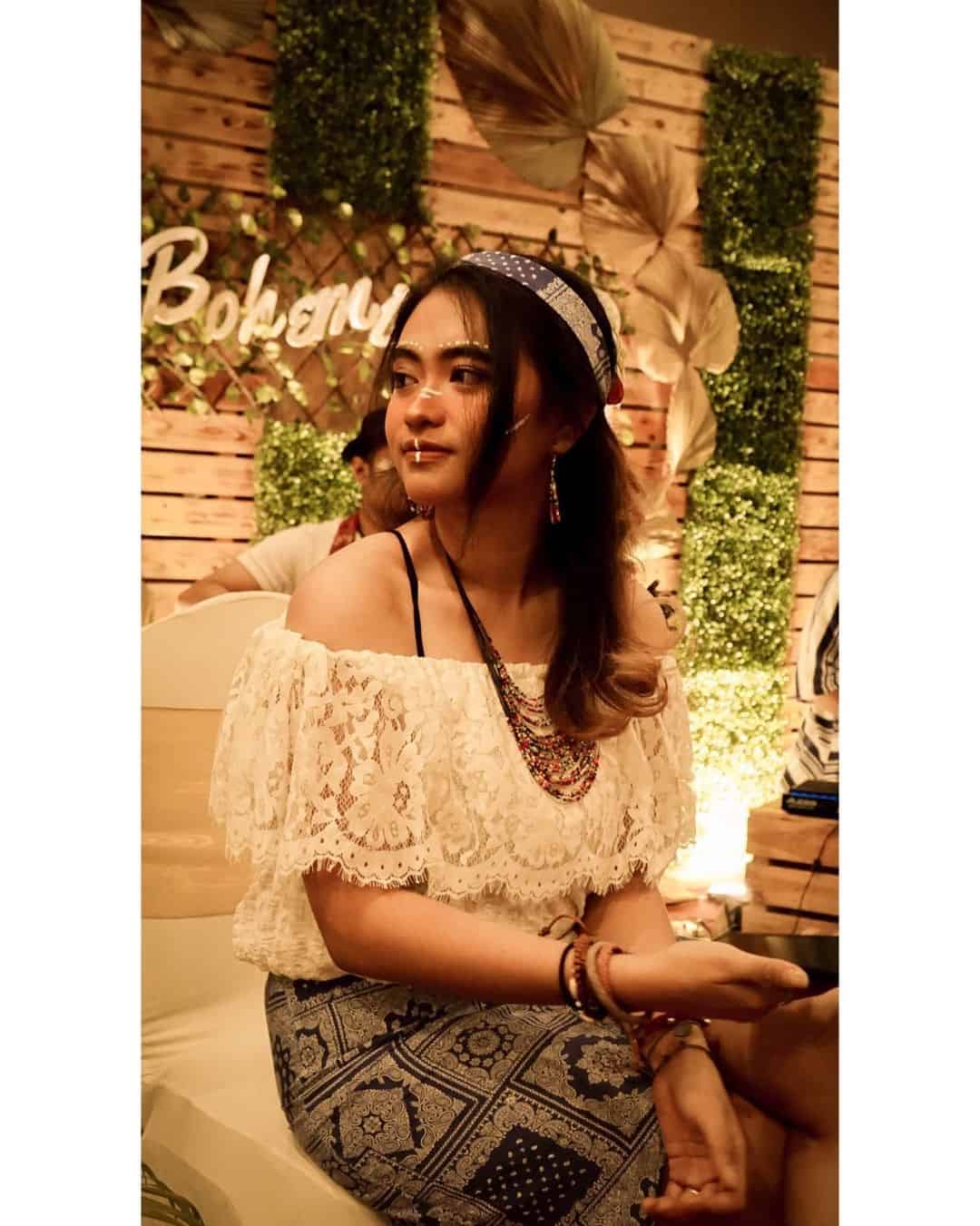 Image Source
This white off-shoulder lace top with spaghetti straps and a straight neckline goes well with a body-fit, black mini skirt with gold motifs. The sheer fabric has intricate floral patterns that give rise to an additional layer ending in a scalloped hem. White, tribal-themed makeup and beaded earrings, bracelets, and wristbands, along with a headband, create a bohemian look suitable for a reggae music festival.
13. Black Scoop Neck Spaghetti Strap Short Bodycon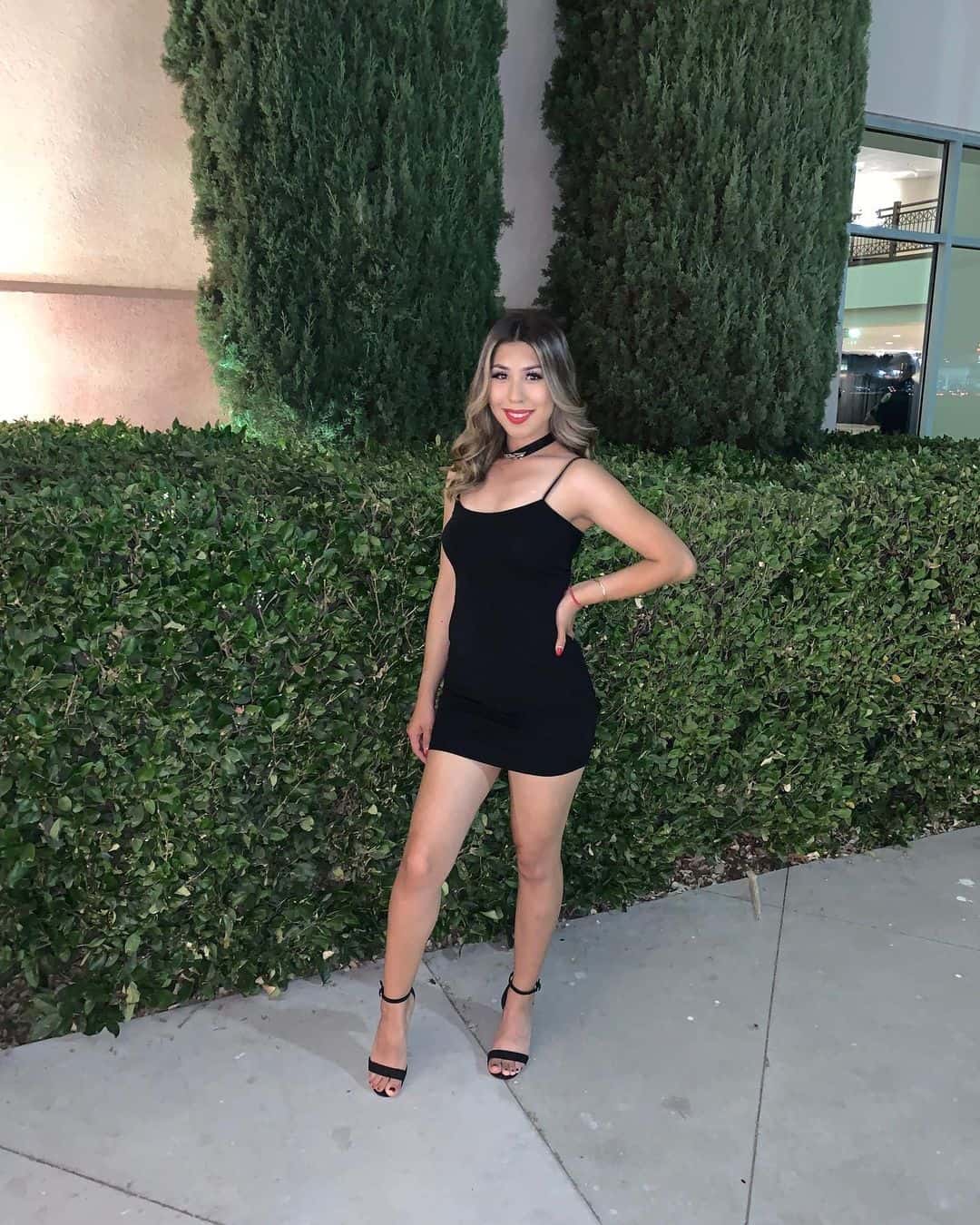 Image Source
A scoop neck black upper-thigh length bodycon with spaghetti straps is the perfect hip-hop or hard rock concert outfit. The silhouette of this little black dress compliments your body shape, while the spaghetti strap lets you showcase your shoulder and arms.
Complete this look with vibrant makeup, blond highlights, a black choker, and a pair of black peep-toe ankle strap high stiletto heels.
14. White Spaghetti Strap Top With Black Mini Skirt and Pink Overcoat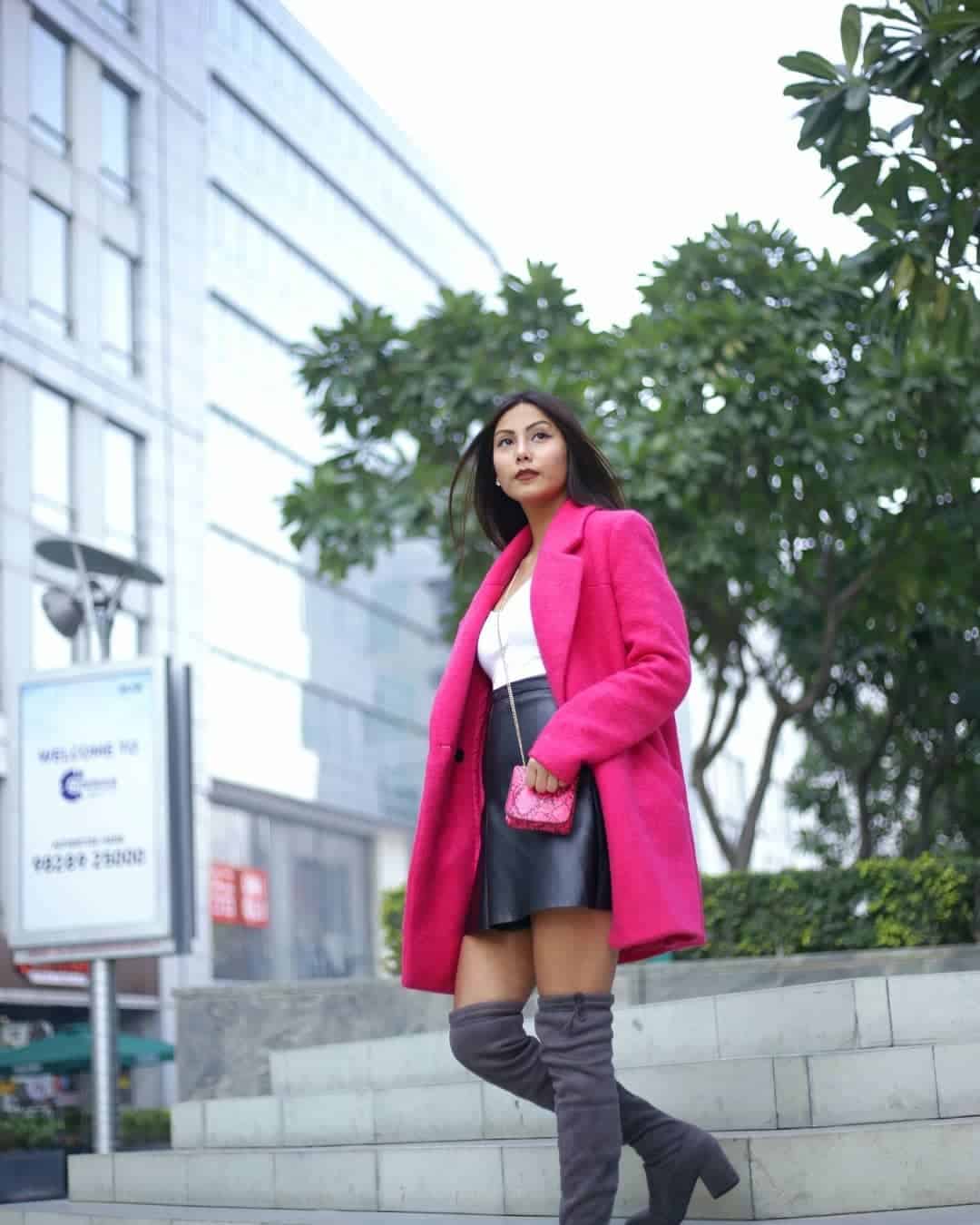 Image Source
A white round neck spaghetti strap stretchable top tucked into a high-waist, pencil-fit, synthetic leather black mini skirt makes for a chic look. Accentuate the look by pairing it with a bright pink wool collar neck overcoat with black buttons and a pink cross-body quilted chain sling bag. Put on light makeup with vibrant lip color, and finish off with grey high tube boots to look pop concert ready.
15. Sleeveless Jumpsuit With Long Cream Sweater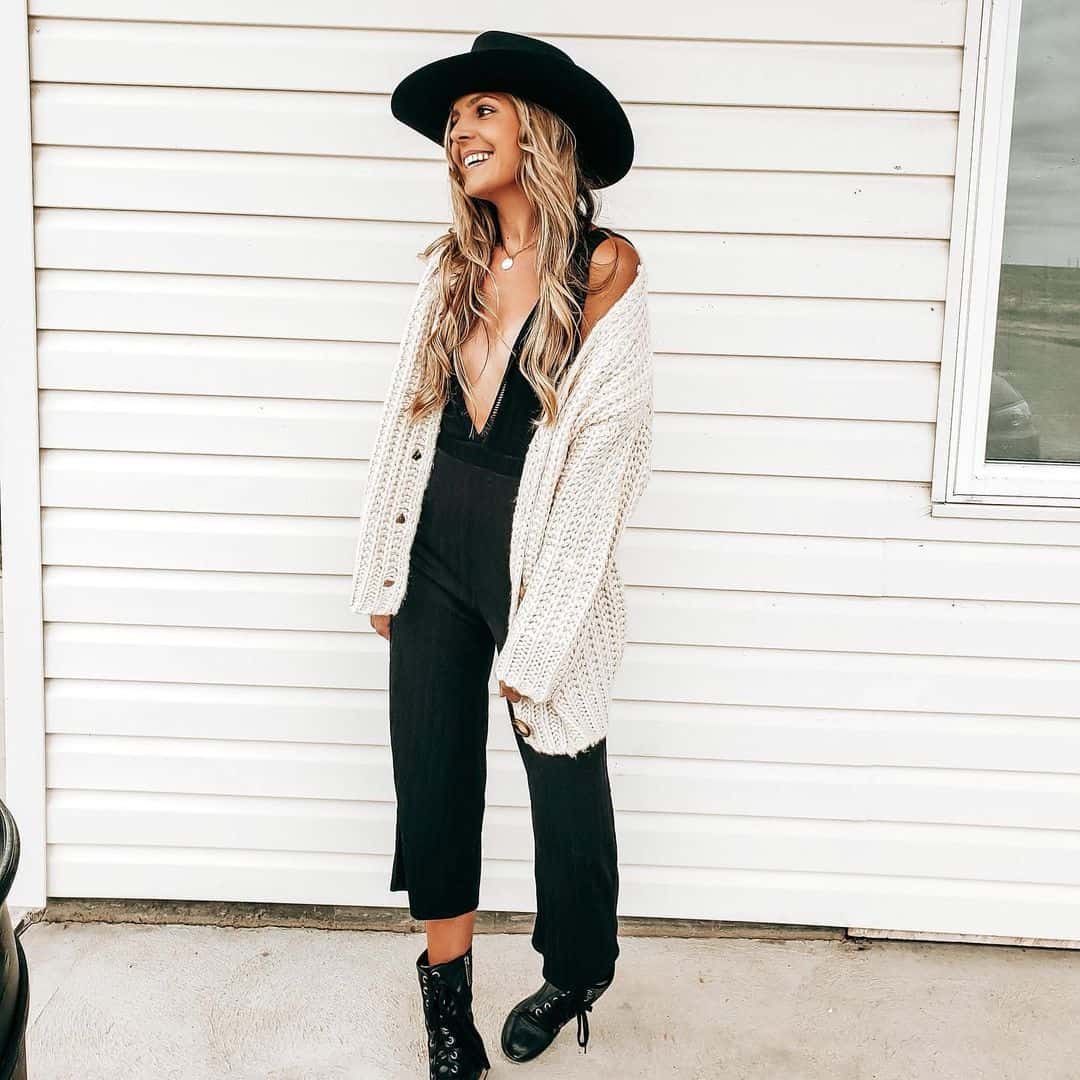 Image Source
For the ultimate jazz fusion concert look, wear this mid-calf, sleeveless, plunging neckline, black jumpsuit with sleek side slits on both sides of the upper half. Pair it with a Wool cream buttoned long-sleeved sweater with a detailed, loose knit. Finish it off with nude makeup, a simple coin pendant necklace, a black fedora, and ankle-length faux leather lace-up boots.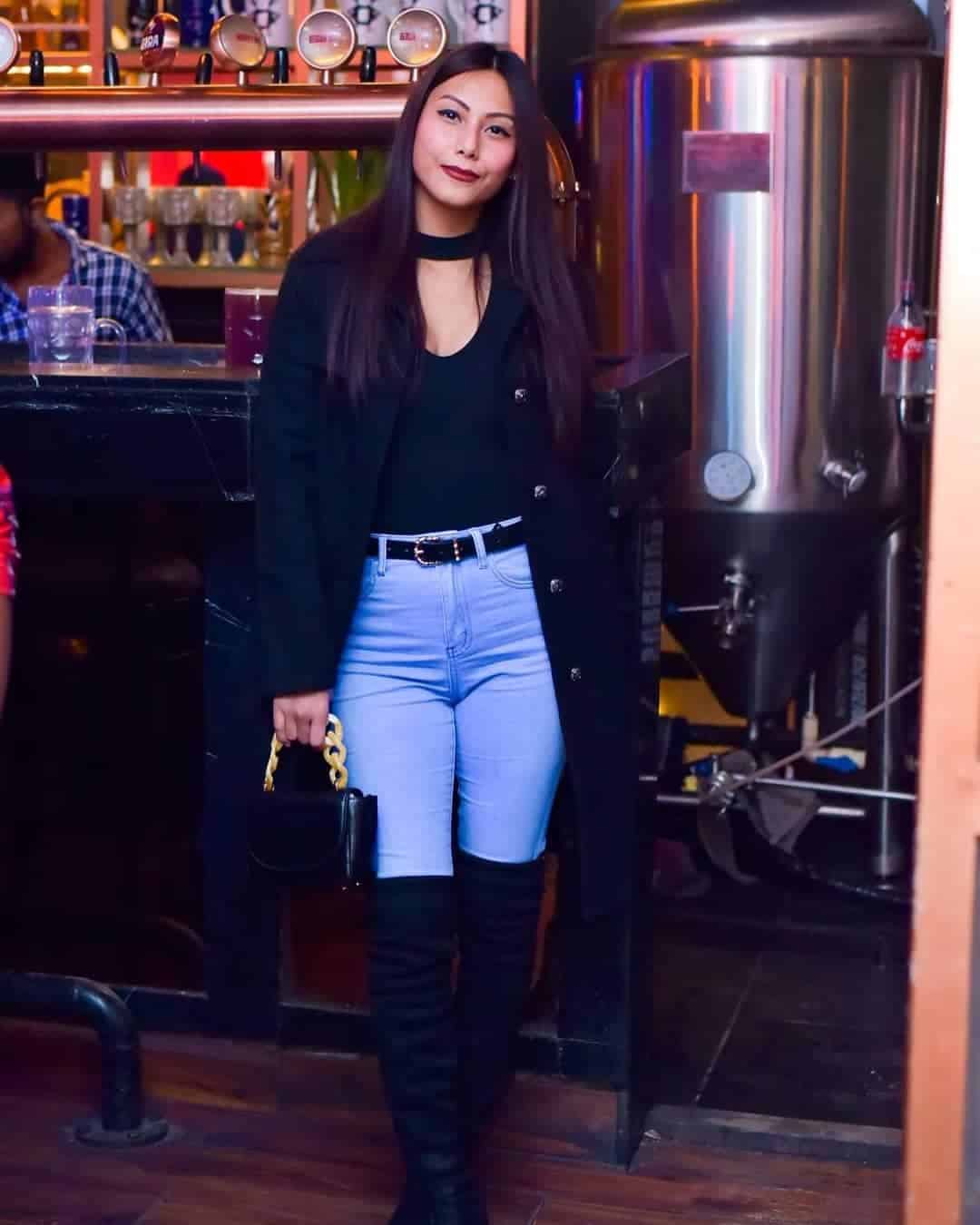 Image Source
Wear this sleeveless wedding band neckline top with a pair of light blue, slim-fit denim jeans with a black collar neck overcoat. The metallic buttons on the coat add detail to the outfit, complemented by the black belt with a silver buckle. A black pochette with a chunky gold strap, black high knee boots over the jeans, and maroon lips gives you a Coachella-ready look.
17. Crimson Strapless Pencil-Fit Mid-Calf Dress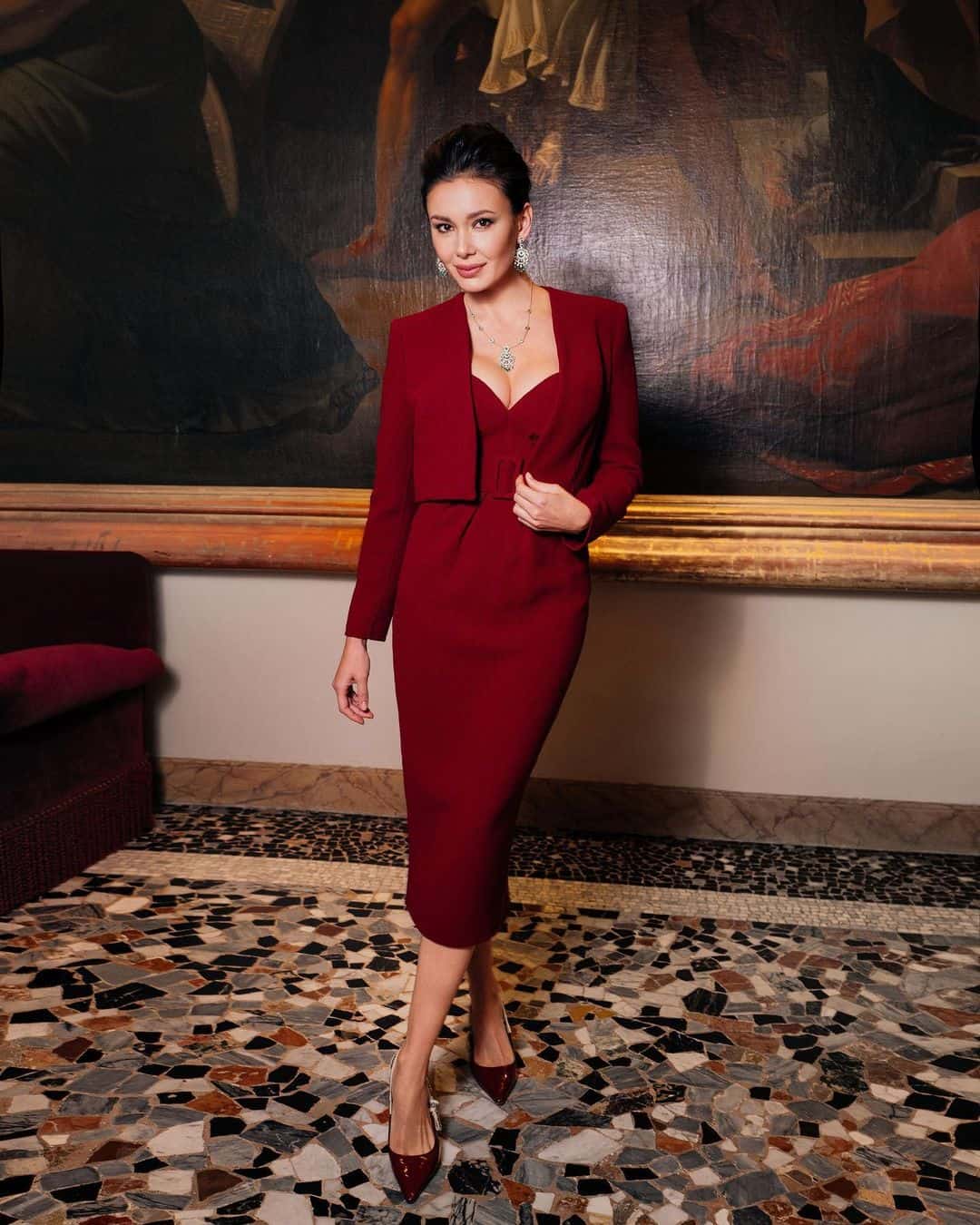 Image Source
This bold, crimson, strapless, mid-calf pencil-fit dress with a sweetheart neckline comes with a buckled belt giving the dress an empire fit. Pair this stunning outfit with a full sleeve crop jacket, maroon pointed-toe kitten heels, a silver necklace, and matching earrings. You can sport this elegant look at the opera or an orchestra concert.
18. Bishop Sleeve Red and Black Floral Flared Dress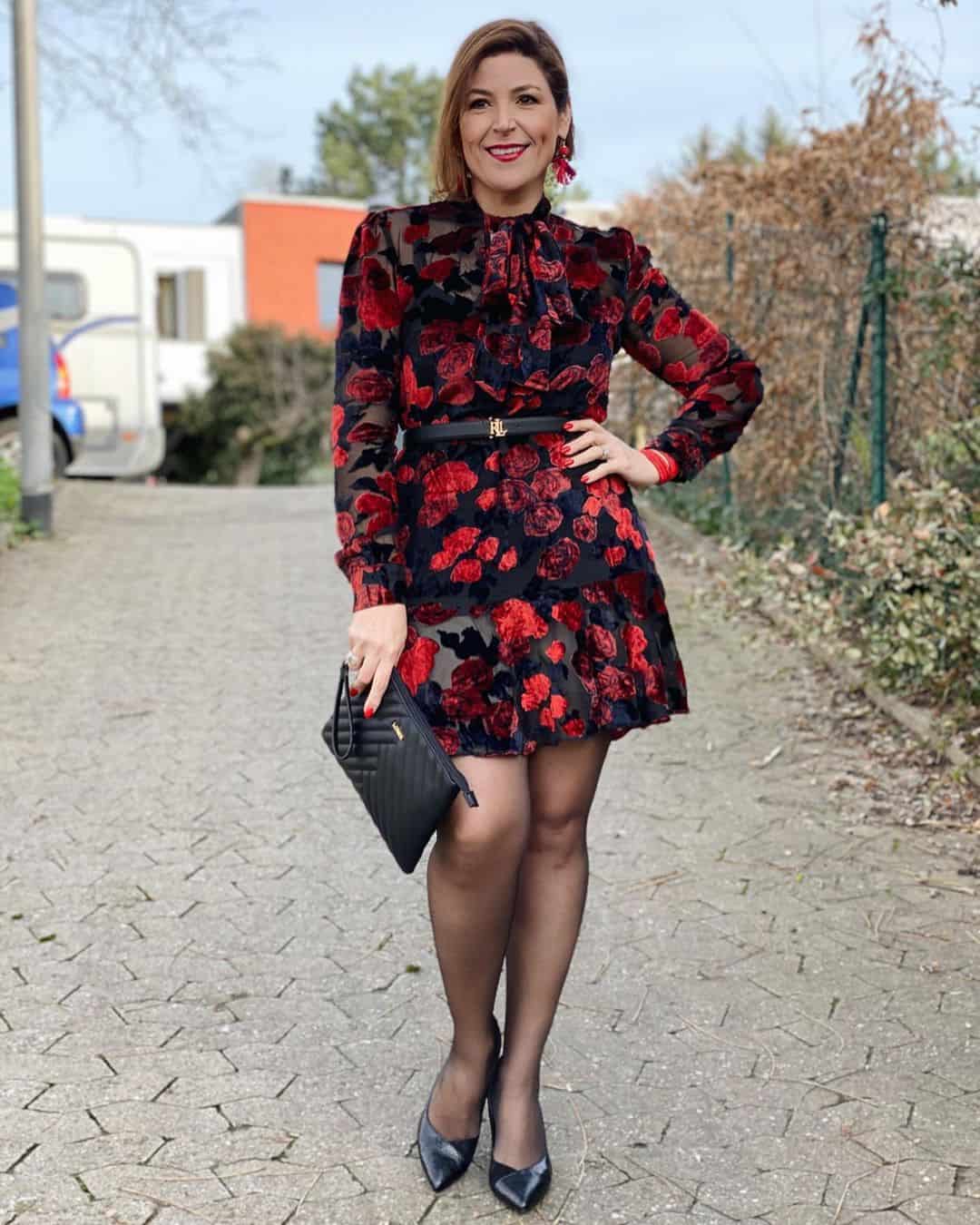 Image Source
You can wear this round, mock neck, thigh-length flare dress with bishop sleeves and a velvety floral print to a semi-classical concert. The sheer material in combination with the bold red floral print creates a contemporary look. The elastic neckline hosts a ruffled scarf that adds volume and texture. Red nail paint and lipstick, dangling tassel earrings, and black stockings finished off with a pair of pointed-toe black kitten heels is perfect for the look.
19. Black Sheer Mesh Top and Rusty Pink Mini Skirt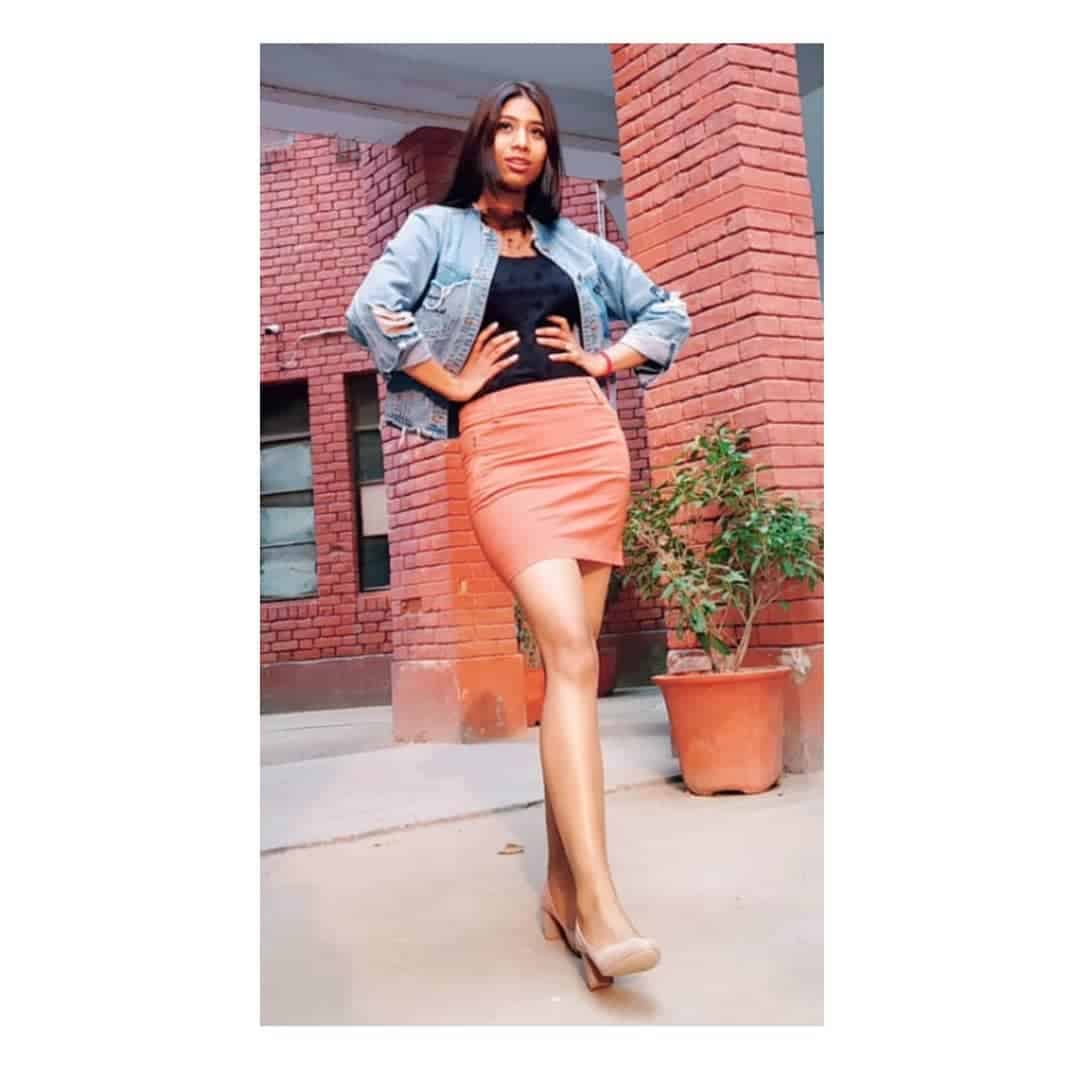 Image Source
A spaghetti-strap black top underneath a starry sheer mesh mock neck top with a rusty pink mini skirt is the perfect outfit for an alternate-rock concert. Put on a ripped denim jacket with metallic buttons to add an element of texture. Middle parted locks complemented with nude makeup and a pair of nude pink block heel pumps finish off the look.
20. Blue Cami Top With Wide Leg Trousers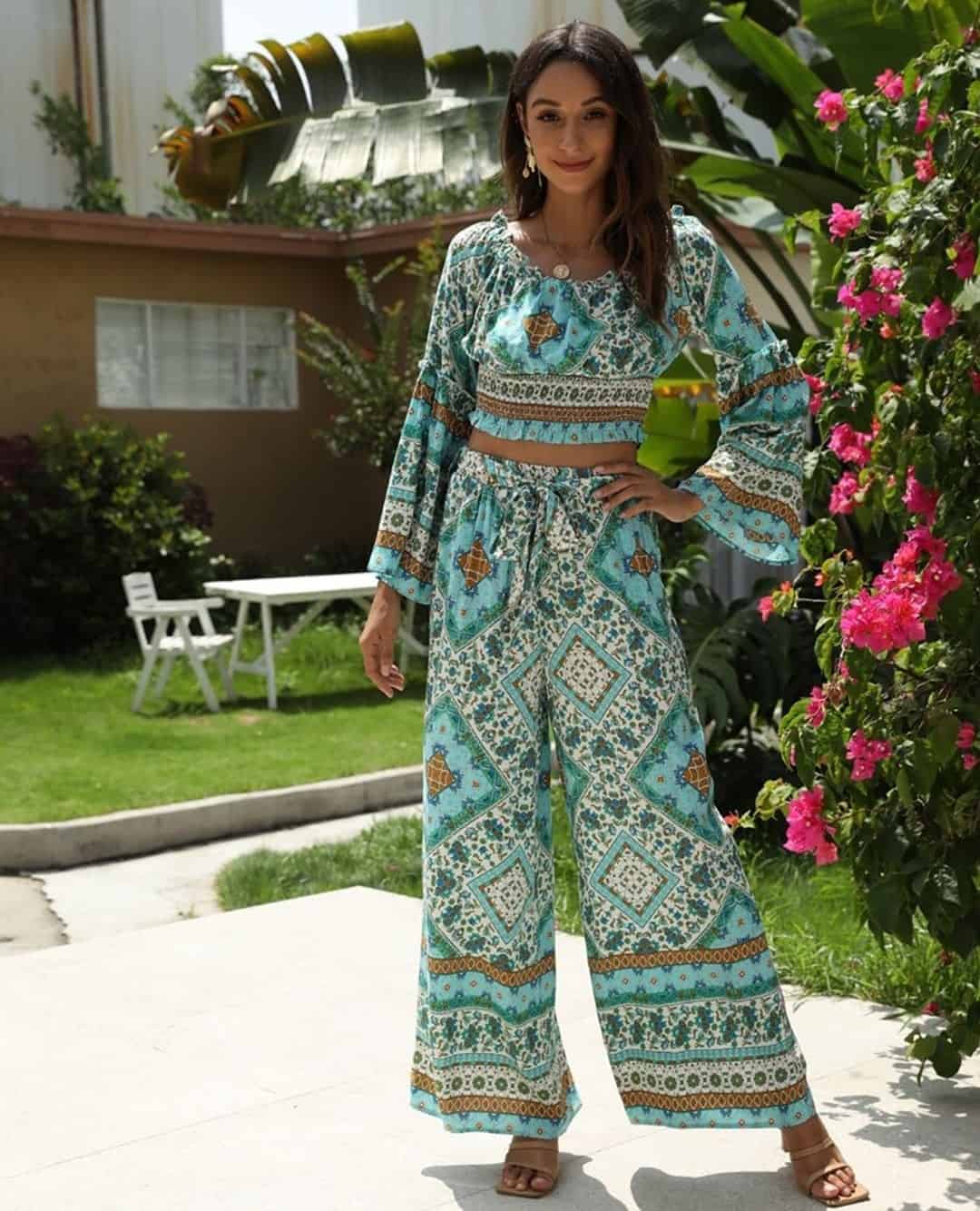 Image Source
This pacific blue round neck cami top comes with an elastic band adding puffiness and volume to the top. The flare of the wide-leg trousers complements the bell sleeves and neckline of the top. The layered blue and russet brown motifs create an edgy boho look that is perfect for music festivals. Simple makeup and a pair of sand color open-toe ankle-strap kitten heels complete the look.
21. White Illusion Neck Top With Black Pleated Skirt and Pink Biker Jacket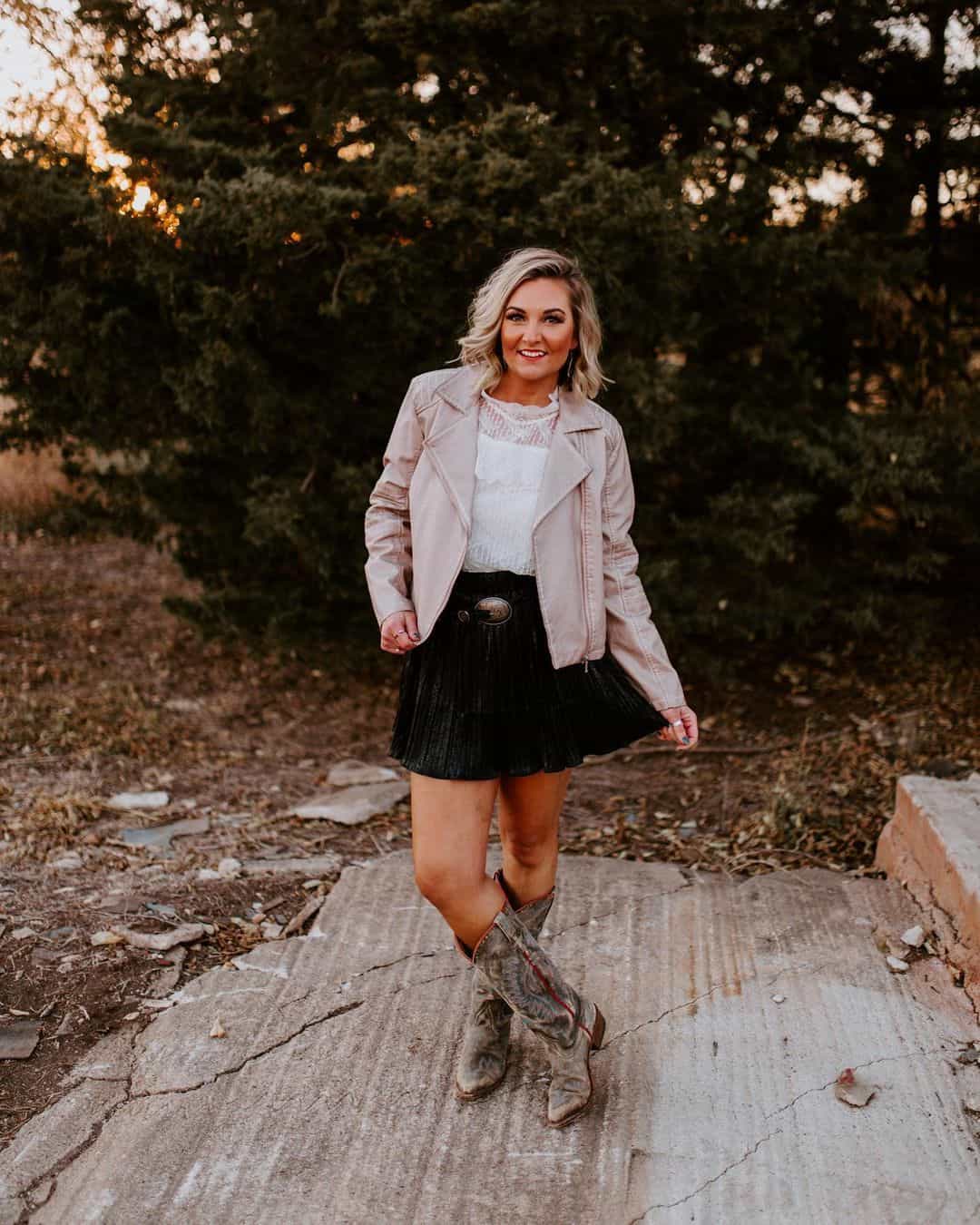 Image Source
This white illusion neck top tucked into a black velour pleated mini skirt gives you that rock concert-ready look. You can wear a beige-pink faux leather biker jacket to layer the outfit.
The velour fabric adds shine, while the belt with an oval gold buckle adds color to the skirt. Sport a dewy makeup look and a pair of designed grey-toned mid-calf cowboy boots to complete the look.
22. Grey Spaghetti Strap Top With Black Fringe Skirt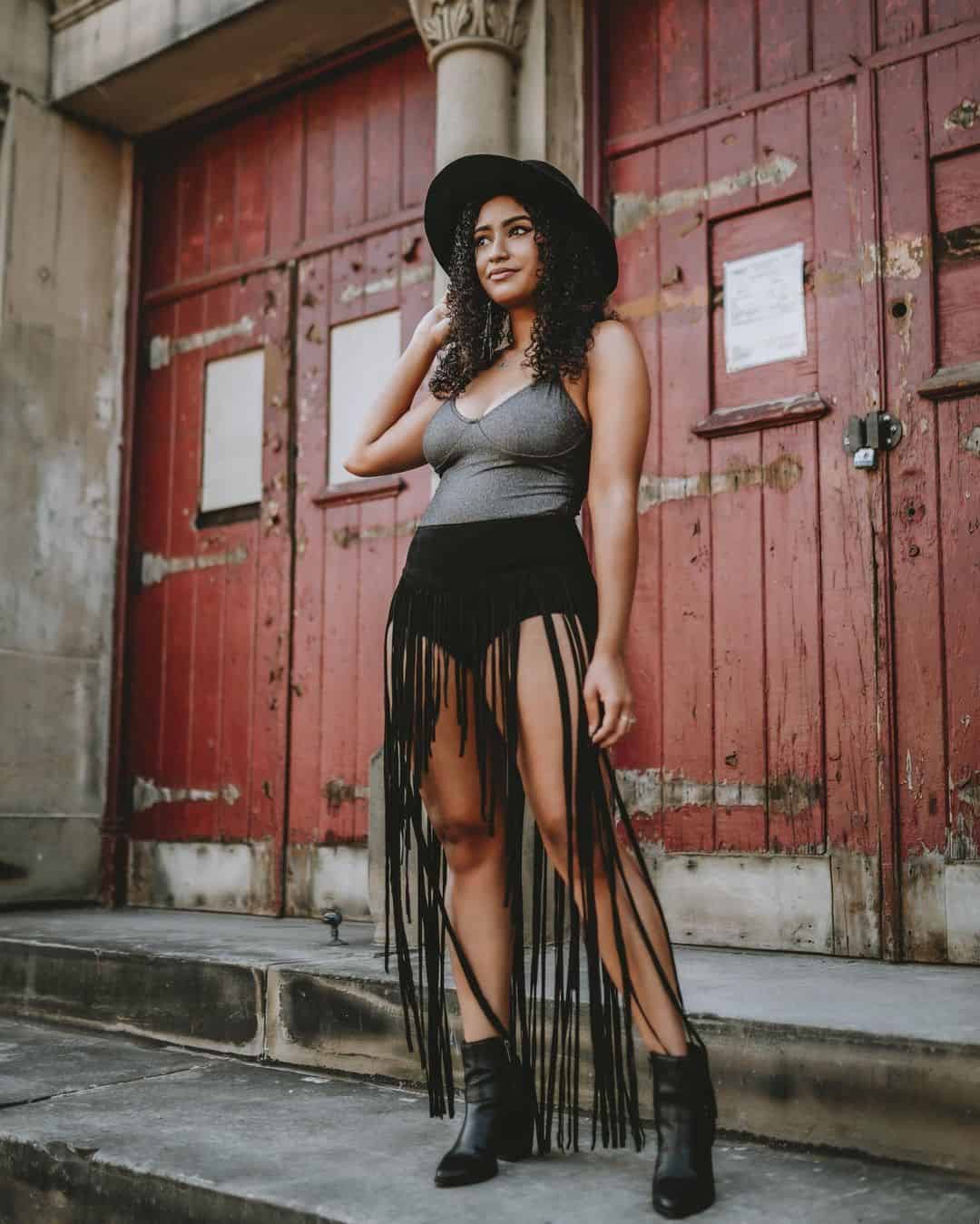 Image Source
Wear a spaghetti strap scoop neck body-fit grey top with black bikini shorts for a summer music festival. Complete the attire by pairing the shorts with a black high-waist tiered tassel skirt with asymmetrical fringes. Style your hair in tight curls along with simple nude makeup. Finish the look with a black fedora and a pair of black ankle-length leather boots.
23. Bohemian Coat Dress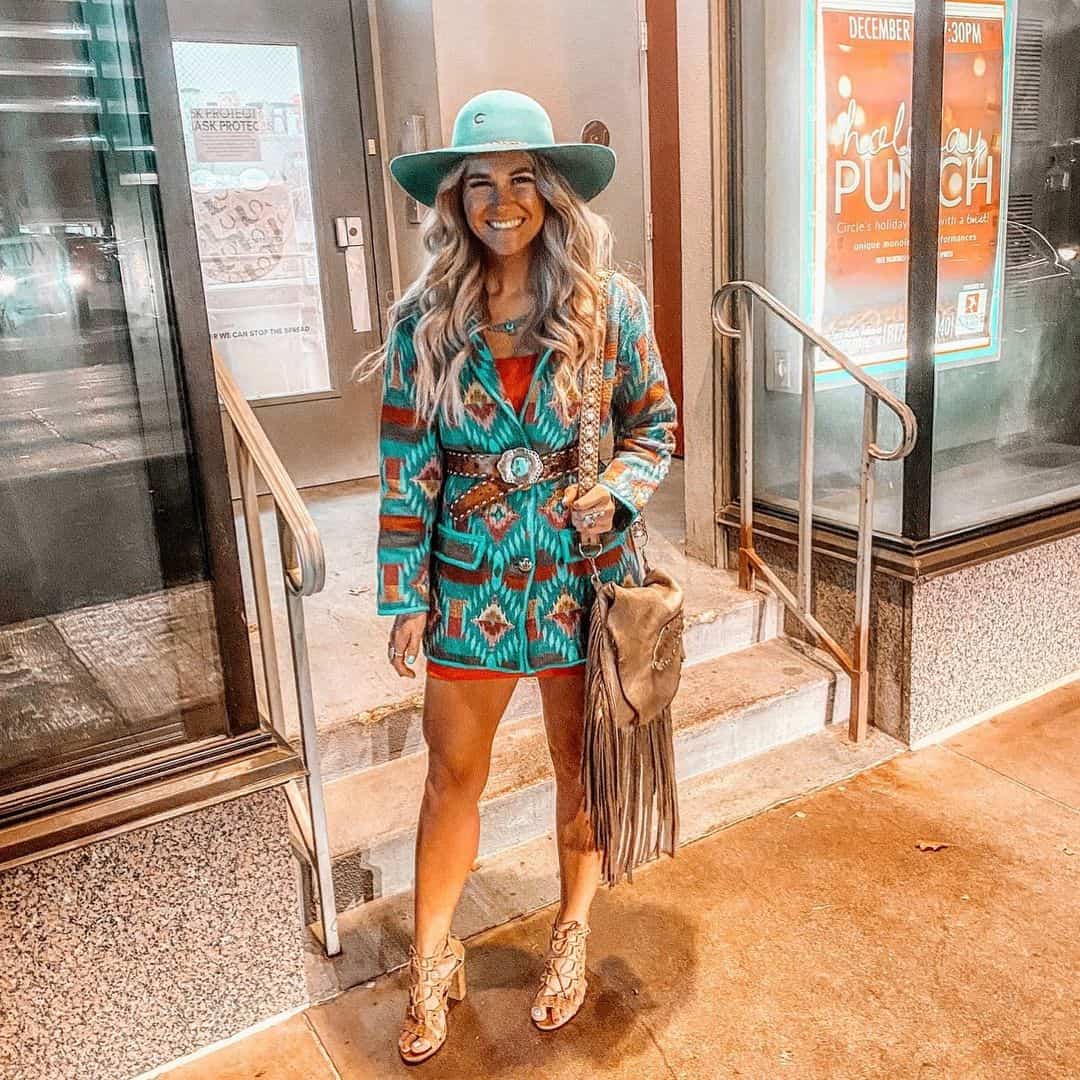 Image Source
A straight-neck, upper-knee length, orange bodycon goes well with a buttoned double-breasted peacoat. The brown leather belt is bordered in a white stitched pattern and comes with a turquoise studded buckle, giving the coat a definitive shape. Bold orange and mustard prints exude a bohemian charm ideal for a country concert or indie concert.
A turquoise floppy hat, chunky jewelry, a nude fringe sling bag, and a pair of peep-toe lace-up block heels complete the look.
24. V-Neck Peplum Top With High Waist Black Jeans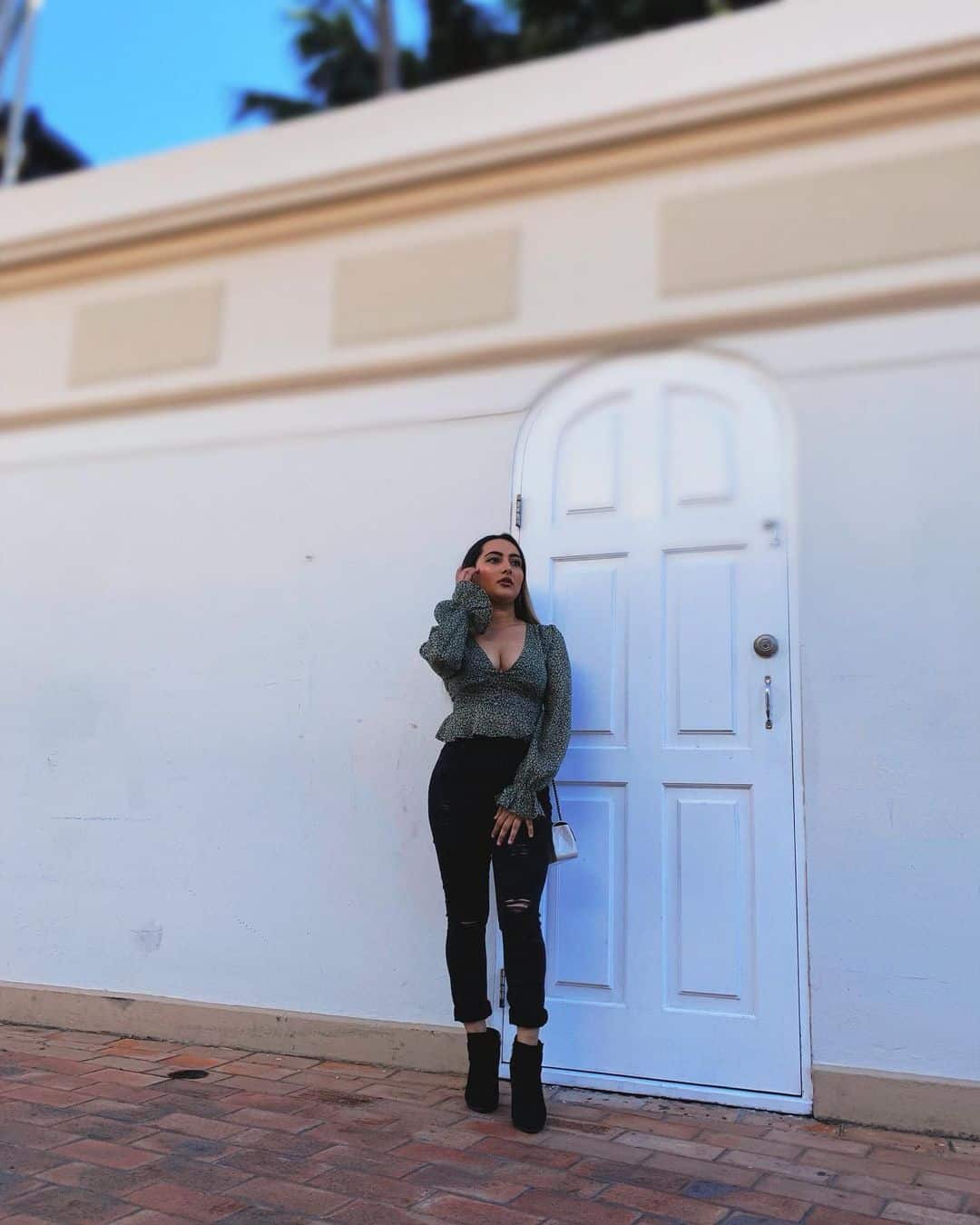 Image Source
This plunging V-neck, bell-sleeved black peplum top ends with a fluted hem. High waist jeans ripped at the knee and folded slightly above the ankle make for an ideal pairing. The polka-dotted top goes well with a white box clutch tied to the waistline of the jeans. Sport this outfit with dewy day makeup, bold lips, a pair of earrings, and black ankle-length suede boots at a music festival.
25. Steel Blue Ruffle Neck Top With Black Fringe Skirt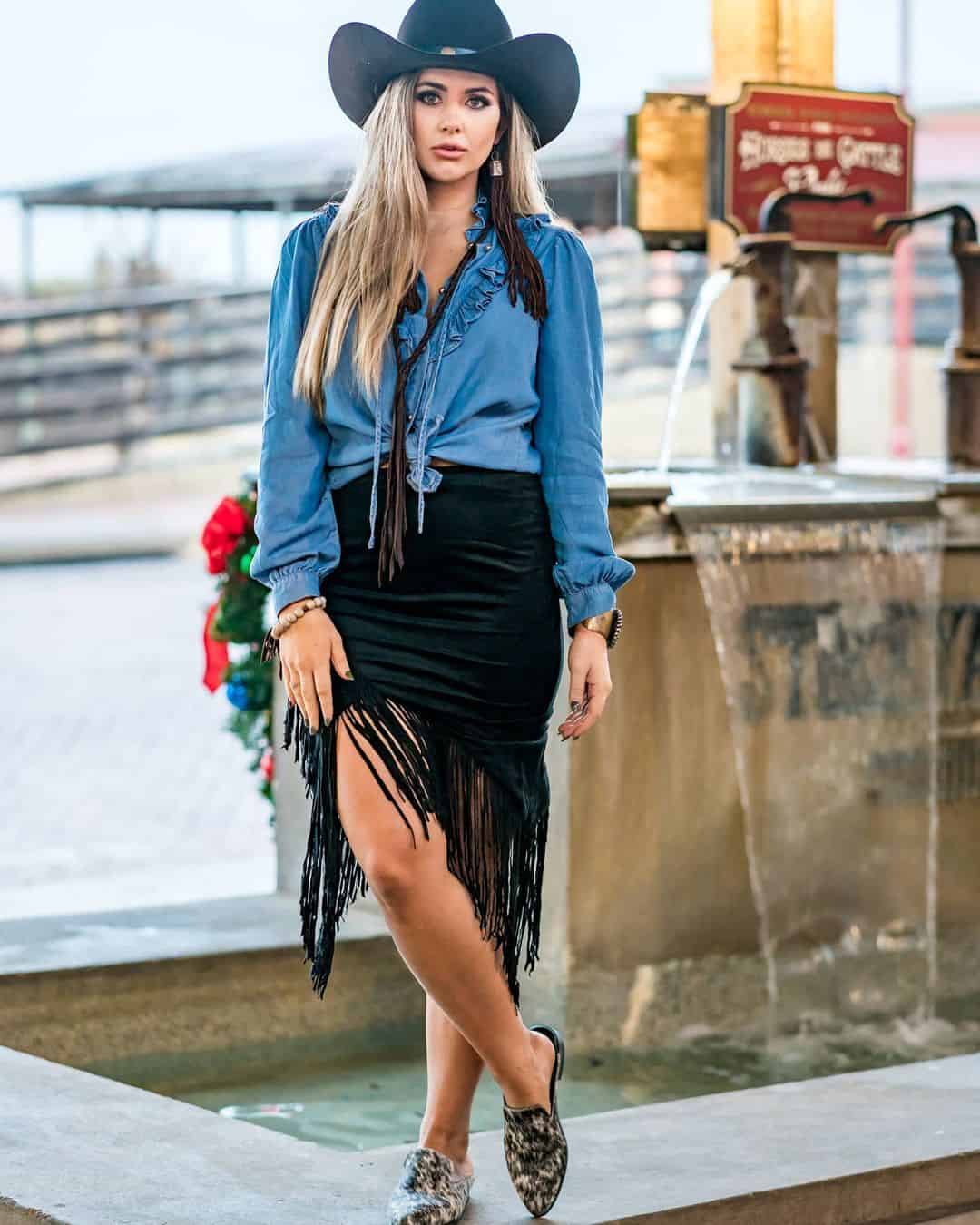 Image Source
This barrel sleeve steel blue V-neck top comes with a ruffled neckline, metallic buttons, and sleeves that puff up at the wrists. A black, leather, fitted skirt that ends in asymmetrical fringes of varied length pairs well with the knotted top. The black cowboy hat with a brown leather fringe neckband makes the outfit perfect for a country concert.
Accessorize this attire with bold smokey eyes, nude lips, a pair of earrings, a camphor wooden beaded bracelet, a turquoise stone bracelet, and animal print closed-toe slip-ons.
26. White Tube Top With Denim Mini Skirt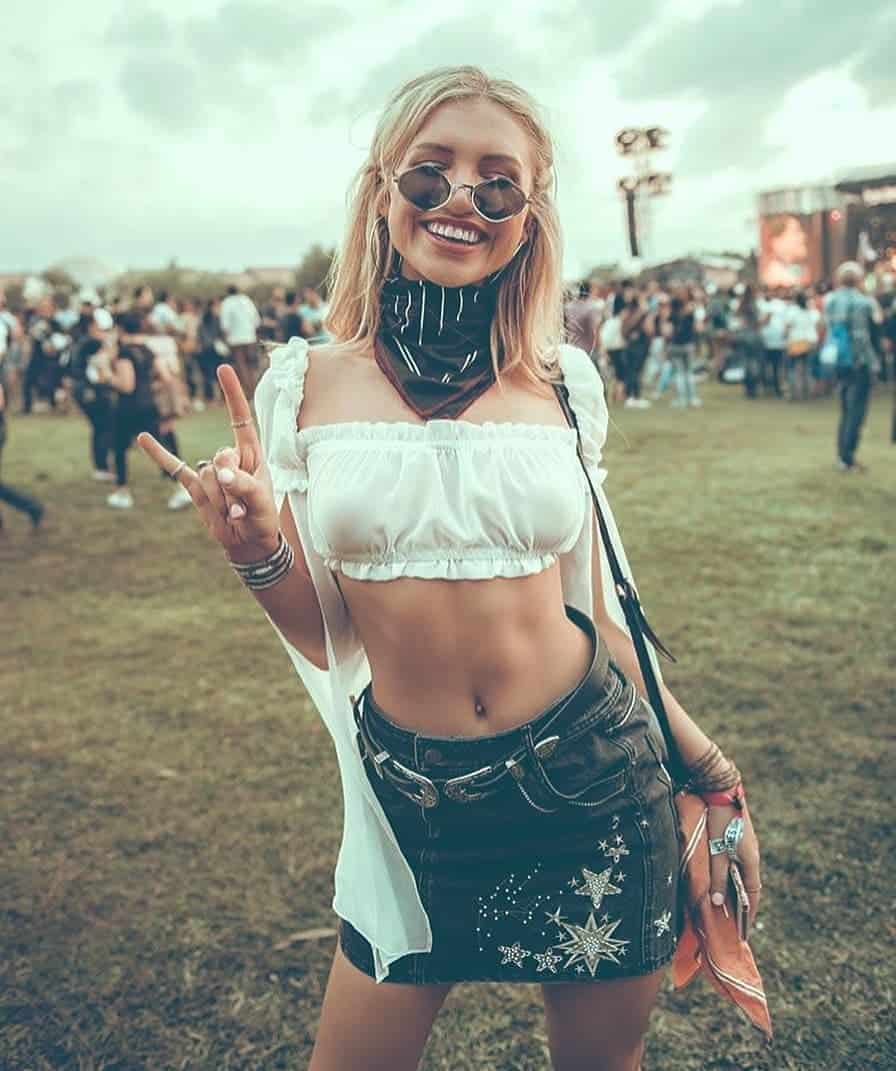 Image Source
This white chiffon tube top comes with a straight neckline is bordered by elastic bands and a combination of hanging and puffy sleeves. A black denim mini skirt with silver star prints and a black leather belt with a silver buckle adds shimmer to the outfit.
You can pair this outfit with a black bandana with white stripes around the neck. Put on simple makeup, finger rings, chunky bracelets, a leather sling bag, and circular framed sunglasses for an arena concert-ready look.
27. London Plunge Sequin Maxi Dress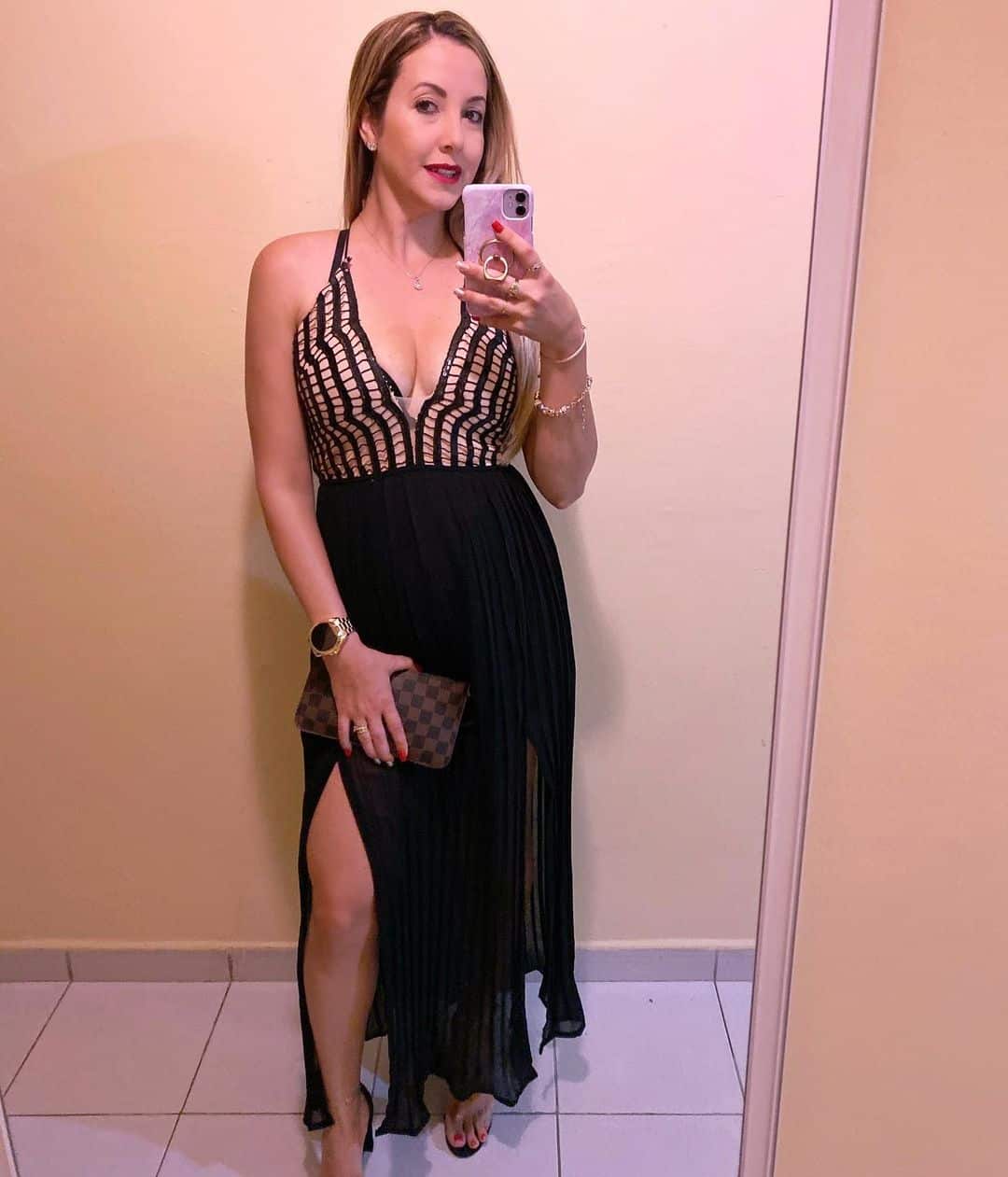 Image Source
Clothe yourself in this London plunge sequin maxi dress for an opera night look. The halter plunging neckline comes with a cream bodice that has horizontal black netted stripes. A high waist skirt with thigh-high slits on both sides stitched into the bodice adds an elegant touch.
Sport this outfit with bright makeup, red lips, shiny earrings, finger rings, a brown and black clutch, and a gold strap watch with a pair of peep-toes nude stiletto heels.
28. Camel-Toned Knit Sweater and Black High Waist Mid-Calf Skirt With High Side Slit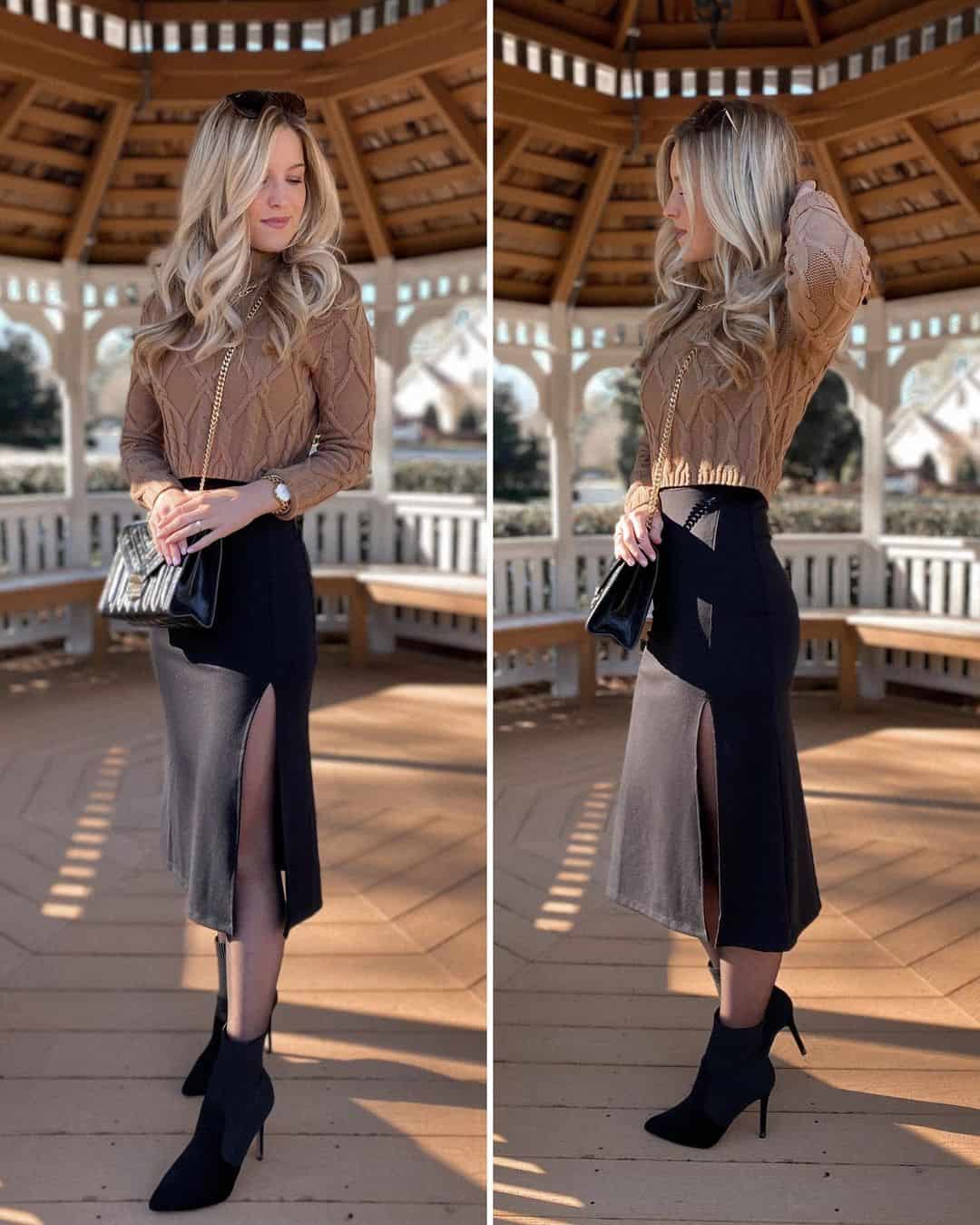 Image Source
Wear this camel-toned, full sleeve, high neck, cable knit textured sweater with a black mid-calf high waist straight line pencil skirt. Style your hair in loose curls to frame your face and accessorize with a black quilted leather bag with a cross-body chain, a golden watch, finger rings, and wayfarer shades.
Complete this look with a pair of black suede ankle-length boots with metal zippers in the back. This look is perfect for a choral music concert or a philharmonic orchestra concert.
29. White Spaghetti Strap Crop Top With Mini Skirt and Pink Faux Fur Coat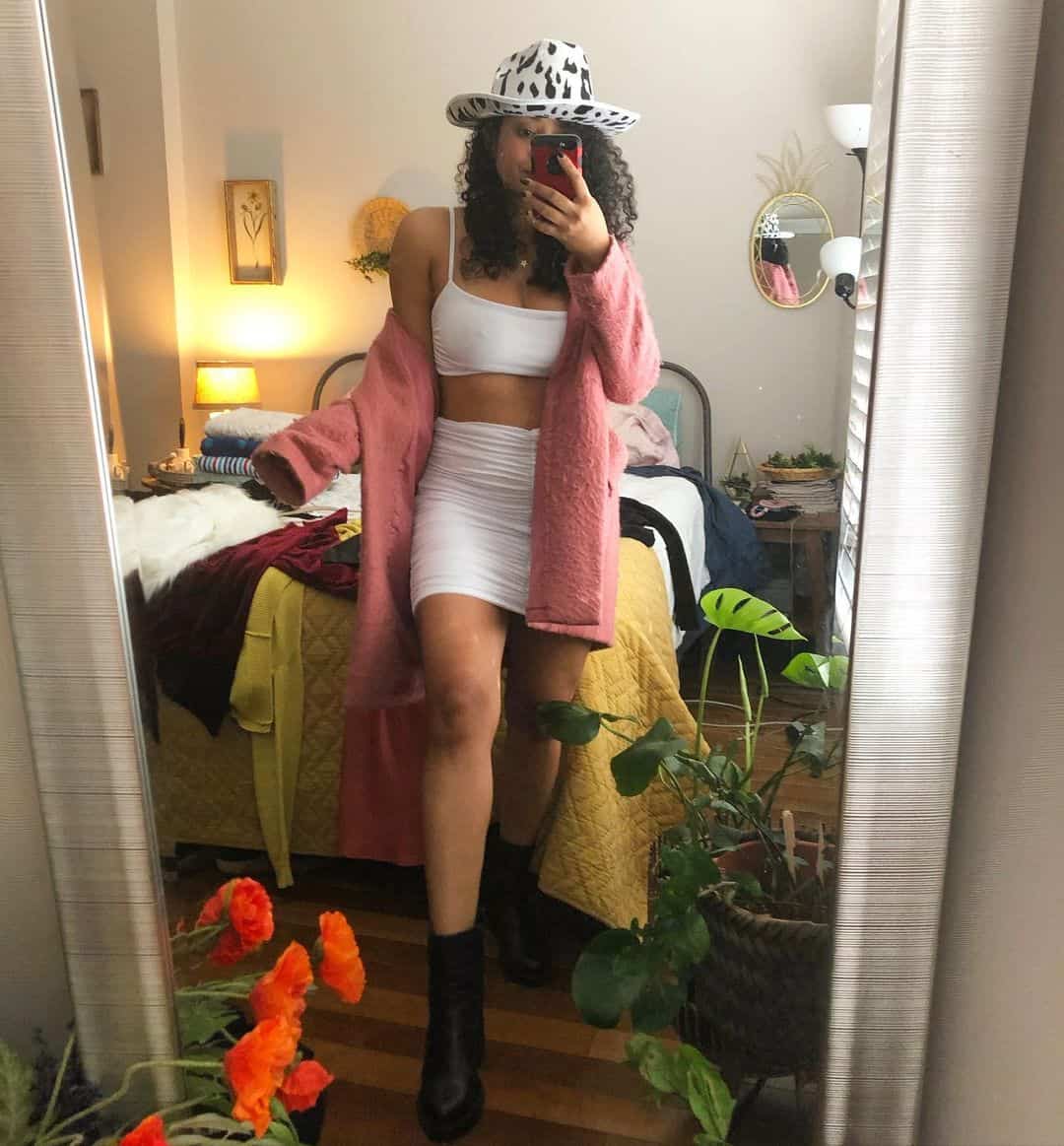 Image Source
A white spaghetti strap crop top and a white tube mini skirt go perfectly well together for an indie rock concert. The high waist sequin skirt is vertically pleated, creating a textured look.
Wear a pink faux fur coat with one end hanging off your shoulder and finish up with a black and white patched cowboy hat. Put on a pair of ankle-length black block heel boots and wear a simple gold pendant necklace to complete this chic and effortless look.
30. Crew Neck Brown Top With Black Shorts and a Denim Jacket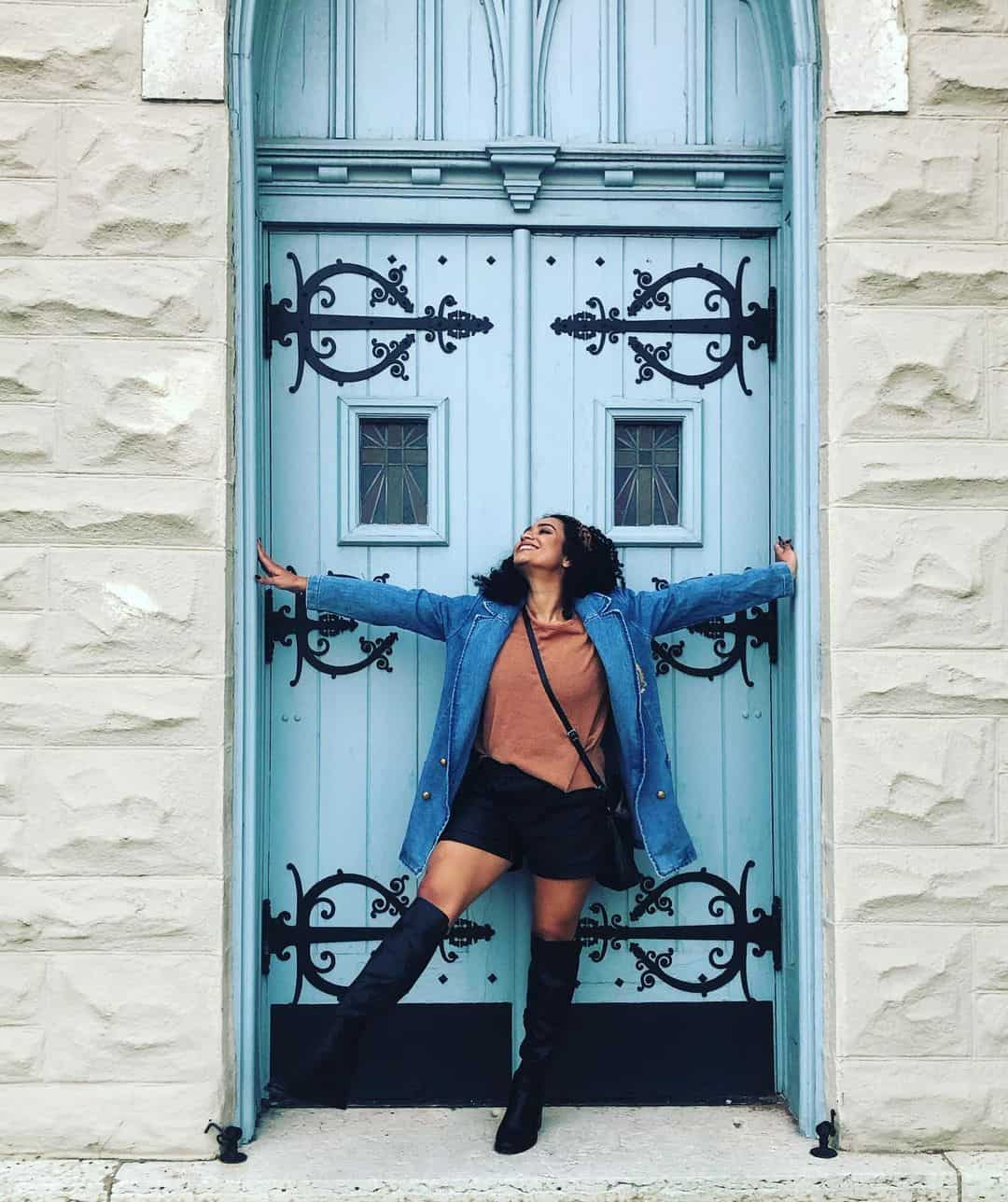 Image Source
This brown-toned loose top with a crew neckline slightly tucked in regular-fit black cotton shorts is perfect for a spring alternate rock concert. Put on a denim jacket with spherical metallic buttons on the front to enhance the color contrast. Style your hair in tight curls and a brown headband, sport a cross-body black leather sling bag, and a pair of black suede high-tube boots with zippers on the back.
31. Floral Bishop-Sleeve Crop Top With Orange Leather Mini Skirt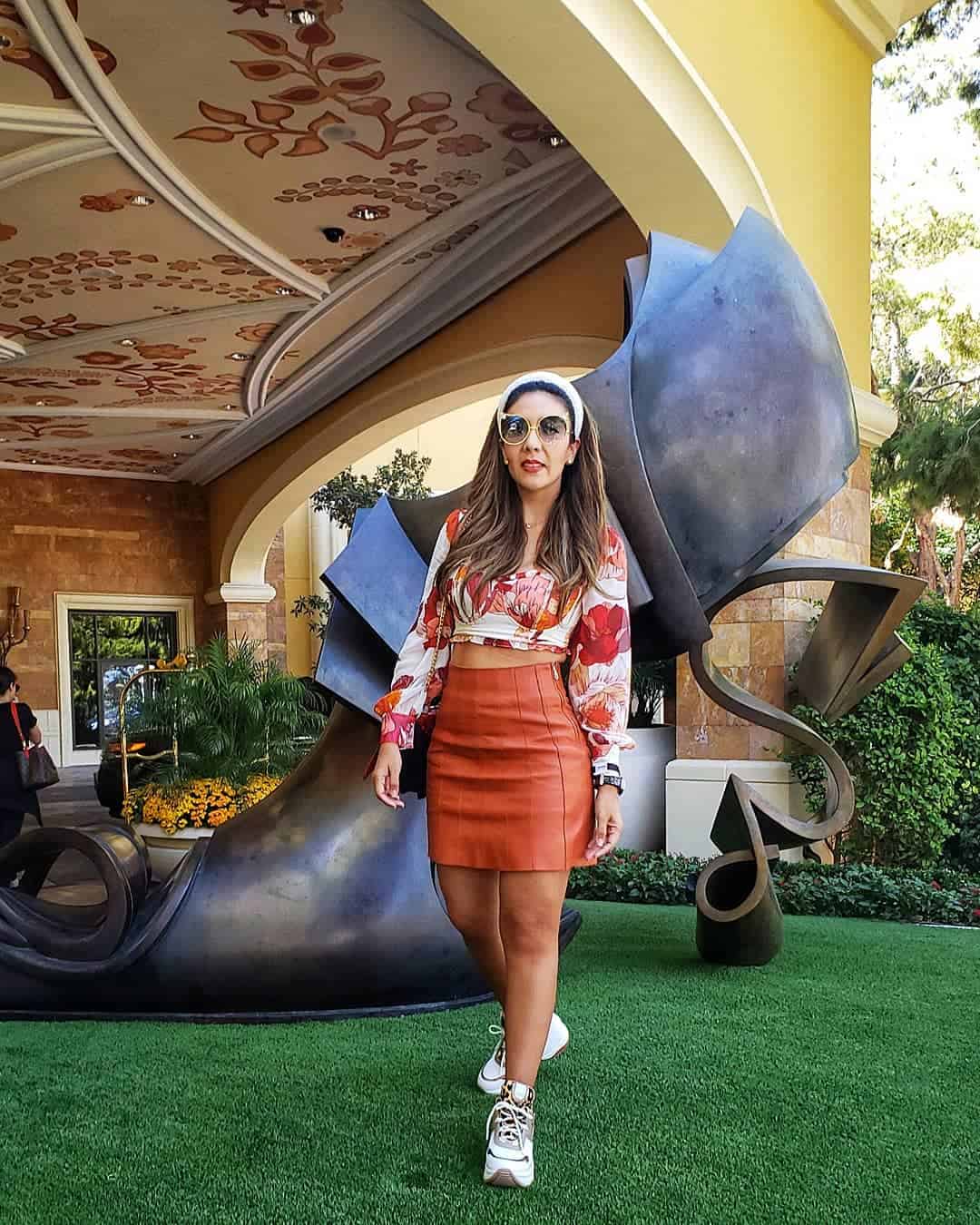 Image Source
This lined orange leather mini skirt paired with a printed semi-sweetheart neckline, bishop sleeve crop top is a good fit for a summer music festival. The orange, pink and red floral prints against the white backdrop gel well with the skirt.
A dewy makeup looks with bright lips and accessories such as a pair of pearl studs, a white headband, wristwatch, club master shades, and off-white running sneakers finishes the look perfectly.
32. Starry Biker Jacket and Leopard Print Top With Brown Skort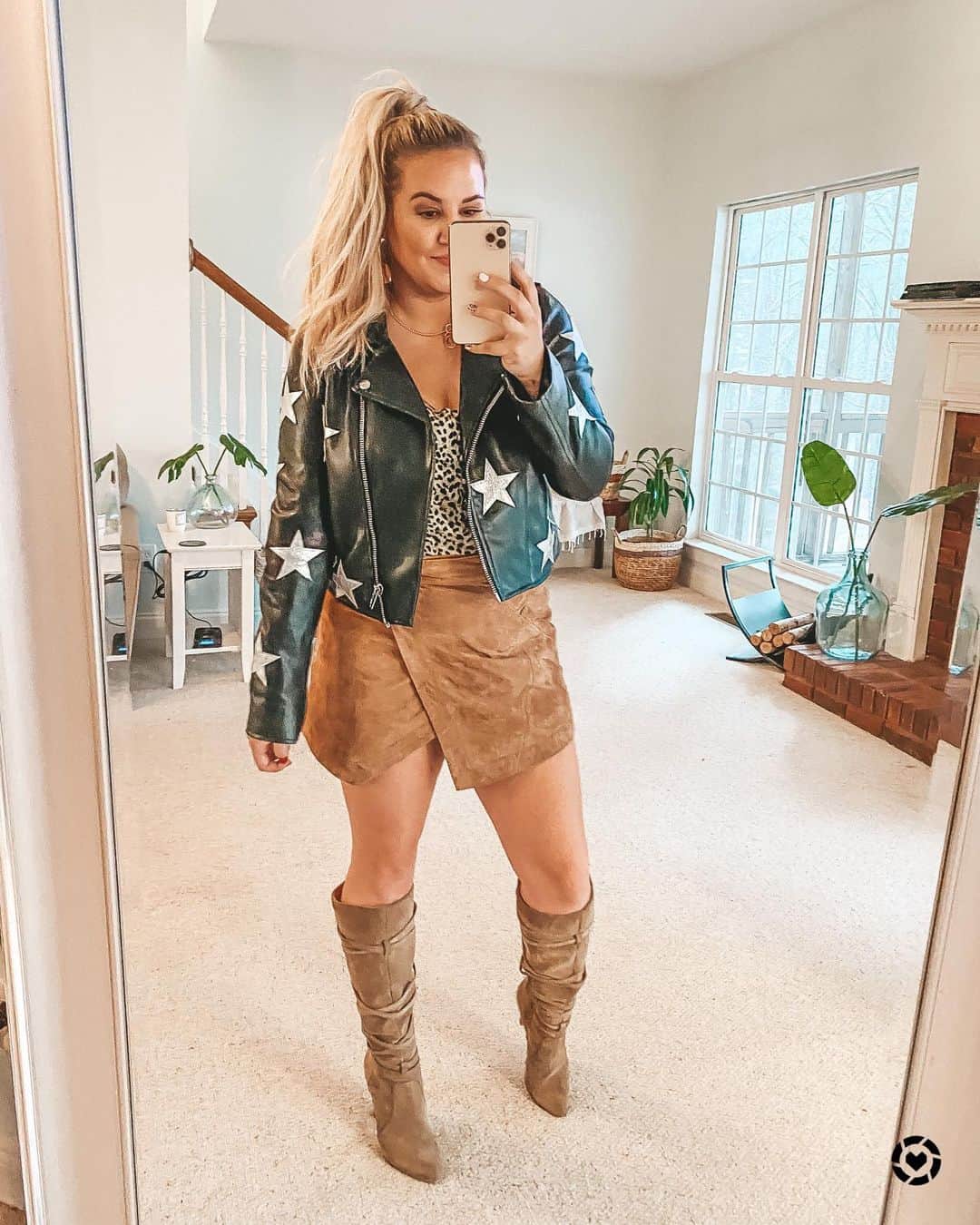 Image Source
This synthetic leather biker zipper jacket with a leopard printed V-neck top paired with a suede brown envelope skort makes you rock-concert ready. The silver printed stars over the midnight green jacket make the perfect pair for the V-shape asymmetrical flap over the brown shorts.
Tie your hair uptight in a ponytail and finish it off with a simple necklace and earrings along with a pair of coffee-toned suede high-knee boots.
33. Black off-Shoulder Top With Denim Shorts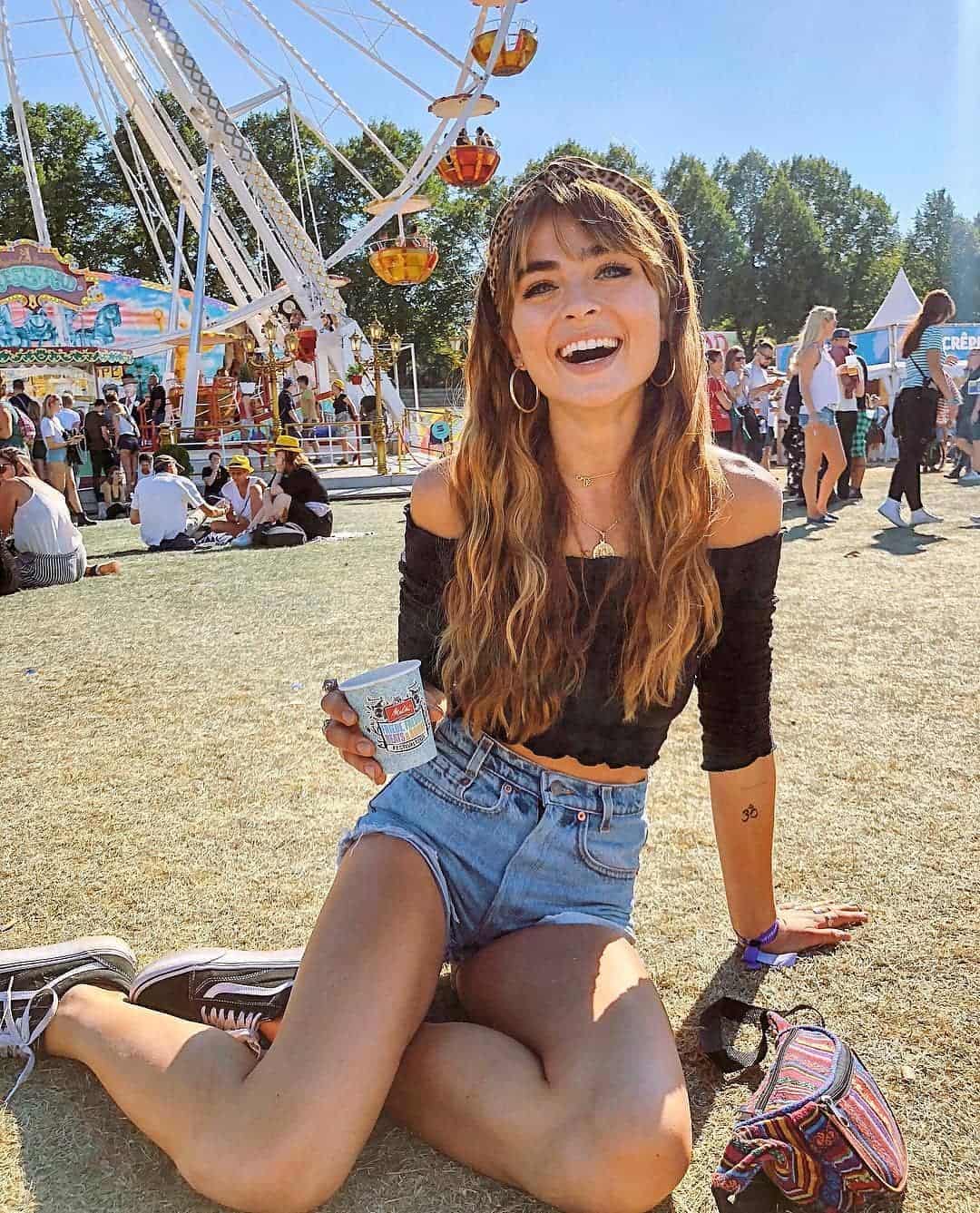 Image Source
Get a summer pop-concert-ready look with this simple straight-neck black quarter sleeve off-shoulder top paired and denim shorts with metallic buttons on top of the pockets. The velvet fabric of the top adds shine to the outfit, accentuated by the scalloped hemline.
Sport this look with silver hoop earrings, thin necklaces, a leopard print hairband, and nude makeup. Finish it off with a multi-color purse and a pair of black sneakers with white laces or Vans.
34. Grey Turtleneck Top With Wool Coat and Black Shorts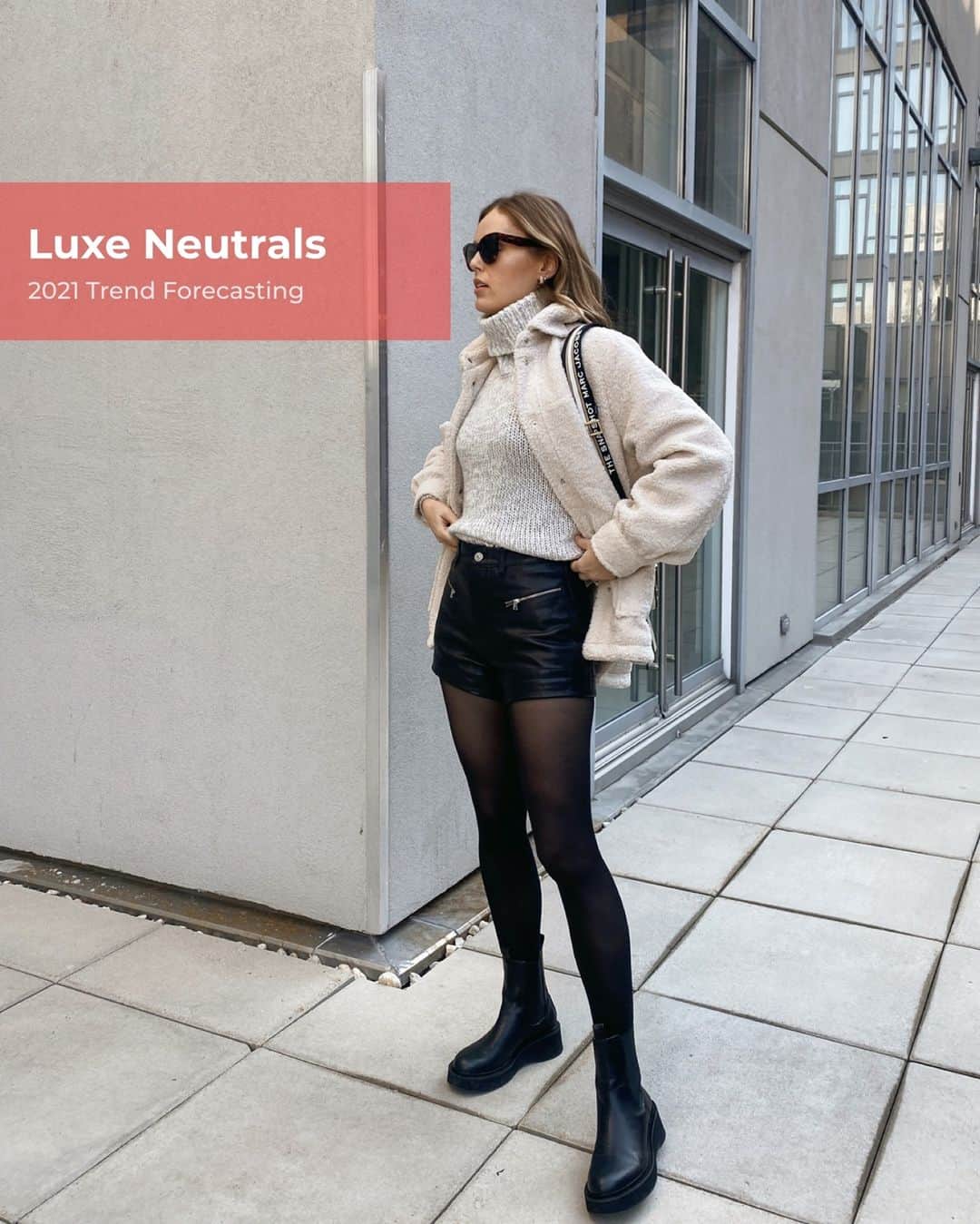 Image Source
Wear this turtleneck, acrylic blend grey top with black faux leather shorts and black stockings to your favorite winter EDM concert. Put on a shirt sleeve, Wool, off-white coat leaving it unbuttoned. Team this look with dark wayfarer sunglasses, a sling bag with white prints on the strap, and a pair of black synthetic leather ankle-length boots.
35. Coral Cream Graphic T-Shirt With Mid-Calf Shredded Jeans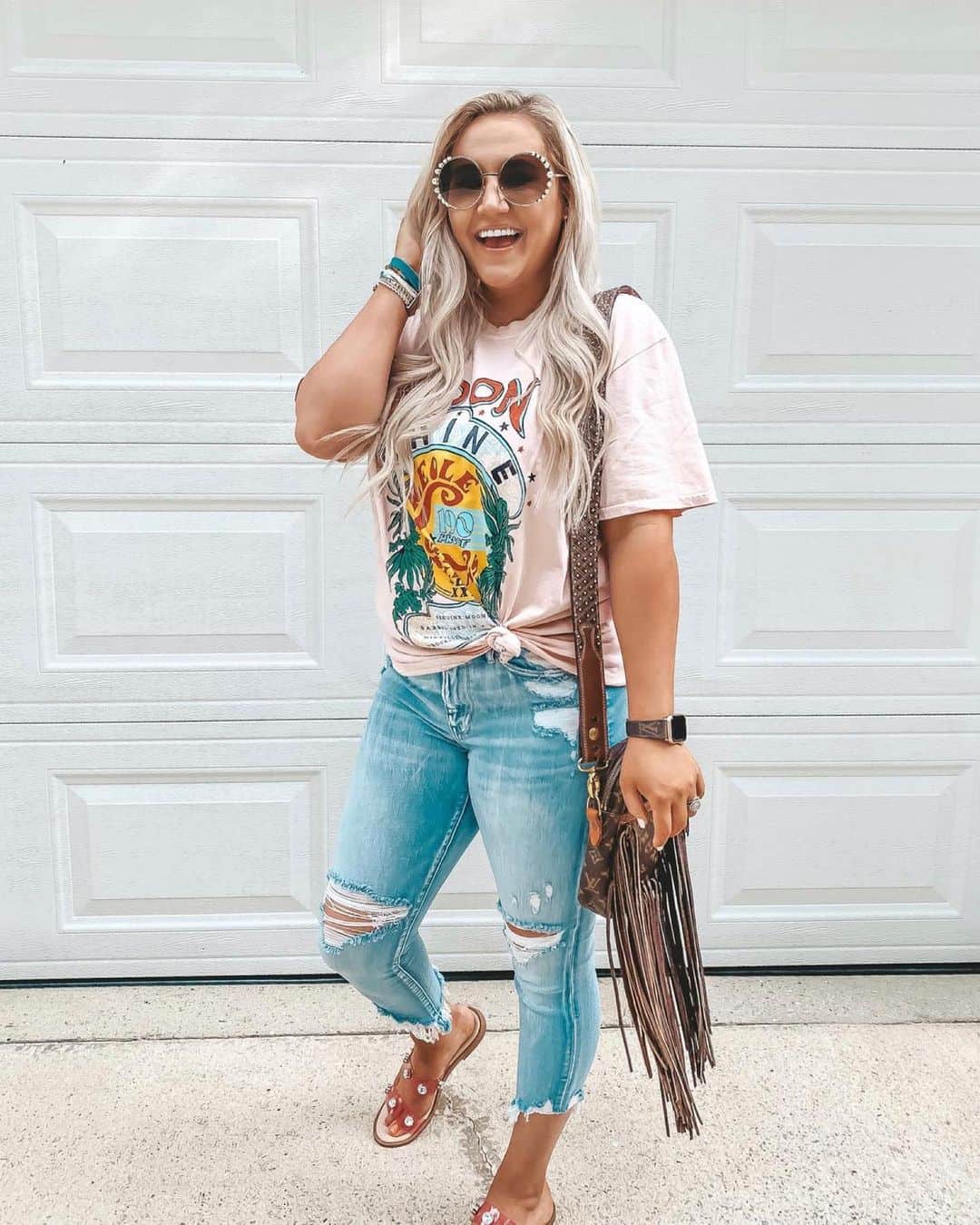 Image Source
Give yourself a fun, casual look with this coral cream graphic T-shirt paired with shredded mid-calf blue jeans. The multiple colors on the print of the T-shirt contrast the cream background perfectly. A tie-up knot at the side creates a gentle ripple in the fabric, adding a unique touch.
Accessorize this outfit with colorful wristbands, chunky jewelry, funky eyeshades, a brown fringe leather sling bag, and a pair of rusty orange peep-toe sandals. You can sport this look at a music festival.
36. Orange Turtleneck With Pink Skirt and Trench Coat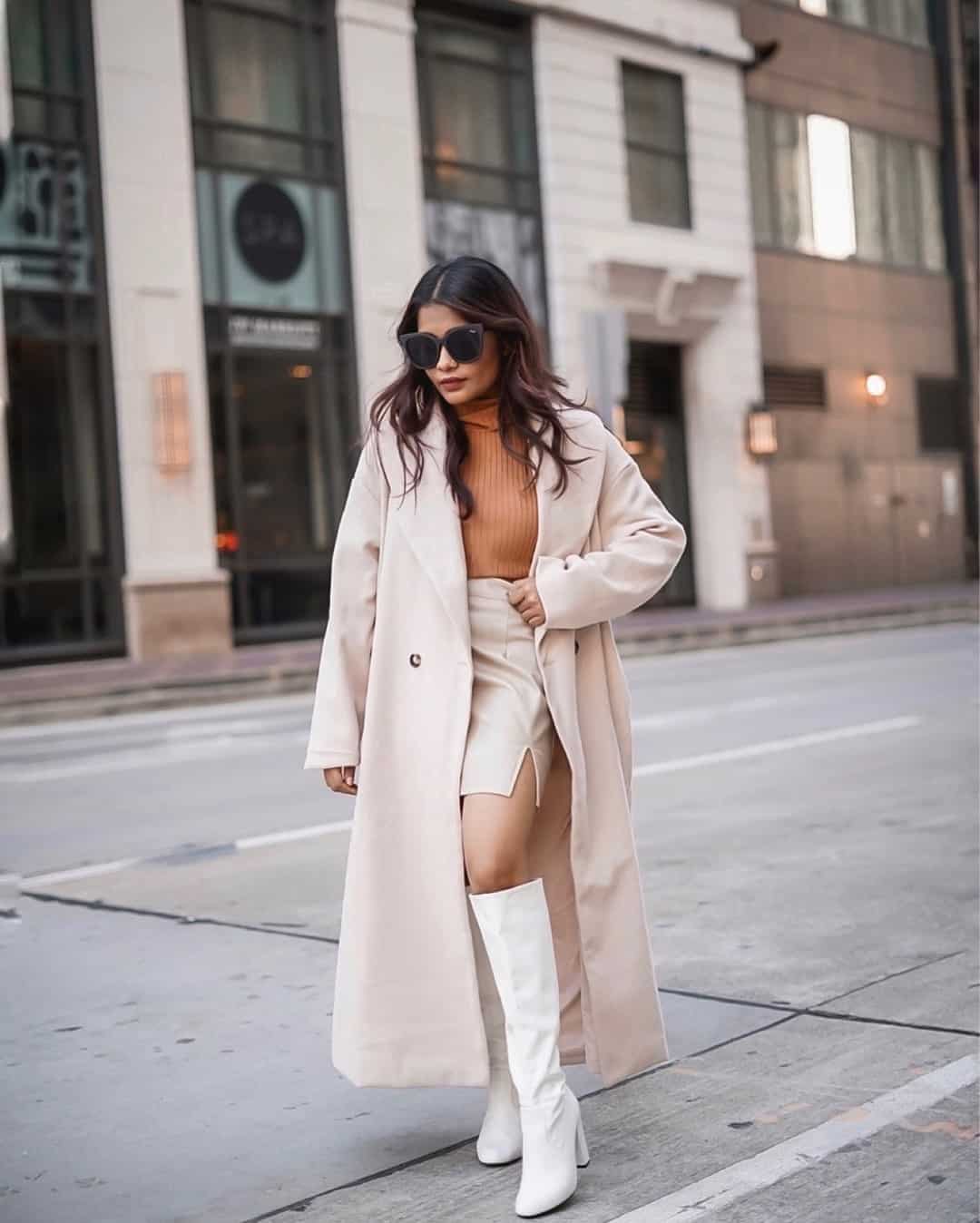 Image Source
For a live winter concert, wear this stretchable orange turtleneck top with a high waist A-lined short skirt. Put on a wide collar, beige-pink trench coat, with metal buttons on the sides to keep the cold at bay, creating a general color scheme with the side-slit skirt. Pair this neutral outfit with rusty orange lipstick, black shades, and high-tube white block heel boots.
37. Black One Shoulder Mini Dress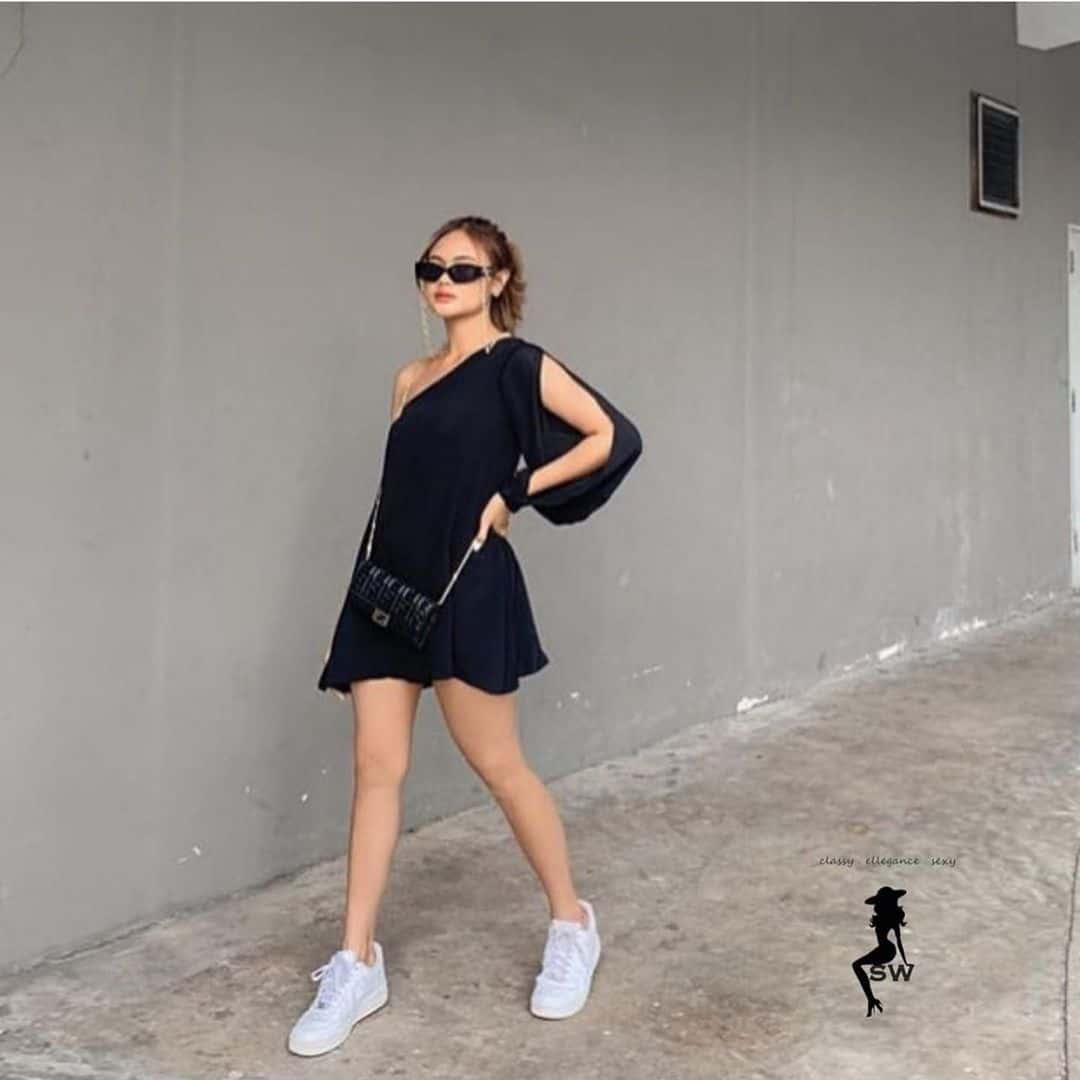 Image Source
For a contemporary concert-night look, sport this one-shoulder short black flare dress with a ruffled hemline. The chiffon hanging sleeves with a cuff at the wrist and an asymmetrical neckline create an effortless look. A ponytail paired with simple makeup and iconic black sunglasses along with a black leather quilted sling bag serves as the perfect accessories, finished off with simple white sneaker heels.
38. White Boat Neck Top With Denim Shorts and Denim Jacket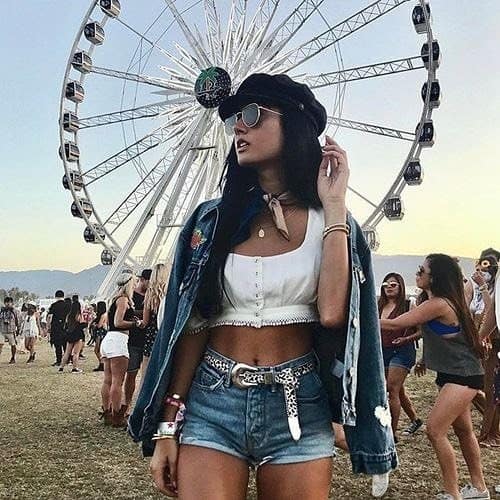 Image Source
This boat neck, quarter sleeve white crop top goes perfectly with denim micro-mini shorts. To accessorize, you can opt for a black and white animal printed belt, along with a rippled denim jacket with metallic buttons stitched in the front and a square knot bandana around your neck. Finish your look off with a black beret hat, dark shades, wristbands, and bracelets, and a thin chain with a flat pendant around your neck.
39. Black One Shoulder Top With Black Jeans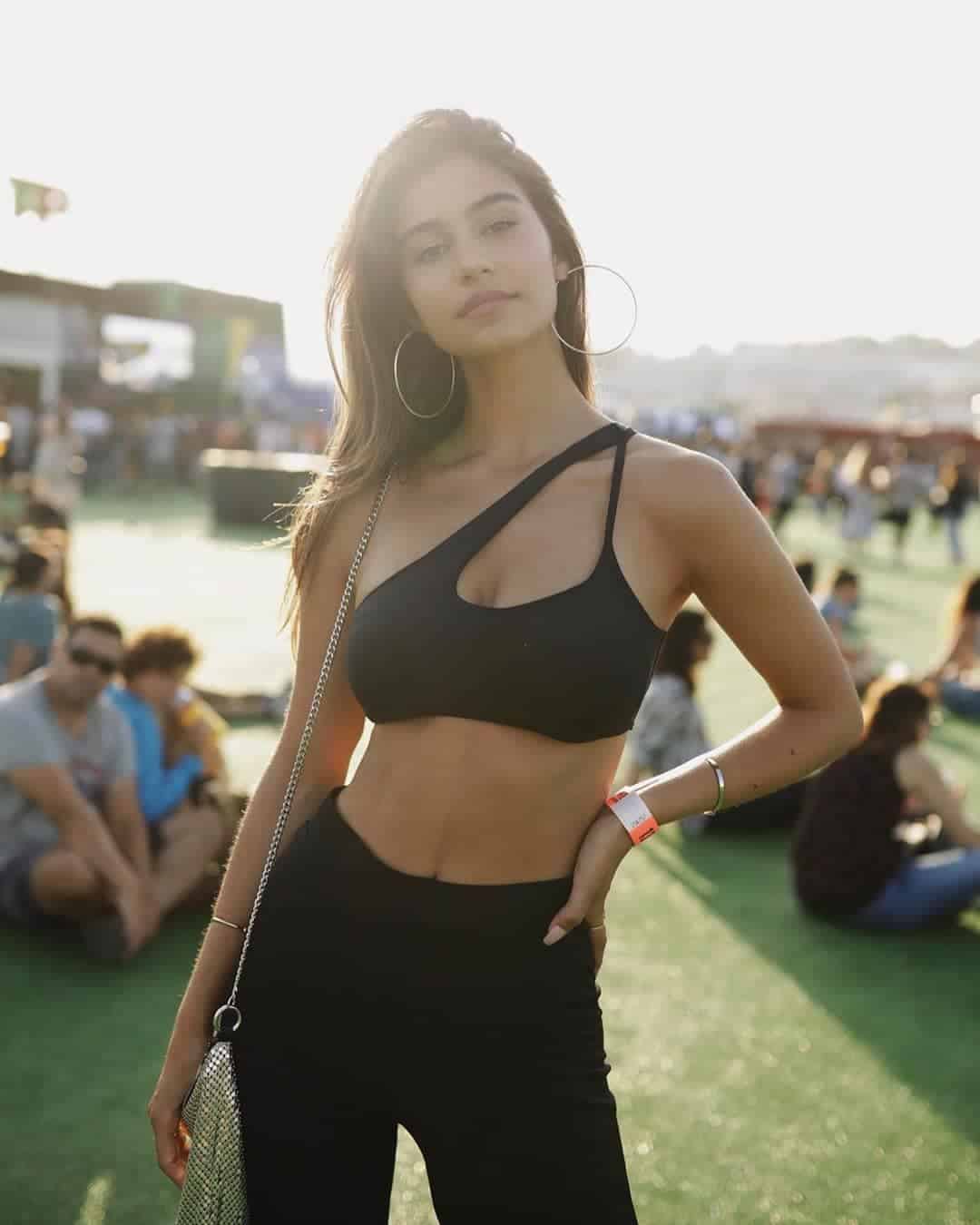 Image Source
Clothe yourself in this one-shoulder asymmetric neck black crop top with black jeans or jeggings. The slender and wide straps converge on the right shoulder, creating a unique neckline. The stretchable skin-fit fabric is a good fit for all kinds of body shapes. With dewy day makeup, nude nails, big silver hoop earrings, and a couple of bracelets, you are all set for a music festival.
40. Plaid Coat With White T-Shirt and Black jeans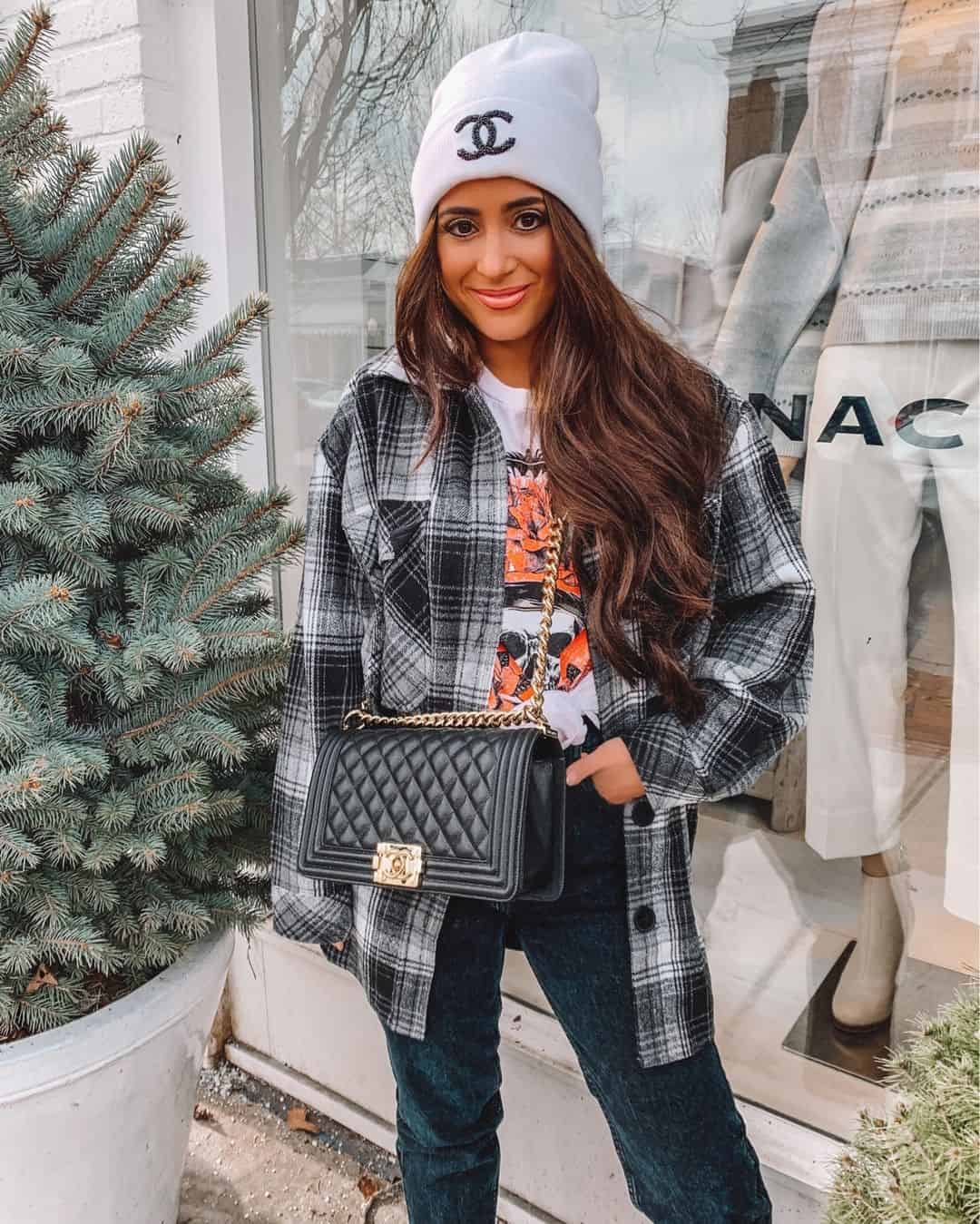 Image Source
Wear a white graphic t-shirt and black jeans with a blue undertone and sport a plaid button-up coat with flap pockets. The checkered coat comes lined with black buttons. Accessorize your outfit with a white beanie, a black quilted chain sling leather bag along with highlighted lips, and eye makeup. This look is ideal for a winter concert.
41. Dark Green Tent Dress With Black Shorts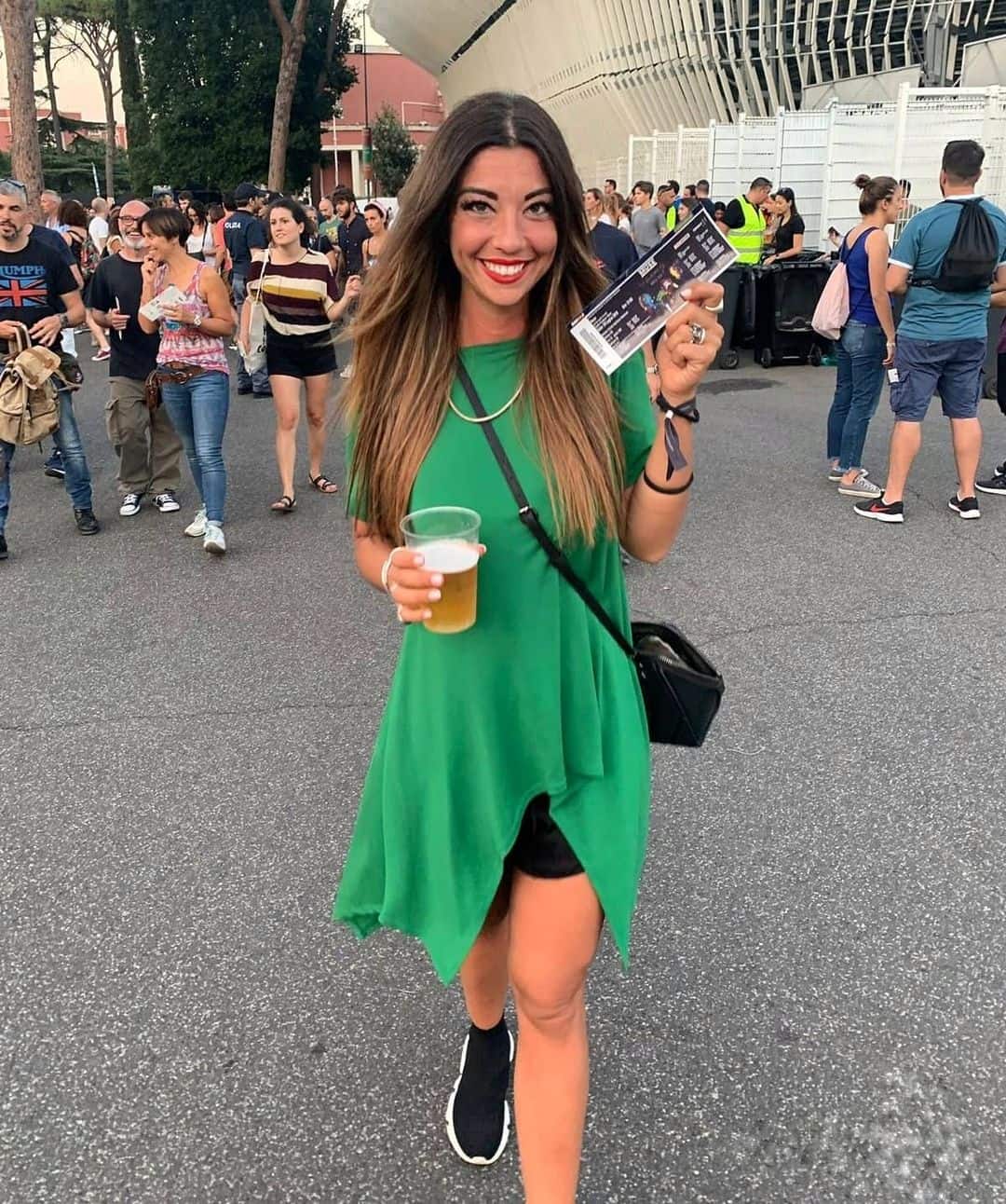 Image Source
This dark green, high-neck, raglan sleeve knee-length tent dress with thigh-length black shorts underneath gives you a blues concert-ready look. The bottom of the dress comes with asymmetrical pleats in a high-low pattern. Put on some makeup with cherry red lips and highlighting eyes, a couple of wrist bands, finger rings, a thin necklace. Team the look with a cross-body sling bag and a pair of black running shoes with white soles.
42. Yellow Backless Tunic Dress With Black Lace-up Corset Belt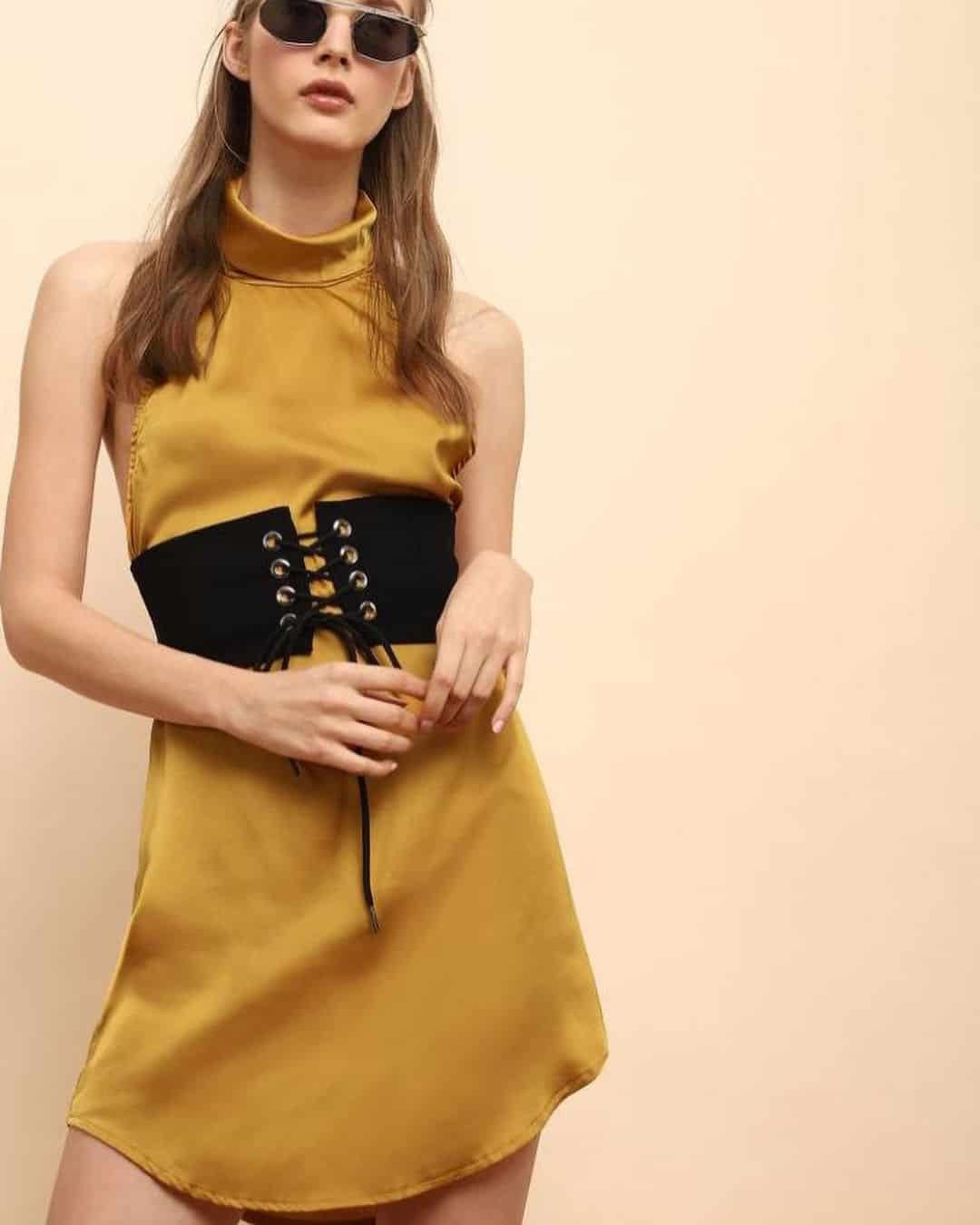 Image Source
Put on this yellow backless tunic dress with a black lace-up edgy corset for a rave night. This cowl halter neck dress with a satin finish comes with buttons at the back of the neck. The corset gives the dress a streamlined fit according to your body shape. Highlight your lips with glossy nude lip color and a pair of black geometric sunglasses. You can pair it with suede high-tube boots or block heel sandals.
43. White Boyfriend T-Shirt With Suede Black Shorts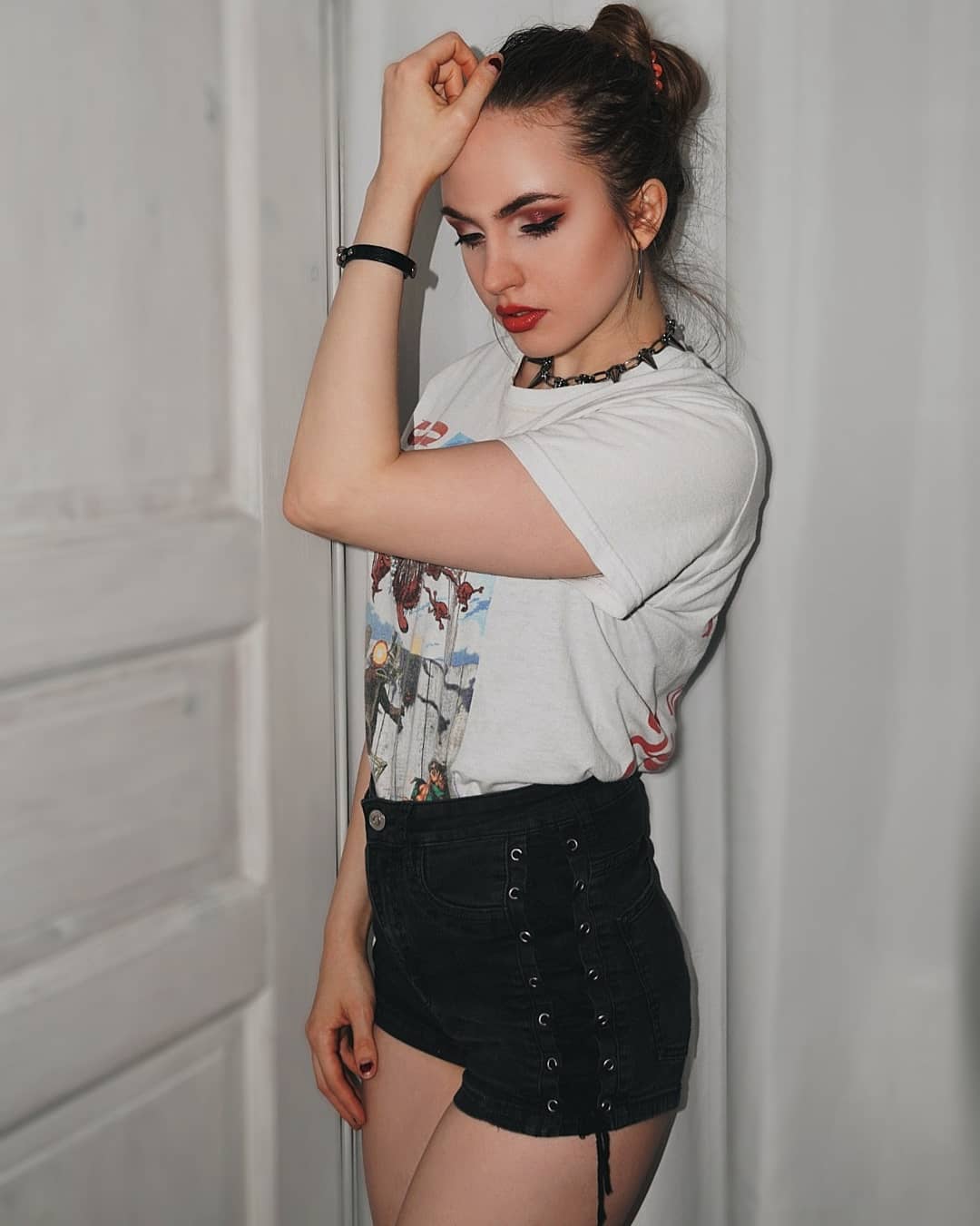 Image Source
Get a hip-hop concert look with a white boyfriend graphic t-shirt tucked in black velvet shorts with a lace-up bandage design on both sides. The white t-shirt has red, blue, and orange prints on the front and the back, adding detail. You can tie your hair in a bun and sport the outfit with bright makeup, glittery eyes, and glossy rusty orange lips. A spike necklace, silver hoop earrings, and a leather spike bracelet complete the look.
44. Blue Floral Maxi Romper Dress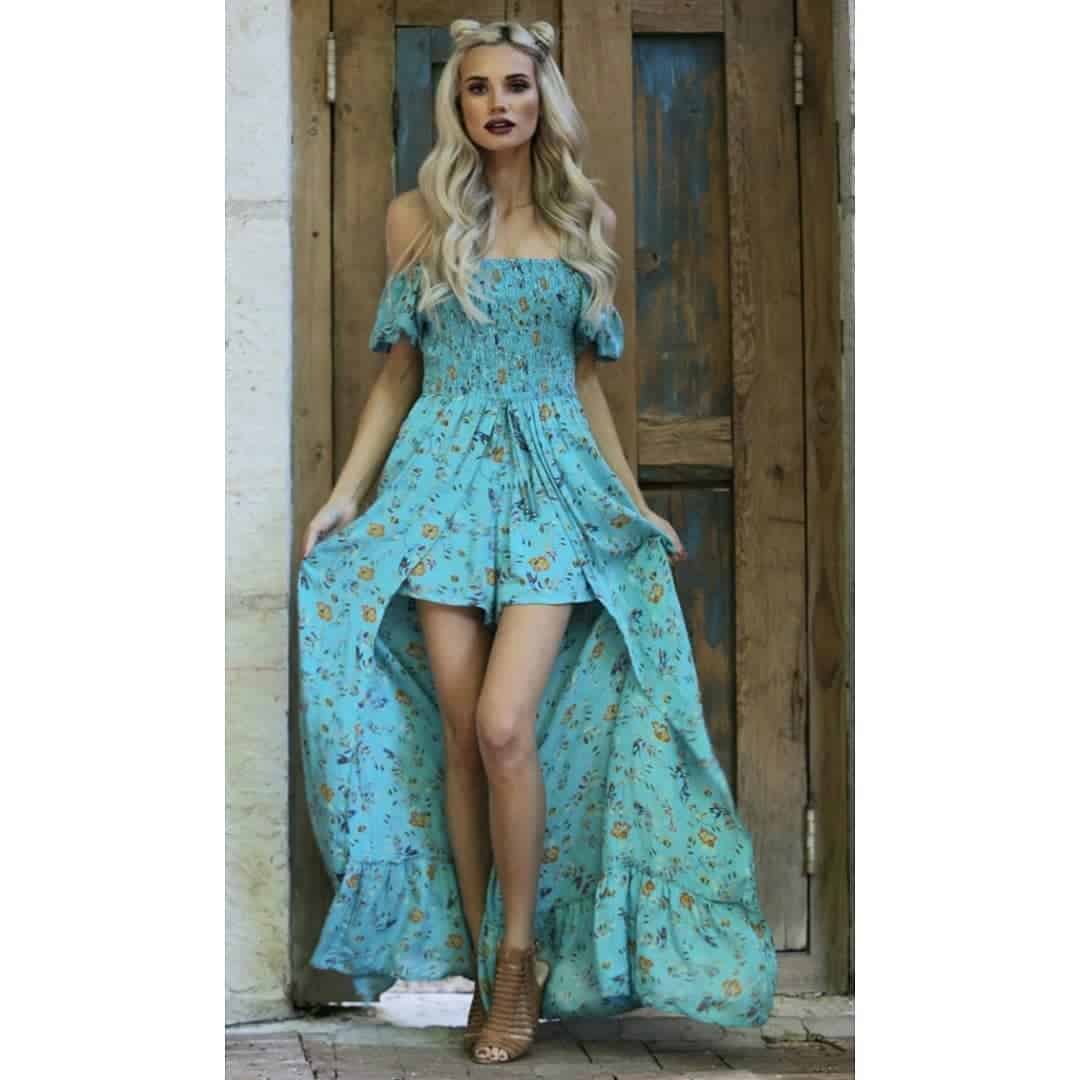 Image Source
You can pull off this off-shoulder draped maxi romper at a summer music festival. The electric blue romper dress comes with brown, blue, and green floral prints. The elastic waist bodice gives rise to a flowy trail that ends in a ruffled hemline and upper thigh-high shorts. Wear bright day makeup with violet lips and piggy buns and a pair of mustard yellow peep-toe stiletto heels.
45. White Ruffled Spaghetti Strap Top With Light Mustard Mini Skirt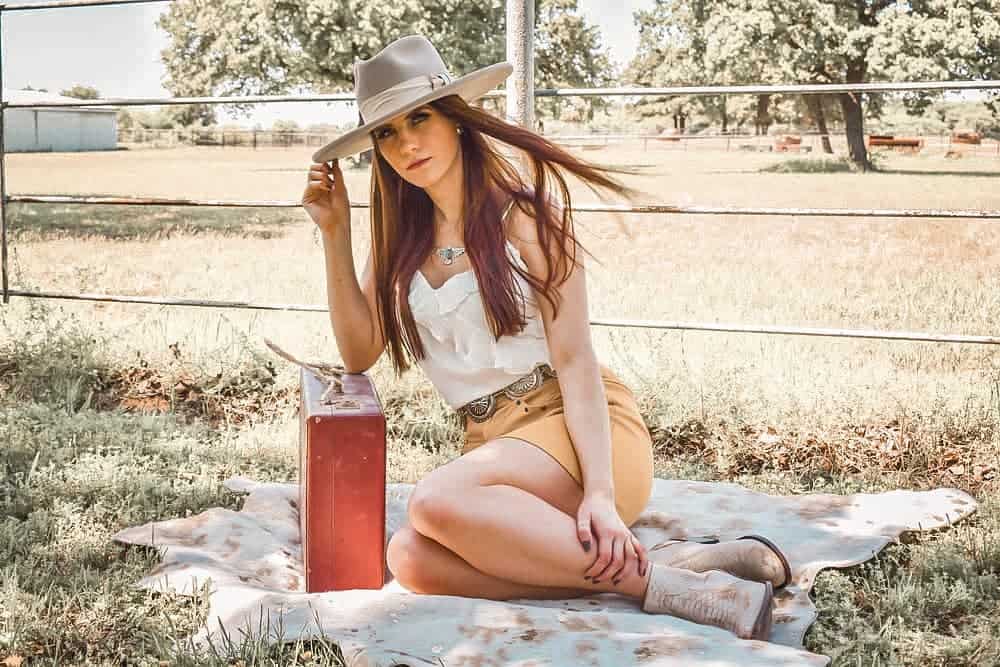 Image Source
This V-neck spaghetti strap top comes with a ruffled neckline that extends across the length of the top. A light mustard mini skirt with a chunky metallic belt gives the outfit a much-needed bling-factor. The polyester-spandex fabric makes this an appropriate summer fest outfit. Conclude this look by wearing a necklace with a turquoise stone in the center, a grey fedora, and off-white ankle-length boots.
46. Black Cross Wrap Crop Top With High-Waist Short Skirt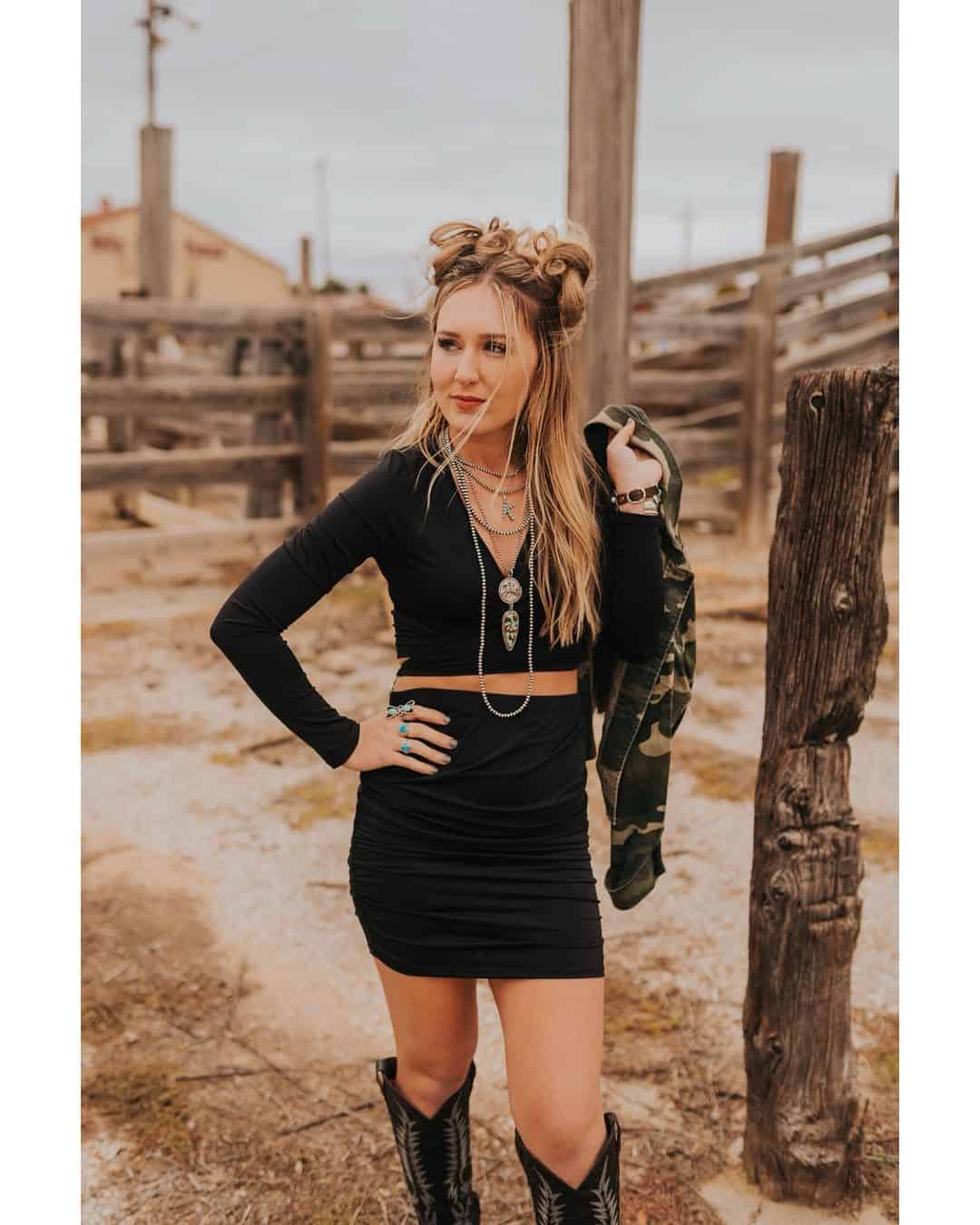 Image Source
This full-sleeve V-neck black cross wrap crop top goes well with a black high-waisted thigh-length skirt. The skirt comes with elastic bands stitched into the sides, creating a ripple, textured look. An olive-green army print jacket adds color to the all-black outfit.
You can opt for light makeup coupled with braided pigtail buns and wavy curls. Finish it off with accessories such as multi-layered necklaces, turquoise stone-studded finger rings, and a dark brown leather wrist band in conjunction with black knee-length cowboy boots.
47. Denim Pinafore Dress With off-White Turtle-Neck Top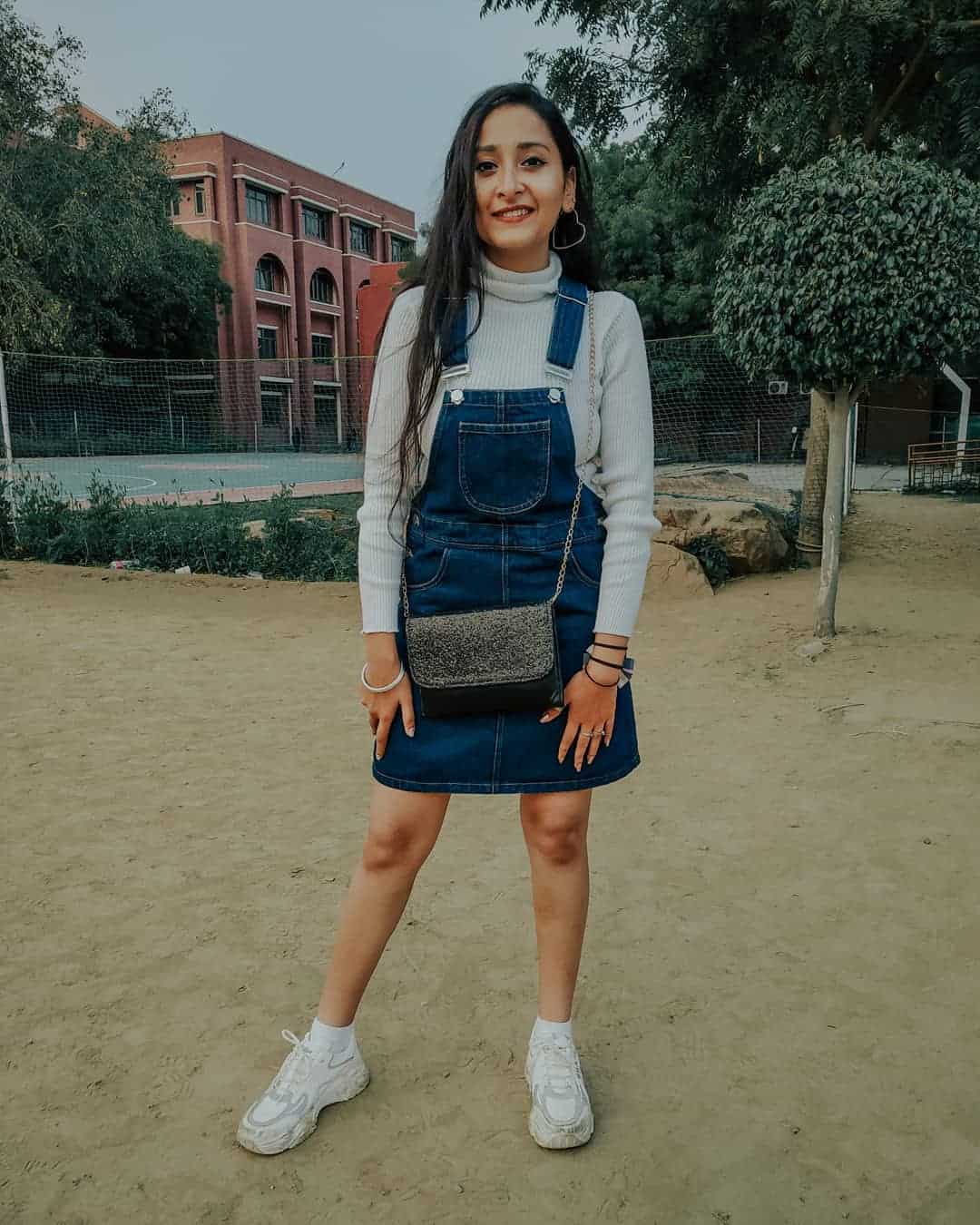 Image Source
Wear a denim pinafore knee-length dress along with an off-white turtle-neck top underneath to get a spring-fest ready look. A belt stitch over the waist gives the pinafore a drop waist, accentuated by the pockets.
Stylize this outfit with highlighting eye makeup, vibrant lips, a pair of hoop earrings, a couple of wristbands, and a black envelope sling bag with a shimmery flap on top. Put on white running sneakers to wrap up this look.
48. Taupe Sweater With White Skirt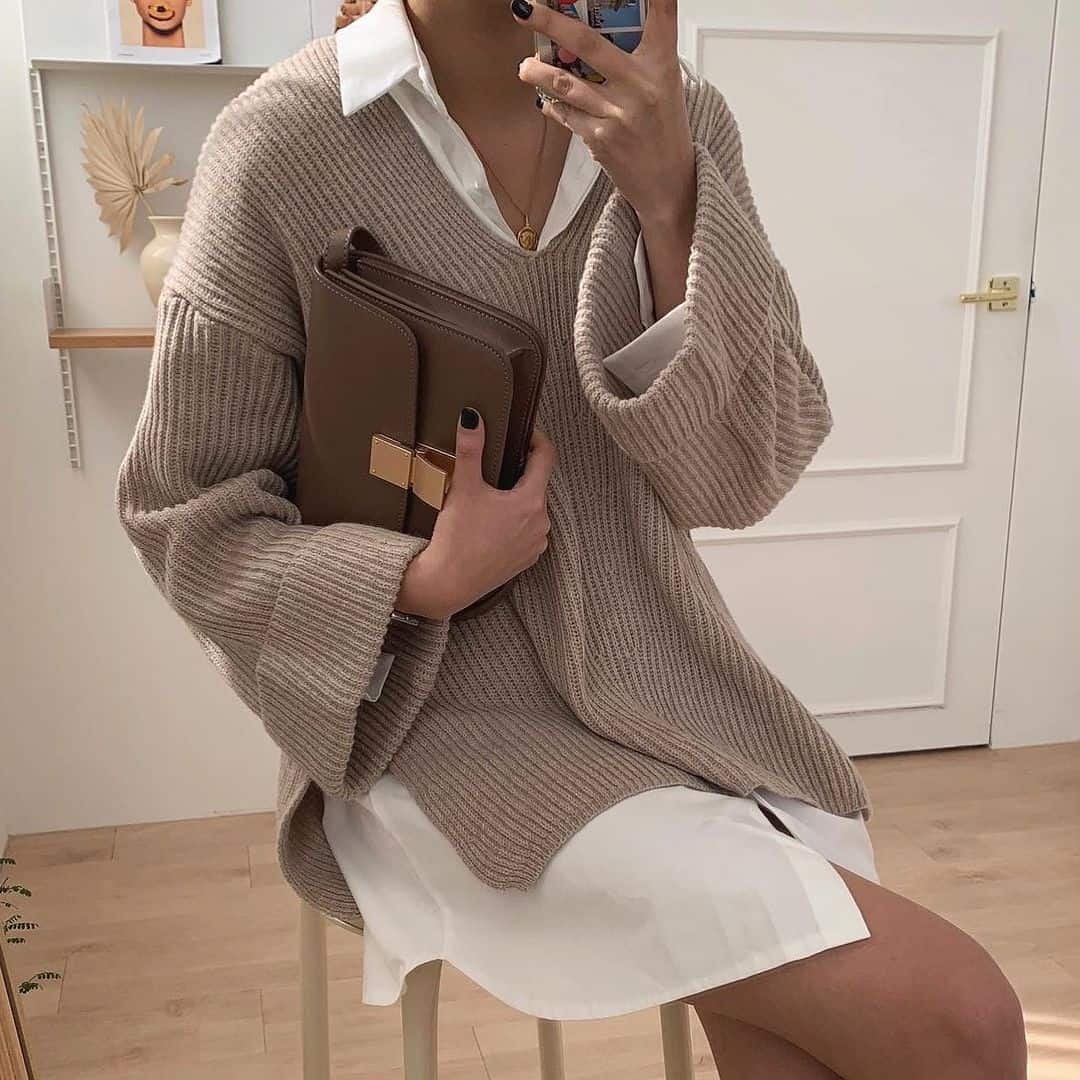 Image Source
This taupe sweater paired with a white skirt makes for a winter concert look. The hemline of the mini skirt adds a soft, unique touch to the outfit. Team this outfit with a white cross-body sling bag with a leather strap and matte nude makeup coupled with high-tube coffee-toned kitten heel boots.
49. V-Neck Poncho Wrap With Light Blue Ripped Jeans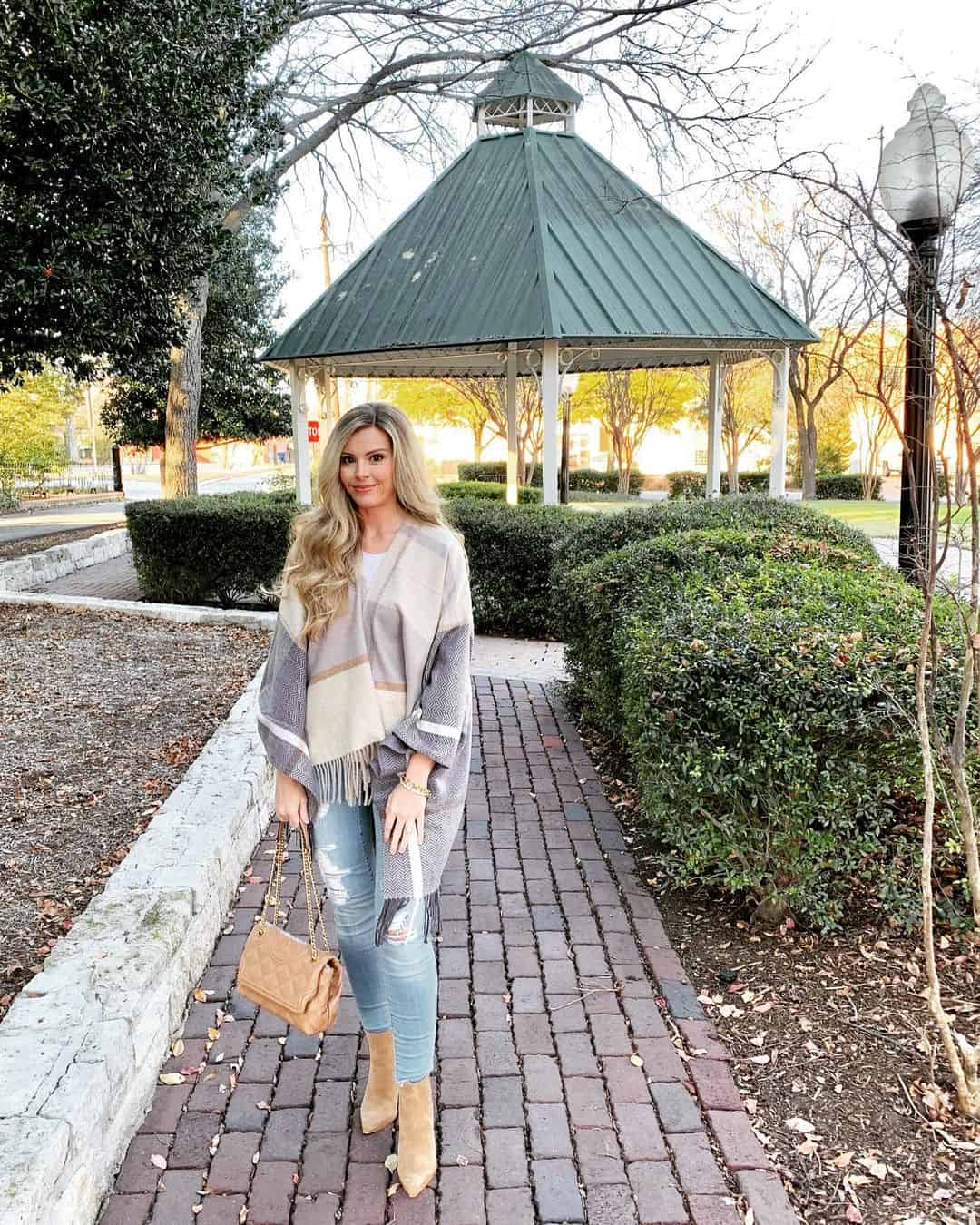 Image Source
Get ready for a fall or winter concert with this V-neck poncho wrap and a white round-neck t-shirt underneath coupled with light blue shredded slim-fit denim jeans. The play with colors – mauve, dark purple, white, taupe, and off-white in linear patterns on the wrap makes for a subtle look. Dye your hair golden blonde and keep the roots dark. A camel-toned sling bag and ankle-length boot heels finish the look off.
50. Black Crossover Halter Neck Crop Top With Straight-Fit Trousers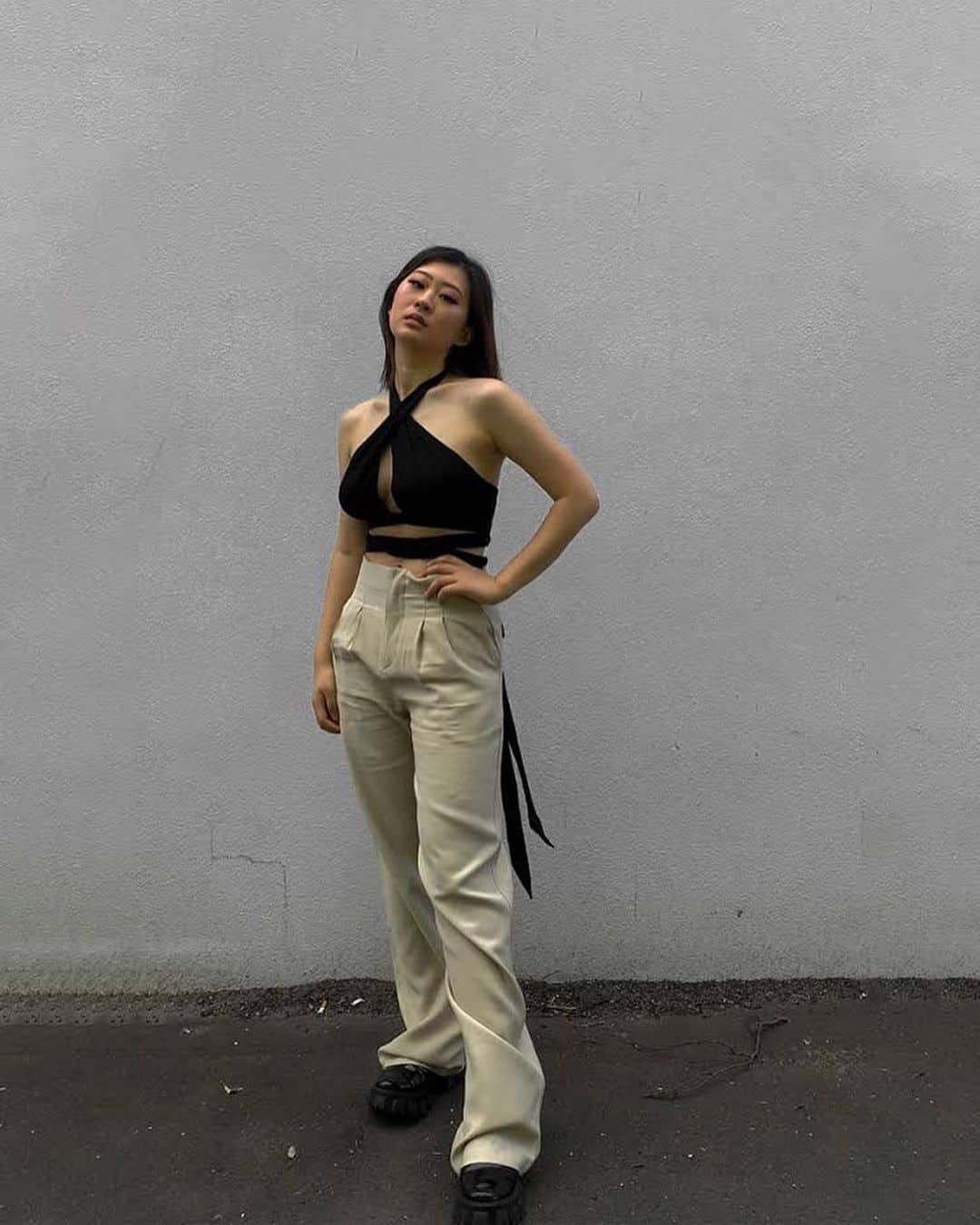 Image Source
This black cut-out crop top styled with a crossover halter neckline works well with cream-toned high-waist straight-fit trousers for a rap concert-ready look. The top has a backless silhouette with cross-body laces making a bow at the back.
The loose waist-fit trousers have pockets on both sides combined with knife pleats. Natural makeup, straightened hair, and a pair of black round-toe punk platform shoes complete the look.
50 Concert Ideas to Make You Stand Out
There are umpteen ways to dress for a concert, and your entire outfit counts – starting from head to toe. Your accessories and makeup matter just as much, making it essential to find the right combination. Feel free to play around with the concert outfits mentioned here, mixing and matching as and when you like.
A colorful palette is your best friend at indie concerts, music festivals, and pop or pop-rock concerts. When it comes to opera nights or formal music events, you want to opt for a sophisticated look like a deep red bodycon with high heels.
Concerts are a great place to experiment and flaunt your favorite clothes. Pick out your favorite outfit from the list, and you are good to go!