Ask anyone, and you'll likely hear that Payless is one of the most dependable affordable shoe retailers, offering high-quality footwear at the best prices. Stores like Payless have led people of all walks of life to the perfect pair of shoes, may it be for momentous occasions or something as simple as a first date, or a milestone in life like your first day at your dream job.
But if you don't have a Payless near you, don't worry. Here, we'll explore similar stores that offer excellent footwear to accompany you throughout life.
For Being Yourself: DSW
Standard Shipping: Free
Free Shipping: Free shipping on anything for VIPs
Transit Time: 4-7 days
Free Returns: $8.50 for returns by mail
DSW's passion lies in diversity, equality, and inclusion, not only in their commitment to their community but also to fashion. The brands they carry offer iconic yet comfortable styles in all footwear categories, inspiring self-expression and helping buyers stay true to their core. They offer running shoes, slip-on sneakers, footwear for hiking and trail, sports shoes, athletic sandals, casual footwear, and slippers.
DSW prices are a bit higher than Payless, but it has a really strong loyalty program, and it actually ranks first in this area out of all the most popular shoe retailers in the U.S.
If you join their VIP program, which is free to join, you'll get points with every purchase as well as free shipping on anything. You also get $5 off for your birthday, which you can spend any time that month. And what's more, they also offer live chat support, so you'll get quick answers whenever you need them.
Don't forget to check the Clearance section to find some sweet, sweet deals.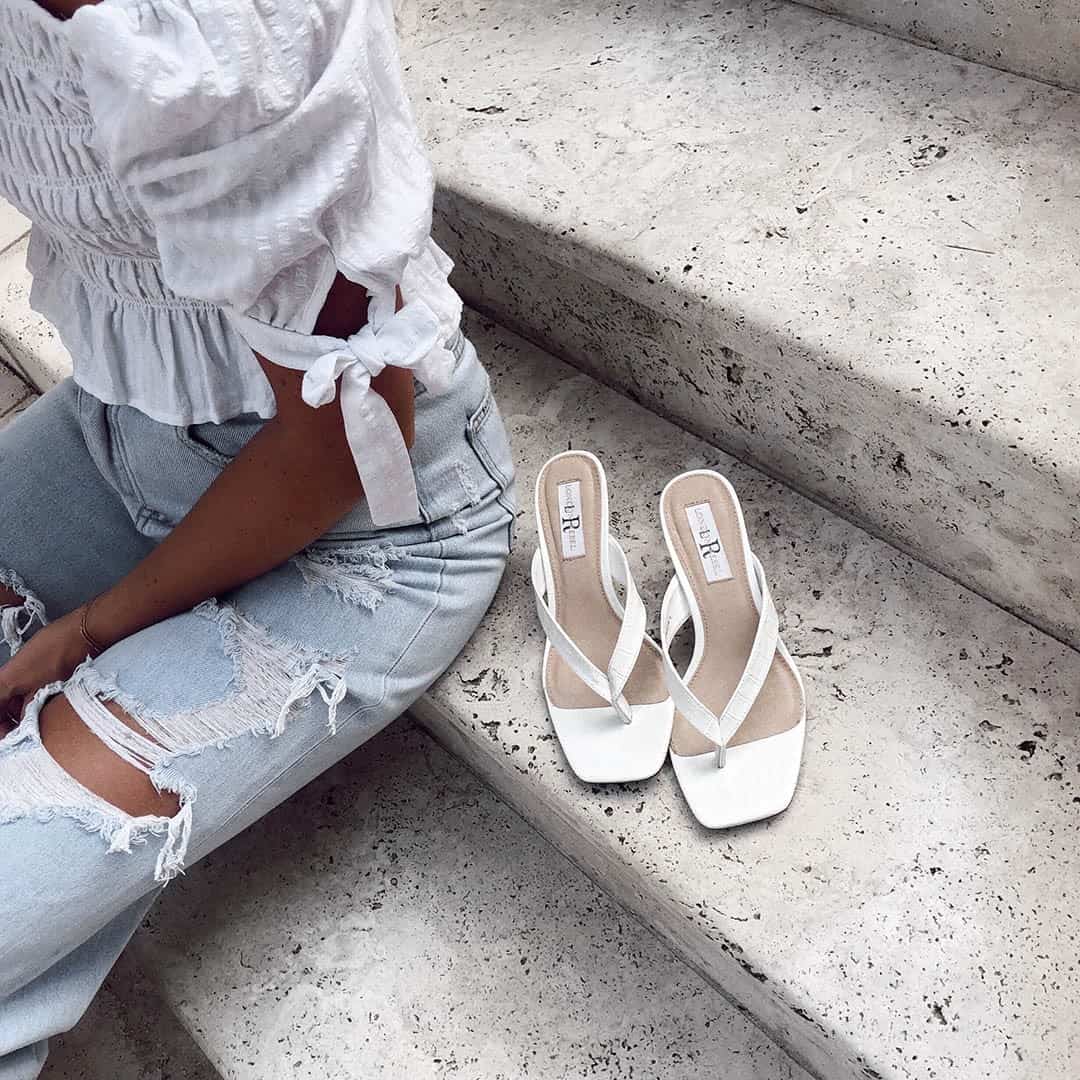 For Trendy Picks: Famous Footwear
Standard Shipping: $7.95
Free Shipping: On orders more than $75
Transit Time: 4-7 days
Free Returns: $7.95 for returns by mail
If you love to ride with the trends and grab the newest and the hottest fashion items, you might want to pick up a pair or two—or even more—from their store. They offer all sorts of footwear in a variety of styles.
You can even check their Trending section for the latest trends for looks like Animal Prints, Platform, and Tie Dye. Rocking a pair from Famous Footwear will indeed prove to be Instagrammable.
Famous Footwear's selection is more expensive than Payless', but the BOGO sales they run throughout the year will offset the higher prices. They also have a loyalty program similar to DSW's called Famously You where you can earn rewards, get free shipping as well as $5 off for your birthday, and get an Extra BOGO ½ Off purchase.
If you want to go all out with the rewards, be a Superstar member and spend $200 in a year to enjoy even more benefits.
For Fast Shipping: Amazon
Standard Shipping: Starts at $4.99 and depends on address and location
Free Shipping: Yes, with Amazon Prime
Transit Time: One to a few days with Amazon Prime, longer without
Free Returns: On return-eligible items
Amazon, much like Payless, has a wide range of shoe styles to offer, thanks to the abundance of official brands and third-party sellers on their site. Apart from regular manufactured shoes, you'll also find handmade shoes, footwear from recycled materials, discounted second-hand pairs, and customized pieces that will surely catch your eye.
Don't let the endless choices scare you, though. Amazon makes it easy for customers to find what they're looking for thanks to their easy-to-navigate interface. Search results can be filtered based on shoe style, price range, and even review scores.
Not only that, but Amazon Prime offers plenty of benefits for users as well. With Prime, you can get your selected footwear on your doorstep either within two hours, the day, or the week for free. Prime members also get exclusive deals on thousands of items every day.
For Easy Accessibility: Target
Standard Shipping: $5.99
Free Shipping: On orders over $35
Transit Time: Same day to 5 business days
Free Returns: Yes
Target remains immovable when it comes to what they offer: accessible, "cheap chic" fashion. Their catalog features basic footwear that you can mix and match with outfits for any occasion.
They have casual choices like microsuede mules and lace-up canvas sneakers as well as more classy, formal options like block heel pumps and faux-leather Chelsea booties. They even sell some of the most fashionable rain boots available on the market.
And if you wear wide-width shoes, you'll be happy to know that Target has expanded its wide-width assortment, which now makes up 30% of their entire women's shoe department.
If you're considering doing all your shoe shopping, or perhaps all your shopping in general at Target, you should consider getting a RedCard, which is a Target credit or debit card that offers many benefits like 5% discounts on anything at Target, free shipping on most items, and an extra 30 days to return items.
For the Environmentally Conscious: ALDO
Standard Shipping: $5.95
Free Shipping: On orders over $75
Transit Time: 6 business days
Free Returns: Yes
Hallmarks of "classic" fashion have always been simple and unobtrusive, able to complement any look and have it come out looking stunning. When it comes to footwear like that, ALDO is at the top of the list.
Their pieces don't come cheap, but they do come with style, comfort, and quality assurance. Plus, their designs are some of the most eye-catching on this list, featuring gradient stilettos, holographic crocodile heels, and brightly printed almond toe loafers that spruce up any formal look.
Another exciting thing about ALDO is their sustainable collection, the ALDO Love Planet. It comprises fashionable shoes and accessories created using their very own CleanStep™ Technology, which uses a combination of virgin thermoplastic rubber and algae biomass, a substance that helps clean and filter polluted water and keeps CO2 from entering the atmosphere.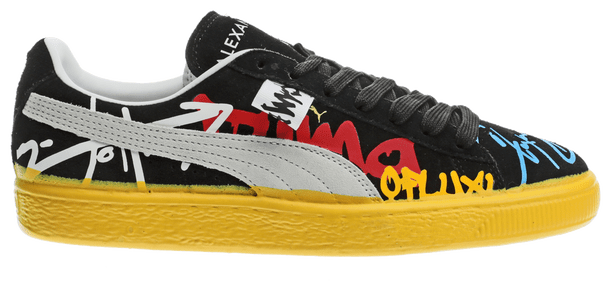 For the Avid Collectors: Foot Locker
Standard Shipping: $7.99
Free Shipping: On orders over $50
Transit Time: 5-6 business days
Free Returns: $6.99 for returns by mail
When talking about collecting shoes, it's impossible not to mention Foot Locker. Foot Locker has approximately 3,000 retail stores globally, many of which have become hotspots for sneakerheads looking for the next big shoe. If you're looking for a store like Payless that embraces sneaker culture, this store is for you.
They have popular collections like Jordans and Air Maxes. Shoppers that are on the hunt for exclusive pieces will also love Foot Locker. Just recently, the store featured the PUMA x Alexander John collection, where street art meets style.
They also have a membership program called FLX Rewards, which offers free shipping, exclusive rewards, a surprise birthday gift, and access to members-only sales and events. You can join for free.
For the Deal Enthusiasts: Shoe Carnival
Standard Shipping: $6.95
Free Shipping: In-store coupons available for shipping discounts
Transit Time: 4-7 business days
Free Returns: $6 for returns by mail
The Shoe Carnival shopping experience is as enjoyable as the shop's name, thanks to the many good deals and fantastic footwear options available on their site.
Much like Payless, Shoe Carnival offers a large selection of shoes for every occasion. Some of their options in the Athletics section, which include popular name brands, go for as low as $25.
They also have collections of work and safety footwear, as well as dance shoes. Here, you'll find waterproof, slip-resistant, and even anti-electrical hazard designs.
For Size Inclusivity: Zappos
Standard Shipping: N/A
Free Shipping: Yes
Transit Time: 4-5 business days
Free Returns: Yes
If you're looking for a store like Payless that seems to carry every shoe size you could ever imagine, then Zappos is the one.
Their extensive catalog features footwear for all occasions. You can get your next sneakers, dancing shoes, cleats, heels, and booties from Zappos, and you don't even have to worry about shoe sizes since they carry up to Men's 17.
Plus, shipping is no worry when it comes to Zappos. Every item on their catalog they ship for free, no minimum spending required. If you're in a rush, you can also get free expedited shipping if you link your Amazon Prime membership. Talk about convenience!
Shoe Them How You Really Feel
With this diverse yet star-studded list of stores like Payless, the possibilities of meeting your next favorite sneakers, stilettos, and sandals are endless.
Borrowing a quote from the New York Times bestselling novel A Gentleman in Moscow by Amor Towles: "The only difference between everybody and nobody is all the shoes."
But whatever your tastes are, just know that the best footwear is the one that will give you comfort and self-expression as it accompanies you in your journey to becoming the best version of yourself.