Since its founding in 2006, Boohoo has become one of the U.K.'s most popular fast-fashion retailers. With over 36,000 items to choose from at prices normally under $100, it isn't hard to see why it's such a hit with its target crowd of teens and twentysomethings.
What sets them apart from other retailers, though, is the fact that they sell their own branded clothing, unlike other popular fast-fashion retailers such as Shein, RomWe, and even Zara.
But fashionistas both young and old will tell you that variety is the spice of life, and for that reason, we've rounded up ten other stores like Boohoo that we absolutely adore. Many of them tout the same street-chic designs that have put Boohoo on the map, yet each of them bring their own flavor, which distinguishes them from one another.
Read on to learn more about these retailers–your closet will thank you for it!
What Boohoo is to Brits, Missguided is to us here across the pond. Much like Boohoo, Missguided sells luxe and on-trend looks ranging from basics and denim to evening wear and intimates.
Whether you're looking to stun in PU cargo pants or a sweet, fitted gingham dress, Missguided has got it for you. They even have a handful of show-stopping boardroom looks that prove getting dressed for work doesn't have to be a decidedly boring affair.
However, their chic looks aren't the only thing that'll catch your eyes; those working hard in school will be happy to know that Missguided offers a 15% student discount code at checkout. But even if your coed days are long behind you, you can still nab plenty of Missguided's darling designs in their frequent flash sales, where prices can be slashed up to 60% off and more.
2. Whatever You Need: ASOS
If you're in the market for just about anything–and we mean anything–then head to ASOS stat. This online retailer sells clothing, home decor, beauty products, and shoes in over 850 brands (including their own) at delightfully affordable prices.
They've also got plenty of menswear and clothes for kids, so no one in the family has to miss out on their runway-inspired styles.
Like many other online retailers, ASOS also features an amazingly convenient Afterpay option, so you can break up your shopping spree into several affordable installments. You'll also get free shipping on orders over $100–and that's already on top of their frequent sales that knock prices down 20-25%.
3. Plus-Size Perfection: Torrid
Torrid has been creating some of the most beautiful looks for fashionistas in sizes 10 to 30 since 2001, and it shows no sign of slowing down anytime soon. Their selections range from closet classics like twill button-downs to feminine midi dresses in tulle and chiffon, so trendsetters looking to turn a few heads will never be at a loss for looks.
Their sales and clearance racks are also organized by size, price, and clothing category, so you can snag your next steal without having to search too hard for it.
They also feature a lot of helpful how-to videos for choosing the right shoe, denim, bra, and swimsuit size–truly a helpful resource when you consider how fraught online shopping can be. All this shows is that Torrid goes the extra mile to make sure their customers feel just as good in their clothes as they look.
4. Avant-Garde and Affordable: Zaful
Those with runway tastes may glumly discover that they often lack the budget to match. Fortunately, Zaful is here to fill in this gap; their haute couture-esque styles boast closeout store price tags that'll keep both your closet and wallet full.
We love their asymmetric stitched tops for casual looks or bi-color bodycon dresses to catch a few eyes at the club. Essentially, Zaful is the retailer you need for standing out when stepping out.
You can also get exclusive sale offers if you subscribe to their newsletter, and students can get additional discounts as well. There's also free shipping on select orders, making Zaful one of the most affordably chic brands of the bunch.
This Aussie retailer knows how to step up a pair of sweatpants–their two-piece athletic sets feature adorable crop tops, bandeaus, and tie-dye knits that keep your sporty-chic look effortless.
But their activewear isn't the only thing worth checking out. They've also got sexy satin pieces for understated date night looks, and even bridesmaid dresses that won't burn through your bank account.
But those of us in the States need not despair over expensive shipping costs, as White Fox offers free shipping on orders over $50. This means you can stock up on their signature activewear and in-vogue pastel bikinis without paying just as much in shipping costs. If that doesn't get you moving, we don't know what will!
Whoever said office looks were restricted to drab khakis has obviously never perused PrettyLittleThing's selections. Between their longline blazers in muted pastels and wide-leg tailored suit pants, you'll never be out of options for what to wear to work tomorrow.
Like many other retailers on this list, they also sell outerwear, activewear, and swimwear in addition to shoes and accessories.
These boardroom looks are very affordable, too–there's always new sales items in rotation, as well as limited-time sales that slash prices even further. If you're looking to upgrade your office style on a budget, then head to PrettyLittleThing; their Afterpay option will ensure that you can stock up without having to splurge all at once.
Do you scour the Instagram profiles of your fave fashion influencers with envy? The good news is you don't have to; In The Style offers many of these same like-heavy looks for a fraction of the price, proving you don't need to bust your budget to stay in the algorithm's favor.
You can nab their athleisure looks for under $15 or shop their more feminine pieces at heavily-discounted prices. Better yet, their designs are totally scroll-worthy: selections are organized by color, making your shopping experience just as pleasing to eye as it is to your wallet.
One minor complaint we have, though, is that their flat shipping rate is only available to Australian customers. Thank goodness their sales prices are so amazing; you'll find plenty of sales items with prices slashed up to 60%, so American customers can still get plenty of these styles without paying through the nose for them.
8. Sales on Sales: Nasty Gal
For a gal so nasty, she sure offers some pretty sweet deals. Between their student discount, storewide sales, and Afterpay options, Nasty Gal strives to make their chic looks affordable to their patrons.
They also offer their on-trend styles in all sizes, be it extended, petite, or plain, ol' straight-sized. Shop French-inspired eyelet shift dresses for your next garden party look or wide-leg denim to give your street style a kick–and all at prices that are anything but nasty.
However, you might find yourself cycling through some of their selections pretty quickly. Like other big-name fast-fashion retailers, the quality of Nasty Gal's clothes often leave something to be desired. The silver lining to this is how great their jaw-dropping prices are, even though having to buy new pieces so frequently may do little to save you money in the long run.
9. Simplicity Defined: NAKD
It's possible to turn heads in simple threads, and NAKD's selection of beautifully minimalistic pieces proves it. Those looking to ditch busy patterns or daring designs can breathe easy here; think bodycon midi dresses in of-the-moment neutrals or sweetheart-cut puff-sleeve tops in springy pastels. Simply put, NAKD is a low-maintenance fashion maven's dream.
We just wish their pieces were a bit more affordable. Most items are slightly above Boohoo's price range, so babes on a budget may have to look elsewhere to get comparable styles.
However, their higher prices are offset by express delivery, in addition to free shipping and returns. What's more, it isn't uncommon to see sales items with discounts of up to 50% or higher, so there are still some pretty great sales opportunities here.
10. Glam That Slams: Miss Pap
Miss Pap and Boohoo are similar in that they're both U.K.-based retailers, and they both offer sleek looks that serve a little Y2K-era R&B superstar flavor (Aaliyah, anyone?).
You can also shop femme fatale flair with their ruched puff sleeve dresses or simple loungewear in eye-catching cuts, making it a one-stop shop for the trendsetter who's constantly looking to switch it up.
Pricewise, they're one of the most affordable retailers on this list. But they suffer the same problem as Nasty Gal in that their low prices correlate with the low quality of their clothing. Non-European customers will also be on the hook for paying for returns, so you might end up spending a decent amount of dough if you aren't happy with your purchase.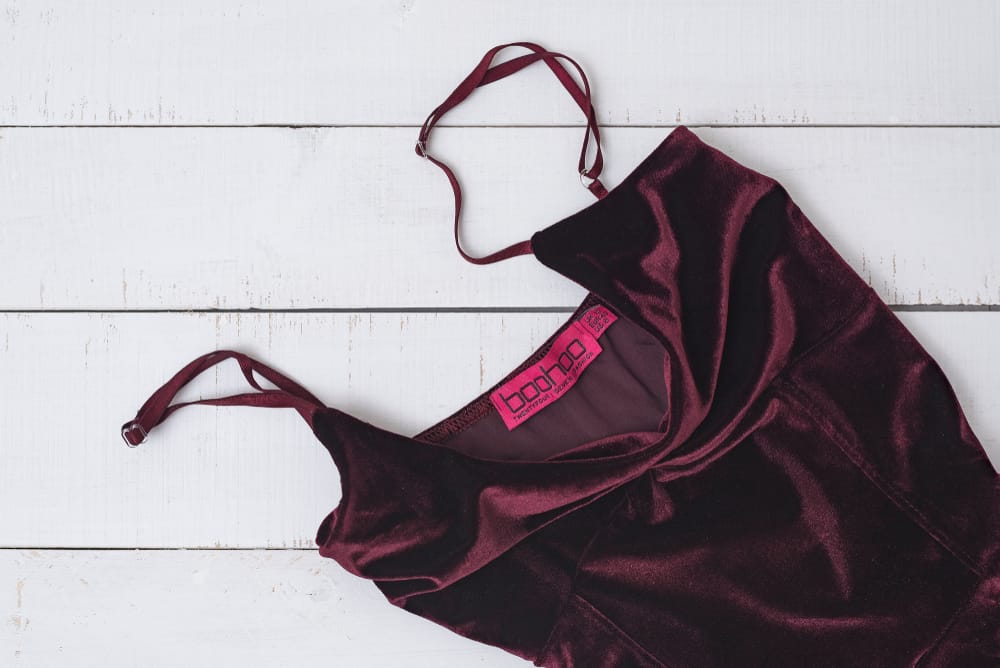 A Final Word on Our Boohoo-Inspired Picks
As you can see, there are plenty of retailers out there that offer the same luxe looks that Boohoo lovers crave. What's more, each store on this list offers something extra that'll keep you coming back for more, whether it's flirty and feminine styles or quality basics that won't break the bank.
No matter what you're in the market for, there's something unique to love about every store mentioned here, and we certainly hope you'll agree.