Believe it or not, Madewell has actually been around since 1937, when it originally made jeans, dungarees, and bib overalls for fishermen and factory workers. The company closed down its last factory in 1989 and lay dormant until 2006, when J.Crew CEO Mickey Drexler purchased it and brought it back to life in an entirely new way.
However, Madewell's youthful demographic usually lacks the budget to match, creating a sizable space where more affordable brands can fill in the gap (who we'll talk about more later!). That's why we're here to tell you about ten of our favorite denim retailers, each with varying price ranges, washes, cuts, styles, and colors.
If you love Madewell's durable denim and want to peruse some other retailers like them, then read on; we've got several picks that we know you'll love, and all that offer something unique themselves.
1. Best All-Around Brand: The Gap
The Gap has been an American stronghold in fashion for decades, first opening its doors in 1969. Because their size range is so diverse, carrying sizes in petite, tall, and plus sizes of US 24-35, which is precisely why it's our number-one pick. They also tout fun patterned denim in styles like camo, tie-dye, and two-toned black and indigo.
For hourglass or pear-shaped people, you'll be happy to know that their Cheeky Straight jeans will give that seemingly impossible fit of enough thigh and butt room with no gapping in the waist. What's more, the sales on all these dungarees are too good to pass up; discounts frequently exceed 50% on all styles, washes, and fits, making this a jeans mecca for every denim maven.
2. Best Luxury Brand: Crew
It wouldn't be right to mention Madewell without giving its big sister, J.Crew, a shout-out. With sizes up to a US 20, plenty of people can enjoy these luxurious jeans made from premium Italian denim. Pairs come in both stretch and non-stretch kinds, as well as a host of cuts like skinny, flare, bootcut, boyfriend, straight and curvy, making it entirely body-friendly for a range of shapes and sizes.
Of course, the price tag is the only pain point, but this denim's quality is exactly what earns it a spot as our luxury pick. Better yet, these jeans come in every color of the denim rainbow, so you won't be at a loss for options.
3. Best Budget Brand: Uniqlo
Uniqlo began as a Japanese menswear store in the 1950s, but it's long since blossomed into an international clothing retailer–and in no small thanks to its line of affordable, quality denim. Pairs typically run under $60, which instantly makes it a standout on this list. However, prices are often slashed to less than half of that during their frequent sales, meaning you can get a pair at a steal of a price.
Uniqlo makes jeans for both men and women, and sizes run up to a US 16. However, we also love their maternity jeans, which is something else that sets the store apart from other brands on this list. Even if you don't have a bun in the oven, though, you can still enjoy their ultra-stretch or sculpting jeans, both of which are designed to make you look and feel incredible.
4. Best Classic Brand: Levi's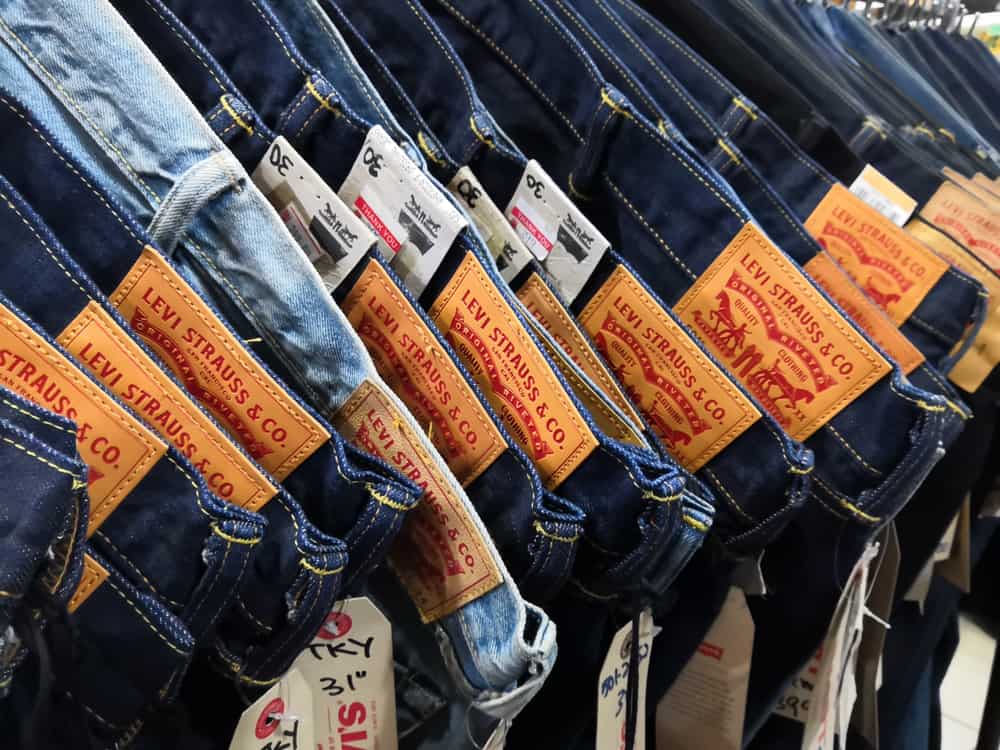 Levi's has become synonymous with the American experience, sitting atop our cultural pyramid with other icons like baseball, country music, and apple pie. But there's a reason Levi's has become a household name throughout our country's history: they make some of the highest-quality jeans around, at an affordable price and in an array of washes, cuts, and waistlines.
There are too many styles to mention here, but what we will say is that whatever fit you're looking for, Levi's is sure to have it. Their most famous fit is probably the 501, which pairs well with any other American classics, like a white T-shirt or a navy blazer.
5. Most Sustainable Brand: Everlane
For those who love Madewell's simultaneous commitment to quality and sustainability, you'll love Everlane for the same reasons. Everlane's denim factory, Saitex, has made leaps and bounds in terms of best practices, recycling up to 98% of the water used during its washing process, reducing annual carbon emissions by up to 80%, and reducing energy usage by 5.3 million kilowatt-hours of power per year.
With this in mind, you can wear Everlane's affordable denim with peace of mind, all the while offsetting your pair in particular with some of its other items, like a silky, relaxed cotton shirt or a cozy sweater tee. Better yet, you can nab all of this at the retailer's annual Pay What You Choose sale, which lets you grab over 193 of their styles at the price you pick.
6. Brand With Best Basics: Frank & Oak
Not only does Frank & Oak tout a wide range of styles, fits, and washes, but their slightly cheaper price range doesn't hurt, either. Their slim Kim Fit is the Goldilocks of jeans for folks who find straight-leg jeans too baggy and skinny jeans too tight. But skinny and straight-leg lovers can still get in on the fun–their wide-leg Nina Fit and skinny Debbie Fit can scratch those itches. Most pairs are made with a stretchy cotton twill fabric, ensuring an effortlessly perfect fit.
Its real claim to fame, though, are its quality basics, like organic cotton T-shirts, bodysuits, crewnecks, and cozy sweaters. Even though plenty of other retailers here sell basics, we love the durability of Frank & Oak's in particular.
7. Best Eclectic Styles: Reformation
Like Everlane, Reformation strives to marry sustainability with French-girl chicness–a goal it's been successfully hitting since it was founded in 2009. Besides their flirty and feminine dresses, their denim also rocks. Whether it's a classic pair of black, high-waisted straight-leg jeans or a more daring bootcut with a slit leg, Reformation's eye-catching washes, patterns, and designs seamlessly blend the familiar and unfamiliar.
Prices on these pairs match Madewell's, if not exceed them slightly, unfortunately. What's more, they don't ever really have any sales or discounts on their denim, meaning you'll have to pay full price for any fabulous pair of your choosing. Still, though, the investment is worth it, as finding such high-quality, sustainably-made denim isn't so easy.
8. Best Bang for Your Buck: Revice Denim
For the daring fashionista who's looking to turn a head or two, Revice Denim has some of the funkiest designs you'll find on the web. Each pair is sourced from vintage warehouses in L.A., meaning you'll get designer quality for under $100. Even though most pairs aren't as budget-friendly as The Gap's or Uniqlo's, the quality you get for the price you pay is an absolute steal. They frequently run sales, too, where prices can be slashed up to 30% or more.
With classic cuts like skinny, flare, and bootcut, along with denim jackets and shorts, finding something you love won't be hard. Many pairs feature multiple washes or flirty heart- or star-shaped pockets. However, stretch lovers may not find so much luck here, as they carry mostly non-stretch jeans. Orders also take two to four weeks to ship, so look elsewhere if you need a new pair fast.
9. Best Dark Wash Denim: DSTLD
If you've ever thrown a pair of dark wash jeans in the wash with a white T-shirt, you likely had a blue T-shirt when everything was said and done. Fortunately, that's not the case with DSTLD dark wash jeans, with anti-fade technology that not only locks in the color, but protects any white or light-colored pieces in your closet as well.
Their price range is nothing to sneeze at, either, and you'll get a 100% money-back guarantee if you're not totally satisfied. The company also puts a big focus on sustainability, crafting these duds with eco-friendly fabrics and without the use of sweatshops at all. We just wish they carried sizes upwards of 30", so that plus-sized people could enjoy them as well.
10. Brand With the Most to Offer Beyond Denim: Urban Outfitters
UO has made a name for itself over the years with its youthful, boho-chic designs. We love their denim, too, as they carry several chic brands like Daze, BDG, and their own line as well. Both their prices and quality are comparable to Madewell's, but their denim often comes in more fun and youthful cuts that are geared toward the early twentysomething. The brand also carries outerwear, intimates, vintage, accessories, and even beauty products, meaning UO can be your one-stop-shop.
What's more, the brand has recently started to place an emphasis on fostering community development through its groundbreaking community spaces; you can currently find them in Los Angeles, Austin, and New York. These spaces bring together local food, music, and art to strengthen inter-community ties and create incredible new memories.
Before You Hit the Sales Rack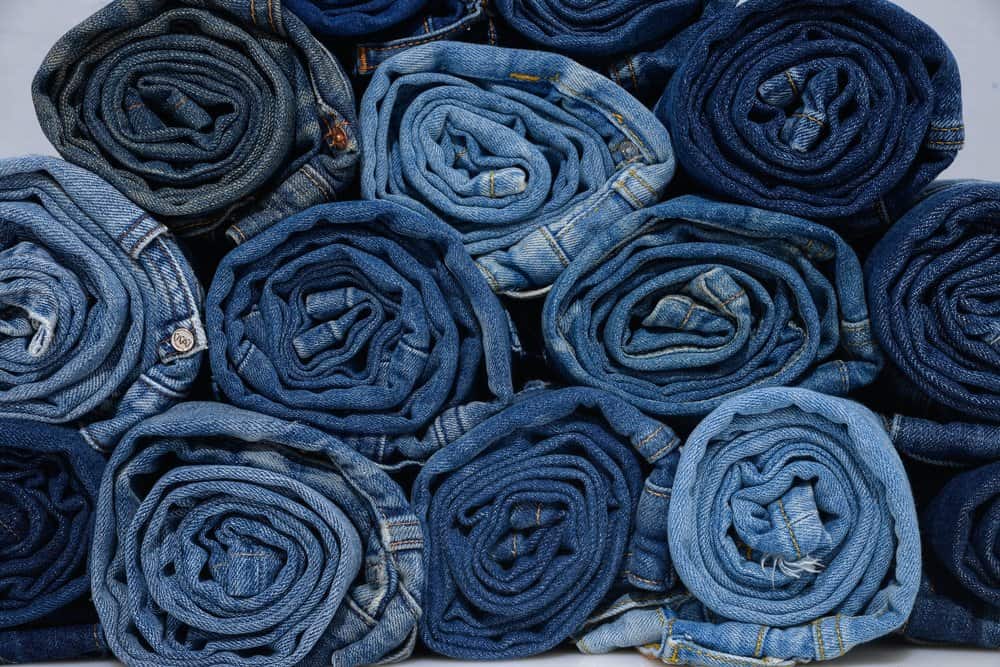 You can't go wrong with a good pair of blue jeans when it comes to achieving that all-American look. Fortunately, you've got ten great brands to choose from in addition to our fave mainstay Madewell, and all at prices that will only leave your jeans looking blue. Whether you choose a brand on this list for its price range, sustainable practices, or daring designs, we're confident you're going to love it–and rock it well at the same time.