Everlane brings something special to the fashion market. Their brand is all about effortless minimalism, with ethically-made basics at sane prices, so you can feel good when shopping at Everlane!
Everlane's curation is small and tight, which is common with sustainable retailers. Unfortunately, it means that if you want a diverse wardrobe, you will sometimes have to look elsewhere for new and exciting items.
Thankfully, there are a lot of other retailers out there doing similar things to Everlane. The fashion world is quite polarized between high-fashion and fast-fashion, but these thoughtful brands in the middle encourage us to think beyond price and prestige, to consider the labor and resources that go into making our clothes.
Whether you're committed to the brand's principles or just want clothes that put out a similar vibe, we've got some suggestions for other stores like Everlane for you to check out.
For Upscale Boho Style: DÔEN
You know a store is going to be kind of fancy when one of the letters in its name is topped with a circumflex (yes, that's what that squiggle is called!). DÔEN is a store founded by an all-women team with an intense dedication to ethical sourcing, transparency, and social justice in general.
The store is well-curated, with a great mix of chic, slightly boho-inspired clothes as well as loungewear, children's clothes, and footwear. While the prices are a little higher than Everlane's, with dresses in the $100-$200 ranges, the quality is incredibly high and each item can easily be a "buy it for life" purchase.
For Affordable Eco-Friendly Basics: Honest Basics
Honest Basics prove that budget shopping and ethical shopping can co-exist. While Honest Basic clothes are very… well, basic, they're also super well-priced. We're talking about less than $20 for T-shirts and less than $50 for jeans.
When it comes to sustainability and ethical practices, Honest Basics actually manages to do better than Everlane. Their garments are made out of organic cotton that is never treated with chemicals that can harm the environment, and their factories are monitored by the Global Organic Textile Standard (GOTS), which guarantees ethical labor and sustainability practices.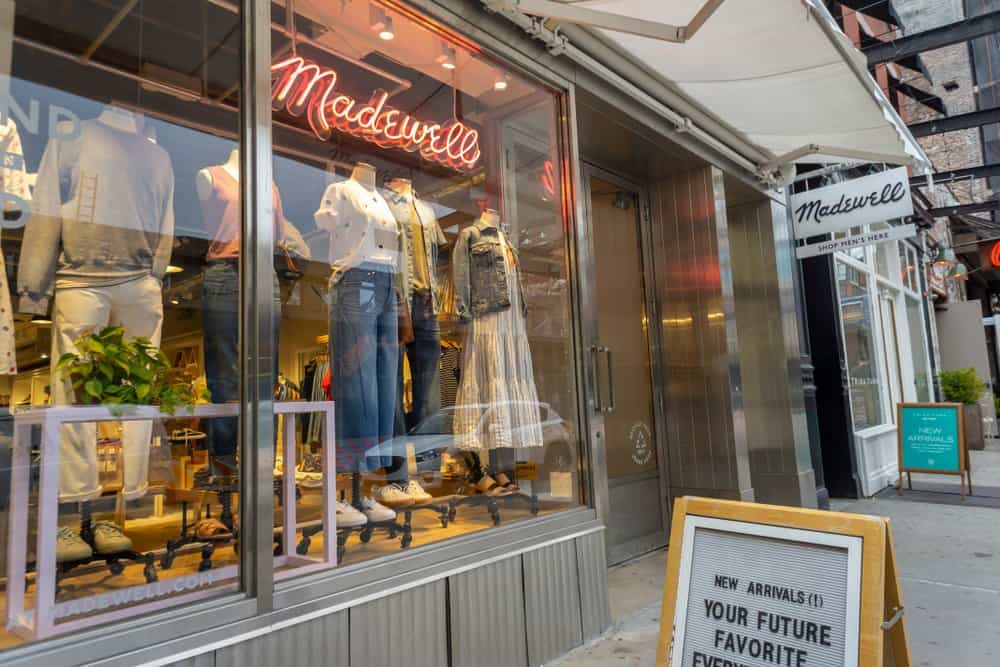 If you're looking specifically for well-made, ethical denim, then Madewell is the first store to look at. The brand carries an endless number of stylish, durable jeans in every fit and style.
Like Everlane, Madewell also has a focus on ethical business practices. For instance, the label has made some big commitments to responsible sourcing, and they've even pioneered a denim recycling program.
In addition to jeans, Madewell also carries casual but elegant clothes and accessories at prices that are totally on par with Everlane.
For Budget Shoppers: Uniqlo
The Japanese retailer Uniqlo shares a lot of similarities with Everlane, with simple but thoughtful designs with real-life usability.
Uniqlo has a much larger portfolio of products, but it's easy to find clothes with a similar aesthetic to Everlane, along with some options that are a little more casual or geared towards an active lifestyle. A lot of the items Uniqlo has on offer are designed with high-tech fabrics with special heat-retaining, cooling, or breathable properties, making it a great brand for utilitarians.
The prices at Uniqlo are consistently lower than at Everlane, so it's a very budget-friendly alternative. Unfortunately, though, Uniqlo is technically a fast fashion brand, so it doesn't have the same robust corporate social responsibility ethos as Everlane.
For Parties and Date Nights: Reformation

Sustainability is the chief principle that Reformation upholds, so pay attention, eco-warriors! If you love the Everlane ethos but find yourself wishing for items that are a little more risque, Reformation fits the bill with its trendy and sexy designs that are perfect for parties or date nights.
We think the fitted dresses and low-cut tops are where Reformation really shines. While the fabrics themselves often have boho prints, the fit itself is usually tight and a little skin-baring. The range still includes some basic essentials, but the overall vibe is very youthful and contemporary.
American Apparel is back, baby! After some scandals and a bout with bankruptcy, the brand went through a major overhaul, but now it's back with an all-women executive board and the same promise of ultra-cool fashion made ethically, without sweatshops.
The American Apparel aesthetic is still based mainly on athleisure, with a lot of leggings, bodysuits, and simple wardrobe essentials with a bit of a vintage vibe, like ringer T-shirts, high-waisted jeans, and pleated pants. The label champions inclusivity, diversity, and body-positivity in all of its photos and ads, which makes browsing through AA's social media a pleasant, affirming experience.
For a Minimalist Style: COS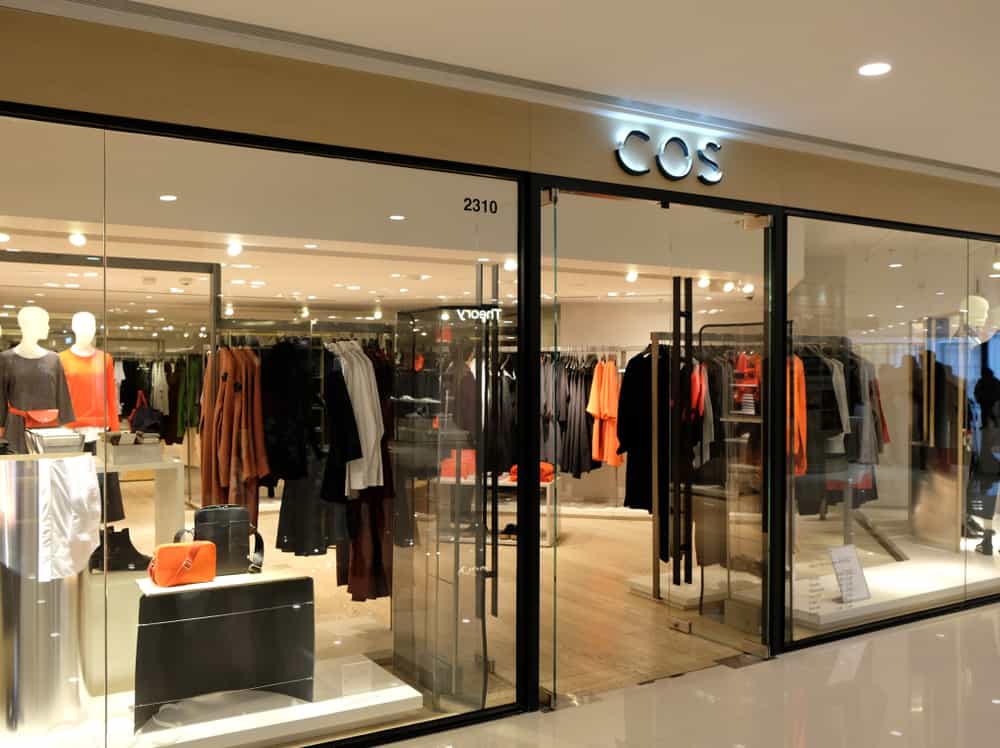 COS is an H&M subsidiary with a special concept that will likely appeal to Everlane fans. The brand is all about being modern without being trendy, with minimalist designs inspired by architecture and graphic design. It's as timeless a brand as Everlane, but it's fashionable in a sleek, Nordic kind of way.
What sets COS apart from its parent company is that the designs are meant to last—it's not a fast-fashion brand. All of the clothes are made with quality fabrics and durable construction. As far as ethical commitments go, COS has an impressive focus on sustainability, but the fact that it's part of the H&M family puts some of the brand's ethical claims into doubt.
For French Boho: Sézane
We love a brand that shows growth, and that's exactly what Sézane is about. It's an anti-fast fashion brand, with a gorgeously well-curated selection of garments. The Sézane style is boho-meets-timeless but with a French flair. The range features soft knits, gorgeous dresses for both casual and upscale occasions, trousers, denim, as well as bags, jewelry, shows, and even homeware.
Sézane has made a big commitment to sustainability, and every year they increase the number of eco-friendly materials they use while reducing their emissions and waste. This ethos, paired with a unique style, has turned the label into a favorite of many eco-fashion bloggers.
For Sustainable Cotton: KOTN
This Canadian retailer is all about sustainable, eco-friendly basics that are ultra-comfy and wearable. If you find yourself thinking that Everlane is nice, but you want something even simpler, KOTN fits the bill. Comfy T-shirts and sweatpants are KOTN's signature, but the store also carries simple but stylish dresses and figure-flattering denim.
If you also want to accessorize your home with some eco-friendly wares, KOTN's ultra-soft bedding and towels (made from the same sustainable cotton as the clothes) will likely also appeal to you.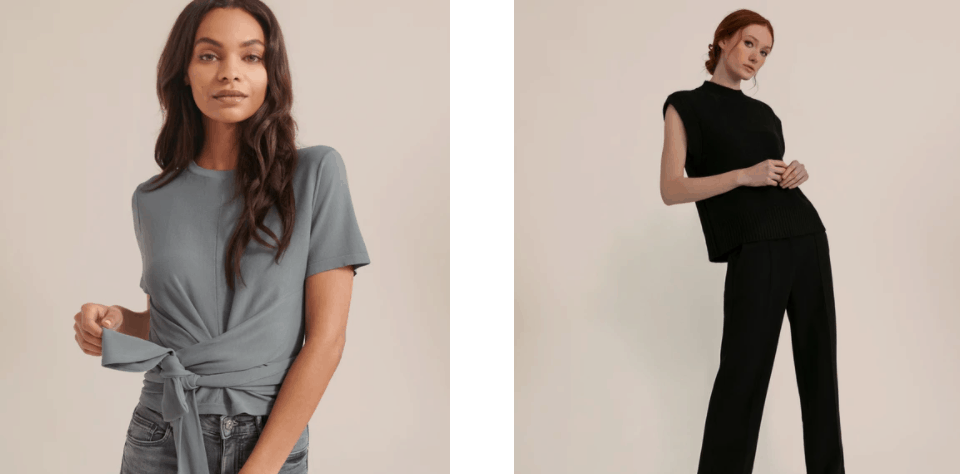 The Modern Citizen aesthetic is incredibly particular, and yet it can have wide appeal. Like Everlane, Modern Citizen also carries simple garments that are meant to work in a wide range of settings.
However, whereas Everlane is all about timeless classics, Modern Citizen is timelessly contemporary. Designs like a ribbed sweetheart midi-dress or a slightly oversized sleeveless sweater shell are elegant and chic, but they're also unique. If you want to put out a sophisticated, artistic image that totally bucks trends, make sure to give the Modern Citizen store a look.
For Millenial Essentials: AYR
The name AYR stands for All Year Round, which should give you an idea of this store's mission. Much like Everlane, AYR is all about those gorgeous basic items that'll carry you from the workweek through to the weekend, with high-quality, well-fitting designs that are made to last.
Compared to Everlane, AYR's style feels a little more Millennial, but in the true sense of the term, with clothes geared towards women aged 25-40. We're talking about light-colored, oversized button-up shirts, form-flattering denim, and a large selection of simple, soft T-shirts that will work with the lifestyle of an active young professional.
Shop Mindfully
Stores like Everlane encourage us to shop mindfully, by thinking more about where our clothes come from and how they can really fit into our lifestyle. This actually leads to a more curated closet and an overall more cohesive style, with high-quality capsule items that'll live in your wardrobe for a lot longer.
Mindful consumerism won't solve all of the world's problems, but it's a great start. It can help us feel a little better about our purchases as we continue to strive to make the world a better place.