Since 1984, Free People has been giving bohemian spirits across the world a chance to infuse their style with a dash of chicness. Known for playful patterns and a color palette spanning soft pastels and muted earth tones, this American college town staple has been filling women's closets with classic pieces, beautifully-ruffled maxi dresses for years. More recently, they've expanded into athletic wear–their Free People Movement line was launched just last year.
Founder and CEO Richard Hayne first launched Free People in the 1970s with the help of his wife, Judy Hicks. After it exploded in popularity on the local fashion scene, he opened a second store, which would later become Urban Outfitters—another boho-chic behemoth that younger Americans have come to know and love.
The first Free People boutique opened in Paramus, New Jersey in 2002, but the chain has since grown to 136, with boutiques dotting both the United States and Canada. It's not hard to see why the brand has steadily grown over the past two decades: with tasteful vintage collections including apparel, outerwear, swimwear, intimates, shoes, activewear, and beauty products, Free People is a glamorously understated one-stop-shop for the minimalist woman.
But anyone with an eye for style will tell you that it's great to have options; after all, variety is the spice of life, isn't it? That's why we're here to share ten other stores we love that are similar to Free People. Each one offers something unique to keep you standing out of the crowd, so read on.
1. Best All-Around Brand: Tularosa
One of our favorite things about Free People is the versatility in its item selection. Whether it's a statement piece or a cute pair of casual sandals you're in the market for, you'll rarely need to look elsewhere.
Fortunately, Tularosa is quite similar to FP in this way: it sells all the same items as FP (i.e. apparel, outerwear, athleticwear, swimwear, shoes, intimates, accessories, and beauty products), and its playful, feminine cuts and dusty, muted pastels call to mind FP's unmistakable boho-chic vibe. While it doesn't tout as many kaleidoscopic patterns as FP, its extensive color palette makes suits just about any occasion.
2. Best Luxury Brand: Fillyboo
But perhaps you're looking for idyllic Renaissance dresses and you've got a little coin to spare; if that's the case, look no further than Fillyboo. For ingenues and aspiring nymphs alike, Fillyboo offers some of the most gorgeous florals and frilly, feminine cuts in creamy pastels.
This Australia-based brand's apparel is definitely worth the price, too: each piece is handmade by small family villages in Bali and Java, making it one of the most sustainable luxury brands around. We especially love their beautifully intricate hand-knit sweaters; not only are they crafted from quality threads, their handmade status ensures that what you're wearing is truly one of a kind.
3. Best Budget Brand: Zaful
So window shopping isn't really your thing–who can blame you? With all the stellar brands on this list, it's hard not to wish you had more cash burning a hole in your pocket.
Not to worry, though, as Zaful is here to remedy that. Prices on these adorable duds go for less than half than most of FP's apparel, all the while capturing that same spirited essence that FP has come to be known for.
The icing on the cake, however, is the deliciously girly twist you'll see in so many of their pieces. Like many other brands on this list, it also sells a sprawling range of items, including swimwear, intimates, and accessories. Even men can get in on the fun here, too; Zaful boasts a men's line featuring tasteful basics at hard-to-pass-up prices.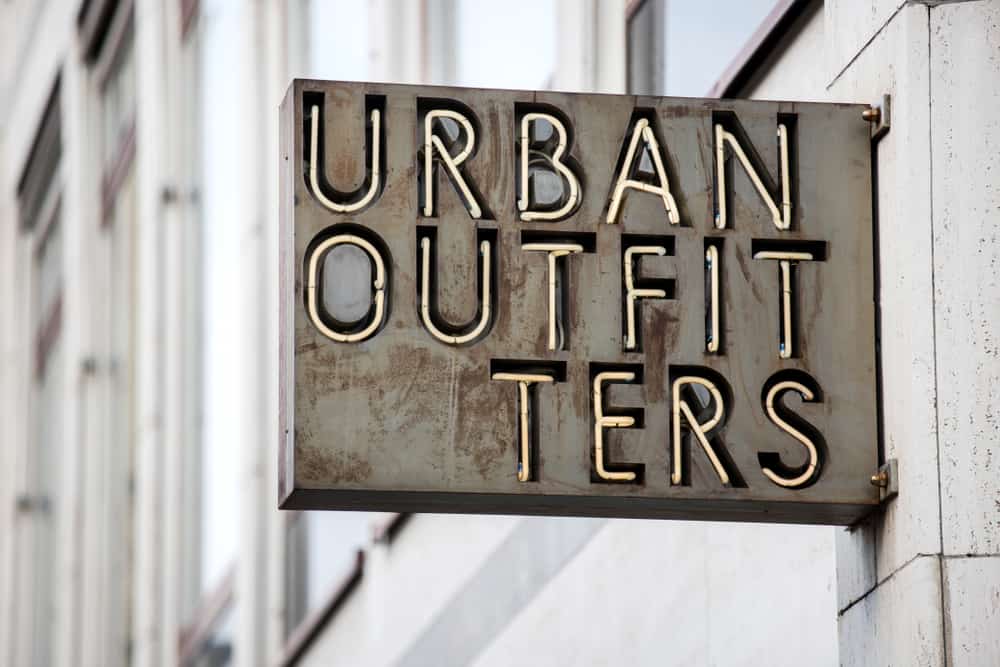 Are you surprised to see FP's parent company on this list? If so, you shouldn't be; a lot of Urban Outfitters' apparel is in the same delicate yet earthy vein as our boho-chic queen in question. Prices are slightly more affordable than FP's, though, as their stuff is geared toward a younger crowd. They also offer a wider range of basics and color options–think pastels with splashes of jewel tones).
Their ethos also extends beyond what you wear: the brand has opened a few community spaces across the country where music, art, food, and people can come together and create something momentous. In an age where corporate accountability has become more paramount than ever, it's nice knowing that a brand like Urban Outfitters is committed to fostering deeper relationships and stronger communities, even outside of their stores.
For quality basics that won't break the bank, head to Everlane. They manage to toe the impossible line of trendy and timeless, thanks to classics like straight-leg chinos and cashmere cardigans that come in effortlessly understated earth tones, no less. But those who tend to opt for a more casual look won't be left out, either; Everlane also sells activewear that's made to last. Their Perform Legging, for example, is one of their most recent releases that touts minimal seams and–gasp!–pockets. Now that's what women want.
For those passionate about pastels, you might want to look elsewhere; Everlane's color palette is relatively muted compared to other brands here, nor do they boast a ton of elaborate patterns that FP is famous for. Still, though, it's hard to deny their duds' durability.
6. Best Business Casual Brand: Pixie Market
Whoever says dressing for work is a drab affair has clearly never heard of Pixie Market. What makes this minimalist brand so cool is its office-friendly apparel with cuts and lines that hint at the trends of tomorrow. Subtle statements are the name of the game here, and pieces like their gold-chain boleros and belted jumpsuits prove it.
But those who aren't as stylistically adventurous will still find plenty to love for their next boardroom meeting. Pixie Market sells classics like linen slacks, double-breasted blazers, and ruched-front midi dresses in tasteful black, navies, and beiges. If there's one thing Pixie Market proves, it's that you don't have to sacrifice style when it comes to smart office wear.
7. Best Sustainable Brand: EcoVibe
If you could look fabulous and help Mother Earth at the same time, you would, wouldn't you? Thankfully, EcoVibe is here to help you do just that–and all on a pretty decent budget, too. This sustainable brand is committed to crafting threads with plant-based and product-chain-friendly fabrics, such as linen, viscose (a synthetic fabric sourced from wood pulp), and bamboo cotton, to name a few.
If you're looking for cozy, Earth-friendly sweaters, cardigans, ponchos, and tanks, then EcoVibe's the shop to stop at. Their men's apparel is a little more diversified with vests, button-down shirts, raincoats, and T-shirts, so you can keep your man looking sustainably stylish right along with you. You can also find a long list of non-clothing products like face masks, home decor, kitchenware, and even plants–both high-light and low-light tolerant.
Even though this brand's selection is mostly known for its lingerie, loungewear, and other unmentionables, it's still worth a mention here because of its feminine yet simplistic style–much like a lot of FP's apparel. Price-wise they're pretty similar, and they also hold frequent sales so that flirty fashionistas can get their duds on a budget.
What FL&L lacks in product diversity, it makes up for in quality and Earth-consciousness; much of their lingerie, loungewear, and dresses are made with PET fibers sourced from plastic bottles, which aim to slash production line carbon emissions by 20% within the next five years. This, coupled with their playful brocades, classic florals, and daring lace cutouts, will have you feeling good both inside and out in any of their pieces.
For those looking for a brand that marries FP's unmistakable boho-chic with a tongue-in-cheek Y2K edge, you'll find it at Réalisation Par. Their T-shirts' hand-drawn designs effortlessly toe the line of uninhibited and impossibly chic, instantly making you a head-turner. They also sell hats in the same funky vein, so you can cap off your look with a free-spirited statement.
On the flip side, they also tout some gorgeously feminine mini and midi dresses in silk, florals, and lace. But if you're looking for somewhere in the middle, you'll be happy to know that a lot of their dresses also come in fun animal patterns, adorned with zodiac signs or dotted with cutesy daisies. Between their feminine cuts and hip designs, Réalisation Par is the brand for style benders.
10. Best Girly Designs: Reformation
With their smocked bodices, soft pastels, and delicate lace details, Reformation is a girly-girl's dream come true. Many of their dresses lend a distinctly Parisian flair, and you can sort their dresses by style, color, length, and occasion. Whether you're looking to spend a day at the park or hit the town at night, Reformation has a lovely array of feminine frocks for the modern-day ingenue. But their dresses aren't their only claim to fame; they also sell loungewear and sweats in earthy solids, basics like bodysuits, tees, and tanks, as well as cozy cashmere sweaters.
Like many other brands on this list, they place a high value on production chain transparency in the interest of both their employees and their customers. Each year they release a report that discusses the areas in which they're hitting their goals and the areas in which they need to improve. Clearly, Reformation is another brand dedicated to providing a guilt-free fashion experience–and what's not to love about that?
One More Word Before You Hit These Stores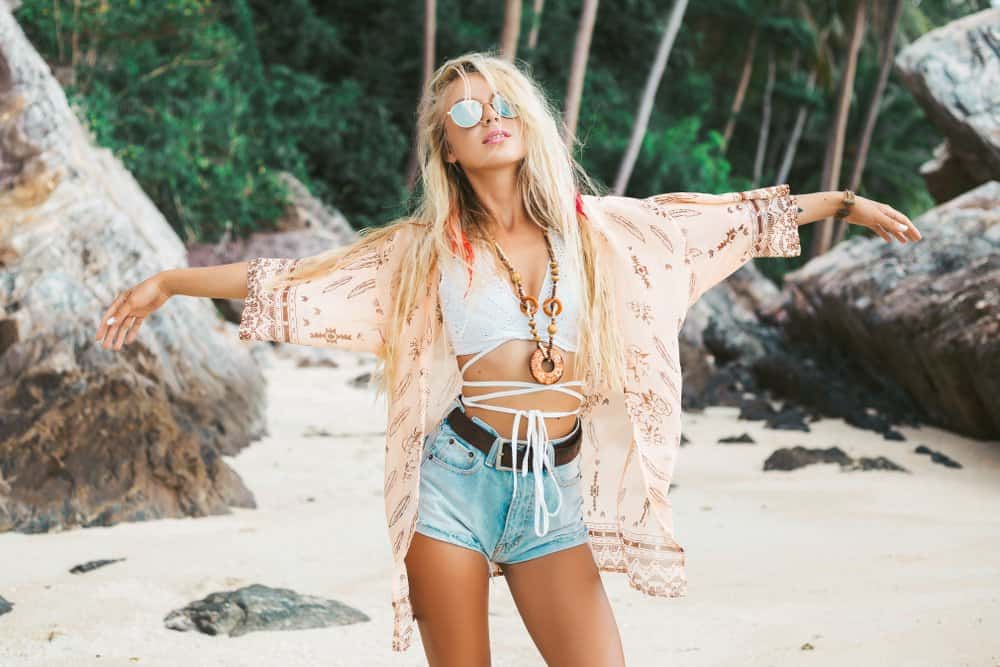 We hope you love these brands just as much as we do, especially if you're a fan of Free People's bohemian bent. Whether you're looking for a new boardroom look or hoping to stock up on your basics, there's plenty to find on this list–all in keeping with FP's style that marches to the effortlessly cool beat of its own drum.