Lulus has become a one-stop-shop to find trendy feminine pieces that feel very in the moment yet still have a touch of sophistication. Fashionistas love the brand's wide range of options and easy-to-shop online collection at pretty affordable prices.
While dresses and jumpsuits are what Lulus is most noted for, that's not all they have to offer. Casual basics like cozy loungewear, oversized sweaters, and distressed denim are modern wardrobe staples, and they have these items in plenty of colors and cuts to suit your personal taste. Their inexpensive accessories and shoes can also be addictive. And have you seen their swimwear line?
Lulus proudly carries its own house brand, but also sprinkles in items from other designers like Free People and Vero Moda. If you love styles you find on Lulus but want to branch out and find some other shopping options, we have some suggestions for you. Like Lulus, all of the stores on our list have great websites that make them easy to shop and feature fashion-forward casual chic styles.
For a Young Look: Charlotte Russe
Charlotte Russe has been a shopping mall staple for young women for decades. Like Lulus, the styles lean toward young, trendy pieces that will look great on Instagram. Charlotte Russe tends to be a bit more casual, though. Think more the styles you'd see around campus than at the office.
Still, if you'd like some fun, fresh, and flirty styles for the weekend, you'll find plenty to choose from here. Their fun colorful dresses scream vacation, but their sweats and onesie say staycation.
Beyond their range of crop tops, joggers, and bodycon dresses, Charlotte Russe offers a full range of inexpensive shoes and accessories. They also sell perfume at crazy low prices, so that you can try a new scent without a big commitment—and they even have a men's line.
Pricing and Sizing
Their pricing tends to be low enough to accommodate their main demographic: young adults. With few items costing more than $50, it's approachably-priced fashion for people who are still students or maybe just starting out in their career. Most of their items aren't investment pieces that will work in your wardrobe for years. They're items for right now; clothing for having fun and looking up to date.
The sizing is a bit limited and not so curve-friendly. Most of their items fall more in the juniors' size range, which makes sense since their target demographic seems to be young women in their teens and early 20s. Their standard sizes may not accommodate a very curvy bust or hip, and their designated plus size section only carries a meager handful of items.
For Runway Styles: Storets
Based in South Korea, Storets is dedicated to, "trendy, stylish, high-quality fashion that doesn't break your wallet," according to their website. Korean fashion has often seemed quite conservative, especially when compared with other bustling tech-forward countries. Recently, though, there's been a push for more experimental fashion in the country. Korea has started dominating the international scene when it comes to music and television, and they have their eye on the world of fashion next.
Storets takes these experiments and runs with them. They sell bold pieces with unique shapes and cuts reminiscent of the architectural fashion often seen on international runways. From ruched feminine dresses to boxy pleated wool shorts, each item on their site attempts to make a statement. Snakeskin suits and neon skirts are just some of their eye-catching options. Like Lulus, they are riding the latest trends seen on social media and fashion blogs.
Pricing and Sizing
Storets is similarly priced to Lulus, offering many items in the $50 to $100 range, with some basic items coming in a little cheaper and a few things exceeding $100. With 50% off sales running regularly on the site, though, you can find a good deal on some items (though with fashion cycles moving so fast on these trendy pieces, the sale items might be a little behind the current wave).
Unsurprisingly for a Korean brand, some items are only offered in relatively small sizes. While the brand has some items in a size "Large," their large is about equivalent to a US 8, and the straighter, more angular cut styles won't accommodate a curvier bust or hips even on a slim person.
For a More Whimsical Look: Goodnight Macaroon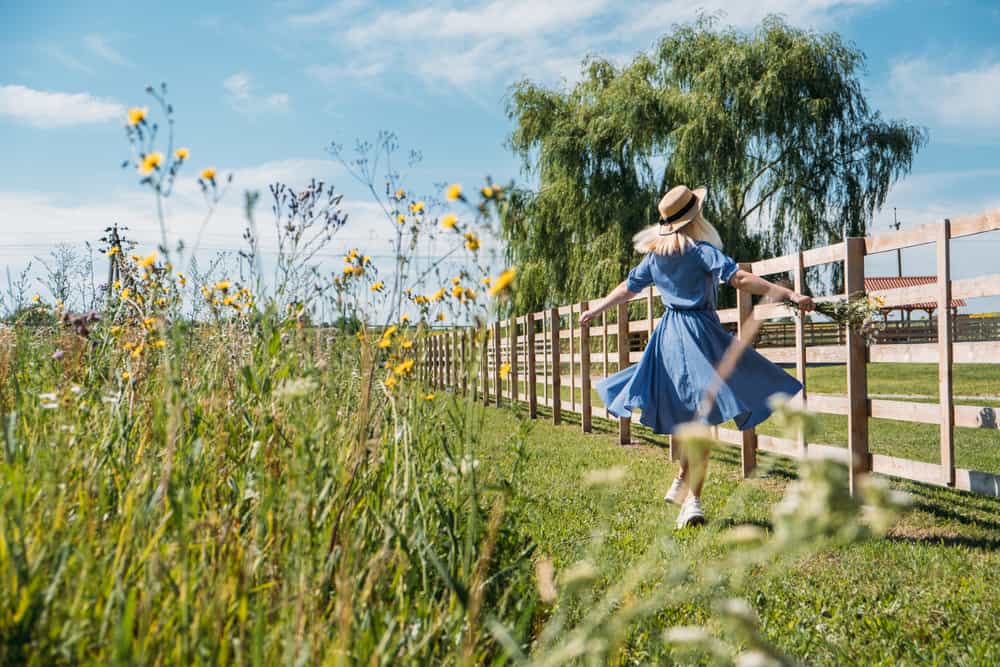 Like Lulus, Goodnight Macaroon has a feminine vibe with plenty of lacy details, ruffles, and soft textures. They lean more toward cottagecore than office or formal wear, though. This is ideal if you're a bit of a romantic at heart.
Their lineup features plenty of light, floaty dresses with bohemian details like embroidery and crochet lace. Fun tie-dyed patterns and ditzy florals are abundant in their casual wear items.
Even their loungewear section finds a way to be extra cute and cozy. Pastel sweats are sold alongside vintage-looking pajamas printed with tiny hearts. A velvet and lace pajama set that's on offer really gets to the heart of things: looking beautiful and delicate while being comfortable and relaxed seems to be what this brand is all about.
Pricing and Sizing
Most of Goodnight Macaroon's clothing is in the $50 to $100 range, similar to Lulus. Their more expensive items tend to be their shoes and knitwear. It does seem a little bit much to pay over $100 for sweater that's 100% acrylic to us, but if that's the style you're after, it might be worth it to you. Their site also has a well-stocked sale section with discounts starting at around 15% and going up from there.
For an American-based brand (with their head office in Portland), their size range is very disappointing.  Most items are available in sizes small through large, or 2-8 according to their size chart. Size large has a 37.4-inch bust, according to their chart, which isn't ideal considering the average American woman wears a 36C bra, making the average chest about 40 inches.
For petite women and young girls this brand offers some cute items, but the rest of us must need to look elsewhere.
For Something Sexy and Modern: Missguided
Missguided offers a full catalog of modern casual clothing. Less feminine than Lulus, they are still trend-oriented, but with a more casual street style aesthetic. Featuring more solid colors and simple silhouettes, Missguided offers dresses that show off your curves and daywear pieces that are easy to dress up or down with your favorite accessories. Short hemlines and bold cut-outs are eye-catching details in their line-up.
The brand features some classic menswear items styled in a cute and sometimes provocative way as womenswear. They also have your lazy weekends at home covered with oversized, cozy loungewear. On the flip side, they also sell very sexy lingerie in bold cuts and colors, so they have you covered if that's what you like to wear on the weekend too.
Prices and Sizing
Missguided is moderately priced, with few items over $75. At the top of their price range are the winter coats and ski suits they sell for the cold weather. Most of their clothing is somewhere between $30 and $60, with some jewelry and accessories coming in at $10 or less.
Missguided also brings size diversity to the table, with a plus-size range going up to US size 22. A good portion of their line is available in size 14 or above, giving more options to young and trendy ladies with curves. Missguided even offers some items in tall and petite sizes to help people on either end of the height spectrum get a better fit. If that's not enough, they also have a maternity line.
For a Variety of Fun: ASOS
ASOS is a British-based retailer that has become a staple for fashion on a budget. Like Lulus, they sell their own house brands alongside other designers. They also have clothing that ranges from casual to formal. ASOS Edition is a formal and bridalwear line offered by the brand, so if you're going to a wedding (maybe even your own?) and don't want to break the bank, they have formal looks that might work for you.
ASOS strives to keep you looking fresh and on-trend no matter what. Athletic and loungewear is majorly trending right now, and ASOS isn't behind the curve. They offer their own brand of leggings and pajamas as well as training gear from brands like Nike. They also offer a full range of denim and their house brand has astoundingly logical sizing based on your waist size and inseam (like men's pants). They also have a vintage marketplace if you love searching for secondhand treasures.
Pricing and Sizing
Pricing can seem scattered all over the place on ASOS's site. They'll have basic tee-shirts and accessories for $10. They'll also have designer items for around $500.
While this can be a little jarring, it also is one of the brand's strengths. They offer a huge variety, so it's easier to find what you're looking for. Most of their house-brand items (excepting formal wear) are under $100. Even on a tight budget, they have items under $50 and an outlet section you can browse for deals.
Similar to Missguided, ASOS has worked hard to be accessible to most consumers by offering a big range of sizes. Their standard line goes up to a size 14 US. From there, there's ASOS Curve, which goes up to 26. There's also tall and petite sizing, as well as maternity wear. Not every item is available across all sizes, unfortunately, but at least you know you can find something that fits.
For Sophisticated Classics: & Other Stories
Not everyone knows one of Sweden's best-kept secrets: H&M's parent company has a few other stylish children. & Other Stories is owned by the H&M group, but has its own unique look.
Like Lulus, the brand focuses on helping women look stylish in both casual and more formal settings. & Other Stories steps it up by creating more sophisticated grown-up looks that are still fashion-forward but have classic touches that will help them stay in your wardrobe for years to come.
Their clothing line focuses on dresses, with some separates and loungewear peppered in. The styles are feminine without being girly, balancing masculine details with feminine ones to create powerful silhouettes. Subtle lace details and ruching to emphasize curves to contrast with asymmetrical lines and strong shoulder shapes. You can easily find something suited for the boardroom or after work cocktails here. Sleek handbags and modern shoes round out their collection.
Pricing and Sizing
The styles and the prices are both more sophisticated and geared toward career women. Most of their items range in price from $75 to $150. These items are investment pieces that are modern, but not so overly trendy that they will look silly a year from now. They also use more natural fiber materials in their clothing, with wool and linen blends in the collection. These materials tend to be more comfortable and breathable as well as lasting longer.
Unfortunately, while their fast-fashion sister H&M has extended its size range, & Other Stories isn't' quite there yet. They only offer their clothing in standard sizes 0-12 US.
Stay on Trend Responsibly
Most of the brands on our list are fast-fashion retailers like Lulus. Lately, people have been becoming more aware of the toll that fast-fashion can have on both the environment and on the people making this clothing. Some sustainable fashion brands can be hard to afford or have very limited sizing, so you may still want to shop fast stores.
There are still things you can do to help reduce your fashion footprint, even while indulging in some cheap and trendy pieces every now and then from Lulus and other brands like it.