Punk fashion and punk makeup have long been a popular method to express yourself in a unique and head-turning way; this style is defined by bold looks, thick eyeliner, and dramatic colors. In today's world, punk makeup has toned itself down a little bit, becoming more suitable for everyday wear, though if you really want to go full punk with your makeup, that's acceptable too!
No matter how you want to define your style, the elements of punk makeup can help you find new inspiration. In this article, we will be discussing the origins of the punk style and resulting fashion and giving you some pro tips for how to wear cute punk makeup.
Where Did Punk Come From?
Before the 1970s, punk was an unheard-of concept; it didn't emerge until the mid-1970s, spurred on by anarchic beliefs and an aggressive counter-culture movement in cities like London and New York. The pioneers of the punk style were groups of younger, urban people who embraced the punk style of frayed, torn-up clothing, refashioned outfits, and the appearance of facial piercings among both men and women.
To accompany this less than perfect, eye-catching fashion style, a new style of makeup also emerged. Gone were the pale lips and natural-looking eye shadow colors of the 1960s; in its place, bold cat-eye looks took over, dark eyeliner prevailed above all, and colorful, often shimmery eye shadow and blush styles grew in popularity among the punk makeup scene, often accepted as wearable by all genders. Punk makeup was also inspired by the discos and dance clubs of the 1970s and evolved as an accompaniment to the rising punk music scene during this era.
Characteristics of the Punk Makeup Style
Punk makeup is hard to miss, and in its heyday was characterized by extremely thick eyeliner and dramatic cat-eye looks. Often, these eye designs would be drawn onto and around the eye, so that the black eyeliner completely covered the eyelid, pulling all attention to the eye area (like in this tutorial).
When not covering the eyelid in a black color, many lovers of the punk style would use a smokey eye type look or opt for bright, vibrant colors eye shadow colors, such as blue, purple, and yellows, that they then highlighted with an outline of black. Mascara was used heavily on both the top and bottom lashes to accentuate the eyes further.
Lip color for traditional punk rock styles is usually either black or red, and the lips are fully outlined, with the cupid's bow being accentuated and defined. If foundation was worn, it was lighter in coverage and often a few shades lighter in color (an inspiration for the goth looks of the 1980s), with a bright blush color placed over the top and rarely blended in. Eyebrows were kept on the thinner side and typically highlighted with black or color pencils.
Facial piercings, such as eyebrow, nose, and lip piercings, began to rise to popularity for both men and women, and were seen as a way of going against the social norms, as body modifications were not looked upon favorably during this era.
Dramatic hairstyles accompanied these makeup looks, with both men and women rocking spiked hairstyles, dyed hair, or unique hairstyles that featured a plethora of gel and shaved sides. One of the most influential punk fashion icons of the time, Soo Catwoman, is notorious for her shaved head and spiked hair.
Today's punk makeup still prevails with elements of this original punk style, but many wearers have formatted the punk look to be more acceptable for their everyday wear and more fitting to today's modern beauty trends.
This includes doing away with the dark black or bold red lips, opting for a more neutral color, or no lip color at all, and replacing the bright unblended blush colors with a subtle blush or opting to wear only a light foundation instead. Modern punk also involves toning down the cat-eye style, making it less eye encompassing, with dark lines that aren't as thick and outlines that don't cover the areas outside of the eyelid.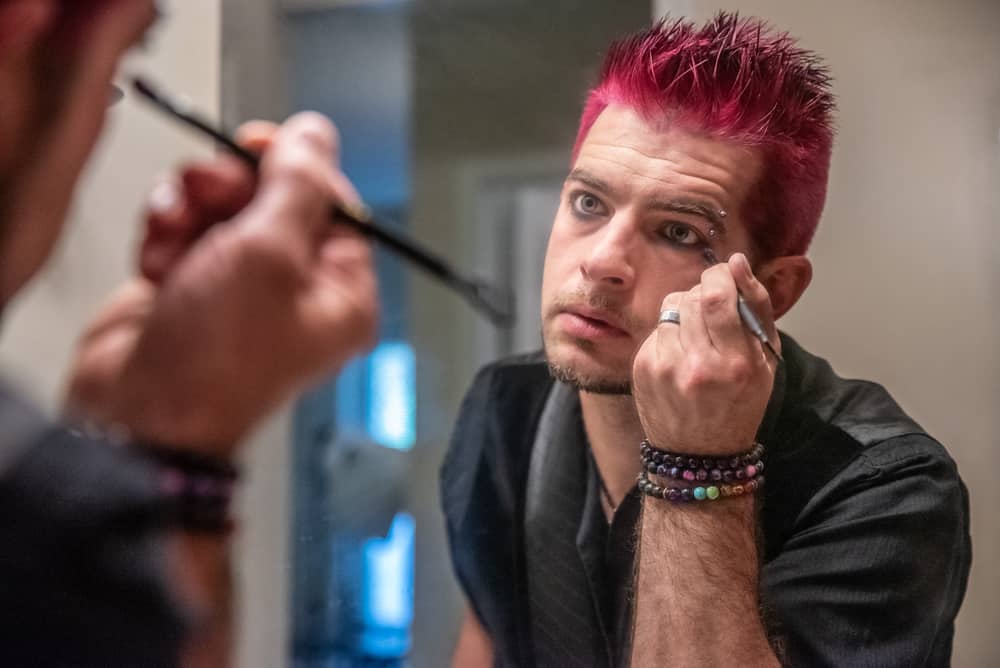 How to Apply Your Own Cute Punk Makeup

Below, we have a set of basic guidelines for creating your own cute punk makeup look. These ideas can be used for an every day punk style, or elaborated on to create a stunning, dramatic punk makeup looks close to the origins of this unique style.
Eyes
The eye style is one of the most important parts of punk makeup; most punk makeup styles came about in an effort to draw undeniable attention to the eye area.
For an Everyday Look
To create an everyday punk makeup look for your eyes, you can either opt for a light smoky eye, making sure to apply a sharp cat-eye liner, or you can use a brighter color, such as pink, blue, or purple. If you don't use a cat-eye, you can use a sharp black outliner on your top and bottom lash lines, which will give your eyes a dramatic pop of punk style that isn't too distracting for the workplace.
You should be using mascara on both your upper and lower lashes, or you may choose to apply false lashes. Just be sure that the lashes aren't too thick, as they will take away from the boldness of your cat eye. Your eyebrows can be styled however you like, though they should be slightly thinner if you are trying to keep with more traditional punk looks.
For Full Punk Style
If you're planning to go all out with your punk eye makeup, you should start by outlining your lower lash line completely with dark eyeliner. You can bring this lower lash line up into a wing and then draw a line from the corner of your eye out, connecting them.
Completely fill the outline you drew in with black, and finish the look with a bright eye shadow on top. You could also use a darker one for a more smokey eye look.
Red, black, and yellow are the best choices in color here. A complete eye palette with different color options will be best for creating this type of punk look.
You should be using lots of mascara or false lashes, and again, try not to use a lash that is so thick that it takes away from the rest of your eye look. Your eyebrows should be on the thinner side, and you can outline them with black-toned eyebrow pencil to create more of a dramatic effect.
Lips
Lip makeup can be bold or subtle, depending on what type of punk look you are aiming for.
For an Everyday Look
More everyday punk makeup looks have less of an emphasis on the lips. You can recreate this by using a neutral lip color, without any type of lip liner. Apply the lipstick or gloss like you normally would, and you are good to go. Matte is typically more in line with the punk look, but glossy can be acceptable if that's what you feel like wearing.
For Full Punk Style
In more traditional punk styles, the lips are defined by black or dark red lipstick. There is sometimes the addition of lip liner that works to accentuate the cupid's bow, but you can make this accentuation just as well with an angled lip brush dipped into your lip color. The lip finish should be matte and bold in appearance.
Face
You can wear foundation and blush in any variation of punk look makeup.
For an Everyday Look
Most modern looks prefer a less noticeable blush and a medium coverage on foundation. If you are recreating a punk makeup look for daily wear, you can use a light to medium coverage foundation, maybe one that is a shade lighter than your skin tone, keeping in line with punk tradition.
You can apply your favorite blush over the top of this, starting in the apple of your cheek and blending out. The blush should be noticeable, but not streaky or unblended.
For Full Punk Style
Original punk style has no problem leaving blush unblended and using foundation that was several shades lighter. For a full punk makeup look, use a light or medium coverage foundation, possibly one that is a shade or two lighter than your skin tone.
On top of this foundation, you should put a bold blush color, either pink or red in tone, and apply it in a longer streak from the apple of your cheek out towards the corner of your face. From here, you can blend it a little bit, but not too much. You want the blush to be visibly applied without a seamless transition into your foundation.
What to Pair With Your Punk Makeup
Once you've got your favorite punk makeup look on, you can choose from a variety of accessories and outfits to complete the style. Facial piercings, whether fake or real, are a perfect tribute to traditional punk style.
You can also invest in distressed style clothes, lace and black colored clothing, or create your own punk clothes the way the youth of the 1970s did. Remember, punk is all about expressing yourself and embracing non-conformity, so don't be afraid to experiment with new clothing and hairstyles to accompany your punk makeup look.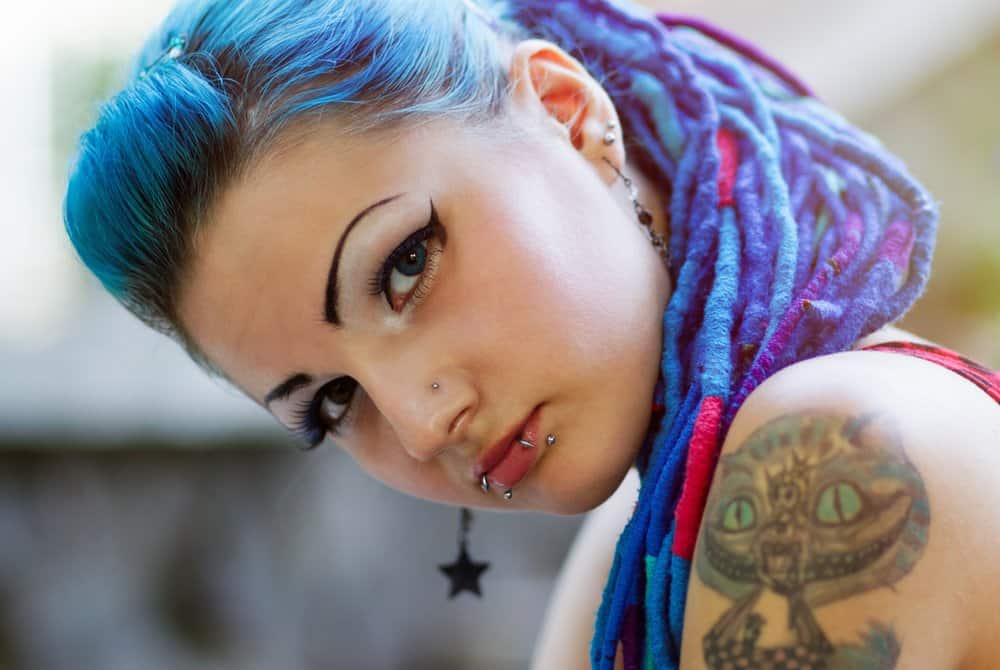 Express Yourself With Punk Makeup
Punk culture is full of iconic fashion and makeup looks that have prevailed throughout history, remaining popular even to this day. To create a cute punk makeup look that suits you, keep in mind the basic elements of punk makeup that includes sharp cat-eyes, bold lips, and dramatic eye shadow colors. No matter which way you go about it, you will easily be able to express yourself through the power of punk makeup!