While simply wearing straightened hair open has a charm of its own, it can sometimes lead to monotony, which is why it makes sense to switch things up from time to time. Consider integrating braids, curls, and a varying color gradient into straightened hair to give it that extra edge. Whether you are looking for an everyday hairstyle or one for a special occasion, we have you covered!
Getting Perfectly Straight Hair
If your hair is straight already, you're ready for all of the looks below. If it's a bit curlier than you'd like, though, all is not lost. There are several hair treatment options for straighter hair, each of which varies in processing and chemical formula. While some require professional help, others can be done by you, right in the comfort of your house.
Permanent Hair Straightening
A perm is essentially a chemical process that modifies the hair follicle, used to make hair straighter. A professional perm generally takes a few hours, but this can vary depending on the salon and the length of your hair.
Beauty supply stores and pharmacies sell chemical relaxant kits that offer the same results as a salon perm. These kits require additional research before being an effective remedy for straight hair.
Thermal Straightening
Acid perms involve around five to six hours of salon time, but the straightening can last up to six months. Although this is a slightly expensive option, the relatively long-lasting effects trump the cost factor.
Semi-Permanent Straightening
Brazilian blowouts and keratin hair treatments treat hair for a straight texture that lasts about three months. This method, however, requires multiple salon sittings to complete the process.
50+ Straightened Hair Ideas Worth Exploring
Whether you like your hair long or short, you are bound to find an idea here that is perfectly suited to your liking. Take a look at these 50+ straightened hair ideas to inspire a change straight away!
1. Fishtail Top Knot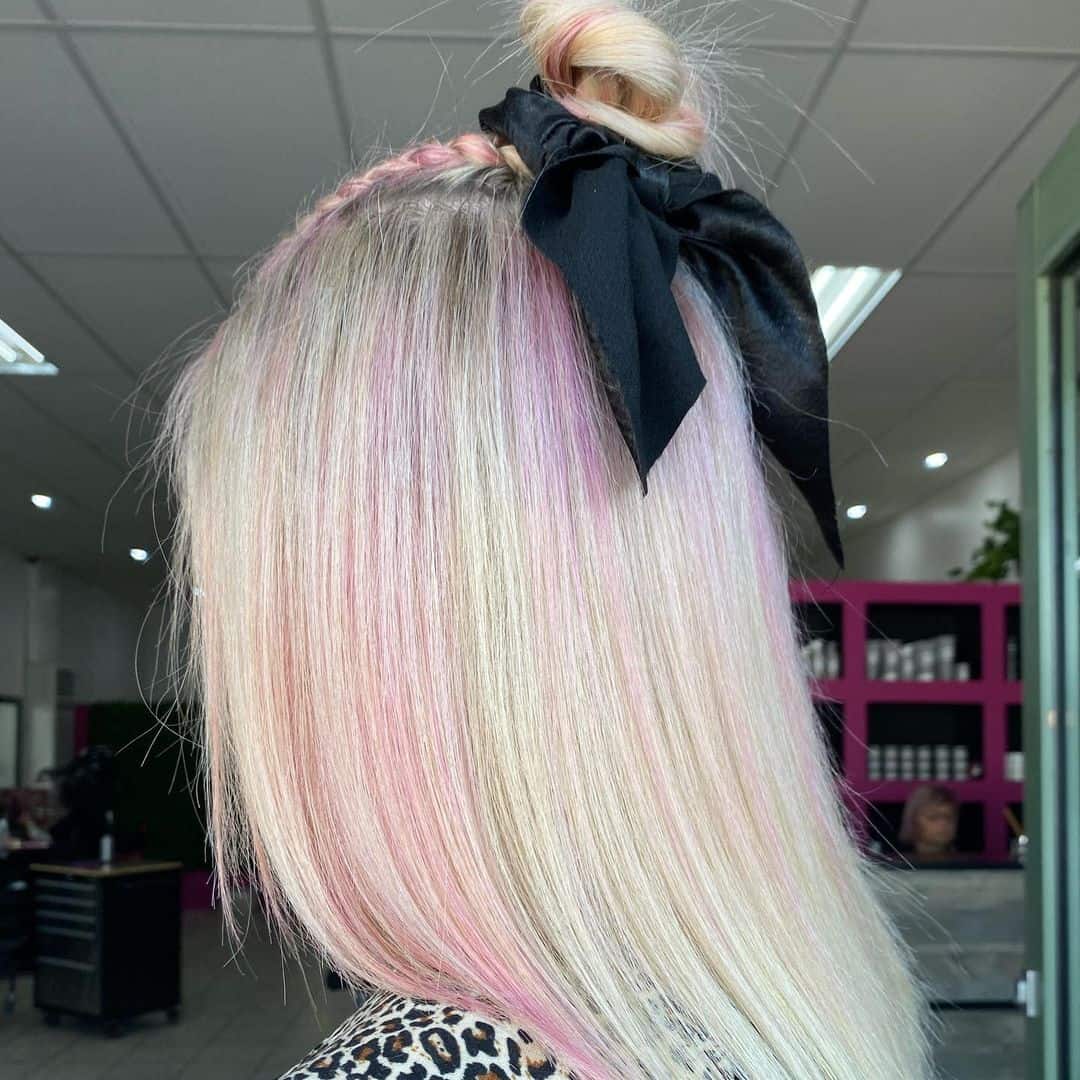 Image Source
This simple, straightened hairstyle begins with natural brown roots fading into a vanilla blonde hue. Light streaks of pink and purple gently adorn the hair beginning roughly below the roots, adding a soft, subtle touch.
A fishtail braid emerging from the hairline ends in a top knot, secured by a velvet ribbon, adding texture to the straightened style. The rest of the hair is left open, resting gently on the shoulders. Consider sporting this straightened updo with dark-toned casual outfits for a contrasting look.
2. Sleek Middle-Parted Iris Purple Ombre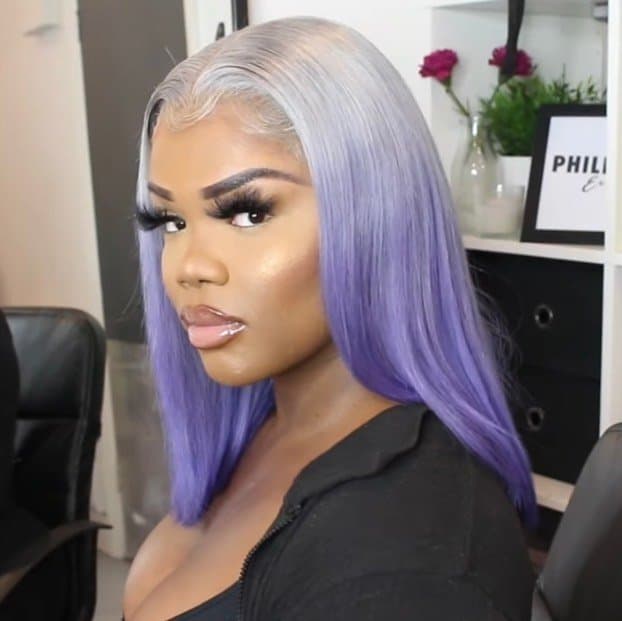 Image Source
Adorn shoulder-length opalescent blonde hair with an iris purple hue for a vibrant, chic look. This middle-parted hairdo begins with silvery roots, gradually fading into purple tips, making for a stunning color gradient. The iris purple ombre grows darker towards the tips making for a bold and sleek hairdo. The silvery baby hair rests as curves on the hairline, adding a soft touch to the overall boldness of the look.
3. Highlighted Choppy Bangs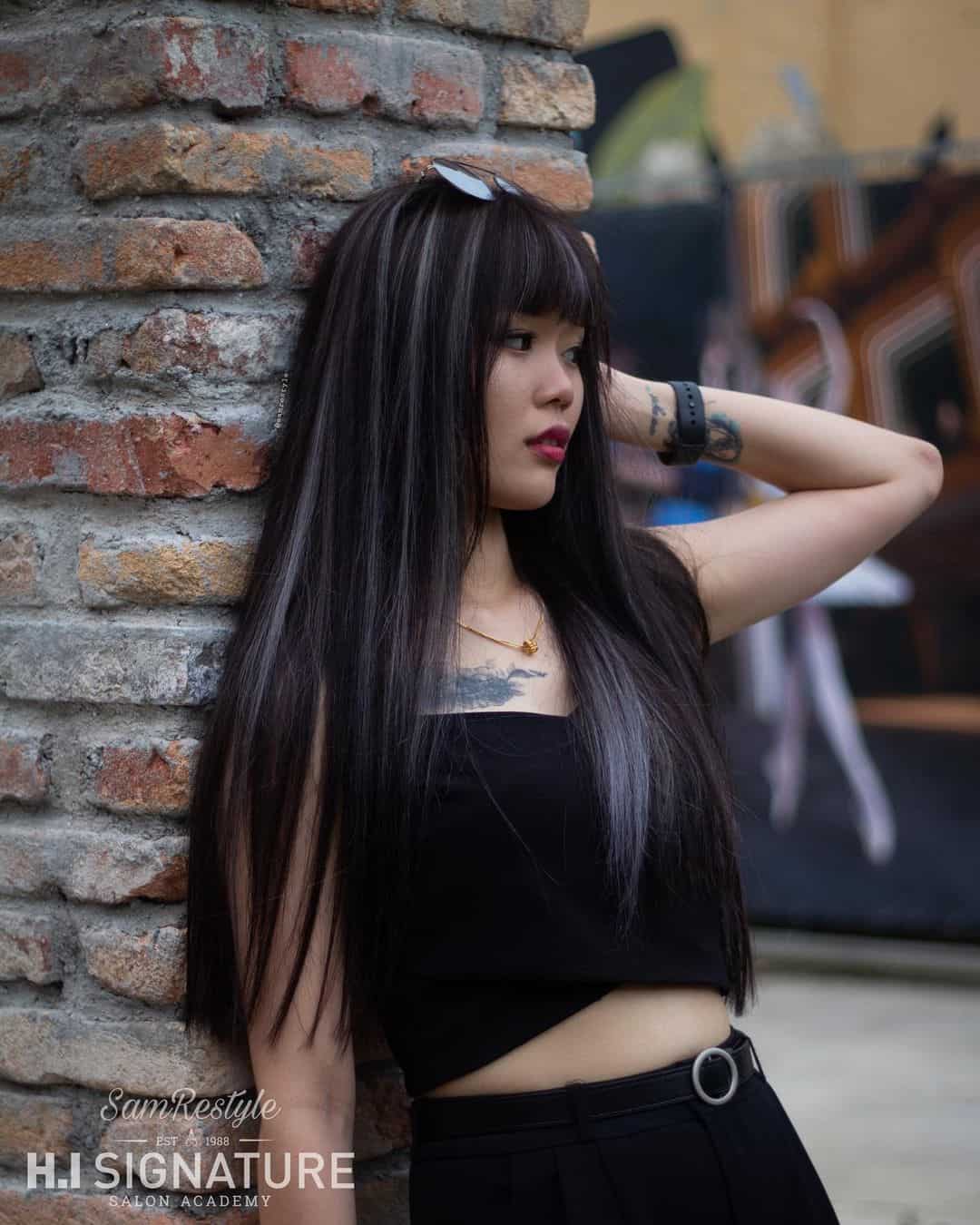 Image Source
These dark, sultry locks sport chunky diamond extensions in a vivid metallic grey color. The blunt-cut long hair, accentuated by straightening, makes the hair appear voluminous. Choppy bangs hovering just above the eyebrows help frame the face, working particularly well with oblong and oval face cuts. The grey highlights adorn the straight bangs adding a soft and subtle touch.
Pair this hairstyle with dark-toned outfits for a stunning and edgy look.
4. Half-Up Wrapped High Ponytail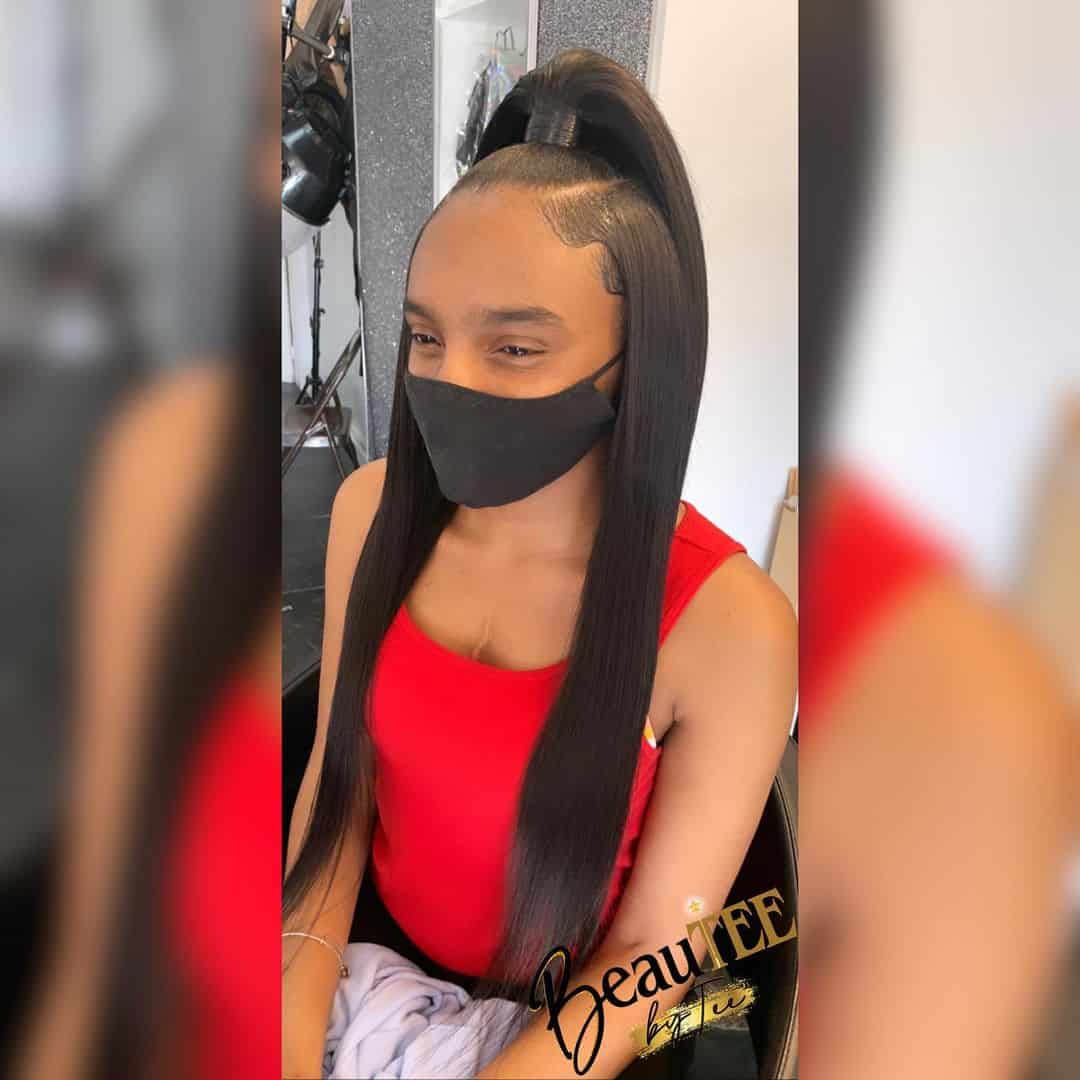 Image Source
Shiny cocoa brown hair looks simply stunning when worn straight. Opt for a half-up high ponytail resting on the crown of the head for a sassy yet classy hairdo. The ponytail, upheld by a scrunchy with a section of hair wrapped around it, sprouts voluminous locks that gently flow into a pool of straightened locks.
A spritz of hair spray keeps the baby hair in place, making way for a sleek and neat style that pairs perfectly well with casual and formal outfits.
5. Golden-Brown Low Ponytail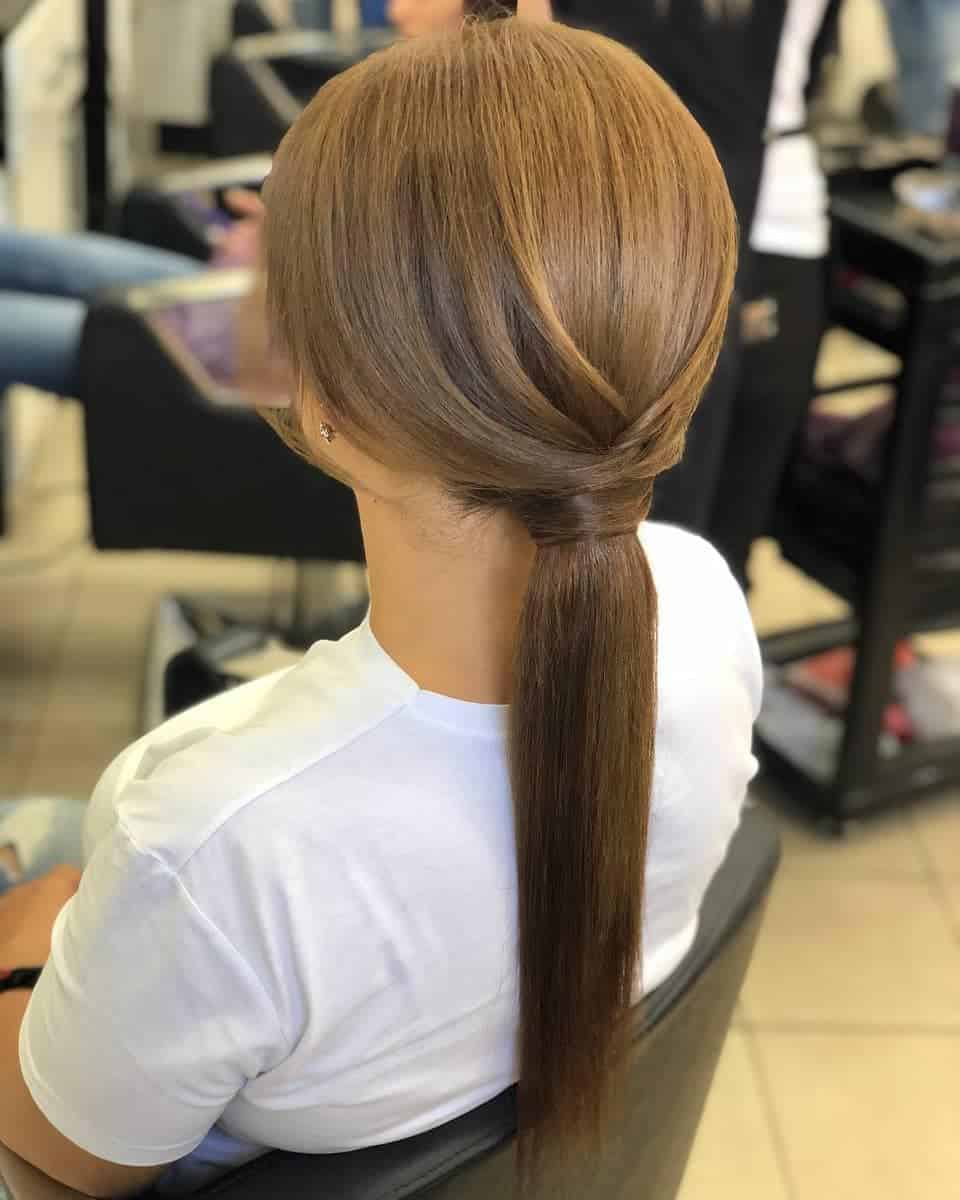 Image Source
Golden-brown mid-length hair looks simply beautiful when worn in a low ponytail. A gently teased fishtail weave flows into a pool of straightened locks, tied in an elegant low pony.
Take things up a notch with a thick strand of hair, neatly concealing the scrunchie that holds the ponytail together. Secure the wrapped strand with bobby pins and a spritz of hairspray to keep the hairdo in place. Finish off this subtle hairstyle with curtain bangs that gracefully frame the face.
6. Vanilla Blonde Choppy Lob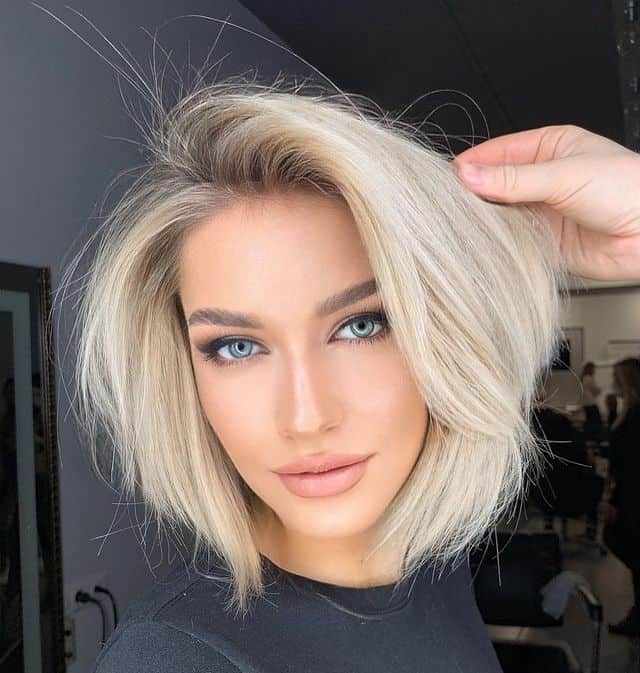 Image Source
A layered, choppy hairstyle perfectly stylizes short hair and is pretty easy to pull off. Vanilla blonde locks in conjunction with brownish roots make for a gradient color combination.
A straightened choppy lob looks simply stunning when back brushed and side-parted, with slightly wavy face-framing bangs infusing volume to the hairdo. This hairstyle transitions from shorter to longer layers in the front curled inwards for a bouncy look, making for a chic messy cut.
7. Half-Up Dutch Crown Braid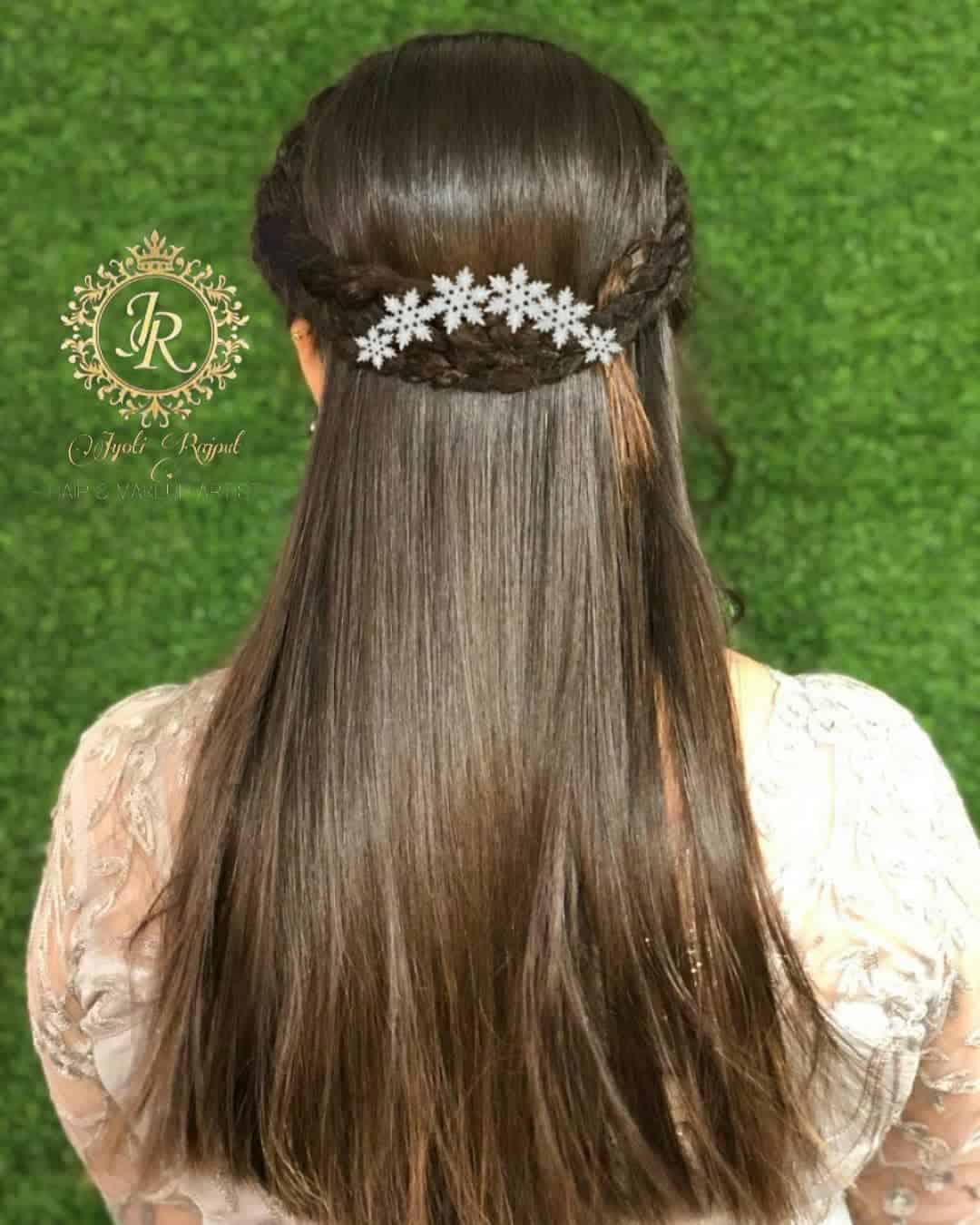 Image Source
A cocoa brown hue seamlessly fading into copper-toned tips can complement long straightened hair, infusing a healthy shine. Spruce up these long-length locks with a Dutch crown braid which might look intricate but is simple to pull off.
Secure this crown braid with precisely tucked-in bobby pins and a curved, white, floral French comb on top of the braid to elegantly complete this subtle bridesmaid haircut. The rest of the blunt-cut hair rests on the back and can be curled inwards for a voluminous touch.
8. Voluminous Wispy Bangs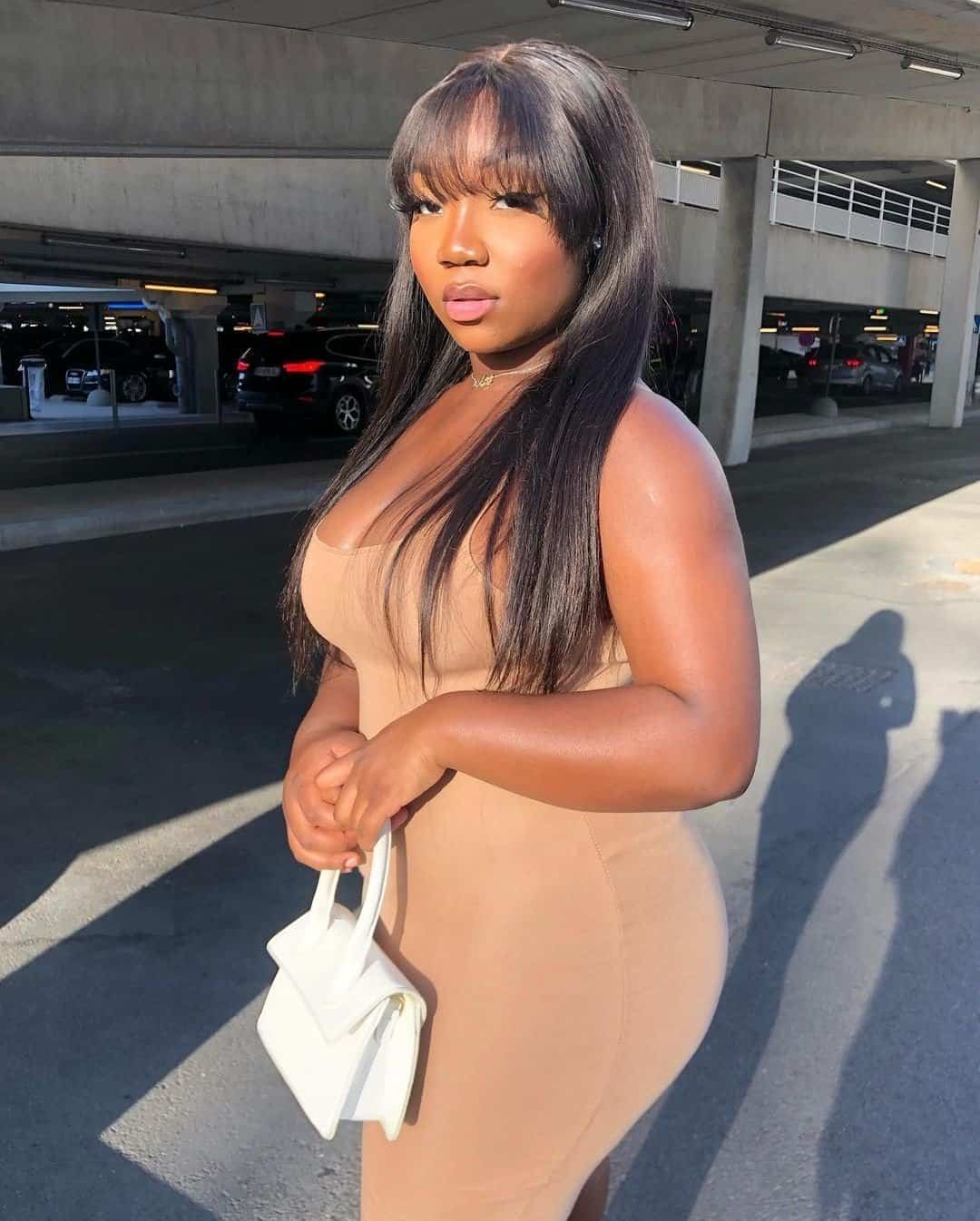 Image Source
These long, black straightened locks, paired with wispy bangs, add a soft touch to this subtle yet beautiful style. The sectioned hair rests gently on the shoulder, allowing the straightened locks to flow gracefully.
Consider applying hair cream to infuse a healthy shine and a spritz of hairspray to avoid frizz before stepping out into the sun. Nude-toned makeup and outfits, whether casual or formal, work perfectly well with this hairdo.
9. Copper Brown Asymmetrical Bob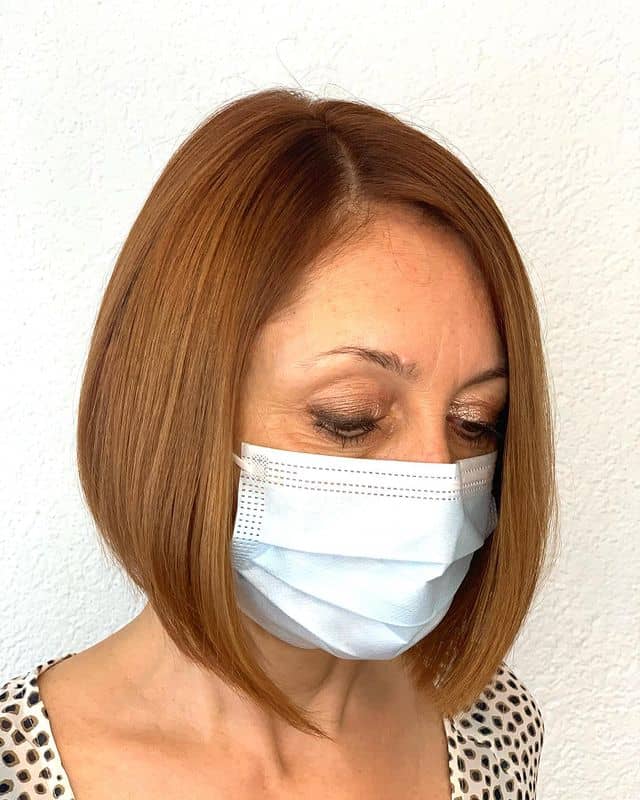 Image Source
This straightened hair starts with dark russet brown roots blending elegantly with a copper-brown hue making the asymmetrical bob stand out. The gradient combination of brown shades compliments the haircut perfectly, while the long side dip gives rise to a sharp, edgy look. The side-parted hair frames the face, while the inward curled ends add a bouncy, voluminous touch.
Sport this hairstyle with casual or formal outfits of your choice for a simple yet modern look.
10. Unicorn Layered Hair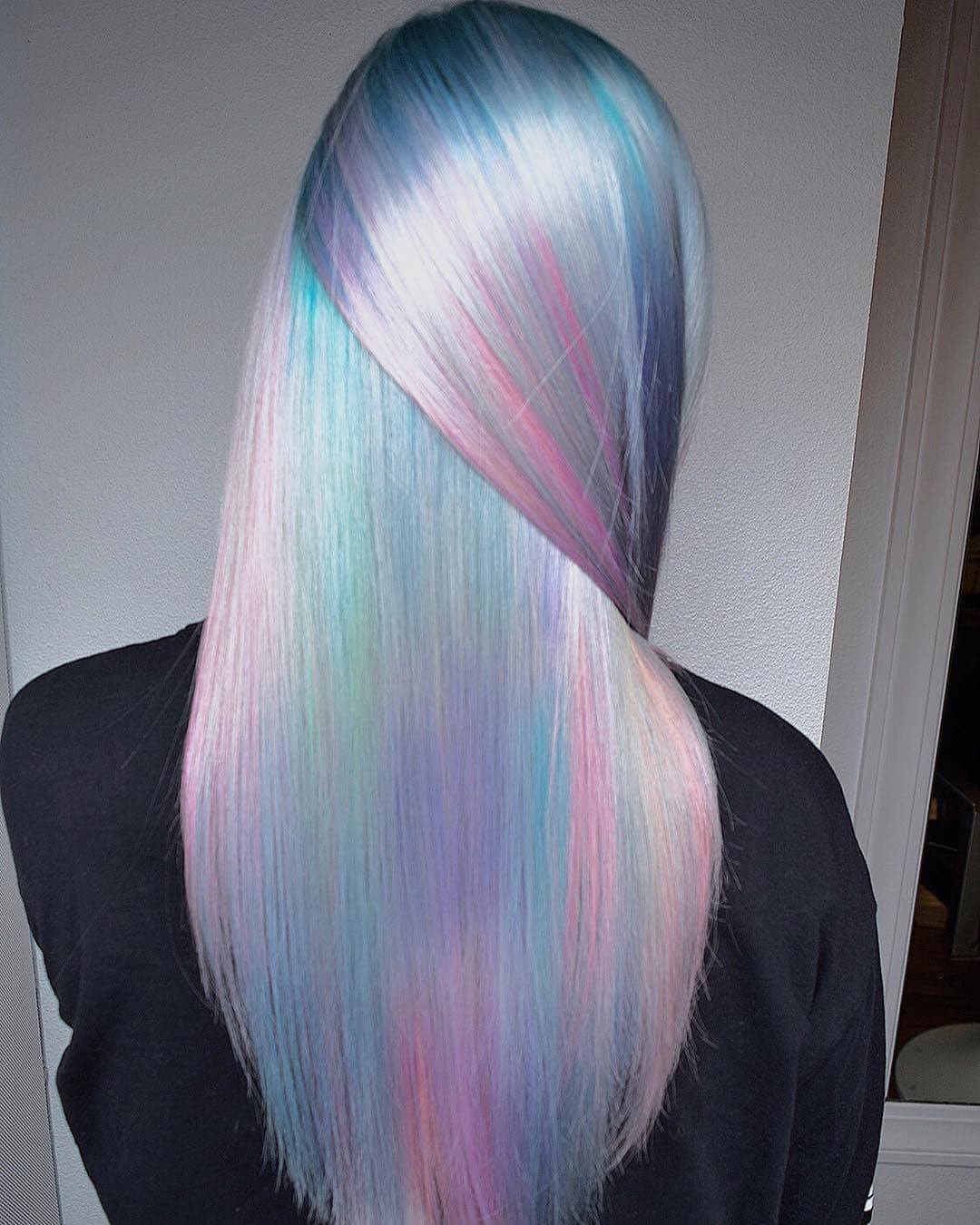 Image Source
Layered locks give you an easy-to-maintain look, accentuated with a splash of vivid playful colors. This hairstyle consists of multiple dynamic colors such as lavender, pink, iris purple, baby blue, and an electric blue hue. The uniform vertical application of these colors blends perfectly, making each color stand out. This whimsical combination brings about a bright unicorn vibe, injecting a silvery shine to the overall look.
11. Multicolor Balayage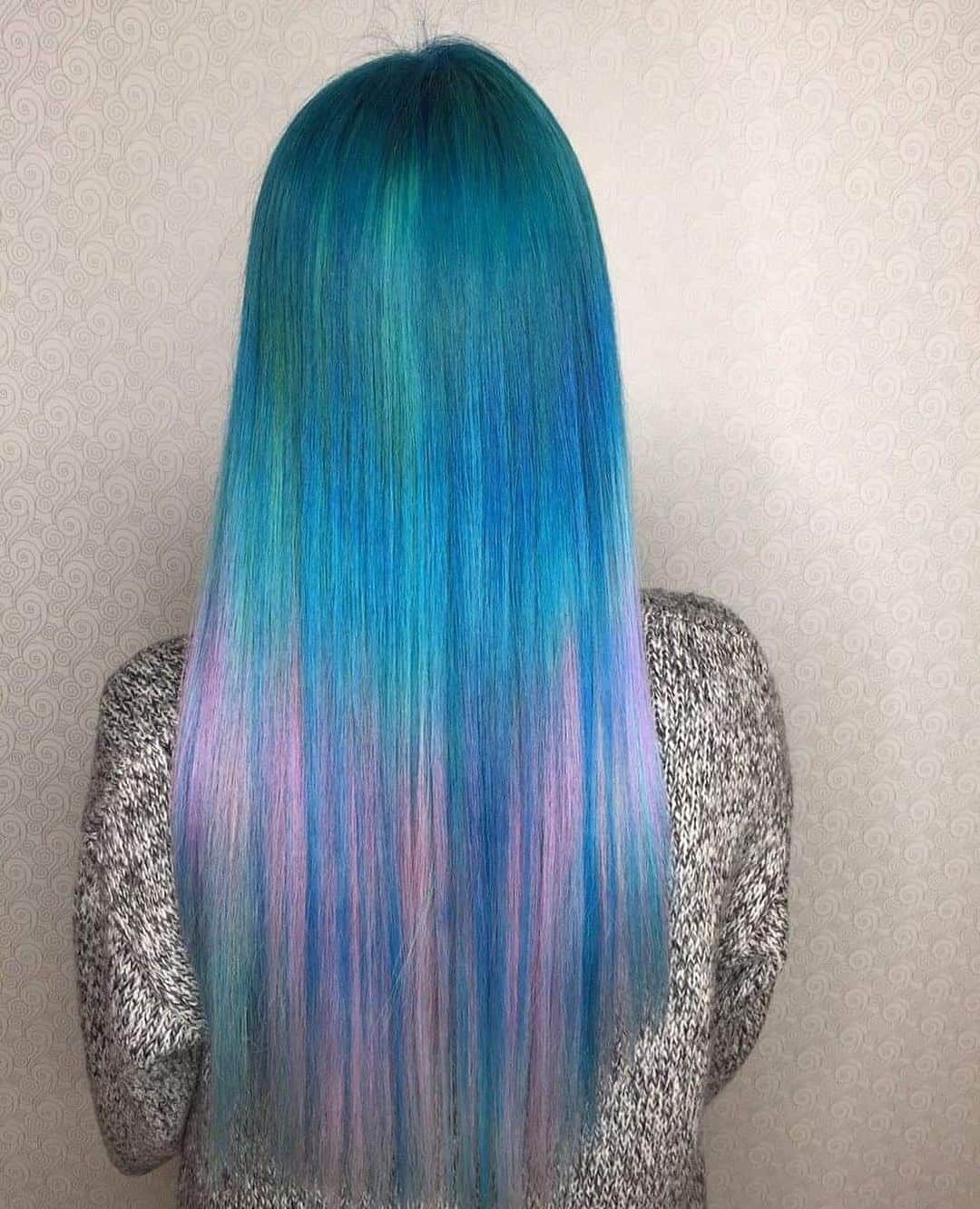 Image Source
Drawing inspiration from the blue and green color palette, this style amalgamates vibrant ocean colors. Dark, shadowy roots fade into a sapphire blue hue with streaks of turquoise that stop mid-length, appearing in a slight tinge along the length of the hair.
Pink highlights grace the lovely balayage bringing in a softer, feminine touch that continues to the straightened tips. The graceful locks flow freely, allowing the color gradient to take over.
12. Chestnut Brown Long Hair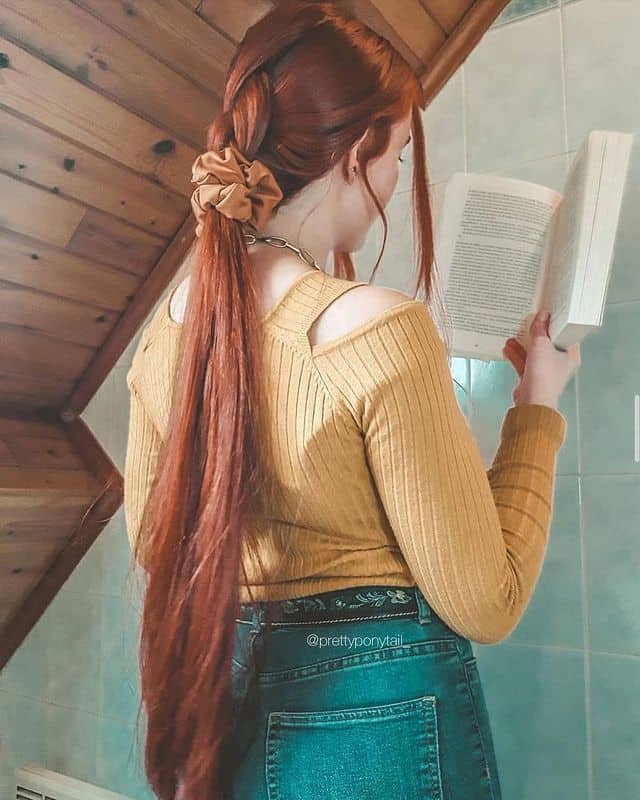 Image Source
A uniform application of a unique chestnut hue mixed with a tint of sienna brown graces these long straightened locks. A three-stranded braid, beginning at the crown and ending at the nape, secured with a bronze-toned scrunchie, leads to a ponytail that flows elegantly. The slightly elevated, low ponytail allows for the layered locks to be prominent.
Combine this charming look with long face-framing bangs for added texture and style.
13. Double Layered Angled Bob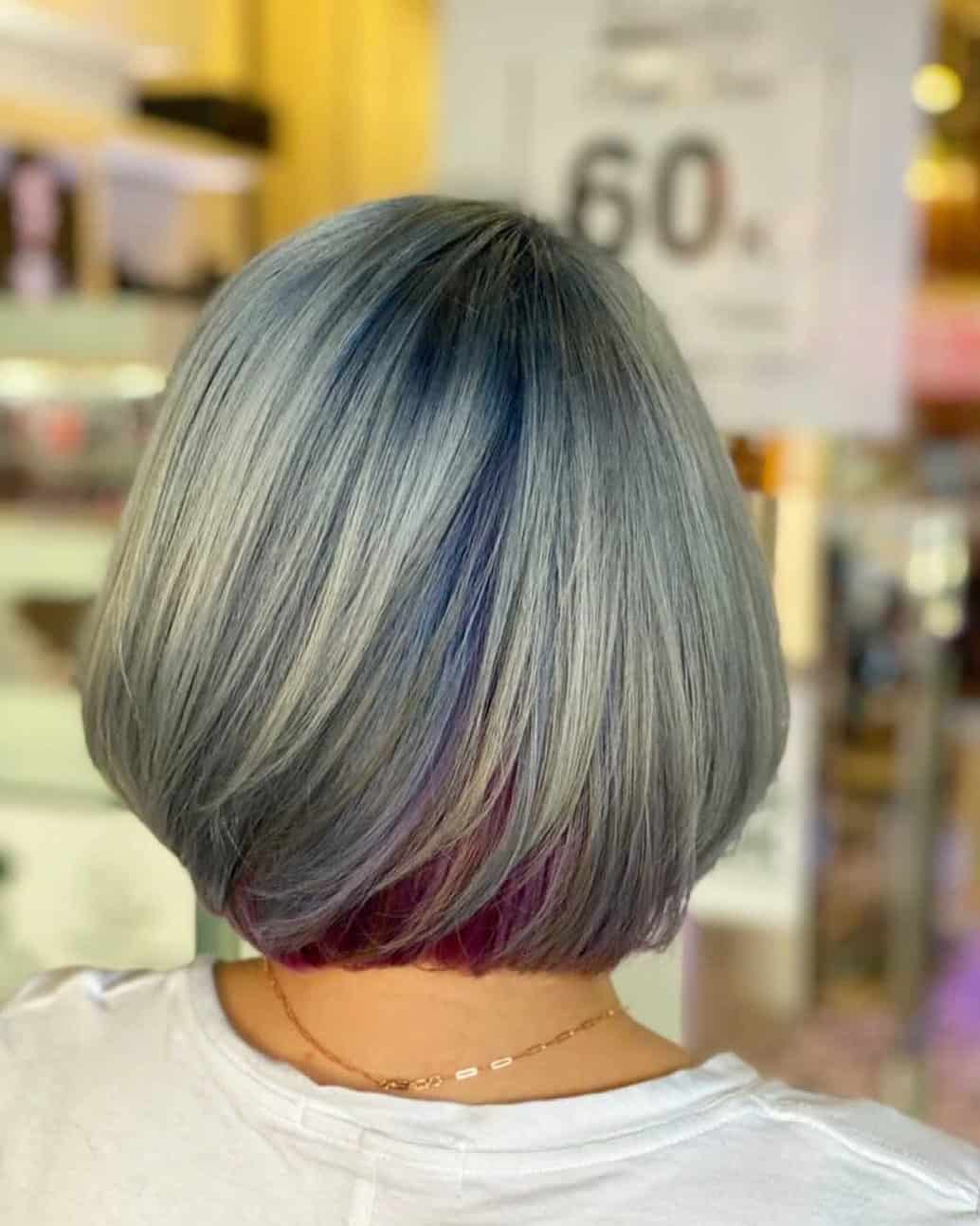 Image Source
Adorn this short-length angled bob with a layered color combination to add depth. This straightened hairdo begins with dark blue roots that blend with a contrasting silver-hued upper layer, working perfectly with a purple tinge underneath. The vibrant purple shade makes the overall hairstyle pop instantly, making it bold and beautiful!
Sport this peek-a-boo hairdo with neutral-toned outfits for the perfect balance of colors. The curled-in tips add a bouncy element, which helps to frame the face.
14. Flamingo Pink Midi Hair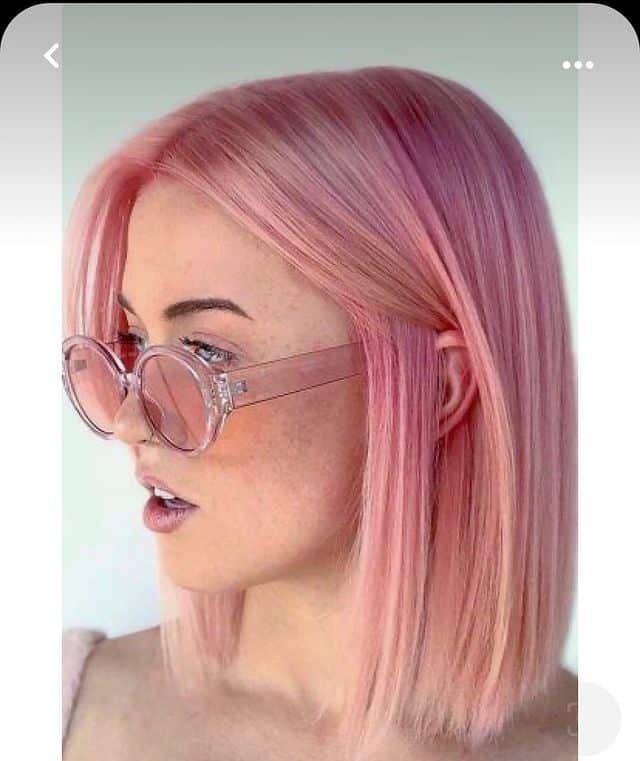 Image Source
The midi haircut exudes a chic vibe with its straightened blunt edges grazing the collarbone. This cute style starts with peach roots blending effortlessly with a flamingo pink hue fading into a pale tint softening the bluntly cut tips. The middle-parted hairstyle showcases the transitions of the pink shades far too well, keeping things simple but alluring. Curtain bangs polish off the look, and it pairs beautifully with mellow-toned outfits.
15. Sleek Waterfall Braid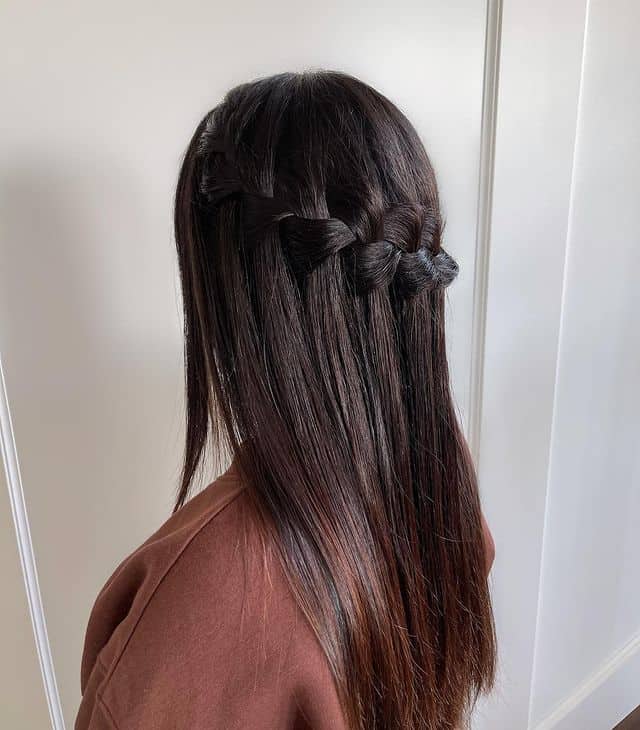 Image Source
Sleek, straight hair pairs perfectly well with a traditional waterfall braid. While silky, smoothened-out hair can be difficult to form into an intricate hairstyle, a waterfall braid can help keep it in place. Sections of hair, intricately woven into a waterfall braid, run diagonally across to infuse texture and softness to the hairdo. The remaining locks cascade downwards, ending in brownish, straightened tips. A long strand of hair helps frame the face, giving the layered hair a fitting introduction.
16. Side-Parted Half-Up Pony

Image Source
The high ponytail has gained traction ever since Ariana Grande iconized it, and by the looks of it, there is no reason why it should not be! Switch things up a bit by sporting a half-up high ponytail with straightened, flowy hair. The high ponytail, secured with a scrunchy, has a section of hair wrapped around it, making for an all-black dyed look. Side-swept bangs over the ponytail conceal the roots, making for a neater and fuller look.
17. Side-Swept Multicolored Waterfall Braid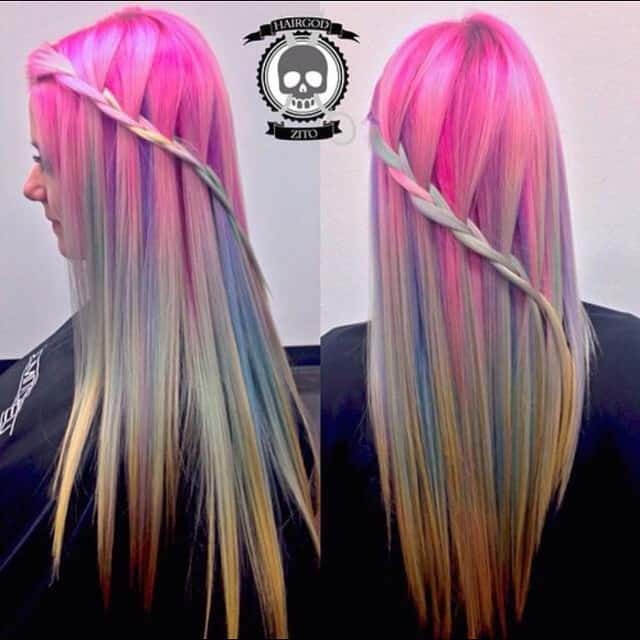 Image Source
Pastel hues unite in this stunning multi-hued, mid-length straightened hairstyle. Persian pink hair dye adorns the hair from root to roughly the crown, giving way to prominent shades such as blue-violet, royal blue, sea green, with a marigold yellow tinge.
The seamless blend of colors in this fashion keeps each shade distinctly visible. A side-swept waterfall braid intricately weaves the multi-hued hair that rests on a bed of the straightened locks, cascading gracefully.
18. Double Pigtail Ponytail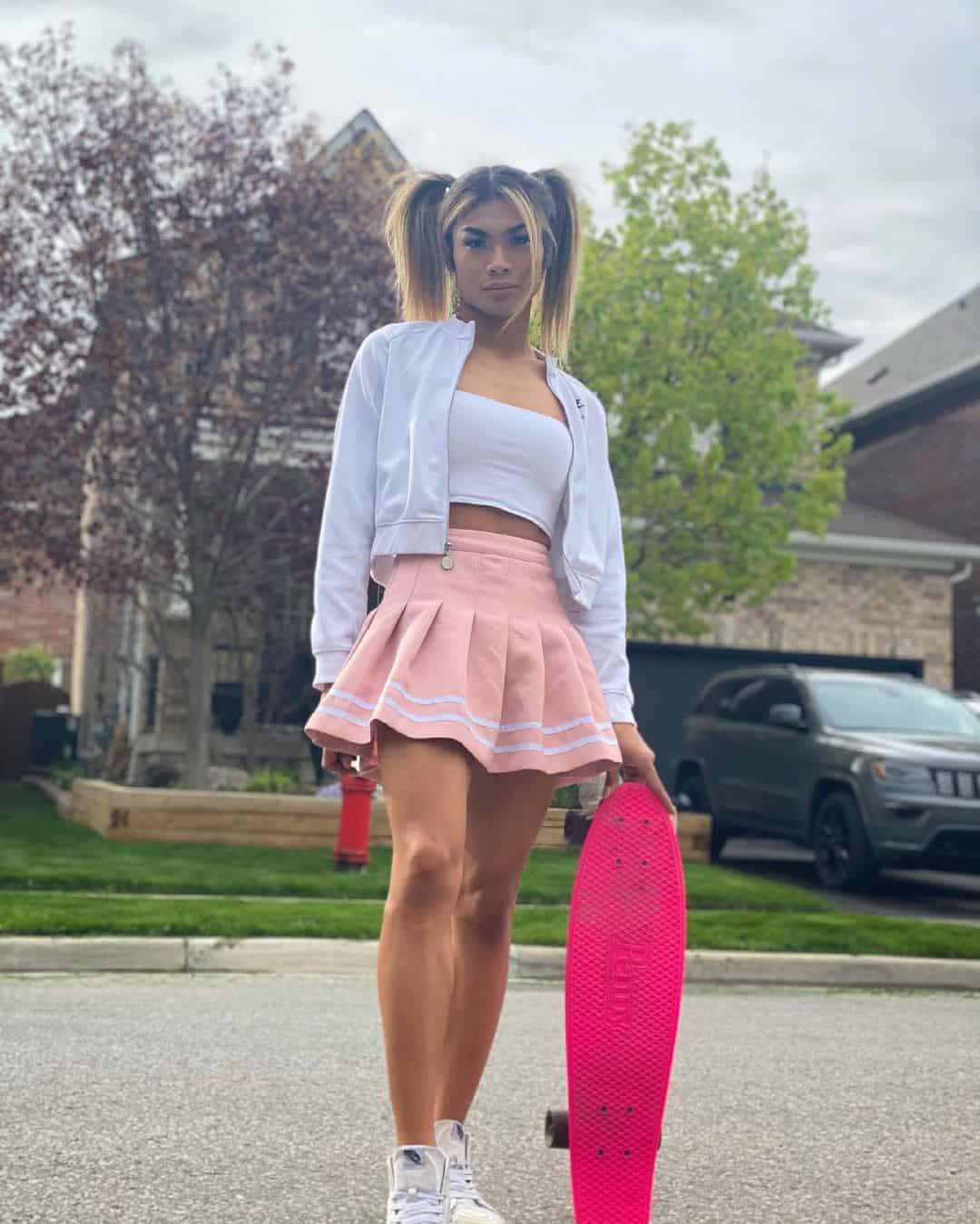 Image Source
This middle-parted style sports blonde ends that stand out when styled in two high pigtails. The roots of the hair, alongside most of the hair, sport a vivid walnut brown hue that complements the blonde ends perfectly. The straightened high ponytails create a bounce that makes the serrated tips evident.
Long, face-framing, golden brown bangs emphasize the hairdo, adding a feminine touch that serves as the perfect workout style.
19. Neon Ombre Underlayer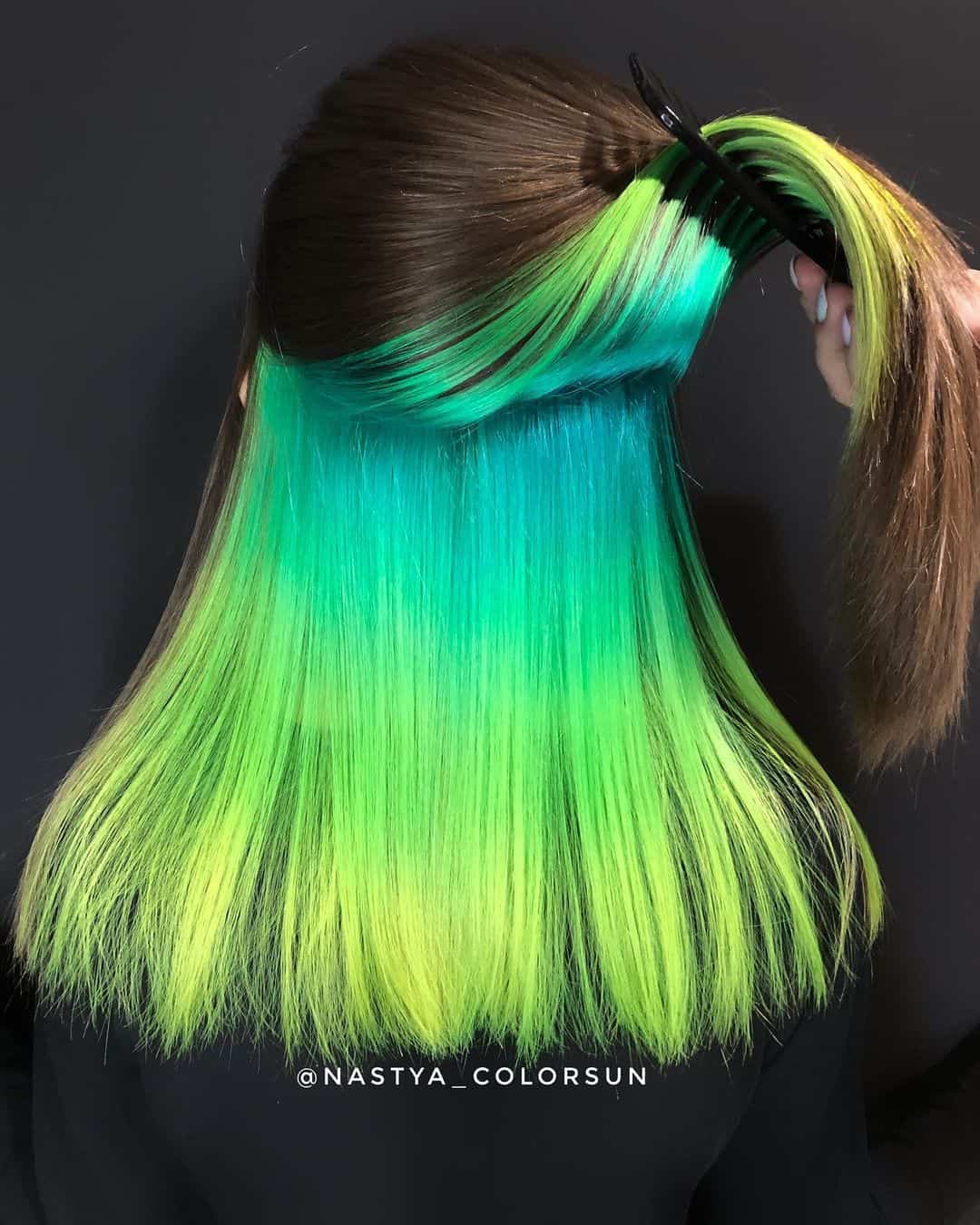 Image Source
Adorn the shoulder-length cocoa brown straightened hair with a stunning neon underlayer giving rise to a contrasting yet whimsical combination. The underlayer sports neon tones such as turquoise blue, neon green, and pear derived from the green palette, tracing the yellow end of the spectrum.
This vibrant ombre starts with a turquoise blue hue seamlessly fading into a greenish shade with a pear tinge, boldly staggering the blend of colors towards the tips.
20. Waterfall Braid With Flower Bun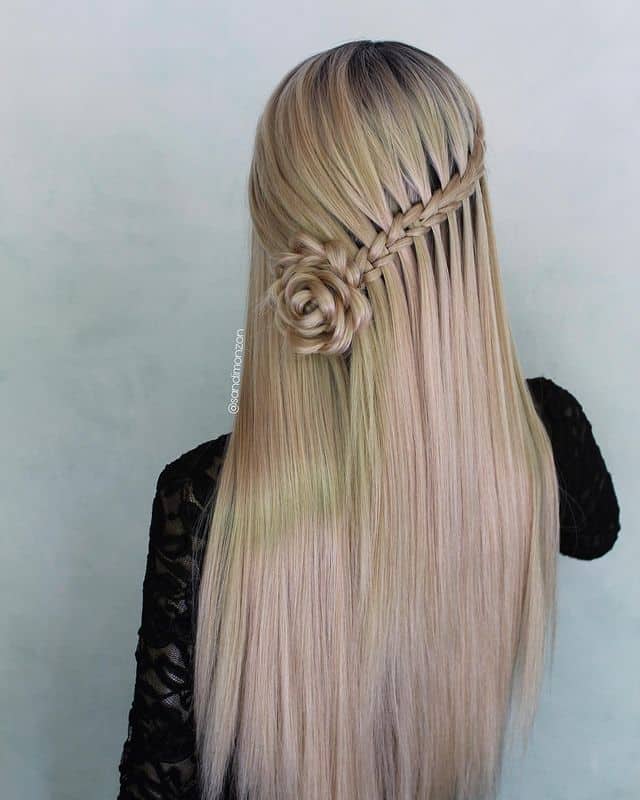 Image Source
This cut is versatile in terms of the braiding style as well as the coloring technique. The straightened long hair pigmented with a gradient blonde hue mixed with a tint of green makes for a soft touch.
Stylize these exceptional locks with a classic waterfall braid that unites with a braided flower bun, allowing the blond hair to flow down gracefully. This intricate addition looks classy and romantic, making the hairstyle stand out from every angle.
21. Braided Headband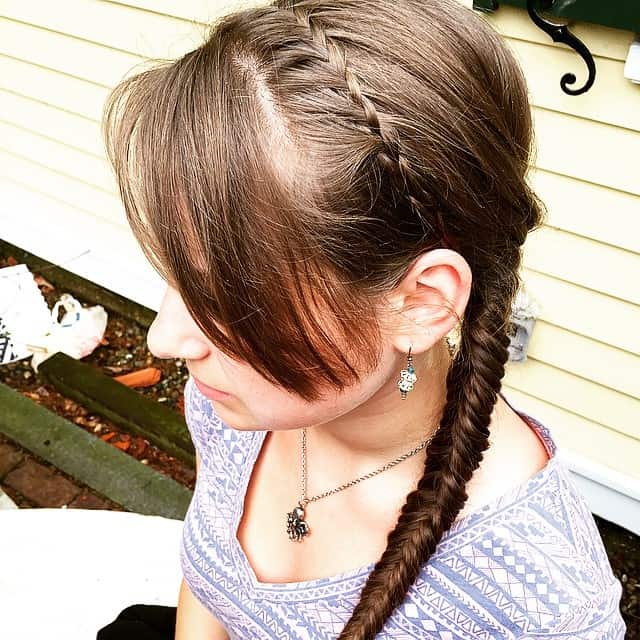 Image Source
Coffee brown straight hair makes for an elegant hairstyle by itself when worn open. Consider styling the locks into a fishtail braid to accentuate the hairdo. This brunette vintage hairstyle, when paired with a braided headband, adds a romantic, feminine touch. The side-parted edgy bangs frame the face perfectly, working well with round and oval face cuts. The edgy bangs hovering on the cheekbones soften the overall look effortlessly.
22. Side-Shaved One-Length Midi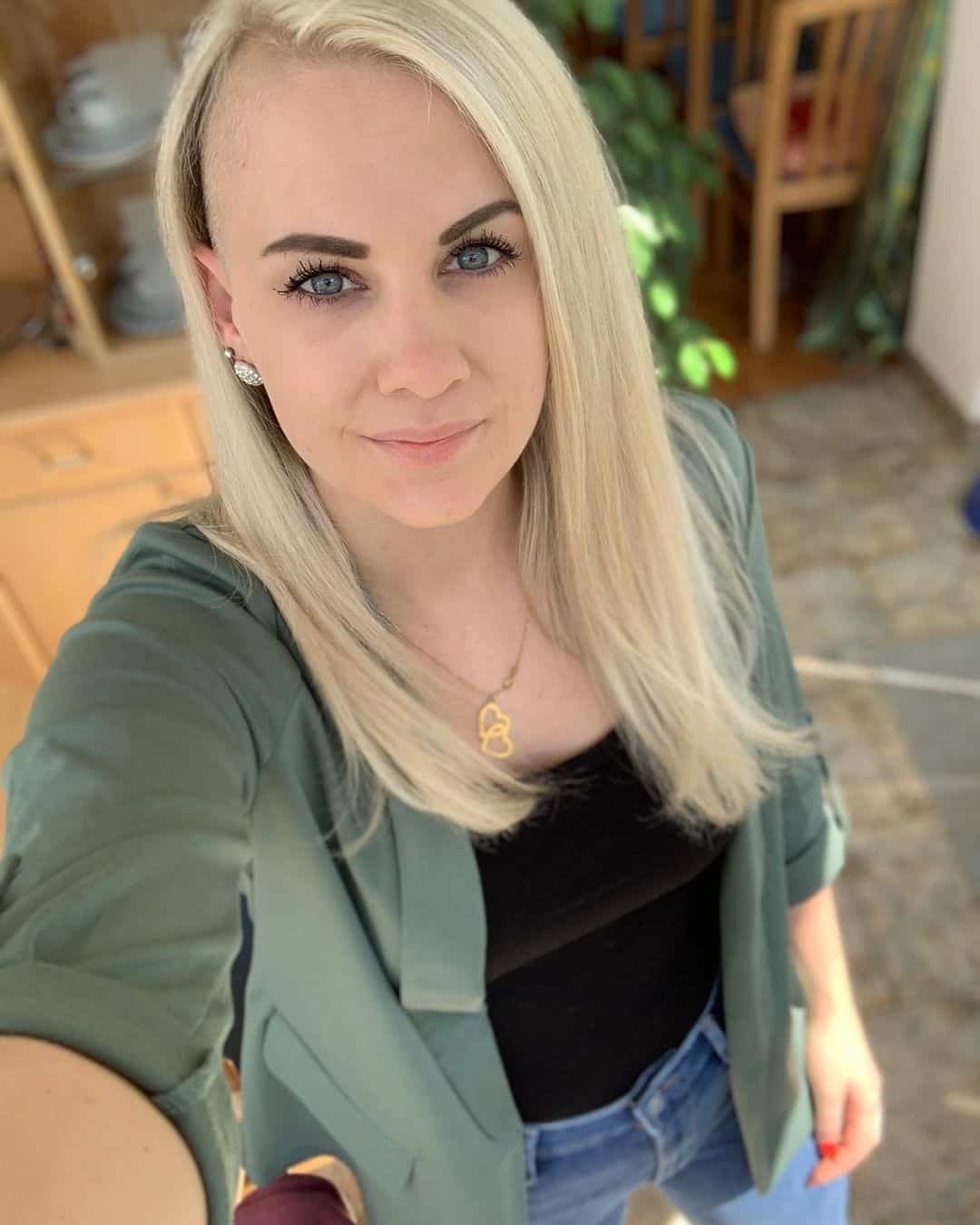 Image Source
A side-shave haircut paves the way for a bold and trendy look. This peachy-blonde, one-length, midi cut, with a deep side-shave, makes the side-parted hair appear voluminous. The unique mix of straightened, long locks with a side-shave maintains the balance between a subtle yet vogue style.
This mid-length, stylized hairdo pairs perfectly with formal and informal outfits as the versatility of the haircut serves as an accessory by itself.
23. Woven Fishtail Braid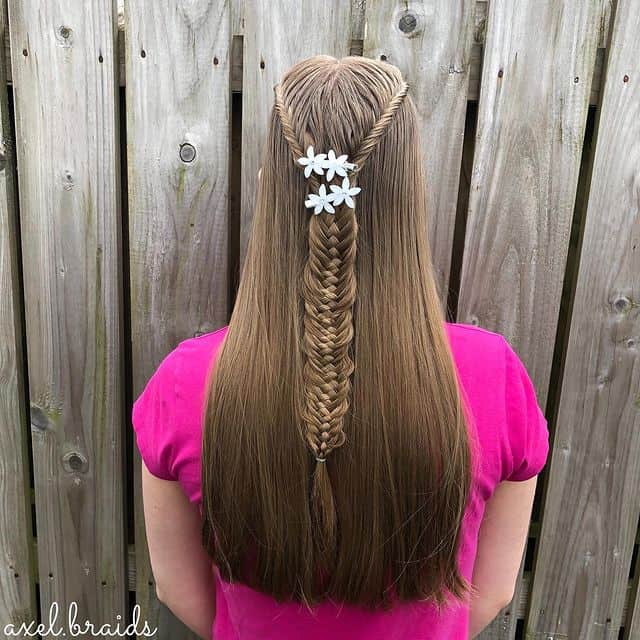 Image Source
This beautiful brown-hued hair reflects a unique color combination of coffee and caramel brown. The French braid rests on the mid-length straightened hair with choppy ends. The hairdo begins with twisted sections from either side, meeting at the crown, before being woven into a half-up, woven fishtail braid secured with a silver scrunchie.
The rest of the straightened locks flow down gently, complementing the intricate braid. Polish off this charming look with floral hair accessories pinned at the intersection of the braids.
24. Wrapped High Ponytail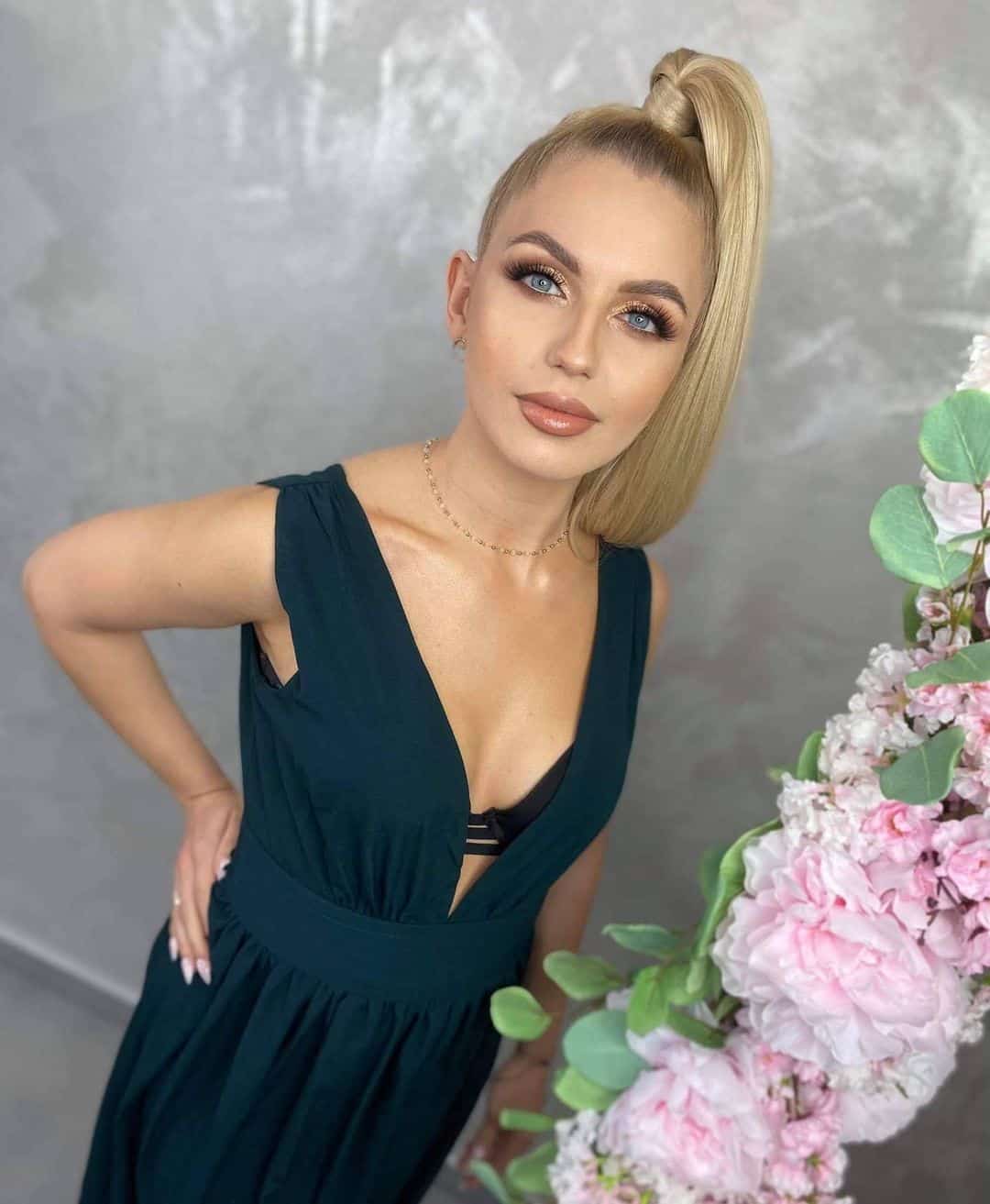 Image Source
Ash-blonde is a lovely shade that works exceptionally well with straightened locks. The black roots gently fade into the vibrant hue that lies closer to the brown side on the color spectrum.
A neat, high ponytail, resting on the crown of the head, secured with a scrunchy, concealed by a thick section of hair wrapped around it, makes for a bold updo. Wear the ponytail on one side, ensuring that no stray strands of hair escape the lovely ponytail.
25. Silver Knotted Ponytail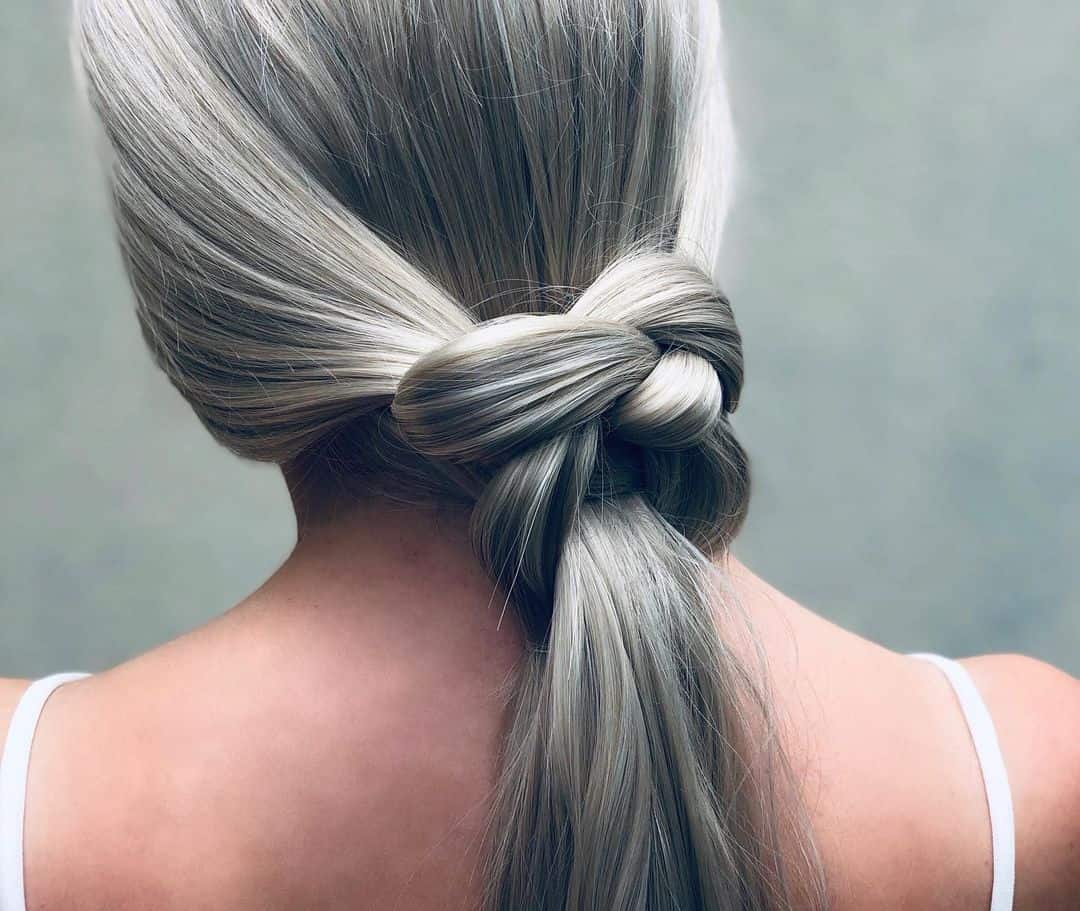 Image Source
Sleek and elegant, this straightened hairdo plays on simplicity, with a slight twist, quite literally! The platinum blonde mid-length hair, styled in a knotted low ponytail, is not just stylish but super simple to pull off. Split into three distinct sections, two relatively thick sections of hair from either side loop across each other over the middle section, forming a lovely knot at the nape, infusing charm and texture to the style.
26. Dutch Pigtail Braids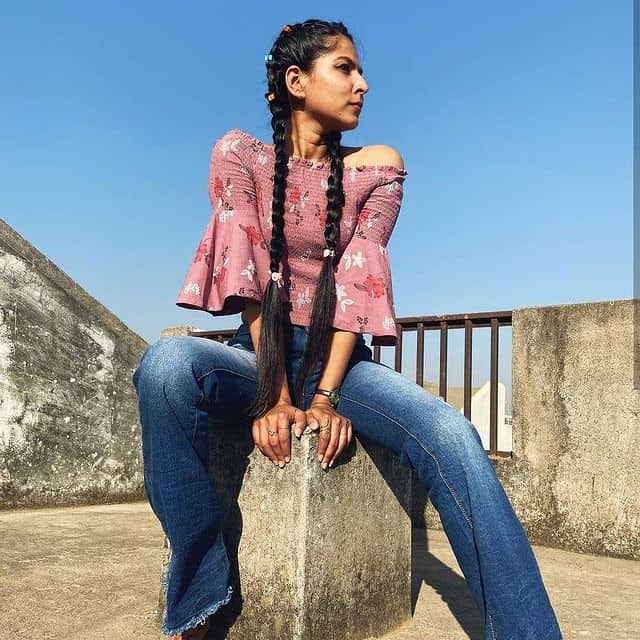 Image Source
Style these long-length straightened black locks in double Dutch pigtail braids. Consider braiding the locks beginning at the hairline, gradually parting the braid into two, three-strand simple braids on both sides. Secure the braids with scrunchies leaving the thick straightened ends to flow gently.
Infuse color and texture with tiny, multi-hued, equally-spaced claw clips to take things up a notch in this simple yet chic hairdo.
27. Rainbow-Hued Hair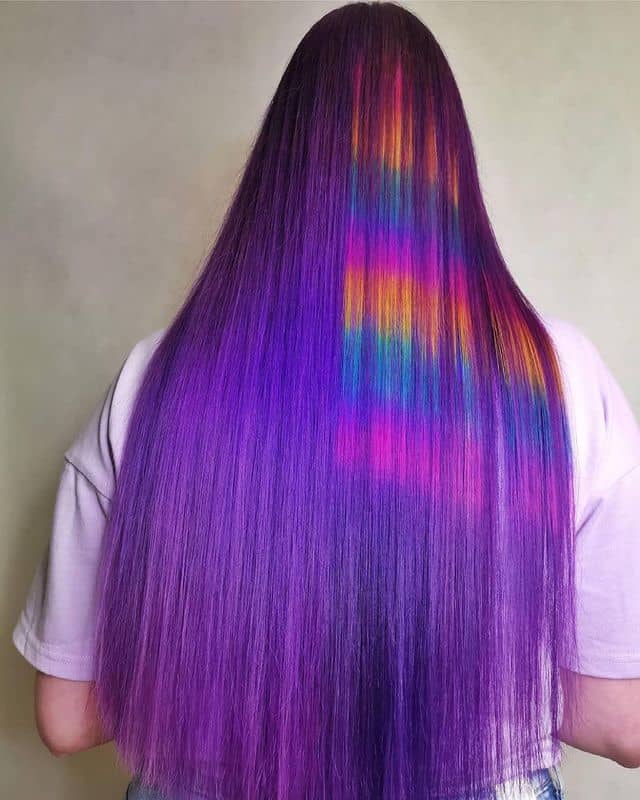 Image Source
The straightened, waist-length hair flaunts a bold coloring technique comprising multiple vibrant tones such as sapphire, azure-blue, amber, pumpkin-orange, and cerise-pink.
Adorn this style with purple dye with a blue-violet tinge as the base color and proceed towards the rainbow-hued streaks on one side of the hair keeping the other half untouched.
This style exhibits vertical and horizontal stripes of the multiple tones giving rise to a trendy yet experimental look.
28. Contrasting Asymmetrical Bob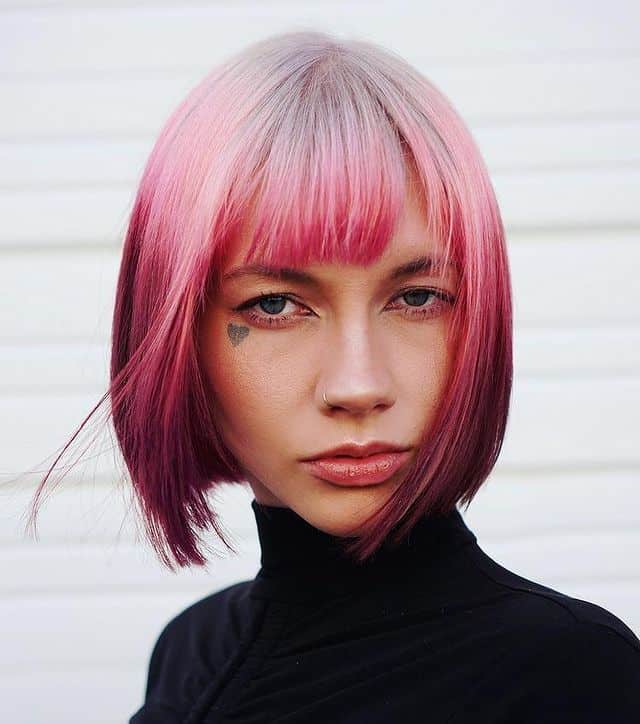 Image Source
The asymmetrical bob is a great way to stylize short hair, transitioning from long sides, dipping into shorter ends at the back. This hairstyle begins with silvery blonde roots seamlessly blending with a bubblegum pink hue, with a bright red tone towards the tips of the choppy bangs.
The bubblegum pink blends with a rusty rosewood red tinge with a dark purple tint staining the rest of the asymmetrical locks, adding depth to this rich contrasting look.
29. Twisted Braided Pony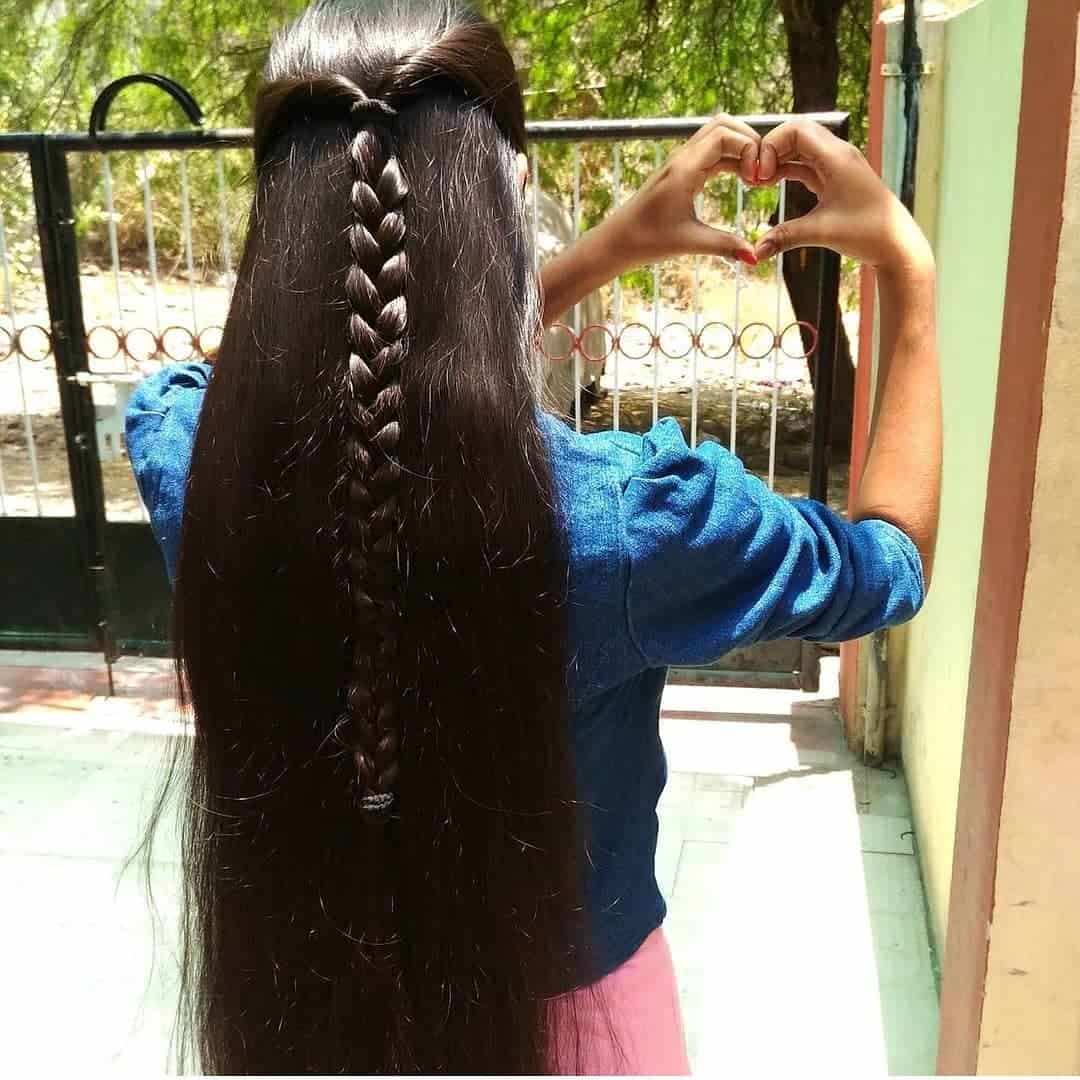 Image Source
Dark brown, long hair looks stunning when worn straight and sleek. Consider an inflection to the traditional three-stranded braid with a half-up twisted ponytail. This style starts by twisting sections from either side, uniting into a half-up pony that forms a simple braid. A black and white scrunchie secures the neatly weaved plait, leaving the silky ends to flow down, blending with the rest of the hair elegantly.
30. Twisted Fishtail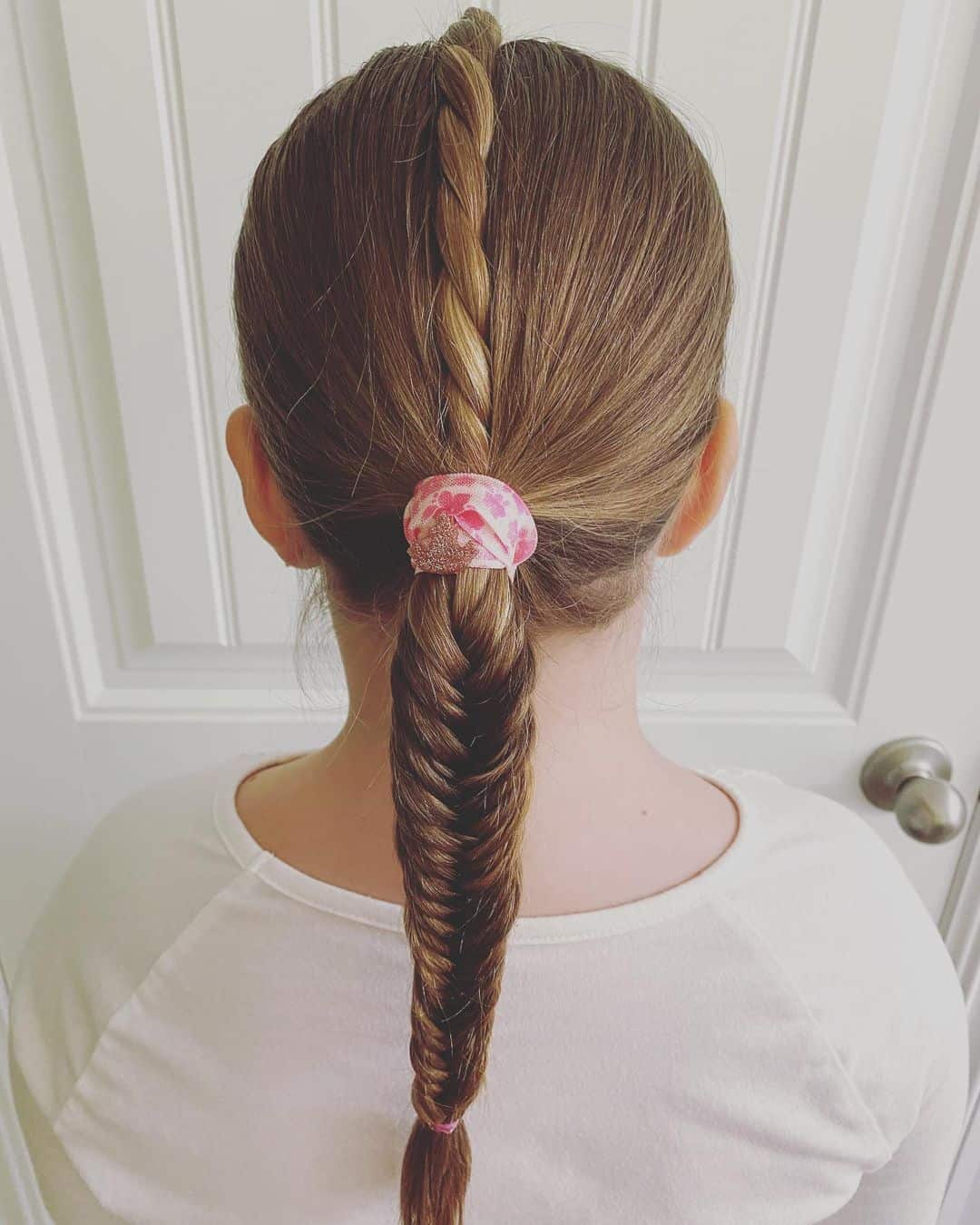 Image Source
This double-sectioned style starts with a twist of a two-strand braid resting in the middle that gradually ends at the nape, making way for a precisely knitted fishtail braid. Secure the intersection of the two plaits with a beautiful, white, floral printed ribbon and the fishtail braid with a scrunchy, leaving the sharp, straight ends open. The natural brunette hair adds a vivid color palette to the simple hairstyle.
31. Multicolor Choppy Bangs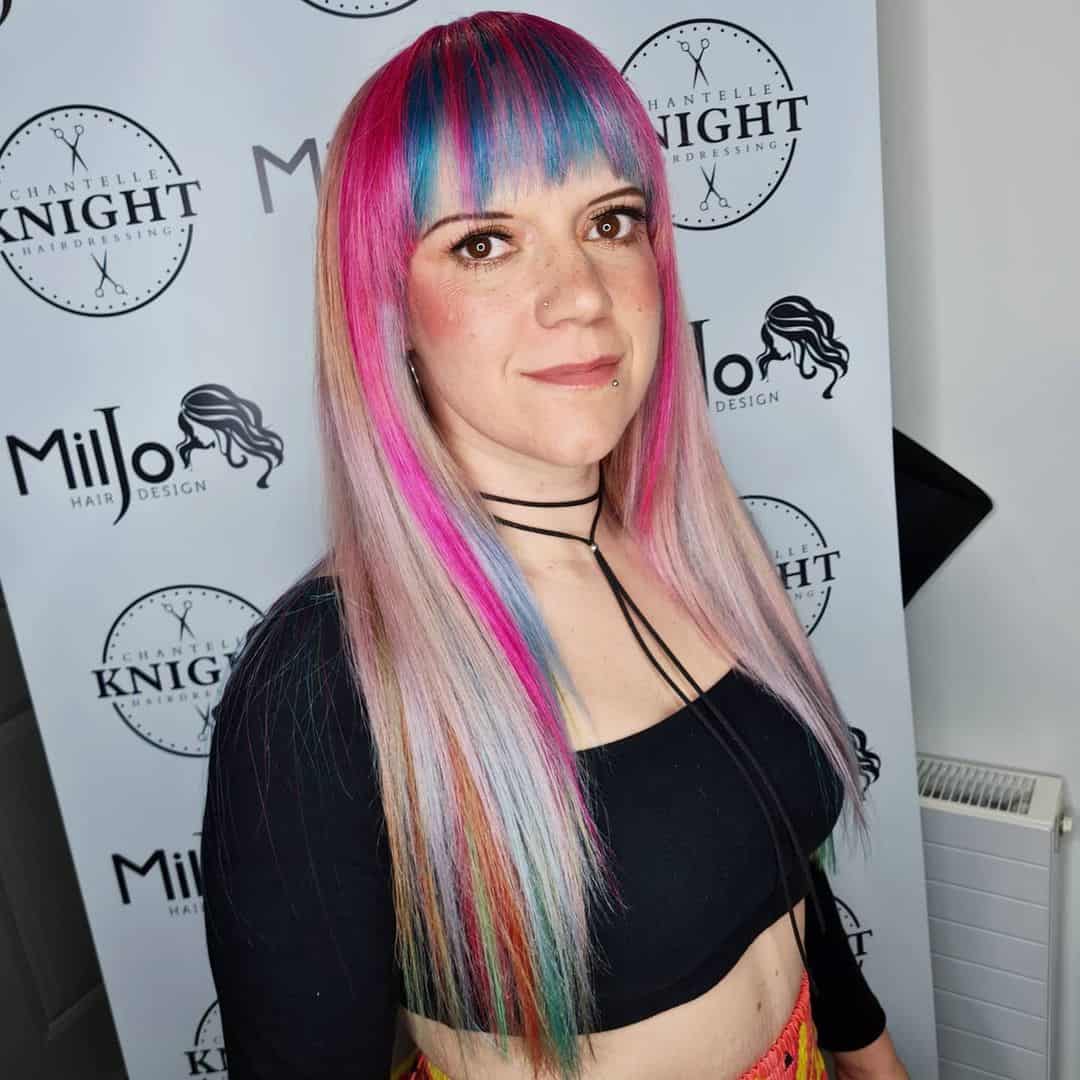 Image Source
Throw in vibrant shades of pink, blue, orange, green, and yellow for a fun, bold hairdo bound to inspire. This layered cut begins with multiple tones – while the pink and electric blue cascade down to the front, the orange tinge takes over the back, making the choppy bangs pop instantly.
Leave this straightened hairstyle open to flaunt the distinctly visible highlights that sync with each other far too well. You can also opt for hair extensions to infuse volume and color into your hair.
32. Cobalt Blue Underlayer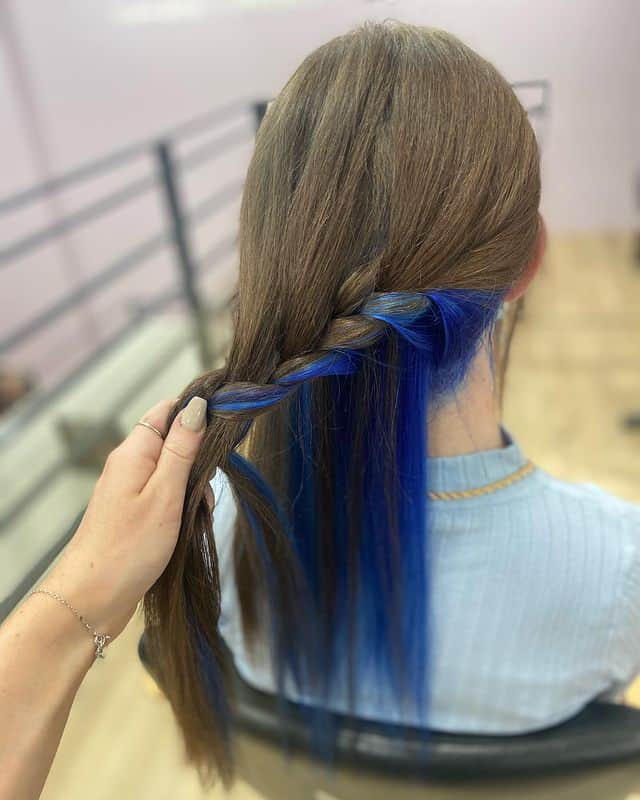 Image Source
A vibrant underlayer paired with a subtle brunette upper layer makes for a versatile and trendy look. Consider a mid-length haircut that flows beneath the shoulder-length gracefully, flaunting choppy ends. This hairstyle begins with a toned-down, well-saturated espresso brown pigmenting the upper layer from roots to tips.
Cobalt blue hair dye, beginning midway till the sharpened ends uniformly saturate the hair. Stylize this peek-a-boo hairdo either with a simple side braid or leave the smoothened-out, straight hair open.
33. Buttercream Blonde Hair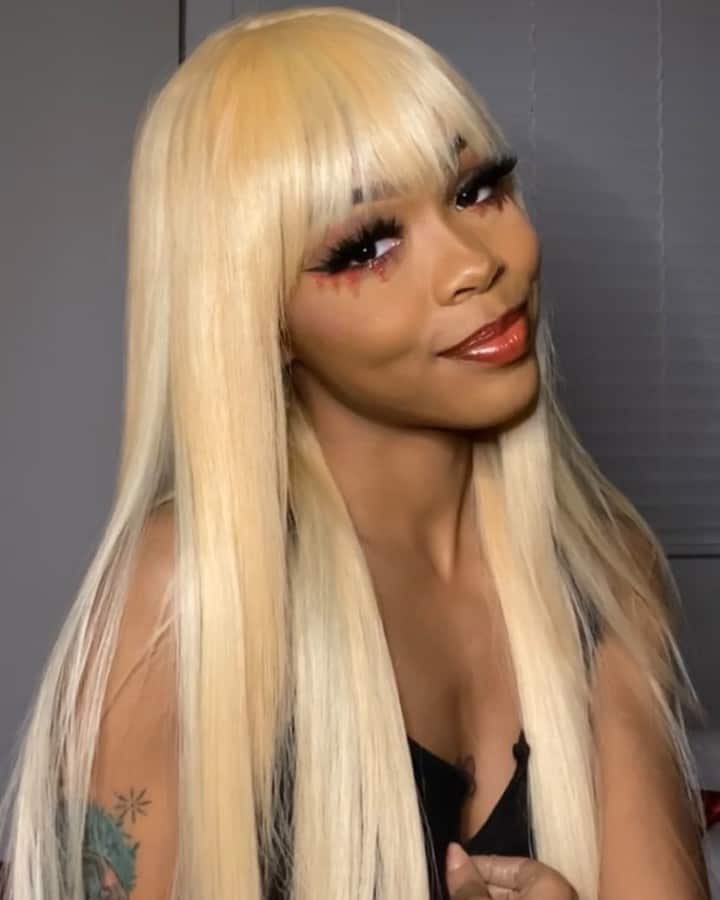 Image Source
Blunt bangs work well with smoothened-out, straight hair framing the face with feathery ends, grazing the eyelash line gently. This buttercream long blonde hair begins with yellowish roots that eventually fade into a lighter tone, working perfectly with every skin tone, adding a subtle feminine touch to the overall hairdo.
You can add some similar toned extensions neatly tucked into your natural hair to make the locks appear more voluminous. Sport this hairstyle with dramatic eyes for contrast, and you are good to go.
34. Mohawk Braid Ponytail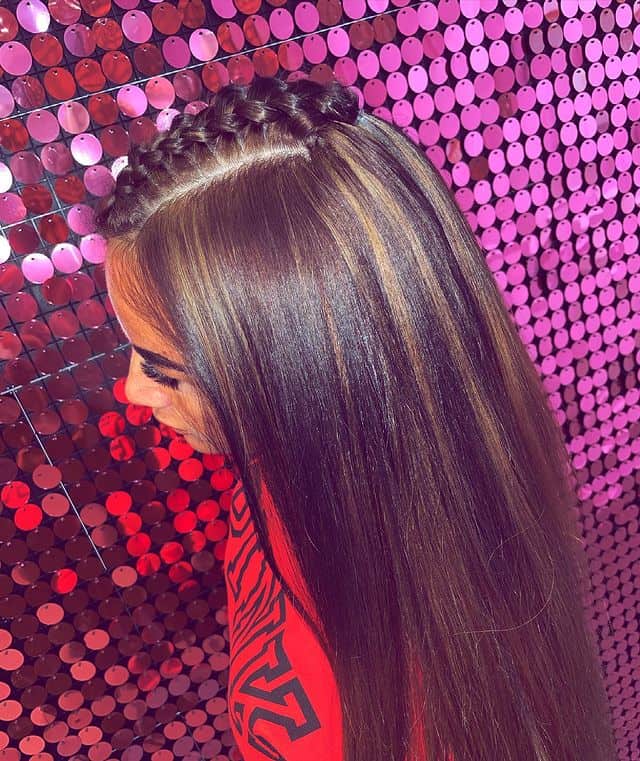 Image Source
Upgrade a half-up sleek ponytail with the addition of a mohawk braid. This hairstyle might seem intricate but is easy to pull off, giving way to an edgy updo. The mohawk braid begins at the hairline giving rise to a well-knit French braid secured with a scrunchie, eventually forming a ponytail. The dazzling caramel brown, smoothened-out, straightened locks glisten in the light, making the hairdo stand out.
35. Goldenrod Reverse Ombre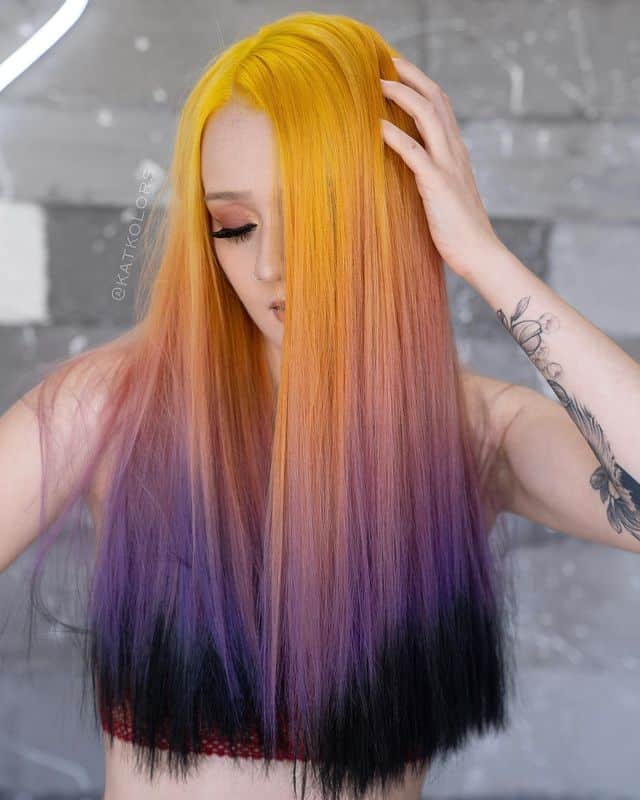 Image Source
The ombre coloring technique employed in this hairdo showcases a seamless blend of multiple colors achieved in a single sitting. This contrasting reverse ombre starts with a vibrant goldenrod hue derived from the yellow palette, perfectly saturating every strand, making for an even application of color.
The color fades into an amethyst purple hue midway, giving rise to a brown tinge at the transition points, adding a feminine touch that blends into jet black sharp ends, balancing this versatile look.
36. Cornrow Braids With High Ponytail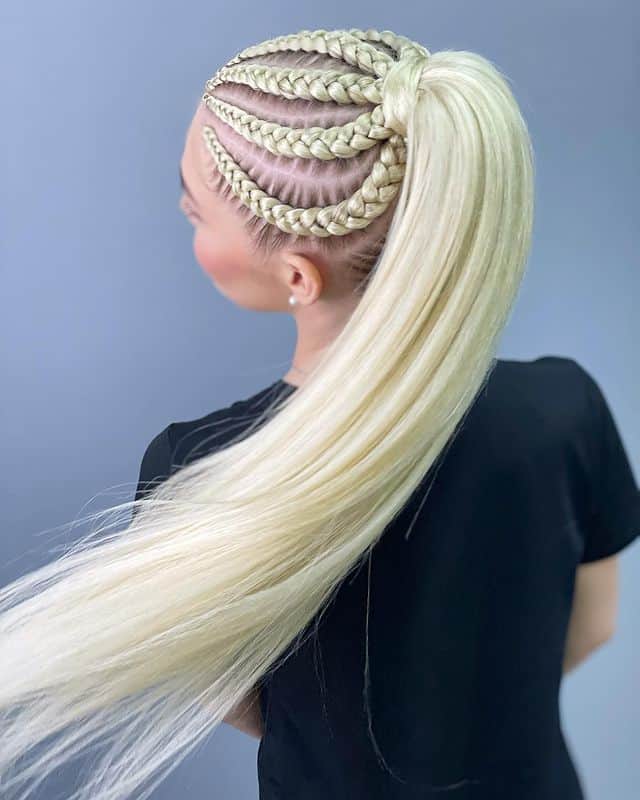 Image Source
These thick, straightened blonde locks, styled in a high ponytail, begin with cornrow-sectioned Ghana braids. While the hairdo exempts you from weaving the hair from root to tip, it does require you to braid roughly a quarter of the length. The braids flow into a pool of blonde locks, bunched up into a high ponytail with a thick section wrapped around the scrunchy to conceal it.
These Ghana braids are a great escape from the monotonous texture of a simple ponytail.
37. Lilac Balayage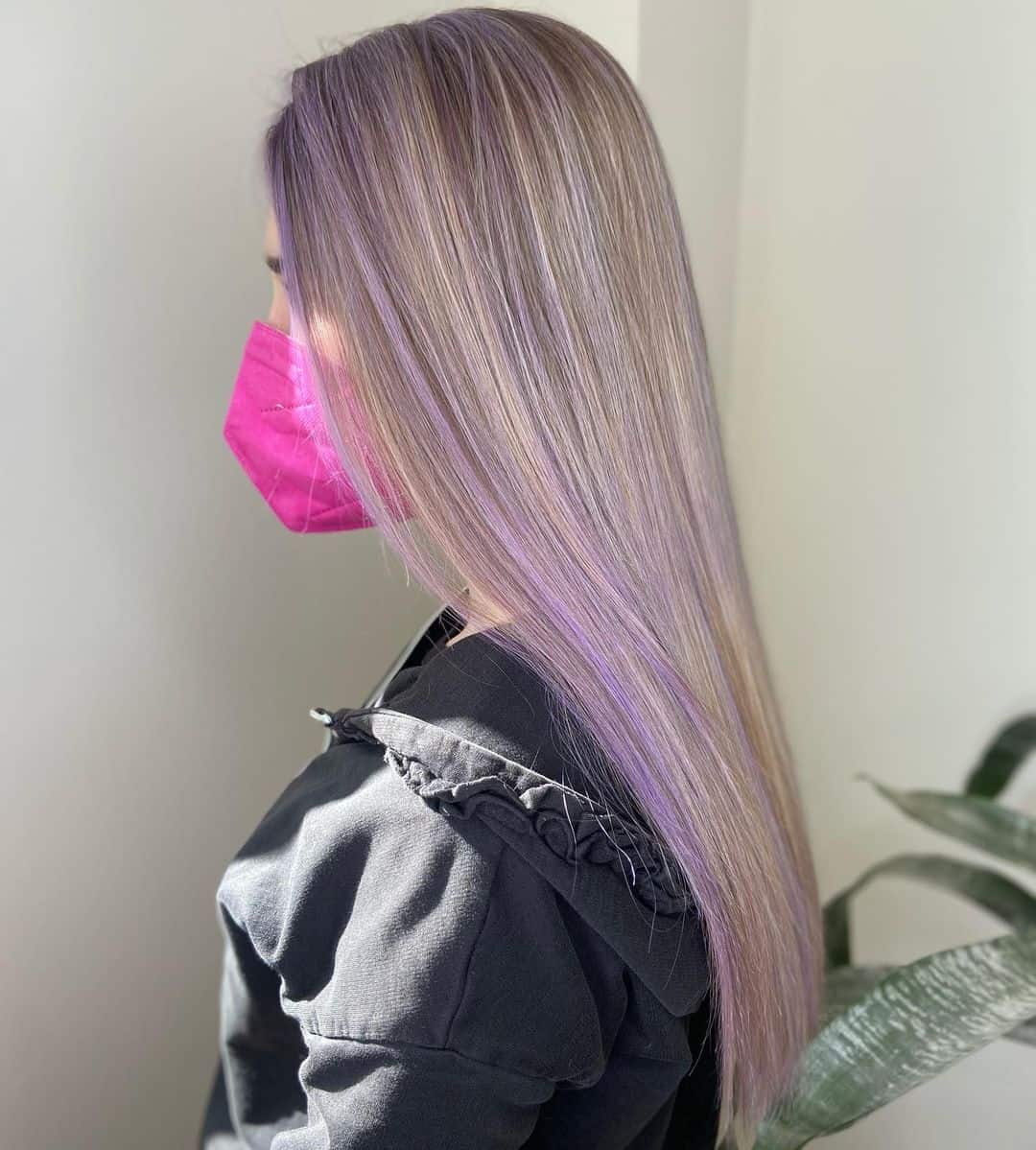 Image Source
Infuse color and character into straightened brown hair with an unlikely pairing of lilac highlights. This hairdo makes use of a lilac balayage that integrates with the natural brown hair seamlessly without overpowering its natural hue. Pastel shades add a lovely, soft touch that is perfect if you are not looking for something too over the top.
You can sport this hairstyle with darker-toned outfits for a versatile, contrasting, everyday look.
38. Black Blunt Bob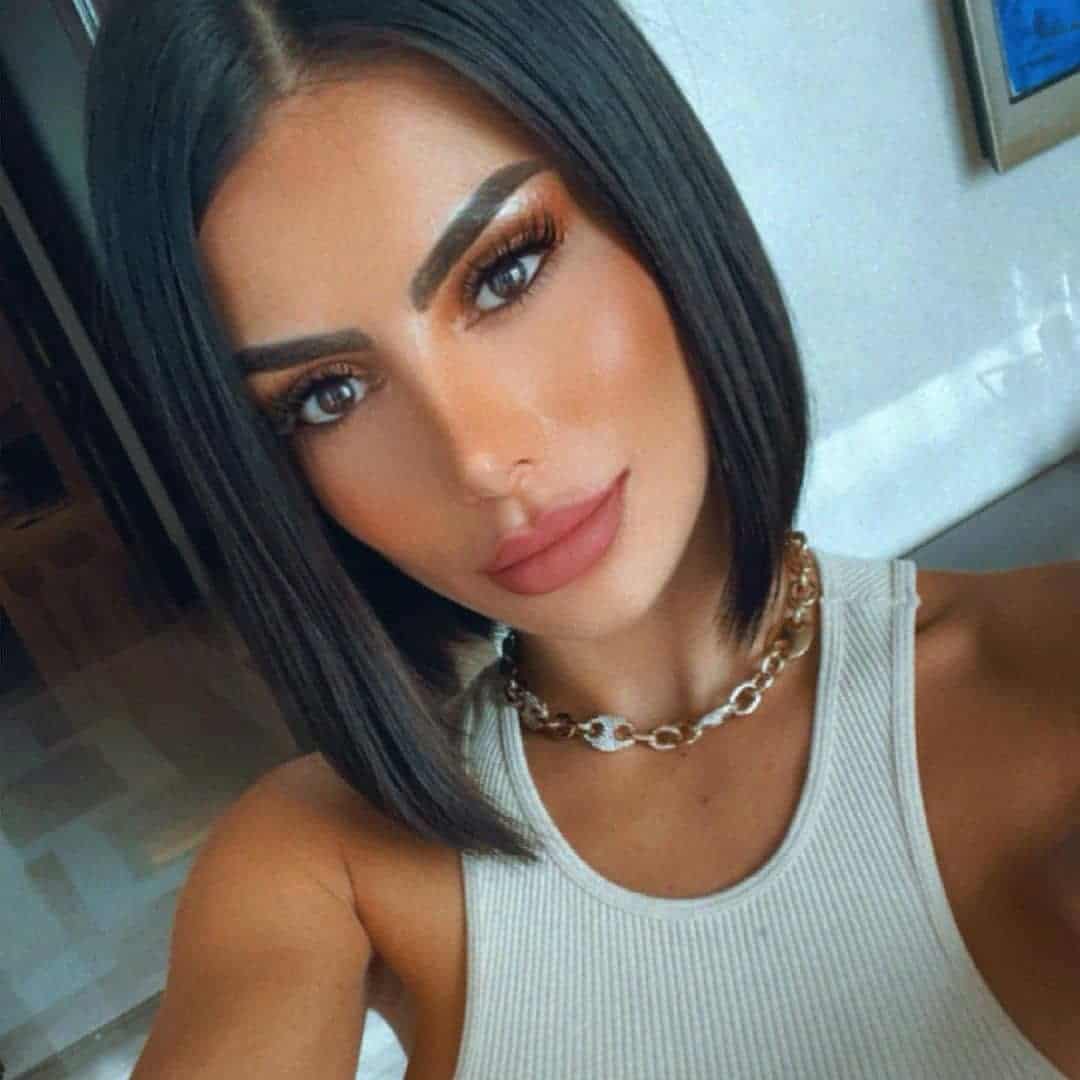 Image Source
A blunt bob is a simple yet dynamic haircut to pull off a short hair look in style. This middle-parted, straightened hairdo ends with sharp tips that gently hover above the shoulder, curled inwards for a voluminous, bouncy look. Keep your natural hair color intact, although you can opt for brighter tones such as blue and pink to switch things up.
Sport this style with nude makeup and consider polishing it off with a neutral-toned outfit.
39. Vermilion Red High Ponytail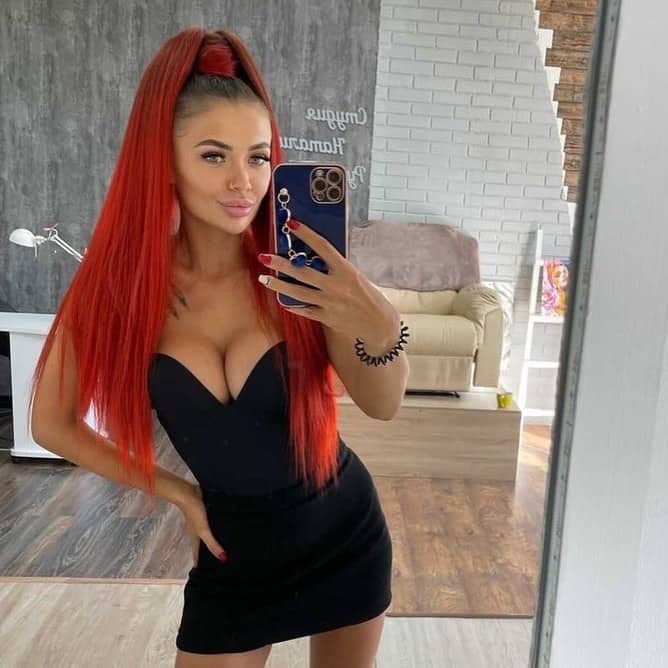 Image Source
Add a bright pop of color derived from the red palette to long, straightened cocoa brown hair. This voluminous updo begins with natural brown roots fading into a vermilion red hue that saturates the long locks down to the tips.
The rusty-hued hair, bunched up into a high ponytail, rests graciously atop the crown of the head. A thick lock of hair wraps the base while the voluminous hair sprouts from it, elegantly resting on the shoulders.
40. Vanilla Blonde Blunt Bob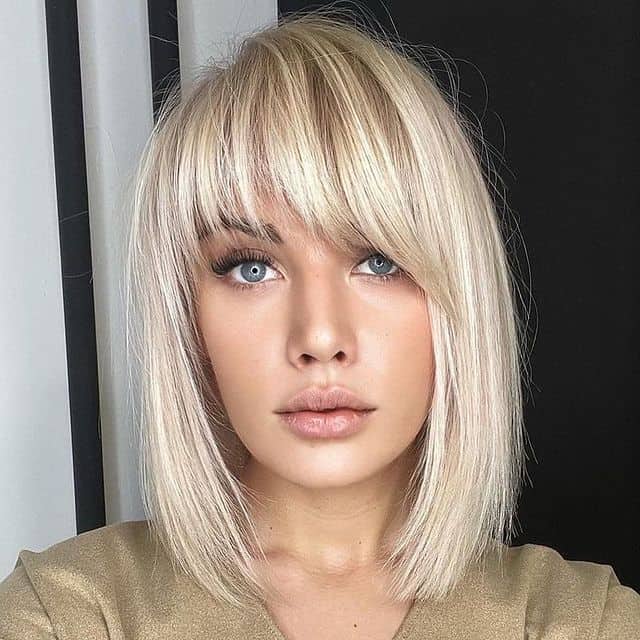 Image Source
Try a blunt bob for a chic look with short, shoulder-length hair. Pair this cut with side-swept fringes that frame the face with feathery ends, transitioning from short to long sideways, gently grazing the cheekbones, breaking the regular pattern of blunt bangs.
This hairstyle begins with blonde roots that seamlessly fade into a vanilla hue till the choppy ends, softening the overall look with a subtle touch. The curled tips make the hair look bouncy and voluminous.
41. Scarlet Red Hair With Micro Bangs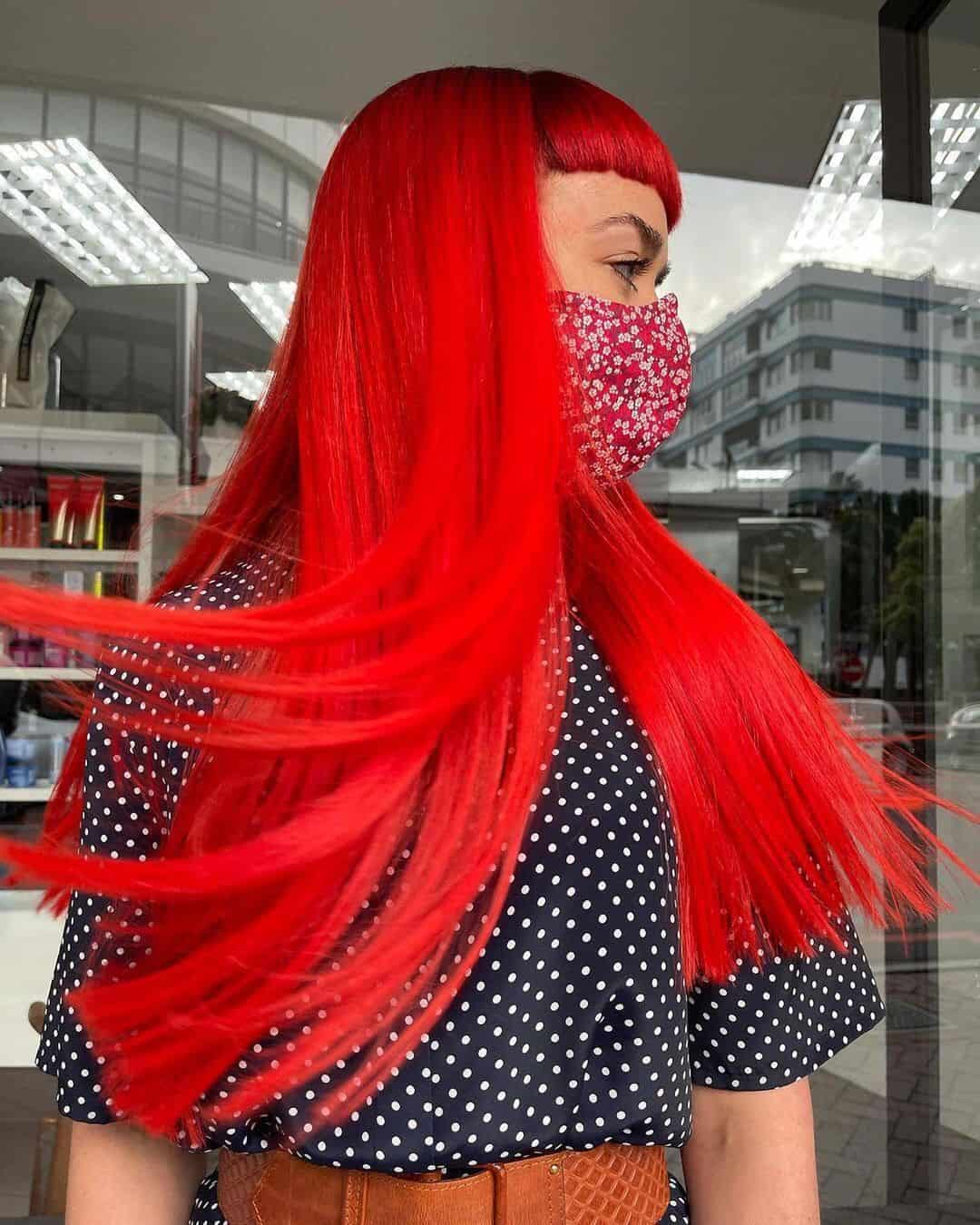 Image Source
Blunt cut, straight across hair is the perfect muse for a hair straightener. The lack of layers creates a uniformly thick set of locks that end in straightened tips, making for a neat, voluminous hairdo. Consider taking things up a notch by adorning the hair with a scarlet red hue beginning at the roots to the sharp ends.
The natural color of your hair might start to show at the roots with time, but that's no reason to consider getting a touch-up as it creates a unique blend of colors. Micro bangs add a whimsical touch to the otherwise lustrous hairdo.
42. Lava Straightened Hair With Braids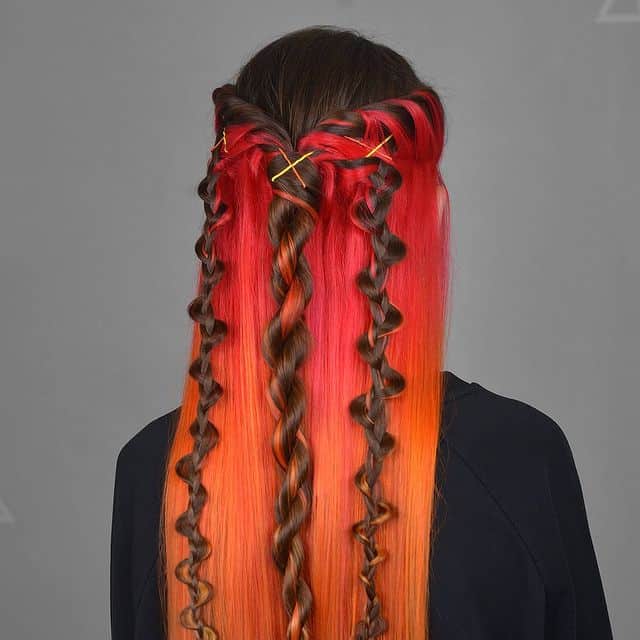 Image Source
Texture, length, and color overflow, quite literally, in this stunning hairdo! The straightened, smoothened-out locks, infused with an impressive lava ombre consisting of crimson red, fades into an orange hue, with the transition sporting a subtle yellow tinge. Thick sections of hair from either side, twisted on themselves, form a crown that leads to a central two-strand braid.
Two thinner, gently teased braids, offset from the braided crown, run parallel to the thick center braid, adding softness and texture to the hairdo.
43. Sectioned Ponytail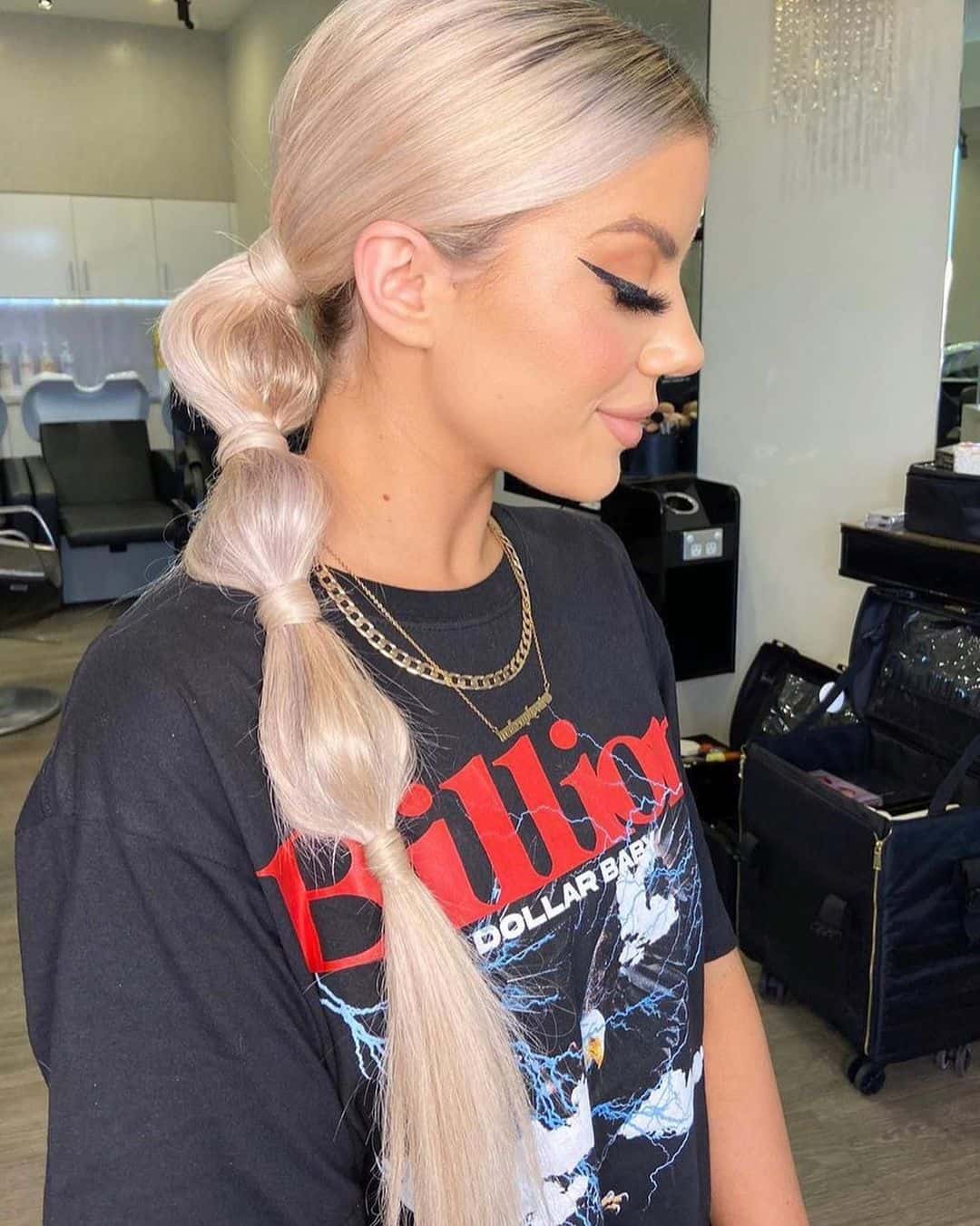 Image Source
This pasty blonde mid-length hair employs a simple and effective technique that is perfect if you are looking for a low-maintenance and simple-to-pull-off look. The straightened hair, styled into a low ponytail, neatly aggregates every strand of hair with a strand of hair wrapped around the base.
Scrunchies with sections of hair wrapped around them, equally spaced from each other, tied along the length, forms a pipe of gently teased hair with the ends flowing.
44. Rich Brown Ponytail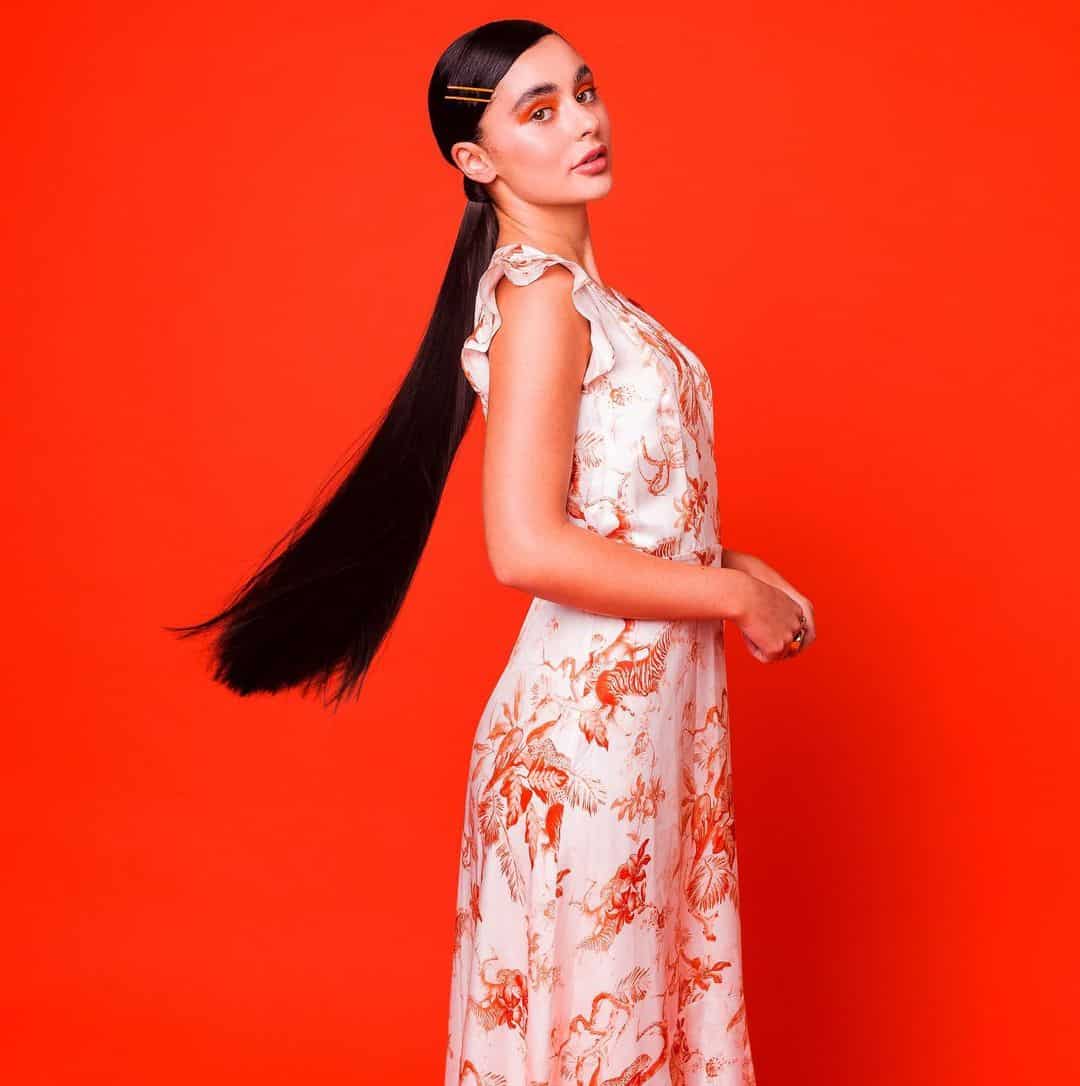 Image Source
Long, straightened hair looks stunning when pigmented with a rich brown hue from the roots to the tips. Stylize these long locks with a neatly tied side-parted low ponytail secured with a black scrunchie at the nape, allowing the hair to dangle, showcasing the sharpened ends.
Hair gel or spritz of a hair setting spray helps keep this hairdo intact for long hours, while two golden bobby pins juxtaposing on the bangs complete this look.
45. Cobalt Blue Micro Bangs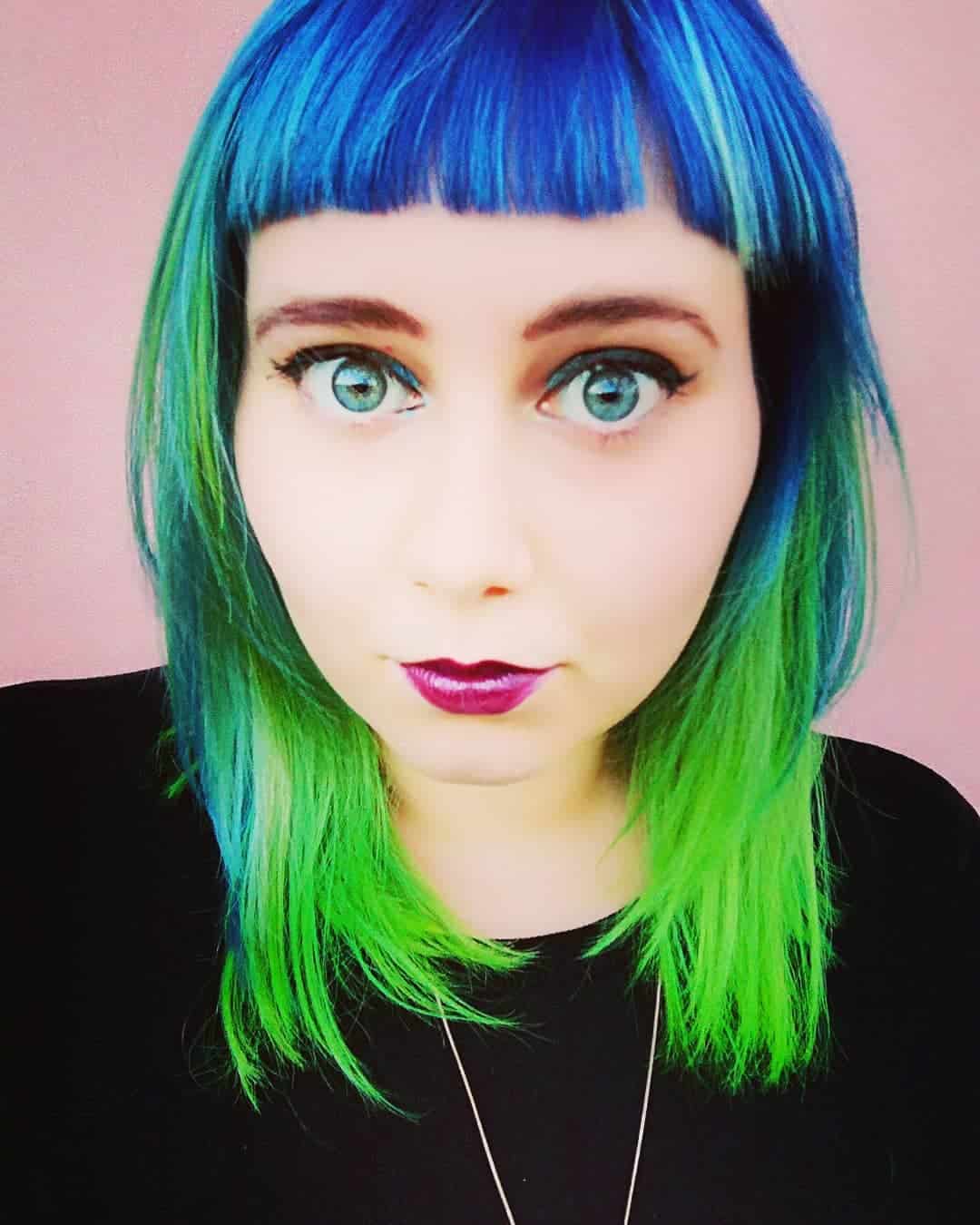 Image Source
A modern mullet is a chic and easy-to-maintain hairstyle to sport if you have short hair. Micro bangs serve as the perfect accompaniment, balancing out the sharp ends. This hairdo sports vibrant shades of neon blue and green, adding a whimsical touch.
This style begins with a blend of cobalt and pacific blue staining the micro bangs boldly, while neon green highlights saturate the rest of the locks, allowing for a bold statement with these bright pops of color.
46. Fishtail Braid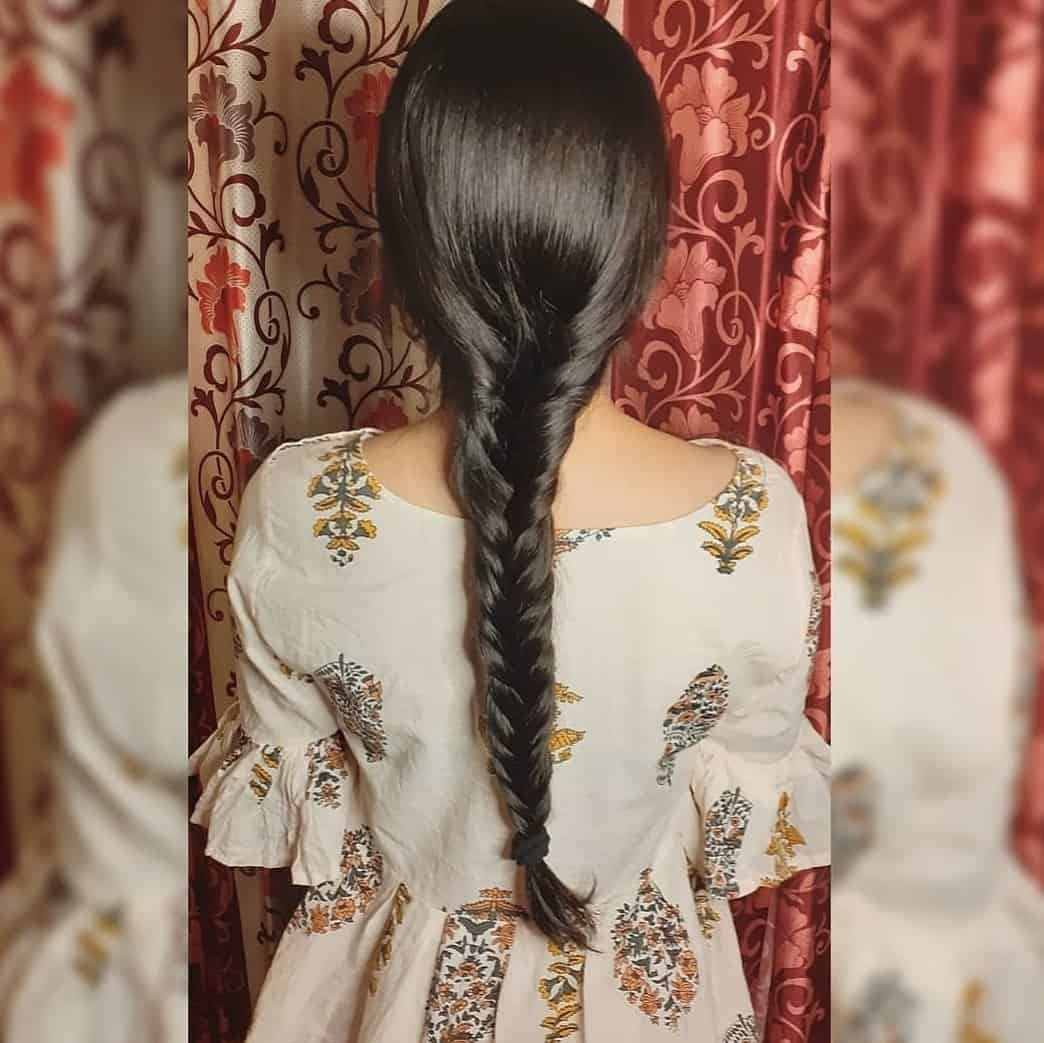 Image Source
Adorn black, waist-length, straightened hair with a traditional fishtail braid for an elegant look. A fishtail braid might seem intricate but is easy to pull off. Weave a loose-knit fishtail French braid beginning at the nape, down to the tips, securing it with a black scrunchie while leaving the sharp ends loose. Wear the braid on one side for a soft, feminine look.
Consider adorning the braid with floral clips or hair accessories and sport the hairdo with neutral-toned outfits.
47. Pink and Gold Balayage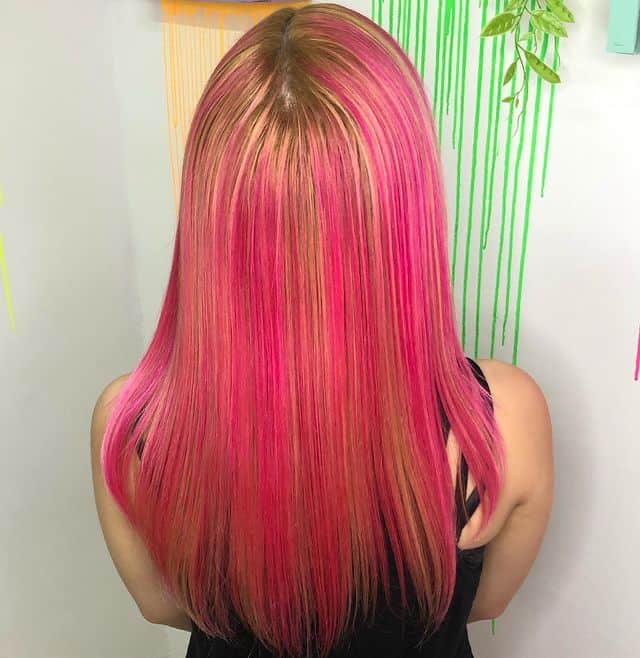 Image Source
A layered haircut for mid-length straightened locks works exceptionally well with feathery curtain bangs that elegantly frame the face. This hairstyle begins with shadowy light brown roots fading into golden highlights that meet a neon pink balayage. This technique gives rise to a beautiful rose gold tinge all over the hair till the uneven smoothened-out tips. Consider sporting this hairdo with an all-black attire to bring about a contrasting effect.
48. Double Twisted Ponytail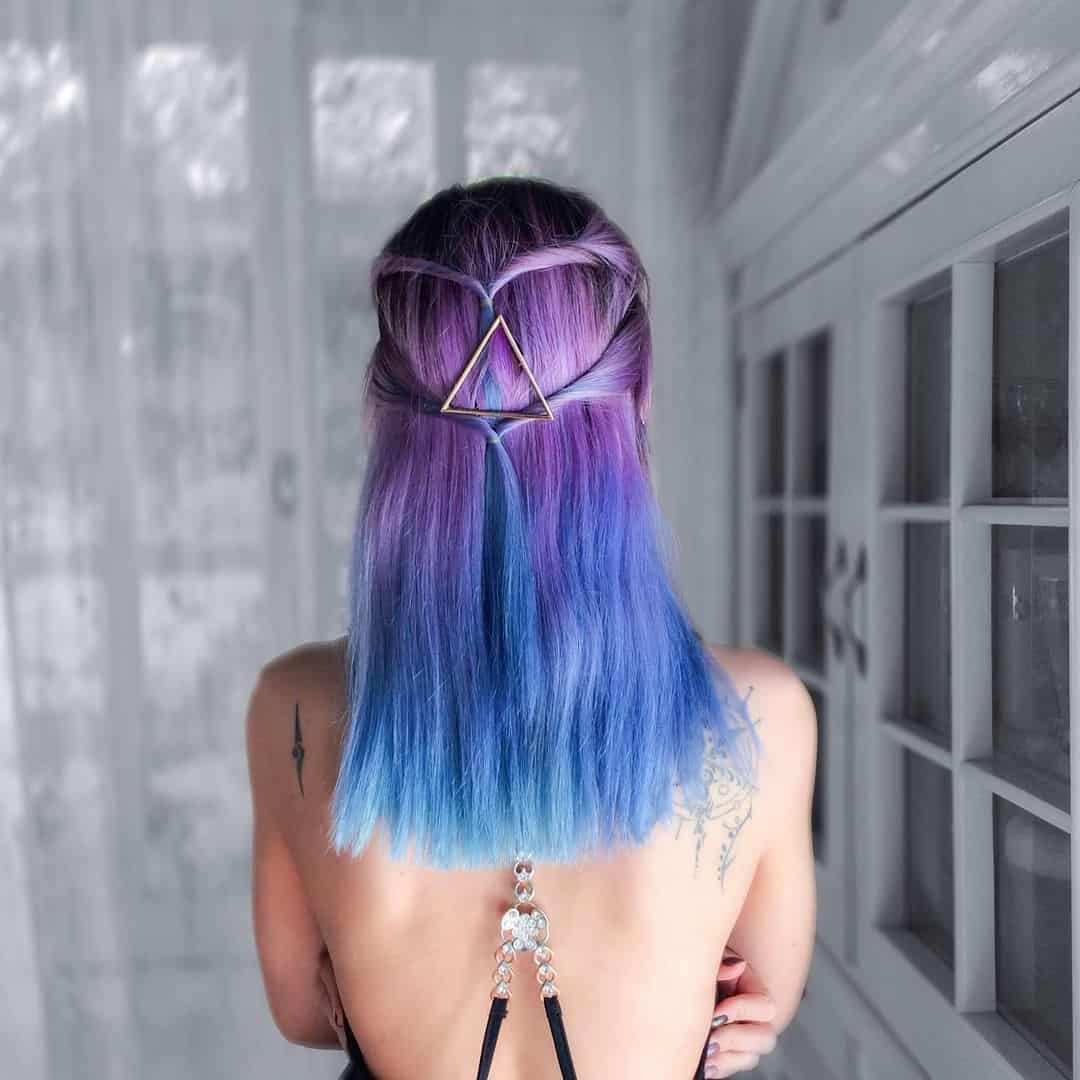 Image Source
This hairdo consists of three deep tones, giving rise to a unique ombre. It begins with jet black roots gradually fading into a violet hue midway before effortlessly blending with a sky-blue shade cascading graciously towards the tips. Two rows comprising sections of hair twisted on themselves meet at the center in a ponytail, separated by a triangular golden clip. The play of color and textures in this stunning hairdo makes it an absolute stand-out!
49. Purple and Blue Highlights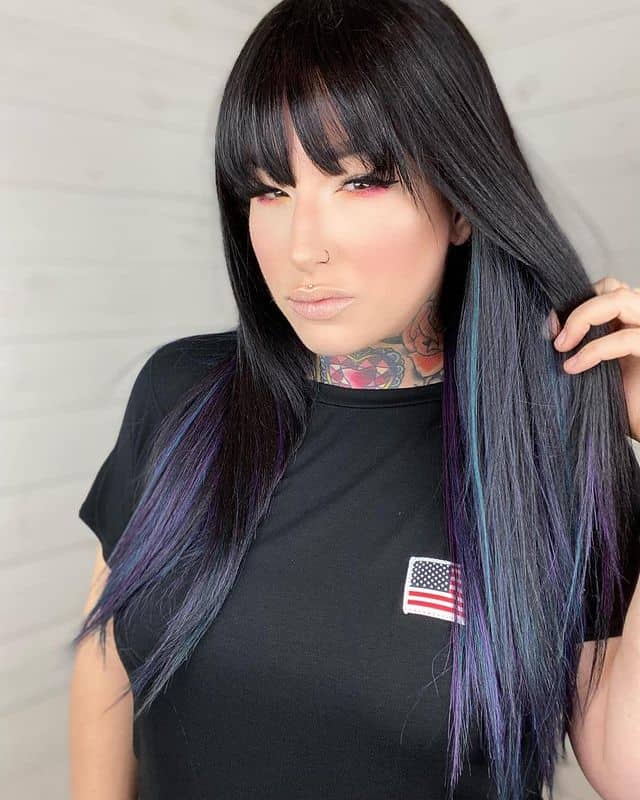 Image Source
Long, jet-black, smoothened-out hair looks stunning when worn straight and sleek, but there's always a way to make it look better. This hairdo, when paired with Birkin bangs that graze the eyebrows, accentuates the overall look. Bright-hued highlights such as sky blue and dark purple highlights infuse a fun vibe to this single-toned hairstyle.
The hairdo works well when left open, though you can experiment with braids or ponytails to style it.
50. Mohawk Braid Ponytail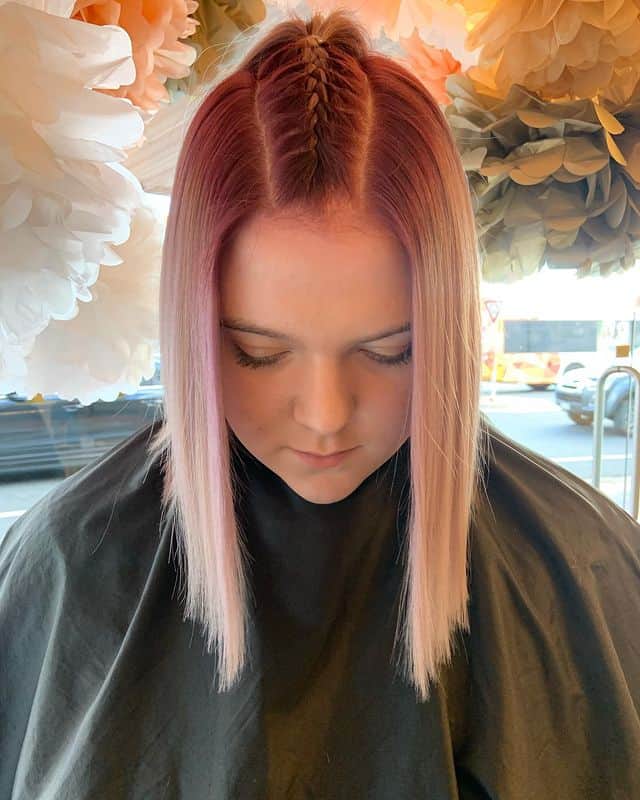 Image Source
Sections of hair beginning at the hairline form a mohawk Dutch braid, secured with a scrunchy at the crown of the head before forming a ponytail that dissipates into the straightened locks. The pompadour roots gracefully blend with a wisteria purple hue that fades into a slightly lighter tone towards the choppy tips. While a straightened lob stands out on its own, this sleek inflection can accentuate it further.
51. Unicorn High Ponytail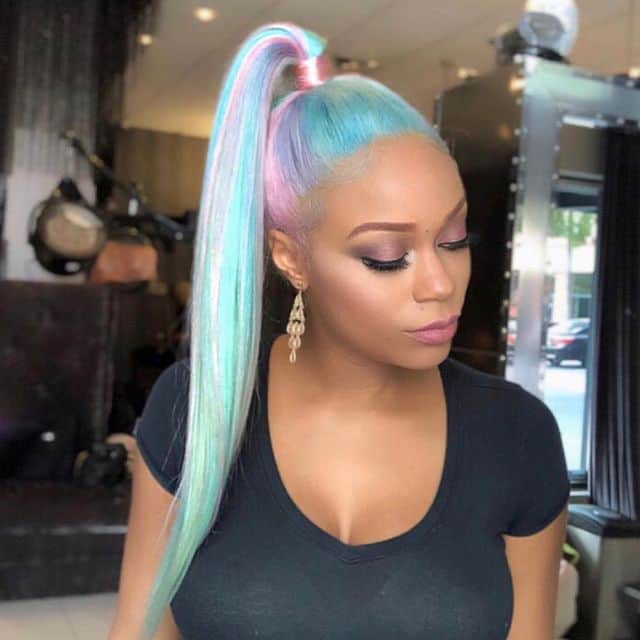 Image Source
Adorn long, straightened hair with fun colors to transform it into a bright palette. This hairdo consists of multiple vibrant shades making for a unique blend of tiffany and sky blue, violet, and a powder pink hue that works together perfectly, beginning at the roots down to the tips. Stylize this unique hair color in a neat high ponytail, securing it with a scrunchie and a rose gold ponytail cuff that accentuates the unicorn vibe of this updo.
52. Pastel Ombre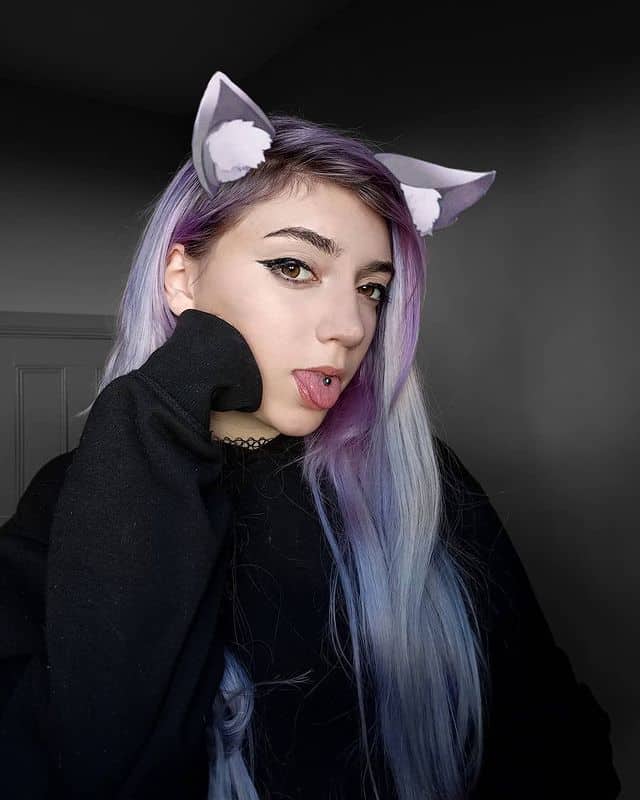 Image Source
This hairstyle begins with cocoa brown natural hair that blends with a grape tinge which softens before seamlessly fading into a light blue hue staining the locks till the ends. The unison of the blue and purple shades gives the hairdo an overall greyish pastel tone. The wavy bangs, along with the straightened locks, add texture and volume to the hair.
Flaunt this whimsical combination by leaving the straightened locks open, polishing it off with chic hair accessories.
53. Waterfall Crown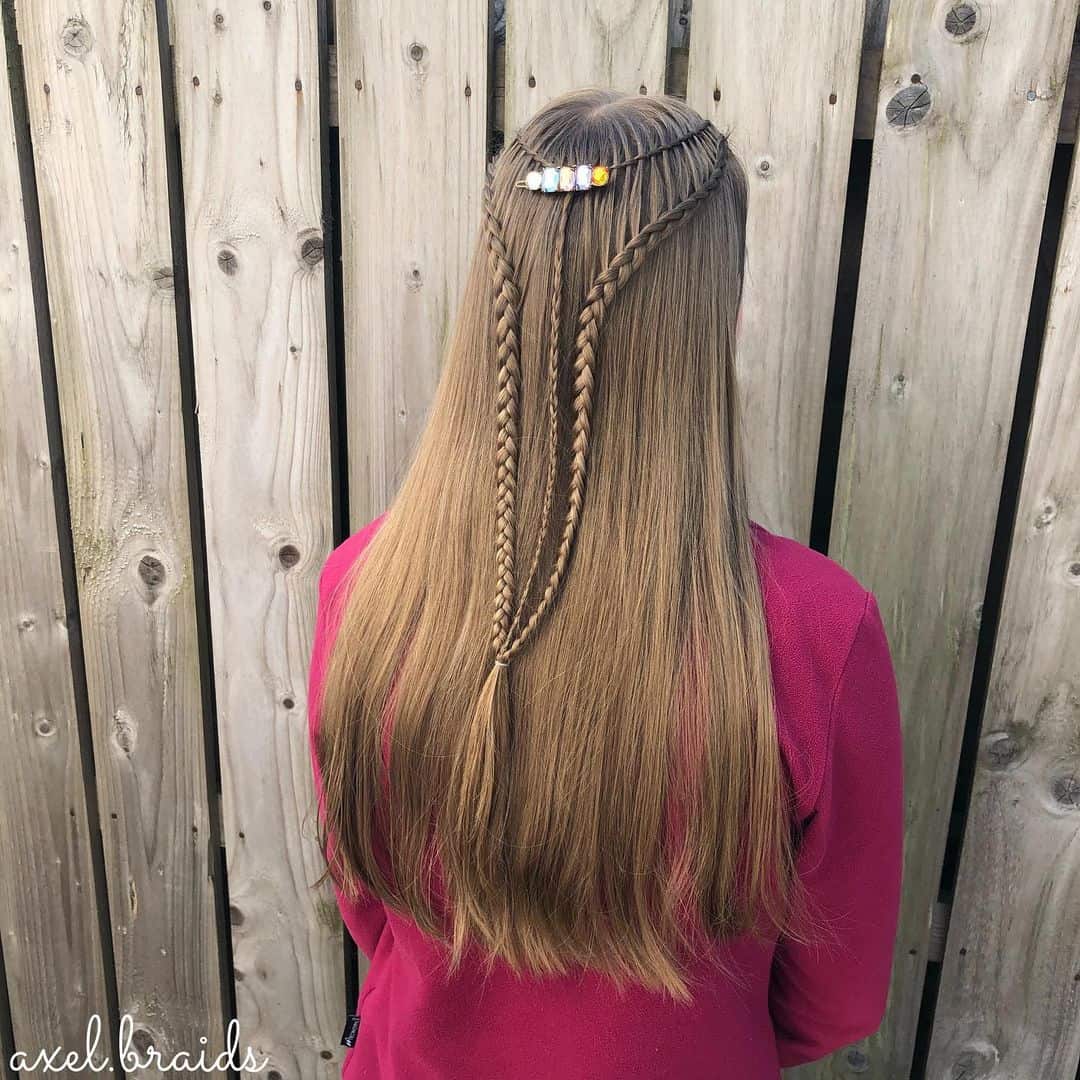 Image Source
This elegant hairdo starts with a thin braided ring that gracefully rests on the crown of the head, allowing sections of hair to cascade through it before being engulfed by two regular three-strand braids. These braids meet at roughly a little over mid-length, where a scrunchy secures them together. The braids rest on a pool of straightened locks with slightly wavy tips, finished off with the addition of a jeweled hairpin.
Tips for Taking Care of Straightened Hair
If you want to keep your tresses healthy, shiny, and under control, keep these tips at the tip of your fingers!
Watch Your Diet
Ensure that you reduce excessive intake of oily food if you have oily hair. Straight hair can look lifeless if there is an excess of oil in your system. Include leafy greens, lentils, nuts, vegetables, and fruits in your diet to promote healthy hair.
Use a Mild Shampoo
Proper shampooing is essential for healthy, straight hair. Wash hair with a mild shampoo that doesn't have sodium laureth sulfate, as this component dries out hair, making it brittle. You can even use a gentle straightening shampoo for a bit of extra help keeping things straight.
Use Mild Conditioners
If you have dry hair, make use of a moisturizing conditioner. For oily hair, however, you need to apply conditioner to the tips of your hair only to prevent over-conditioning, which can leave straight hair limp, reducing its shine.
Brush Hair When Dry
Brushing wet can hair can cause it to stretch and break. Instead, make use of your fingers or a wide-toothed comb to remove knots.
Keep Styling Simple
Blow-drying removes moisture from your hair which is why it is best to avoid it entirely. Watch your use of excessive use of heated styling tools as the damaging effects will show on your hair in a short period.
Don't forget that straight hair is prone to split ends – stylists recommend getting a haircut every four to six weeks.
Guard Against Static
To guard against static, spray your hairbrush with a Static Guard. If you wear a hat or scarf, apply a little bit of the guard to it.
Final Thoughts
The number of ways to style straightened hair is aplenty – the key is to play with textures, colors, and varied hairstyles to spruce up the regular sleek vibe straightened hair brings about.
If you are hellbent on ensuring your hair is bend, curl, and wave-free, permanent hair straightening is the solution. Keep in mind that the results depend on your hair type, how quickly your hair grows, and the method you use to straighten your hair.
If you do not want to resort to heat to straighten your hair, you can opt for blow-drying with cool air, wrapping your hair with a scarf, sleeping with wet hair, using a hair mask, shampoo, conditioner, hairspray, or leave-in conditioning products aimed at straight hair.