Are you looking for some rose tattoo ideas? You've come to the right place! Rose tattoos are classic and traditional, but that doesn't make them boring or mundane. This is because the rose is a beautiful flower that holds a lot of meaning.
What Do Rose Tattoos Mean?
Roses have had symbolic importance, across many cultures, for centuries — especially as representatives of love and beauty. The meanings can get more specific depending on the context.
Language of Flowers
If you're familiar with the language of flowers, you know that the type of love each rose represents depends on its color: red roses represent romantic or passionate love, pink ones represent platonic love, and blue ones represent intrigue. If you're not looking to send a deep message, a simple black and white tattoo is the perfect neutral option!
Roses With Other Elements
Within the world of tattoos, combining a rose with animals, figures, or objects can make a statement about life in general or about the life of the person sporting the tattoo. The possibilities are endless, so we'll discuss the meaning of common combinations below.
Roses in Literature, Politics, and Heraldry
Roses hold an important place in literature, religion, heraldry, and even politics. If you identify with a book, location, or belief system that uses a rose as a symbol, proclaim your love or affiliation with a rose tattoo!
The most important thing is what meaning your tattoo holds for you. Maybe you just like the look of roses – that's fine, too!
Types of Rose Tattoos
Rose tattoos can be drawn in an endless range of styles, but the most common ones are the following:
Old-school or traditional is the old American/Sailor Jerry style of tattoos. Old-school roses look two-dimensional. They are outlined with solid black lines and then filled in with red, though other colors can add an accent.
New-school rose tattoos are inspired by old-school designs, but they have a 70s psychedelic flare, with vibrant colors and exaggerated shapes.
Realistic rose tattoos look like a real rose is sitting on top of the skin. They are picture-perfect thanks to detailed shading and can be done in grayscale or color.
Illustrative tattoos are usually done in black, though they can be filled in with color. They look like sketches from old books, so they are versatile yet sweet.
Watercolor tattoos are a modern creation, where color is inked in a way that mimics the look of watercolor paints. Watercolor tattoos are often outlined in blackwork and then filled in with splashes of color.
Oil painting tattoos are often referred to as "watercolor tattoos" but we make a distinction. Roses tattooed in this style are very feminine and romantic, reminiscent of Romantic or Impressionist paintings.
Geometric tattoos rely on geometric shapes, usually with straight lines. You can have an abstract rose drawn with straight lines or an illustrative rose cleverly combined with geometric shapes.
We've put together a gallery of stunning rose tattoo ideas in different styles to get you inspired!
1. Mini Rose Tattoo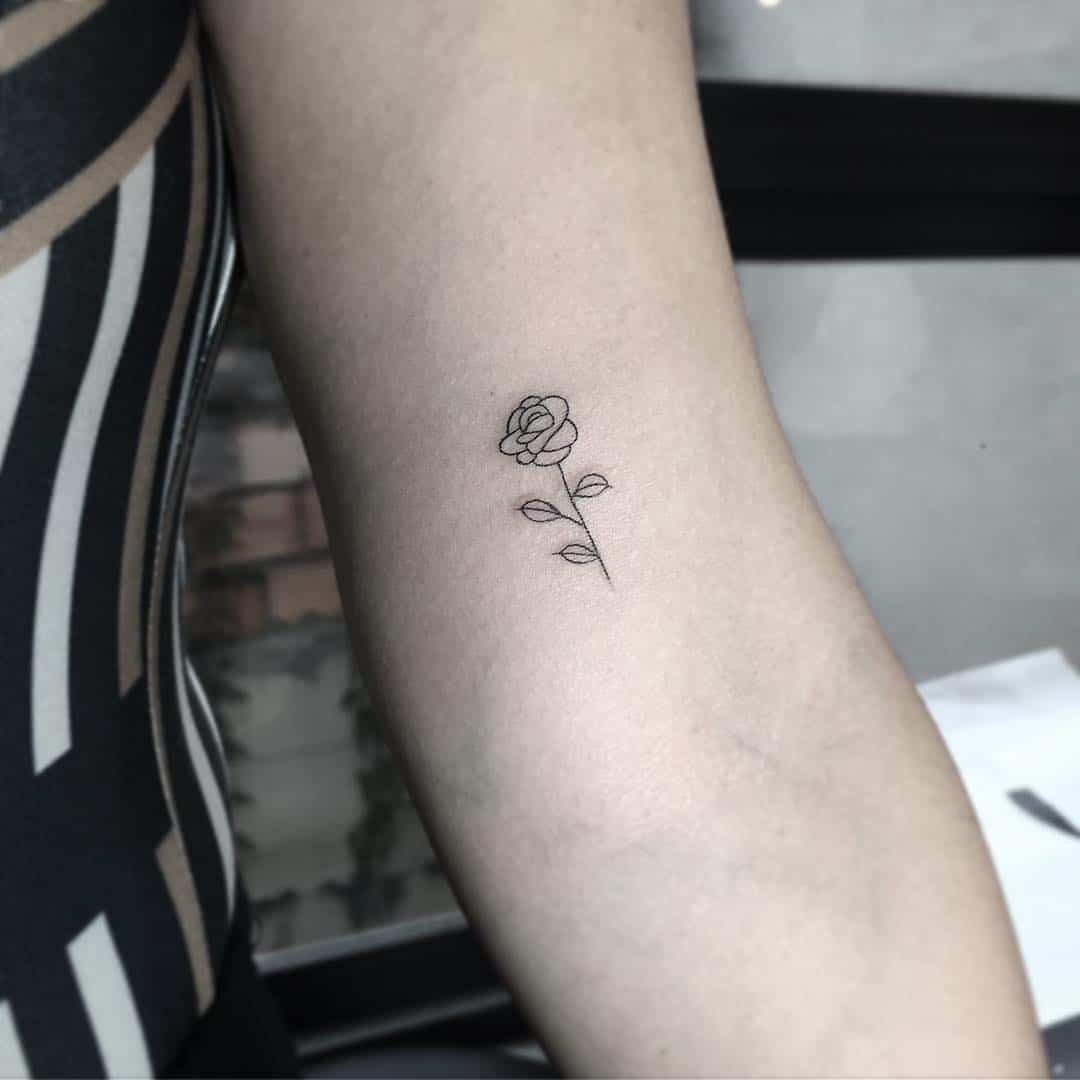 Image source
We're starting off with a small rose tattoo idea, in case you're not ready to add a massive design to your body. Itty-bitty rose tattoos are incredibly charming and playful, but they're also easy to hide. This piece is drawn in a sketchy linework style, so getting it done would be a quick and relatively painless process. It's an ideal choice for a first tattoo, especially if you're a little nervous.
2. Old-School Rose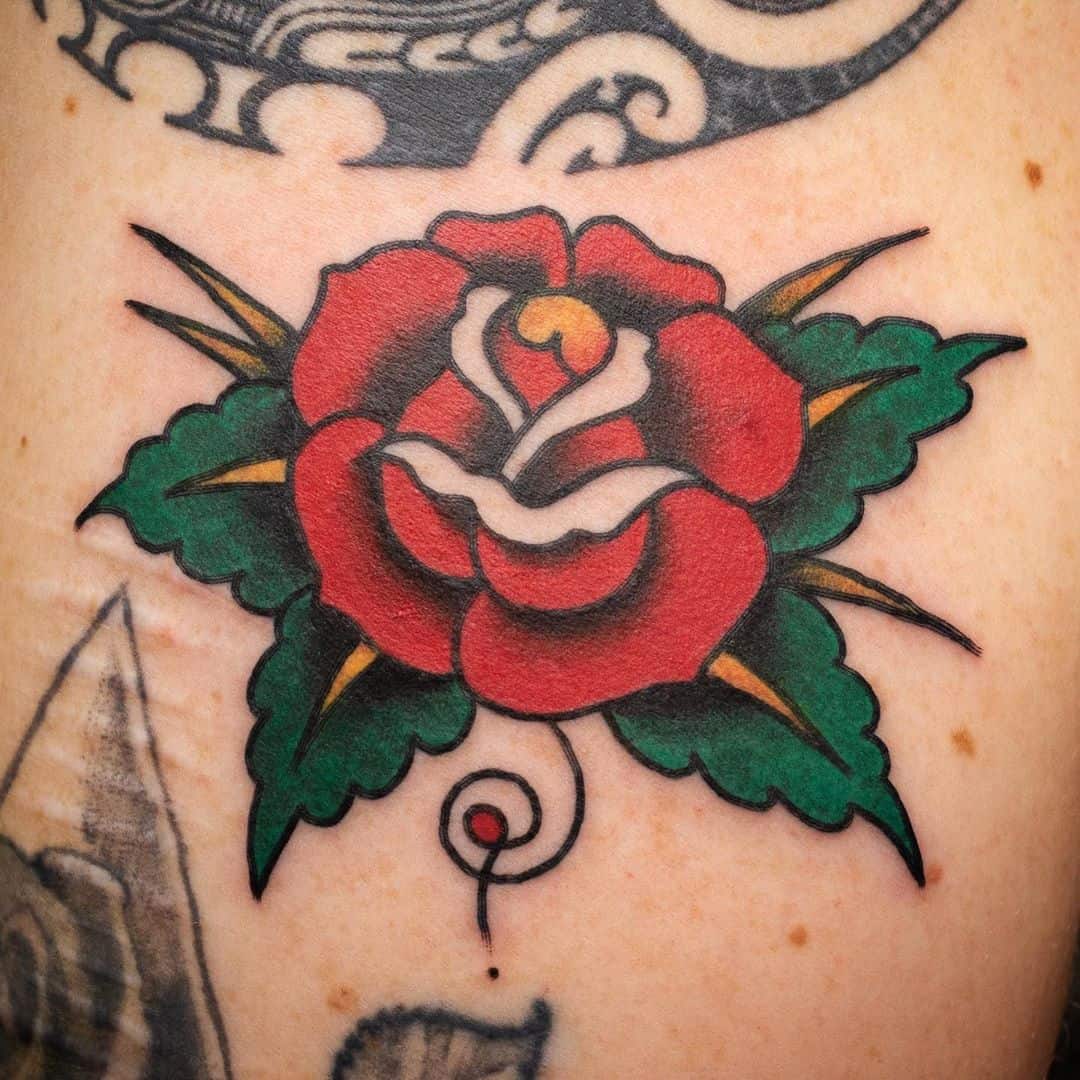 Image source
This is the quintessential old-school rose, with a solid black outline and vibrant colors for the leaves and petals. If you love the look of traditional tattoos, you may want to get something like this! It's pretty all alone, but it can also be great in conjunction with a whole collection or even a sleeve of old-school art. You can keep it vibrant and vivid, or opt for a similar piece in black and white.
3. Abstract Rose Tattoo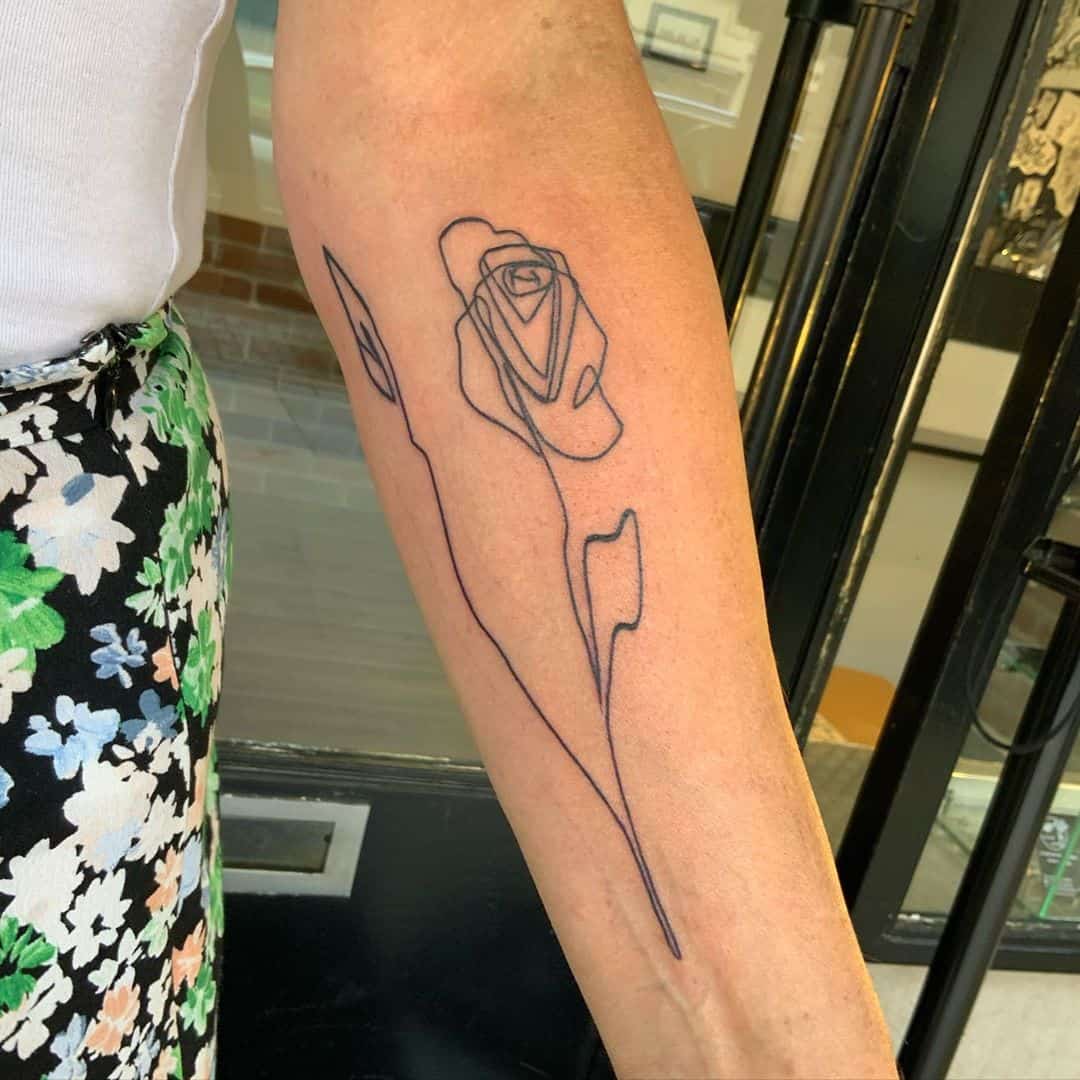 Image source
If you're the artistic type, we think you'll like this rose tattoo idea. This piece was drawn in a single connected line to create a minimalistic rose with an abstract twist, thanks to the variation in the size of the petals. It's a very modern and stylish design, and while it's quite large in this example, it could easily be made smaller.
4. Realistic Rose Tattoo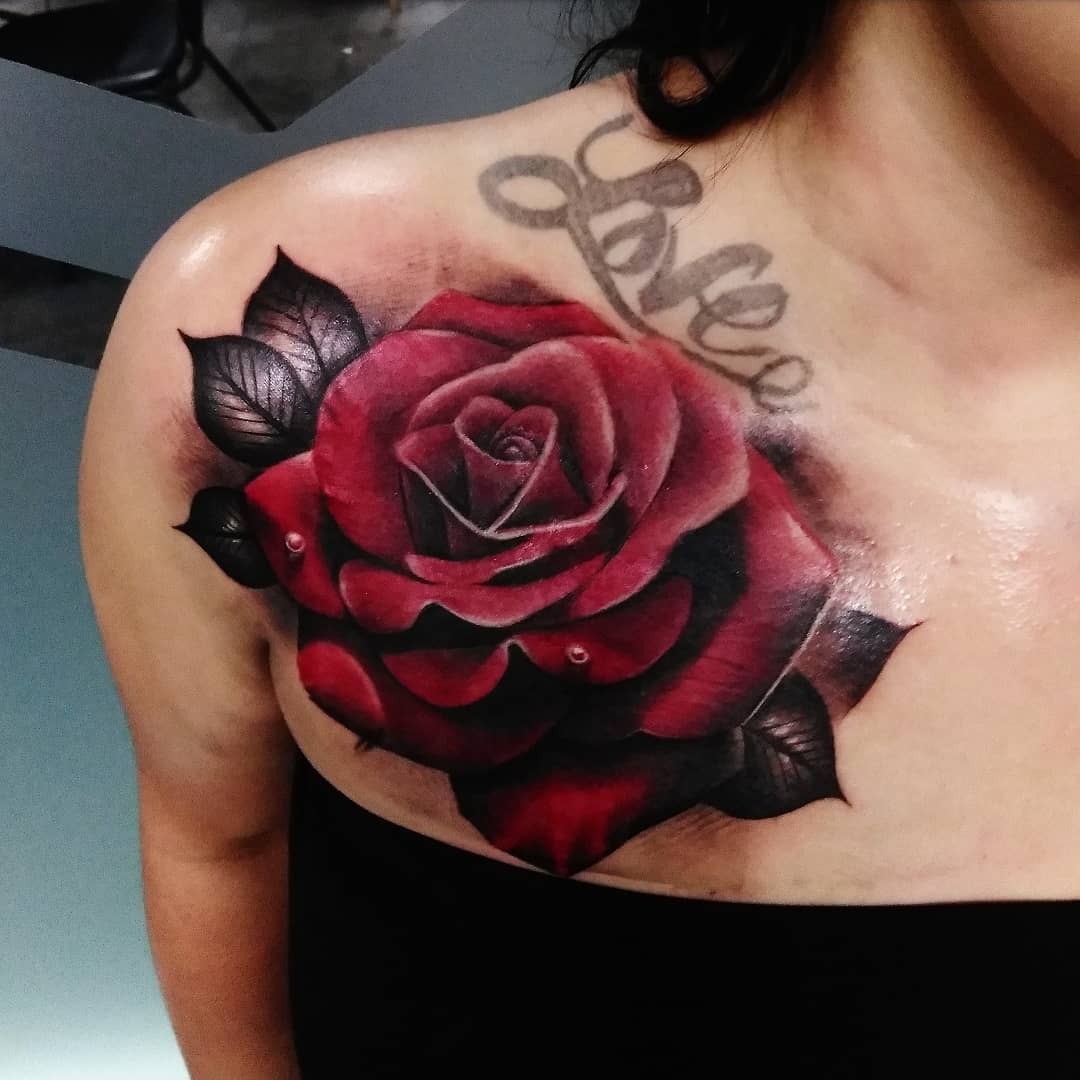 Image source
This breathtaking piece is instantly memorable, and it's suitable for anyone who doesn't want to compromise on perfection. The way light and shadow play over the red petals resembles a real life-rose! The added touch of water droplets makes the tattoo look fresh and alive. Hyperreal rose designs like this are not very common because creating them takes real skill. The final product is worth the effort of finding the right artist.
5. Romantic Rose Tattoo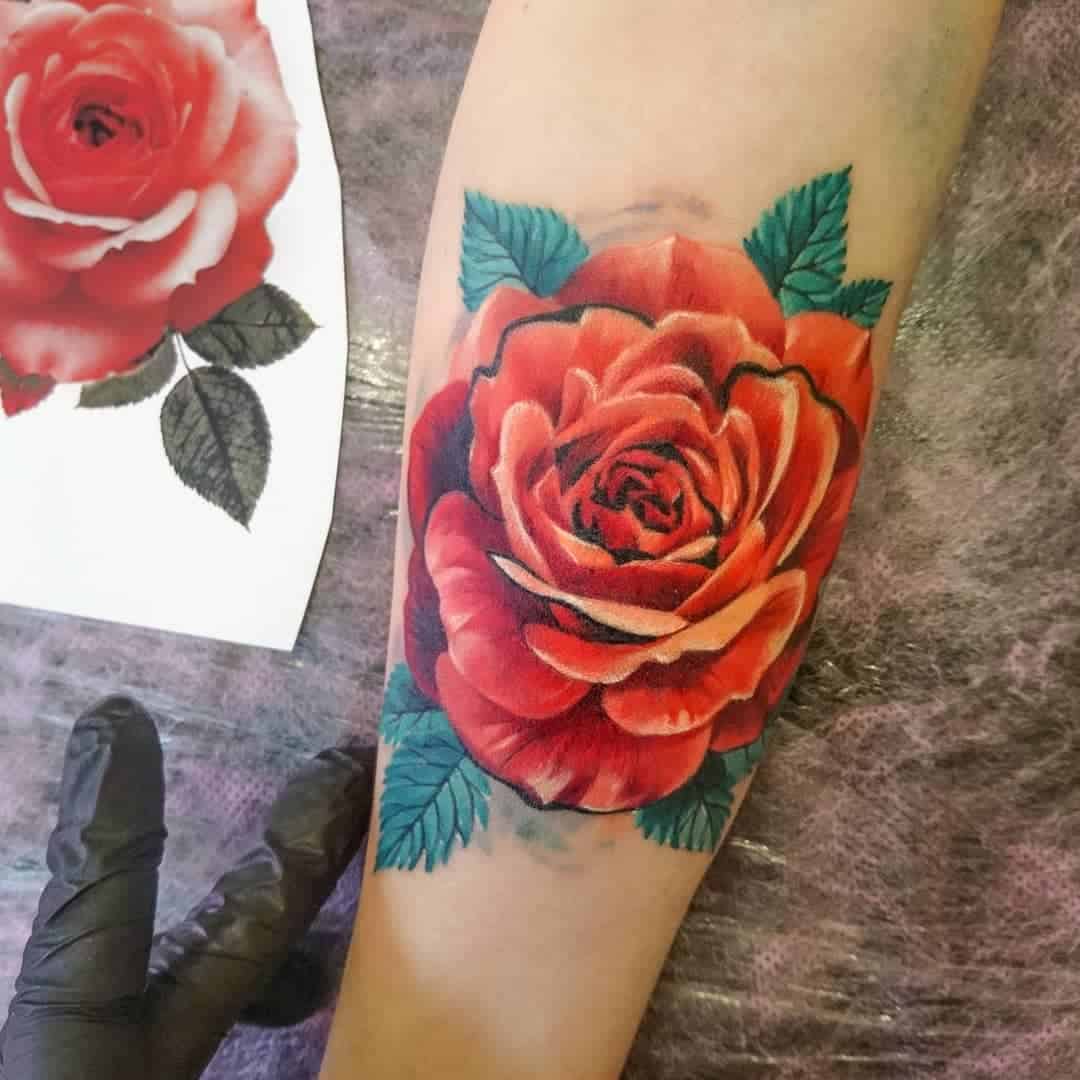 Image source
This lovely, romantic tattoo exudes beauty and femininity. It's a great tattoo to get if you have a girly streak and an intense love for florals. This kind of design mimics oil paintings beautifully, so you would have to find an artist who's good with color and realism. However, because this style is so complex, it only works as a medium or large-sized tattoo.
6. Ruby Rose Tattoo

Image source
You can get lost examining the details of realist rose tattoos like this one! The red, heart-shaped ruby is the star of the piece. The combination of the lustrous gem representing passion and the roses that represent romance leads to an intensely dramatic tattoo, fit for a person full of passion! It's made all the more dramatic by the realistic art style it's drawn in.
7. Delicate Geometry Rose Tattoo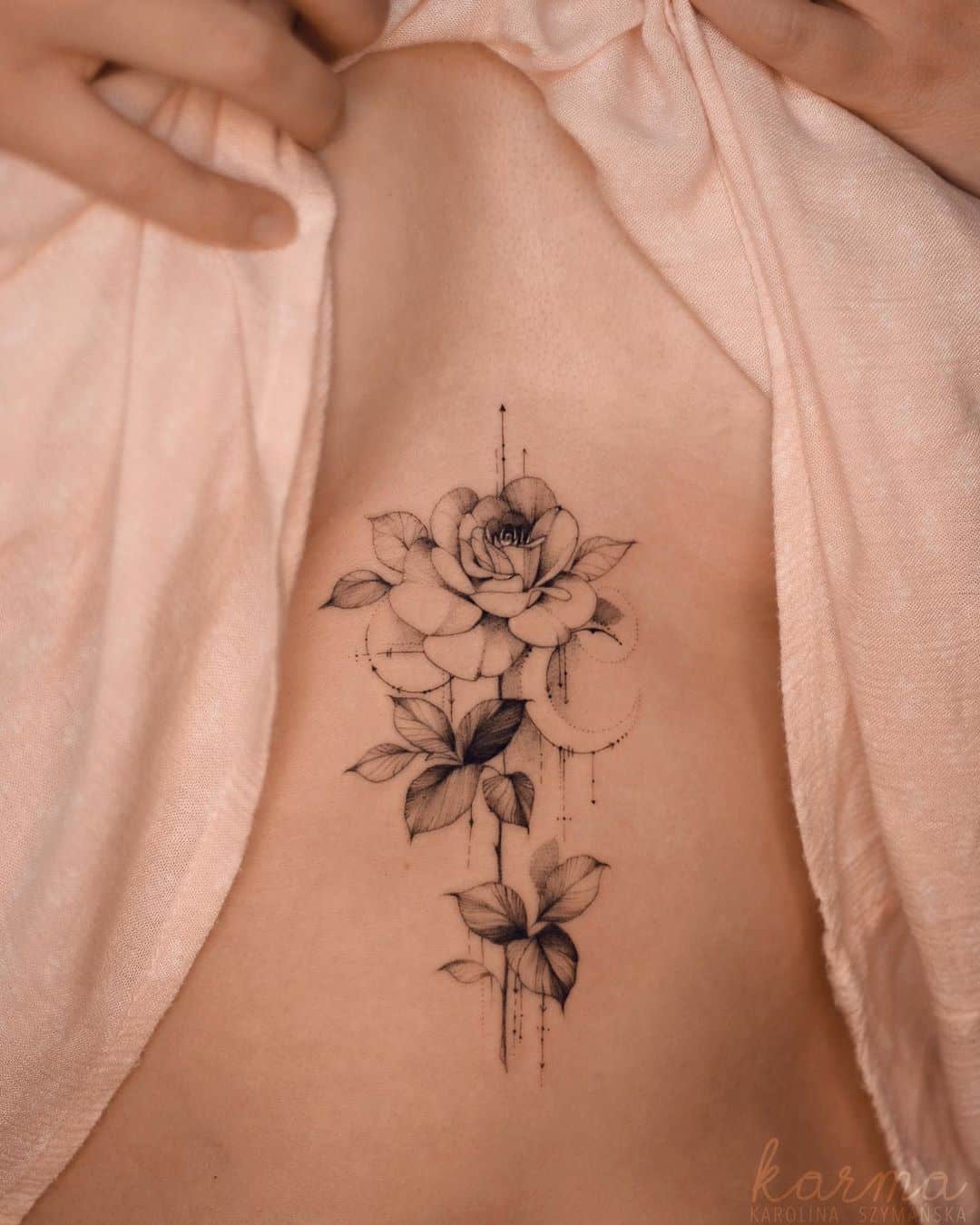 Image source
This tattoo is complex yet delicate for sophisticated tattoo lovers. The design is memorable because of how the geometric elements contrast against the round, organic elements of the rose. Careful shading and dotwork make the piece both complex and refined, while the addition of the moon in the background adds a mysterious aesthetic.
8. Snake and Roses Tattoo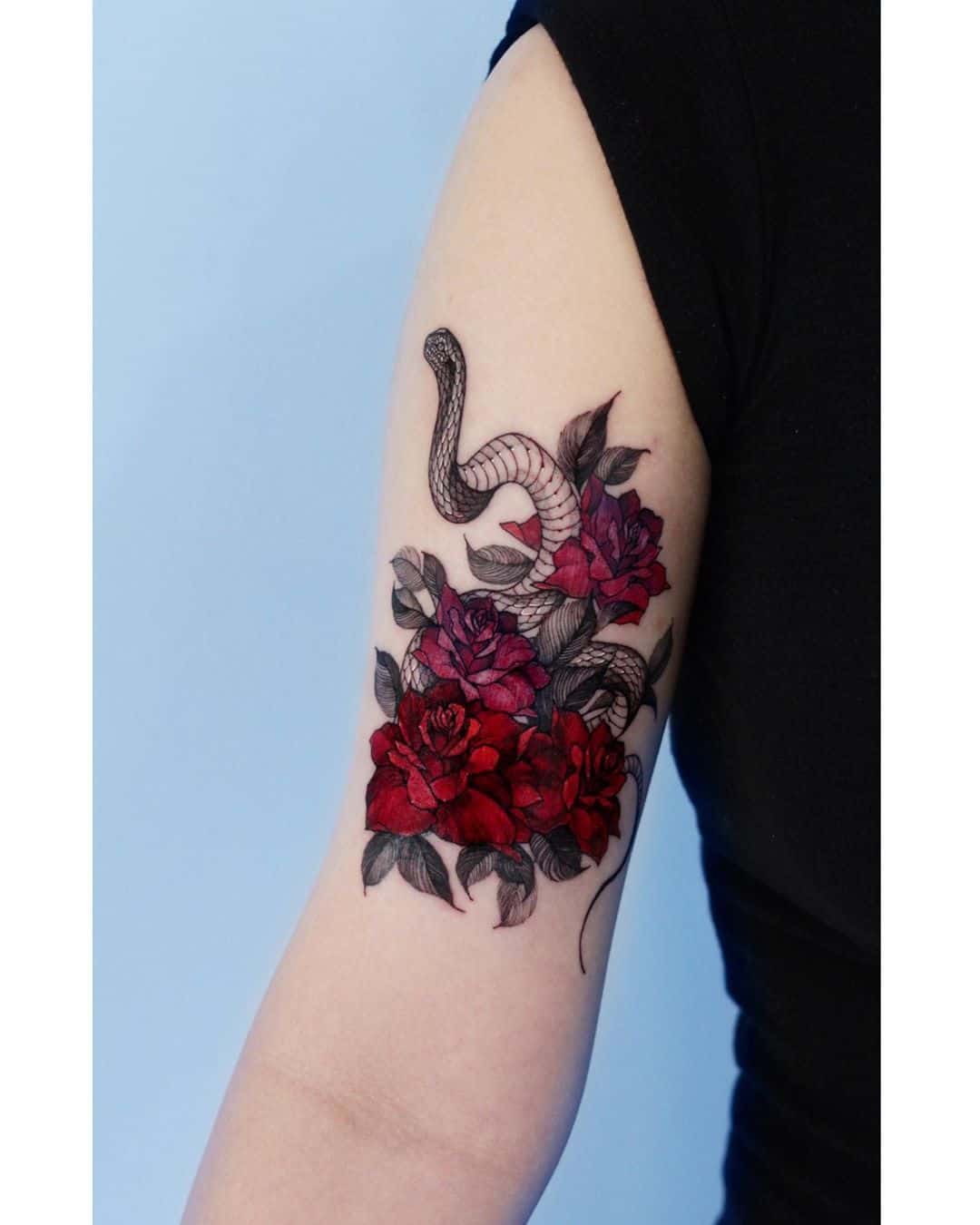 Image source
The contrast of a beautiful red rose and a dangerous snake is striking – this rose tattoo idea is perfect for dangerous women! Snake and rose tattoos often symbolize temptation or a loss of innocence. They also symbolize that danger can hide behind beauty, ready to strike when least expected. This variation on this motif is very aesthetically pleasing, with the stunning red roses standing out against the carefully-sketched blackwork snake and leaves.
9. Black Rose Silhouette Tattoo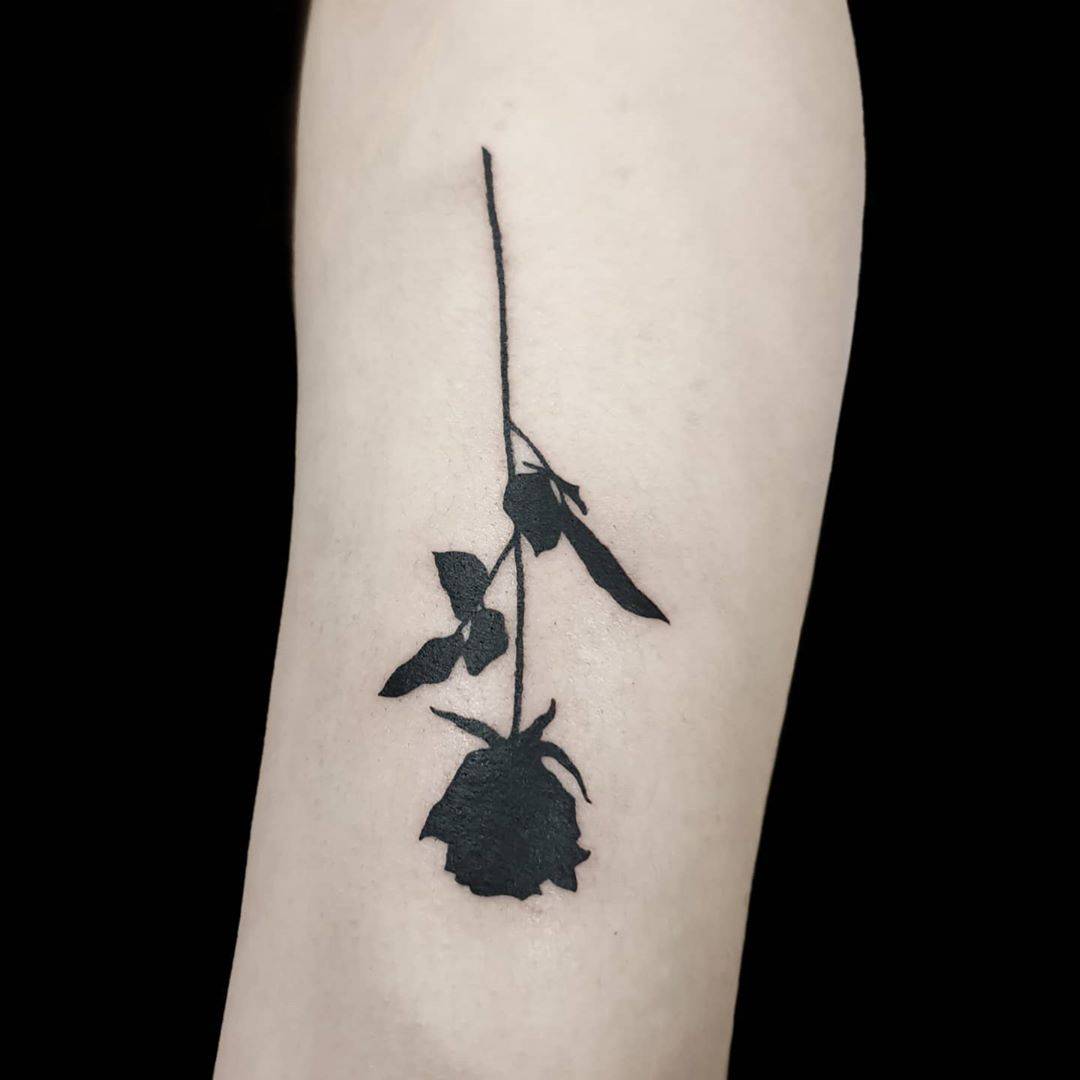 Image source
This is a very cool twist on typical small rose tattoo ideas! A black rose tattoo often represents loss, but in this instance, the all-black silhouette design can carry any meaning you'd like. You'd feel elegant with such a simple yet pretty tattoo. We do have a small warning, though: when your artist fills in all that space with black, it will hurt. Thankfully, you can also consider getting this design in a smaller size.
10. Rose and Mandala Tattoo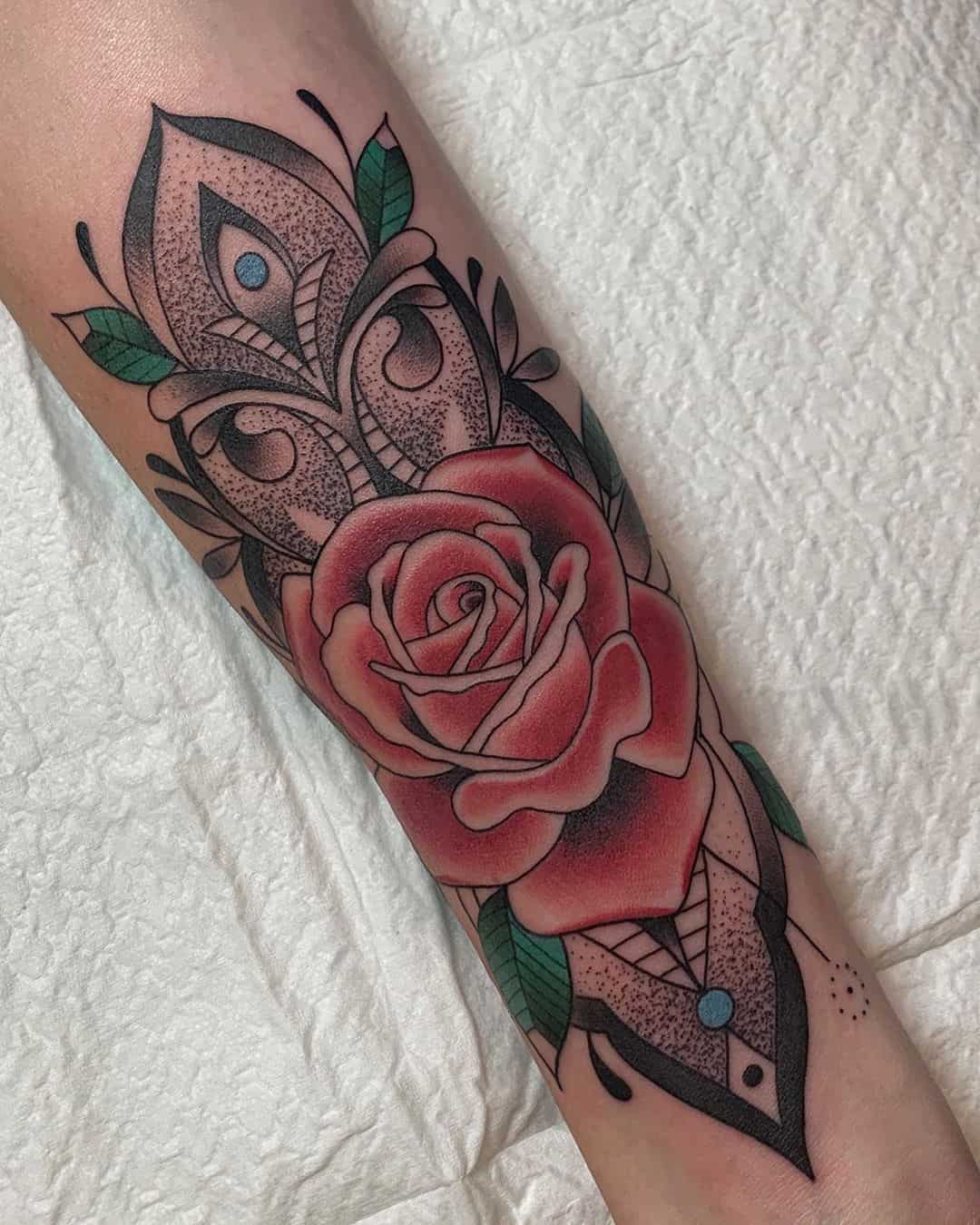 Image source
It's perfectly okay to have a single tattoo showcase different art styles. The rose is drawn in the traditional style, but it overlays a decorative mandala with dotwork elements, for an extremely pretty result. The way green leaves stick out from the mandala makes the entire piece very harmonic! If your aesthetic is a little bohemian or you have an affinity for the calming effect of mandalas, you should definitely consider this unusual combination.
11. Vivid Rose Tattoo on Collarbone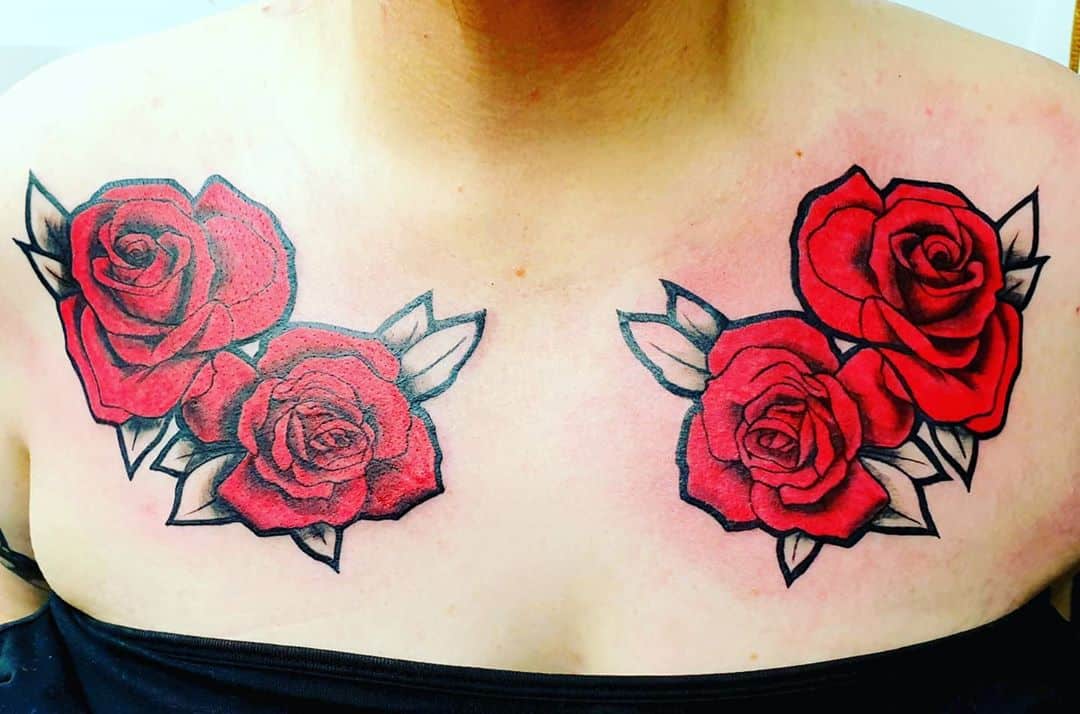 Image source
The intense pigmentation on these red roses is totally mesmerizing! This badass quad of roses is a hybrid style that combines the vibrant red color and thick, graphic black lines of old-school designs with a touch of realist shading. Even if you don't love the style, you might get some good ideas about your rose tattoo placement – symmetrical collarbone tattoos have a really cool look!
12. Floral Sleeve Tattoo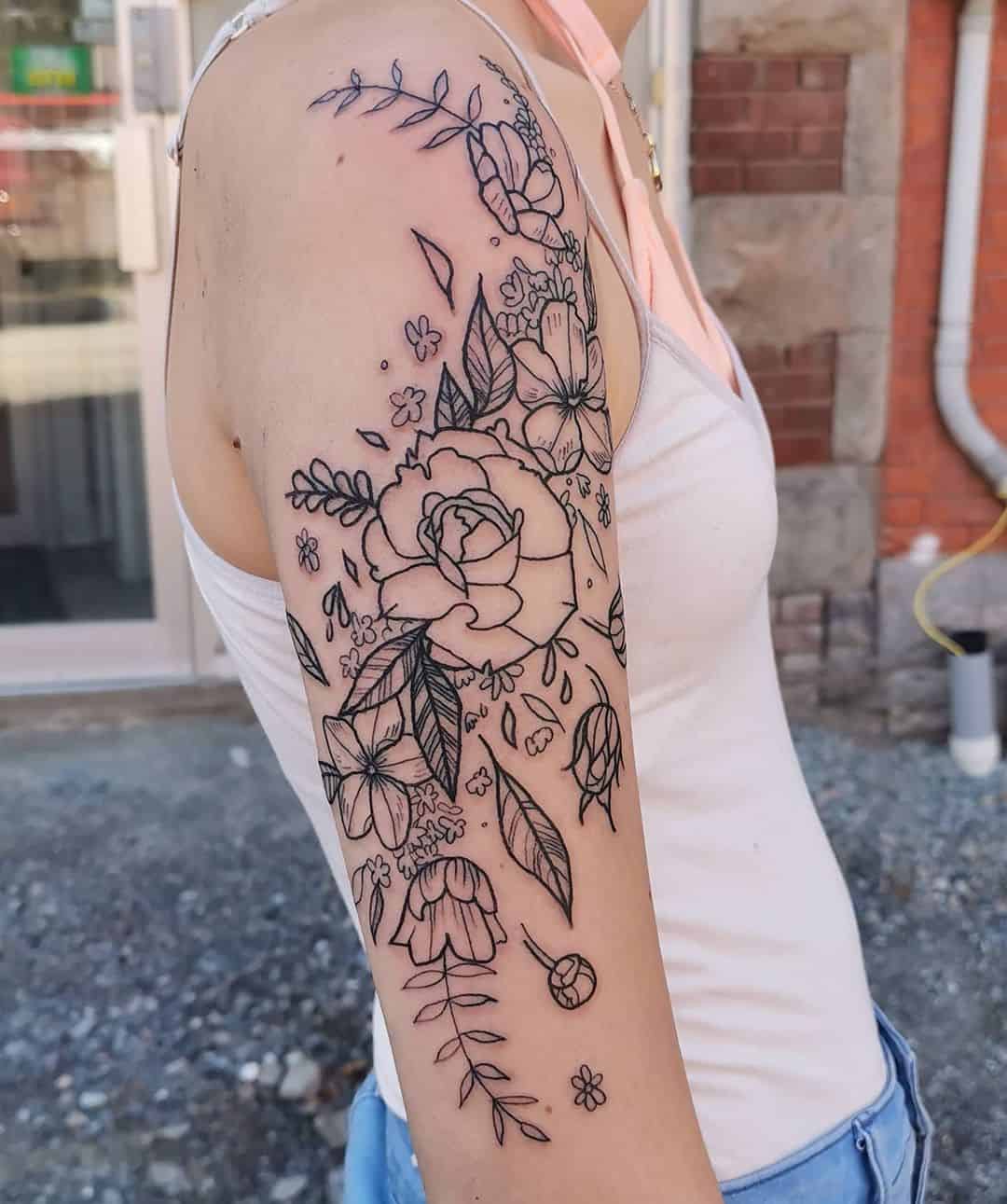 Image source
A rose is sweet in any iteration, but why not have your rose tattoo feature a whole bouquet of different flowers? This stunning sleeve is a lovely example of the illustrative tattoo style. It has a rose as its centerpiece, surrounded by designs of different flowers and leaves. You'll feel like a botanical fantasy sporting such art on your arm!
13. Dead Rose Tattoo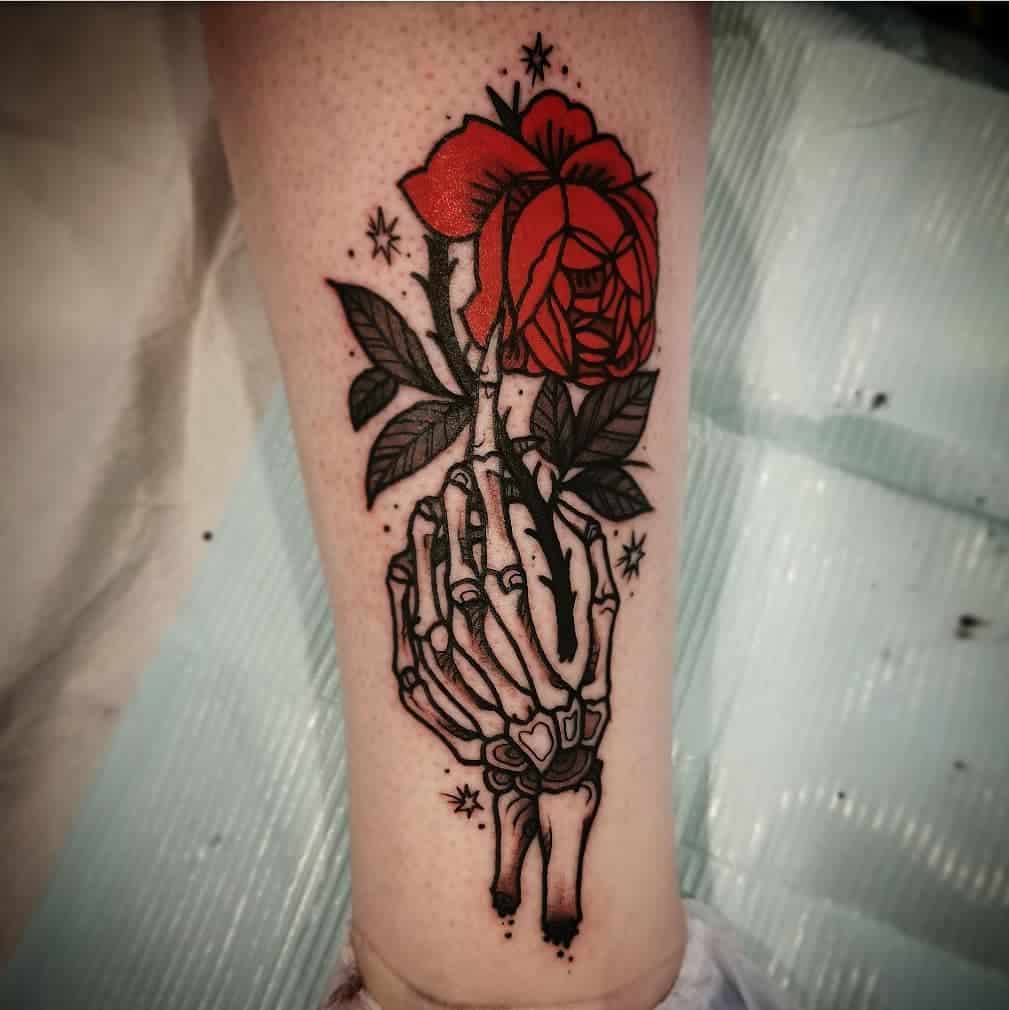 Image source
This dead rose tattoo is very rock n roll. The design shows a skeleton hand holding a dead rose, but because of the cartoony old-school style and vibrant colors, it's not morbid at all. It will look great on your arm or leg if you're a trad-tat tattoo lover! Get it to remember the death of a loved one or just to celebrate all things dark and edgy.
14. Rose and Dagger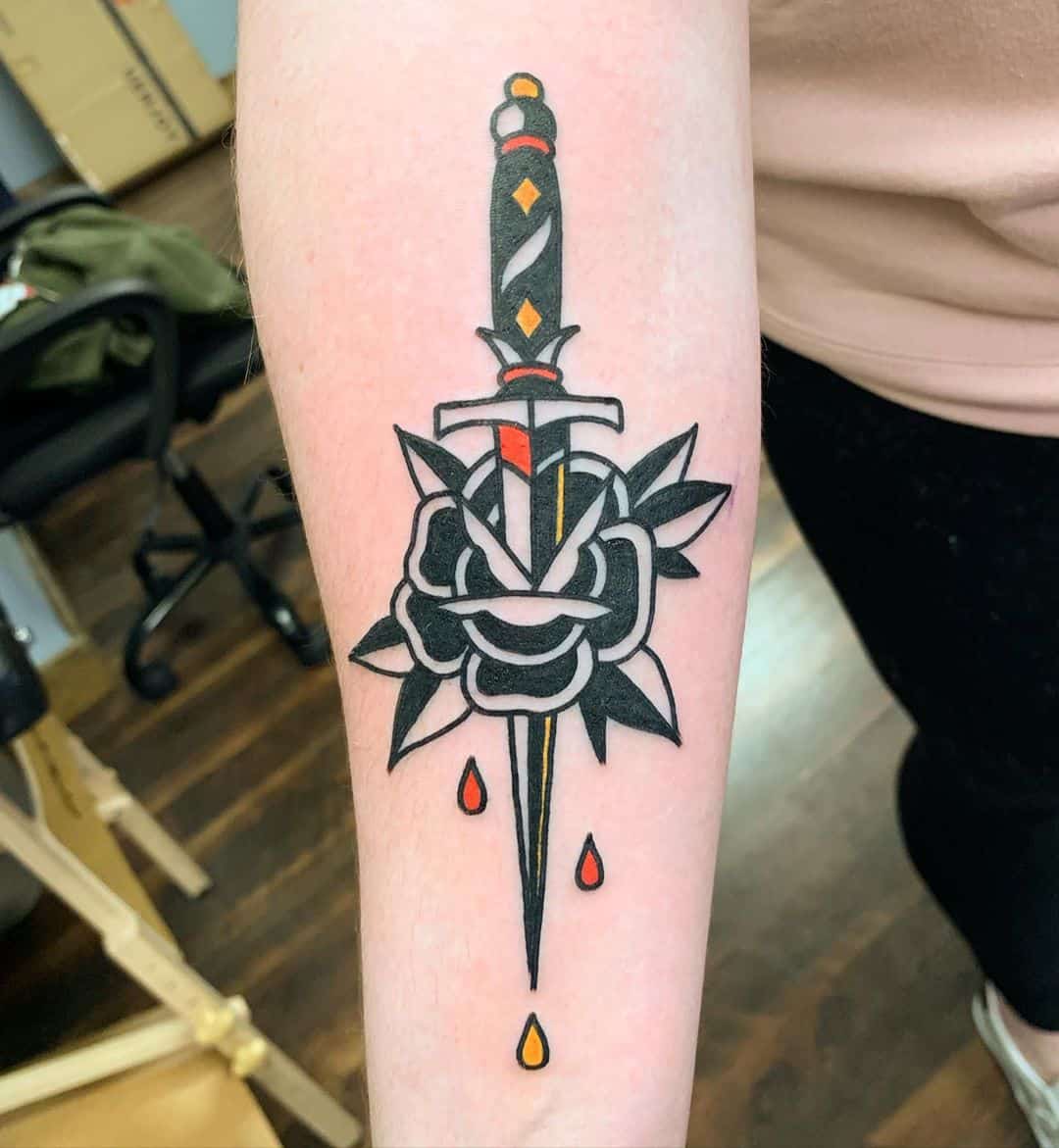 Image source
The rose pierced by a dagger is a traditional tattoo design that is a classic rather than a cliché. It signifies duality, with the rose representing life and beauty and the dagger representing pain or violence. Some take this design as a symbol that pain or struggle always rule in life, but we think it can also be interpreted as a symbol of endurance in the face of suffering. If you like this rose tattoo idea, you can give it whatever meaning you want or none at all, since it's a truly badass-looking design.
15. Grayscale Rose Hand Tattoo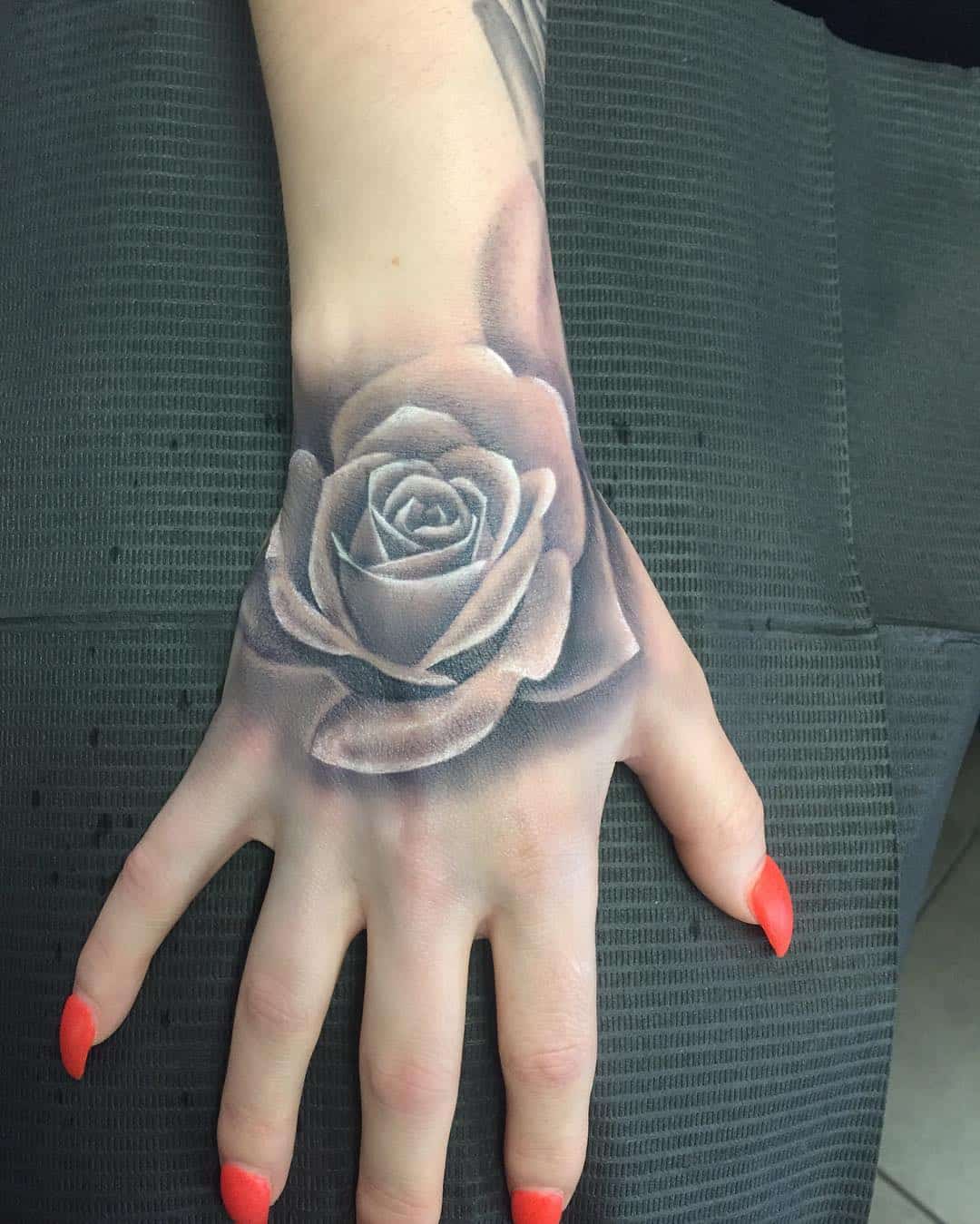 Image source
Getting a tattoo on the back of the hand is serious business. It's impossible to hide, and the actual process of getting it is quite painful. However, once you have a rose tattoo on your hand, you'll always have a quick and easy reminder of beauty, which you can spread to anyone you touch. We especially love this grayscale rose tattoo because it looks multi-dimensional, but it doesn't have any harsh lines. More traditional roses also work as hand tats.
16. Rose Décolletage Tattoo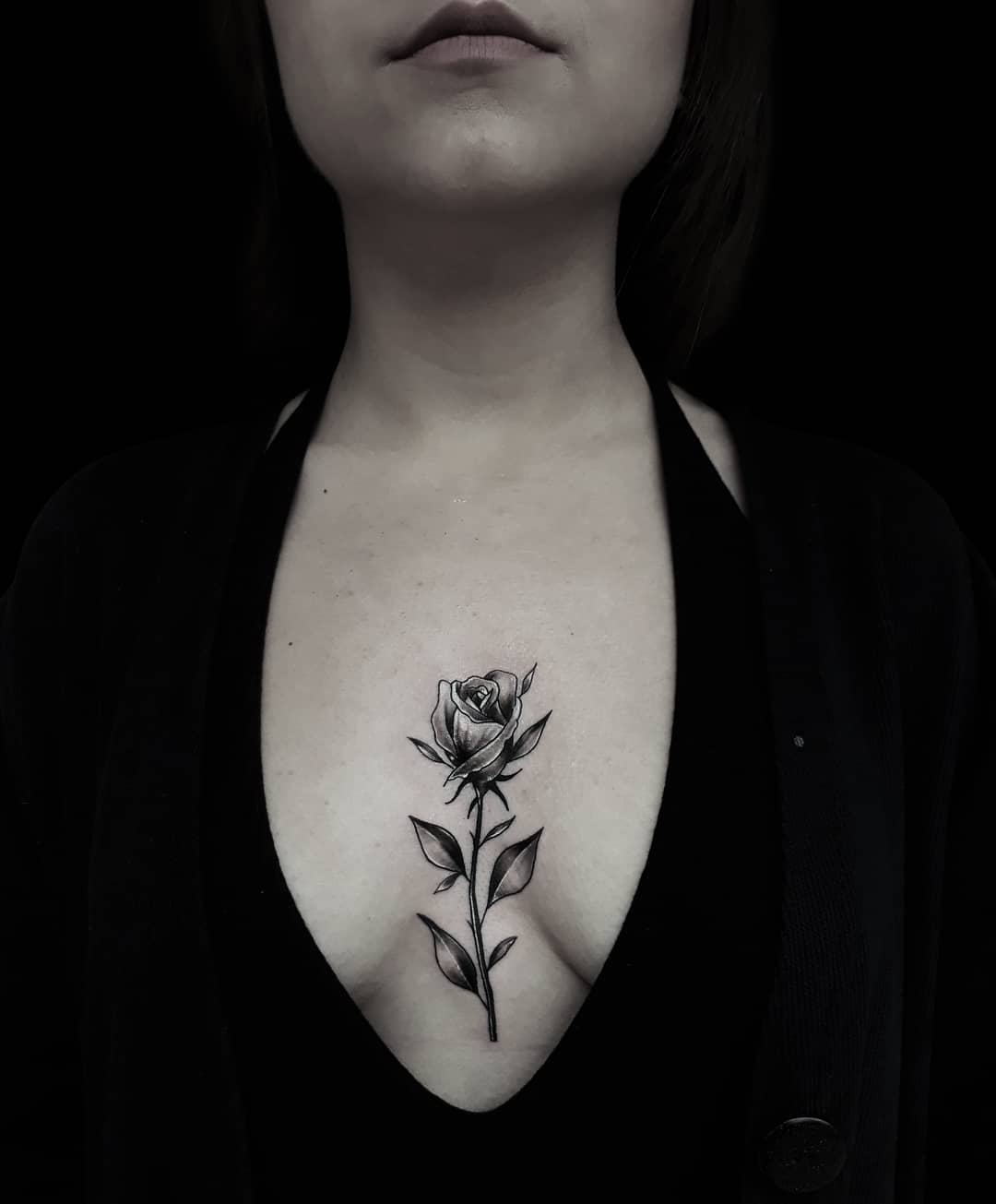 Image source
Sexy chest tattoos are becoming increasingly popular, especially with the heavily inked crowd. If you like to show skin this tattoo would be particularly fun to rock! It's the kind of tattoo that'll drive you to go out and buy dozens of slinky V-neck dresses (if your closet doesn't already overflow with them). This delicate black and white design is especially nice – it's pretty, romantic, and it won't clash with any outfit.
17. Geometric Rose Tattoo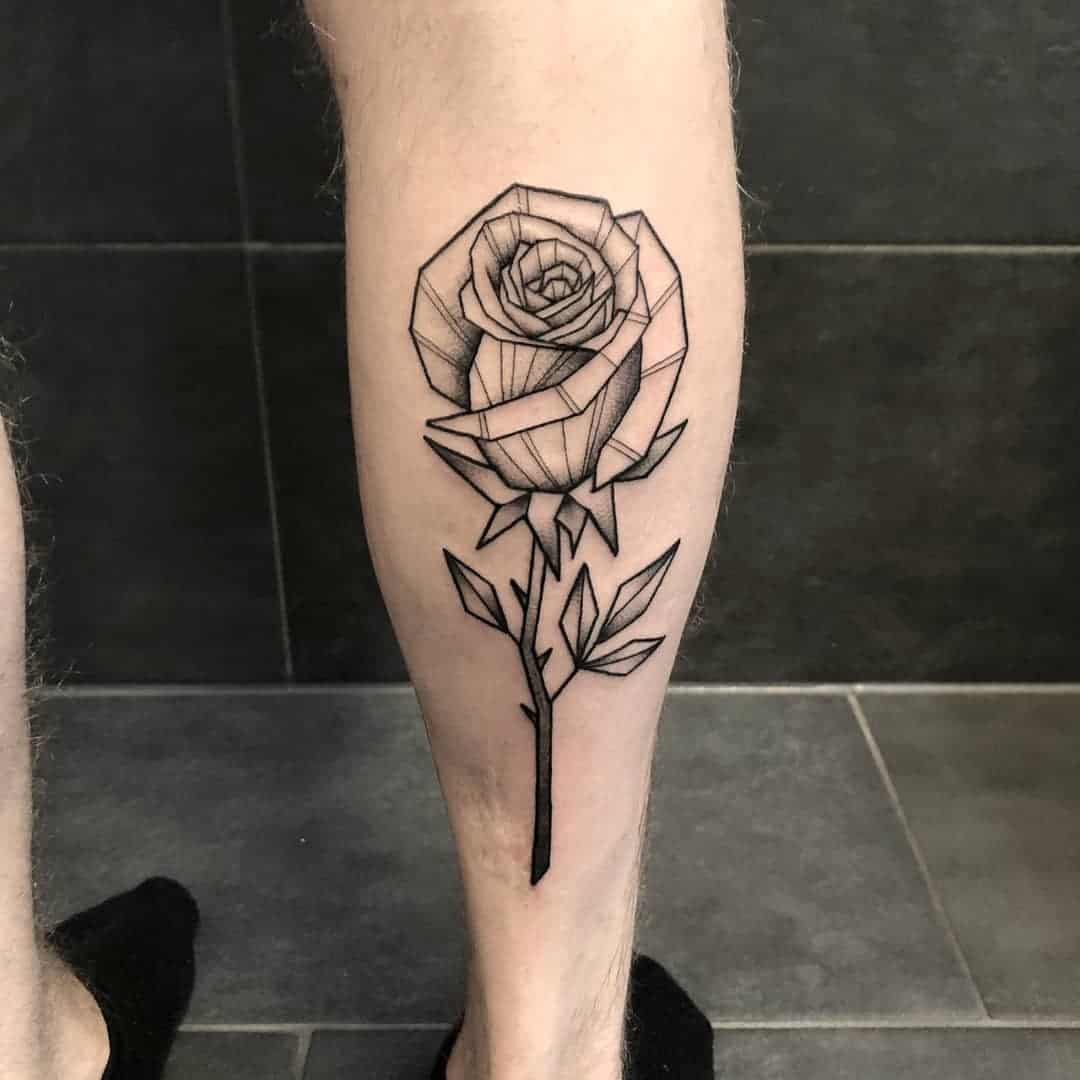 Image source
So far, we've focused on rose tattoos with a soft or rounded appearance, but this geometric design proves that rose tattoos can be very different! This blackwork tattoo is designed with nothing but straight lines, but it's nicely angled and shaded to resemble a rose on a stem. If you're into geometry, architecture, or you just don't like to follow the herd, this is the rose tattoo for you!
18. Butterfly and Roses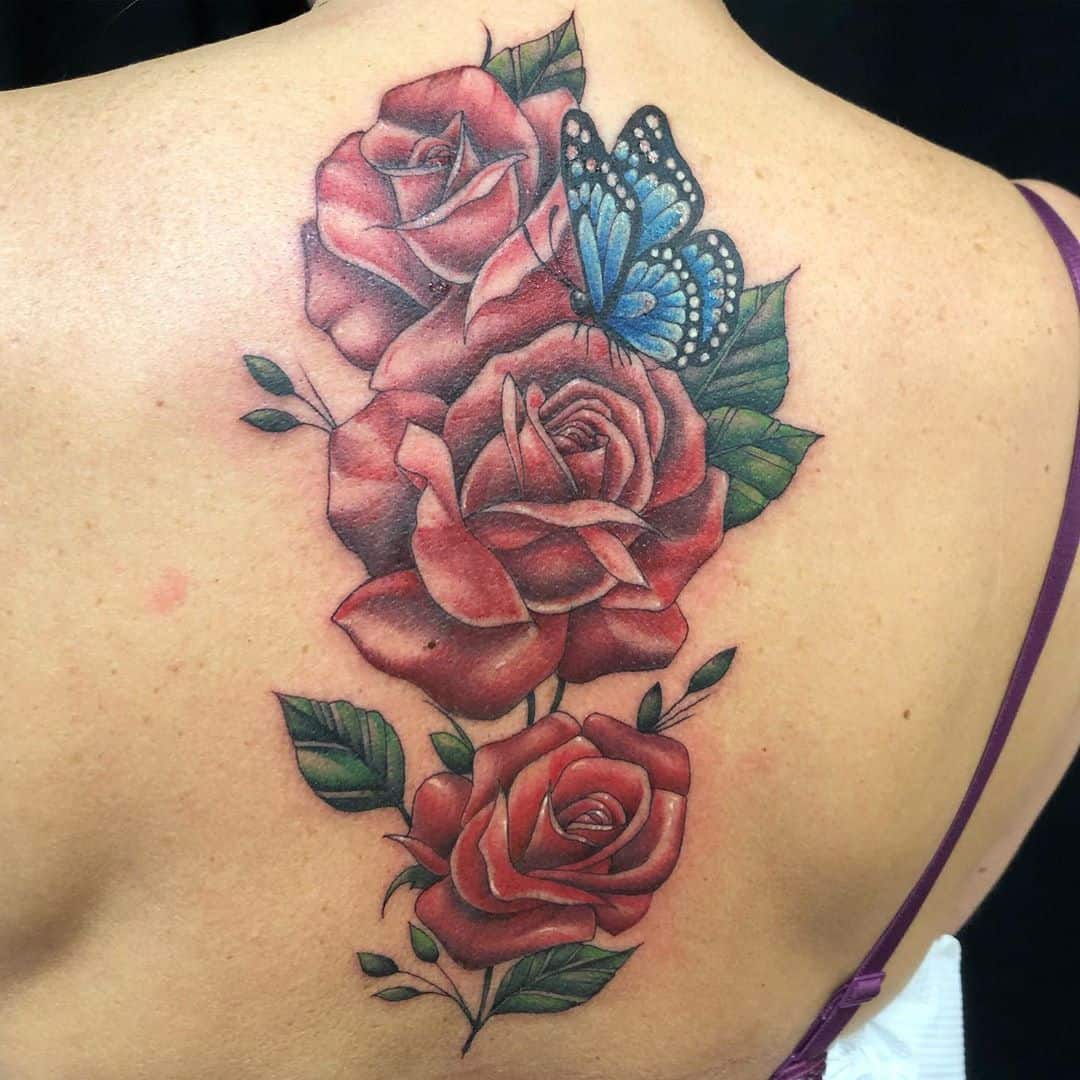 Image source
Let your tattoo express the symbiotic relationship between flora and fauna! This colorful design showcases a butterfly coming to drink nectar from the red roses, guaranteeing its life while also helping to propagate the rose's pollen so the flowers themselves can reproduce. It's meaningful and pretty, especially for nature-lovers, so it's a worthy inspiration for your rose tattoo idea.
19. Small Rose Tattoo Behind the Ear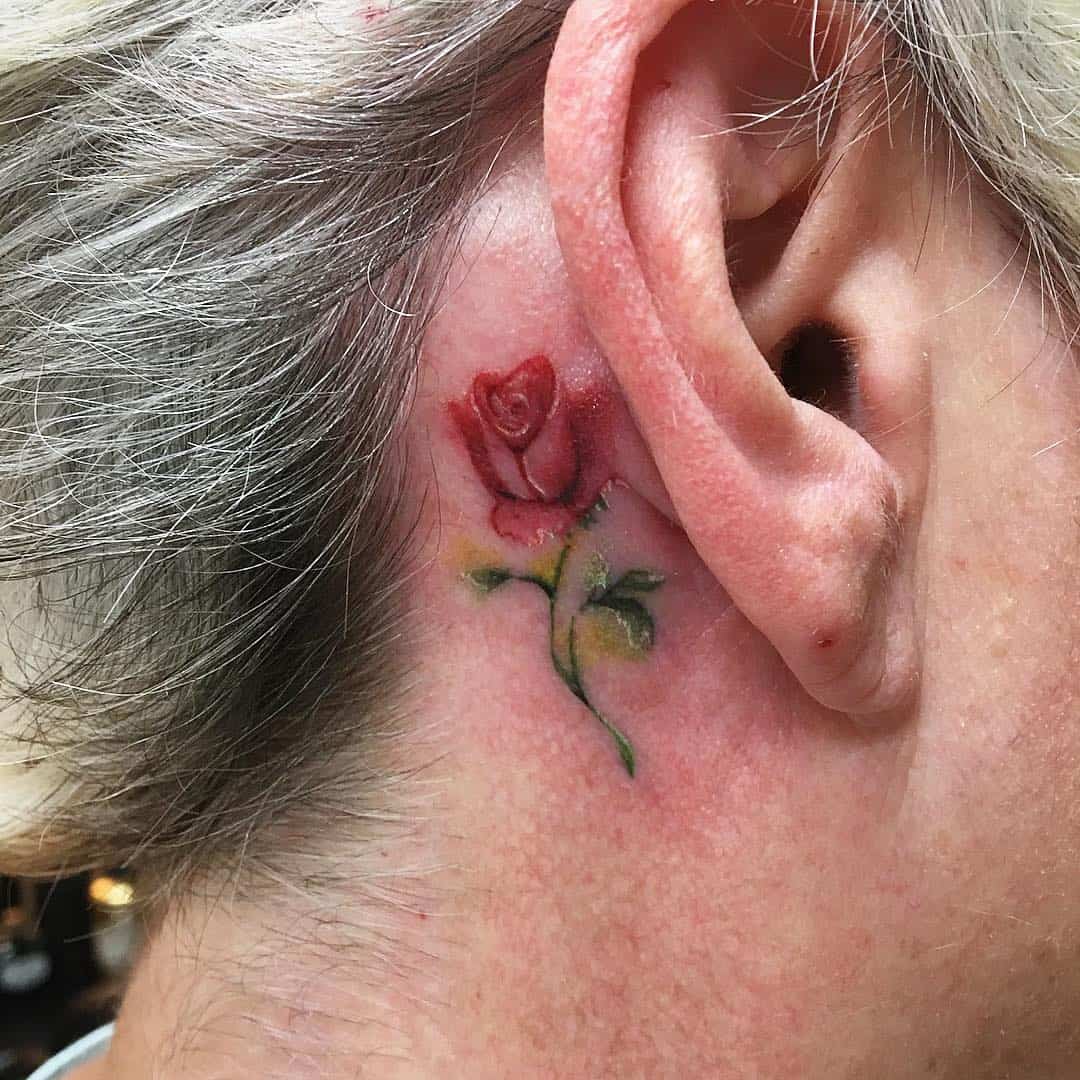 Image source
If you'd like having a secret rose that's all yours, consider getting a small rose tattoo behind your ear! Any tiny rose will look nice, but we're particularly enamored with this colorful pink one designed in the oil painting style. Though small, the color combination appears complex, and thanks to the lack of black shading it's as soft and lovely as can be.
20. Rainbow Rose Tattoo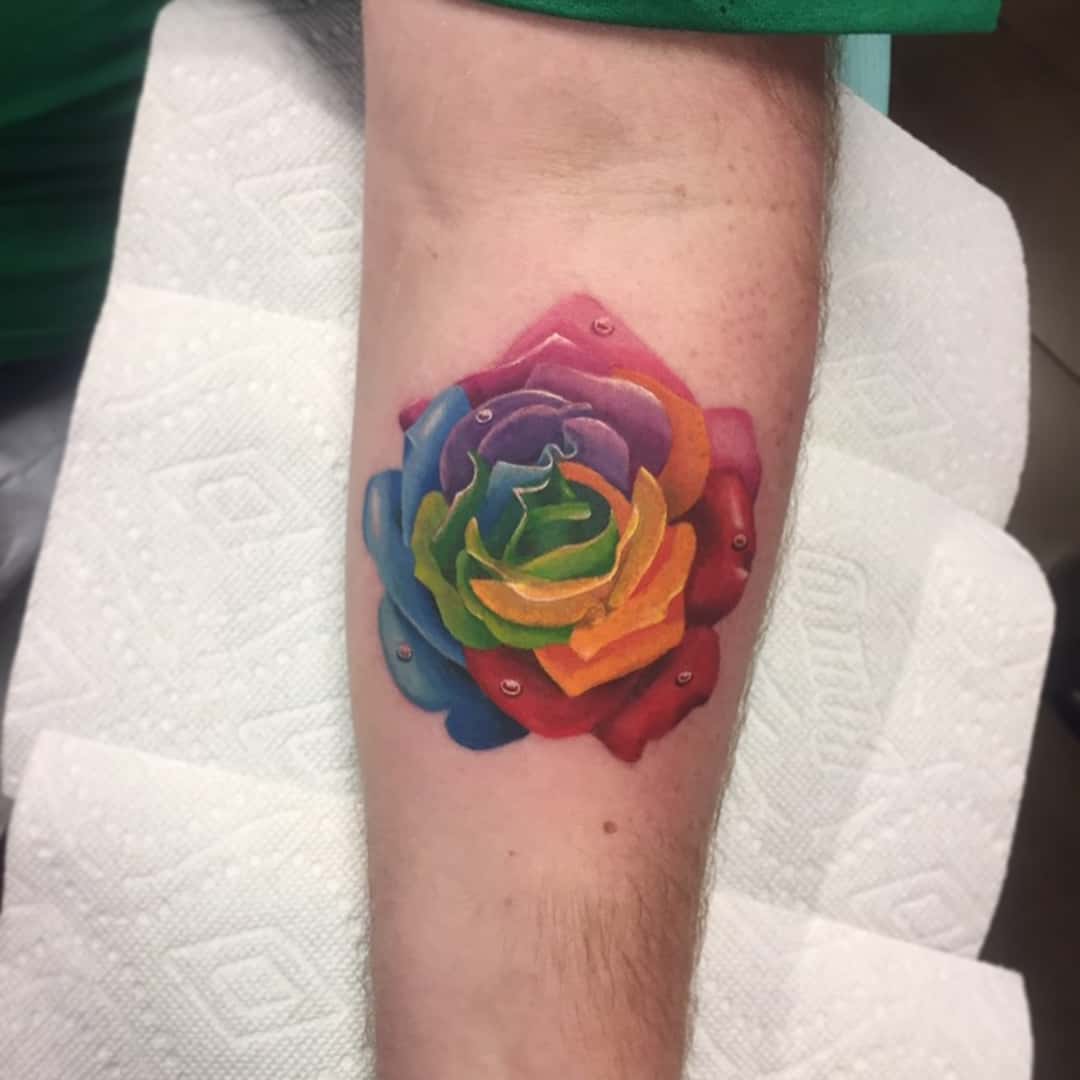 Image source
You don't have to get a realistic tattoo in typical colors! This gorgeous bloom looks touchably real despite being done in rainbow colors. It's a great way of showing off your pride in a beautiful and unique way. You can get it on your arm, like the example here, but it would also be a great shoulder tattoo.
21. New-School Rose Tattoo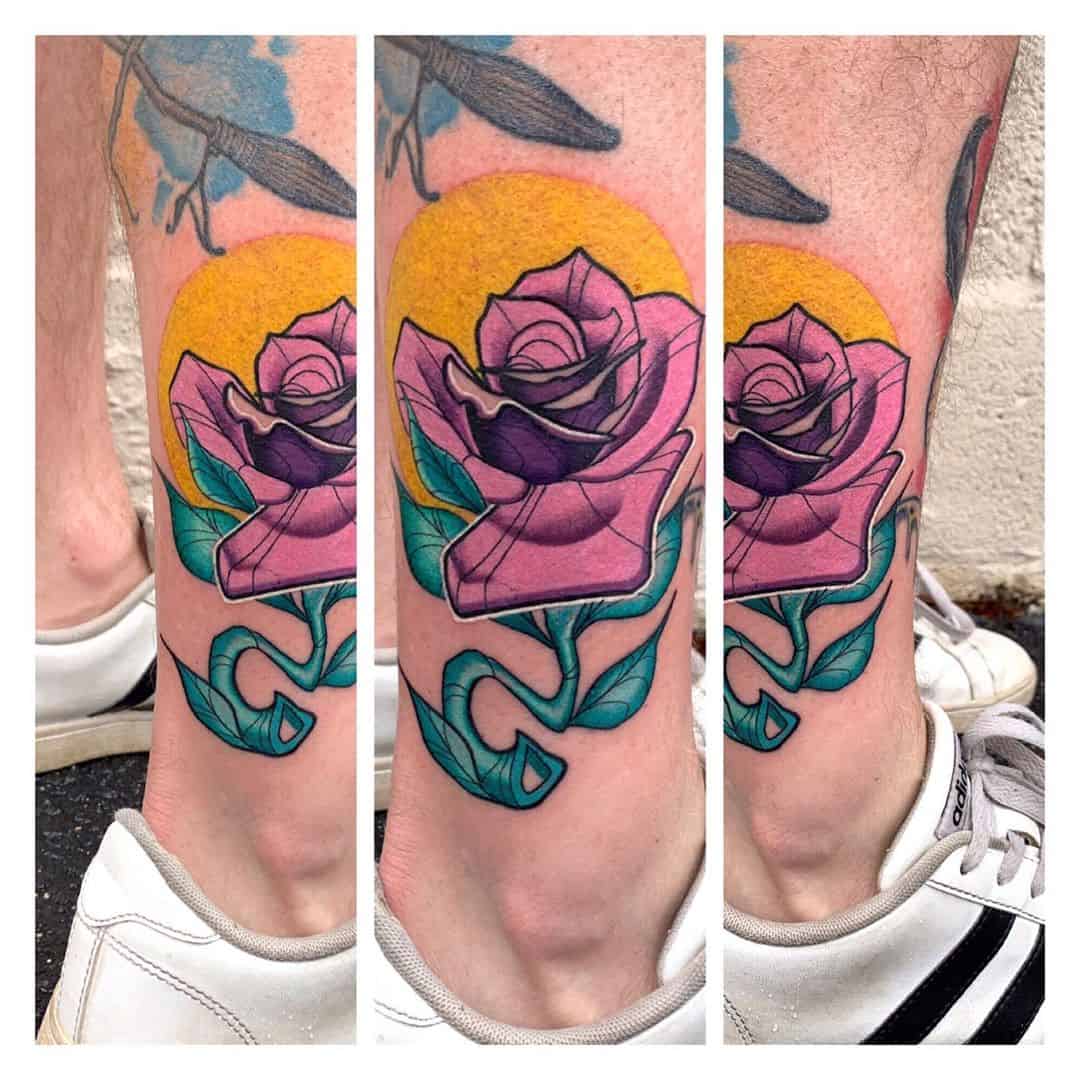 Image source
Vibrant color blocking? A psychedelic feel? You bet this is a new-school tattoo! The twisty teal-green stem and oddly-sized pink petals are straight out of an acid trip, with the flat yellow sun in the background completing the unusual story. If you love trippy, colorful designs then this is the rose tattoo for you!
22. Thorny Traditional Rose Tattoo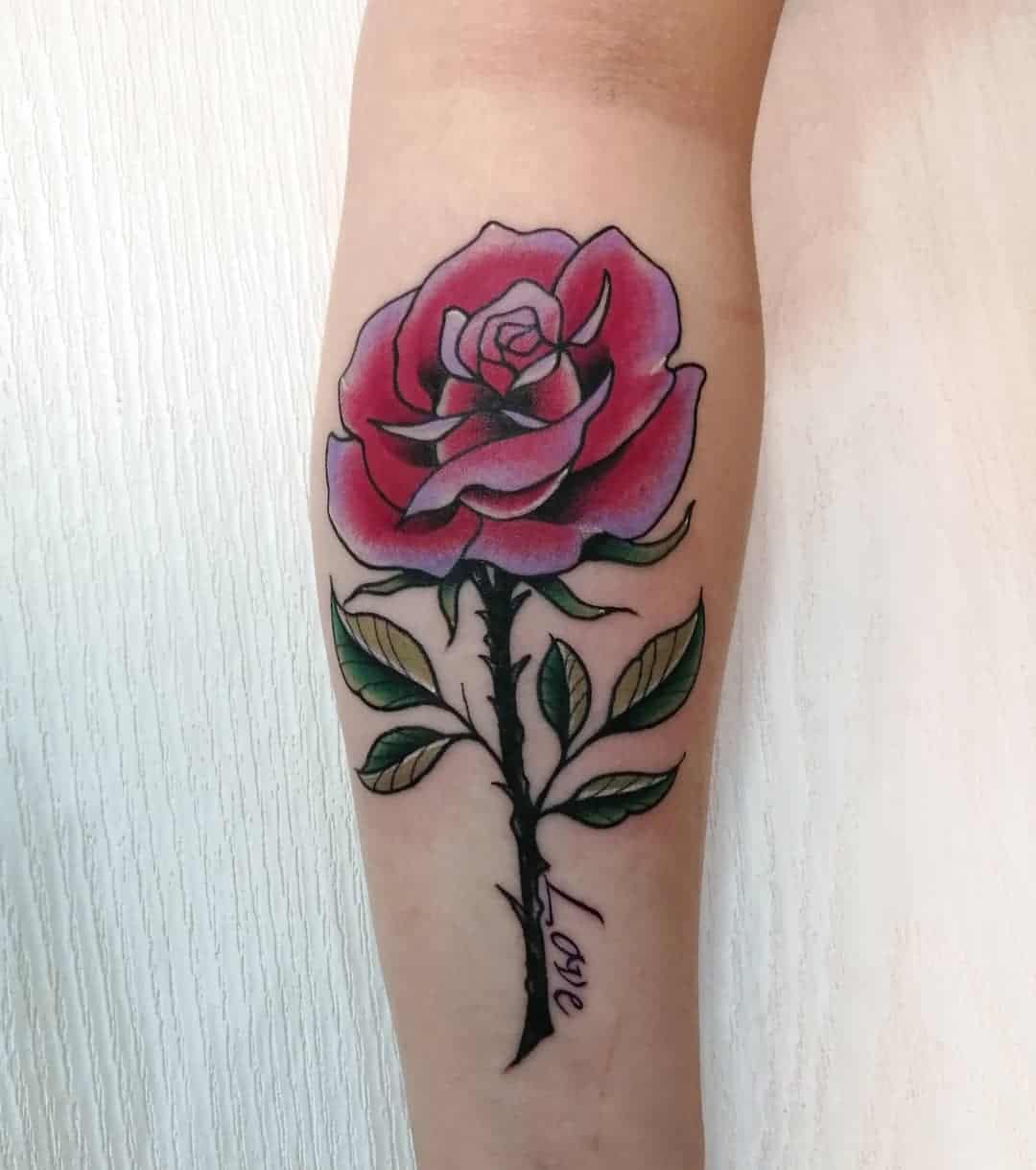 Image source
Let's take a step back toward something more traditional. Some trad designs can feel a little masculine, but this is a more feminine example with a red to white gradient giving the petals a delicate feel. The thorny stem reminds you that you have to take the good with the bad in life, which makes for a very meaningful tattoo.
23. Rose-Flanked Lion Tattoo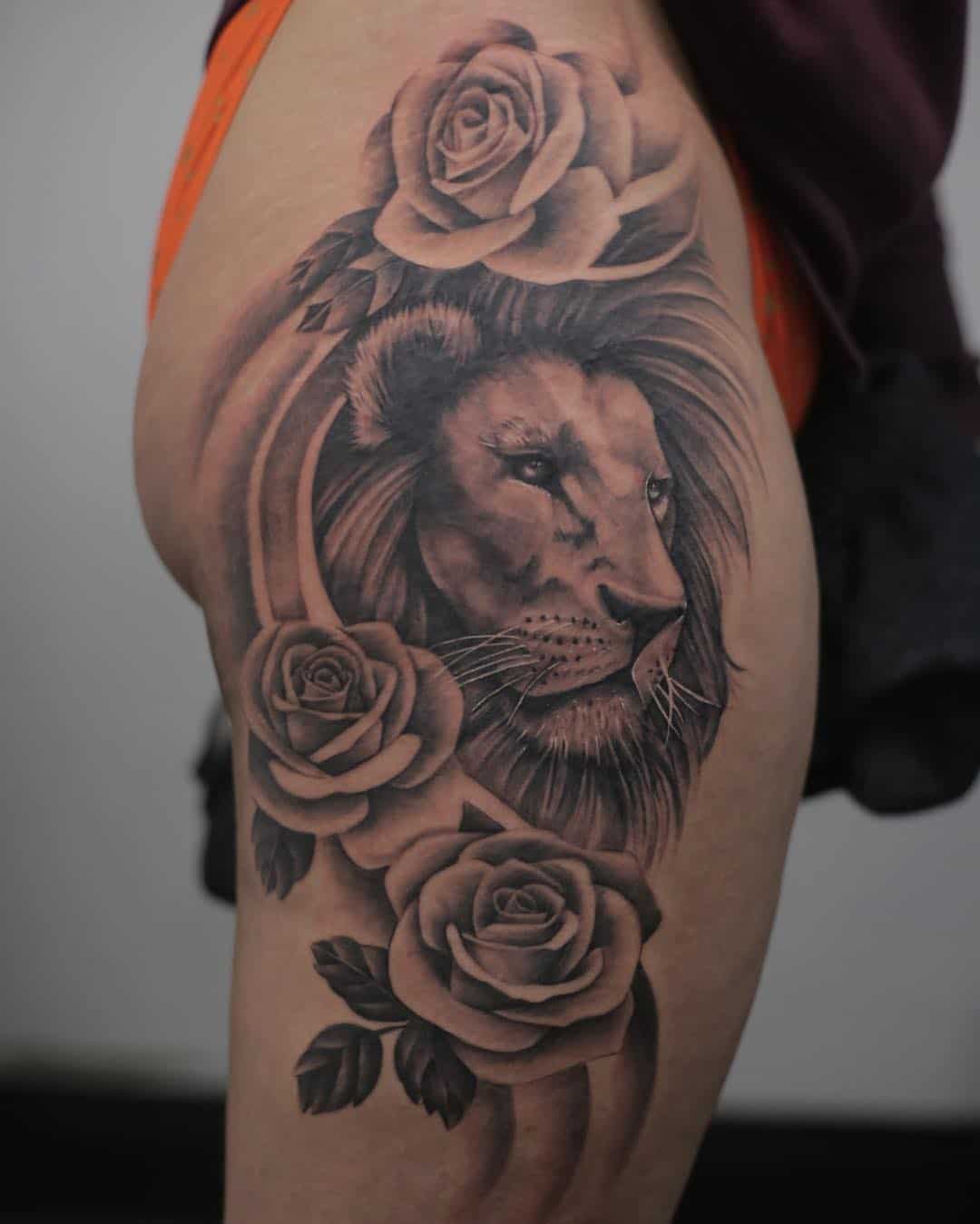 Image source
Like roses and snakes or roses and butterflies, the rose and lion is a common motif. Lions are regal creatures that represent strength and courage, but flanking a lion with roses lends passion and romance to the design. It's a great way of presenting both masculinity and femininity in one very powerful tattoo.
24. Rose on a Cross Tattoo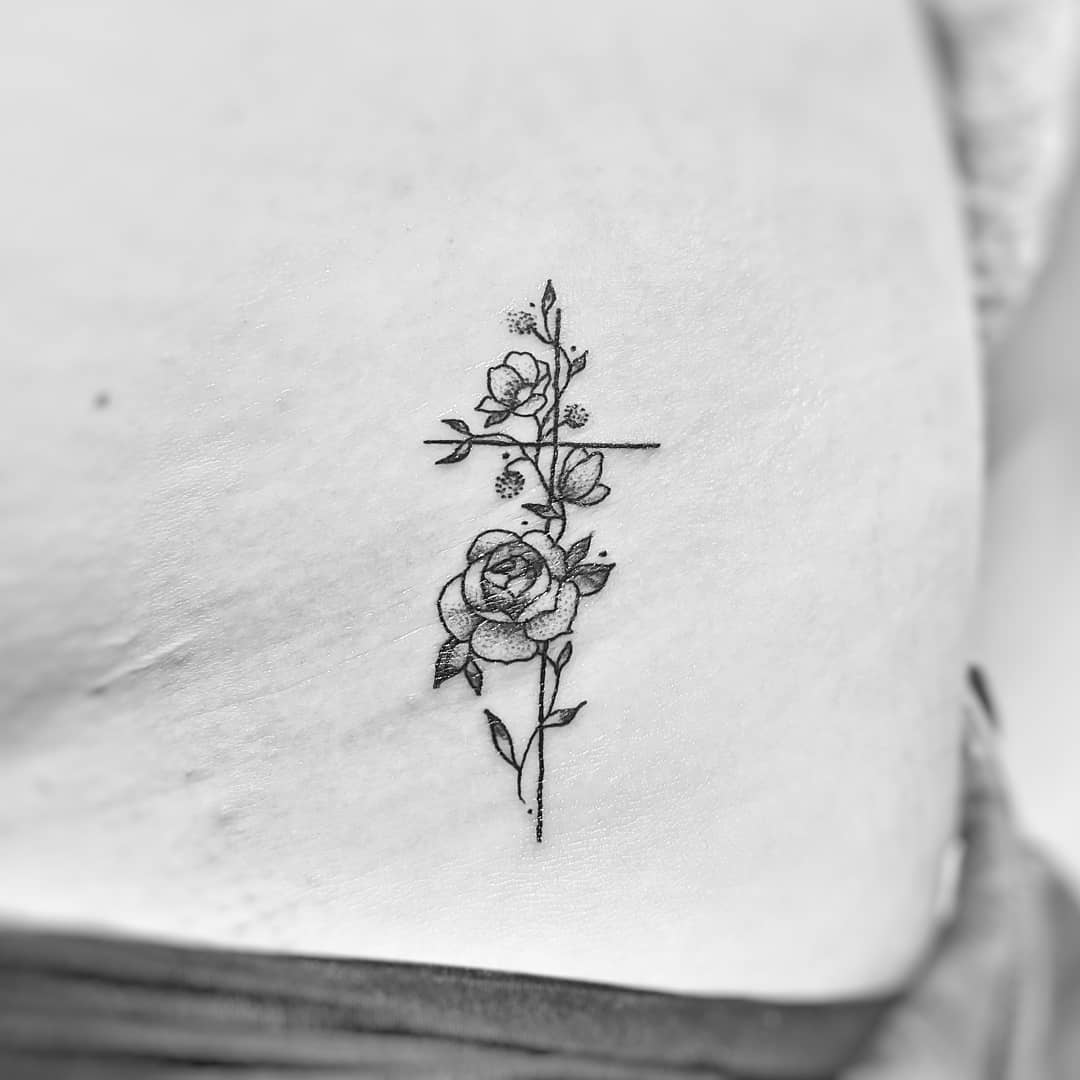 Image source
Entwining your rose over a cross can make for a beautiful religious tattoo that is also quite subtle. In fact, the rose is often associated with the Virgin Mary, so from a theological standpoint, its message can be very deep. The design also has the beauty that's inherent to any combination of delicate lines and lush, illustrative roses, and it lends itself extremely well to tiny tattoos that are easy to hide.
25. Scratchy Rose Tattoo on Arm

Image source
This intense red rose tattoo doesn't have the typical romantic vibes. The scratchy black lines of the stem and the splash of red over the rose are filled with movement, as though it's part of the scenery in an action-packed postmodern graphic novel. It's dynamic, abstract, and even a little violent, which makes it a perfect choice for someone active with a lot of energy.
26. Skull and Rose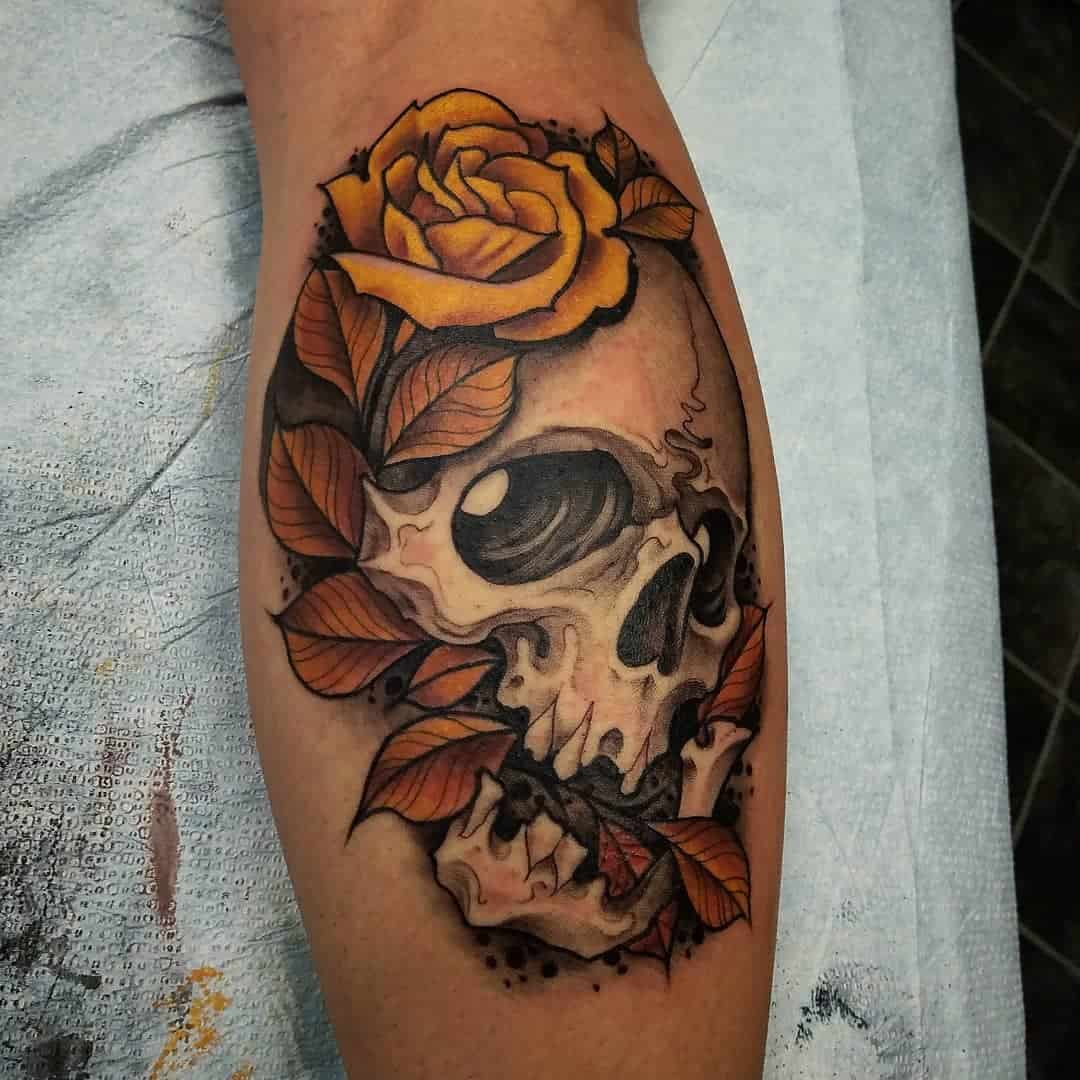 Image source
The skull and rose is a fascinating combination that puts ghoulish and scary imagery against the beautiful and lively. If you love intense contrast and have a taste for the macabre, this kind of skull with a rose in its mouth will be a tattoo to cherish. This design, in particular, is extra fun because of the slightly cartoonish style in which the skull is drawn and the joy that a yellow-colored rose represents in the language of flowers.
27. Rose in Triangle Tattoo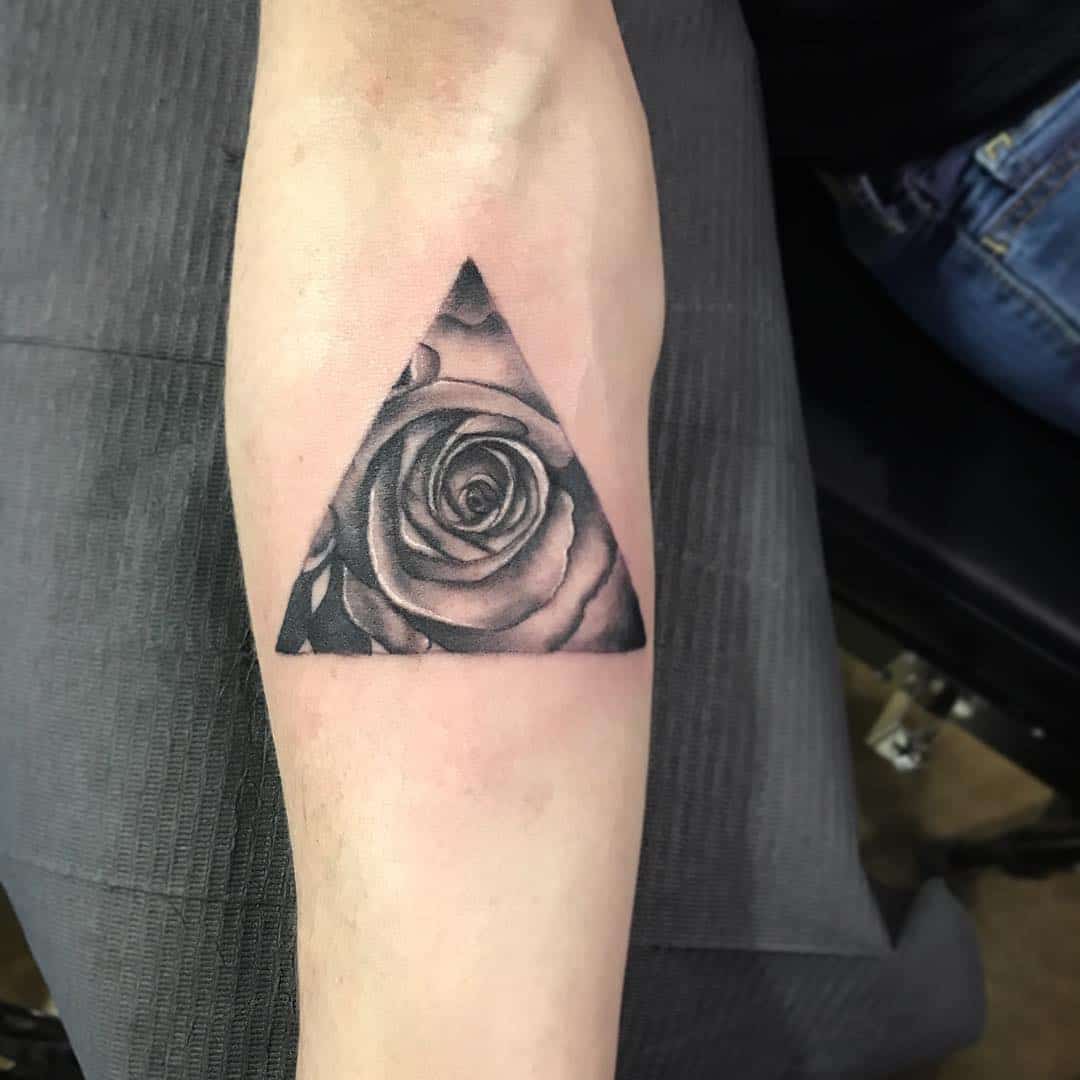 Image source
This is a different take on geometric rose tattoos, and we dig it! Like the rose, the triangle is also a symbol rich with meaning. In this kind of design, it reminds us of The Eye of Providence, with the watching eye of God replaced by a delicate, loving rose. This tattoo doesn't require a religious interpretation, however: it's a cool design that combines straight lines with organic roundness, so it'll look great on anyone.
28. Painted White Rose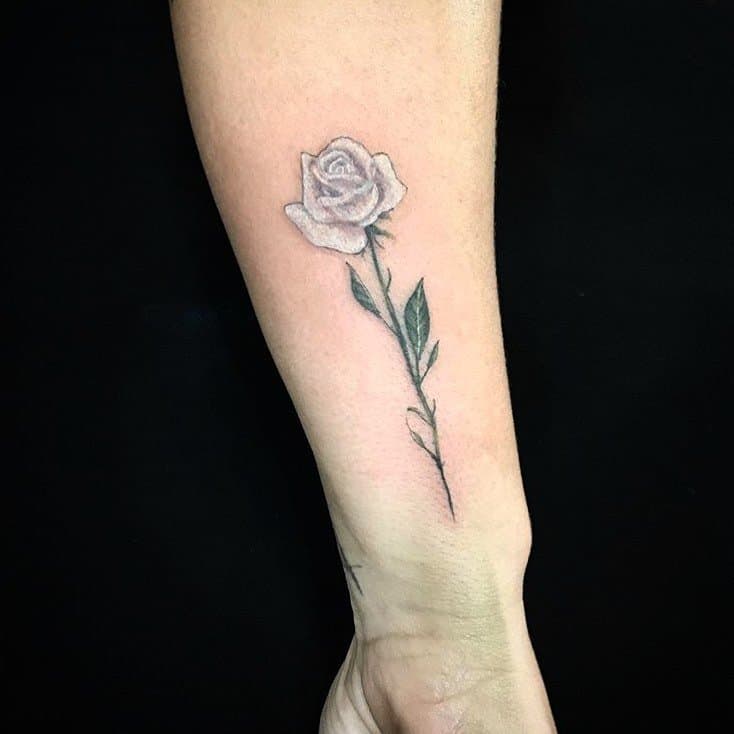 Image source
If you're the demure sort you might want to choose a white rose instead of a traditional red one. White roses demonstrate purity, youth, and innocence, so we think they can be a great way of commemorating the birth of a child forever and always. White ink tattoos were a complex thing once upon a time, but these days most artists know how to do incredible work with the difficult color.
29. Multicolor Rose Tattoo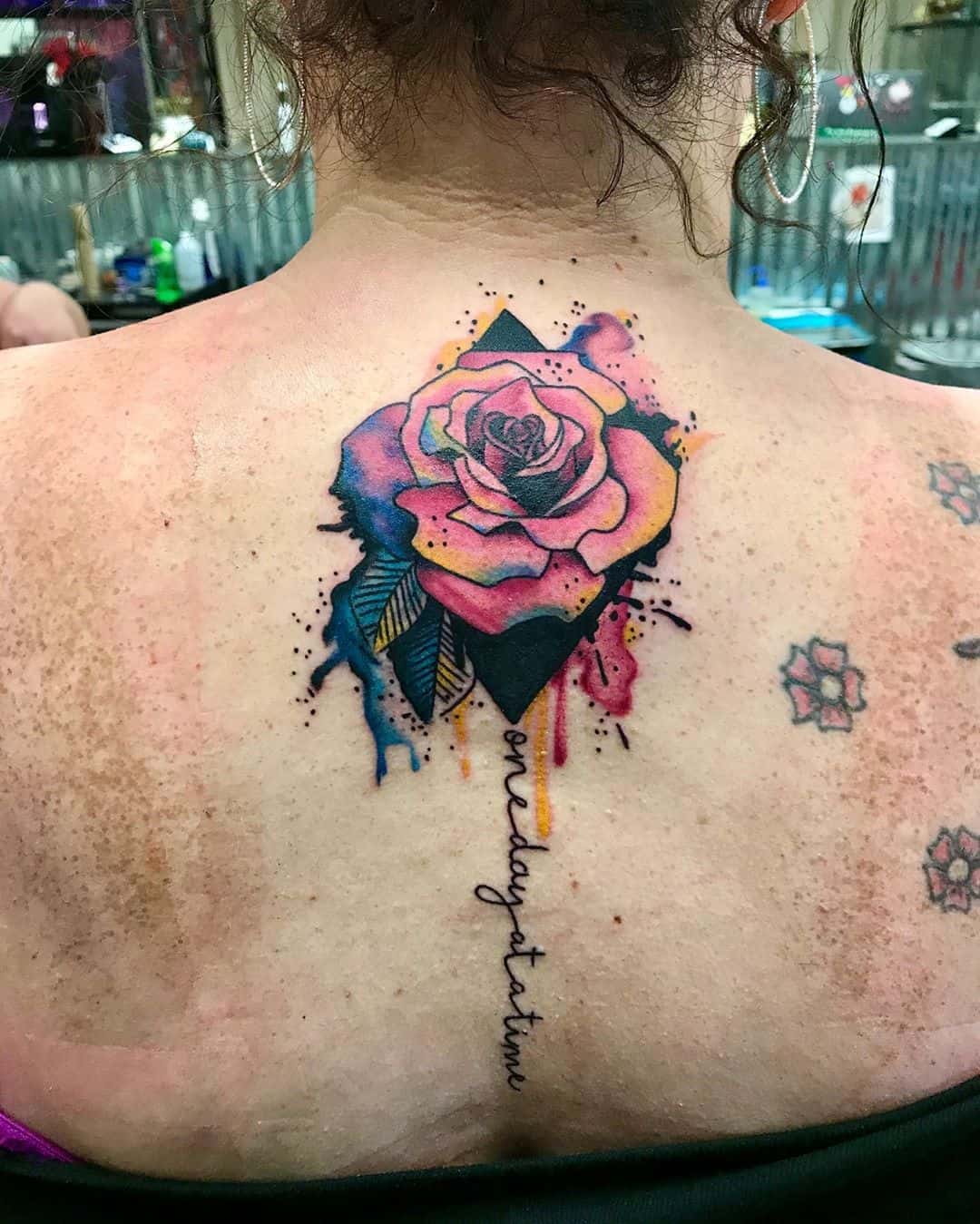 Image source
If all the reds, and blacks didn't speak to your soul, you can also get a vibrant watercolor rose tattoo! The splashes of blue, pink, and yellow make for a fascinating color story that is anything but mundane and helps bring the illustrative rose design to modernity. Not all artists are able to do such lovely watercolor, so research thoroughly before booking your sit-in for this awesome design.
30. Blackwork Dead Rose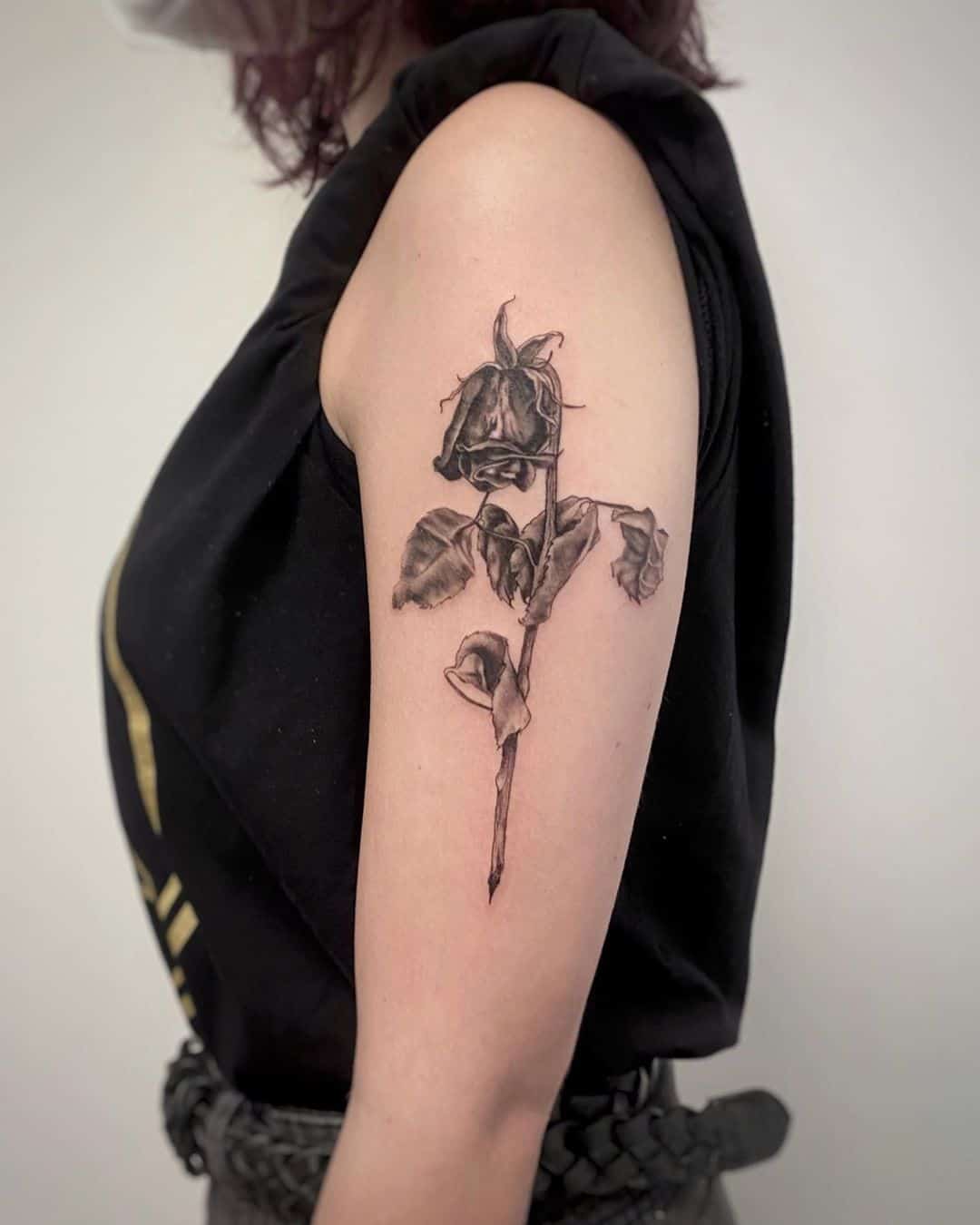 Image source
This take on the dead rose tattoo is done in the blackwork style, so it's detailed but artsy, sitting somewhere between the illustrative and realistic styles of tattooing. The result is a design that is beautiful, sad, and nostalgic. If your style is a little gothy then having this dead rose tattoo on your arm will complement your aesthetic flawlessly.
31. Rose and Compass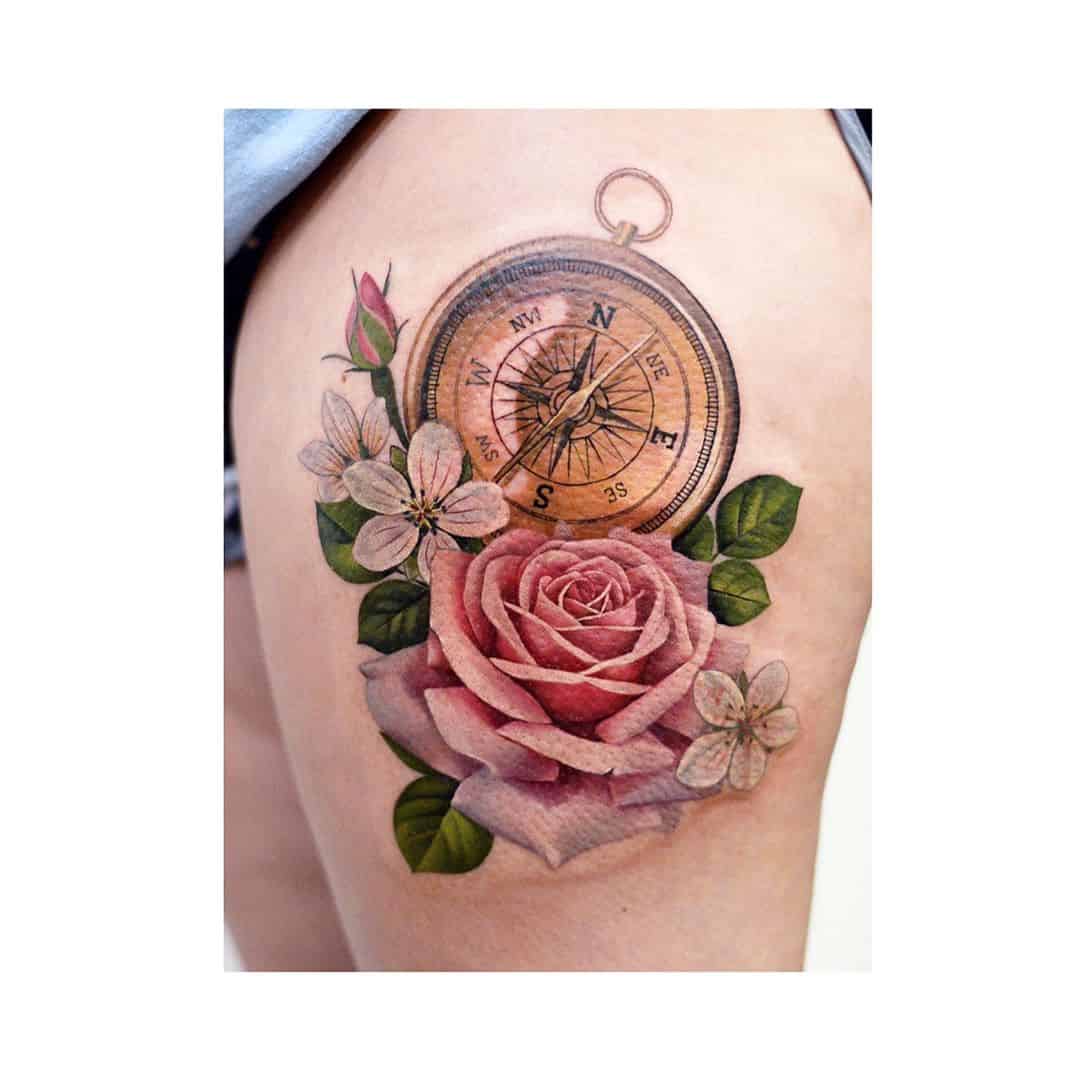 Image source
Sometimes the rose is just a decoration that helps cement a tattoo's aesthetic. When combined with a compass, it helps to portray the joy and beauty inherent to travel. It's a great choice for anyone who has a lot of wanderlust. The compass is also a symbol of guidance, so adding a rose suggests that your tattoo is guiding you toward love – the kind of love depends on the color you choose for the rose.
32. Commemorative Rose Tattoo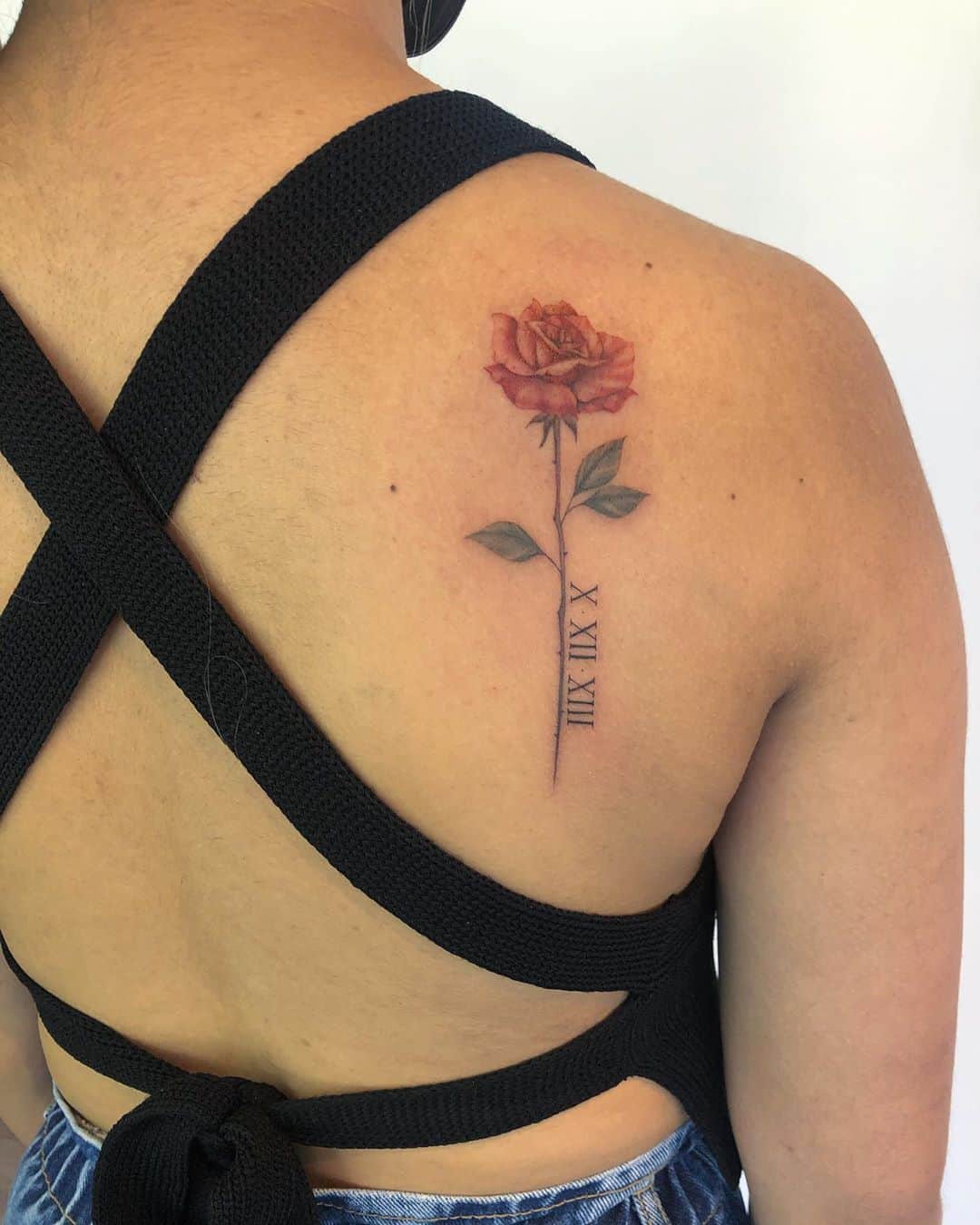 Image source
If you'd like to mark a specific occasion a rose tattoo can help you do it in a classy way. The stem is the perfect base for underlining a date, like in this darling design, or you can actually have the stem itself make a statement in a cursive font. Taking this approach works best with illustrative or painting-like styles, and while we love this red rose, we'd be just as impressed with this in black and white.
33. Woodcut Rose Bouquet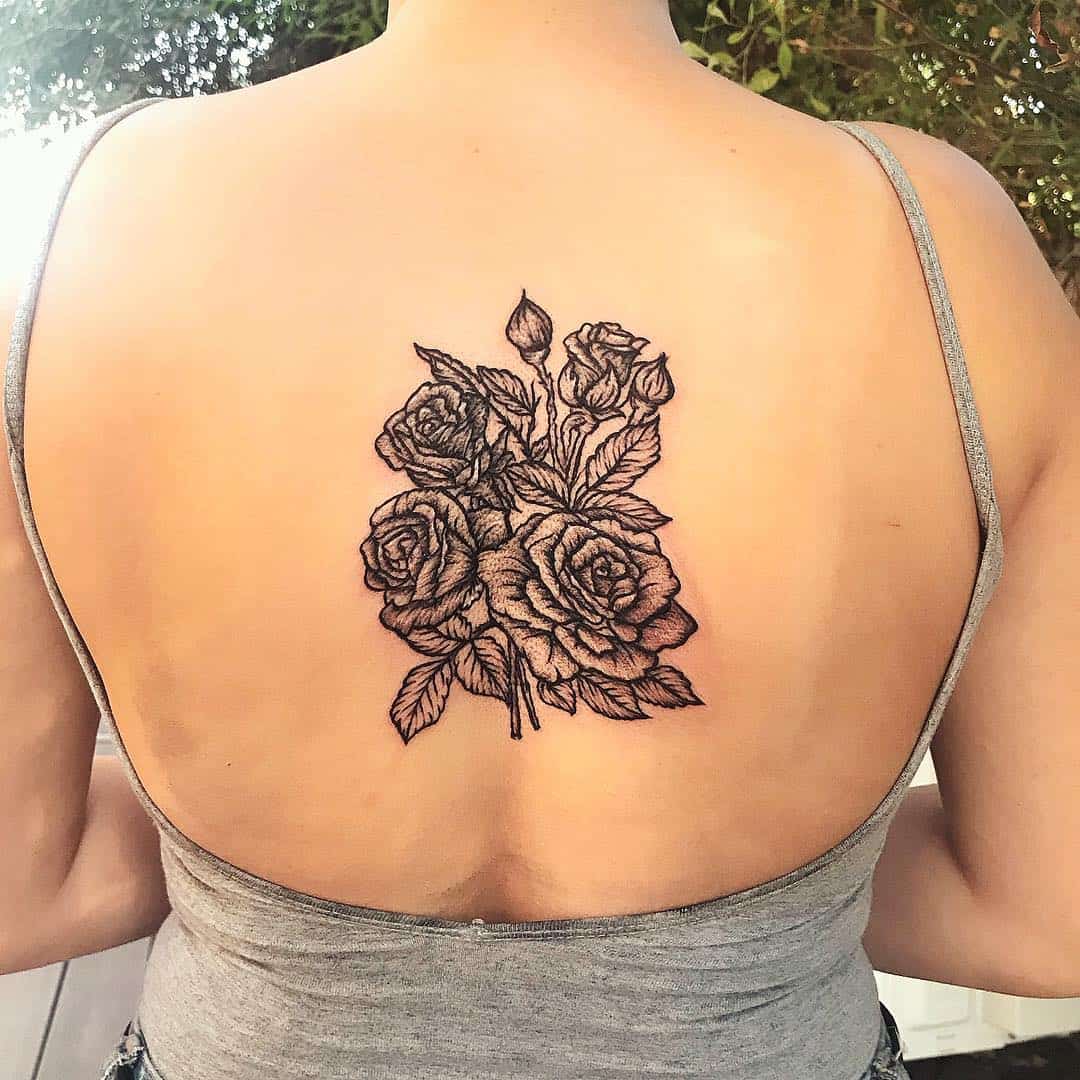 Image source
Every woman deserves a bouquet of roses, but some would like it permanently inked! This impressive blackwork piece is really detailed, which is a quintessential part of the woodcut tattoo style. This design is made in a way that resembles wood etchings, so even though it's done with black ink it's not harsh at all.
34. Splatter Rose Tattoo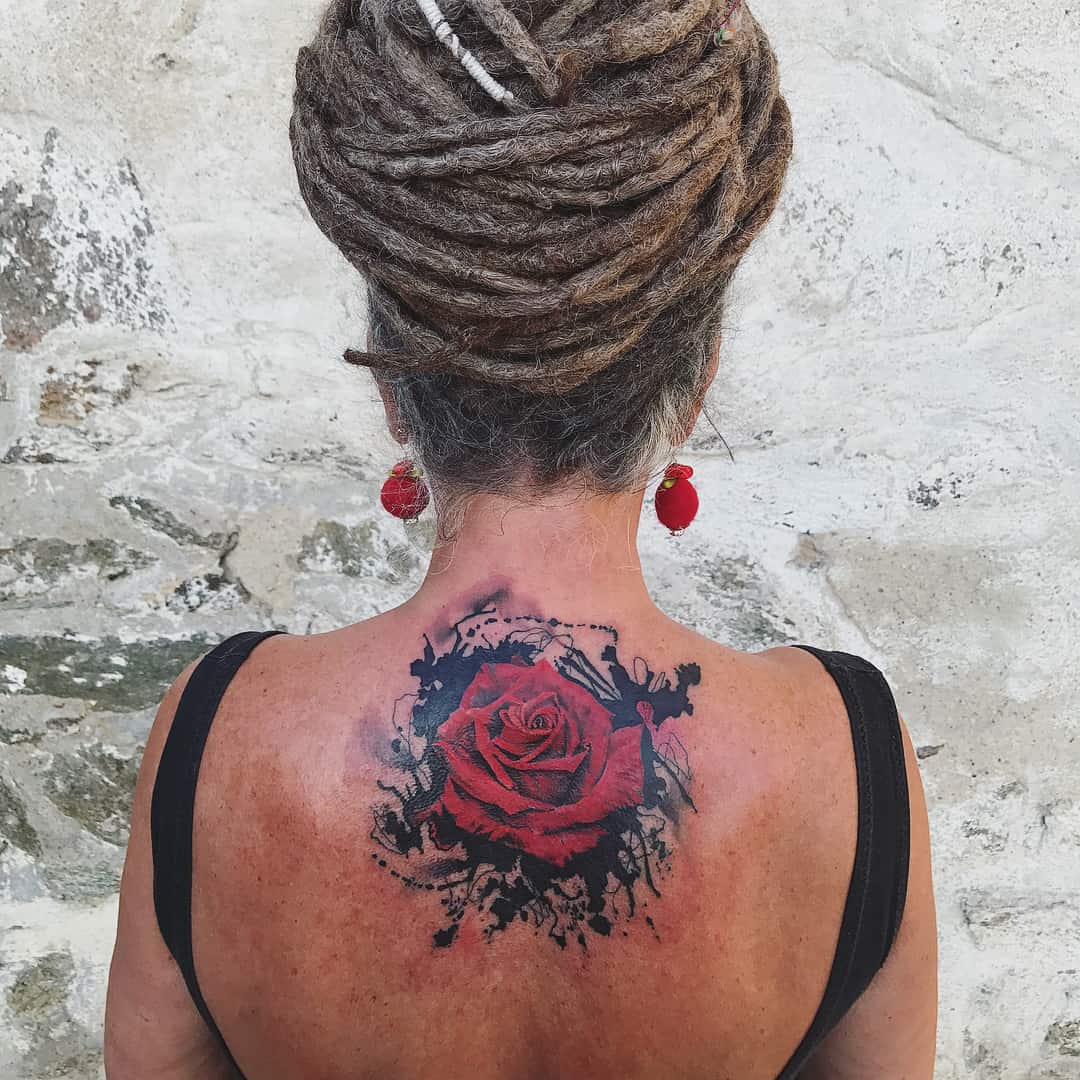 Image source
This tattoo is a great example of how the watercolor technique looks in black. This is an original design by master watercolor tattoo artist Ondrash, and it's an exquisite blend of hyperreal and abstract elements. It's more intriguing than a typical realist rose, but it still holds the same mystery and romance.
35. Old-School Geometric Rose

Image source
Old-meets-new in this geometric tattoo! If you're a real connoisseur, you won't be able to resist the expert combination of techniques. The rose in the center is made in the old-school style, although the colors themselves are slightly reminiscent of the watercolor technique. Since old-school roses are already made out of simple shapes, they work surprisingly well with the much more modern geometric tattoo trend.
36. Rose and Bee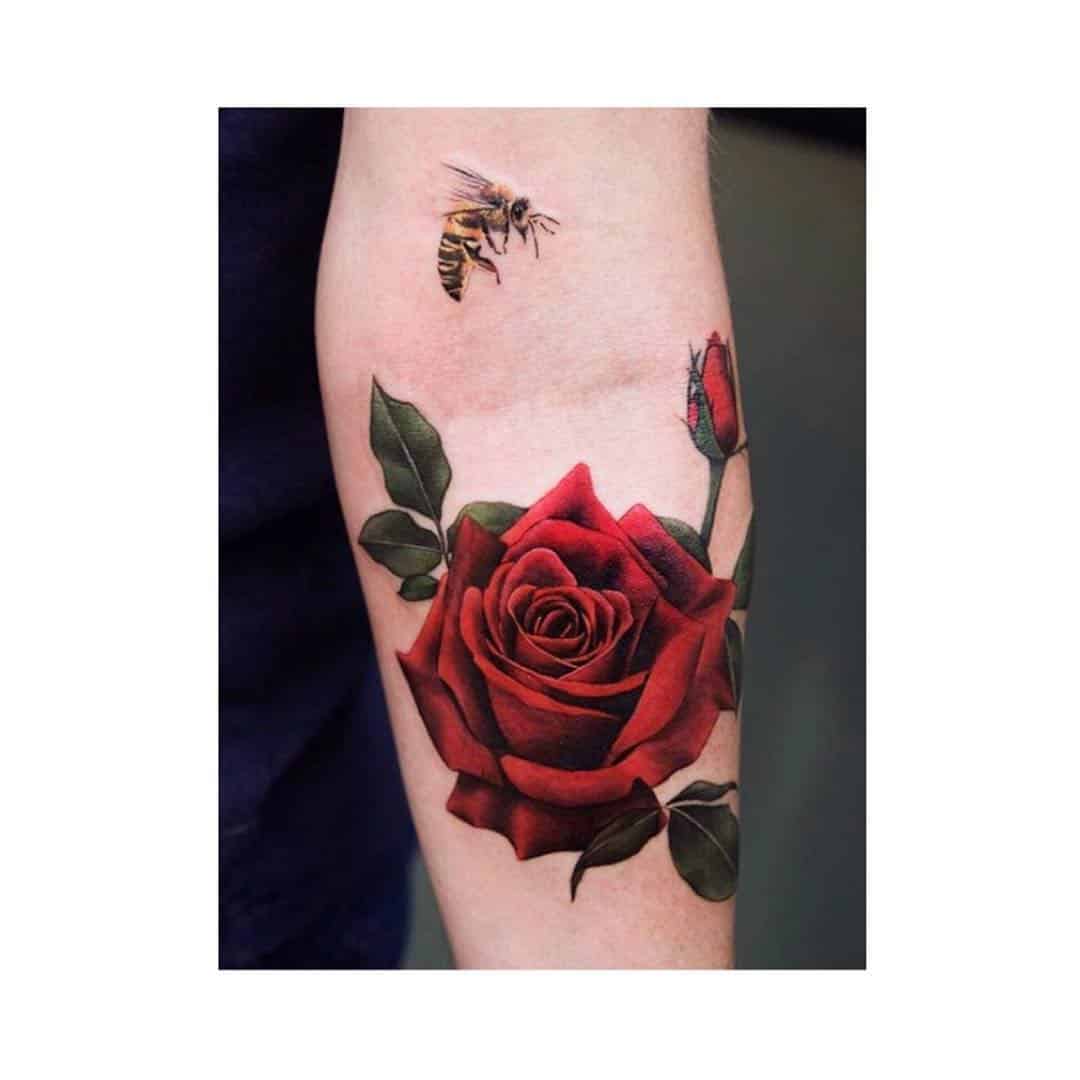 Image source
Just like the rose and the butterfly, roses and bees are also a great representation of the synergy found in nature. Unlike the exquisite but fleeting butterfly, bees are a little more whimsical, bringing to mind the sweetness of their honey as well as the pain of their sting. If that's more your language, choose that kind of pairing for your next tattoo! This particular design is astoundingly realistic, but a cartoonish style would work for this motif just as well.
37. Cursive Stem Rose Tattoo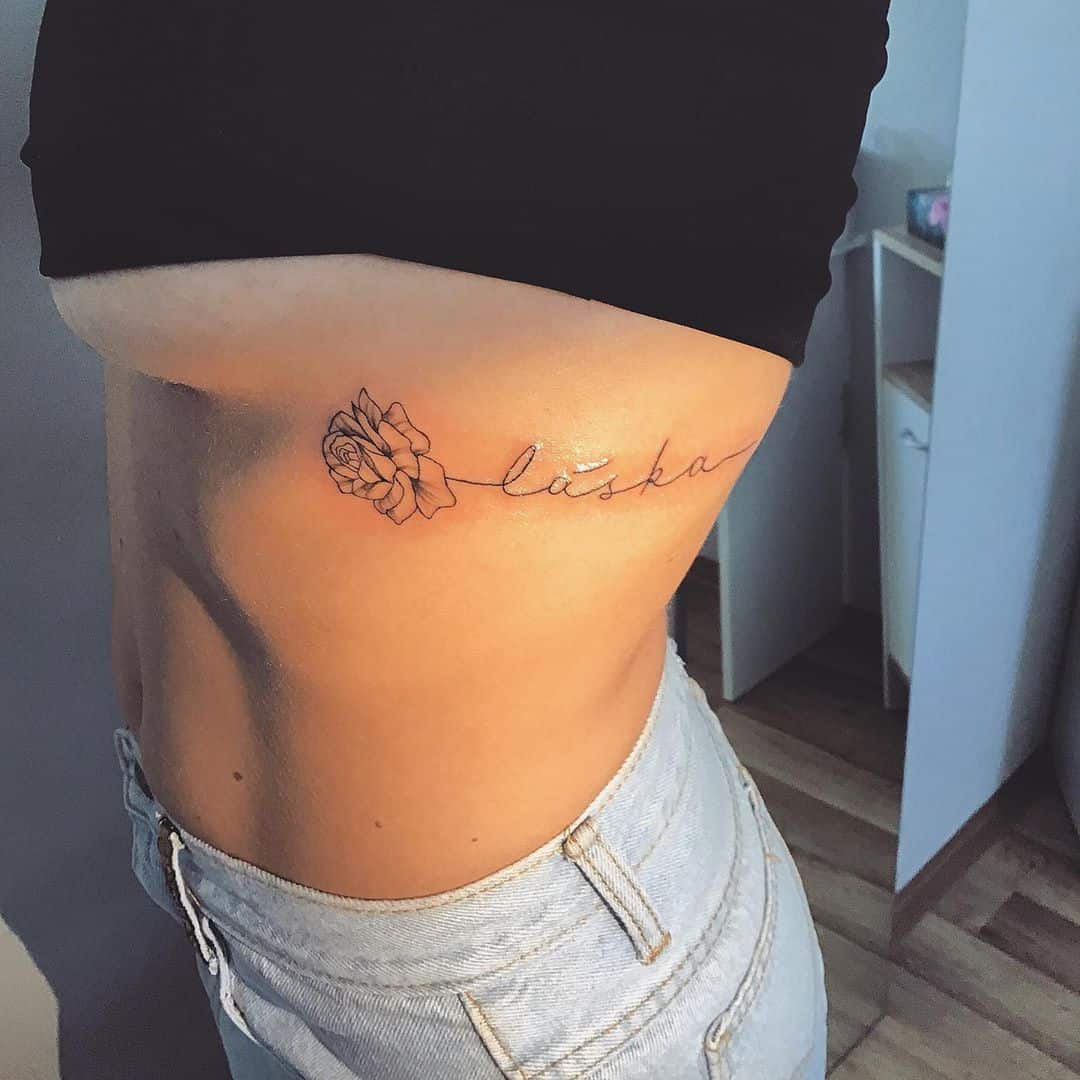 Image source
Whatever message you're trying to get across, why not say it with a rose? Turning the stem into cursive writing is a classic choice. You can have it say a name, a quote, or an inspirational word that you'd like to keep with you forever. Many people get this type of tattoo down their forearm, but having it along the side of your ribs is a sexy choice that'll make you feel extra seductive.
38. Blue Rose Ankle Tattoo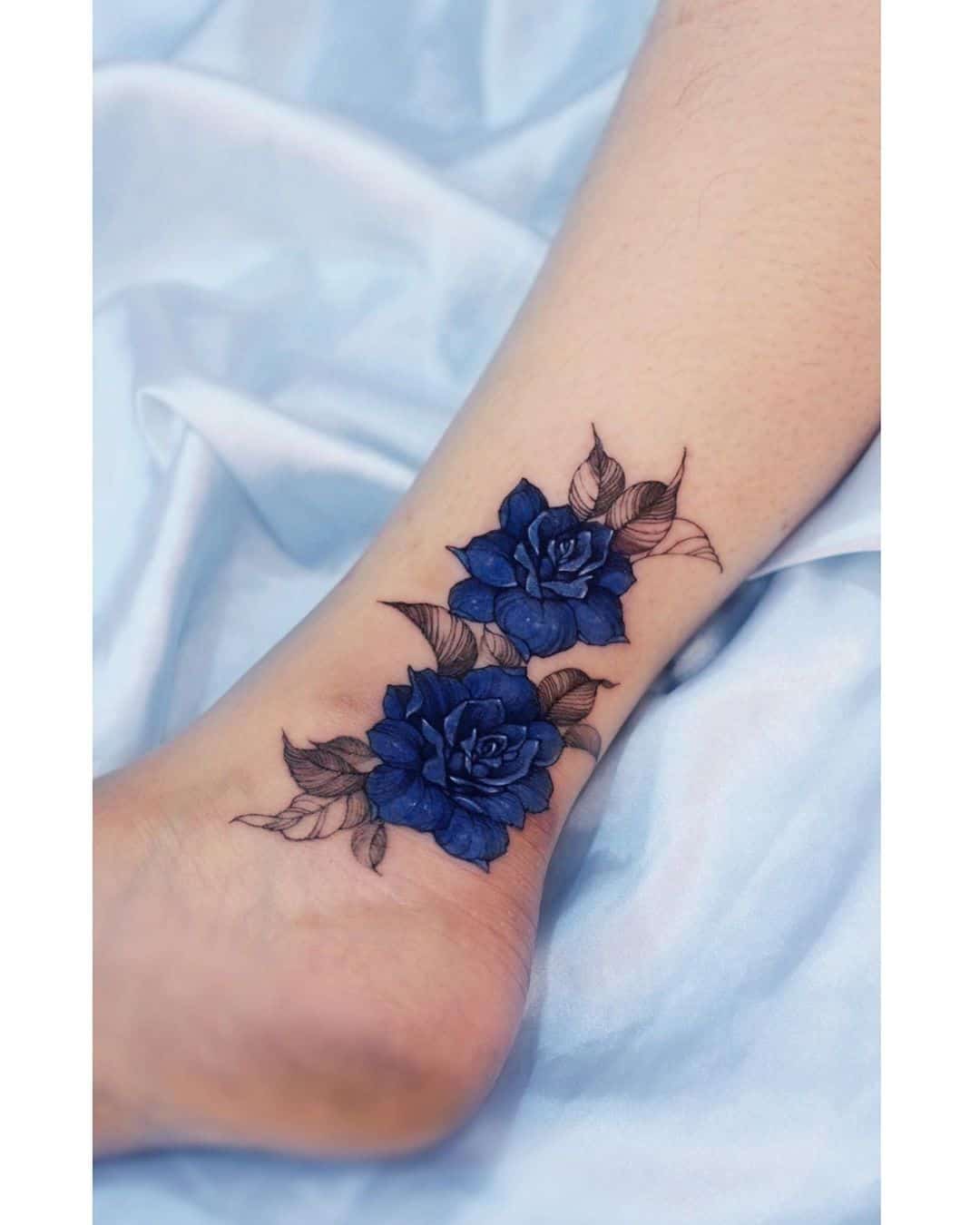 Image source
If you see yourself as mysterious and unique, a blue rose tattoo is basically a must-have. Since blue roses cannot exist naturally, there is something fantastical about them. As a tattoo, the blue rose conveys an otherworldly mystique so it's not mundane or common the way that red roses can be. Show off your blue rose tattoo every time you wear skirts or shorts by getting it on your ankle!
39. Bread and Roses Tattoo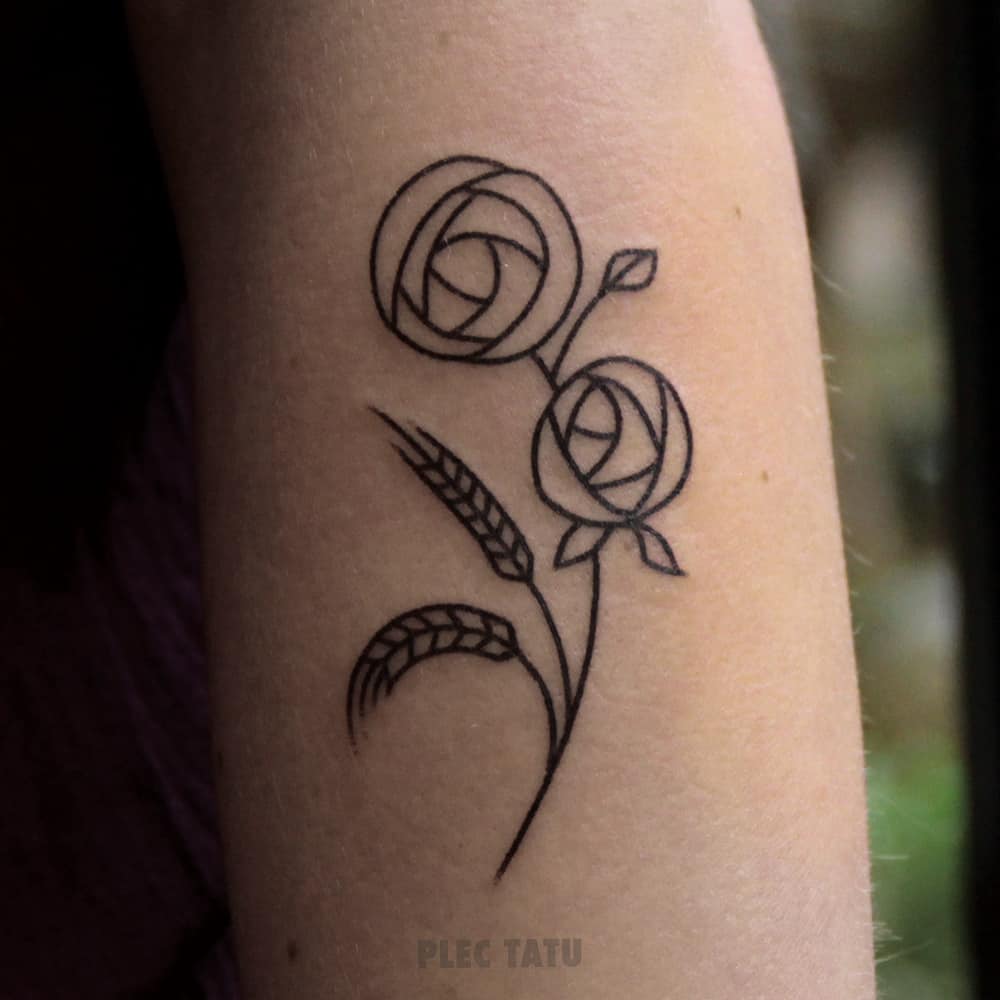 Image source
Send a message about struggle and intersectionality with a stunning yet simple tattoo! The combination of roses and wheat carries a political message connected to suffrage and workers' movement. Bread and roses proclaim that because "hearts starve as well as bodies," all people deserve both the basic necessities of life as well as the beauty and love represented by the rose.
40. Upside Down Rose Tattoo on Chest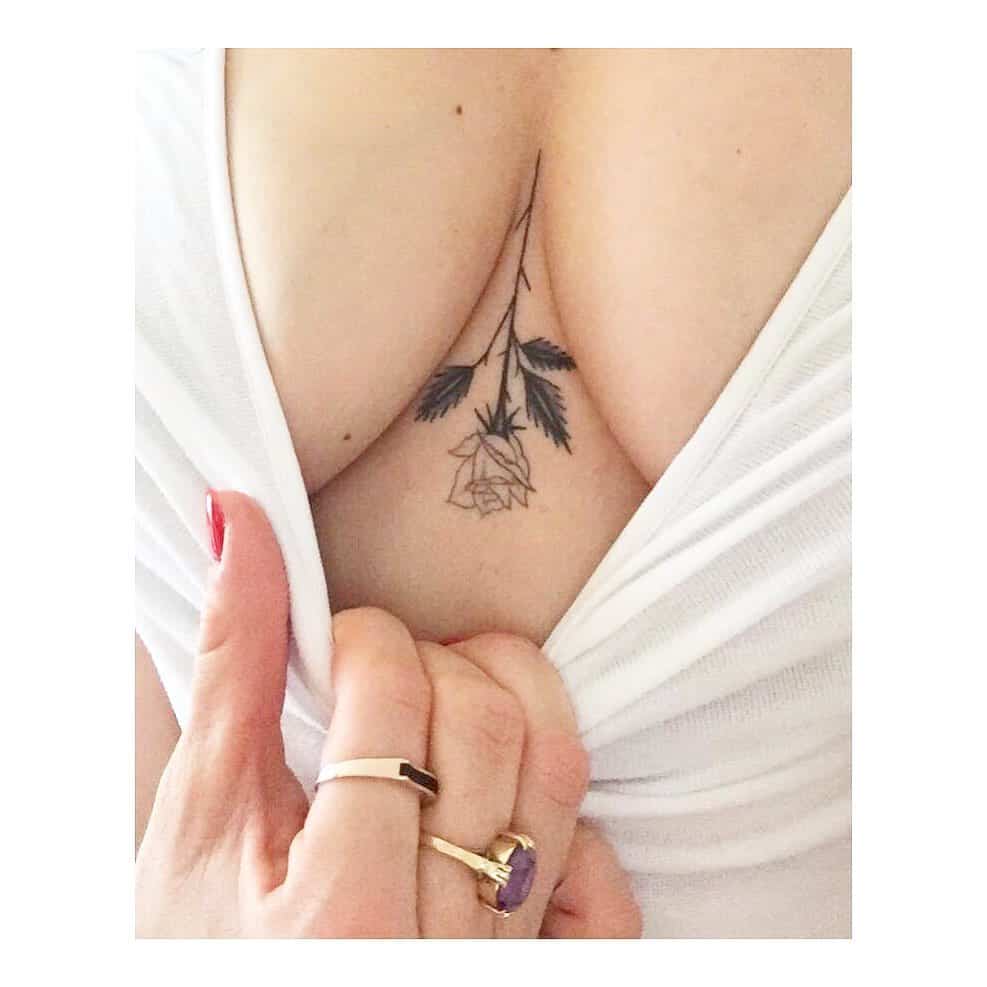 Image source
Upside down roses are just as popular for décolletage tattoos as their right-side-up counterparts. It's a great choice if you'd like to look down and see your rose looking back up at you! This little black and white version is actually a stick and poke, so don't be afraid of non-traditional tattoo techniques!
41. Watercolor Linework Rose Tattoo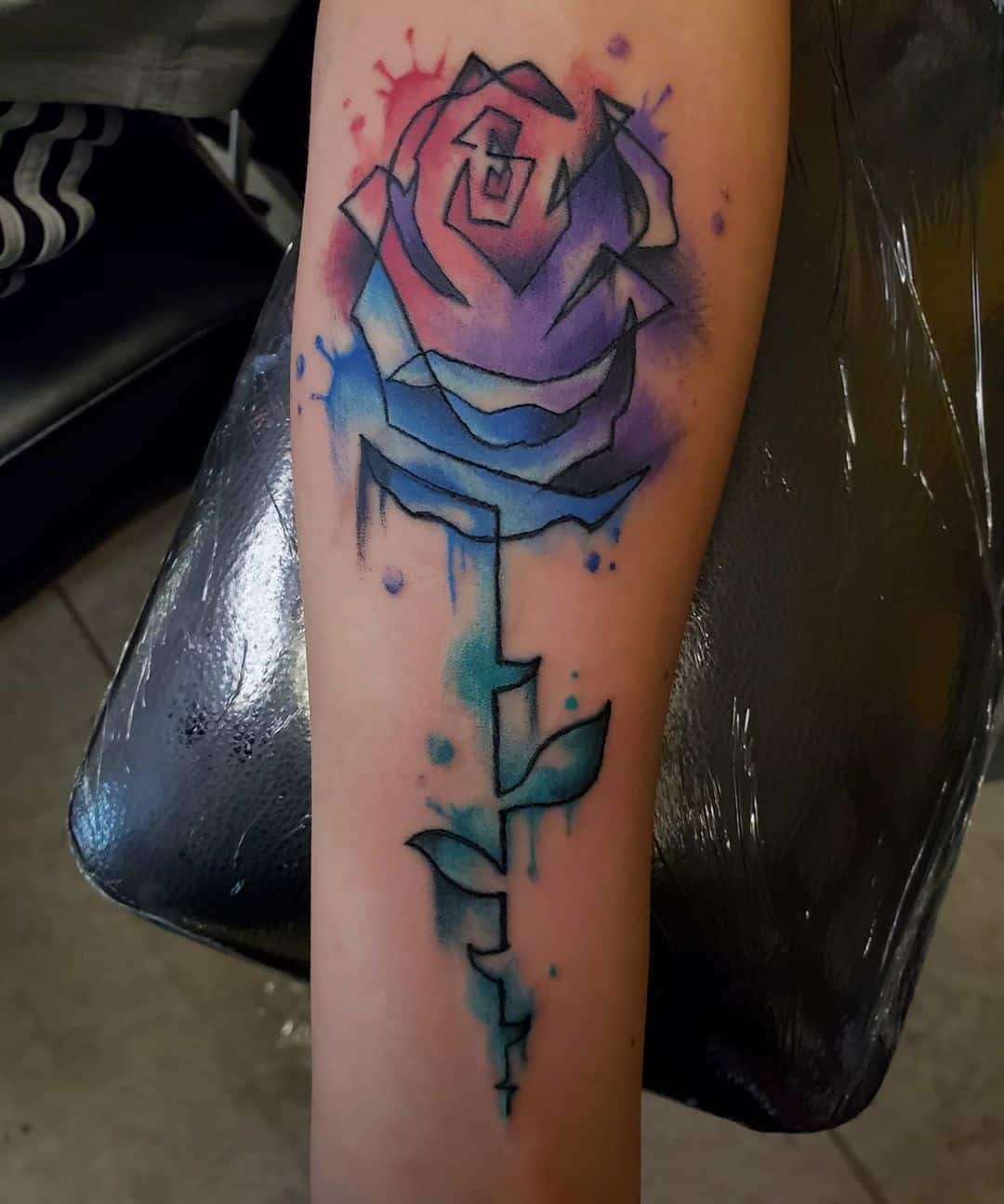 Image source
The combination of watercolors and geometric linework makes for the quirkiest rose yet! This abstract take on the rose is made of one continuous line, with a combination of straight and curved lines that give a dynamic effect. The splashes of watercolor in the background balance things out perfectly! The color selection is very traditional for watercolor tattoos, which were historically mostly done with blue, purple, and turquoise.
42. Childish Rose Trio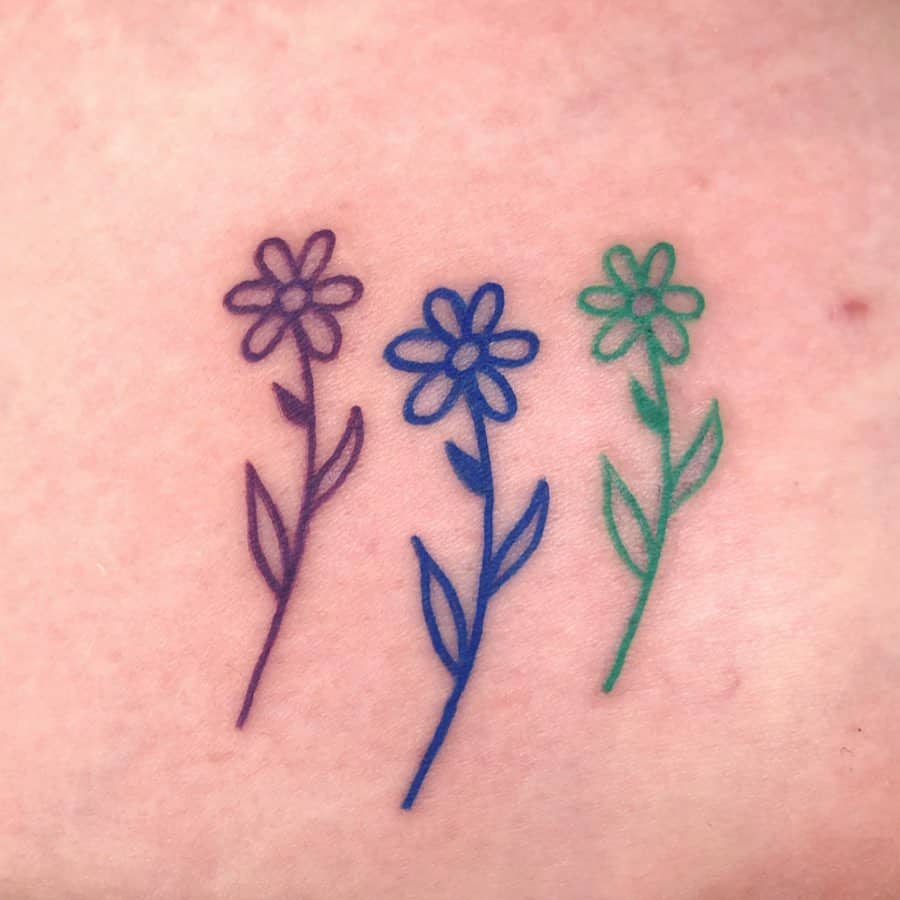 Image source
Are those definitely roses? We're not certain – you'll have to ask the child who drew them! However, this art style is an excellent inspiration for rose tattoo ideas. These naive, child-like tattoos are often designed by real children – so if you're a parent, a godparent, or older sibling, consider asking that child that you love to draw you a rose. Then, get it tattooed as a symbol of innocent love!
43. Rosy Cat Tattoo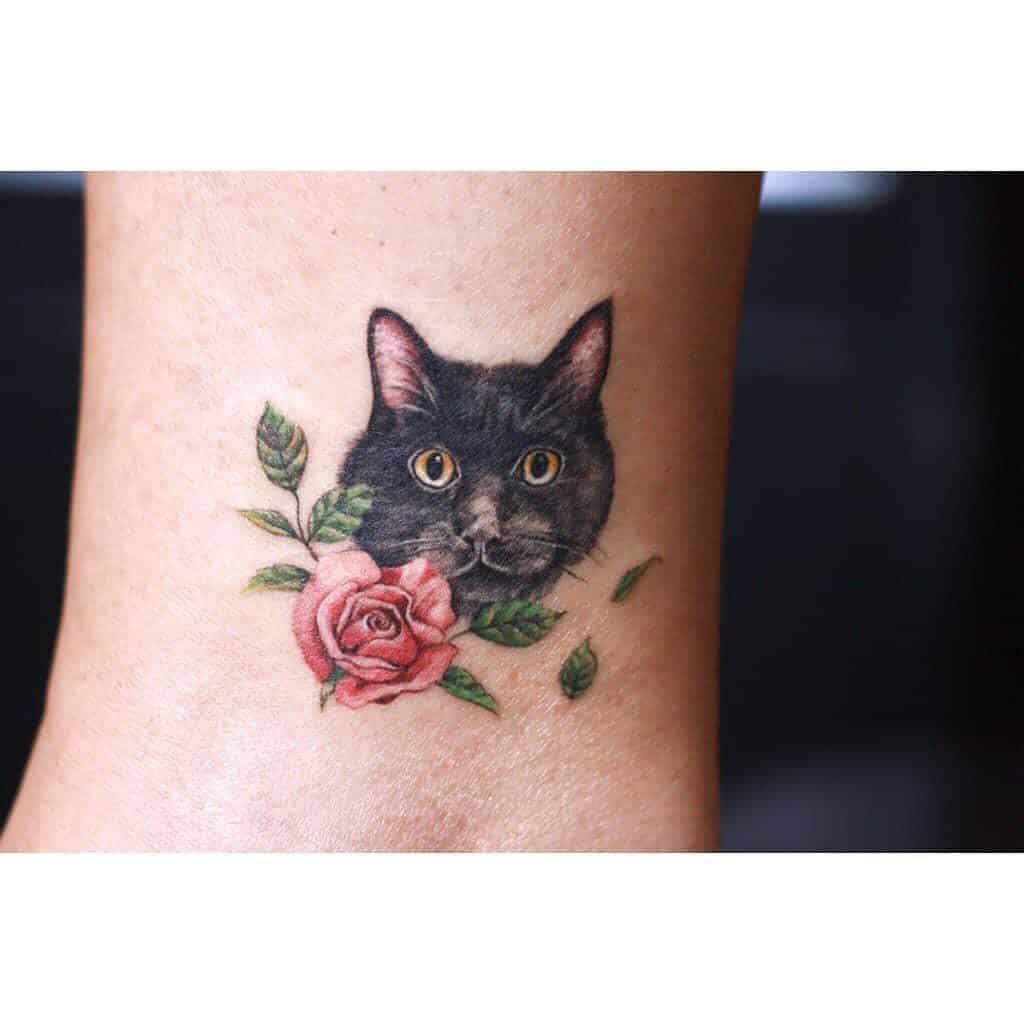 Image source
Human beings will let you down, but your pet will always love you unconditionally. Getting a pet portrait is a nice way of honoring those creatures that bring so much joy into your life! The rose wreath around the pet makes the tattoo a bit more complete while also helping to cement the fact that a pet tattoo always tells a story about love.
44. Lace and Roses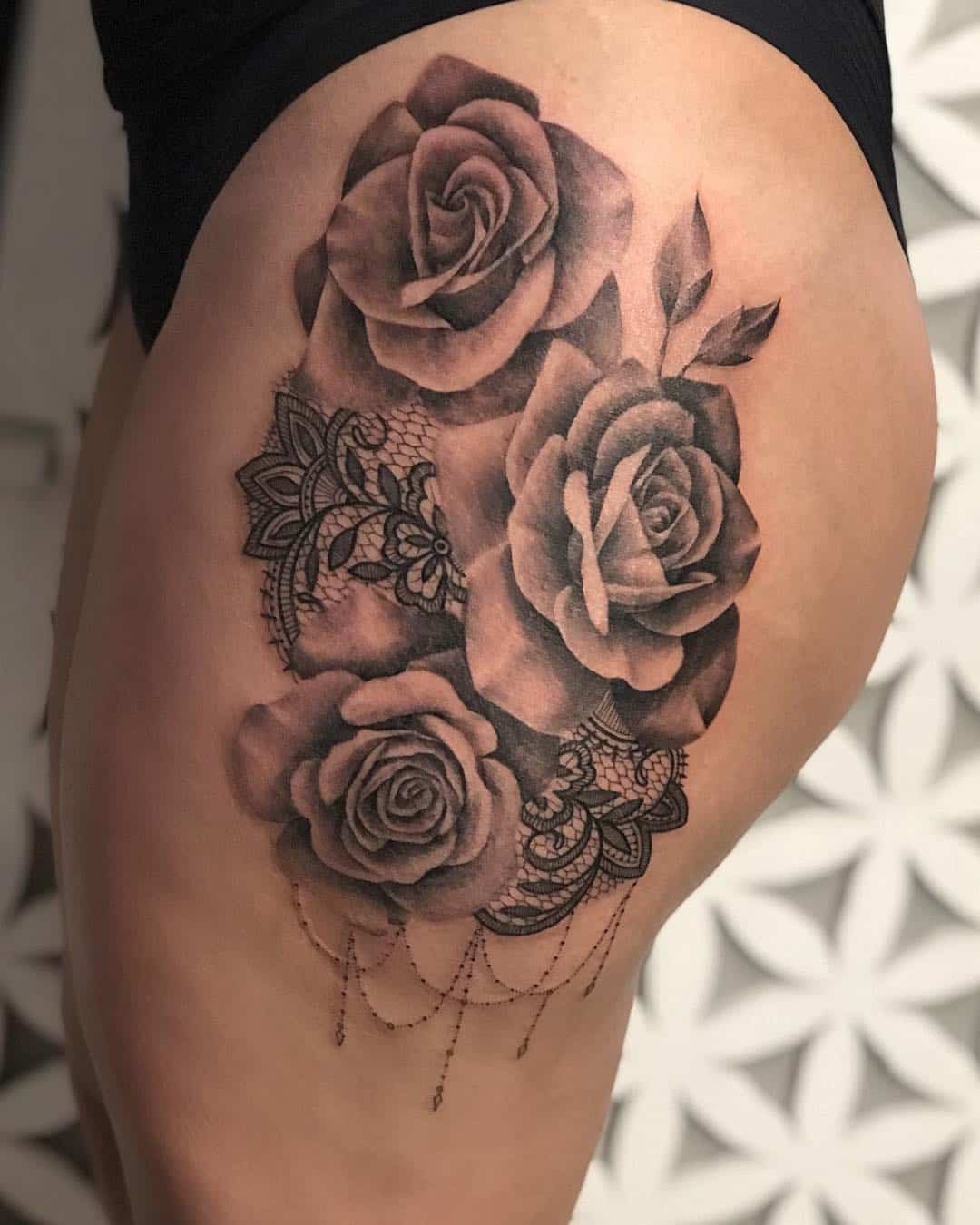 Image source
If you want to celebrate your femininity, all you need to do is combine rose and lace motifs in your tattoo. The rose is decidedly unisex in the tattoo world, but lace, with its intricate details and delicate construction, is generally seen as a feminine design. It has the same beauty and intricacy as a mandala tattoo but without the potentially appropriative cultural context.
45. Cartoon Rose Tattoo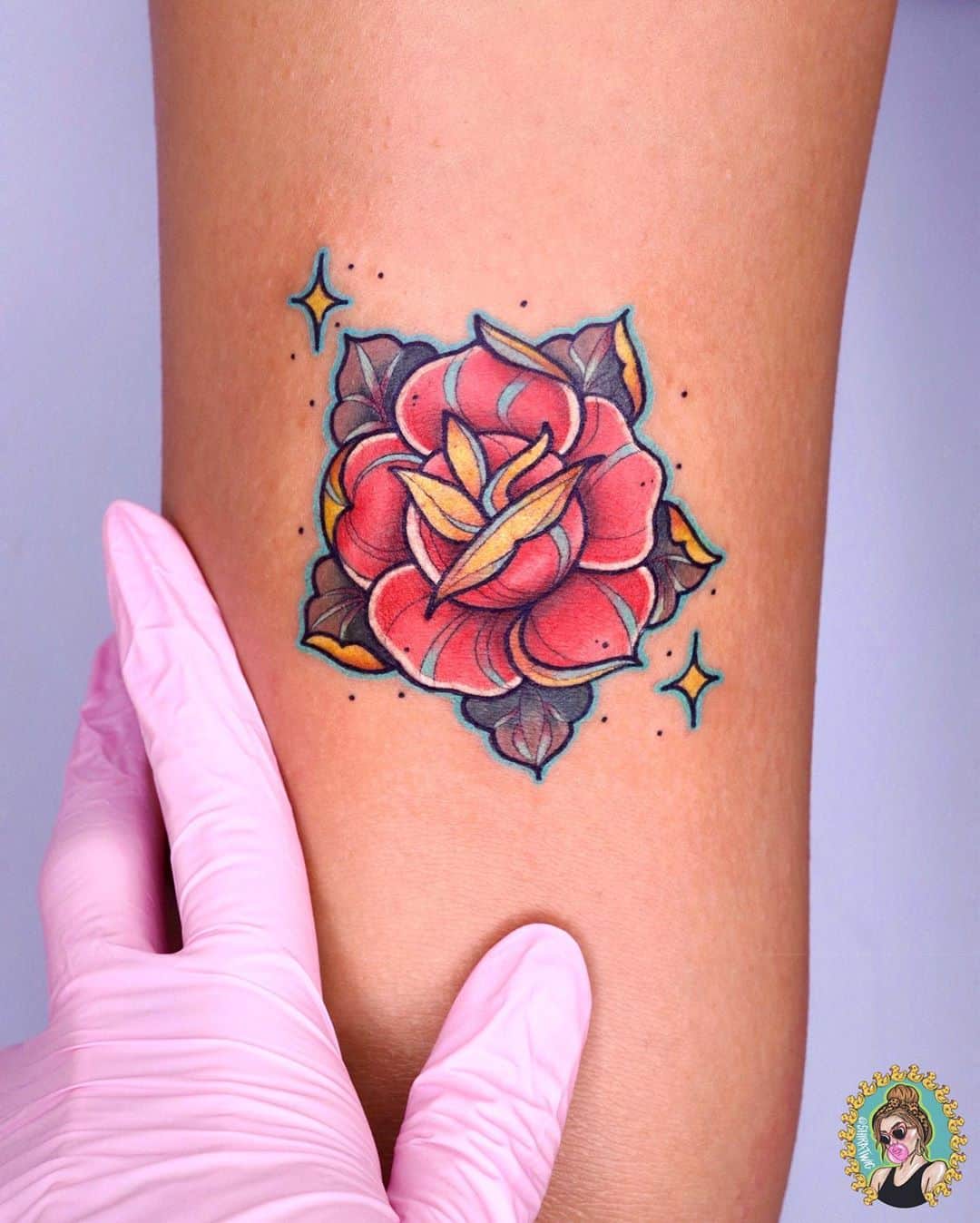 Image source
Old-school meets new-school meets anime in this vibrant and sweet rose tattoo! If you love all things retro but also have a passion for anime, then this design was made for you. It can work all on its own, but you can also add it to soften a full anime or cartoon sleeve. Take note of the light blue shading around the purple leaves and golden stars, as that's the feature that gives this tattoo movement.
46. Rose Tattoo on Foot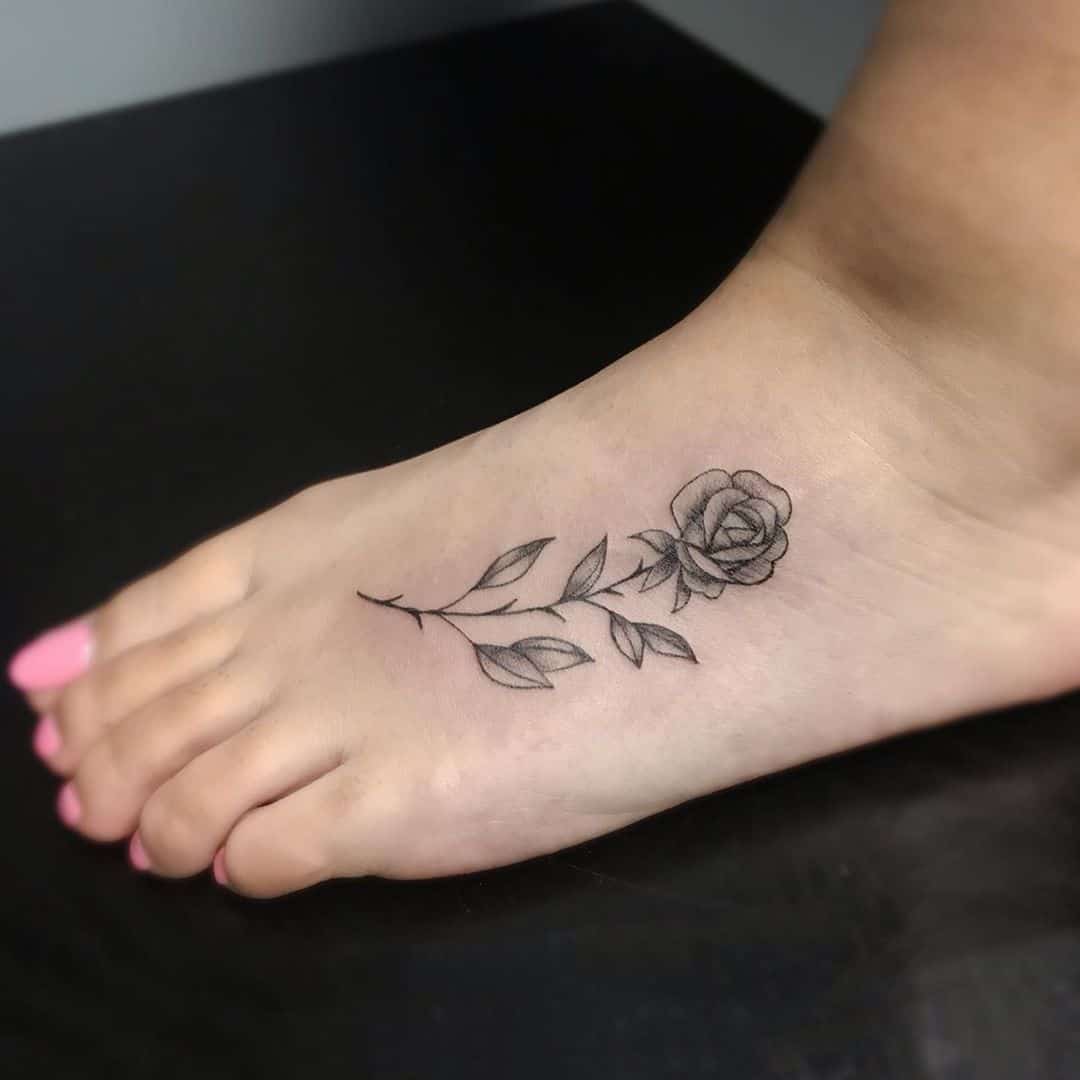 Image source
The foot is a great canvas for rose tattoos! Strictly from an aesthetic point of view, a rose tattoo looks incredibly sexy when you show it off in a pair of pumps. It can represent how grounded you are in nature's beauty or in love and passion, and it will accompany you on all of your future journeys!
47. Smell the Roses Tattoo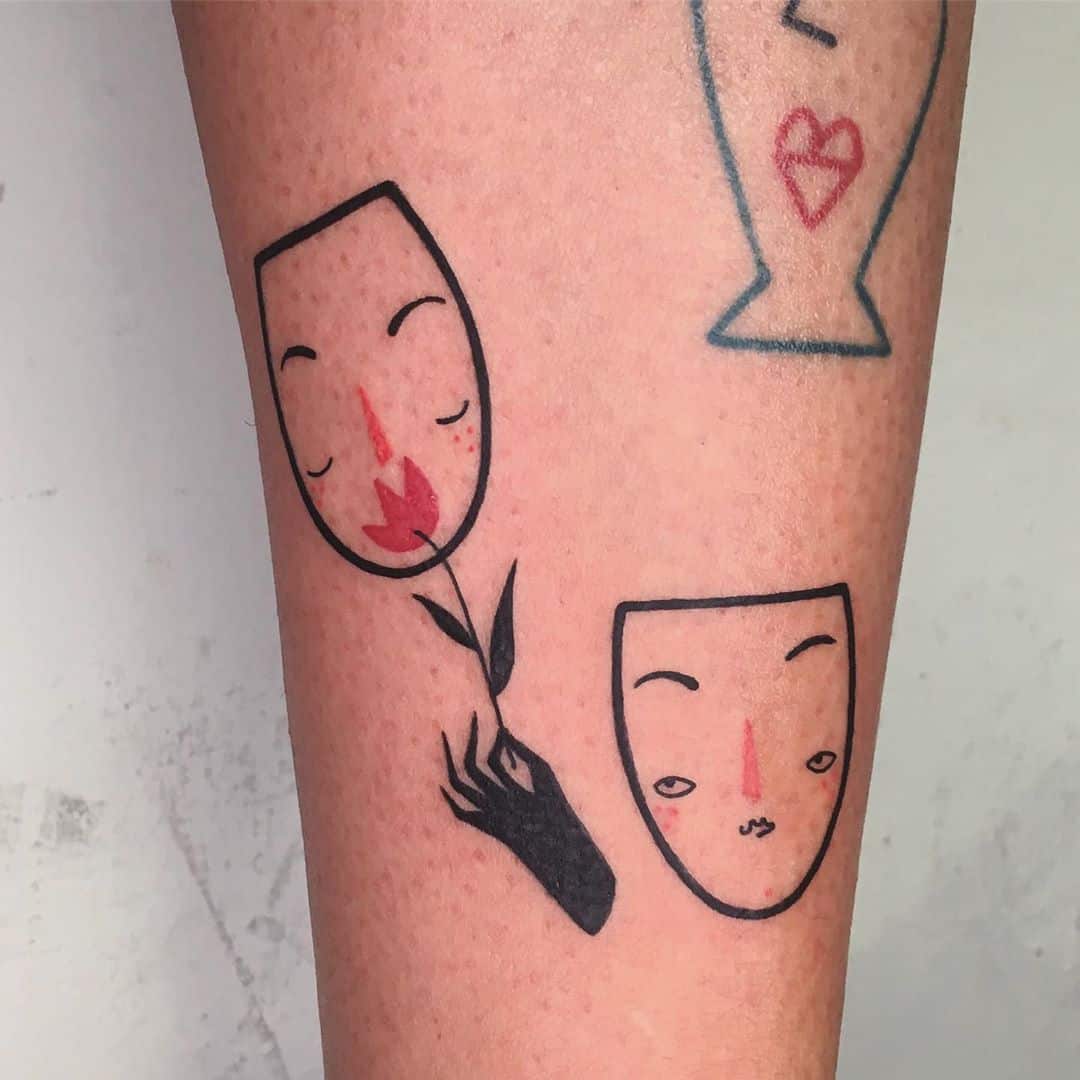 Image source
This quaint and cutesy art style isn't for everyone, but it speaks to our soul! The abstract cartoon face is already adorable, but having it take a moment to smell a red rose sends a message about relaxing, appreciating beauty, and finding joy in the simple things in life. It's the kind of design that proves that red roses aren't all passion and drama – they can also be deeply calming and giving of joy.
48. Illustrated Rose and Dagger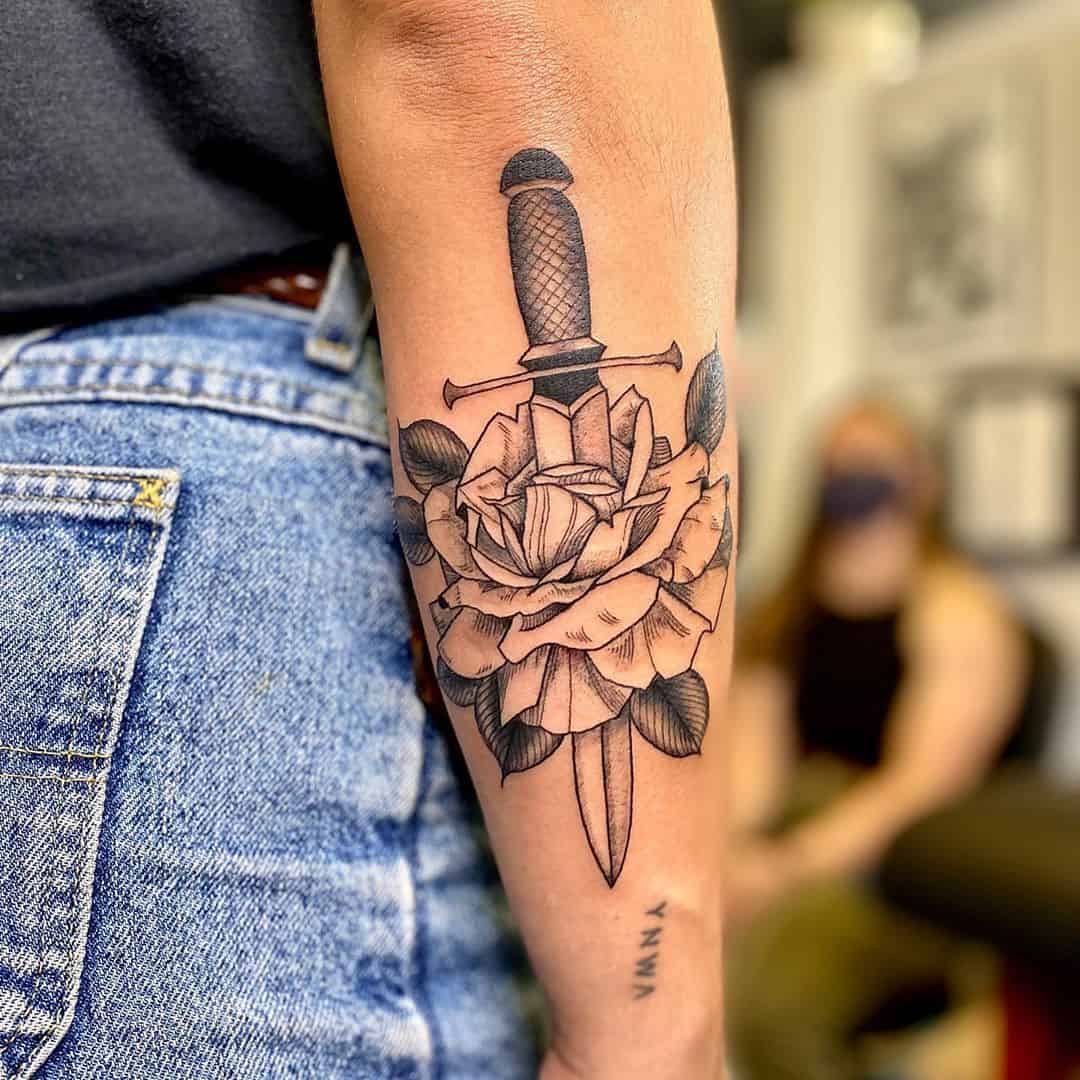 Image source
We love this example of how one motif can be done in different styles! This is a more illustrative version of the rose and dagger in black and white. It's a stylish tattoo, so you can let the contrast of the lush rose petals and the sharp blade inspire you. Even though this design is large, you'll be surprised how few people notice a tattoo on the back of the arm.
49. Red and Blue Rose Duo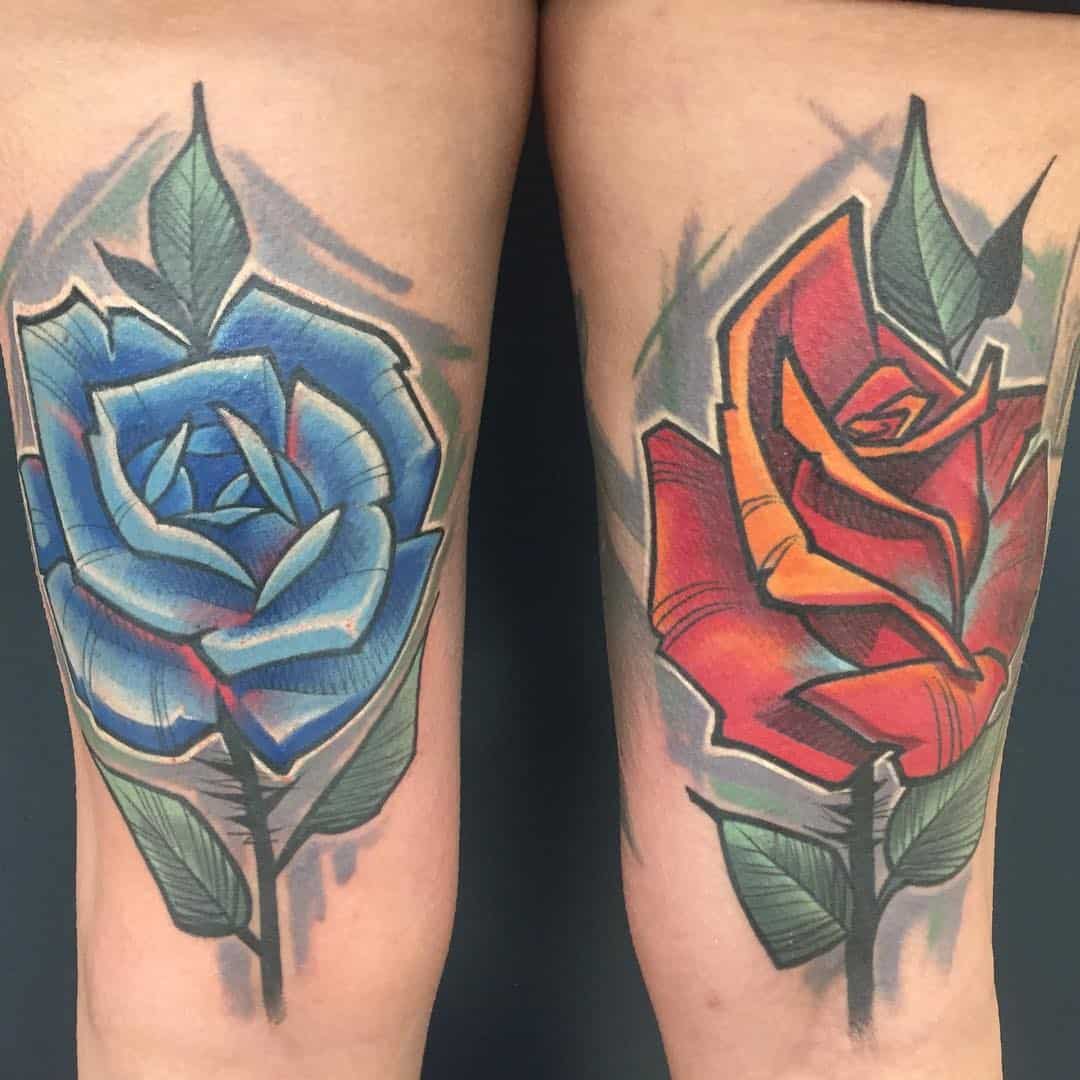 Image source
There is a lot to love about this stunning pair of new-school roses! Duality is a powerful subject to explore in tattoos. Having a red-hot rose on the one leg and a cool blue one on the other can be a way of presenting the different sides of your personality, or it can just be a fun exploration of color and symmetry. Either way, if you love color, this is definitely a rose tattoo idea that may appeal to you!
50. Petals in the Wind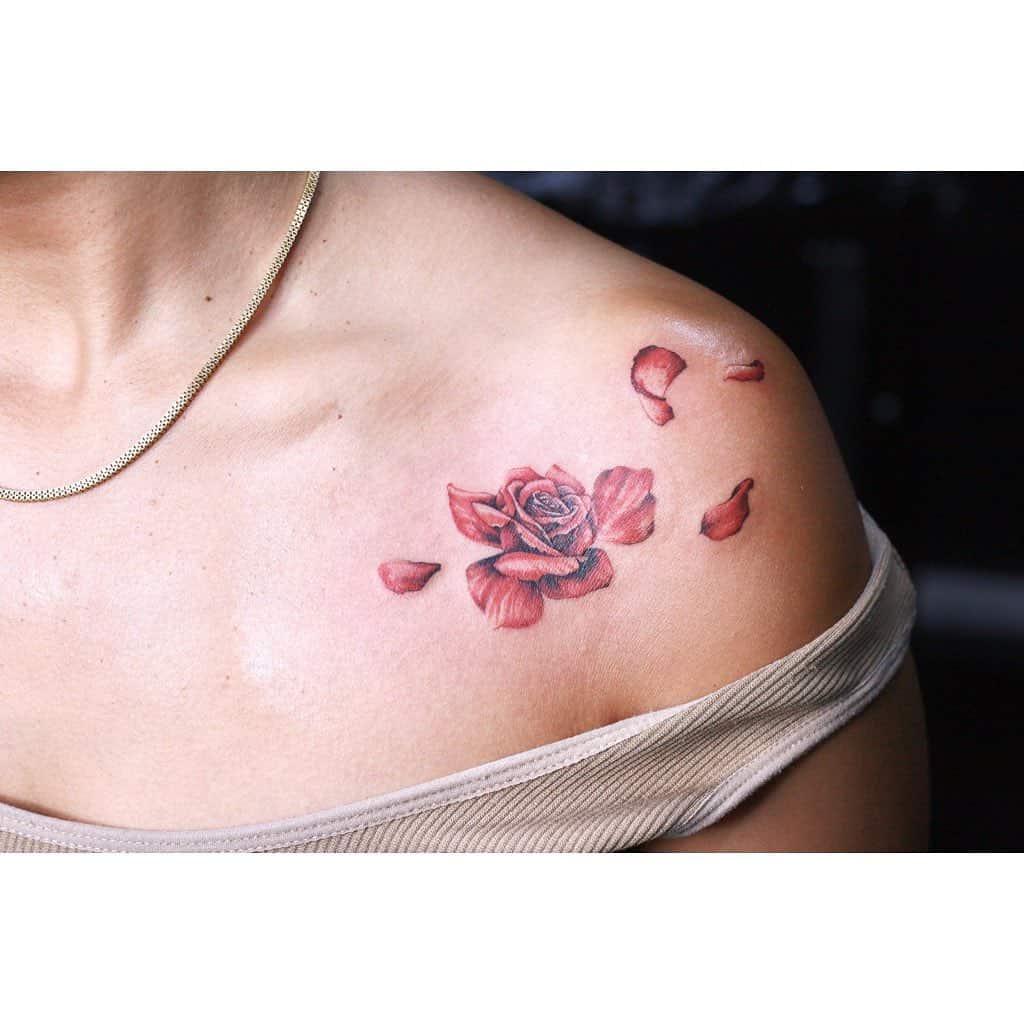 Image source
This kind of tattoo celebrates the beauty in passing moments, as delicate rose petals float off in the wind. This thoughtful and melancholic tattoo is also a lovely way of playing with the curvature of the body, as the rose petals float over from the chest to curve over the shoulders. You can also let this sort of design act as the connective element in a sleeve.
Final Rose Tattoo Tips
Did you find a rose tattoo idea that you would like to adopt as your own? Marvelous! We have some tips to help you bring your rose to life.
Selecting an Artist for Your Rose Tattoo
It's important to select the right artist: someone who has the right style, keeps a clean and hygienic shop, and will be nice to hang out with for the duration of the session.
Look at Portfolios
All tattoo artists have portfolios of their work, either on a website or on Instagram. If you'd like a tattoo in a specific style, look at portfolios to find an artist who works in that same style. It's rare that one artist tattoos in more than two or three aesthetics.
Read Reviews
Just having an amazing portfolio isn't enough – you also want a tattoo artist who has great reviews. You don't want to sit in pain for half an hour or longer in the company of someone described in reviews as rude or unprofessional.
Check Cleanliness
This is the most important detail to judge, although you might have to wait until after you've looked through portfolios. If you can, visit the shop before making an appointment to see how clean it's kept. If that's not possible for you, reading through reviews may suffice since most tattoo parlor reviewers will mention the level of hygiene in the place.
Book a Consultation
A consultation isn't always necessary, but it's recommended. If your rose tattoo is going to be intricate or if your tattoo artist is going to create an original design for you then it's an absolute must! A consultation can happen in person or over email, although meeting with your artist in person before the sitting is best because it allows you to build rapport with them.
All's Well That Ends Well
Having a rose accompany you for the rest of your days is never a bad idea, but it's important to choose a design that will resonate with you not just now, but for years to come. This flower can act as a reminder of love and beauty, but the rules aren't strict, so you can also give it your own meaning. Whatever design you choose, we hope it makes your life a little rosier!