There is something special about the color red. It can be traditional as well as trendy at the same time and has the power to brighten up any look instantly. It does not matter whether you prefer a classic French manicure or love to go creative with your nail design — red nails will always help you to draw attention to your outfit and style, and never feel overly done.
You can achieve many kinds of looks with red nails, be it accentuating your gothic mien or getting a cozy and romantic appeal. Red nail designs suit all kinds of seasons and occasions too, and can flawlessly blend with the attire that you are planning for the event. It even allows you to play with different textures and shapes to express your chic and fashion-forward personality.
Choosing the Right Red Nail Designs
There are countless red nail design ideas out there that you can try to show off your inner diva to the world. To find the right nail design for you, you need to consider a few things when you decide to don red nails.
The Shade of Red
Red comes in a lot of different shades, such as cherry red, crimson red, candy red, scarlet red, and more. This makes choosing the right shade of red nails important to balance your overall look.
Moreover, just like makeup, you should choose the right shade of red nails to go with the mood of the event. For instance, bright cherry red nails can be great for summer parties, while dark wine-red nails will be more suited for creating a dramatic impact when attending a formal event.
Nail Length
You also need to shortlist red nail design ideas based on the type of manicure and nail length. For instance, going for a glittery red nail design may not be ideal for short nails. Likewise, a stiletto manicure may not support all kinds of red nail art designs either.
A solid bold red nail design can go with all types of manicures and nail lengths though, but you will need to be more careful when adding nail art designs to make sure they're still versatile.
Maintenance
If you are going with trendy red nail art, then you should also think about its maintenance to determine how long it will serve you. Many red nail designs allow you to unleash your creativity with glitter, jewels, studs, and the like.
Therefore, you should consider how your day-to-day activities would affect your nail design before trying it. However, maintenance will not matter much if you are planning a red manicure for a special occasion and will take it off before heading back to work the next day anyway.
In any case, a red nail design will certainly add a bold statement of glamour to your overall look. Trendy red nails speak of confidence and will mark you as a daring, positive, and sociable person who never shies away from the spotlight. So try on some of the best red nail design ideas mentioned below to create a striking appeal.

1. Red and Pink Nails With Heart Tips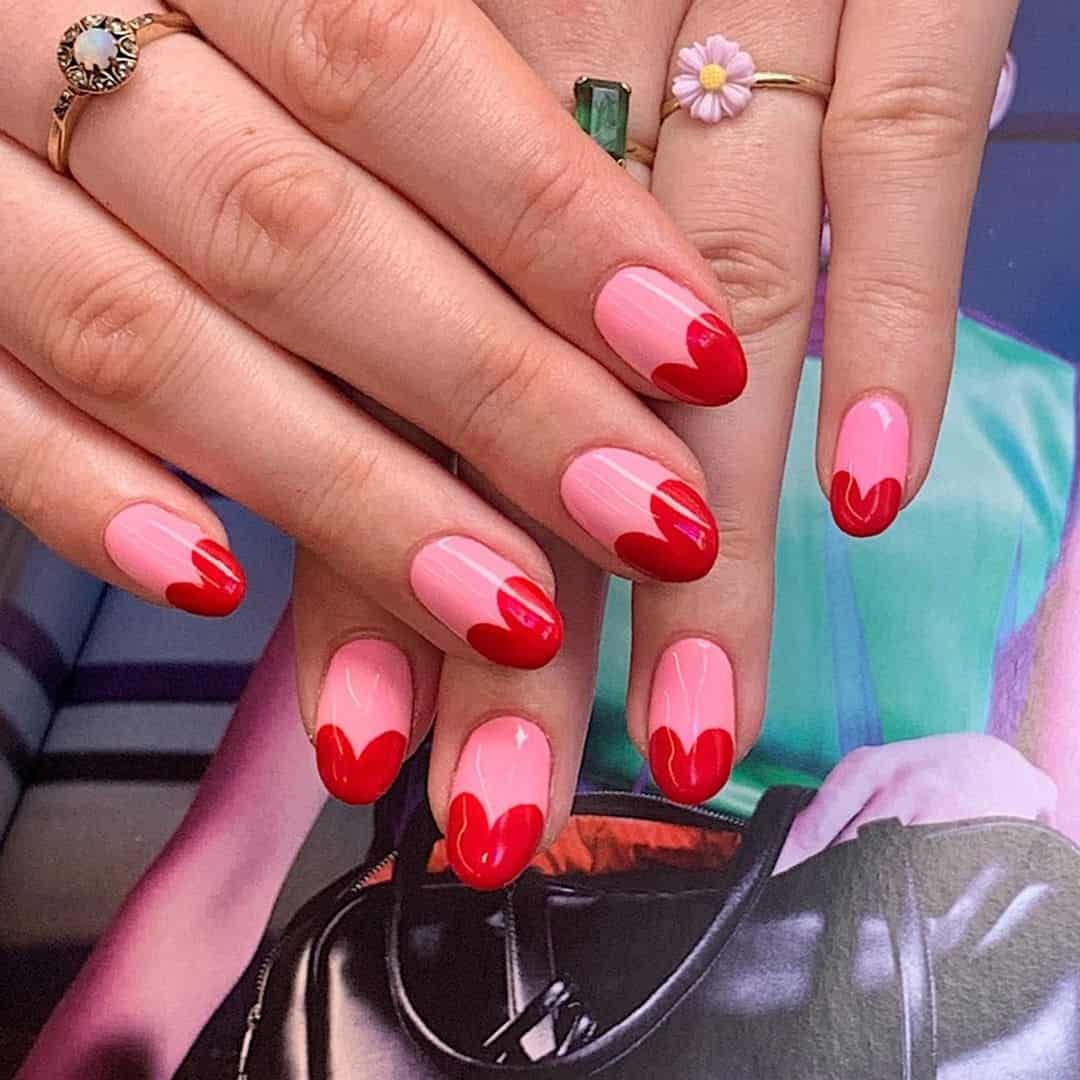 Red and pink may seem like an unusual color combination to some, but it works quite well when you transform this French manicure style into small heart tips. You can work with different shades of red here for the hearts while keeping the rest of the nails within the pink pastel family for stunning results. The pop of cute and flirty heart tips works the best on oval or almond-shaped nails, although you can also try this design with a stiletto manicure.

2. Red Nails With Golden Cuticles
If you are looking for an eye-catching nail design idea, then go for the classic duo of red and gold. The refined touch of golden moons on scarlet red nails gives this nail design a stunning makeover while keeping it simple enough to be done easily at home. The red and gold color combination even has a deeper significant meaning in Chinese culture and is used to represent joy, happiness, and good luck. So this is always a win-win nail idea.
3. Paint Splash Red Nails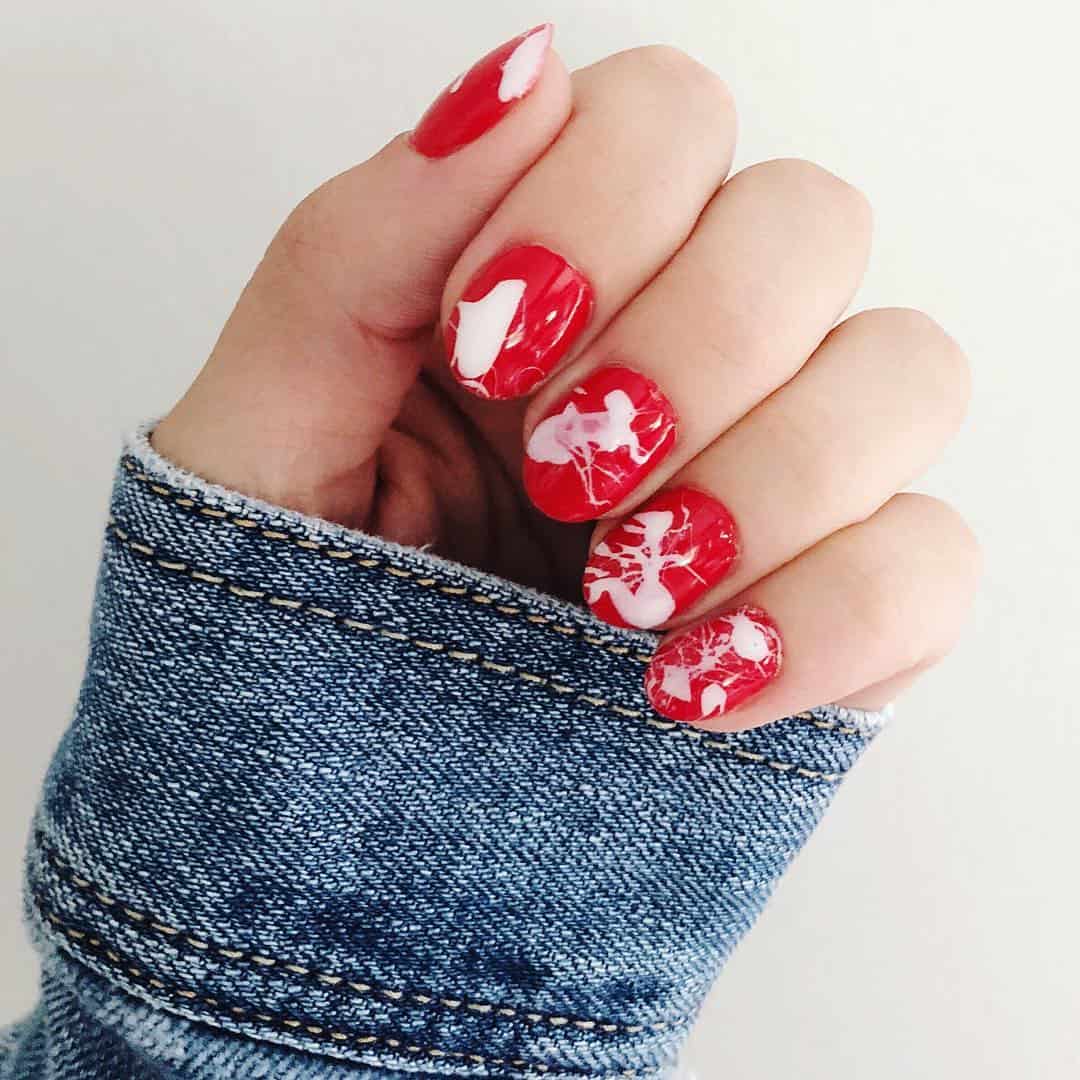 This is a simple yet unique red nail design that can show your creativity and bold ideas. The splash of white nail polish on top of your rose-red nails perfectly blends your wild side with your fashion-forward personality. The best part is that it does not have to be any specific design; the casual "paint splash" on your nails will make it look cool and stylish on any day.

4. Red and Black Nails With Hearts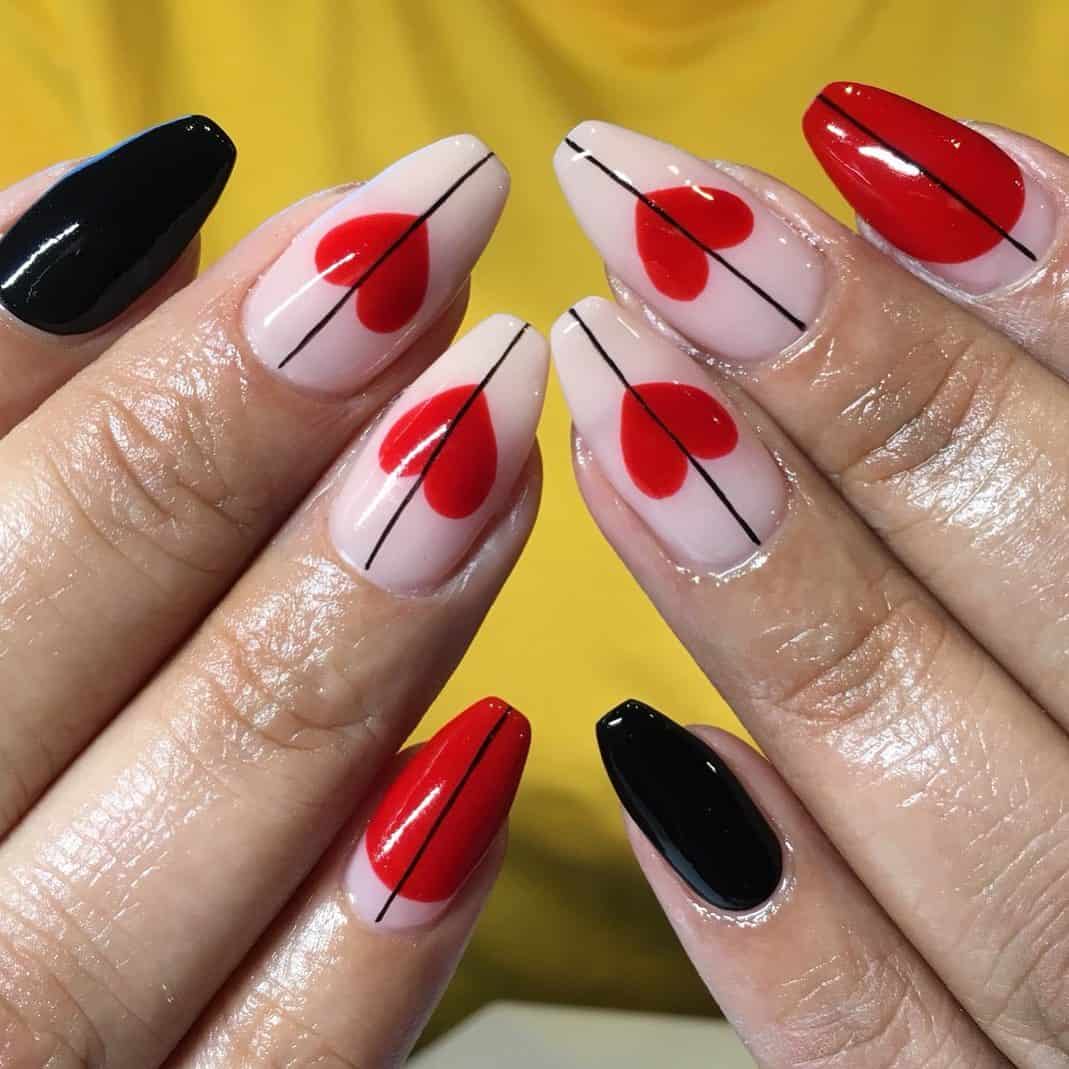 The simple combination of red and black nails is enough to draw eyes to your looks. Adding tiny heart shapes on your nails makes it appear more adorable while giving you a unique red nail design to flaunt. This makes it a cute red nail design idea that you can wear when attending your BFF's engagement party. Or you can simply go for it whenever you want to achieve a bold yet romantic look.
5. Red Anemone Nail Design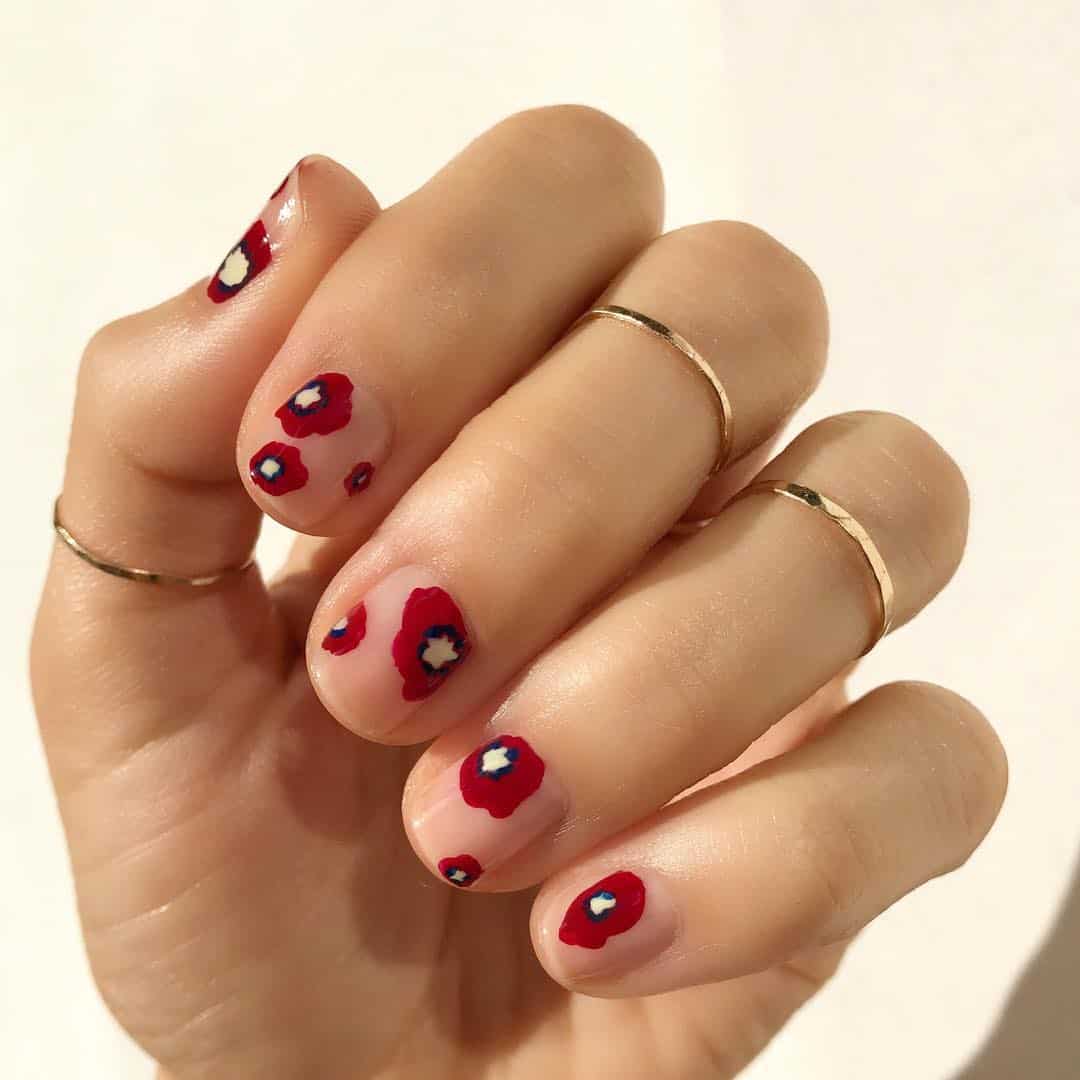 Adding a few red flowers on nude nails will be an excellent choice to create an elegant, minimalist appeal. This red nail design features tiny red anemones, which not only look amazing on a short manicure but also carry a deep symbolic meaning. In Greek mythology and Christianity, red anemone represents death, which makes it a simple yet unique idea to show your respect for someone you have lost.

6. Red Nails With Polka Dots and Bow Ties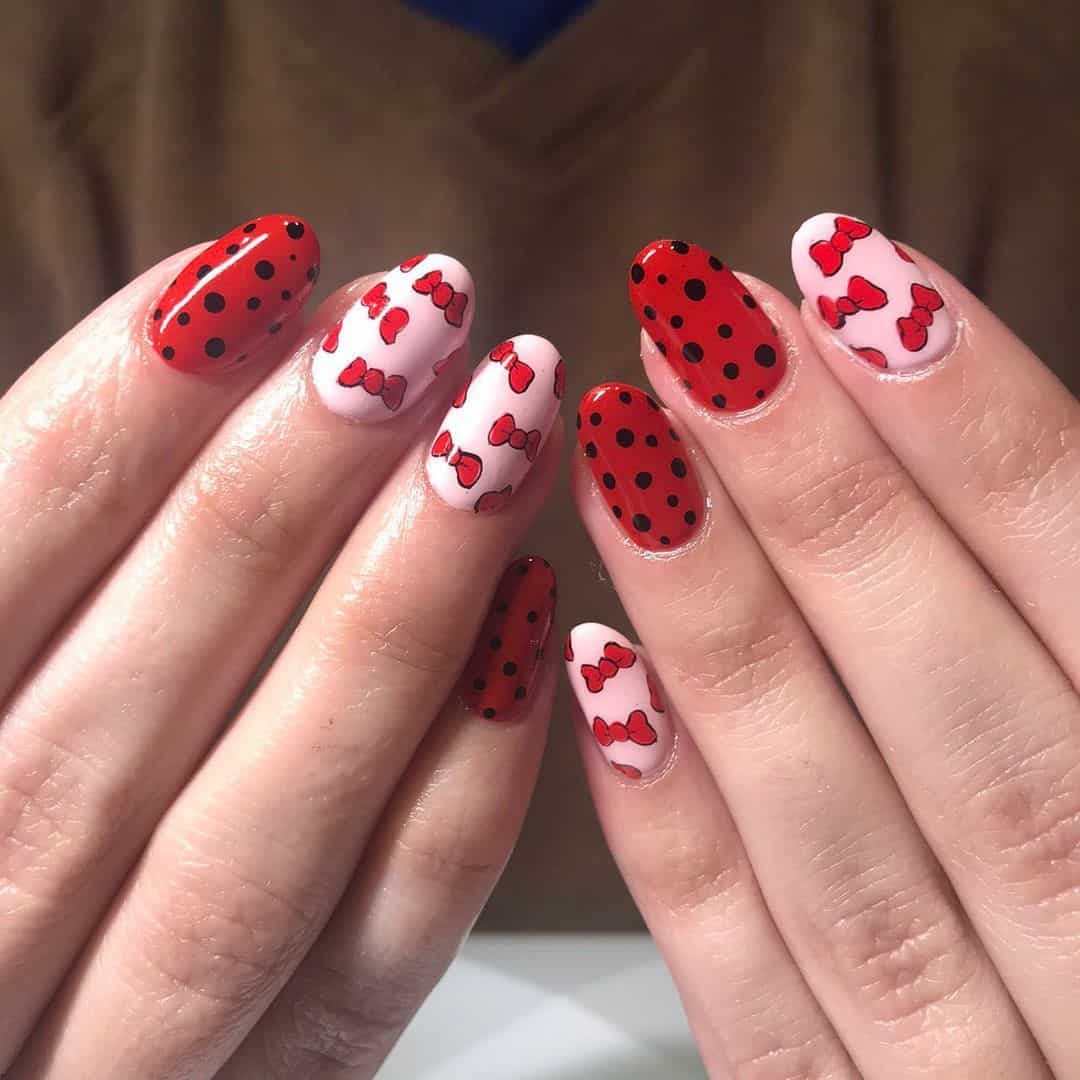 Nothing can beat the sweet appeal of tiny polka dots on red nails. This pretty nail design combines that with little red bow ties on pink-ish pastel nails to elevate the cuteness further, giving you a design that will draw everyone's eyes to your hands instantly. This red nail design can be an excellent choice for the holidays when you are planning to attend a casual party at your friend's place.
7. Red and Maroon Ombré Nails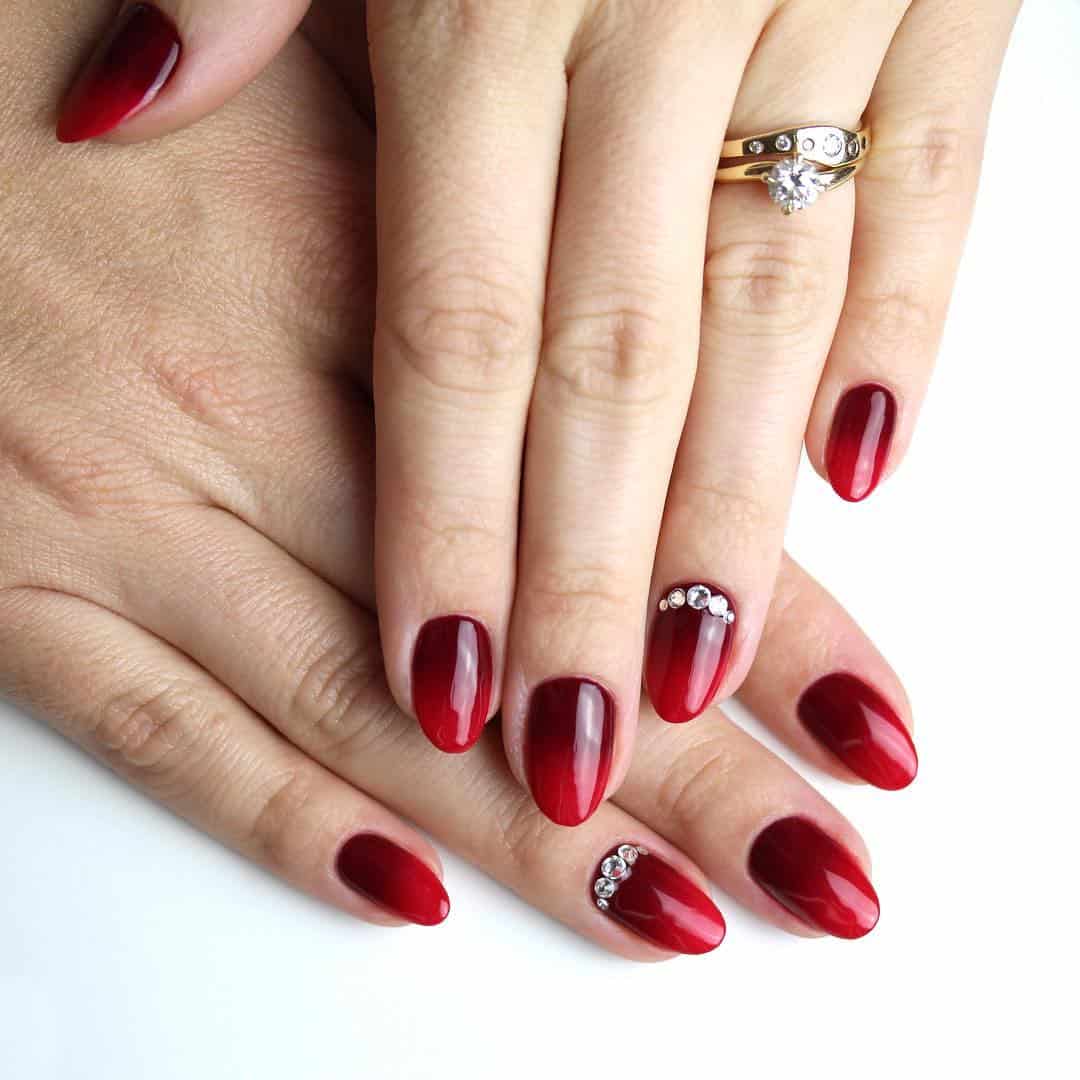 Create an ombré effect on your nails with crimson red and maroon shades to get a sensual and passionate vibe. The subtle gradient not only gives a fresh twist to your red nails but it also makes them feel more stylish and sophisticated. Red and maroon ombré can go with any nail shape, but it looks especially flawless on oval and almond-shaped nails. You can even add a few jewels on the ring fingernails to add to its graceful appeal.

8. Red Nails With Animal Prints Abstract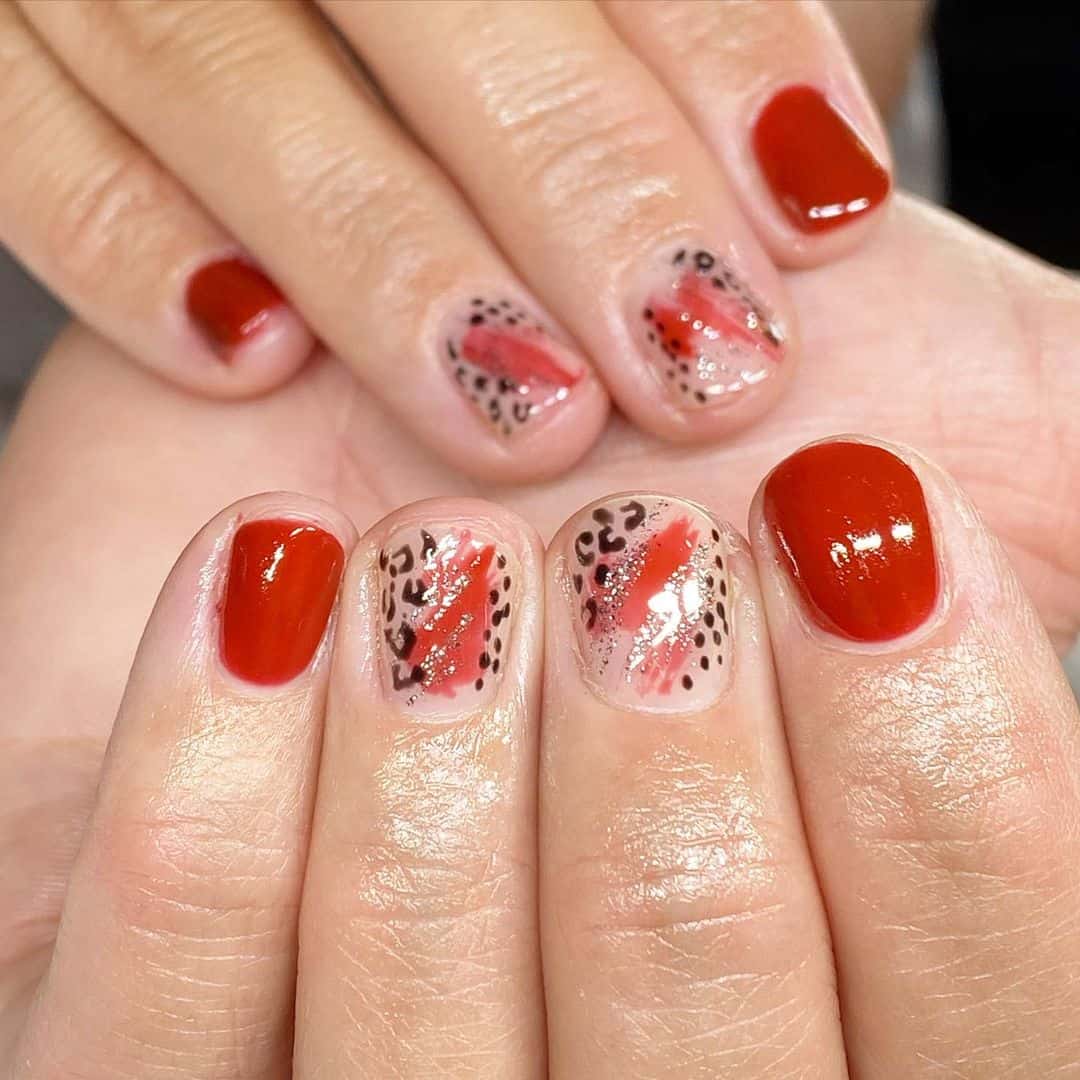 You can find a lot of stylish leopard print red nail design ideas out there. While most of them would have the animal print on one finger following the feature nail style, this red nail idea combines leopard prints with abstract designs to give it a unique twist. This makes it a great option to show your love for animals and nature while creating a subtle but distinctive style statement.
9. Songbird-Inspired Red Nails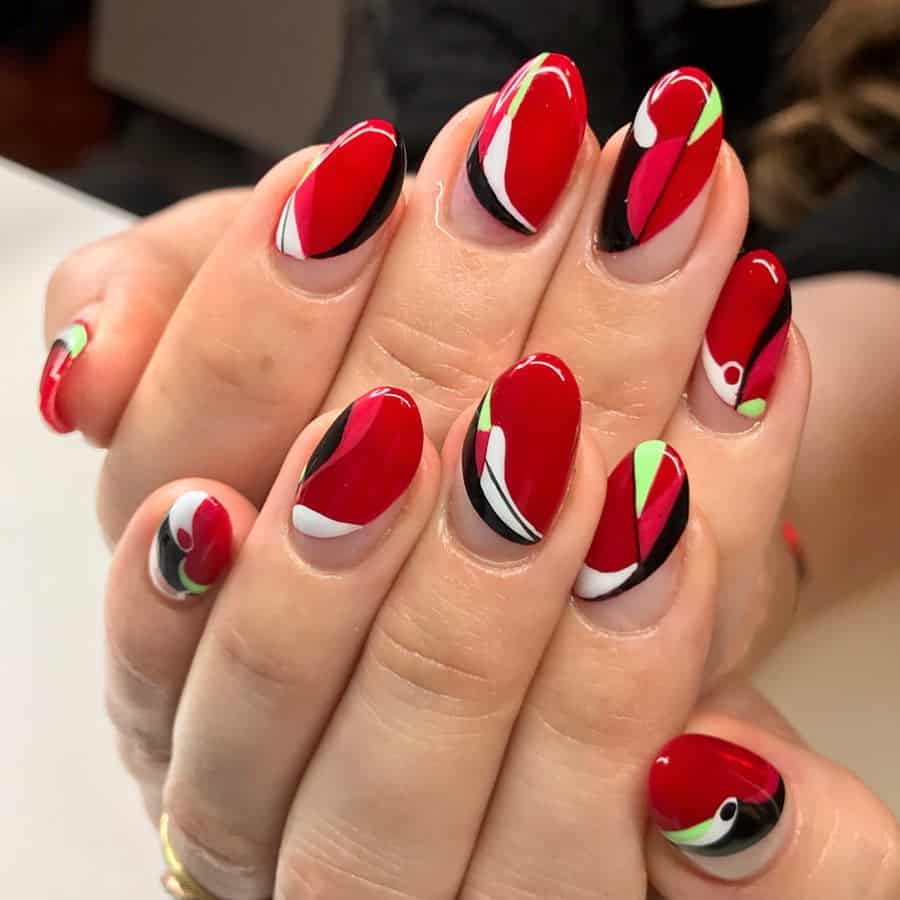 This beautiful red nail design, inspired by a long-tailed meadowlark or songbird, will make your day. If you are a nature lover and want to show you love toward flora and fauna to everyone, then this sophisticated nail design will suit your interests in the best way. At the same time, the elegant black and white strokes with touches of green in there make the nail design quite appealing to flaunt on any occasion.

10. Mix and Match Red Nails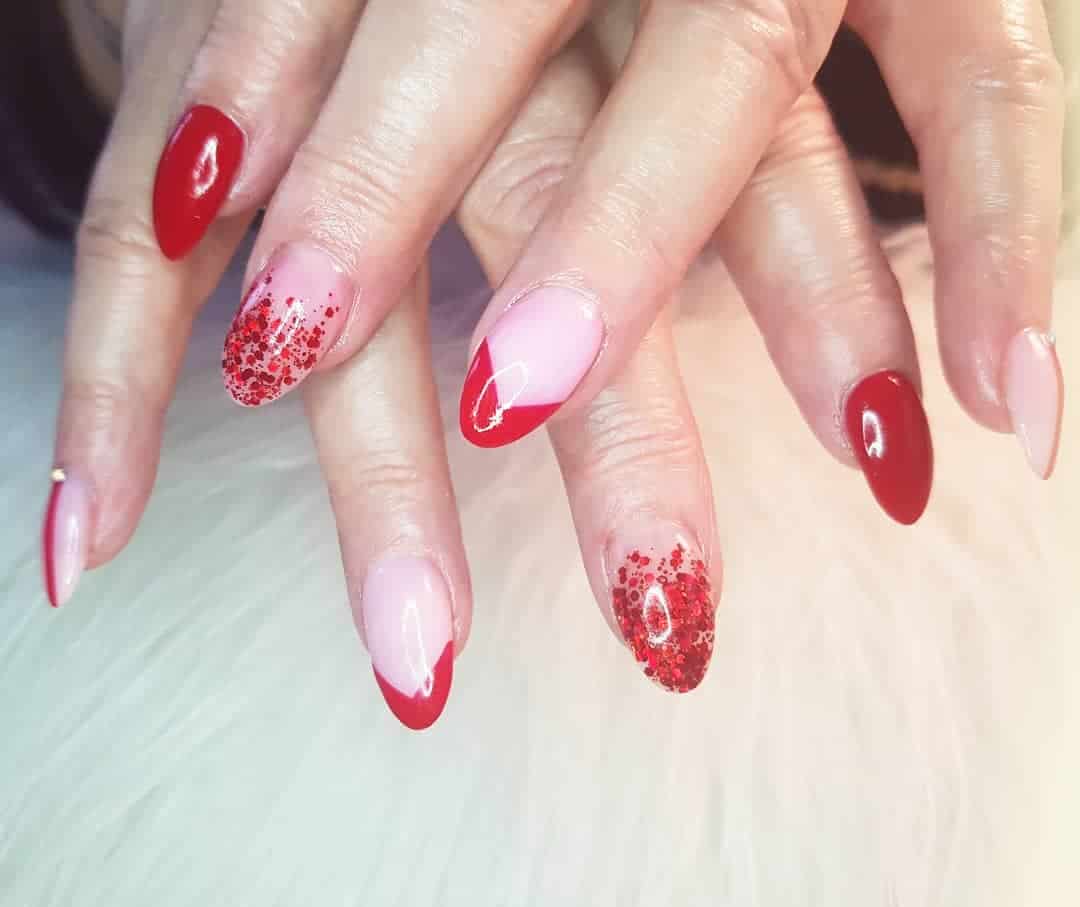 If you are confused about which red nail design idea you want to try, then you can even go the "mix and match" route to create a stunning effect. This one, for instance, features geometrical shapes, acrylic gel overlays, glitter nail art, and bold red nails to give a dramatic look to your fingernails. There is enormous room for creativity here; you can try the mix and match red nail idea on any type of manicure as well.
11. Bold Red Nails With Jewels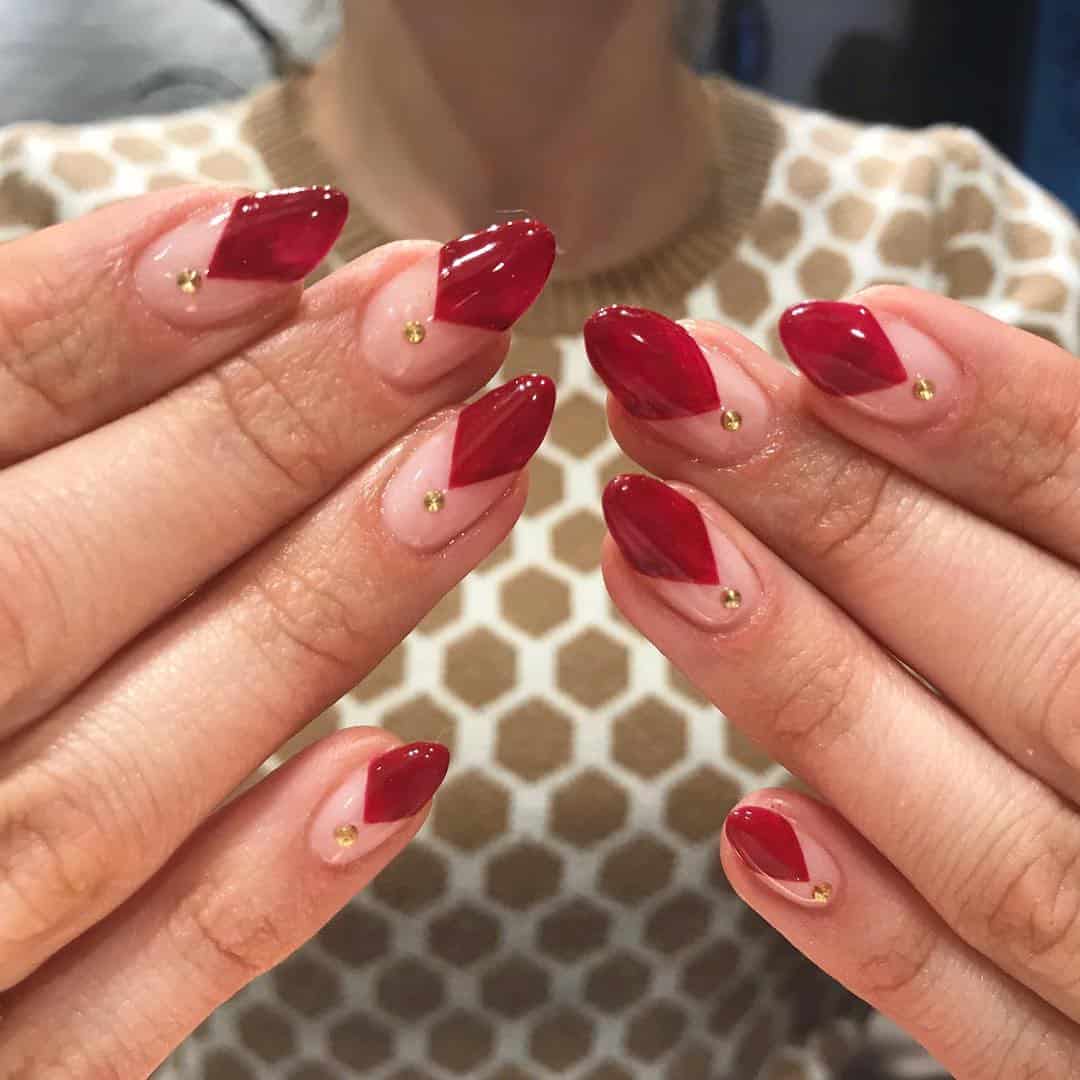 This stylish red nail design will perfectly justify the saying, "diamonds are a girl's best friend" popularized by the classic song featuring Marilyn Monroe. The bold red nail design here features tiny jewels on the edges of the red diamond shapes on the tips. Overall, this creates a sparkling effect that makes it seem like diamonds and gemstones, such as red rubies and yellow sapphires, are placed together on your fingernails.
12. Red Nails With Rose Silhouette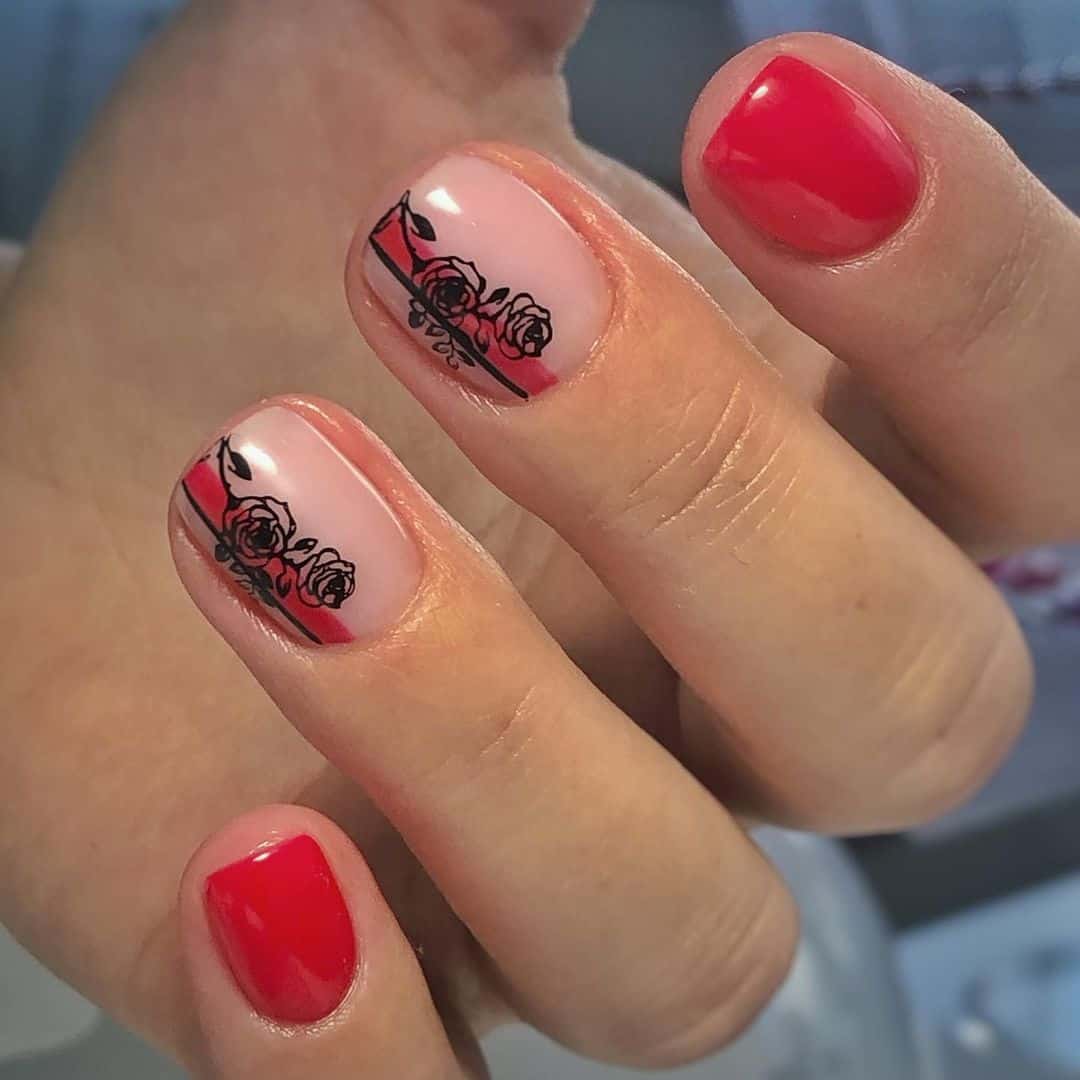 This is a simple yet unique short red manicure idea that takes the offbeat path to create a striking floral effect. Roses are known as a symbol of love, romanticism, and passion, which give this nail design a more special meaning. Similar to the Red and Black Nails With Hearts idea, this one can be a great option to try on for engagement parties or a romantic date.
13. Red and White Feature Nails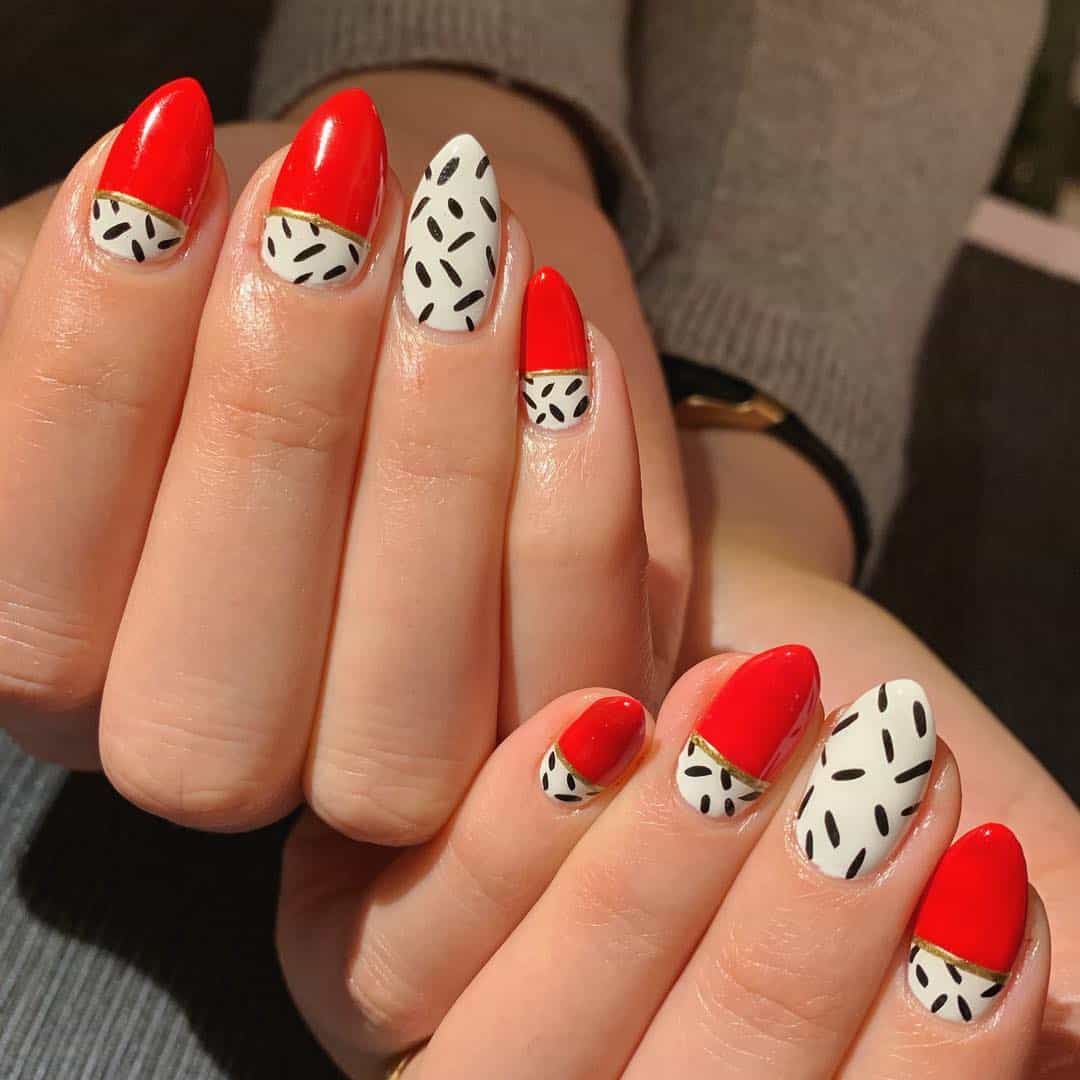 Feature nails are always a great idea to give a refreshing boost to a red manicure. This nail design idea blends the concept with more creativity by adding gold and black accents to white and candy-red nails. The contrasting opaque white nails with tiny zebra-like patterns will make your fingertips stand out while giving you a neat and elegant design. You can also swap the patterns on the white nails with any other preferred nail idea to create your own masterpiece.
14. Red Nails With White Leaves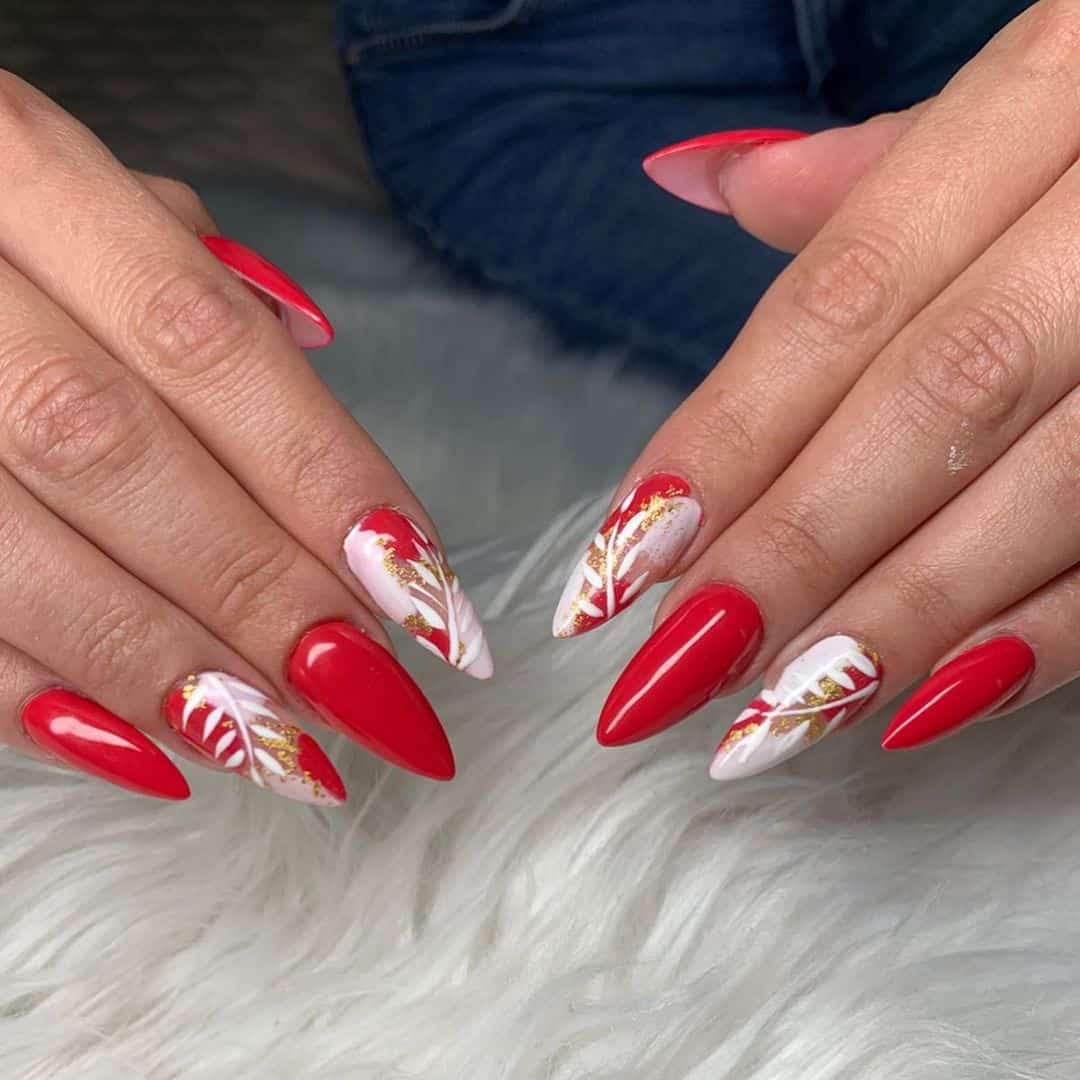 This red stiletto nail design is made for nature lovers who want to show their love for natural beauty and express our commitment toward the environment with a stylish take. The white leaves and delicate golden glitter among bold red nails will instantly draw everyone's attention to your hands, which makes it a brilliant design for casual parties as well as family get-togethers.
15. "Love" on Red Nails With Heart Accents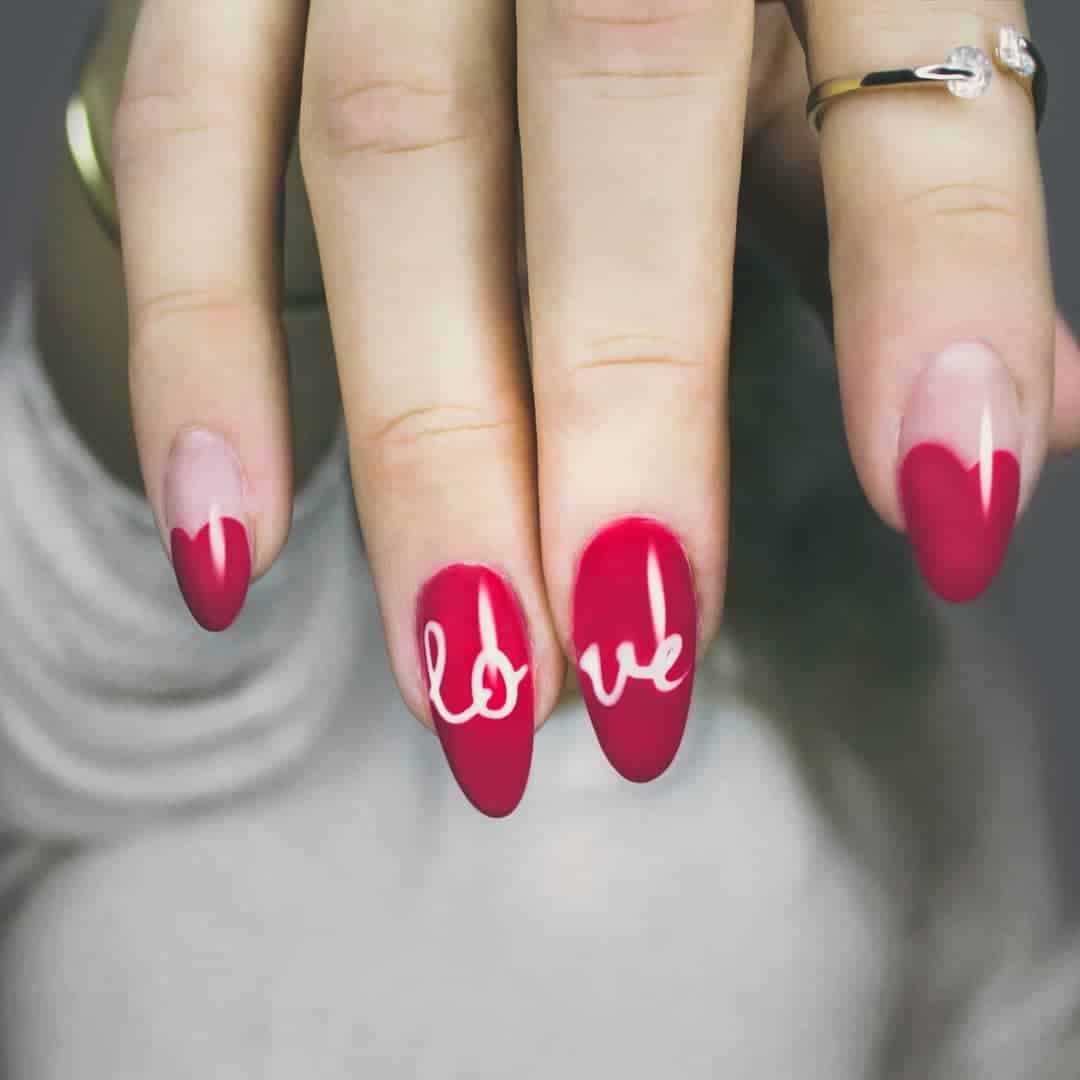 If you are searching for a cool red nail design idea for your next date, then this one will be just the thing to suit your needs. The "love" painted on your middle and ring fingernails will surely tempt your partner to hold your hand and admire your beautiful fingers while the heart accents on the index finger and pinkie will add to the romantic appeal.
16. Red and Black Plaid Nails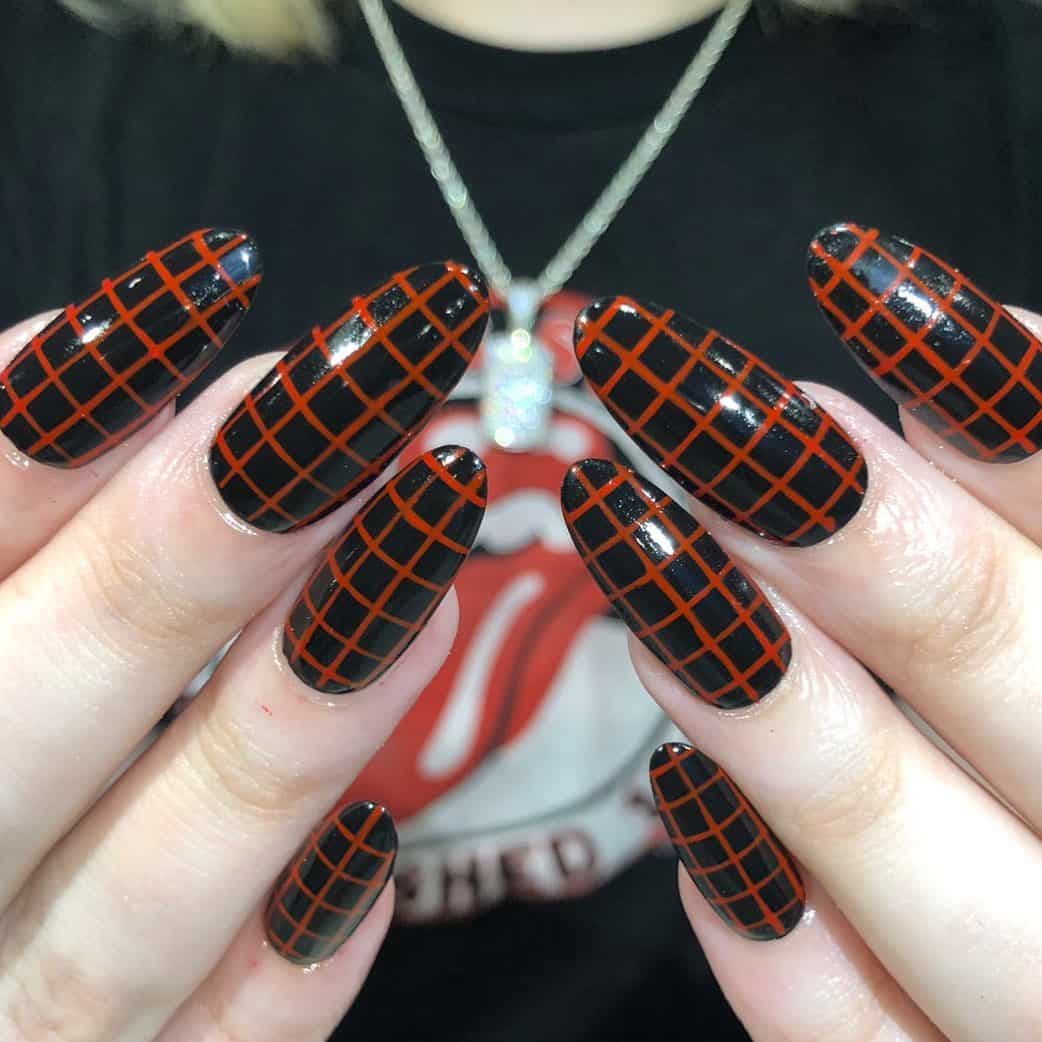 Buffalo plaid design is no longer limited to flannel shirts; the classic pattern can also be recreated on your fingernails to dive deep into the spirit of fall and winter. The red and black plaid print nail design is easy to create at home as well. All you need to do is to start with a shiny base coat of scarlet red or berry red and then draw the checkered pattern in black using striping tape. Trying it on a stiletto or ballerina manicure will give your red nails more depth.
17. Zebra Print Red Nails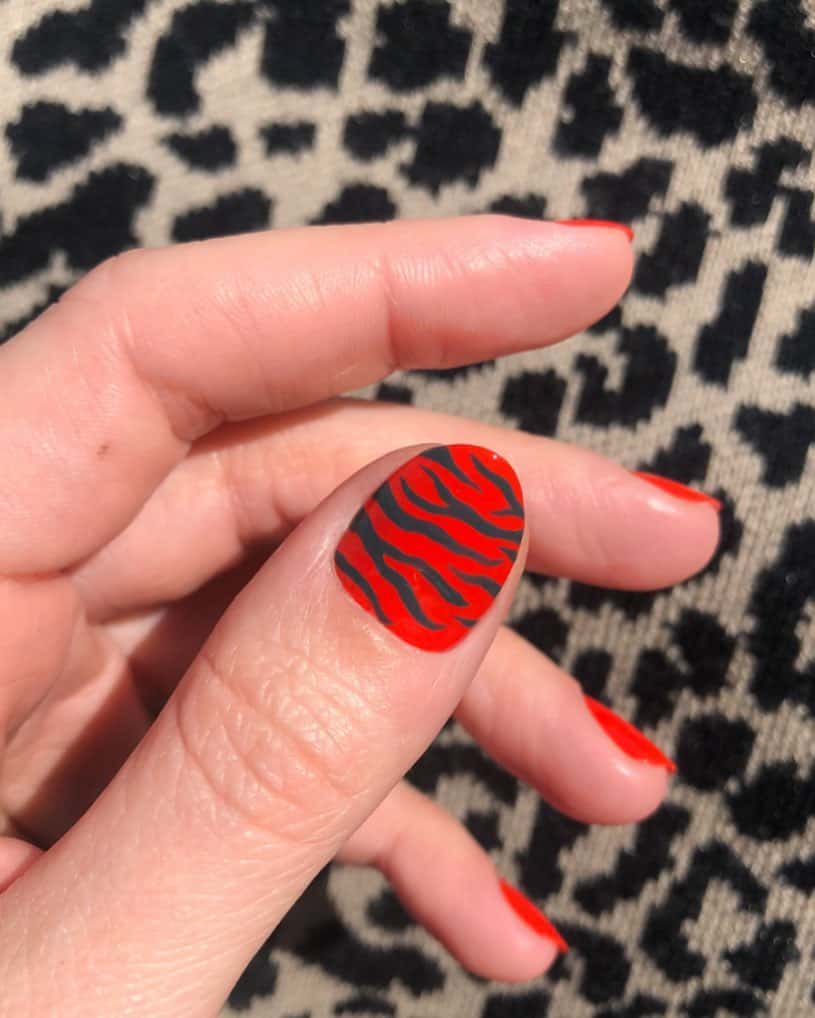 If you want to achieve a striking and unexpected look for a special occasion, then this graceful zebra print red nail design will serve you the best. Where the Red Nails With Animal Prints Abstract design drew focus on the middle and ring fingernails, you can add the zebra prints to bright red nails on any finger or even all the fingers to create a vivid effect.
18. Red and White Checkered Nails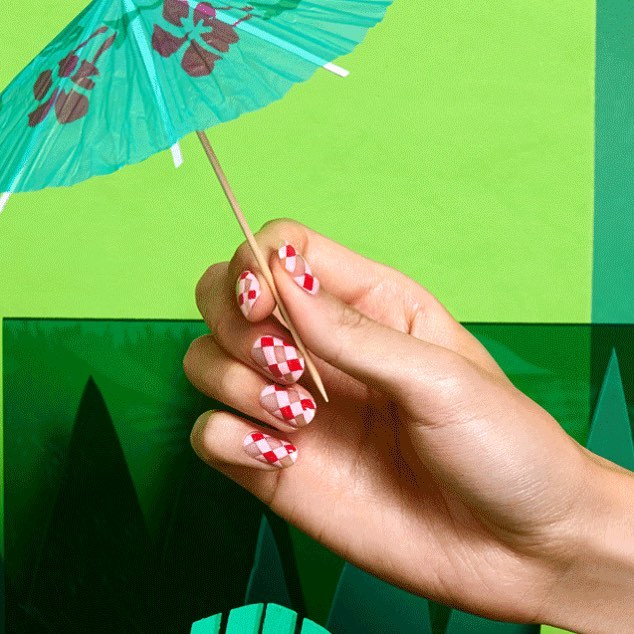 Gingham patterns are a crowd favorite and have been used in woven fabrics for over 500 years. Although it may look like plaid, there is a subtle difference between plaid and gingham. While plaid can have vertical and horizontal lines of varying colors, gingham always has white with another color (red in this case). Adding blank spaces in the gingham pattern like in the nail design here gives it a unique twist and elevates your style.
19. Glossy Red Nails With Stars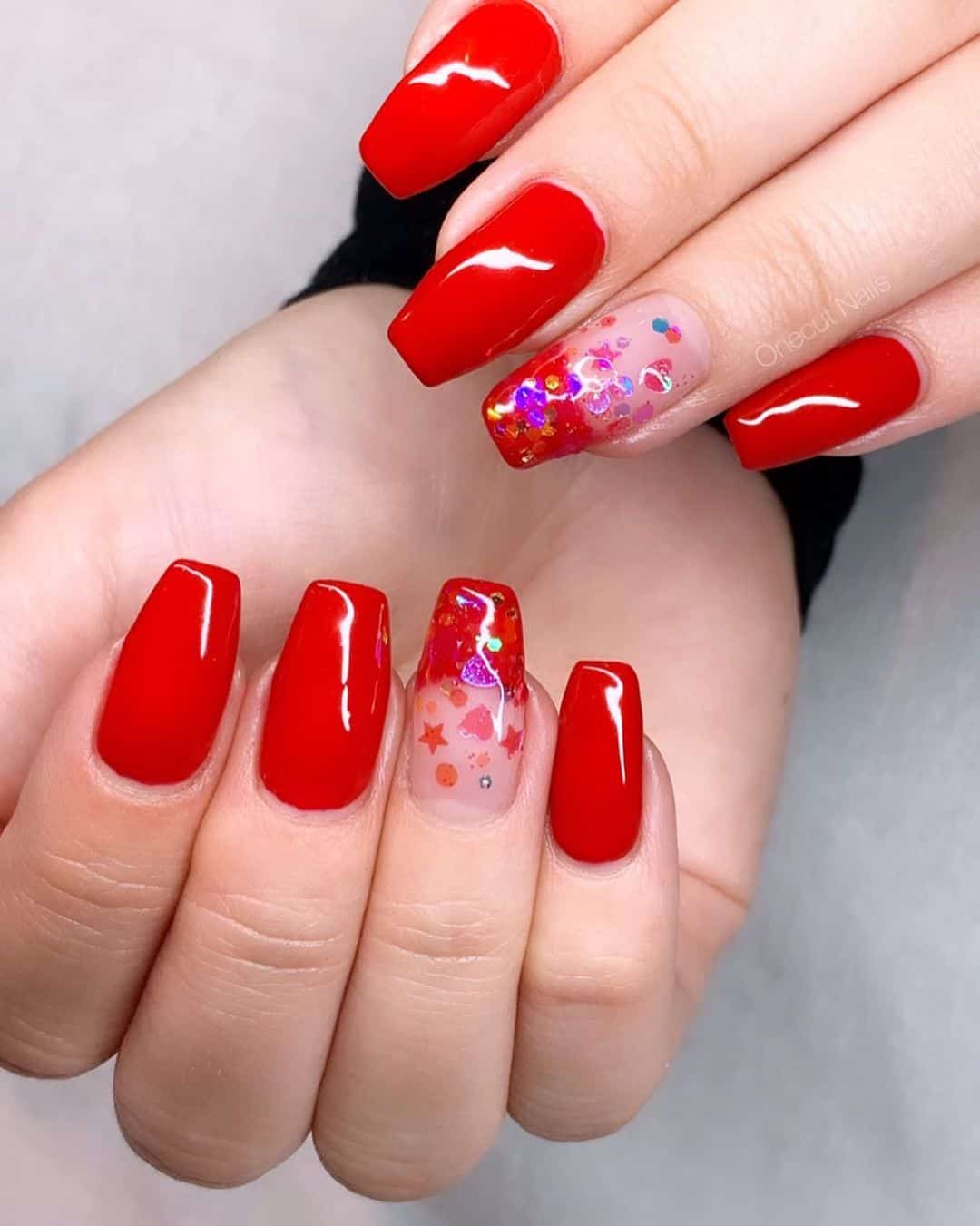 This scarlet red coffin style nail design speaks elegance aloud. The feature nails here with stars, glitter, and acrylic overlay have a distinctive appeal that can go with any attire. This can be an amazing nail design to flaunt on any special day, be it a wedding reception, a birthday bash, or a laid-back party. You can even don this red nail design to a formal party to make a bold statement.
20. Red Nails With Negative Space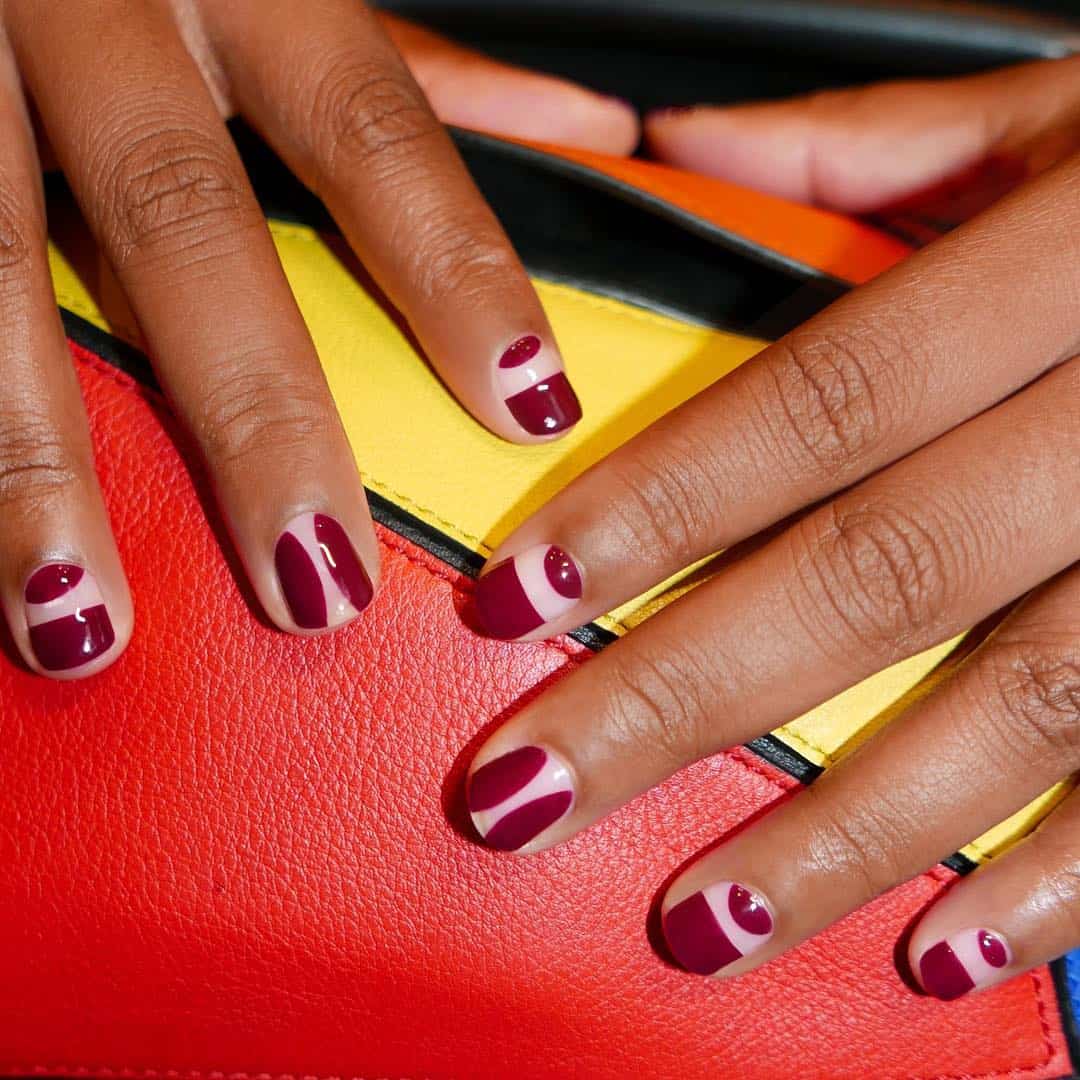 This dark wine-red nail design with negative spaces will take your overall look to a new level. The modern, chic, and futuristic appeal of this nail design suits short manicure the best and can be worn on any casual or special day. The simplicity of this red nail design even makes it a suitable choice for the workplace if your employment policies are not specifically against wearing red nail polish to the office.
21. Mickey and Minnie Red Nails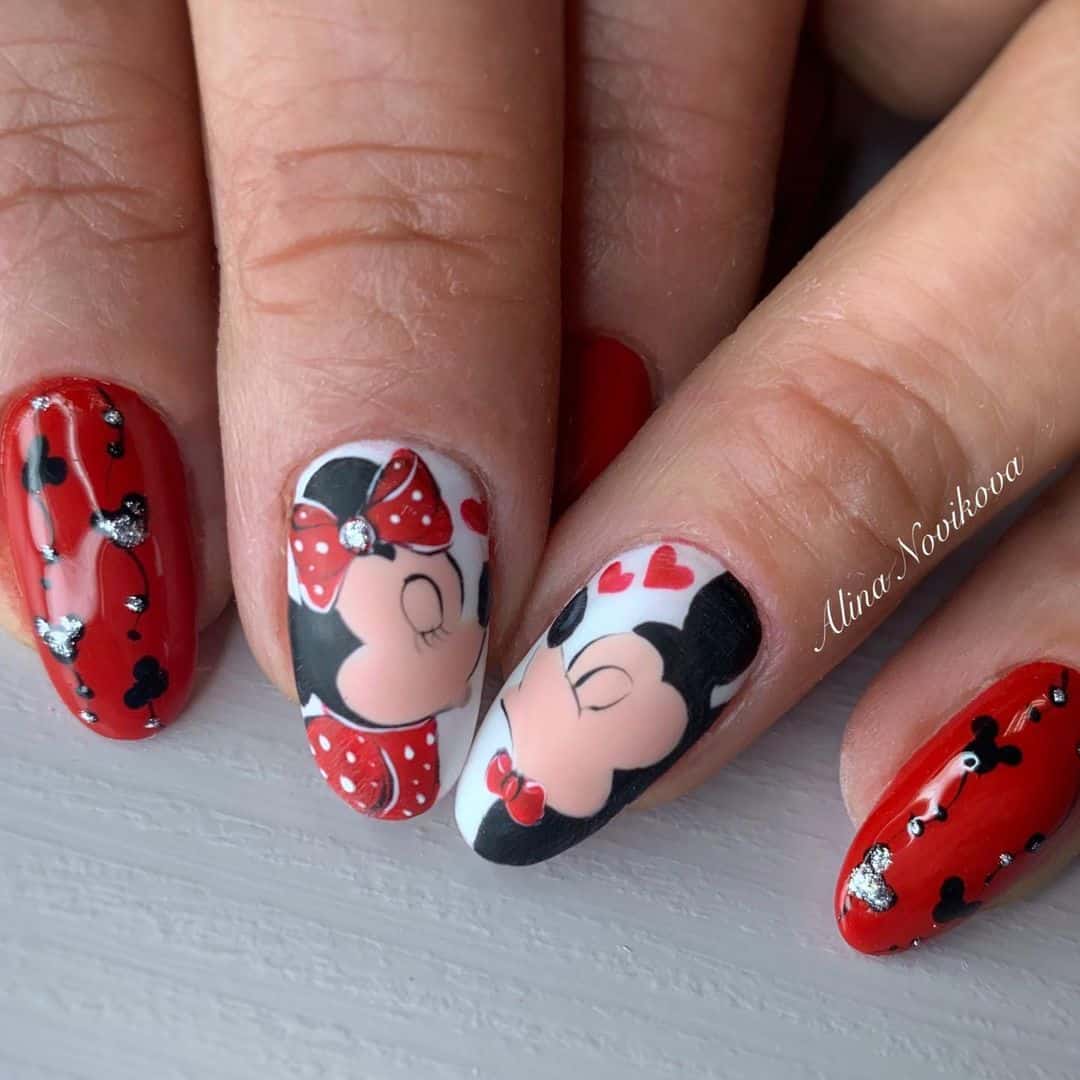 If you want a cute, romantic red nail idea, then revisit your childhood days and try this pretty Mickey and Minnie nail design. Painting Mickey on one hand and Minnie on the other as feature nails, looking as though they long to kiss each other, will make it look and feel more special. You can also have Disney accents on the other fingernails to boost the overall appeal of the design.

22. Red Cherries Nail Design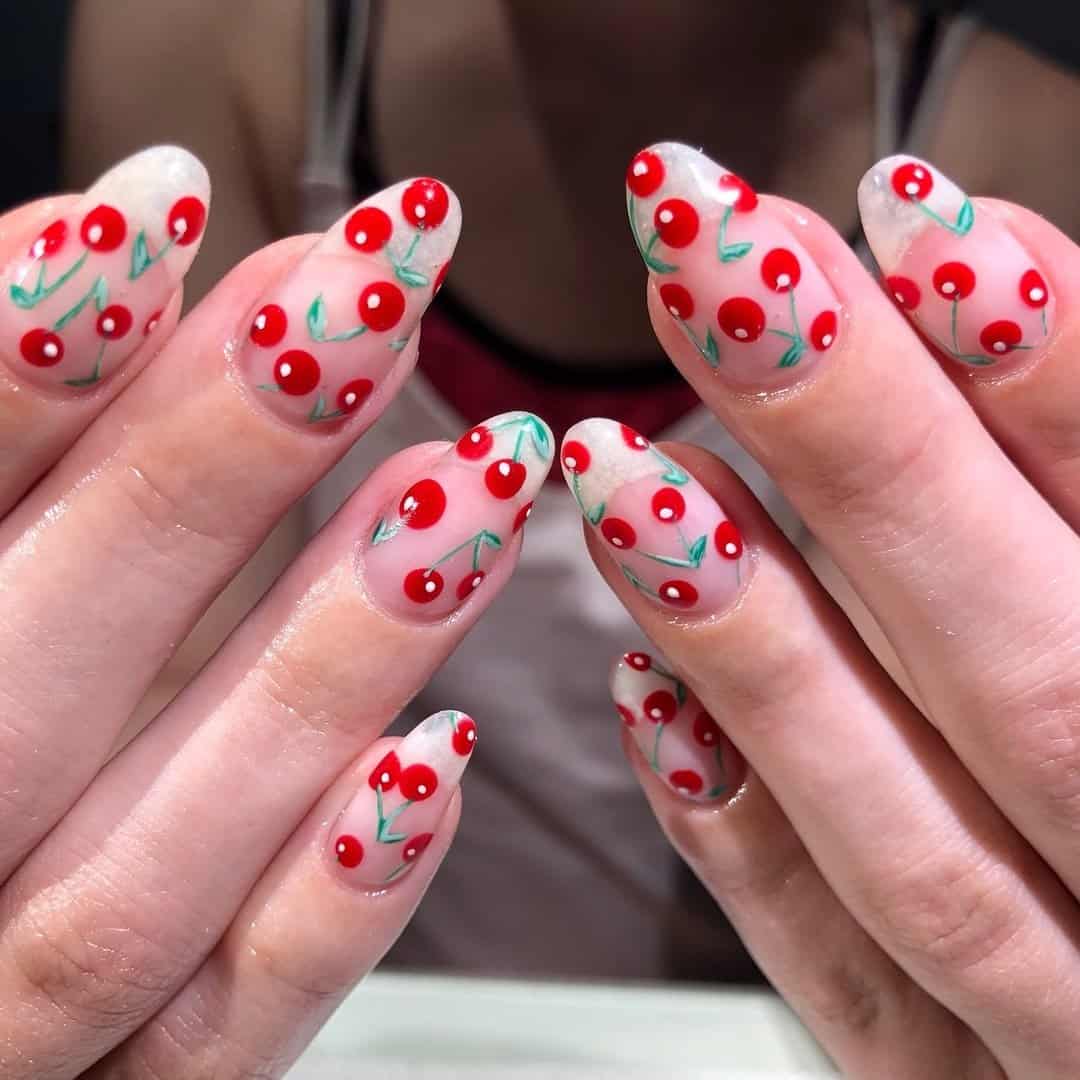 Juicy ripe cherries have become a popular pattern for fashionable clothing, and they can be adopted for nail designs as well. This simple design gives a bright and fresh pop of red color to your nude nails. It can be a great replacement for the usual red polka dot nails and can add an adorable twist to your overall outfit. This nail design may not be ideal for short nails and basic manicures though.
23. Sophisticated Red and Silver Nails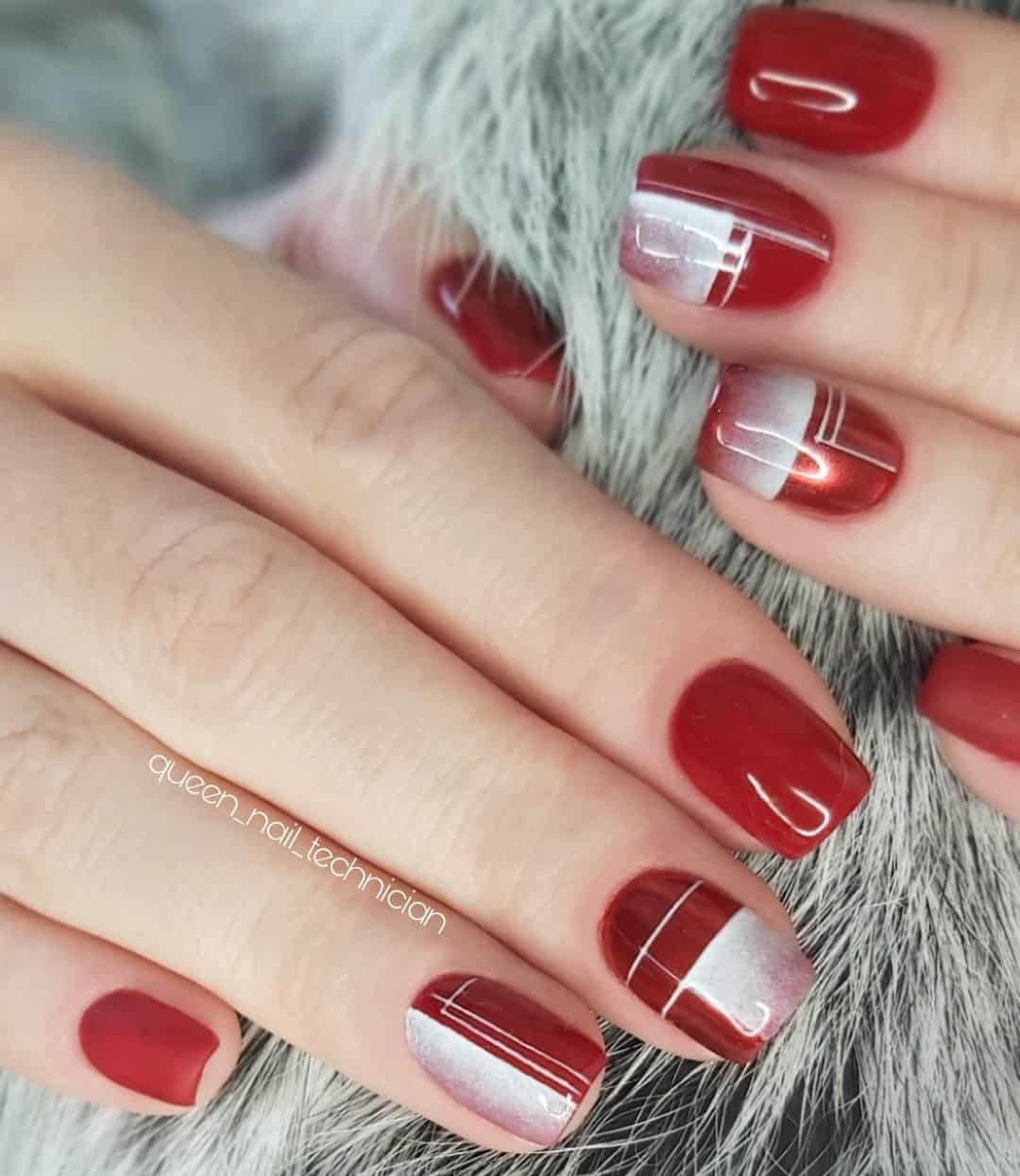 If you consider yourself a modern art fan, then this classy silver and red nail design will be the best choice to amp up your glamour. This glossy nail design can suit all types of manicures and nail lengths, but keeping your nails short or square-shaped will do more justice to the flair of modernism that you want to achieve and flaunt with your red nails.
24. Valentine's Day Red Nails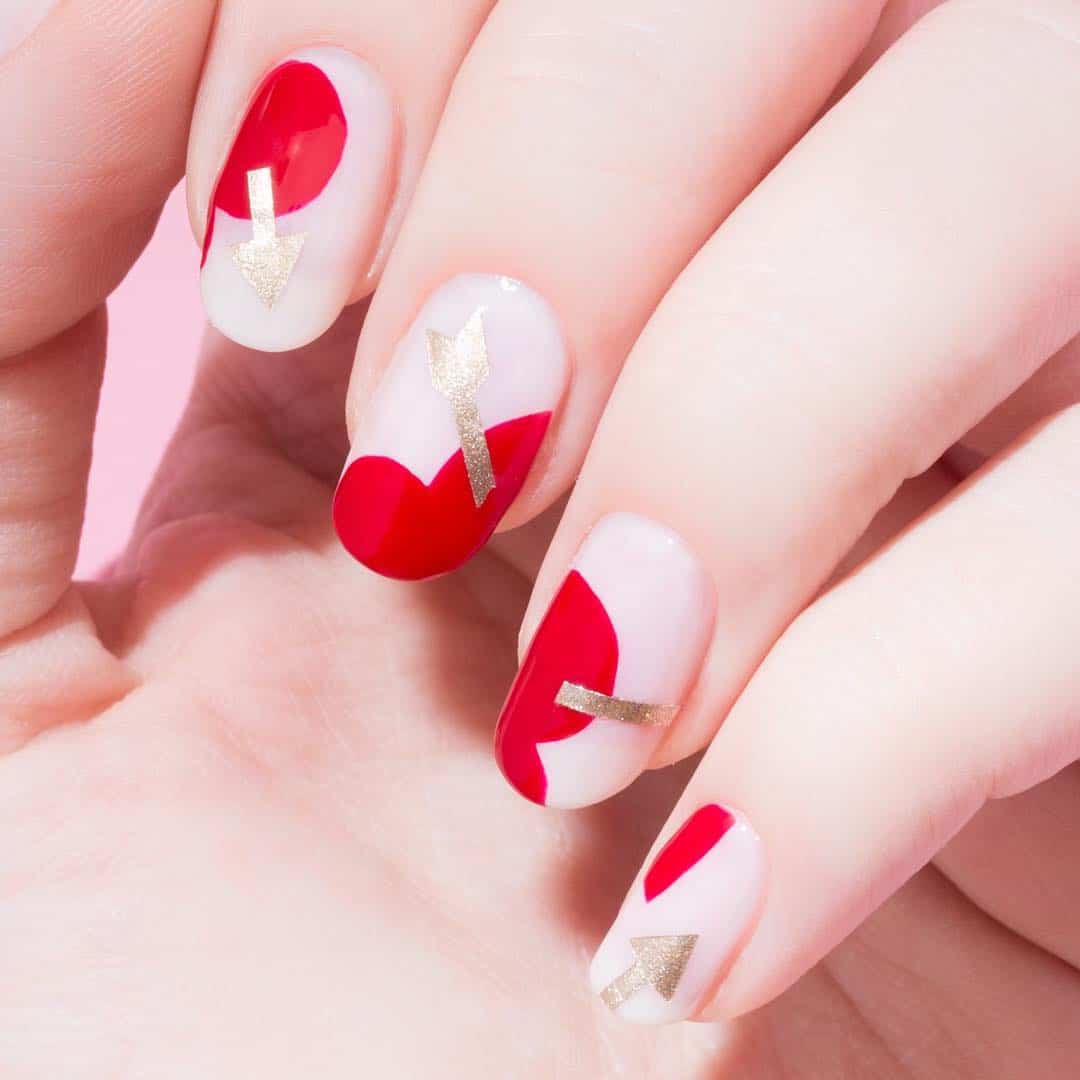 The combo of red and gold always look amazing, but if you want something more striking and special than trying the somewhat simple Red Nails With Golden Cuticles idea, then go for this Valentine's Day inspired design. Here, a red heart shape is painted on your four fingernails in parts while a golden arrow pierces it (or holds it together). This creates a fashionable and lovely red nail design that will be perfect for your date on Valentine's Day.
25. Red Marble Nails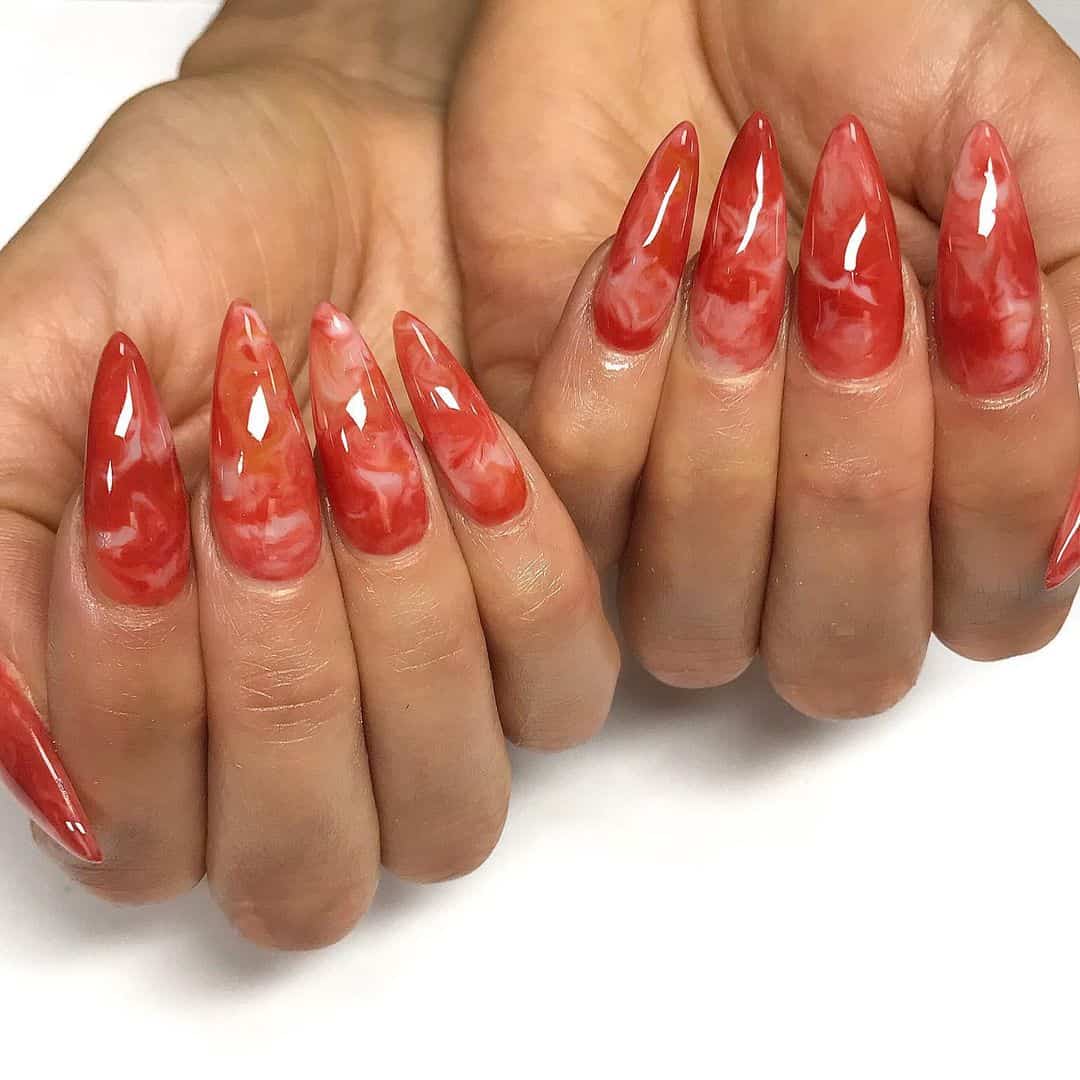 Marble designs are always intriguing, which is why the natural stone is used almost everywhere from architecture and interiors to homeware and art. Incorporating the natural design of marble in red stiletto nails can be an exceptional way to exude sophistication and luxury. It is also said that no two marble surfaces have the same design, which makes this red nail idea even more exceptional.
26. Red Flames Nail Design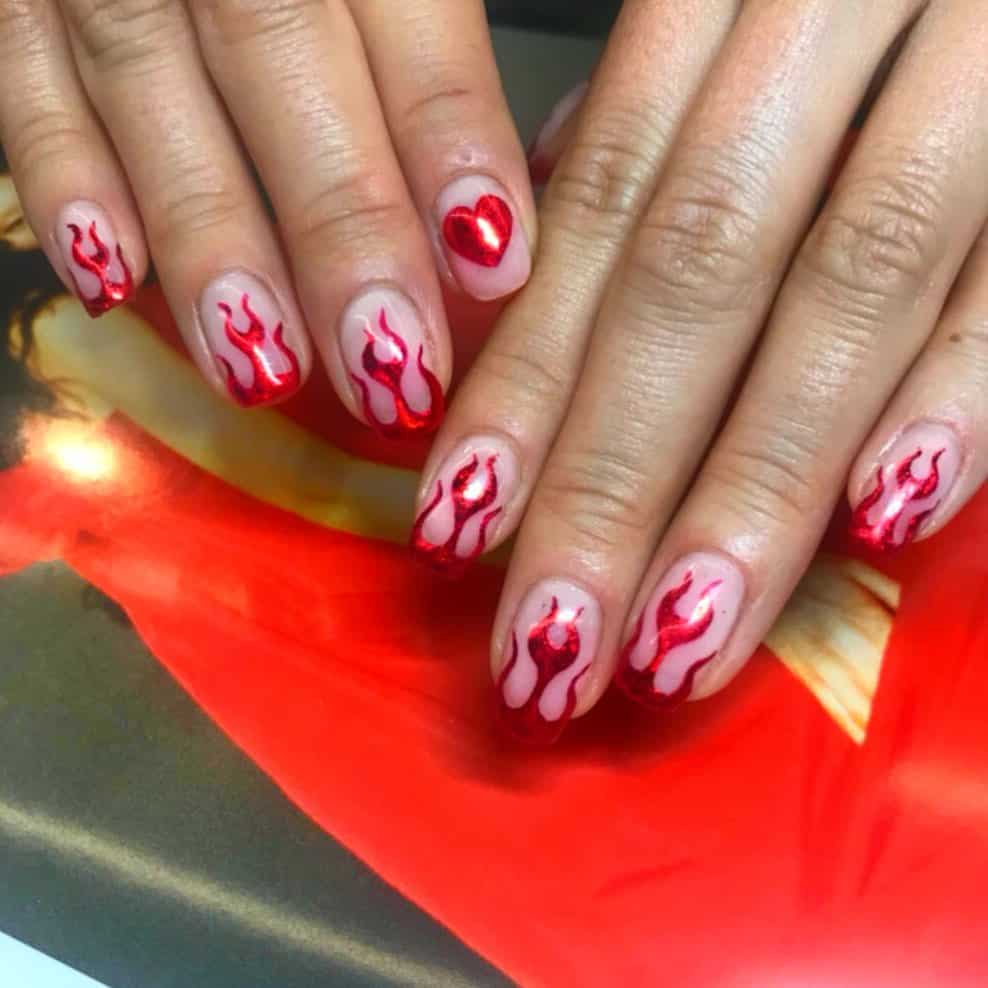 Creating edgy red flames on your fingernails has its own charm. Flames represent rebirth, resurrection, and desire while the color red stands for passion, adventure, and love. Ancient cultures even considered red as the color of fire. All of that gives this nail design a dramatic symbolic meaning to talk about. Even without any deep symbolic meaning, this red nail design will give your overall look a bold and eye-catching twist.
27. Dripping Blood Red Nails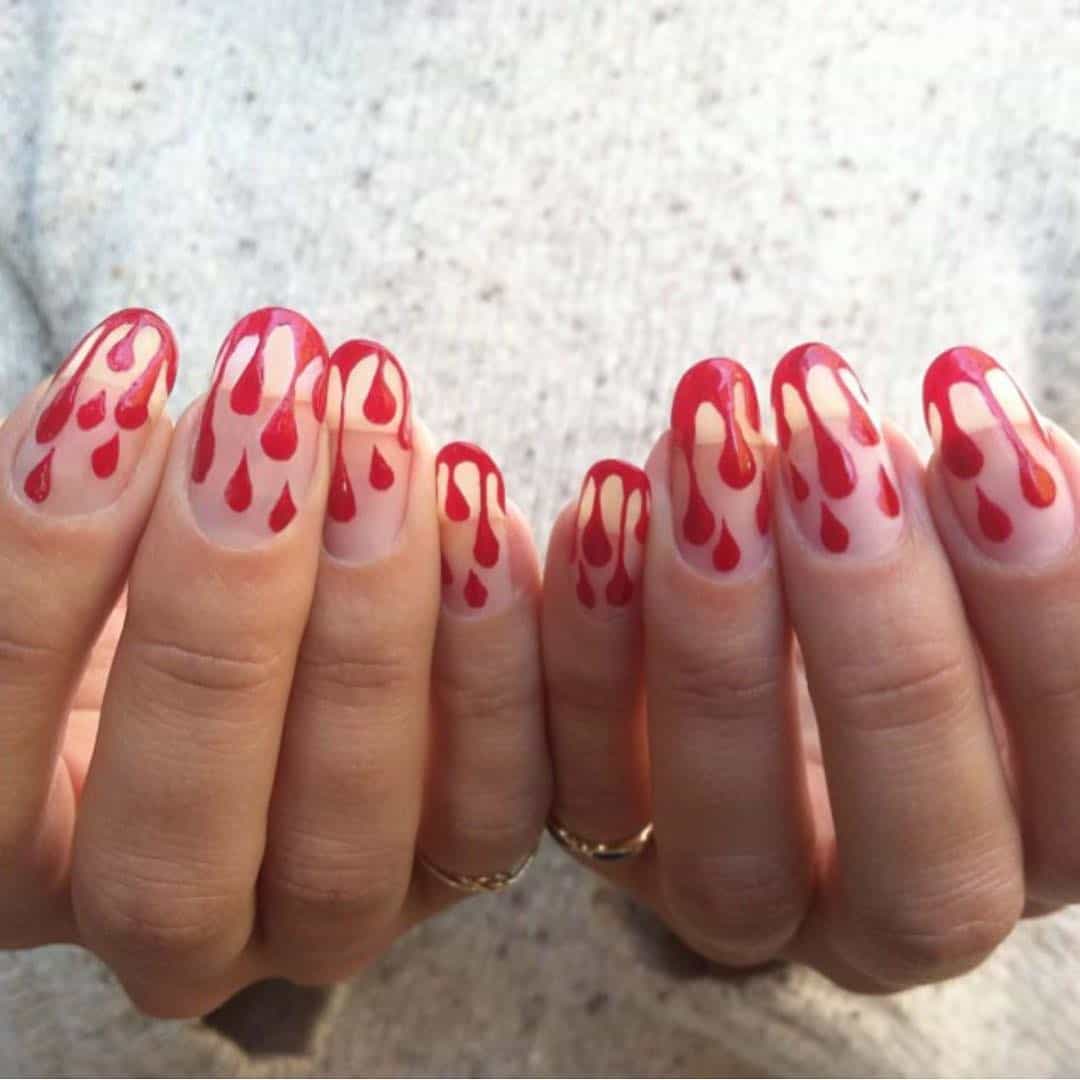 This dripping blood red nail design may seem gory to some, but it actually is a brilliant piece of pop art that will make you stand out in the crowd with confidence. The only thing to note is that this nail idea goes well only with oval and almond-shaped nails and may not be ideal for those who are looking for a short red manicure. In fact, it may look like a bit overdone with a stiletto manicure as well.
28. Red Sunflower and Polka Dots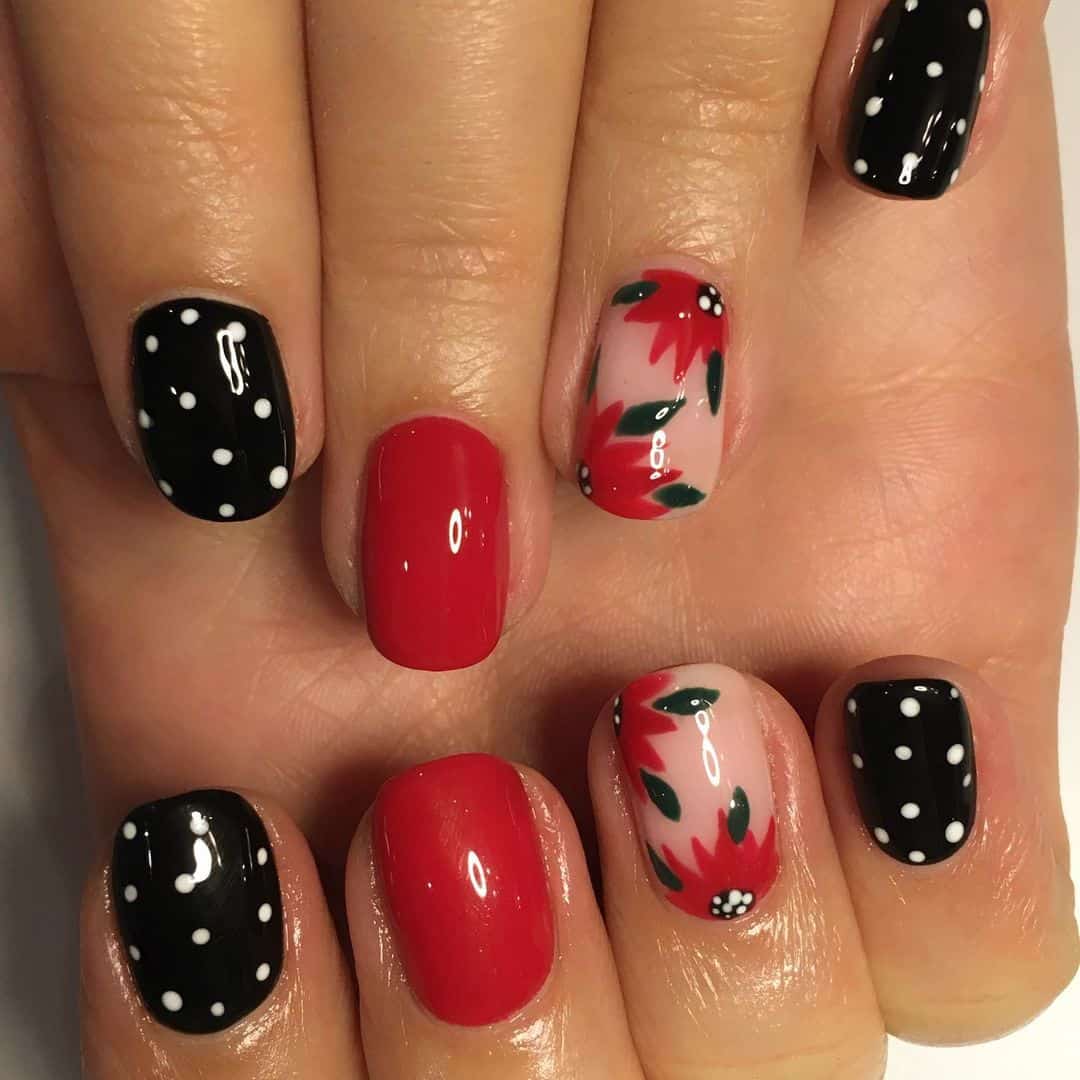 Sunflowers have so many deep symbolic meanings that you can talk about them all day long. Forget the symbolism; the elegant balance of this red and black nail idea with polka dots and a floral design makes it quite a masterpiece to show off on any day. Short or square-shaped nails will be the perfect canvas to create this stunning design and flaunt it to its fullest.

29. Red Strawberries Nail Design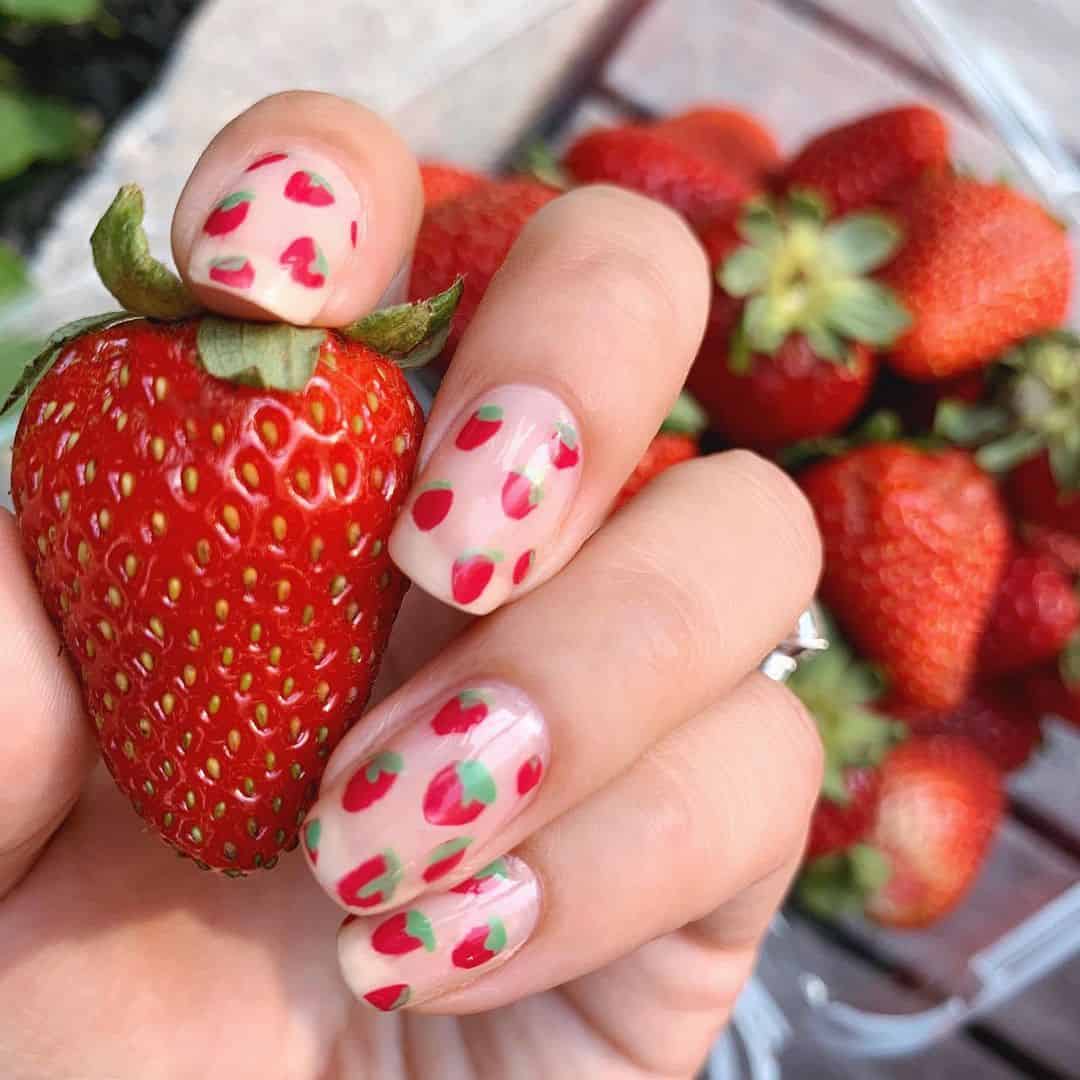 If you like the Red Cherries Nail Design but felt like cherries are too common, then give it a subtle twist with strawberries. Tiny strawberries painted on a neutral background will make your fingers look adorable and trendy at the same time. This can also be an ideal fruit-inspired nail design to wear in any season; however, it will look more lovely during summertime.
30. Curly Candy Red Nails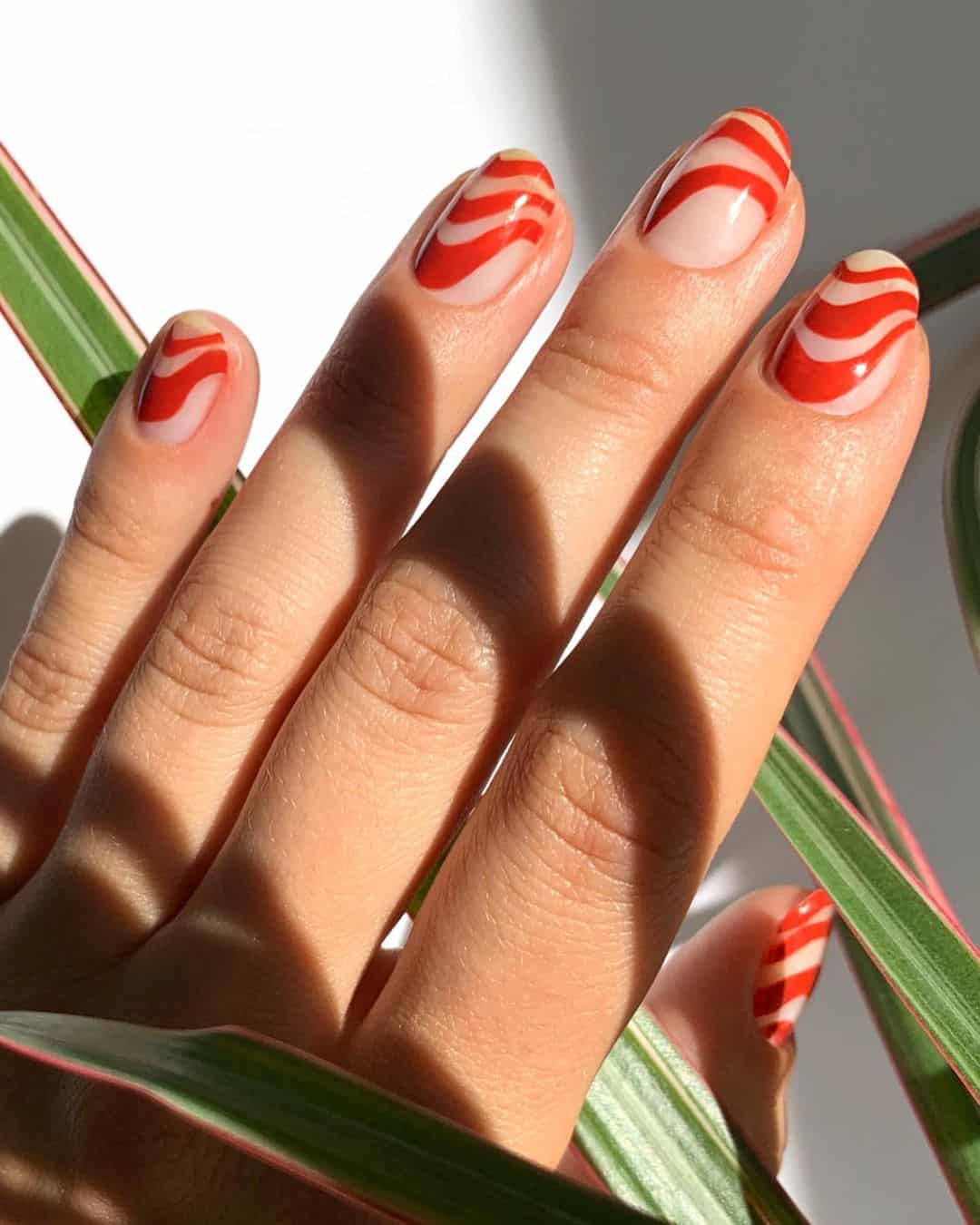 This classic red nail design never gets old. Red and white candy stripes give you a retro feel of sweet and swirly delights, which invoke the feelings of joy and happiness. This nail design, though, skips the white lines and keeps it neutral to give you a simple at-home version. Still, if you want, you can start with a base of white and then add the curly strokes of red on top to achieve a more vibrant look.
31. Tartan-Inspired Red Nails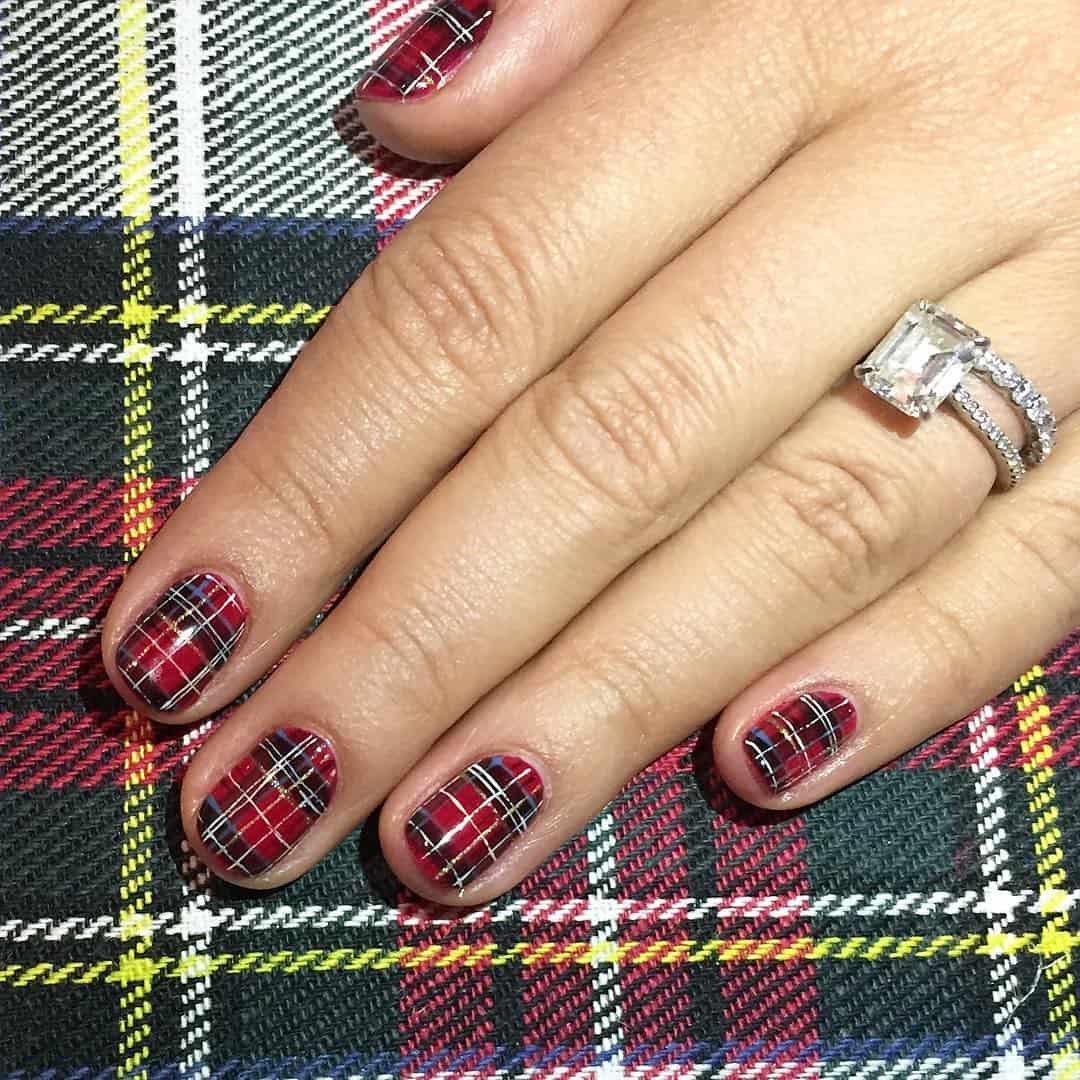 There are many red nail designs that allow you to dive deep into the holiday spirit. This tartan-inspired nail design is one of those, which lets you blend your favorite autumn and winter fabrics into your new manicure and get an incredible result. Although this intricate design may need a little extra effort when playing with the red and black nail polish, the outcome will be well worth it and draw everyone's attention to your creativity.
32. Red Poinsettia Nail Design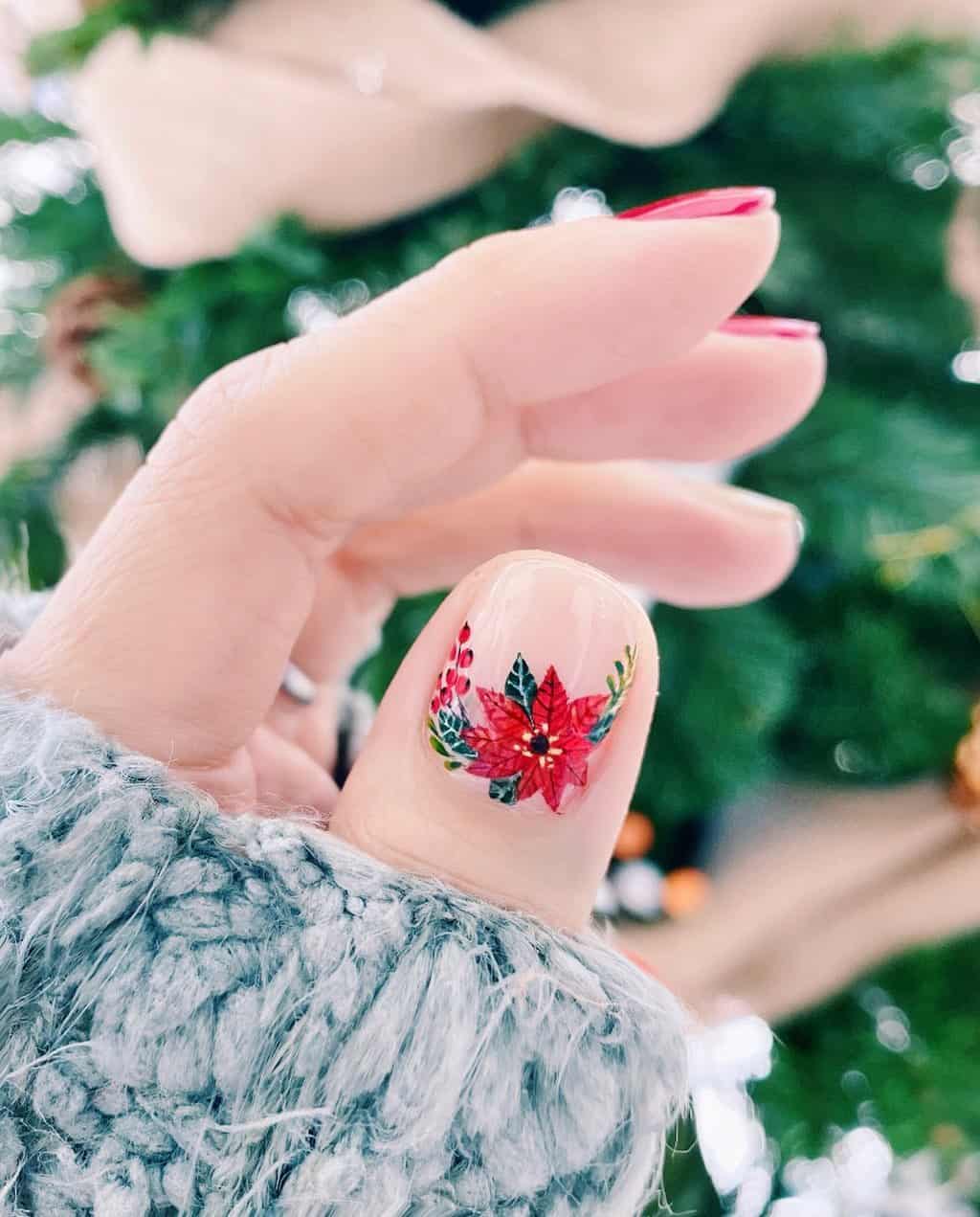 If you are passionately in love with nature and flowers, then this red poinsettia nail design will be the best way to show your devotion and admiration for nature's beauty. Poinsettias are considered the birth flower of December and they symbolize happiness and success. It is also believed that red poinsettias bring wishes of joy and celebration, which makes this nail design ideal for Christmas and holiday parties. Having a red poinsettia on the featured nail while keeping the others in a plain cherry red shade will make it pop even more.
33. Hawaiian Floral Red Nails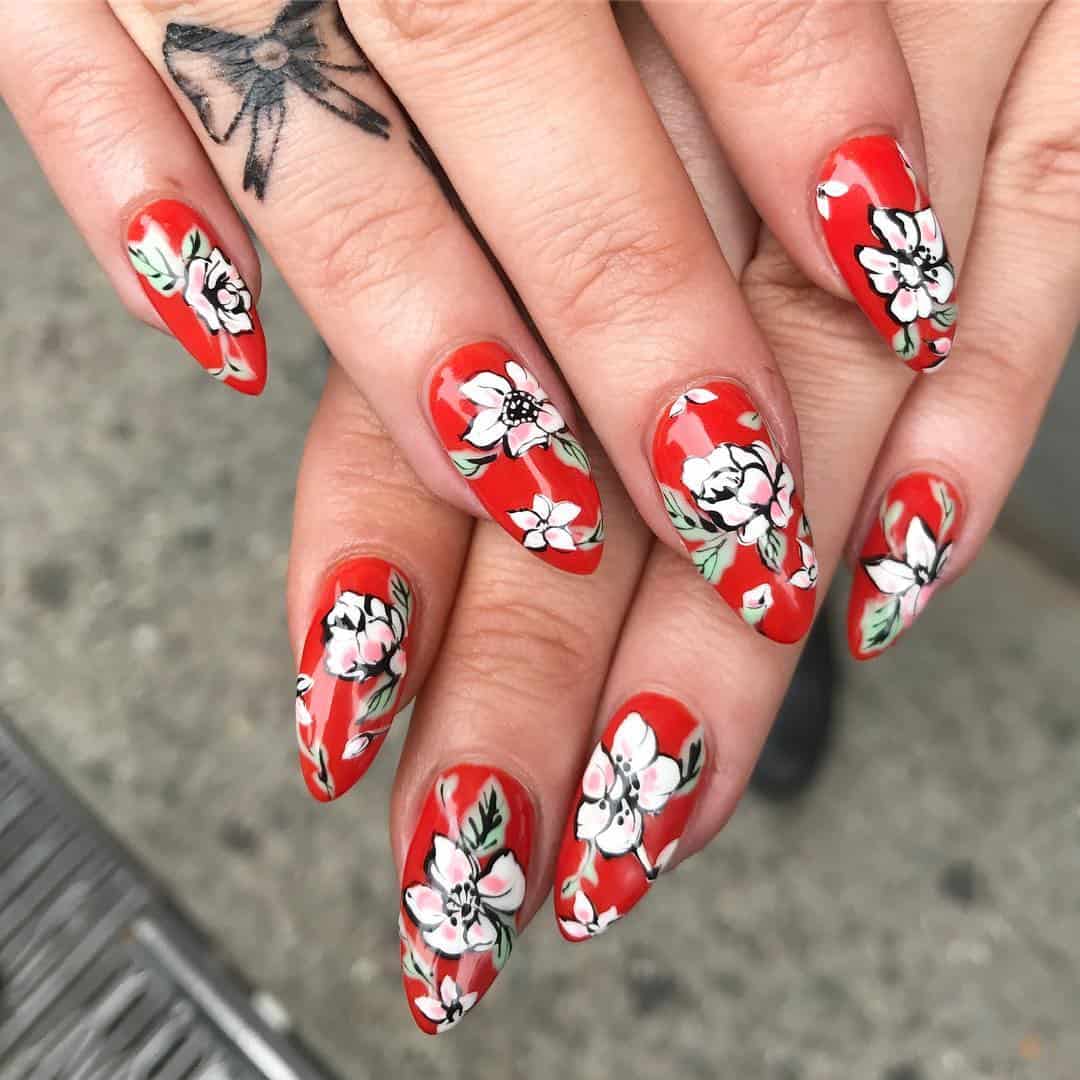 This nail design requires paying the utmost attention to detail and precision to get a graceful result. The white Hawaiian flowers on a bright red background will certainly turn heads to your look and overall outfit. It can be a great choice for summertime gatherings or cocktail parties. Your nail design can even be the icebreaker in the party and lead to some exciting conversations. Match it with a flowy red dress and see the magic.

34. Christmas-Themed Red Nails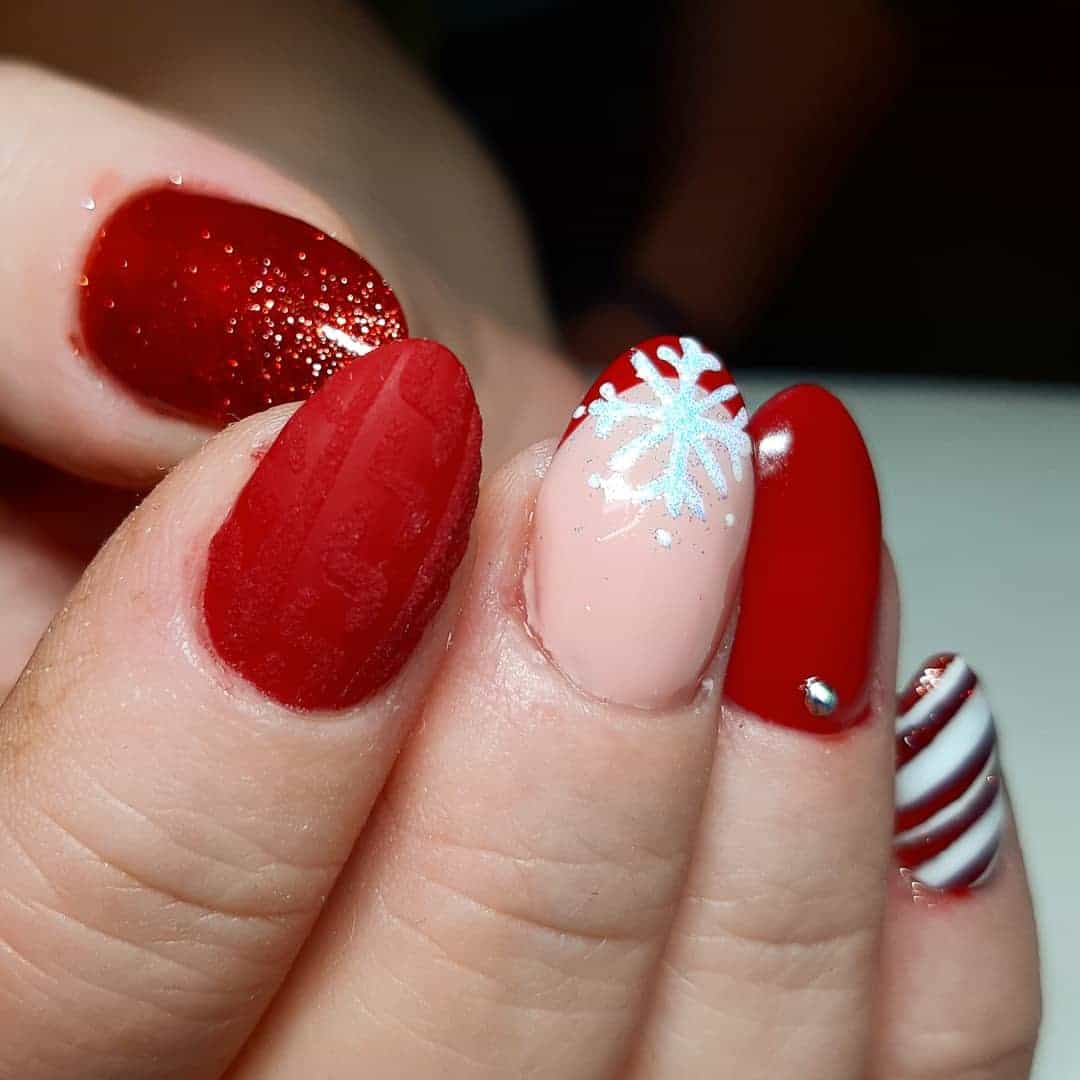 This one follows the same style as seen in the Mix and Match Red Nails design. Yet here, the theme is Christmas, which is depicted perfectly across the nail design using a snowflake, candy cane nail design, and glittery red nails, among others. This can be one of the most distinctive ways to celebrate the joyous winter season with some added style.

35. Red Gradient Corset Nails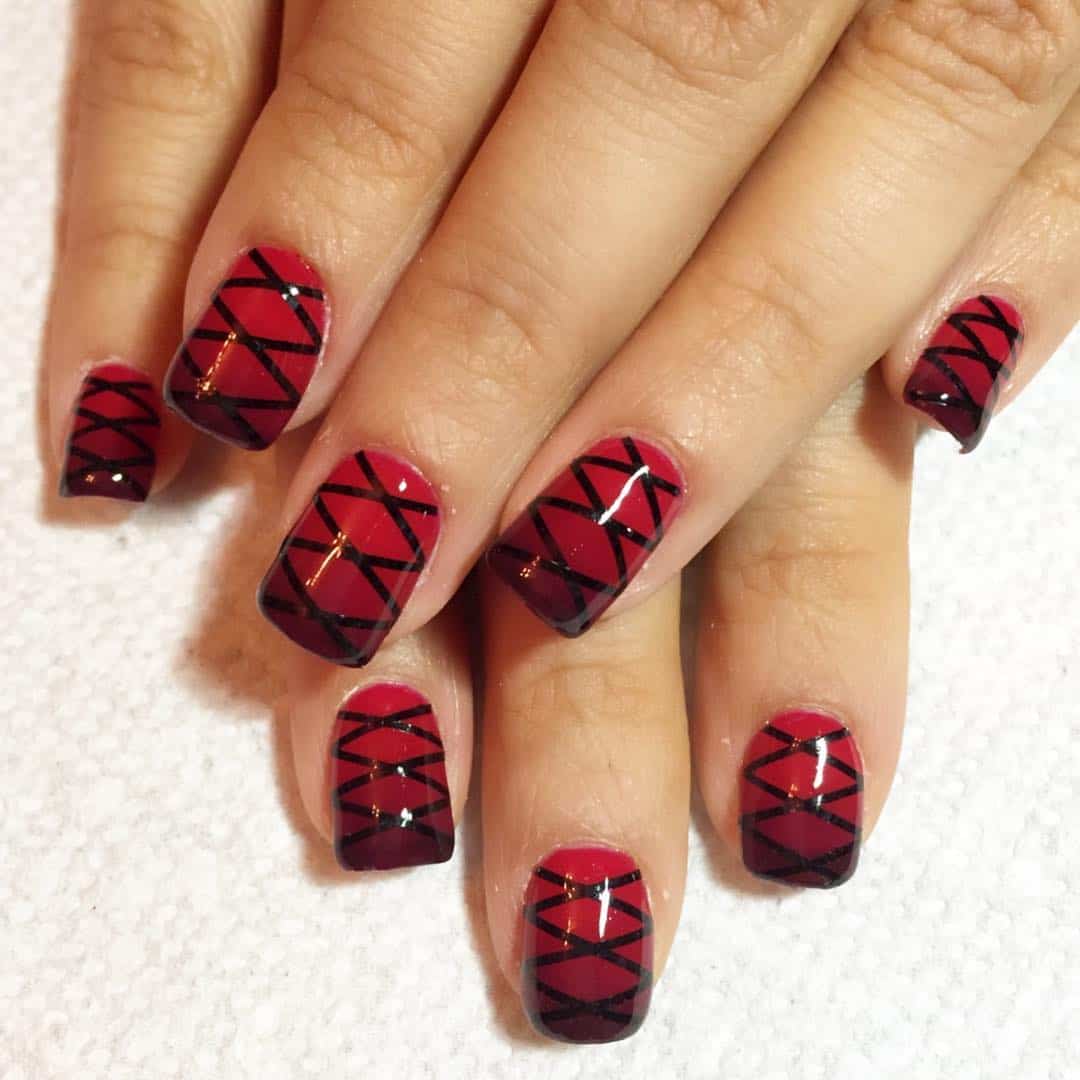 This red and black ombré design is a clever way to showcase your gothic side. Giving it an alluring corset design boosts the appeal of your red nails even more. You can wear this striking nail design throughout the autumn and winter seasons and to all the holiday parties. It can be a great way to accentuate your Halloween makeup as well with some stylish red to black ombré.

36. Red Nails With Black Dots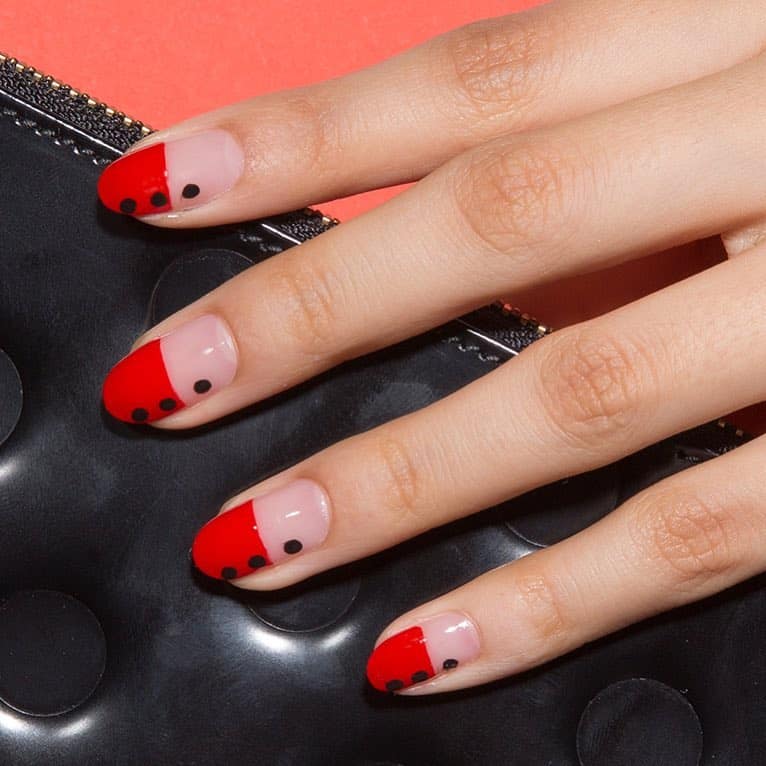 If you prefer going with minimalistic nail art, then this one will be an excellent choice for you. Keeping your nails natural up to the halfway point gives it a delicate appeal while adding black dots on the sides makes the design look more sophisticated. This can be a good choice for wearing red nails to the office or a formal party when you want to keep it simple yet voguish.
37. Red Nails With Nature Accents
This is another red nail design idea for nature aficionados. Here, a delicate black leaf design is painted on your bright red nails. There is a negative space left in the red nail design to give more depth to the leaf design on the middle and ring fingers. Leaving the index finger and pinkie in full, bold red further helps to keep the focus on the nature accents.
38. Crescent Swirl Black and Red Nails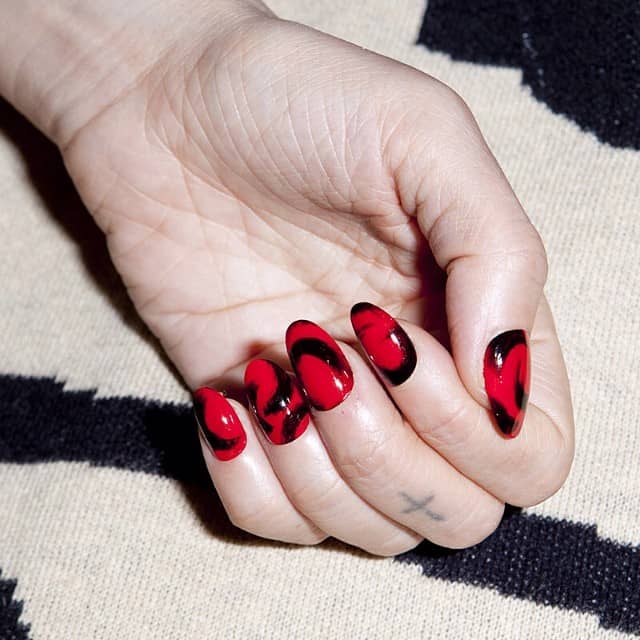 This black and red nail design is an artistic graffiti that will draw attention to your hand instantaneously when you enter a party. The abstract design makes it easier to create the crescent moon swirl design at home; it does not have to be symmetrical or follow any specific pattern. This can be your own space to create a stunning design that suits your overall outfit and the mood of the event you are attending.
39. Shades of Red Nails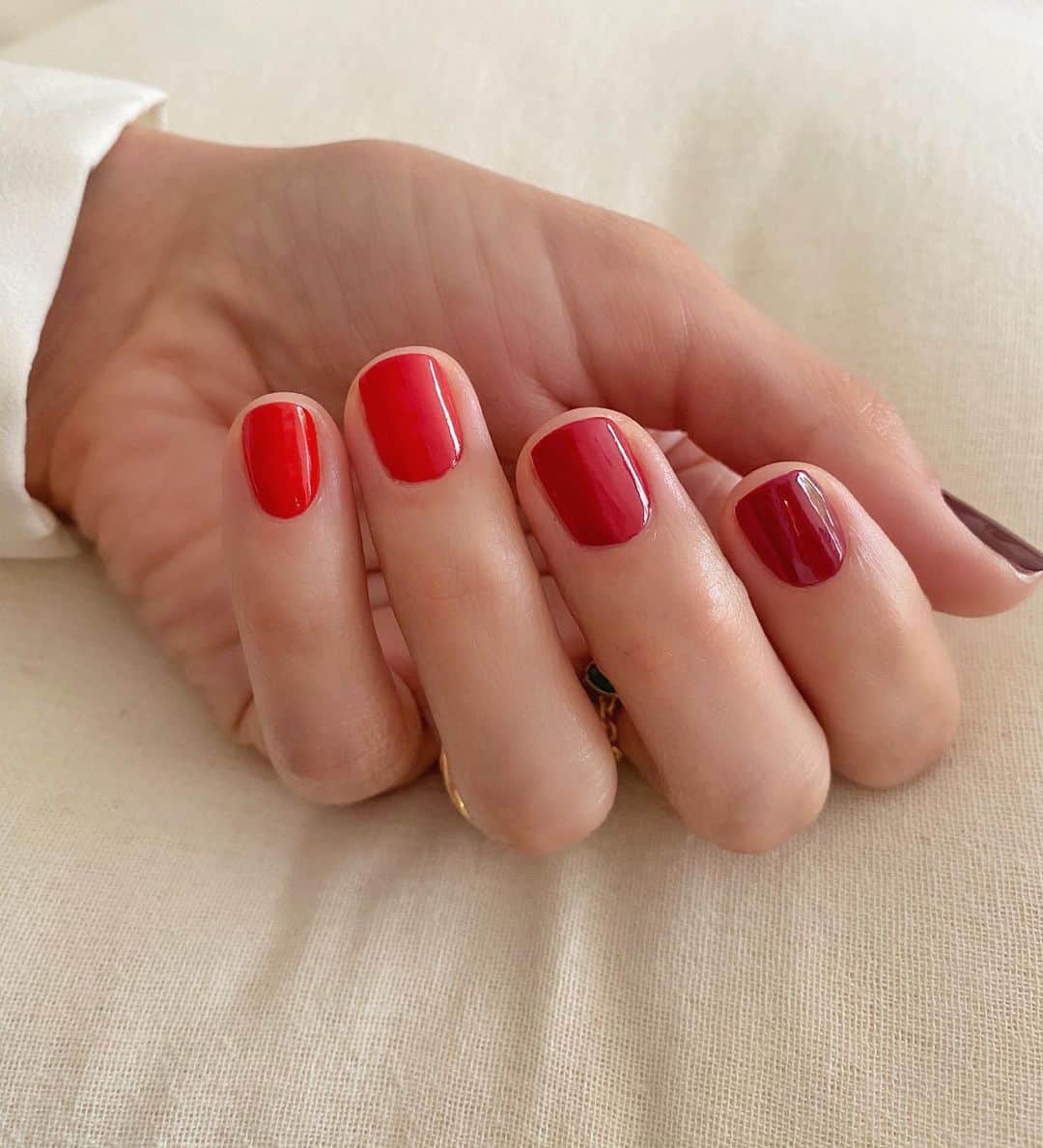 As said earlier, there are numerous shades and tones of red, which may make it a bit confusing sometimes to pick the right one to suit your ideas. Yet this simple nail design establishes that you do not always have to choose between different red nail polishes. Instead, you can create your own style with the full spectrum of the color, moving from light imperial red to dark burgundy red and everything in between.
40. Red Nails With Geometric Shapes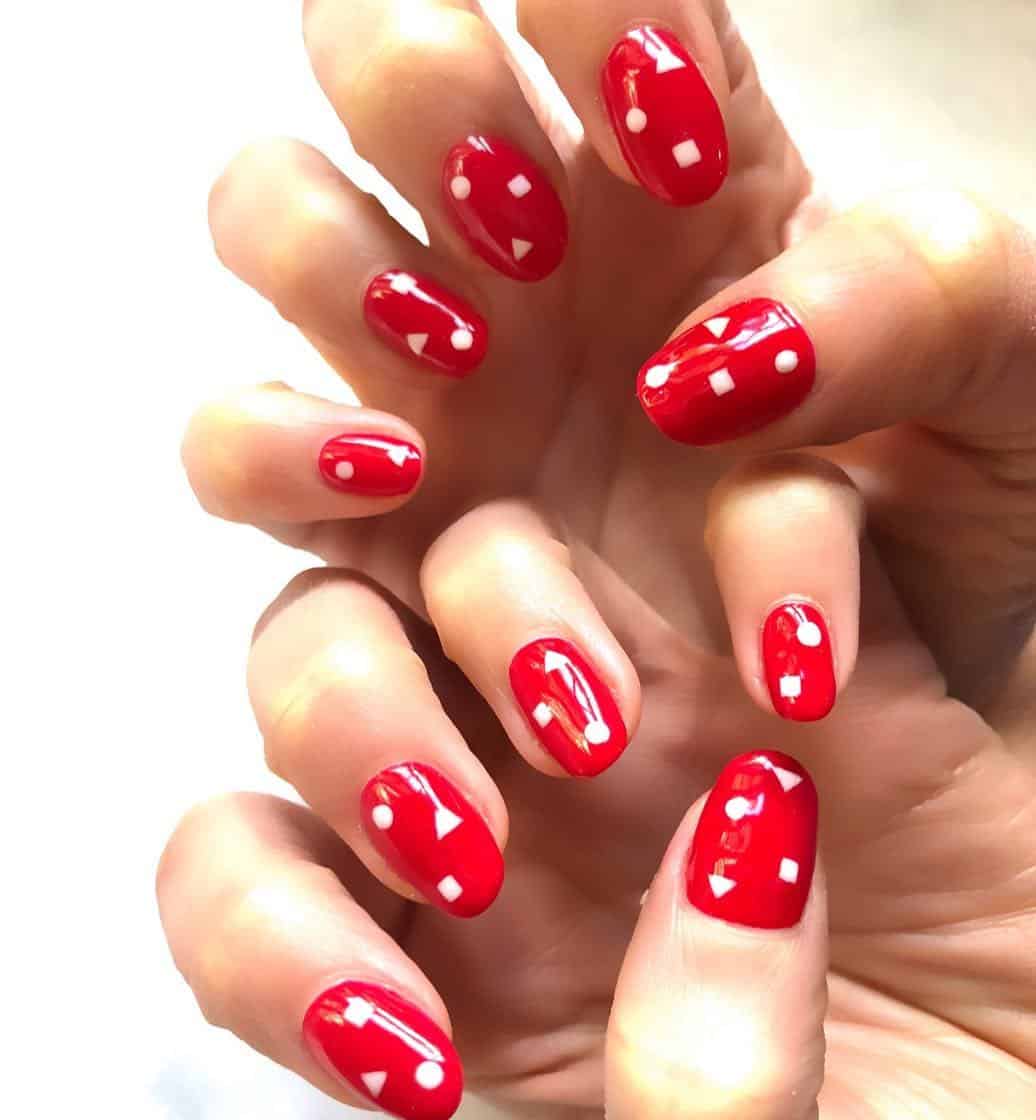 If you are looking for another minimalistic red nail art look like the Red Nails With Black Dots design, then check out this one. Here, tiny little geometric shapes are added over bright red nails to give them a subtle uniqueness. Even though it is a modest nail design, it can be an amazing icebreaker and get the conversations started when you are at a party.
41. Minnie Mouse-Inspired Red Nails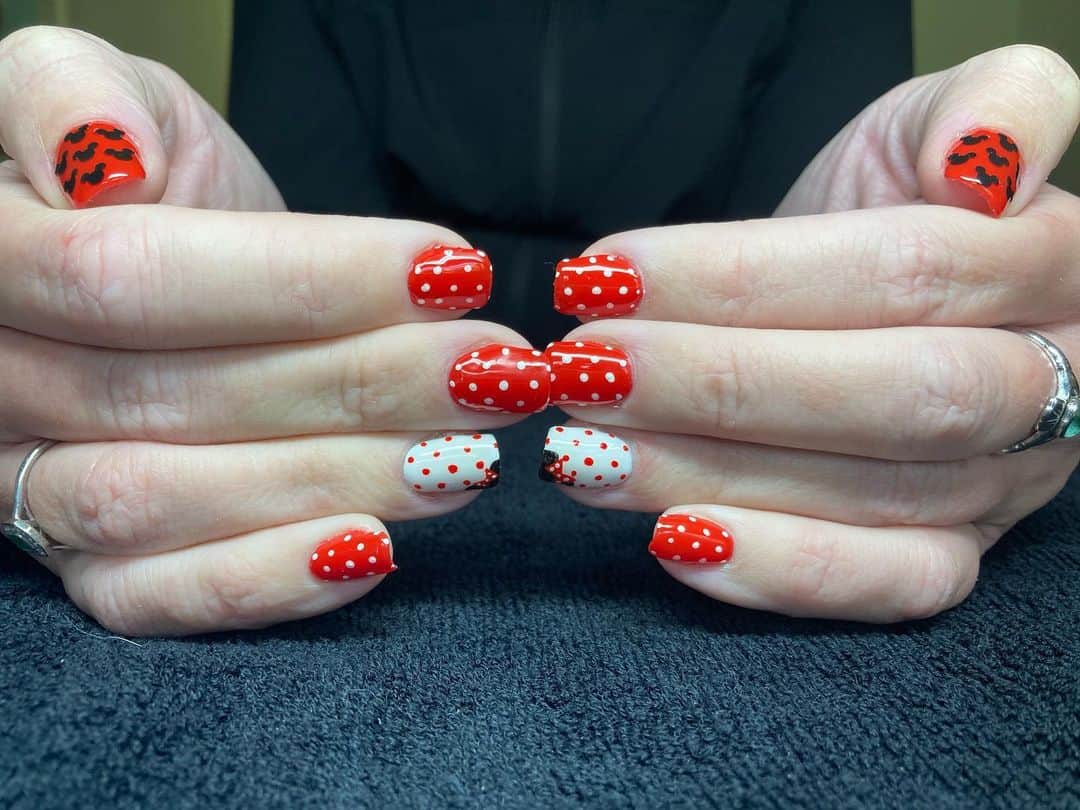 Give your polka dot red nails a classy twist with a touch of Minnie Mouse magic. You can perfectly reproduce the iconic polka dot design of Minnie's headband to your nail design. Inverting the design to red dots on a white background on your ring fingers and including a tiny headband on them will add to the charm of your feature nails. You can also add Disney character accents on your thumbs to draw full focus on your cute ring fingernails.
42. Wine-Red Nails With Rose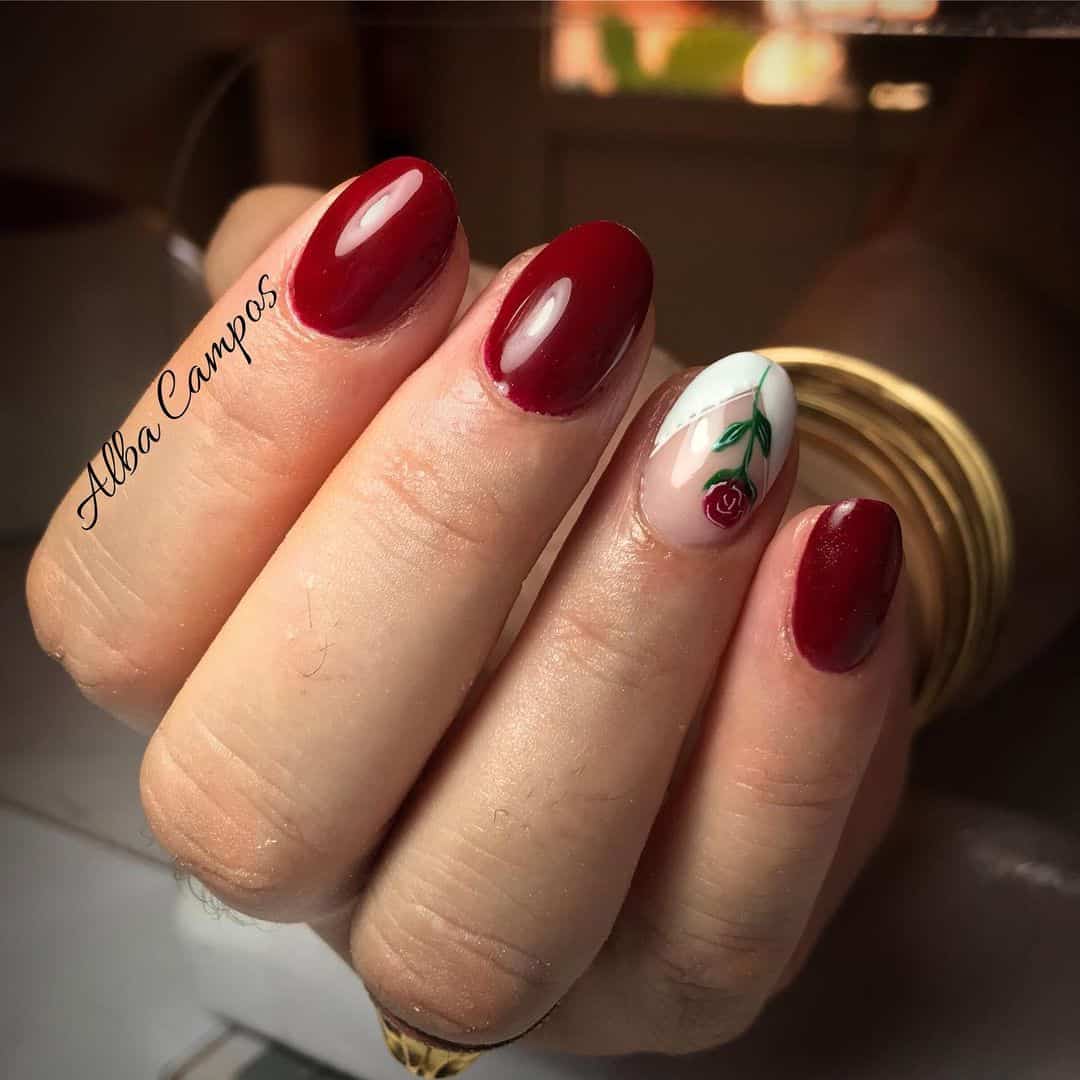 A rose feature nail with an inverted French manicure in white is always an attention-grabbing design. The flower is best accentuated by keeping the rest of the nails in a bold wine-red color, although you can also choose any other shade of red to go with this design. In any case, rounded and oval-shaped nails will be ideal for this nail design, and it may not produce the desired effect if you try it on stiletto or short nails.
43. Red Nails With White Flames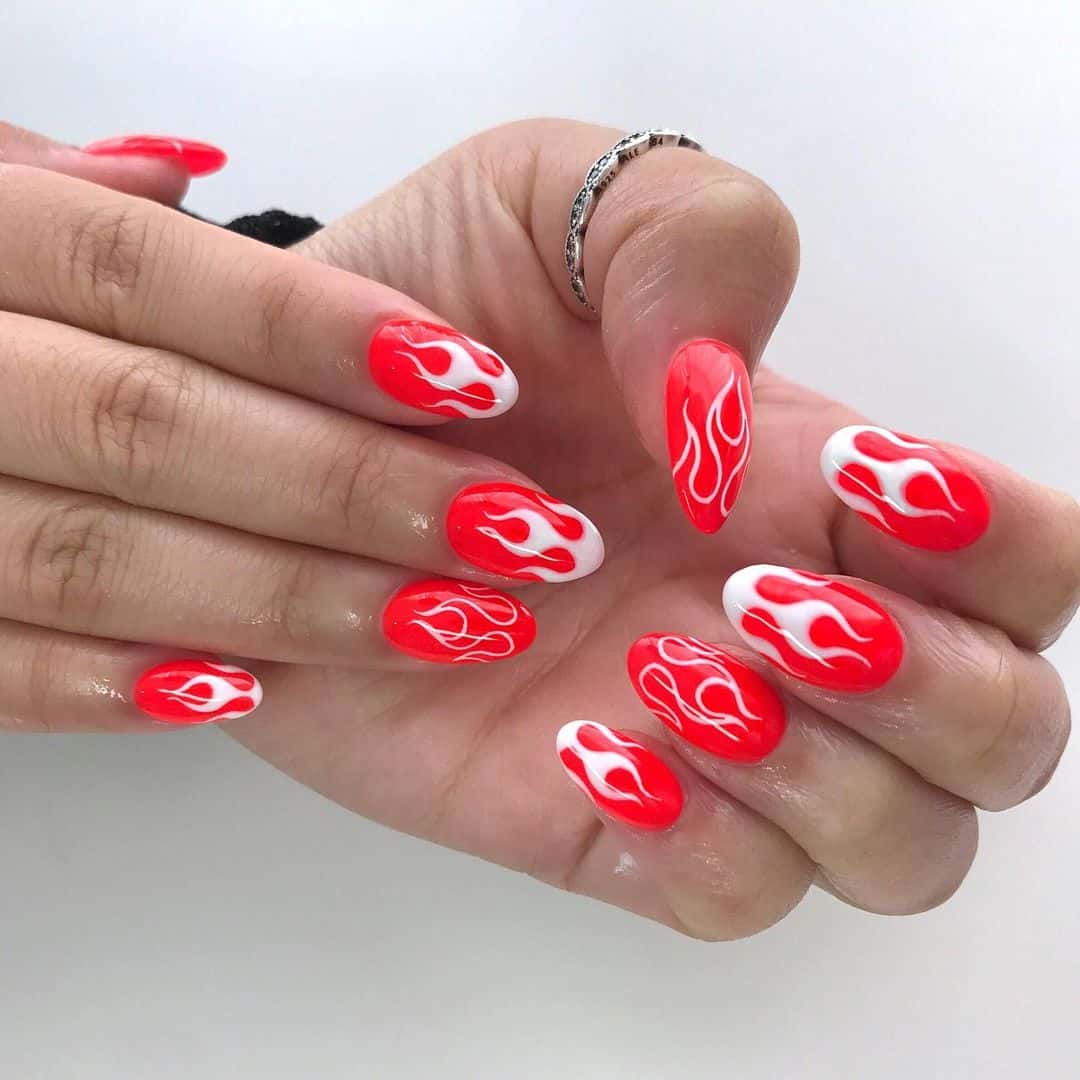 If you are looking to create a vivid impression with your nail art, then this one will be an exceptional choice to consider. Here, the nail design features white flames on a bright red background instead of going the traditional route as seen in many other fiery red nail designs. The contrast in the nail design is enough to draw everyone's attention to your fingernails.
44. Berry Red Nails With Leopard Print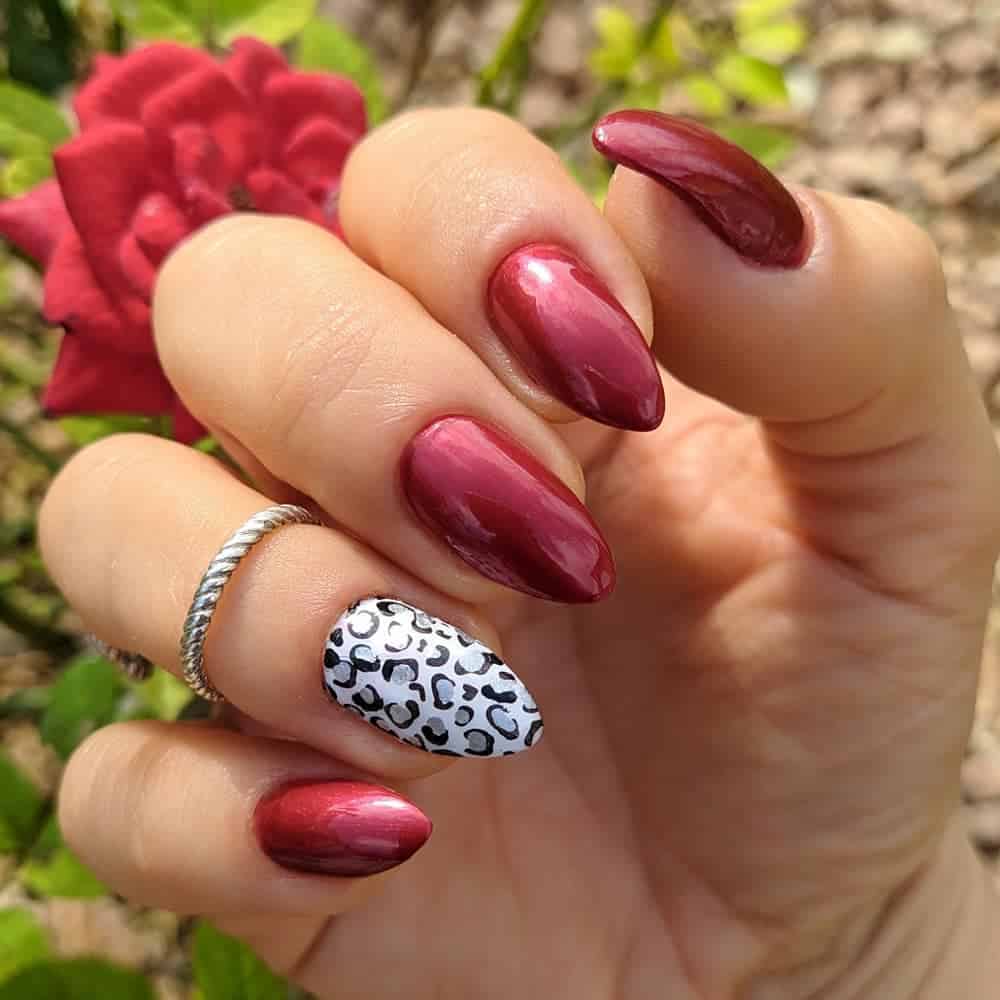 Berry red nail designs go well with oval, almond, and stiletto shaped nails. It gives your nails a new dimension with dark and bold glossy red hues. Adding a feature nail in the mix with a contrasting black and white leopard print will raise the bar even more and give it a more dramatic appeal. This will not only make your nail design look more sophisticated, but it will also allow you to portray your love for nature.
45. Gift Wrap Red Nails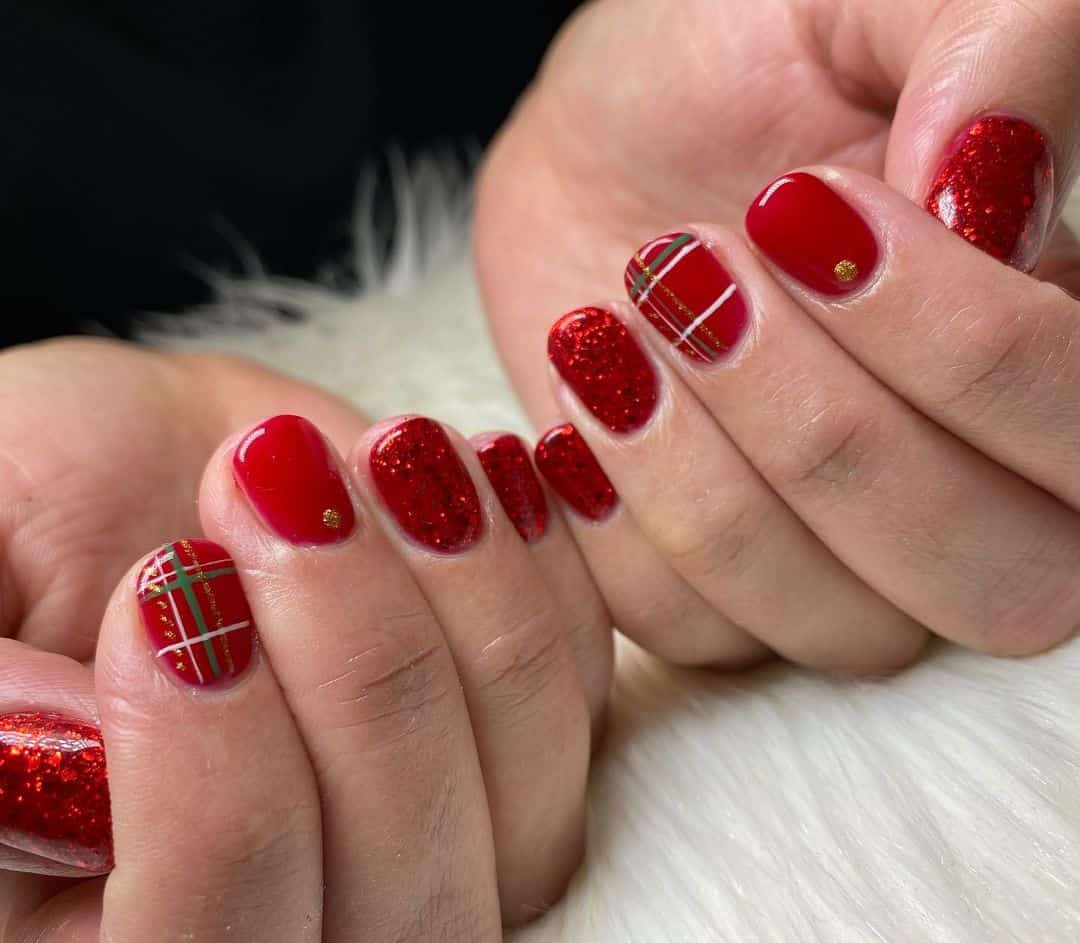 If you liked the Christmas-Themed Red Nails design, but wanted to keep it somewhat more balanced, then this one will suit your desires the best. Here, the feature nails on both hands are painted as gifts wrapped in white and green ribbons. While the rest of the nails are accentuated with glitter, keeping the ones next to the "gifts" in plain red with jewels perfectly elevates the holiday mood.
46. Simple Matte Red Nails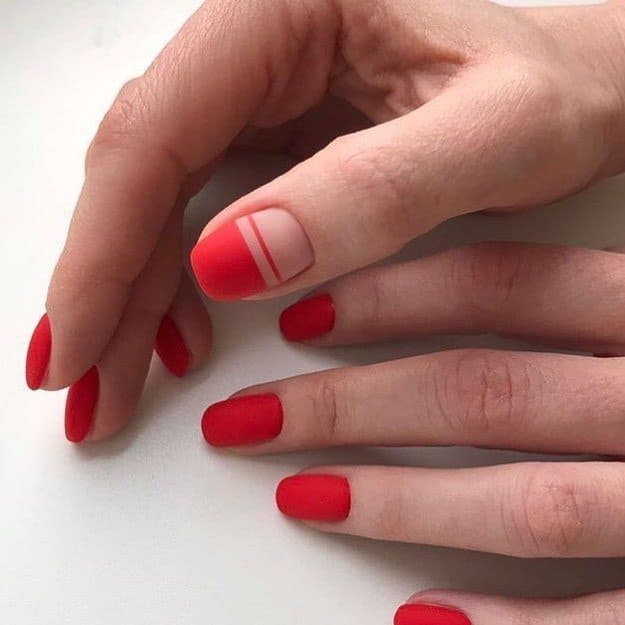 Red nails look amazing in all kinds of finishes, be it glitter or glossy. However, a matte finish always gives your red manicure a modern twist by adding more depth and richness to the color. It can also be a great way to draw all the attention to your nails; adding a shiny plain red feature nail instead of going all-matte design can further elevate your style.
47. Assorted Candy and Glitter Red Nails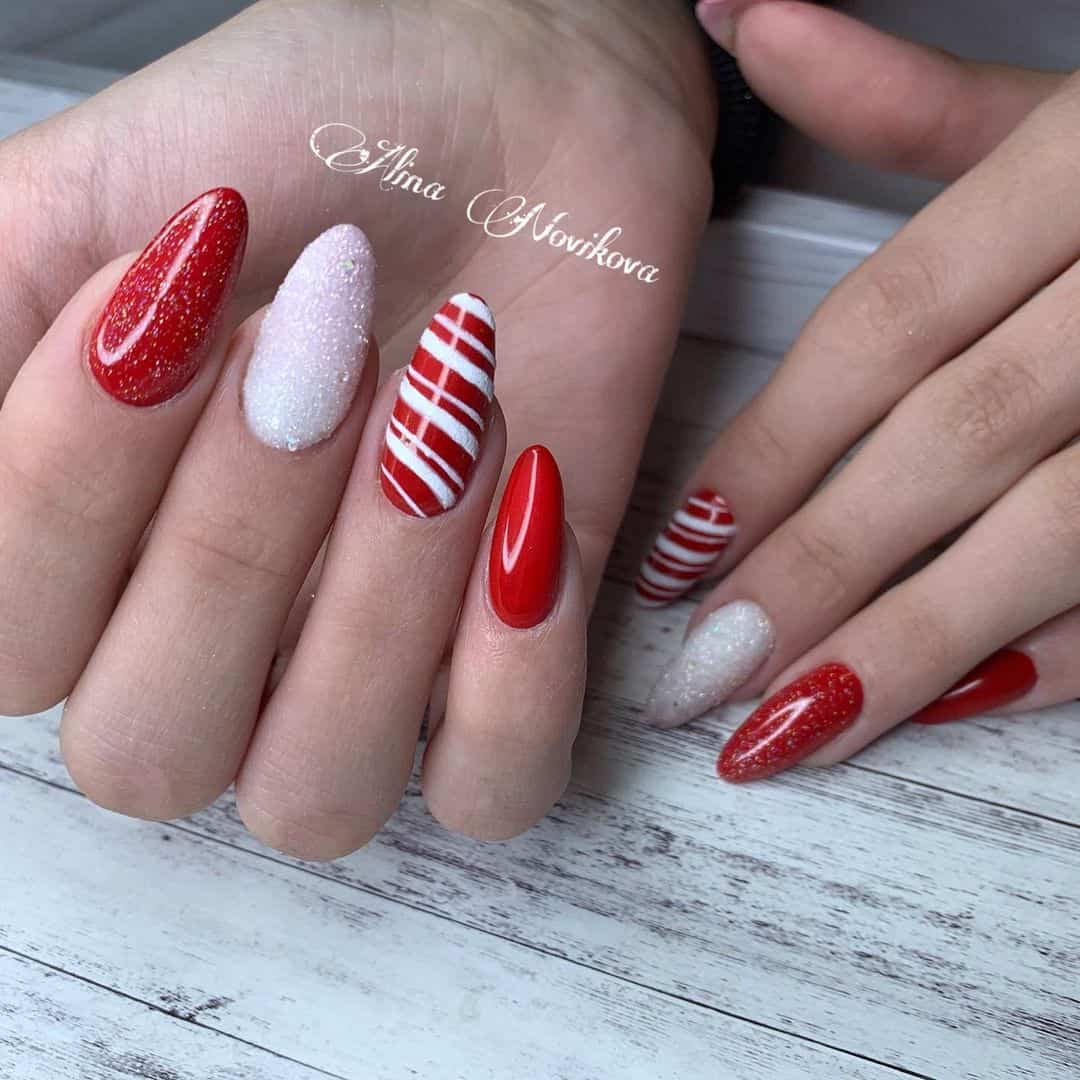 This is another winter and Christmas-inspired nail design. Here, you can go all-glam with glittery red nails, glittery white nails, red and white candy nails, and plain cherry red nails. It makes your fingernails appear like a pack of assorted candies, which can be a great way to celebrate the festive season with your loved ones in style. This nail design looks great on a stiletto manicure, but it can also go well with ballerina or coffin style nails.
48. Glittery Red Nails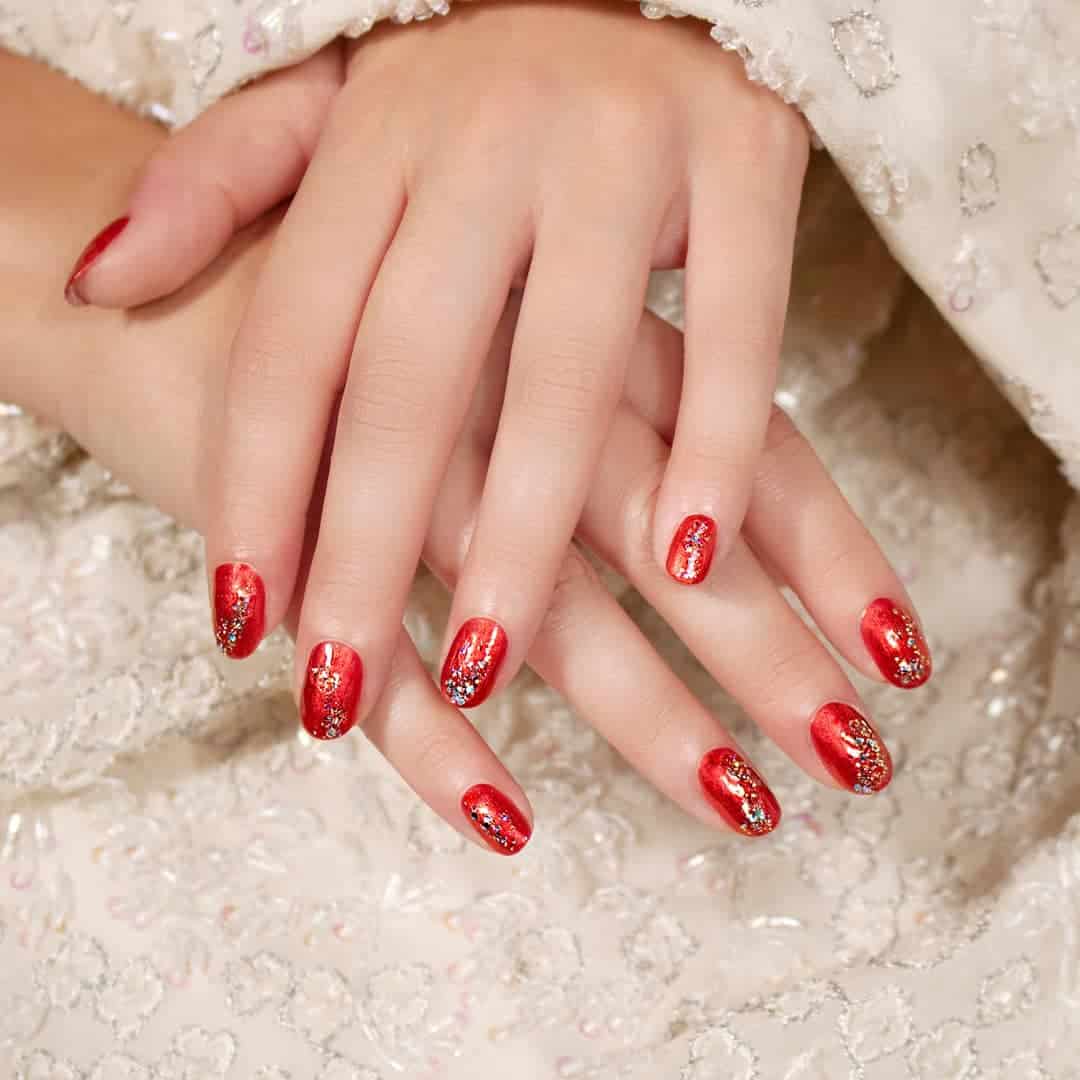 If you want to add a touch of bling to your red manicure, then try this glitter nail design for a trendy and fashion-forward look. It can be worn on all types of nail manicures while you can choose the shade of red color based on your attire and personal preferences. Although not all kinds of glittery nail designs are suitable for the workplace, the rounded nail shape and apple red color work together to keep things subtle here, which makes it a fitting choice for your office too.
49. Tricolor Red Nails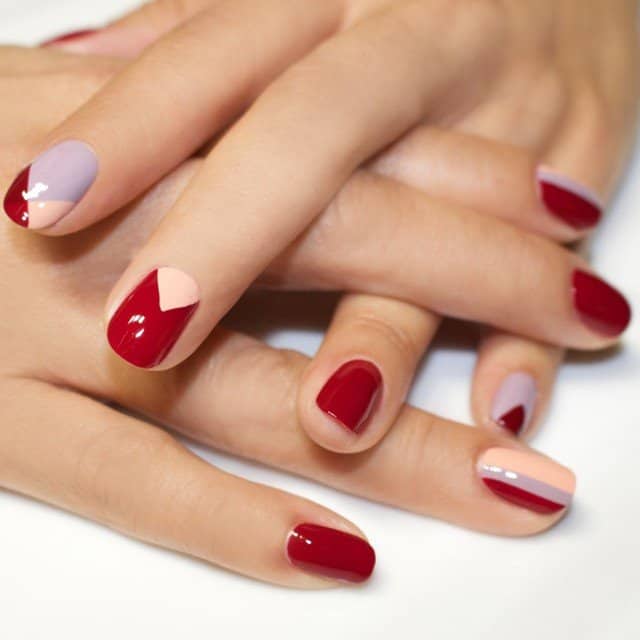 This elegant nail design features a mix of pastel pink, gray, and red colors forming different geometric shapes on your fingernails. You can go with triangular shapes, an inverted French manicure, plain strokes, and any other modern pattern to give this nail design a unique twist. There is plenty of room for creativity here to match your tastes; you can always try different shades and designs to create your masterpiece at home.
50. Strawberries and Red Heart Nails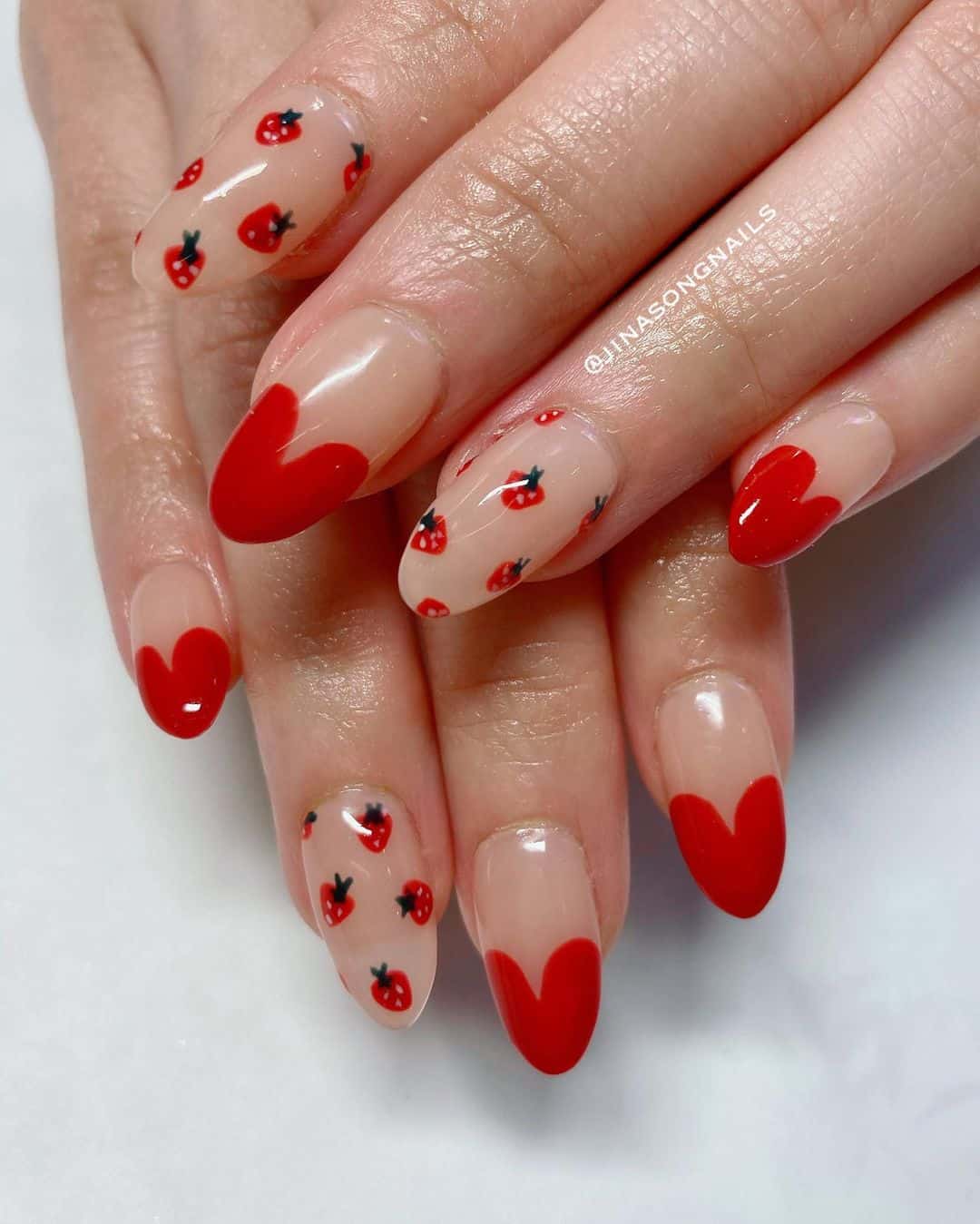 This chic nail design merges the Strawberries Red Nail Design with the Red and Pink Nails With Heart Tips idea. Following the "mix and match" style works here perfectly; just make sure to use a similar base for both the designs, no matter whether you choose a nude shade or go with pastel nails.
How to Choose the Best Red Nail Design for You
It is always important to match your nail polish color with your complexion, so a shade of red that looked good on your friend may not necessarily be the right choice for you. As your nail color may appear washed out depending on the skin tone, you should stick to the most recommended combos. For instance, bright reds look gorgeous on fair skin while deep reds look more appealing on dark skin tones.
You should also consider your overall attire and makeup when choosing the nail design. As you want to draw attention to your hands, you should make sure that you do not pair your makeup and nails in an outdated or shoddy fashion. To play it safe, wear a similar shade of red lipstick and nail polish. Likewise, make sure that your nails and makeup are suitable for the occasion as well as the season.
Remember that your nail design can reflect your personality as well. For instance, while the Red Nails With Polka Dots and Bow Ties design represents a cheery and carefree nature, the Red Gradient Corset Nails design evokes a sophisticated and edgy vibe. Similarly, where metallic red nail designs show a bold and wild side, bright red colors represent energetic characters. So choose the nail design wisely to flaunt it with style.
In any case, you need to moisturize your nails well to keep them healthy as well as ensure that the nail design you have chosen lasts for a long time. You can buy Bee Naturals Cuticle and Nail Oil to give the extra attention that your nails crave and ensure a long life for your nail designs. Another good option is Sweet Almond Oil by Pure Body Naturals that will help to moisturize and nourish your nails well so that you can flaunt your red manicure all season.