The French word 'Ombrér' means 'to shade.' The adjective ombré – a homophone of the Spanish ombré, means going from 'dark to light' or 'light to dark.' Today it typically refers to a gradient shading technique that goes from the dark version of a color to its lighter shades seamlessly, or vice versa.
Ombré hairstyles usually use more than one color for the gradient effect, so you could have ombré hair with colors that go from platinum to lilac and auburn to honey blonde. Some hairstyles have more than two colors too. Regardless of the semantics, ombré hairstyles are on-trend, popular, and here to stay. So, if you're thinking of getting your hair done, we have a gallery of 50 different ombré hairstyles for your consideration.
Before you seek inspiration from one of the 50 styles below, keep these quick tips in mind to get the best results:
Professional Dye Job vs. DIY
Ombré coloring requires skill and is best left to professionals. Save and splurge on a salon instead of trying a DIY ombré hair color job. That isn't to say that if you're very confident in your skills and have had adequate practice you can't go for it, but for most people it's less likely to work out as well as you'd imagine.
Trust the Pros
Just because it looks excellent on Emma Watson doesn't mean it will look great on you. A professional will be able to point out exactly why a particular style won't work on you and how you can modify it to your hair length, natural color, and texture.
Baby Steps
There's a limit to how far you can lighten your natural locks, especially when you have dark black or brown hair. Don't go from dark black to platinum blonde ombré, but try sticking to similar shades. Either way, you'll have to do this in stages where you lighten your hair over successive hair color treatments.
Mind Your Lines
The color grading of your hairstyle should be seamless. Most pros know how to achieve this effect. Even if you're doing this at home, ensure that the colors change gradually so it doesn't look like a DIY hair coloring project gone wrong.
Maintenance
If you're looking for a low maintenance hairstyle that requires fewer trips to the salon, it's best to go with root colors closer to your natural hair color and ombré coloring that begins at the crown, possibly with some highlights for better color melting.
Scroll down and have a look at our list of 50 ombré hairstyles to get inspired.
50 Ombré Hairstyles Gallery
1. Choppy Ombré Lob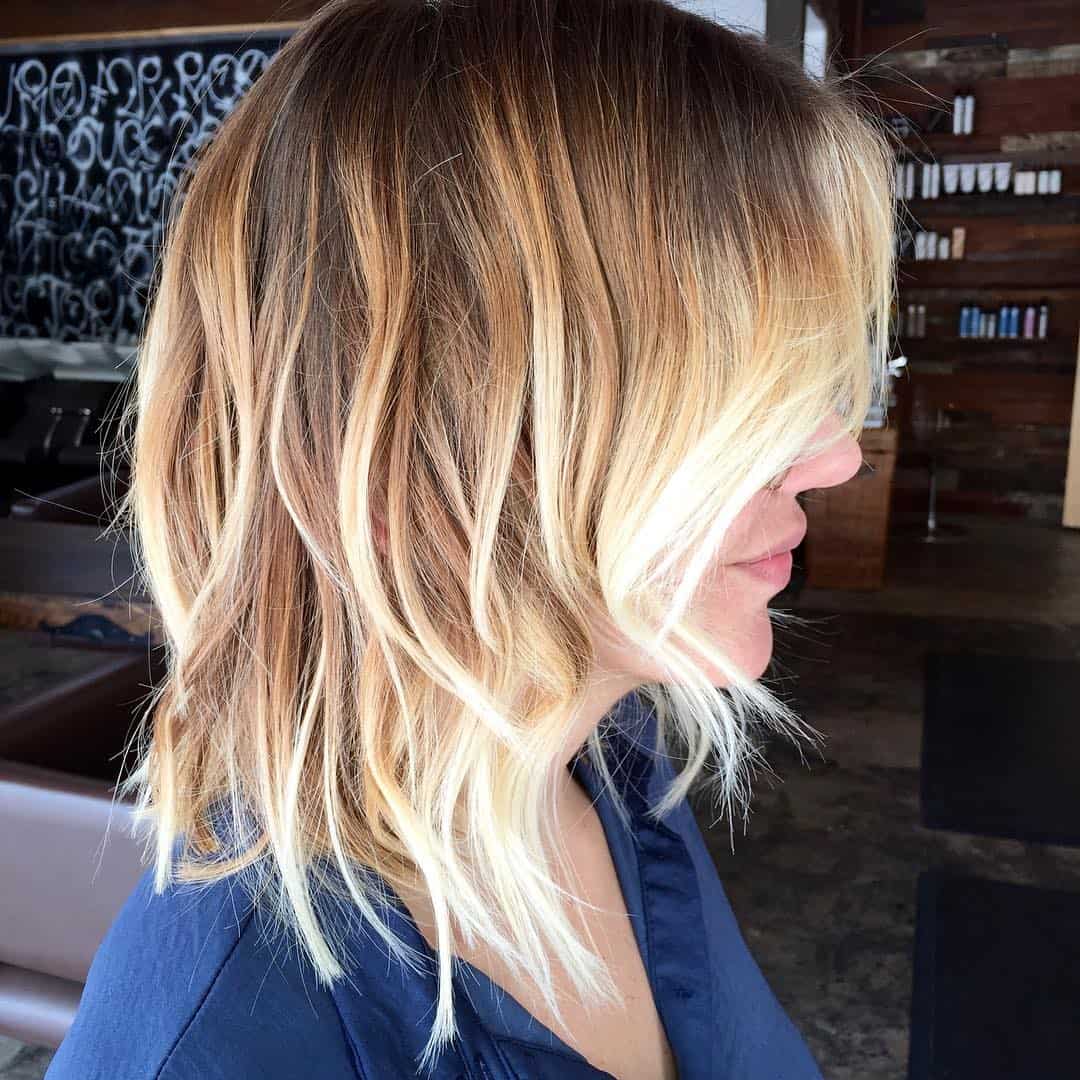 Ombré hair with a choppy asymmetrical cut is an ultra-chic hairstyle that makes you look ready-to-go all the time. It's a long bob that requires minimal maintenance and styling. With the added advantage of the ombré shading technique, this lob will ensure that you'll never have a bad hair day. You can include some contrasting lighter shades in this ombré hair combination to make your hair appear more voluminous.
2. Auburn Ombré Locks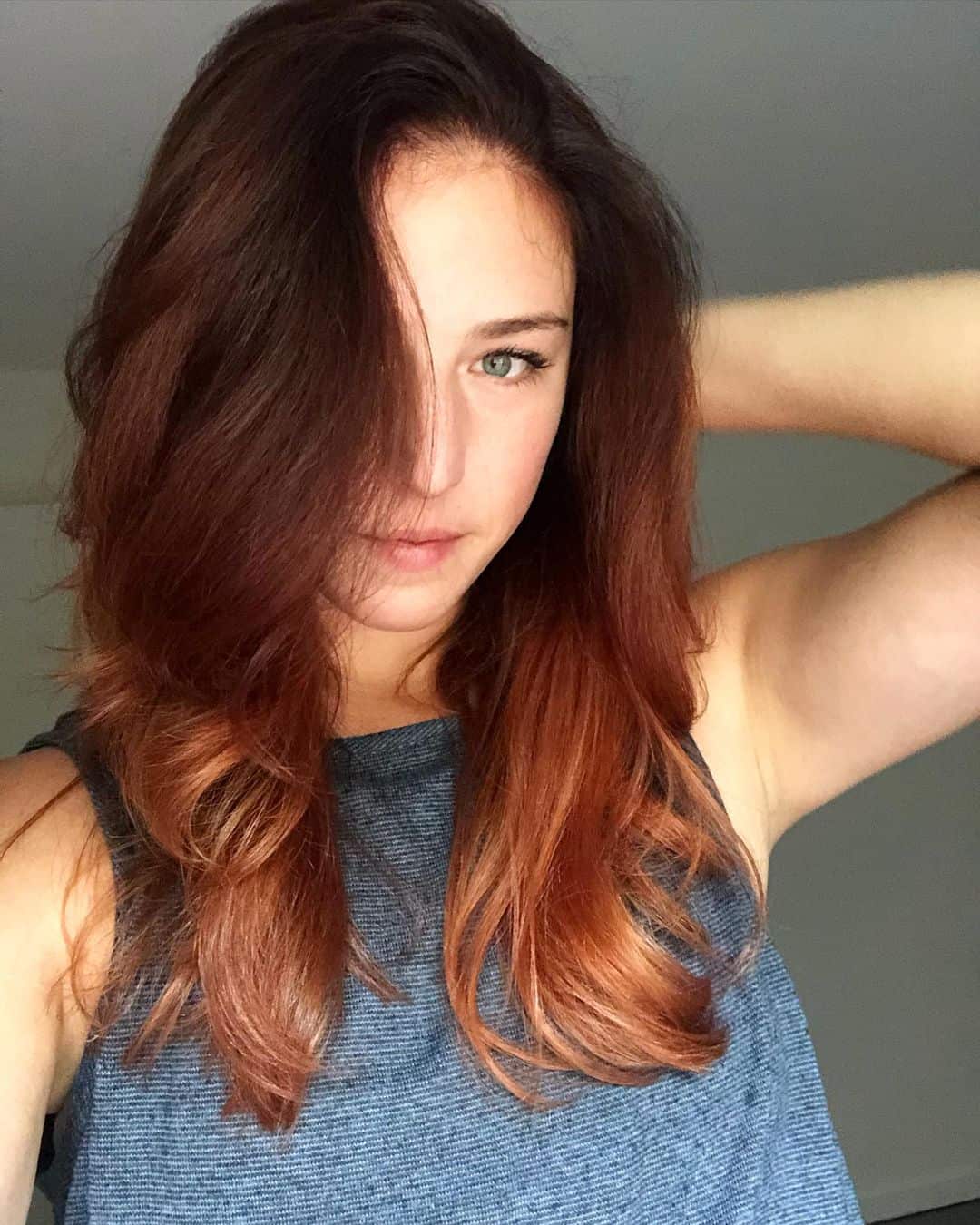 Auburn ombré locks look great as they go from dark browns to slight gingerish tones, as shown in this example. A step-cut with cascading soft waves gives this hairstyle the volume and structure required to carry it. The dark auburn locks frame the face while the lighter strands catch and reflect the sunlight brilliantly. This ombré hairstyle is perfect for autumn as it reflects the somber orange tones of the season.
3. Ash Grey Soft Ombré Waves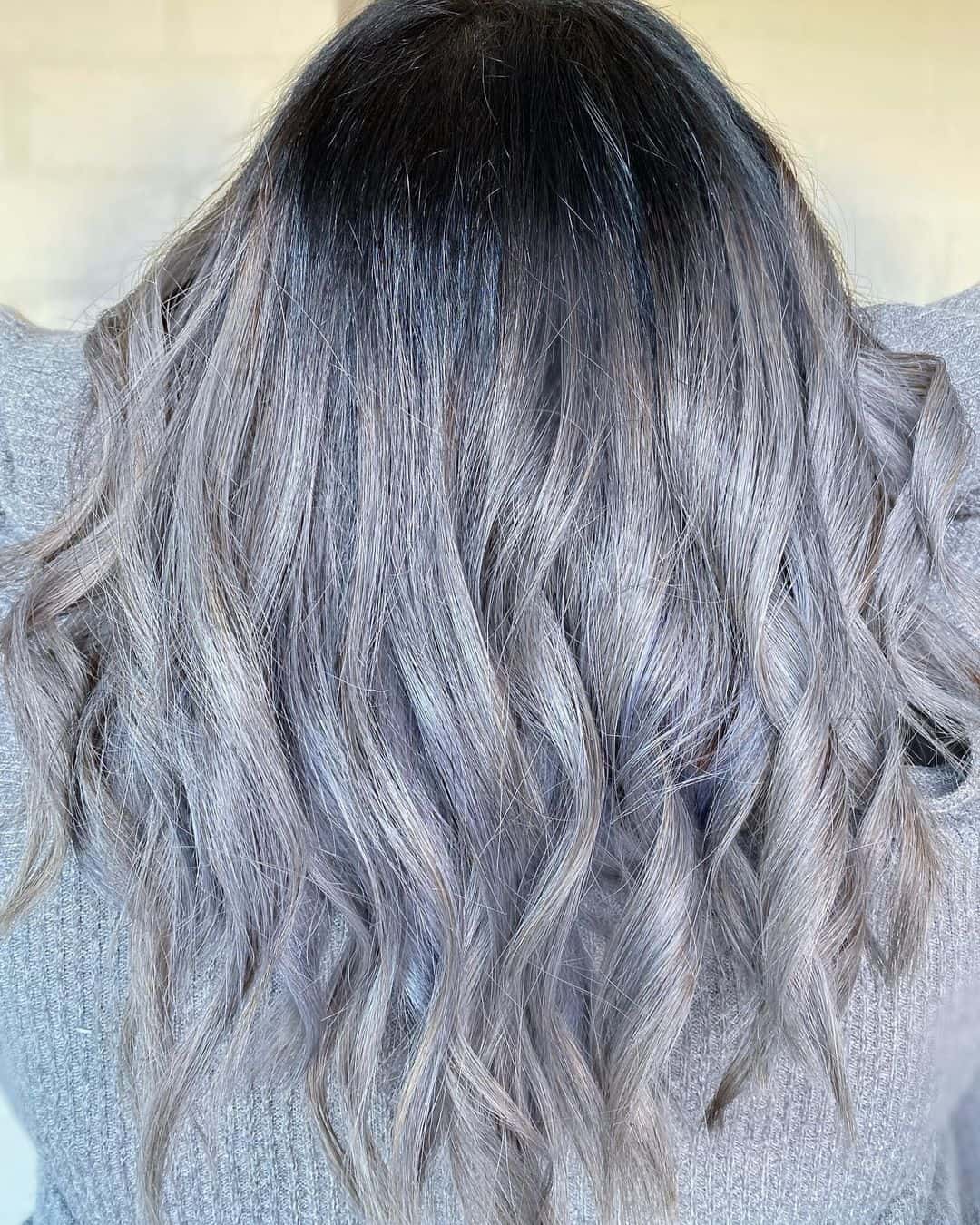 Ash and grey locks have taken the fashion world by storm. Gone are the prejudices that kept people from going for these colors as they usually signify aging. From Cara Delevingne to Ariana Grande, lots of famous celebs have been rocking grey and ash locks. This style begins with natural black roots that turn a dark grey. This grey eventually lightens down to silver-ash waves.
4. Fiery Red Ombré Tendrils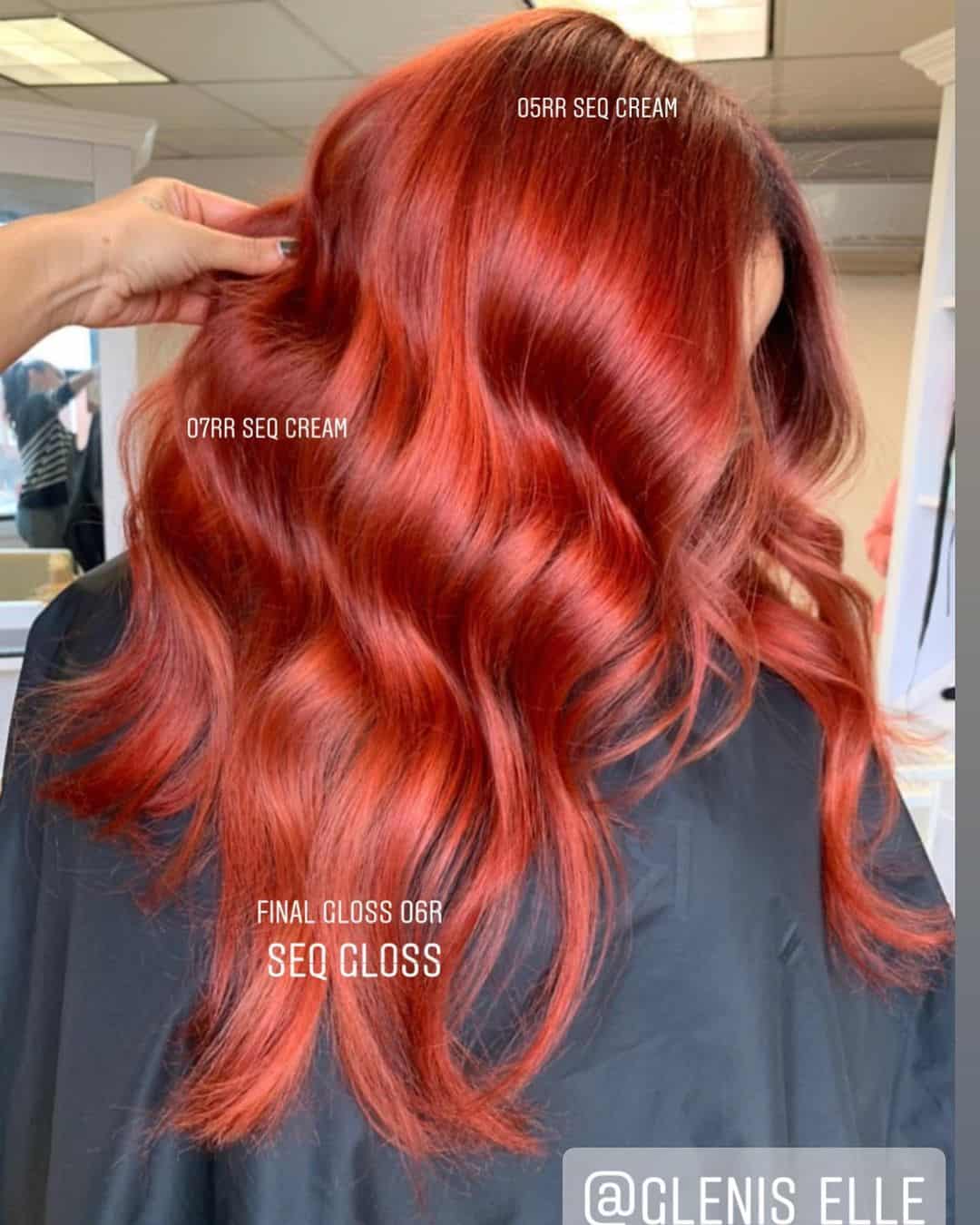 So you want ombré locks in the same color? How does this fierce red ombré hair look? It uses the same shade of red but in different gradients to get this look. The shading is very subtle here, with the roots being a slightly darker fiery red while the tips are more glossy red and reflect more light. This red ombré is a wonderfully done professional job, and the color grading here is almost seamless. You can't point out a line or area where the darker shade ends, and the lighter shade begins.
5. Intense Purple and Black Ombré Tresses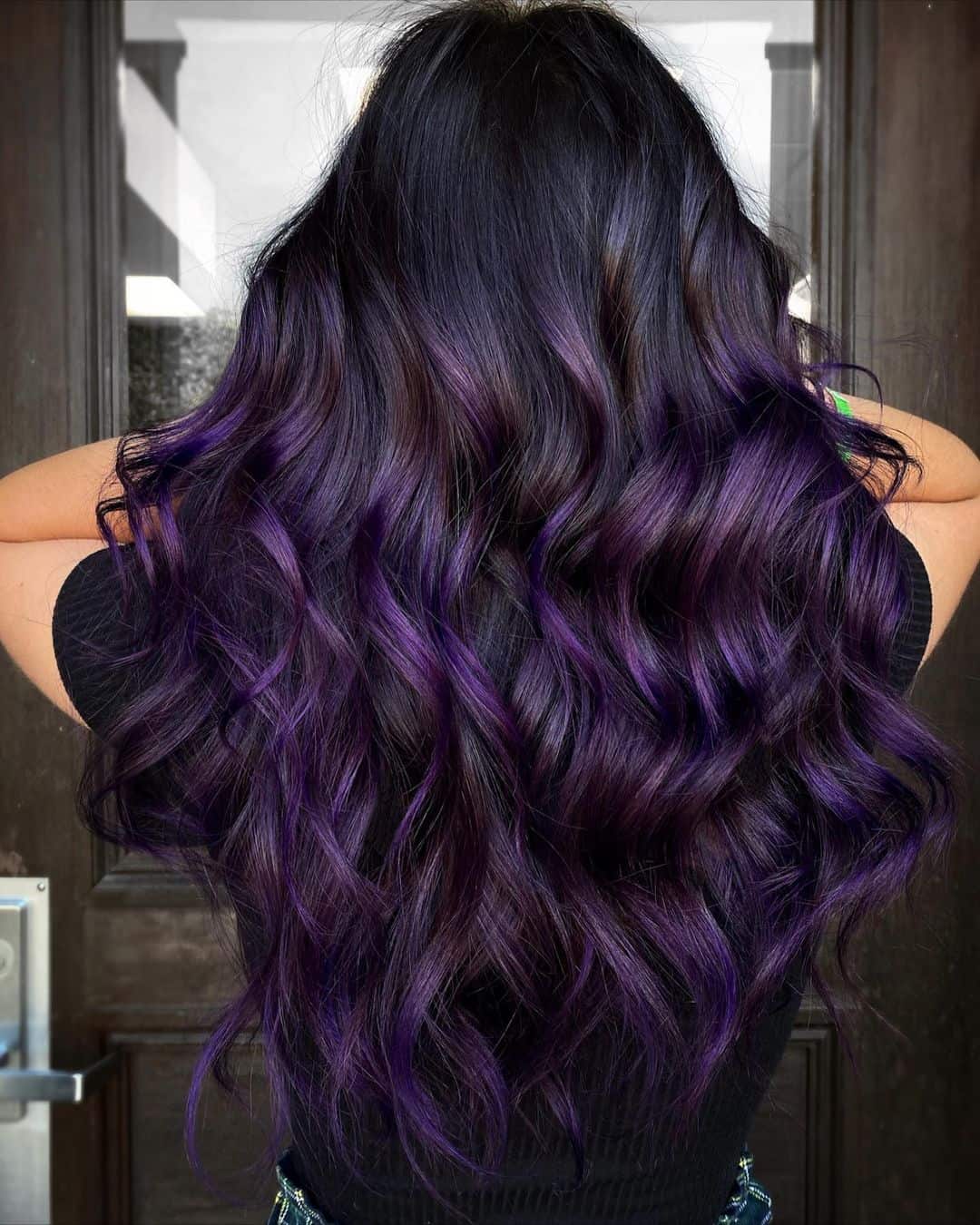 Purple and its various shades are usually used in combination with silver, ash blonde, and platinum blonde hair; this darker purple shade also works well with black hair. Although both colors are quite dark, black hair is much darker in pigmentation and hence used here as the base for roots. Dark purple balayage highlights and tips finish this look with aplomb!
6. Chestnut Brown Ombré Waves for Days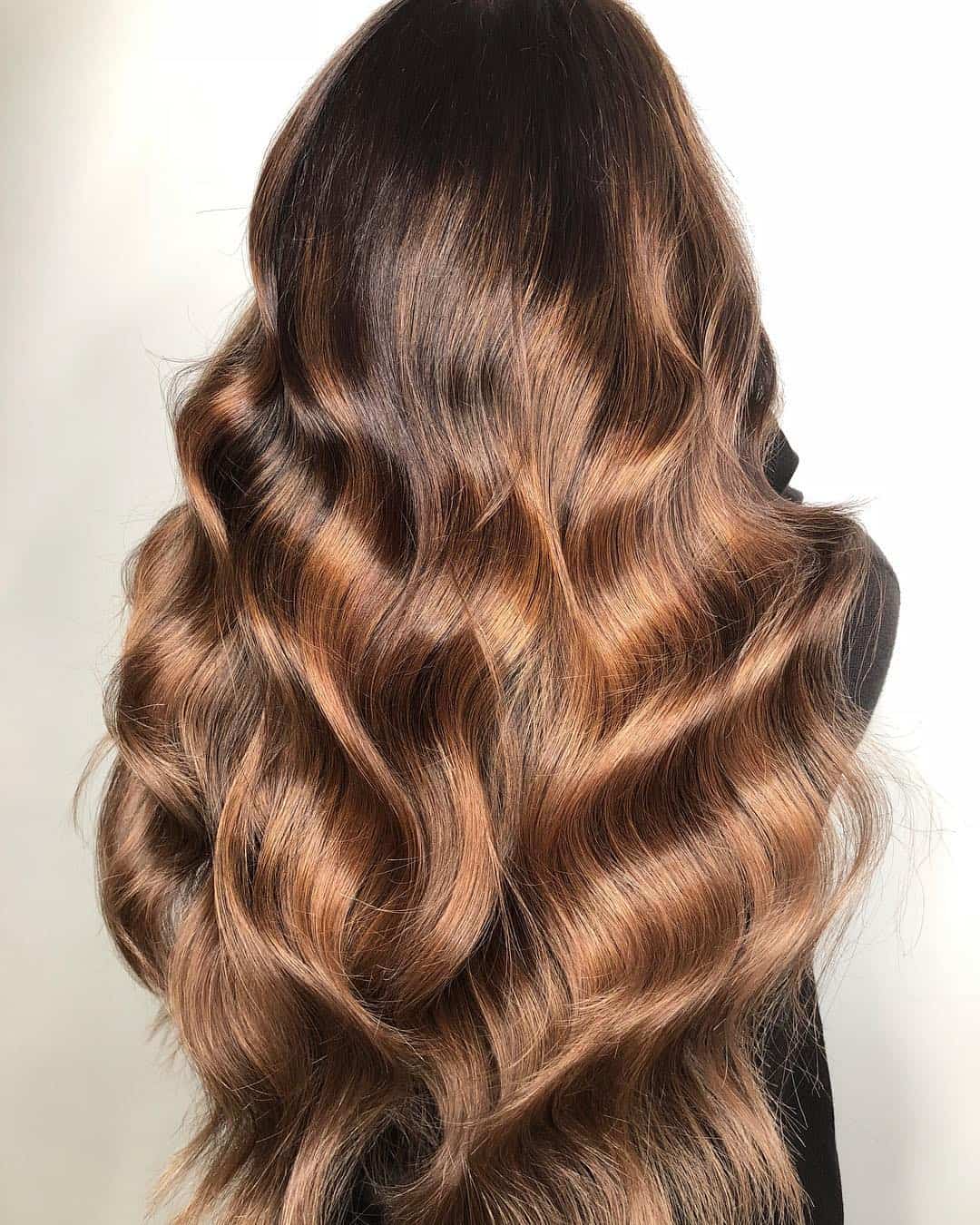 If you have long brown locks and want to try something new with your hair without chopping them off or going for a drastically different hair color, this is the perfect hairstyle for you. Chestnut locks are easy to achieve with brown hair. For the ombré effect, go with golden copper tips and balayage highlights. Finish the look with a light wavy touch that makes your hair look like cascading chestnut waves that reflect copper and gold tones as they move and bounce.
7. Peekaboo Purple and Pink Ombré Highlights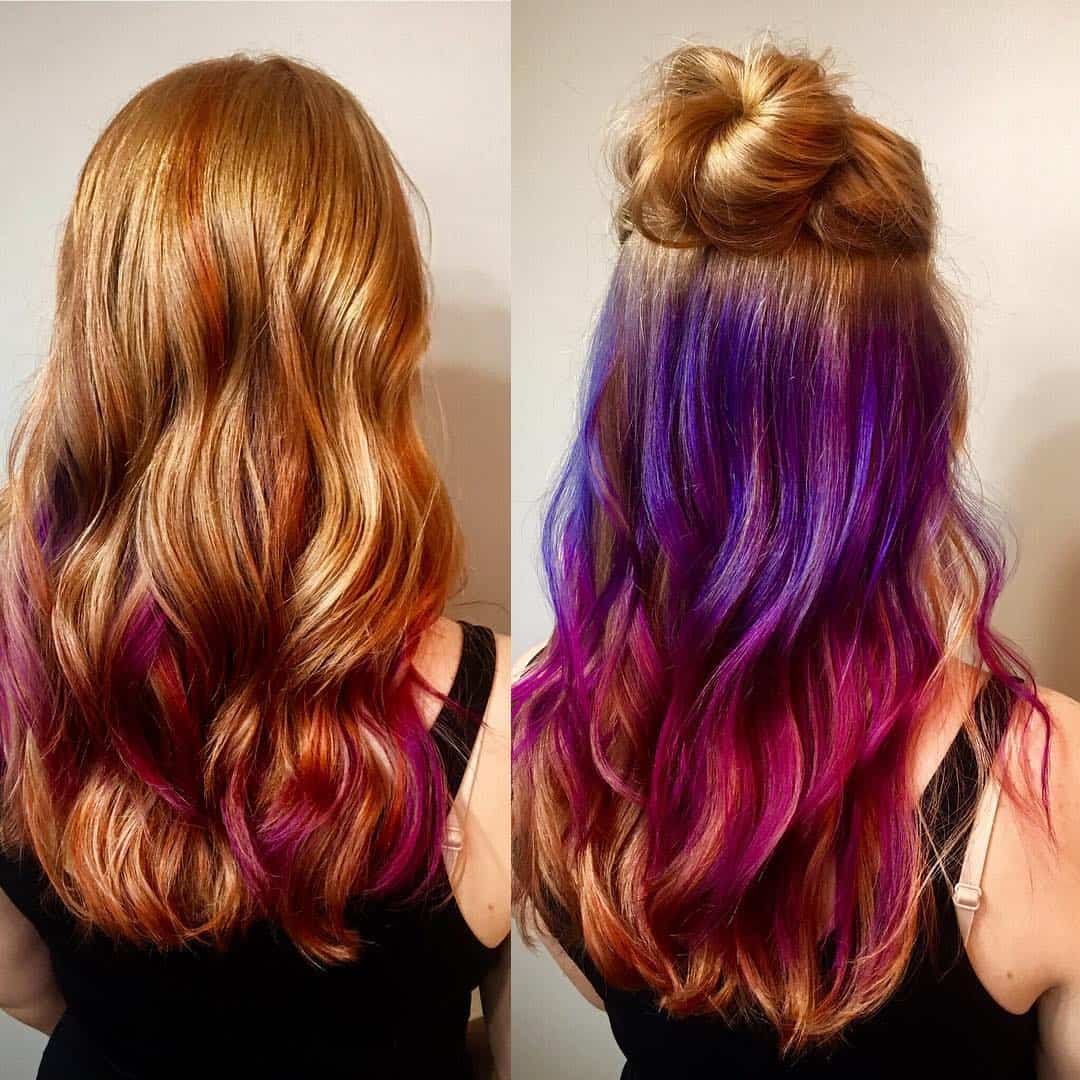 Peekaboo highlights are the latest on fleek hair coloring technique that hides brightly streaked hair under a regular even-toned or ombré hairstyle. Moving aside the top layer reveals these carefully applied highlights to the hair at the back and the sides. The ombré hair shown in this picture has purple and pink streaks in a gradient color pattern. It's also an example of light to dark shading, with the lighter purple shade near the roots and the darker pink hue applied to the tips.
8. Blonde and Purple Wavy Ombré Hair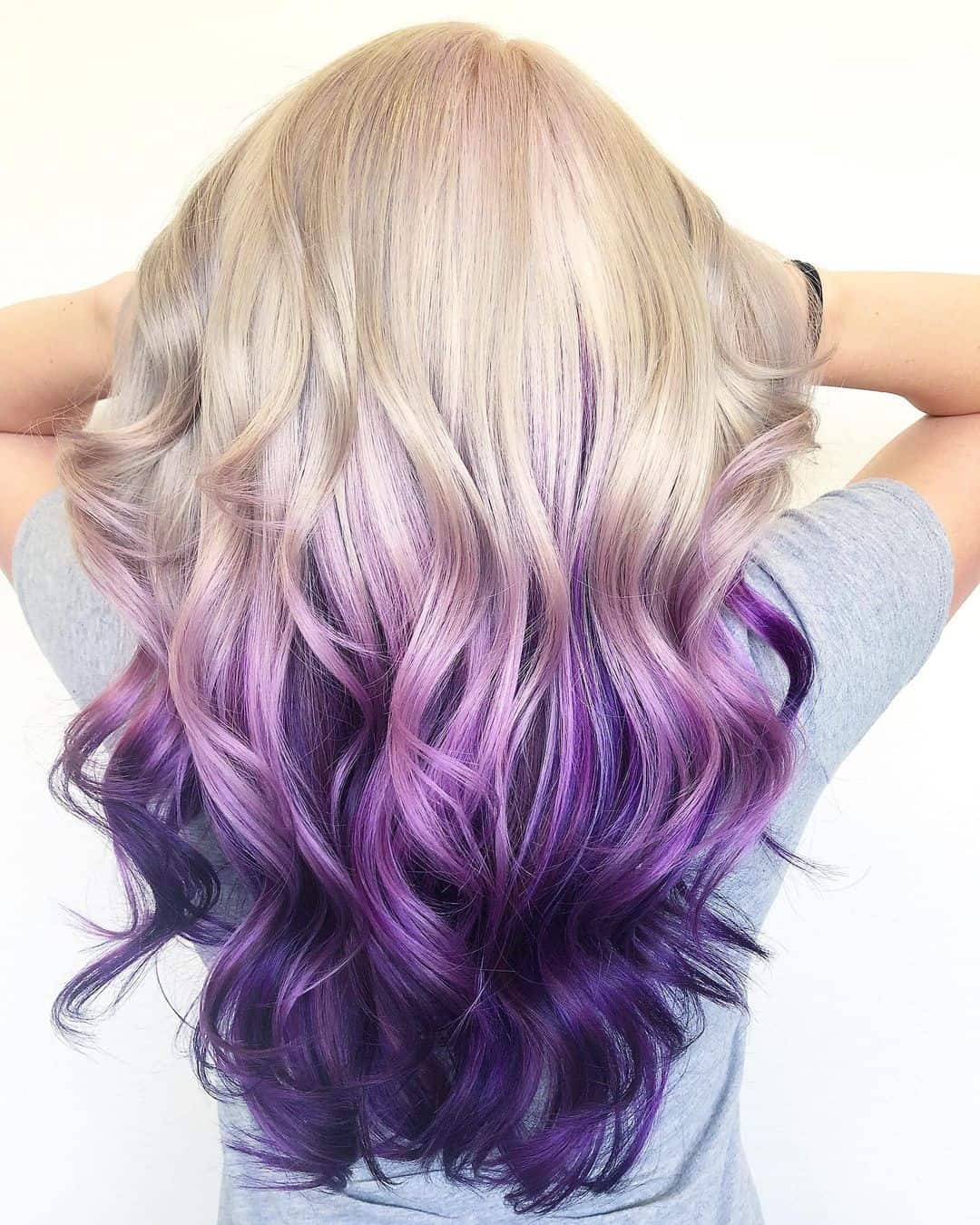 This purple ombré is another example of light to dark hair ombré coloring suitable for those with very light-colored natural locks. If you're a natural blonde with light blonde to platinum hair, this ombré hairstyle would be a good idea. It begins with bleached blonde locks and cascades down to pale lilac toned hair that gradually gets intense, ending with dark purple tips.
9. Black and Burgundy Ombré Curls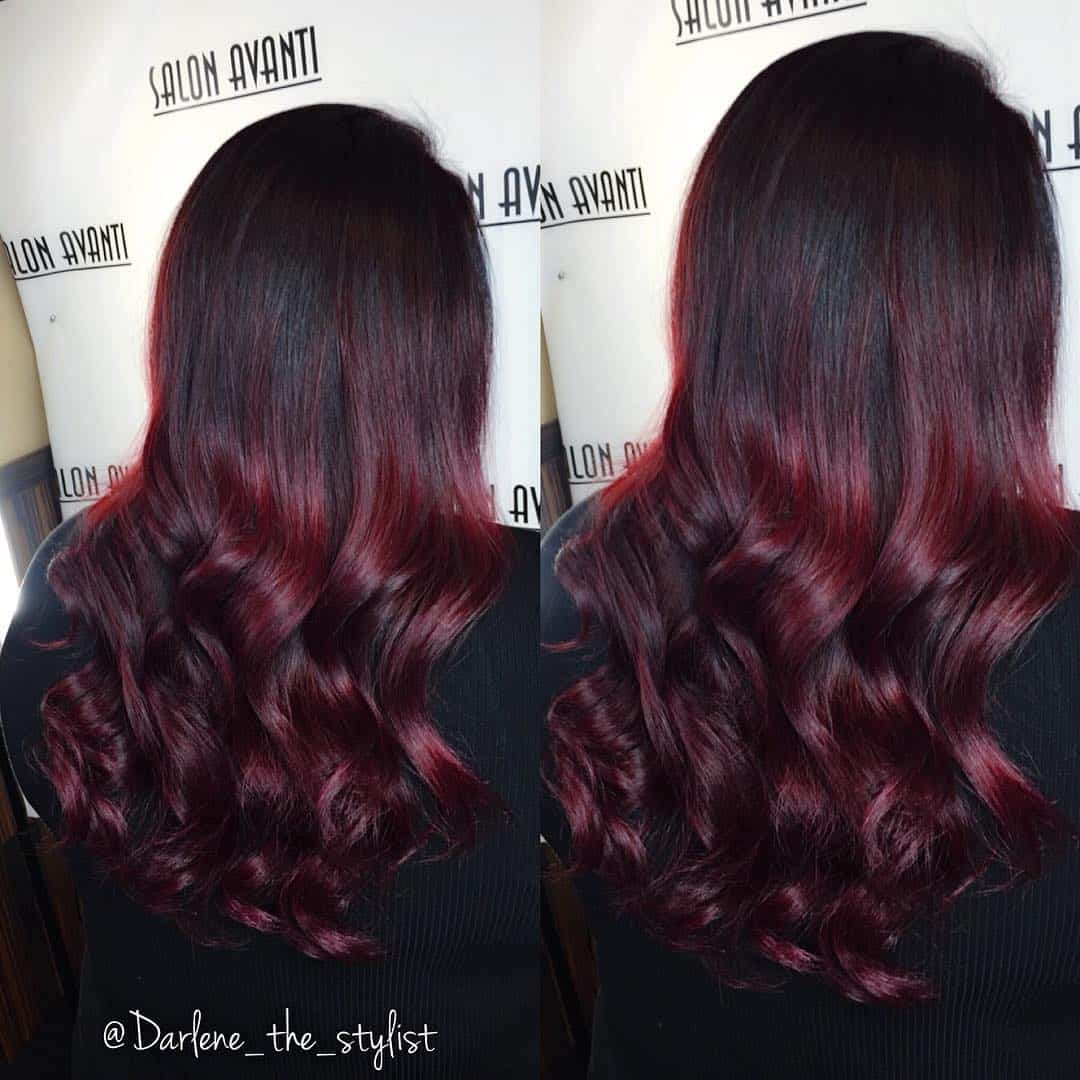 This is a unique color shading technique for long dark tresses where the ombré shading begins at the crown. The roots are dark, black, or a natural dark brunette. Subtle burgundy highlights start at the crown and gradually increase in volume as you move towards the hair's tips. The lower ends are completely burgundy. The hairstyle begins with straight hair, but curls take over where the burgundy shade increases in volume, making ombré effect become  pronounced vertically as well as horizontally.
10. Subtle Red Ombré Bangs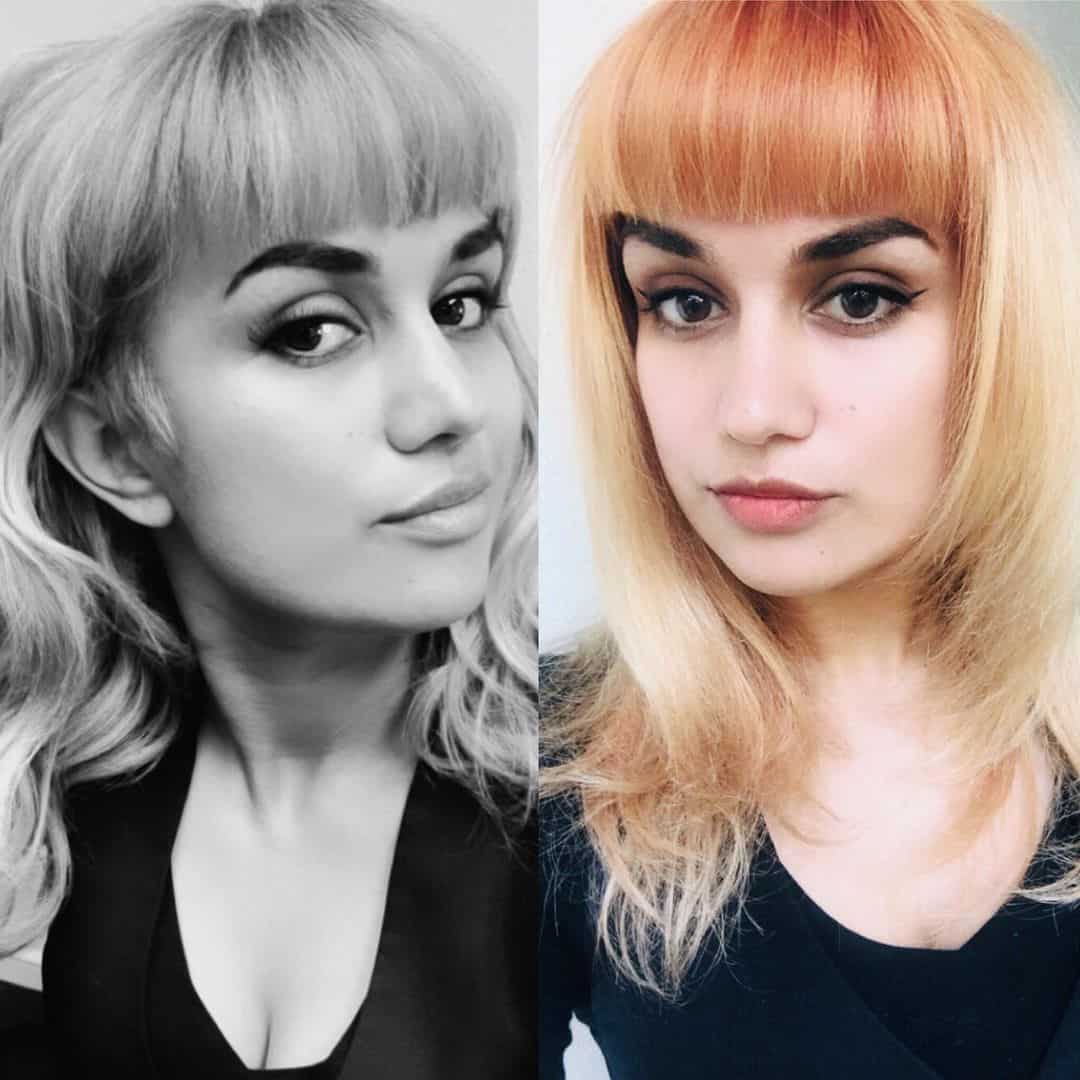 If you have bangs and naturally light hair color, you can go for face-framing ombré hair that fades from a muted red to pale blonde. This red hairstyle is a minimal ombré coloring job as the fade is limited to the bangs. You can stretch it a little further and have the top of the head done up in the muted red while the blonde locks begin from the sides. It is an excellent ombré coloring choice for natural redheads. If you aren't one, as the roots grow out, you'll need frequent touch-ups to maintain this ombré look.
11. Blush Pink Ombré Hair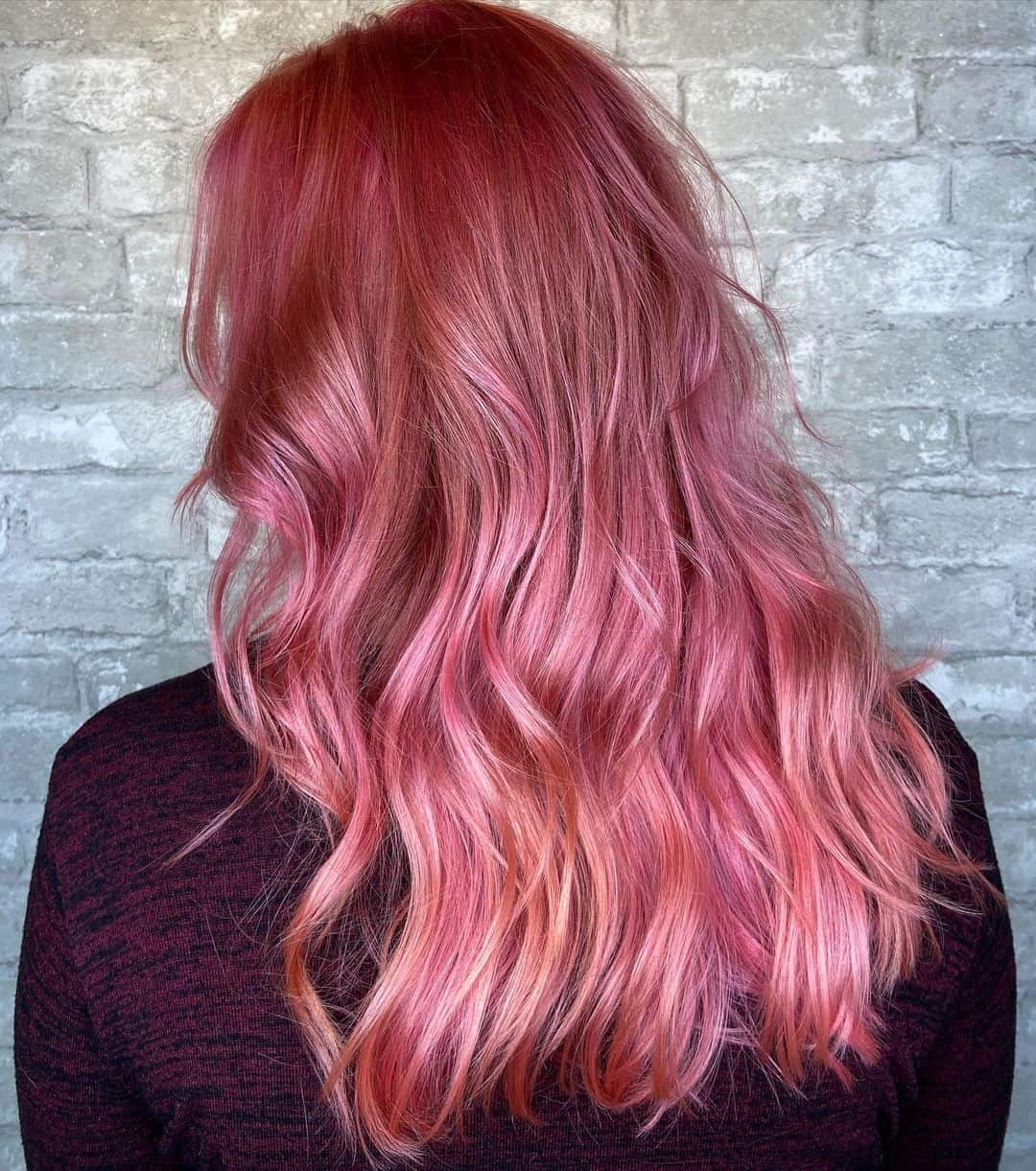 If richly pigmented bright colors are too loud for your liking, and pastels are too dull, go for the middle route with a muted pink palette. This ombré hairstyle uses pinks and corals to create a unique hue of blush pink hair.  Both ombré coloring and balayage highlights have been incorporated into this hairstyle to create this perfect blend. Reddish pink roots gradually cascade to pinkish waves that end in coral red and pink tips. This is another hairstyle that looks better as beachy mermaid waves rather than as straight hair.
12. Cinnamon Copper Balayage Ombré Curls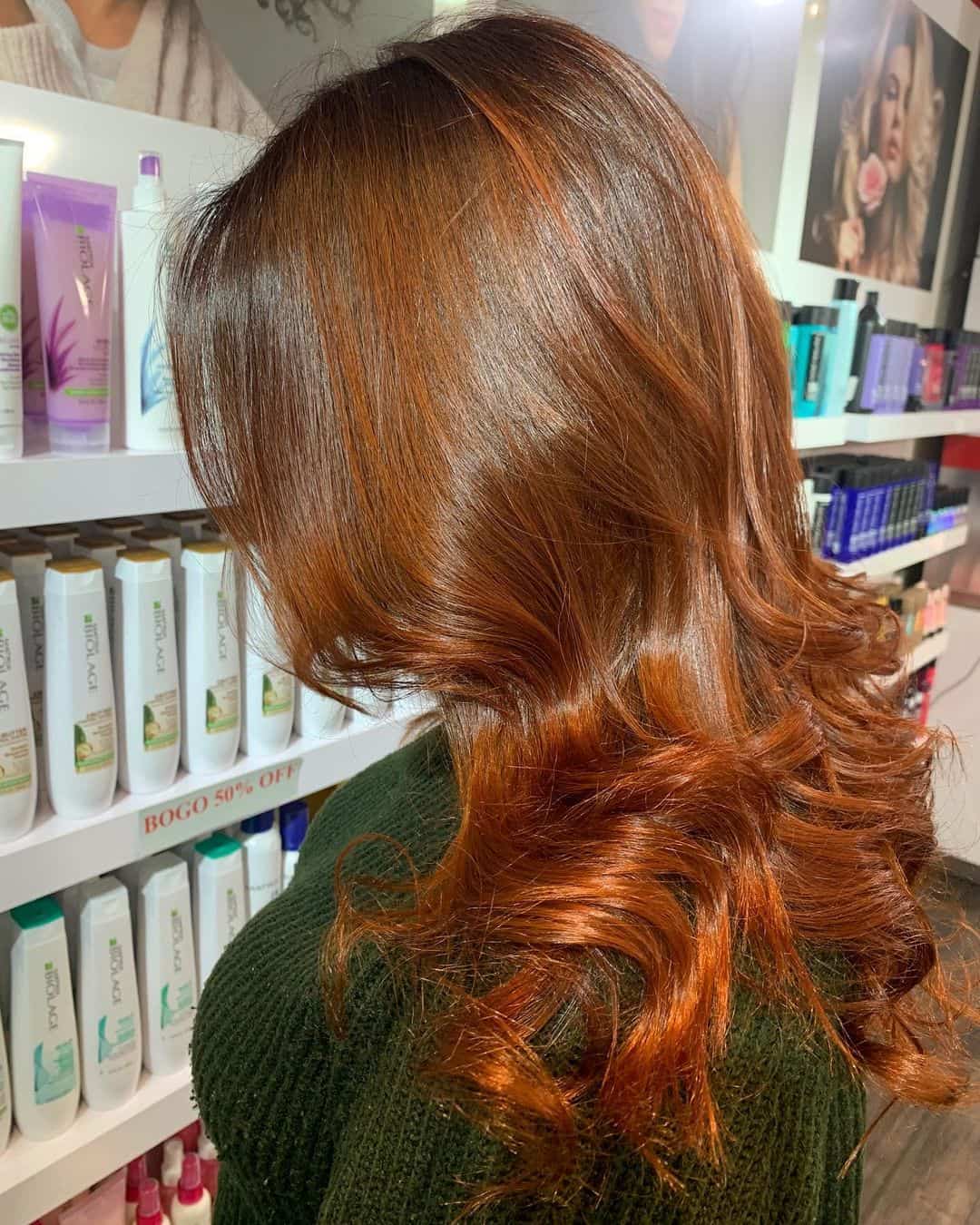 These super shiny locks are the result of a carefully hand-painted balayage job. All the colors used in this hairstyle have autumnal tones. There's an undertone of brown that is overlaid with cinnamon brown highlights. The lower locks have been curled and colored with a brighter shade of coppery red. Altogether, horizontal and vertical color syncing occurs here, resulting in a wonderfully unique hairstyle for the fall season.
13. Purple Bloom Ombré Hair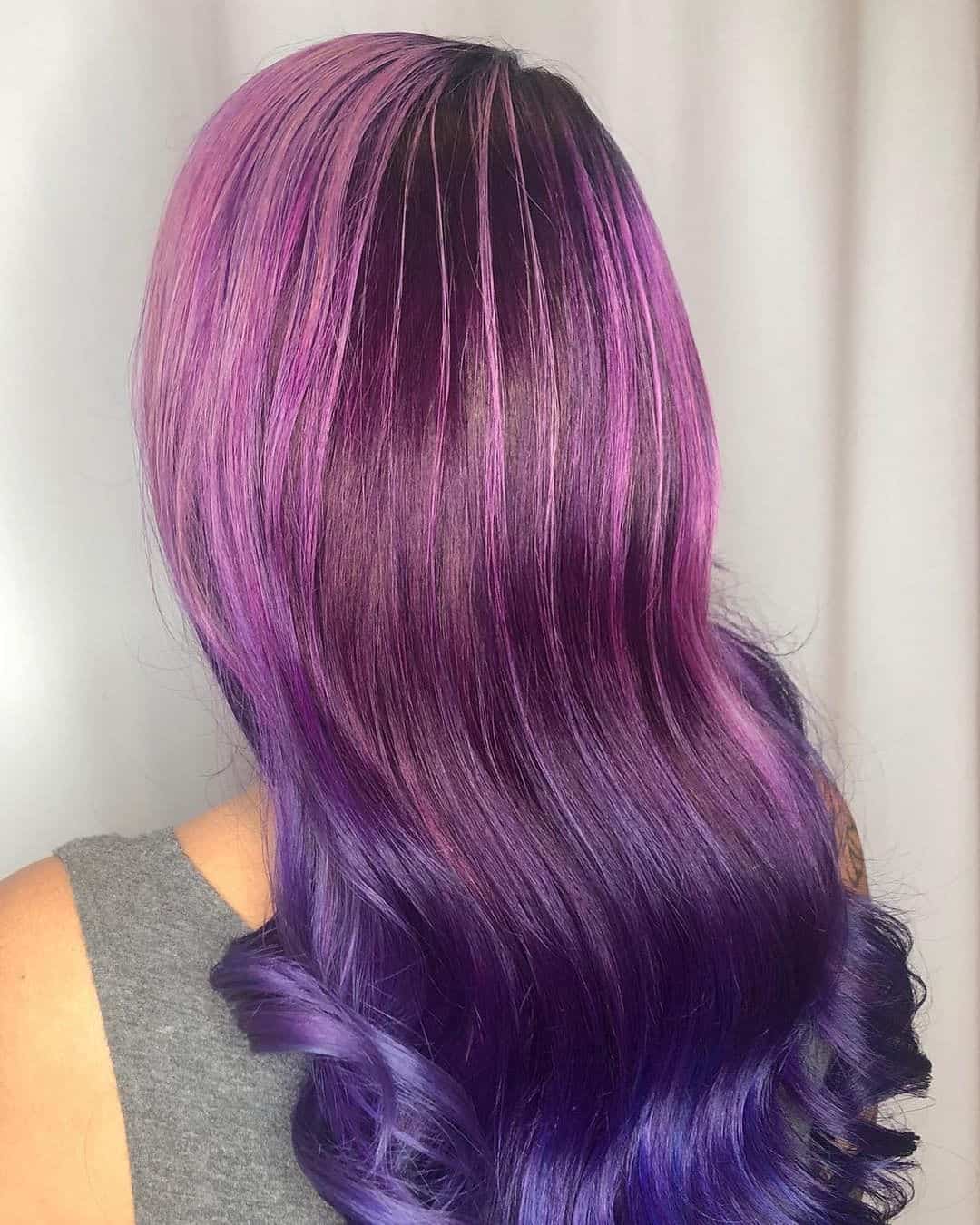 This hair coloring job is a masterpiece of ombré shading hairstyles crafted by hair color specialist Robert Santana. It is also an example of flawless blending where diverse shades of a color blend seamlessly. There are light pink strands in the top layer, while a deep violet with blue tones has been used for the tips. Royal purple, shades of lilac and pink, and some punk highlights round out this look. If you're a hair color enthusiast, you should definitely follow Mr. Santana on Instagram to get innovative hair coloring ideas.
14. Tangerine and Orange Citrus Ombré Locks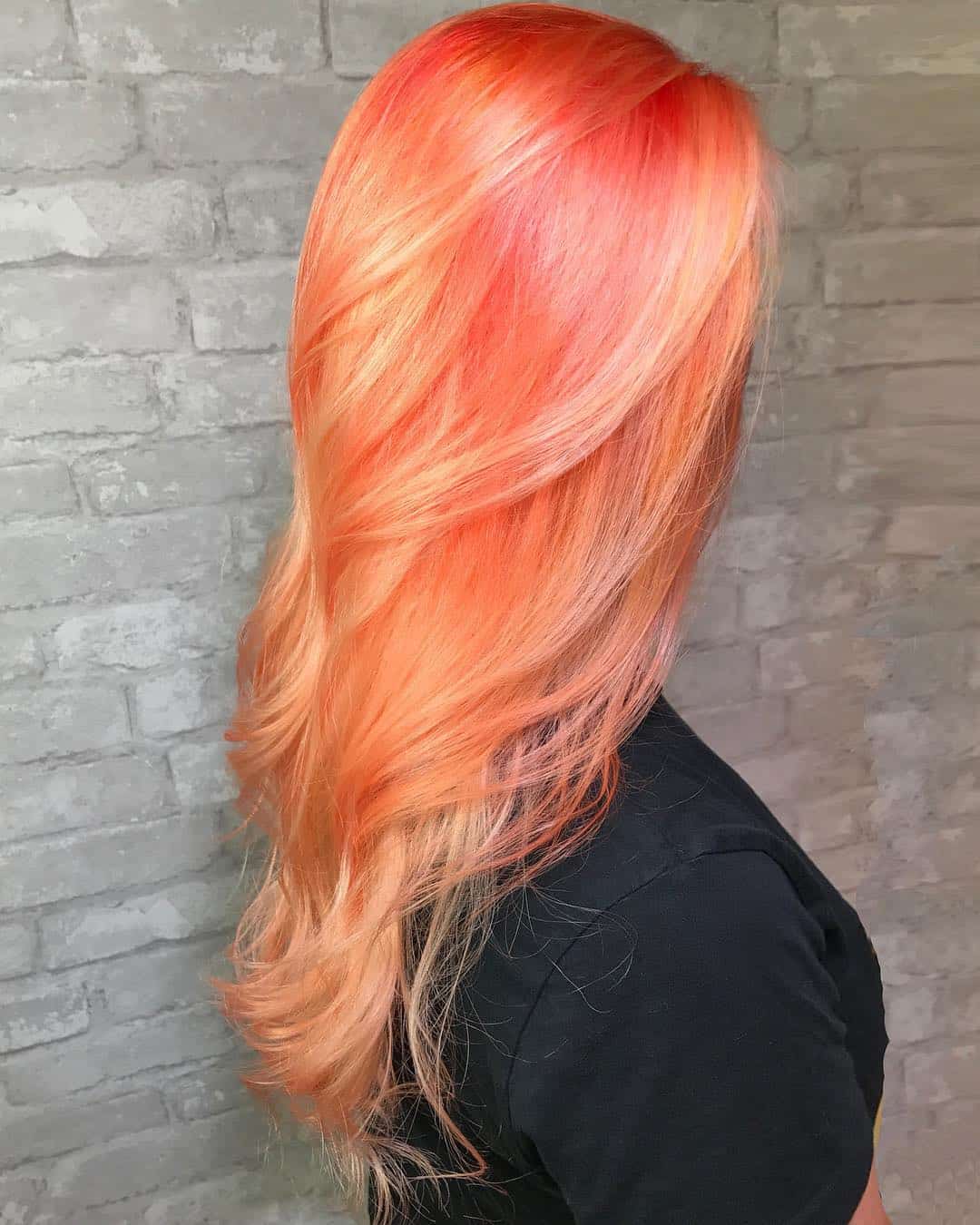 This hairstyle works with citrus shades of tangerine, orange, and other orange-yellow tones like ochre. It's a warm-toned look that evokes the colors of a summer sunset. The crown of the hair is colored in deep orange tones, and as you move down towards the back and sides, other citrus colors take over. The colors are blended in, and the tips have an almost coral – pink hue to them. This style calls for straight hair with a slightly wavy set to the ends.
15. Bright Red to Light Red Ombré Hair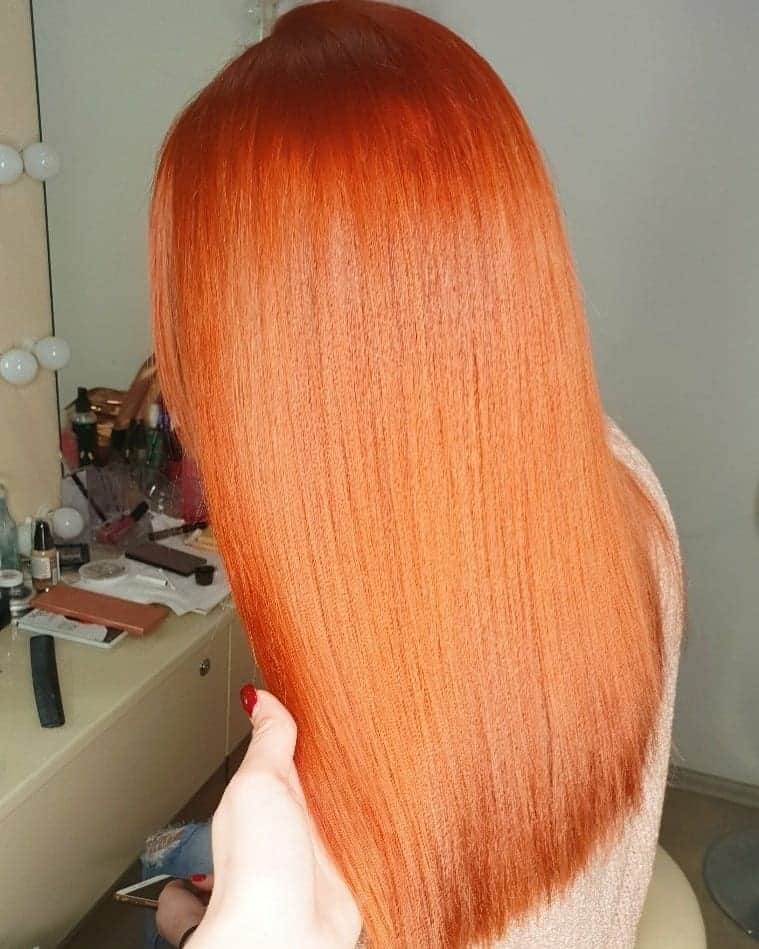 This is a tricky color to wear well, but it can look great if you pull it off. It begins with a very bright shade of red at the roots and gradually tapers down via yellow, tangerine, orange, and light brassy reds to the tips. It's a mid-length hairstyle that calls for poker-straight hair to emphasize the perfect gradient change in the red tones from the crown to the tips.
16. Soft Copper Blonde Balayage Ombré Hair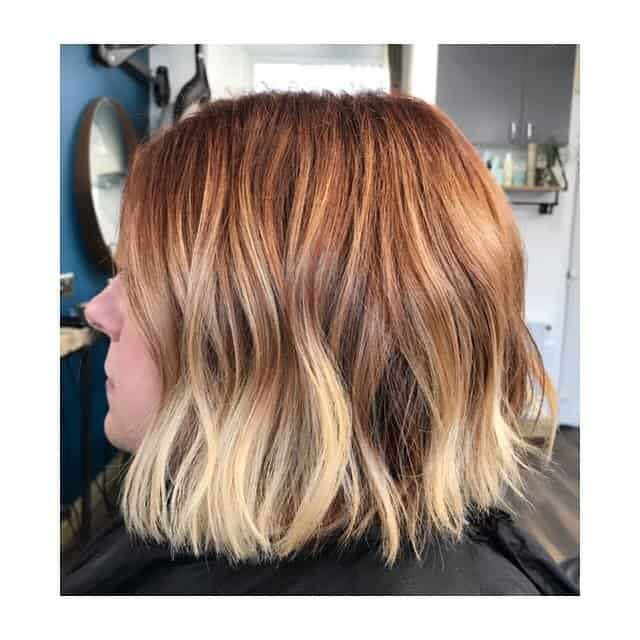 This short bob goes for copper brown roots that gradually turn into bleached blonde tips. Although the two colors are very contrasting, small babylights all over the crown make the color blending more seamless. This is a short wavy bob that is easy to maintain for most brunettes.
17. Platinum and Silver Blonde Hair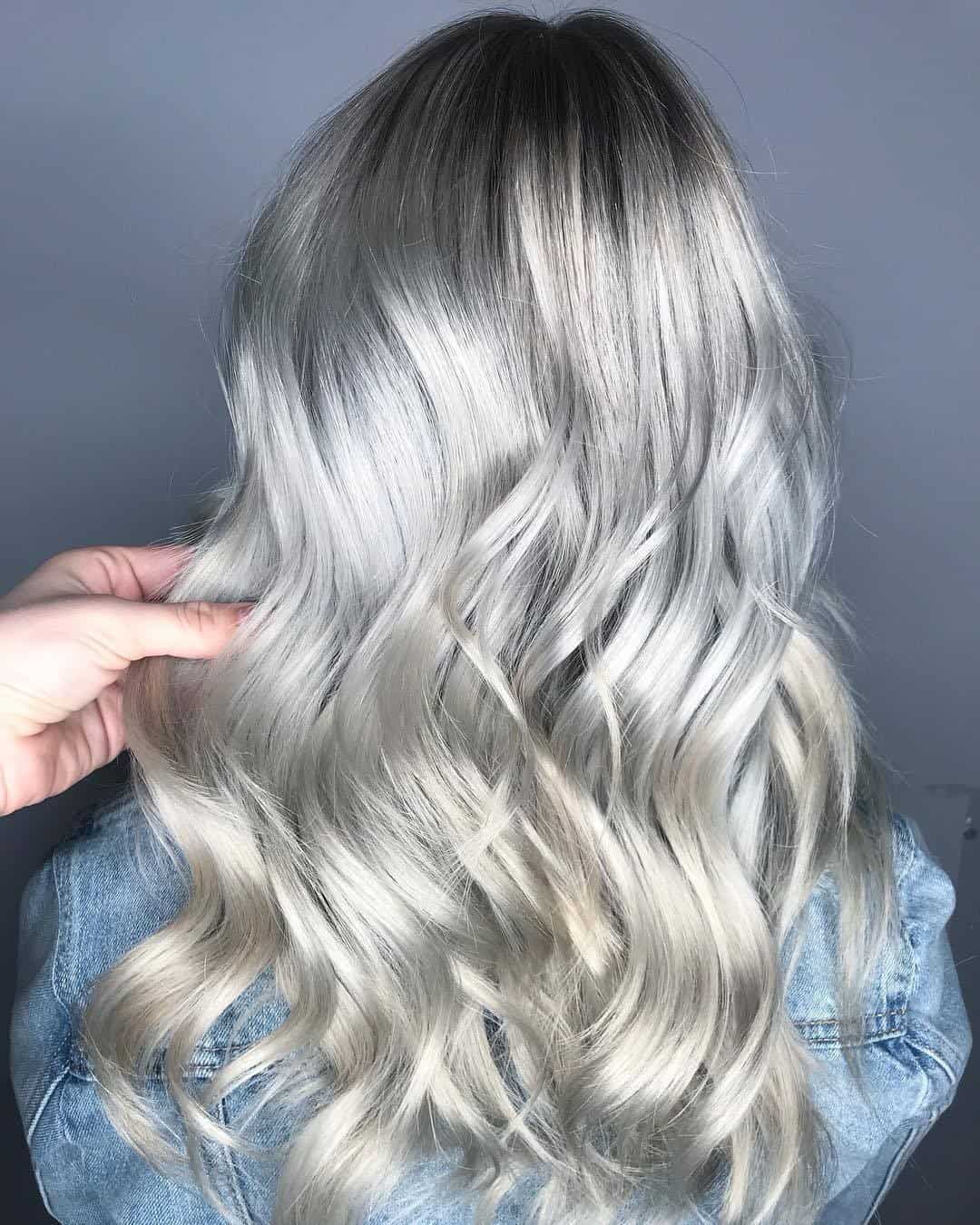 This is an ombré look that's not easy to get right, especially if you have naturally dark hair. Even if you are a natural blonde, you'll need several color sessions to get this icy silver and platinum color blend right. Maintaining this look requires regular trips to the salon, too, but the slightly wavy texture gives this mane the lived-in effect so coveted by fashionistas and hair enthusiasts alike.
18. Vivid Purple and Pink Ombré Mermaid Waves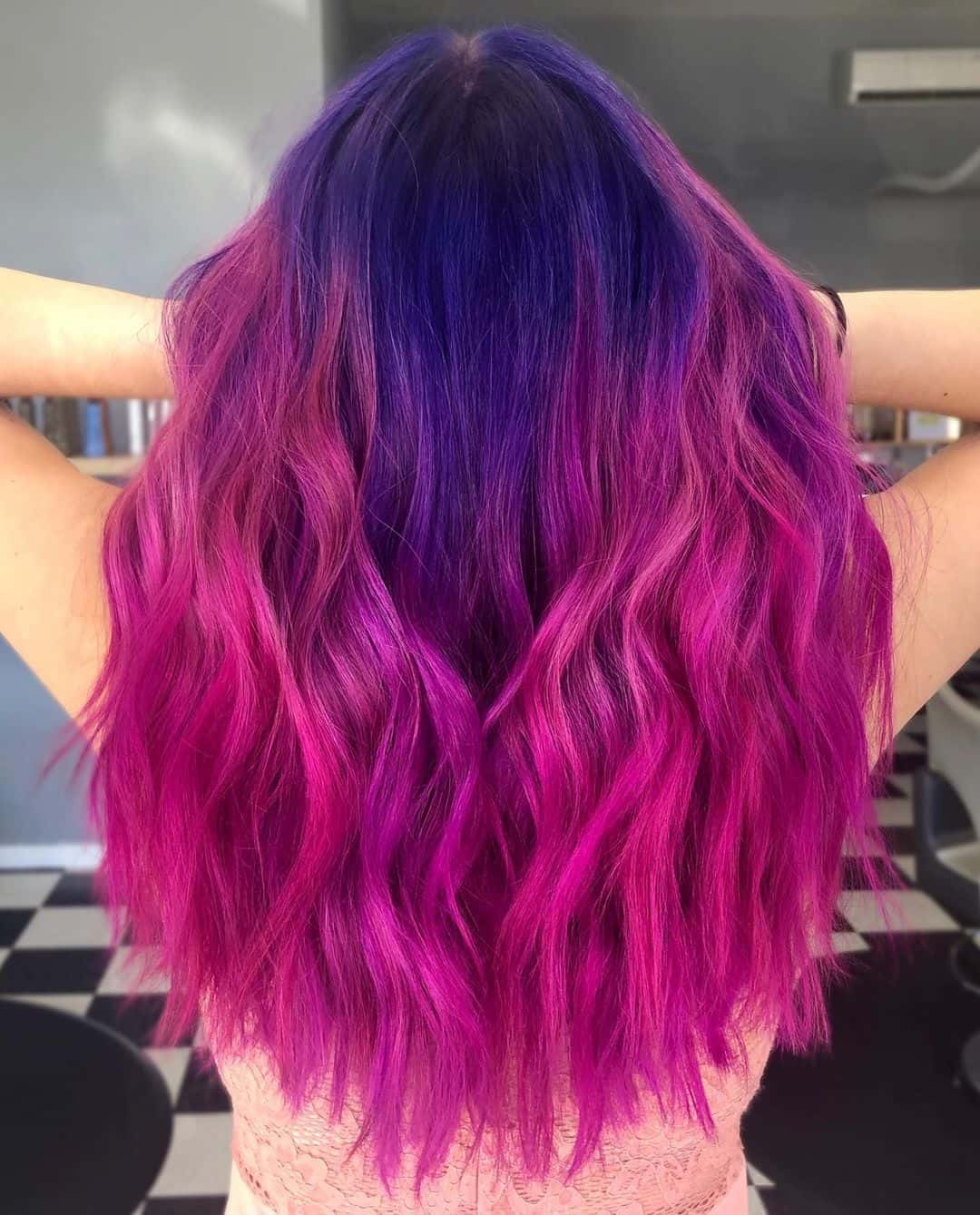 If you're feeling bored of the same old browns and blondes and want a total hair makeover, go for this vivid purple and pink ombré hairstyle. It begins with dark purple roots that cover the crown. Note the gradient here isn't as seamless as ombré hair colors usually are. Although there's no finite line demarcating the purple from the pink, there's a noticeable change in color. If applied on straight hair, these contrasting colors might look more color-blocked than ombré, but beachy waves give it a clearer ombré effect.
19. Violet and Lush Pink Straight Ombré Hair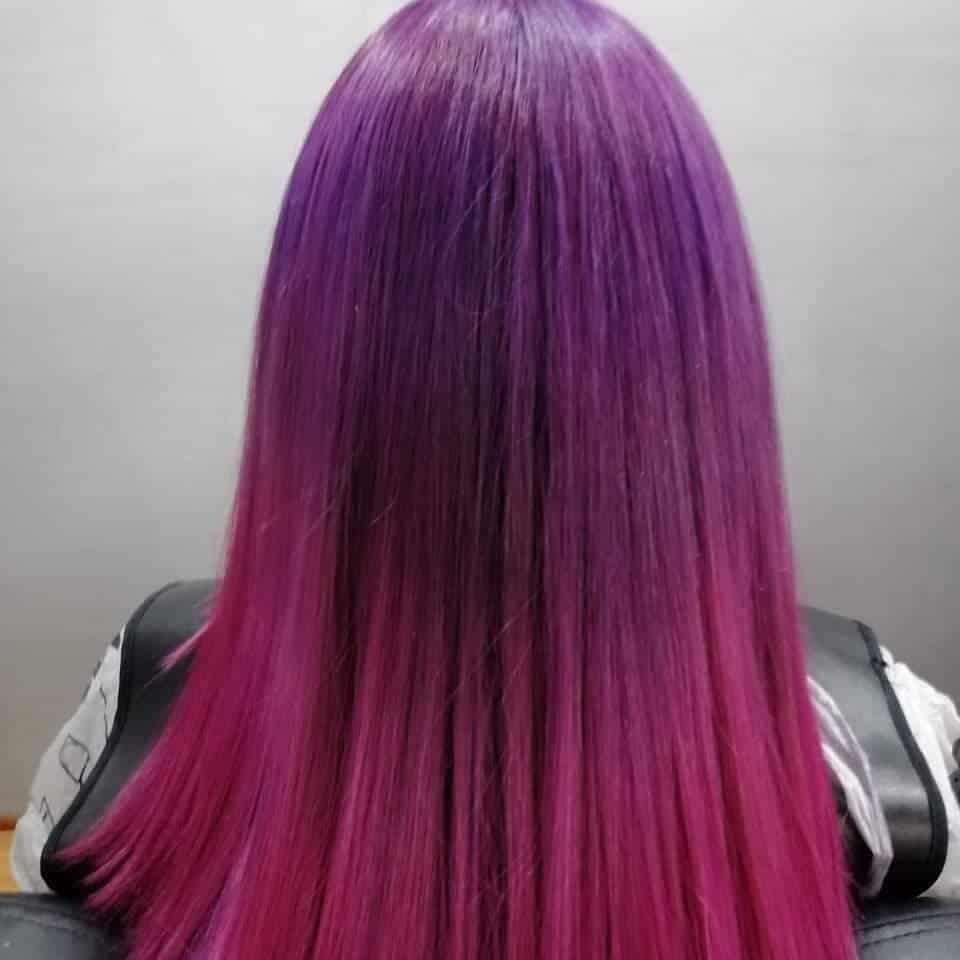 While the purple and pink in the above example are also from the same color palette as the one shown here, the end result of these two hair color blending techniques couldn't be more different. The vivid colors used in the hairstyle shown above have more blue tones, while the lush pink and violet used in this color scheme have more red tones. This is a much cooler color palette compared to the one above. The hair is evenly cut, and the gradient effect between the violet and pink is more markedly pronounced.
20. Dark to Light Blonde Ombré Trim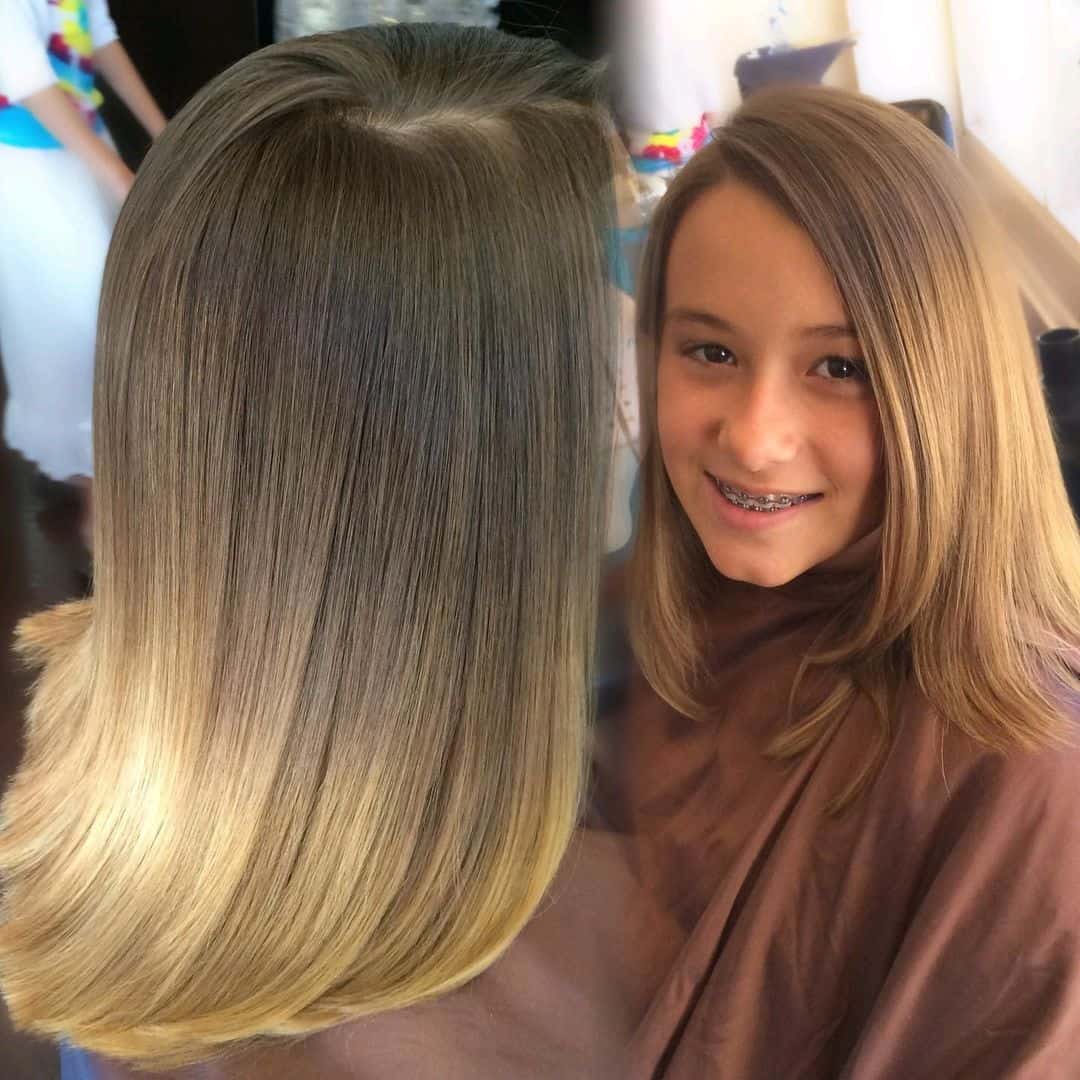 This is a standard ombré shading concept where you take the same color in different gradients and then apply them to your locks. The shoulder length trim shown here relies on the darker blonde color's gradual fading into lighter and glossier tips to create the ombré effect. This is another face-framing hairstyle with the locks in the front cut much shorter than those on the back.
21. Bronze to Beige Blonde Ombré Hair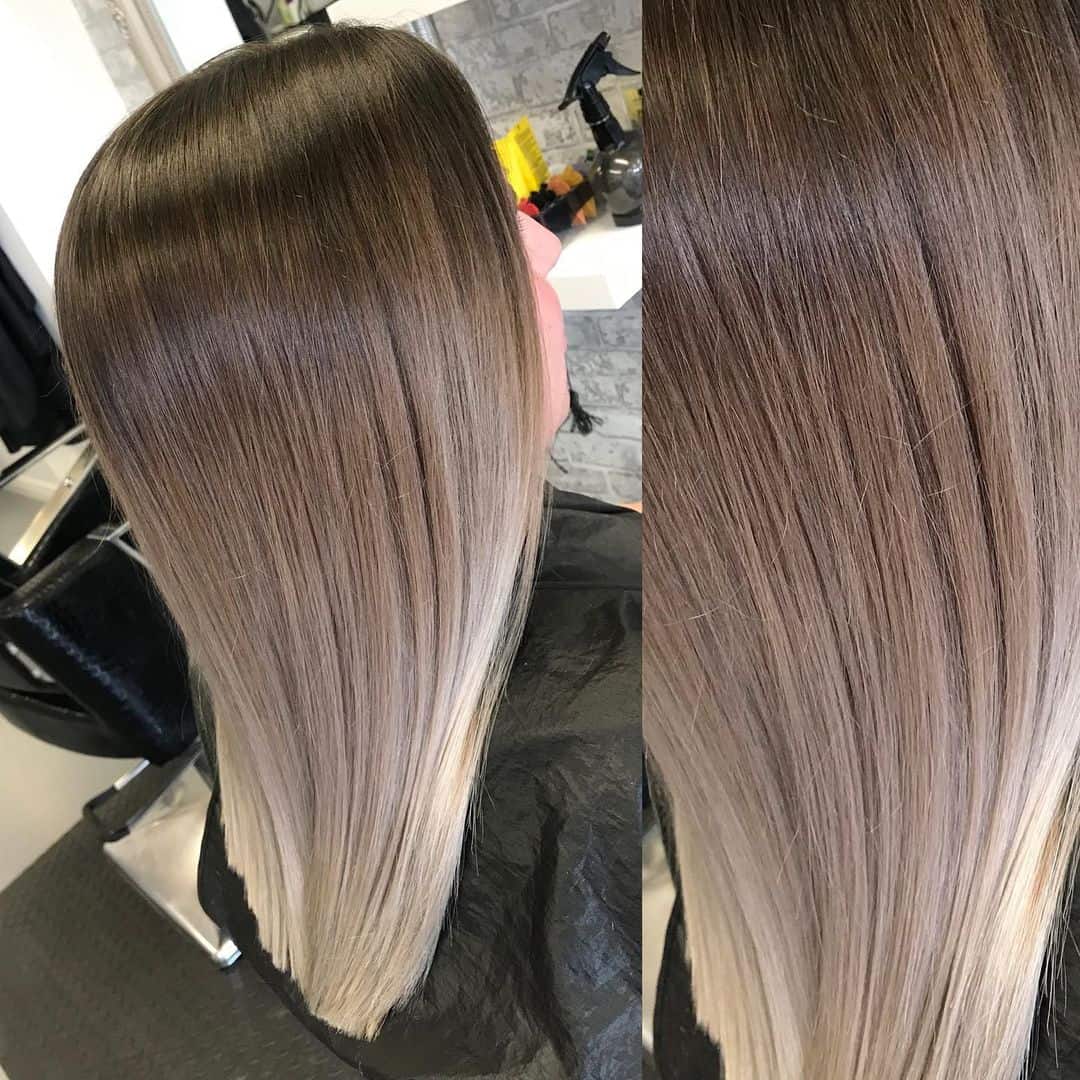 At first glance this might seem like a bland look, with both colors being rather dull. But the advantage of this hairstyle is that most naturally bronze blondes can use this color scheme to maintain a slick and professional-looking healthy ombré. It's a low maintenance coloring scheme for those who don't want to fray too far from their natural hair color yet introduce some newness and polish to their hairstyle. It's also easy on the wallet and easy to maintain.
22. Bubblegum Pink and Platinum Blonde Blended Ombré Bob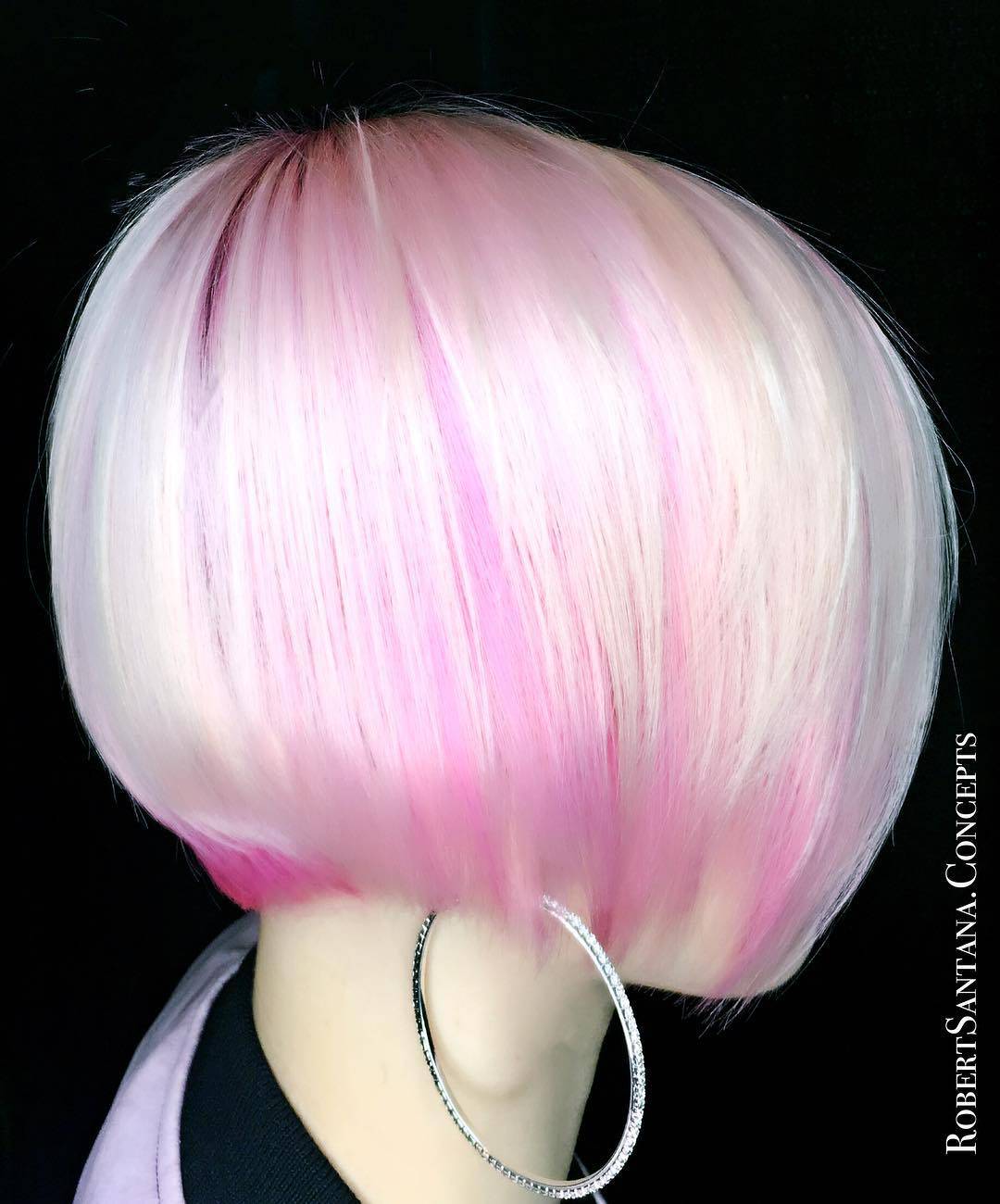 This is another seamlessly blended palette of colors that works together like a charm. There's a base of bubblegum pink hair that is light all over with some darker tips. Over this is a carefully colored layer of light platinum blonde hair. The colors form an all-over gradient, with the look turning into a very soft bleached blonde hairstyle propped up by the slightly darker colored layer of peppy pink underneath. This coloring technique works best with short and straight bob cuts.
23. Brunette Balayage Ombré Hair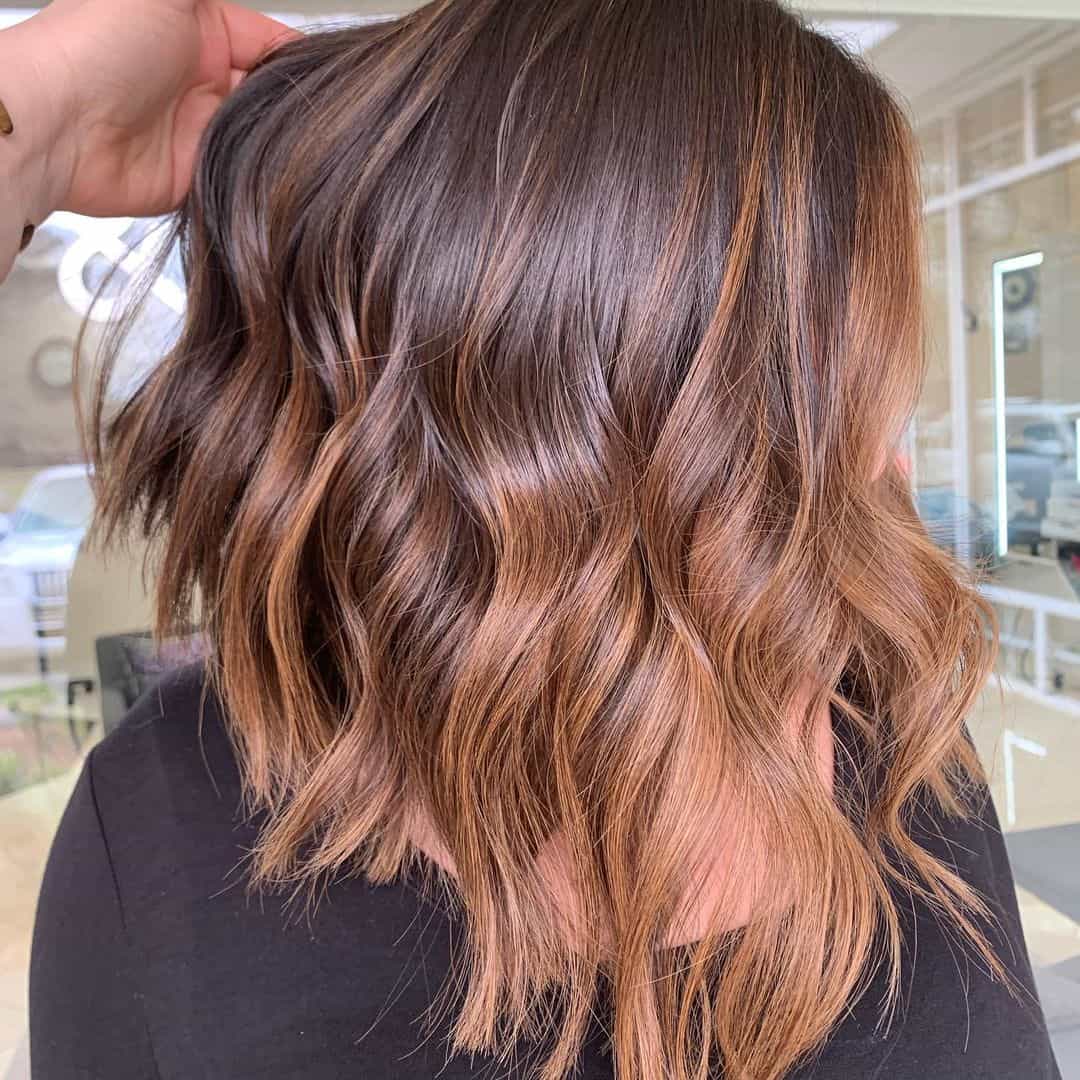 This is another easy to maintain hairstyle for those who are natural brunettes. This particular brown shade is neither too dark nor too light and works well with most skin tones. The tips and highlighted streaks in a lighter shade of brown reflect more light than the base color, uplifting your hairstyle from the regular old brown to a glossy and gorgeous brown mane that looks red carpet ready!
24. Ash Brown Subtle Ombré Hair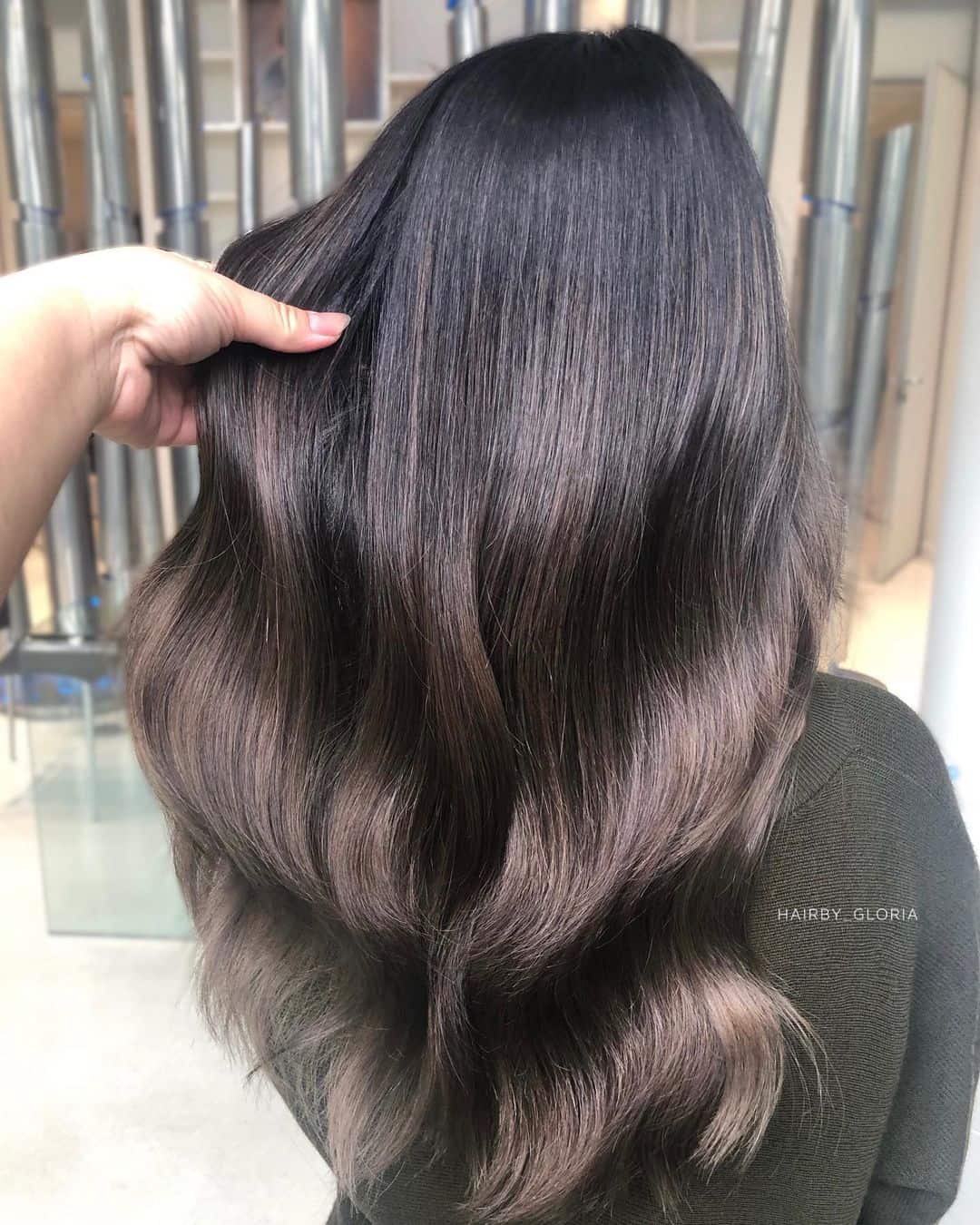 If your hair is naturally darker than regular brunettes, fret not. This dark ash brown hue is very subtly shaded with bleached blonde highlights via the balayage shading technique. It also changes the tone of the colors very gradually. The look is very subtle, and the ombré effect is very muted. Unless you're standing in the sunlight, you might not even notice the change in the hair colors' tones. Even then, it still looks lovely and shiny as healthy hair should.
25. Warm Honey Blonde Ombré Hairstyle
Honey blonde is a warm color tone that works well with brown, blonde, and red hair. This mid-length hairstyle has slightly wavy hair that begins with a deep chocolate brown at the roots. Here we have a two-tone ombré hairstyle with honey blonde tips that make for a face-framing ombré hairdo.
26. Butterscotch Ombré Hair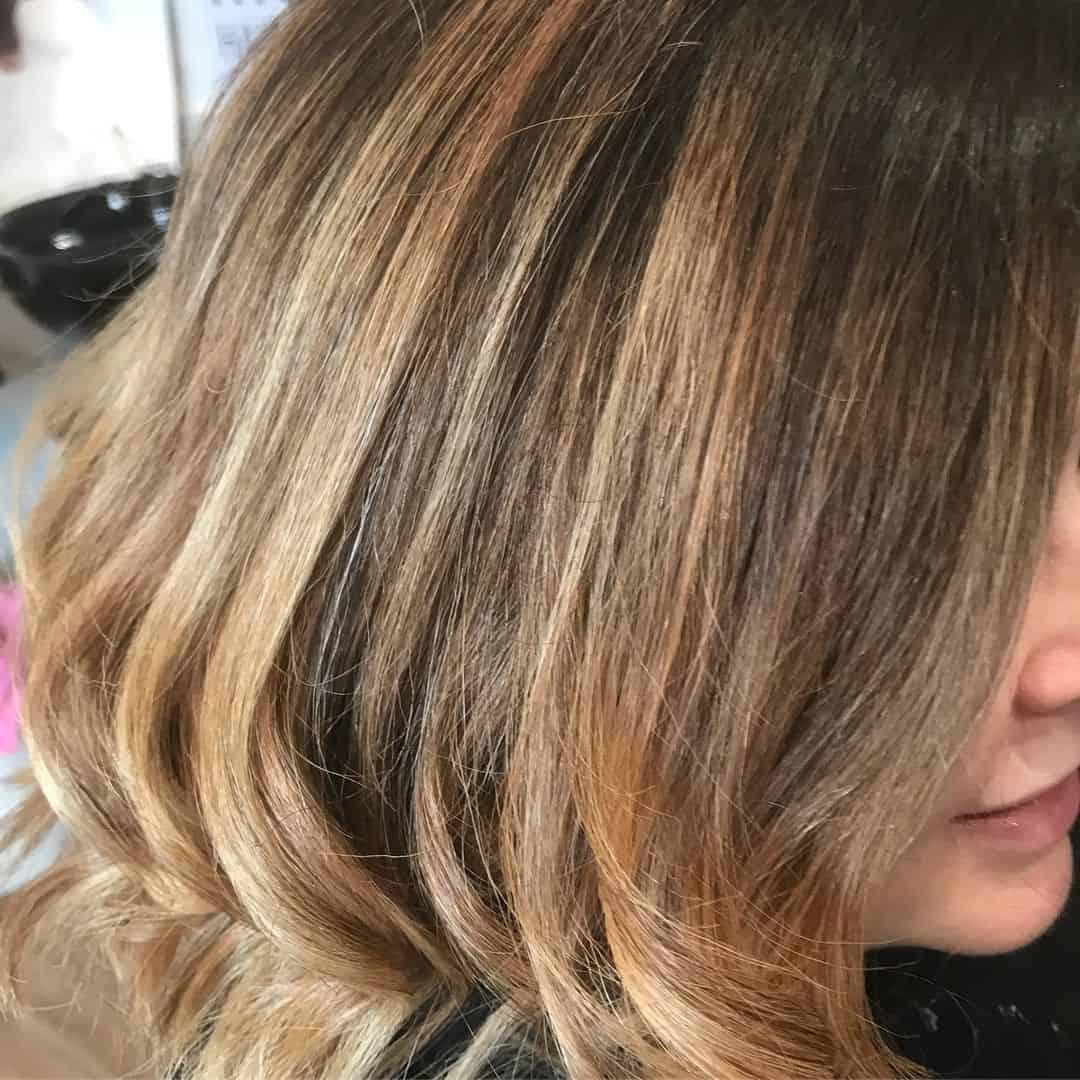 This ombré hairstyle is great for butterscotch blondes who have a dusty ginger undertone to their hair. Lighter blonde and copper balayage highlights add a nice dimensionality to the butterscotch hair while strategically curled waves at the shoulders roundup this look.
27. Cool Blonde Balayage Ombré Hair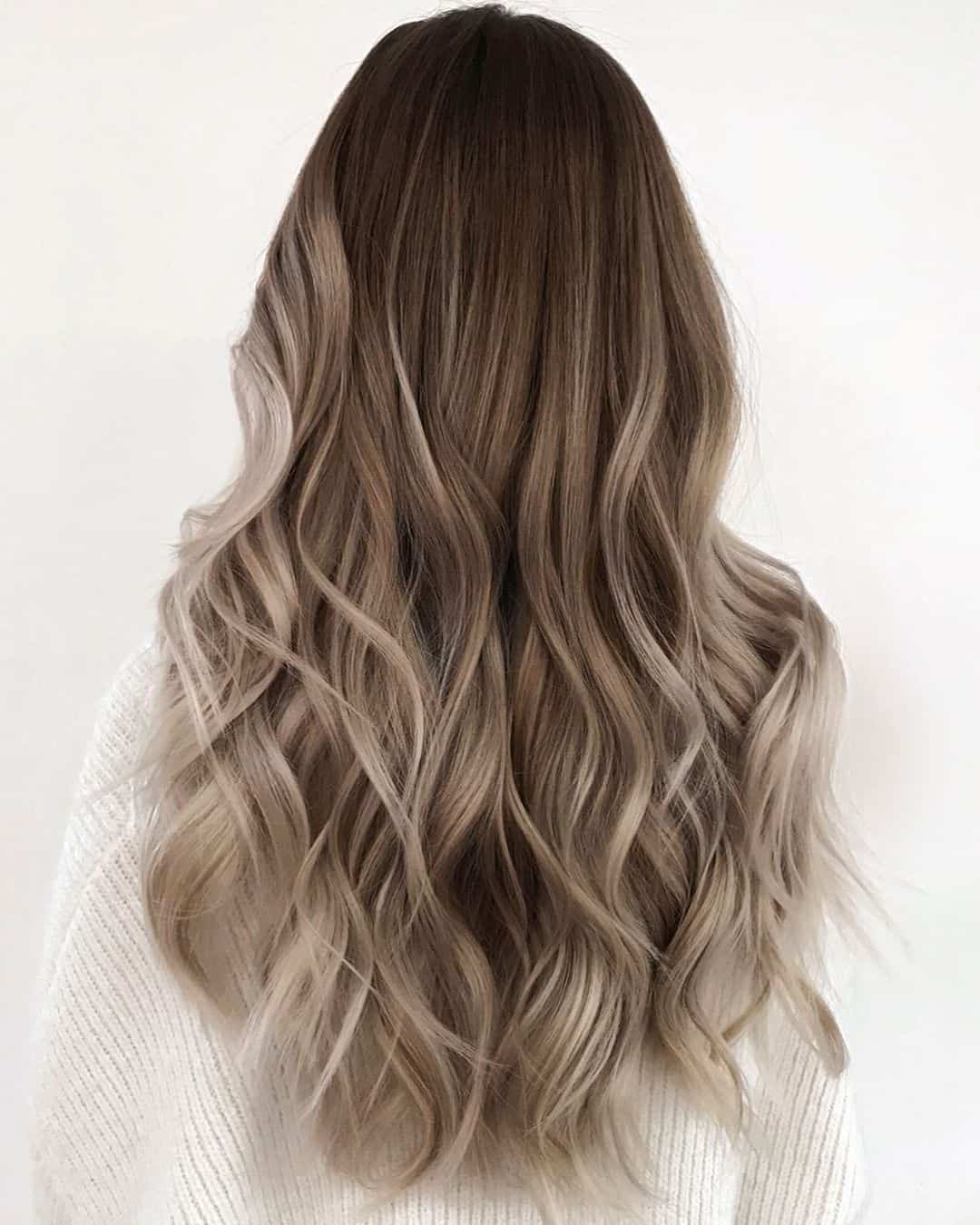 These balayage highlights improve upon naturally sandy blonde hair that is lacking in texture. Lightly curled beachy waves, neutral blonde highlights, and light blonde undertones make this look stand out. This ombré hairstyle requires minimal effort and maintenance as the roots and long tresses are mostly left untouched. The highlights and undertones create the ombré effect here, and they're subtly applied to look as natural as possible.
28. Pastel Rainbow Ombré Hair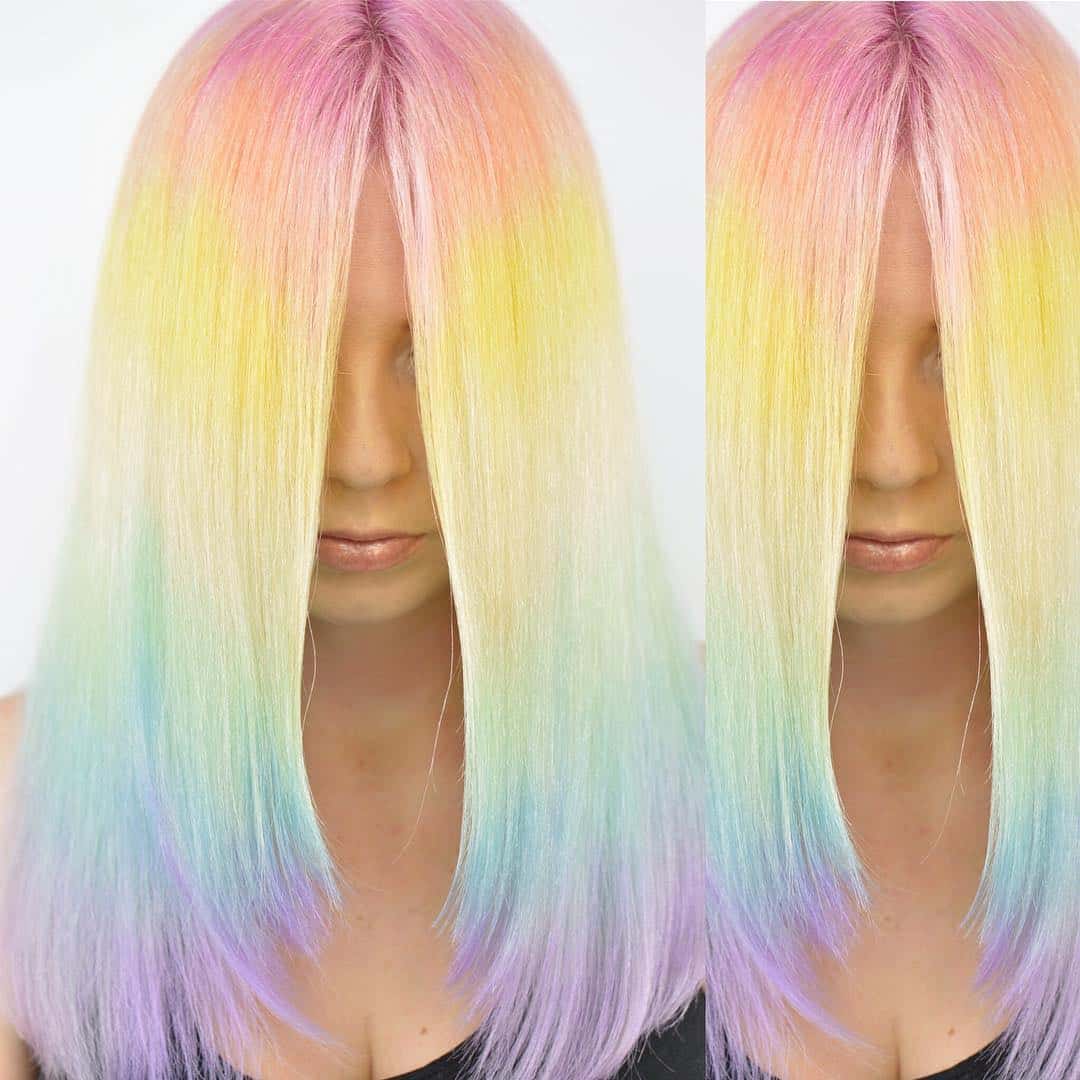 Rainbow ombré hair has never been more popular and there are seven reasons why. Count carefully, and you'll see that this hairstyle seamlessly blends seven pastel shades to create this unique rainbow blonde ombré look. The roots are pastel dusty pink that turns into a peachy shade, which then lightens as it goes down and turns into blonde locks that turn a shade darker with a pastel hue of lemon-yellow blonde. This yellow blonde color takes an ombré turn into lighter golden locks, which then melt into pastel turquoise tresses. The turquoise gives way to blue, which gradually turns into indigo and then ends in pastel purple tips.
29. Chocolate Espresso Brunette Ombré Waves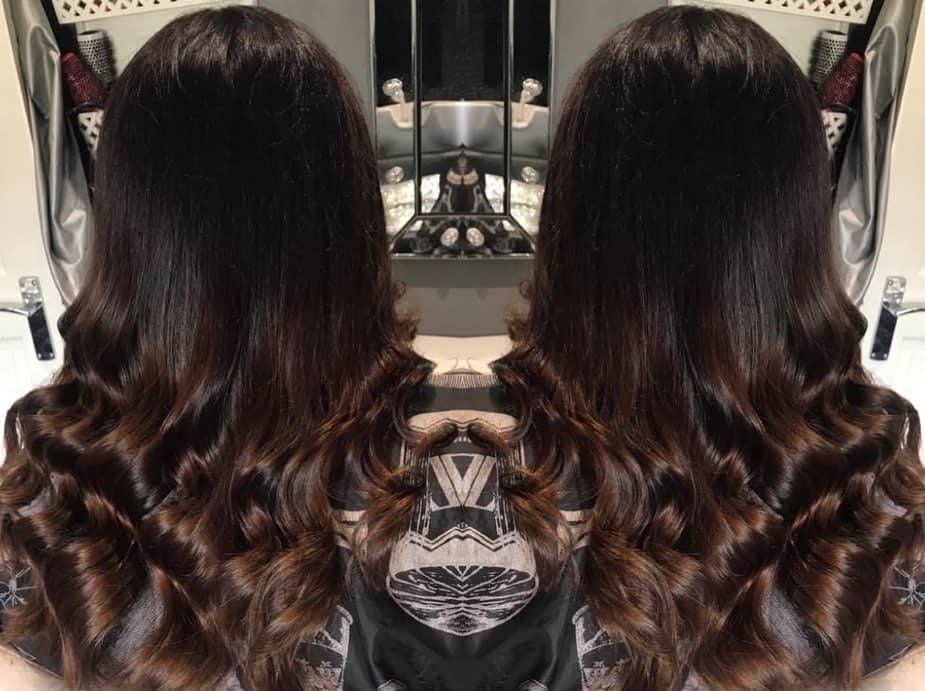 Glossy chocolate brown hair is to die for, and when you combine them with an even richer espresso color, you get a brilliant montage of chocolate espresso locks. The chocolate brown streaks reflect light while the richer espresso brown colored tresses provide a glossy velvety texture to this look. Together these colors create one of the best ombré color palettes for dark-haired ladies, and the combination of straight and wavy hair adds to the drama of this hairstyle.
30. Lavender and Platinum Blonde Ombré Tresses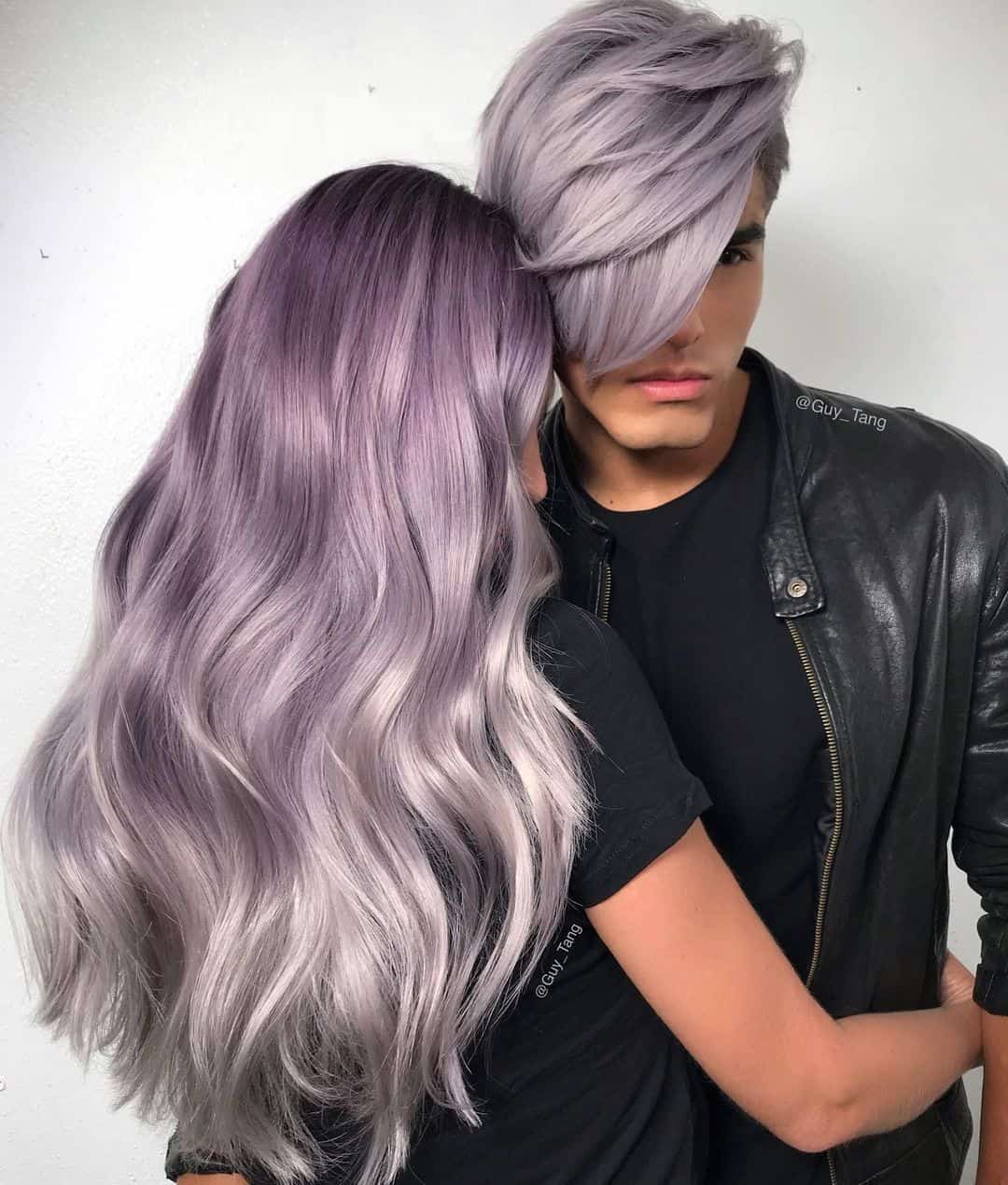 Silverish platinum blonde and lavender is such a naturally obvious color combination that it's hard to mess this up. But the tricky part here is to get the right shade of light platinum locks, which requires multiple hair color cycles if you don't have naturally light-colored hair. This hairstyle begins with lavender locks at the roots that cascade down into a glossy platinum wave. If you don't love that you can even choose to do the opposite and color your tips lavender while the roots remain in their natural blonde state.
31. Turquoise 'n' Teal Blue Ombré Hair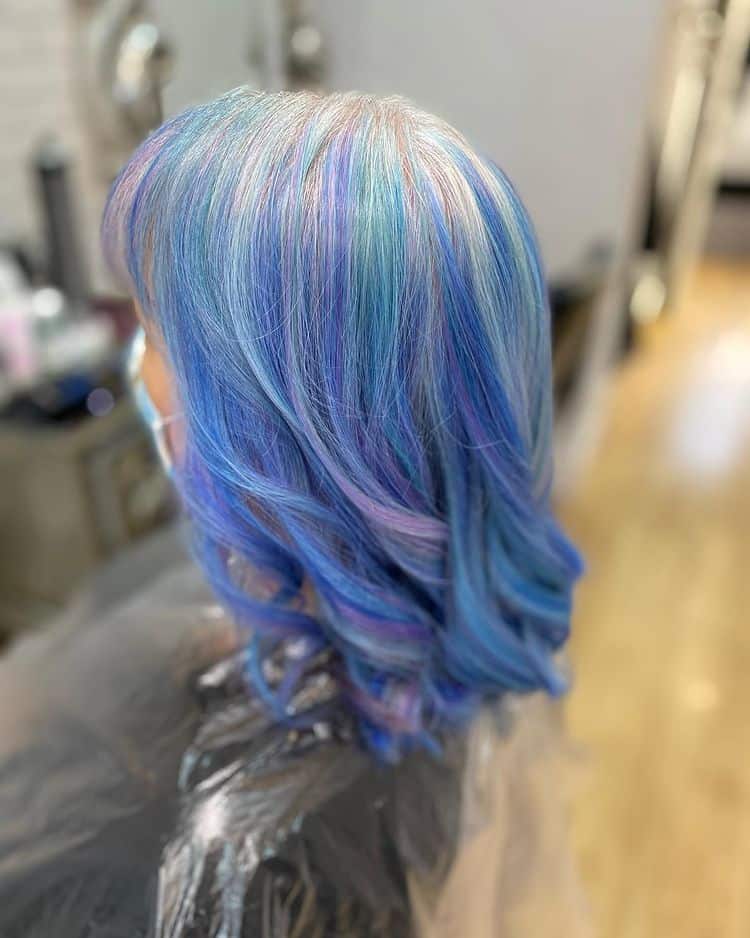 This hairstyle is a subset of unicorn hairstyles as it uses various pastel shades of turquoise, teal, blue, pink, and light blonde locks to create the ombré effect. This riot of colors is given a boost of seamless blending by tightly curling the tips to make it look like the colors are melting into each other. Balayage highlights add to the seamless gradient coloring, and lavender highlights are added in to make this akin to a rainbow ombré hairstyle.
32. Light Brown Peach 'n' Pink Ombré Hair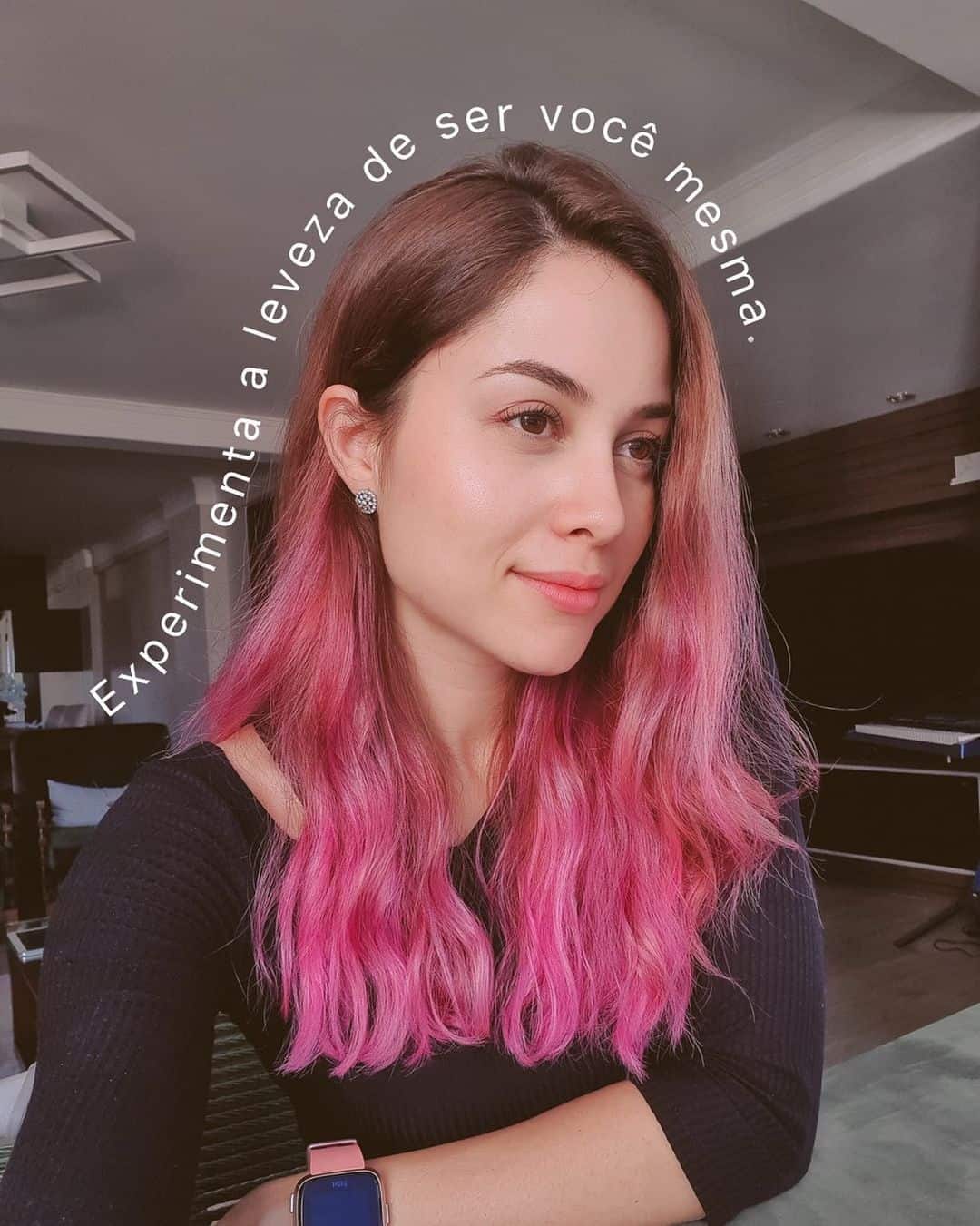 Light brown hair is easy to style as it matches with a wide range of colors. Here we have a hairstyle that lets ladies with light brown hair maintain their roots as their brown mane turns slightly peachy below the ears then eventually turns into bright pink locks. The seamless blending of these colors requires a professional touch, so don't try it at home unless you're experienced or brave. Using peachy tones as the bridge color also enhances the ombré effect.
33. Peacock and Kelly Green Ombré Hair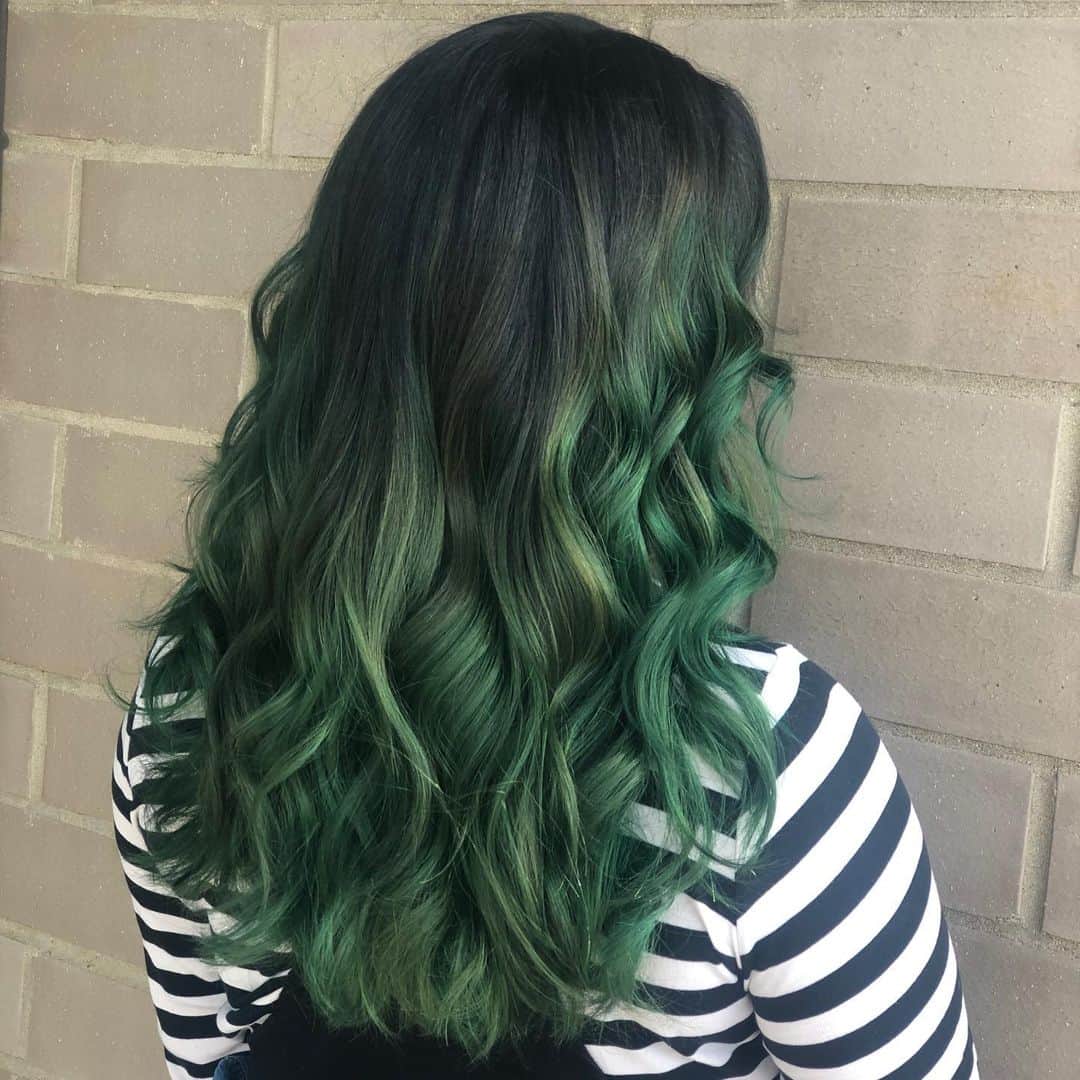 Green hair immediately brings to mind emerald tones, but this hairstyle employs various green shades to create this look. The roots are dark and black here, but you can start with any color as the overall green ombré coloring scheme would remain the same regardless of your hair color. The color melting technique seamlessly blends in the Kelly green and peacock green shades with the dark roots. The black turns greyish green then gives way to the intense Kelly green, eventually ending with peacock green undertones and tips.
34. Peach Blonde Ombré Hair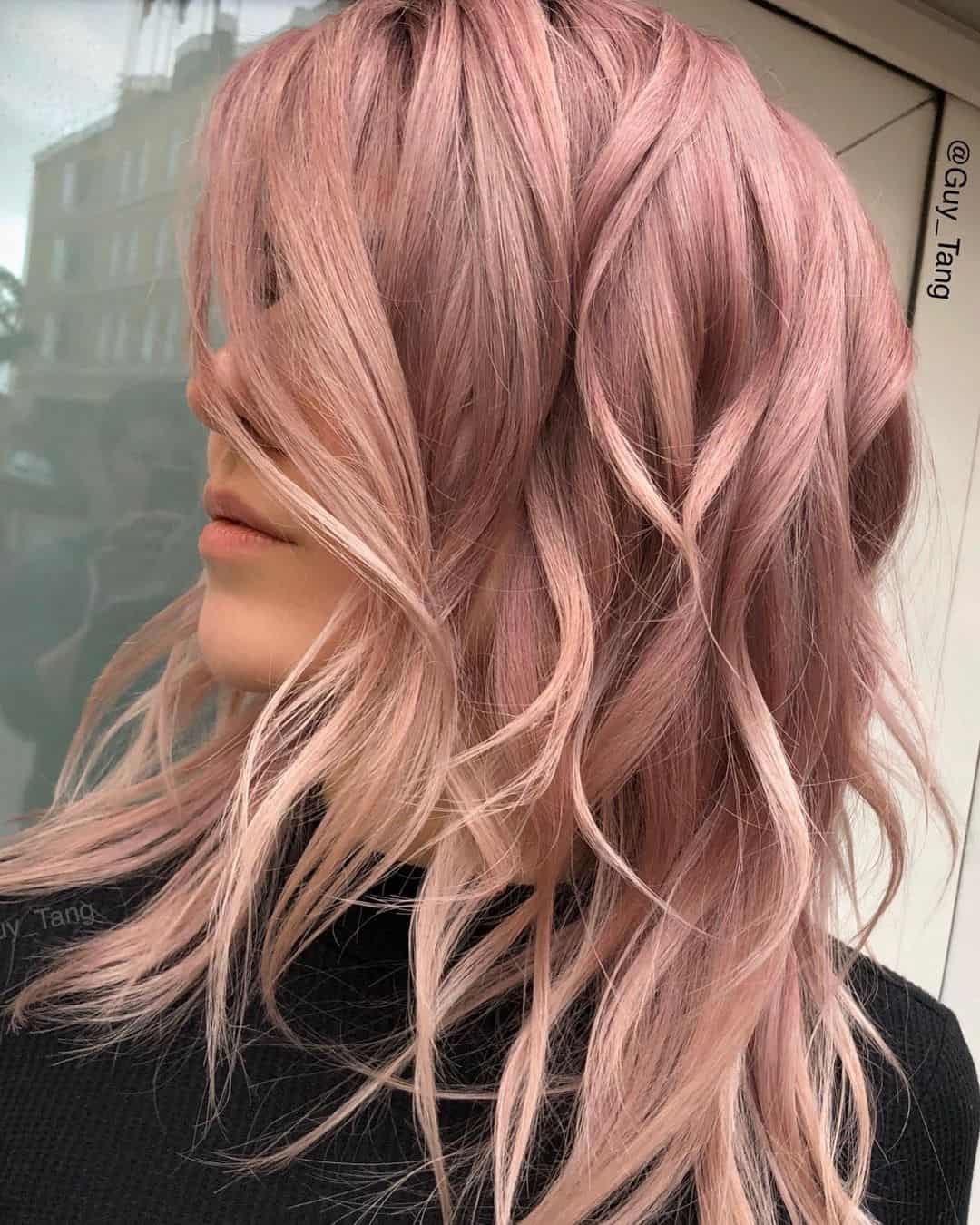 The peach dye is a very mild tone of pinkish-orange when applied on hair. A peach ombré blonde hairstyle requires lightened locks. The hairstyle begins with dark peach roots and crown, and then the color slowly fades into lighter peach tips. This is a single tone ombré hairstyle with variation in the intensity of the color being used to create the ombré effect. Although peach blondes are beautiful, rose gold ombré takes it to the next level by adding a sheen of gloss to this hue.
35. Rose Gold Ombré Hair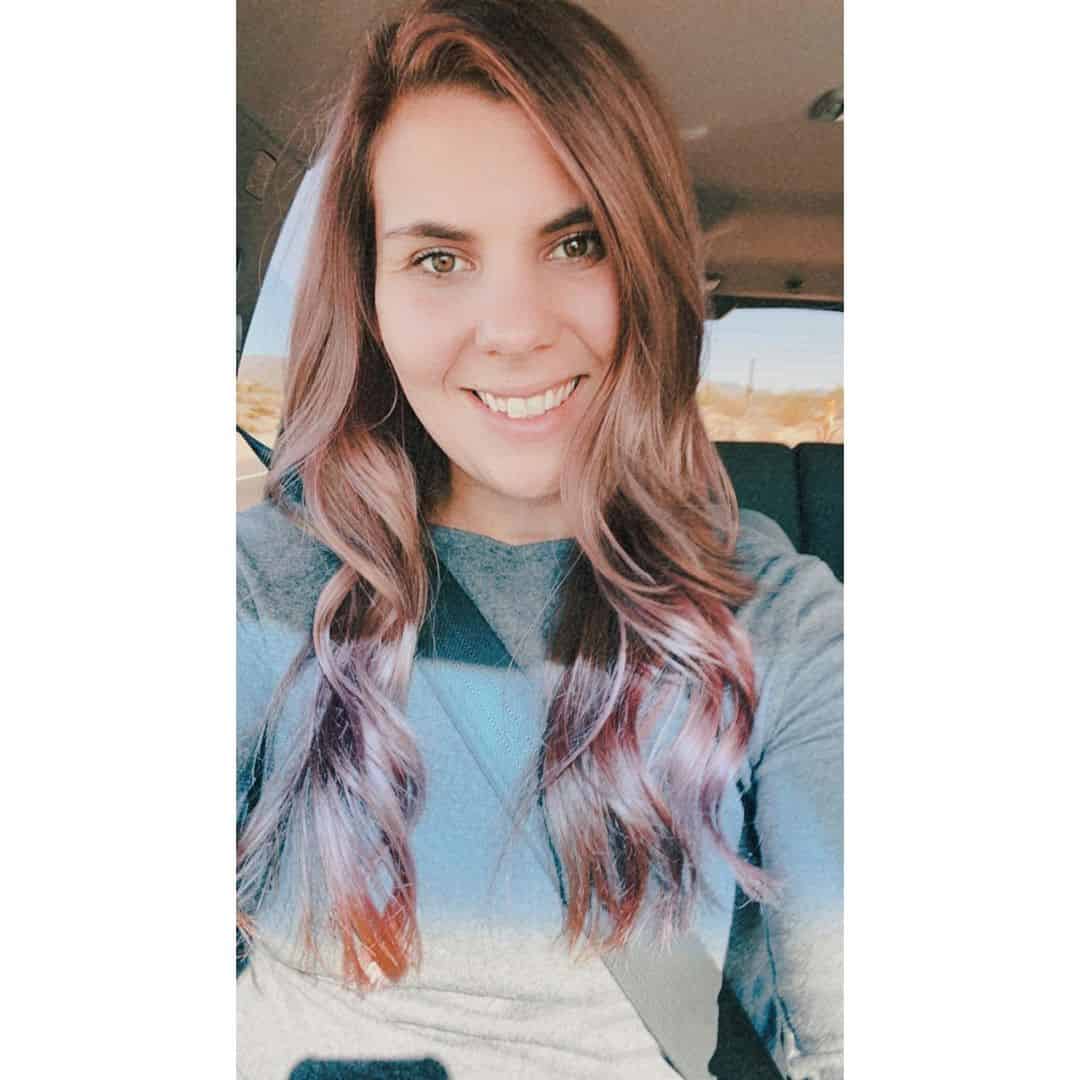 Rose gold is a lovely metallic color that when combined with modern hair coloring techniques and richly tinted dyes grants this gorgeous hairstyle with glossy rose gold locks that gleam like a sea of liquified gold. You can also create rose gold ombré with dark hair, and it looks equally good even if it's a tad less glossy. You can also create a multi-hued rose gold ombré balayage hairstyle with rose gold, light blonde, and pastel pinks.
36. Dark Black and Rose Pink Balayage Ombré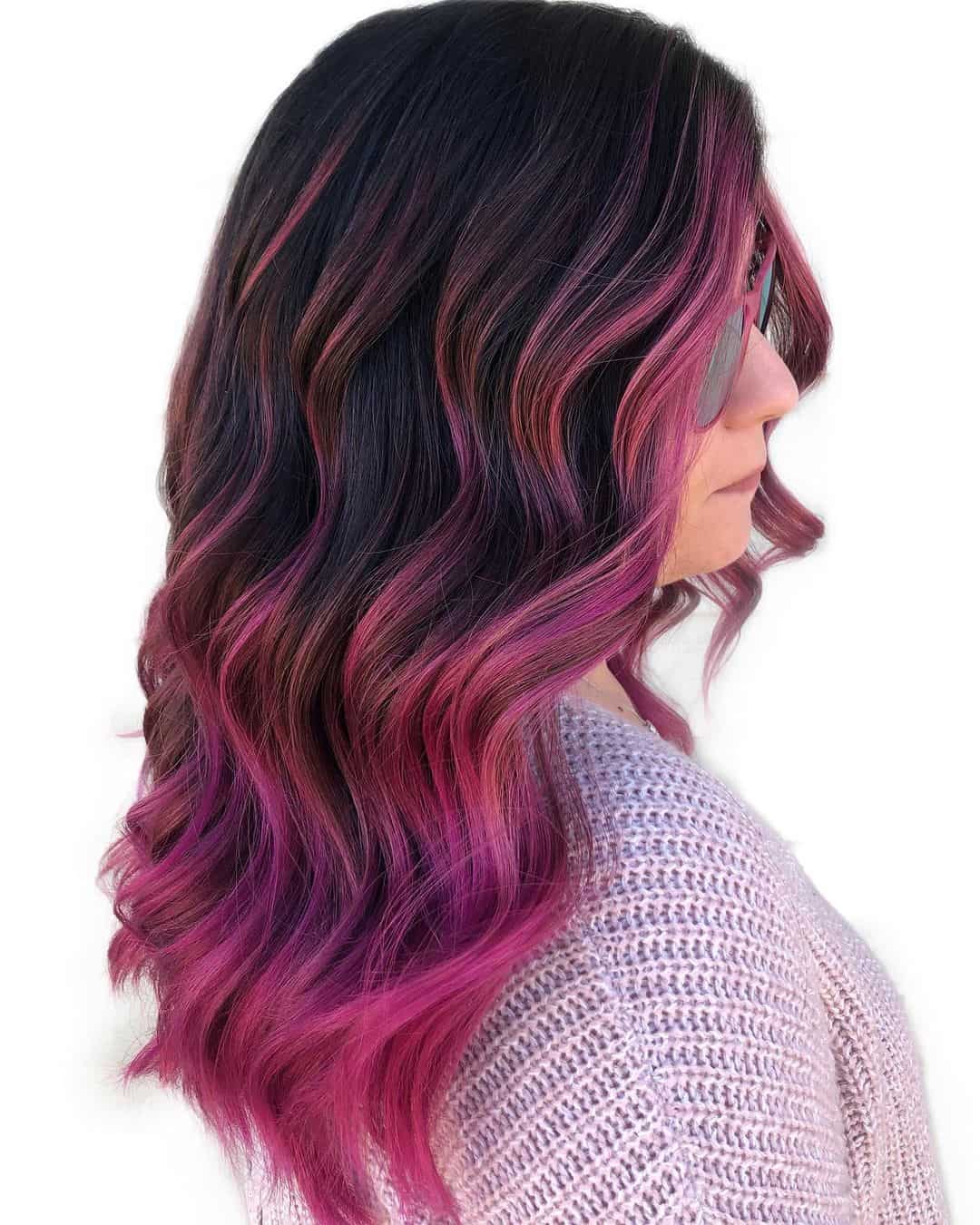 Here's a lovely color for dark brown-haired ladies to take note of – rose pink. This pink is darker than regular pink pigments used to color hair but not as bright as some vivid pinks that are so popular these days. It is quite dark and has enough brown tones that blend well with naturally dark brown hair to create a respectable ombré effect. Some highlights, along with the crown and the sides, also help blend the two colors properly.
37. Turquoise and Lime Ombré Hair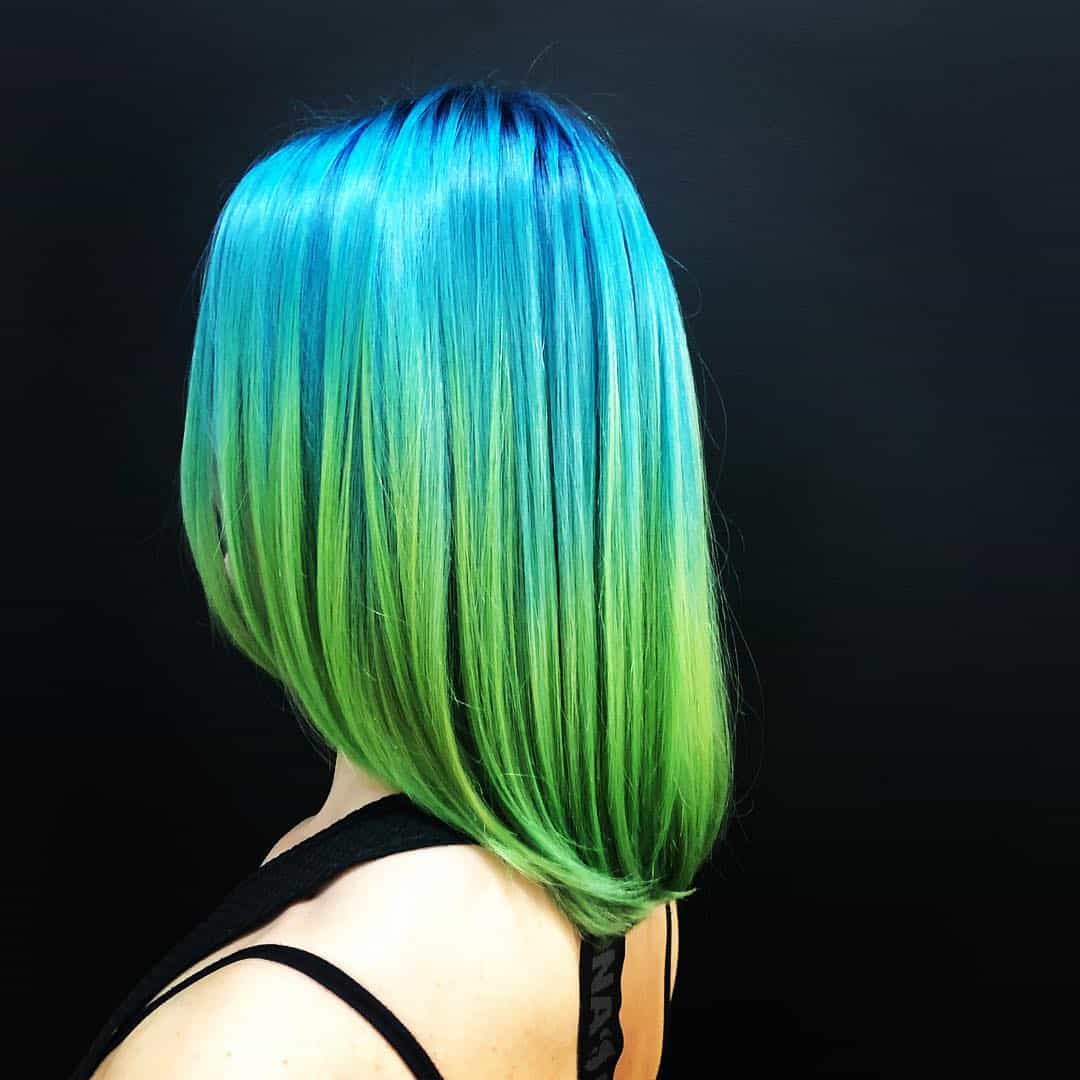 This is a classic U-shaped haircut colored with turquoise and lime green pigments. Although this is an odd color combination for ombré hair and might lead to more of a color-blocked effect, the turquoise and lime green shades used here have a vaguely similar tonality. There's an intermediate yellowish green that softens the transition from one color to another when blended in. The equal ratio of both hair colors' lengths also creates a unique blend that compliments this ombré job.
38. Fifty Shades of Blue Ombré Mermaid Waves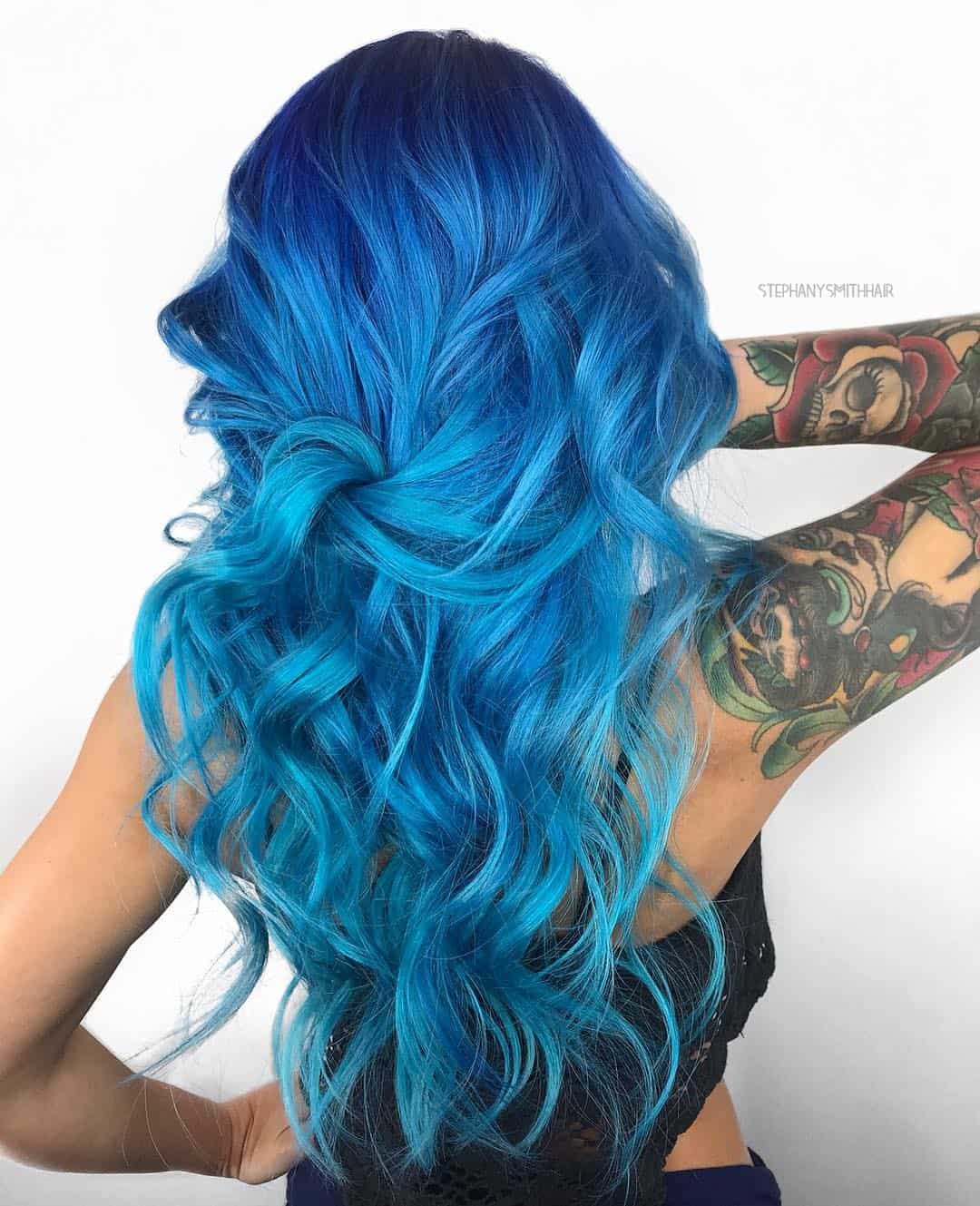 Chase away your blues with this fantastic combination of wavy blue ombré hair that is the epitome of 'Mermaid Waves.' You'll have to go all-out blue to replicate this beautiful hairstyle and possibly add in some hair extensions to get the right length. The skillful application of color by hand in this hairstyle is truly exceptional, especially the blue tones' ombré fading beginning with the deep ocean blue and ending in the lighter blue tips. The seamless blending of different blue hues in this hairstyle is a great example of a perfectly executed ombré hair coloring job.
39. Dark Green Gothic Ombré Hair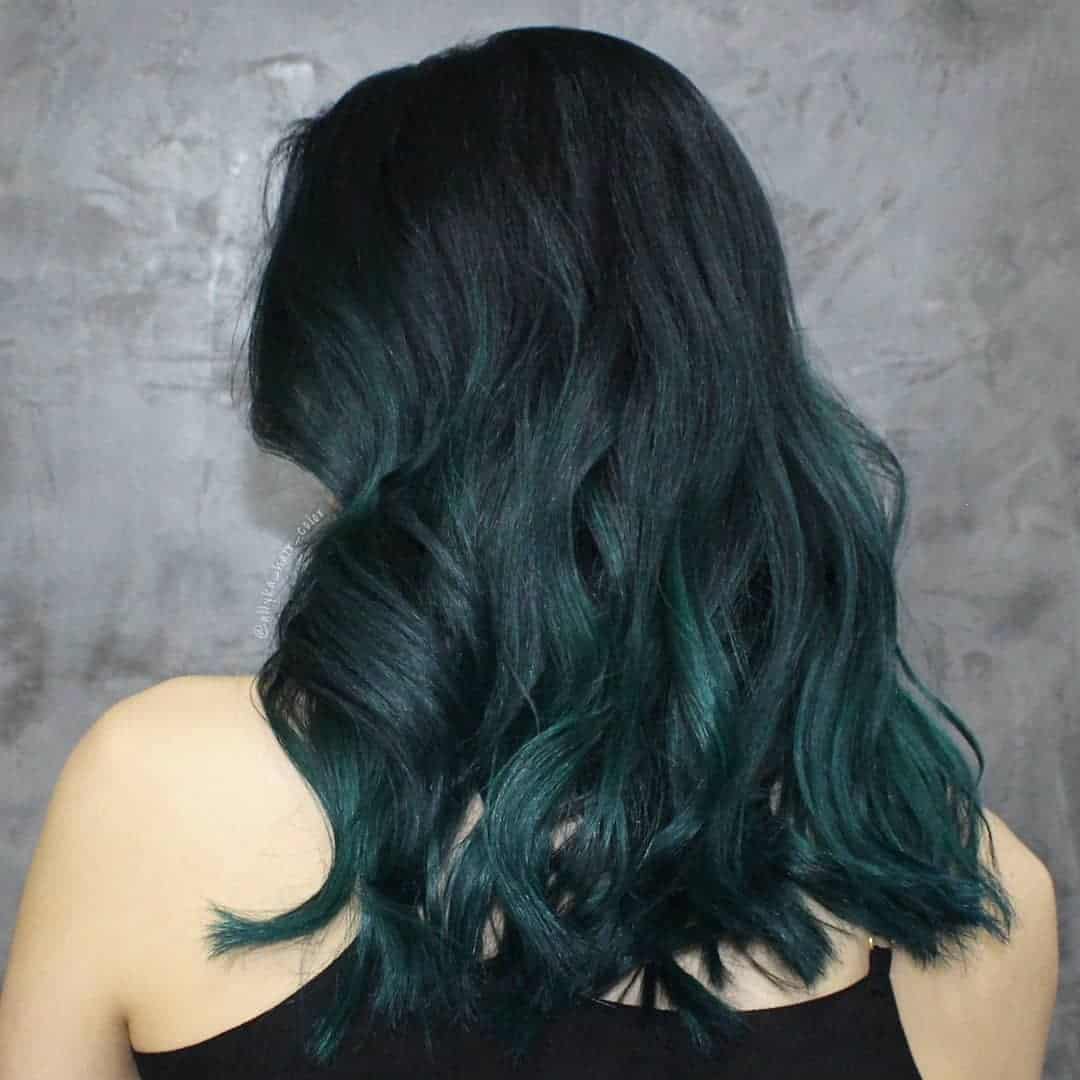 Rather than taking the tired old red and black route, go goth this season with dark green and black ombré hair. This hairstyle uses balayage highlights to create a better blend between the dark black roots and the deep absinthe green. This color combination looks equally good with beachy waves, as shown in this straight green ombré hair as well as naturally straight green ombré hair.
40. Dusty Pink and Dark Blonde Ombré Hair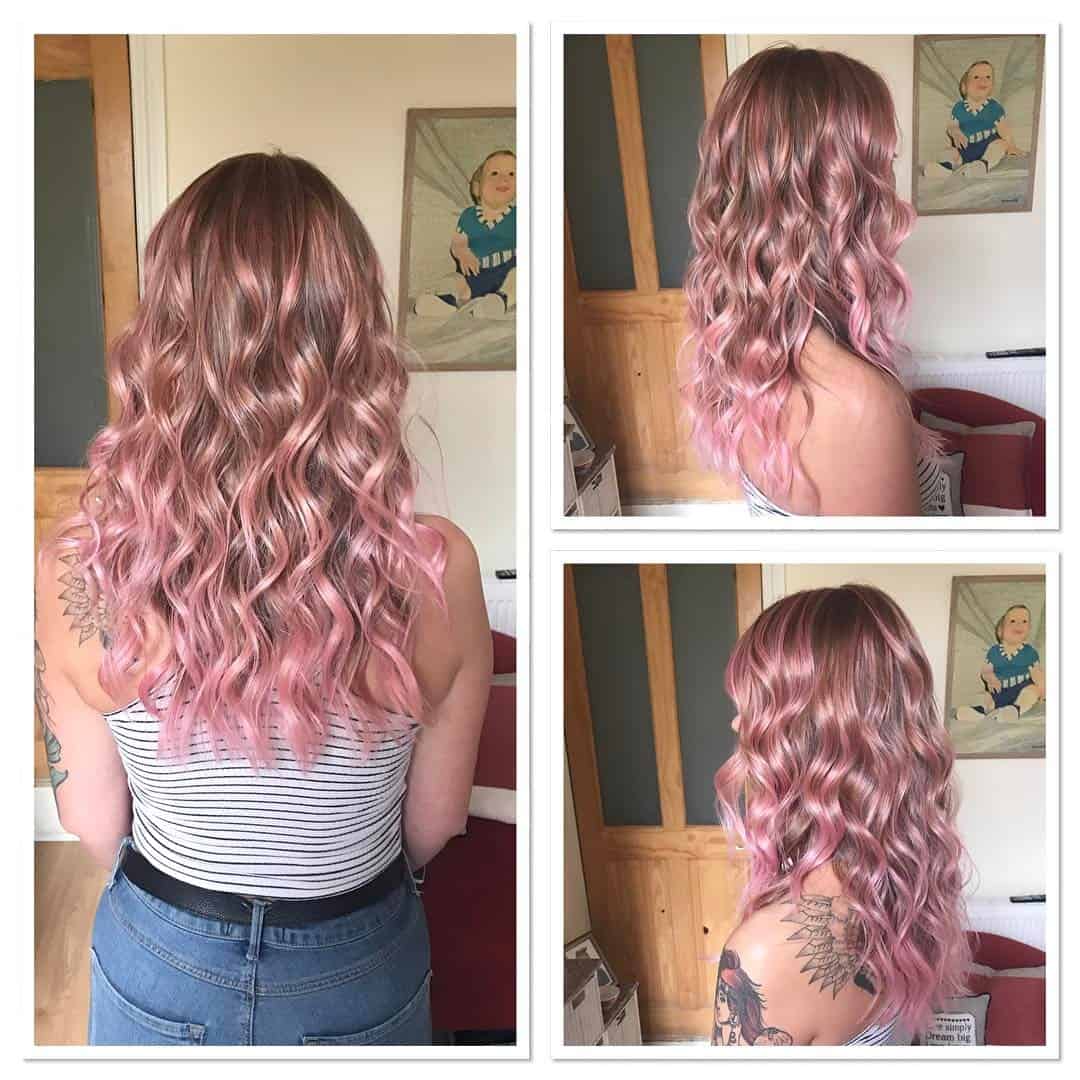 Dusty pink and dirty blonde hair both have brown tones, which makes them an excellent combination of hair colors to create an ombré hairstyle. Whether you're going for beachy waves as shown here or dusty pink ombré with curled ends and step cut, you'll have a warm ombré hairstyle to flaunt in fall.
41. Pastel Lavender Brunette Ombré Hair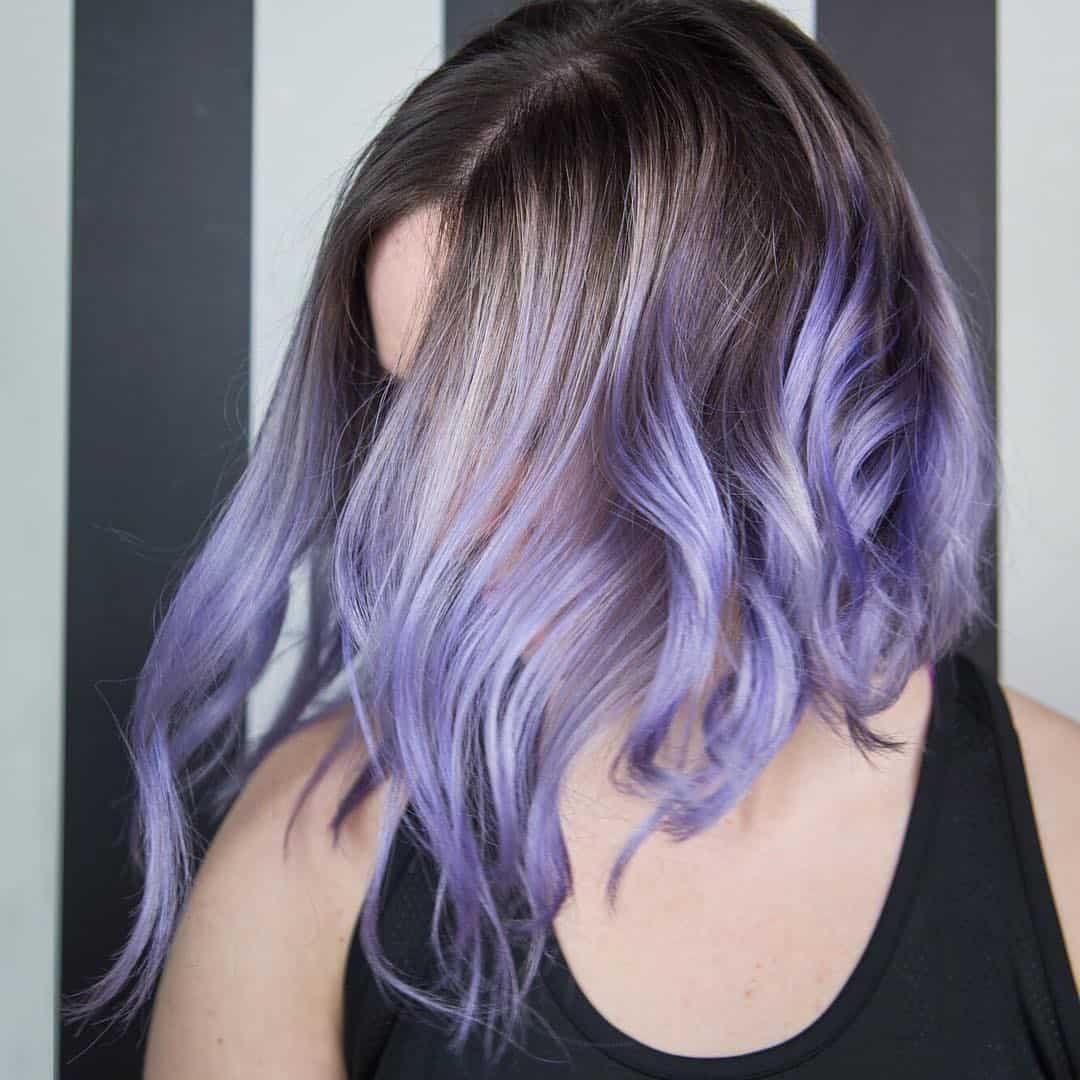 Pastel hair colors have been quite the rage for some time now, and lavender is one color that works well with all hair colors. If you aren't sure of how it looks with brunette hair, look no further. This choppy lob has brown roots that blend harmoniously with the pastel lavender used for creating this ombré effect. Bleached blonde highlights help tremendously to make the two colors look like they are melting into each other.
42. Pink and Blonde Ombré Buzzcut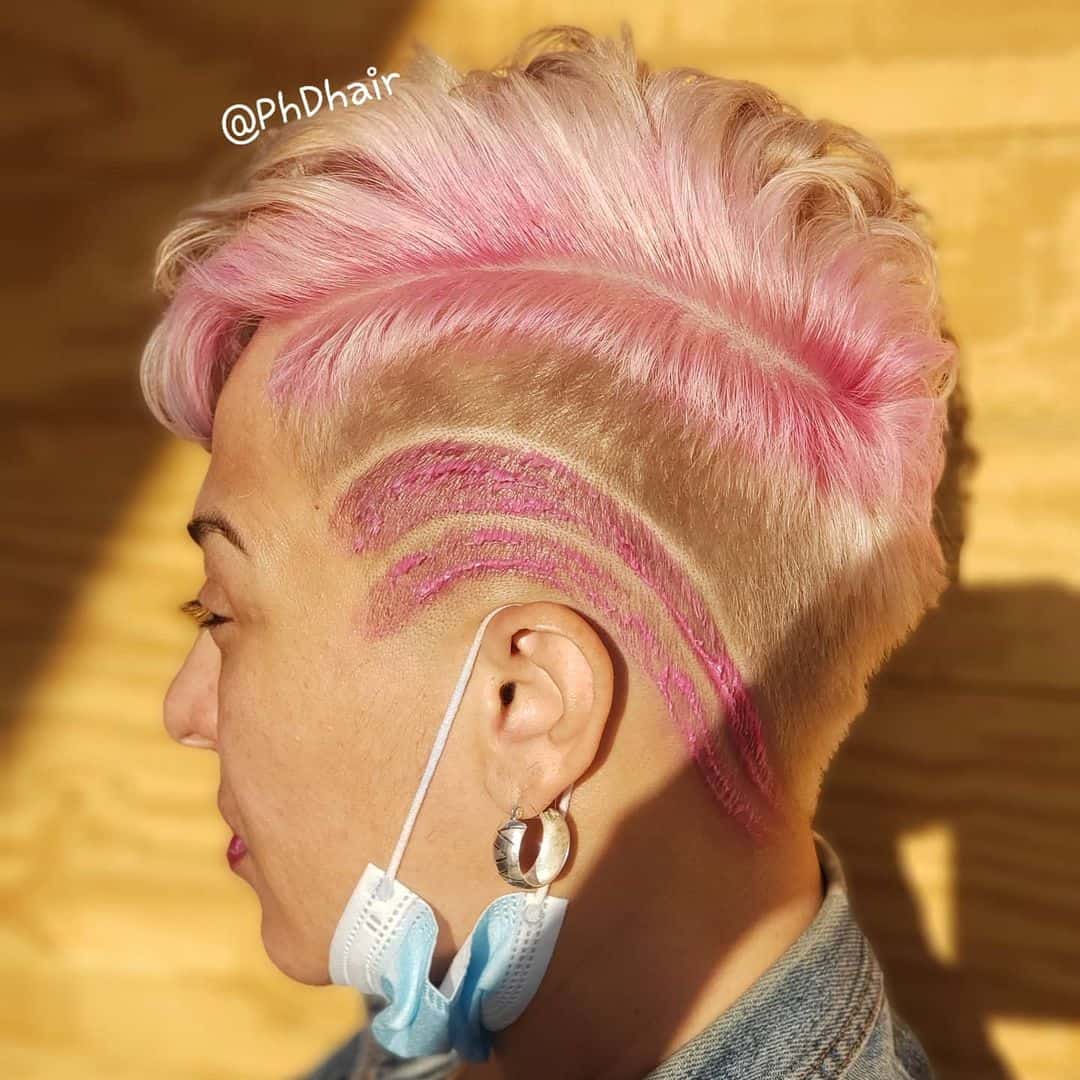 If you are a fan of uber short hair, you can create a new and unique hairstyle with ombré shading applied to a relaxed buzz cut. This is an 80s-inspired rocker-chic hairdo that begins with a mohawk like cut on the crown. While the hair on top is light blonde, they slowly fade into a pastel pink. The closely cropped sides also sport this pinkish blonde hue, and alternating pink and blonde shaven streaks put the finishing touches this bold hairdo.
43. Pastel Blue Light Blonde Ombré Hair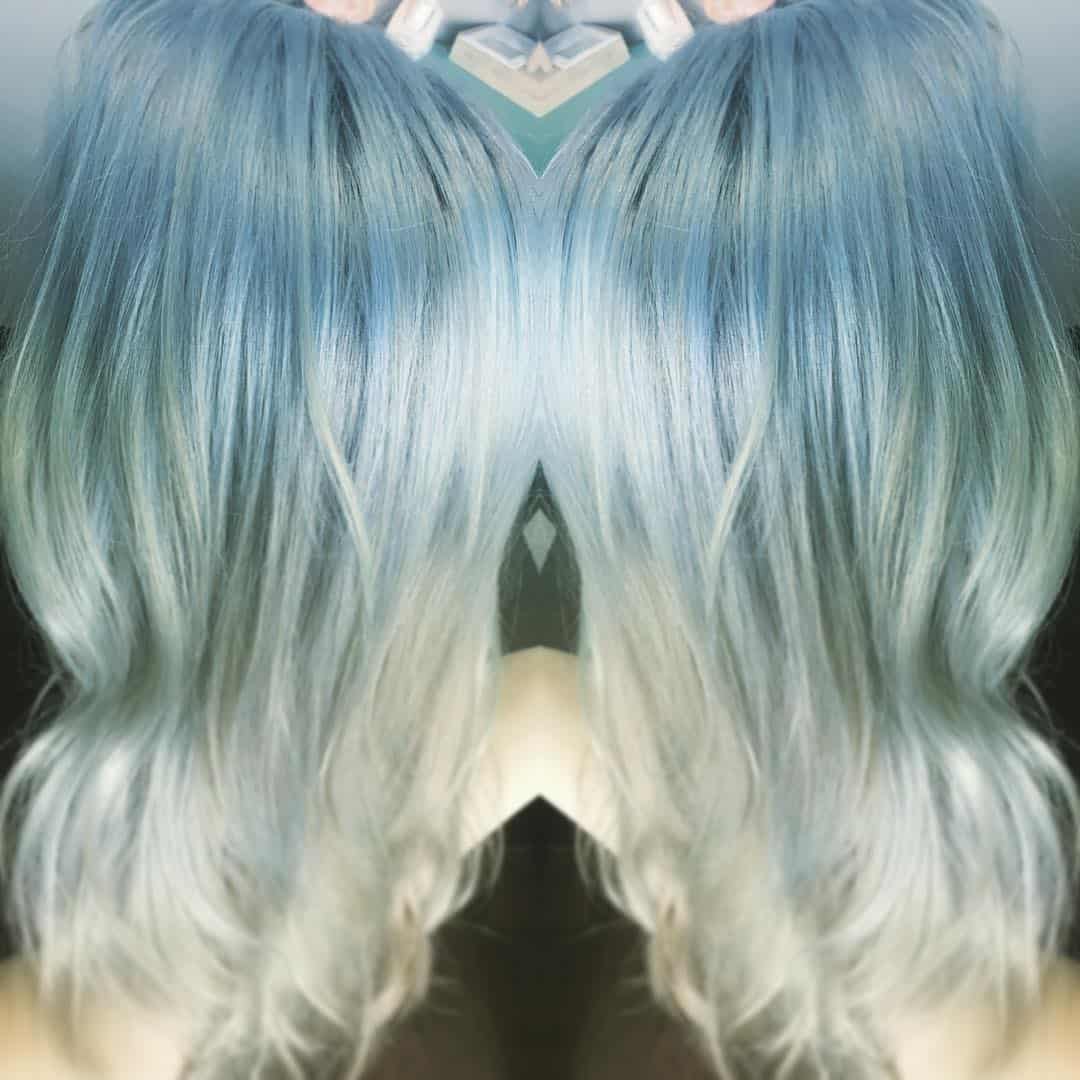 This is a popular ombré coloring scheme for ladies with light blonde hair where pastel hues of unusual hair colors are paired with bleached blonde locks. The sky blue ombré melted roots begin with a darker shade of blue and fade into a light icy blue tone that gives way to light blonde locks. You can try this color combination with hair of any length, or add curls or beachy waves to give it some more volume and shine.
44. Ocean Blue Ombré Hair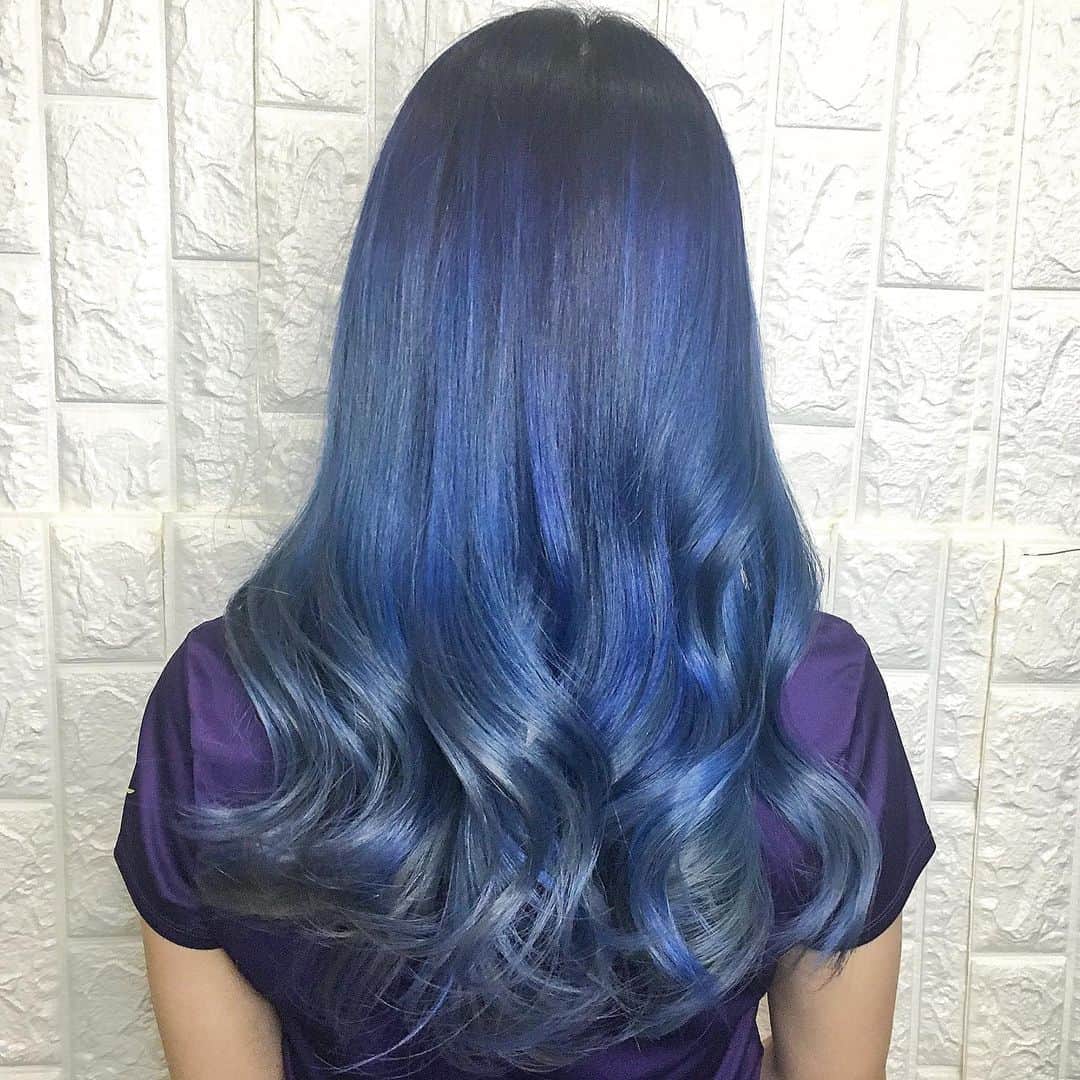 The color used to create this ombré hairstyle is called 'Ocean Blue.' It looks very different when used on different-colored hair. The example shown here begins with dark black roots, and the ombré coloring begins with some blue highlights. The sea of black slowly turns a deep blue. The hairstyle ends with lightly curled tips with a silver hue added to the blue that turns them a greyish hue that blends in better with the black undertones.
45. Merlot Ombré Waves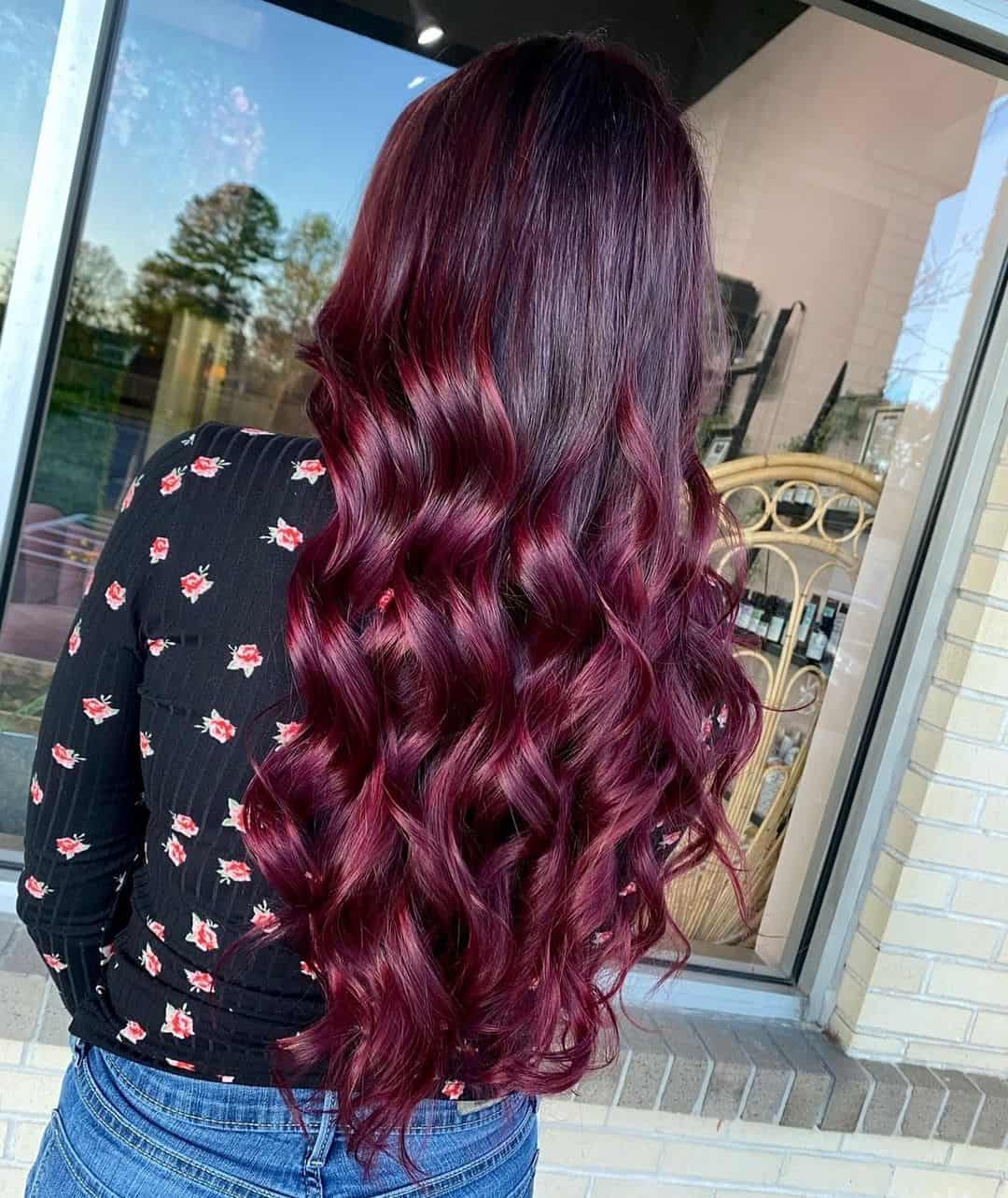 Deep reds, usually matched with lighter shades of red, peach, or pink, are paired with much darker tones in this case. This glossy hairstyle has a deep red hair color blended with a rich shade of merlot. Merlot's wine and maroon tones create a head of dark ombré hair that has light dancing off the beachy waves that cascade down from the shoulders. You can leave the roots untouched if you have naturally black hair to create a three-toned ombré hairstyle.
46. Charcoal and Pewter Ombré Hair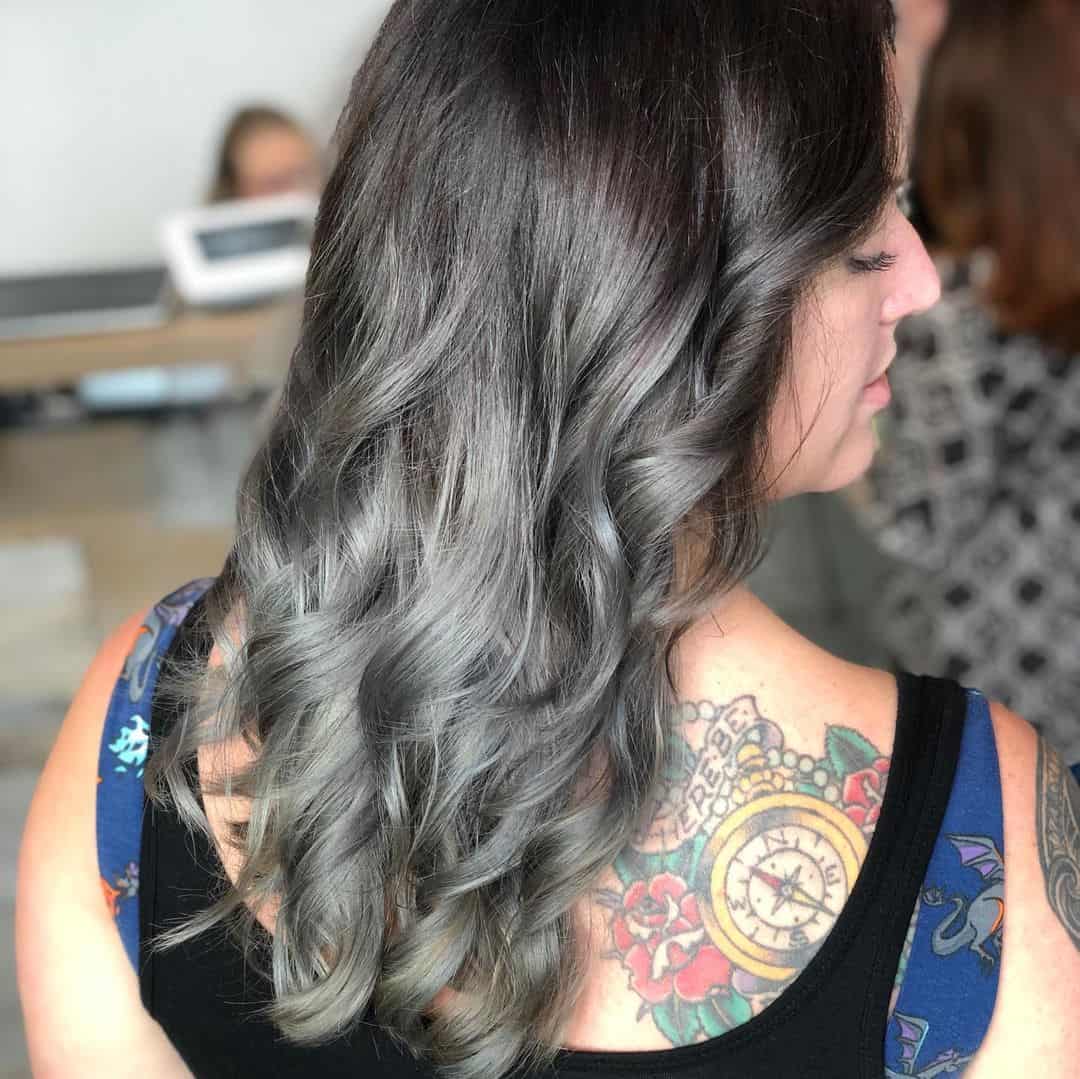 Pewter is a versatile color that blends in as well with browns as it does with platinum, silver, grey, and black hair. In this hairstyle, the color scheme begins with dark brown roots followed by lighter brown hair, eventually giving way to sandy blonde highlights. These lightened locks now fade to pewter tendrils curled into beachy waves that catch the light at all the right spots.
47. Ginger Blonde and Pewter Ombré Hair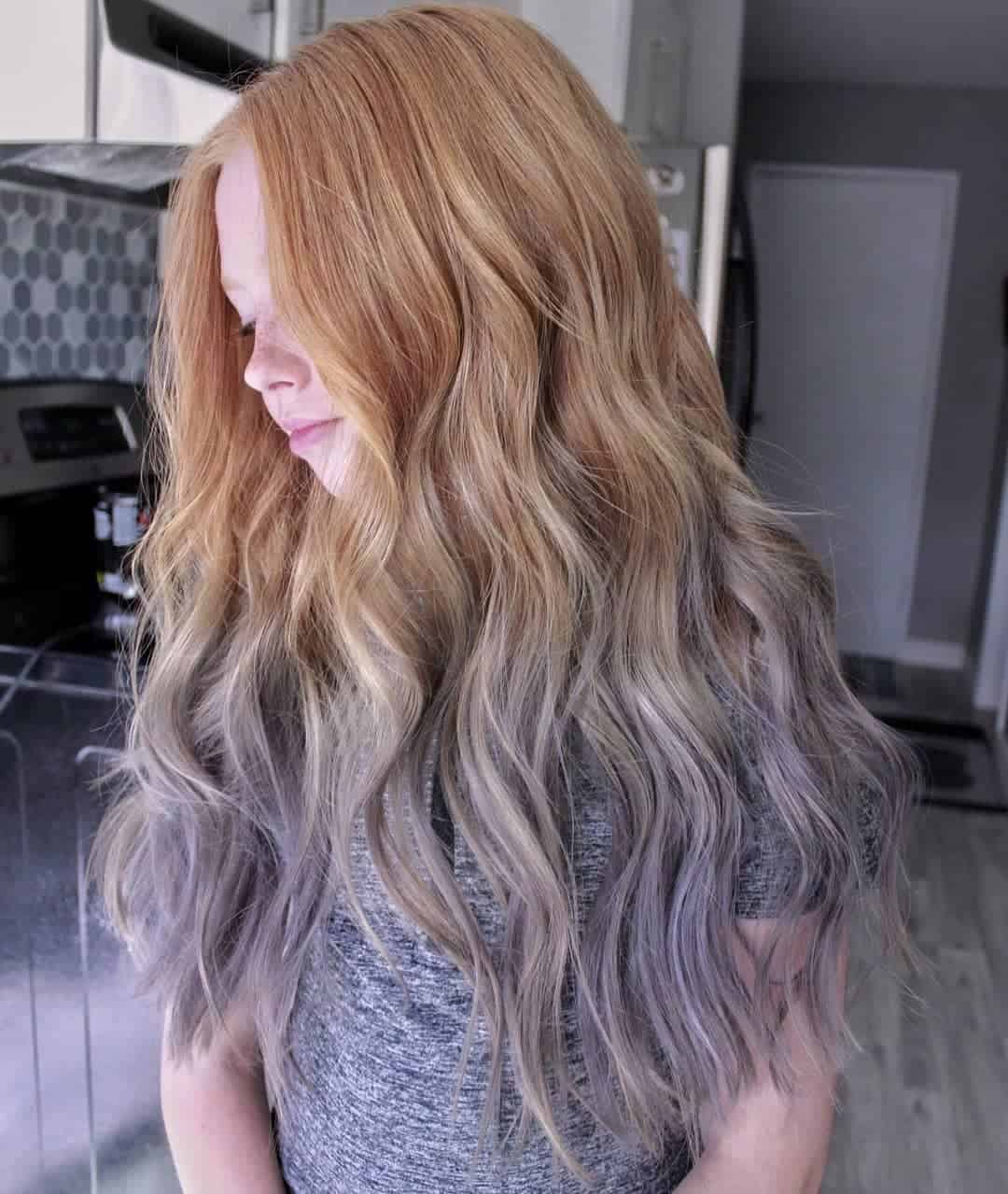 This is quite an unusual color combination. If you are a blonde that veers towards ginger, you can try this ombré hairstyle's combination of ginger and pewter hair. The resulting hairstyle has gorgeous charcoal grey locks with silver tones that blend surprisingly well with ginger notes.
48. Titanium Ombré Textured Locks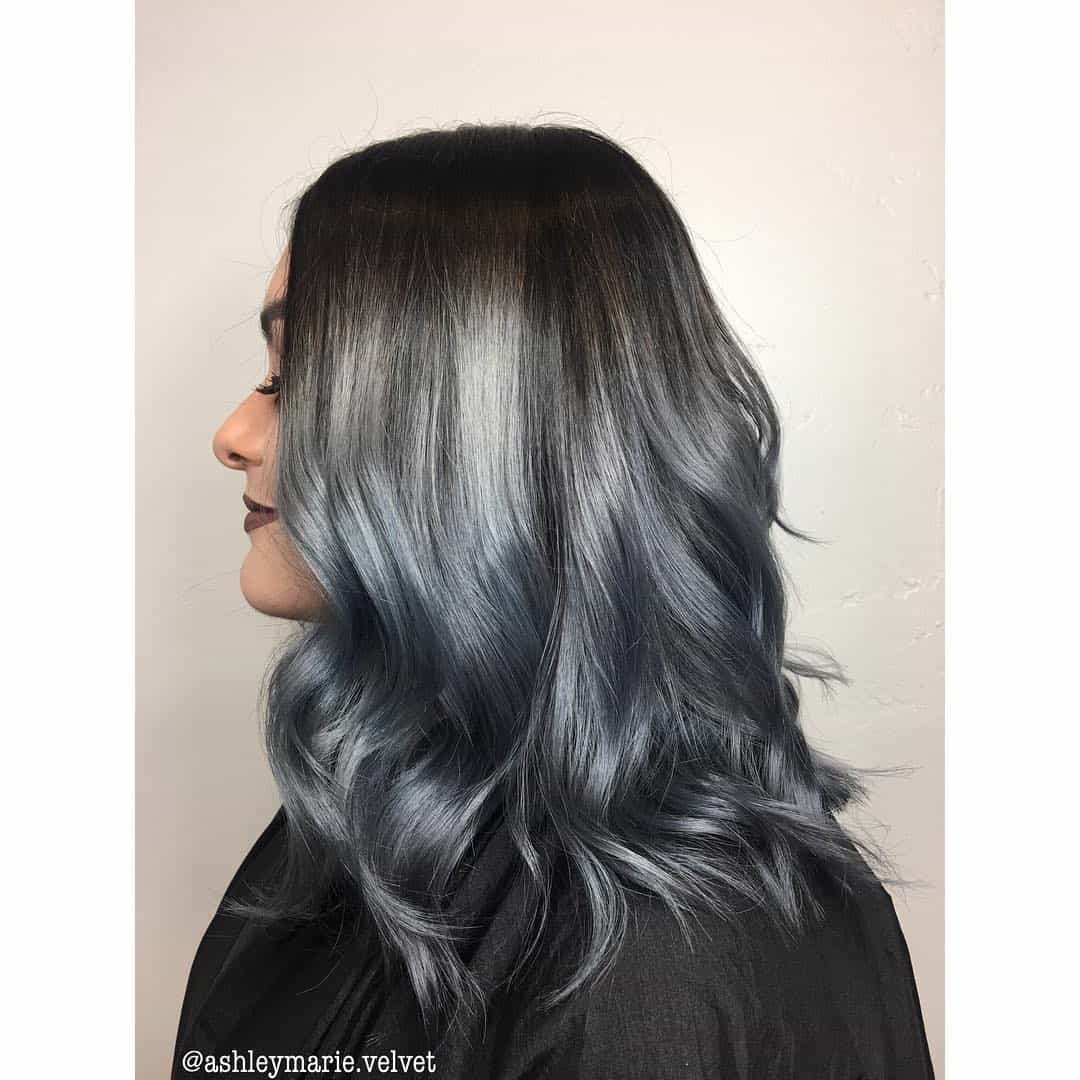 Never let it be said that dark-haired girls don't have many color options to create ombré styles. We've shown quite a few examples of dark-haired ombré styles, but this one is uniquely suited to those with hair as black as a raven's wings. It begins with dark black roots, followed by grey tones that lighten the mop. These pewter grey strands turn into thick waves of titanium blonde hair that perfectly complement the dark black roots while providing an interesting contrast with the grey tones.
49. Pastel Mint and Lavender Ombré Hair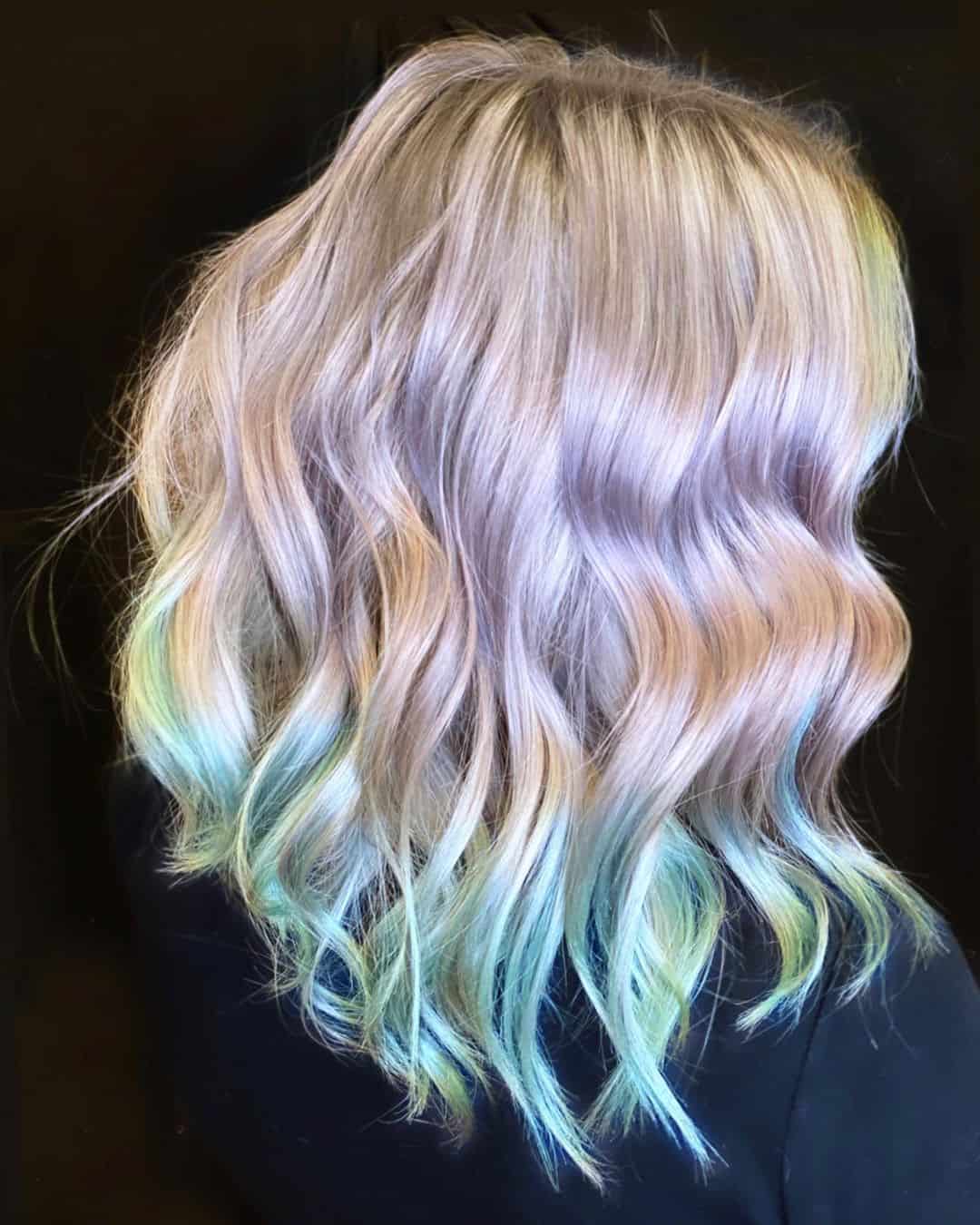 This is the kind of ombré where all the colors are light, so technically, it's a tonal ombré color job. The pastel mint and lavender, the silver, and the blonde are all light and cool-toned hues. This makes it an icy toned ombré hairstyle. The silver and lavender are blended in seamlessly while the roots are blonde and the tips a fresh minty green.
50. Seafoam Mint Green Mermaid Ombré Curls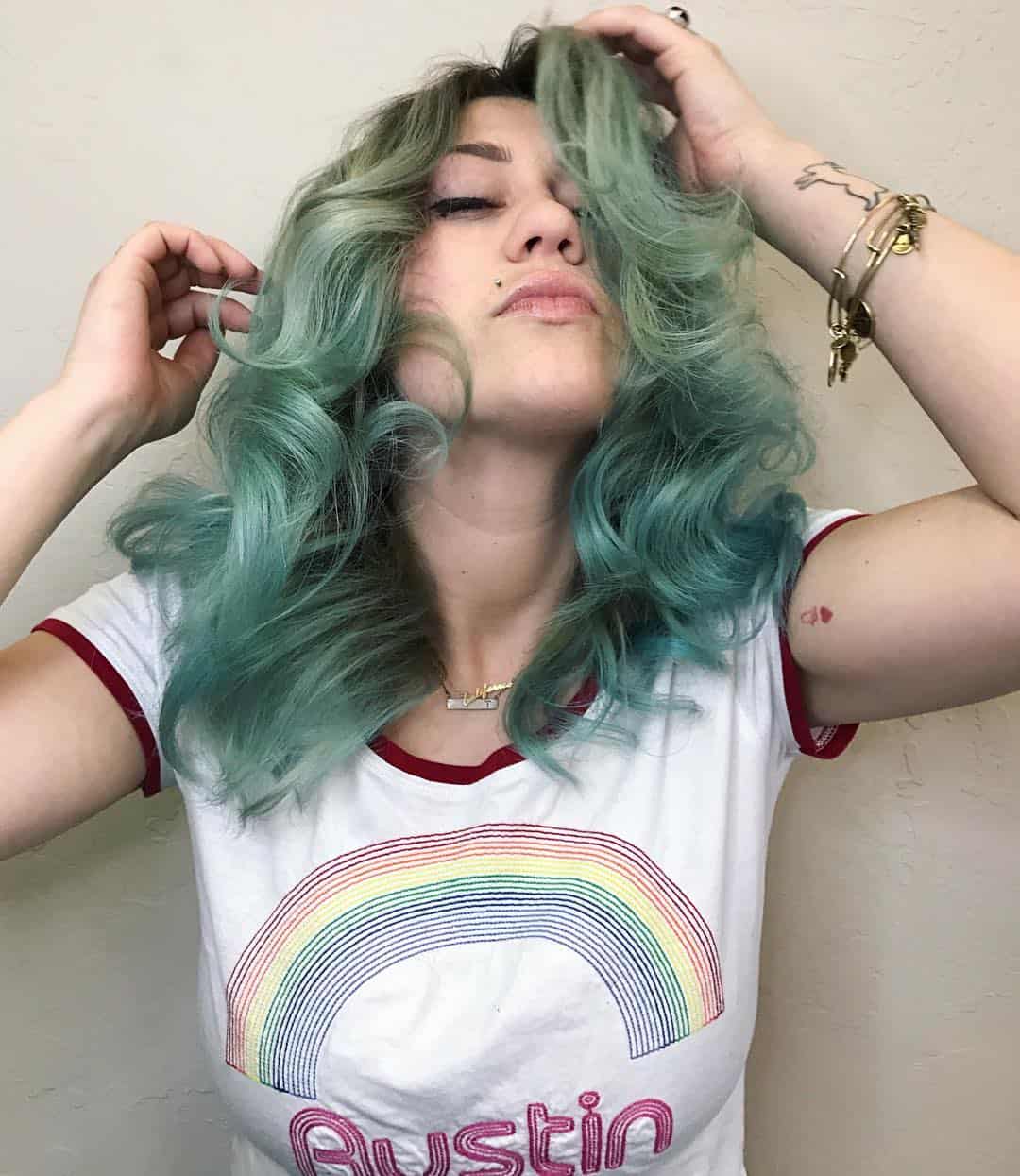 Inspired by Disney's Princess Ariel, this ombré shading uses a mishmash of warm seafoam green, cool mint blue, and aqua tones to create these lovely curls. It starts with grey blonde roots, and colors are introduced along with the first wave of curls. The greys give way to wide green ringlets, which slowly turn into a lovely sea glass green wave. Short shoulder length hair with a step-cut hairdo would be ideal for mimicking these ombré curls.
Ombré Hairstyle Trends
When the ombré styling trend made its debut a few years back, it was all the rage to have dramatic locks with high contrast gradient hair. But, extremely light ends usually result in damaged hair that quickly loses its luster, breaks, and splits easily. They also look like a cheap coloring job as opposed to a polished hairstyle. As colorists and customers alike learned more about this technique's effects, ombré hairstyles have become more subdued as they're becoming more widely adopted.
Balayage coloring technique is another reason why ombré hairstyles have become such a widespread phenomenon. When you combine the two gradient coloring techniques, you get magical hair that looks good whether you're stepping out of bed or walking on a red carpet. Your locks look naturally sun-kissed, lustrous, and evenly toned when different colors blend into each other seamlessly. Ombré hair looks excellent with mermaid waves, both vividly colored as well as with pastel shades.
It's always good to carry a picture or two of the kind of ombré hairstyle you're aiming for to the salon. Let the professionals look at these pictures and make changes keeping your natural features in mind.
Ombré Away
An ombré hairstyle is the ideal hair coloring choice no matter how much time you have to dedicate to your hair. It requires less than four visits to the salon per year, and there's no additional hassle of getting your roots touched-up. It's also right on trend as far as cuts and hairstyles go, so you'll never sporting an outdated hairdo. Good luck with your next salon visit, and have fun getting your hair done!