While eyes and lips often get more attention when it comes to makeup, good blush is not to be underestimated. Nothing gives you a fresh healthy glow that's perfect for summer quite like a hint of color in your cheeks.
Since 1999, Nars has been making waves with its wildly popular blush shade, Orgasm. The shade achieved cult status and remains one of the company's bestsellers. So why is this blush so beloved? And is Nars Orgasm your only option for a healthy flush?
In this guide, we'll explain what makes Nars Orgasm so special, and show you some of our favorite dupes for it.
What's so Great About Nars Orgasm?
While it's speculated that the name has something to do with the shade's success (it's certainly provocative and attention-grabbing), there are other reasons why fans love it. The shade is very light, so you can build color rather than being overwhelmed by it, making your look as subtle or as bold as you choose.
The shade also flatters a variety of skin tones. Since it blends cool pink with warm peach, both cool and warm tones can wear it. It also adds dimension to your look with gold shimmer.
It's smooth to apply and very blendable. It also has good staying powder, not melting or smudging all day. It's an iconic it-girl shade that many people find empowering to wear.
Reasons to Find an Alternative
Despite Nars being so popular, there are several reasons you may want to find other alternatives. For many people, paying around $30 for a small blush palette just isn't within their budget. But beyond price, there are a few other reasons why you might want to choose a different brand.
Nars' Orgasm blush has a few ingredients that may be cause for concern. The first ingredient is talc, a mineral that can have some risk of asbestos contamination, a carcinogen, even after processing. While your risk when using makeup is low, some people prefer to steer clear until it's better regulated. Orgasm also contains BHA (butylated hydroxyanisole), a preservative that is recognized as a health risk, particularly for pregnant women as it can disrupt your body's hormones.
Nars is also not a cruelty-free certified brand. Because they sell their products in markets that require animal testing, they must submit to animal testing.
Fortunately, there are plenty of beautiful blush options that address the issues you may have with Nars. We have a shortlist of budget picks, healthy alternatives, and more ethical brands that will help you get that natural glow.
Top 5 Best Nars Orgasm Blush Dupes 2023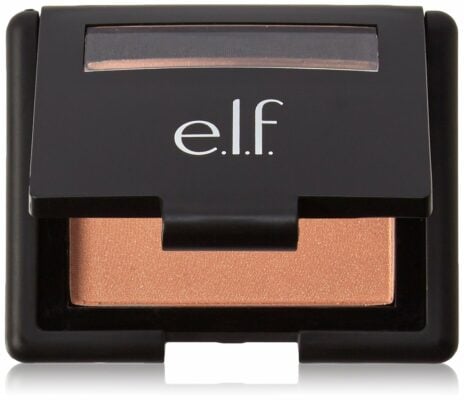 Why we like it:
E.l.f. provides an affordable alternative to Nars that mimics their flattering signature shade.
Editor's Rating:
Quick Facts:
Color: Warm Shimmering Coral
Coverage: Light
Cruelty-Free: Yes
Talc-Free: No
E.l.f. has been a popular choice for affordable makeup since the brand debuted. At less than a quarter of the price, this blush gives a similar color and coverage to Nars Orgasm blush. In fact, it's gained some notoriety as being one of the best dupes for the product.
Like Orgasm, it's a sheer pigment that you can gradually build up if you choose. But the main selling point of this blush is that it looks very natural. The warm coral tones and gold shimmer help create a soft glow, like your skin is lightly sun-kissed or flushed from exercise. Since it's sheer and shimmery, many people like to use this as a highlighter as well, particularly around the brow.
We also love that e.l.f. is a cruelty-free (and vegan) brand.
Things to Look out For
The main area where Nars Orgasm lovers may be disappointed in this product is in the pigment intensity. While Orgasm is also a lighter blush, Candid Coral is even sheerer. On lighter skin tones that may not be an issue, but for darker skin colors, it doesn't have much of an impact. It is buildable, but more blush also gives a heavier dose of shimmer that you may not want.
This formula also contains talc, so if you're looking to avoid it, this isn't the best option. Instead, try our pick from Honest Beauty.
Pros
Very similar shade to Orgasm

Natural-looking glow

Makes a great highlighter
Cons
May be too sheer for darker skin tones

Contains talc
---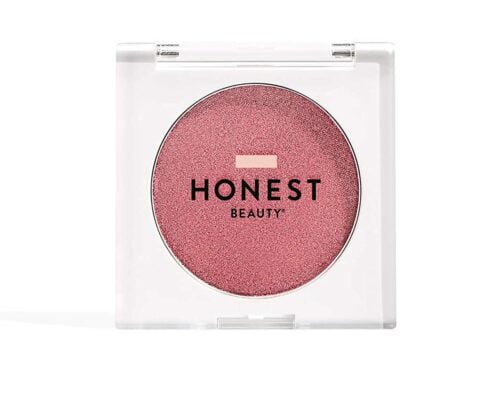 Why we like it:
Free from undesirable chemicals, this blush blends beautifully and offers a nice pop of color.
Editor's Rating:
Quick Facts:
Color: Peachy Pink With Gold Shimmer
Coverage: Medium
Cruelty-Free: Unclear
Talc-Free: Yes
Flirty, like Orgasm, is a peachy pink with gold shimmer. This makes it almost universally flattering and natural-looking. The powder is infused with pearl to look more luminous; it's just the right amount for a little extra radiance without being too reminiscent of a disco ball.
The texture of the powder is soft and velvety, making it easy to blend this blush with other makeup. It has a rich rosy tone with a hint of warmth, making it work for both warmer and cooler skin tones. It's not as sheer as some shades, having more saturated pigment. You don't have to load up your brush to get a nice hint of color, but you can still build it up a bit if you want a stronger look.
This product is free from talc, parabens, and other harmful additives. It's also dermatologist-tested to be gentle on your skin.
Things to Look out For
The velvety texture of this blush can sometimes work against it. This powder is prone to breaking when tossed in a bag and can even crumble slightly during use. This can result in a bit of a mess.
By being more saturated, perhaps even more so than Nars Orgasm, it may be hard to get sheer coverage on lighter complexions. If you're looking for a lighter, more natural-looking option, you may want to try a cream blush, like the one from Palladio.
Pros
Free from talc and other potentially harmful chemicals

Velvety texture, blendable

Rich color pigment

Subtle pearl shimmer
Cons
Prone to crumbling

Hard to get sheer coverage
---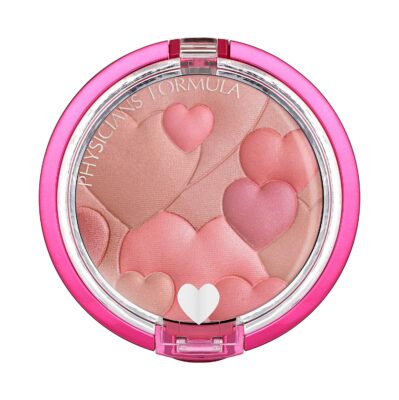 Why we like it:
This blush lets you customize your shade and is loaded with plant extracts.
Editor's Rating:
Quick Facts:
Color: Bronze Pink
Coverage: Medium
Cruelty-free: Yes
Talc-Free: No
Physician's Formula claims that by swiping on this blush, you'll not only look more radiant, but you'll also feel happier. While looking good can help you feel good, it's not just a confidence boost. This product has plant extracts that are intended to promote a happier mood. Rhodiolo Rosea extract, a medicinal herb used in northern Europe for generations to help with anxiety, depression, and fatigue combines with Euphoryl, a blend of plant extracts and vitamins that are meant to help reduce stress.
Whether a small amount of herbal extracts applied topically can actually have a meaningful benefit to your mental health is highly debatable. However, we still like this blush for its subtle peachy tones and long-lasting application. Some of the plant extracts that enrich this product, like murumuru butter, have proven skin benefits as well.
The palette contains heart shapes with various tones of peach, bronze, and pink, so with each application, you can subtly customize your blend. The colors are similar to Nars Orgasm and it has that same shimmery finish.
Things to Look out For
Unlike Nars Orgasm, this shade is not quite as universally flattering. The pink shades in the palette may be a little too bright for very fair skin, but the overall peach and beige tones can be too subtle for dark skin. The customization factor can help with this, but it also means you may not end up using all the pigment in your palette.
If you are sensitive to fragrances, or simply don't like using scented cosmetics, you may not like the fact that this blush also contains synthetic fragrance. A violet scent is added to the mix to increase the "mood-boosting" factor, but those with sensitive skin can be irritated by this addition. And that's not very relaxing.
Pros
Enriched with plant extracts

Customizable shade

Long-lasting color
Cons
Not as universally flattering as Orgasm

Contains synthetic fragrance
---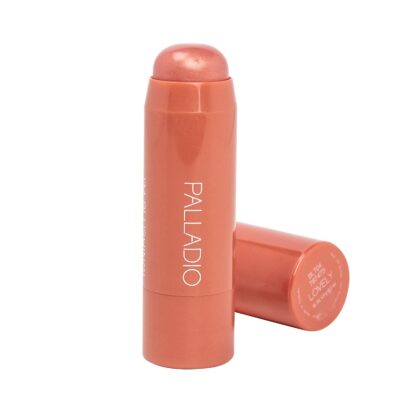 Why we like it:
This affordable cream blush is super light and moisturizing.
Editor's Rating:
Quick Facts:
Color: Coral Pink
Coverage: Light
Cruelty-Free: Yes
Talc-Free: Yes
Cream blushes have become a lot more popular lately for their ability to give a soft, romantic look and a dewier finish than powders. This cream blush stick from Palladio in Lovely has a shimmering golden-pink color that, like Nars Orgasm, gives a healthy warmth to your cheeks. The cool/warm balance flatters most skin tones.
This cream blush is also a multitasker, since it is designed to be used as a lip gloss as well and it can also add a nice hint of highlight on other parts of your face. The formula is infused with moisturizing ingredients like aloe, ginseng, and chamomile extracts, as well as apricot oil to make your lips and cheeks appear smoother. These botanicals are also natural sources of vitamins and antioxidants to nourish your skin.
If you have dry skin, a moisturizing cream blush like this could be a great option. It helps you avoid looking flaky and powdery under your makeup.
Things to Look out For
Since this blush is in stick form, it can suffer a lot when exposed to heat. It's not something you can carry around with you on hot summer days without risking it melting and becoming a mess, stuck to the inside of the tube.
Cream blushes tend to be quite sheer by nature, and this one is no exception. For some people, the pigment may not be strong enough to give them the impact they are looking for. It's very subtle and intended to give a light, natural sheen and hint of color, but it's not buildable like powder options. For a buildable option, try our pick from e.l.f..
Pros
Sheer, natural-looking coverage

Dewy finish on lips and cheeks

Moisturizing ingredients
Cons
Can melt and get messy

Not highly pigmented or buildable
---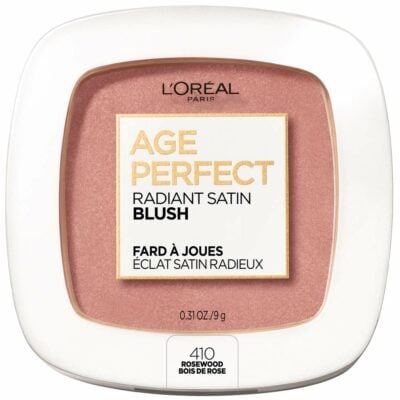 Why we like it:
Aging skin has different needs and this blush is created with them in mind.
Editor's Rating:
Quick Facts:
Color: Warm Rose
Coverage: Light
Cruelty-Free: No
Talc-Free: Yes
Shimmer can be a bit controversial. While Nars Orgasm features golden shimmer in their recipe, not everyone is a fan. Many women with mature skin find that shimmer can be unflattering, so they try to avoid it. If you want a lovely neutral shade that provides the natural glow of Orgasm without any added shimmer, you may want to try this blush from L'Oreal.
Free from any sparkle, this shade, Rosewood, is a warmer toned pink. That balance of cool and warm hits the same sweet spot as Orgasm, making it work on most skin tones, mimicking a natural flush or hint of sun.This blush gets its satin finish from camellia oil and cocoa butter, which help it blend beautifully and have a creamier consistency.
Starting somewhat sheer, this blush is buildable so you can increase the amount of pigment to your preference, but you can just as easily keep it subtle. It doesn't settle into fine lines, either.
Things to Look out For
If you have really thirsty skin and are hoping for a rich, creamy formula, this may disappoint you. The added plant oils do give the blush a better texture, but if you have issues with powder blushes looking, well, powdery on you, this may not solve the problem. Switching to a cream blush like our pick from Palladio in that case.
This blush also may not have enough staying power for all-day wear. It can fade a smudge throughout the day, meaning you may need to reapply to preserve your look into the evening.
Pros
A shimmer-free option

Natural sun-kissed glow

Creamier powder blends well
Cons
May not provide enough moisture

Fades and smudges over time
---
Your Guide to Finding a Nars Orgasm Dupe
When trying to find the perfect Nars Orgasm dupe, here are some factors that you may find helpful to consider.
Color
When looking for a dupe for any makeup product, the shade is the most important aspect to consider. Nars Orgasm is known for its universally flattering, peachy-pink shade and pretty golden shimmer. The best dupe we've found for this color is the e.l.f. Blush in Candid Coral, although all of the blushes on our list come very close.
Pigmentation
Pigmentation is another important factor since it determines how sheer and subtle or opaque and dramatic a makeup product is. Nars Orgasm is perfectly balanced since it can be built up or sheered out to achieve a versatile range of effects. L'Oreal Paris Age Perfect Satin Blush in Rosewood offers a similar level of pigmentation, albeit without the golden shimmer.
Ingredients
Nars blushes have a perfectly standard powder formula that contains talc, so this is one aspect where we didn't look for a close match. Instead, we think it's actually great when a dupe has a cleaner formula, like the Honest Beauty Lit Powder Blush.
You're Making Me Blush
While Nars Orgasm has been a staple for more than 20 years, it's not your only option. The provocative name combined with the flattering blend of cool and warm tones has helped it make its way into the makeup bags of women across the globe. Yet, there are some things that Nars could do better. The brand has yet to become certified as cruelty-free and their blush continues to use talc as well as several other potentially hazardous ingredients.
Fortunately, there are plenty of cosmetics companies out there who are working hard to do better by their customers and the planet. We hope our list of dupes has helped you find a new blush that will give you that Orgasm glow at a lower price and maybe with a few other benefits.