The Naked Palette had an almost decade-long reign as one of Urban Decay's most popular eyeshadow palettes. After being discontinued, however, the product is still talked about by lovers of the brand and beauty enthusiasts alike, reminiscing over the eyeshadow colors and high level of pigmentation. Fortunately, there are plenty of dupe products for the Naked Palette available today that can let you experience the wonder of these eyeshadows despite the discontinuation.
In this article, we will be giving you a brief history of the Urban Decay Naked Palette and detailing why this product shot to fame. Then, we'll give you a rundown of the best dupe products for the Naked Palette that are out there today, so you can have your choice of dupes and find your new favorite product.
The History of the Urban Decay Naked Palette
In 2010, the original Urban Decay Naked Palette launched, featuring 12 different shades that were designed to be suitable for everything from nude and office-appropriate makeup looks to a dramatic smokey eye for a night out. The colors were a mix of matte, metallic, and shimmery colors, giving users the ability to mix and match looks while still staying in the same tonality; this increased the Palette's ease of use and marketability.
The Naked Palette quickly rose to fame after its initial launch, becoming especially popular with those newer to eyeshadows because of its versatility. It inspired a number of colored and themed Palettes, all under the same "Naked" Palette brand. During the height of the Naked Palette's popularity, the brand was selling one Palette every 5 seconds.
In 2018, Urban Decay announced that the famous original Naked Palette would be discontinued. While the move shocked beauty enthusiasts and fans of the Palette across the globe, the company stated that it was discontinuing the Palette to make way for bigger and better things. Urban Decay has since followed up on this promise, releasing several more iterations in the Naked Palette line and often selling out of products within hours.
If you just can't part from the original Urban Decay Naked Palette, the below collection of dupes can help you make peace with the discontinuation and provide you with the perfect alternative to keep your makeup style the same.
Top 5 Best Naked Palette Dupes 2023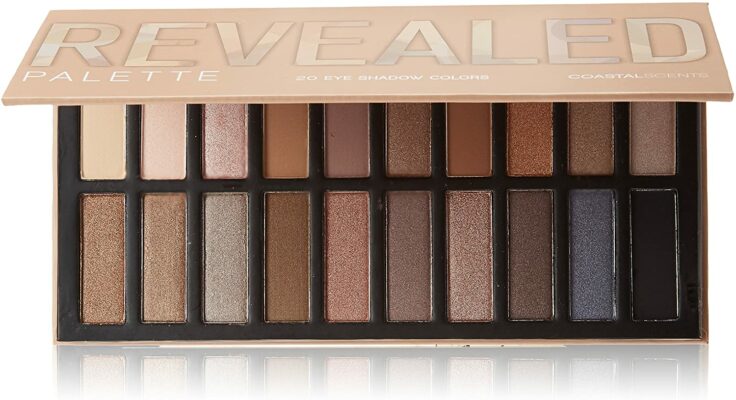 Why we like it:
With 20 different shades, the Coastal Scents Palette provides users with the same mix of shimmery and matte shades that the Naked Palette would.
Editor's Rating:
While the number of shades available in the original Naked Palette was only 12, the Coastal Scents Revealed Eye Shadow Palette gives you 20 different nude colors to work with. There is a fair mix of both shimmer and matte colors, which is very similar to the Naked Palette. It's a great bonus if you are looking to get colors as close as possible to the original.
Because there are so many colors, this product is a great choice for beginners and those who want to start out with a more neutral approach to makeup. Much like the Naked Palette, users can mix and match any of the 20 shades in the Coastal Scents palette to match any occasion perfectly.
On the downside, you will most likely need to use a primer for added longevity when it comes to applying this product. Unlike the Naked Palette, the colors don't grip to your skin as well, which can result in a lot of fall out or the eyeshadow smudging off after only a few hours of intense wear.
Pros
20 shades

Mix of shimmery and matte colors

Pigments are very similar to the Naked Palette

Great versatility for beginners
Cons
Need to use primer for durability

Can produce a lot of fallout
---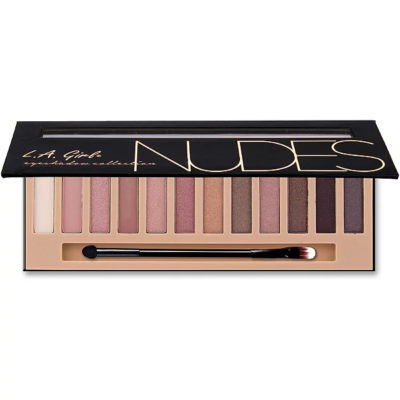 Why we like it:
Perfect for fans who love the packaging of the original Naked Palette, the L.A. Girl Nudes Palette features smooth, buttery colors.
Editor's Rating:
For anyone who loved the packaging of the original Naked Palette, the L.A. Girl Nudes Eyeshadow Palette offers a similar experience. The palette is easily opened and the colors are arranged in a similar style, allowing for ease of use. The feel of the eyeshadows is also smooth, enabling you to apply the makeup without too much work or fallout.
Because of the range of colors in this palette, it is easy to mix and match styles, much like with the Naked Palette. The colors are vibrant and feature a range of lighter tones and several dark colors for creating the perfect daytime or nighttime look based on how you feel.
The colors in the L.A. Girl Nudes Palette are a little more pink-toned than the ones in the Naked Palette, which have more of a rich brown appearance to them. They may also be a little bit too glittery for some, as there are not many matte shades and the shimmer isn't as subtle as the ones in the Naked Palette. This can be a drawback for those who want to stay as close to the original as possible.
Pros
Packaging is similar to the Naked Palette

Shadows go on smoothly

Easy to mix and match pigments
Cons
Colors are pinker toned than the Naked Palette

May be too glittery for some
---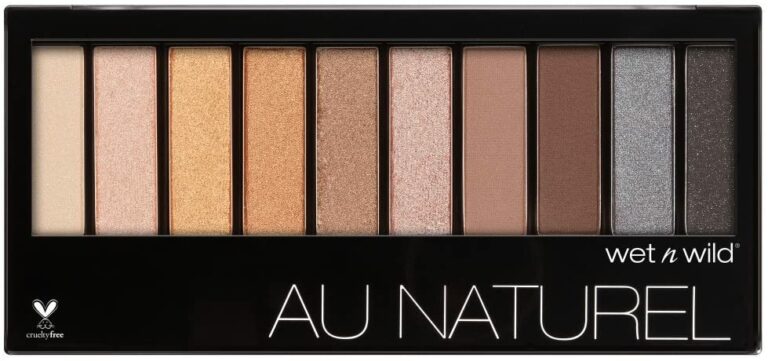 Why we like it:
This budget option packs a compact, pigmented punch with shimmery colors that are similar to the Naked Palette.
Editor's Rating:
Wet & Wild is known for providing quality budget options, and the Au Natural Bare Necessities Palette is no different. This compact palette provides 10 colors that are strikingly similar to the Naked Palette's color range, with the eyeshadows ranging across rich brown shades, with a shimmery black and silver color included. Plus, the small size makes it great for taking along when traveling.
Wet & Wild is also a cruelty-free brand, which is similar to Urban Decay and their cruelty-free promise, making it a good choice for someone who wants to ensure that the dupe they purchase aligns with their ethical values.
The Wet & Wild Palette is mostly comprised of shimmery colors, which can be a drawback for those who were fans of the Naked Palette's balanced matte and shimmer mix. The eyeshadow colors also appear to be slightly brighter than the Naked Palette, making it a little harder to create a truly smoky eye in the same fashion.
Pros
Budget-friendly product

Compact size is great for traveling

Cruelty-free brand
Cons
Mostly shimmery colors

Eyeshadow colors are brighter than the Naked Palette
---
Why we like it:
This drugstore option is easily available and offers an assortment of shadows that match all skin tones.
Editor's Rating:
The Rimmel Magnif'eyes Eyeshadow Palette can be found in most chain stores and drugstores, making it an easily accessible dupe for when you need to touch up your makeup last minute. The eyeshadows match all skin tones, much like the original Naked Palette, and the pigments are highly long-wearing. When wearing the Rimmel Magnif'eyes shadows, you are unlikely to experience any smudging or fading of the makeup before your day is over.
On the downside, the eyeshadows in the Rimmel Palette can feel a little bit powdery and dry, which may be a dealbreaker for some. Whereas the Naked Palette's eyeshadows were smooth and velvety as they went on your skin, you may find that it takes several coats and some blending to achieve the same effect with this dupe product.
Pros
Drugstore option

Eyeshadows match all skin tones

Very durable colors
Cons
Shadows can be powdery and dry

Requires more blending
---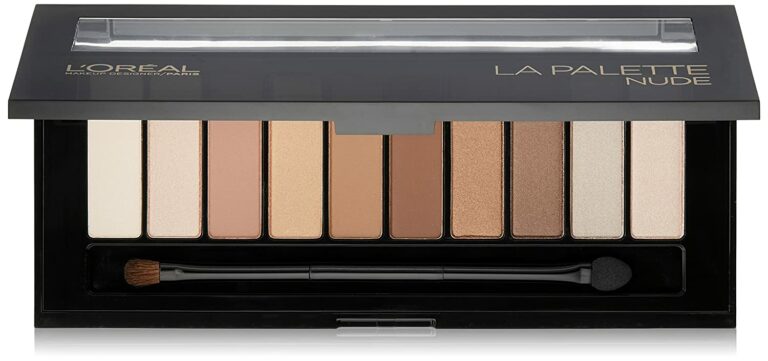 Why we like it:
The L'Oréal Colour Riche Palette provides eyeshadows that easily layer and the colors are perfect for creating flawless nude looks.
Editor's Rating:
The colors of the L'Oréal Colour Riche Eyeshadow are easily layered, allowing you to build on your look and transform it at a moment's notice. This makes it a great dupe if you love being able to simply transition from a work-appropriate look to a more dramatic night-out makeup look. The shadows available are also perfect for creating natural nude looks, something that the Naked Palette excelled at.
Unfortunately, the L'Oréal Palette is missing the black and shimmery silver colors that the Naked Palette had, making it a little more difficult to create full smokey looks without adding another palette into the mix. The shadows are all also a little more on the matte side, which can be a drawback for someone who enjoys using a mix of shimmery and matte colors in their look.
Pros
Colors layer easily

Can transition from work to night-out looks

Great for creating natural nude looks
Cons
Missing the darker colors of the Naked Palette

Colors are more on the matte side
---
Your Full Guide to Urban Decay Naked Palette Dupes
Below, we discuss the most important factors in finding an Urban Decay Naked Palette dupe, so you can evaluate new finds and their similarity to the original.
Similar Colors
The original Naked Palette had a selection of 12 different colors that ranged from lighter browns to deeper brown, black, and silvery shades. The Naked Palette also had a mix of matte and shimmer finishes, allowing you to mix and match styles based on the occasion.
Any dupe product should feature a fair assortment of nude colors that stay firmly in the tonality of browns, with bonus points for a product that also features some black and silvery toned colors. You should also be looking for a palette that features matte and shimmery colors for the utmost similarity.
Pigmentation
The Naked Palette was known for being highly pigmented and easily blendable. The colors allowed users to seamlessly transition from a daytime look to a more dramatic nighttime look, which was one of the best-selling points of the Palette. The perfect dupe product will feature similar blendability and versatility.
From our list, we recommend the Coastal Scents Revealed Palette, as it has 20 highly pigmented shades to work with, boosting the product's versatility.
Longevity
The eyeshadows in the Naked Palette were well-known for going on smoothly and staying on all day, no matter what you put your makeup through. A great dupe will have a similar longevity, staying on your eyes all day – we recommend Rimmel's Magnif'eyes Palette if you want a drugstore dupe that is incredibly long-wearing.
Price
The Urban Decay Naked Palette was on the pricier side, which is what made a lot of consumers start searching for the perfect dupe product before the Palette was even discontinued. When looking for your new favorite product, you should look for something that comes in under the price point of the original Naked Palette, which was around $50. Fortunately, all of the options on our list fit this requirement.
How to Craft a Nude Eyeshadow Look
Once you have your dupe product selected, you can use this quick tutorial to craft yourself a flawless nude eyeshadow look.
To start off your makeup look, you should apply your favorite eye primer. This will help to create a smooth canvas and help your makeup to stay in place. You can alternatively use a small amount of foundation or concealer as an eye primer.
The first application step is to create a smooth, solid-colored base. Take an eye shadow brush and apply your dupe product's medium nude shade onto your entire eyelid.
After your eyelid is colored, pick a darker shade from your palette. Use a crease brush to place the shadow at the outer corner of your eyelid crease, working the makeup in. The darker color should be lighter the further along your crease you go, and you shouldn't apply any dark color near the inner corner of your eye, as this might make your eyes look smaller.
Take a blending brush and blend the nude base color into the crease color. In this step, you are aiming to create a smooth transition between the colors.
Add a highlight right under the tail end of your eyebrow to help brighten your eyes and lift the appearance of your brows. Take the lightest color in the palette and use an eyeshadow brush to sweep it on gently, blending it out along the end of your eyebrow. You should also put a small amount of this highlighting shade at the inner corner of your eye.
You can stop at step 5 to achieve a more casual neutral look, or you can complete step 6 to add more definition to your eyes.
In this step, pick a color from your palette that is in between the medium base color and dark crease color. Apply this to the outer two-thirds of your eyelid, making sure to blend it lightly.
After you have fully applied your eye shadow, you can add on your favorite eyeliner and mascara to complete the look.
It is also important to note that this isn't the only way to wear your nude makeup – you can check out this article for more makeup ideas, or you can play around with your dupe palette until you create a nude look that is totally unique to you.
Finding the Perfect Naked Dupe
The Urban Decay Naked Palette will always be remembered as one of the most popular and revolutionary palettes of its time. Even though this fantastic palette was discontinued back in 2018, there are plenty of dupe products still around today that you can use to achieve the same versatile styles that the Naked Palette provided you with. Make sure to evaluate a product's colors, longevity, and price before purchasing, and you'll easily find the perfect Naked dupe.