Hair dryers today come with a number of different accessories and features that you should consider before purchasing. This can make choosing a new hair dryer a particularly overwhelming task. If you are trying to replace an old hair dryer or you are on a quest to find the perfect first hair dryer, you're in the right place!
In this article, we will discuss everything you need to know about purchasing a hair dryer, including materials, cost, and accessories. We'll also give you some tips on selecting a hair dryer for your specific hair type and how to avoid heat damage when using your dryer.
What You Should Look For in a Hair Dryer
Check out the considerations below to learn what is important to look out for when shopping for a hair dryer.
Material
The material that your hair dryer is made out of is an essential choice. There are multiple types of materials to choose from, each with their unique pros and cons.
Ceramic
Also sometimes called porcelain ceramic, ceramic hair dryers like the Babyliss Pro BX2000 are designed to distribute heat from the dryer as evenly as possible. The material works to stabilize the temperature, allowing you to have better control over the heat settings. This provides a more uniform drying experience.
Ceramic and porcelain technologies also emit negative ions (meaning they are ionic); negative ions work to dry the positive ions of water on your hair more quickly. They seal the cuticle of the hair faster which results in less frizzy, sleeker hair. Though you should keep in mind that while ionic technology can be great for creating sleek styles, it is not the technology you should use if you are after a more voluminous, textured style.
Which Hair Type Is It Best For?
Ceramic technology is the best option for someone with fine or dry hair. It is also a good idea to purchase an ionic ceramic dryer if you are trying to combat frizziness in your hair. You should stay away from ionic technology if your hair is oily or if you want to create a more voluminous style.
Tourmaline
Tourmaline is a semi-precious mineral that, when heated, generates even more negative ions than ceramic. This makes tourmaline hair dryers like the JINRI Professional Dryer ionic. They're perfect for creating sleek looks and smoothing down frizz. The ions that they emit are essential in creating sleek looks, and they can dry hair much faster than other types of materials, even with lower heat.
Which Hair Type Is It Best For?
Tourmaline hair dryers are a great choice for anyone with especially frizzy, thick, or coarse hair. They work to make hair manageable and smooth it out. They can dry thick hair much faster than other types of hair dryers.
Titanium
Titanium hair dryers like the BabyBliss Pro Titanium are designed to keep heat even. They ensure that the heat from your dryer stays at a consistent temperature. They tend to get very hot, which can seriously speed up your hair drying process, but may be a drawback if your hair is easily prone to heat damage. Titanium as a material also tends to be more lightweight than other hair dryer types.
Which Hair Type Is It Best For?
Titanium hair dryers can be a good choice if you have thicker or coarser hair that typically takes forever to dry. The lightweight material is a good choice for anyone with long hair who will need to use their hair dryer for an extended time period.
It is not recommended for anyone with easily damaged or very fine hair, as the heat may be too much for these hair types.
Infrared
Sometimes, you may find a hair dryer that is advertising itself as infrared. Infrared technology can be partnered with any type of material and refers to the hair dryer's ability to use longer wavelengths while drying. These wavelengths fully penetrate the cuticle of the hair shaft, allowing it to dry from the inside out. This, in turn, reduces hair breakage and creates a smoother look while drying hair faster.
Which Hair Type Is It Best For?
Infrared technology can work well with almost every hair type and is especially good for long, thick, or frizzy hair. You may not want to use an infrared hair dryer if you want to create more volume in your hair, or if your hair is naturally oily.
Wattage
The wattage of your hair dryer refers to how much power will be behind its motor and fan. Higher wattages are more powerful and will push the fan in your hair dryer more easily, making for better heat distribution and less time using the dryer. This can be a plus if you want to dry your hair as fast as possible and minimize your hair's exposure to heat. As an added bonus, your hair dryer is less likely to burn out if it has a higher wattage and stronger motor.
It is recommended to use a hair dryer with a wattage anywhere between 1800 and 2000 for best styling results.
Weight
You may not realize it, but the weight of your hair dryer is important, especially if you have longer hair that takes a long time to dry. No one wants their arm to give out halfway through styling, leaving you with a lackluster look.
Materials such as tourmaline and ceramic tend to be heavier, while titanium is more lightweight. You may also find that the higher wattage your hair dryer has, the heavier it will be, thanks to the weight of the motor.
In general, you should aim to find a hair dryer that is around a pound in weight, as this will be the easiest to use for most people.
Cost
Budget is definitely a factor when selecting a hair dryer, and it is possible to find quality options in all price categories. That being said, you may want to invest a little bit more money into your hair dryer purchase, as more expensive hair dryers tend to last longer. This means that putting an upfront investment into your styling tool can save you money over time and keep you from having to constantly replace cheaper dryers every few years.
Accessories and Features
The following accessories and features aren't necessary to have on a hair dryer, but they can make your styling experience a lot more enjoyable.
Adjustable Heat Settings
Adjustable heat settings are a great idea for any hair type, and especially for someone with thinner or fine hair – low heat settings are better for this hair type. Being able to turn the heat down and up based on the style you want to create makes your hair dryer more versatile and allows you to have greater control over preventing hair heat damage.
Cold Air Button
A cold air button is perfect for sealing in the hair cuticle, finishing up your look, and boosting shine in your hair. It can be used after you have dried all of your hair in order to give a final style boost, or you can dry your hair with cooler air. This method might take longer, but it is much healthier for your hair.
Diffuser Attachment
An essential for anyone with curly hair, a diffuser attachment can be incredibly helpful in reducing the harshness of heat that touches your hair. It will help you style your curls into their best look. They can also be gentler on curly hair and may reduce instances of heat damage.
Pro Tips for Using Your New Hair Dryer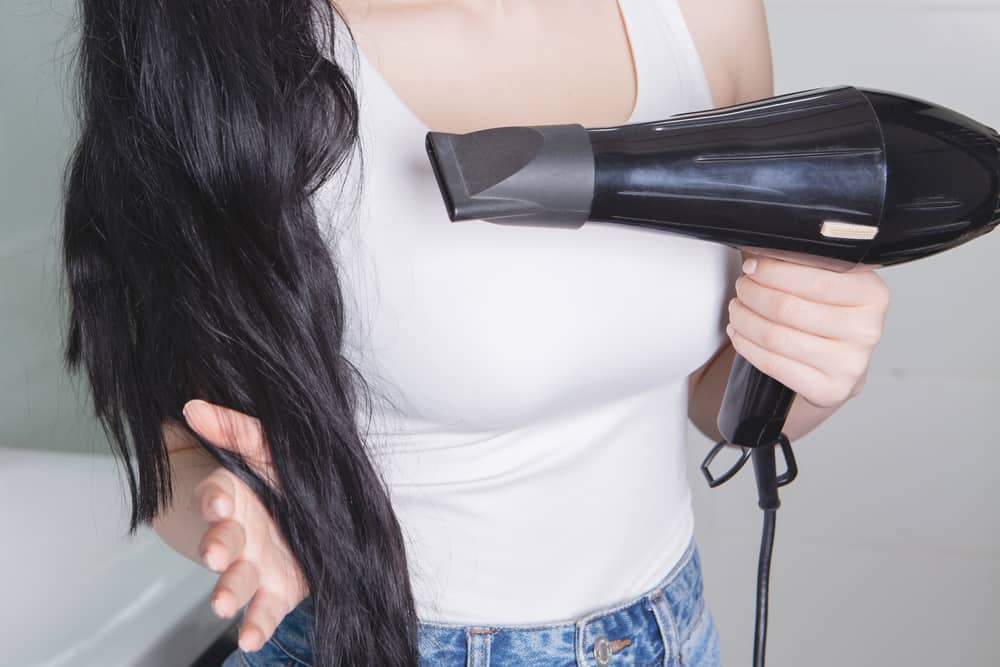 These pro tips can help you use your new hair dryer with ease and ensure your hair looks great every time.
Always Use Heat Protectant
Using a quality heat protectant is essential when blow-drying your hair. A heat protectant will help minimize any damage caused by the hair dryer and will help your dried and styled hair look more moisturized, sleek, and shiny.
Section Your Hair When Drying
When using your hair dryer, it is a good idea to section out your hair and work through the sections slowly. This will allow you to be more effective as you dry your hair and can be more useful when styling your locks. It can also prevent overheating by preventing you from using the drier over the same section for too long.
To section out your hair, you can use any kind of clip that pulls your hair up and out of the way. This video can help you visualize the process more easily.
Don't Overdo the Heat
With blow-drying hair, less is really more. You should try to avoid using excessive heat on your hair, so only turn your hair dryer as hot as you need to get your hair dry and styled. It is also a good idea to avoid using your hair dryer more than 2 to 3 times a week, as the more often you blow-dry your hair, the more likely you are to receive some type of heat damage.
Invest in Repairing Products
If you are the type to use your hair dryer almost daily, you may want to invest in some hair repair products, such as Olaplex. Using treatments like this on your hair regularly can help to mitigate some of the heat damage that you may receive from using your hair dryer too much. It may prevent major hair issues before they happen.
Finding a Hair Dryer That Fits Your Lifestyle
Choosing a hair dryer can be difficult, but fortunately, the tips and considerations we've listed in this article should help you out. When you make your decision, make sure to factor in your hair type, the additional accessories you want, plus your budget. Do this, and you are sure to end up with a perfect hair dryer that fits your lifestyle.