Most of us want to look fresh and well-rested. But on nights when we just can't fall asleep (or can't stop binging the latest Netflix series), it's hard to look bright-eyed in the morning. As we age, looking well-rested can be even more challenging. Dark circles and puffiness can seem like permanent fixtures on our faces.
Thrive's Brilliant Eye Brightener stick promises to change that. Available in 10 flattering neutral shimmer shades, these liners are intended to be used all around the eyes and as highlighters on other areas of the face. You may wonder, though, is there anything really special about Thrive's Eye Brightener? And what other, more budget-friendly options will give you the same effect? In this article, we've selected the best Thrive Eye Brightener dupes worth trying.
What's so Great About Thrive Eye Brightener?
Thrive's Brilliant Eye Brightener stick promises to give you an "I got 9 hours of sleep last night" look. The way it achieves this is by using what the brand calls "Ring Light technology," or a special blend of light-reflecting pigments. This helps the area around the eyes look brighter and more awake.
This product is also infused with nourishing plant oils to help smooth and plump the skin around your eyes. After all, fine lines and dark circles can be exacerbated by dryness. Meadowfoam seed oil is particularly well-absorbed by the skin and good for sun damage.  There are a few other nutritious oils like macadamia seed oil for moisturization and jojoba oil to encourage rejuvenation.
Thrive refers to itself as a "causemetics" brand, since charitable giving is at the heart of their mission. The brand has released its annual impact report for 2020, which details some of the causes that they have donated to. A portion of the proceeds from each sale goes toward these missions, which can make you feel good about buying from them. The brand is also cruelty-free and vegan. They also avoid potentially harmful ingredients like parabens, synthetic fragrances, and sulfates in their products.
Reasons to Buy a Dupe
Thrive is a newer beauty brand, but we really respect their mission and the quality of their products. While Thrive products make a great splurge now and then, especially because it means supporting an ethically minded brand, $24 for what is essentially an eyeliner isn't affordable for everyone.
The Eye Brightener stick is a good quality product: it's blendable, brightening, and almost universally flattering. However, it's essentially just a metallic eyeliner pencil. While the brand likes to dress up its qualities with terms like "Right Light Technology," we know that's really just code for shimmer. It's a high-quality, finely milled shimmer, but shimmer nonetheless.
The added hydrating oils are a nice touch, but if you are already using moisturizers and eye creams as part of your beauty routine, they won't make a significant difference. While meadowfoam seed oil is a great moisturizer, it can be an allergen for a small percentage of people. By including it in the product, it could cause a minor disaster for those who are allergic.
While we love Thrive and its products, there are definitely some more affordable ways to get a similar effect. Here are a few of the best dupes to help you look fresh-faced and awake any time of the day.
Top 5 Best Thrive Eye Brightener Dupes 2023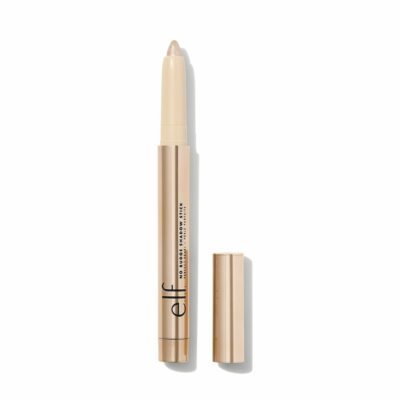 Why we like it:
For a great price, this shadow stick offers all-day color and highlight in a wide range of colors.
Editor's Rating:
Quick Facts:
Number of Shades: 12
Vegan: Yes
Cruelty-free: Yes
When it comes to dupes, e.l.f. is queen. The brand has plenty of high-quality products that are very similar to more expensive beauty brands out there. Their No Budge Shadow Stick is one more feather in their cap.
Like Thrive's Eye Brightener, these pencils are creamy shimmer sticks made to be used mainly on the eyes. These sticks from e.l.f. are easy to use and deeply saturated with pigment. This makes them pack a punch of color wherever you apply them. The creamy texture makes them easy to blend as well.
While Thrive offers its version mainly in neutral colors, e.l.f. has some smokier color options like deep gray, purple, and navy. This is ideal if you're looking to create a smoky eye look with a cream shadow. Once the cream is set, it has good staying power, whether you use it all over your lids, or just as a liner or highlighter. The lighter shades offer that same brightening effect when applied to the corners of your eyes and your waterline.
Things to Look out For
While this eye stick performs very well and is comparable to Thrive, there are still a few things to note before you buy. First, many of the colors have very strong pigments that can be darker on your skin than they look in the tube. If you're looking for something sheer, this may not be a good choice.
There is a sharpening mechanism in the tube to help you redefine the point of these sticks, but you can lose a lot of product during the sharpening process. Since the texture is very creamy, you may need to freeze your stick before attempting to sharpen it, or it will be too soft.
Pros
Easy to blend

Saturated colors

Flattering shimmer for your corners

Long-wearing
Cons
Not many sheer options

Difficult to resharpen
---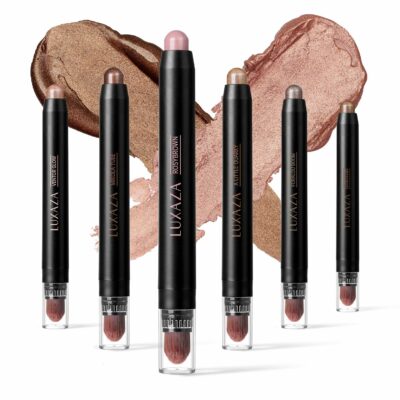 Why we like it:
If you want to try a range of shades, this set of shadow sticks with blending brushes offers great value.
Editor's Rating:
Quick Facts:
Number of Shades: 6
Vegan: Yes
Cruelty-free: Not certified
If you're trying to get the most for your money and you aren't sure what shades to start with when it comes to shimmering eye sticks, Luxaza has your back. In this set, you get a set of six flattering shades ranging from pink to brown, to copper, for one low price.
These convenient twist-up pencils have blunted tips, but are fine enough to highlight the corners of your eyes. While a few shades are definitely smokier, you can pair them with the lighter, highlight shades to create unique and beautiful looks. The shimmer effect isn't too heavy, so you can keep your look more subtle and natural
Each shadow stick is double-sided as well. While one end has the color stick, the other side has a blending brush for smudging out the color. The shadow is creamy but goes on thick, so you can blend it out to easily cover a larger area, like your entire lid.
Things to Look out For
One of the main things you may notice is that by the end of the day, this can settle into creases if you use it to cover your whole lid. The smooth creamy texture is great for applying, but this product doesn't set as well as our pick from e.l.f.
The attached brush is a convenient feature, especially if you're doing makeup on the go. However, the brush can feel very stiff initially, making it a bit rough on the delicate skin around your eyes. You may want to give them a wash and treat them with conditioner before using them.
Pros
Variety of shades to mix and match

Soft subtle shimmer

Smooth and creamy

Built-in brush
Cons
May crease over time

Brush can feel too stiff
---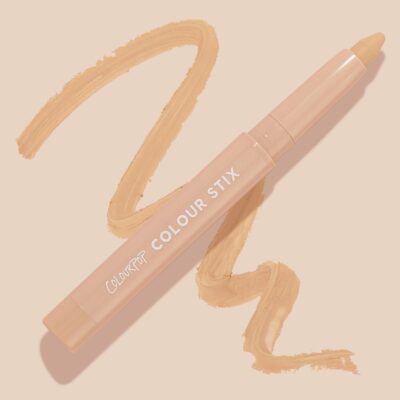 Why we like it:
These versatile shadow sticks come in both matte and shimmer shades, for a wide range of uses.
Editor's Rating:
Quick Facts:
Number of Shades: 16
Vegan: Depends on Shade
Cruelty-free: Yes
In the spring of 2021, Colourpop introduced a full line of Colour Stix, their multi-use pencils. There are eight shimmer and eight matte shades in complementary colors. The range of color and finish options make these very versatile as shadows, liners, highlighters, and any other color cosmetic you love. You can use the shimmer shades to highlight around your eyes like Thrive Eye Brightener, and finish the look with a complimentary matte shade for a bolder look.
These tubes have a convenient twist-up function and the end cap comes off and becomes a mini sharpener to help you redefine the point of the stick for precision lining. The end caps are also marked with the color of the stick to help you identify them in your bag.
Once you give these a minute or two to set, the sticks are smudge-proof. They stay in place all day and keep sharp, bold lines of colors. Before it's set, you can also blend out the color for a smoky look along your lash line or all over your lid
Things to Look out For
While these sticks are smudge-proof, they aren't quite waterproof. This means you can easily remove them with your favorite cleanser at the end of the day, but if you live in a humid, hot climate, you may experience a little bit of running as you sweat.
There also is a difference in performance between some of the shades. In particular, the shimmer shades seem to hold up a lot better regarding both application and smudge resistance. Some of the matte shades (Sunday Morning and Bitter Sweet) feel drier and patchier, making them harder to blend.
Pros
Complementary shimmer and matte shades

Twist-up with tip sharpener included

Multi-use

Smudge-proof
Cons
Not waterproof, may run

Some shades are drier and hard to blend
---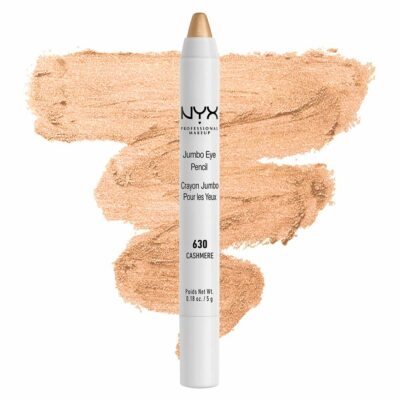 Why we like it:
This jumbo eye stick comfortably delivers intense color and shimmer.
Editor's Rating:
Quick Facts:
Number of Shades: 16
Vegan: Yes
Cruelty-free: Yes
Nyx's Jumbo Eye Pencil is a bit of a cult favorite for its easy, no-fuss delivery of strong pigment in an on-the-go format. This is one of the brand's thickest pencils, making it ideal for full coverage and thicker lines. If you're looking for more of a subtle inner-corner highlight, you just need to make sure your pencil is sharpened and you aren't being too heavy-handed.
The lighter white and beige shades are great for making your eyes look more awake, like Thrive, when applied to your waterline and corner. The softness of the pencil helps prevent it from tugging at your lower lid during application. Just like Thrive, the white and lighter shimmer shades are also great for using to highlight the Cupid's bow.
Some of the shades, like black and dark brown, are matte, making them ideal for bold cat-eye looks. They're also resistant to smudging and running in most cases.
Things to Look out For
It's important to note that this product does take a minute to set. Before that, it can smear and smudge pretty easily. You'll need to keep your eyes closed for a bit and avoid touching your face while it sets or it can become messy.
The biggest challenge with this product is sharpening, like many other soft eye sticks. The packaging is a bit deceptive because it looks like it has a twist-up bottom, but that's not the case. This extra chubby container needs a larger-than-usual sharpener and the plastic coating on the pencil can chip away while you're sharpening it. This can be frustrating, and it can also leave sharp edges on the stick.
It's also important to know that this stick contains a large percentage of mineral oil, which is a petroleum by product. This means it's not an eco-friendly product since it's made from refining petrochemicals.
For a twist-up stick that's free from mineral oil, check out our pick from e.l.f.
Pros
Gives full coverage or spot highlight

Matte and shimmer shades available

Easy application to waterline

Smudge resistant once set
Cons
Can smear easily before set

Very challenging to sharpen

Contains mineral oil
---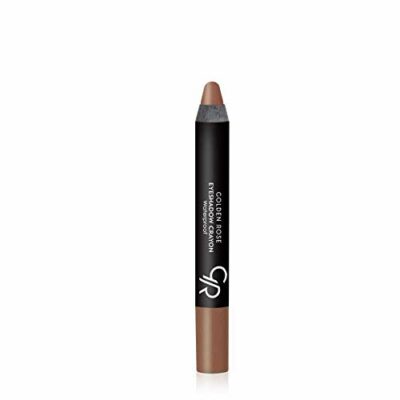 Why we like it:
For a long-lasting pop of color and shimmer, we recommend Golden Rose.
Editor's Rating:
Quick Facts:
Number of Shades: 12
Vegan: Yes
Cruelty-free: Yes
Golden Rose is a brand based in Turkey, now known for its cosmetics in the US, mainly due to online sales. The brand's eyeshadow crayon has a gentle, dermatologically-tested formula available in a broad range of colors.
White, copper, and beige colors make great highlighters, just like Thrive's Eye Brightener. There are some really bold shades as well such as vibrant blues and greens. Some of the darker shades, like green and charcoal gray don't have any shimmer, making them more ideal for blending out to give you a bold all-over eye color.
This pencil is easy to apply, not tugging on the skin. This makes it more comfortable to apply to areas like your inner corner and waterline. Once it's on, it really does last all day even through bad weather and sweat thanks to its waterproof properties. Since it doesn't budge, it makes a great primer to layer another eye shadow over as well.
Things to Look out For
The most challenging aspect of this shadow crayon is how fragile it is. The soft texture of the shadow makes it great to apply, but this stick is also very prone to breakages. Even in transit, the tip can crumble.
Unfortunately, this isn't a twist-up stick. To use more product, you must sharpen it with a large size cosmetic sharpener (not included). This can be quite messy and because the product is so prone to crumbling, you can lose a lot of it in the sharpening product. It's best not to sharpen it into much of a point and freeze it before sharpening it to minimize breakages. You can also try a twist-up option if sharpening has you down, like our pick from Colourpop.
Pros
Easy and comfortable to apply

Can double as a primer

Some matte shades available

Stays put all day
Cons
Fragile, prone to breaking

Must be manually sharpened
---
How to Find a Great Thrive Eye Brightener Dupe
When looking for the best Thrive Eye Brightener Dupes, these are the most important factors we made sure to consider.
Shade Selection
The Thrive Eye Brightener doesn't have a huge shade range, but the shades available are mostly shimmery, neutral, and universally flattering. When choosing the best dupes, we looked for similar selections, or for brands that had even more options, like vivid colors or different finishes.
For maximum variety, have a look at the shadow sticks from Colourpop.
Blendability
The Thrive Eye Brightener is very easy to use, thanks to its creamy, blendable texture. Most of the dupes on our list blend out just as nicely, for quick and easy applications. Our pick from NYX is especially soft and blendable.
Longevity
With any cream eyeshadow, you want a formula that'll stay in place all day without smudging or creasing. Our pick from e.l.f. is the best if you have trouble keeping your eyeshadow staying put.
If you're looking specifically for a waterproof dupe, our pick from Golden Rose will do the trick.
Budget
For most of us, $24 is too steep to spend every day, which is why all of our dupes are more affordable than the Thrive Eye Brightener. Our pick from Luxaza offers the best bang for your buck, since it comes in a set of six.
Brighten up Your Eyes on a Budget
Thrive is a great company that produces an Eye Brightener that is high-quality. But that doesn't mean it's anything too special in the world of cosmetics. A lot of their marketing around this product is a bit gimmicky when, really, it's just a good quality shimmer eye stick.
Fortunately, for those of us who struggle to pass ourselves off as morning people, there are many Thrive Eye Brightener dupes to perk up your eyes. Choosing the right light shimmer shade and applying it along your inner corner and waterline can make a world of difference for tired-looking eyes. We hope our list has helped you find your new favorite morning pick-me-up.