If you're someone who loves to heat style your hair, you're probably aware of how much damage heat tools can cause your hair over time. Constant exposure to heat can lead to hair dryness, brittleness, or excessive frizz. Fortunately, using a hair heat protectant can help you reduce this type of damage to your tresses.
Hair heat protectants are a handy styling product designed to lock in hydration and protect your locks from the bulk of the damage caused by heat styling tools. As an added bonus, some hair heat protectants can also fight frizz, condition hair, and strengthen any weak strands.
With the abundance of hair heat protectants available today, it can be hard to know what to look for. To help you get started with your search, we've created a list of the top 10 hair heat protectants out there, as well as a detailed guide to everything you need to know about selecting and using the right heat protectant for you!
What You Should Know About Hair Heat Protectants
There are a few variables in hair heat protectants that you should know about in order to decide which one is the best for you and your hair.
Ingredients
A quality hair heat protectant will have ingredients intended to lightly coat the hair and create a seal, protecting hair strands from environmental and heat styling tool induced damage. We talk more about this how heat protectants work in our full guide.
Ingredients such as panthenol, propylene glycol, keratin, and various plant-based oils are the most commonly used ingredients to prevent heat damage. Each of these ingredients bind to the hair, protecting it and preventing damage.
Some hair heat protectants utilize silicones, such as dimethicone and copolymers, to create a film on hair. These ingredients are highly effective at coating hair strands, but they are also known to weigh down some hair types – most commonly curly hair types – and might leave hair looking a little dull. You may want to consider avoiding hair heat protectants with these ingredients.
Formula
Hair heat protectants are available in a few different formulas, each with their own pros and cons.
Serum
Serums are typically oil based. They are great for hydrating dry hair and for locking in hydration, but may be a little too heavy if you have thin or fine hair. From our list Olaplex No. 7 Bonding Oil is a serum.
Spray
Hair heat protectant sprays are the most common type of formula available. They are easily applied and distributed through both thick or thinner hair and are often packed with ingredients that make hair soft and shiny. However, spray hair heat protectants are more likely to have silicones or other harsh chemicals blended into them.
Cream
Cream formula hair heat protectants are richer in texture and great for hydrating and protecting curly or coily hair. They can be a little too heavy for thin or straight hair types, but they are great at conditioning and stopping frizz while protecting hair from heat damage.
Added Benefits
Many hair heat protectants have added ingredients that can improve your hair's overall health and potentially repair any damage that has previously been caused by heat tools. Ingredients such as argan oil, plant extracts, and hydrolyzed proteins can boost hair's elasticity, softness, and shine, leaving you with healthy hair protected from heat damage.
Now that we've discussed the important things to look for in a hair heat protectant spray, let's head straight into our list of the top 10 products available!
Top 10 Best Hair Heat Protectants 2023

Why we like it:
HSI Professional is perfect for use on all hair types and can even double as a leave-in conditioner.
Editor's Rating:
The formula of the HSI Professional Heat Protector is blended with argan oil, a highly moisturizing and conditioning plant oil. This allows the product to protect your hair and double as a leave-in conditioner that softens and repairs hair strands with each application. It is a good choice if you want a product to revamp your dry hair while protecting it.
This heat protectant works well on all hair types. It is not too lightweight or too heavy, so it won't weigh down or tangle up hair. It can also be used on any natural human hair extensions with causing any adverse reactions. It is a good choice if you need a versatile product you can use for anything.
Unfortunately, this product does tend to leave residue in the hair, especially if you apply too much of it at once. This can leave your hair feeling sticky or create white flakes in your hair as it dries. To avoid this, try not to use too much product at once and make sure to shampoo the product out between uses.
Pros
Argan oil conditions hair

Great for all hair types

Doubles as a leave-in conditioner

Can be used on hair extensions
---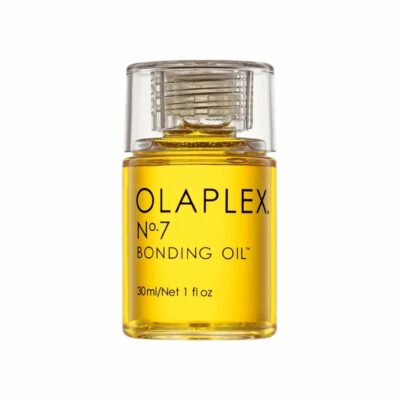 Why we like it:
Olaplex's Bonding Oil is packed with premium, potent ingredients that protect and soften hair.
Editor's Rating:
Olaplex's No. 7 Bonding Oil is sure to leave your hair irresistibly soft. The oil is full of hair nourishing and protecting ingredients such as sunflower oil, green tea oil, and vitamin E. It is free from parabens, phthalates, and sulfates, making it a great choice for someone who wants a potent heat protectant free of harsh chemicals.
Even though this product is oil based, it has an easily applied consistency. The oil itself is not too thick or too watery, and it coats hair effortlessly. It leaves hair looking shiny without creating any residue or a greasy feeling in the hair. It is a good choice if you are looking to add a boost of nourishment and shine into your locks.
Because this is a premium product, it is on the more expensive side. It also has a smaller sized bottle than many of its competitors, making it a bad choice if you are looking to get the most for your money, or if you have very thick long hair that needs a lot of product applied to it. In this case, you may want to look at a product like Garnier Fructis Flat Iron Perfector Straightening Mist instead.
Pros
Softens hair

Does not leave behind residue

Easily applied consistency

Free of parabens and sulfates
Cons
Expensive

Small sized bottle
---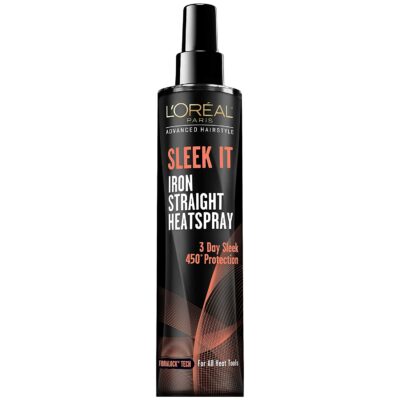 Why we like it:
An affordable product with a long-lasting formula, this heat protectant is a great choice if you are on a budget.
Editor's Rating:
Coming in at under 10 dollars and packaged in a fairly large bottle, the L'Oréal Paris SLEEK IT Iron Straight Heatspray is an affordable product and perfect if you are shopping with price in mind. A little goes a long way with this product, and it is great if you need a straight-forward no-frills hair heat protectant.
The formula of this protectant is long-lasting, allowing you to keep your hair amazingly sleek and styled for up to 3 days after initial use. The product also locks out humidity, meaning your style won't be ruined over the course of the day. It is a good choice for anyone who needs their styled hair to last as long as possible.
The spray nozzle on this product does tend to create a mess. The spray is hard to control and will make floors and counters extremely slippery if it comes into contact with them. This requires extra care when applying the product to your hair. Alternatively, you may want to opt for a more easily applied heat protectant like Olaplex's No. 7 Bonding Oil.
Pros
Very affordable

Long-lasting formula

Protects hair from humidity
Cons
Spray nozzle creates a mess
---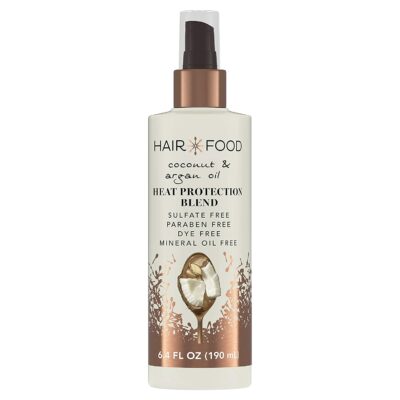 Why we like it:
Perfect for use on damaged hair, Hair Food's Heat Protectant Spray Blend is full of hair repairing ingredients.
Editor's Rating:
Ingredients such as coconut and argan oil are blended into this heat protectant to add extra hair nourishing benefits. These ingredients work to repair hair that is on the dry side or hair that has been damaged by heat styling. It is a good choice if you use heat styling tools on a regular basis.
Even though the formula is a little on the heavier side consistency wise, it does not weigh hair down. It coats each strand effectively to provide maximum hair protection and repairing benefits. It is a good choice if you want a formula to use on damaged hair that will not make you hair feel heavy over time.
This formula may leave your hair a little crunchy if you apply too much of it. You may have to brush the product through your hair after it dries and before heat styling to remove this feeling, or you could invest in a more hair-softening product that still nourishes hair like OGX Quick Drying Thermal Spray.
Pros
Includes hair nourishing ingredients

Does not weigh down hair

Helps repair dry and damaged hair
Cons
Formula can make hair crunchy
---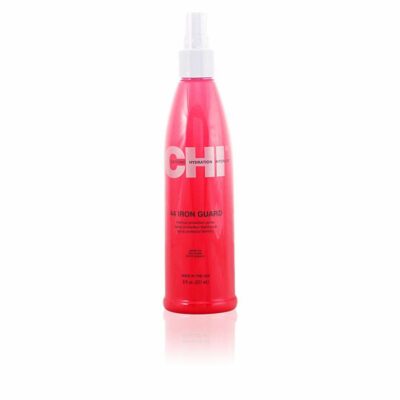 Why we like it:
The lightweight formula of CHI's Thermal Protection Spray provides a gentle hold to hair and works well to build volume.
Editor's Rating:
CHI's 44 Iron Guard Thermal Protection Spray features a lightweight formula. It doesn't settle onto hair and weigh it down, and it doesn't add a greasy feeling onto hair. This makes it perfect for using with thinner or fine hair types.
The formula of this product adds a light hold to hair. This can help your style stay in place all day. It can also help you build a volume up in your hair as you style it, especially around the roots. It is great for anyone who wants to add any kind of volume or a soft hold to their hair while heat styling it safely.
Because this product is designed to hold hair in place, it could leave it feeling a little bit stiff, especially if you use too much of it. Additionally, the product can easily build up in your hair, meaning you will have to wash it often to remove any residue.
Pros
Lightweight formula

Great for fine and thin hair

Adds a light hold

Works well to build volume
Cons
May leave hair feeling stiff

Product can buildup in hair
---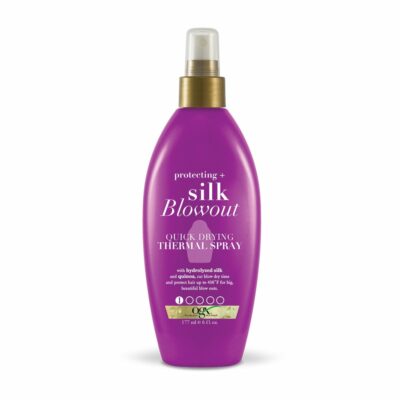 Why we like it:
OGX's Quick Drying Thermal Spray is great for decreasing blow drying time and perfecting your blowout routine.
Editor's Rating:
Hydrolyzed silk protein is blended into the formula of this product to help prevent moisture loss from hair. This seals in hydration and protects hair strands from becoming dry during heat styling. It can also help decrease blow drying time, further decreasing damage since you will need less heat to style your hair. It is a great option if you use a hair dryer on a regular basis and want to cut that time down.
If you have medium textured hair that is neither too thick nor too thin, this product is perfect for you. It easily coats hair and is great for using on blowouts to make your hair extra soft, sleek, and styled. It also leaves a light fruity scent on your hair that will last all day.
The spray nozzle on this product is not the most effective and tends to shoot the product out in a straight line, rather than a fine mist. This can make it hard to apply the protectant evenly across all of your hair. You may have to transfer the product to a different spray bottle or use your hands in order to apply the product properly.
Pros
Helps decrease blow drying time

Works well on medium textured hair

Great for blowouts

Hydrolyzed silk protein prevents moisture loss
Cons
Spray nozzle doesn't work well
---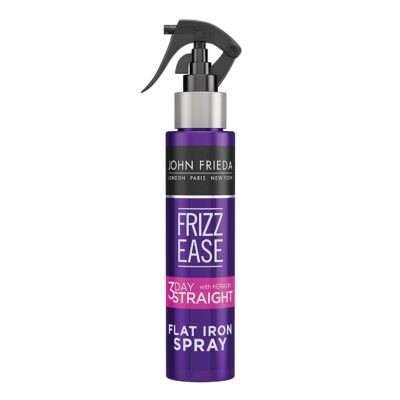 Why we like it:
Fantastic for taming frizzy hair and fly aways, John Frieda's Frizz Ease Flat Iron Spray features keratin to help smooth hair.
Editor's Rating:
Great for using with seriously frizzy hair, Jon Frieda's Frizz Ease Flat Iron Spray is designed to combat excessive frizz and flyaways. The heat-activated spray works to help you create sleek styles, smoothing out and making hair appear healthier and sleek as you style it. It can last up to 3 days on your hair, keeping your style in shape.
Keratin is the star ingredient of this product that helps to smooth out hair. Keratin absorbs into the hair cuticle in order to make hair look sleeker, fuller, and glossier. This makes the product a good choice if you have frizzy hair in need of serious smoothing.
The formula of this product can leave hair feeling a little sticky. This can make it a bad choice for anyone with thicker hair that gets easily tangled, or for very curly or coily hair that can be damaged if it sticks together too much. Try not to use too much of the spray at once to avoid this sticky feeling.
Pros
Great for frizzy hair

Helps create sleek styles

Keratin helps smooth hair

Heat-activated spray
Cons
Leaves hair sticky

Not the best for curly or coily hair
---

Why we like it:
Great for using with curly and coily hair, Cantu's Thermal Shield Heat Protectant is blended with shea butter for maximum hydration.
Editor's Rating:
Since curly and coily hair types are naturally on the drier side, highly moisturizing ingredients are needed to keep them healthy and protected. This product does just that, and blends shea butter into the heat protectant formula to deeply hydrate and protect hair.
Even though shea butter is typically a heavier ingredient, this formula does not leave hair feeling greasy or sticky. It leaves hair feeling soft and moveable after heat styling and prevents hair from becoming overly dry. It is a good choice if you have curly or hair and want a heat protectant that will let your hair feel healthy.
The scent of this product can be a little overpowering. It is a mix of vanilla and coconut and can be too cloying or overwhelming if you are sensitive to strong fragrances. We recommend a lighter scented product like Sun Bum's Heat Protector Spray if you want to avoid overly strong fragrances.
Pros
Works well on curls and coils

Shea butter hydrates and protects

Does not leave hair feeling greasy
Cons
Scent can be overpowering
---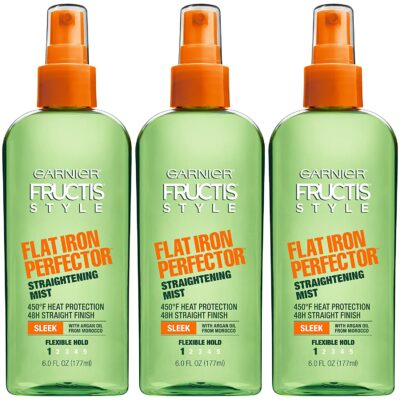 Why we like it:
Garnier Fructis's Straightening Mist is specially formulated to add shine and vibrancy to heat styled hair.
Editor's Rating:
The formula of Garnier Fructis's Flat Iron Perfector Straightening Mist is a perfect solution for using to help straighten your hair. The formula is designed to keep hair sleek and flat, without making it look dull or weighed down. It also adds an amazing amount of shine to your locks, making your styled hair look flawless and healthy.
This product comes in a value pack of 3 bottles. This helps you get the most out of your money and makes it a great product for using on very long or thick hair that typically needs more product applied to it. It is an economical product and will last a long time, no matter your hair type.
The spray nozzle on this product does tend to clog, which can be a drawback. You will need to clean it out with something small like a pin on a regular basis, or you could choose a more easily applied spray product such as HSI Professional Argan Oil Heat Protector.
Pros
Adds shine to hair

3 count value pack

Great for long or thick hair

Works well for straightening hair
---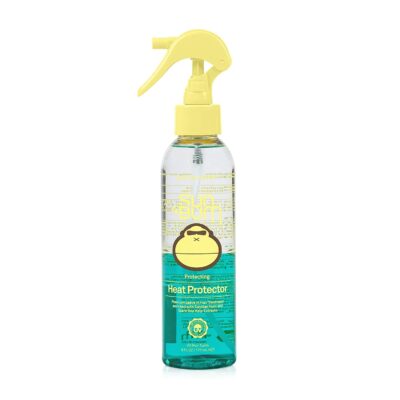 Why we like it:
Sun Bum's Heat Protector Spray is enhanced with plant extracts and features a light tropical scent.
Editor's Rating:
One of the best scented products on our list, Sun Bum's Heat Protector Spray has a pleasant coconut scent. It is tropical and light without being too overpowering. It makes this product a great choice for someone who likes scented products but doesn't want something too strong.
The formula of this product is both completely vegan and cruelty-free. It is enriched with plant extracts such as sea kelp and coconut oil to help strengthen and soften hair while protecting it. It is a good choice if you value more natural, ethically produced products.
On the downside, this product may be drying to some hair types. It can also worsen some incidences of hair damage due to this. If you have naturally dry or damaged hair or curly and coily hair, you may want to choose a different, more hydrating product like Cantu's Shea Butter Thermal Shield Heat Protectant.
Pros
Pleasant light tropical scent

Vegan and cruelty-free

Enriched with plant extracts
Cons
Can be drying to hair

Not the best for damaged hair
---
Your Guide to Hair Heat Protectants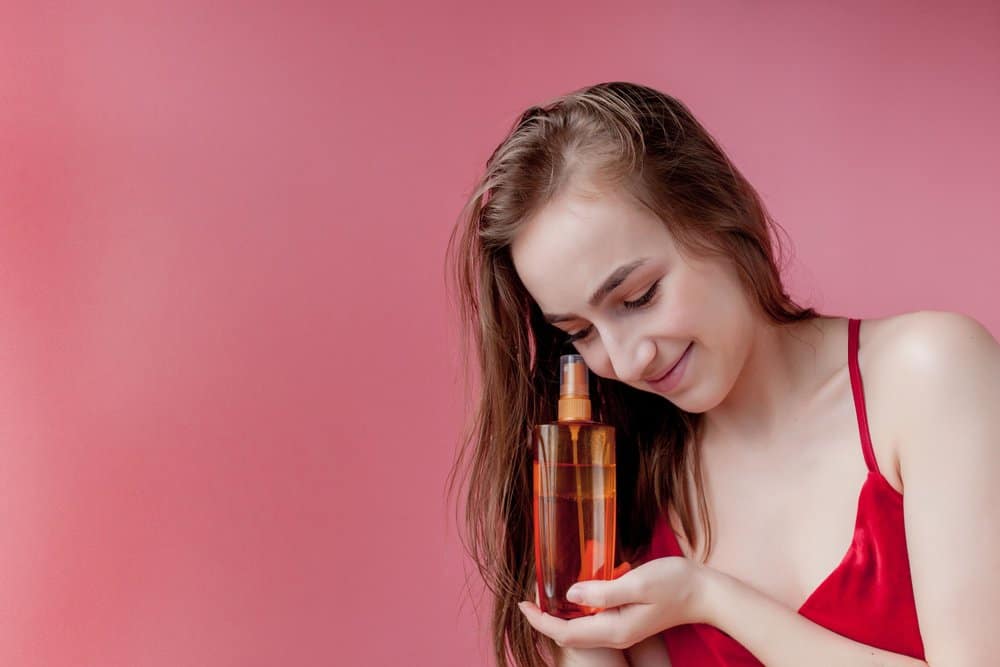 Want to know more about hair heat protectants? Read our full guide to find out how hair heat protectants work and pro tips for repairing heat damaged hair.
How Do Hair Heat Protectants Work?
Hair heat protectant spray works by coating hair strands, forming a film over hair that acts as a protective layer. This layer works to prevent the hair cuticle – the outermost part of the hair shaft – from being damaged by excessive heat. Heat protectants also often feature ingredients that will smooth hair and keep it soft and shiny after being heat styled.
The Benefits of Hair Heat Protectants
Hair heat protectants can bring many benefits to your hair. They coat and protect strands from environmental damage, including the heat from styling tools and UV damage. They can also help smooth hair and prevent frizz, in addition to nourishing and conditioning hair.
If you are looking for a product that is exceptionally good at conditioning hair, take another look at Hair Food Heat Protectant Spray Blend.
How to Use Hair Heat Protectants
Using a hair heat protectant is a simple process once you get the hang of it. For heat protectants that are oil or cream based, all you have to do is work a light amount of the product through your hair – you want to apply enough for a light coating on every strand, but not so much that your hair is weighed down.
For hair heat protectant sprays, simply spray the product across your hair, working section by section until there is a light coating of product across your whole head of hair.
With any hair heat protectant, you want to be sure to wait until the protectant has fully dried to heat style your hair. If the product has not dried on your hair when you begin applying heat, you will not get the full benefits from your product, and you could actually damage your hair more.
Be sure to use the hair heat protectant every time you use heat styling tools on your hair to ensure you limit the damage to your locks as much as possible.
How to Tell if Your Hair Is Heat Damaged
If your hair is becoming harder to manage and you have a history of using heat styling tools, you may have heat styled it one too many times.
Signs of damaged hair include your hair losing its shape or looking flat and lifeless. Your hair may also be increasingly frizzy, have many split ends, be prone to tangling, or feel rough or dry to the touch.
A lesser noticed sign of hair damage is a white nodule appearing at the end of the hair shaft. If you have one or more of these hair damage indicators, there is a good chance your hair needs some type of conditioning and repair to make it healthy again.
Pro Tips for Repairing Heat Damaged Hair
If you've been using heat styling tools without first protecting your hair, you may be wondering if there is anything you can do now to fix the frizzy mess you accidentally created. Luckily, there are several ways to bring your damaged hair back to life.
Deep Conditioning Treatments
Deep conditioning treatments are designed to completely penetrate the hair shaft and repair hair from the inside out. These treatments repair bonds in the hair, hydrating dry strands and fixing any areas of damage.
These treatments can be used at home or received at a salon; if you have extremely damaged hair, you can use a deep conditioning treatment on your hair around twice per week.
Dry Hair Carefully
When hair is wet, it is in its most breakable state. Instead of rubbing it dry with a cotton towel, try using a cotton t-shirt or a microfiber towel to gently blot it dry. Doing this can reduce snags and breakage, and prevent frizz. Leave your hair to air dry for maximum benefits.
Try a Leave-in Conditioner
Leave-in conditioners are handy little products that can protect your hair, tame frizz, and repair damaged strands all at once. If your hair is heat damaged, it may be a good idea to invest in a multipurpose leave-in conditioner that you can use daily.
You can even select a product that has heat protectant properties, so you get the best of both worlds.
Trim Split Ends
Sometimes, it's easier to cut your losses and trim off those split ends. There are several hair treatments that can help repair split ends, but if your hair is severely heat damaged, it may be easier and quicker to trim off any split ends and focus on repairing the rest of your hair.
Trimming split ends can also make your hair appear less frizzy and sleeker on a day-to-day basis, in addition to letting your hair grow out healthier and without excessive breakage.
Investing in Hydration
If you have damaged hair, it is likely also on the dry side. Investing in hydrating shampoos and conditioners can help to add much needed moisture back into your hair and smooth out frizz. Look for ingredients such as coconut oil and aloe vera that can provide lightweight hydration for your hair.
You could also invest in a hair heat protection spray that contains hydrating oils, like our best overall pick HSI Professional Argan Oil Heat Protector.
Change Your Shampoo Routine
Shampooing too frequently can strip your hair of its natural oils, leading to weaker hair and the potential for more hair damage. When possible, you should try to only shampoo every few days to prevent excessive oil removal and allow your hair to repair itself.
Keep in mind that you can still rinse your hair in water without removing its natural oils; it is only the act of shampooing that can strip these oils from your hair.
How Often Should You Heat Style?
Ideally, you shouldn't be heat styling more than 1 to 2 times per week. Any more than this, and you could be putting your hair at risk of heat damage, no matter how much hair heat protectant you use.
You should remember that most hair heat protectants will only prevent around 50 percent of damage caused by heat styling. So, while these products can protect your hair and should be used every time you heat style, they should not be thought of as a way to completely protect hair from all heat damage.
It is not the healthiest for your hair to heat style every day, even when using a hair heat protectant.
Can You Heat Style Without Hair Heat Protectant?
You can heat style your hair without hair heat protectant; a lot of people still do this today. However, you should try to avoid exposing your hair to excessive heat without first protecting it. Heat styling without any kind of hair heat protectant can rapidly cause damage to your hair strands and give you breakable, frizzy locks.
Should You Use Hair Heat Protectant on Wet or Dry Hair?
You can use your heat protectant spray on either damp or dry hair. However, you should not use it on hair that is soaking wet, and you should wait for your hair to fully dry before using any heat styling tools on it.
Applying heat protectant to damp hair may give your locks more shine and softness once styled, while using it on dry hair will be more likely to tame any areas of extreme frizz and humidity-proof your hair.
Do Hair Heat Protectants Have Side Effects?
When used correctly, hair heat protectants do not have any damaging side effects. However, if you are applying too much of the product on your hair at one time, you could end up with a buildup of products in your hair and a greasy or sticky feeling on your scalp. Be sure to wash the hair heat protectant out of your hair between uses to prevent this.
Additionally, heat protectants that are heavily alcohol based and feature more chemical ingredients can be potentially drying and damaging to hair strands over time. For this reason, you may want to choose a product that is free of harsher chemicals and features nourishing ingredients like Hair Food Heat Protectant Spray Blend.
Understanding Heat Styling Temperature
Understanding which temperature to heat style your hair at is very important in protecting your hair from as much damage as possible. Read on for our advice on which temperature your heat styling tools should be set to based on your hair type.
Thin or Fine Hair
Fine and thin hair types are among the most fragile on the hair spectrum. Naturally prone to breakage, you should avoid using heat above 340 degrees Fahrenheit on hair like this. The perfect heating range for thin or fine hair falls somewhere between 250 and 320 degrees.
Medium Hair
Medium or normal hair types that are not too dry or too thick can withstand a little higher heat than fine hair types. You can use temperatures of up to 380 degrees on this hair type, but the best heating range lies between 300 and 350 degrees.
Thick or Coarse Hair
Hair that is naturally thicker or coarse, such as very coily hair, needs the highest amount of heat applied in order to style it. You can use heat up to 450 degrees, but you should try to stay in the 380 to 425 degree range if at all possible.
Natural Alternatives to Hair Heat Protectant
There are many alternative products from around your home you can use to protect your hair from heat if you aren't quite ready to purchase a designated hair heat protectant.
Coconut Oil
Coconut is well-known for its hair-enhancing benefits. It can improve the shine of your hair, fight frizz, and strengthen brittle strands. You can apply the oil to your hair and let it dry before using heat styling tools as a way to protect your hair.
Shea Butter
You can apply shea butter to hair before heat styling. You can use it as if it is a hair cream. As it dries on your hair, it will work to hydrate and repair broken strands and protect your hair from further heat damage.
And if you are interested in shea butter's hair protecting properties, take another look at Cantu's Shea Butter Thermal Shield Heat Protectant from our list.
Avocado Oil
Avocado oil is great for protecting hair from extreme heat and for protecting hair from UV damage. It is very lightweight and can nourish hair with its many vitamins as it shields hair. The only downside to this oil is that it can be a little on the expensive side.
Any of these ingredients can be blended into a heat protectant spray recipe. In these recipes, you combine these ingredients with other hair healing ingredients and helpful essential oils to create a completely tailored, ultra-nourishing protectant spray.
Achieving Healthy Heat Styled Hair
Often times, heat styling and the potential damage it brings to our hair is something that can't be avoided altogether. However, with the help of a hair heat protectant, you can significantly cut down on the damage heat styling brings you and use your hair styling tools guilt-free.
A quality hair heat protectant can be the best solution to achieving healthy, heat styled hair time after time.