Does your skin turn red at the drop of a hat? Do you have a hard time finding cosmetics that won't make it angry? If that's the case, you probably have sensitive skin. Sensitive skin is a catch-all term for reactive skin that needs a little more love and care.
Moisturizers are absolutely essential to keeping sensitive skin looking supple and feeling strong, but finding products that'll do that without irritating is difficult. Well, today, we're making it a little easier.
We've selected the 10 best moisturizers for sensitive skin, to suit your skin's unique needs without ever overwhelming it. If you need a little help deciding which moisturizer will be best for you, we also added a guide to help with the selection process.
Choosing a Moisturizer for Your Sensitive Skin
Moisturizers protect sensitive skin from irritation, and they can also tame negative reactions after the fact. However, it's critical to choose a moisturizer that's designed for sensitive skin and won't make things worse!
Types of Moisturizers
Moisturizers are usually categorized by how thin or thick they are, with each texture having its own unique benefits.
Gel moisturizers are the lightest, with a very high water content. They're good at hydrating the skin with water, but they don't contain as many creamy ingredients. This makes them nice for oily skin but too light for dry skin.
Lotion moisturizers are the next step up. They're still very hydrating, but they're also a little oilier, so they're fantastic for combination and normal skin.
Creams are even thicker than lotions, with less water and a higher amount of emollients. They stay close to the surface of the skin to add a protective layer and prevent water-loss. They're great for dry skin.
Balms are the thickest of the bunch, and they can even feel a little heavy and greasy. However, they work as an amazing protective barrier, especially for severely dry or irritated skin.
If you're not sure which of these will be best for you, have a look at our skin type guide below, which will help simplify the process.
Simple Formulas
The shorter the list of ingredients, the less likely a moisturizer is to irritate the skin, so we prioritized short, simple formulas.
Few Irritants
Irritants differ from person to person, but we tried to avoid the common ones according to the FDA and American Academy of Dermatology, like fragrances, dyes, harsh preservatives, and exfoliating acids. We'll let you know when we were willing to make exceptions, as well.
Soothing Ingredients
Some moisturizers for sensitive skin contain soothing ingredients with anti-inflammatory properties, to suppress stinging or redness. Our favorite soothing ingredients include colloidal oatmeal, centella asiatica, niacinamide, and allantoin, although ironically, each anti-inflammatory ingredient does have the potential to be irritating for someone, which is why we also included a guide to patch testing new skincare.
Dermatologist-Approved Brands
When dermatologists like a product, we know it's good. That's why we selected moisturizers primarily from clinical brands like CeraVe, Eucerin, and La Roche-Posay.
Hygienic Packaging
We prefer moisturizers that come in bottles with pumps or in squeeze tubes. These containers are more hygienic because they let less air in, and unlike jars, they don't force you to stick your fingers inside and introduce bacteria. Moisturizers in jars also require more preservatives, which increases their chance of irritating the skin.
Good Value
When your skin is sensitive, a moisturizer that doesn't irritate can be worth its weight in gold. However, you might be surprised to discover that there are some soothing moisturizers at very affordable prices! When discussing price, we also take into account how much product comes in a bottle, to give you a holistic understanding of cost.
With the basics out of the way, check out our selection of the best moisturizers for sensitive skin!
Top 10 Best Moisturizers for Sensitive Skin 2023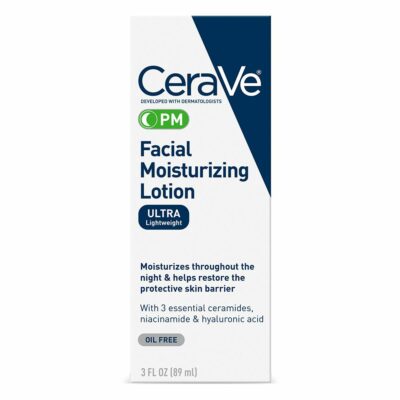 Why we like it:
This moisturizer is light and non-greasy yet incredibly hydrating and repairing. It reverses skin damage and prevents irritation, and even includes niacinamide, which treats a massive range of skin issues.
Editor's Rating:
Quick Facts:
Type: Light Lotion
Skin Type: All Skin Types
Key Ingredients: Ceramides, Niacinamide, Hyaluronic Acid
Size: 3 Fl. Oz.
Packaging: Pump Bottle
Fragrance: Fragrance-Free
Cruelty-Free/Vegan: No
This moisturizer is the internet's darling, thanks to its gentle yet skin-transforming formula. From TikTok to the clinic, influencers and dermatologists alike sing this moisturizer's praises, and with good reason. It's a light, fragrance-free lotion with ingredients that perk up all skin types but never make anyone feel greasy.
For those with irritated, sensitive skin, the star ingredients are ceramides. They're used here, along with cholesterol and free fatty acids, in a ratio that mimics the skin's own sebum composition. This does an amazing job of repairing a damaged skin barrier, which is a common issue that those with sensitive skin face. The formula also includes hyaluronic acid, which hydrates the skin, so together, these ingredients make for a comprehensive moisturizer.
Finally, there's niacinamide, a do-it-all ingredient that deserves all of the love. Research shows that it has a massive range of effects, like improving the skin's barrier functions and reducing moisture-loss, reversing redness and blotchiness, brightening the skin, and even preventing the signs of premature aging. At the same time, for those with oily skin, it can reduce oil-production, which helps prevent acne-related breakouts.
This moisturizer offers significant effects, and yet it manages to keep the skin soothed and protected. It's light enough to work for all skin types, and its price is perfectly reasonable. If you have severely dry skin, it might not be enough on its own, especially in the winter. You can layer it under a thicker moisturizer like La Roche-Posay's Cicaplast Baume for best results.
Alternatively, CeraVe also sell their own, thicker moisturizing cream, which is also full of ceramides, hyaluronic acid, and niacinamide.
Pros
Light and non-greasy

Hydrating and barrier-restoring effects

Reduces redness and blotchiness in the skin

Mild anti-aging, anti-acne, and brightening effects

Affordable
Cons
Not enough for severe dryness
---

Why we like it:
This luxurious, silky moisturizer repairs and calms the skin when it's at its most compromised. It has a barrier-restoring formula that's free from preservatives, so it's as gentle as can be.
Editor's Rating:
Quick Facts:
Type: Cream
Skin Type: Dry and Normal
Key Ingredients: Mineral Water, Glycerin, Evening Primrose Oil
Size: 6.7 Fl. Oz.
Packaging: Tube with Airless Pump
Fragrance: Fragrance-Free
Cruelty-Free/Vegan: No
If you have sensitive skin and a taste for luxury, Avène needs to be on your radar. It's a French pharmacy brand that combines a sense of luxury with mild ingredients, rather than fancy perfumes or high-powered but irritating actives.
Since all of their lotions are geared towards sensitive skin, we had a lot to choose from, but XeraCalm is a special favorite. It has a lipid-restoring formula that makes it a nice daily moisturizer for those with dry, sensitive skin. For those with normal or combination skin, it'd be too heavy for daily use, but it can help soothe the skin during a flare-up. While it's fairly rich, it's a high-end formulation, so it feels silky and smooth on the skin rather than oily.
It's made with evening primrose oil, which is rich in skin-soothing gamma-linolenic acid. Research shows that it restores skin barrier functions and helps to counter the symptoms of eczema. Otherwise, the formula is simple yet moisturizing, with mineral-rich water, moisture-attracting glycerin, and mineral oil to prevent moisture loss even further.
The packaging is elegant, with an airless pump system that preserves the formula on its own. This means this cream is free of preservatives, which is unusual. We usually don't mind a preservative in our moisturizers, but if your skin is so sensitive that you react to commonly-used ingredients like parabens or phenoxyethanol, it's worth shelling out a few extra dollars for this cream.
This brings us to the price. While this cream is a premium product, it's not priced too high. Because it's designed for both face and body, the package is large, and the cost per ounce is reasonable.
Pros
Evening primrose restores the skin barrier

Creamy and moisturizing for dry skin

Preservative-free yet stable

Silky, luxurious texture
Cons
Too heavy for combination or oily skin
---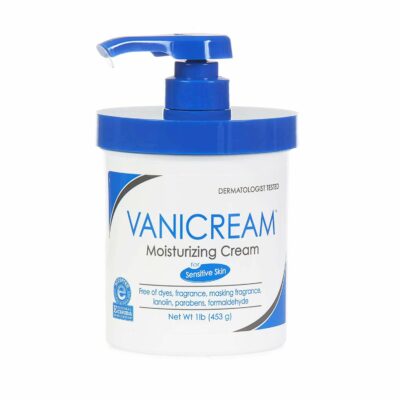 Why we like it:
This simple, affordable moisturizer is an excellent choice for dry, sensitive skin. It's very rich and moisturizing yet totally free of irritants, so it has gained the trust of many dermatologists.
Editor's Rating:
Quick Facts:
Type: Cream
Skin Type: Dry and Normal
Key Ingredients: Petrolatum, Sorbitol
Size: 16 Oz.
Packaging: Pump Bottle
Fragrance: Fragrance-Free
Cruelty-Free/Vegan: No
This super-affordable moisturizer from Vanicream is about as boring as it gets, with a tiny list of inert ingredients. Thankfully, when you have sensitive skin, words like boring, mild, and no-frills should generate some excitement for you since boring is a good sign that a moisturizer won't irritate your skin.
This cream's texture is thick and creamy, but it's not overly greasy, so it's excellent for those with dry and normal skin, while for those with oily skin, it'll probably feel a little too heavy. Despite the texture, it's a non-comedogenic formula so it shouldn't exacerbate acne.
It moisturizes well thanks to a combination of moisture-sealing petrolatum with moisture-attracting sorbitol. More importantly, these ingredients are so simple that there is almost no risk of any irritation. That's why it's a dermatologist favorite, and it even has a Seal of Acceptance from the National Eczema Association.
The bottle it comes in isn't particularly fancy, but we appreciate that it includes a hygienic pump. The container is quite large, so while it's great as a face cream, you can use it all over your body without feeling guilty about wasting product or money. If you'd prefer a product at a similar price point but with a more involved formula, you might prefer the Cetaphil Soothing Moisturizer, instead.
Pros
Creamy and moisturizing

Very affordable

Mild and safe even for eczema

Hygienic bottle
Cons
A little boring

Too heavy for oily skin
---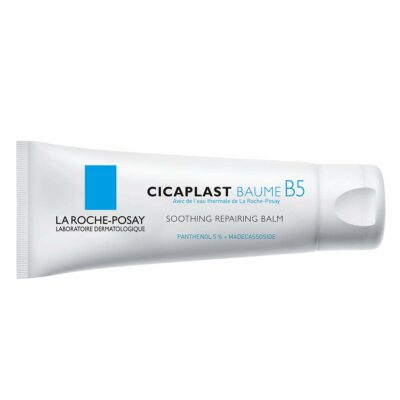 Why we like it:
This thick balm is great to have on hand when your skin is extra dry or irritated. It has a protective, moisturizing formula that promotes skin healing with anti-inflammatory agents.
Editor's Rating:
Quick Facts:
Type: Balm
Skin Type: Dry or Compromised Skin
Key Ingredients: Dimethicone, Madecassoside, Panthenol
Size: 1.35 Fl. Oz.
Packaging: Squeeze Tube
Fragrance: Fragrance-Free
Cruelty-Free/Vegan: No
When your skin is in dire need, this balm comes to the rescue. It's the thickest moisturizer on our list, so you should keep it on hand for days when your skin flares up or gets severely irritated or inflamed, no matter the reason.
It's a thick balm formula made with a blend of dimethicone and shea butter, that creates a seal over inflamed or severely dry skin, to lock moisture in place and create a protective barrier. Though it's quite thick, it still contains some water and glycerin, so it still hydrates the skin on its own. Because of that, if your skin is severely dry, it could even function as your regular evening moisturizer, although for most users, it'd be overkill.
It truly shines as a reparative product, since it allows the skin to heal after it's suffered some sort of trauma. In addition to creating a protective moisturizing barrier, it also includes anti-inflammatory madecassoside, a compound found in the plant centella asiatica that has powerful burn-healing properties.
It comes in a fairly small tube, but because it's so concentrated, we think it's reasonably priced. Sure, the price-per-ounce is expensive compared to other creams on our list, but you only need a tiny amount of it to seriously repair the skin.
Pros
Creates a strong protective layer

Powerfully moisturizing

Anti-inflammatory ingredients promote skin healing
Cons
Thick and heavy

Too intense for day-to-day use
---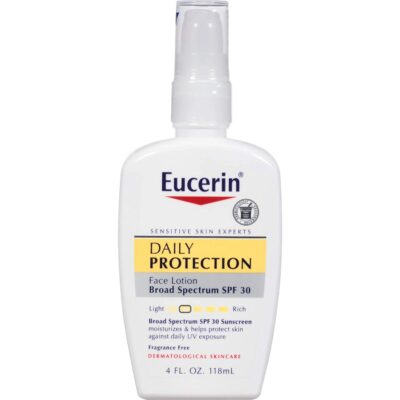 Why we like it:
This two-in-one lotion with SPF saves you steps in the morning by hydrating your skin and protecting it from the sun. It has a light texture that's pleasant for all skin types.
Editor's Rating:
Quick Facts:
Type: Lotion
Skin Type: All Skin Types
Key Ingredients: Mineral and Chemical Sunscreens, Glycerin, Silicones
Size: 4 Fl. Oz.
Packaging: Pump Bottle
Fragrance: Fragrance-Free
Cruelty-Free/Vegan: No
Protecting yourself from sun exposure is the best thing you can do for sensitive skin, which is why we wanted to include a gentle lotion with SPF. This lotion comes from Eucerin, a dermatological brand geared specifically for those with sensitive skin.
It combines moisturizing effects with sun protection, to keep the skin hydrated and protected. It has a pleasant, light texture, and it's formulated with moisture-attracting glycerin and some moisture-sealing silicones. If you have oily skin, that's truly all you'll need in the morning, and it'll save you from having to double up on layers of products.
If you have dry skin, you might want to layer it over a slightly richer moisturizer, but thankfully, any one of the other creams on our list will work underneath it.
The sun protection factor comes from a hybrid formula that uses both mineral and chemical sunscreens. This makes the protection very comprehensive, keeping you safe both from sunburn-causing UVB rays and photoaging UVA rays. Unlike all-mineral sunscreens, it won't leave a white cast, and unlike all-chemical sunscreens, it's less likely to irritate the skin.
However, if your skin is so sensitive that it doesn't respond well even to these small amounts of chemical sunscreen agents, you can try the all-mineral sunscreen moisturizer from Alba Botanica, instead.
Pros
Hydrates the skin lightly

Offers comprehensive sun protection

Light texture awesome for oily skin

Hybrid SPF ingredients leave no white cast
Cons
Chemical sunscreens can be irritating for some

Not enough for dry skin
---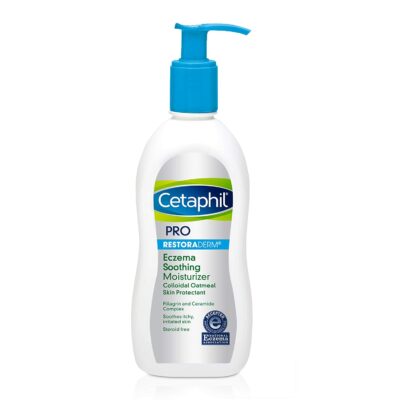 Why we like it:
Made with a long list of skin-soothing ingredients, this moisturizer is designed for those suffering from eczema. It's very creamy and moisturizing and will soothe and nourish dry or irritated skin.
Editor's Rating:
Quick Facts:
Type: Cream
Skin Type: Dry
Key Ingredients: Colloidal Oatmeal, Allantoin, Ceramides, Niacinamide
Size: 10 Oz.
Packaging: Pump Bottle
Fragrance: Fragrance-Free
Cruelty-Free/Vegan: No
Cetaphil has seriously improved their game over the last few years, and this moisturizer, in particular, is very impressive. It's hard to believe it's so affordable, considering the incredible ingredients in it.
It's primarily intended to treat active eczema, so the texture is a little thick and very creamy. Those with dry skin will probably enjoy it on their face, but for normal and oily skin types, it'll definitely be too greasy.
It includes a few ingredients known for being especially soothing to irritated skin, with the star being colloidal oatmeal. Colloidal oatmeal is considered a drug ingredient, thanks to its ability to alleviate dryness and itchiness when it's applied topically.
Its boosted by quite a few other ingredients with soothing properties, like allantoin and niacinamide. There are also ceramides in the mix, which are fantastic for restoring a disrupted skin barrier.
This moisturizer is potent, with ingredients that offer major relief, but oddly enough, because of the long ingredient list, it's also a bit riskier than something totally inert. If your skin gets irritated and dry easily, but doesn't usually react to active skincare, we think this moisturizer is totally worth it. If you have a lot of allergies or you're very prone to contact dermatitis, we'd suggest a more simple formula like the Vanicream Moisturizing Cream.
Pros
Contains potent skin-soothing ingredients

Moisturizes and restores the skin barrier

Very affordable

Designed specifically to treat eczema
Cons
May not work for allergy-prone skin

Too heavy for oily skin
---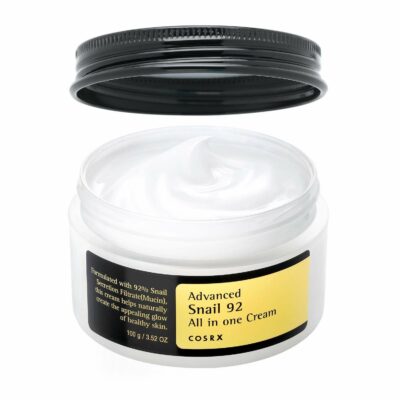 Why we like it:
This Korean moisturizer is made with snail mucin, which may sound odd but has skin soothing and repairing effects. If Western moisturizers aren't working for your sensitive skin, give this a try.
Editor's Rating:
Quick Facts:
Type: Light Cream
Skin Type: All Skin Types
Key Ingredients: Snail Mucin, Betaine, Allantoin, Hyaluronic Acid
Size: 3.52 Oz
Packaging: Jar
Fragrance: Fragrance-Free
Cruelty-Free/Vegan: Yes/No
The Korean beauty world offers some unusual ingredients that are surprisingly helpful for sensitive, easily irritated skin. Snail mucin is one of them! This cream from CosRx is made with 92% of the slimy stuff, and as a result, it is gentle yet potently soothing.
Research suggests that snail mucin has skin soothing, healing, and anti-aging properties, thanks to its complex composition, which includes soothing allantoin, hydrating glycosaminoglycans, and even trace amounts of skin-renewing glycolic acid. While it's possible to be allergic to snail mucin, those allergies are very rare. Those with sensitive skin usually notice improved skin hydration and a reduction in redness or itchiness.
The rest of this cream's formula is fairly simple and gentle, with more soothing allantoin, some betaine and hyaluronic acid for hydration, and a few ingredients that make the texture nicer and counter the stickiness of the snail mucin. It's still a little sticky and slimy, but it's quick to sink into the skin, so it's a fine choice even if you're on the oily side of the spectrum.
The only issue we have with this moisturizer is the jar it comes in. Jars are less convenient and hygienic than pump bottles, unfortunately, so it really takes away from this product's ease-of-use. It's also quite small, so while the cost may seem reasonable at first, you don't get much product.
If your skin hasn't reacted well to more traditional Western-style lotion formulations or you want something a little different, we'd still recommend this unique moisturizer.
Pros
Snail mucin has immense skin healing properties

Light cream quick to sink into the skin

Excellent alternative to traditional Western formulas
Cons
Jar packaging is less hygienic

Slightly expensive per ounce
---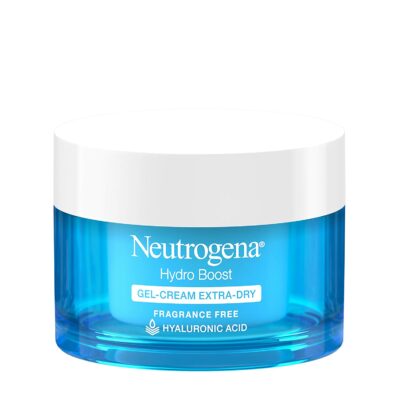 Why we like it:
Despite being a drugstore product, this moisturizer feels elegant and luxurious, with gorgeous packaging and a velvety gel-cream texture. It's a gentle, hydrating moisturizer that works for all skin types, including the very oily.
Editor's Rating:
Quick Facts:
Type: Gel-Cream
Skin Type: All Skin Types
Key Ingredients: Hyaluronic Acid
Size: 1.7 Oz.
Packaging: Jar
Fragrance: Fragrance-Free
Cruelty-Free/Vegan: No
Thick creams are overrepresented amongst moisturizers for sensitive skin, and if you have oily, sensitive skin, you'd probably prefer something lighter. While Neutrogena recommends this moisturizer for dry skin, we actually think it's a fantastic choice for all skin types, including the extremely oily.
This is because it's a gel-cream, so it contains more water and fewer creamy, emollient ingredients. The main moisture-sealing ingredients in here are silicones, which are incredibly gentle. Because of that, this moisturizer has a velvet texture that doesn't make the skin look shiny the way that oils can.
Unlike other moisturizers for sensitive skin that can feel clinical with their packaging or on-skin feel, this moisturizer feels more luxurious. Despite being a drugstore product, the packaging looks very elegant and the actual cream sits on the skin almost like a primer. It's lovely under makeup or sunscreen, but it's also nice on its own at night.
With that said, we don't really like that it comes in a jar container, and we think it's a little more expensive than it needs to be, especially considering the small amount of product that comes in the container and the simple list of ingredients.
Just by virtue of hydrating and moisturizing, it can soothe irritated skin to a certain extent, although it doesn't include additional anti-inflammatories. It's mild and elegant, which is awesome for daily use, but if you'd like something that's still light but a little more moisturizing, you might prefer CeraVe PM, instead.
Pros
Feels very luxurious and velvety

Thoroughly hydrating

Very mild and gentle
Cons
No added anti-inflammatory ingredients

Jar packaging

A little pricey per ounce
---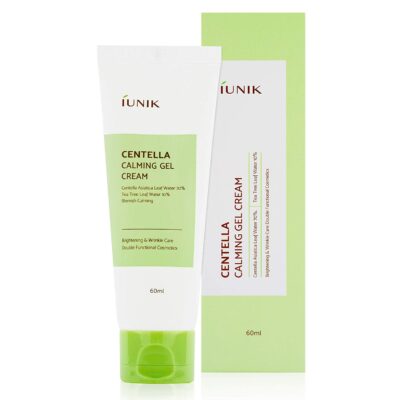 Why we like it:
This gel hydrates and soothes the skin thoroughly with a range of natural extracts. It has a pleasant scent and light texture that's lovely if your skin is oily and can handle a fragrance.
Editor's Rating:
Quick Facts:
Type: Gel
Skin Type: Combination and Oily
Key Ingredients: Centella Asiatica, Tea Tree, Niacinamide
Size: 2.02 Fl. Oz.
Packaging: Squeeze Tube
Fragrance: Mild Citrus
Cruelty-Free/Vegan: Yes/Yes
This fascinating Korean moisturizer is the one and only exception to our rule on only recommending fragrance-free products. Not everyone who has sensitive skin is necessarily going to have an issue with fragrances, so if you're one of those exceptions, you might like something with a bit of natural scent.
The formula as a whole is very light (it's a gel, after all), so it's fabulous for those with oily skin that don't enjoy heavier creams or lotions. Instead of regular water, this gel contains centella asiatica hydrosol, along with extracts of the same plant. Centella asiatica is an exciting skincare ingredient, especially for those with sensitive skin, because research shows that it has serious anti-inflammatory effects. It's especially useful if your skin makes its sensitivity known by turning red.
It also includes some impressive acne-fighting ingredients, so if your skin is both sensitive and acne-prone, we think you'll find that it offers some relief. Those ingredients include tea tree extract, known for its antibacterial effects and its relative mildness when compared to tea tree essential oil, and niacinamide, which has the ability to regulate oil production in the skin. While this moisturizer probably won't suffice as your only acne-treatment, it can certainly help.
These ingredients, as well as the inclusion of a fairly mild citrus scent, do mean that while this moisturizer is soothing, it won't work for all sensitive skin types. When you have sensitive skin, it's important to patch test all of your skincare, but that's doubly true for this gel.
Pros
Very light and quick to sink-in

Centella asiatica is a potent skin soother

Includes mild acne-fighting ingredients
Cons
Contains fragrance

Slightly more likely to irritate
---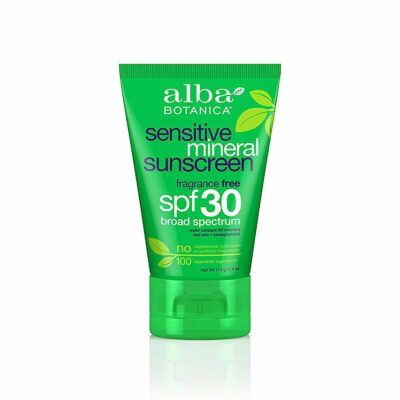 Why we like it:
This SPF moisturizer is very gentle, but it keeps your skin protected from the sun. It's a little heavy and it leaves a white cast, but it's a great option for those who can't tolerate any chemical sunscreen ingredients.
Editor's Rating:
Quick Facts:
Type: Cream
Skin Type: Dry and Normal
Key Ingredients: Titanium Dioxide, Zinc Oxide
Size: 4 Oz.
Packaging: Squeeze Tube
Fragrance: Fragrance-Free
Cruelty-Free/Vegan: Yes/Yes
When you have sensitive skin, finding a daily sunscreen can be difficult, especially if your skin reacts to most UV-blocking chemicals. This moisturizing sunscreen lotion from Alba Botanica is made strictly with mineral sunscreen ingredients, so it's less likely to irritate the skin, but it still gives you a decent level of protection for daily use.
While the formula still includes some synthetics, it's primarily natural and it's from a cruelty-free brand, so it's a great choice if you tend to prefer green personal care products. It's even boosted by some skin-soothing natural ingredients like chamomile and calendula extracts.
As with many other moisturizers with SPF, we find that while it's great at creating a protective layer over the skin, it's not the most hydrating. You might want to layer it over a light moisturizer like Neutrogena Hydro Boost if your skin is prone to dehydration.
Choosing a mineral, natural sunscreen formula that'll suit sensitive skin also comes with some drawbacks. For instance, this lotion is heavy, so you'll need to take your time massaging it into the skin. The mineral sunscreens also leave a slight white cast on the skin, so if you have a deeper skin tone, it can make you look a little pale.
If you'd rather have a lighter and more pleasant daily moisturizer with SPF, and you don't mind a more chemical formula, we'd suggest using the Eucerin Daily Protection Lotion, instead.
Pros
All-mineral ingredients are very gentle

Soothing effects from calendula and chamomile

Helps lock moisture into the skin
Cons
A little heavy

Leaves a white cast

Not very hydrating
---
The Full Guide to Moisturizing Sensitive Skin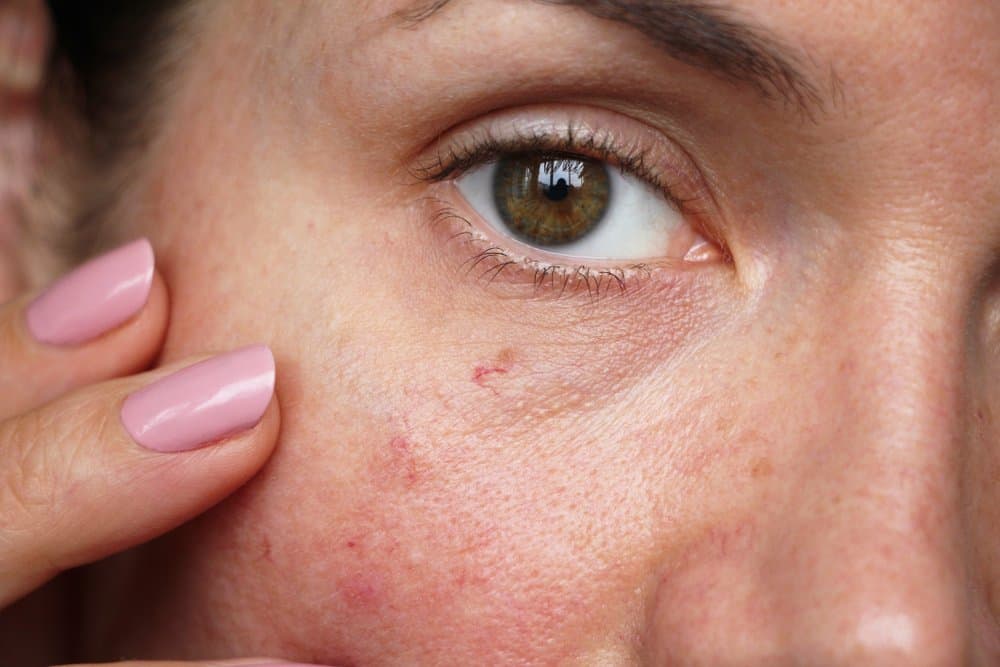 There are a few more things you should learn about sensitive skin to help you choose the best moisturizer for you.
What Is Sensitive Skin?
According to DermNet NZ, sensitive skin isn't a specific condition or a skin type, but it's a general term for skin that's prone to inflammation. It manifests as redness, a stinging or burning sensation, itchiness, or swelling. Usually, the inflammation is a result of some sort of damage to the skin barrier.
It can be caused by a specific disorder, like rosacea or eczema, or it can happen as a result of some sort of external barrier damage, like an allergic reaction, exposure to an irritant, sunburn, dehydration, or over-exfoliation.
Finding a Moisturizer for Your Skin Type
It's not a hard and set rule, but we generally use skin type to talk about how much sebum (i.e., oil) someone's skin produces. Your skin type is an important feature to consider when deciding on a moisturizer, because it'll give you a clearer idea of what will feel best on your skin.
Dry Skin
The sebum that the skin produces is part of its system of defense, since it helps to keep moisture in the skin and aggressors outside of it. Because of that, those with dry skin are often more prone to sensitivity and dehydration.
It's important to choose a moisturizer that replenishes those oily substances that dry skin naturally lacks. That kind of moisturizer will usually be on the thicker side, like a cream or a balm.
The best moisturizer on our list for dry, sensitive skin is the Vanicream Moisturizing Cream, while La Roche-Posay's Cicaplast Baume will be useful when your skin feels severely dry.
Oily Skin
It's possible to have sensitive skin that produces a lot of oil, even if it's not very common. For some with oily skin, sensitivity can be related to inflamed acne or skin-damage from harsh anti-acne products.
That's why we included a few soothing moisturizers that suit sensitive skin but are light enough not to make you feel greasy. The best moisturizer on our list for sensitive, oily skin is Neutrogena Hydro Boost because it's a light gel-cream.
If you're dealing with both acne and mild sensitivity, you might like the tea tree extract-infused iUNIK Calming Gel-Cream.
Combination and Normal Skin
If your skin produces a medium amount of oil, perhaps with an oily T-zone and dry cheeks, then you're in the middle of the skin type spectrum. You'll want a moisturizer with a medium texture, like a lotion or a light cream.
Our favorite moisturizer for you is the CeraVe PM Moisturizing Lotion, because it's light yet moisturizing.
How to Patch Test a Moisturizer for Sensitive Skin
Patch testing new skincare is incredibly important when you have sensitive skin. It's a method of testing skincare on a small area of skin before rubbing it all over the face. It makes the difference between having a tiny reaction that disappears quickly vs. triggering a major contact dermatitis reaction all over the face.
Here's how to do it.
Choose an area where your skin is likely to react if there are issues. The crook of the elbow, the neck, or behind the ear are all fine choices.
If your reactions are usually localized to your face, you can test a small patch on the cheek or forehead.
Apply your new moisturizer to those patches for a few days in a row, taking into account how long it normally takes for you to react to something.
If your reactions usually show up within 24 hours, that'll be good enough. If it normally takes two weeks, then you should patch test for that long.
If your skin doesn't react badly, you can introduce the moisturizer into your daily skincare routine. If you experience any negative reaction, you'll have to keep on searching.
Venture Forth With Care
You learn to be extra careful when you have sensitive skin. On the one hand, your skin needs a lot of attention, but on the other hand, every new product can cause irritation or a flare-up. With our recommendations and tips, we aimed to take some of the burden off of your shoulders, so you can make confident purchasing choices that'll allow your skin to thrive.
Of course, just switching up your moisturizer may not be enough to totally soothe your sensitive skin, and you should also consider replacing other products in your skin care arsenal with sensitive-skin friendly alternatives. To get you started, here's our complete guide to the best foundations for sensitive skin.