Everyone likes receiving gifts. That's the very premise that made FabFitFun such a popular subscription service. It's one of the largest subscription boxes geared towards women, and unlike many others, it's not strictly beauty focused. It actually includes a whole range of lifestyle products.
However, it's also more expensive than many other subscription boxes. Before spending the cash on it, you need to do your research. We've put together this FabFitFun review to give you an idea of how FabFitFun works.
We give a breakdown of what you'll receive in each box, the product selection process, some of the nitty-gritty details, and the overall pros and cons.
How Does FabFitFun Work?
FabFitFun (or FFF for short) is a seasonal subscription service, which means that it ships out 4 boxes per year: A summer box, a fall box, a winter box, and a spring box.
Each box includes 8-10 full-sized products. The selection is diverse, with a range of beauty, wellness, homeware, and even electronic products. The individual items are normally valued between $20 and $150, so while the total value of the box promises to be over $200, sometimes it can go as high as $400.
Depending on your subscription (we explain the two options here), you can customize 3-5 of the products in your box, by choosing your favorite option out of a few different products.
Buyer Profile
As with many other subscription services, when you first sign up to FabFitFun, you have the opportunity to fill out a survey where you let them know about your age, preferences, clothing size, skin type, and more.
Since part of the box is a surprise and another part is customized, the surprise selections are meant to be based on your profile. In practice, the "surprise" items are not always a great fit.
Choosing Your FabFitFun Products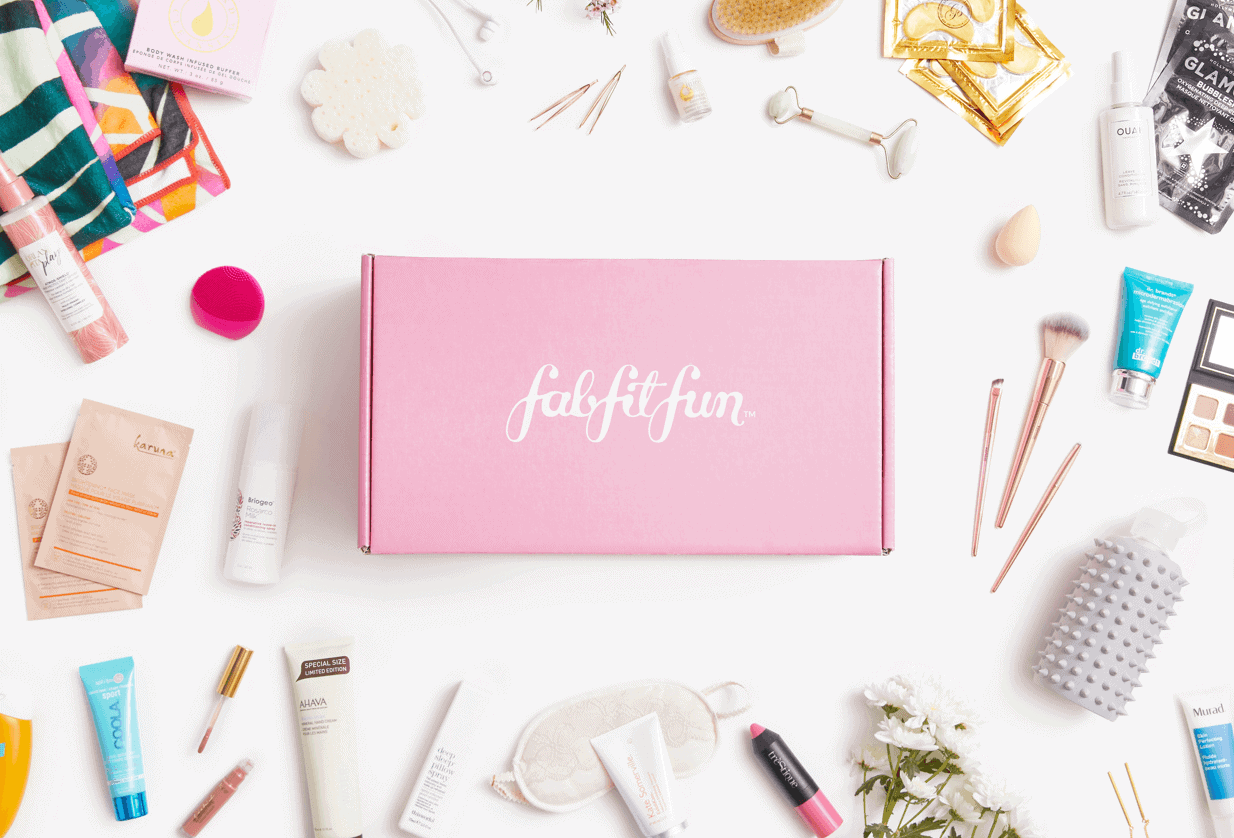 Credit: FabFitFun
These are the kinds of items you can expect to see in a FabFitFun box, along with what we think about their quality. Because FFF allows for customization, you should definitely keep these considerations in mind when you sign up and select your items.
Beauty
The bulk of the FabFitFun box usually consists of beauty products, including skincare, haircare, body care, and makeup. Out of the 8-10 items in a box, chances are 3-5 of them will be from this category.
The selection skews mid and high-end, with the kinds of products you can find at Sephora or your local clean beauty boutique. The brands represented are a blend of well-known companies like Anastasia Beverly Hills, Milk Makeup, Amika, and Murad, and more obscure indie brands like Grown Alchemist and LXMI.
Homeware
The little homeware goodies in FFF boxes run the gamut from decorative items to kitchenware. The items are consistently adorable, although they vary in utility and style. You can expect things like mugs, coasters, planters, and more. If you're a fan of home decor, this might be your favorite part of FabFitFun.
Fashion Accessories
Fashion accessories are probably the most high-quality and coveted items in a FabFitFun box. They include jewelry, bags, sunglasses, scarves, and more, usually from upscale brands like Alice + Olivia and Kate Spade New York, as well as indie (but still high-quality) labels. They also send out cozy items you can wear around the house, like bathrobes, slippers, and socks.
Electronics
The electronics in FFF boxes often seem incredibly cool, but unfortunately, their quality is often disappointing. Items like headphones, shower speakers, and UV phone sanitizers are often cheaply made and come from unknown brands. When you customize, we don't recommend selecting electronics without first looking up reviews of the individual item.
Exercise
While the word "Fit" is part of the subscription's name, the truth is that fitness accessories are relatively rare. While boxes used to include items like yoga mats or resistance bands pretty consistently, these days, they only show up in customizations every other season or so.
Miscellaneous
Finally, FFF boxes sometimes include random (but very cool) miscellaneous lifestyle items. They include beauty and bath accessories like dry brushes or facial rollers, or travel gear like packing boxes or camping cutlery sets.
Shipping Schedule and Frequency
The FabFitFun boxes come four times a year, with a shipping cycle that's based on their billing date. Because annual subscribers get billed first, they get the first chance to customize their boxes and they also receive their subscriptions earlier. FFF makes their billing and processing schedules quite clear on their website, but in general, a subscription box arrives about one month after billing.
However, in 2020, FabFitFun ran into serious issues with scheduling and shipping, and many subscribers received their boxes much later than normal. If timely shipping is very important to you, you should be aware that FFF isn't always on the ball.
Add-Ons and Sales
We've already mentioned the FFF customization process, but if you find yourself coveting more items than you can select for your box, you can sometimes include them as add-ons. There are also add-on products available from past boxes or special sales.
FabFitFun allows you to purchase add-ons and receive them with your seasonal box. The prices are usually significantly lower than they would be if you were to purchase the item at a regular store.
FabFitFun TV
All FabFitFun subscribers get access to FFF TV, which is a massive video library of home workouts, cooking and DIY lessons, and content related to the items in the boxes. We suspect most FFF subscribers don't make use of this service, which is unfortunate since the videos are fun and well-produced.
FabFitFun Costs
A Seasonal FabFitFun box costs $49.99, while the total value of the products in the box is $200 and over. An Annual (i.e., a one year, 4-box) subscription costs $179.99, which saves you $4.99 per box.

Seasonal vs. Annual Subscription
FabFitFun calls their two subscription options Seasonal and Annual. With a Seasonal subscription, you pay for one box at a time and you can cancel the subscription at any point. With an Annual subscription, you pay for 4 boxes at once.
Aside from costs, there are a few other differences between the two subscriptions.
Annual subscribers get to select 5 of the products in their box, while Seasonal subscribers only get to select 3.
Annual subscribers get the FabFitFun box shipped earlier.
Annual subscribers get earlier access to customizations and sales or add-on options.
Because of the added customization opportunities and earlier selection periods, annual subscribers are often much happier with their FabFitFun boxes than the one-time subscribers.
Annual subscribers get more choices as well as the first pick of products. Seasonal subscribers are more likely to receive leftover products after the annual subscribers have made their selections, which means they often miss out on the most desirable items.
If you're not ready to commit to a full year of FabFitFun boxes, we still think a one-time Seasonal box is worth the cost, but between the two options, there's a clear winner.
Finally, while the Seasonal subscription is basically a one-time purchase, keep in mind that if you don't cancel it after receiving your first box, it will be automatically renewed.
Is FabFitFun Really Worth It?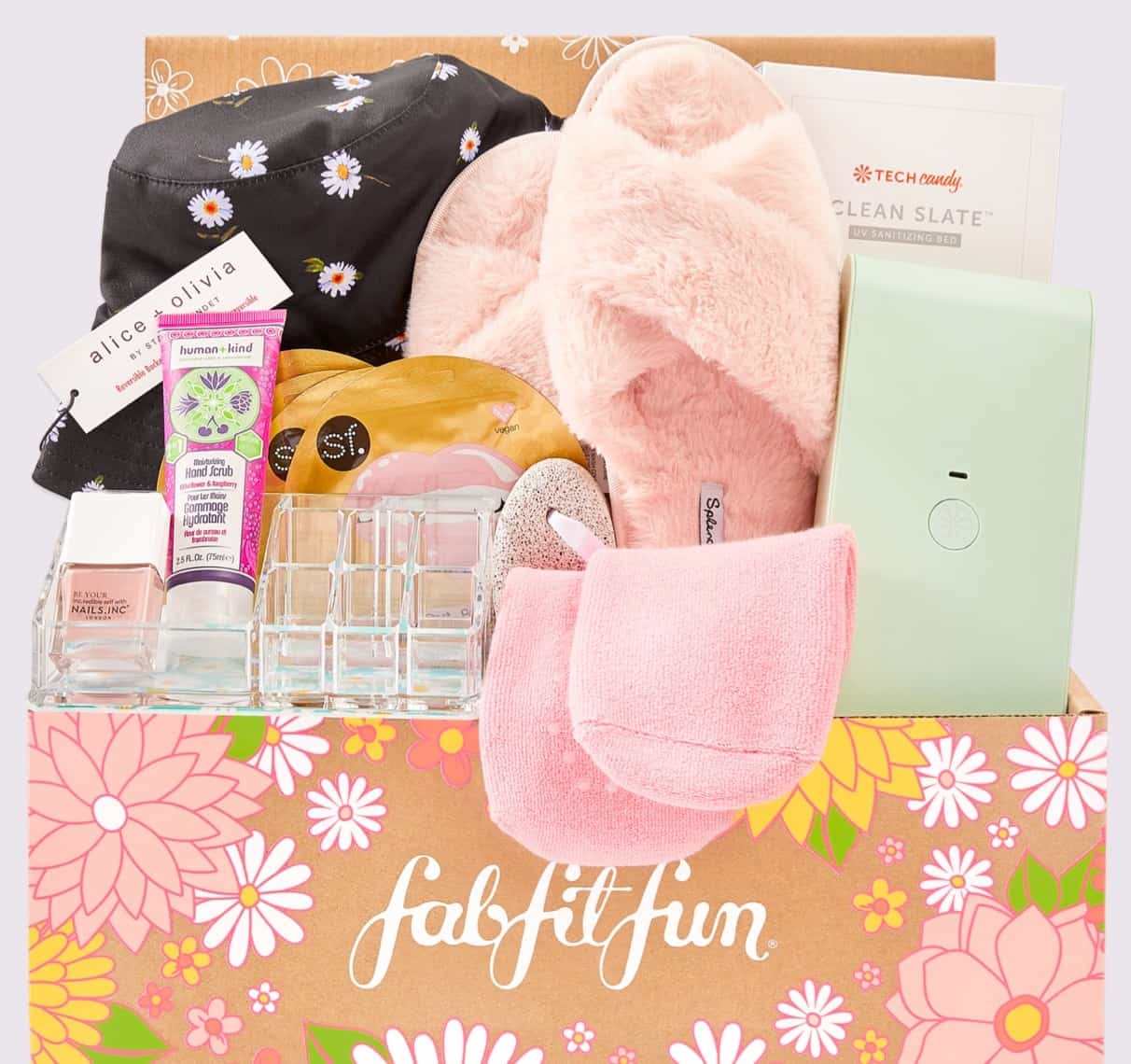 Credit: FabFitFun
The ultimate question is whether a FabFitFun subscription is really worth it. While this depends on what kind of shopper you are, in general, we think the answer is resounding YES.
In a cost-per-item breakdown, FabFitFun offers excellent value. The entire value of each box always surpasses $200 (sometimes significantly), so no matter how you break it down, you're getting a fantastic bang for your buck. However, whether it'll be right for you is a more subjective question.
Pros
Fantastic value-for-price
Diverse selection of products
Everything is full-sized
High-quality cosmetics
Cute homeware and fashion accessories
Cons
Items can get repetitive after a long subscription period
Electronics are often lower quality
Shipping can be slow
Non-customized, "surprise" items often miss the mark
Who Is FabFitFun Best For?
If receiving gifts is one of your main love languages, you should show yourself some love with the FabFitFun box. It's a little like opening a Christmas package four times a year!
In general, we think the kind of person who'll enjoy this box the most is a maximalist who likes to decorate their home and pamper themselves. If that sounds like you, you should sign up, and if it's not—a FabFitFun subscription might be a great gift for that person in your life who is.
On the other hand, if you're more of a minimalist or you tend to stick to the same staple products, then FabFitFun won't be for you. Getting through all of the full-sized products could become a chore, and you may find yourself struggling to store everything you get in the box.
Our Final FabFitFun Feelings
Most subscription boxes focus on beauty products, but FabFitFun stands out as a unique option that offers all kinds of items beyond cosmetics. Four times a year, you can enjoy a diverse selection of gifts that will make your life just a little prettier.
We're quite impressed by the immense value that FabFitFun boxes offer, although we're aware that they're not for everyone. If you're exclusively interested in cosmetics and the notion of receiving so many full-sized items at once is overwhelming, check out our BirchBox review!