A helpful part of any complete skincare routine, facial toners are designed to help clean skin, clear out pores, and leave your face looking flawless. Though many different formulas of toner are available on the market today, this useful cosmetic product is easily DIYed, giving you the chance to perfectly customize the ingredients to your preferences.
In this article, you'll discover the best ingredients to use in a toner, in addition to learning some of the best DIY toner recipes that are suited for all skin types. We'll also talk about how often toner should be used in your skincare routine.
Why Should You Be Using Toner?
Facial toners are a liquid cosmetic product that is designed to clean your skin, reduce the appearance of pores, and temporarily tighten skin. Depending on the ingredients in your toner, it can also work to prevent blemishes, balance out your skin texture and tone, or hydrate your skin.
Regularly using a toner as part of your skincare regime can help keep your face looking dewy and fresh, make it easier to apply makeup, and keep your skin feeling refreshed. And even better, using a DIY toner will allow you to perfectly customize the ingredient for your individual skin needs and avoid any type of harsh ingredient that may be found in a store-bought toner.
Common Ingredients Found in DIY Toners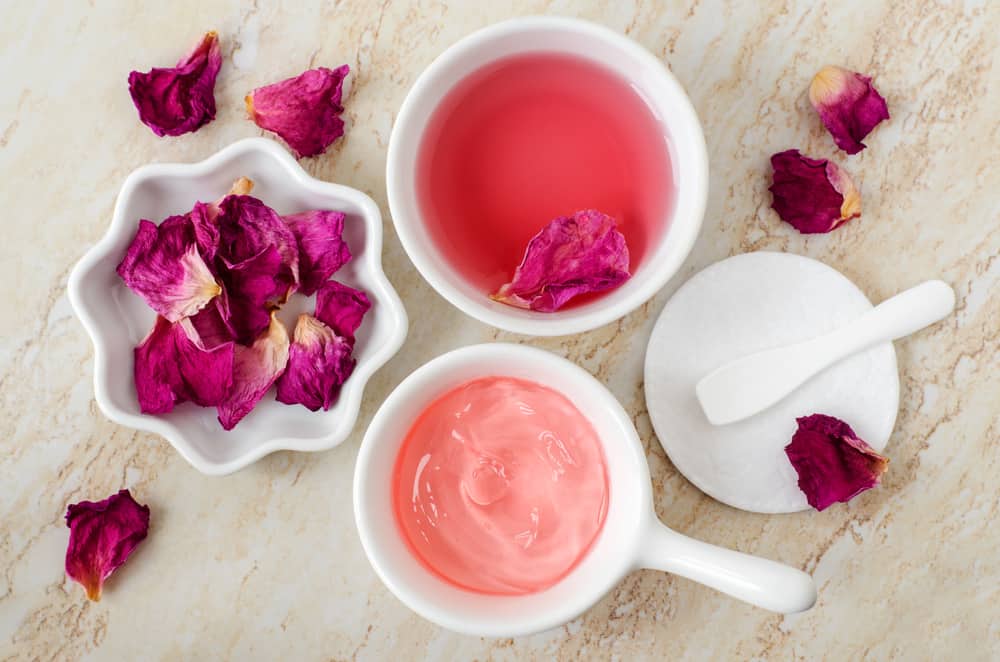 These ingredients are the most common and popular to use in DIY toners. You can mix and match these ingredients to your whims or carefully concoct your toner based on how individual ingredients complement each other.
Vitamin Extracts
Adding in a small amount of pure vitamin oil extracts to your toner can be a great way to boost the condition of your skin without too much extra work. The most popular options are vitamin E, which can reduce dark spots and hydrate skin, and vitamin C, which helps to promote collagen, boosting a youthful look and reducing wrinkles.
Depending on your needs and skin type, you can add any type of vitamin oil into your toner, but be sure not to use too much, as this may cause irritation on your skin.
Essential Oils
Any essential oil can be added to your toner for either fragrance or function (or both) as long as it is of good quality and suited for use on your face. Much like with vitamin extracts, try not to add too much of any essential oil, as this can bother your skin over time.
If you want ideas on what type of essential oils to add, you can check out this list of oils and their functions here. Popular options are a relaxing lavender, an invigorating peppermint, or a soothing frankincense.
Apple Cider Vinegar
One of the most popular options for facial toners, apple cider vinegar features acetic acid, an element known to be both antifungal and antibacterial. This helps fight acne and skin blemishes, while other components of the fermented fruit reduce wrinkles and leave skin refreshed.
Apply cider vinegar is a good option for many skin types but may be a little bit too harsh if you have very sensitive skin. If you are trying to use apple cider vinegar with sensitive skin, use less of it and dilute the vinegar more with other soothing ingredients.
Witch Hazel
The witch hazel plant is widely used in skincare and cosmetics products. It has the ability to balance out skin tone and the natural product of oils, making it a great choice for someone with an oily skin type. It is also good for clearing out pores, helping to reduce acne.
Witch hazel may be ok for some sensitive skin types, but it may not be the best ingredient to use with very dry skin, as it might be a little too astringent and leave dry skin itchy. If you do use witch hazel with drier skin, make sure to combine it with a moisturizing or soothing ingredient, such as cucumber water.
Chamomile
A powerful soothing ingredient, chamomile can help reduce redness and inflammation in the skin. It is a good choice for anyone suffering from especially dry, itchy skin, or someone suffering from inflamed acne.
Antioxidants in the tea can also help tighten skin and reduce signs of aging, making it suitable for mature skin types.
Rose Water
Another star toner ingredient, rose water can help to reduce skin inflammation, fight acne, and tighten pores. It has a natural soothing aroma that many find relaxing, making it a very popular choice for a toner. Plus, it is a fairly gentle ingredient, making it suitable for use on most skin types.
Aloe Vera
Aloe vera rose to fame with its ability to treat sunburns, but this succulent also has multiple skin benefits when used as part of a toner. It is supremely hydrating and cooling, and can help reduce inflammation with acne, and redness in the skin.
It is a good choice for someone with especially sensitive or dry skin, and it helps to give these skin types a moisturized, refreshed appearance.
Green Tea
Packed with antioxidants, green tea is a fantastic ingredient for decreasing skin puffiness. Thanks to the caffeine present in the tea, it can help leave skin feeling energized and bright, can fight acne, and may even leave skin more hydrated.
Much like rose water, this ingredient is pretty gentle and can be used on most skin types.
Rice Water
A surprising new trend, rice water has been taking the beauty world by storm recently. Using this water in your toner can help your skin benefit from the nutrients packed into the water, leaving your skin mattified, brighter, and more youthful-looking. It is especially beneficial to mature or oily skin types.
DIY Toner Recipes for All Skin Types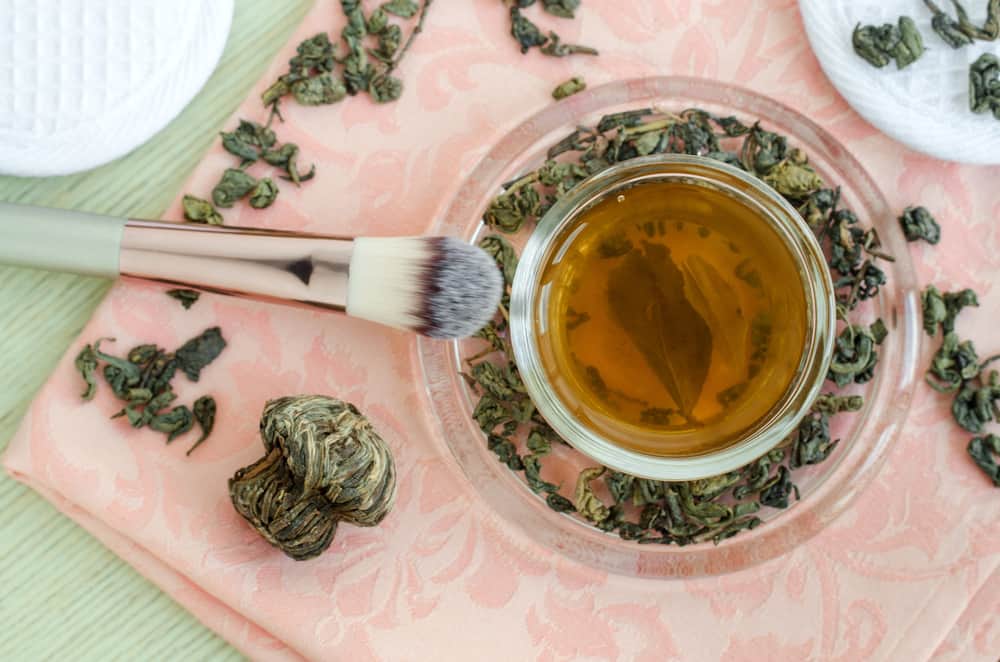 You can follow these DIY toner recipes word for word, or you can use them as a base and craft your own unique toner. Anything is possible in the world of DIY!
1. For Dry and Sensitive Skin
This recipe uses aloe vera and cucumber to create a soothing, hydrating facial toner.
Add 3 to 4 tablespoons of pure aloe vera gel into a small bowl.
Blend an entire cucumber until it has a very liquid consistency.
Add the cucumber into the aloe vera, mixing thoroughly until uniform. You may need to add a little more water to achieve this.
Once mixed, add your favorite essential oils if desired and store properly.
2. For Oily Skin
This recipe uses witch hazel and rosewater to help control oil production and fight acne.
Add 4 tablespoons of witch hazel into a small bowl.
Lightly mix in 2 tablespoons of rose water, and 1 tablespoon of aloe vera if you want extra hydration.
Combine thoroughly, add your favorite essential oils, and store properly.
3. For Mature Skin
Perfect for reducing signs of aging, this recipe uses vitamin extracts and apple cider vinegar.
Boil water and use it to make one cup (8 fluid ounces) of green tea. Once the tea has cooled, add it to a bowl.
Mix in 2 tablespoons of apple cider vinegar and half a tablespoon of vitamin C oil.
Add your favorite essential oils, combine thoroughly, and store the toner properly.
How to Properly Apply Toner
Toner is one of the simpler cosmetic products to use and should be applied onto a clean face.
After washing your face, add a small amount of your toner to a cotton pad or directly to your hand, and then swipe it over your face.
Allow the toner to dry fully.
Then immediately follow up with a moisturizer to lock in all of the skin benefits.
How Should Toner Be Stored?
Make sure that you are storing your toner in an airtight container, preferably glass. It should be kept in the fridge and can last up to two weeks, depending on the ingredients that you use; using raw ingredients like cucumber or fruits will make the mixture expire faster than if it is all liquid and essential oil-based.
How Often Can Toner Be Used?
In most cases, you can use your toner twice a day, every day. If you have more sensitive skin, you may want to try it just once a day, or if your skin gets irritated easily, try using it once every other day.
You probably shouldn't use toner any more often than twice a day, and you may want to take a day off from it every once in a while, to prevent any kind of irritation from occurring.
Are There Any Side Effects of Using Toner?
The main issue that may arise with using toner is skin irritation or allergic reactions. To avoid skin irritation, try not to use the toner more than recommended, and be sure to perform a patch test with it before applying it all over your face.
And you may not be able to avoid allergic reactions in certain situations, but you should double-check all of your ingredients before mixing them into your toner to ensure that there are no potentially dangerous ingredients or cross-contamination present.
If your skin becomes excessively red, itchy, or painful while using your toner, you should stop using it; consult a doctor if these symptoms persist and don't subside naturally after you stop using the toner.
DIY Toner for Smooth and Clear Skin
Adding a toner into your skincare routine can be incredibly beneficial for the look and feel of your skin; being able to DIY your own toner and customize the ingredients perfectly to your skin type is even more helpful, as you can target your skin issues naturally without any harsh ingredients, allowing you to obtain smooth and clear skin as easily as possible.