An eye cream can be the perfect addition to any skincare routine; with regular use, eye cream can help decrease puffiness, reduce wrinkles, and give you a refreshed, youthful look. And what's better is that eye cream can easily be DIYed at home, so you can perfectly tailor the cream to your skincare needs and preferences.
In this article, you'll learn about some of the most important ingredients that are used to create DIY eye cream. We'll also be discussing the benefits that eye creams can give you and helping you out with some basic eye cream recipes that you can use as-is or take as a base to experiment with. Read on for everything you need to know!
Why Use Eye Cream?
The area under your eye is much thinner than the other skin on your face, and as such needs to be treated a little differently; this thinner skin layer is one of the first to show signs of aging, is more sensitive to environmental factors, and tends to be drier. All of these factors combined make for a great reason to use eye cream.
Cream that is specifically designed for this sensitive under-eye area can help moisturize the skin, reducing wrinkles, puffiness, signs of aging, and dark under-eye circles. This will leave your eye area looking more refreshed and youthful, boosting your overall appearance when combined with a regular skincare routine. You can read more about the benefits of eye cream here.
When you DIY your eye cream, you are able to tailor the ingredients specifically to your wants or needs, targeting your problem areas. And because you are crafting the eye cream out of natural ingredients, there won't be any harsh preservatives, fragrances, or colorings mixed in that may irritate this sensitive under-eye skin.
The Best Ingredients for Using in DIY Eye Creams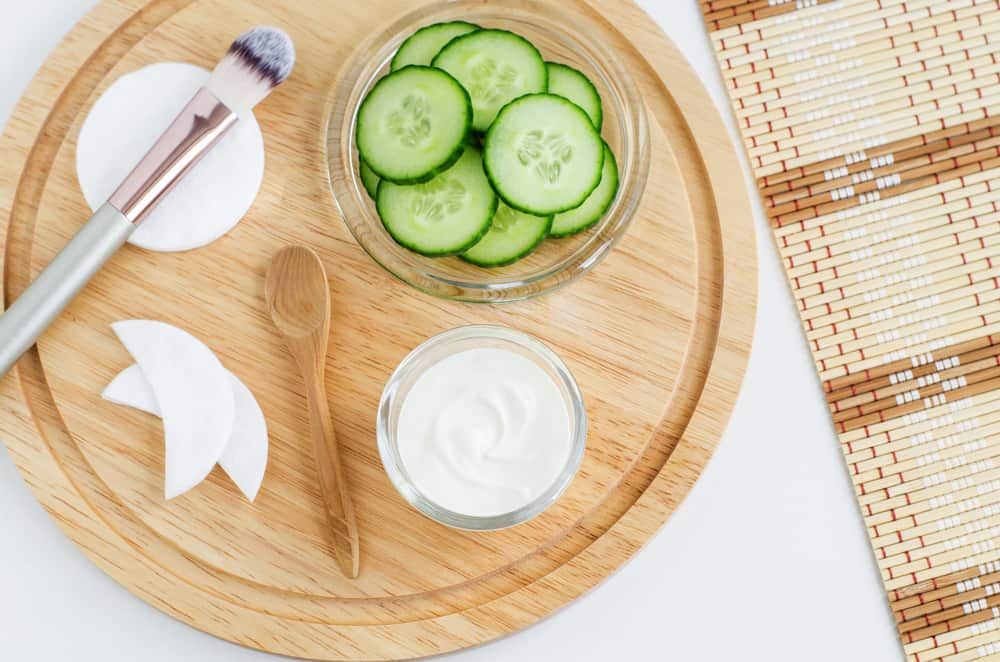 Below, we have comprised a list of the most popular and useful ingredients that you can mix and match to make a DIY eye cream packed with skin-friendly benefits.
Vitamin Oil Extracts
Vitamin oil extracts are great additions to eye creams because they are able to nourish the under-eye area, leaving it soft and moisturized. Some oil extracts, like vitamin C, can even help to boost collagen in your skin, making it more youthful-looking and erasing fine lines.
Just make sure not to add too much vitamin oil extract into your eye cream, because you don't want to irritate your under-eye area. You should also take care to read the ingredients on your vitamin oil bottle because many vitamin oils are a blend of oils and may contain ingredients that you don't tolerate as well.
Essential Oils
Essential oils can be added into your eye cream for fragrance or benefit reasons. Oils like lavender are perfect for relaxing, while frankincense can be a soothing aroma. Just make sure that you stay away from oils that may be too harsh for sensitive skin, like peppermint or tea tree, and that you can tolerate using essential oils on your skin.
For a list of essential oils and their benefits, check out this article. Remember to dilute your oils before using, and don't pack too many in your eye cream, as this could irritate your skin.
Aloe Vera
A highly soothing and cooling ingredient, adding aloe vera gel into your DIY eye cream is a great way to get that relaxing, cool feeling on tired eyes. Aloe vera is also very moisturizing and can help heal dry skin around the eyes, and its anti-inflammatory properties will help to reduce any puffiness or swelling.
Shea Butter
Shea butter is a perfect base for many eye creams, thanks to its rich texture and nourishing properties. This ingredient gives your under-eye area a decent dose of vitamins A and E, in addition to reducing puffiness, moisturizing skin, and boosting collagen production for more youthful-looking skin.
Coconut Oil
Similar to shea butter, coconut oil makes for a great base in any eye cream. It is easily applied to the eyes and full of nourishing essential fats that help to improve circulation to the under-eye area. This helps reduce puffiness, improves dark eye circles, and can reduce the appearance of fine lines and wrinkles.
Green Tea
Another fantastic ingredient for soothing eyes, the antioxidants in green tea work to calm inflammation and can firm and tighten the skin, reducing puffiness or fine lines. The caffeine present in the tea also helps to make skin look refreshed.
Coffee
Full of caffeine and antioxidants, much like green tea, coffee is a great addition to your eye cream. It can help rejuvenate your skin, increasing circulation that reduces eye puffiness and dark under-eye circles, in addition to fading the appearance of fine lines and wrinkles.
Beeswax
Mostly used as a base for DIY eye creams, beeswax is packed with vitamins that help to replenish the sensitive under-eye skin, making it appear more youthful and reducing the appearance of fine lines.
Beeswax can also help lock in moisture, improving dry under-eye areas, and is fairly non-irritating to sensitive skin.
Jojoba Oil
Jojoba oil is a moisturizing plant oil that is generally safe to use around the sensitive eye skin. The oil is known for its incredible moisturizing properties, its nourishing vitamin E content, and its ability to boost collagen production in the skin.
Rosehip Oil
Rosehip oil is full of nutrients that help to nourish and moisturize the under-eye area. It is added into many eye creams thanks to its properties in reducing puffiness, dry skin, and signs of aging, in addition to being easily absorbed into the skin and not leaving behind any type of greasy residue.
DIY Eye Cream Recipes for All Skin Types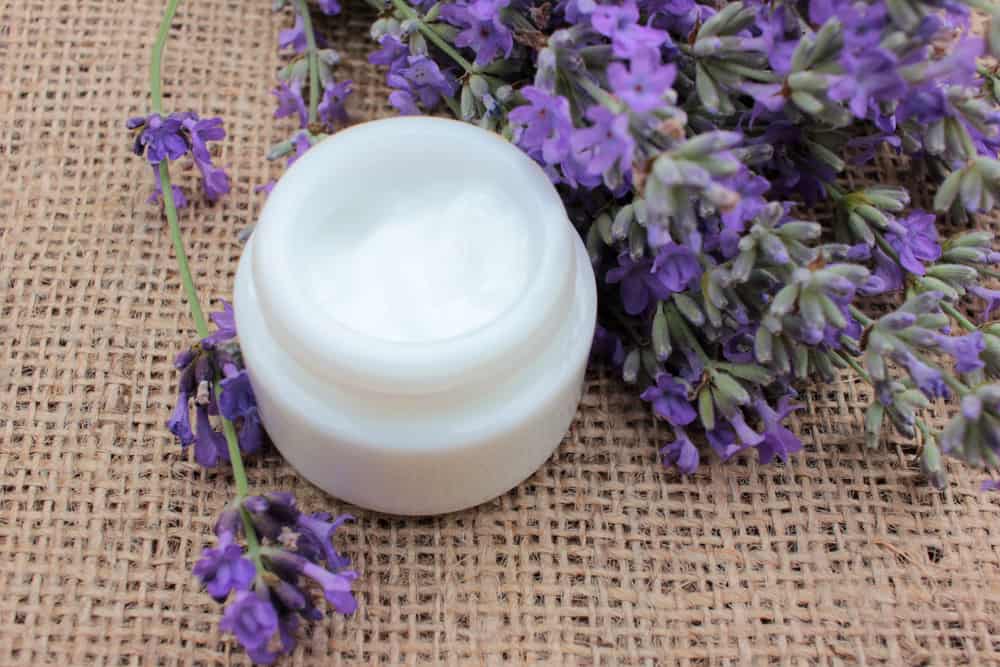 These DIY eye cream recipes can be used as a base for your own experimentations, or you can use them as-is for a simple, beneficial eye cream.
1. Intensive Moisturizing Shea Butter Eye Cream
This eye cream uses shea butter and beeswax to lock in moisture and hydrate dry skin.
Place 2 tablespoons of shea butter, 1 tablespoon of coconut oil, and 1teaspoon of beeswax into a glass mason jar.
Put the mason jar carefully into a pan of water, bringing the water to a slow simmer and melting the mixture in the jar.
Once everything is melted, remove the jar from the water, let cool for several minutes, and then add in your favorite essential oils. Between 1 and 5 drops is recommended.
Mix thoroughly and pour the mixture into a small jar if desired.
Let the eye cream cool completely until solidified, and then use as needed.
2. Refreshing Coffee Infused Eye Cream
The caffeine in this eye cream will reduce eye puffiness and leave you looking refreshed.
Add 4 tablespoons of beeswax and 4 tablespoons of coconut oil into a glass mason jar. Put the jar into a pan of water and bring the water to a simmer, melting the beeswax.
Remove the mason jar from the heat and allow to cool for several minutes.
Once the mixture is cooled, add in 4 tablespoons of coffee-infused oil, in addition to a teaspoon of jojoba oil and your favorite essential oils (between 1 and 5 drops).
Mix thoroughly and transfer to a smaller jaw for cooling if desired.
Allow to cool until completely solidified, and then apply as needed.
3. Soothing Anti-Aging Eye Cream
Vitamin oil extracts and coconut oil are the stars in this wrinkle-reducing eye cream.
Place 4 tablespoons of coconut oil into a small mixing bowl. Whisk it thoroughly until it is not completely solid, but not completely liquified. It should be smooth and moveable.
Add in a teaspoon of vitamin C oil and a half teaspoon of vitamin E oil or jojoba oil, whichever one you prefer.
Mix all of the ingredients thoroughly, and then store in an airtight container or jar.
Wait until the cream has become slightly more solid, and then apply as needed.
How Often Should You Use an Eye Cream?
In most cases, eye cream should only be applied once a day. This can be done in the morning, after you wake up and wash your face, or in the evening before bed. Both ways will allow you to gain benefit from the eye cream, so it's really up to your personal preferences when exactly you apply it.
If your skin is not too sensitive and you want extra hydration, you can apply the eye cream both in the morning and at nighttime, as long as there are about 12 hours between applications. Waiting between applications allows the cream to be fully absorbed into your skin and helps to prevent the risk of irritating your skin by applying too much product.
How Do You Store a DIY Eye Cream?
Because your DIY eye cream is not likely to have any preservatives in it, you should take extra care when storing it. You should not allow any water to get into the mixture, as this will make the cream spoil quickly.
Once you've mixed up your eye cream from your favorite recipe, it should be stored in a glass or plastic jar, one that has a lid and can be airtight. From there, you can store it in a cool, dry place.
Alternatively, you can keep it in the fridge for extra soothing effects, but take note that this could make the cream harder to apply, as the cold air will further solidify it.
DIY eye cream can last between 3 months all the way up to a year, depending on the ingredients that you put in it.
Are There Any Side Effects to DIY Eye Cream?
Like with all eye creams and face creams, there is a potential of the sensitive under-eye area becoming irritated or itchy when an eye cream is applied. The best way to avoid this is to use gentle, soothing ingredients that you know you can tolerate when applied to your skin, and to use the eye cream in small amounts.
If you experience any pain, itching, swelling, or tenderness under your eyes as a result of using your DIY eye cream, stop using it immediately and consult with a doctor if the symptoms don't go away by themselves within a reasonable amount of time.
Obtain a Refreshed Look With DIY Eye Cream
An eye cream can be one of the most helpful products in your skincare regime, as it helps to reduce fine lines, wrinkles, eye puffiness, and soothes dry skin.
As you tailor your DIY eye cream to your specific skin needs, remember to choose ingredients that you know you tolerate well, and ones that will give you the most skin-health benefits possible. Do this, and you'll have the perfect DIY eye cream in no time at all.