Braids are a simple way to leave hair styling woes out of the picture for months to come. They help protect your hair from harsh environmental factors such as dirt, dust, and cold winds. Braided hairstyles allow for creativity, styled in a multitude of ways.
If you want to play around with regular braids, then you can opt for half braids, half-up braids, half-ponytails, and the like. With so many techniques such as French braids, fish braids, and waterfall braids to choose from, you have way too many options!
You can experiment with various highlights, natural, wavy hair, or straightened hair. Beads, clips, or even flowers serve as the perfect accessories – there is no right or wrong!
Trending Braided Styles
Braids have been in fashion for thousands of years among women and men alike. The style happens to be one of the most versatile ones ranging from intricate patterns to simple braids.
Whether you're looking for an office, school, gym, or wedding style, there's a braided hairstyle that is ideal for you. Braids can help protect your strands from damage, helping you grow your hair longer.
1. French Braids
French braids are a timeless classic, ideal for just about any occasion – from a casual brunch to a formal office event. For a professional look, you can opt for a sleek, smooth look – pull out a few strands to frame your face for a casual look. French braids can be worn half-up, half-down, or teamed up with a fishtail braid.
2. Feed-in Braids
Feed-in braids are also known as knotless braids and are a great option to protect your hair from damage. If you are looking for long box braids or cornrows, hair extensions can be just what you need. All you need to do is to feed the hair extensions in by braiding them with your locks. The braids that emanate from this technique are less bulky, reducing the tension on your scalp.
3. Dutch Braids
Dutch braids add volume to your hair that prevents your hair from looking too flat. It is a classic three-strand technique that is perfect if you have thinner hair and are looking for ways to style your hair. Dutch braids take regular braids to the next level, adding inflections in multiple ways, including double braids or crown braids for formal occasions.
4. Box Braids
Box braids are a versatile style that never goes out of fashion. The hairdo begins by sectioning hair into squares, individually braided to form plaits. This look works well with hair extensions, giving you full locks that are impossible to miss. Any thickness or length is ideal – the look lasts for weeks and is easy to maintain.
5. Waterfall braids
Waterfall braids are hands down the most beautiful and feminine braiding styles. Essentially a modified version of the French braid, the waterfall braid pulls in sections working the hair into a plait across the top half, leaving the rest free. A cascading effect that pairs well with a soft wavy hairstyle makes this look ideal for brides or bridesmaids. Flowers and floral clips or beads are the perfect accessories.
6. Crochet Braids
The crochet technique happens to be the simplest way to get extra-long braids. It is very similar to a weave as it begins with braiding your hair into loose cornrows that form the foundation. The hair extensions are then threaded through and secured using a crochet hook before being braided. You can also opt for a variation such as box braids that are easy to pull off.
7. Goddess braids
Goddess braids are an inflection of cornrows, making them a versatile option. The underhand braiding style creates the style, while the braids are formed into a ponytail or left loose. Regardless of how you choose to style your hair, goddess braids will make you stand out. To accessorize, you can opt for beads, rings, or wires.
8. Fishtail Braid
Fishtail braids are a music festival classic adding a unique boho touch to any outfit. Not only is it easy to create, but simple to pull off as it works with any look. Fishtail braids work well with a combination of French and Dutch braids for added texture. A double fishtail braid is a popular option that works well for short as well as long hair.
9. Lemonade Braids
The name lemonade braids emanate from the famous Beyoncé smash hit Lemonade. The style begins by creating neat, close cornrows that go from left to right instead of from front to back. These braids are versatile as they can be in any size or thickness, combined with other styles such as zigzag and accessories such as beads and rings.
10. Braided ponytail
An effective way to style your braids is in a high or low ponytail. A high ponytail lets you highlight your jawline and your eyes by keeping the hair off your face. You can pull off at the office or for a casual get-together with family and friends. A low braided ponytail gives you a soft, subtle look that is ideal for a date night. For a perfectly polished look, you can secure your hair with an elastic band that you can wrap your braids around.
50 Braided Hairstyles to Make a Statement
Braided hairstyles can be the respite you seek from regular, everyday hairstyles such as ponytails or buns. If you're looking to up the ante, a braided hairdo is perfect for you. Whether it's the simple French braid or a complex cornrow braid, you are bound to find options here that will leave you wanting more!
1. Boho Half-up Fishtail Braid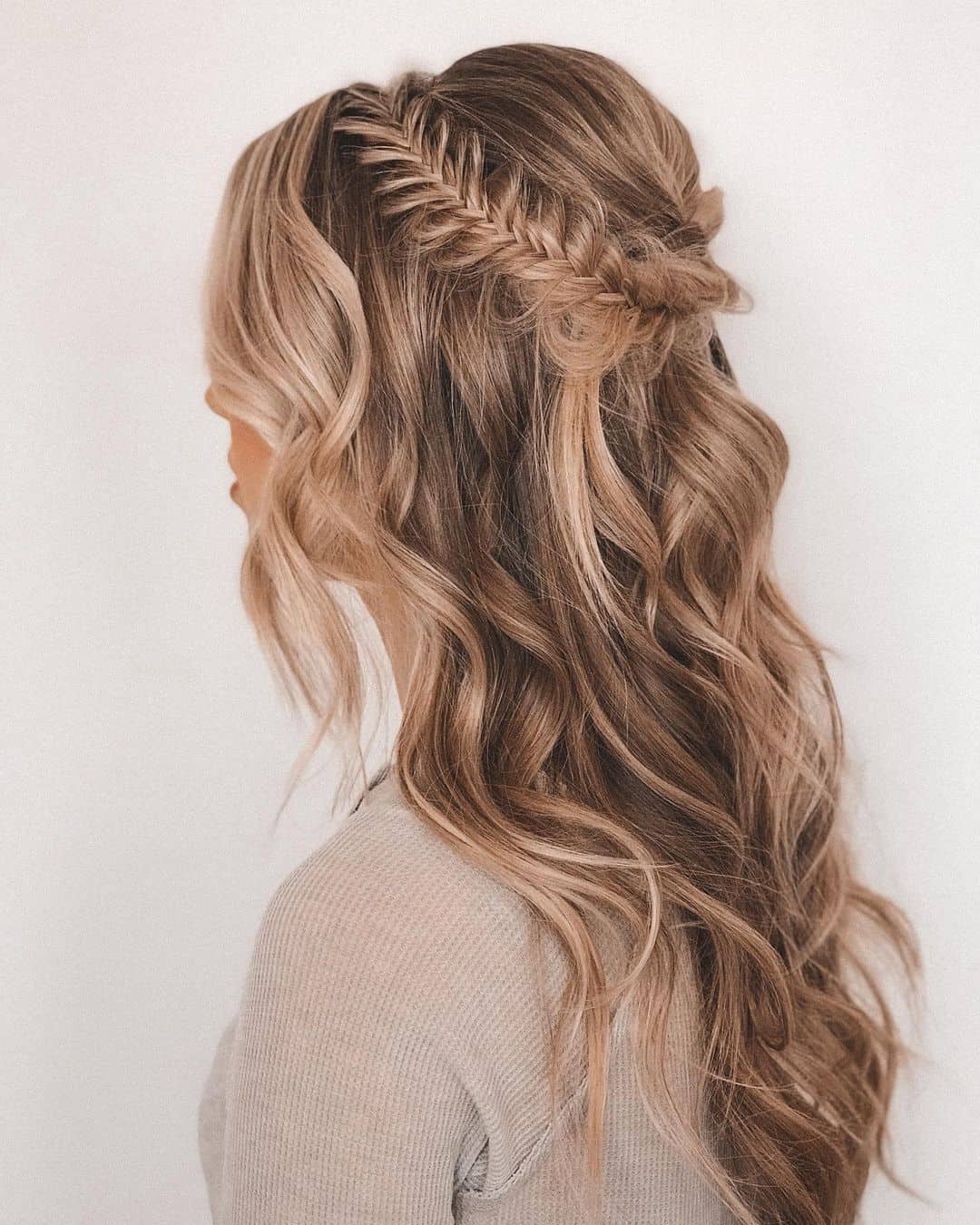 Image Source
Perfect for a day out as it is for your bridal shower, this bohemian half-up fishtail braid is an elegant yet casual hairstyle for all braid lovers. Small sections of hair from near the face on both sides are braided, secured, and twisted to form a delicate braided crown around the head. Loose blonde curls frame the face adding volume, giving rise to an effortless, subtle look.
2. Floral Greek Braids With Small White Flowers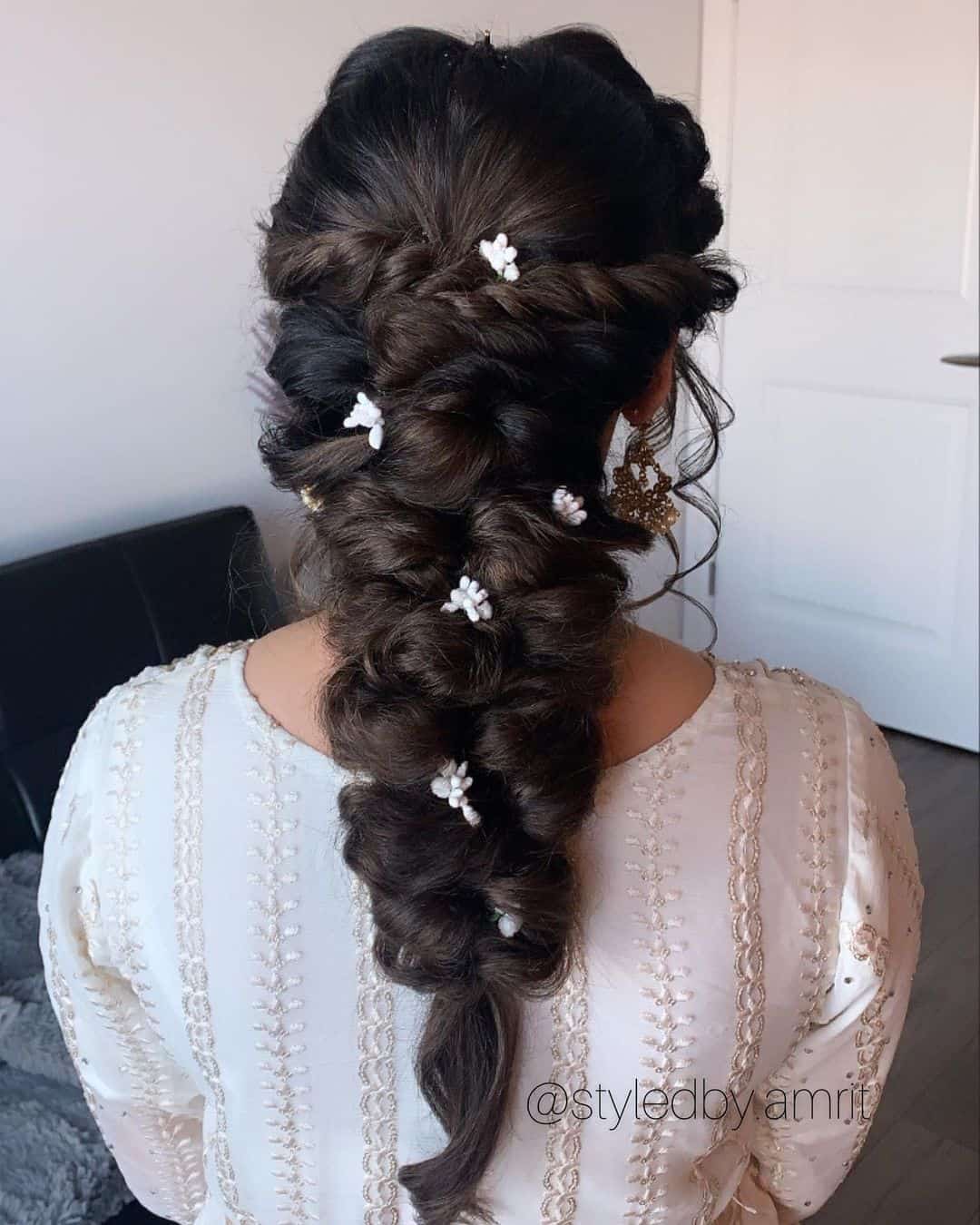 Image Source
This delicate Greek braid may seem complicated and intricate but is easy to do. The perfect choice for weddings and other formal events, this long-lasting hairstyle is created by braiding back from the crown on both sides into a single braid. The dark brown luscious locks appear elegant, with the small white flowers adorning it to give it a princess-vibe. The braids are left a little loose to add a sense of volume to the look.
3. Infinity Into Fishtail Braid With Wavy Curls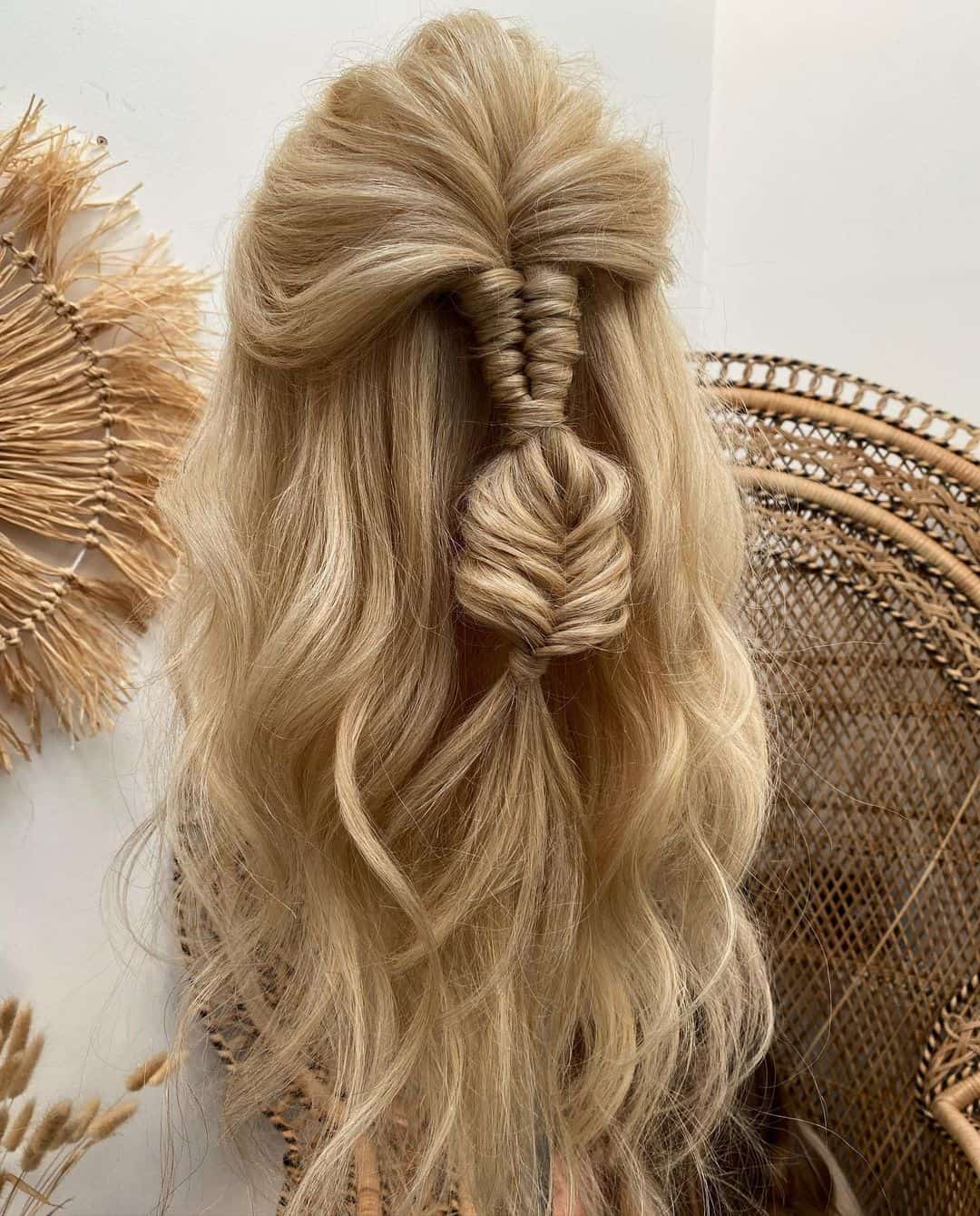 Image Source
If you're in the mood to experiment with your hair, an infinity-into-fishtail half-braid is ideal. This combo braid half-up-do combines two attractive but easy-to-do hairstyles into one by weaving an infinity braid and switching to a fishtail halfway through. The rest of the honey blond hair is left free, falling over the shoulders. Alternatively, athletes can do a full braid in this style instead of a half-braid to ensure hair will not get in the way of your sport again.
4. Dutch Crown Braid With Half Ponytail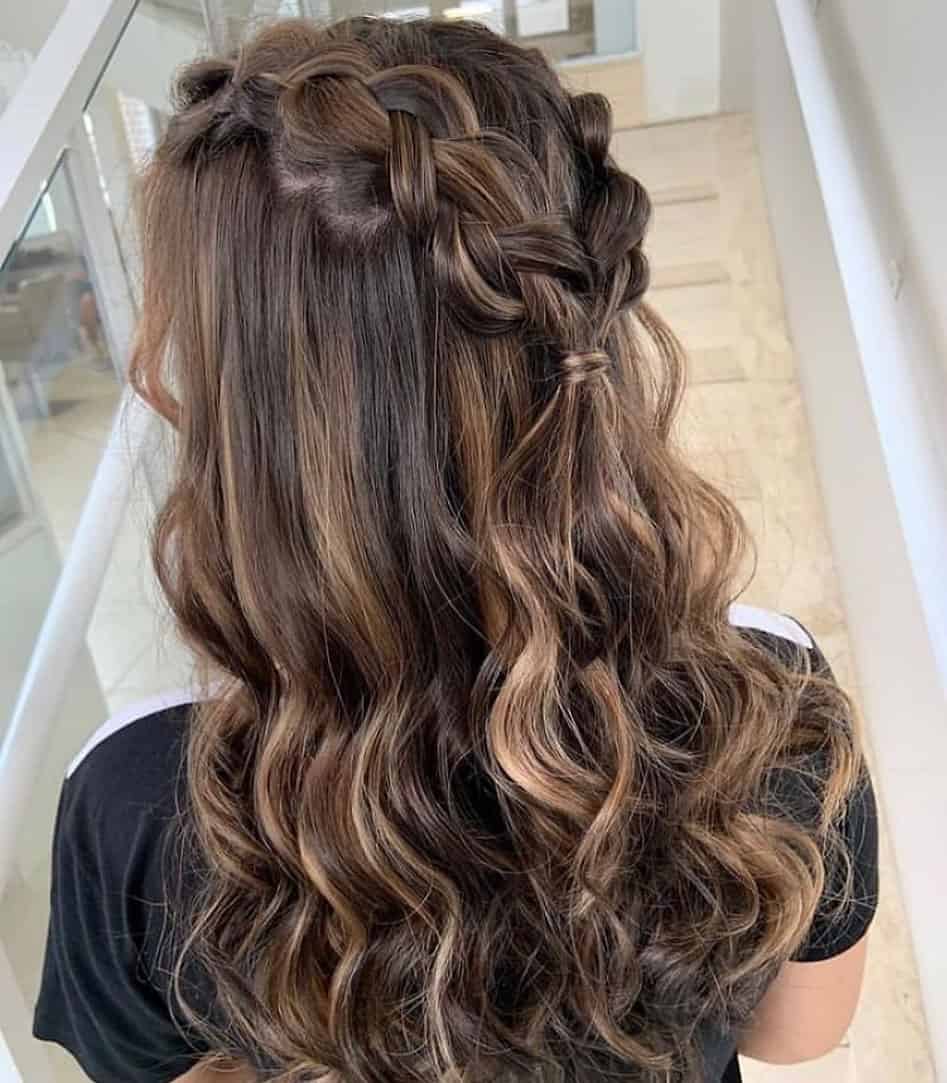 Image Source
Feminine and formal, the Dutch crown braid is an easy but pretty hairstyle suitable for a bride or a casual, bohemian look. The hair is braided from the crown on both sides and secured together at the back in a half-ponytail. The braid is pinched and pulled for a fuller look, leaving the rest of the dark hair free and loosely curled for a free and flowy look, with auburn highlights adding a soft glow.
5. Feed-in Braids With Tightly Braided Mini-Bun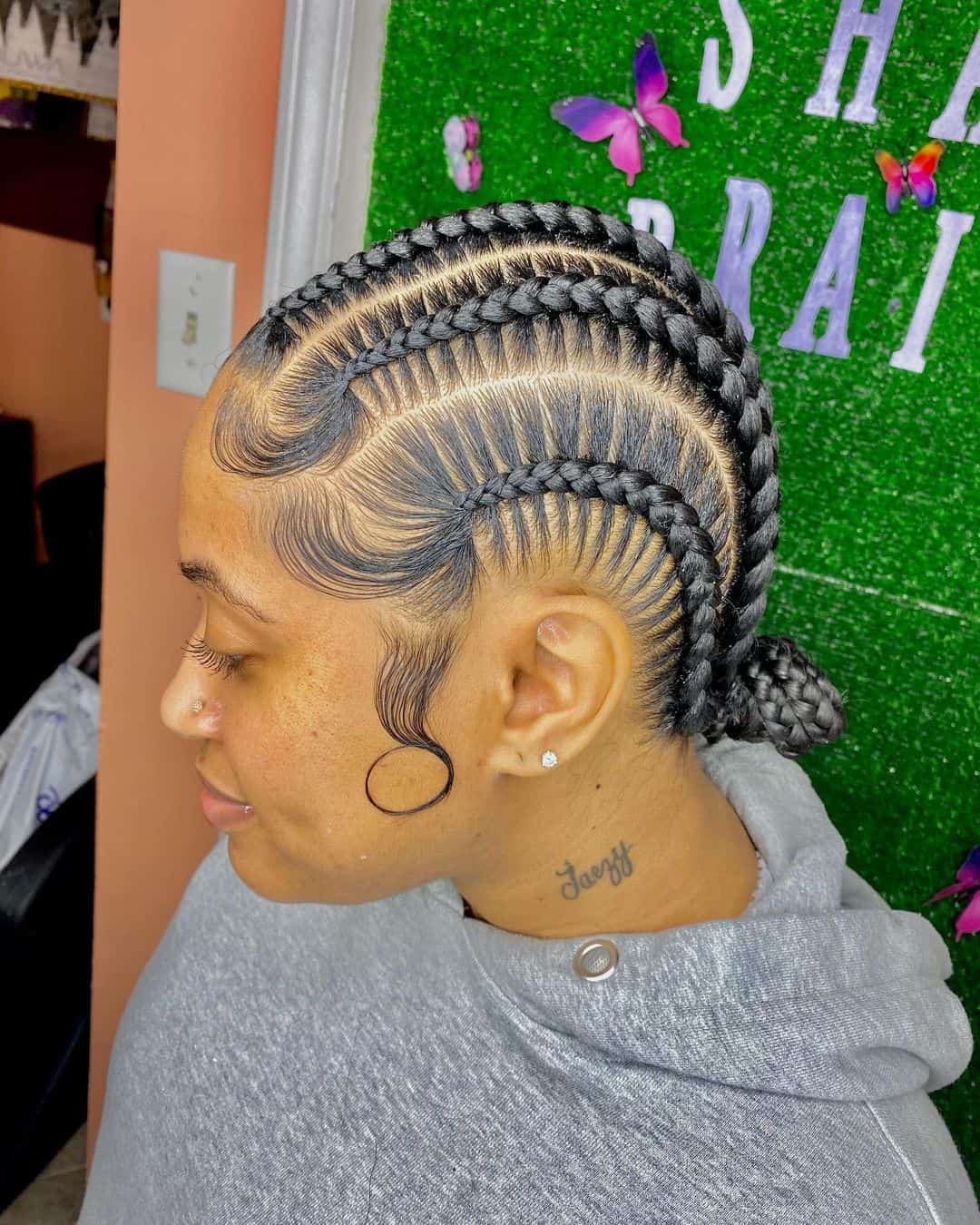 Image Source
Feed-in braids or cornrows are a versatile but classic hairstyle that can be worn in its simplest form as straight rows or made trendy with elaborate designs or beads. The dark hair, braided from the crown in its natural state without adding any synthetic hair, creates a sleek, straight-back hairstyle. Smoothed down with hair gel and tied back into a tightly braided mini bun, this look is clean and casual, making it perfect for any occasion.
6. Casual Bohemian Half-Braid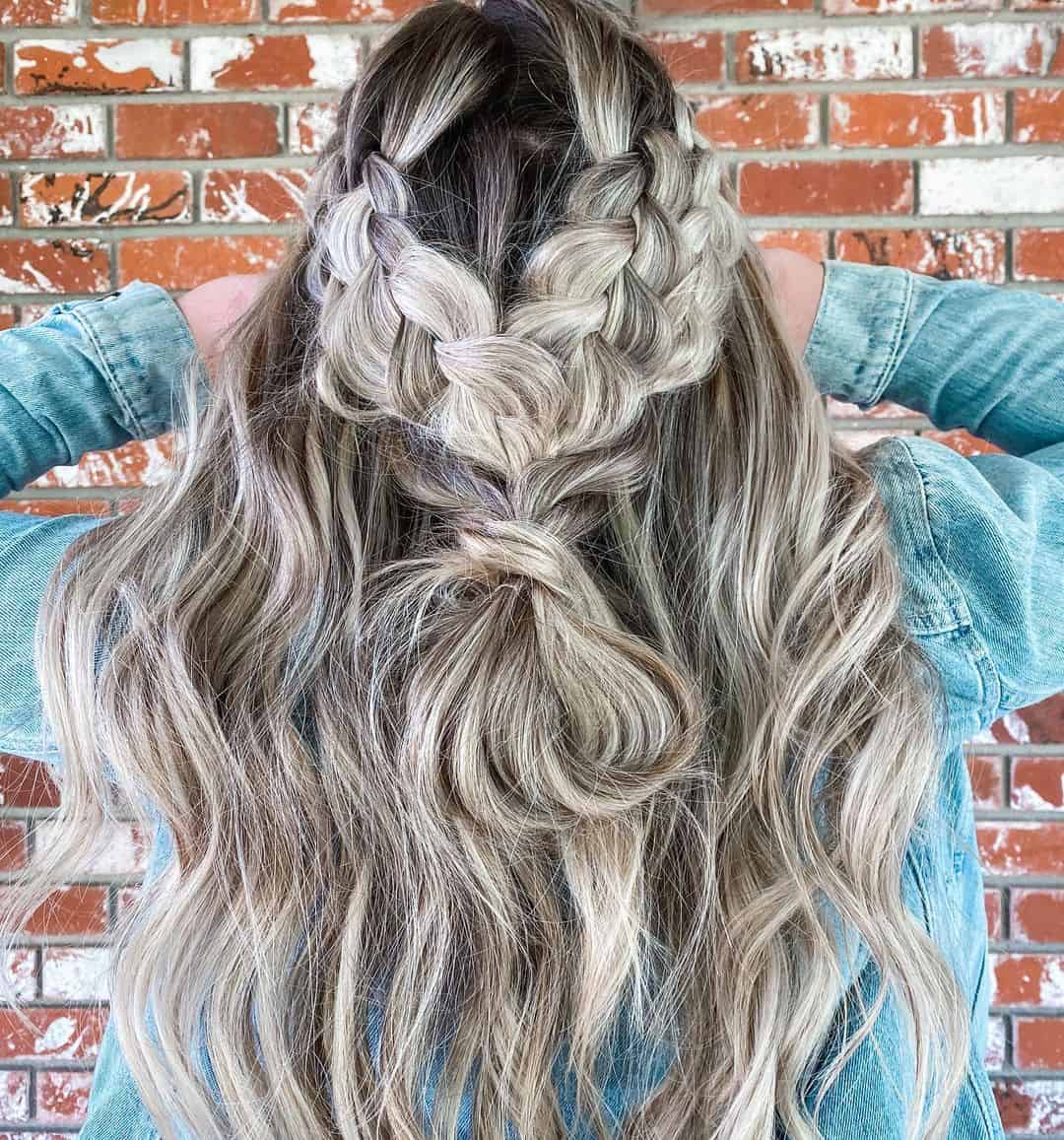 Image Source
With a messy but cute look, this bohemian half-braid is a fun and casual style perfect for a day out. The brown-blonde hair is braided from the crown on both sides to meet loosely in the middle. Weaved haphazardly and pulled to add fullness, the thick braids create a halo around the head to give off a youthful and easy-going impression. The rest of her hair is left loose and wild with careless curls to capture a sun-kissed beach vibe.
7. Princess Belle Braid With Loose Curls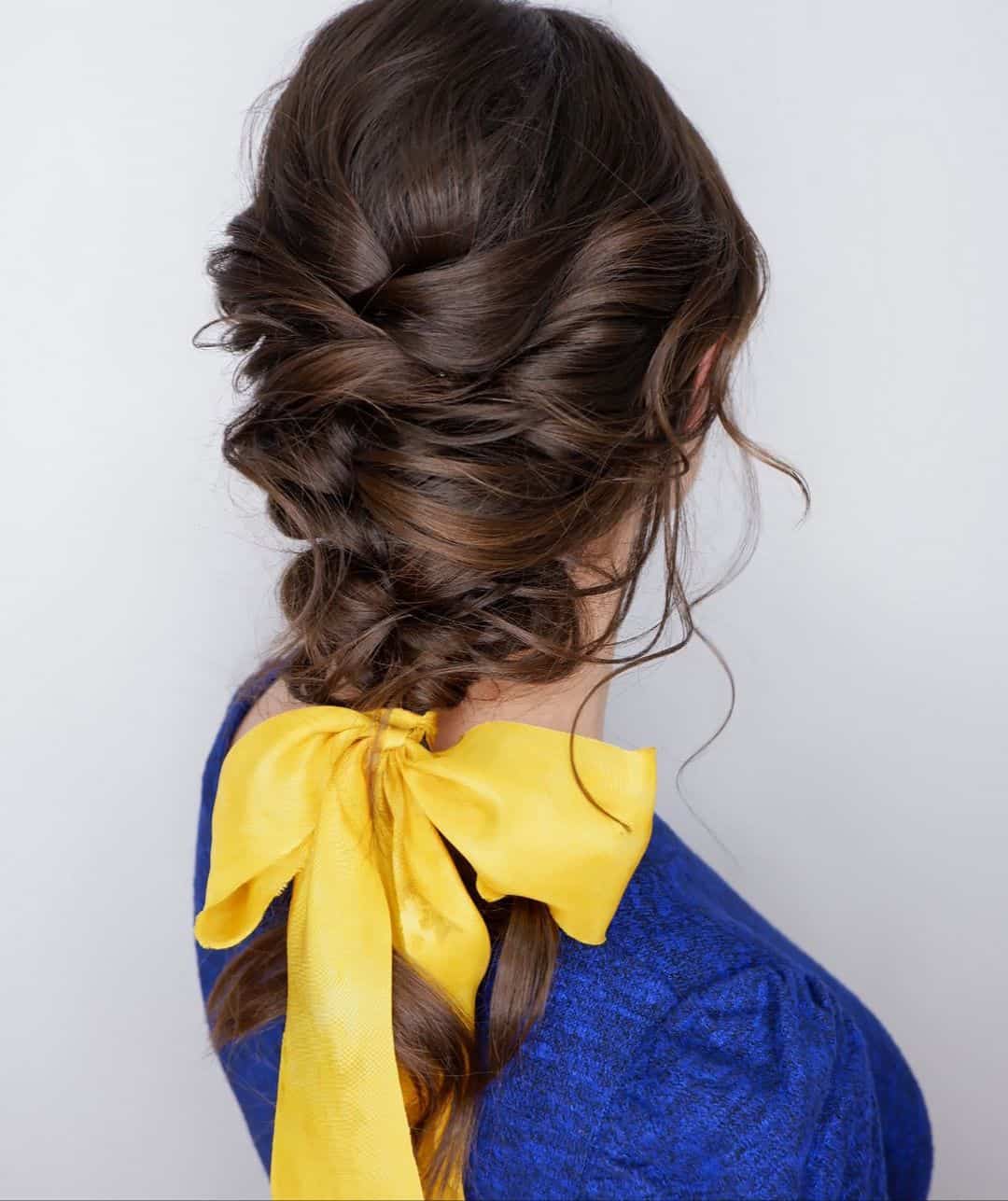 Image Source
This voluminous, wavy braid captures the essence of Belle from Beauty and the Beast. With thick sections of hair woven loosely, the braid creates a soft look with a delicate feel. Perfectly secured and put together but given a tinge of carefree elegance, a few wisps of the dark brown hair are allowed to frame the face in loose curls. A big, yellow bow finishes off the look by adding a feminine Disney princess vibe.
8. Knotless Box Braids for Medium-Length Hair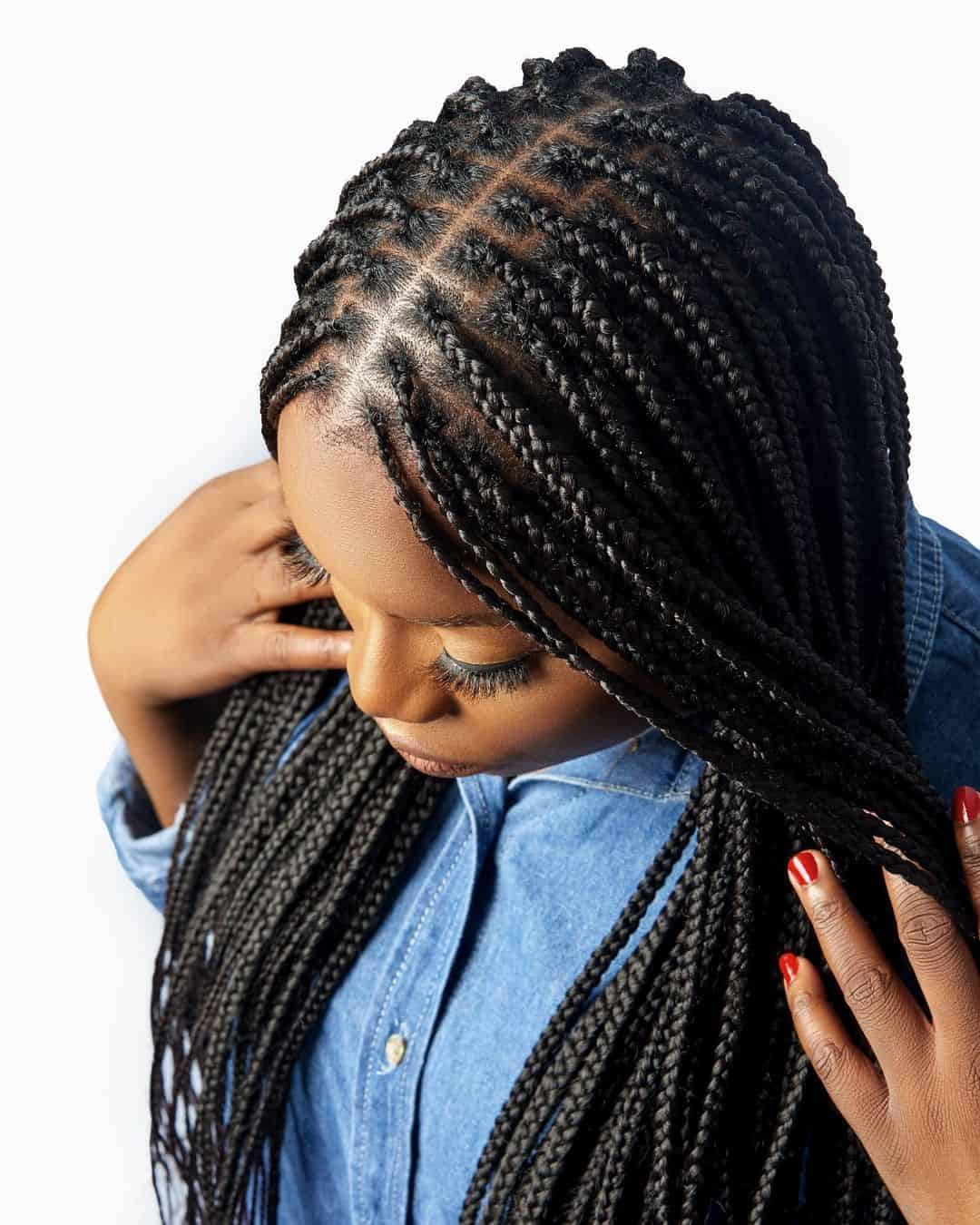 Image Source
These versatile braids are not only stylish but also help minimize hair damage. This simple weave is perfect for you if you want to serve up an attractive but professional weave at your workplace with little effort. The full, textured hair is pulled into tight braids from the crown right down to the tips making for a beautiful mane of sleek hair that will last up to eight weeks.
9. French Braid for Short Hair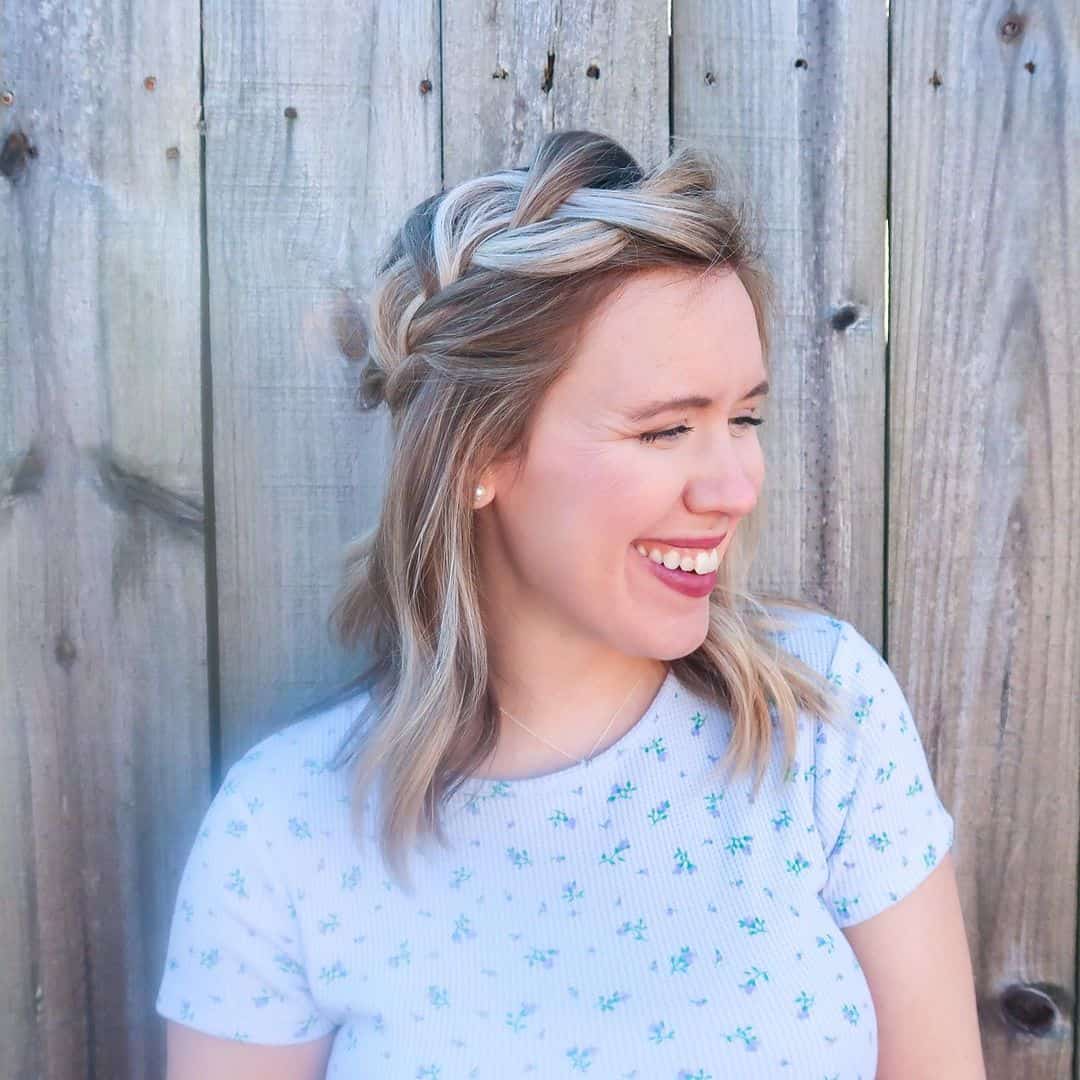 Image Source
A voluminous side French braid looks casual yet fits perfectly with a formal setting with its soft, feminine vibe. Though French braids feel like a hairstyle limited to long hair, even those with medium-length hair can try this style. Braided from one side of your head and secured halfway, the braid is pulled and pinched for texture, leaving the rest of the silky, pale blonde hair loose with few subtle waves.
10. Braided Pigtails With Half Ponytail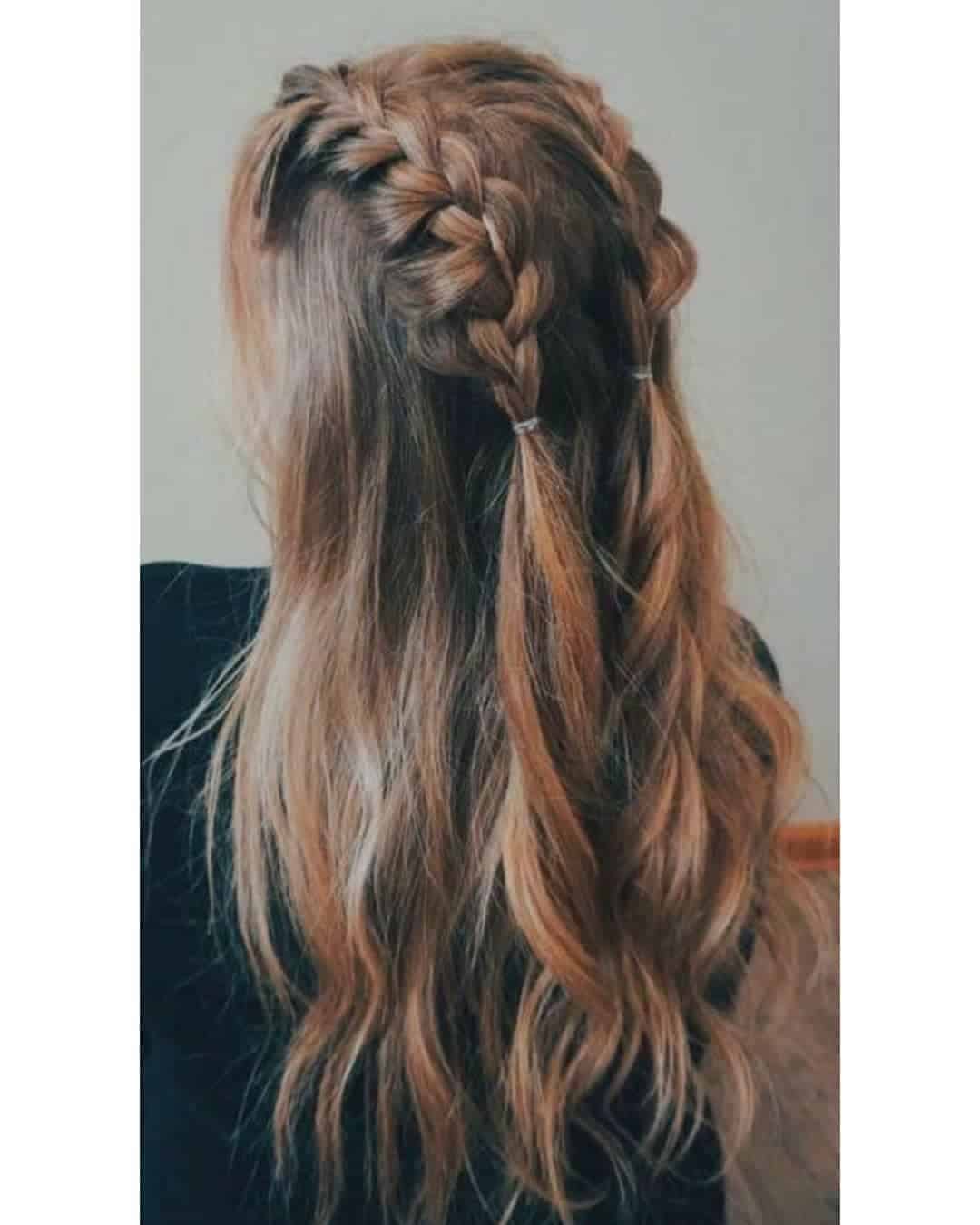 Image Source
This braided look has the casual and comforting vibe of a day out at the cinemas but can double as a fun style to try for a summer party. The reddish-brown hair is braided tightly from the crown on either side and secured separately at the back in two low pigtails. The rest of the hair is left free and subtly curled to add a bit of youthfulness, while the auburn highlights inject warmth into the easy but eye-catching look.
11. Dutch Side Braid Emanating From Crown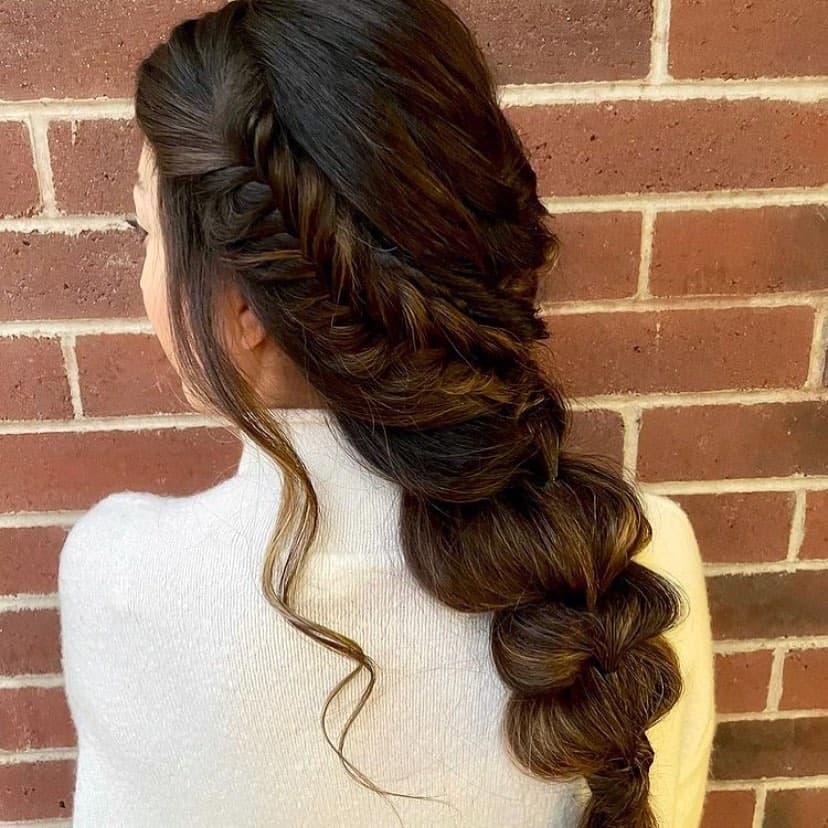 Image Source
This Dutch side braid encompasses elegance with its voluminous but soft look making it perfect for any formal event, including weddings or work parties. The dark brown hair is tinged with lighter highlights and braided tightly in a Dutch braid from the crown before being weaved loosely in a side braid for a fuller look. A single wisp of curly hair is left loose to add a touch of delicate femininity to the mature vibe of the style.
12. Braided Bun With Floral Silver Clip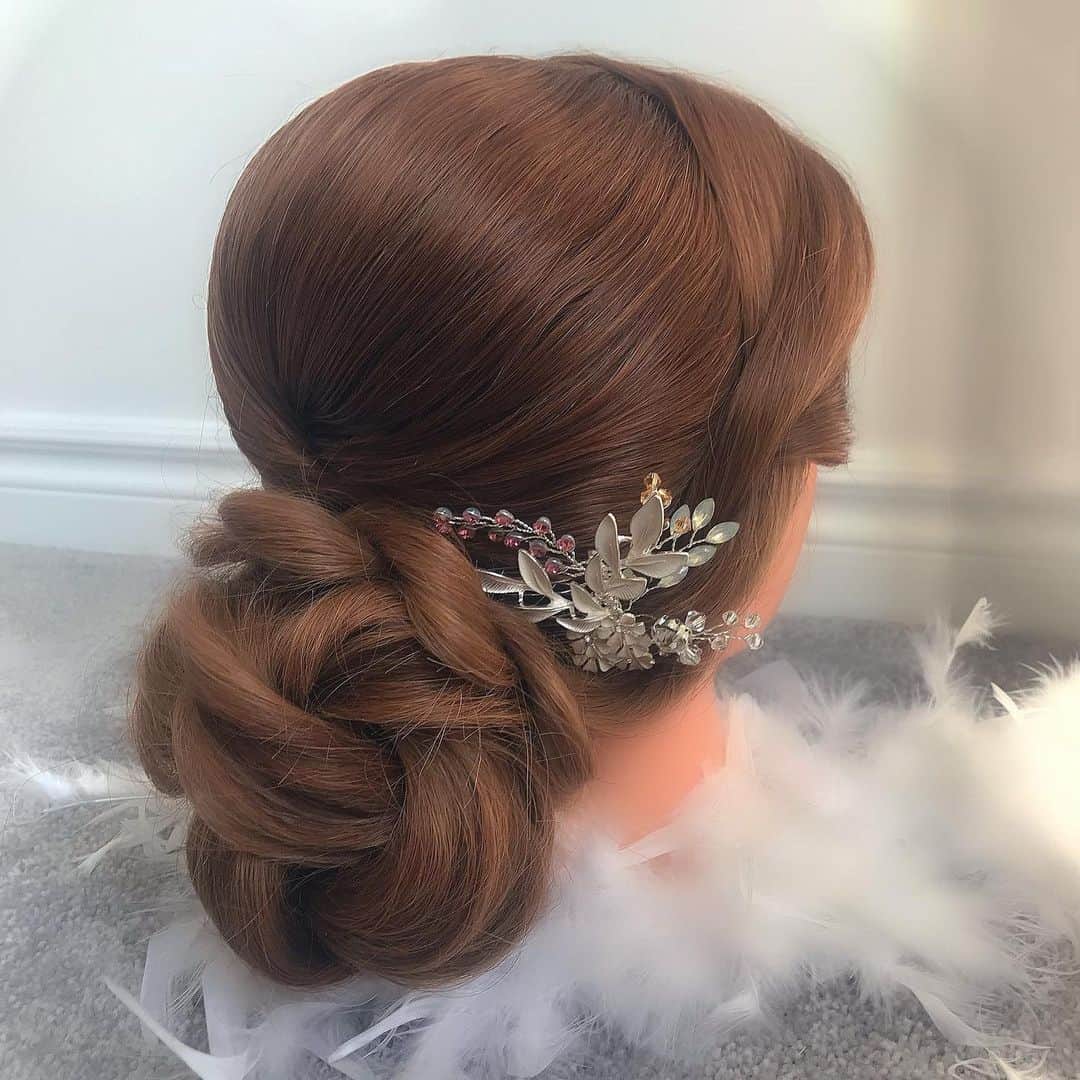 Image Source
An elegant braided bun is easy to do and never fails to capture the beauty of a bride. The medium brown hair is loosely braided into a side fringe, while the remaining hair gets wrapped into a full-braided bun that is pulled and teased for a voluminous texture. The silver, bedazzled clip decorating the bun adds a pop of color to the classic updo.
13. Waterfall Crown Braid With Black Highlights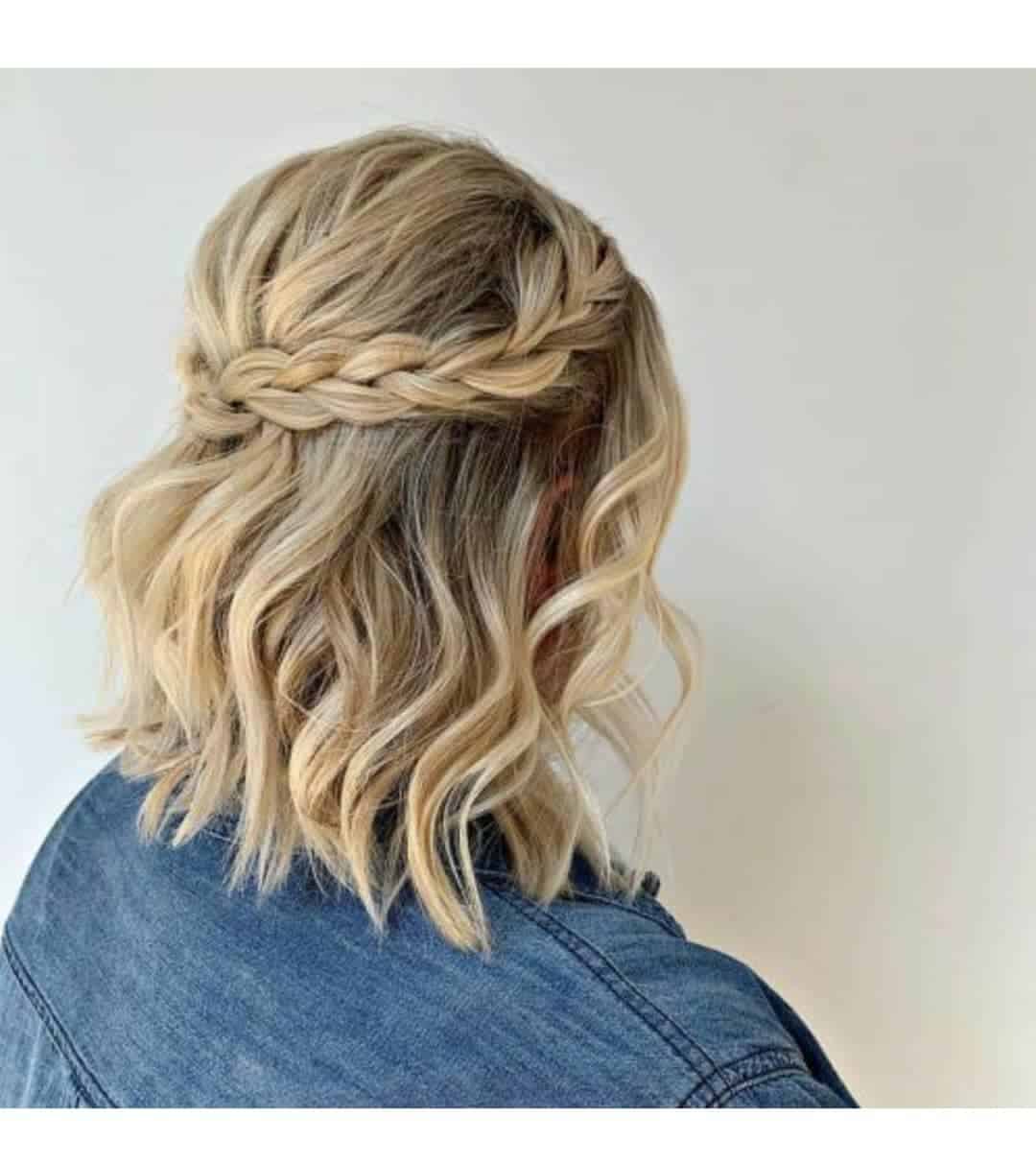 Image Source
A delicate but fun waterfall braid is equally suitable for formal parties and casual dates. The shoulder-length blonde hair has been twisted from the front and secured at the back in an easy-going, eye-catching way, while the rest of the hair is left loose and tightly curled to maximize the free-flowing look that the style is trying to capture. A few curls frame the face in a seemingly effortless manner adding to the feminine and carefree style.
14. Faux Fishtail Braid for Medium-Length Hair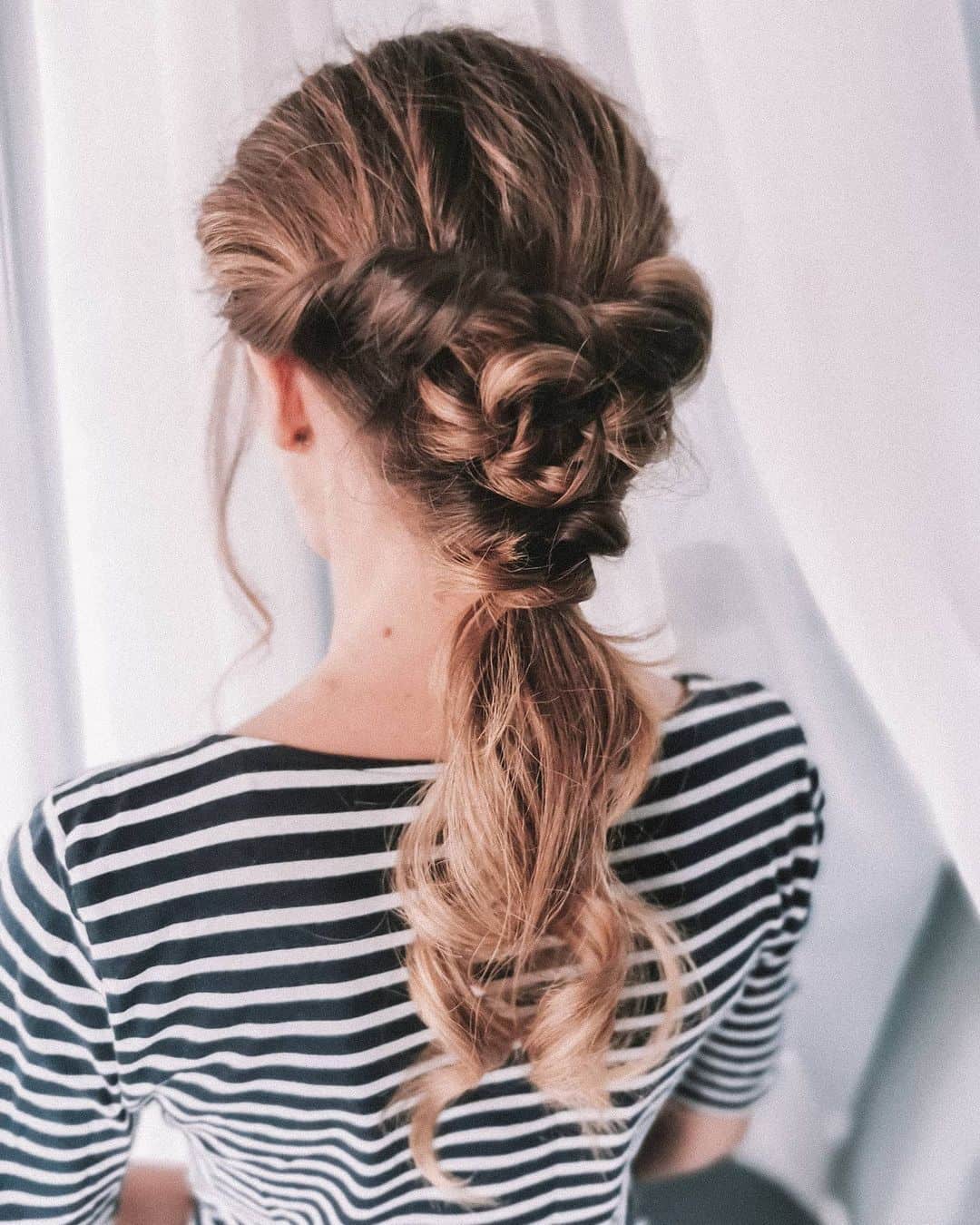 Image Source
If fishtail braids seem like an intimidating style, a fishtail hack that's just as pretty to look at but a lot easier to achieve is what you need. The pink-tinged brown-blonde hair is pulled into a faux-fishtail with plenty of intricate twists and weaves for added elegance. A few loose curls frame the face while the ends are left wavy for a casual touch.
15. Bohemian Dutch Braid Side Ponytail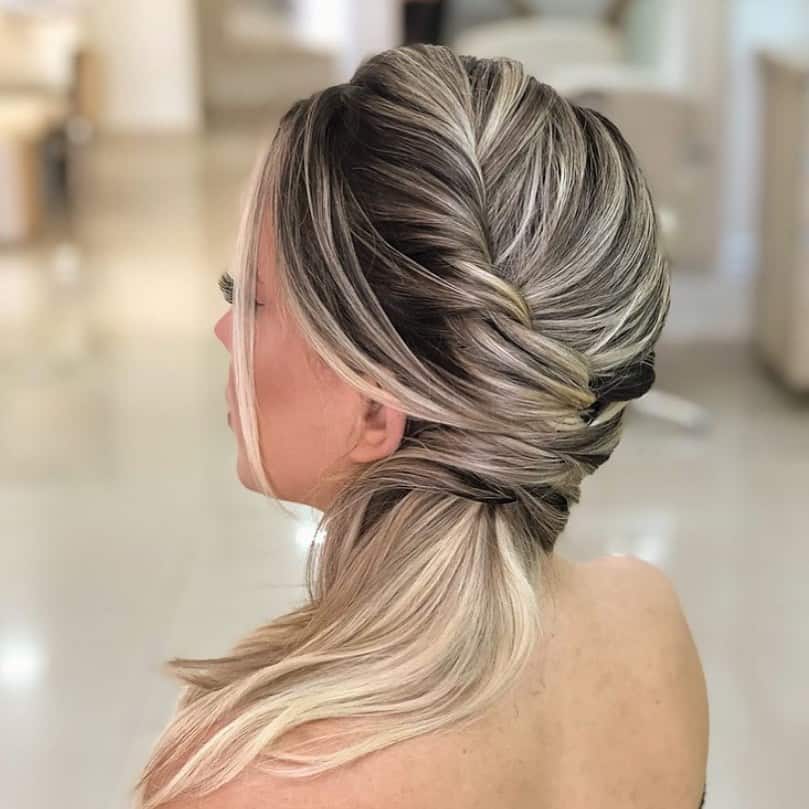 Image Source
This elegant Dutch braid gives off a Bohemian summer vibe which doubles effortlessly as a semi-formal office look with its ponytail-braid combo styling. A section of the blonde hair is twisted and tucked inwards from the top of the head and fed into a flowy but compact faux braid resting daintily over the shoulder. A strand of hair frames the face on one side in an unstyled, casual manner accentuating the subtlety.
16. Dreamy Multi-Fishtail Braid With White Pearl Clip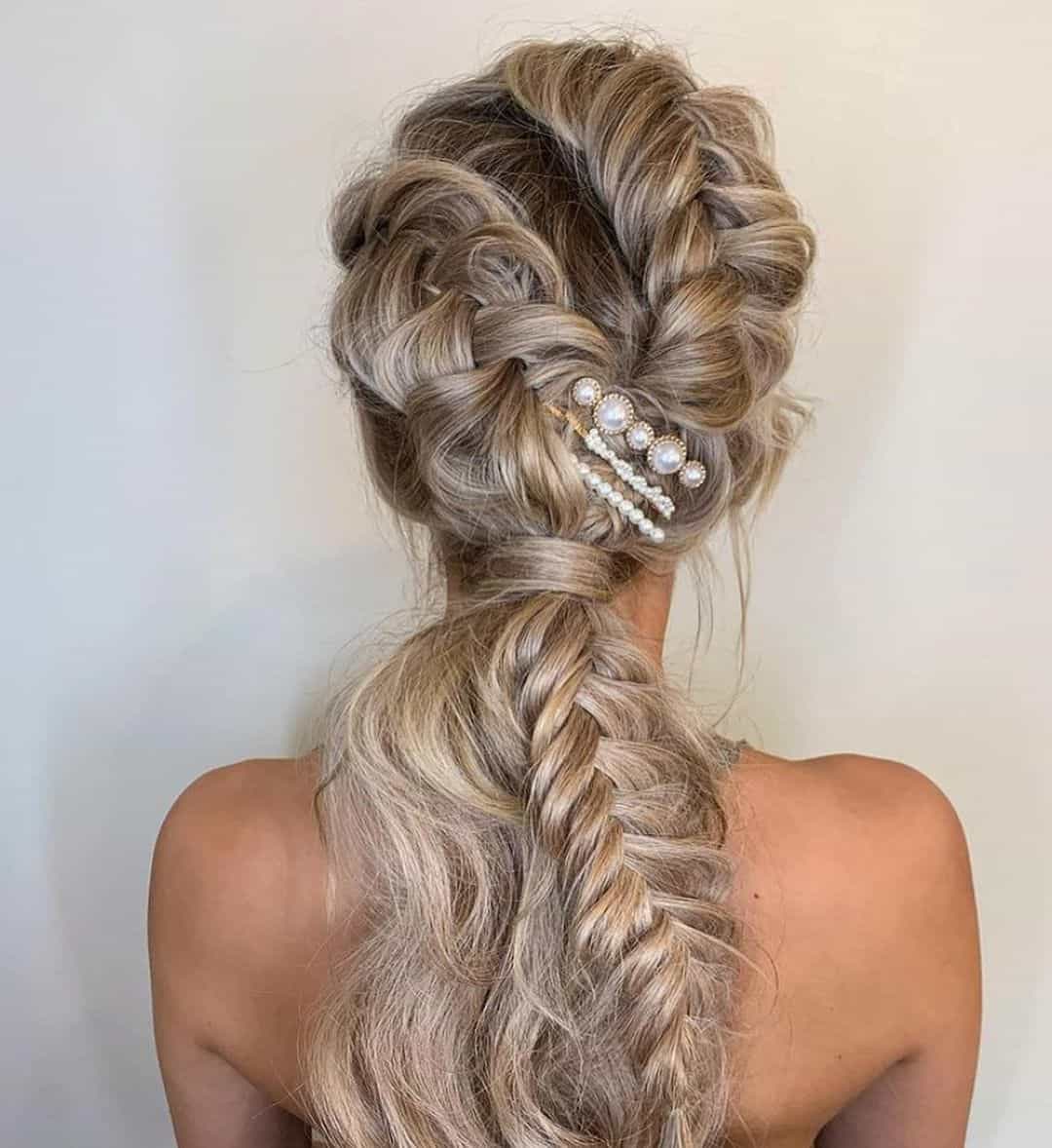 Image Source
All eyes will be on your hair with this gorgeous and intricate multi-fishtail braid that's fit for a fairytale wedding. The long blonde hair is braided in voluminous fishtails from both sides, continuing down as a singular braid resting upon a full ponytail making the look overflow with romance and delicate richness. The braids are pulled apart for added texture, and a silvery-white pearl clip peeks from the center, slotted effortlessly into one of the braids, making for a dreamy, sparkle-tinged vibe.
17. Flowy Braided Bun With Curly Wisps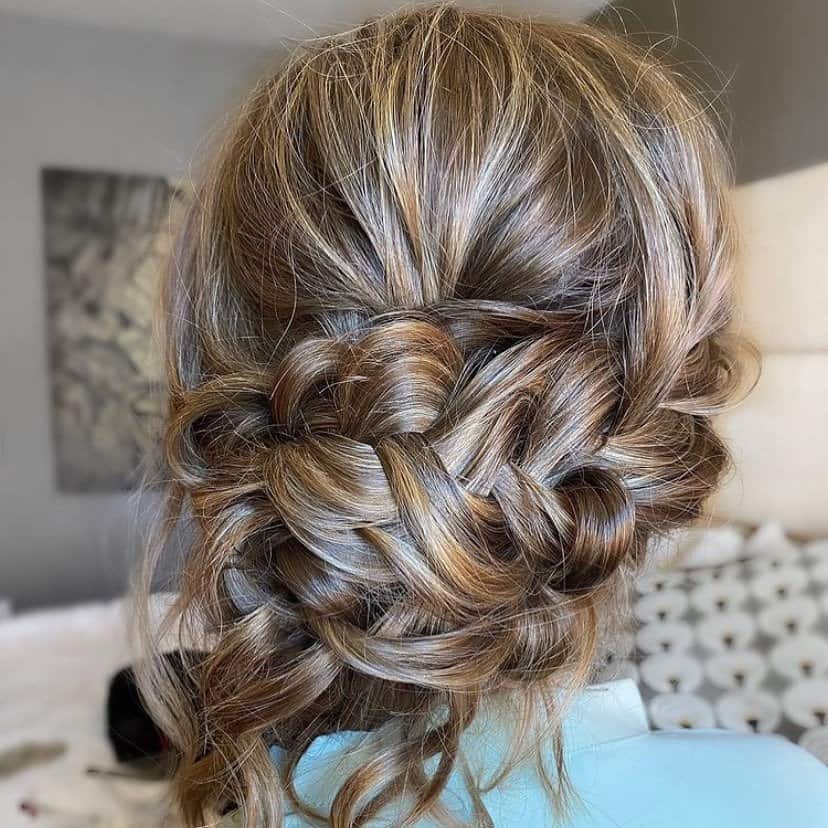 Image Source
Flowy and feminine, this braided bun captures casual elegance at its finest. Woven intricately into a braid that crisscrosses to frame the neck in a delicate bun, this braided bun works well for formal office parties or dinner dates. A few curly strands of the honey-tinged brown hair escape from the bottom in a careful yet messy manner, adding a casual touch to the mature hairstyle.
18. Sassy Lemonade Braids for Long Hair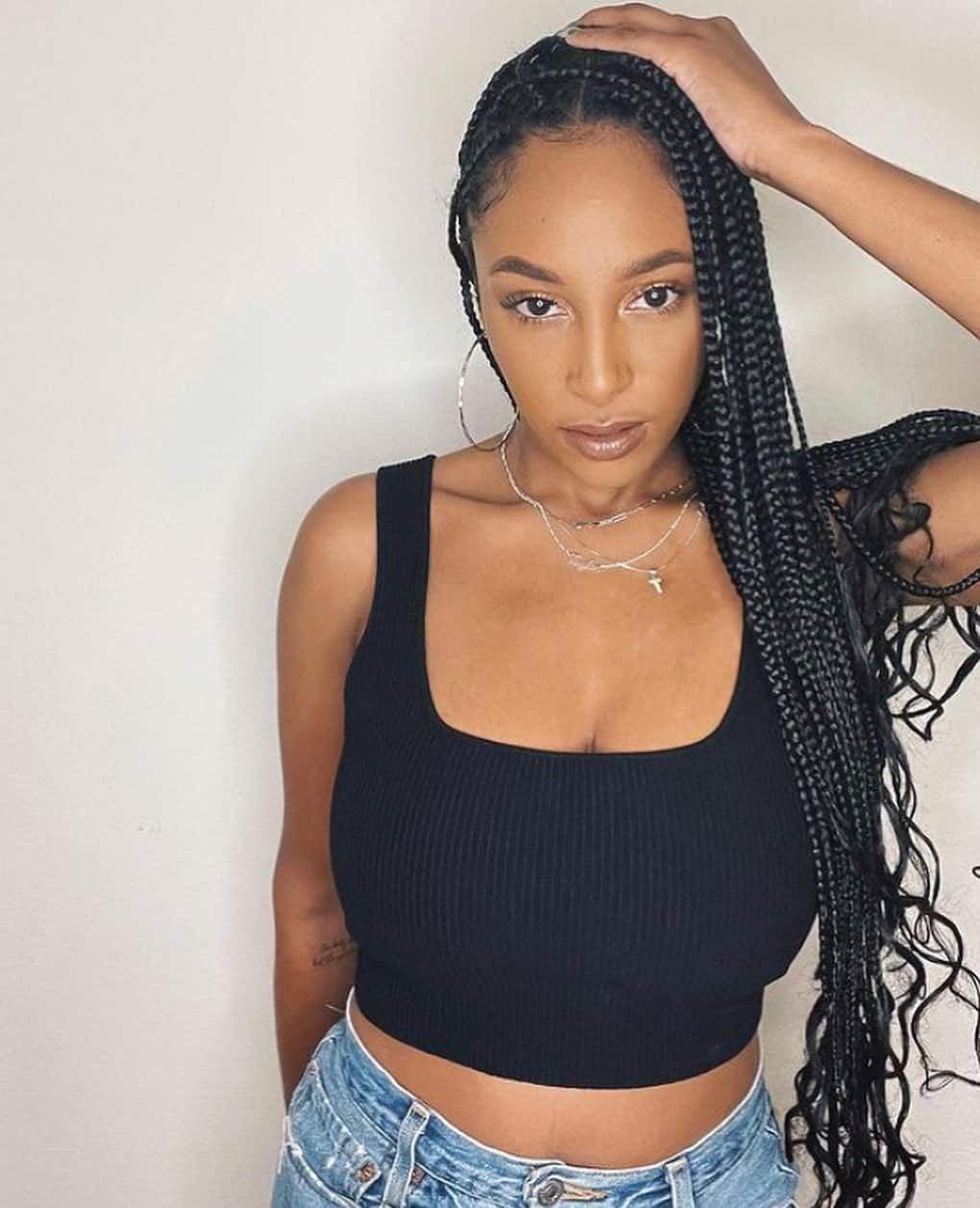 Image Source
If you're a fan of Beyoncé, then these stylish, sassy lemonade braids are perfect for you. Versatile and fashionable, the braids became a popular hairstyle after Queen B wore them in her 2016 album Lemonade. Usually tightly and intricately woven to one side, the thick and long black hair flows with wavy ends allowed to fall casually over the shoulder, tangling naturally in an elegant but wind-swept manner adding to the edgy vibe of the look.
19. Mohawk Braid With White Beads for Medium-Length Hair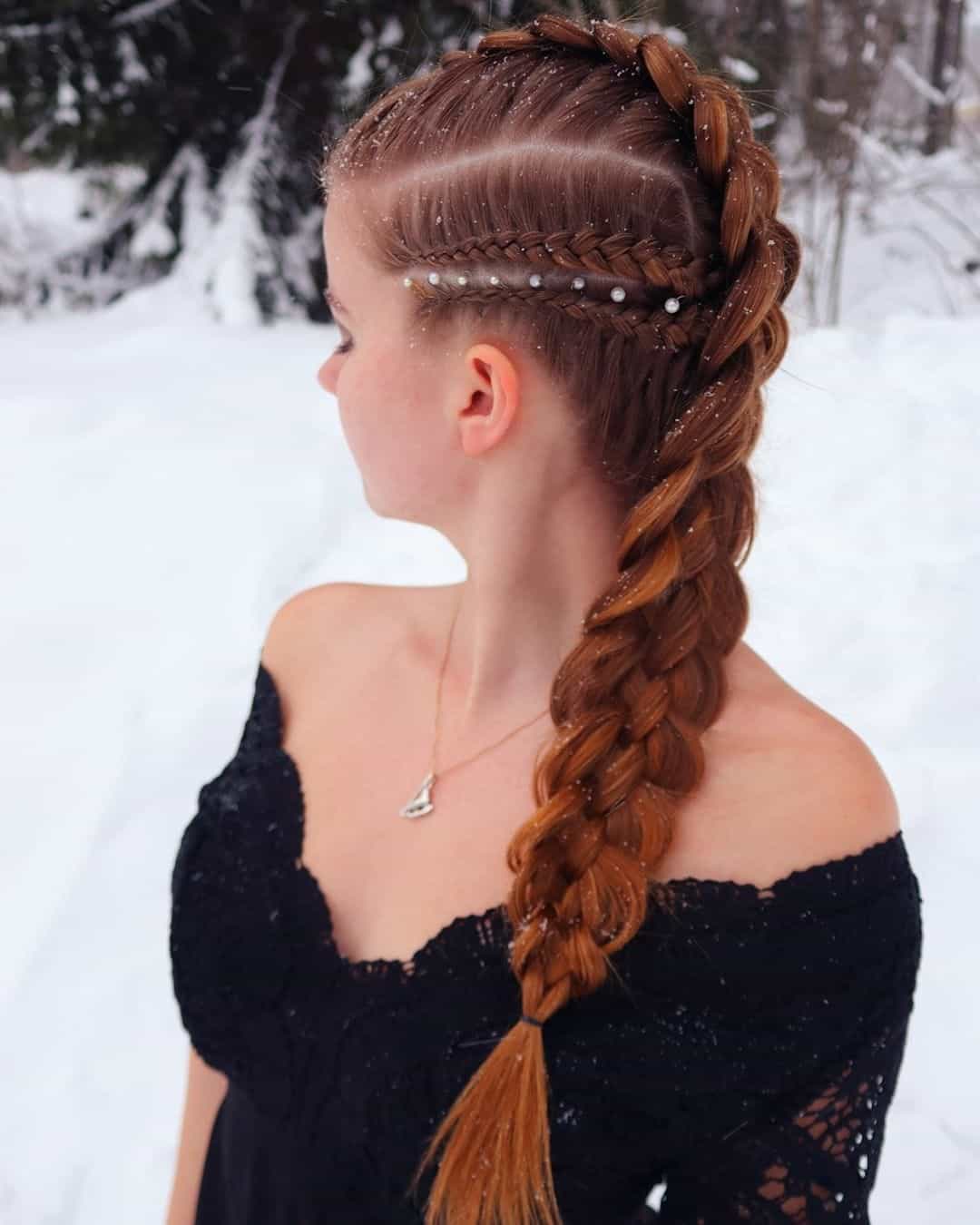 Image Source
The mohawk braid is bold and feminine, exuding a princess charm that is made stronger by a sleek weave. The technique is similar to the French braid, but with two smaller braids feeding intricately into the main one for a thick and full braid. With no hair out of place, sparkly beads line the mini-braids on the side to accentuate the warm-toned red of the hair, adding to the overall winter vibes.
20. Heart-Shaped Half-Braid With Black Bow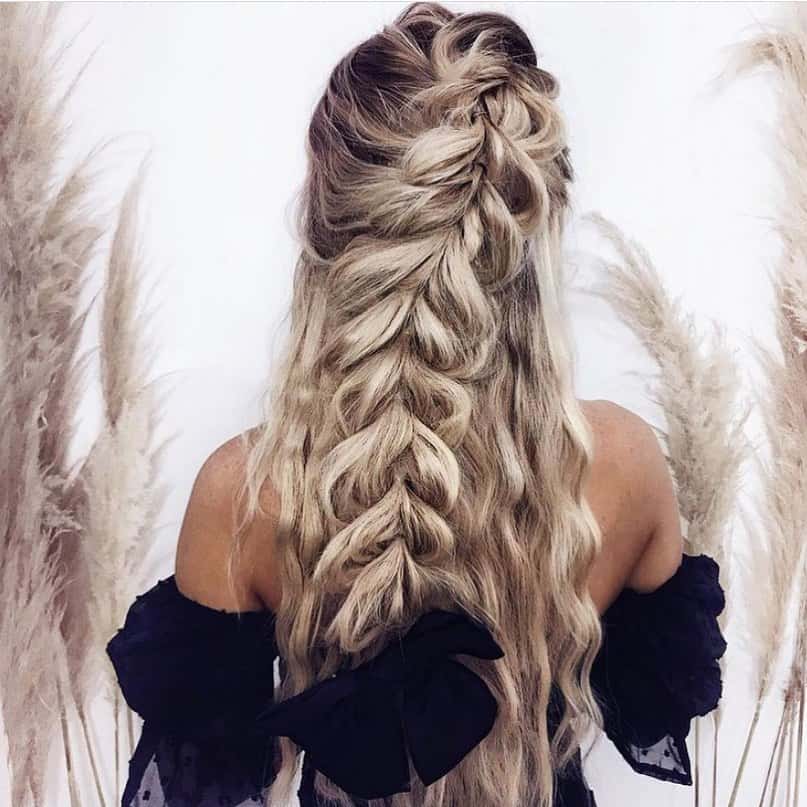 Image Source
This voluminous half-braid imitates a trail of hearts tinged with grace and romance, making it a go-to date look. The blonde hair has been pulled into a slightly messy, loosely woven half-braid from the crown and finished off with a big, soft-looking black bow for a cute touch. The heart-shaped braid is allowed to be the star of the look, while the rest of the hair is left free and teased to perfectly subtle waves that add a casual day-out vibe.
21. Dutch Side Braid With Messy Loose Curls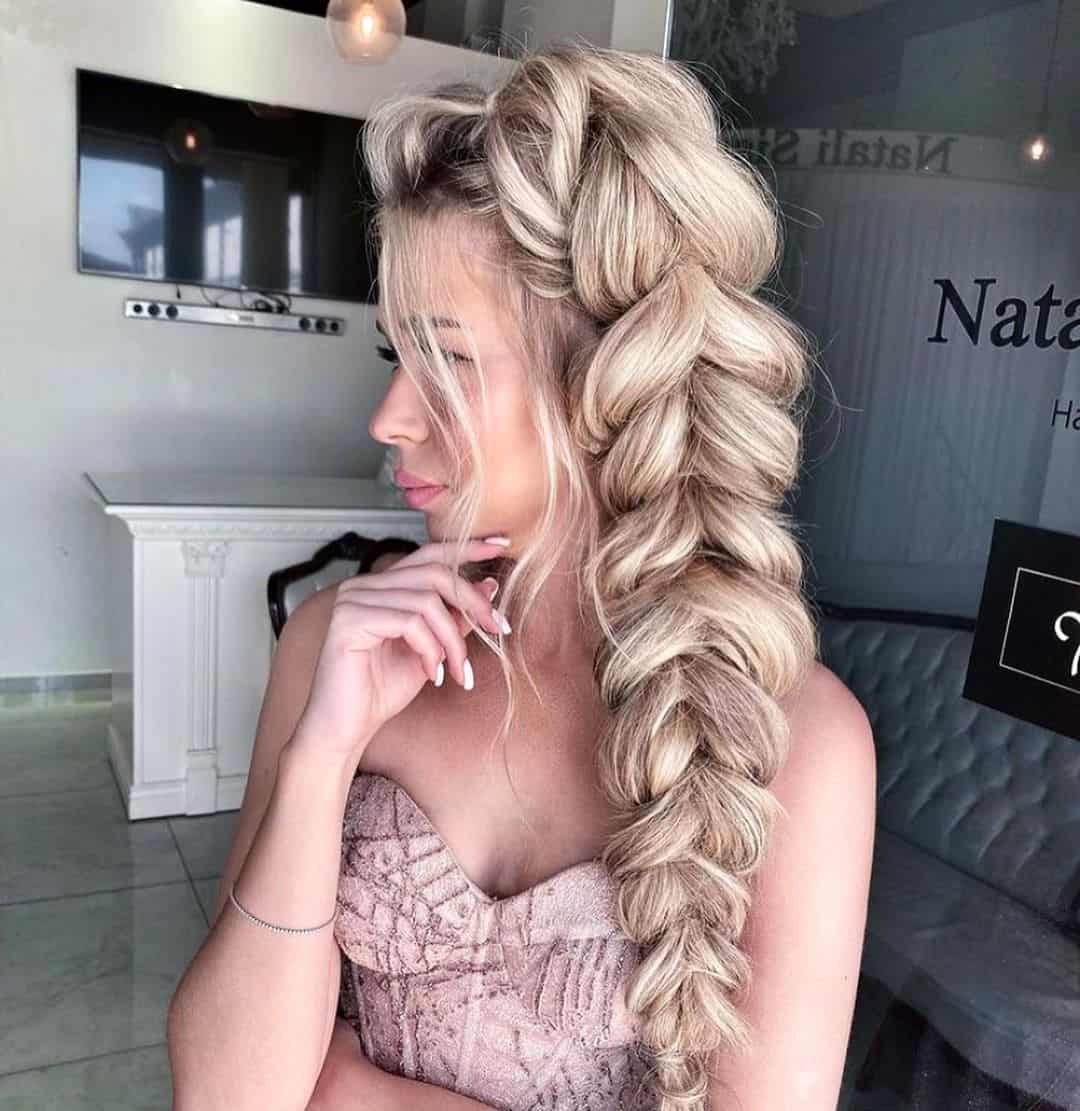 Image Source
This luscious Dutch side braid is full and fashionable with an effortless volume giving it an elegant style that can double as a dinner date look. The blonde hair is pinned back in a purposely messy manner from the crown and stylishly braided with thick sections of hair woven, pulled, and teased for maximum texture. A few wisps of hair have been left free, the loose curls framing one side of the face, softening the heaviness added by the braid.
22. High Messy Bun With Braided Headband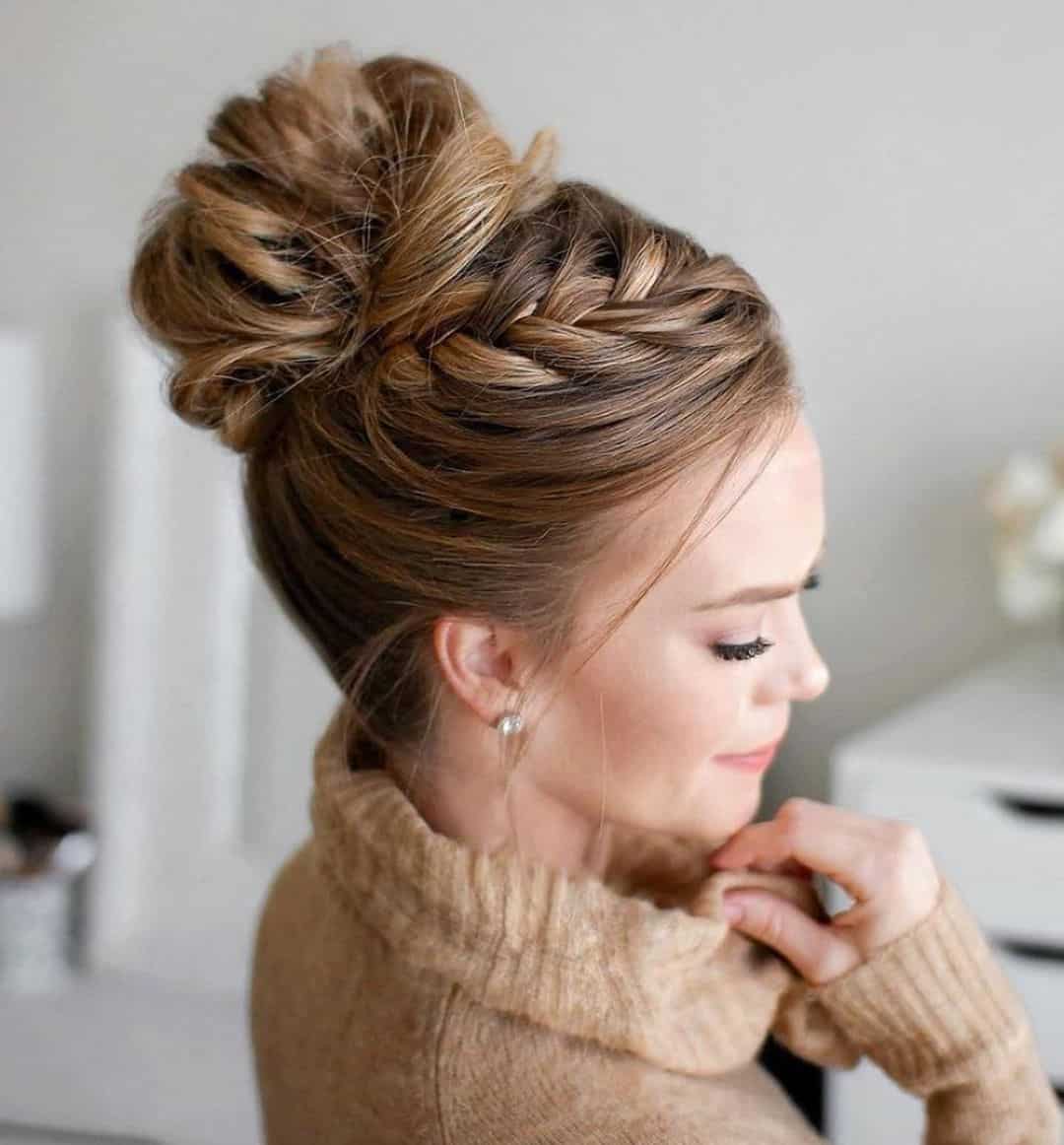 Image Source
This delicate style uses a braid to frame a messy bun making it a playful or elegant option depending on how you style it. Two sections of the brunette hair have been braided and crossed across the head to act as a braided headband, while the remaining hair makes its way into a low and voluminous bun. Few strands of hair are allowed to fall naturally out of the updo and frame the face, adding a soft, feminine touch to the look.
23. Seven-Strand Infinity Braid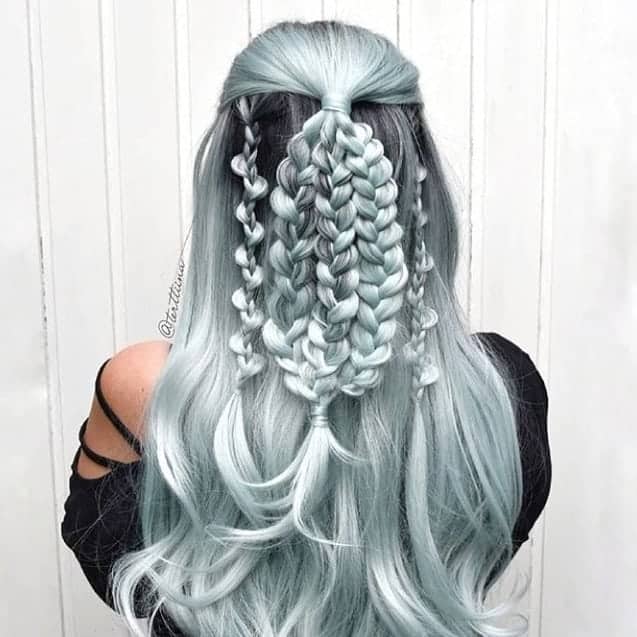 Image Source
This futuristic-looking seven-strand infinity braid encapsulates an edgy vibe that's perfect for a night out. With a unique, sci-fi touch, the top of the hair is tied into a half-ponytail and braided intricately to create a voluminous infinity braid of seven strands. Two other strands are twirled and teased apart in an eye-catching manner to frame the thick center braid. The remaining pale blue hair is left free in elegant, loose waves across the back.
24. Elsa Braid With Sparkly Snowflake Clips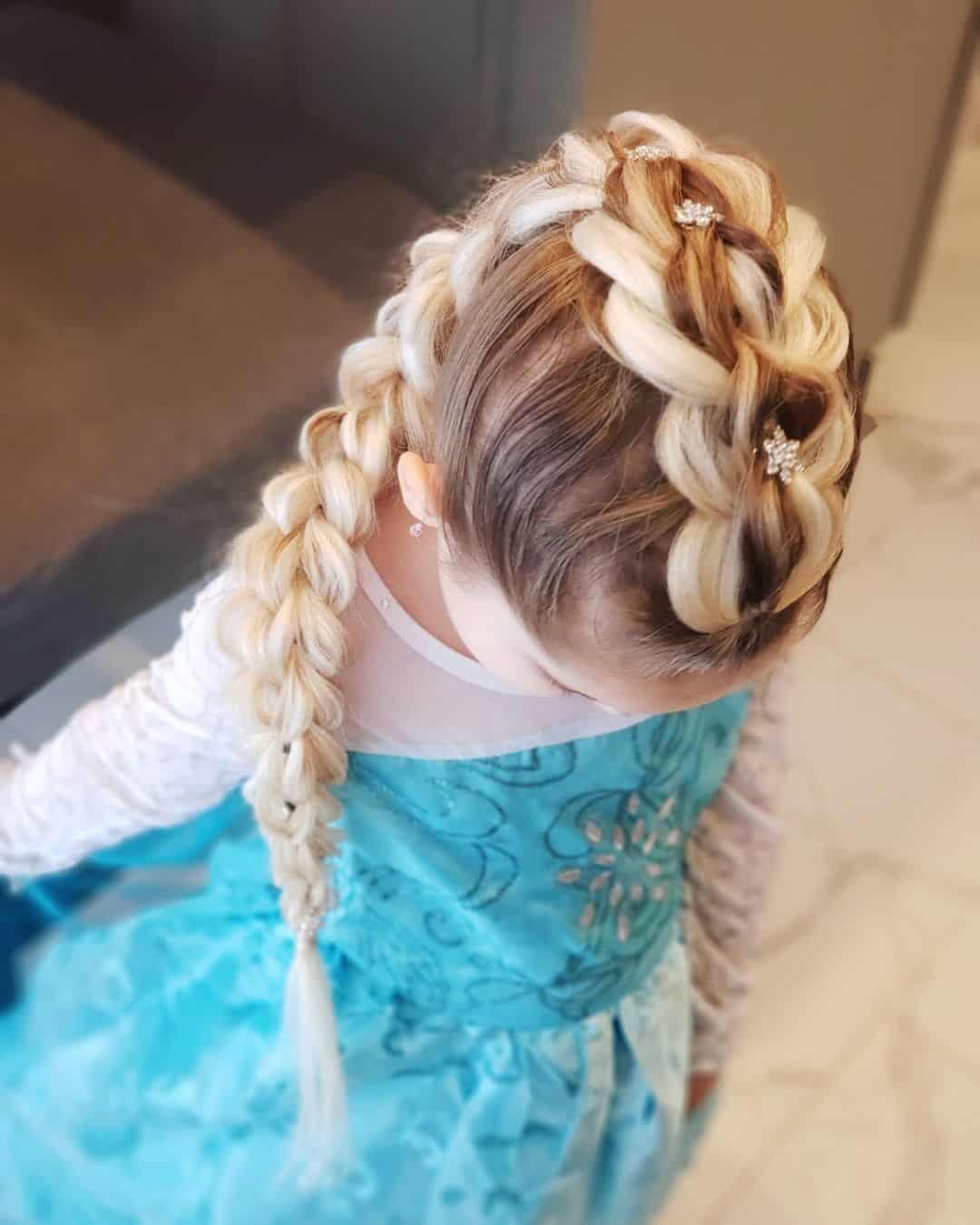 Image Source
Wanting to be Elsa will never go out of style – this Elsa-inspired Dutch braid proves just that. The braid begins at the crown and continues into a straight, sleek, and tight braid, making the hairstyle ideal for a costume party. A brown-to-blonde balayage adds a tinge of warmth to the wintery princess vibe of the style. Sparkly snowflake-shaped clips adorn the center of the thick braid along its length for an extra sprinkle of shimmer.
25. Heart-Shaped Braided Crown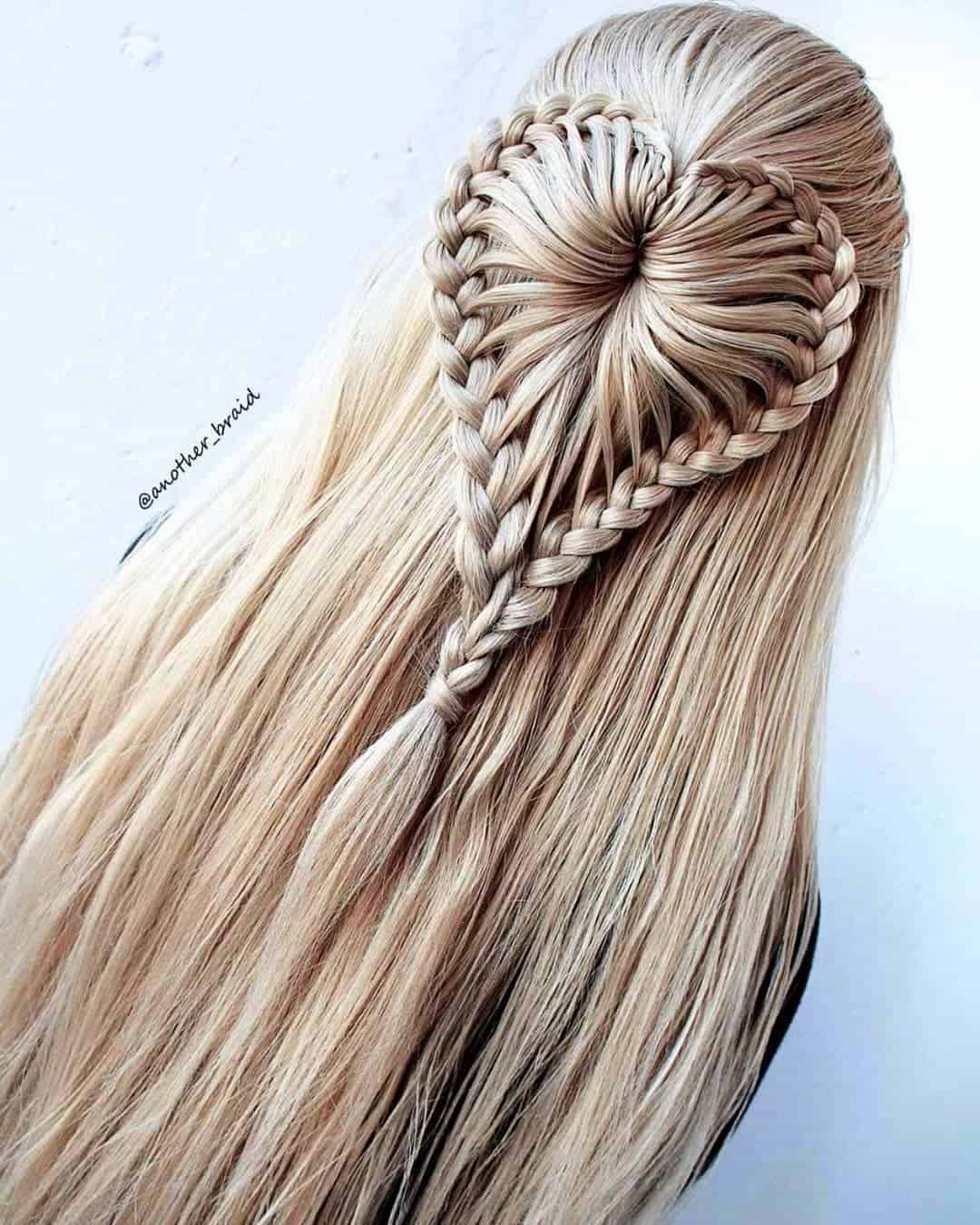 Image Source
All eyes will be on you with this fancy and fun heart-inspired braid. This hairstyle is perfect for someone who loves braided hairstyles but wants something that isn't an updo. The combed-back hair is weaved carefully into a heart-shaped crown framing the back of the head. The simple braids and the heart shape are the stars of the look, with the rest of the straight blonde hair left free and unstyled, adding to the simplicity of the casual-turned-party look.
26. Fulani Braids With Intricate Golden Ring

Image Source
Incorporate a bit of culture into your triangle box braids with this tribal-inspired look. The thick black tresses are braided in classic box braids at the back, with twists and a top knot at the front. Random braids are clipped and entwined with golden hair accessories and string, elevating the "goddess" vibe of the look. A small golden ring with an intricate leaf hangs from a small braid at the front, resting delicately on the forehead for more richness.
27. Bohemian Faux Pigtails With Sectioned Hair Ties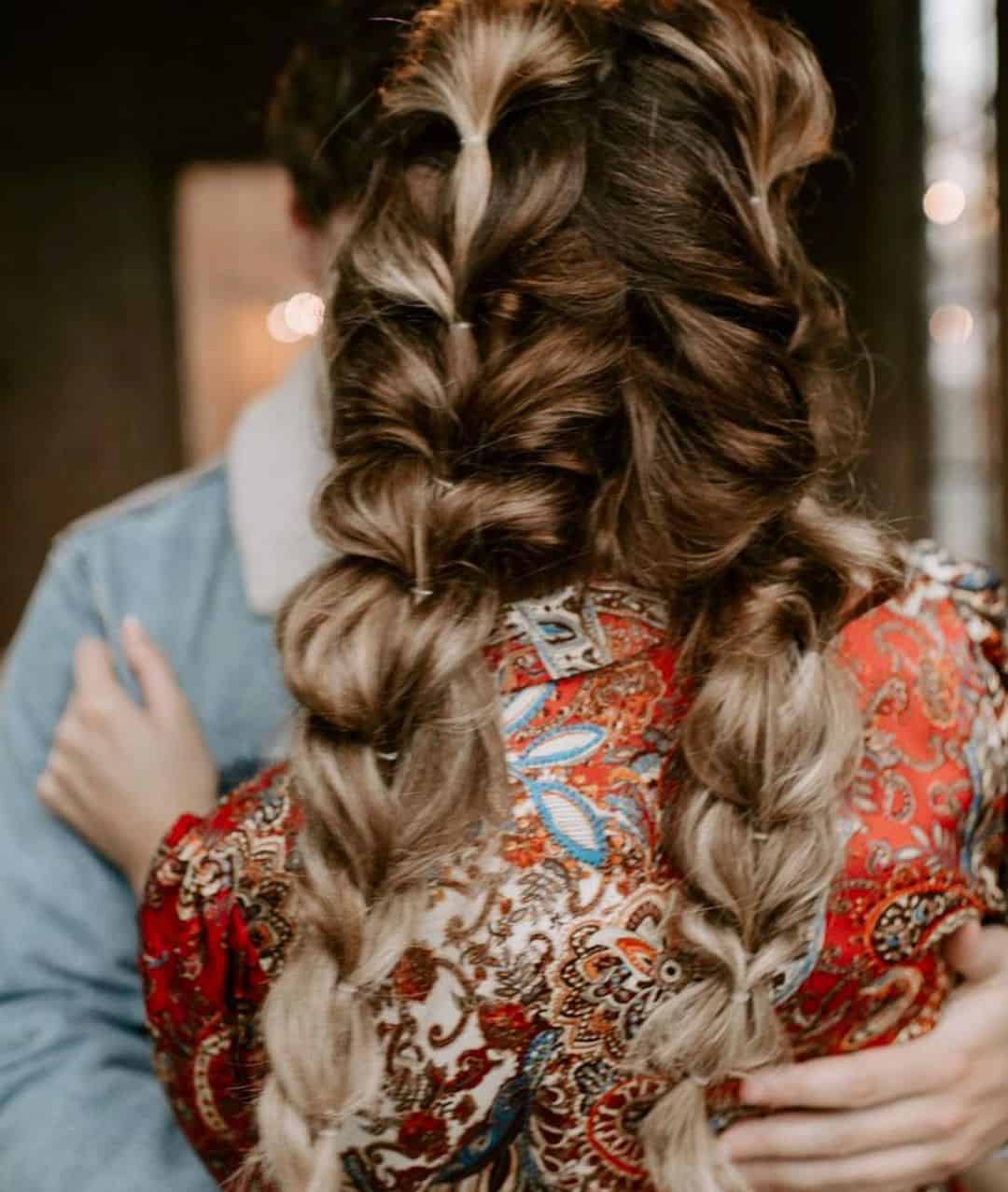 Image Source
With a casual, bohemian touch, this humble hairstyle imitates trusted pigtails for a go-to day look. Split into two sections and pinned with hair ties, this flowy look is achieved by pinching and pulling braids until they sway loosely in a purposefully tousled manner to give off a youthful, carefree vibe. The brown-to-blonde balayage and the thick section of bangs framing the face on one side add to youthfulness with a simple hat tying the look together, making it effortlessly cute.
28. Three-Strand Loop Lace Braid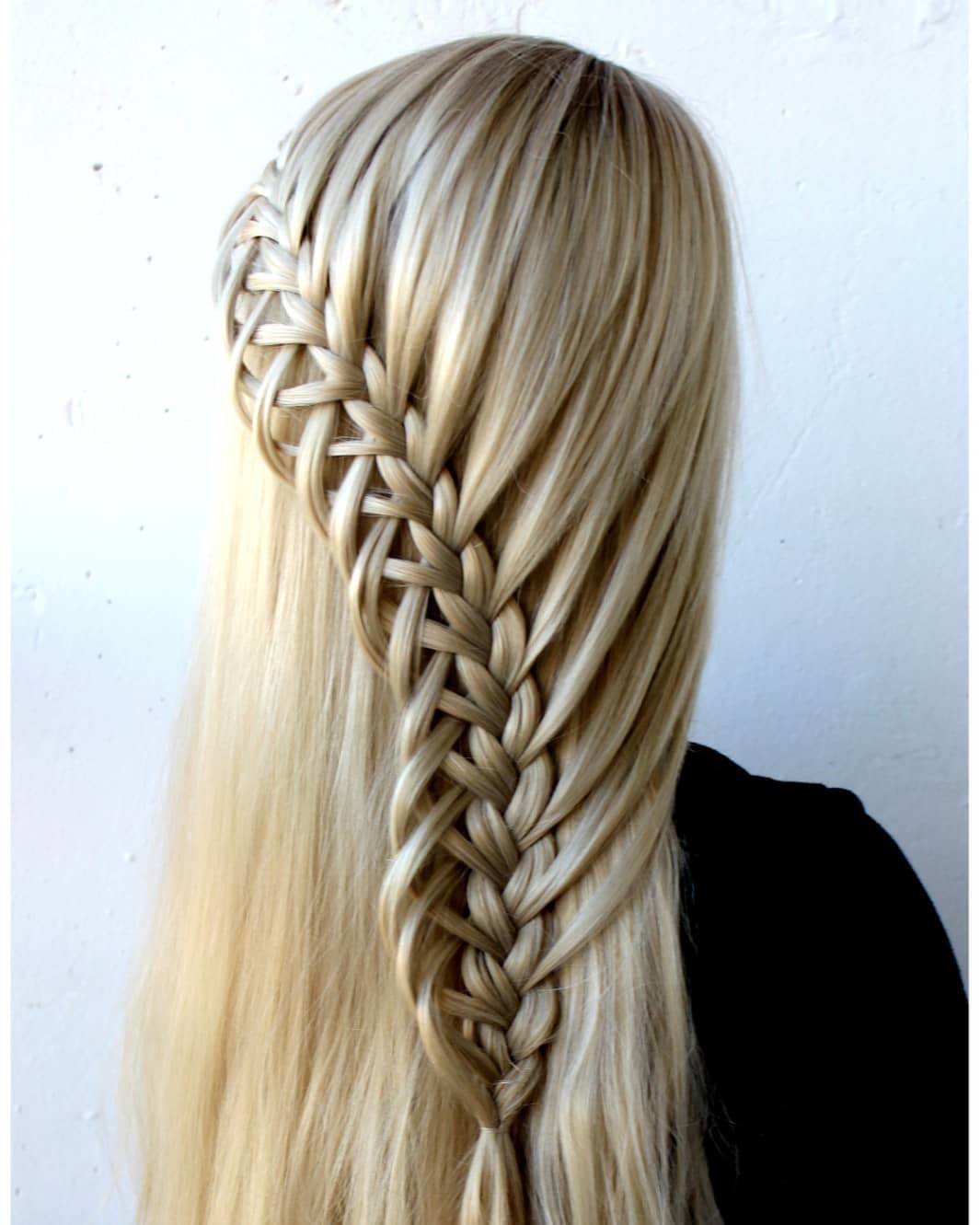 Image Source
Elegant and intricate, the 3-strand loop lace hairstyle is ideal for the workplace or a party with its delicate vibe. The sleek and straight blonde hair is pulled into a braid from the left side at the back, moving smoothly to the right, with strands on the left-hand side of the braid weaved and pulled carefully to create an attractive looped-lace pattern. The rest of the hair is loose, lying across the back, giving a formal feel to the fancy look.
29. Cornrow Braids With Orange Beads for Short Hair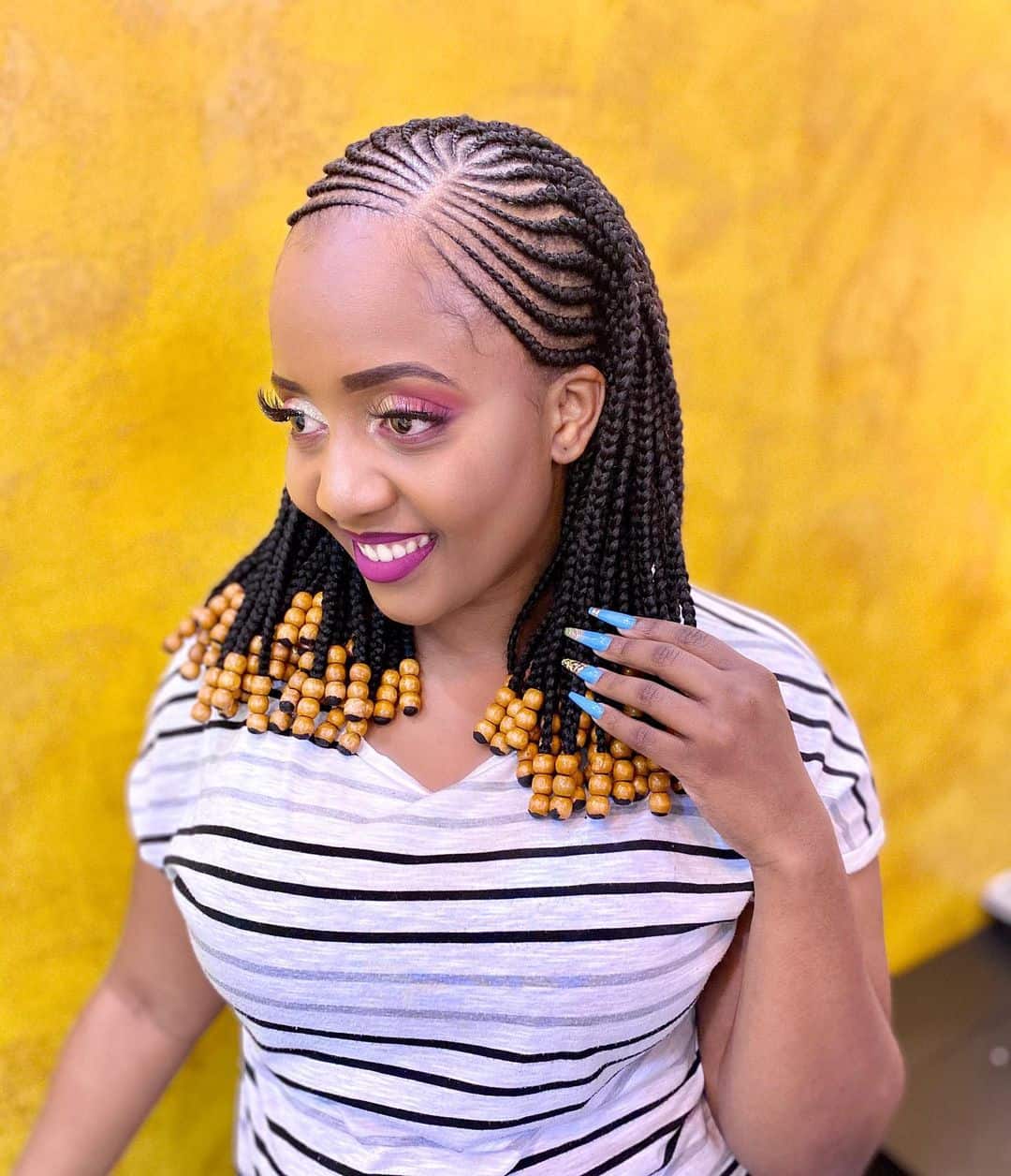 Image Source
These cornrow braids are stylish and fun, accentuated by the beads that add a colorful and summery twist to the classic style. The look on the shorter, shoulder-length black hair transforms its overall style from elegantly mature to cute, depicting the versatility of these braids. The braids are weaved tightly from the crown in simple rows, each decorated with a trio of bright orange beads to create a warm, beach party vibe.
30. Goddess Braids With Golden Highlights

Image Source
Hair like a Goddess becomes more than a compliment with this rich, high-fashion braided bun. The thick black tresses are braided tightly and coiled into a voluminous braided top knot. The simple elegance of the look elevates to enchanting levels with the golden highlights. They begin as subtle tinges of sunshine at the edges of random braids and bloom fully on the top knot, which sits proudly drenched in gold at the top of the head, stealing the show.
31. Lace Crochet Braid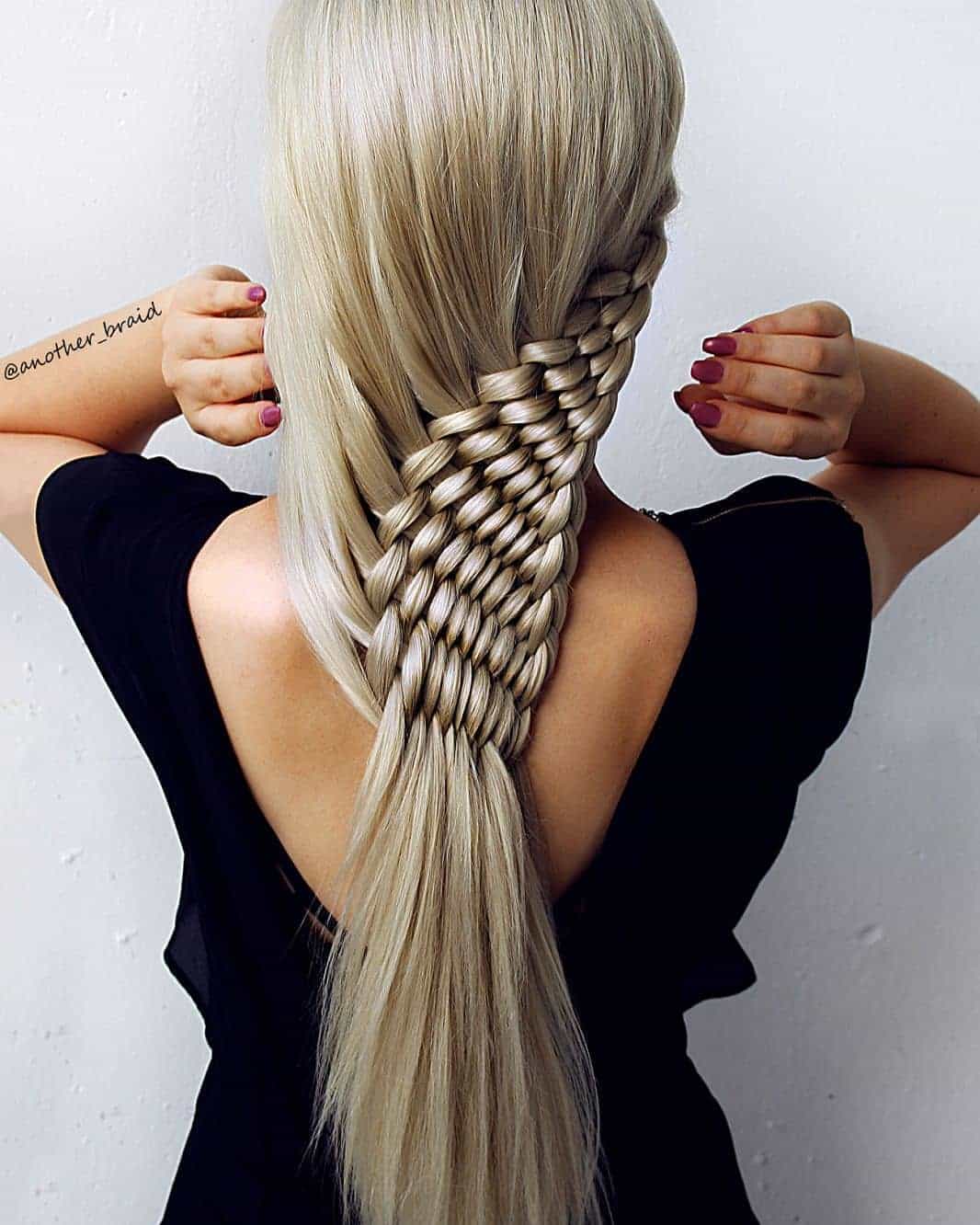 Image Source
Similar to the 3-strand loop lace hairstyle but kicked up a notch for a more high-fashion vibe with intricate braids weaved in, this party look showcasing a formal elegance will surely be a hit. The smooth, silky blonde hair is fed in sections from the left side to create a multi-layer braid concentrated on the right. The braid stops a quarter of the way down while the pale, thick blonde locks fan out to resemble a simple low ponytail.
32. Double Layered Mermaid Fishtail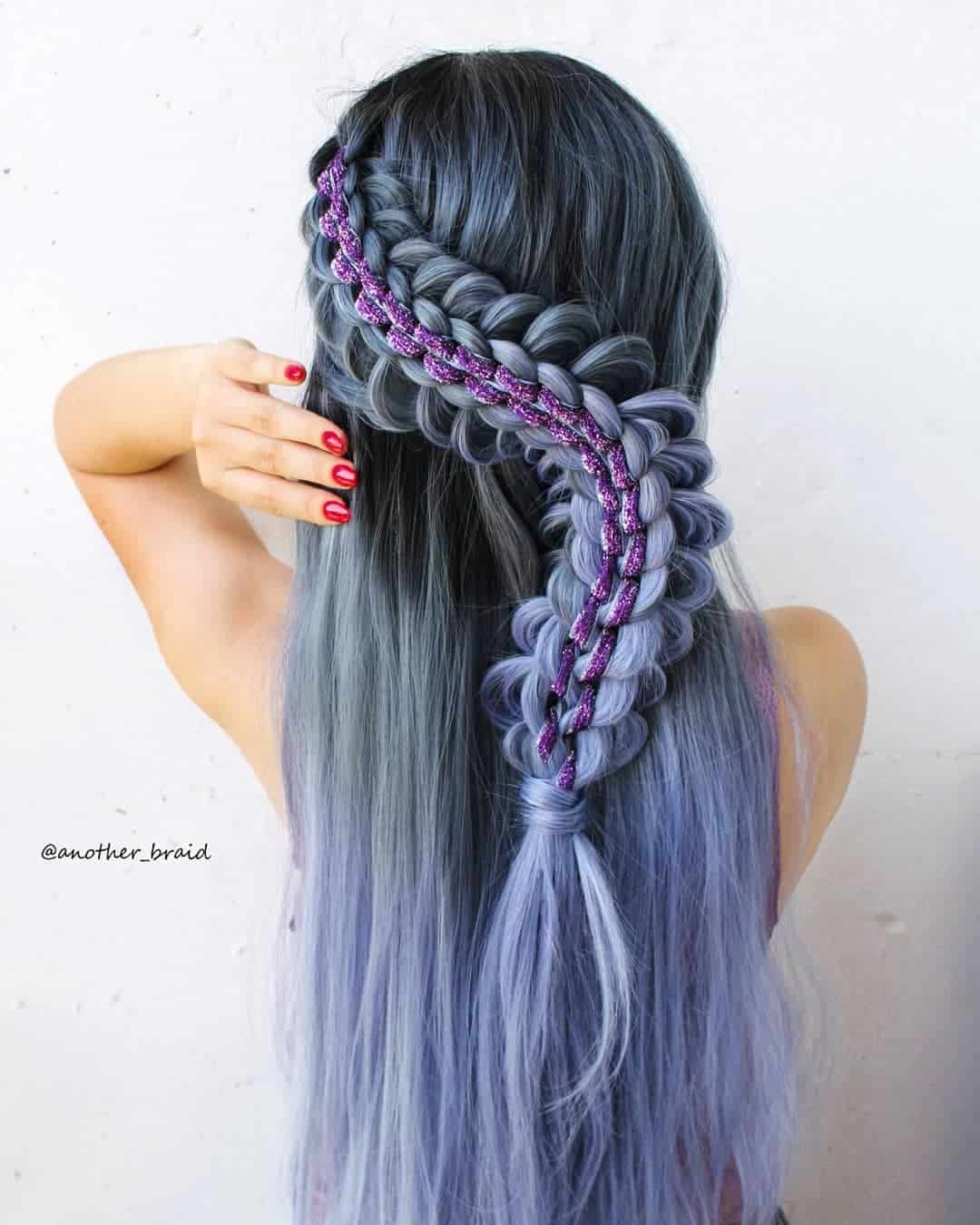 Image Source
This fishtail braid with a mystical mermaid-touch gives off a dreamy, fantasy vibe with its flowy look making it the perfect choice for a fun party. The long tresses form a double-layered fishtail braid from the left side, while the bottom layer is pulled and pinched for volume. The look is elevated by a sparkly purple accessory nestling in the center, offsetting the soft, lilac-toned hair.
33. Snake Braids With Tightly Coiled Pigtails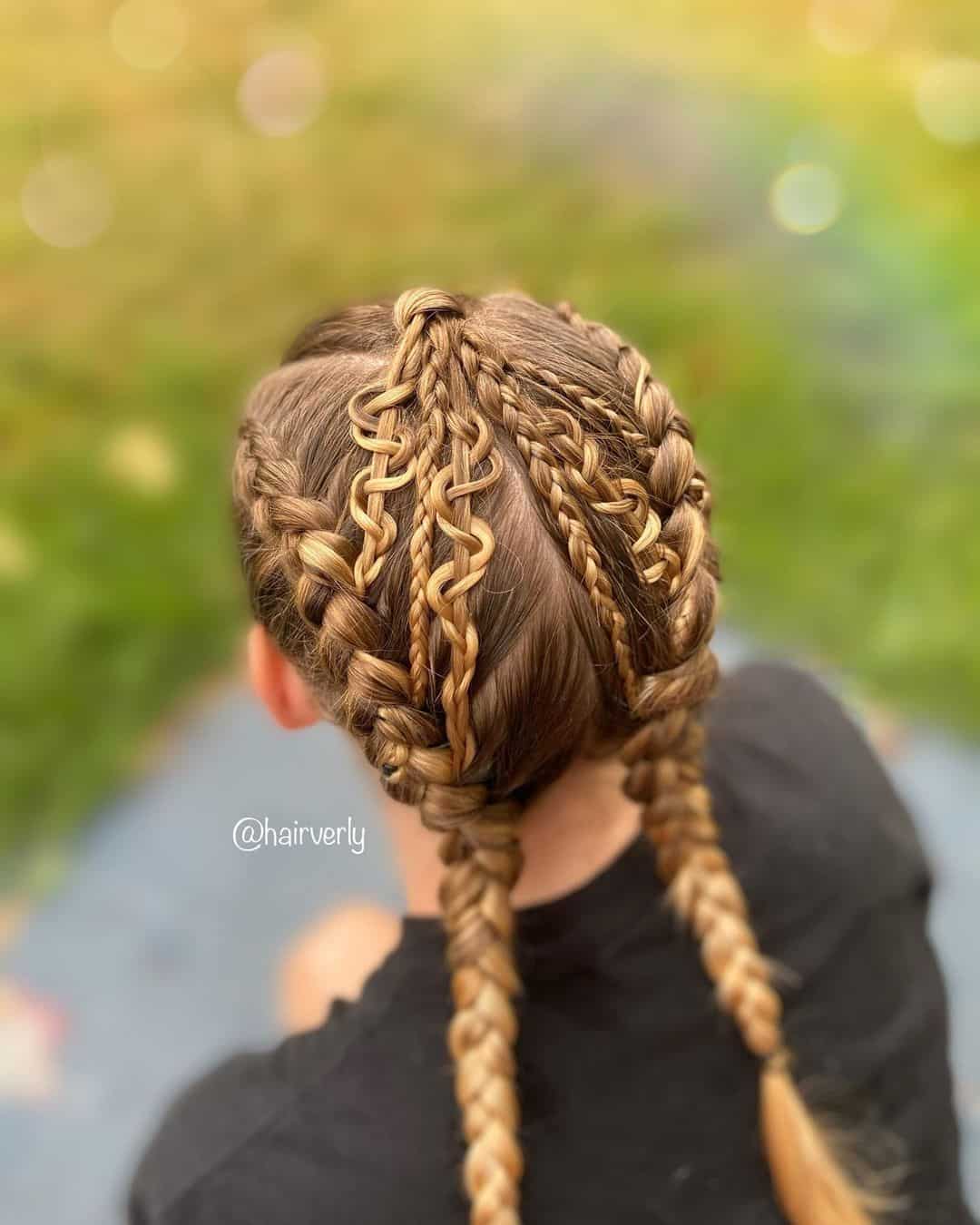 Image Source
Edgy and fashionable, these snake braids give off a strong but sexy feel. Thin strands of the golden-brown hair are twirled back from the crown in six intricate braids, which weave into the simple, tightly-coiled, clean pigtails. Tightly pulled together and sleek, this style with no hair out of place is convenient yet fancy, making it the perfect look for an athlete, keeping their hair out of their face while still being stylish.
34. Braided Bun With Chunky Bangs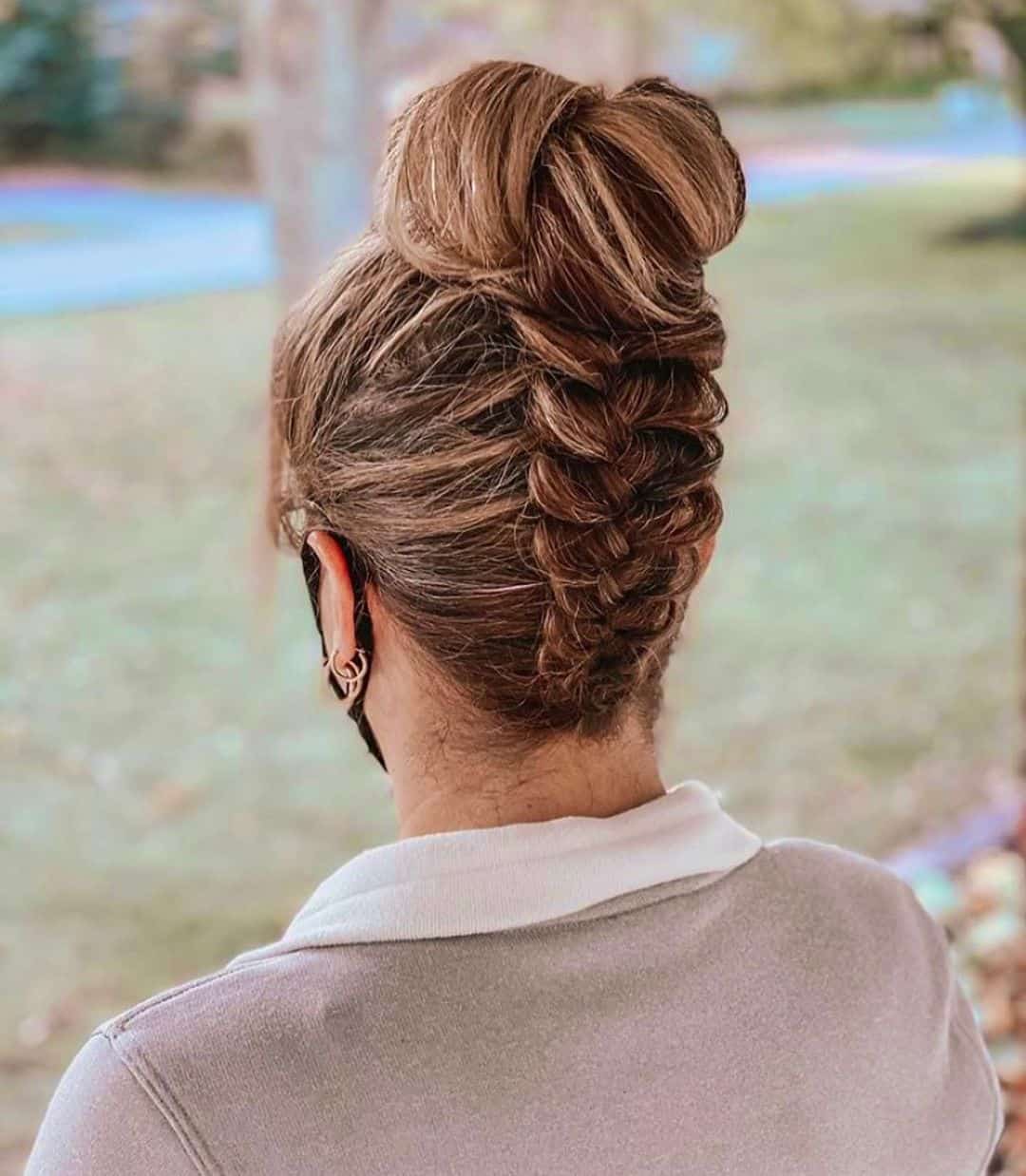 Image Source
Take your classic top knot to the next level by adding a braid to the hairstyle. This hairdo is a formal, elegant style that's great for the office or a coffee with friends, as it exudes a summer vibe that feels cool and comfortable yet effortlessly stylish. The sandy brown hair is braided upwards from the nape getting thicker towards the top, pinched and pulled for volume as it weaves into the voluminous and casually tousled bun with chunky bangs adding youthful charm.
35. Crochet Braid With Hair Extensions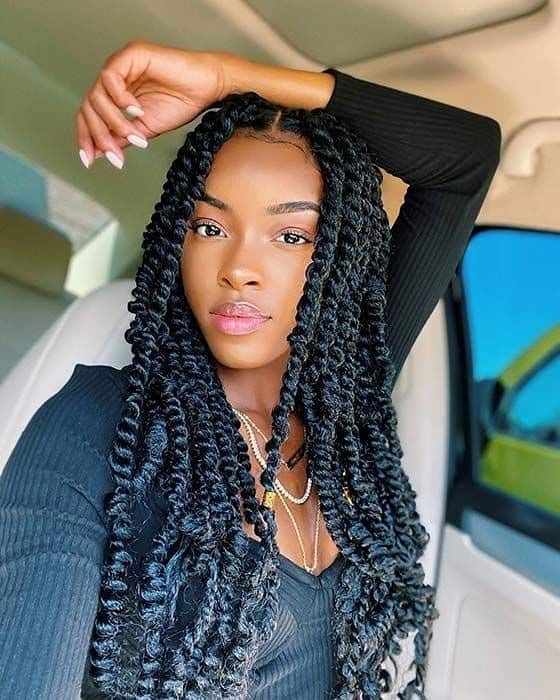 Image Source
Give your luscious tresses some love with crochet braids that protect your hair while still making sure your fashion is on point. The textured, thick dark hair is twisted into chunky, ropy braids from the crown to the tips as extensions blend seamlessly into natural hair for a pretty, feminine hairdo. Flowing casually, tangled, and tousled around the shoulders, it makes for an easy, stylish look that is ideal for a formal or informal look.
36. Lightly Teased Fishtail Half Updo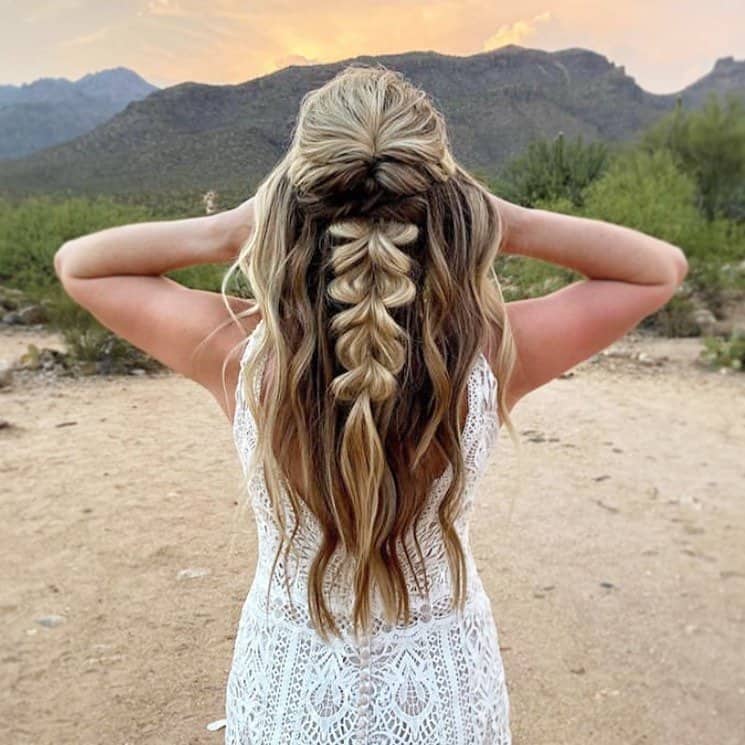 Image Source
This elegant, feminine half updo is the perfect choice for a classy wedding look or a formal dinner date. A section of the sandy blonde hair is pulled back and weaved loosely in a fishtail braid that sways and rests delicately as the remaining hair flows over the back and shoulder in subtle waves. The lightly teased and loosely tousled braid adds charm to the casual fall of the style.
37. Twisted Ponytail Braid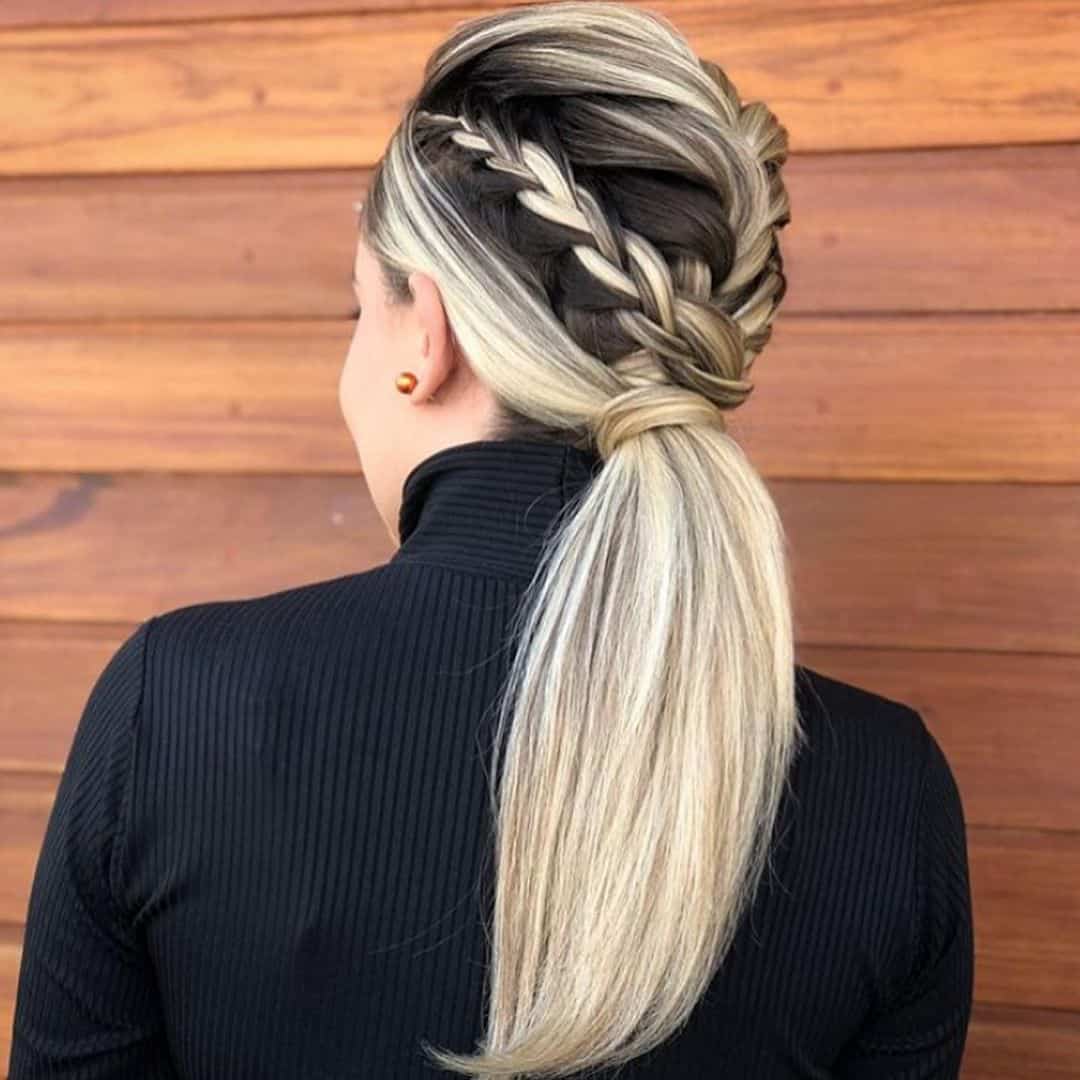 Image Source
This stylish crossover between a braid and ponytail is not only delicately pretty but efficiently professional. The hair is twisted from the crown and pulled back into two thick, smooth braids that overlap perfectly and weave effortlessly into a straight, silky low ponytail. The dark brown to blonde balayage adds a sprinkle of youthful charm and fun to the overall look.
38. Bohemian Ibiza Braid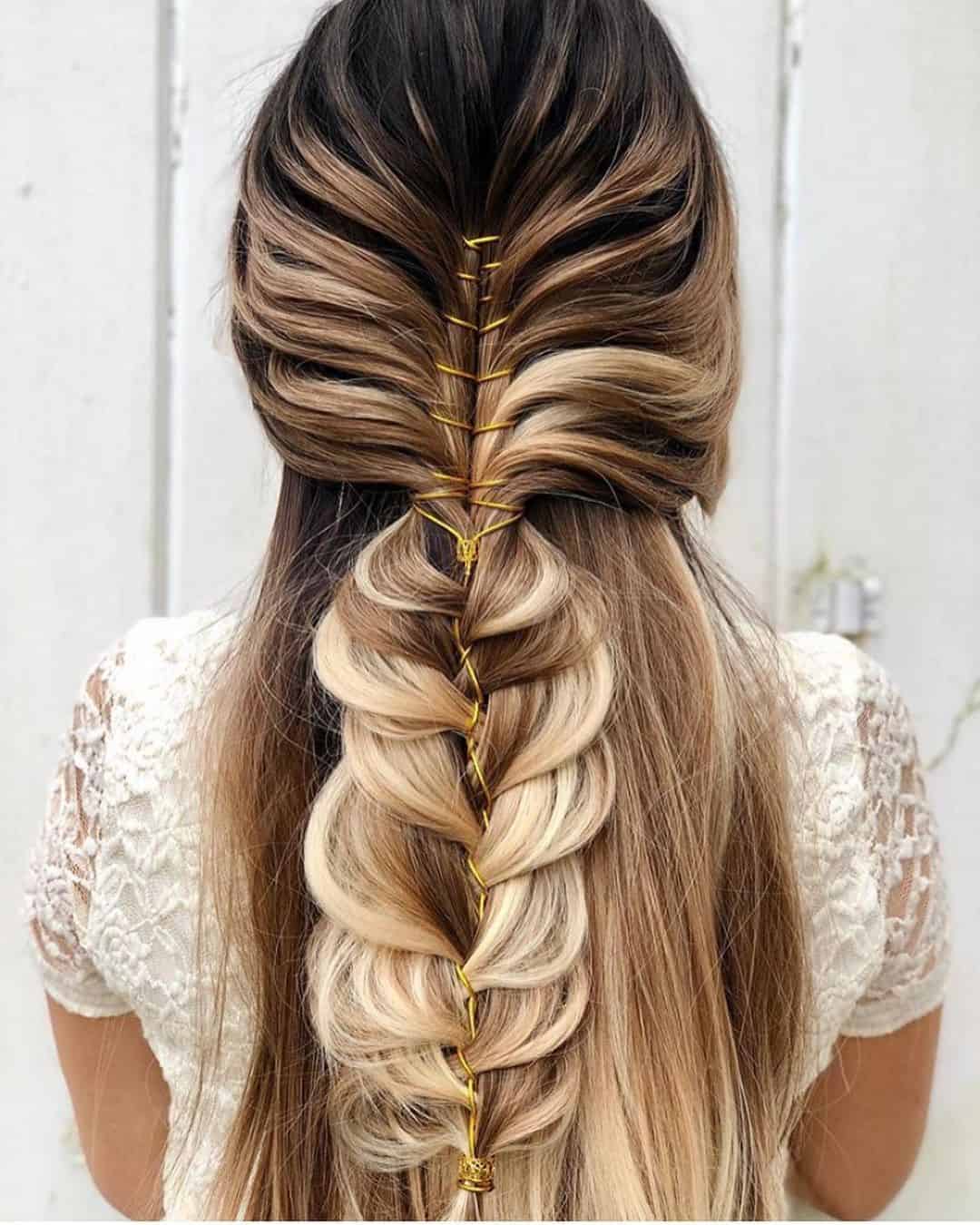 Image Source
This casual bohemian style braid encapsulates beauty and poise, making it perfect for a summer music festival. Half of the soft, long hair is pulled back loosely and pinned in a messy and gentle braid, teased for effortless volume as the rest of the hair flows free. A thin and wiry, gold-tinged accessory twists through the center of the braid, perfectly offsetting the sun-kissed brown-to-blonde highlights, adding some sparkle and style to the overall feel of the look.
39. Rainbow Braids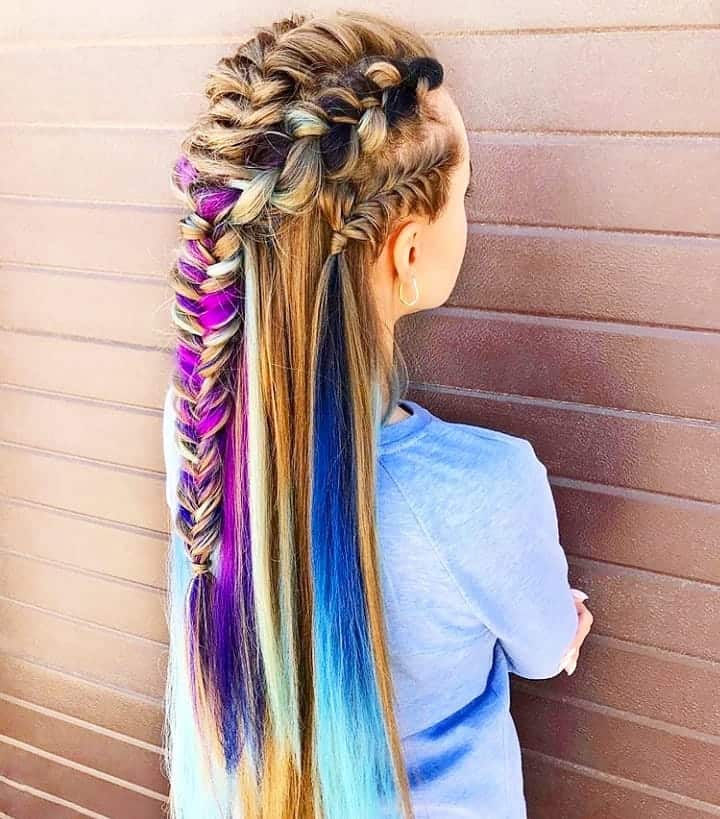 Image Source
Add the colors of the rainbow to your life with this eye-catching, multi-braid hairstyle. The long straight hair forms a range of braids, including fishtail and Dutch braids, pulled through from the crown in delicate and intricate styles. Splashes of bright blue and purple weaving into the golden-brown hair make this look fit for any pool party. With the rest of the hair flowing free, this colorful and versatile style, stocked with summer vibes, is the vacation hairdo everyone needs to try!
40. Candy Floss Braids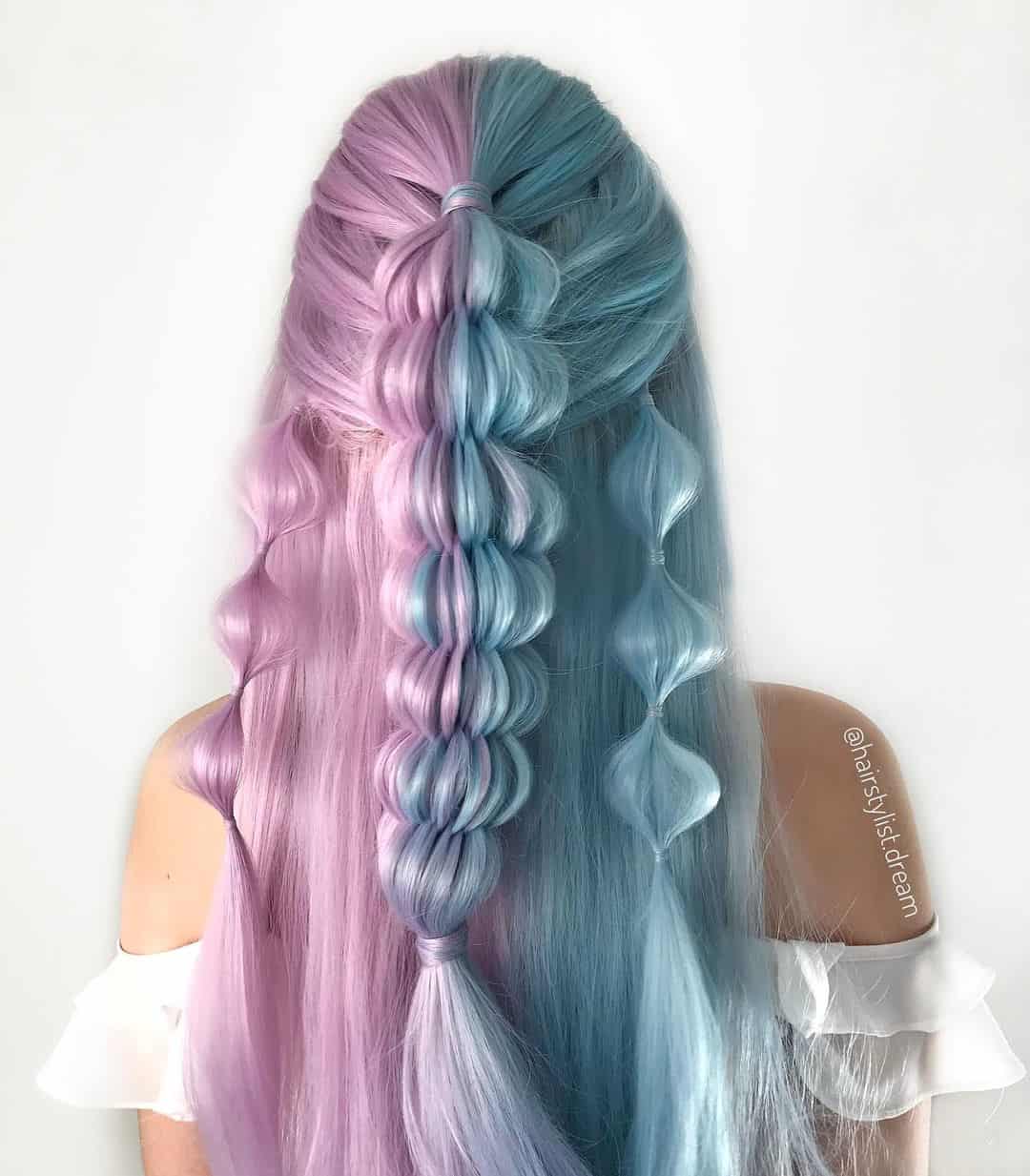 Image Source
These wavy, graceful braids resemble party streamers with fancy twists and twirls. With pastel, cotton candy colors meeting sci-fi fantasy vibes, this is a look that is as soothing as it is attractive. The two-toned hair forms three sections with a thick, ropy middle section blending pink and blue in an intricate, voluminous braid and two looser, faux braids framing it. Adding an easy-going elegant touch to the soft, delicate look, the rest of the hair rests softly across the back.
41. Bow-Shaped Braids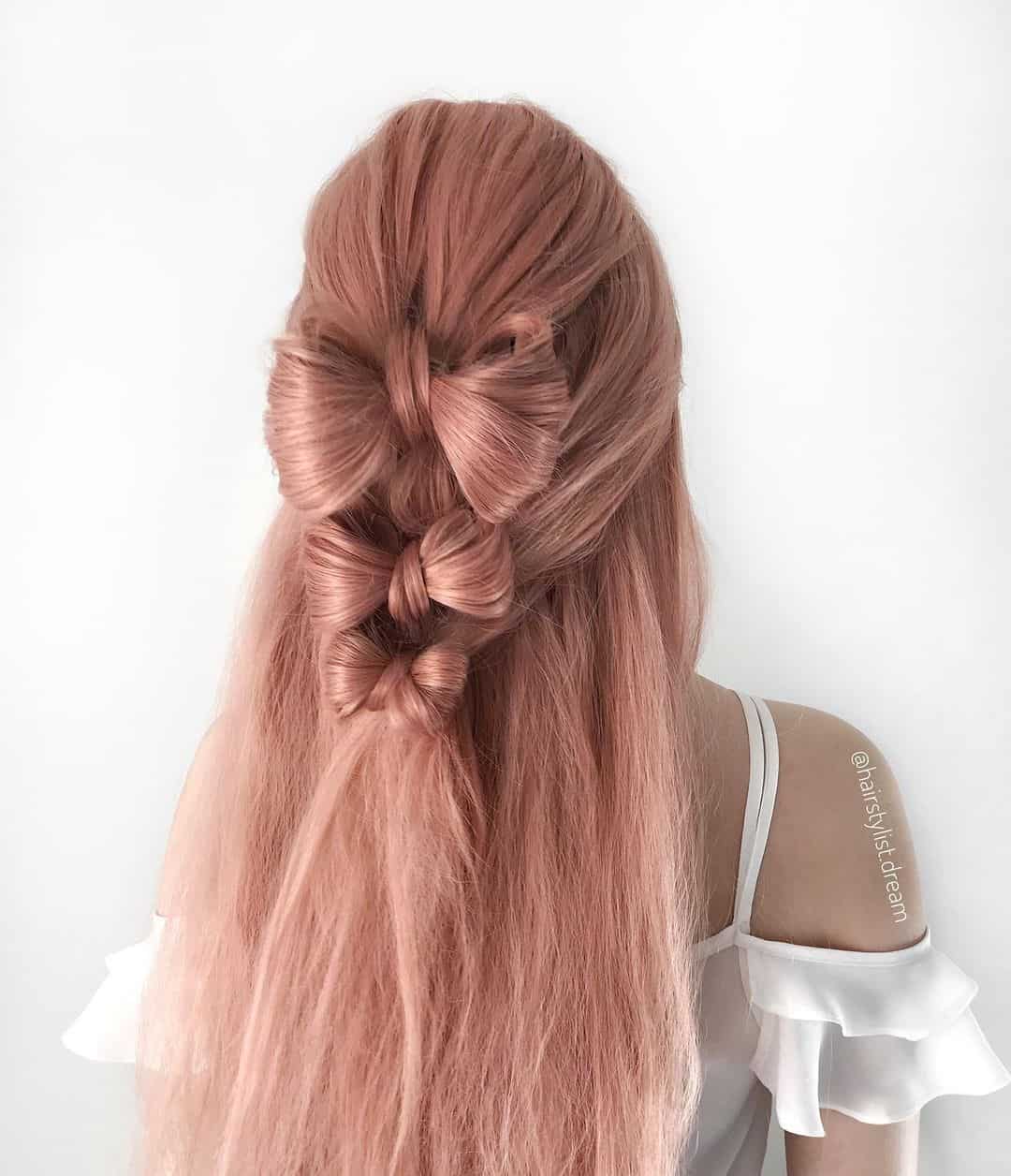 Image Source
This charming bow-shaped braid imbues femininity and youthfulness with elegance. A style fit for a party, both formal and informal, the innovative look weaves long hair into a half-updo of three braids. The hair is pulled back intricately into three fancy bow knots that get smaller along the length, resting on a bed of freely swaying hair. The pretty mauve shade of the hair softens the style into a delicate, semi-formal vibe.
42. Crisscrossed Lattice Braid High Bun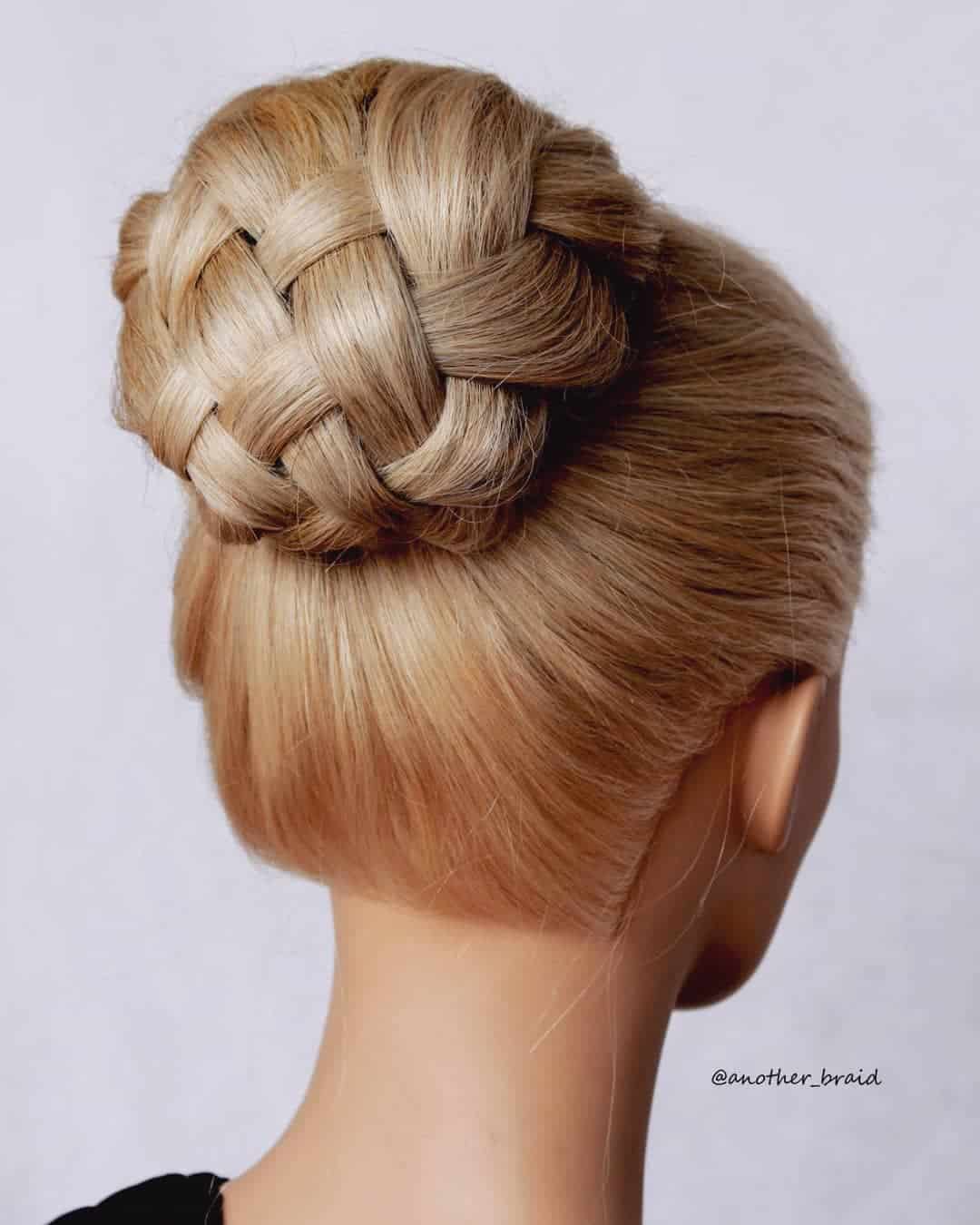 Image Source
With not a single hair out of place, this braided, high bun encompasses aristocracy and graceful maturity with its sleek and clean look. The pale blonde hair is pulled back tightly and neatly in a crisscrossed lattice braid that has been piled high on the head in a strong and voluminous bun. The intricacy of the braid adds a modern fashionista touch that softens the elegant old-fashioned look. Giving off the vibes of a stern but awe-inspiring governess, the look is ideal for formal settings.
43. Beaded Braid Ponytail With Golden Rings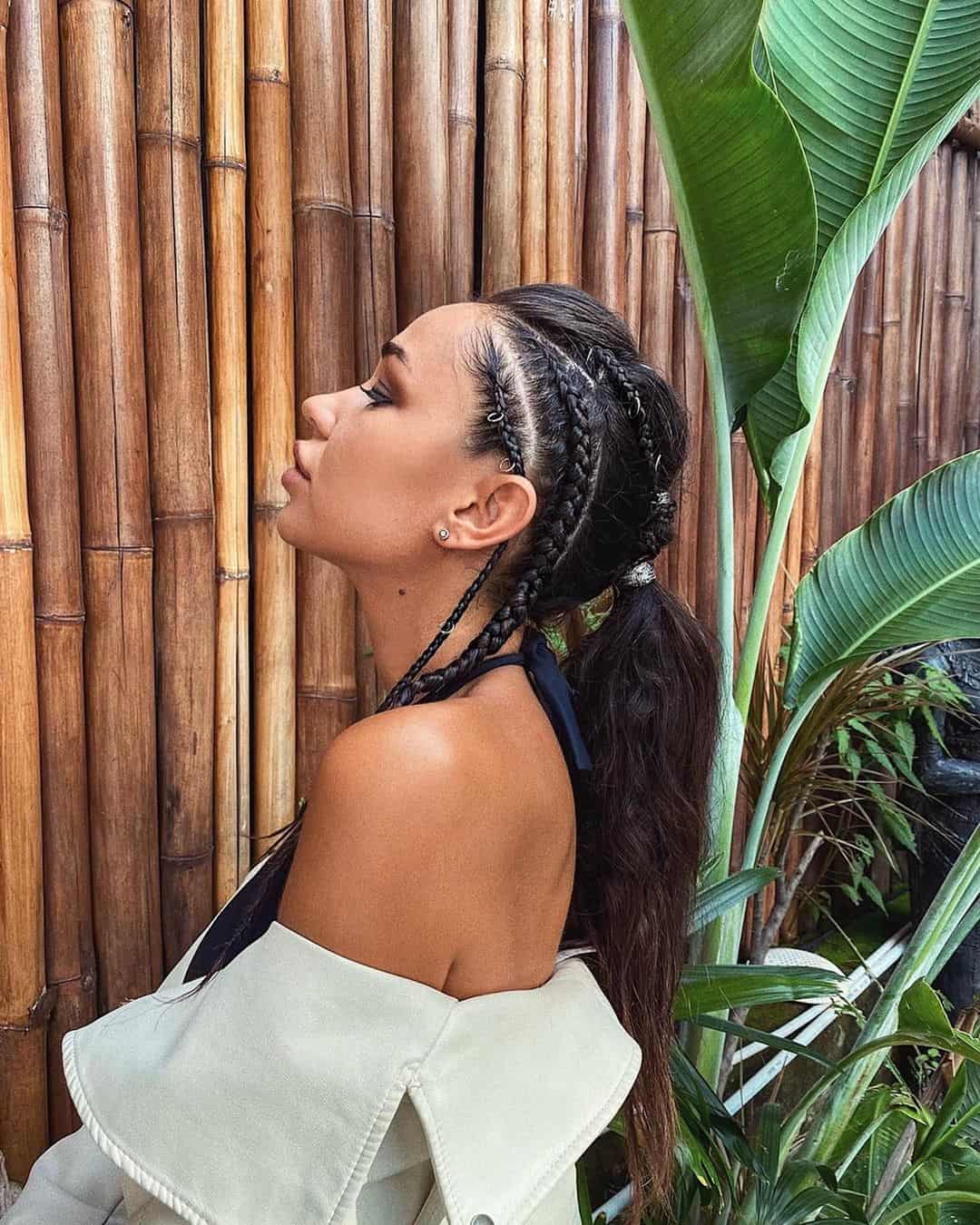 Image Source
Tribal hair meets Coachella party vibes in this beaded braid-ponytail combo. Effortless yet complex, three long strands of the hair are braided tightly from the crown in varying thicknesses. The rest of the hair forms a casual low ponytail with one of the braids weaved in while two other braids lay swung over the front of the shoulder gracefully. Tiny golden rings decorate the braids for a tinge of stylish sexiness.
44. Fishtail Half Updo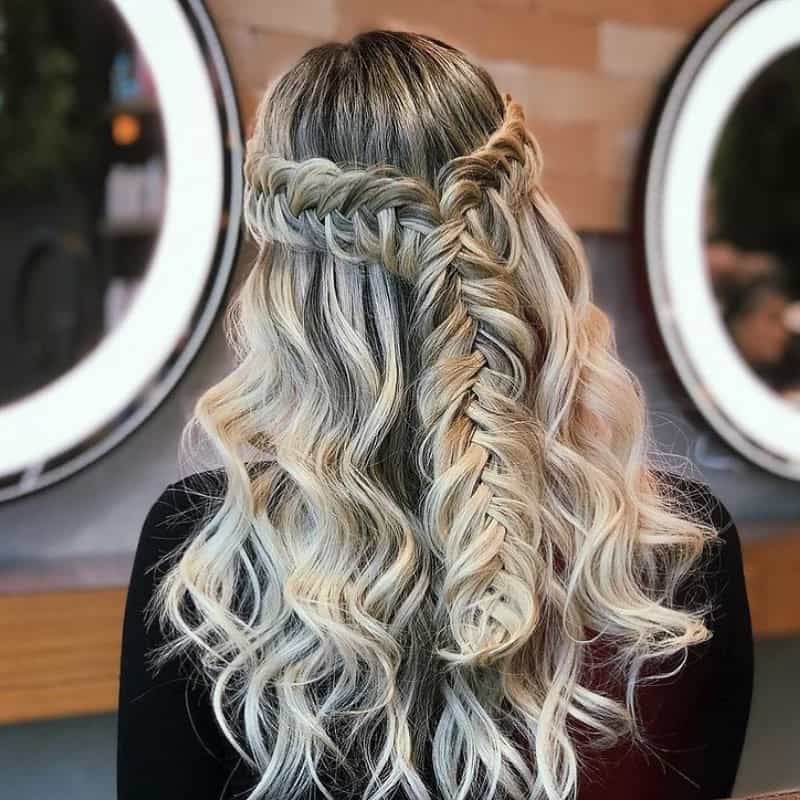 Image Source
Feminine and formal, this hairstyle uses a trusty fishtail to weave a simple but stylish everyday look. Simple fishtails from sections of hair on both sides meet to continue as a singular braid for a half-updo. The look creates a delicate but voluminous band of braided hair resting gently upon wavy blonde hair. The unique black to a blonde shade of the hair and the careless beachy waves give the elegance of the look an effortlessly casual touch.
45. Braided Swirl Bun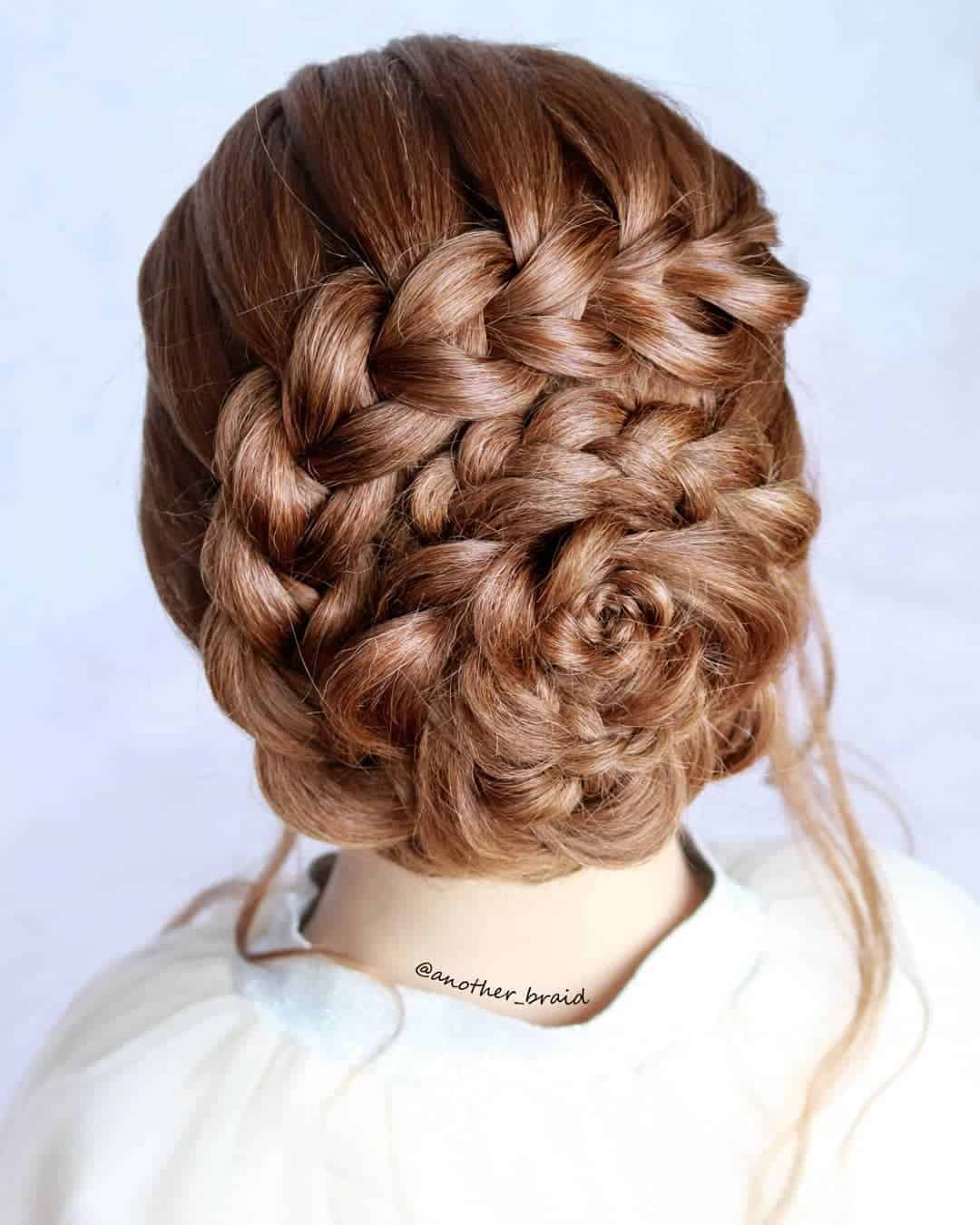 Image Source
For a look that's easily the epitome of grace, try this swirling braided bun which makes for perfect wedding hair. The silky, brown hair has sections weaving into a braid that twists its way around into a flat yet voluminous braided bun. The sun-kissed tinges of the chocolate hair and the few wisps that hang loose effortlessly add a youthful charm to the rose-inspired bun.
46. Purple Rose Hair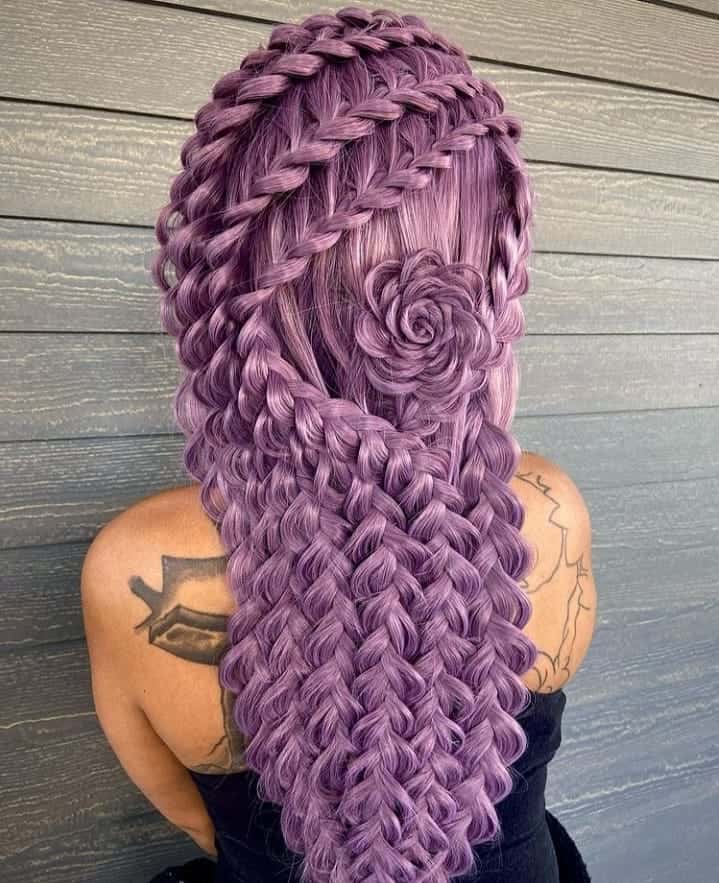 Image Source
This intricate rose-inspired hairstyle overflows with femininity and creativity, making it a brilliant choice for a formal dinner and dance date or party. The vibrant purple hair is braided delicately in classic braids flowing from the right to the left, weaving smoothly around a section of hair twisted beautifully in the shape of a rose. The bright color of the hair accentuates the graceful look.
47. Thick Double Braids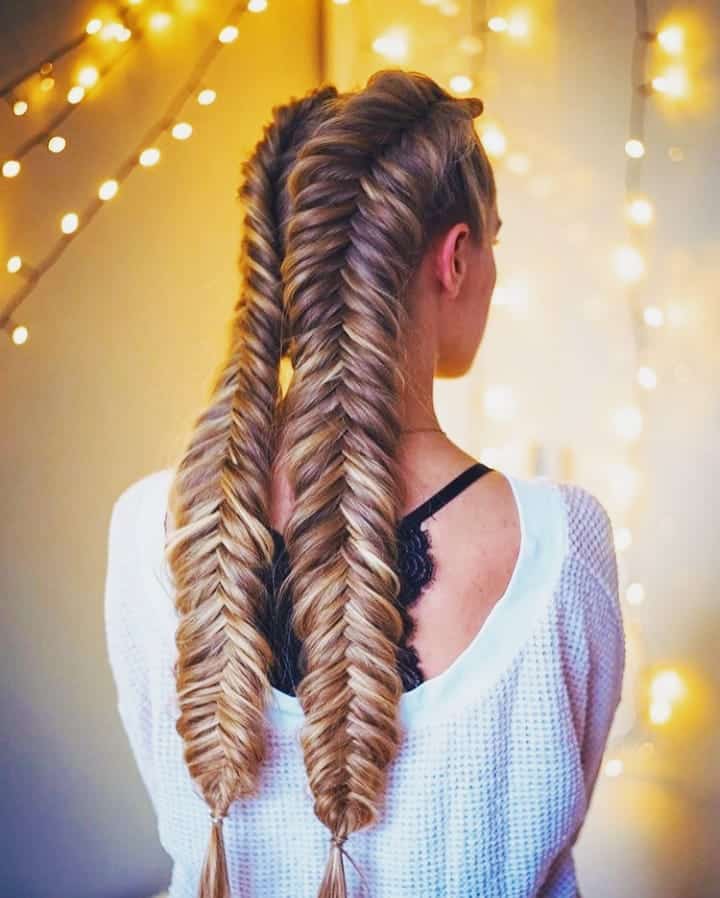 Image Source
Show off the luscious thickness of your hair with these voluminous double braids suitable for all occasions. The long blonde hair is braided in Dutch braids from the very top right down to the tips. You can opt for fishtail, French, or pull-through braids in place of Dutch braids for an equally cute vibe. With a touch of youthful energy, this simple yet classy style is sure to attract many admirers.
48. Cupid's Ladder Braided Hair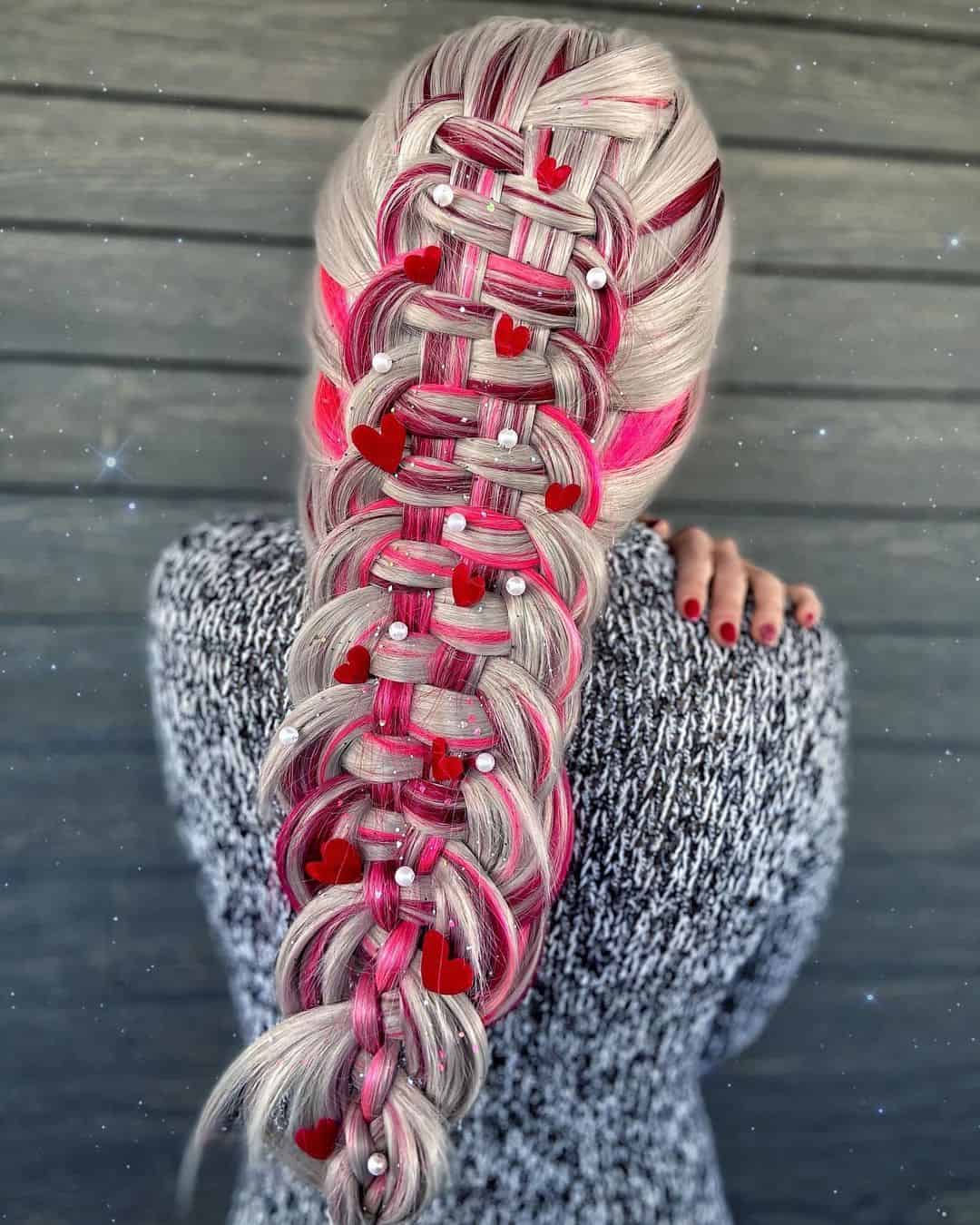 Image Source
Cupid comes to life with this love-infused, high-fashion style. This Valentine's look seamlessly marries modern experimentation with the classic colors of romance in its graceful weave. The lengthy blonde hair is braided in an intricate straight braid to resemble a rope ladder that's teased outward for maximum volume and texture. With shades of red and pink bringing the complex look alive, delicate adornments of fabric hearts and silvery pearls which decorate the stylish, thick braid makes it even more attractive.
49. Halo Braid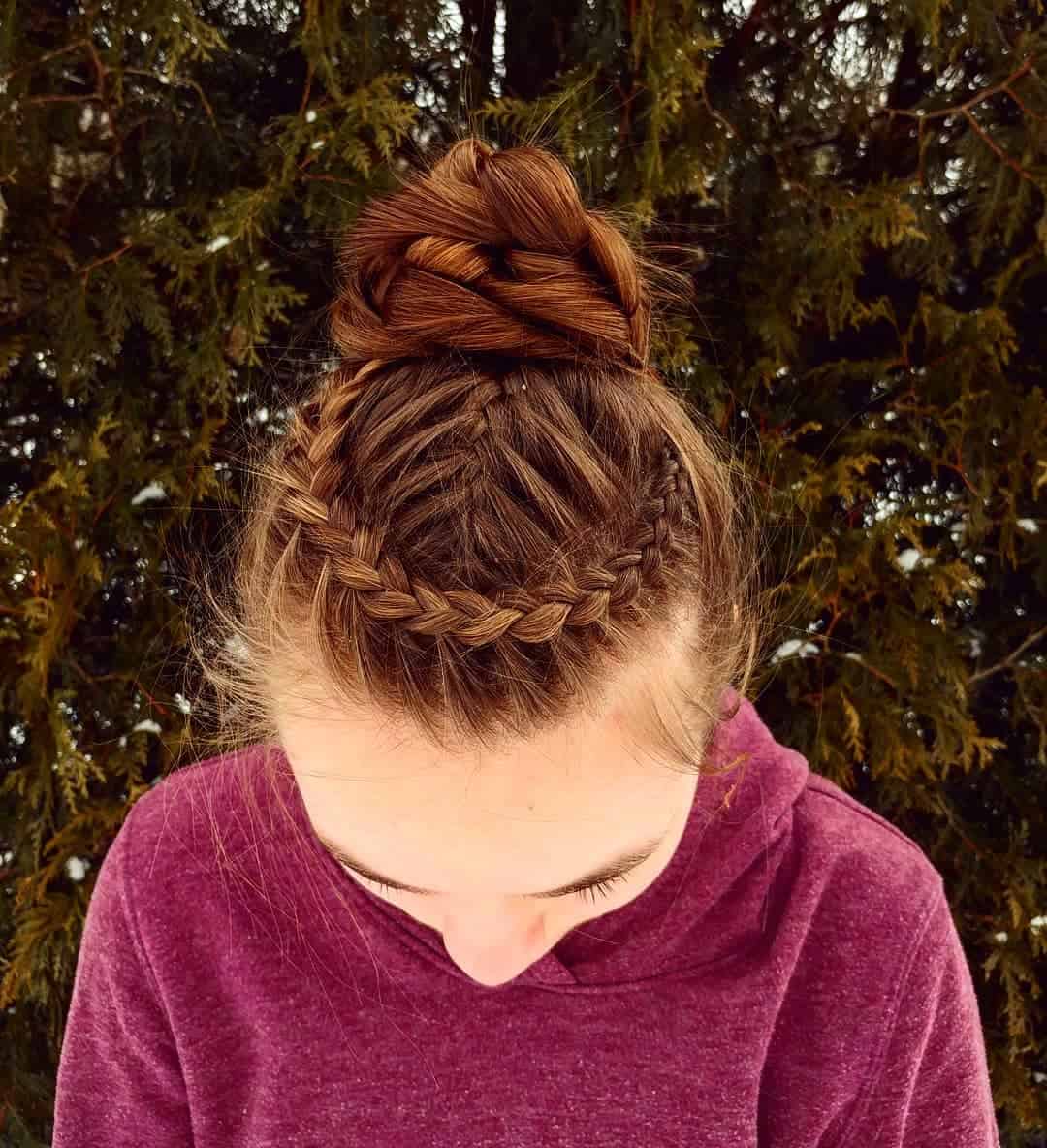 Image Source
This classy look adds a fun twist to the messy braided bun style with its singular halo braid framing the crown. A section of the hair is braided across in a headband fashion to create a halo around the head. The hair is weaved tightly and pulled into a casual but stylish top knot that keeps all the hair out of the face neatly and formally for a mature, graceful vibe with a summer season touch.
50. Pull-Through Double Braids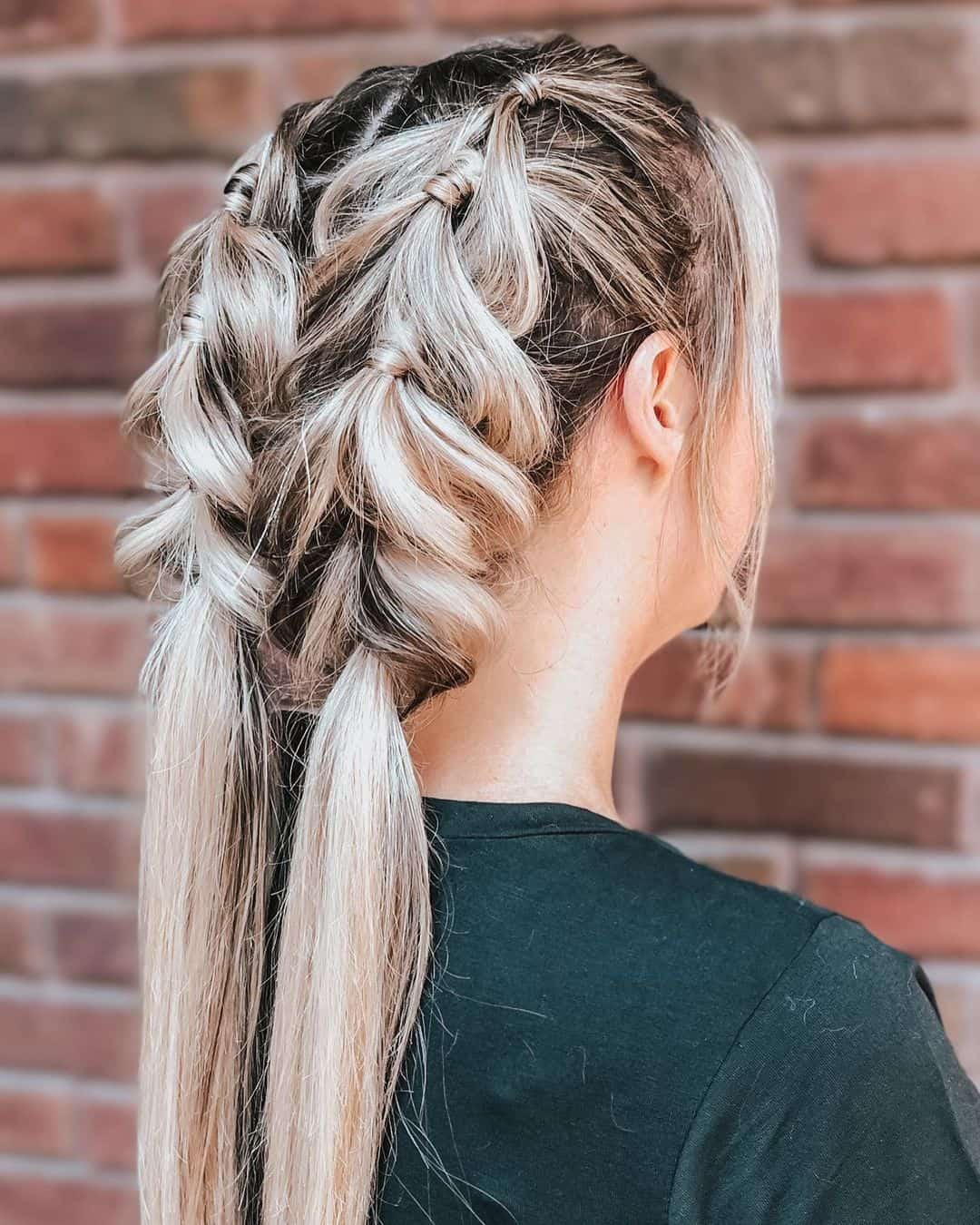 Image Source
Edgy, elegant, and casual all at once, these pull-through braids are perfect for all ages and walks of life, with their quick, easy-to-do style but effortlessly fashionable vibe. The delicate pull-through technique forms two pigtails for a look that's both messy and cute. Braided halfway with the remaining length of straight hair flowing stylishly behind the back, chunky bangs frame the face.
50 Braided Hair Ideas That Never Go Out of Style
Braids are a great way to get creative and work with any outfit, whether formal or informal. There is a braided hairstyle for every type, shade, and length of hair, bound to make you the center of attention. Braids also help to protect your hair from damage, breakage, and hair tangles. They also help to tame frizzy hair by locking moisture within them, making them the ideal hairstyle for a windy day.
Whether it's a simple French or Dutch braid or perhaps an intricate set of Fulani braids, there's a braided hair idea for every occasion!
Braided hair works for any length of hair – if you find that your hair is a little too short, you can always opt for hair extensions. You could go all the way by dyeing your hair purple or blue or opt for hair extensions in the same colors to add a pop of color to your outfit. Be sure to try out the braided hair ideas mentioned here, and get as creative as you like!