Fall is the season that brings rain and clouds, but just because the weather is gloomy and grey, it doesn't mean your wardrobe has to suffer. Even though you may just want to get cozy and warm, there are countless ways to achieve that while remaining stylish.
You might be thinking that this season is not a great time for fashion, but it brings various options for styling and experimenting with your outfits. Since the beginning of September usually means cooler weather, this provides the perfect opportunity for layering. Nothing can make your look more unique and special than adding multiple layers, and don't forget about accessorizing!
Fall accessories are among the most varied ones out there, ranging anywhere from cozy hats and purses to high-heeled boots and beautiful scarves. You can go for the classic look with jeans and a sweater, or dress up with some trousers and a pair of your favorite high-heel shoes. Adding a fluffy hat could be the perfect addition for a casual outfit, which you can later change up with a sparkly headband and some jewelry for a fancy night out. If staying warm is a priority, don't eliminate skirts and dresses, add leggings or stockings, along with a long coat, and remain cozy while still looking gorgeous.
While going darker and more neutral in color is the obvious choice, don't be afraid to incorporate bold, bright colors to stand out. Your outfit should always be a representation of your personality and taste, and no season should limit that. Even if you usually prefer plain color palettes, adding a simple bright purse or red lipstick can help you achieve a unique look. If you are a fan of a monotone look, layering can be a great way to make it simple but sleek.
From oversized sweaters and cozy coats to elegant blazers and knitted dresses, this season offers something for everyone. Whether you prefer casual or classy, sporty or fancy, you can rest assured that you will find many ideas that fit your style in the list below, so take a look and get inspired.
1. Grey Oversized Suit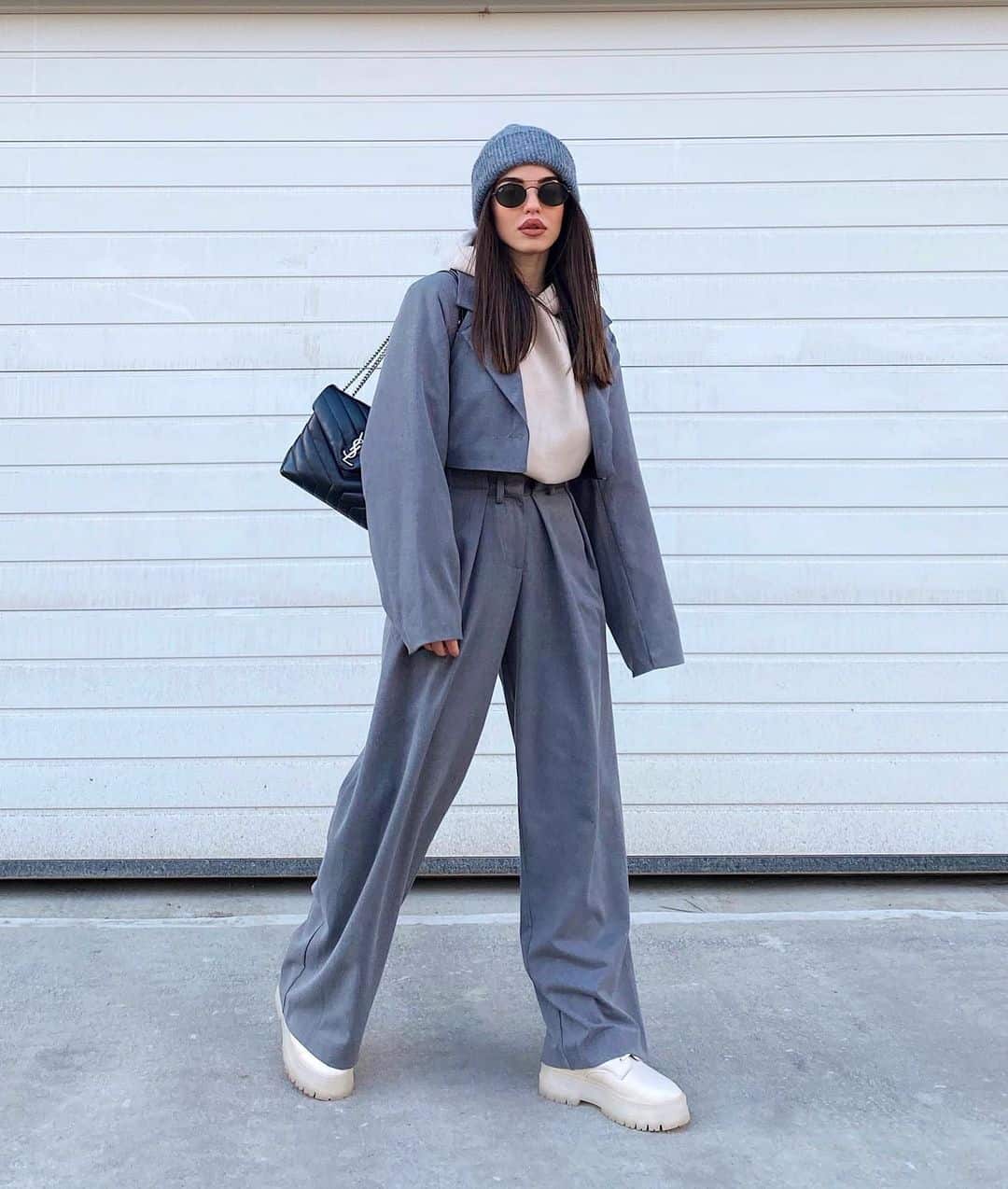 Image Source
An oversized suit with a hoodie and boots is the perfect combination of casual and classy, and this particular outfit can be worn for various occasions. Whether you are going shopping or for a coffee with your friends, a suit makes for a cool yet comfy choice. You can wear it with a warm beanie and an overcoat for a more casual style for colder days, or dress it down with a pair of heels and your favorite purse. For another similar look, check out Blue Suit.
2. All Black Sporty Outfit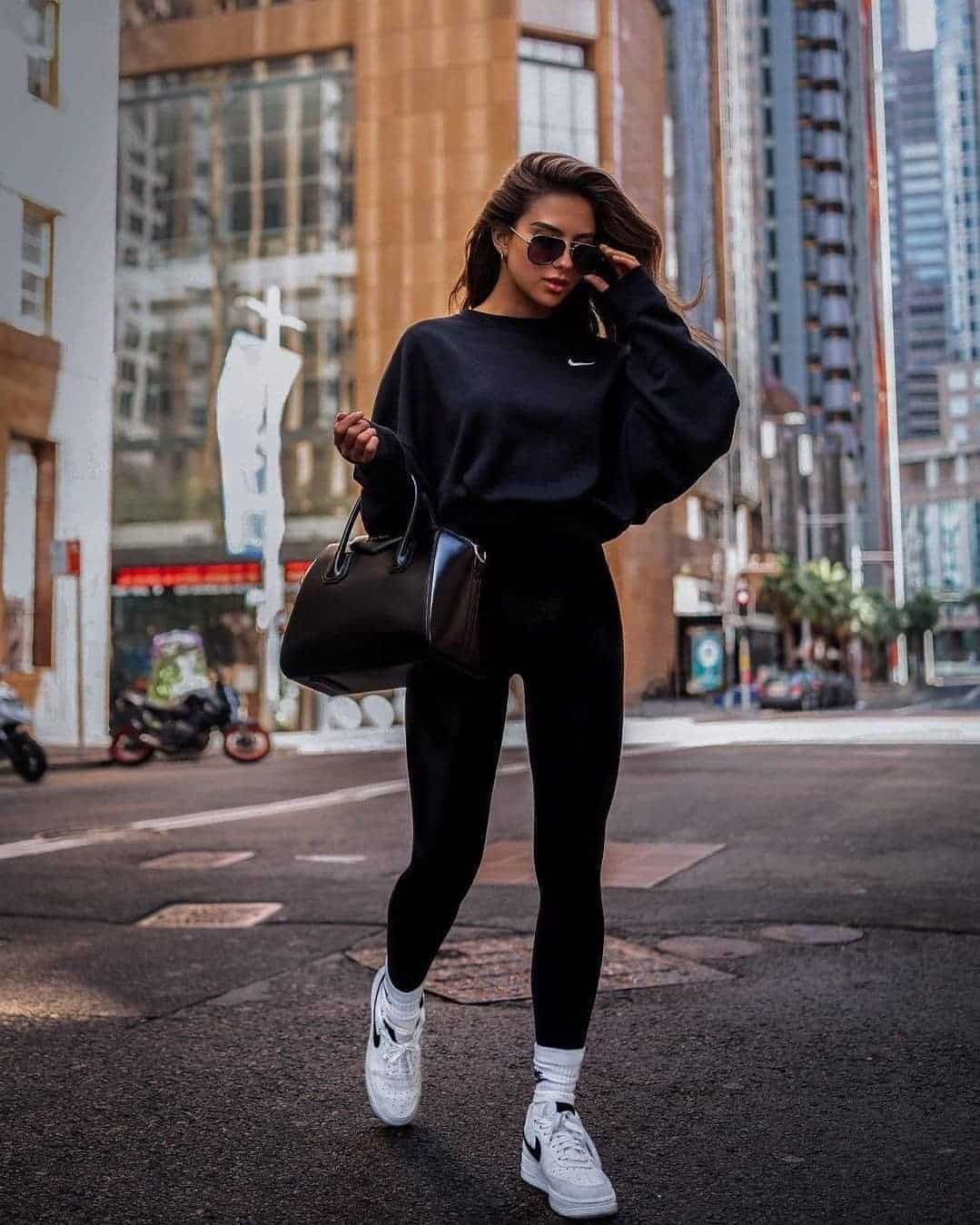 Image Source
For those who prefer comfort but still want to look sleek, black leggings, sneakers, and a sweatshirt are always a great choice. The all-black color palette will make your outfit look truly put-together, even if your clothes are mainly sporty.  You can use the sneakers and the bag to add a pop of color, or simply go with black or white for a more casual look. Adding an overcoat or a jacket on colder days is a must, and you can always accessorize with scarves, hats, and headbands.
3. Classy in Beige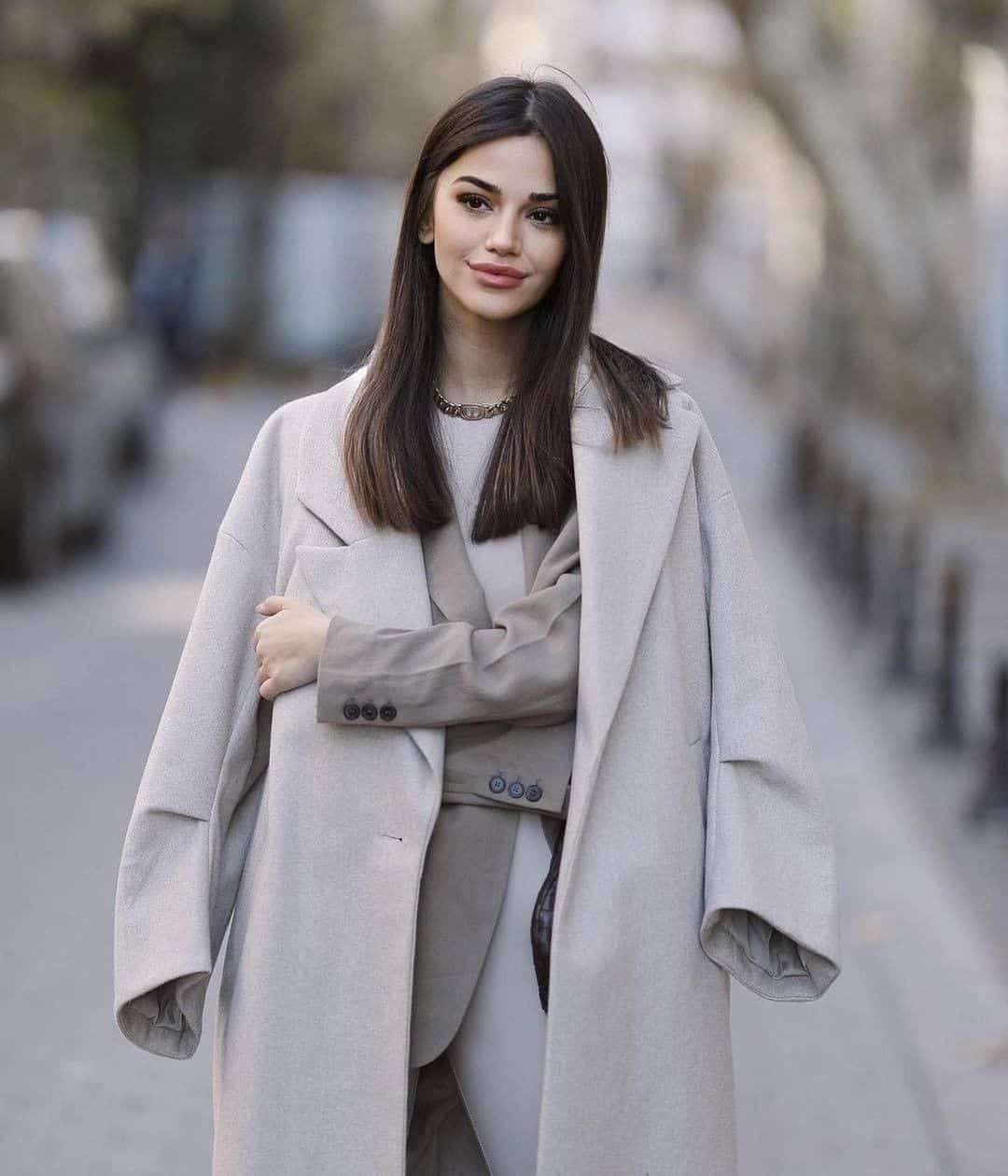 Image Source
This beige outfit idea shows a more formal and clean-cut look that can be perfect for work or important meetings. You can replace the trousers with a skirt and add jewelry for a more elegant look, perfect for a night out with friends. Or, choose something comfortable like leggings or joggers, and be ready for an all-day shopping spree. No matter the occasion, it is a cozy and stylish outfit that's sure to keep you warm through fall.
4. Black and Animal Print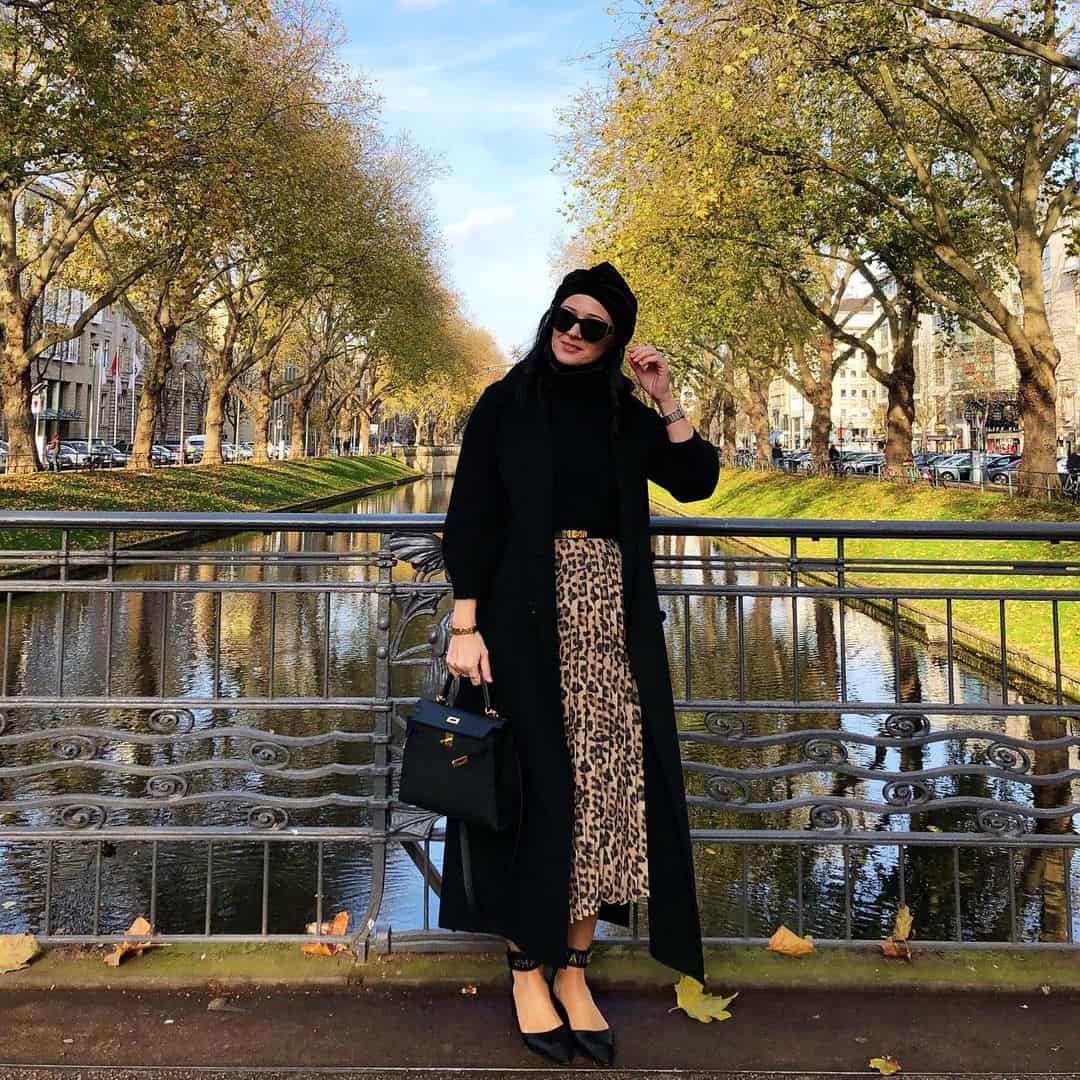 Image Source
Animal print is a classic when it comes to fashion and a must for any season. This particular style is all black, and a splash of color, with a leopard, printed skirt. It makes for a casual yet noticeable outfit, suitable for a fall walk in the park or a rendezvous with friends. You could also switch it up and use only white or beige for a more polished look. If you like patterns, take a look at these Zebra Pants.

5. Blue Suit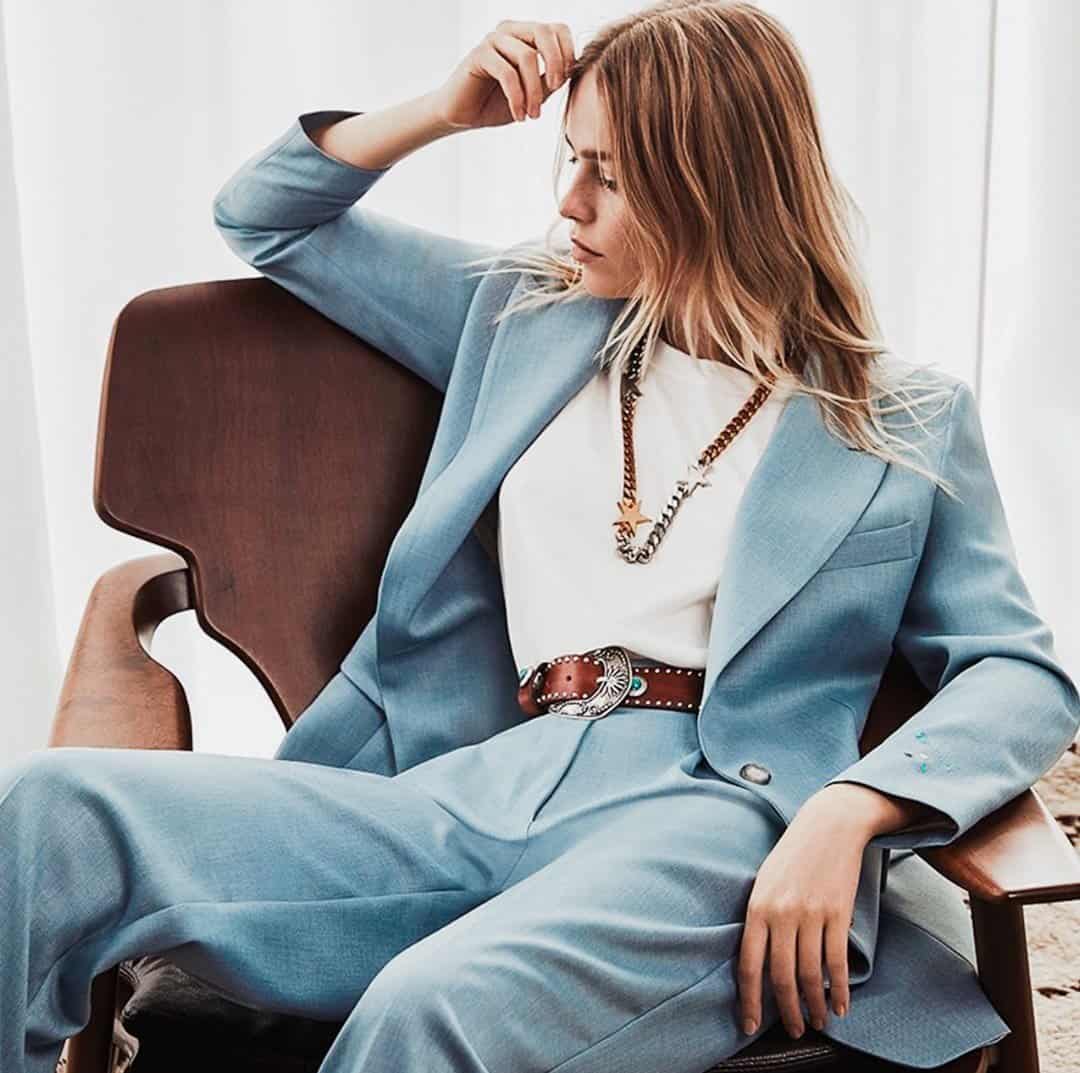 Image Source
Another version of a fall suit, this business casual look can be great for work, meetings, or an important lunch. Blue color has always been a popular choice for suits and remains a classic look for men and women. Depending on your hair and skin tone, you can opt for another colored suit, such as a green, purple, or brown. Even though it's meant to be a formal look, don't be afraid to accessorize and make it your own.
6. Trousers and Sneakers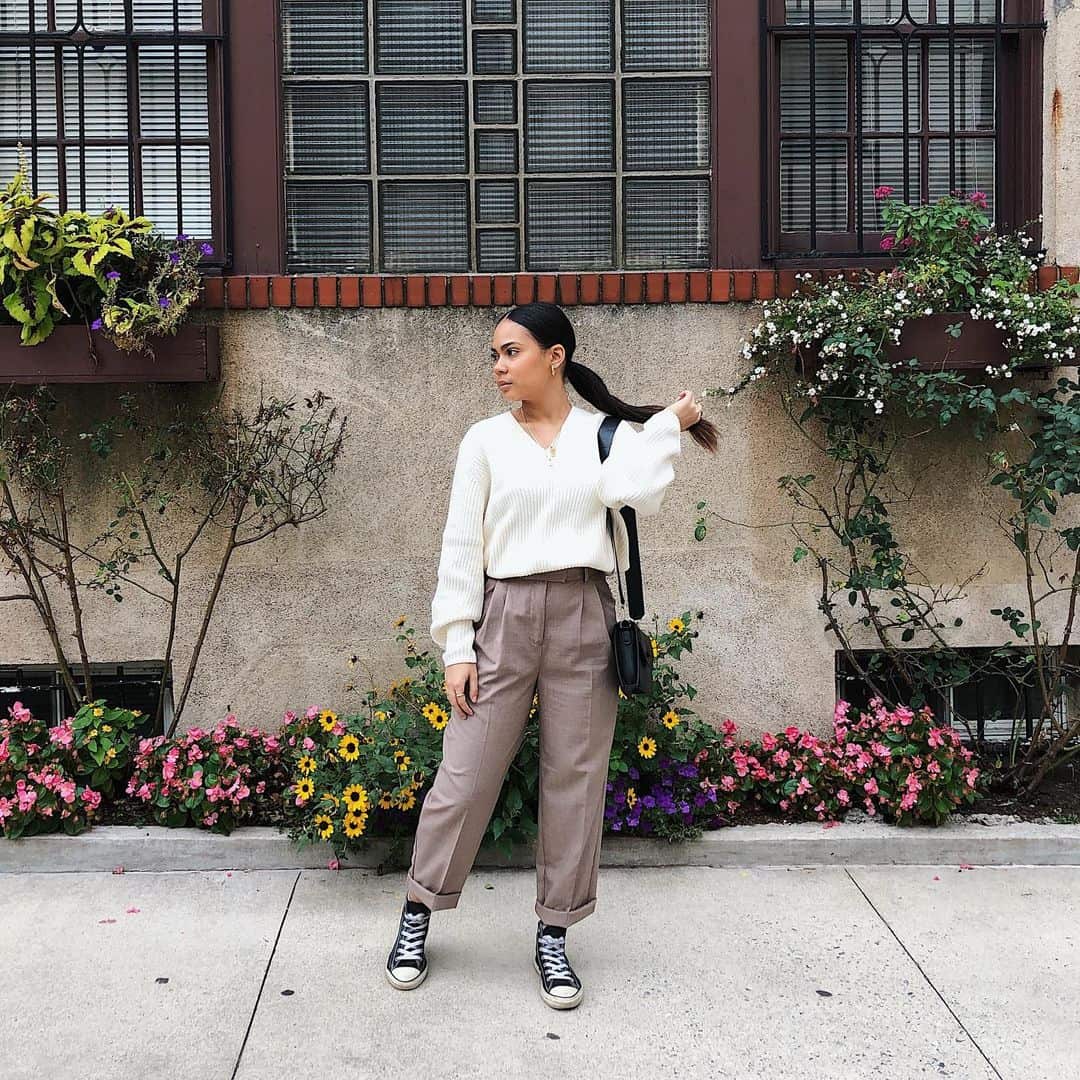 Image Source
Styling trousers with a plain sweater and your favorite pair of sneakers can be a great way to pull off an effortlessly put-together casual look. This can be your go-to outfit, especially when you're not in the mood for experimenting. It is a comfortable look that can always be dressed up with some shoes, jewelry, and accessories. Don't be afraid to play around with colors and patterns to make this outfit more unique and fun.
7. Flower Printed Dress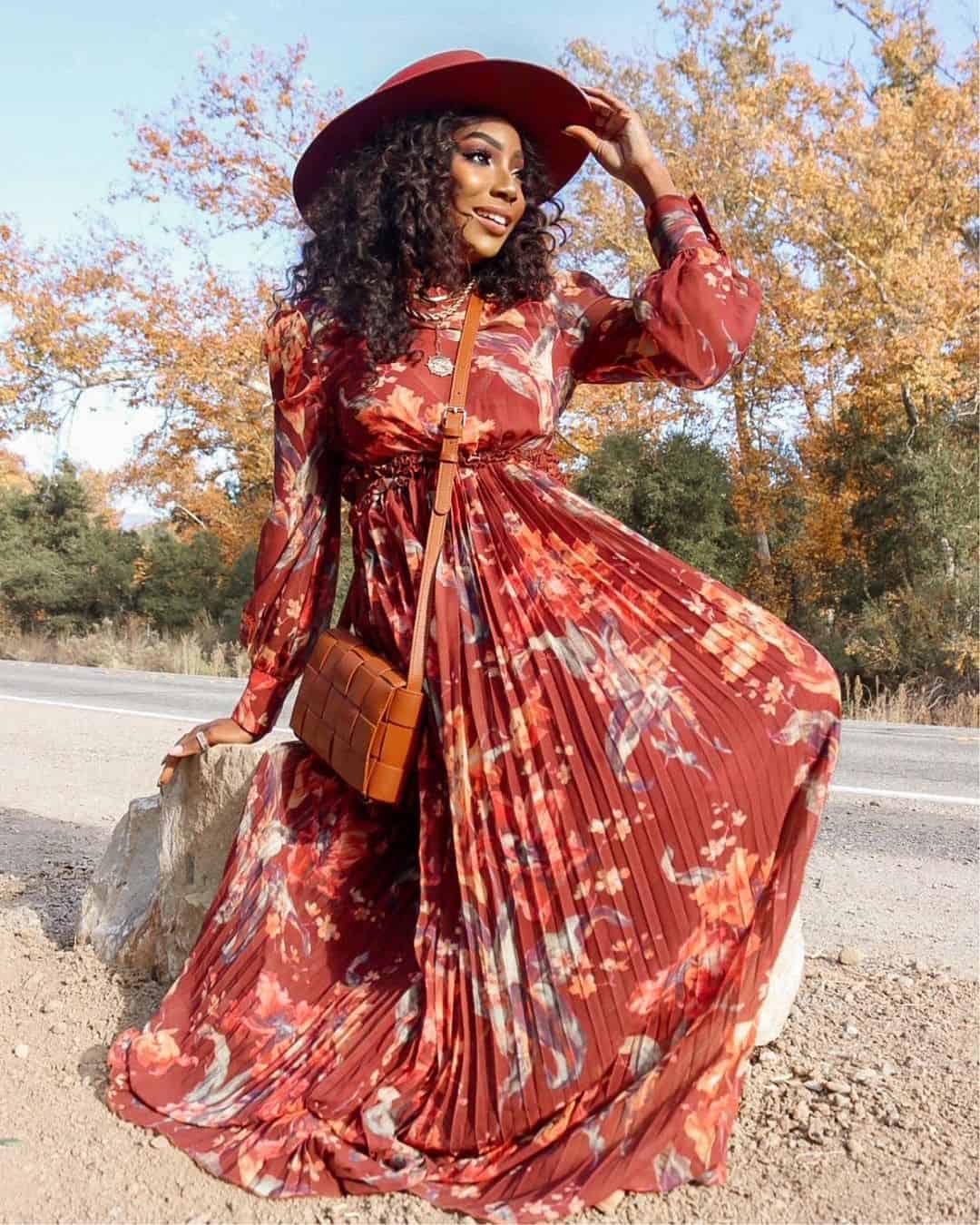 Image Source
Just because fall brings colder days, that doesn't mean you have to say goodbye to dresses and skirts. There are various fall and winter style dresses that will keep you warm while looking beautiful at the same time. Flower patterns are always a good idea, with this particular outfit depicting an example of a perfect fall printed dress, bold in color. This style is easy to pull off with any bright-colored dress, with earthy tones for keeping with the season. For another, even warmer flowery look, check out this Flower Printed Sweater.

8. Zebra Pants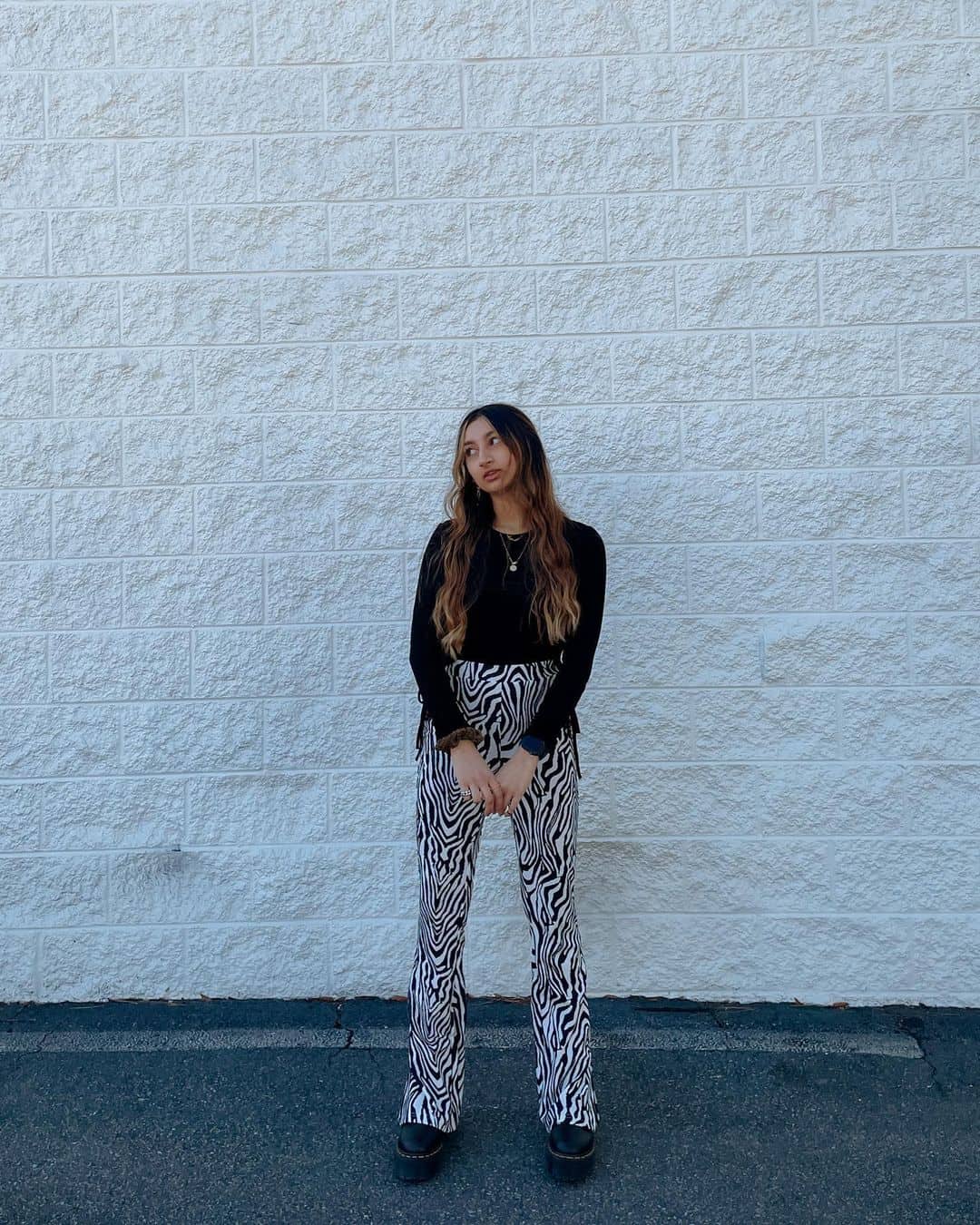 Image Source
Patterns are a great way to make any outfit pop, and there are countless prints to choose from. Though this outfit is monochrome, the zebra pattern is even more daring than the usual cat prints and is sure to make you stand out. This look would go great with a cozy overcoat and a warm hat, which you can style with a colorful purse, a big belt, or your favorite hoop earrings.

9. Cozy Turtleneck and Coat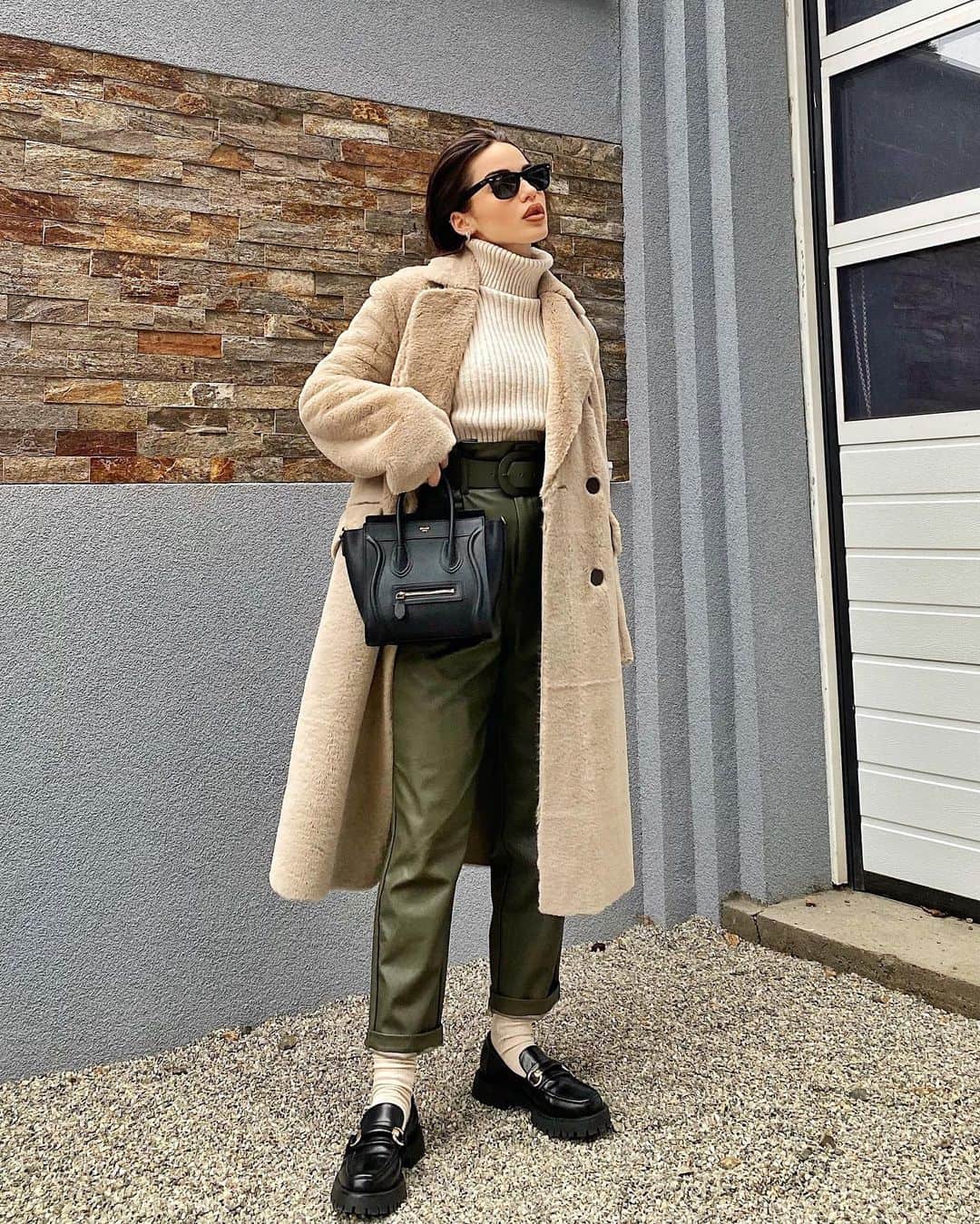 Image Source
Here's a warm, fashionable outfit that can work well for even the coldest days. Comfy, stylish, and easy to put together, this outfit will look good on anyone. You can achieve this with a simple turtleneck and a pair of your favorite pants, as the colors and accessories are what makes this look so sleek. You can never go wrong with a monochrome look, but don't be afraid to add some brighter colors if that is what you prefer.

10. Orange Skirt and Stripes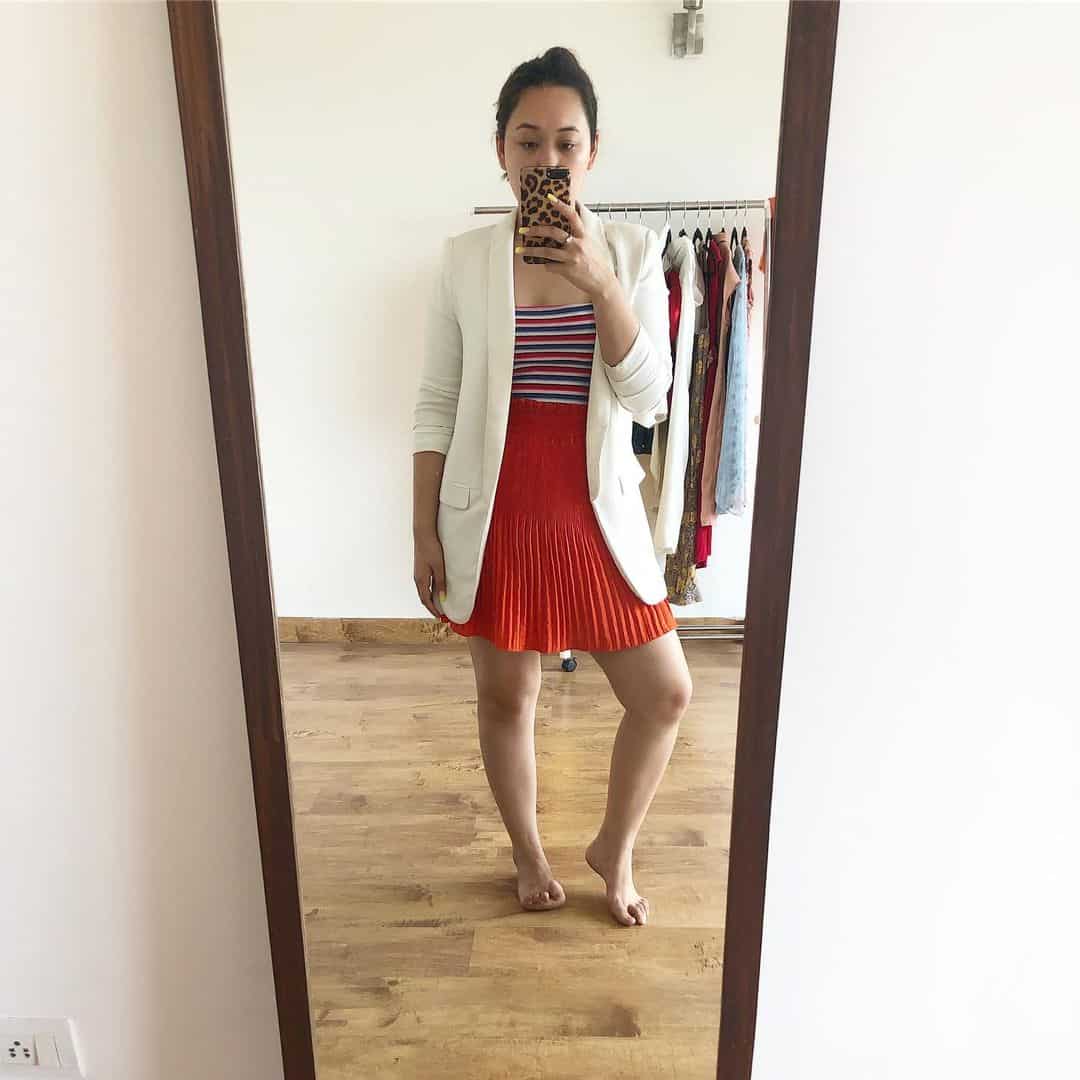 Image Source
This orange-colored only outfit can be an excellent choice for anyone who prefers a bolder, brighter style. This style might not look that warm, but you can easily change that by adding a cozy coat and some transparent tights. This look is perfect for a night out, movies, or dinner, but also comfy enough for a walk in the park. Remember to use accessories to make this outfit more unique, such as a pair of sunglasses or the perfect shade of red lipstick.
11. White Bellbottoms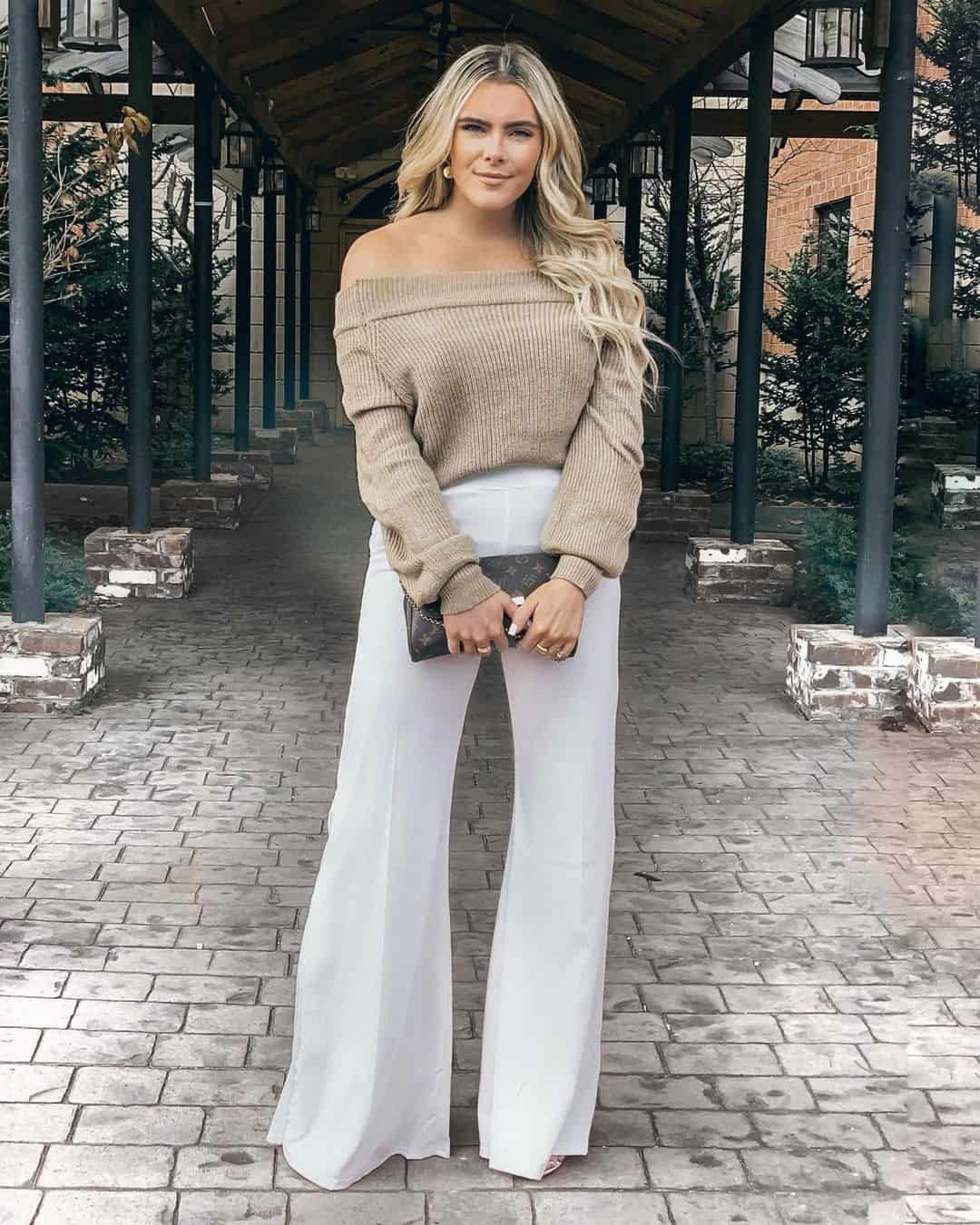 Image Source
If, by any chance, you need to attend a fall wedding or some other stylish party, this look is the way to go. The white bellbottom pants are so classy on their own that adding a simple knitted sweater can make you look fashionable while also keeping you warm. Going with a more neutral color palette is a great way to pull off a well-polished look without trying too much. Just remember to style your hair accordingly, and always use accessories to your advantage.
12. Brown Casual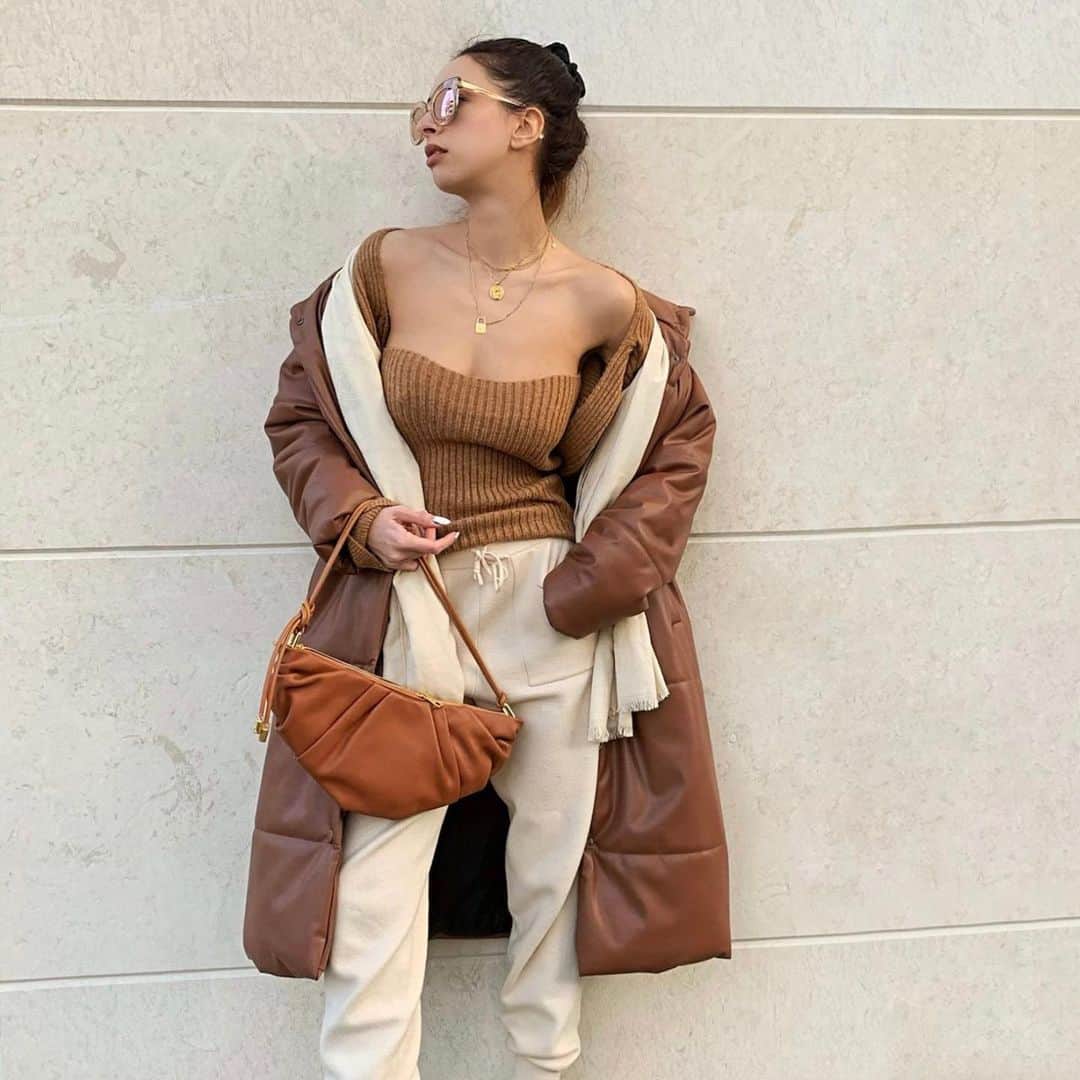 Image Source
Brown color, along with beige and white, is a good choice for any season, especially fall, when the leaves come in all shades of yellow. The color will work well with any skin tone but looks best on brunettes and blondes. This particular outfit shows a casual look, complied of comfy and baggy clothes, with some gold jewelry that goes great along with the tones. For another casual and warm outfit, take a look at this white casual outfit.
13. White Turtleneck and Long Boots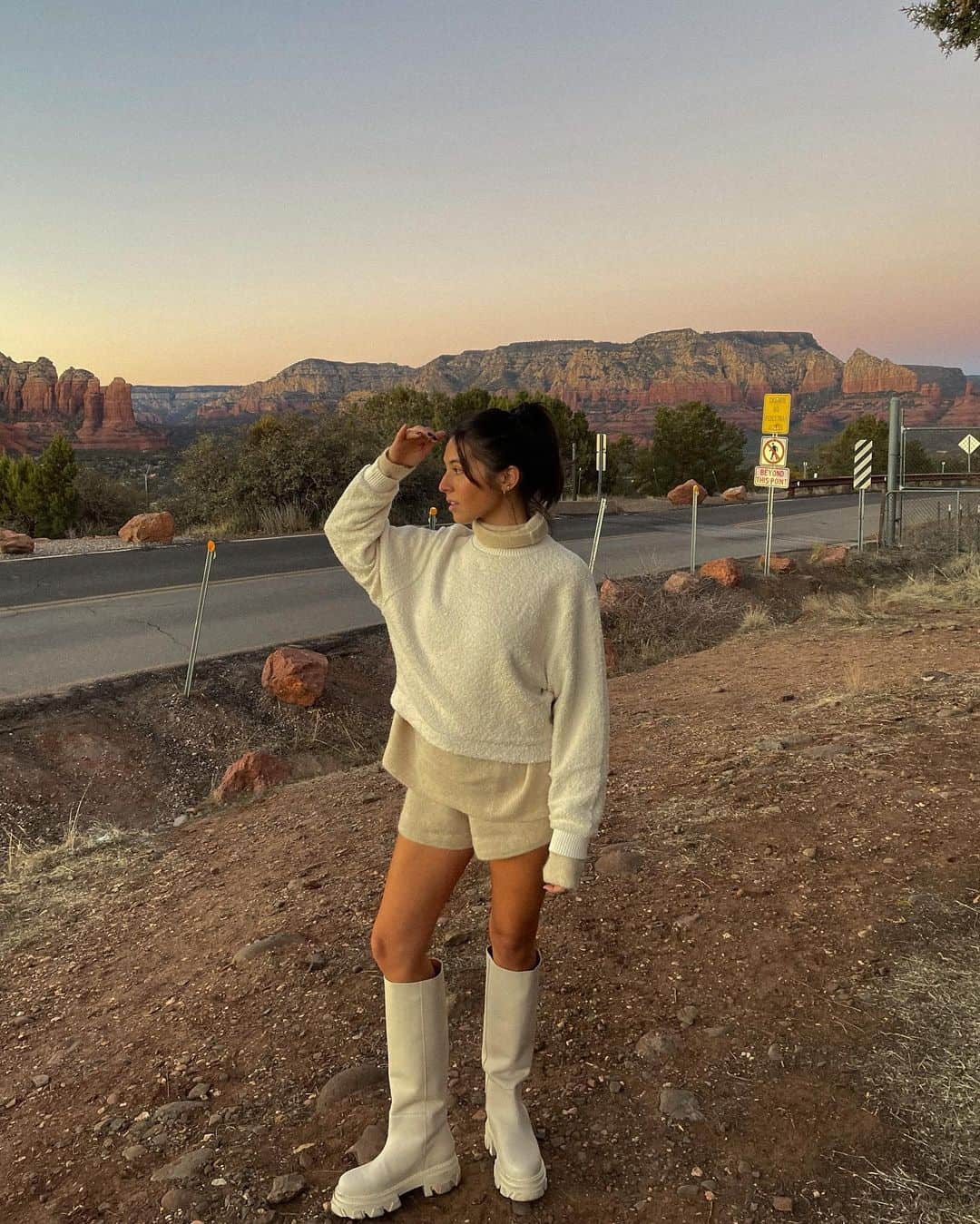 Image Source
This outfit can be an excellent choice for the cooler days at the beginning of fall when it's still slightly warm. It shows what you can achieve by adding layers, even if they are all in the same color palette. It's a great look for a hike, a day in nature, or any casual event. The boots are the star of the outfit but can be replaced with a cool pair of sneakers for an even more casual look.
14. Flower Patterned Kimono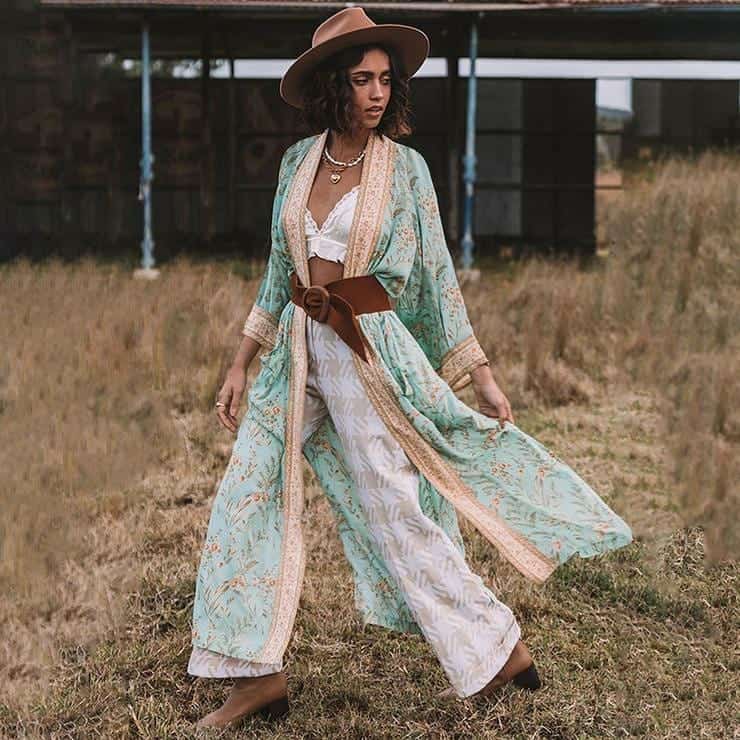 Image Source
A kimono is a great way to add color and print to your fall outfit without trying too hard. A light kimono can be perfect for layering, but if you get it in wool or fur, it can be a beautiful final touch. This piece of clothing, in addition to a dress and some jewelry, makes for a stylish date night outfit. Whereas wearing it over a turtleneck and simple trousers will be best for a casual day with friends. In any case, the ways to style a kimono are endless, so don't be afraid to experiment.
15. Men's Stylish Suit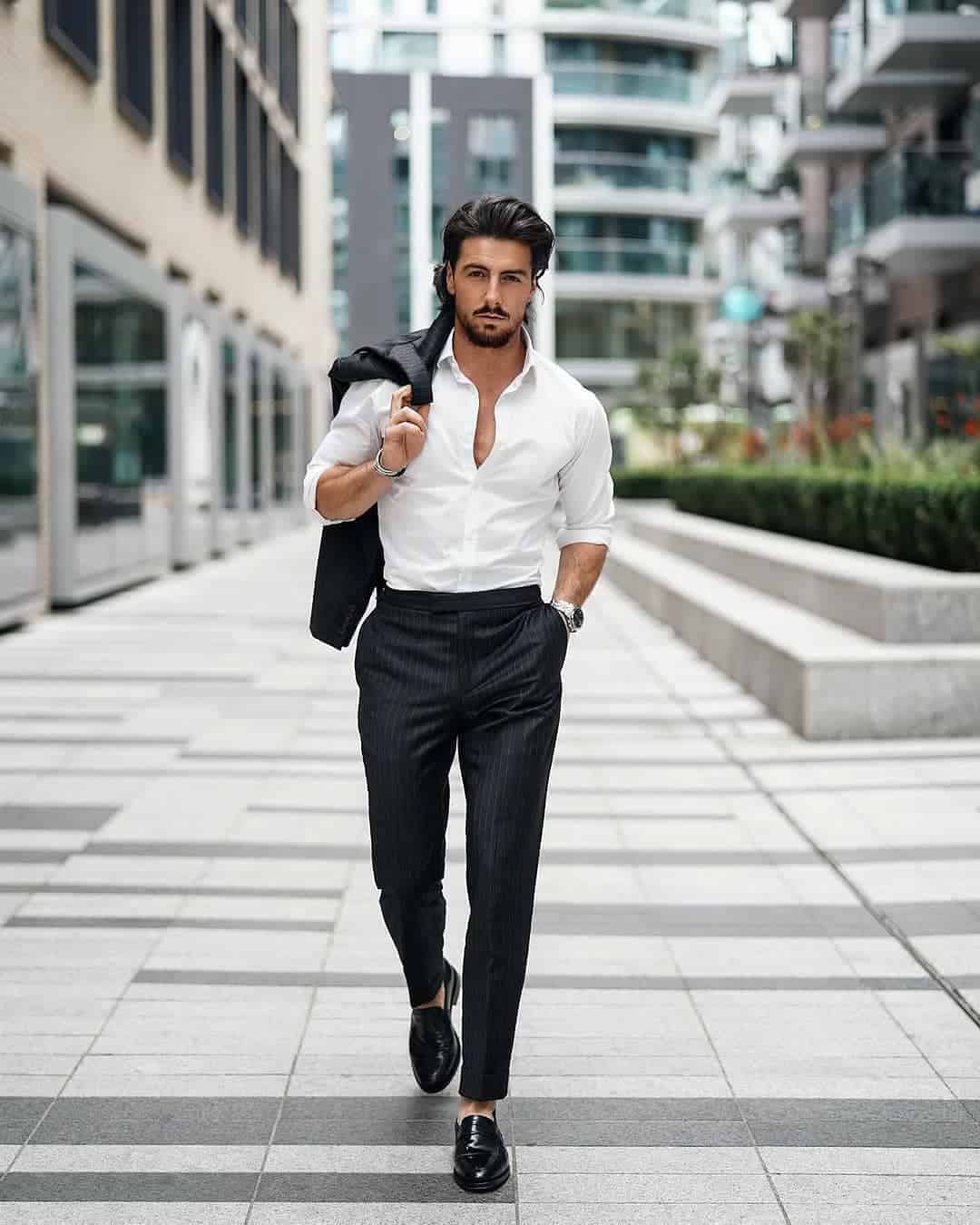 Image Source
Our list wouldn't be complete without a few male fall outfit ideas as well. For men, this season means more suits and coats, along with an opportunity for layering, with winter hats and scarves as top fall accessories. You can never go wrong with a classic pinstriped suit and a white shirt, especially for more formal occasions. Don't forget to accessorize with your favorite shoes and a good watch. For a more casual men's outfit, check out this Men's Sporty Wear.
16. Tweed Skirt in Earthy Tones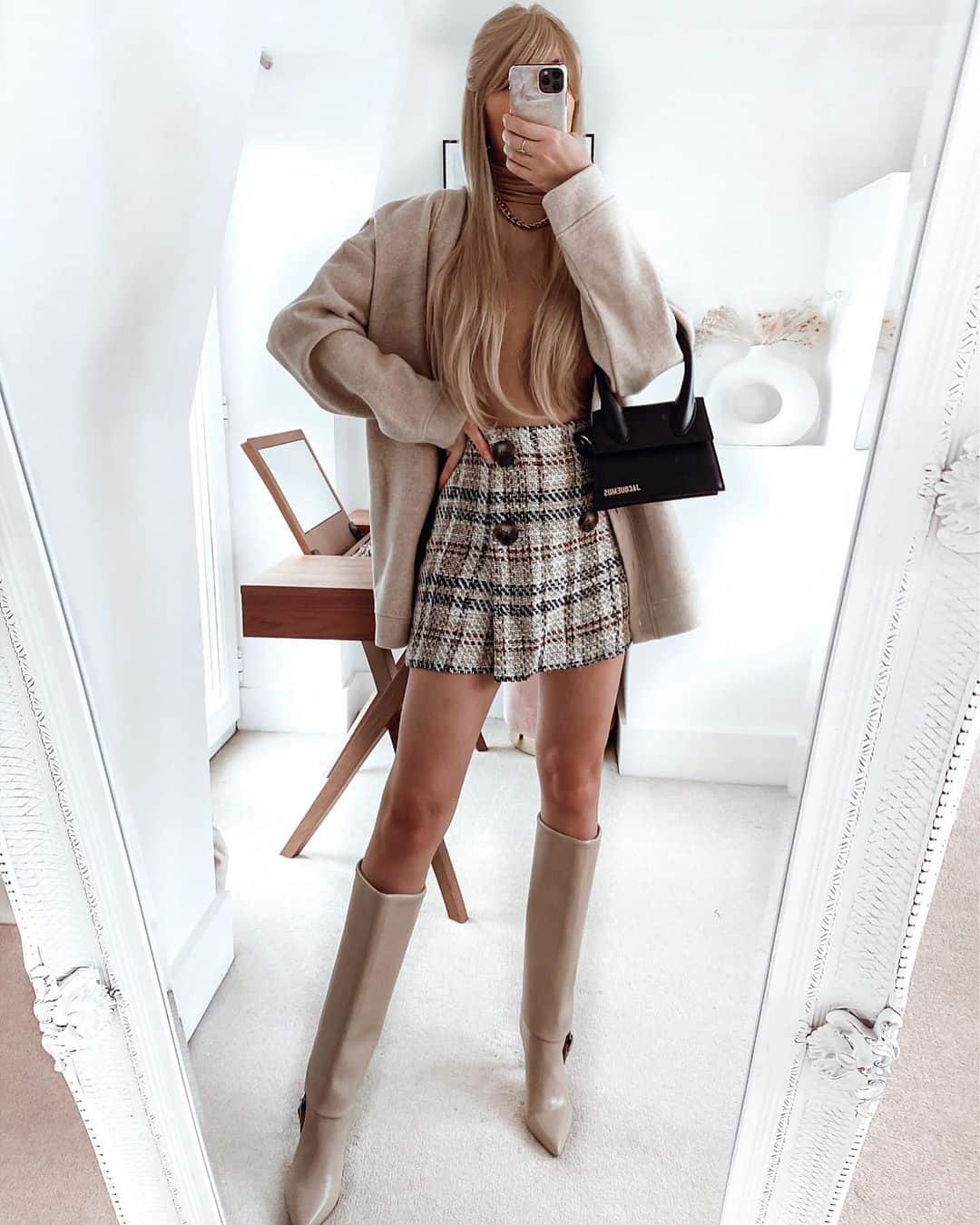 Image Source
Tweed has always been a popular fabric, mostly used in fall and winter fashion due to its warm, woolen structure. This pattern is one of those that never go out of style, so it's a must for your fall wardrobe. Any clothing item can be found in tweed, such as pants, blazers, and coats, but a tweed skirt is timeless. Since the base for your outfit has multiple colors, you can add on more neutral, beige tones, such as in this photo, or go for a darker, brown, and navy blue look.

17. White Casual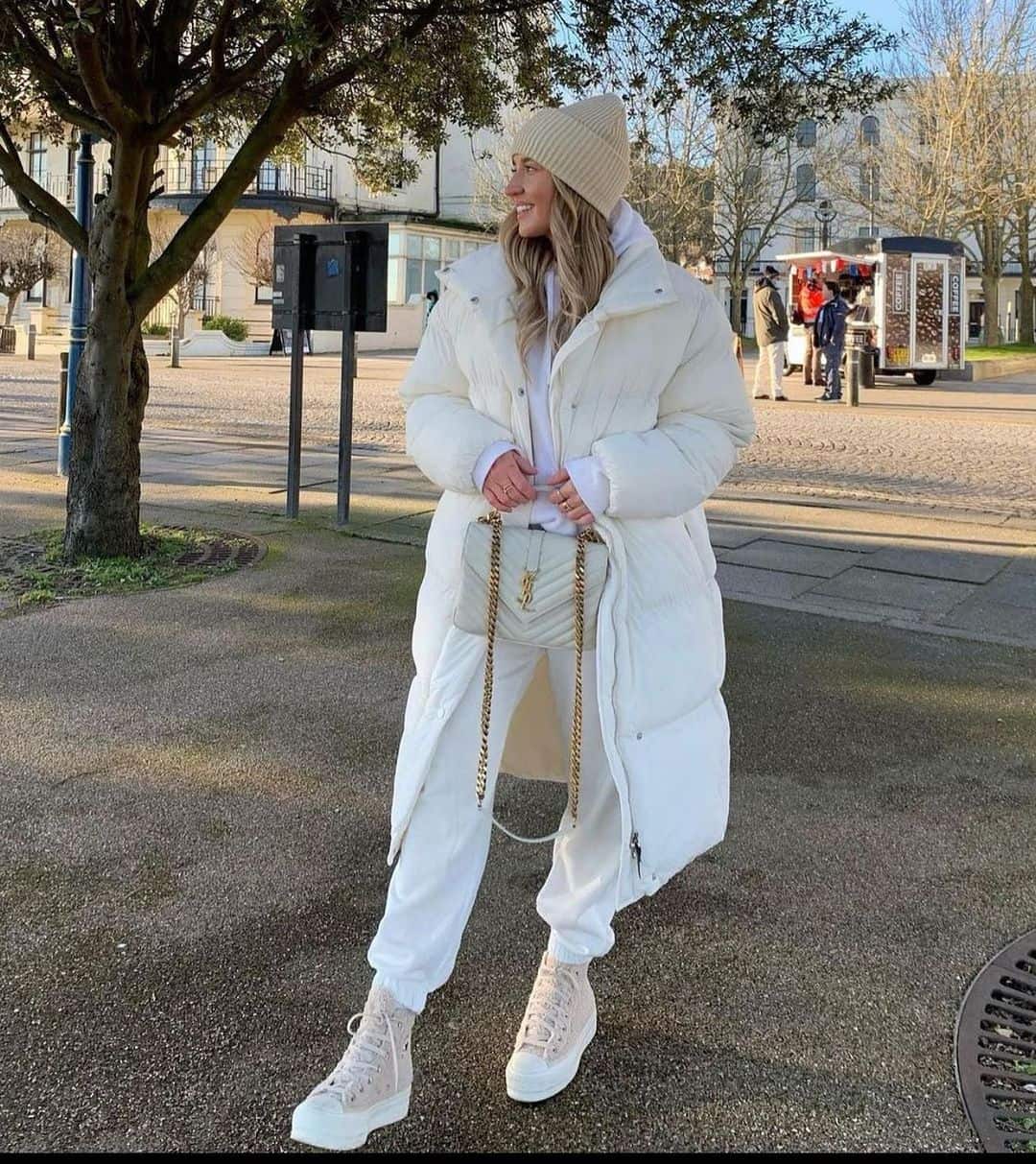 Image Source
This outfit is another version of the comfy and casual, brown-layered look. This particular style is perfect for gloomy days when you want to stand out more, as it is all white. You can use your hat, purse, and shoes to add a splash of color or simply wear it all in nude tones. When it comes to this outfit, layering is less important, but having that one great, big, puffy jacket is the crucial component for achieving this warm and flawless look. For another, similar look, check out this Cozy and Casual outfit.

18. Men's Sporty Outfit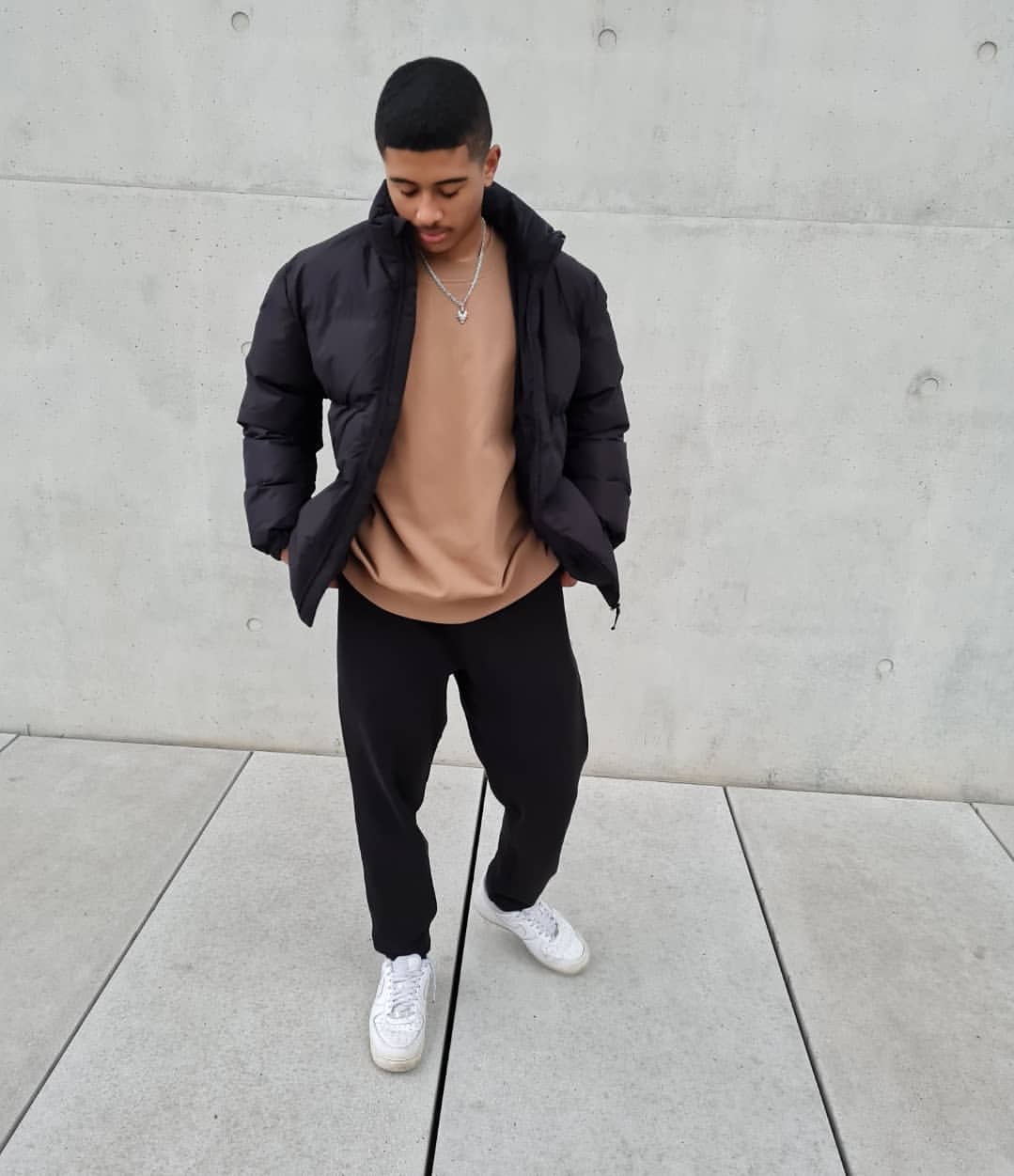 Image Source
Here's another monochrome outfit for men, easy to pull off without much effort. By using black colors for sweats and the puffy jacket, you get a polished everyday look, perfect for meeting a friend. The shirt can be used to add some color and accessories to add a personal touch. Remember to choose suitable fabrics, and always check the composition.
19. Olive and White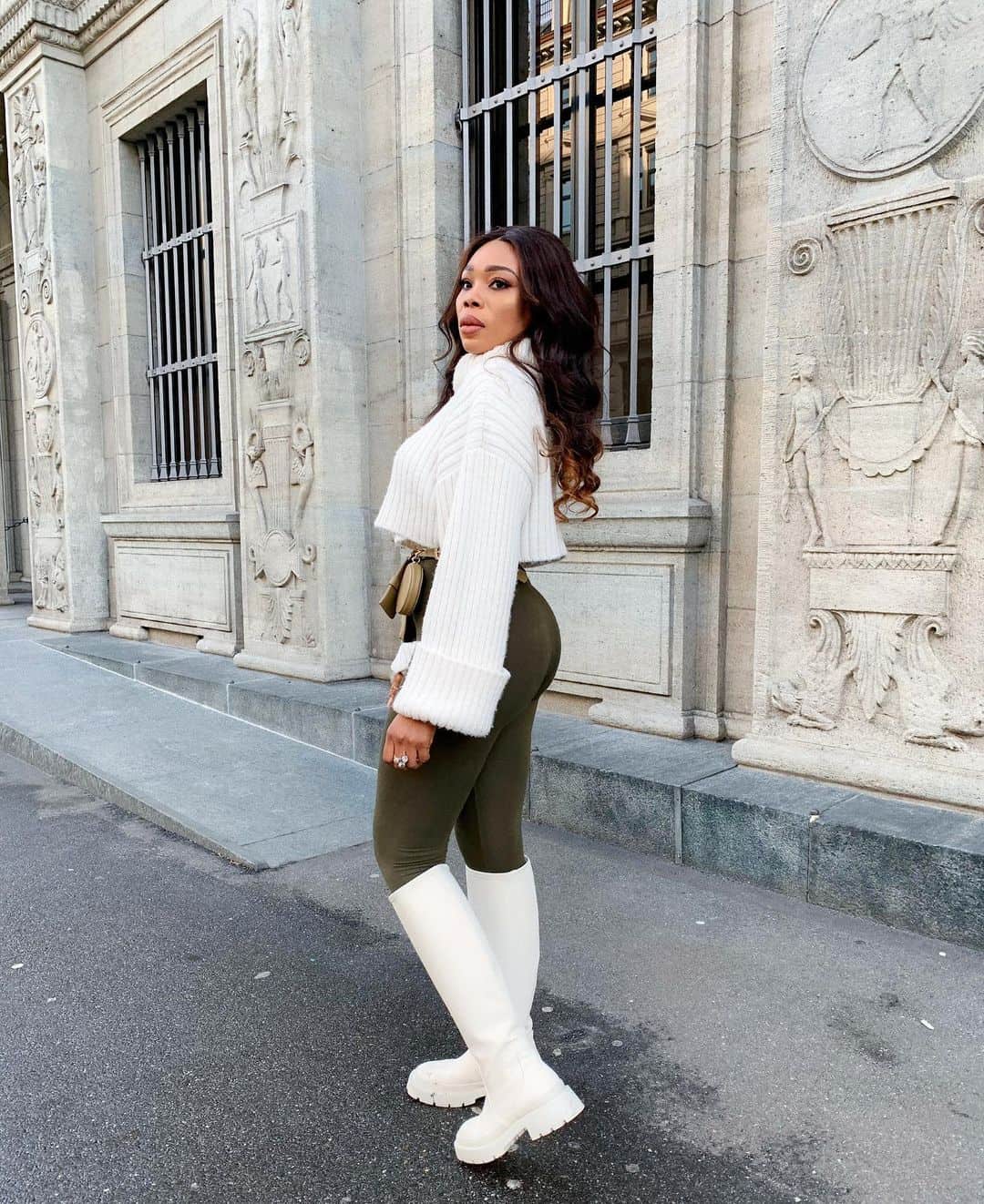 Image Source
White, above the ankle boots, are becoming a fast trend this season, as they look great in casual, as well as smart-casual style. You can wear them with your favorite trousers and a shirt for a sleeker look, or with leggings and a sweater for a casual day off. Since they are white, they go well with absolutely any other color and make for a striking piece of any fall outfit.

20. Cozy and Casual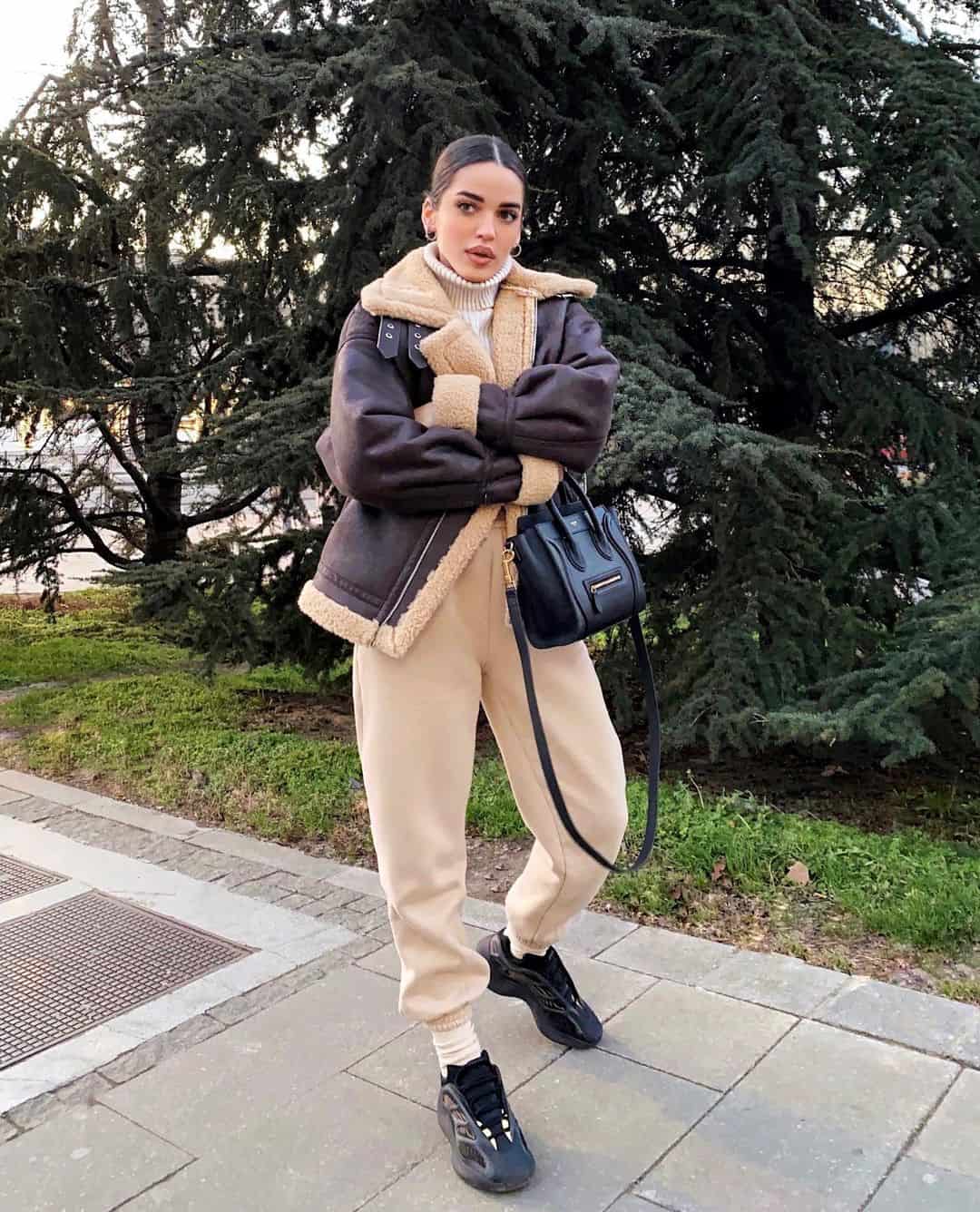 Image Source
Sweats and a leather jacket make for a comfortable, warm look, perfect for fall. Brown is the main color of the season, but don't be afraid to experiment and make this outfit more unique. Use accessories to personalize this look, along with a sleek hairstyle and your favorite makeup. Switch the sneakers and sweatpants with a pair of boots and trousers for a less casual look.

21. Red Plaid Mini Dress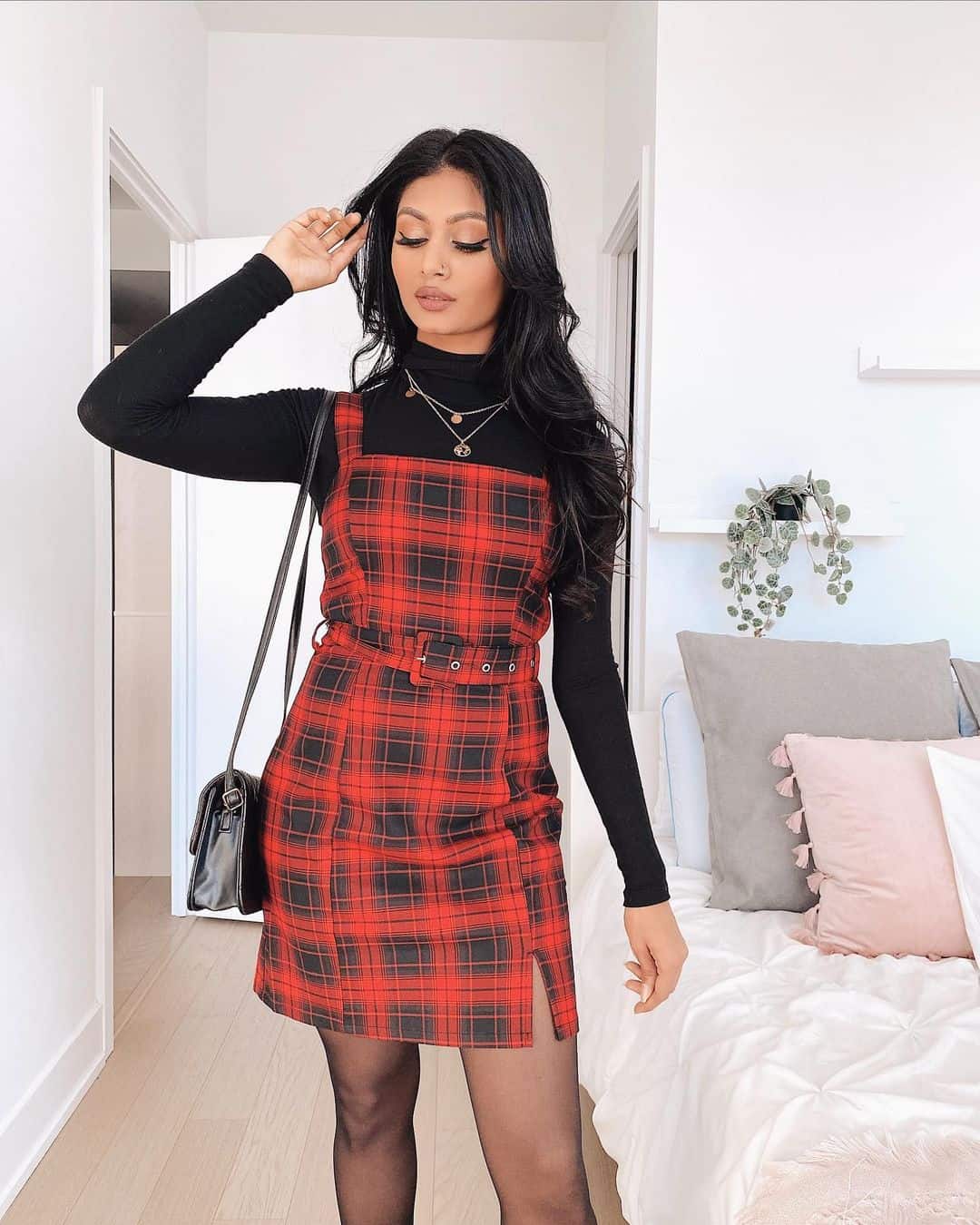 Image Source
The start of fall doesn't have to mean putting away your summer dresses, but instead, experimenting with them to find new combos. Adding a turtleneck, or a long-sleeved sweater, along with some tights and boots, transforms this outfit into a fall-friendly style in no time. If you need a cozy, outdoorsy look, just include your warmest long coat, and you're ready to go. And if you love plaid, check out this Plaid Suit.
22. Brown Suit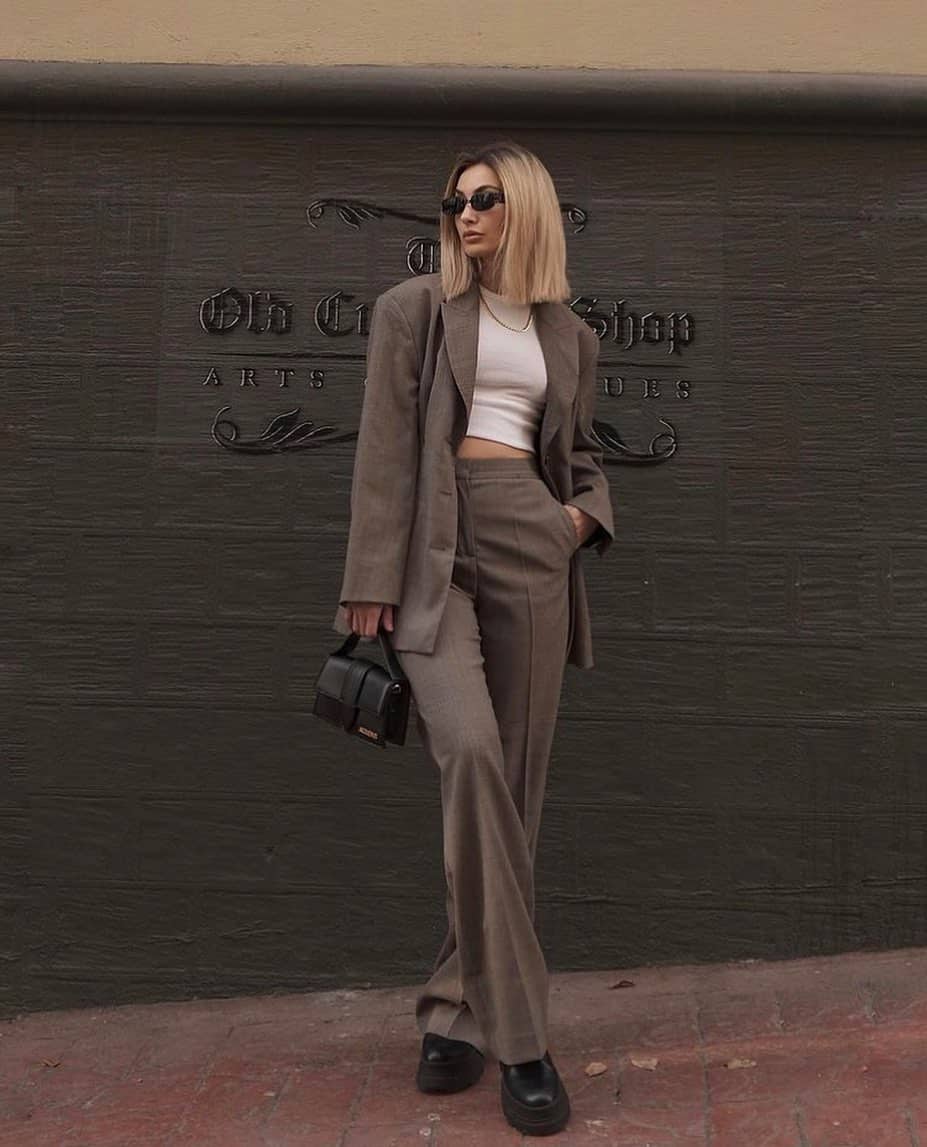 Image Source
There is something so stylish about a girl in a suit, and this particular outfit looks fashion week-ready. Even though the colors and design are plain, the accessories make the look seem polished and well thought out. The black shoes and purse, along with a pair of vintage glasses, are what completes this outfit. Even the hair and jewelry are simple, adding up to a flawless style, suitable for various occasions.
23. All Black With a Brown Cardigan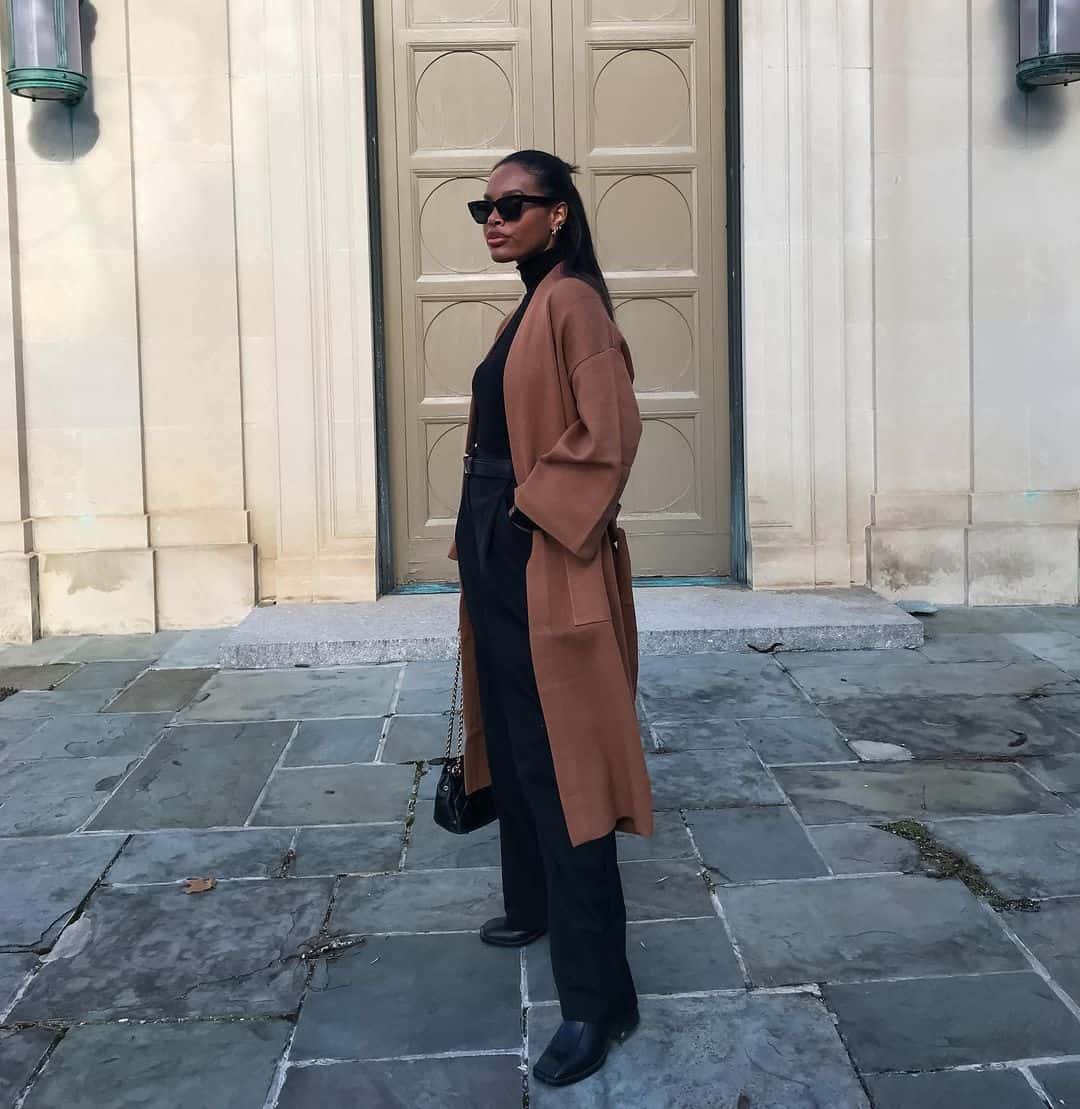 Image Source
We all have those days when nothing seems to fit right, and we have no idea what to wear. For those situations, there is nothing better than an all-black outfit to make us feel comfortable while looking cool. Using different materials and shades of black can easily accomplish a flawless look without trying too hard. Adding a colored cardigan will make the outfit stand out and keep you warm at the same time.
24. Tweed Skirt and a Fuzzy Sweater

Image Source
Tweed skirts and fuzzy sweaters are some of the cutest fall combos out there. This outfit is perfect for a coffee date, meeting with friends, or any occasion when you want to feel girly and pretty. The colors here are very subtle and in keeping with the season, although you can change that to fit your taste. You can also add a coat for a warmer look, or simply replace the skirt with a stylish pair of trousers.

25. Plaid Suit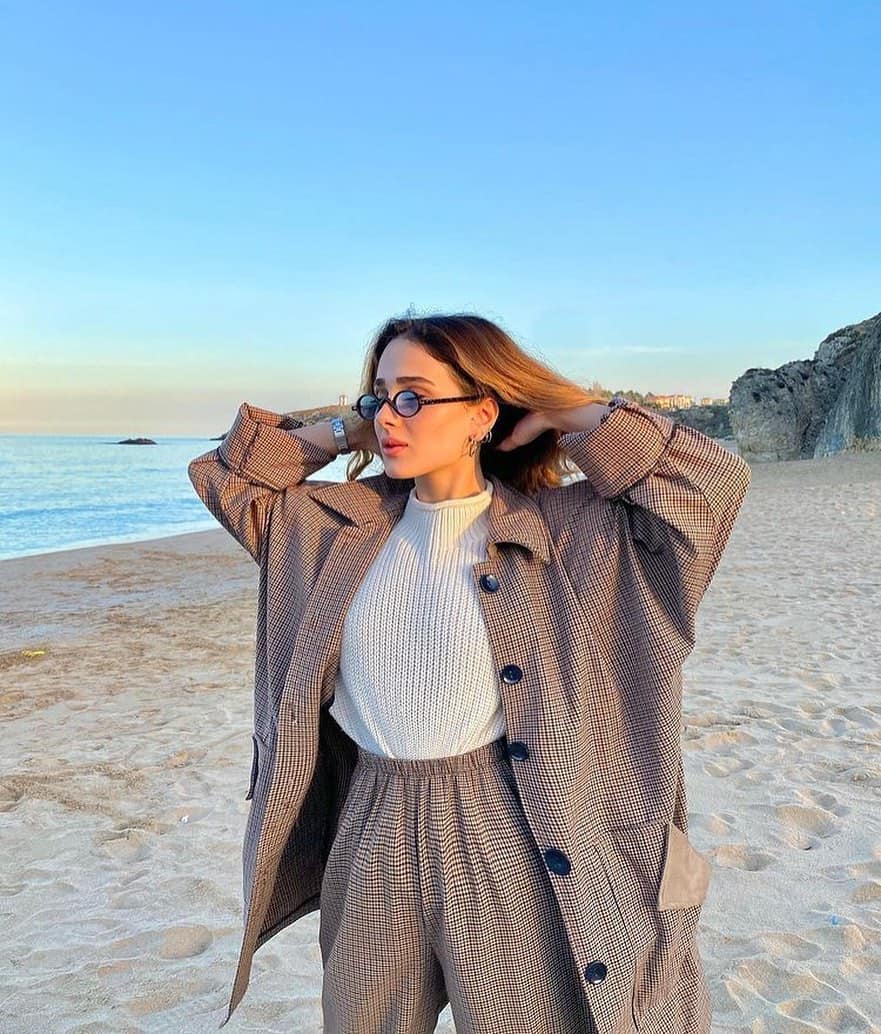 Image Source
If you are a fan of plaid, take a look at this brown, oversized suit. It's an outfit suitable for any number of occasions, leaning towards a more business casual style. Adding a pair of sunglasses, along with a simple watch, can make this outfit perfect for work. Whereas styling it with a silky blouse and some sparkly earrings can be great for a night out or a date.
26. Beige Sweats and a Purple Jacket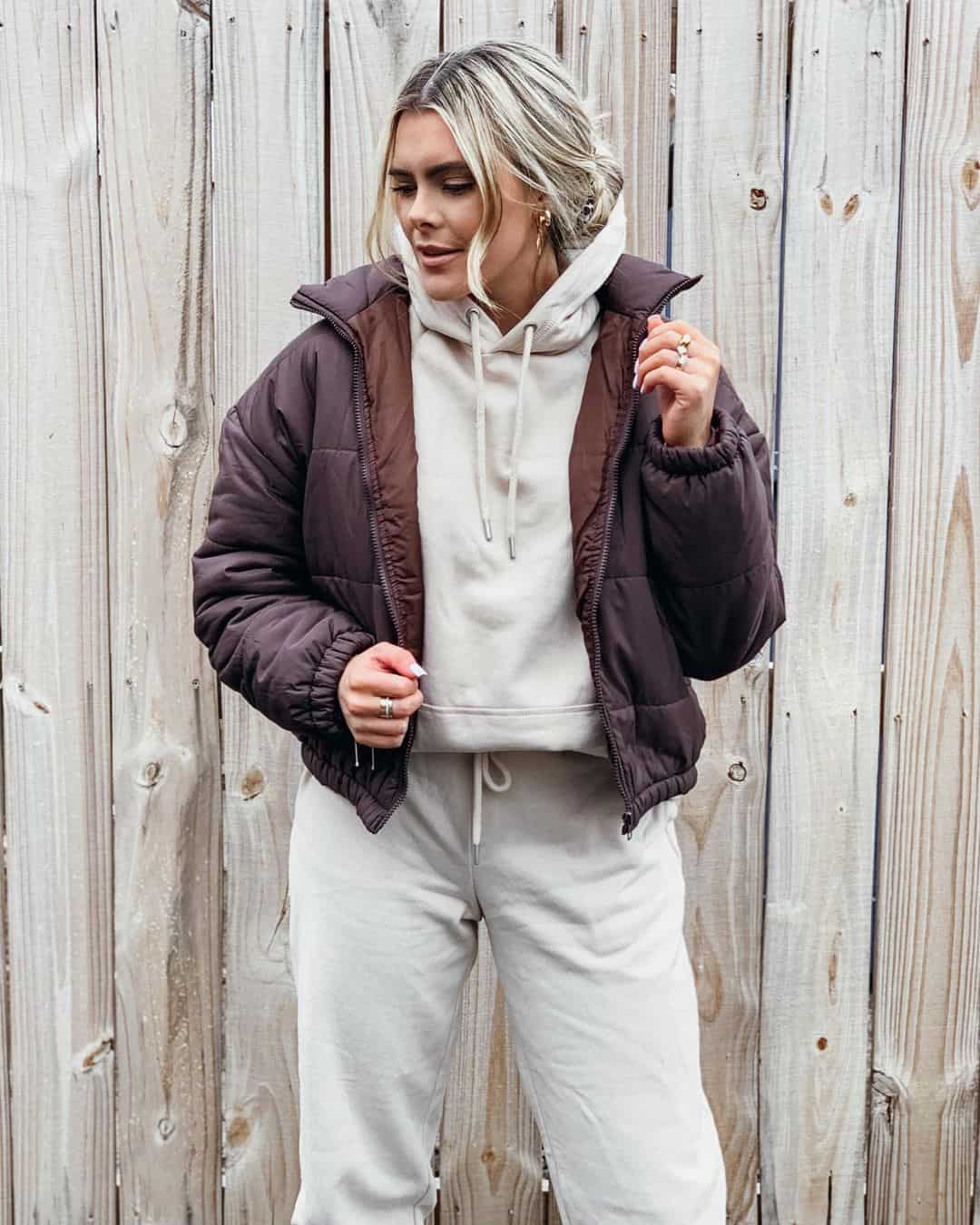 Image Source
If you value comfort above fashion, there's still no reason why your outfit can't look stylish while feeling comfy and relaxed. Investing in a nice pair of sweats is a good way to achieve this look, whereas adding a puffer jacket ensures you stay warm. Feel free to choose your favorite color and play around with your hair. For a more daring choice of sweats, take a look at these Hot Pink Sweats.
27. Brown Turtleneck Dress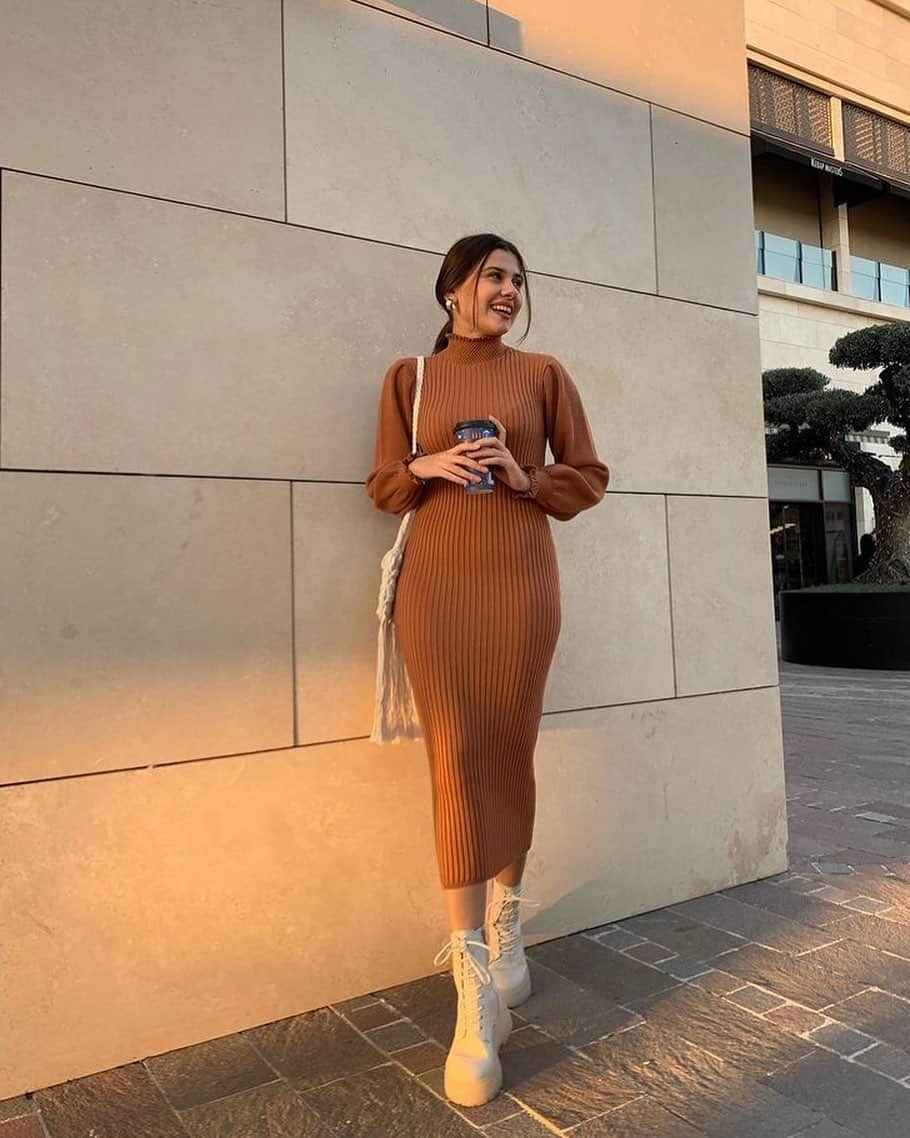 Image Source
A single-colored, long, knitted dress is the perfect combination of style and comfort. This particular dress has a high color, along with long sleeves, making it a suitable choice for the fall and winter seasons. You can style the dress with boots for a warmer look or wear high-heels for a night out. Remember to add a scarf or jewelry for a more personalized look. For another sweater dress, check out Knitted Dress.
28. Comfy and Warm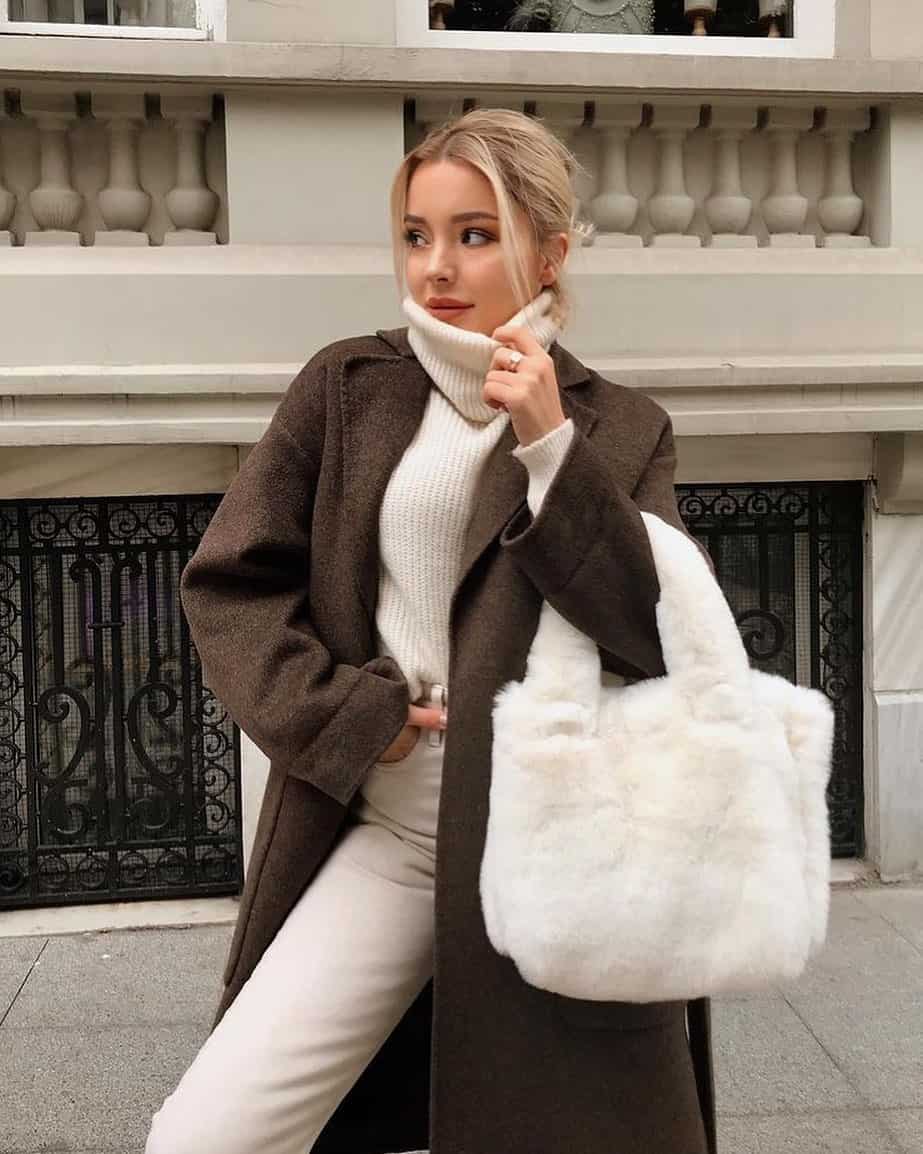 Image Source
This outfit is the epiphany of simple style and comfort and a warm combination, perfect for even the coldest days. It's an easy look to put together, using a warm sweater, a light pair of jeans, along with your favorite coat. Adding a fluffy bag makes this outfit look even cozier and cuter, without bothering with too many layers.
29. Over-the-Knee Boots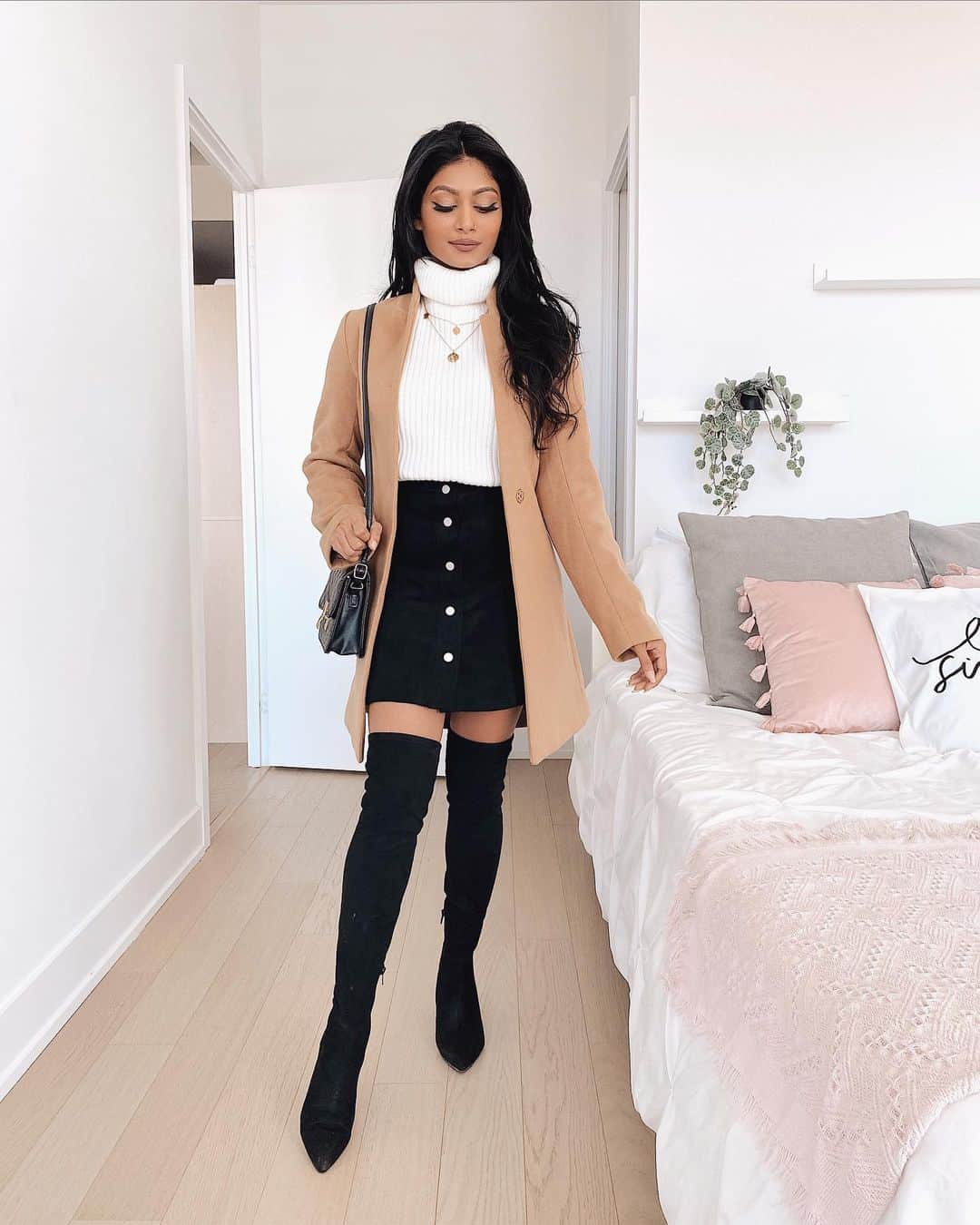 Image Source
One of the best clothing items fall brings is over-the-knee boots. They come in various colors and different lengths and look great in combination with a skirt or a pair of jeans. You can get them with a high-heel for evening wear, or simply choose flats for everyday occasions. Not only do they look stylish and classy, but they also bring much-needed protection for rainy fall days. A black or brown color will go best with most outfits, but you can experiment and find what suits you best.
30. Jeans and a Sweater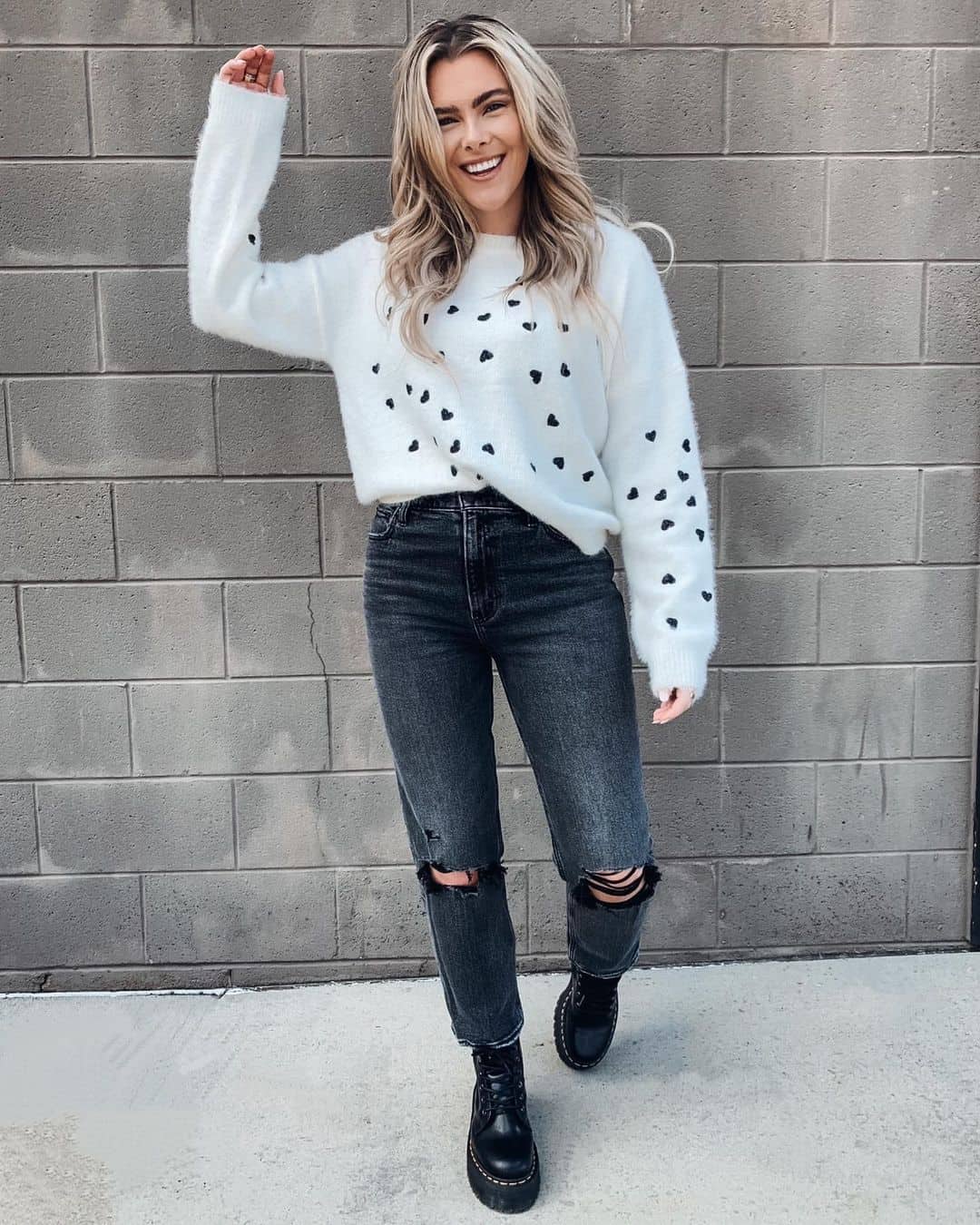 Image Source
If you don't like experimenting too much with clothes, or simply prefer a casual style, going with jeans and a sweater is always a good choice. This classic combo gives endless options for styling, even though it's essentially simple. You can go with a monochrome color palette or choose blue jeans and a bright-colored sweater for a different look. And as always, don't be afraid to have fun with patterns and accessories to achieve your desired style. For another classic jeans outfit, have a look at these Jeans and an Overshirt.

31. Hot Pink Sweats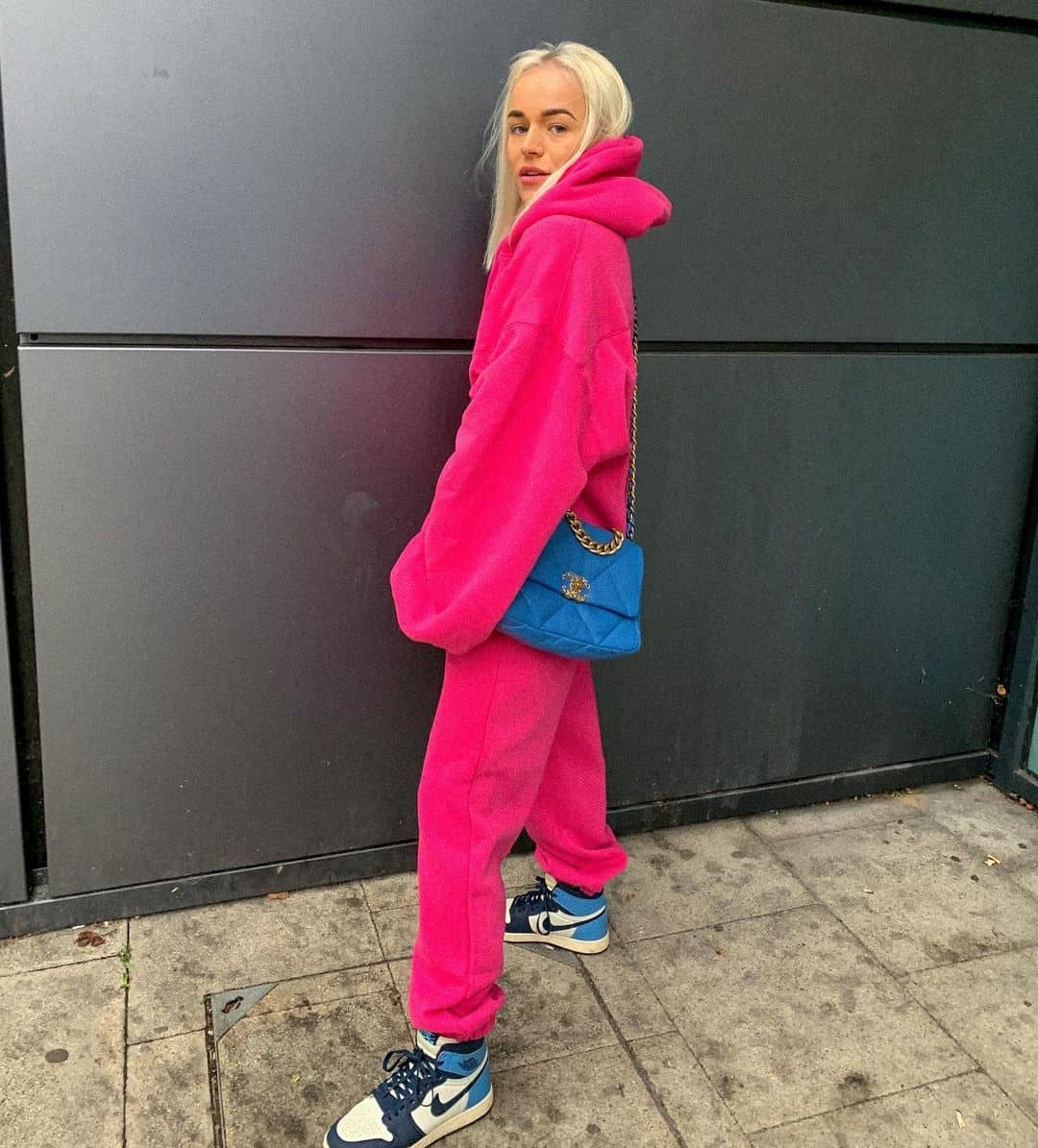 Image Source
This outfit is an excellent example of comfort and style, showing there is no need for your comfy clothes to be boring and monotonous. If you like making a bold statement with your outfits, these bright-colored sweats are a perfect choice for you. Hot pink is out there, but you can also replace it with your favorite color. Remember to accessorize by adding a purse, a pair of stylish sneakers, or a patterned coat for the finished look.

32. Grey Casual Outfit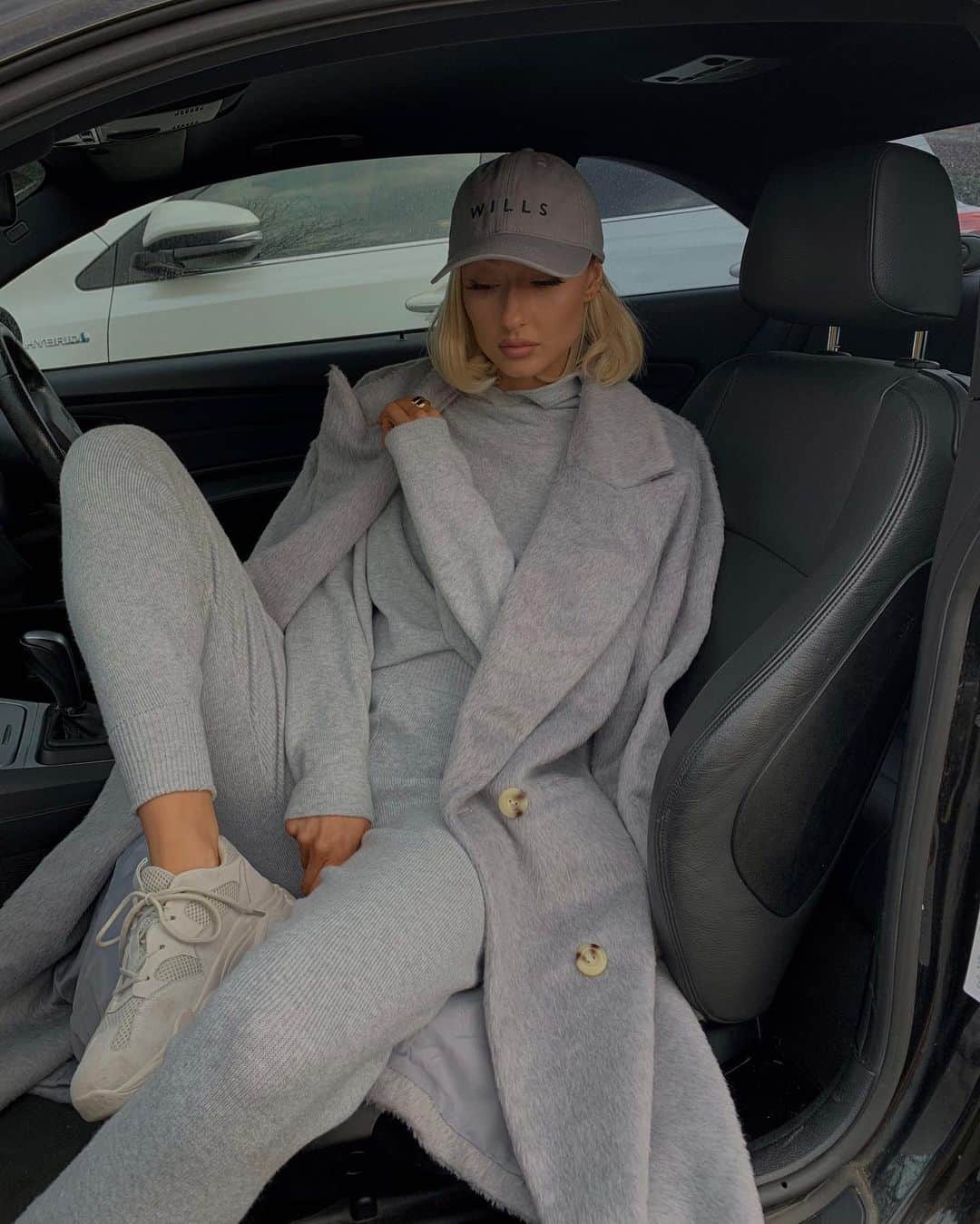 Image Source
A monochrome outfit is a great way to achieve an effortlessly stylish look, especially if you stick with lighter colors. However, this outfit would look good in any color, so feel free to choose your favorite. Adding layers of different fabrics and shades is what makes this outfit seem put-together without being too complicated. You can try out the monotone idea with a casual style, such as in this particular photo or any other type you prefer.
33. Grey Blazer Dress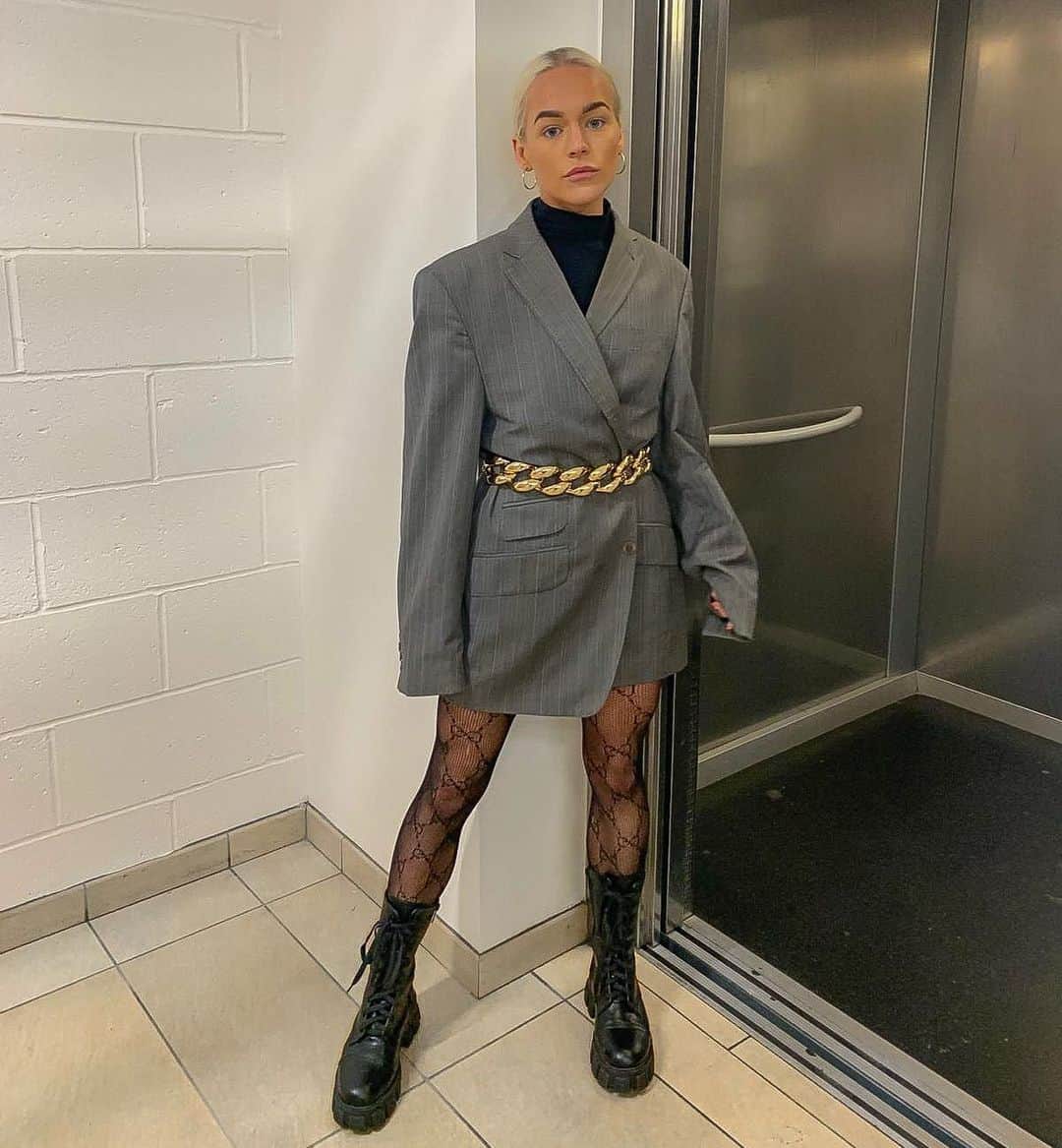 Image Source
A blazer dress is a kind of outfit that can make you look forward to colder weather. The dress can be an actual oversized blazer, styled with a chunky belt and a pair of lace stockings, along with your favorite boots. Or, you can opt for a tailored blazer dress for a more feminine look. If you are a fan of tighter, colorful mini dresses, take a look at this Silky Blue Mini Dress.

34. Jeans and an Overshirt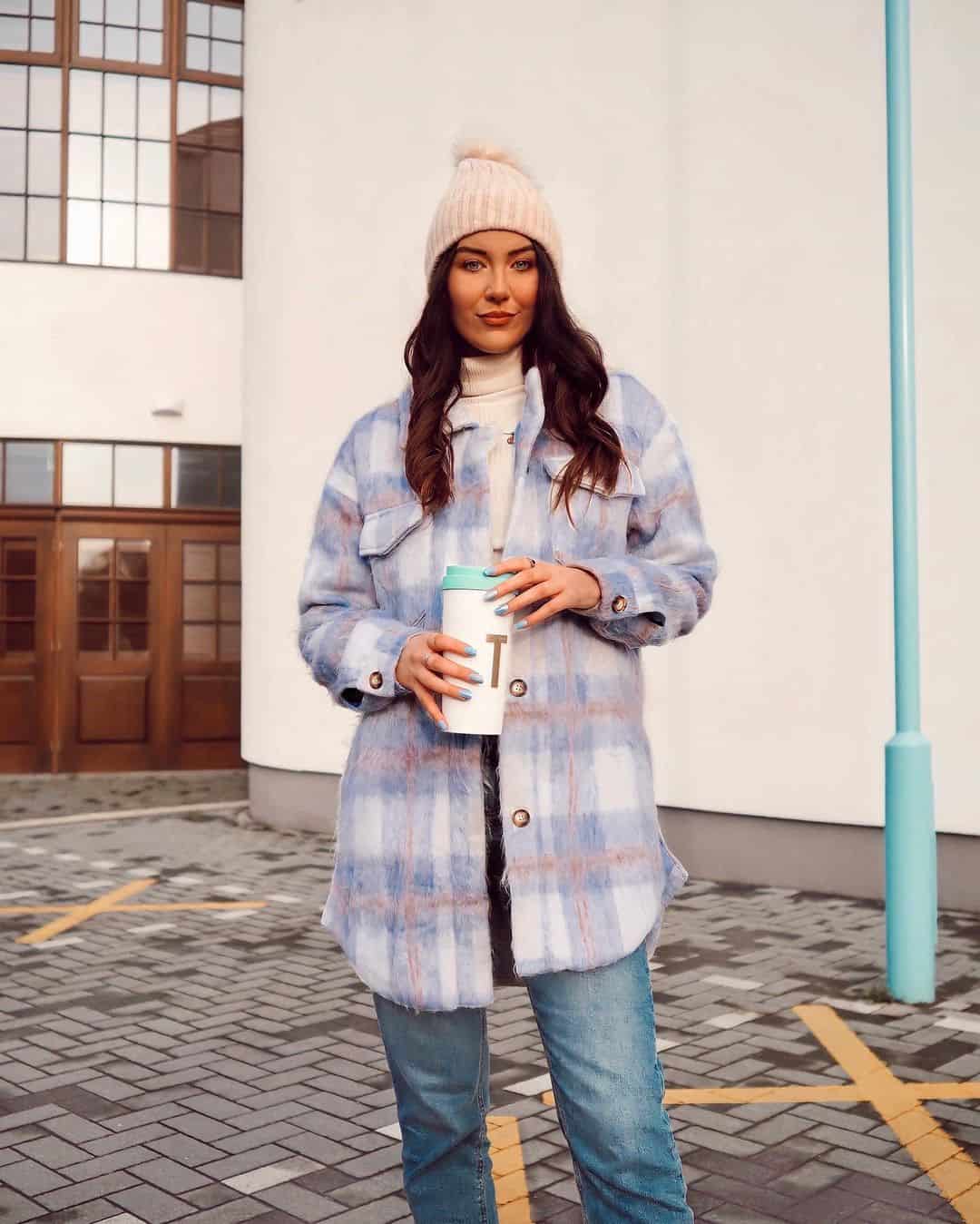 Image Source
Jeans and a shirt are pretty much the classic look, but when the days get colder, consider wearing an oversized overshirt instead. This outfit is another easy one to put together, suitable for any casual event or running daily errands. Since it's such a simple look, don't be afraid to experiment and add on, using hats, scarves, and accessories.
35. Black and Plaid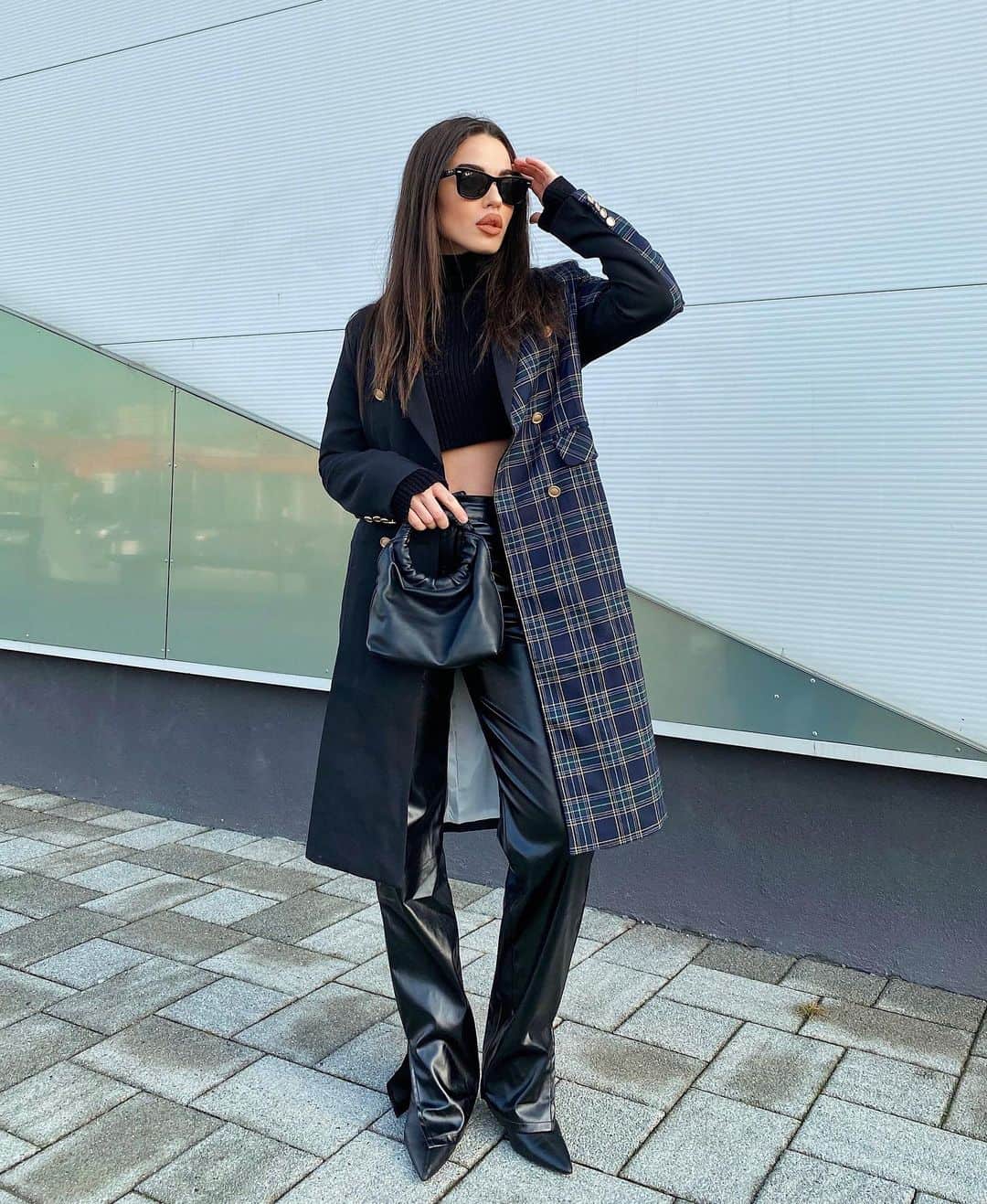 Image Source
This outfit shows you can achieve a unique look with just one color, using different black fabrics and a patterned touch. There are countless materials available to us, and even though using natural fabrics is the best for your skin, don't be afraid to wear some faux leather from time to time. Since this is a monochrome look, adding slight details such as plaid or a coat with golden buttons makes this outfit special.
36. Leather Pants and Jewels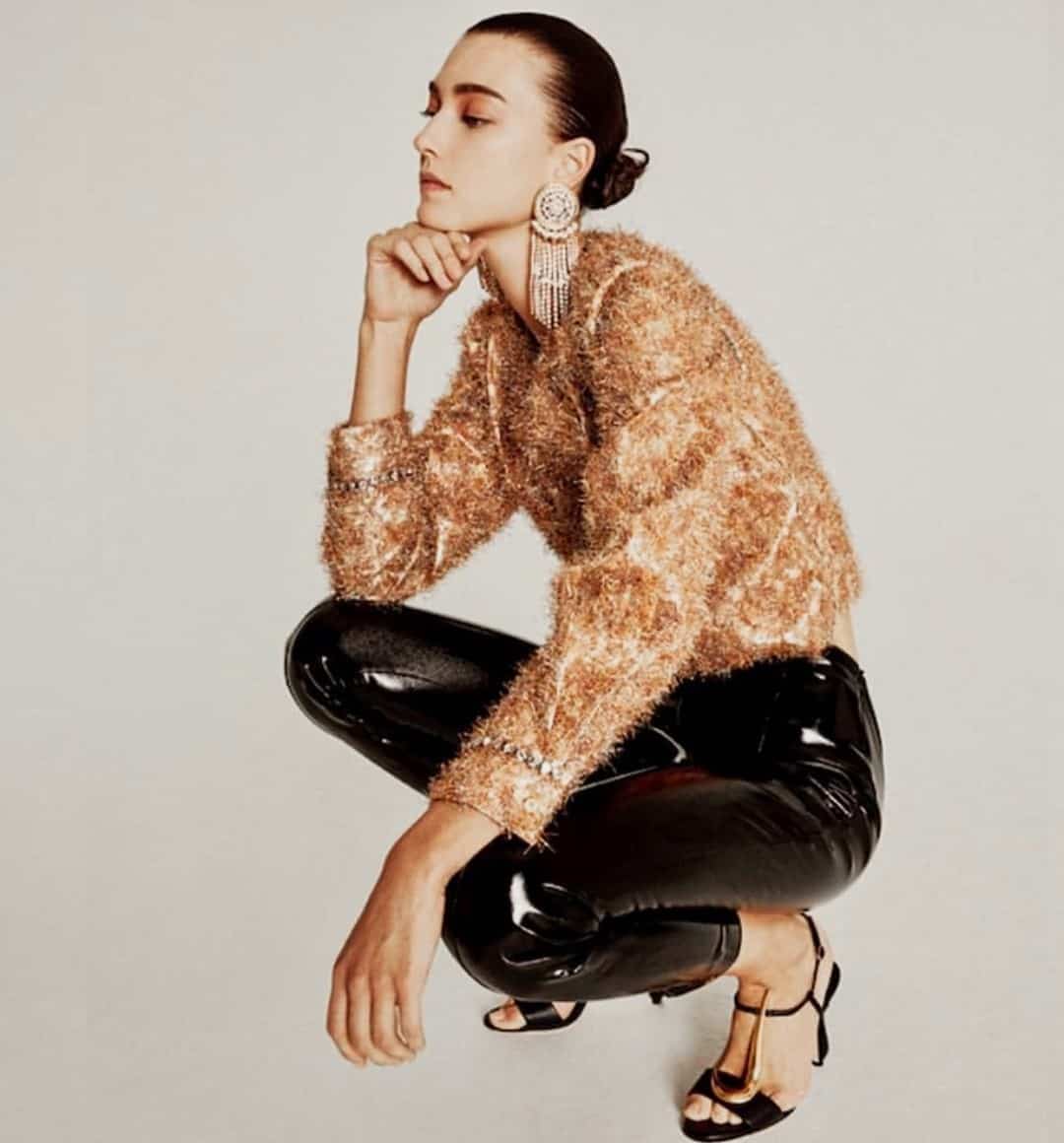 Image Source
This outfit is perfect for all those who love to sparkle and shine. This fuzzy sweater is warm yet glamorous, perfect for a special event in fall. And with a pair of bold trousers such as these, you are sure to stand out. Use accessories to add even more shine, such as a pair of chunky diamond earrings or your favorite high-heels.

37. Silky Blue Mini Dress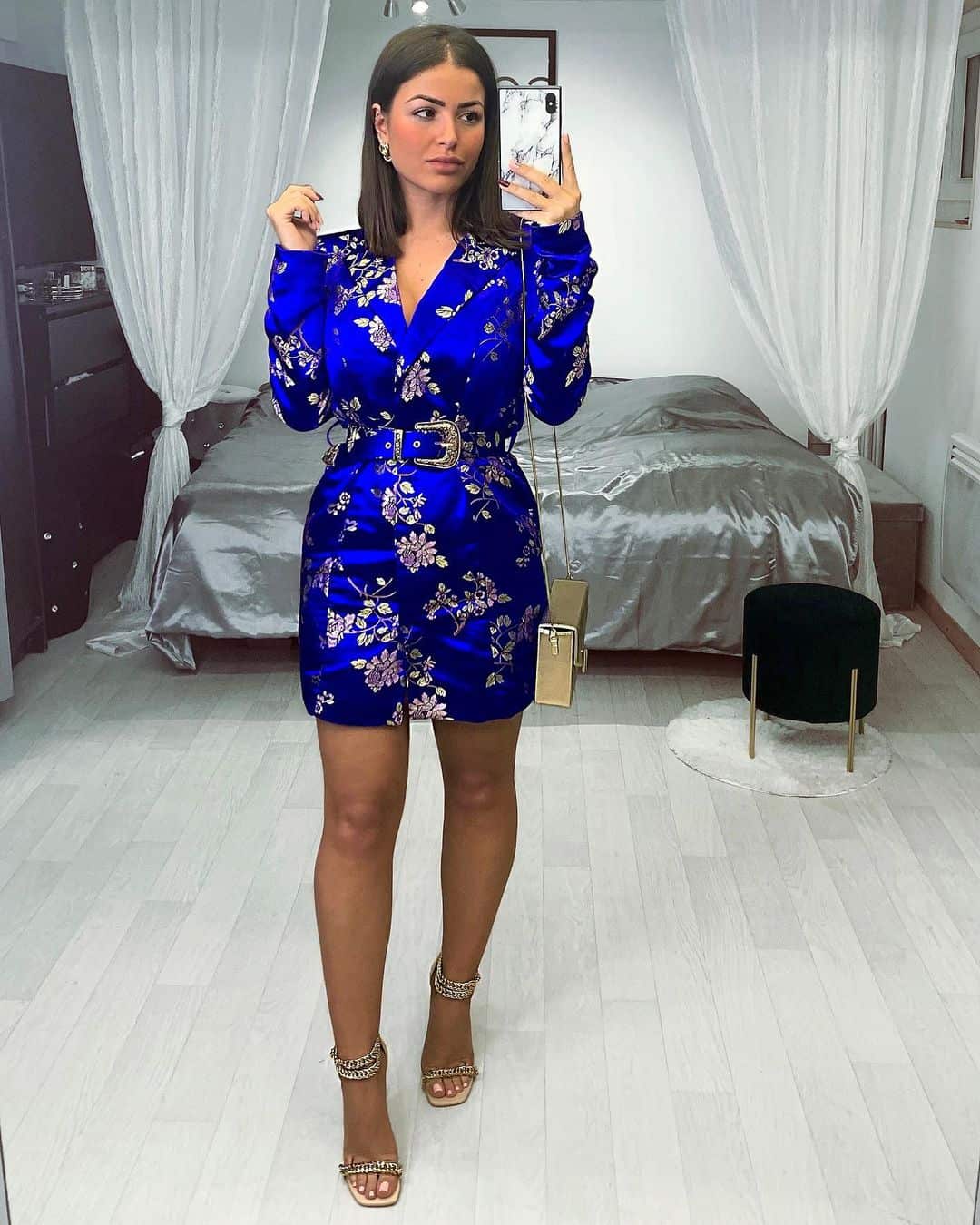 Image Source
This outfit is another version of the chunky blazer look, only tailored and made into the perfect mini dress. With this deep blue flower pattern, there isn't much else you need to pull off a captivating, bold look. However, you can always add some sparkly shoes and accessories to make this outfit even more special. For a simpler, daytime, or cocktail party look, check out this Cocktail Dress.
38. Men's Casual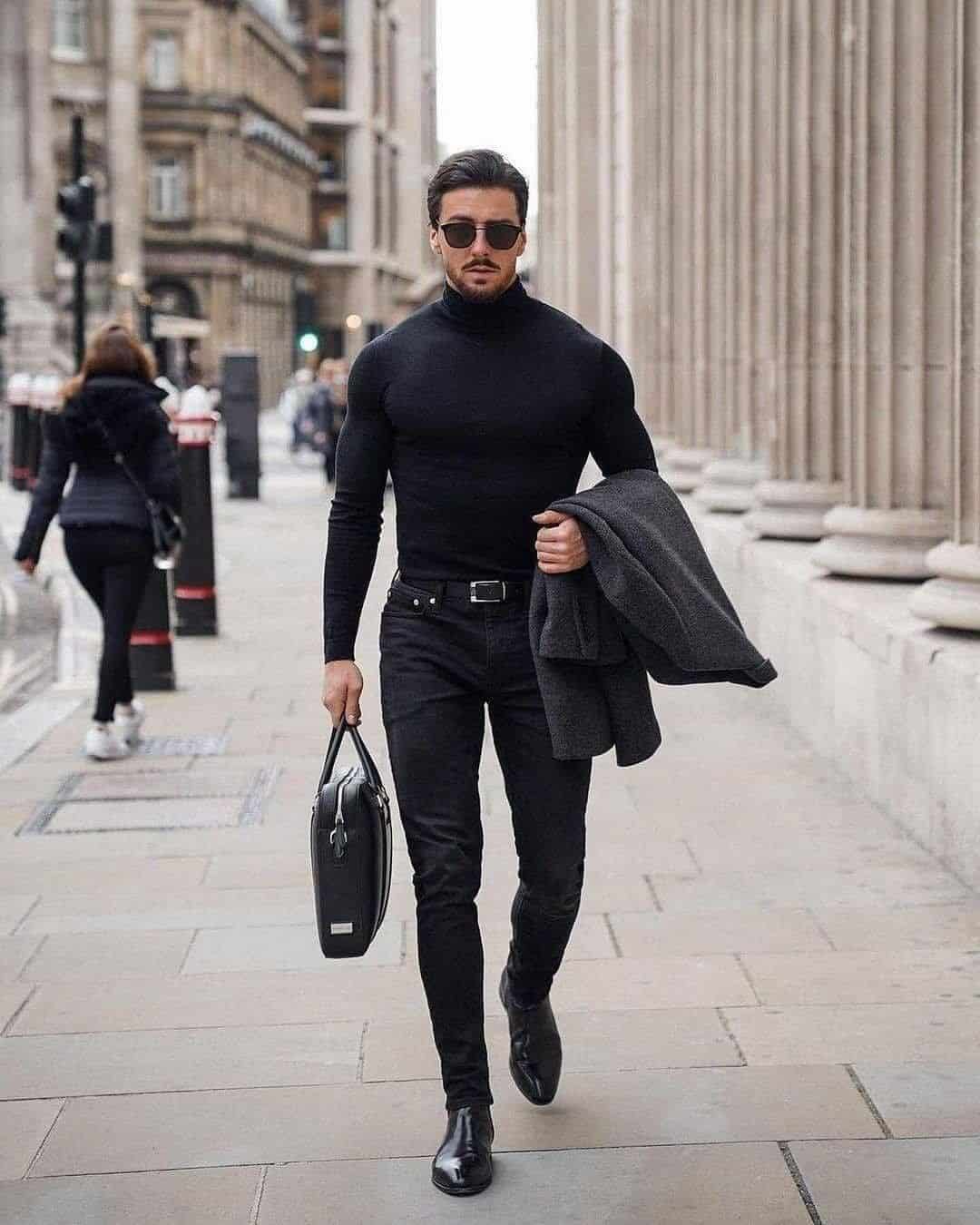 Image Source
A black-only outfit is a timeless classic for men and women alike, and it's something everyone should have in their closet. This look is easy to achieve, using a turtleneck or sweater, jeans or trousers, along with a warm coat. Using just black creates a smooth, polished look, allowing you to wear this casual outfit for various occasions. For a more dressed-up look for men, check out this Men's Business Casual outfit.
39. Stripes and Jeans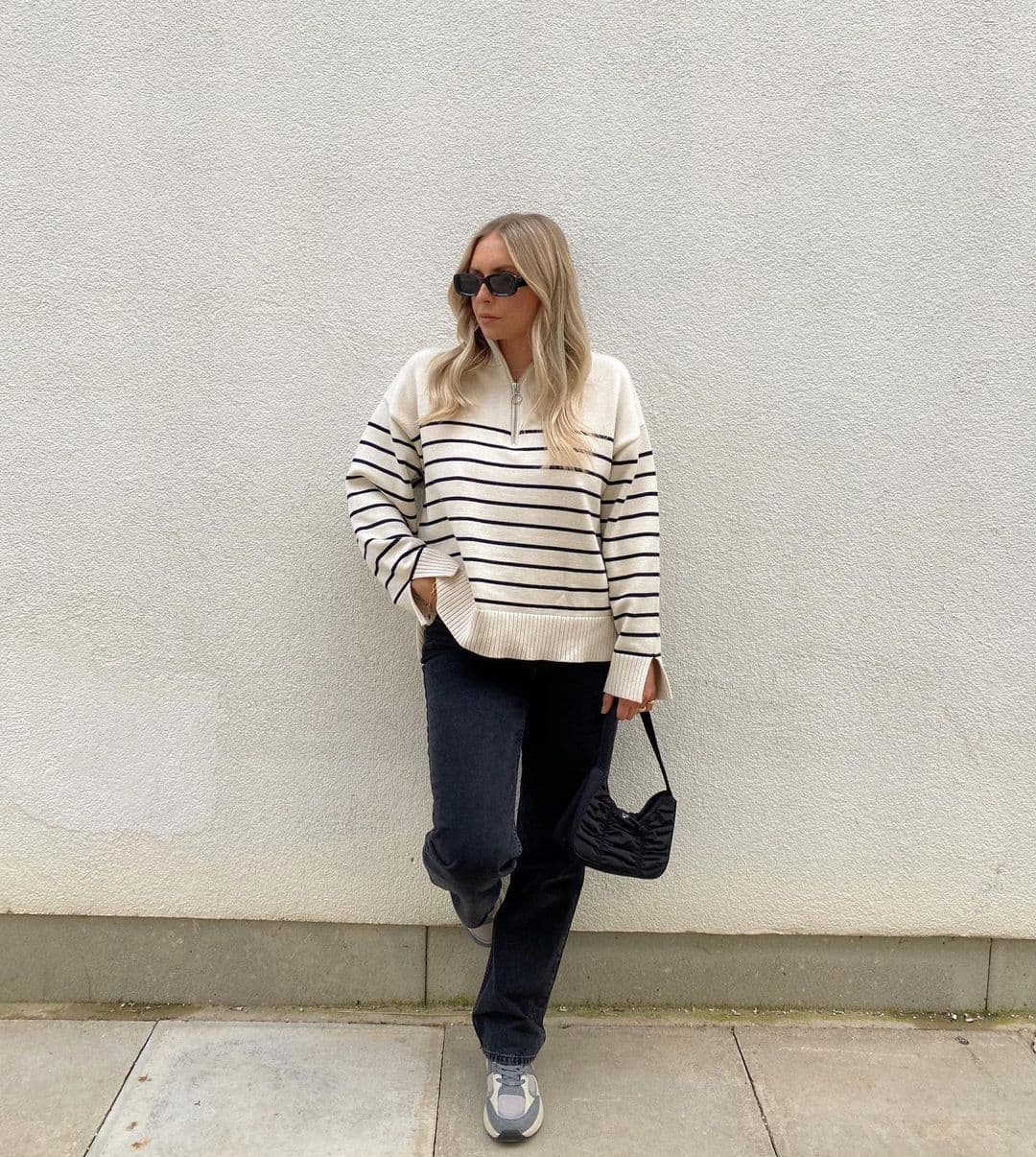 Image Source
Jeans with a striped t-shirt make for a timeless casual look. You can make this outfit more fall-friendly by simply exchanging the t-shirt with a sweater. It makes for an easy-to-achieve look, which always ends up effortlessly stylish. You can let your hair down and accessorize with a pair of sunglasses along with a cute purse. Or, tie a messy bun and exchange the jeans for sweats to create a sportier look.
40. T-Shirt With Print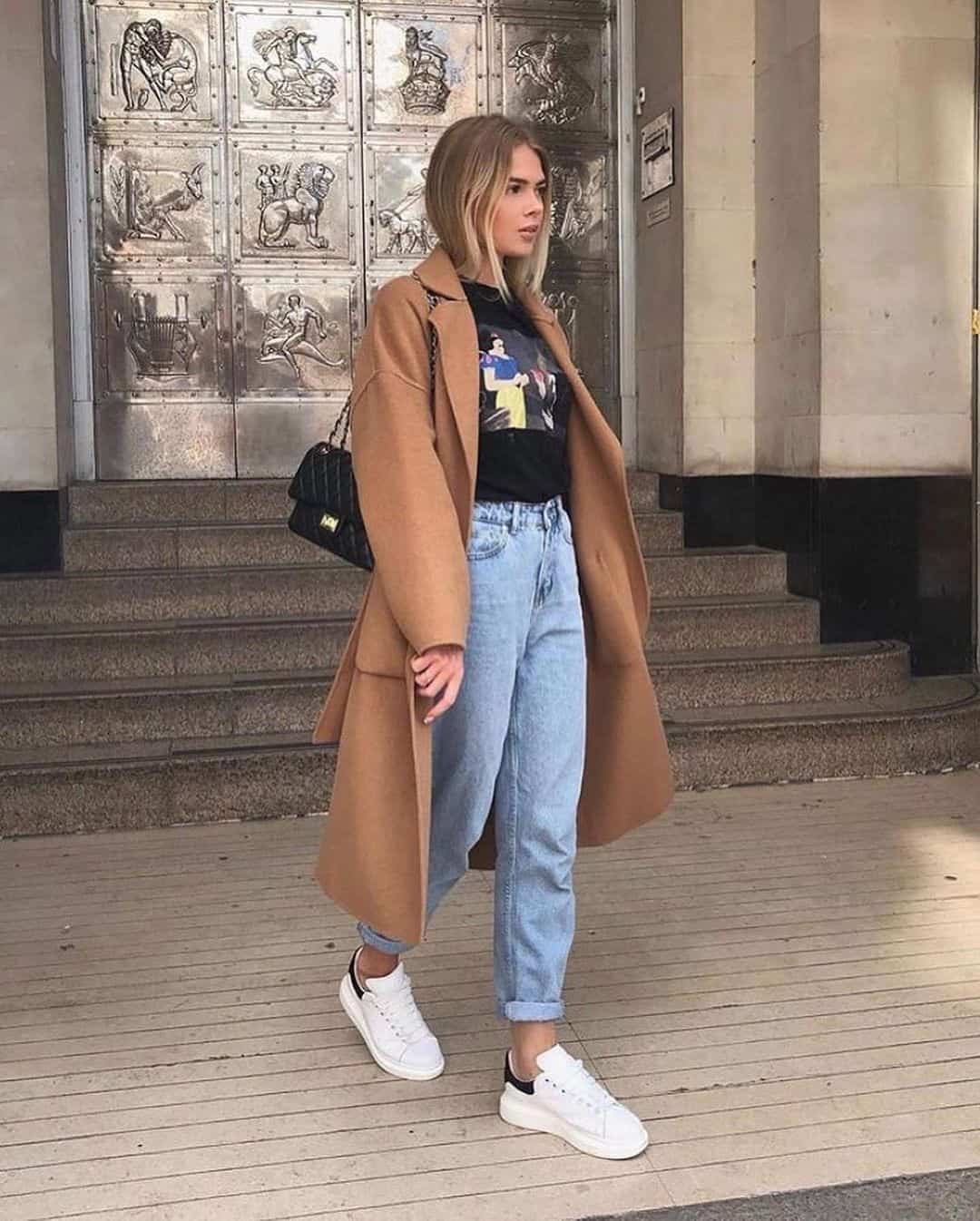 Image Source
Another great way to add personality and fun to your outfits is to use print, especially with something meaningful to you. This clothing item can be a printed t-shirt with your favorite Disney character, a flower you love, or a quote you live by. You can even buy a plain t-shirt and print a design most meaningful to you to achieve a one-of-a-kind look.
41. All Black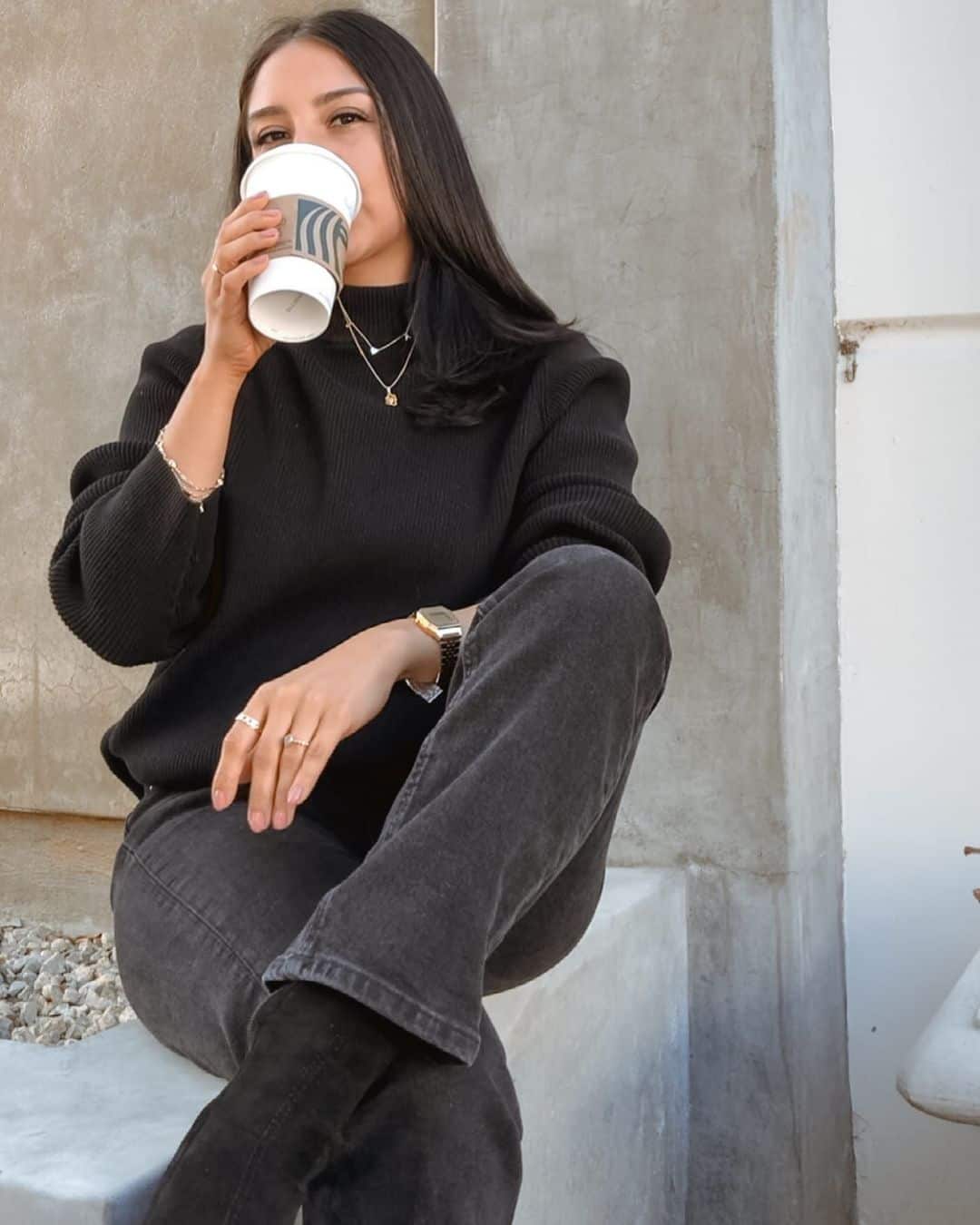 Image Source
A black-only outfit is an easy way to achieve a warm, comfy fall look without trying too hard. You can use any number of clothing items in different shades and patterns of black and dark grey. This look will suit anyone, no matter their hair color or skin tone. Use accessories for a bit of sparkle and layers to further customize and personalize your outfit. For a white-only look, check out this All White outfit.

42. Cocktail Dress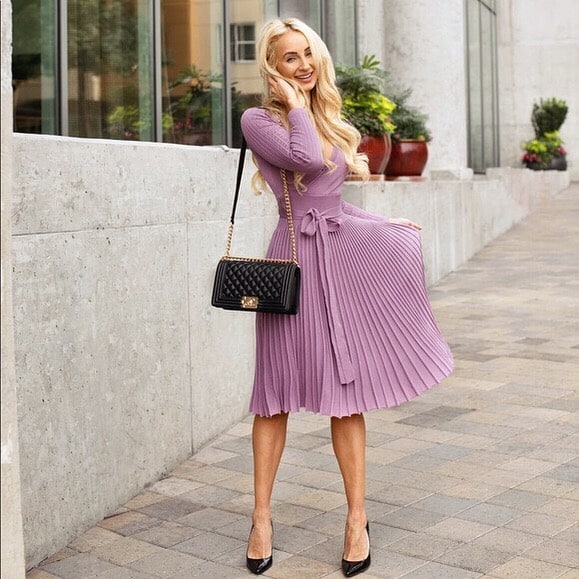 Image Source
A fall cocktail dress can be as cute as a summer one and is an essential part of any girls' closet. A midi dress with long sleeves will ensure you don't get too cold while looking stylish and beautiful. You can choose a pink dress for a more feminine look, a bold print for a daytime dress, or black for special occasions. The dress will look fabulous with either warm winter boots or a pair of high-heels. Just remember to style appropriately.

43. Men's Business Casual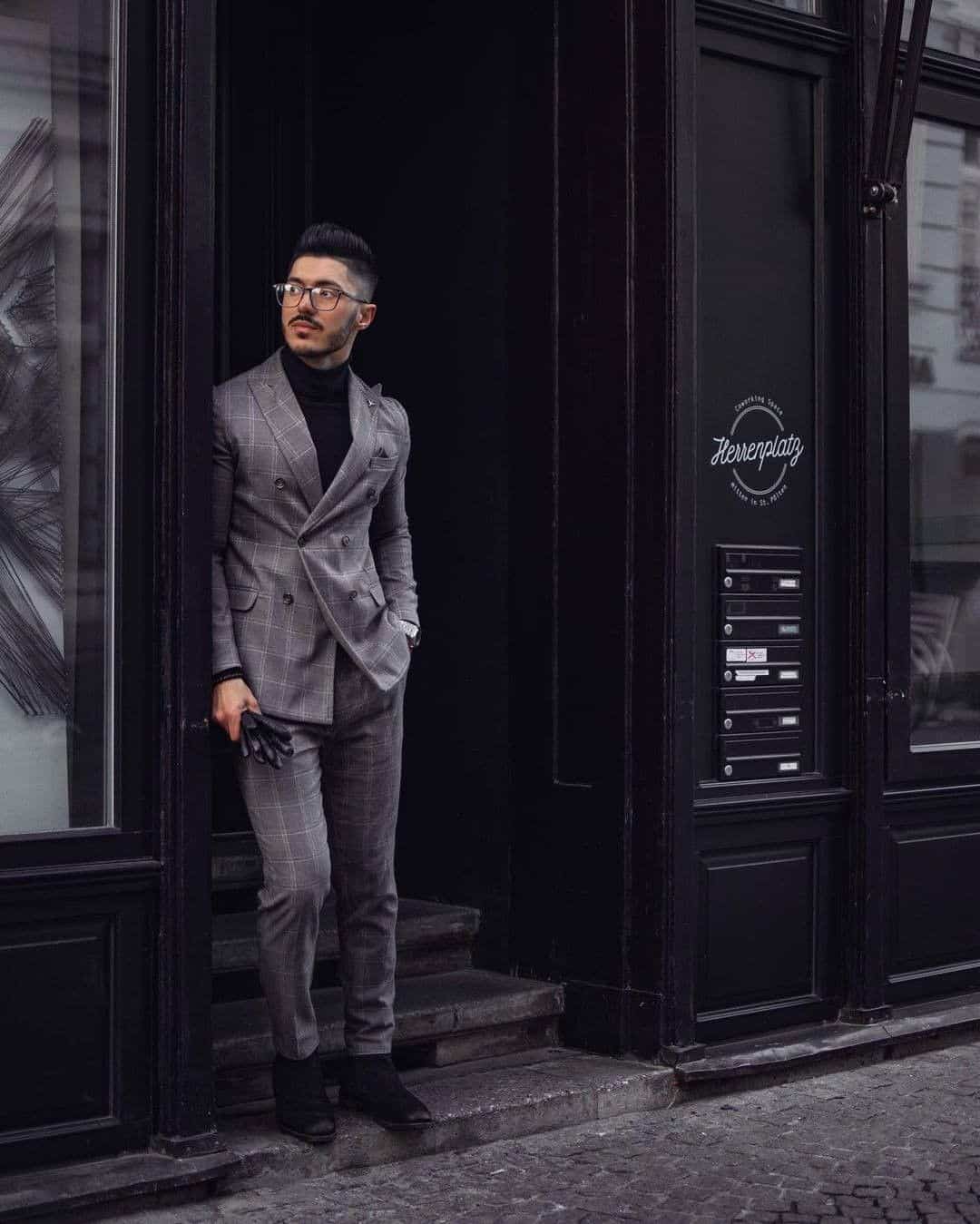 Image Source
This outfit is the perfect combination of men's formal wear, dressed down into a slightly more casual style. That is achieved by replacing the shirt with a turtleneck and adding boots instead of shoes. Feel free to wear any suit you like, plaid, pinstriped, or even in a bold, bright pattern. You can add accessories such as glasses, a scarf, or a monochrome coat. To make the outfit more casual, pair it with a knitted sweater and a simple blazer.
44. Brown Leather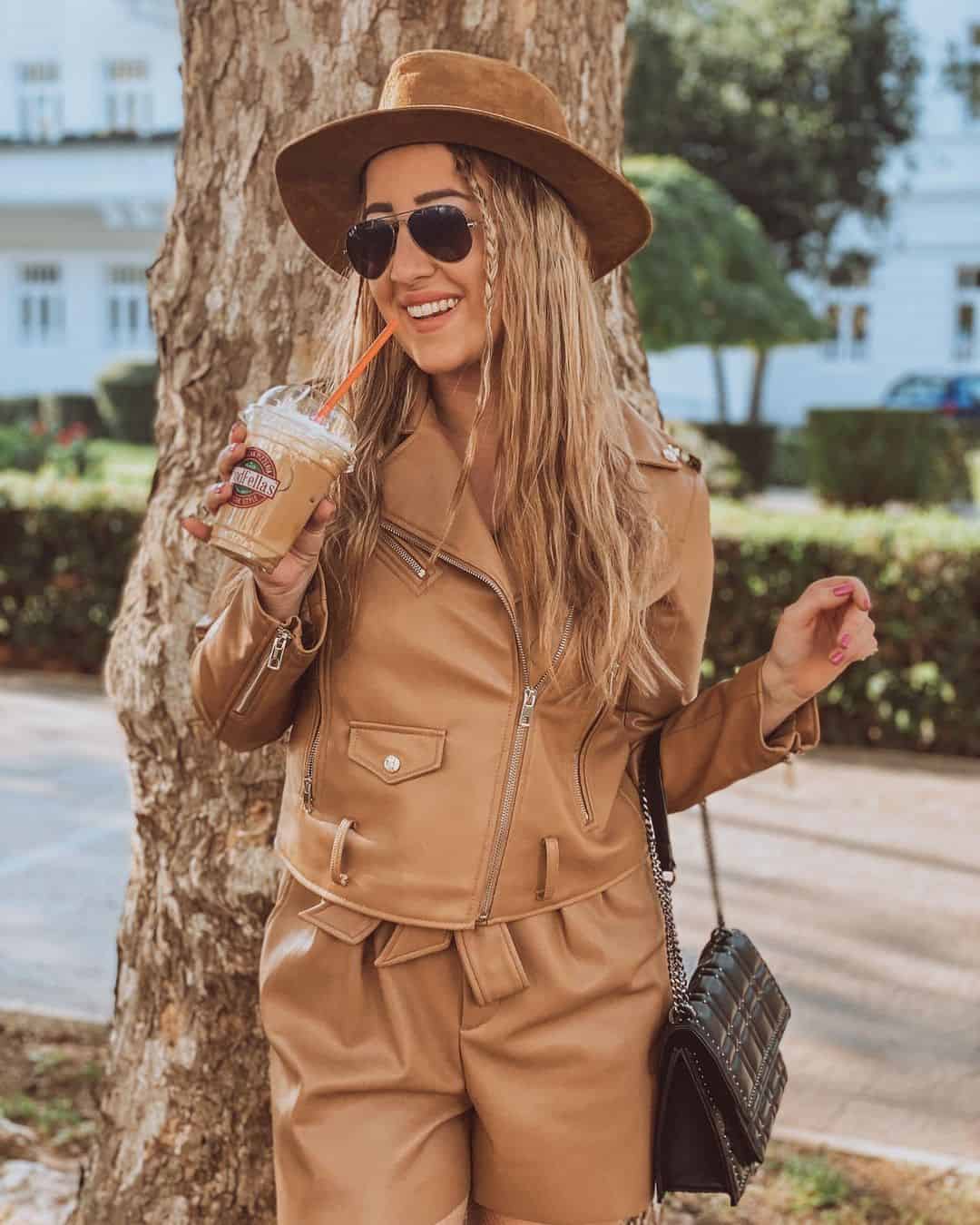 Image Source
This monochrome look is all about the fabric, and in this case, the star of the show is leather. With a leather jacket, you are sure to stay warm, and pairing it up with a hat for extra protection adds to the final look. This combo is great for any outdoor event, especially a music festival, as it is fun and cozy. You can add braids in your hair, along with some gold jewelry to make the outfit even more playful and fun.

45. All Pink and Warm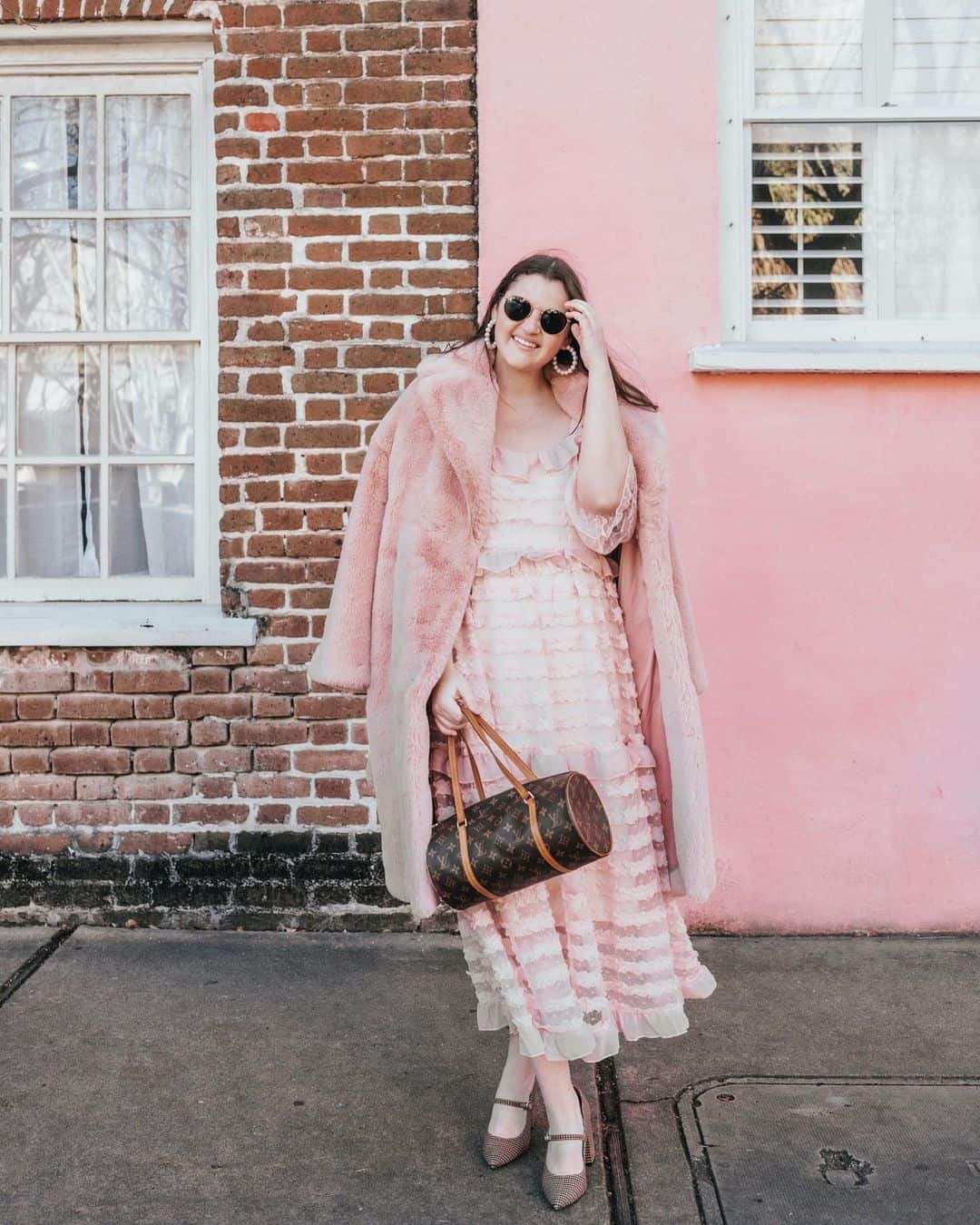 Image Source
Just because fall is grey and dark, that doesn't mean your outfit has to be that way as well. Don't be afraid to go bright and bold, to create a feminine, unique look. Choosing a pink dress along with a pink furry coat is a great way to stand out, especially on gloomy autumn days. Accessorize to make this outfit either formal or casual, and feel free to go with your favorite color. For another daring, colorful look, check out this Yellow Outfit.

46. All White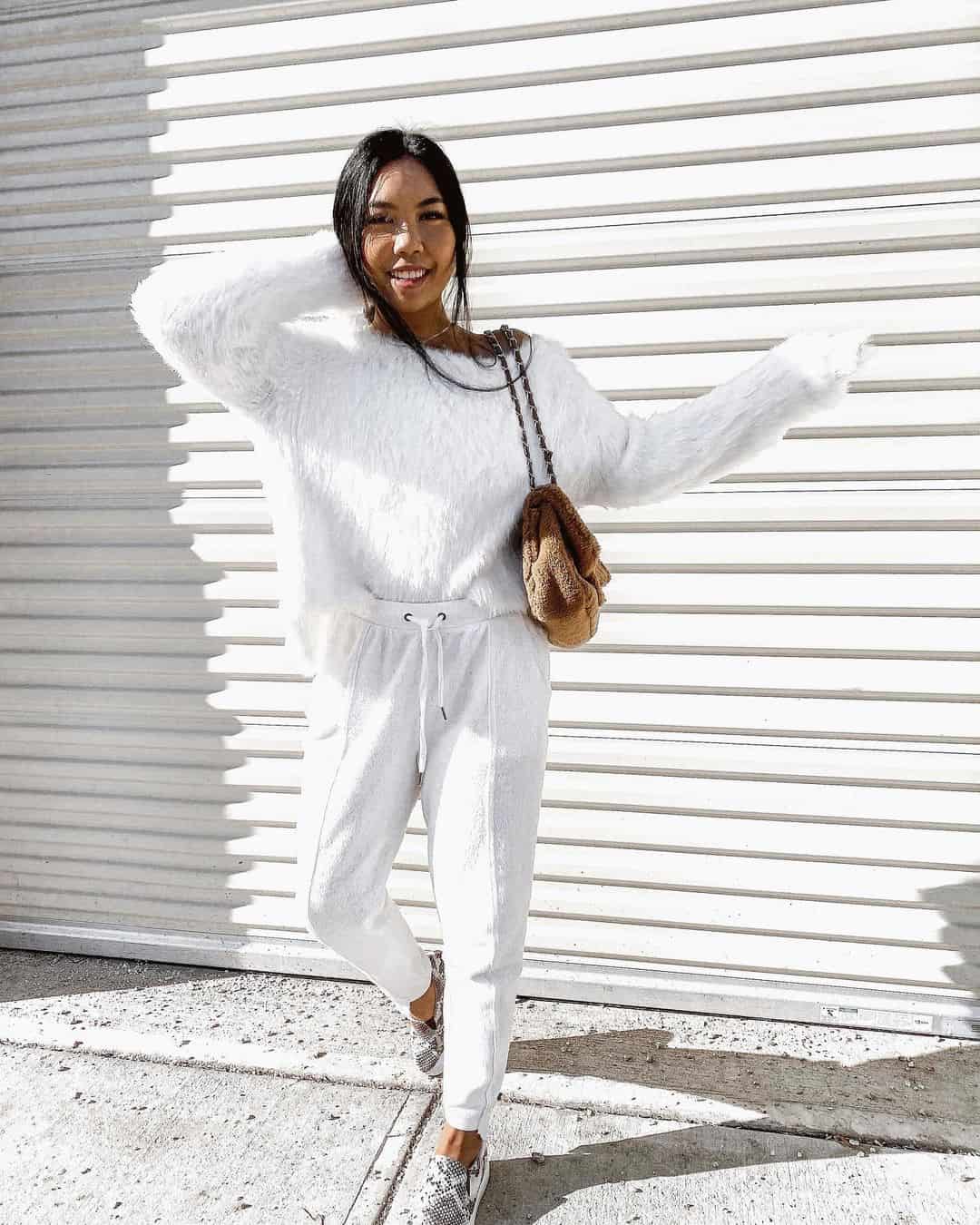 Image Source
If all black is not your thing, but you love a monochromatic look, this all-white outfit might be a perfect alternative. All white clothes will help create a clean and composed look without putting in too much effort. And, with the addition of a furry sweater and a fluffy bag, you can achieve this cozy, comfy outfit. It can be perfect for a day of shopping or even a Christmas morning with the family.

47. Flower Knitted Sweater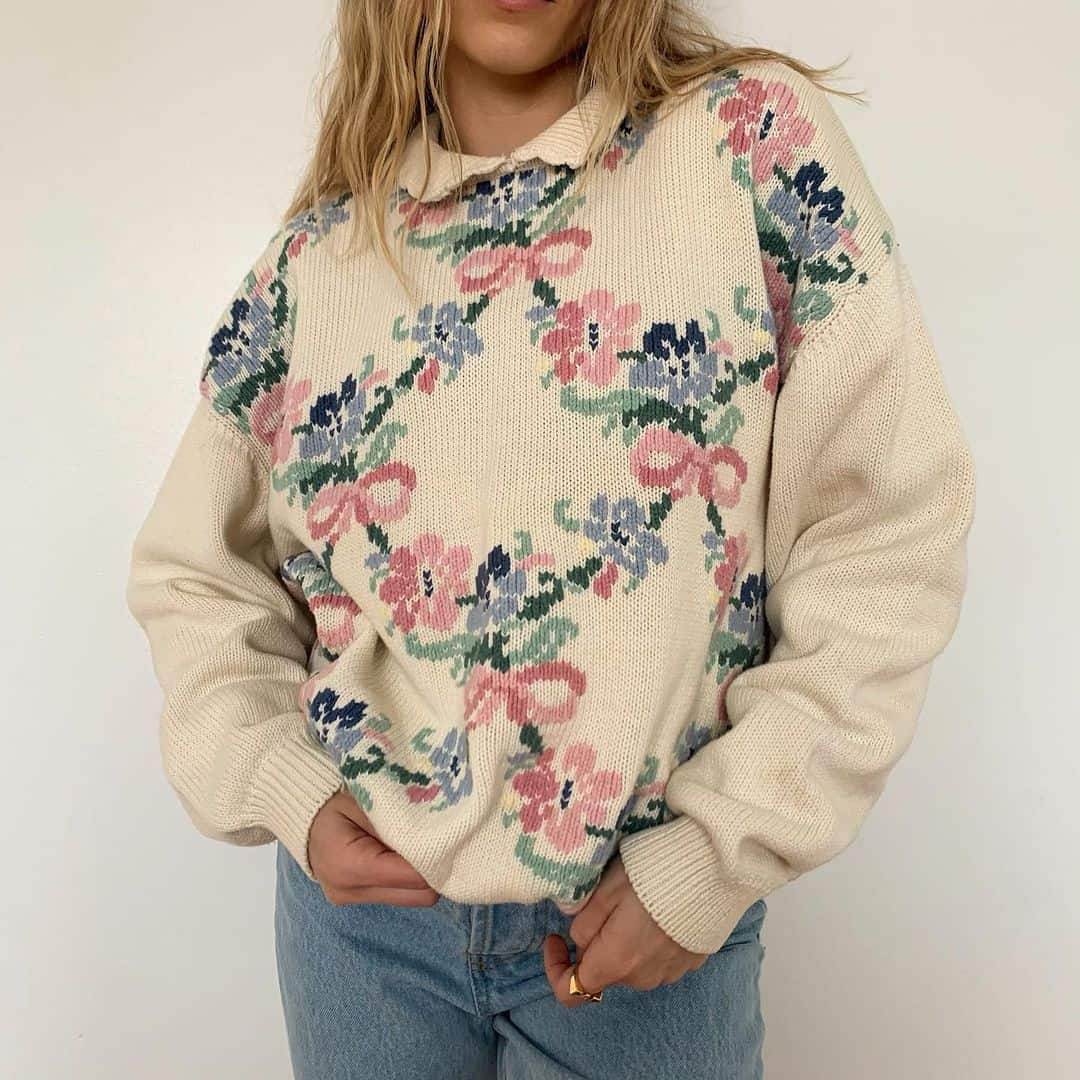 Image Source
Oversized, knitted sweaters are one of the essential clothing items when it comes to fall. This piece of clothing is perfect for lazy days, as it works best with jeans, and you don't need many accessories. Pick your favorite print and color, and look in your mum's closet for a potential buried treasure from the 90s. Let your hair down and add some stylish sneakers, and you'll be good to go!

48. Knitted Dress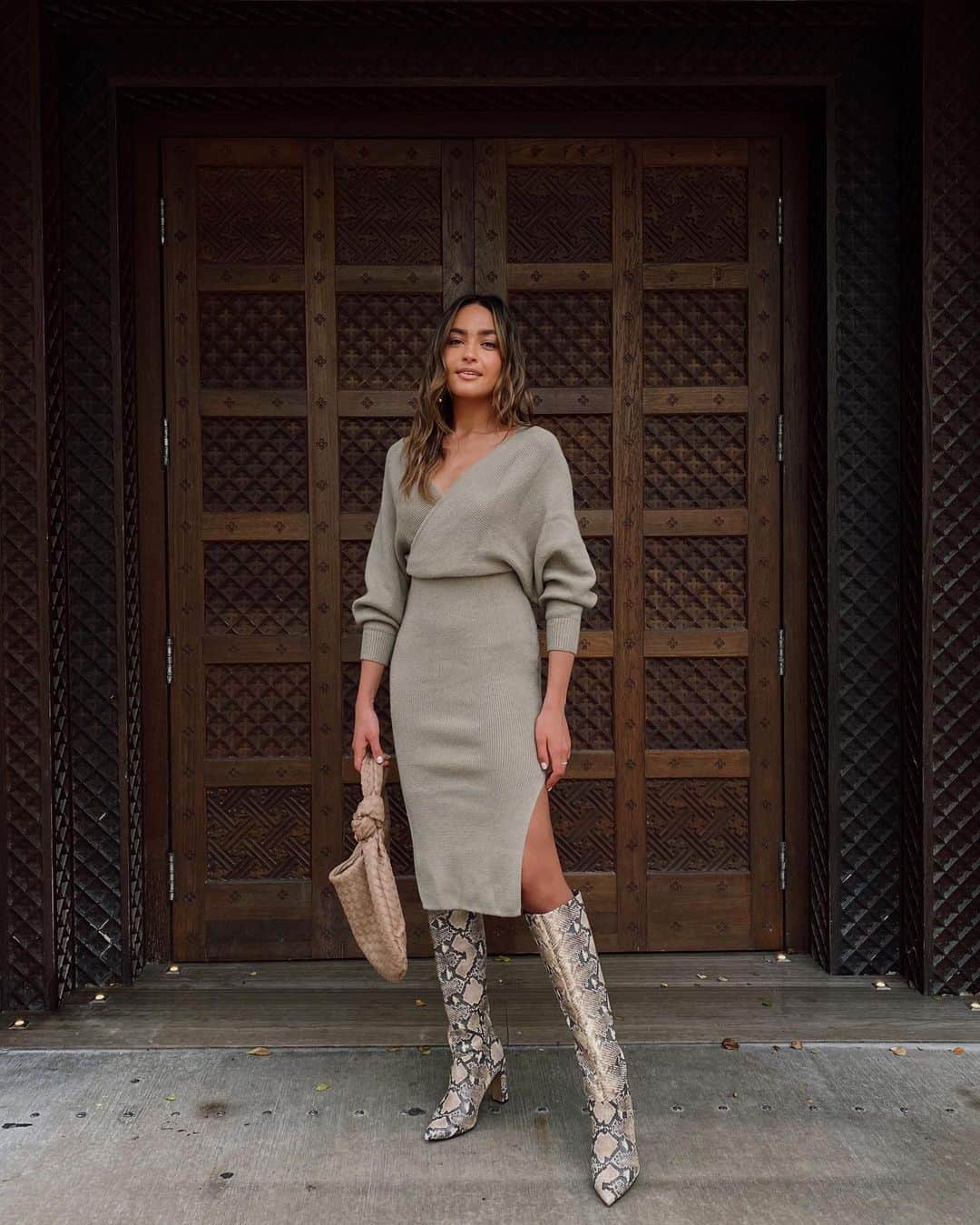 Image Source
When we think of knitted dresses, we don't necessarily think of evening wear and nights out. However, this outfit proves that you can get comfort and warmth in a dress, along with style and class. It's a versatile dress, suitable for running daily errands, going on a coffee date, or even a special event. It's all about how you choose to style your outfit. Whether it's with snake boots or open-toed high-heels, this dress is sure to make you feel and look beautiful.

49. Yellow Outfit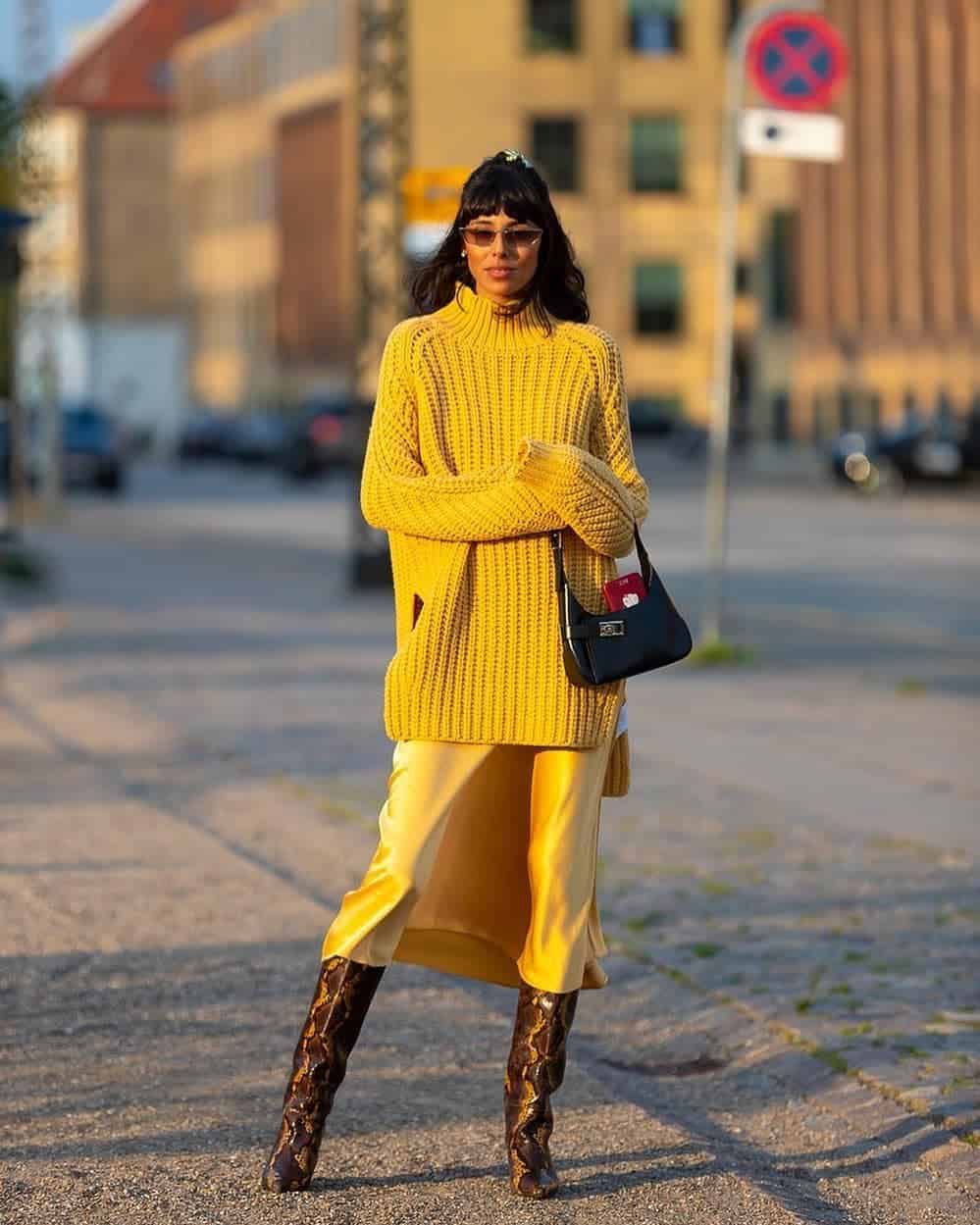 Image Source
This outfit is bold and bright, with yellow as the perfect color for fall. With a look this unique, you don't need many accessories to embellish it. However, you can still stand out even more by adding animal-printed boots, red lipstick, or the perfect pair of sunglasses. Remember to use different materials to add depth to your outfits, such as a silky skirt and knitted sweater combo.

50. Styling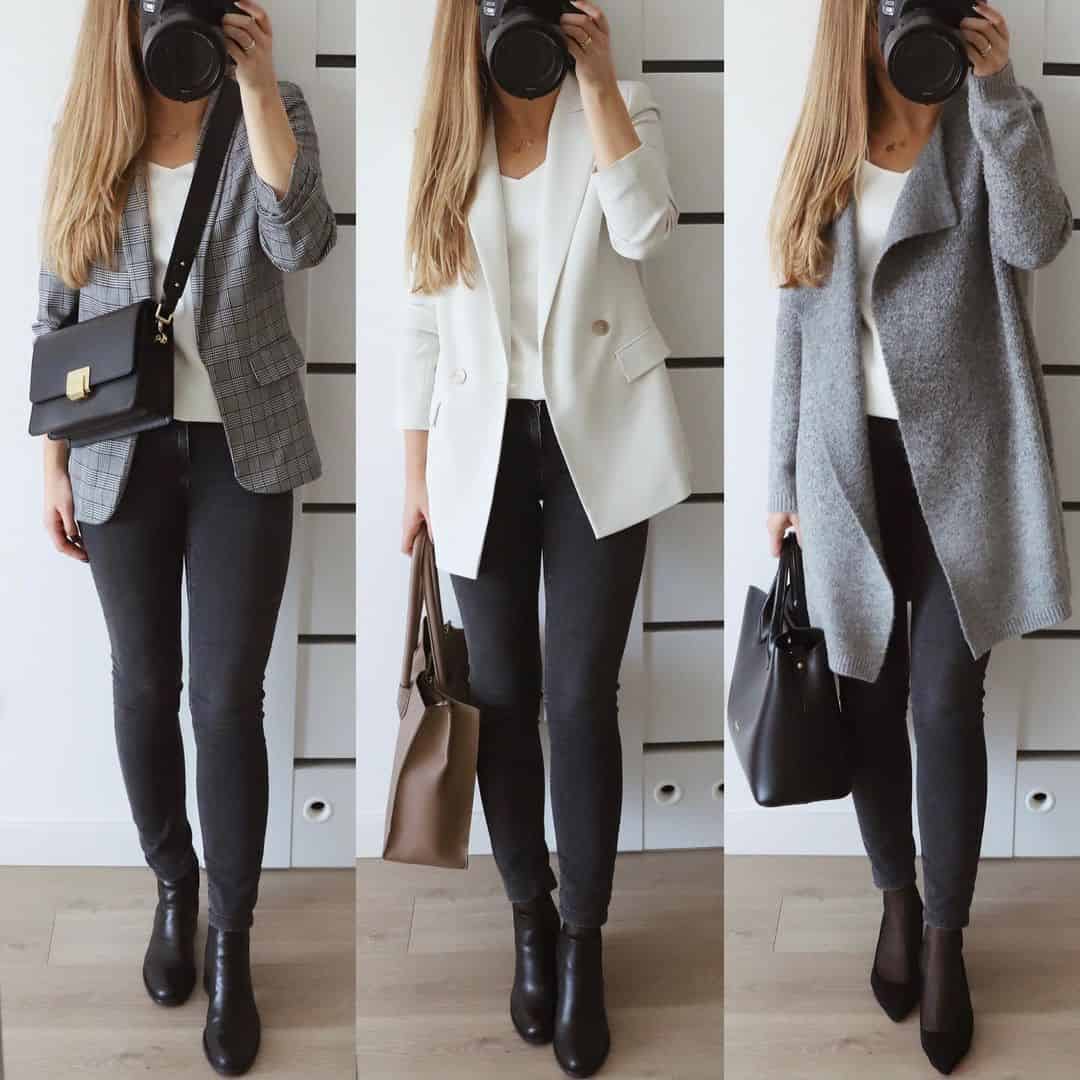 Image Source
Finally, if you just need help with styling, here's a perfect example of how to get three different looks using the same jeans and pants. You can achieve this by changing your blazer with a coat, switching your boots for some high-heeled shoes, and accessorizing. Add a scarf, a hat, or some jewelry, and remember that fall is perfect for using layers for a composed look. Don't be afraid to experiment with your clothes!
Choosing the Perfect Fall Outfit
When it comes to choosing your perfect fall outfit, remember to do so according to your style and preference, but also keep experimenting and trying to discover new things you might like.
Whether you prefer minimal outfits, simple in color, like this one, or enjoy a more bold, colorful look, such as this one, always remember you can add on to your outfit later on, and adjust the style to fit the occasion.
Fall is the season hats, scarves, and layering, allowing you to easily assemble a unique look that focuses on accessories, rather than clothes, such as this bright outfit.
You can stay warm while looking stylish and use comfy, cozy clothes to achieve a chic look, such as this flawless monochrome outfit. Don't forget, you can also use your thinner clothes in combination with some warmer garments, and still get away with wearing a summer dress in cold weather, like this red plaid mini dress.
Don't be afraid to experiment with your wardrobe and try out things you haven't tried before. You might be pleasantly surprised to end up with something truly unique and beautiful, such as this yellow-only outfit. After all, fashion is meant to be a fun way to express yourself, so don't take it too seriously. Be bold and wear what feels right, and remember to stay cozy and warm, like this girl here.
Use your existing clothes to create brand new looks, and always remember to properly style your outfits.