Blue is the color of loyalty, responsibility, and confidence, which makes it a great choice for nail designs and expressing your style and persona in one shot. Shades of blue are always trending on the runways, as well as in everyday attire, so you cannot go wrong with blue nail designs. What's more, it also allows you to experiment with new styles and find the right match for you that will help you to achieve the hottest looks.
When you choose blue as the primary color for your nail design, you get to enjoy limitless possibilities to showcase your creativity. You only need to make certain that you choose the right design for your nail length, as not all blue nail designs go well with all kinds of nail lengths and manicures.

How to Determine Which Nail Shape Looks the Best on You
Before you start venturing into the vast pool of blue nail design ideas, you need to figure out which nail shape looks the best on you. There are 5 main types of nail shapes that you should be familiar with – round, square, oval, almond, and ballerina or coffin-shaped nails.
Round
Round-shaped nails are ideal for those who want to keep their nails short but create an appearance of longer fingers. Round nails have a naturally curved edge and can make wide nail beds look thinner and longer too.
Square
Similar to round-shaped nails, the square shape also goes well with short nails. They are characterized by flat edges and a squared-off tip, which create an edgy yet elegant look. Square-shaped nails look great on thin hands and long, slender fingers.
Oval
Oval nails make your hands appear longer, which makes them great for those who want to achieve a slimmer and more feminine look. They are suitable for both short and wide nail beds and fingers, and create a delicate semi-circle appearance on the tips.
Almond
Almond-shaped nails are like a more elongated version of oval nails, and they too make your hands look longer. These are great for long and thin nail beds and can make wide fingers look more slender to create the appearance of slim hands.
Ballerina
Ballerina or coffin-shaped nails are characteristically long and narrow, which taper toward the end and finish with a square tip. They are ideal for those who want to achieve an edgy look with a touch of femininity and elegance.
Apart from these 5 nail shapes, you can also choose stiletto, squoval, square-round, lipstick, or any other nail shape that suits your styling needs and preferences. In any case, the easiest way to decide which one will be the right choice for you is to follow the shape of the cuticles. Once you have determined which nail shape suits you the best, check out the below blue nail design ideas to turn your manicure into a trendy and fashionable accessory.

1. Sea-Inspired Blue Nails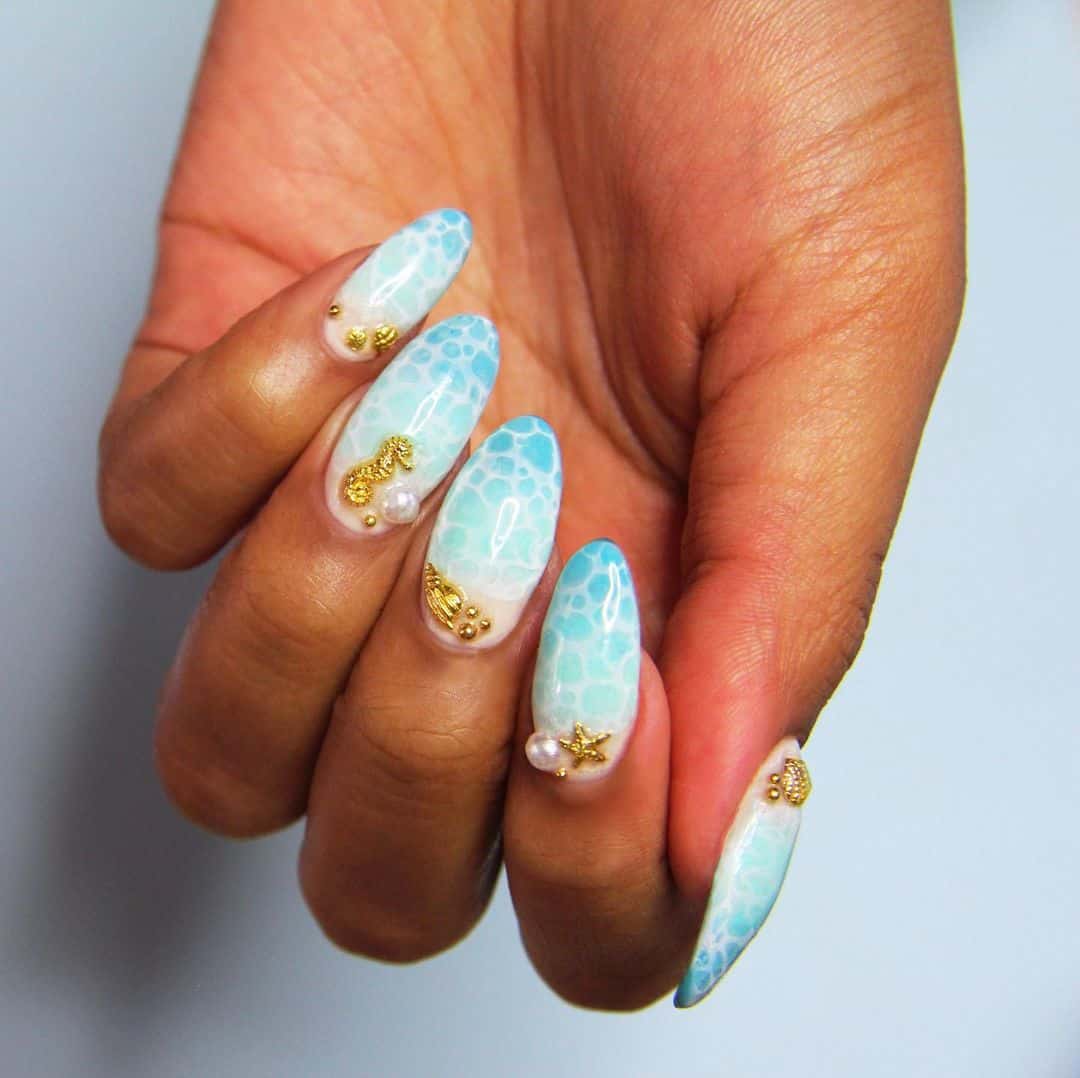 This intricate blue nail design can be the perfect way to express your love for the blue sea and beaches, and show how deeply you long for a relaxed, laid-back lifestyle. Adding accents like golden seahorses, seashells, starfishes, and pearls to the sea-inspired nail design makes it even more extravagant, which will draw all the attention to your hands wherever you go.

2. Blue Butterflies Nail Art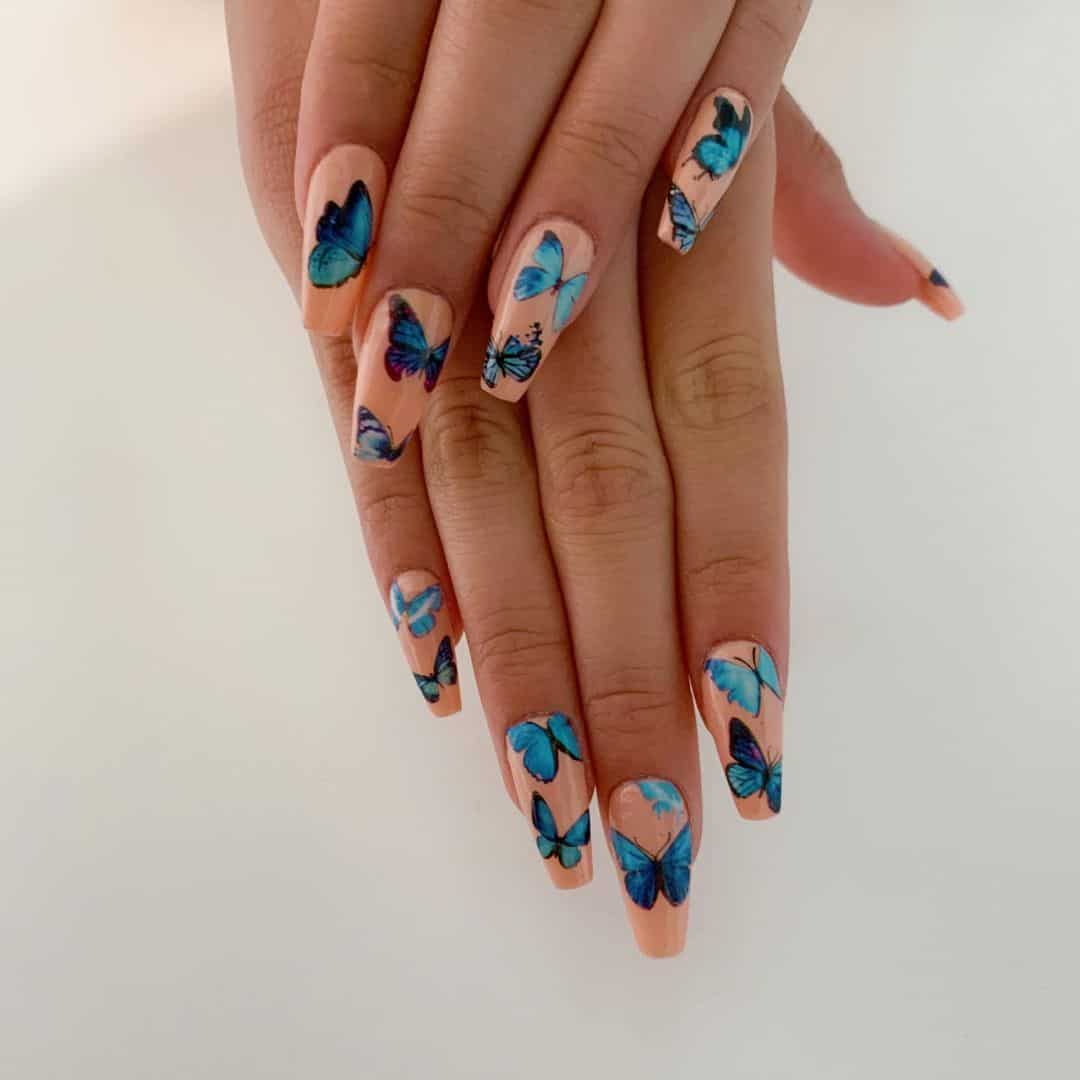 Butterflies are considered a symbol of beauty, transformation, playfulness, and spiritual rebirth. What's more, blue butterflies with black-edged wings are even considered a wish granter in many cultures that may fulfill your desires and keep you happy. This further elevates the significance of this graceful nail art, and gives you a cool and fashionable option to express your personality and style.

3. Night Sky Blue Nails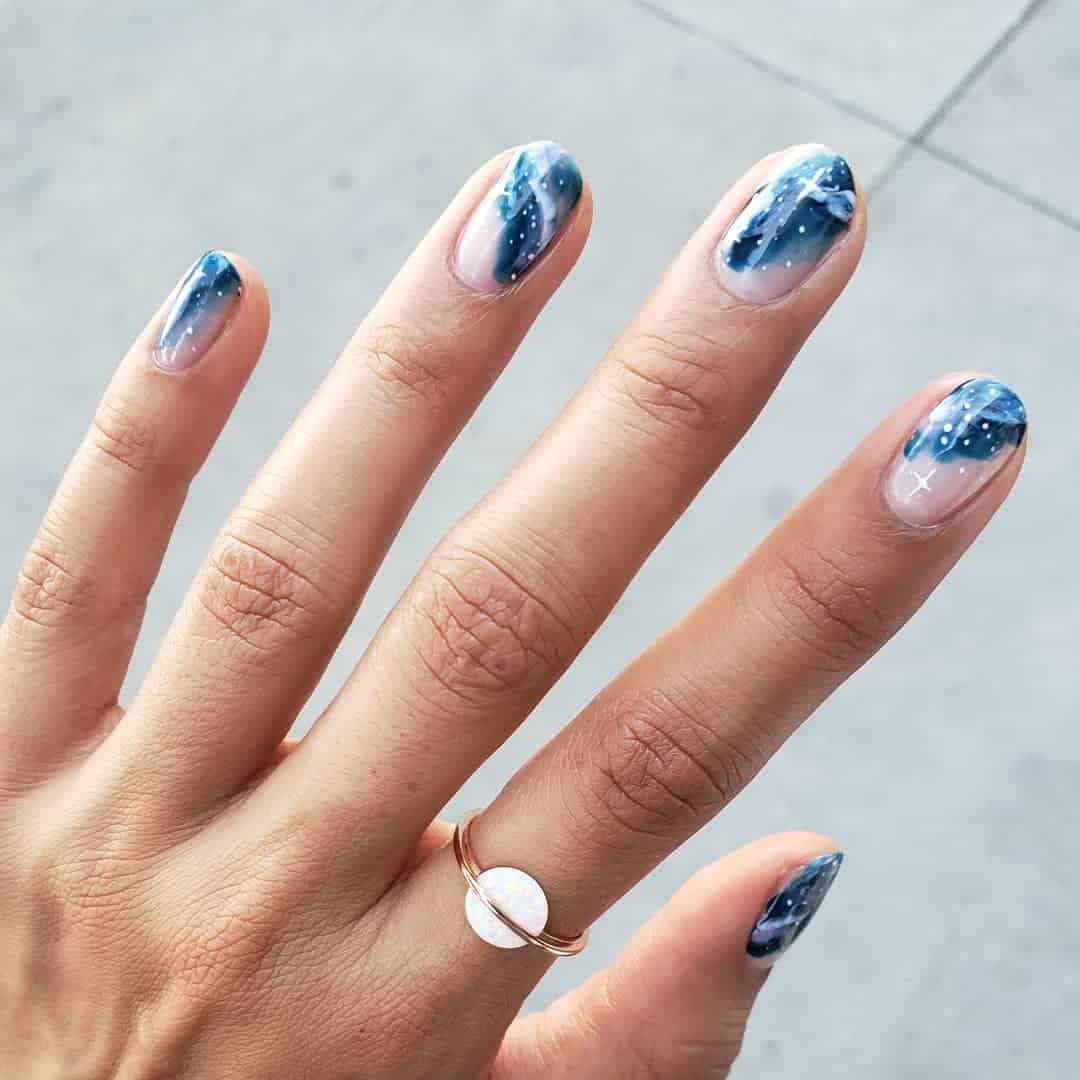 A star-studded night sky always feels magical, so why not try to embody it on a manicure. This nail design features a midnight blue base painted on half of the nails, and then white dots and stars are added to it to complete the design. This can be a stunning choice for those who love stargazing and like to personify the beauty of the natural world in their day-to-day outfit.

4. Blue Ombré Nails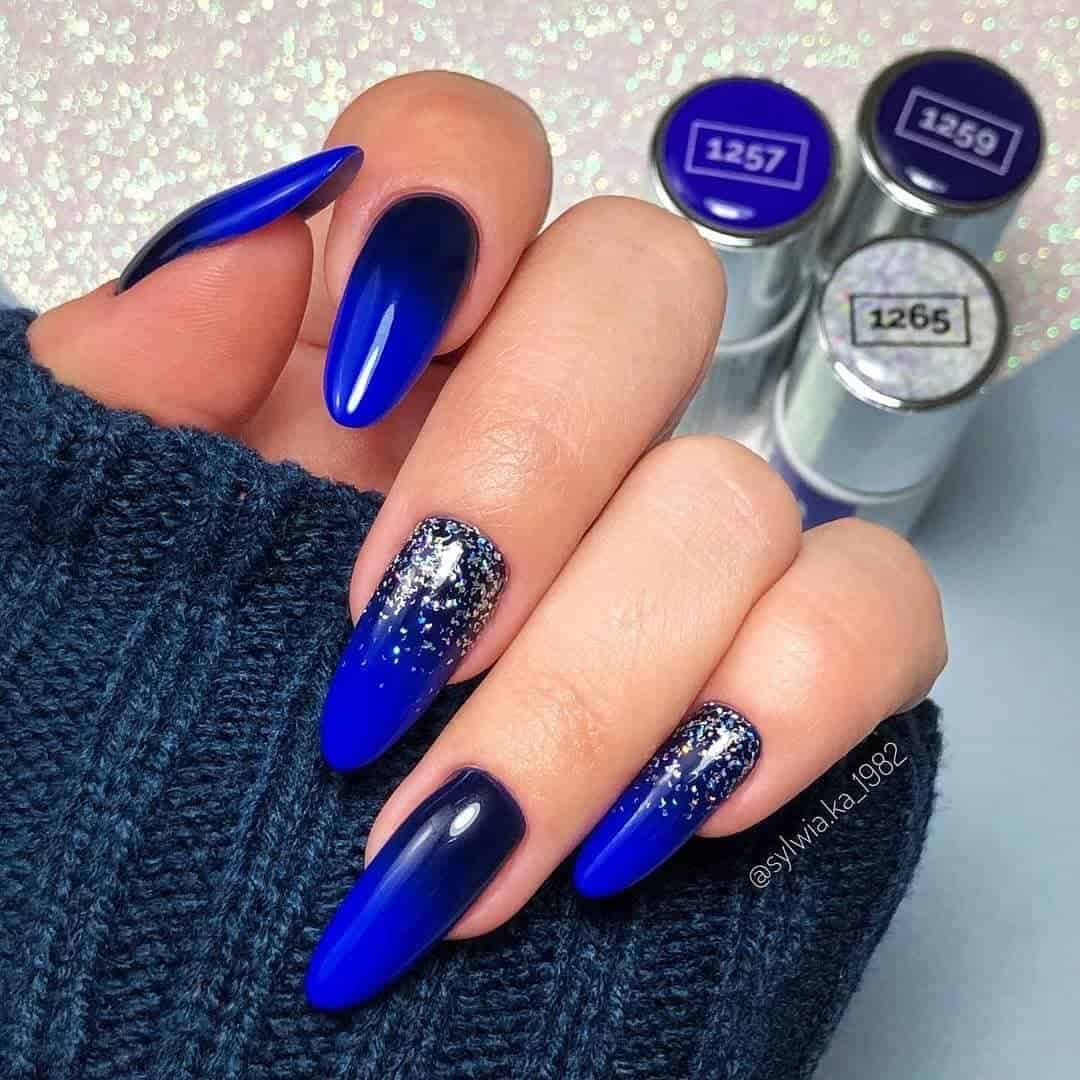 The ombré trend is here to stay and will always make you look fashionable and stylish. This blue gradient nail design gives a classy and sophisticated vibe, while the glitter on the middle finger and pinkie add to its overall effect. You can even create this ombré nail design with a darker shade of whatever color appeals to you the most.
5. Metallic Blue Nails With Flower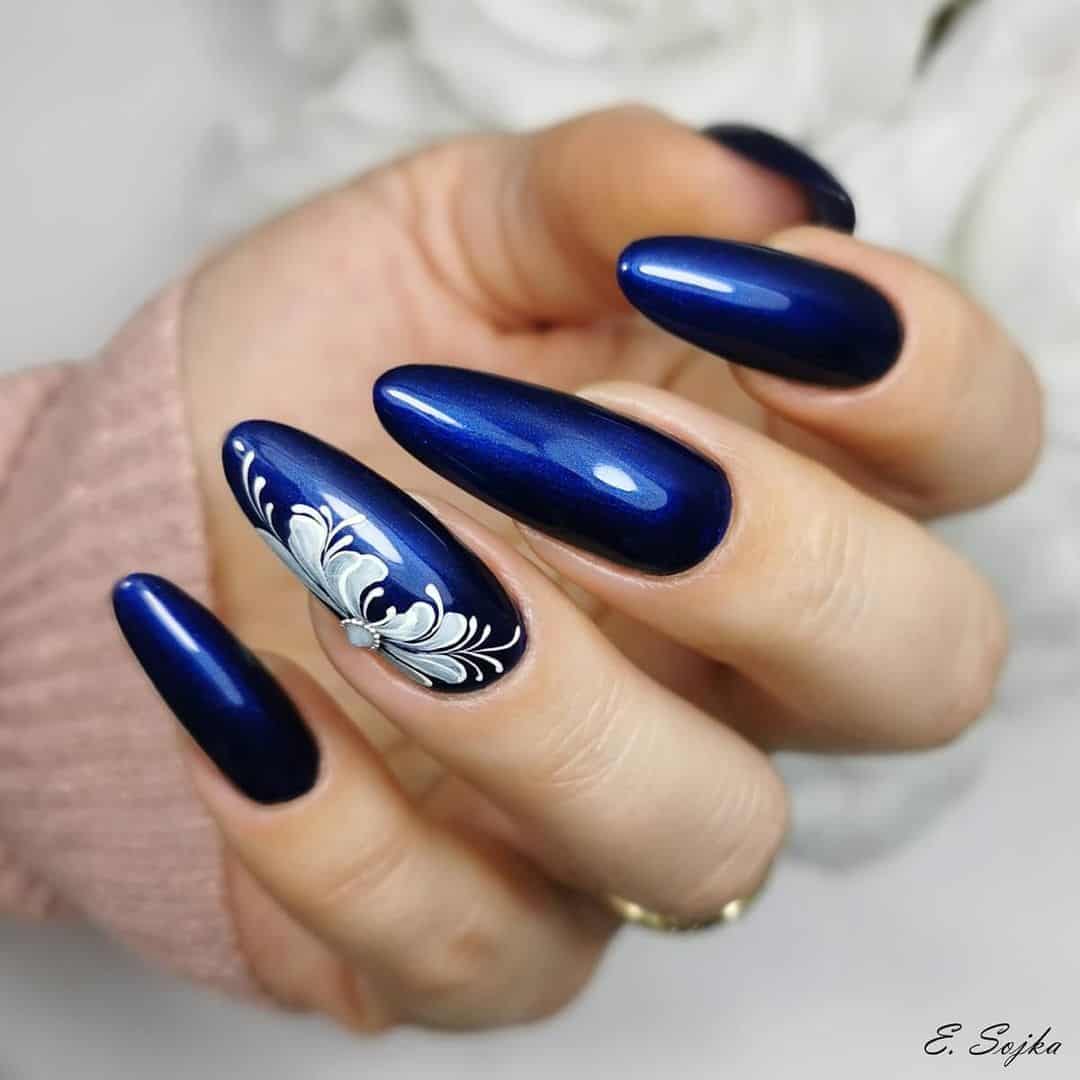 If you are looking for a bold blue nail design idea, then try this metallic blue nail look. The lustrous appeal of this nail design will be perfect for creating an edgy look while showcasing your bold and confident side. At the same time, adding a white flower on the ring finger feature nail keeps it lighthearted. You can even skip including the flower if you wanted to achieve a fashionable and unique gothic-inspired look.
6. Beach Waves Blue Nails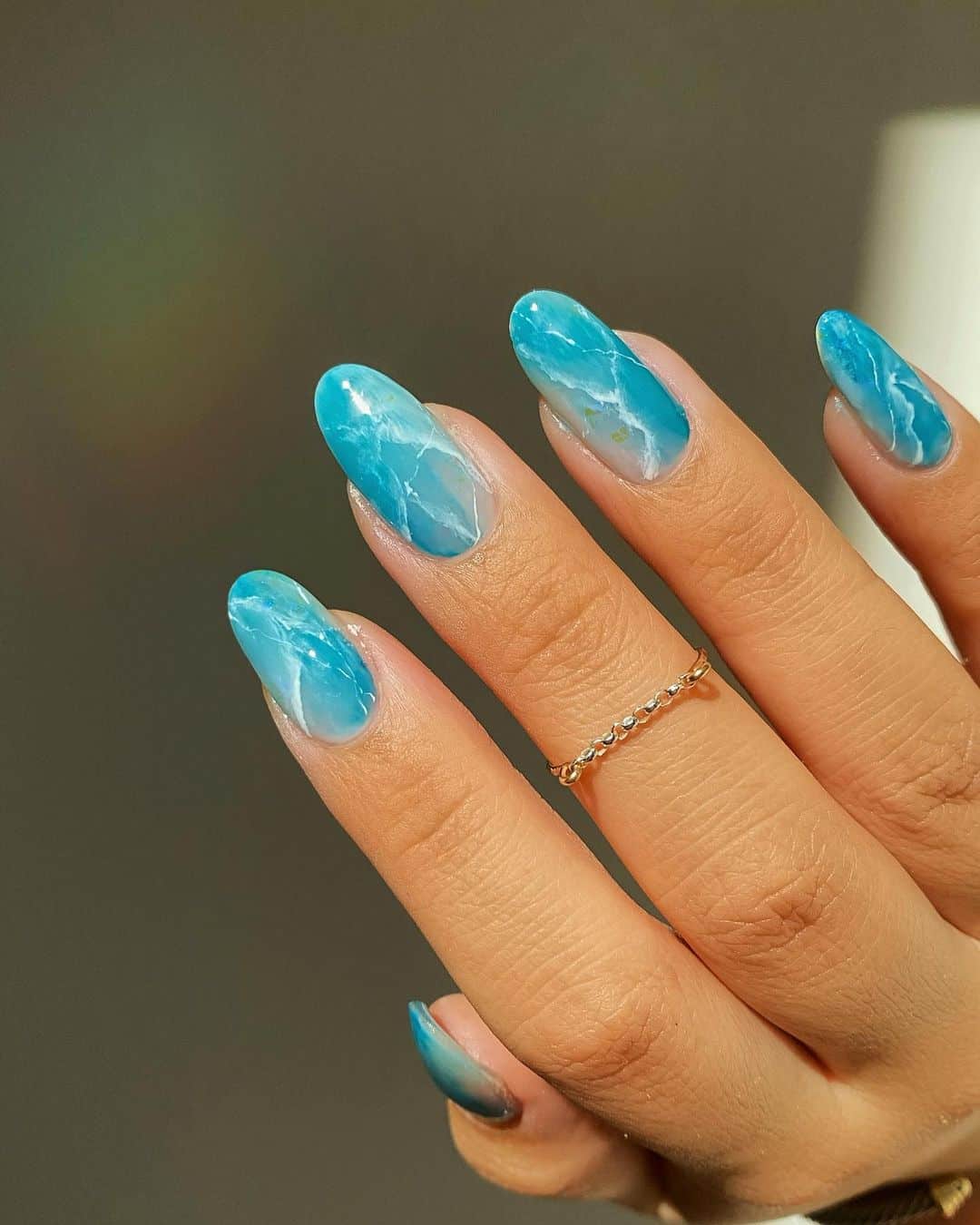 If you like how Sea-Inspired Blue Nails allowed you to showcase your love for the ocean but want something a little less opulent, then this nail design will suit your needs well. Here, the interplay of white and aquamarine colors creates a magnificent impression of beach waves on your nails, which can remarkably elevate your style and overall outfit.
7. Blue Nails With Panda Paw Prints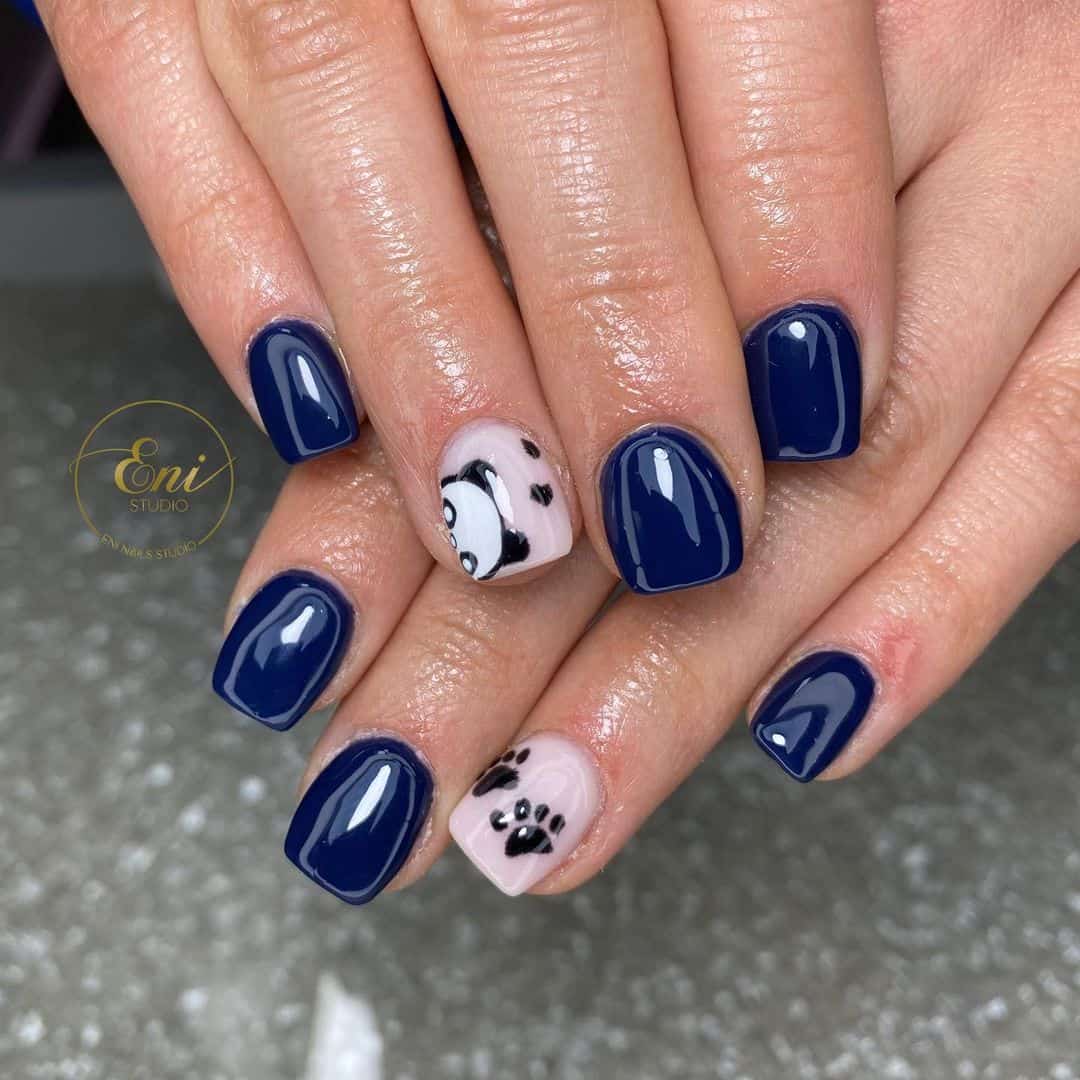 Animal paw prints on nail designs are quite popular among fashion-forward women because of the added cuteness they bring to the table. Including the features of your spirit animal on the nail art also infuses a subtle symbolic meaning to it while giving you a pretty design to flaunt. This blue nail design, for instance, has a panda face and paw prints on the feature nails that not only make it look adorable but also allow you to express your carefree and cheery character. That is always a win-win.
8. Blue and Gold Nails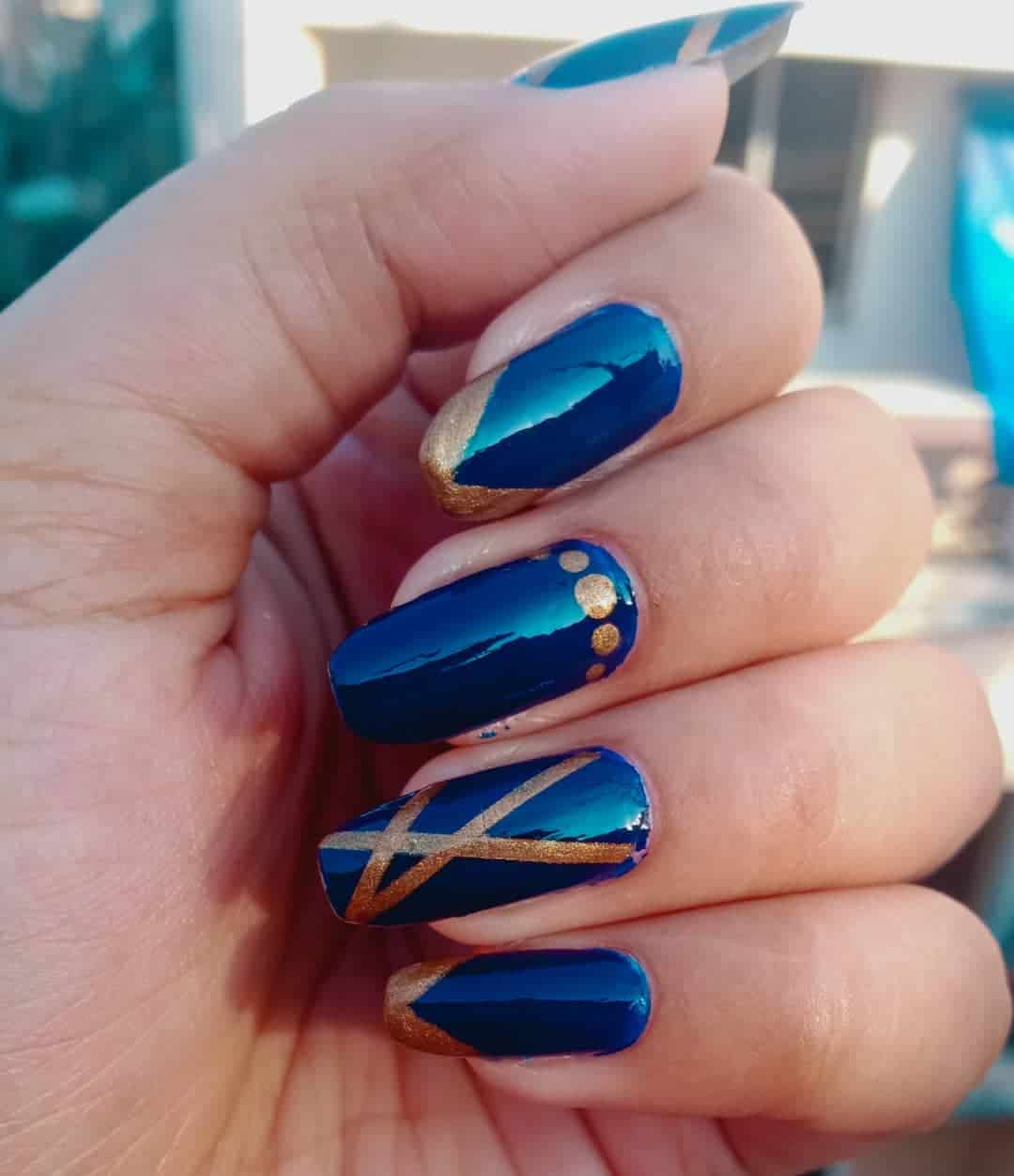 If you thought that pairing blue and gold colors might not produce a great effect, this look might convince you otherwise. This nail design shows how simple dots and strokes of gold over plain, shiny cobalt blue can give you a sophisticated and fashionable nail design. It suits all types of manicures and nail lengths as well, although ballerina nails will be ideal for getting more space if you wanted to experiment with different gold accents.
9. Blue Nails With Floral Accents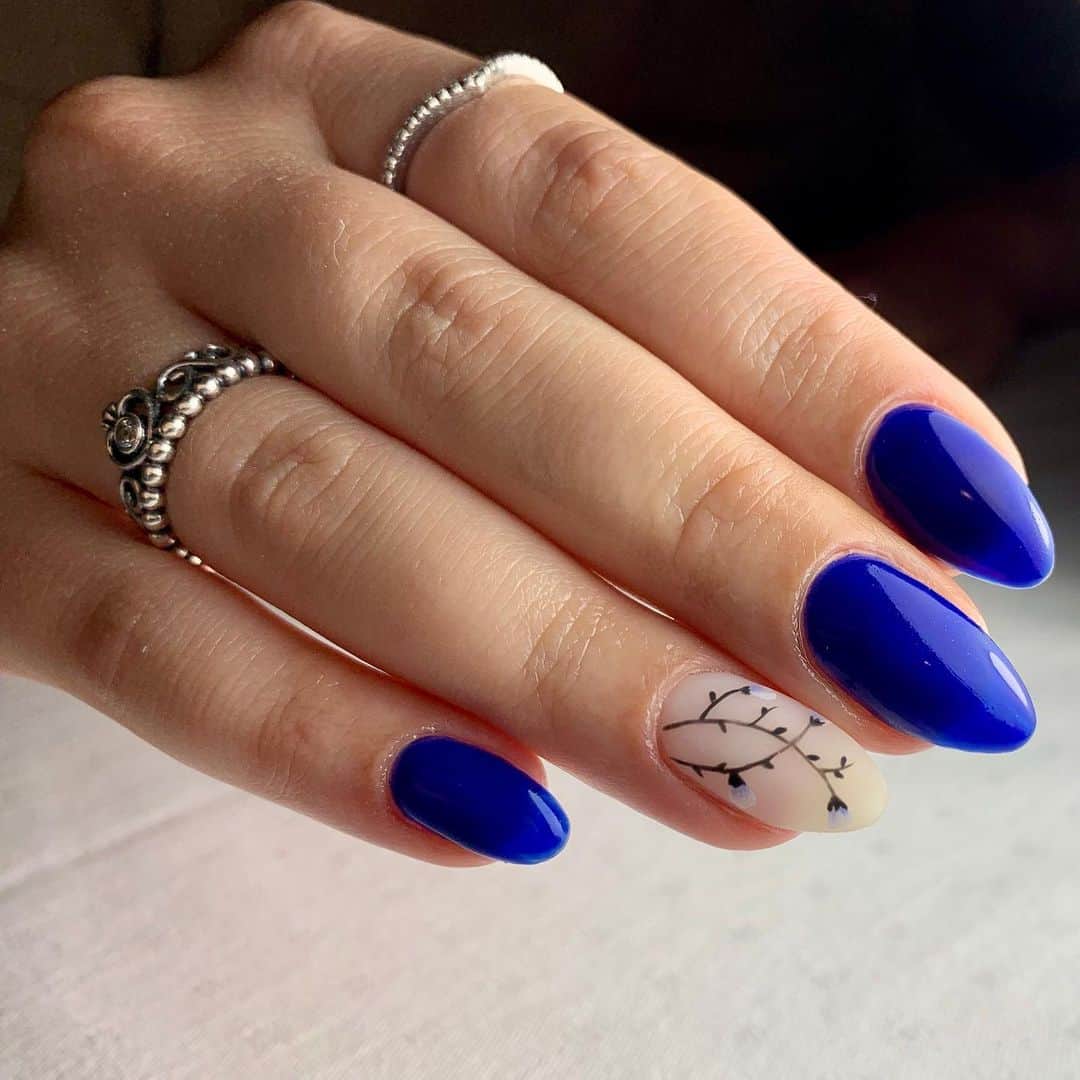 This blue nail design will be the best choice for those who want to keep things simple. Yet, at the same time, the feature nail with floral accents gives it a subtle fashionable twist making it a great accessory for all kinds of causal events. It looks particularly stunning on almond-shaped nails and can go well with coffin and stiletto nails too. However, short nails may not provide enough room to include the floral features of this nail design neatly.

10. Blue Nails With Jewels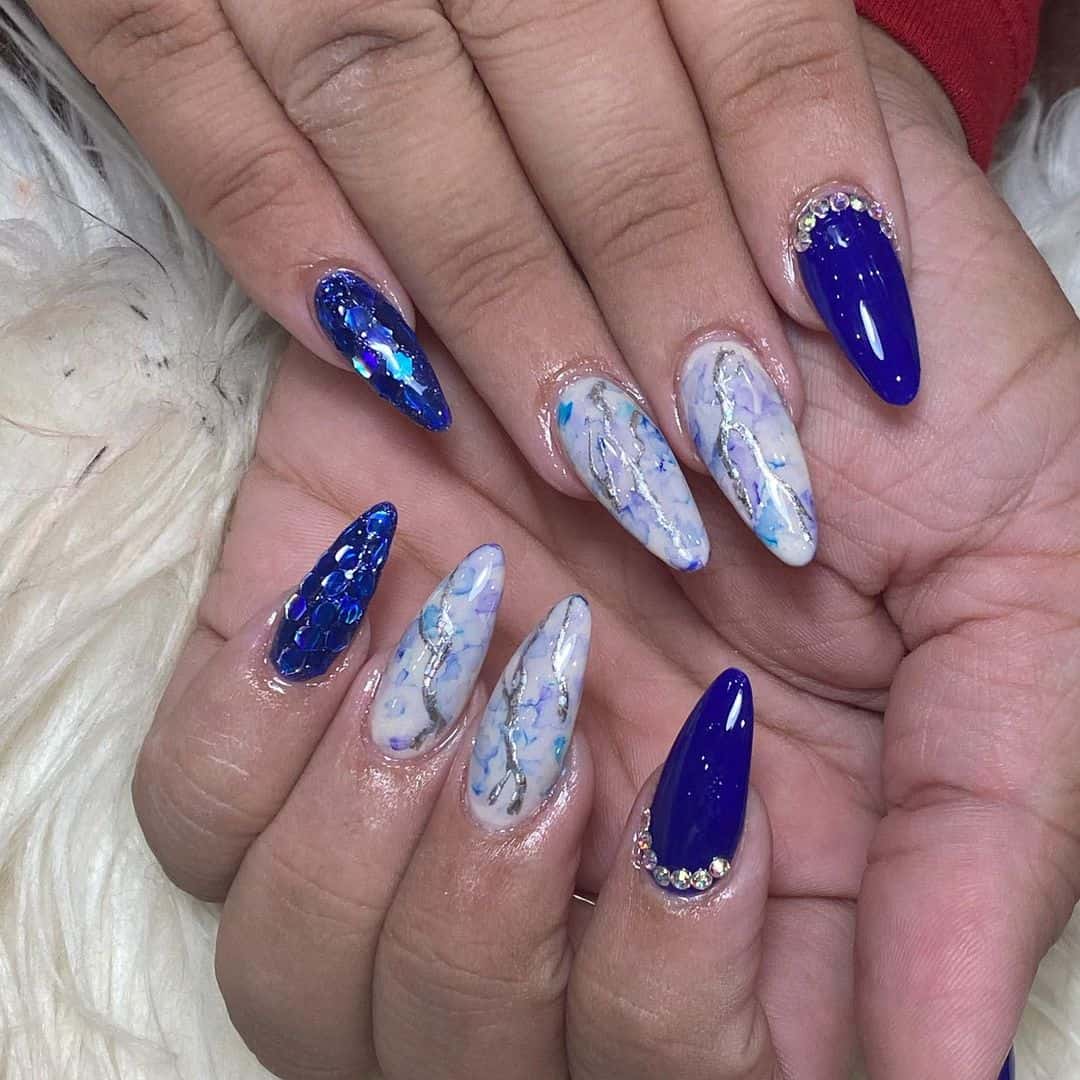 This magnificent blue nail design allows you to unleash your creativity with some style. With sparkling accessories like jewels, glitter, and silver accents on your fingers, this nail design is sure to draw all the attention at the party to your hands. Keeping two fingernails in light blue and white colors, instead of going with the standard feature nail style, takes the appeal of the design to another level.
11. Pastel Pink and Blue Nails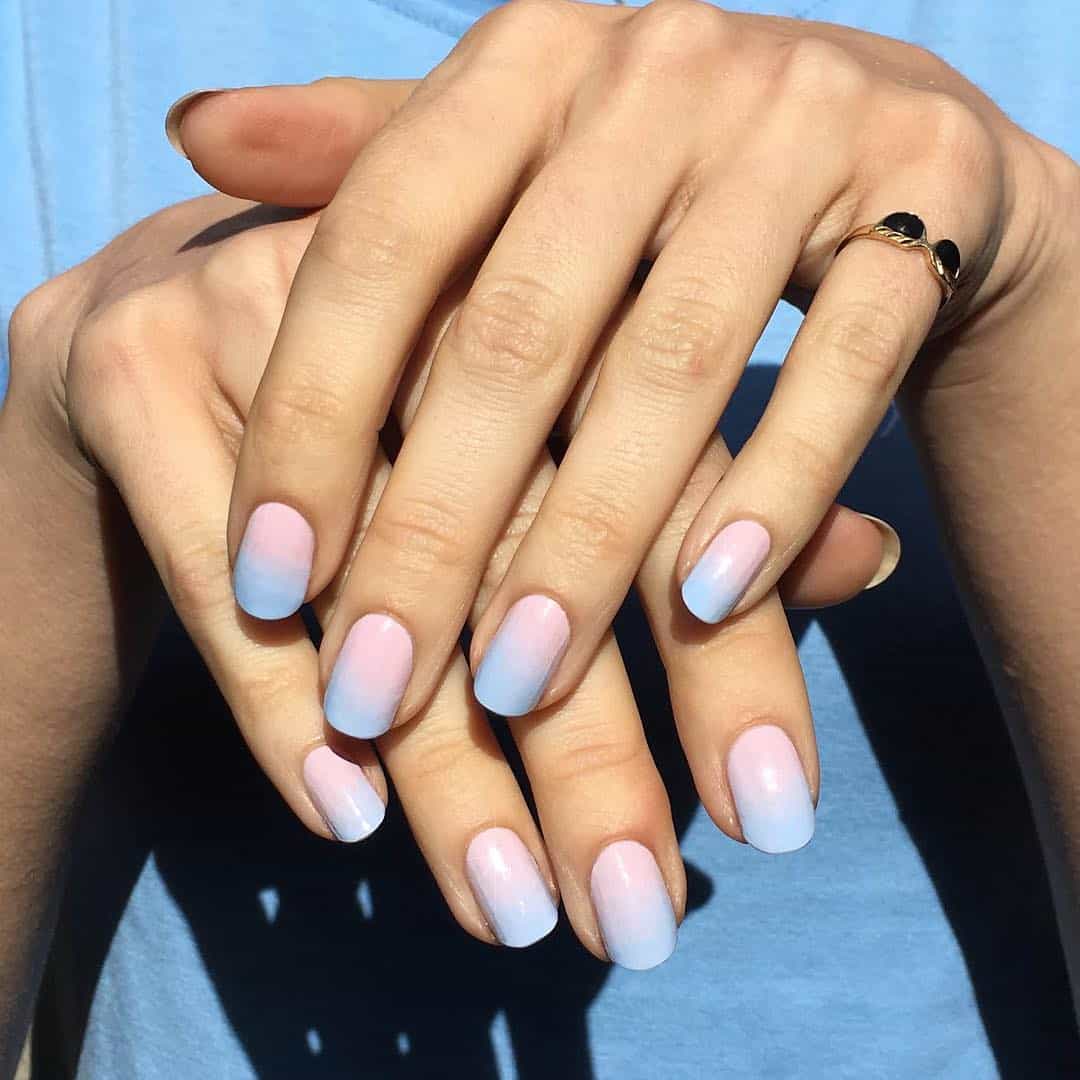 If you like the classic Blue Ombré Nails design but wanted something in the lighter shades of blue, then try this one. The blue tips melting into the pastel pink base in this design blend warm hues with cool shades to create an eye-catching appeal that will go well with all types of outfits. You can experiment with different pastel colors in this nail design as well to suit your style.
12. Blue Nails With Polka Dots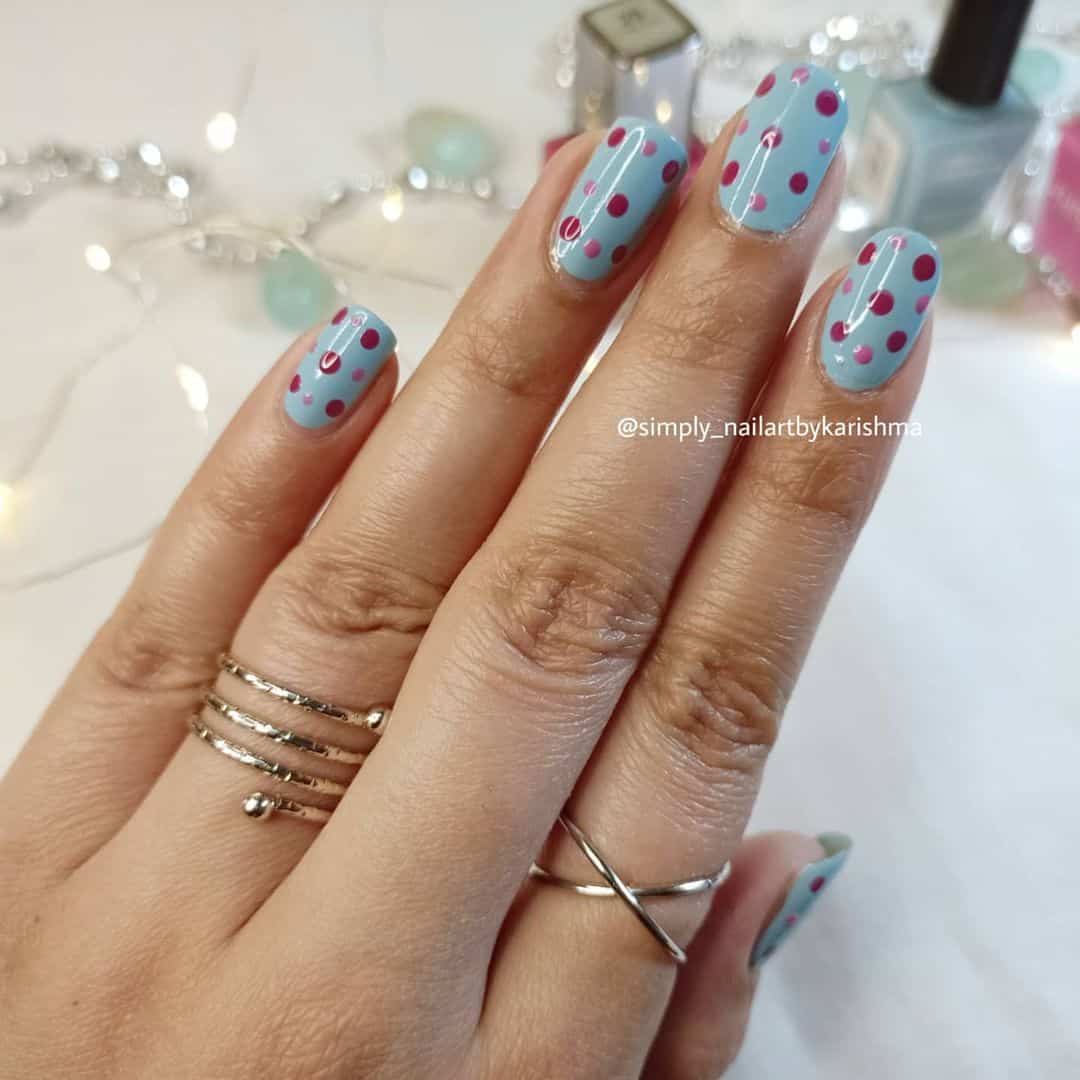 Polka dots have been an inseparable part of fashion for as long as anyone can remember. This nail design features adorable little red and pink polka dots on baby blue nails to give a sweet and delightful appeal to your overall attire. You can try this one on any manicure and nail type, and instantly add a touch of extra cuteness to your outfit.

13. Matte Blue and Gold Feature Nails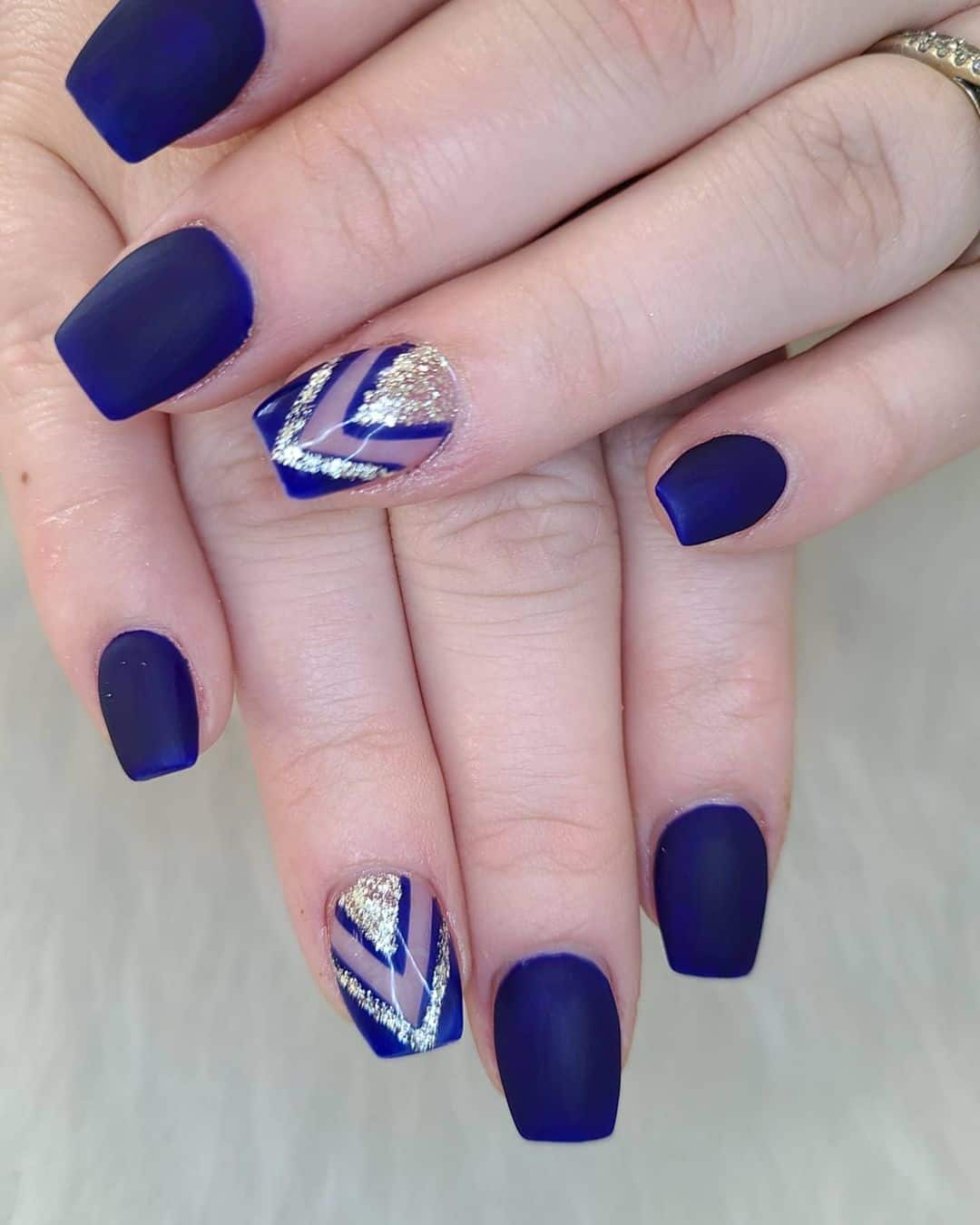 Matte blue nails always look fresh and glamorous; adding gold feature nails to the mix will further elevate their appeal. This simple nail design with golden accents on the ring fingernails gives extra bling to your hands, making it perfect for engagement parties and wedding receptions. You can also try this nail design for a casual night out with friends and flaunt your inner diva with some style.
14. Glossy White and Blue Nails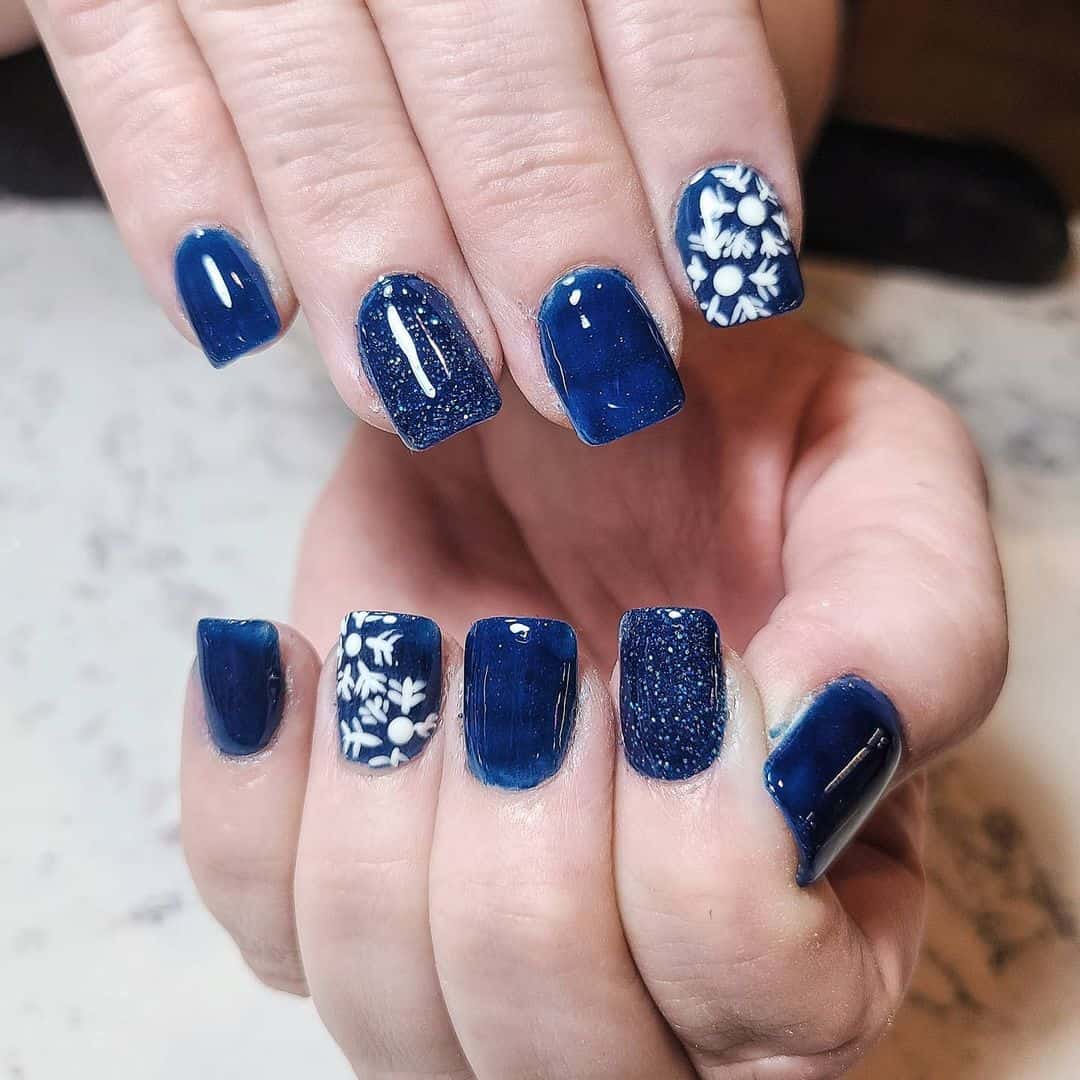 This winter-inspired white and blue nail design will set hearts alight as soon as you arrive at the party. You can go with deep blue or royal blue nail polish to create the background, while painting tiny white snowflakes on them will give it a cute appeal. Instead of having snowflakes on all the fingernails, keeping it as feature nail art will produce a more dramatic effect. You can also add a dash of glitter to the other fingernails to uphold the sparkly-white winter vibe.
15. Prussian Blue and Red Nails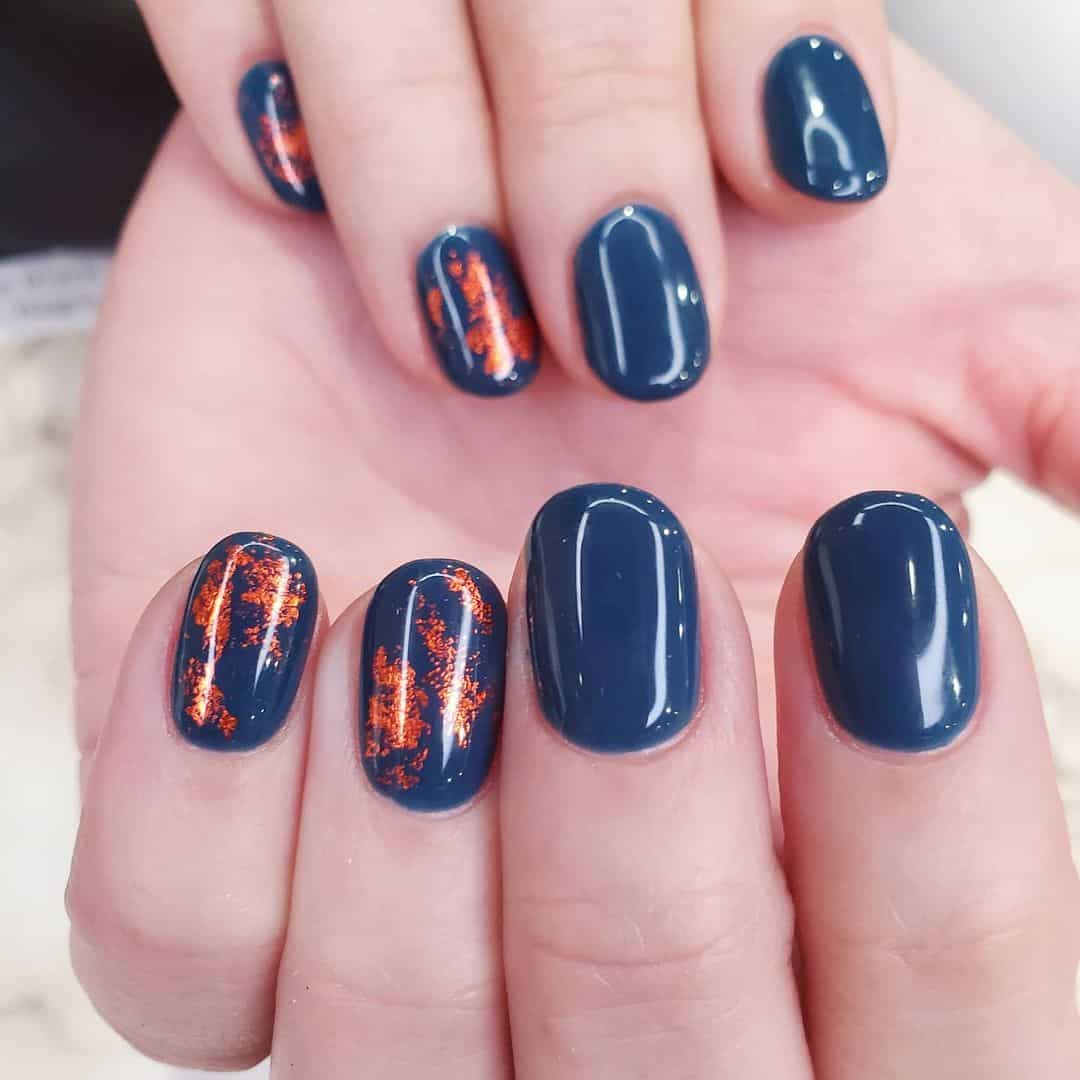 Go all-glam with this bold Prussian blue nail design. Adding splashes of red on the ring finger and pinkie will create a fall-inspired look while giving more depth to the plain metallic nail design. As it has a minimalist appeal overall, you can try this nail design idea for formal parties or even wear it to the office if your employment policies are not against wearing bold color nail polishes.
16. Bejeweled Blue Nail Art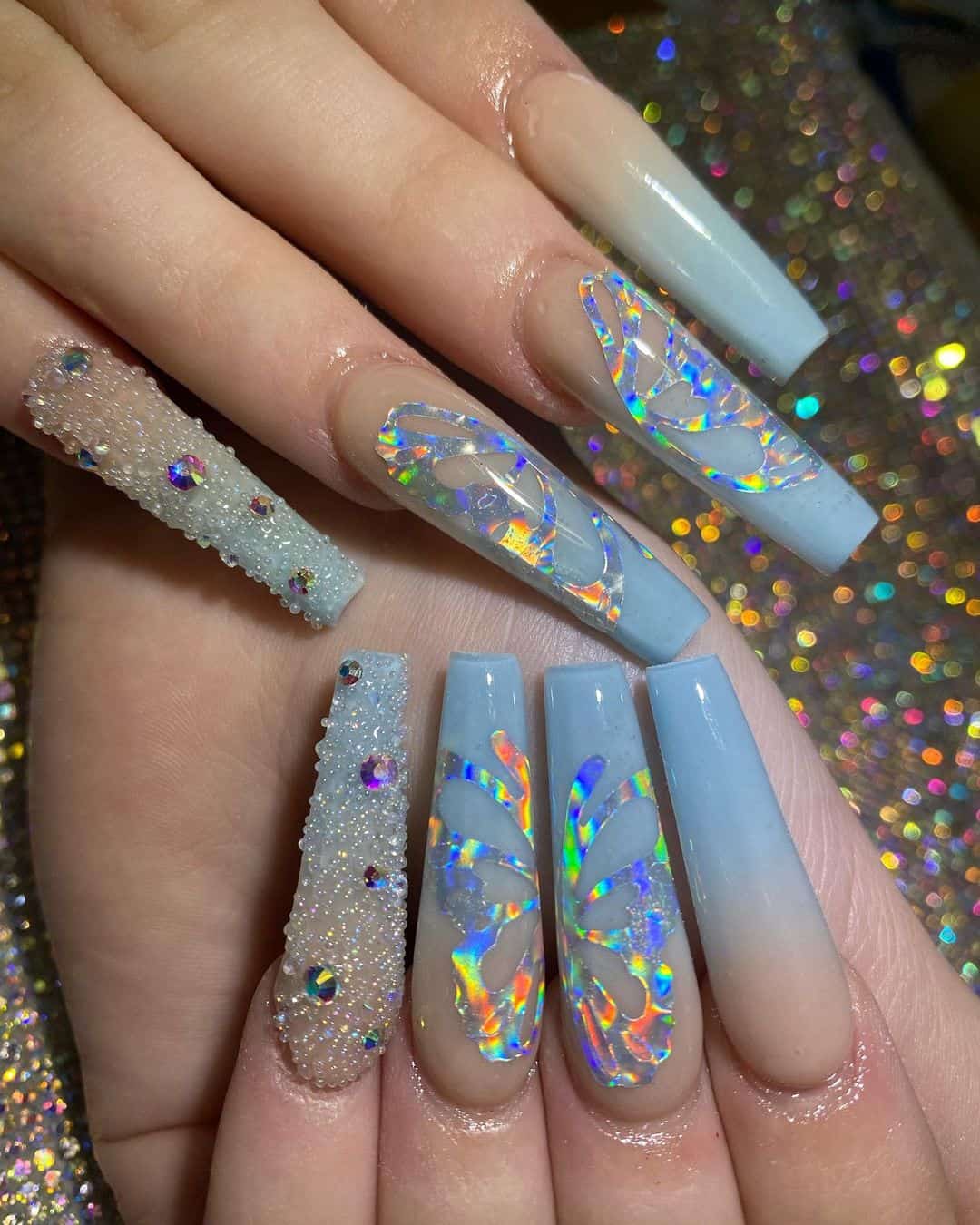 Give your Blue Ombré Nails design a bejeweled look with some glam and glitter. Instead of going for dark hues, pick light blue and nude colors to get the ombré appeal, and top that with some magical adornments. You can use butterfly nail art stickers to embellish the middle and ring fingernails and add some nail art rhinestones to the pinkie to get this ultra-chic look.
17. Blue Tips Nail Design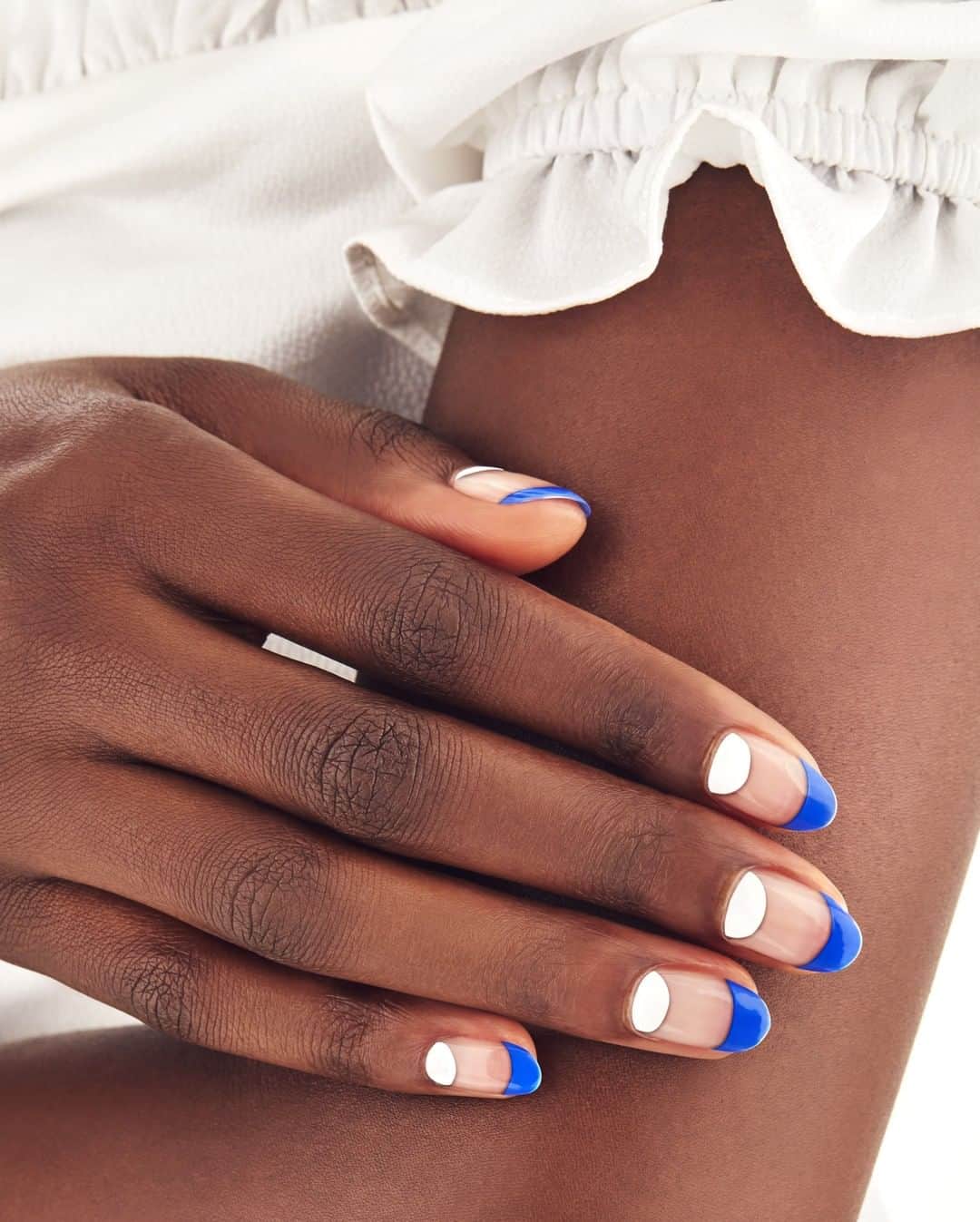 This exciting blue nail design combines blue tips in classic French manicure style with half-moons painted in white on the cuticles. The negative space in between gives it a dramatic appeal while keeping the overall nail design simple enough to be worn at any casual party or formal event. You can also add pastel pink or any other light color in the design rather than keeping it nude to create a more vibrant look.
18. Glossy Galaxy Dark Blue Nails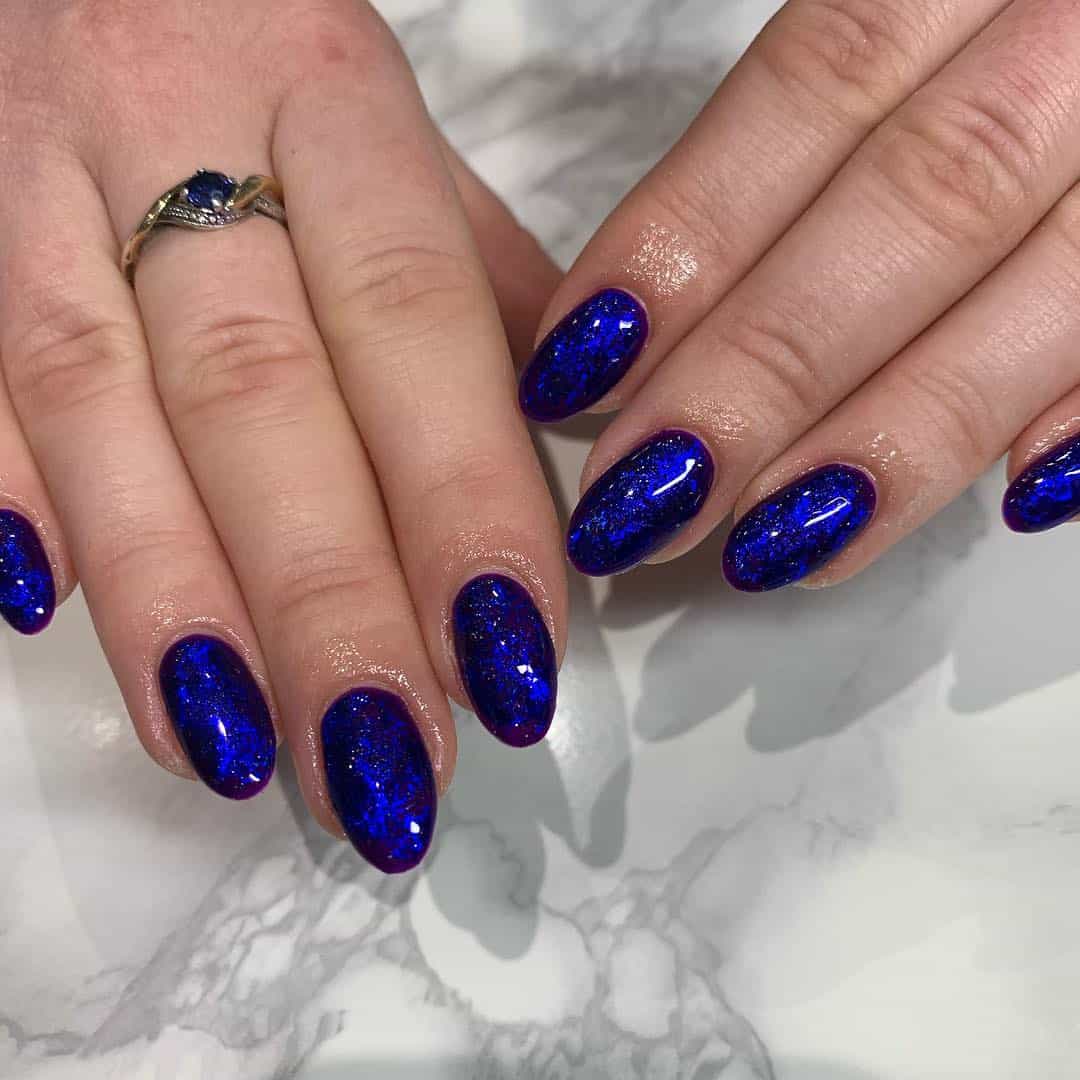 This glossy dark nail design draws the impression of the vast galaxy. Where the Night Sky Blue Nails design evokes the feelings of looking at a star-lit sky, this one takes you into deep space with darker colors. This nail design will look exceptionally magnificent on almond and oval-shaped nails, but you can try it on other nail lengths and manicures as well.

19. Blue Nails With a Black and White Floral Silhouette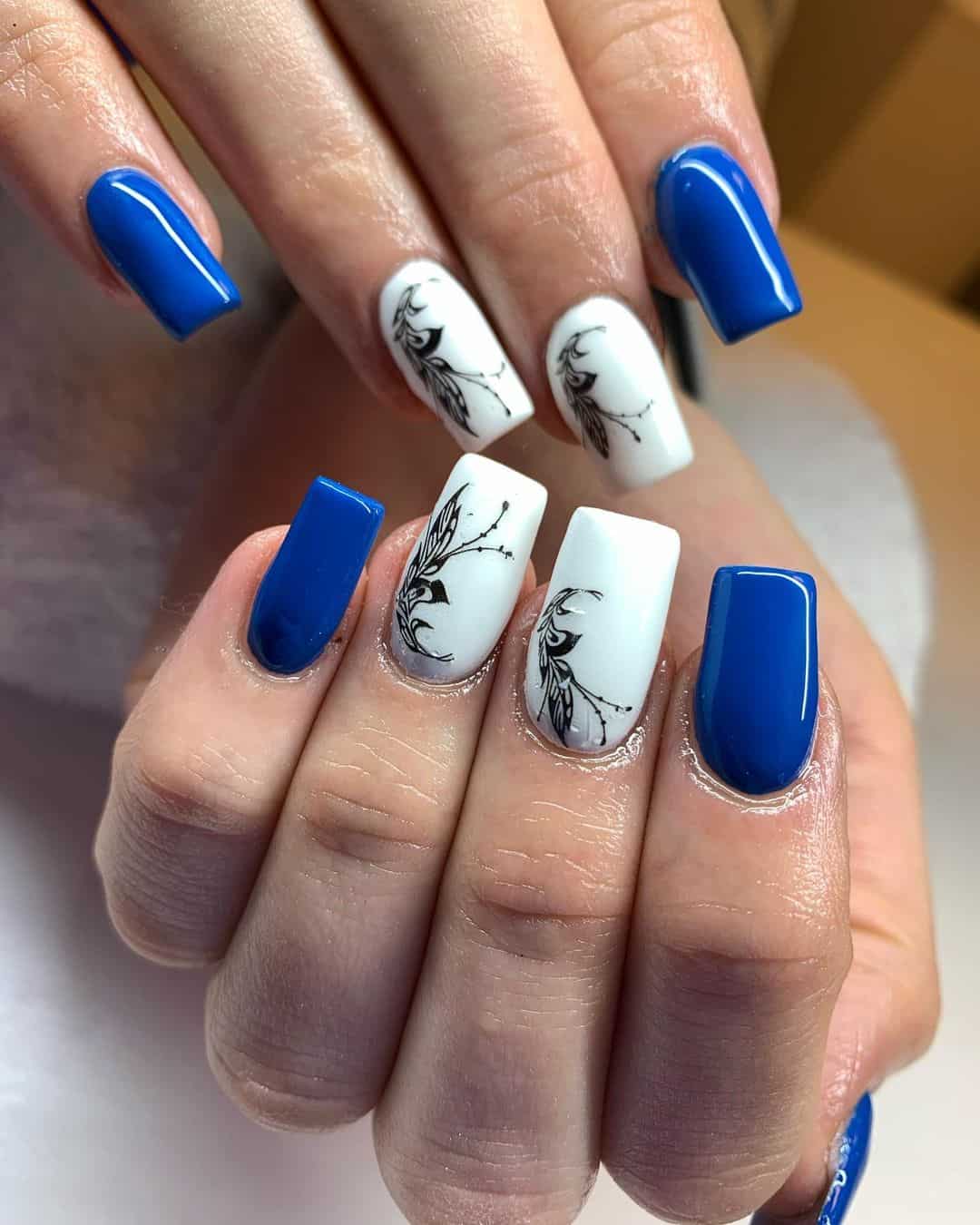 Turn your blue nail design into an artistic masterpiece with floral features. This nail design keeps the index finger and pinkie in a plain sapphire blue color to draw more attention to the floral silhouette on the middle and ring fingernails. You can experiment with different floral features on the white background too. Or throw in some colors to the floral features instead of keeping it black & white to get a more vivacious appeal.
20. Matte Blue Nails With Leaves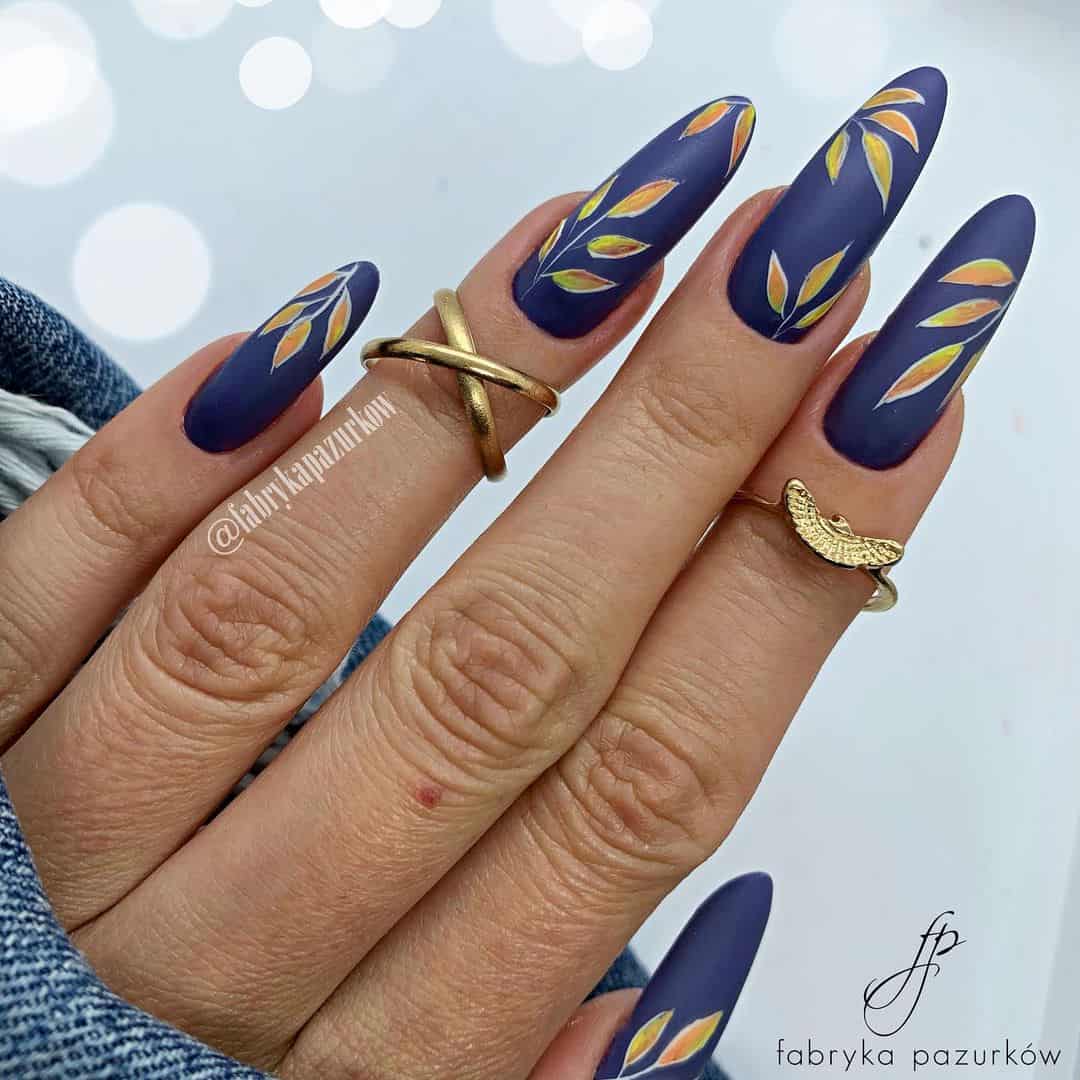 This nail design can be the ideal choice for the autumn season, although you can wear it any time of the year to show your love for nature. Unlike the Matte Blue Nails With Foliage design, this one features orange and yellow leaves on all the fingers to uphold the nature-inspired vibe. However, this nail design only suits long nails because of the elongated leaf accents.

21. Assorted Blue Nails Design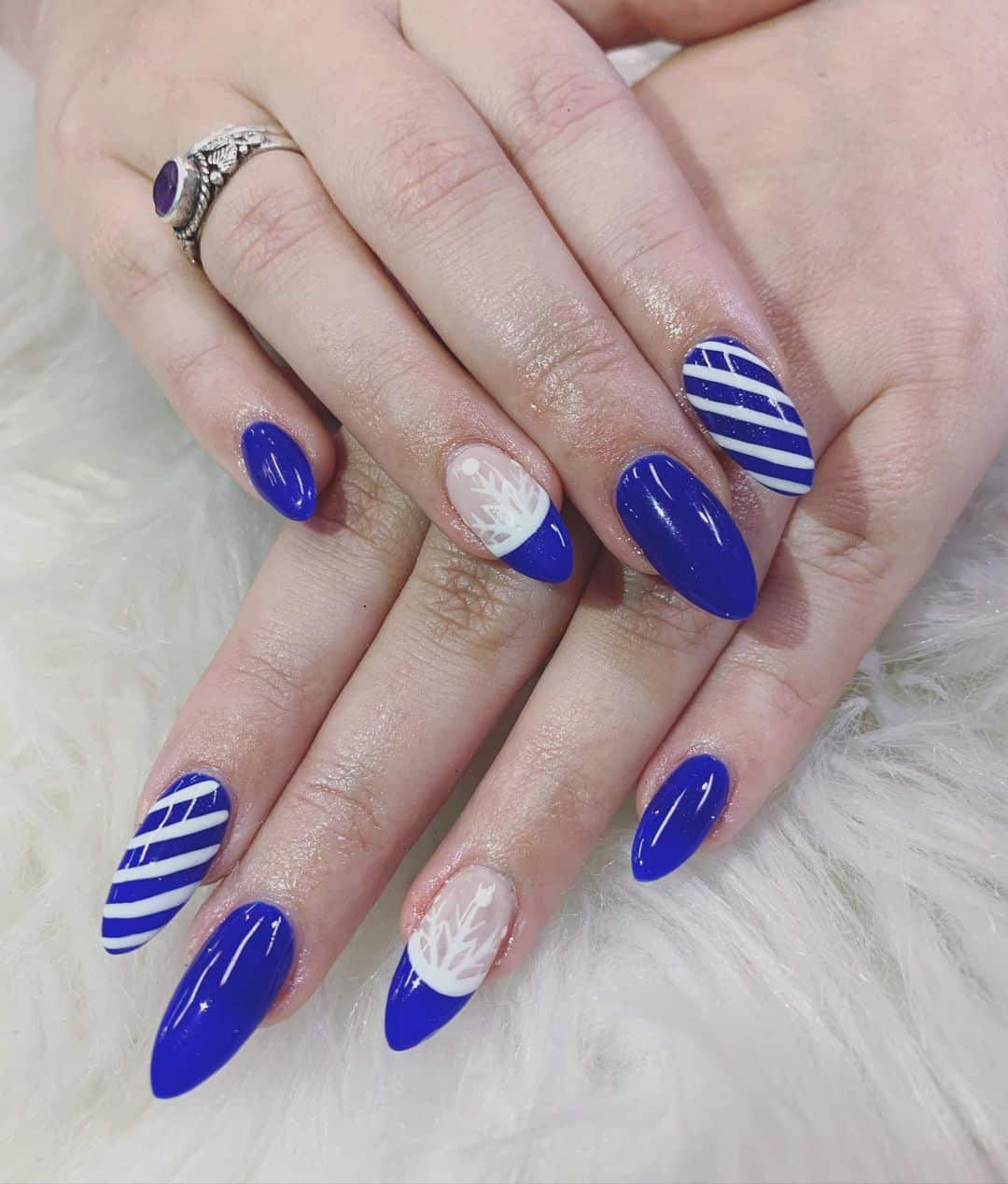 This blue nail design gives a unique twist to your holiday party look. When you go for blue candy cane nails, and winter-inspired blue and white feature nails, instead of going for the traditional red and green colors, it will instantly draw everyone's attention to your hands at the party. However, this nail design only looks amazing on round, oval, almond, or stiletto nails, and short and square-shaped nails usually do not produce the expected result because of the swirly design.

22. Midnight Blue Coffin Nails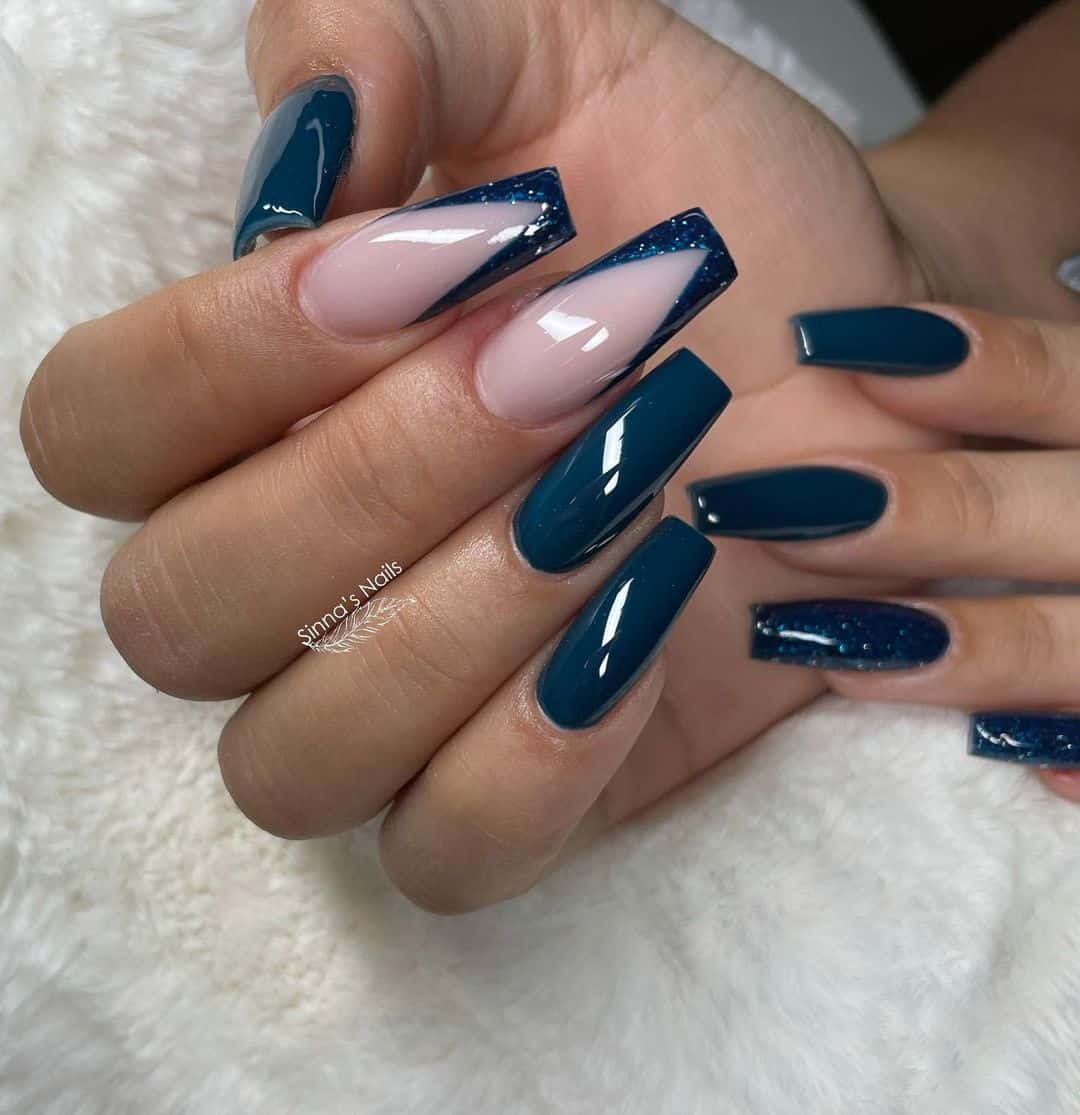 Coffin nails look quite stunning in bold midnight blue and cobalt blue colors. You can add a unique twist to that by creating an inverted triangle on the index and middle fingernails, as shown in this nail design, which will make the negative space appear like plain stiletto nails inside the ballerina nails. Throw in some glitter to the mix and see how magical the blue nail design turns out to be.
23. Blue and Gold Featured Nails
This sparkly blue nail design is similar to Matte Blue and Gold Feature Nails, but it adds more glam to the design by keeping the ring finger feature nails in all glitter and gold. To raise the bar further, you can add golden strokes on your index fingernails while keeping the others in plain, bold blue. It will be a perfect choice for your date night.
24. Roses on Blue Nails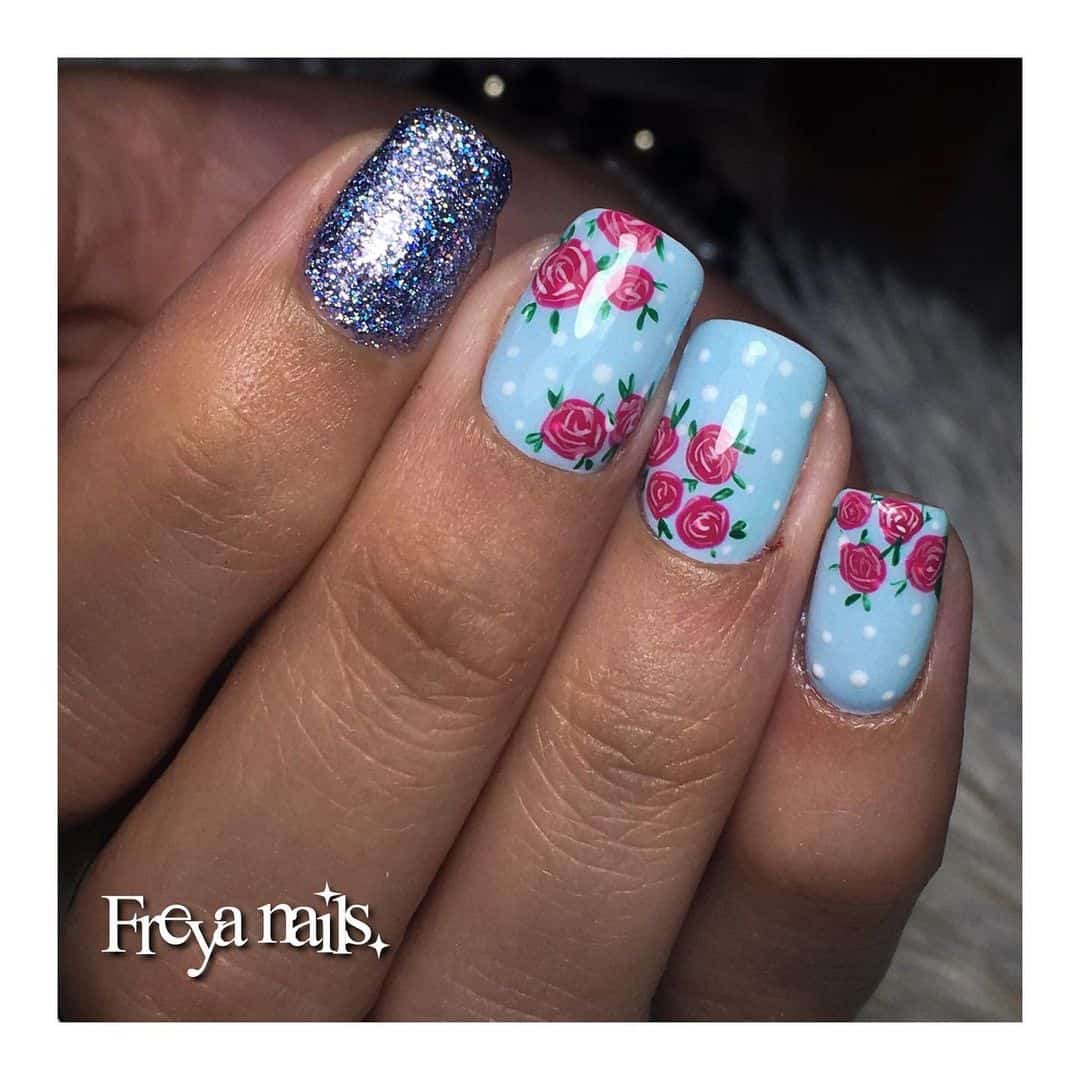 Roses are synonymous with beauty and allure, and this blue nail design totally justifies that. Adding tiny white polka dots to the mix gives a cute touch to the red roses painted on baby blue nails, while adding some glitter to the index finger feature nail draws more attention to the roses. You can even try this nail design without a glittery feature nail and keep it all-floral with red roses painted on all the fingernails.
25. Blue Nails With Flower Silhouette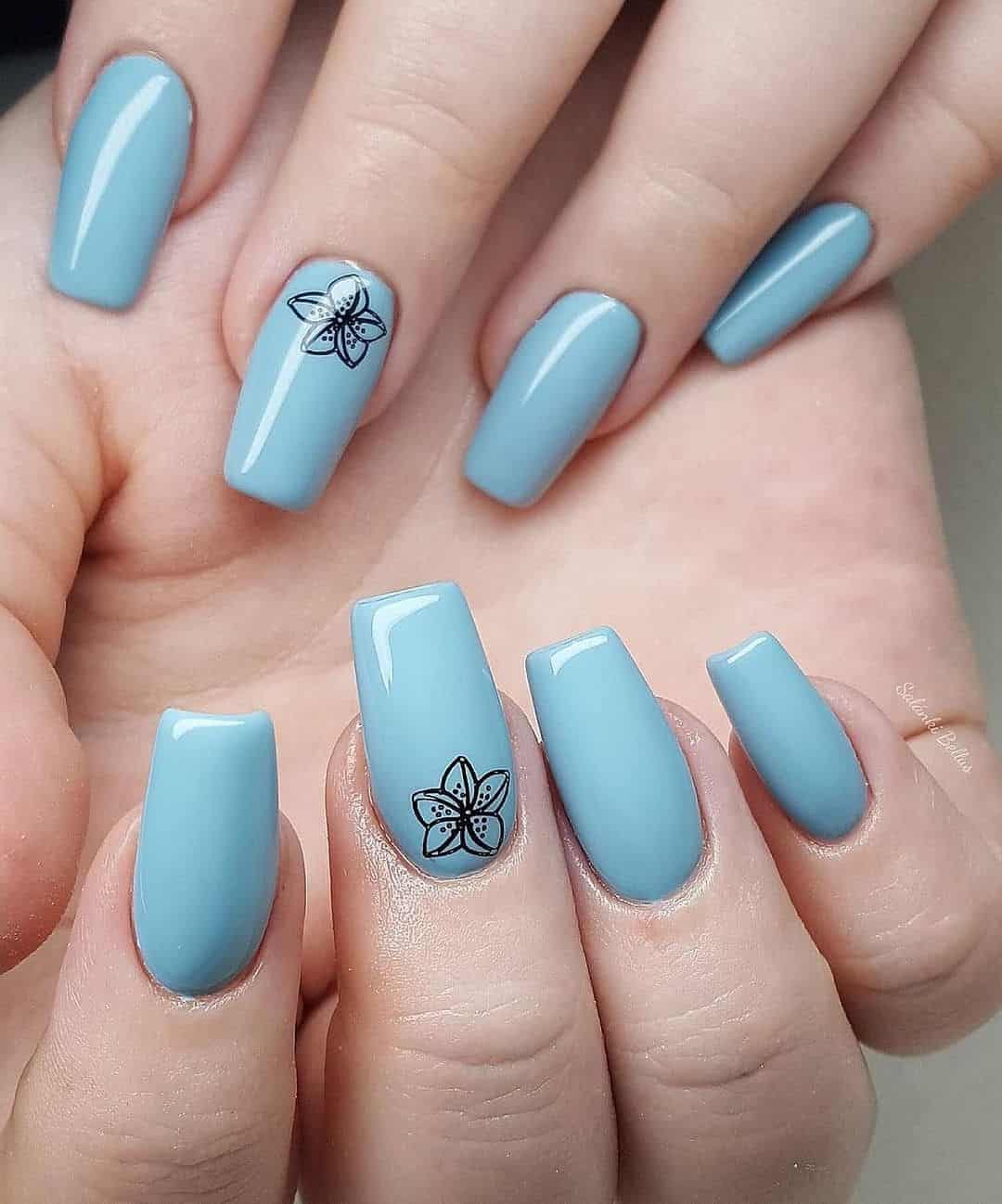 This nail design follows the same idea as seen in Blue Nails With a Black and White Floral Silhouette. Yet instead of having a different color background for the flower silhouette, this nail design keeps all the nails in plain baby blue. This makes it a great nail design idea for formal events, and for those who are looking for uniqueness and subtlety in a single design.

26. Shades of Blue Nails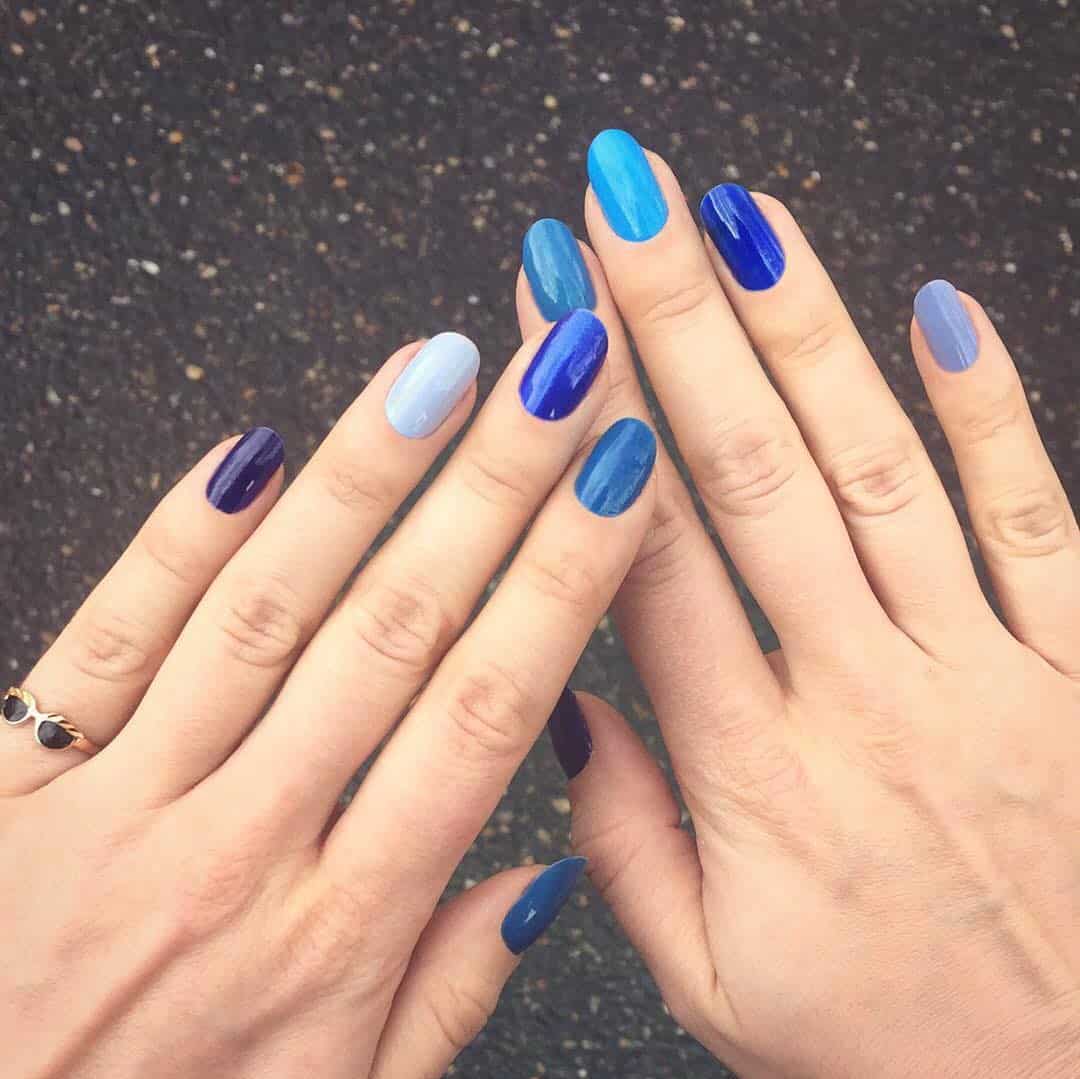 Blue nail polishes come in hundreds of different shades, which may make it quite confusing to pick the right one to wear. Yet the beauty of blue nails is that you do not always have to go with a single color; you can always mix and match different shades of blue to create a lovely effect. This nail design takes the idea to another level with different shades of blue across the hand. It works with every manicure and nail length too.
27. Stars and Clouds Blue Nails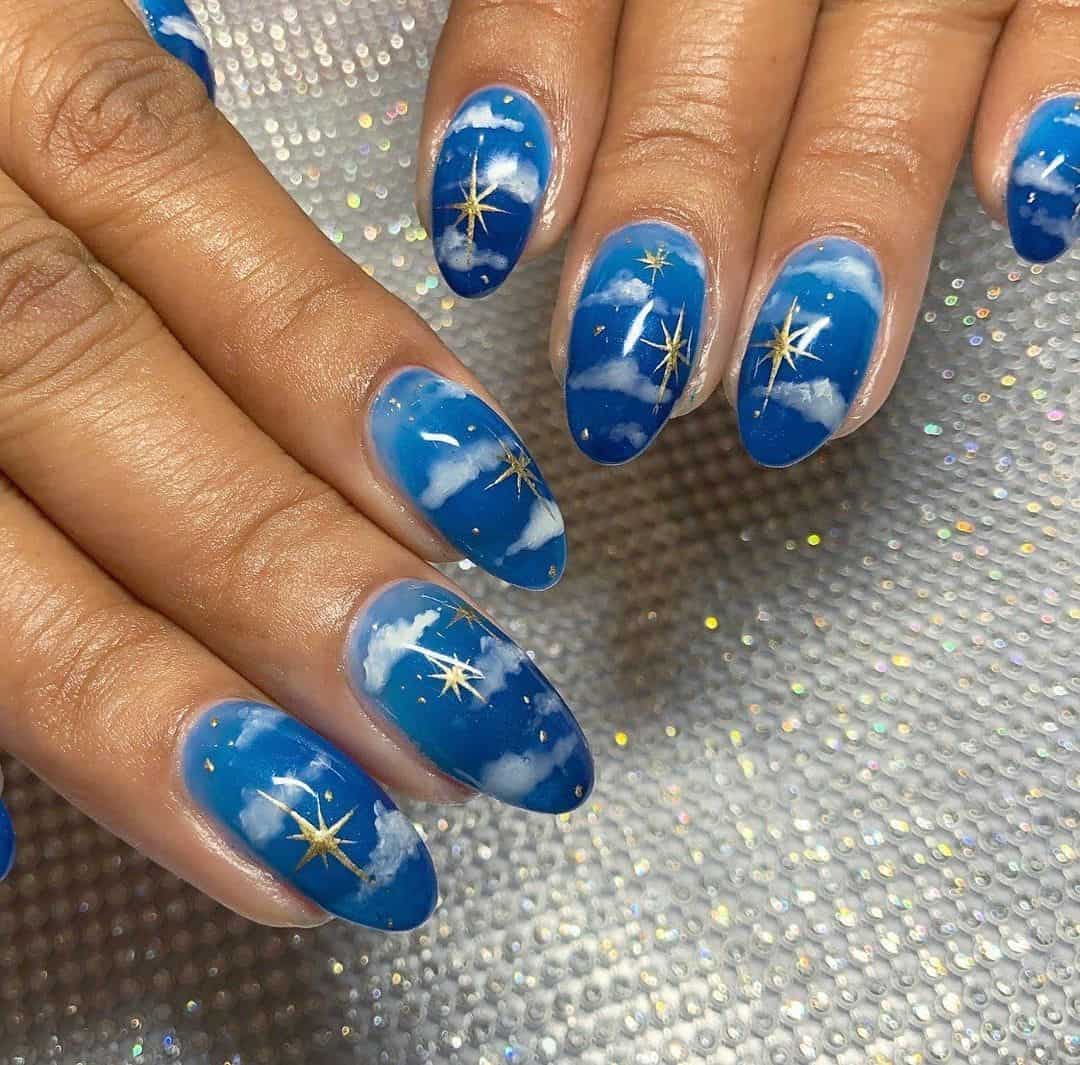 Cloud designs create a soft and elegant piece of nail art and can keep you motivated to think positively. It will help to keep your head up by just looking at your hands. Adding golden stars over the blue clouds further raises its magnificence and can be a unique way to celebrate the Christmas season. This blue nail design may take a lot of practice to get it right though, so be patient when trying this one at home.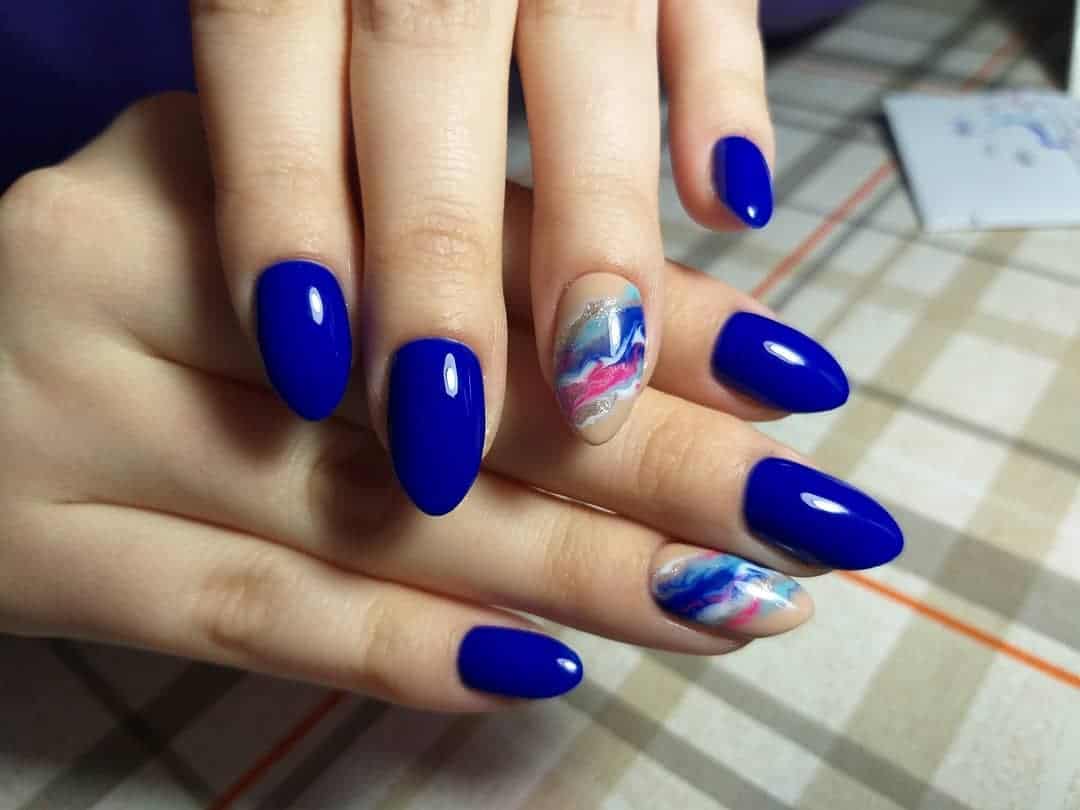 Plain navy blue nails look amazing and can go with any attire and season. They can represent your bold and confident personalities while giving you a modish way to draw attention to your outfit. This navy blue nail design adds paint splashes on the ring finger feature nails with different shades of blue, with pink and white colors on a nude background. This gives the overall design more depth and highlights the classy, bold, navy blue nails further.
29. Blue Nails With Gold Flakes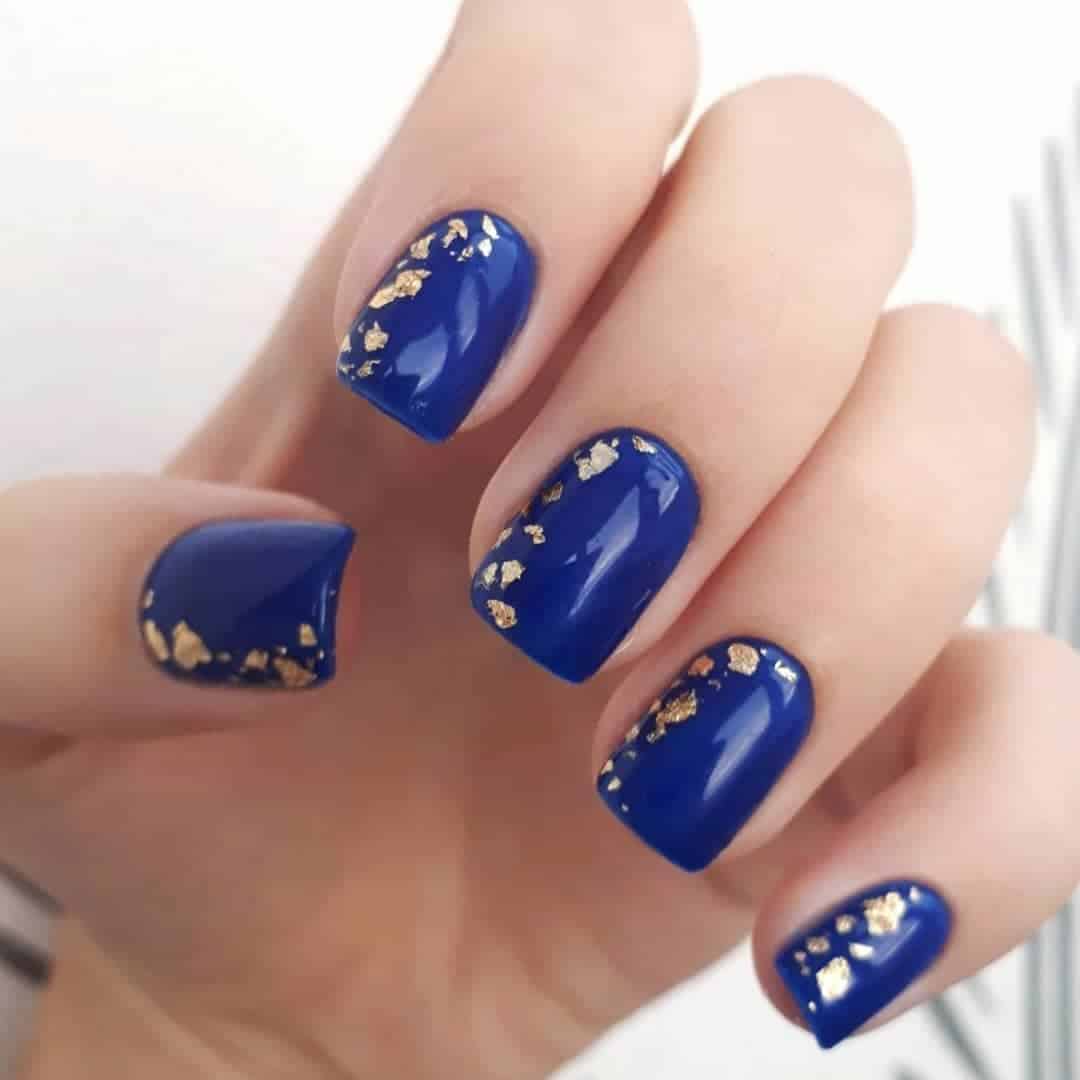 This nail design will be ideal for those who love golden accents but do not want to go all-flashy with full gold-colored nails. Gold flakes blend amazingly with Egyptian blue nails to give you a classy look while making it appear as if you melted gold on your fingertips. You can experiment with different shades of blue for this one as well to match your style, while the sprinkles of gold will give more dimension and depth to your nail design.
30. Royal Blue Patterned Nails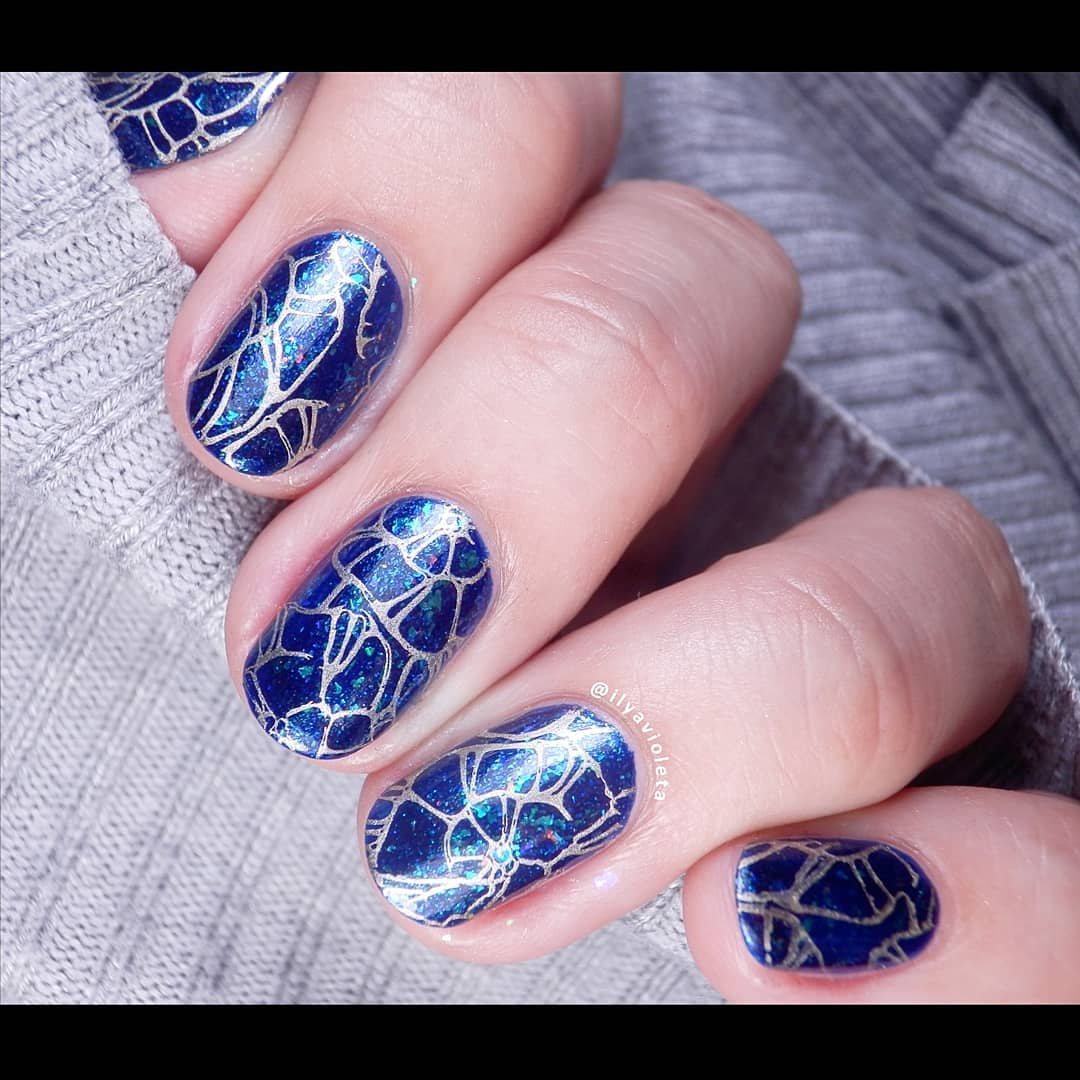 This patterned blue nail design will be an amazing way to express your creativity and fashion sense. The patterns do not have to be symmetrical on all the fingers; you can create your own masterpiece by adding strokes of silver on a sparkly blue background as you wish. You can even try this nail design across your hand or just keep the pattern on the feature nail to suit your styling preferences.

31. Matte Blue Nails With Foliage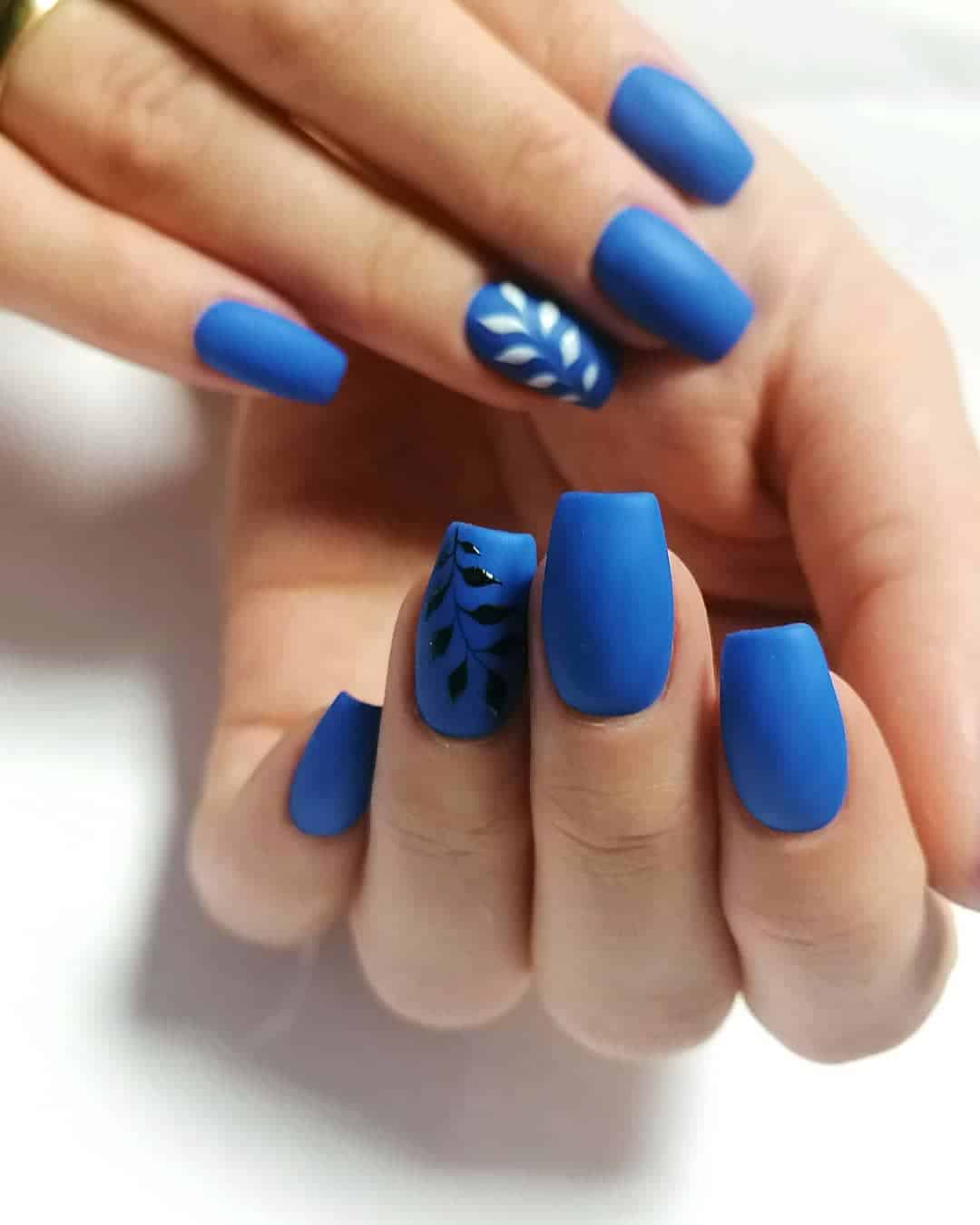 If you like the Matte Blue and Gold Feature Nails idea but wanted something a little subtle, then adding foliage to the design will be a great choice. This matte blue nail design creates a unique style by adding white-colored leaves on the feature nail of one hand and black-colored leaves on the feature nail of the other hand. This can even evoke a feeling of yin and yang, symbolizing the concept of dualism.
32. Blue Gemstone Nail Art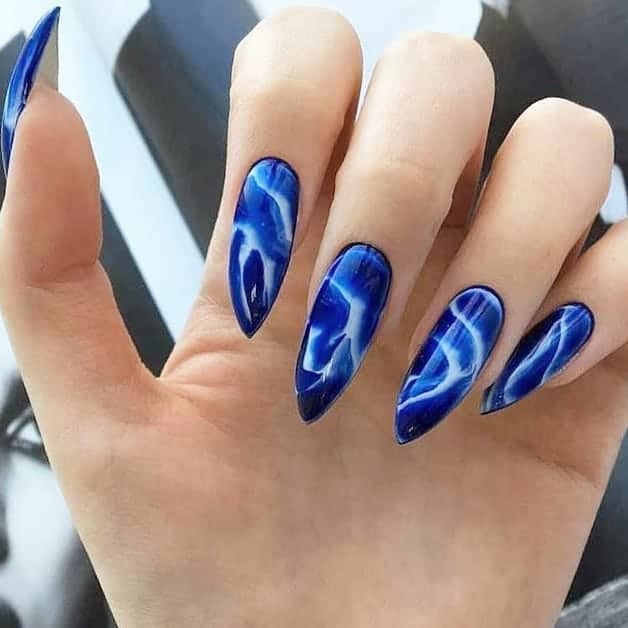 This is one of the coolest blue nail design ideas to try. Here, the interplay of blue and white creates an impression of a beautiful sapphire gemstone adorning your fingernails. It not only gives you a unique and graceful nail design to flaunt at the party but also upholds deeper meanings of focus and spiritual enlightenment. That makes it an ideal choice to symbolize your persona with some style.
33. Blue Lines Nail Art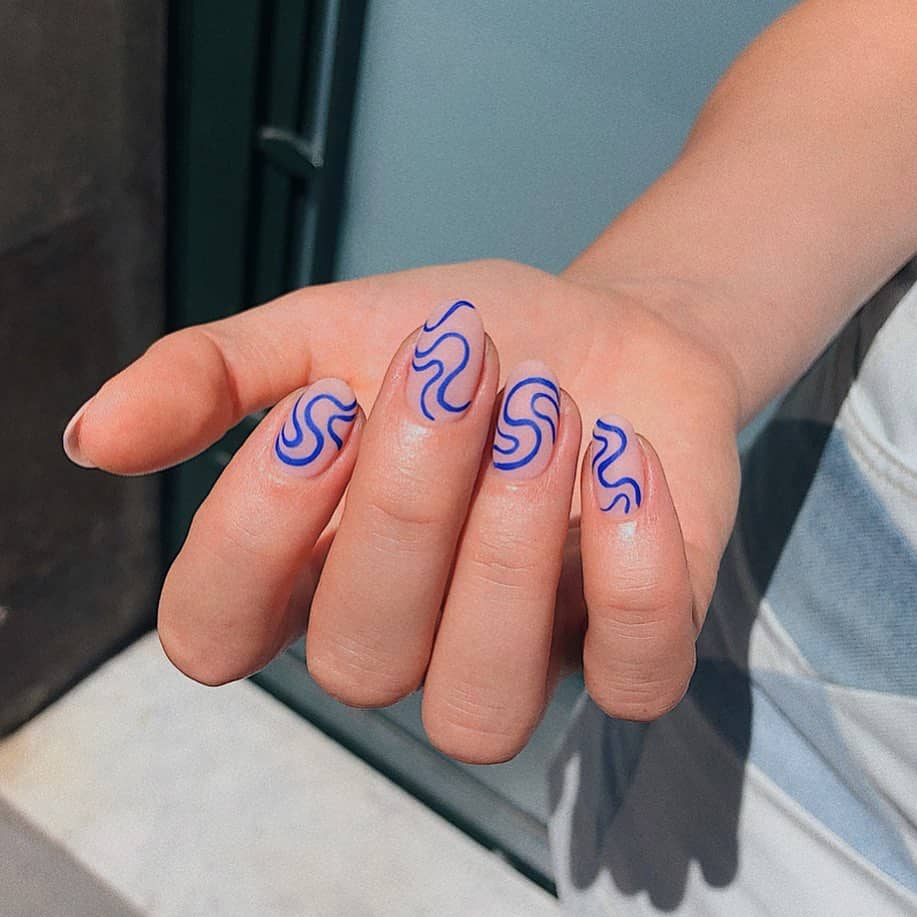 If you are in love with the ocean but do not want an intricate design like Sea-Inspired Blue Nails, then this manicure will be just the thing to suit your desires. Here, you can paint blue wavy lines on a nude base to create fashionable nail art while keeping it subtle enough to wear to a formal event. You can even try different shapes and designs in this style, instead of wavy lines, to express your creativity.
34. Blue Marble Nails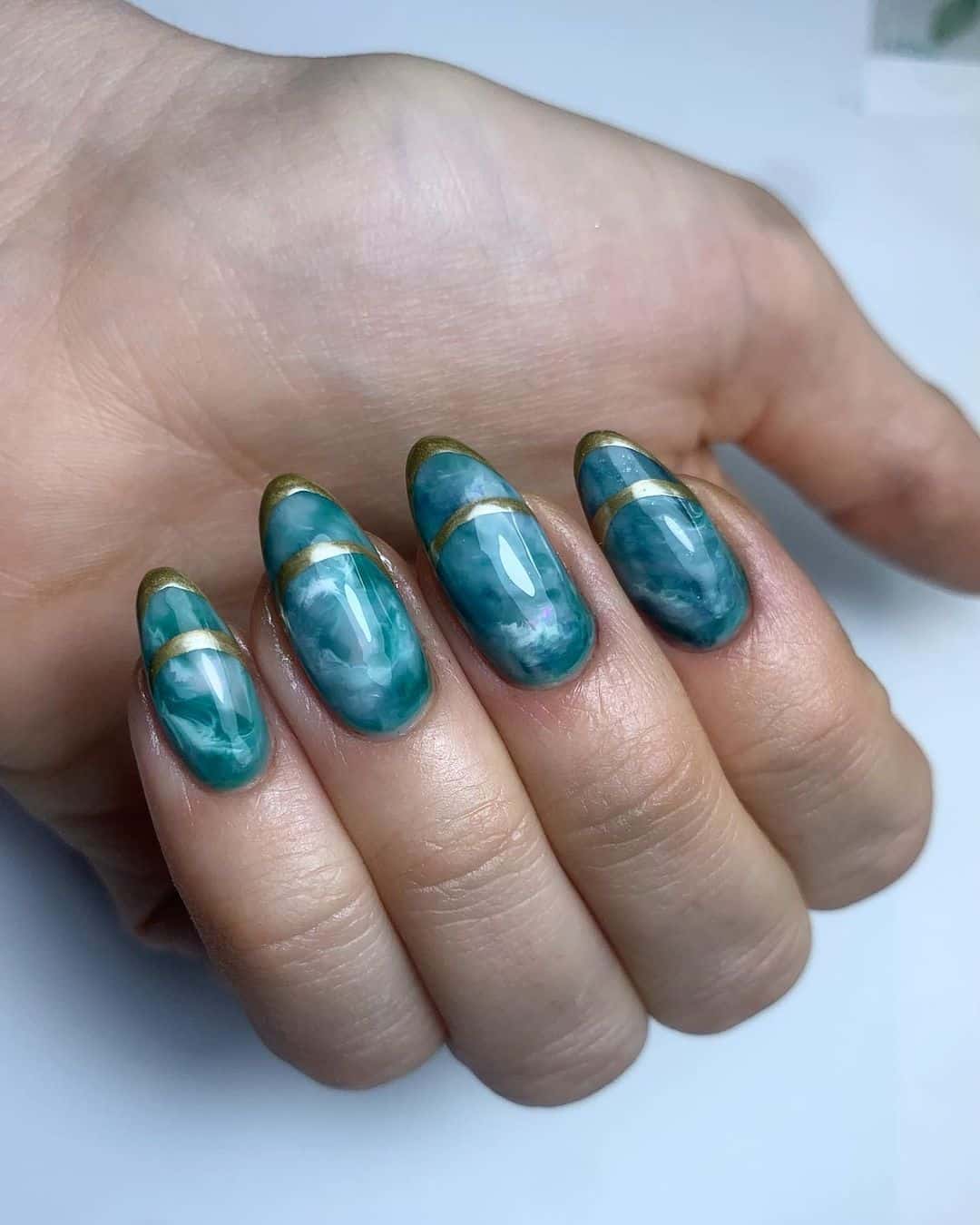 This nail design features a light blue base with dark blue veins across it to resemble marble stone slabs. This gives you an interesting blue nail design to wear to any casual or formal event. You can add golden tips to your marble nails, as shown in this nail design idea, to give it more depth and variety. Or you can keep your fingernails in a plain marble design to blend it with your overall outfit.
35. Assorted Blue Nails With Negative Spaces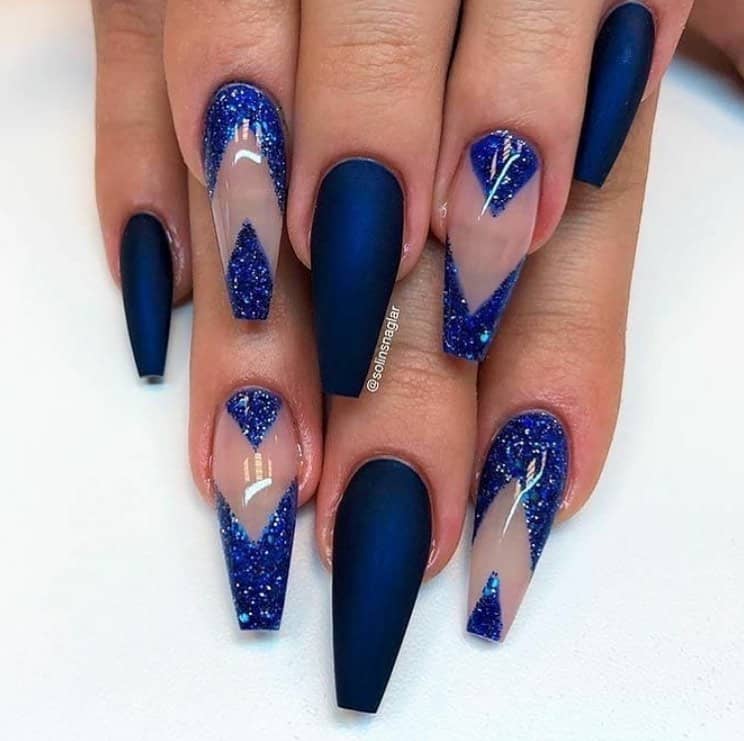 Similar to Midnight Blue Coffin Nails, this blue nail design also plays with negative spaces to produce a glamorous effect. Here, the pinkie and middle fingernails are kept in plain matte blue while the index and ring fingernails feature negative spaces on glittery blue nails. You can also experiment with creating different shapes with negative spaces.
36. Blue Nails Abstract Art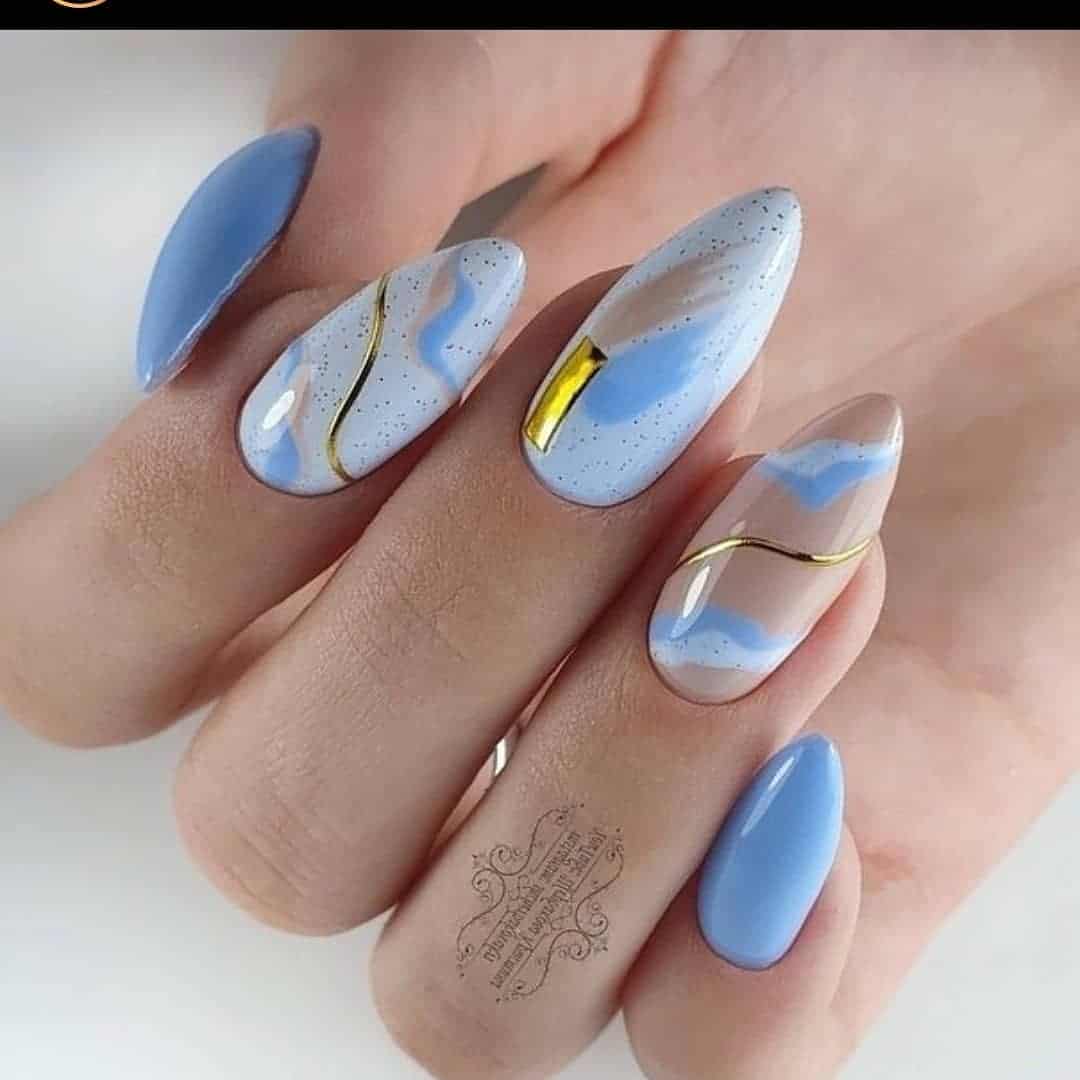 Mix up things a bit with this abstract blue nail art. Instead of going the traditional route of a single feature nail, this design takes three fingernails to showcase the abstract art. Here, a light blue base forms a beach-like background, while the golden stripes and geometric shapes give it a touch of modernism and glamour. Meanwhile, keeping the pinkie and thumb in plain blue adds a multi-dimensional effect to the design.

37. Blue Plaid Nails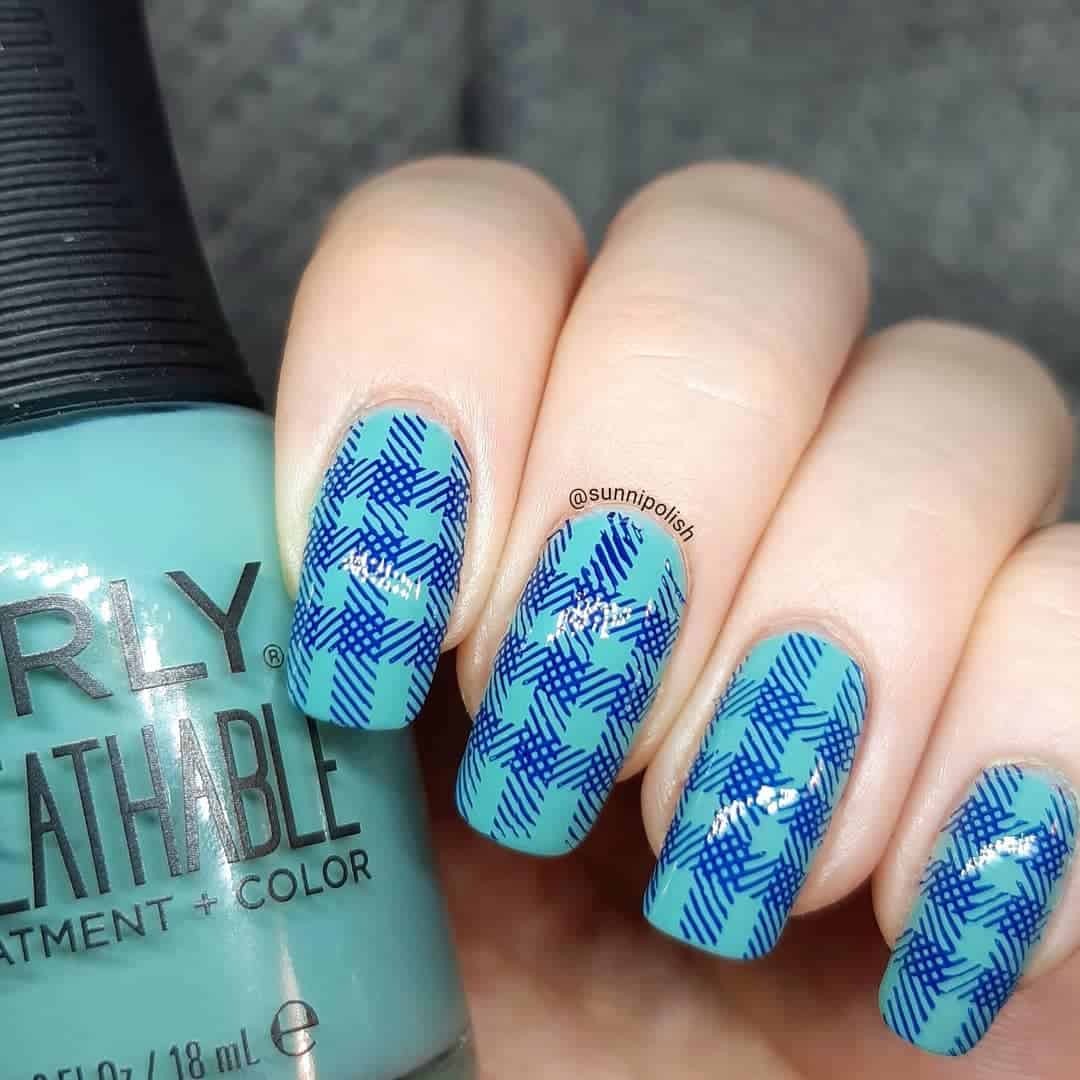 Plaid nails are one of the trendiest nail design ideas these days. You can easily achieve this look by applying a coat of dark blue shade as the base and then covering it up with some nail art masking tape in the desired pattern. Then apply the lighter shade of blue on top, let the nail polish dry well, and peel off the masking tape gently to get the adorable look. You can even try a checkered base layer to add more variety to this nail design.
38. Stripes of Different Shades of Blue Nails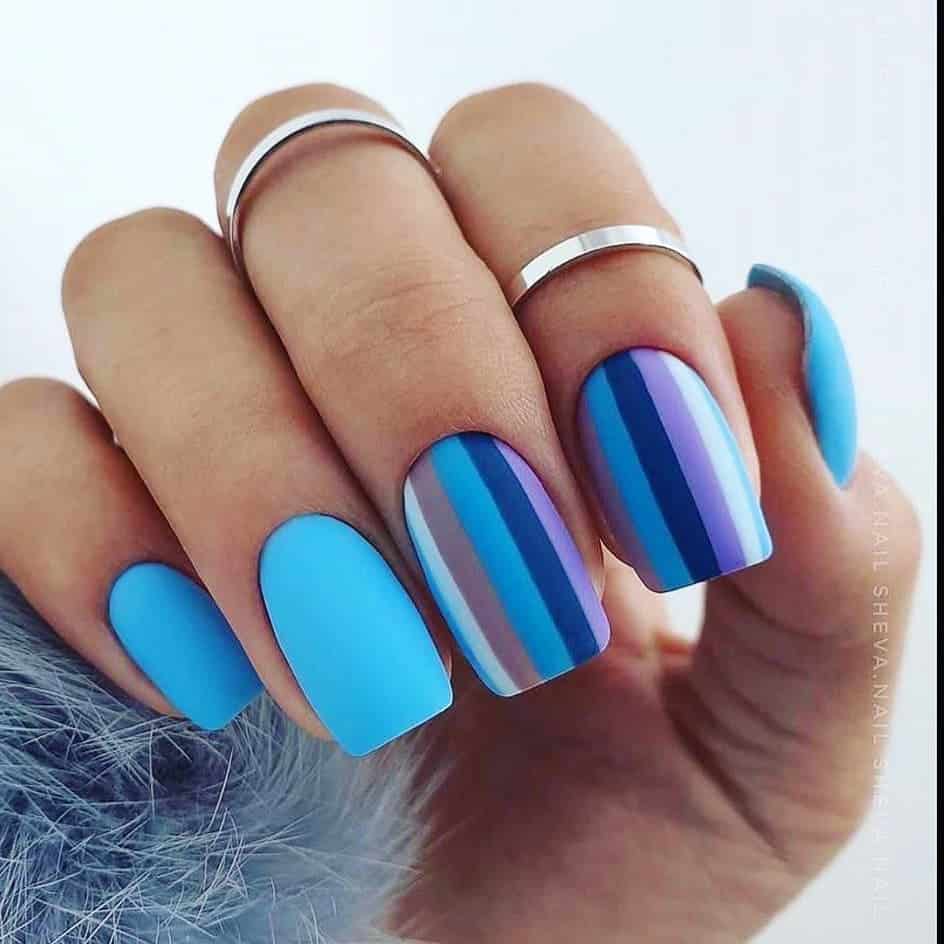 This eye-catching blue nail design takes the idea of Shades of Blue Nails to a whole new level. Instead of trying different blue nail polishes on different fingers, this style features stripes of multiple shades of blue on the index and middle fingernails. The most amazing part of it is that you can easily achieve this unique and trendy style at home using some nail art masking tape and gel nail polish.
39. Bold Blue Feature Nails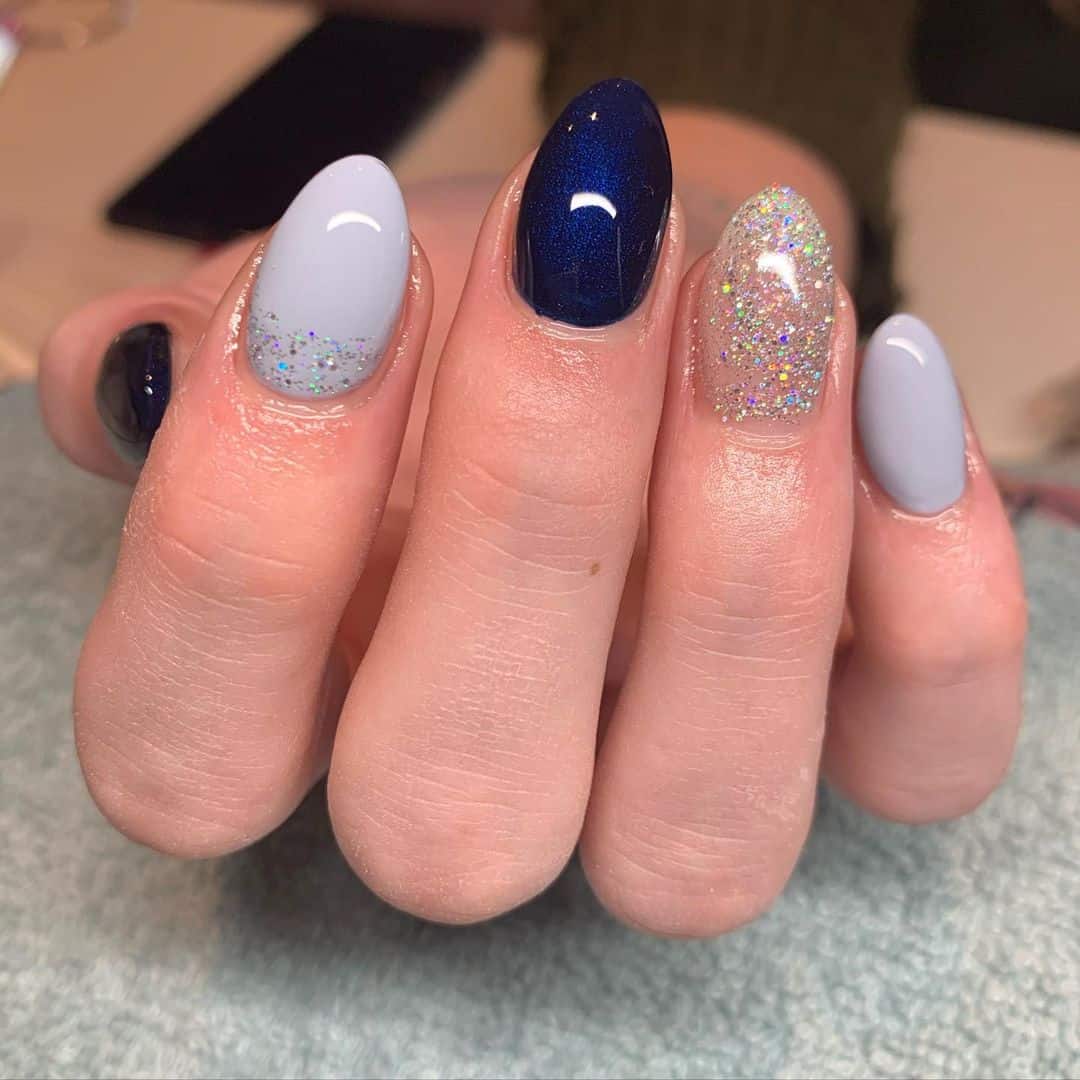 As blue nails blend well with different colors, they give you a lot of room for creativity and expressing your style the way you want. This nail design, for instance, keeps the feature nail in bold, glossy blue while accentuating that with an all-glitter sub-feature nail. Keeping the index finger and pinkie in opaque pearl white further elevates the look and compliments the blue feature nail perfectly.
40. Mix and Match Dark Blue Nails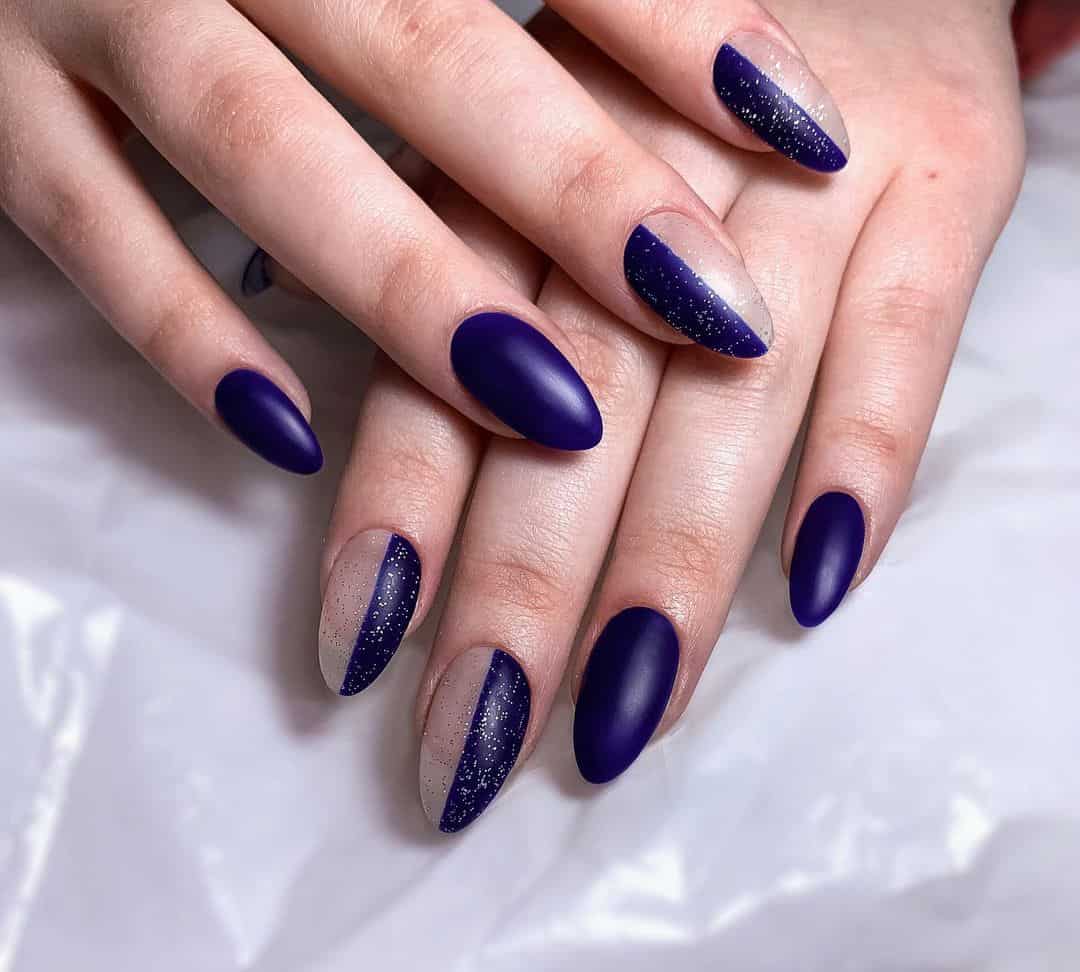 This dark blue nail idea combines two bold styles in a single design. The ring finger and pinkie are kept in plain dark blue color to express your bold and confident character, while the index and middle fingernails have an overlay of glitter to showcase your cheery and lighthearted side. At the same time, painting the index and middle fingernails halfway gives it a distinctive touch and allows you to flaunt your inner diva.
41. Blue Glittery Nails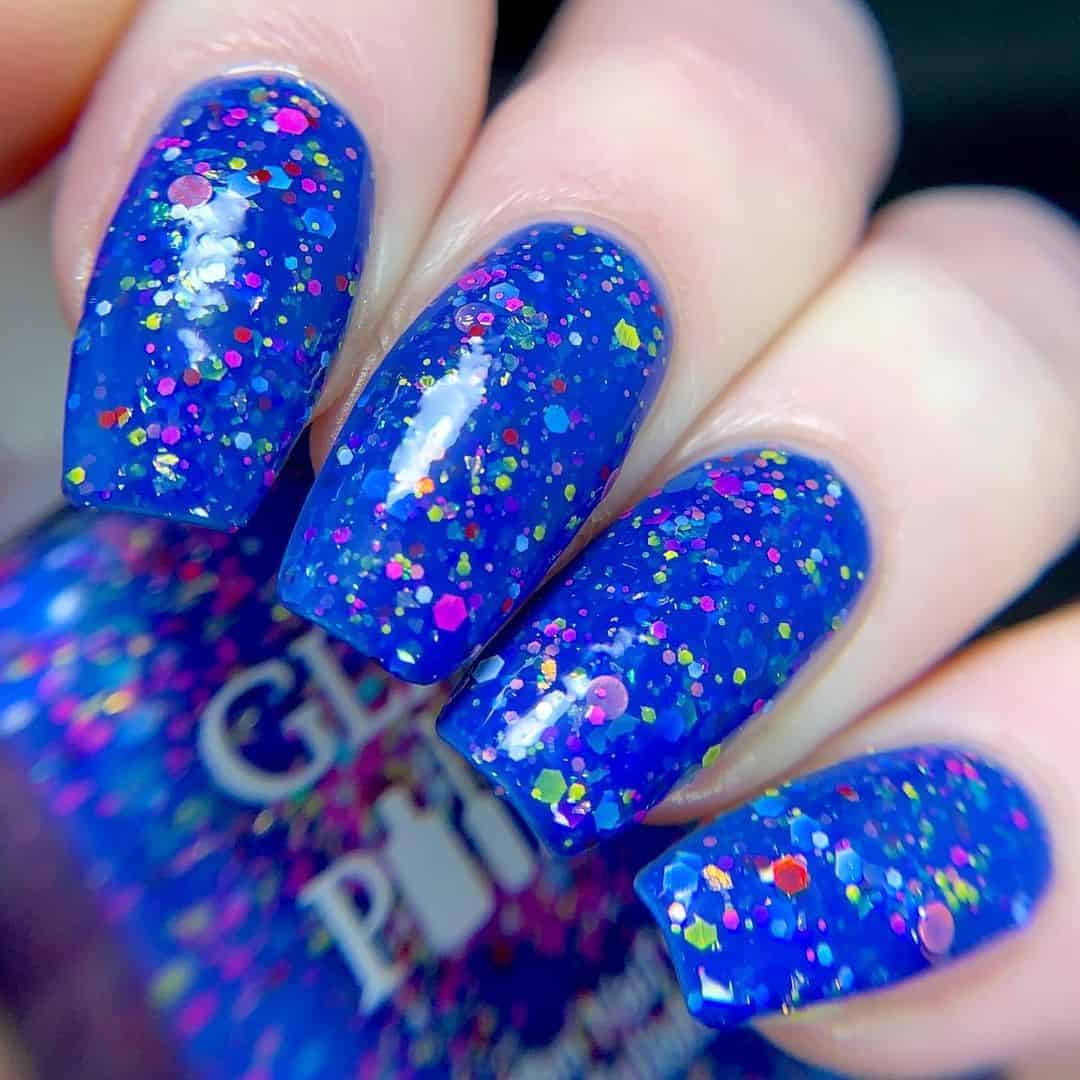 Are you looking for a blue nail design idea for the next night out with your besties? Then try this blue nail design with neon and metallic glitter to make your attire more eye-catching. You can even go for this nail design idea when attending your friend's engagement party or even a casual get together – it goes well with all nail lengths and manicures.
42. Glittery Blue Gradient Nails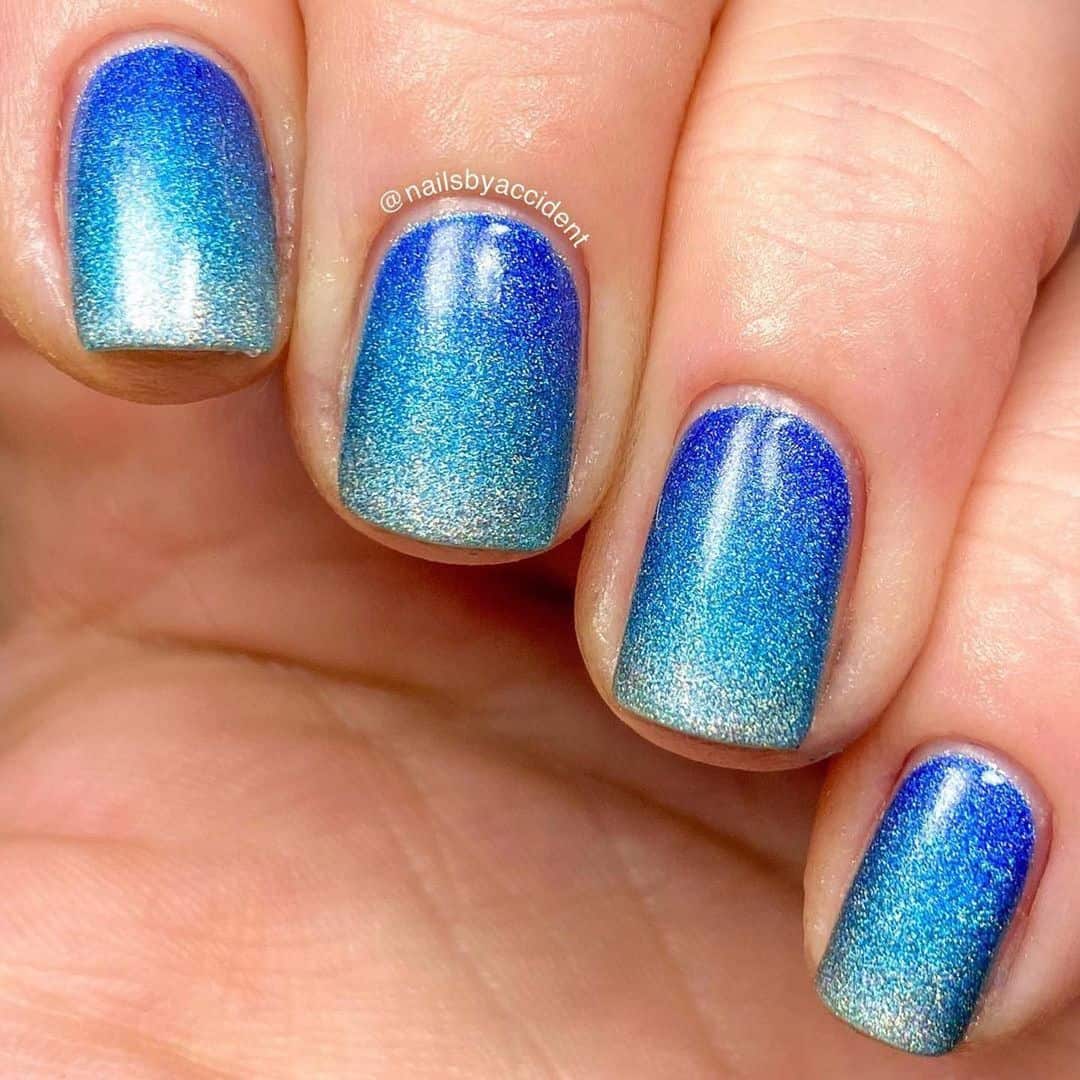 Give the Blue Ombré Nails design a unique twist by adding some glittery tips to your blue nails. You can achieve this look by applying a layer of light blue nail polish over a darker blue base and masking it with glitter across the nails. Focus on the tips as you work with glitter to create a dazzling appeal. You can either keep the design reserved for the feature nails or try it across all the fingers.

43. Blue Flames Nail Design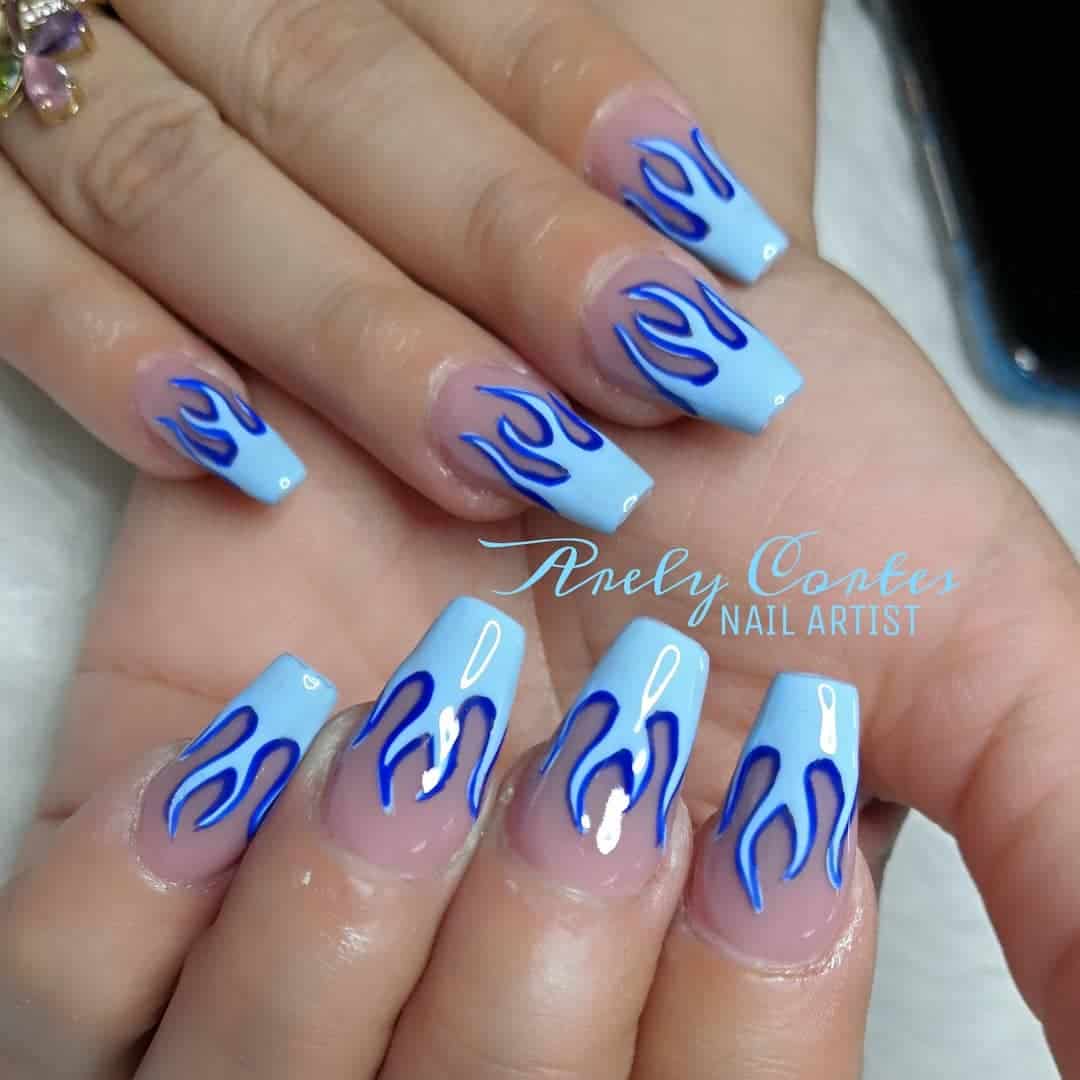 This blue flames nail design can be the go-to choice for creating a unique and bold fashion statement. You can easily achieve this design by playing with baby blue color over plain nails, and then accentuating the flames with a darker shade of blue nail polish. It goes exceptionally well with coffin nails, but you can also try this nail design on stiletto and almond-shaped nails.
44. Blue Nails With Stars and Moon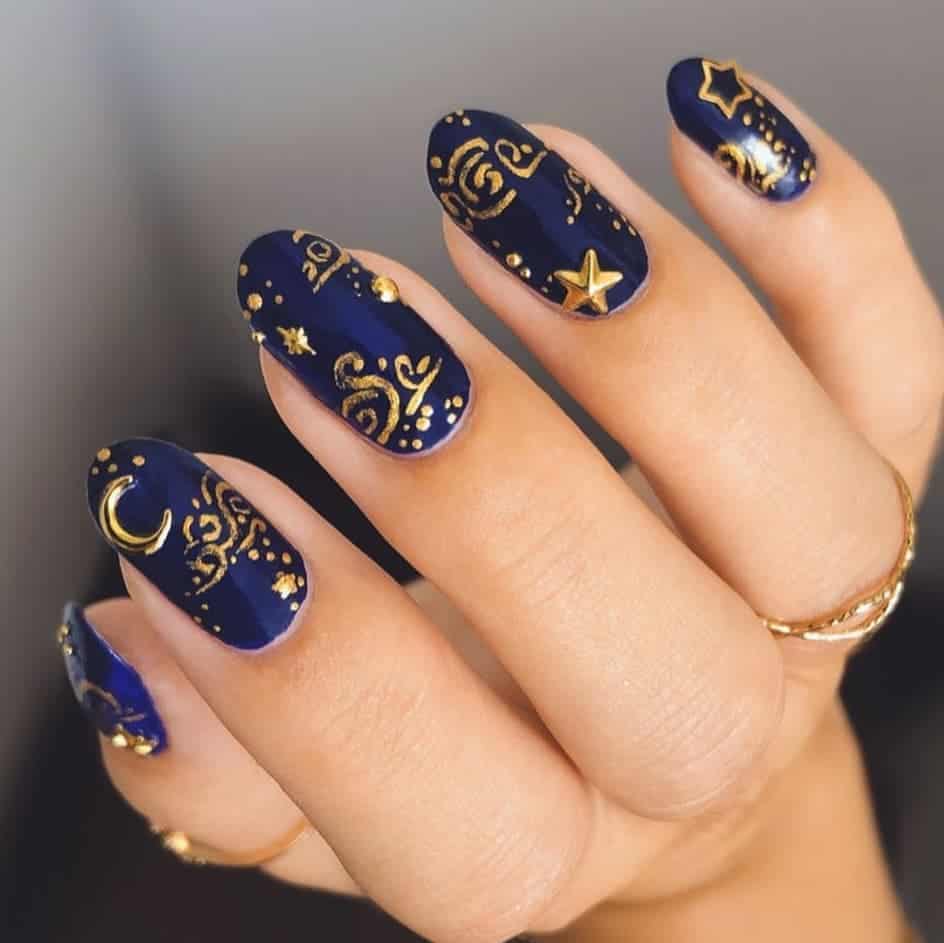 Add a touch of glam and class to your nails with golden stars and a crescent moon. This blue nail design can be an ideal choice for holiday parties and will go well with all kinds of casual party attire. However, the design will not be suitable for short nails because the limited space will make the stars and golden accents on the nails appear crowded. Long nails offer the best canvas to try this masterpiece.
45. Minimalistic Blue Nails Design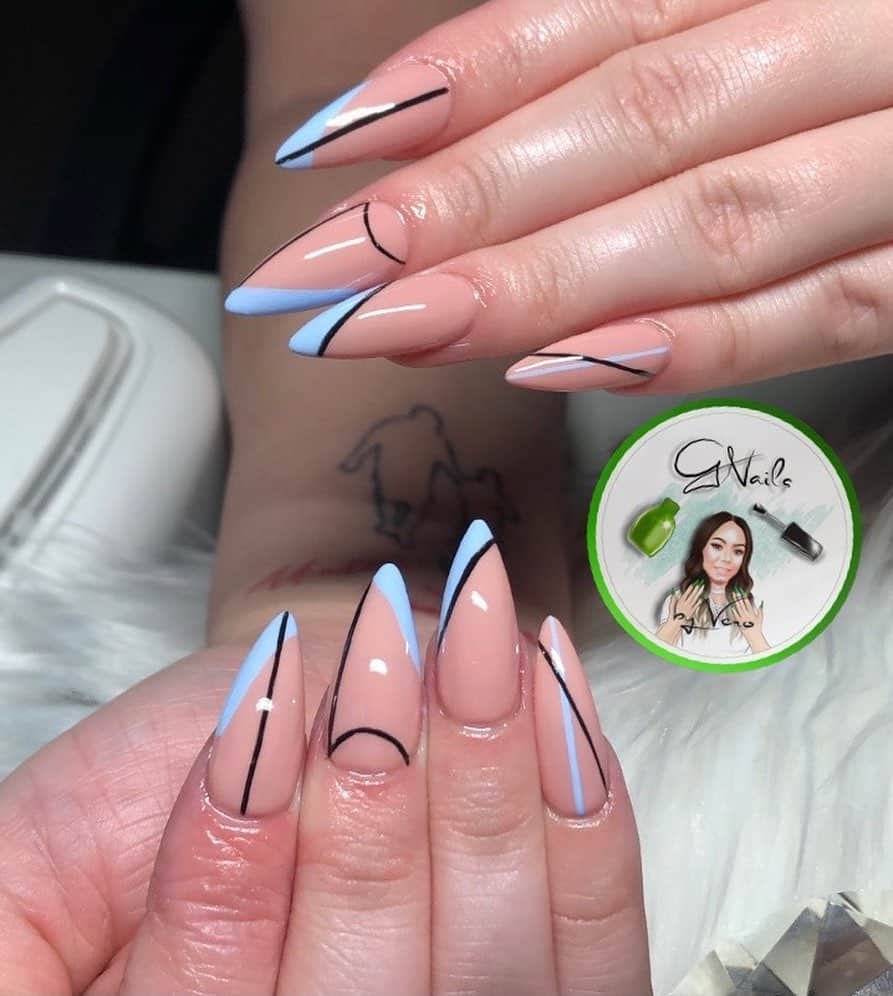 If you are looking for a simplistic blue nail design, then go for this one. This nail design is simple enough for daily wear and interesting enough for elevating your party looks. The abstract art, with blue tips and lines of black polish on a nude base, make it look ultra-modern. What's more, you can try this simple nail design on any kind of manicure and nail length too.
46. Blue Nails With White Flames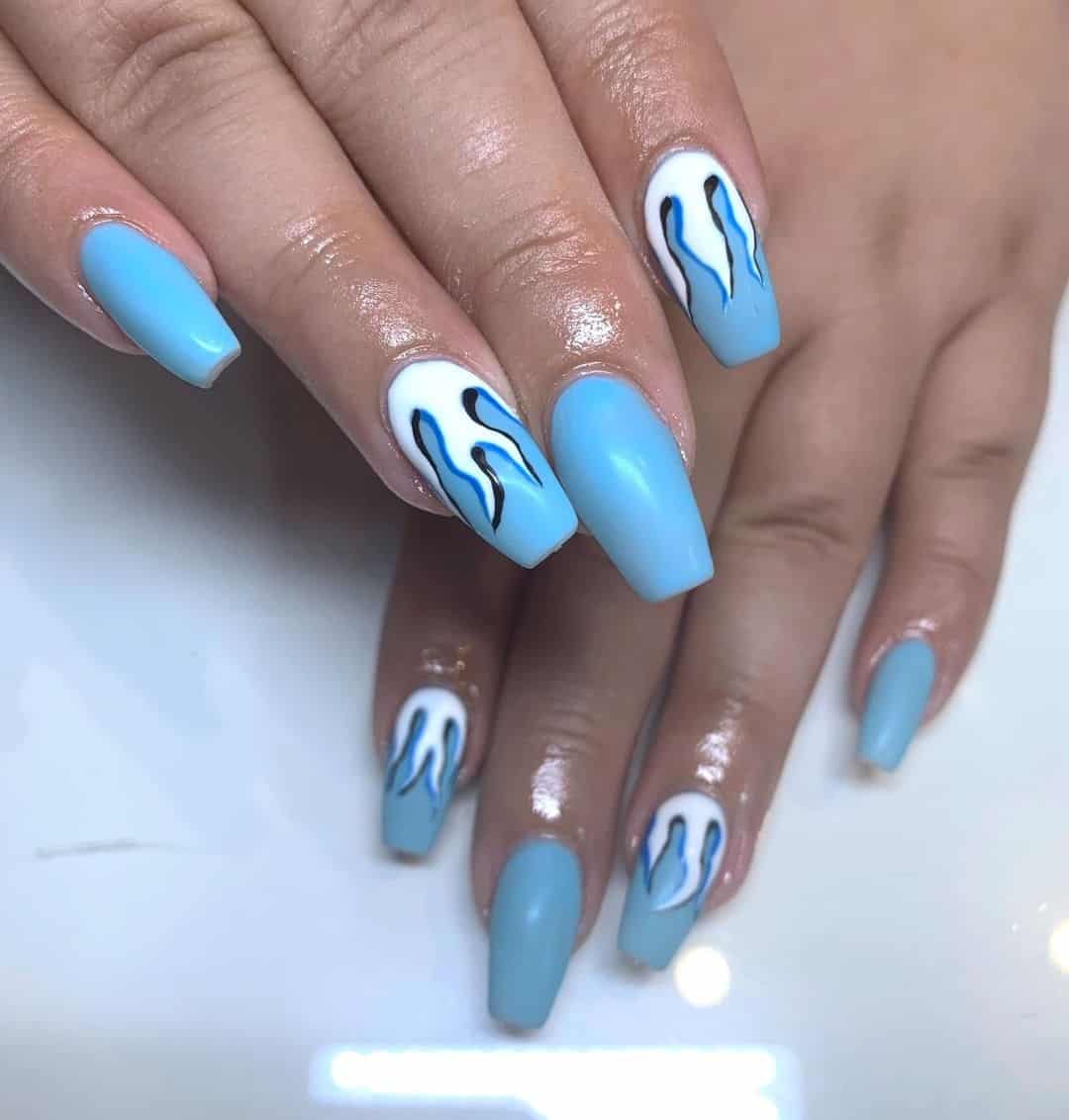 Invert the Blue Flames Nail Design with this simple nail art to create a unique look. Instead of painting the flames in blue, this one features white flames on a blue background. You can have the flames either on the feature nails or across your hand. However, this one also only works well on long nails because of the complexity of the design.
47. Flowers and Plaid Blue Nail Art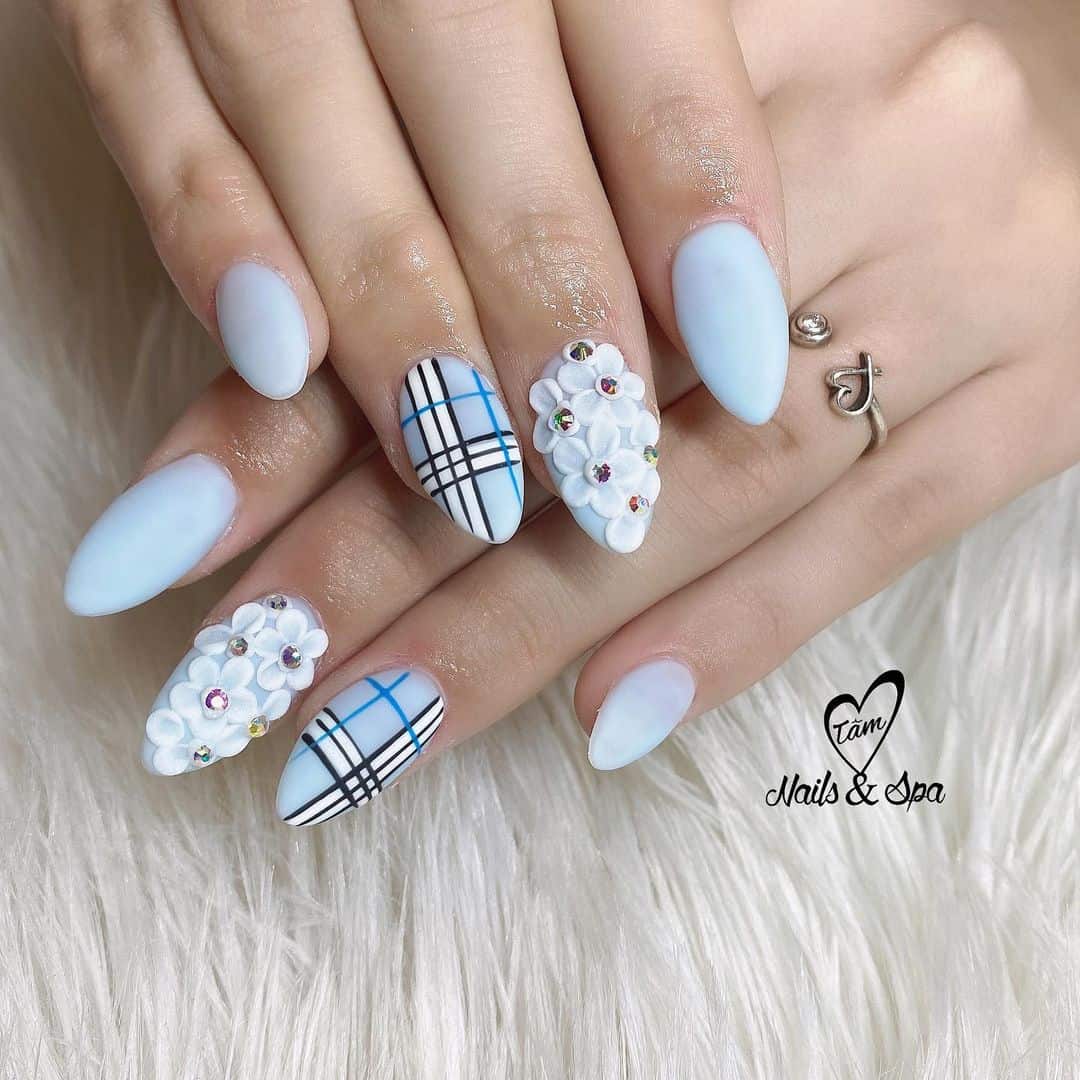 This is a stylish and elegant blue nail design that can take your outfit for any event to another level. The white floral accents with jewels and baby blue colored nails give it a cute appeal that can even be tried on your wedding day. You can include plaid nail art on the feature nails to give it a unique look or skip it to keep the focus on the floral feature nails.
48. Christmas-Inspired Blue Nails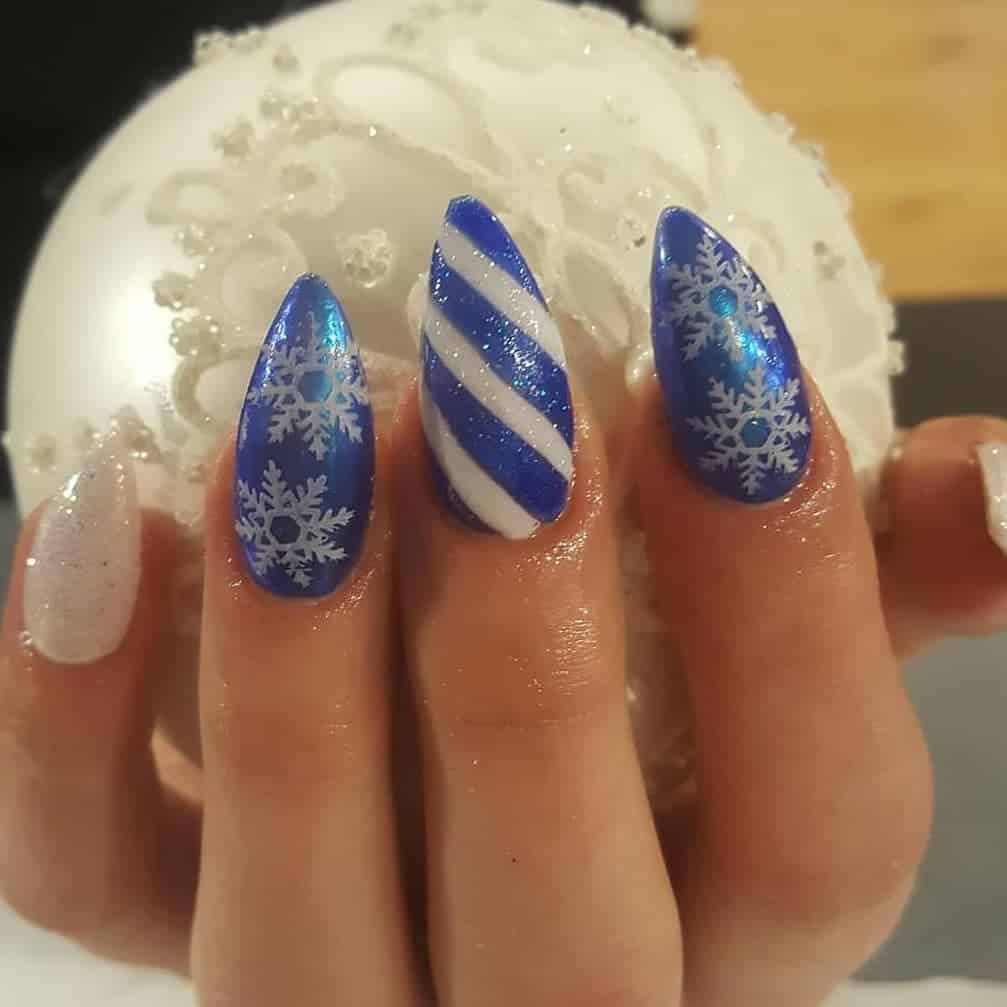 The color blue may not strike you when you think of Christmas-inspired nail design ideas. Nonetheless, where red and green colors are considered the primary colors of the Christmas season, blue and white also follow suit because of their association with prosperity, peace, and joy. That makes this blue nail design with candy cane nails, snowflakes, and glitter a great choice for Christmas parties.
49. Checkered Blue Nails With Snowflakes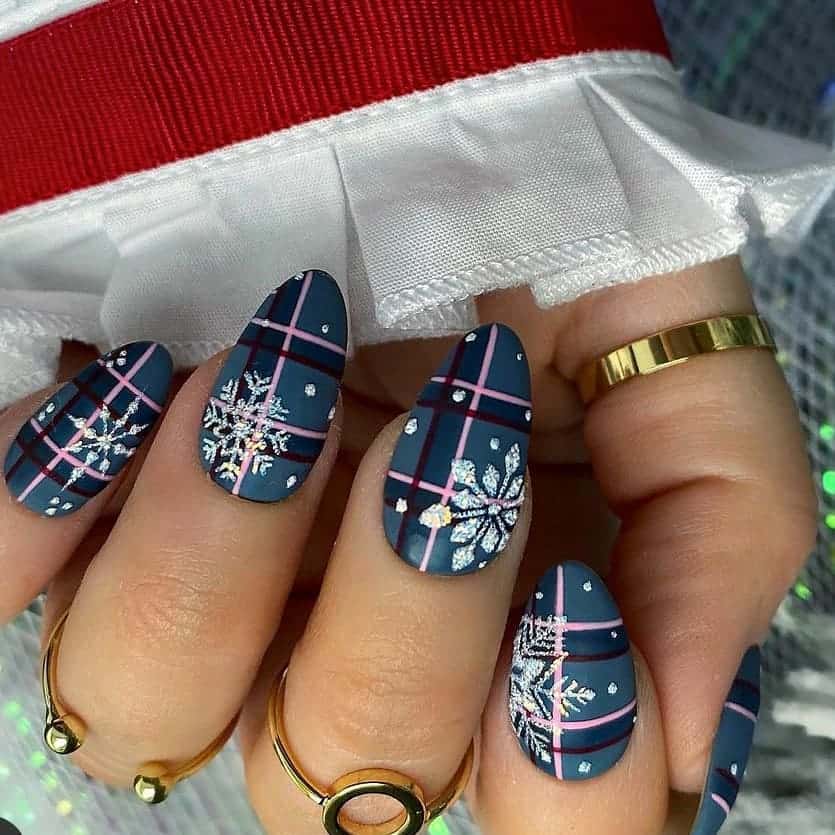 This nail design takes the idea of Blue Plaid Nails and turns it into great illustrative art. Here, the checkered nails with black, red, and pink lines over a base of space blue create an impression of a window. The snowflakes on the nails further elevate the magical design and make it seem as if you are sitting on the windowsill in winter and looking at the snowfall.
50. Blue Nails With Golden Cuticles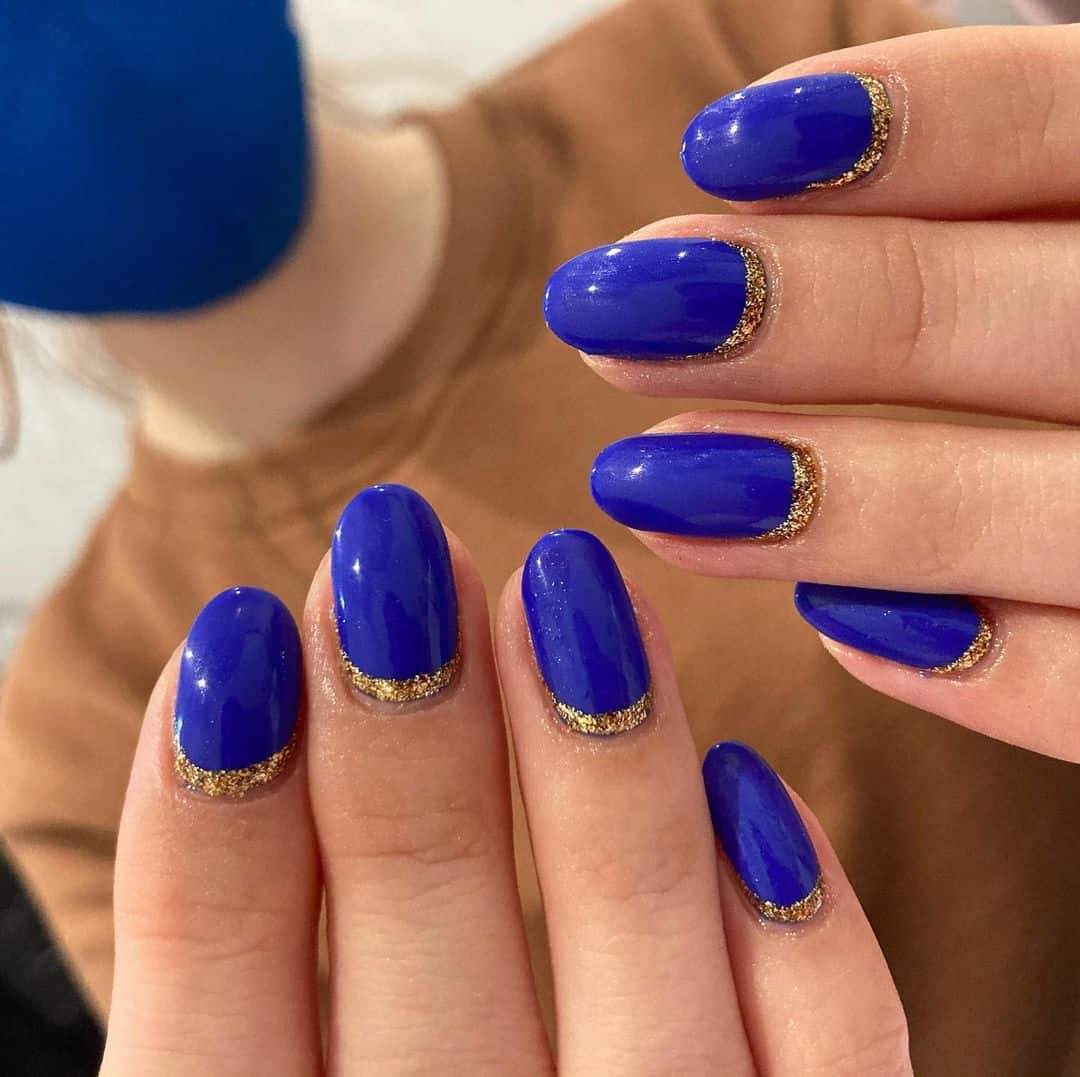 Give your blue nails a subtle touch of elegance with golden cuticles. This simple nail design can go well with any casual or formal outfit and can perfectly accentuate your daily look with some added classiness. You can try this on any nail length and manicure, although a French manicure on round or oval-shaped nails will be ideal for this blue nail design idea.
Choosing the Best Blue Nail Design for You
Your fingernails are one of the most essential parts of your overall attire, which means that ragged and mismatching nails can completely ruin your appeal. Therefore, you need to make sure that the blue nail design you choose blends well with your outfit and style, and will accentuate your looks flawlessly for the event that you are attending.
As mentioned earlier, you need to make your mind up on which type of nail shape suits you before you go with any blue nail design. If you are not sure, you can ask your manicurist for suggestions or buy acrylic nails to see if the style that you have chosen works for you. Remember that blue nails will only give you a sweet and sassy look when you pair it well with the right type of nails.
You can also modify some of the blue nail design ideas to match your nail shape in some cases. For instance, as the Blue Butterflies Nail Art may look crowded on round or square short nails, you can modify the style by including only one tiny butterfly on a finger. Before trying it with nail polish, you can even try using nail stickers to see if the design goes well with your nail shape.
On the other hand, glitzy nail designs like Blue Nails With Jewels and Assorted Blue Nails Design, look great on ballerina and stiletto nails only. However, long nails may not be a practical option for those who are not fond of nail maintenance. That is why the nail shape should be given priority when choosing the right blue nail design for you.