Top Picks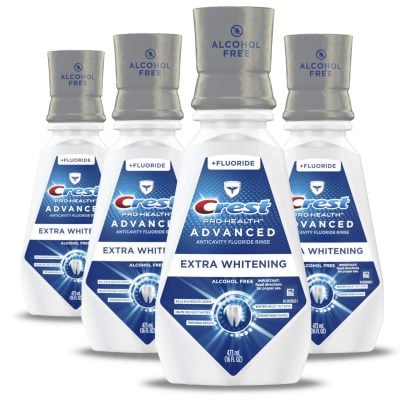 Crest ProHealth Advanced Mouthwash with Extra Whitening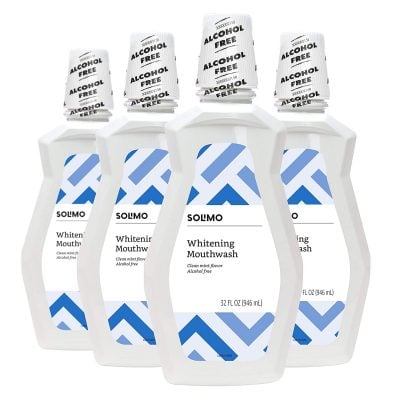 Solimo Whitening Mouthwash (Amazon Brand)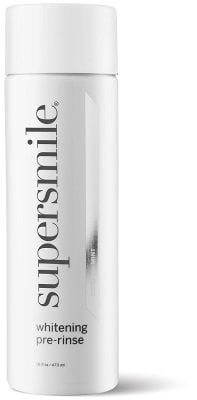 Supersmile Whitening Pre-Rinse
Previous
Next
Everyone wants a whiter smile. Whether you're going on a first date, preparing for a job interview, or giving a public presentation, it's a great boost to your self-confidence to know that your teeth are looking their brightest. You're not alone in your desire to achieve healthy looking, whiter teeth: each year, Americans spend well over a billion dollars on over-the-counter whitening products!
These convenient DIY treatments have become increasingly popular over the years, given how much it can cost to have an in-office whitening procedure done by your dentist. In addition to whitening strips, toothpaste, toothbrushes, floss, and even chewing gum, consumers nowadays also have the option of using a whitening mouthwash to make those pearly whites shine. Swishing with whitening mouthwash after brushing your teeth can be an easy way to add some extra whitening power to your daily oral care routine.
None of these over-the-counter whitening products will ever be quite as effective as having your teeth whitened by a professional. However, when used in conjunction with regular brushing, flossing, and common-sense preventative measures (not smoking, and limiting your intake of coffee and red wine, for instance – we go over more in our full guide below), whitening mouthwashes can be very helpful in clearing up "extrinsic" (superficial) stains on your tooth enamel and giving you that lustrous smile you've been seeking.
Factures to Consider in a Good Whitening Mouthwash
There's a dizzying array of whitening mouthwashes out there on the market today (many of which might as well be mint-flavored snake oil). Thankfully, we'll guide you through so you can be confident you're choosing an effective mouthwash for you. Let's start with an overview of the key factors we looked at in our comparative analysis:
Active Ingredients
Hydrogen peroxide and sodium hexametaphosphate are two of the only chemicals that have been clinically proven to safely whiten your teeth. To go deeper into how they work, check out our section on how mouthwash works below. However, we've also included information on supplementary ingredients that —while not whitening agents in and of themselves— have been shown to contribute to a brighter smile.
As there's a lot of pseudo-science and bogus claims surrounding teeth whitening products, in our complete guide elow, we'll also detail which ingredients you should avoid completely —many of them can actually damage your tooth enamel.
Taste
Many people find even regular mouthwashes too harsh, and the bleaching agents and other ingredients in whitening mouthwashes aren't exactly palatable. Still, given these limitations, we managed to choose products which struck a decent balance between chemical potency, as seen in Solimo Whitening Mouthwash and easy swishability, which you can find in ACT Anticavity + Whitening Rinse.
Given the fact that alcohol is the primary cause for that unpleasant stinging sensation many people complain about with mouthwashes, with one exception, Listerine Healthy White Multi-Action Fluoride Mouth Rinse, we've only included products that are alcohol-free.
Effectiveness
Any whitening mouthwash that contains a reasonable percentage of hydrogen peroxide and/or sodium hexametaphosphate should eventually yield results. However, it's probably best to ignore product claims that promise you a whiter smile in only a matter of days or weeks. Given the diluted nature of these products, you might not see any noticeable difference until you've been consistently using them for at least two or three months.
While it's important to be patient when using these products, we've noted which whitening mouthwashes have a stronger formula if you're looking to speed up the process – like Listerine Healthy White Multi-Action Fluoride Mouth Rinse. Although, if you suffer from tooth sensitivity issues, you're better off taking the slower route and using a mouthwash with a lower percentage of hydrogen peroxide, or going peroxide-free completely; for instance, with Crest 3D Brilliance Mouthwash.
Top 9 Best Whitening Mouthwashes 2021
Everything You Need to Know About Whitening Mouthwash
Hopefully the list of products we've compiled has provided you with enough options (and information) to make the right decision about which whitening mouthwash meets your particular needs. However, for those of you who are interested in learning more, we've included the following FAQ section to cover any unanswered questions you might have.
How Do You Use Whitening Mouthwash?
This might seem like a silly question, but a lot of people overdo it in terms of the amount of mouthwash they use and the length of time they swish for. The instructions will differ slightly for each product, but generally speaking you usually only need a couple of teaspoons of mouthwash, and you shouldn't swish for longer than 60-90 seconds. Using too much mouthwash or swishing for too long can have adverse effects on your tooth enamel.
How Do My Teeth Get Stained in the First Place?

Teeth are truly unique bones, composed of multiple different layers. For our purposes, however, we'll only be considering the top two layers: enamel and dentin.
Enamel is actually the hardest material in your entire body. It's mostly made up of calcium phosphate molecules called hydroxyapatite, which is actually a type of crystal. Despite its immense strength and seeming impenetrability, enamel is porous at the microscopic level. The layer of dentin underneath your enamel is also made of hydroxyapatite, but the crystal molecules are thirty times smaller, which makes dentin softer and more porous than enamel.
A fine "pellicle film" composed of salivary proteins, carbohydrates, and fats is constantly washing over the top layer of enamel on your teeth. When you drink coffee, red wine, or smoke a cigarette, "chromogens" (intensely pigmented molecules) are incorporated in this pellicle film and get deposited on your enamel. These chromogens leave stains on your teeth by gradually seeping down into the microscopic pores of your enamel.
It's important to note that whitening mouthwashes are only effective at eliminating these kinds of surface-level stains. Once the chromogens penetrate into your underlying layer of dentin, you'll need to have your teeth professionally whitened at the dentist.
Apart from the chromogens found in various food and drinks, there are a number of other factors that can contribute to your teeth becoming stained:
Age plays a very important role in this process. Over time, the continuous chemical and mechanical wear on your teeth will render the enamel thinner and more translucent, which will begin to reveal the inner layer of dentin. As dentin is naturally yellower than your enamel, this can cause your smile to lose some of its radiant whiteness as you get older.
Physical trauma and dental injuries can also change the color of your teeth, since your body recovers from this type of damage by reinforcing the darker layer of dentin underneath your enamel.
Finally, some medications, including antihistamines, antipsychotics, and high blood pressure medications, have the side effect of discoloring your teeth.
Unfortunately, whitening mouthwashes won't have any impact on your baseline shade if your tooth discoloration is caused by age, injury, or the side effects of a medication you're taking. It also has no bleaching effect whatsoever on caps, veneers, crowns, or white-colored fillings.
What's Different About the Professional Whitening Process?
Dentists also use hydrogen peroxide to whiten your teeth. However, they use a much higher concentration and only apply it for a very limited time period. They also follow up with a fluoride treatment that remineralizes your enamel and compensates for any erosion caused by the bleaching process. During this procedure, your gums and tongue are also protected by a rubber dam or water-soaked gauze.
Rinsing with high concentrations of hydrogen peroxide at home can be dangerous for your oral health. You're at risk of chemically wearing down your enamel, possibly damaging the collagen (a type of protein) found in your dentin, and irritating the nerve endings inside your teeth. Luckily, every product on this list contains a fairly moderate level of hydrogen peroxide that's low enough not to pose this risk when used correctly.

How Does Whitening Mouthwash Work?
We've chosen to focus on mouthwashes that contain hydrogen peroxide and/or sodium hexametaphosphate as the active ingredient, since these are some of the only chemicals that have been clinically proven to whiten your teeth.
Hydrogen peroxide is a strong bleaching agent that penetrates into the enamel and breaks down the embedded chromogens into smaller molecules through oxidation. This makes the inherent discoloration in your teeth less concentrated, which reduces the visibility of superficial stains.
Sodium hexametaphosphate works in a slightly different fashion. It has a strong affinity for the calcium hydroxyapatite in your tooth enamel and alters the binding properties of chromogens. This makes it effective at removing extrinsic stains and inhibiting new chromogens from being absorbed.
Again, it's important to understand that both hydrogen peroxide and sodium hexametaphosphate based mouthwashes are only effective at getting rid of superficial stains on the outer layer of your tooth enamel.
What About Other Active Ingredients?

Many of the mouthwashes included on this list contain supplementary ingredients that assist in the whitening process, despite not having any inherent whitening properties of their own.
Fluoride remineralizes your enamel by drawing calcium and phosphates out of your saliva and converting them into fluoroapatite, which is chemically similar to the hydroxyapatite found in your teeth. This substance can partially restore eroded areas of your enamel and make your teeth resistant to further decay and the absorption of chromogens. By strengthening your enamel, fluoride can also help to alleviate and counteract tooth sensitivity issues caused by hydrogen peroxide.
Xylitol is an artificial sweetener that's often used as a sugar substitute in diet products. While normal sugars cause your saliva to turn acidic (which causes the demineralization of your tooth enamel and can lead to cavities), xylitol has the unique property of stabilizing your oral pH balance. This prohibits the growth of streptococcus mutans, the main bacteria responsible for plaque, tartar, and halitosis.
Sodium lauryl sulfate is a surfactant that removes hydrophobic compounds from the tooth surface, similar to the cleaning action of soap. By cleansing your teeth of chromogen deposits, this acts as a preventative measure to keep stains from being absorbed in the first place.
Alcohol is a common ingredient in most mouthwashes. While it doesn't actually have any teeth whitening properties, it does kill the bacteria that can lead to plaque build-up and stains. It won't damage your enamel, but many people find the burning sensation unpleasant, so we wouldn't recommend it for those with sensitive gums. If you suffer from low saliva production you should avoid alcohol mouthwashes, as these will exacerbate the symptoms of dry mouth and have the counterproductive effect of spreading bacteria in your mouth.
What Ingredients Should I Avoid?

There are also a few common ingredients we've left off this list due to their lack of efficacy and potential harms to your oral health.
Activated charcoal is found in many teeth whitening products. It's charcoal that's been processed at incredibly high temperatures to make it more porous and highly absorbent. In theory, its molecular bonding sites work as an abrasive to mechanically remove tooth stains. However, there isn't any scientific proof that it's actually effective, and dental products containing activated charcoal aren't even eligible for the American Dental Association's Seal of Acceptance given its potential to wear down your enamel.
Sodium bicarbonate (baking soda) and hydrated silica (which is sand, essentially) both work in a similar abrasive fashion, by mechanically grinding off surface stains. While these substances may have a short-term positive impact on whitening your teeth, they achieve this by wearing down your enamel. This approach can backfire horribly by exposing the yellowish layer of dentin underneath and causing tooth sensitivity problems.
You'll notice that one product on this list, SuperSmile Whitening Pre-Rinse, does contain sodium bicarbonate. However, it's used in such minute quantities (and principally for the purpose of reducing the product's acidity) that we deemed it acceptable for this list.
There's also the ancient ayurvedic practice of "oil pulling": rinsing your mouth with vegetable oil (usually coconut, sunflower, or sesame oil) in order to "pull" the bacteria and toxins out of your mouth. While there is some preliminary evidence that this practice may help reduce plaque-related gingivitis, many of the antimicrobial and anti-inflammatory properties it's supposed to have haven't been fully substantiated through clinical studies. Still, at the very least it hasn't proven to be harmful, so the inclusion of coconut oil in Essential Oxygen Organic Brushing Rinse didn't disqualify it from being on this list.
What Is the Best Way to Prevent Stains?

It may sound trite, but the most effective way to prevent your teeth from becoming stained in the first place is to stop or strictly limit your consumption of food and drinks with a high level of chromogens, such as coffee, tea, sodas (many of which are artificially colored), dark berries, and tobacco products.
For drinks that contain a lot of natural pigments, it's best to sip these through a straw in order to avoid direct contact with your teeth.
Another preventative measure is to cut back on your dietary sugar intake. The metabolization of sugars by your saliva makes the inside of your mouth more acidic, which can erode your enamel over time. The carbohydrate residue in your mouth can also lead to the growth of streptococcus mutans —the main bacteria associated with tooth decay.
Brushing and flossing twice a day and going for regular, bi-annual cleanings at the dentist is by far the best precaution you can take. If possible, try to always use a toothpaste that contains fluoride, as this will help to continuously remineralize your tooth enamel and prevent chromogens from seeping into your dentin.
The hydroxyapatite in your enamel is also capable of repairing itself through the conversion of dietary calcium. Just be sure you also get adequate amounts of vitamin D and phosphorous in your diet, as these help with its absorption by your body.
How Effective Is Whitening Mouthwash Compared to Whitening Toothpastes and Whitening Strips?
Given their higher concentration of bleaching agents and longer application time (from five minutes to a whole hour), whitening strips are by far the most effective over-the-counter whitening product. However, due to their extremely high peroxide content, these can damage your enamel and cause tooth sensitivity if used improperly.
Whitening toothpastes, largely thanks to the mechanical brushing action of how they're applied, can be quite effective at removing extrinsic stains. Just remember to only purchase peroxide-based toothpastes, and avoid toothpastes that whiten your teeth with abrasives such as hydrated silica, sodium bicarbonate, and activated charcoal.
By comparison, whitening mouthwashes will have a relatively minimal effect on your teeth. This is because of their diluted nature, the inherent instability of hydrogen peroxide in an aqueous formulation (as well as its interaction with your saliva), and the short duration of the rinsing process.
Whitening Mouthwashes Are a Bright Spot in Your Dental Routine
Whitening mouthwash should not be treated as a substitute for proper oral hygiene, but rather used in conjunction with regular brushing, flossing, and dentist check-ups. Effectively incorporated into your daily oral care routine, whitening mouthwashes can be a valuable tool for improving the brightness of your smile.