Top 9 Best Whitening Mouthwashes 2023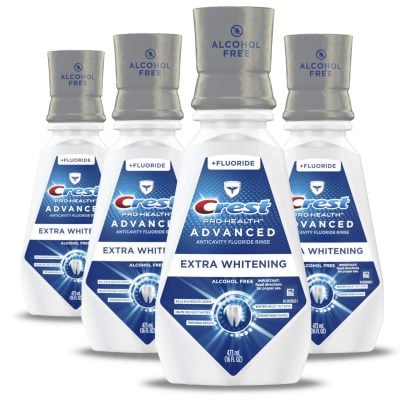 Active Ingredients:
Hydrogen peroxide
Sodium fluoride
Crest ProHealth Advanced Mouthwash with Extra Whitening essentially takes Crest's classic anticavity fluoride formula and adds hydrogen peroxide to it. These two ingredients are a perfect combination for a whitening mouthwash.
Hydrogen peroxide not only whitens your teeth, it also has antibacterial properties, which means this mouthwash will freshen your breath despite not containing any alcohol —this also makes it a good choice for people with sensitive gums.
Fluoride has enamel strengthening properties, which makes it good not only for preventing cavities, but also for counteracting any tooth sensitivity issues potentially caused by the hydrogen peroxide.
Despite its stronger formula, this mouthwash has a subtle wintergreen flavor that rinses easy without any burning sensation —more of a "tingle" than a "sting," we found.
Due to its relatively high concentration of hydrogen peroxide, you'll likely find that it produces results somewhat faster than comparable products, especially when combined with regular brushing.
The only real drawback with this product is that the bottles only come in a 473 ml (16 fl oz) size, which means you'll run through each bottle fairly quickly. However, you can avoid this problem (and get a slightly better deal) by stocking up with a pack of four.
---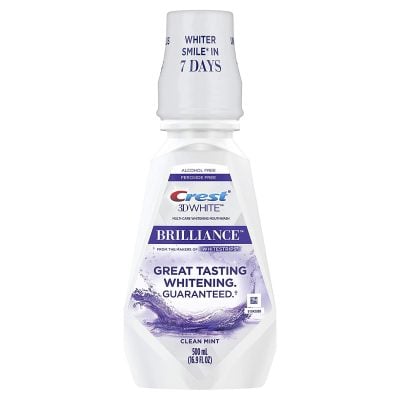 Active Ingredients:
Sodium hexametaphosphate
Sodium lauryl sulfate
Crest 3D White Brilliance Mouthwash is a uniquely formulated whitening mouthwash that contains absolutely no hydrogen peroxide, which makes it an ideal option for those who experience tooth pain when using peroxide-based mouthwashes.
The key ingredient in this mouthwash is something called sodium hexametaphosphate. This chemical is an advanced anti-tartar solution with extrinsic stain removal and inhibiting effects, meaning it removes superficial stains while also leaving a protective barrier on your teeth to prevent the absorption of "chromogens" (organic pigments that cause stains) throughout your day.
Although the sodium hexametaphosphate doesn't work quite as well as hydrogen peroxide, Crest stands behind their product with a moneyback guarantee in case you aren't satisfied with its whitening effects.
Crest 3D White Brilliance Mouthwash also contains sodium lauryl sulfate, which acts both as a foaming agent (for deep cleaning power) and as a surfactant that cleans your teeth with a similar hydrophobic action to soap.
Unfortunately, this product does not contain any fluoride, so it won't have any positive impact on reinforcing your enamel or preventing cavities.
Finally, this is also one of the best tasting whitening mouthwashes we reviewed. The lack of hydrogen peroxide means there isn't any chemical flavor to have to disguise. It has an understated, natural-tasting minty flavor.
---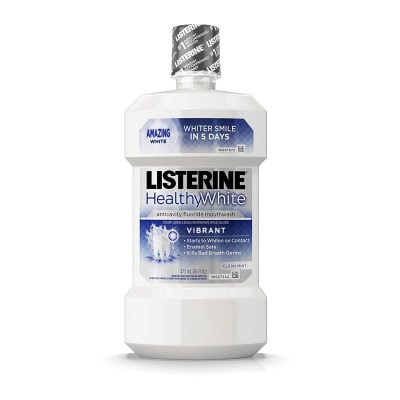 Active Ingredients:
Hydrogen peroxide
Fluoride
Alcohol
Listerine Healthy White Vibrant Multi-Action Fluoride Mouth Rinse has quite a high concentration of hydrogen peroxide, making it one of the fastest and most effective whitening mouthwashes we reviewed. The fluoride in it will also help protect and restore your enamel, which will at least partially offset any potential tooth sensitivity issues caused by the higher peroxide content.
It's important to mention that this mouthwash also contains 8% alcohol. If you don't mind the extra sting, it's one of the most intensive antibacterial whitening mouthwashes you can buy. This can be extremely useful if bad breath is an issue for you. However, if you hate that burning sensation, have sensitive gums, or struggle with chronic dry mouth, you'll want to avoid this one.
Unfortunately, due to its alcohol content and high level of hydrogen peroxide, Listerine Healthy White Vibrant Multi-Action Fluoride Mouth Rinse didn't win too many accolades with us in terms of its flavor. If you're willing to tough it out, however, swishing with this twice a day will yield results faster than most whitening mouthwashes.
---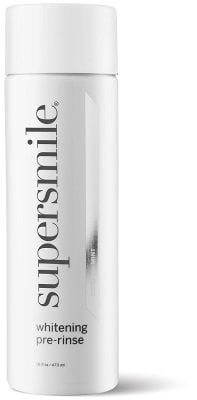 Active Ingredients:
Carbamide peroxide
Sodium bicarbonate
The key whitening ingredient in this mouthwash is carbamide peroxide, which is actually a less potent form of hydrogen peroxide. The other whitening agent is sodium bicarbonate (baking soda), which whitens your teeth by mechanically scrubbing off surface stains. While we haven't recommended any other products containing abrasives due to their erosive impact on tooth enamel, the levels of sodium bicarbonate in Supersmile Whitening Pre-Rinse were low enough to be acceptable for relatively short-term use.
In addition to these whitening agents, Supersmile Whitening Pre-Rinse also contains several other ingredients that augment these effects:
Tetra Potassium Pyrophosphate is a thickening agent with tartar control properties. It extracts magnesium from your saliva to prevent it from building up on your tooth enamel over time.
Potassium bicarbonate in Supersmile desensitizes the nerves in your teeth and improves their mineral density by preventing your saliva from becoming too acidic.
Finally, the cetylpyridnium chloride acts as an anti-septic and reduces the spread of halitosis-producing bacteria.
Taken together, these special ingredients really boost the whitening effects of the carbamide peroxide and sodium bicarbonate.
It's also important to note what isn't in Supersmile Whitening Pre-Rinse: it contains no alcohol, gluten, sugars, artificial dyes, or animal by-products (nor, for that matter, does it contain fluoride, unfortunately). It's also hypoallergenic, and kosher.
The major downside with Supersmile is its price. However, we think it contains enough active ingredients to justify the premium they charge.
Strangely, it isn't flavored at all, which gives it a rather medicinal taste.
---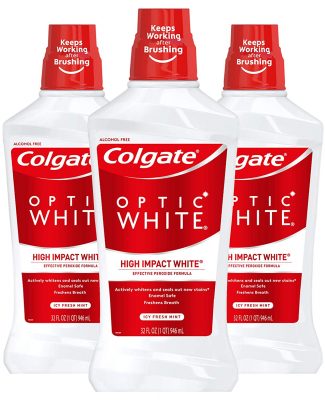 Active Ingredients:
Hydrogen peroxide
Acrylates/Methacryloylethyl Copolymer
PVM/MA Copolymer
At 2% hydrogen peroxide, Colgate Optic White Whitening Mouthwash has a moderately high level of bleaching agent, which makes it quite effective at alleviating stains. However, since this formula doesn't contain any fluoride, it might be a little overpowering for those with sensitive teeth.
This mouthwash also contains Colgate's patented "WhiteSeal" technology that keeps your teeth looking white while preventing new stains from forming.
While we aren't privy to the secret of exactly how this works, we suspect it's down to the combination of Sodium Acrylates/Methacryloylethyl Copolymer and PVM/MA Copolymer. The first ingredient is a blueish pigment that can make the off-white color of your teeth appear whiter to the human eye. The PVM/MA copolymer is a bio-adhesive solution that helps control tartar formation, protects your enamel from dietary acid, and retains this pigment on the surface of your teeth.
This product lost a few points in the taste category. Unfortunately, the mint flavor isn't quite strong enough to completely mask the higher concentration of hydrogen peroxide. It's rather bitter, but that's a trade-off if you're willing to sacrifice flavor for effectiveness.
As noted above, this mouthwash unfortunately doesn't have any fluoride in it. Fluoride, while not a bleaching agent, can still contribute to whitening your teeth by reinforcing the enamel and making it more resistant to stains seeping in.
---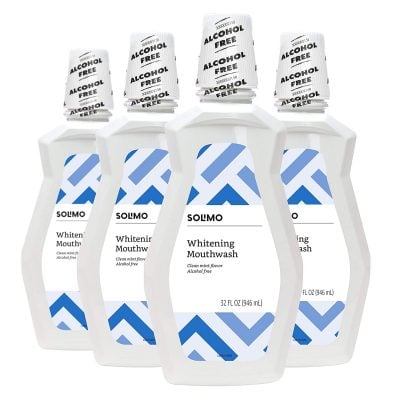 Active Ingredients:
Hydrogen peroxide
Sodium hexametaphosphate
Solimo Whitening Mouthwash is highly concentrated, containing 3% hydrogen peroxide. This means you should be able to see results a lot faster than you would with milder solutions, though you should be careful about over-swishing in order to avoid causing tooth sensitivity issues.
In addition to the hydrogen peroxide, this mouthwash also contains sodium hexametaphosphate (the main active ingredient in Crest 3D White Brilliance Mouthwash), meaning you're getting double the whitening action in a single product.
Unfortunately, Solimo Whitening Mouthwash doesn't contain any fluoride.
The taste is fairly good for a whitening mouthwash, with a rather subtle mint flavor. However, the lingering aftertaste is a little sterile tasting.
This mouthwash is by far the most economical option on this list, and comes in value sized 946 ml (32 fl oz) bottles. Amazon will also fully refund your purchase if you aren't satisfied with its whitening effects.
---

Active Ingredients:
If you're concerned about purchasing the most ethical mouthwash, Essential Oxygen Organic Brushing Rinse ticks all the boxes: it's USDA certified organic, vegan, the packaging contains no BPAs, and it isn't tested on animals. However, these qualities do make this product more expensive than many of its competitors.
At 1.5%, its hydrogen peroxide content is high enough to be an effective bleaching agent, but low enough not to put you at risk of tooth sensitivity issues. In addition to that, it also contains a liquified aloe vera solution. In oral use, aloe vera has anti-inflammatory properties for your gums, and there's some preliminary evidence that it might also help guard against gingivitis.
This mouthwash is both alcohol and fluoride-free, meaning you'll avoid that nasty burning sensation, but you'll also lose out on the enamel reinforcing and anticavity properties of fluoride.
Of all the mouthwashes we reviewed, this was definitely the best-tasting, and with good reason! It's flavored with all-natural peppermint, rosemary, eucalyptus, lemon peel, clove, and cinnamon essential oils, which give it a complex and delicate palate.
---

Active Ingredients:
Hydrogen peroxide
Fluoride
This mouthwash has a slightly lower concentration of hydrogen peroxide than many other products on this list. However, if you don't mind waiting a little longer to see results, it's a good gentle rinse for those with tooth sensitivity issues. The fluoride is also a welcome addition, as this helps prevent tooth decay and reinforces your enamel against new stains.
ACT Anticavity + Whitening Rinse also contains xylitol, a sugar-alcohol derived sweetener that has the added benefit of stabilizing the pH balance in your mouth. This keeps dietary acids and carbohydrates from eroding your enamel and growing bacteria.
The menthol taste is refreshing, and the lower hydrogen peroxide content makes it less foamy and more palatable. However, the artificial saccharin used to flavor this mouthwash gives it a bit of a sickly-sweet taste, which isn't altogether agreeable.
---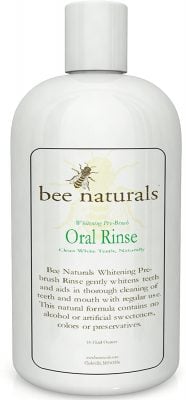 Active Ingredients:
Hydrogen peroxide
Xylitol
Bee Naturals Whitening Pre-Brush Oral Rinse is a strong whitening agent, with a 3% hydrogen peroxide content. It also contains xylitol, which protects your tooth enamel by preventing your saliva from getting too acidic and corrosive. However, this mouthwash also doesn't contain any fluoride.
Along with these more typical ingredients, the formula of Bee Naturals Whitening Pre-Brush Oral Rinse includes bee propolis —the resin-like material from which beehives are made. There is some anecdotal evidence that it is effective at soothing canker sores and gum inflammation. It also has anti-microbial and anti-fungal properties, which can help restrict the development of plaque and periodontitis-causing pathogens.
Compared to most whitening mouthwashes, Bee Naturals Whitening Pre-Brush Oral Rinse has an agreeable flavor, despite its high peroxide content. It's flavored with peppermint and spearmint essential oils, and is naturally sweetened with erythritol and stevia.
Unfortunately, it's the most expensive product on this list. However, Bee Naturals will provide you with a full refund if you aren't satisfied with this product.
---