Top Picks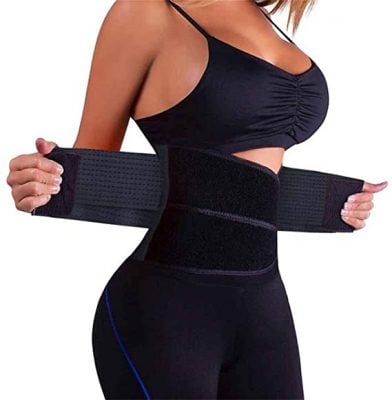 Qeesmei Waist Trainer Belt for Women & Man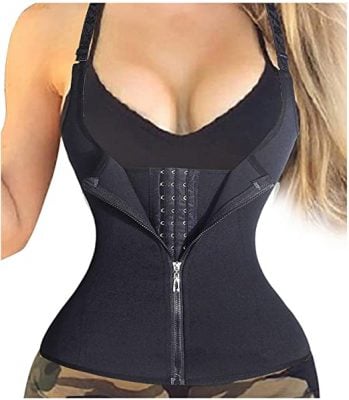 LODAY Waist Trainer Corset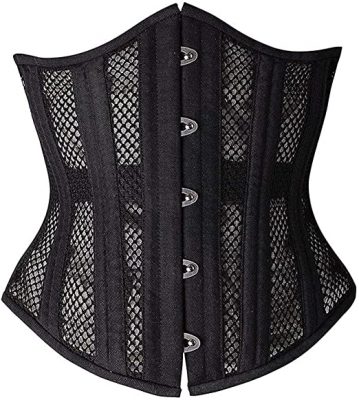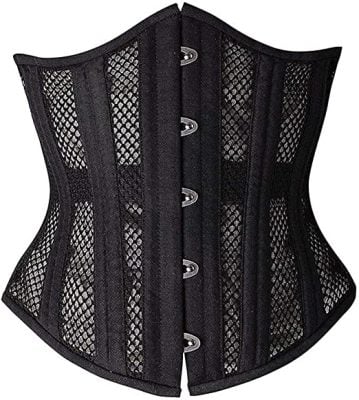 SHAPERX Women's Waist Training Corsets
Previous
Next
People have been using shapewear to enhance their silhouette for centuries. While dramatic full skirts that needed extra support to keep their shape are a fashion of the past, more and more people are returning to the idea of corsetry and waist training. Of course, Kim Kardashian probably has a lot to do with that, but more on that later.
Corsets were never an evil torture device used to oppress women, as they are sometimes said to be, (you can find a brief history on the subject later in this article) and they still aren't today. Whatever your reasons for waist training, you can find information about how to do it safely in a way that helps you reach your goal.
What is Waist Training?
Waist training occurs when you wear a tight support garment around your torso to adjust your shape and gradually change it. While Kardashian often posts pictures of herself wearing latex trainers, her famous MET Gala look was most likely achieved by wearing a much more structured, steel-boned corset device.
Wearing waist trainers can give your body a more dramatic hourglass look. Over time they can help shape the way your body carries abdominal fat (and it's normal for everyone to carry some abdominal fat). While waist training is mainly done by women, anyone can enjoy using silhouette smoothing cinchers.
Types of Waist Trainers
There are a few categories that most waist trainers fall into. This determines the style, how restrictive it is, and when it should be worn.
Athletic Trainers
These belts tend to be made from stretchy materials like neoprene, latex, or other stretchy poly-fiber fabrics. Many are unboned (more on that in a moment) and are meant to give extra support mainly while you work out. They warm your middle up to increase perspiration and give some spinal protection (like a lifting belt) while you're weightlifting.
Underbust Trainers
Many waist trainers are worn under the bust to focus on the waist and make sizing easier. Waist size does not always directly relate to our bust size, after all. You'll still need a bra with this style of trainer since it doesn't provide bust support.
Overbust Trainers
These are dramatic waist trainers that are well suited to wearing for special occasions like weddings and formal events. They come up over the breasts, making a bra optional.
Bodysuits
This style of trainer will be familiar to shapewear enthusiasts. They cover the waist, lower belly, and the butt. If you want to have all your edges smoothed out to wear under a bodycon dress, these tend to be a good choice. Without boning, they're usually made of materials like latex.
What is Boning?
To give extra support and improve waist reduction, some waist trainers will have steel bones. Many use lighter and more flexible spiral bones (which are thin loops of steel layered over each other) for a lighter and more comfortable fit.
Some will use thin strips of solid steel similar to the blade of a hand saw (though without the sharp teeth of course!). Others will use flexible plastic bones.
Waist trainers that are made from tight stretchy materials tend not to have boning, but rely on the fabric tension instead.
Closure styles
There are several different ways that your waist trainer can close. It often depends on the material or style of the waist trainer.
Zipper: A modern, no-fuss style closure that is often found on latex corsets and bodysuit style trainers.
Hook and Eye: Just like a typical bra closure, many underbust waist trainers will have several rows of hook and eye closures so you can adjust how tight the garment is over time.
Lacing and Busk: Many boned underbust waist trainers will use more of a traditional corsetry style of closure. This combines adjustable lacing in the back with a hooking busk closure in the front.
Velcro: Some athletic style waist trainers wrap around the waist and are secured by Velcro. This also makes them more adjustable.
Sizing
Most companies will have their own size chart and recommendations for fitting. For waist reduction, it's recommended to only try and reduce it about 2-4 inches. That may not seem like a lot, but the shape of the garment will give you an overall more dramatic shape, emphasizing your waist. As your body gets used to waist training, you may be able to reduce it slightly more. Be aware that tight lacing and over-wearing waist trainers can have some side effects, which we will discuss later on.
If you are very muscular, it might actually be harder to reduce your waist. The squishier you are, the easier it is to manipulate your shape. Some waist trainers will also enhance the proportions of your bust and hips by pushing extra squish from your waist in those directions.
For each product on our list, we'll include size chart information or reduction recommendation from the manufacturer.
Now you've got an overview of the types of trainers available, here are some of the best waist trainers on the market. Whatever your needs, there's hopefully an option that will work for you and help you achieve your goals.
Top 10 Best Waist Trainers 2020
A Guide to Waist Trainers: Best Practices, History and Controversy
You may still have some questions about waist training. There are a lot of myths and misconceptions, so we've made this section of the guide tailored to the ones that come up the most. By being better educated, you can make the best decision for your health and have the best possible waist training experience.

Is Waist Training Safe?
As with most things regarding health, it depends on the amount and the person. Using a waist trainer can improve your posture and help you shed water weight around your middle. Certain cinchers can also provide support to help prevent injury during workouts. If you tend to slouch at your desk all day, a trainer can help correct your posture and leave you with less neck and shoulder pain.
When it comes to your mental health, which is just as important as your physical health, it can be polarizing. For some users, it may give a boost of self-confidence. Carrying yourself with better posture and feeling like you look good in your clothing can be a huge confidence boost.
For some, though, it can become an obsession. Rather than trying to look your best, you can slip into the trap of trying to look like someone else. It's unlikely that you will ever perfectly replicate Kim Kardashian's famous snatched waist, because you're not her. You're not a celebrity with endless resources for personal trainers, tailor-made diets, and (let's be honest) corrective surgeries to exaggerate your proportions.
Excessive wearing and tightlacing can have a negative impact on your body. Even patients who are prescribed medical corsets for spinal conditions are told not to wear them all day every day. Your body needs to support itself sometimes to avoid your abdominal muscles weakening. Wearing tight compression garments on your stomach for long intervals can also cause acid reflux and constipation.
While some women like to use waist training to help pull in a postpartum belly, it's not advisable to do so during the early weeks of recovery. Since a tight, rigid garment will put more pressure on your abdomen, it can raise your risk of postpartum injuries such as bladder prolapse. Your pelvic floor needs time to build its strength back up and a waist trainer won't do it any favors. Wait until later in your recovery if you want to use one to help tighten up your stomach.
Wearing a waist trainer to help with long-term weight loss is not very effective. While they will help you shed some water weight and provide more heat around your middle, increasing perspiration, they aren't a real solution or a short cut to abs. They can mildly reduce your appetite, especially as you get used to how it feels wearing a waist trainer. But they won't replace the need for a healthy diet and moderate exercise in your life.

Tips for Comfort and Safety
There are several key mistakes many people make that can lead to a bad waist training experience. Avoid a trainer related trauma by taking a few simple precautions.
Never Wear Your Trainer on Bare Skin
In spite of all those sexy bodice-ripping scenes in period dramas, the truth is that women always wore a protective garment under their stays and corsets in the past. This is even more important if you're wearing a latex-based garment. Chafe, itching, and rashes can develop because it's essentially plastic. This traps sweat against your skin. A light natural fiber (cotton is your friend!) tee shirt or tank top worn between you and the trainer will make a world of difference when it comes to comfort.
Snug, Not Tight
A waist trainer or corset should feel like a hug. Firm and supportive, but not taking your breath away. If you can't breathe or eat, that means it's overly tight or hasn't been "seasoned" properly.
Don't Wear More than 8 Hours a Day
Especially if you are new to waist training, you shouldn't wear a trainer for more than 8 hours a day. In the first few weeks of wearing one, it may be more like 2-4 hours a day. You don't want your abdominal muscles to become dependent and you don't want to slow down your digestion by wearing it for too long.
Adjustments to Eating
While you may notice a reduction in your appetite when you start waist training (similar to the way lap band surgery reduces a patient's hunger by compressing their stomach), you still need to eat. Some recommend taking off your trainer and giving your body a break over lunch.
Leaving it off for a little while after eating can help reduce your risk of acid reflux by letting your body digest without any restriction.
If you can't take it off, it may be more advisable to eat a small meal every 3-4 hours instead of one large meal every 4-6 hours. Make sure you're eating nutritious food with plenty of fiber to keep your digestive tract happy.
Don't Skip the "Seasoning"
No one likes to eat unseasoned food and no one should wear an unseasoned waist trainer. Seasoning is a term used to describe breaking in a new waist trainer or corset. This is especially important for steel-boned garments, but latex trainers benefit from this too.
When seasoning a waist trainer, you wear it looser at first, and only for a few hours at a time. Gradually, over the course of a few weeks, you tighten the garment and wear it for longer intervals while doing more of your daily activities. This helps break-in the garment to better fit you and it helps your body get used to the feeling of wearing something a bit more restricting.

A Brief History of Corsetry and Waist Training
Every time a period drama comes out, an actress is interviewed about the evils of corsets. What most people forget, though, is that neither the costume designer nor the actress wearing it is likely to have any expertise with corsetry. Most of the actresses have never worn a corset before, so of course, it can be a shock to wear such a rigid garment for the first time.
A new corset or waist trainer needs a breaking-in or "seasoning" period (as discussed above) so it adjusts to you and you adjust to it, a few hours at a time over the course of several weeks. Of course, if you tightly lace someone into a restrictive garment on day one and make them wear it on a film set for 12 hours, there will be discomfort. A new pair of shoes or a new bra probably need similar breaking in.
Modern couture corset makers and costumers are creating a visually dynamic piece of art, not a practical garment meant to be supportive. Like a bra or modern shapewear, corsets were chosen by the wearer to suit their needs. Even women who did physical labor on farms or in factories wore some form of support garment. Modern reenactors will wear stays (the 17th and 18th-century precursor to corsets) for work or at events for many hours a day without issues.
The corset we think of today wasn't developed until the mid-19th century, though supportive torso garments were worn for a long time prior to that. Typically, reed or whalebone was used to give the garments shape. Both are flexible materials and modern corset makers often use cable ties as a stand-in for whalebone in historical garments.
The 19th century was the first time that steel was used as a means of support (also like in our modern bra). The rigidity of the steel gave women the ability to create a more dramatic silhouette and tightlacing came on the scene for the first time. These were, in a sense, the first waist-trainers.
Tight lacing was blamed for many medical issues in the 19th century before medical science had better explanations. The term "hysteria", a word which itself derives from the ancient Greek word for uterus, was unfairly used as a blanket diagnosis on women when they didn't conform to the social expectations of the day. The rumors persist even though archeological evidence shows otherwise. Some of the criticisms are similar to what people say about waist training today. Deeper examination proves that the things people pass around as fact when it comes to corsetry are largely myths.
While it's true that tightlacing or wearing a corset or waist trainer for too long can degrade some of your muscular strength or cause acid reflux, being more moderate about your usage can prevent this. Many are shocked to hear that waist training can also shift the position of your organs. However, pregnancy also does this for 24 hours a day for months and no one cites this as a reason to avoid pregnancy. So, it's important to keep a balanced mindset when considering common criticisms of waist training.
Parting Words
Any time you decide to alter your body in any way it's a very personal decision. As with most things, there are some risks to waist training that you should take into consideration before starting on your journey.
Be honest with yourself about why you want to do it. Are you trying to improve your confidence, enhance your curves, and correct your posture? Or are you feeling pressured by others to meet an unrealistic body shape? Making changes for yourself will be more rewarding than trying to meet the impossible standards of others.
Waist training isn't evil. It can be done in a safe way to help you meet certain personal goals. With the information in this guide, we hope you can have a safe and enjoyable experience with waist training.