People have been using shapewear to enhance their silhouette for centuries. While dramatic full skirts that needed extra support to keep their shape are a fashion of the past, more and more people are returning to the idea of corsetry and waist training. Of course, Kim Kardashian probably has a lot to do with that, but more on that later.
Corsets were never an evil torture device used to oppress women, as they are sometimes said to be, (you can find a brief history on the subject later in this article) and they still aren't today. Whatever your reasons for waist training, you can find information about how to do it safely in a way that helps you reach your goal.
What Is Waist Training?
Waist training occurs when you wear a tight support garment around your torso to adjust your shape and gradually change it. While Kardashian often posts pictures of herself wearing latex trainers, her famous MET Gala look was most likely achieved by wearing a much more structured, steel-boned corset device.
Wearing waist trainers can give your body a more dramatic hourglass look. Over time they can help shape the way your body carries abdominal fat (and it's normal for everyone to carry some abdominal fat). While waist training is mainly done by women, anyone can enjoy using silhouette smoothing cinchers.
Types of Waist Trainers
There are a few categories that most waist trainers fall into. This determines the style, how restrictive it is, and when it should be worn.
Athletic Trainers
These belts tend to be made from stretchy materials like neoprene, latex, or other stretchy poly-fiber fabrics. Many are unboned (more on that in a moment) and are meant to give extra support mainly while you work out. They warm your middle up to increase perspiration and give some spinal protection (like a lifting belt) while you're weightlifting.
Underbust Trainers
Many waist trainers are worn under the bust to focus on the waist and make sizing easier. Waist size does not always directly relate to our bust size, after all. You'll still need a bra with this style of trainer since it doesn't provide bust support.
Overbust Trainers
These are dramatic waist trainers that are well suited to wearing for special occasions like weddings and formal events. They come up over the breasts, making a bra optional.
Bodysuits
This style of trainer will be familiar to shapewear enthusiasts. They cover the waist, lower belly, and the butt. If you want to have all your edges smoothed out to wear under a bodycon dress, these tend to be a good choice. Without boning, they're usually made of materials like latex.
What Is Boning?
To give extra support and improve waist reduction, some waist trainers will have steel bones. Many use lighter and more flexible spiral bones (which are thin loops of steel layered over each other) for a lighter and more comfortable fit.
Some will use thin strips of solid steel similar to the blade of a hand saw (though without the sharp teeth of course!). Others will use flexible plastic bones.
Waist trainers that are made from tight stretchy materials tend not to have boning, but rely on the fabric tension instead.
Closure Styles
There are several different ways that your waist trainer can close. It often depends on the material or style of the waist trainer.
Zipper: A modern, no-fuss style closure that is often found on latex corsets and bodysuit style trainers.
Hook and Eye: Just like a typical bra closure, many underbust waist trainers will have several rows of hook and eye closures so you can adjust how tight the garment is over time.
Lacing and Busk: Many boned underbust waist trainers will use more of a traditional corsetry style of closure. This combines adjustable lacing in the back with a hooking busk closure in the front.
Velcro: Some athletic style waist trainers wrap around the waist and are secured by Velcro. This also makes them more adjustable.
Sizing
Most companies will have their own size chart and recommendations for fitting. For waist reduction, it's recommended to only try and reduce it about 2-4 inches. That may not seem like a lot, but the shape of the garment will give you an overall more dramatic shape, emphasizing your waist. As your body gets used to waist training, you may be able to reduce it slightly more. Be aware that tight lacing and over-wearing waist trainers can have some side effects, which we will discuss later on.
If you are very muscular, it might actually be harder to reduce your waist. The squishier you are, the easier it is to manipulate your shape. Some waist trainers will also enhance the proportions of your bust and hips by pushing extra squish from your waist in those directions.
For each product on our list, we'll include size chart information or reduction recommendation from the manufacturer.
Now you've got an overview of the types of trainers available, here are some of the best waist trainers on the market. Whatever your needs, there's hopefully an option that will work for you and help you achieve your goals.
Top 10 Best Waist Trainers 2022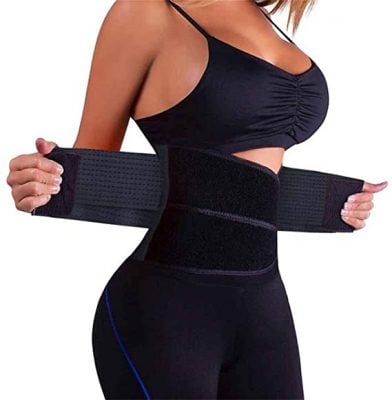 Why we like it:
Super adjustable and versatile, this belt can amp up your workouts and help you target waist reduction.
Editor's Rating:
Quick Facts:
Style: Athletic
Boned: Yes, plastic
Sizing: S – 2XL, waist sizes 24.2 – 43.4 inches
Closure: Velcro
This functional shaper uses Velcro and spandex to give a smooth, tight compression over your abdomen. It adds a good amount of extra heat to your middle as well to encourage sweating, which can help you lose water weight and reduce bloating.
By improving your posture and supporting your lower back, it can help reduce workout-related injuries, particularly when it comes to weight training. The company also recommends that this can help provide support for activities like yoga as well.
It can also help keep your posture more upright while working seated at a desk. This will help keep your core engaged all day. It will also help prevent a sore back and shoulders from slouching. The material is thin, but since it wraps around, you probably don't want to wear it under a very fitted blouse or dress.
Things to Consider
If you're very tall, or simply have a long torso, this shaper may be a little short for you. This can make it difficult to benefit from the full support from this shaper. Especially if you want full coverage over the lower back and a lower tummy pooch, then it may not extend long enough.
Since this is fully adjustable Velcro, there may be some exposed hook and loop material that will rub against you if you don't wear it tight enough to overlap completely. This can cause your shirt to pill from the friction and will rub uncomfortably on your skin if you don't wear a shirt underneath (though we never recommend that).
What Stands Out
One of the only products on our list marketed to both women and men, this product will fit a variety of shapes and sizes. Its full adjustability means that day-to-day, you can listen to your body and wear it how you need it.
Whether your goal is to have a slimmer, less wobbly profile while working out, or to help relieve back pain and protect your posture while lifting or even working at a desk, this belt can help. Despite being an athletic waist trainer, it can easily transition to other areas of your life and help shape your figure.
Pros
Fully adjustable spandex and Velcro

Helps reduce bloat

Supports a safer posture

It's versatile enough to wear while working out or sitting at a desk
Cons
Too short for long torsos

Velcro may scratch clothes or skin
---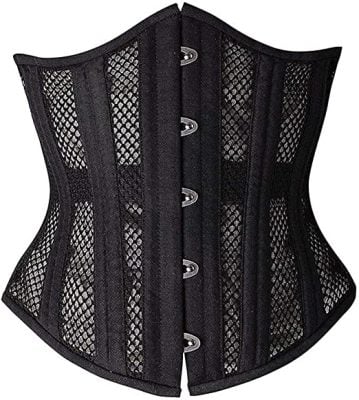 Why we like it:
At only a slightly higher price tag, this waist training corset provides intense shaping without discomfort.
Editor's Rating:
Quick Facts:
Style: Underbust
Boned: Yes, steel
Sizing: XXS – 6XL, 22 – 47-inch waist
Closures: Lacing and Busk
With more of a classic corset look, this can be worn under your clothing as your little secret, but it looks equally striking worn on top. A modesty panel lays under the lacing, so if you do choose to wear it as outerwear, you have a more streamlined look.
This very easily transitions into the boudoir as a piece of lingerie too. This corset trainer has garter loops along the bottom, making it easier to coordinate your favorite sexy pieces together. Whether for a boudoir photoshoot, a honeymoon trip, or just for a day when you want to enjoy a confidence boost, this will help do the trick.
This piece definitely blurs the lines between shapewear and lingerie. But that doesn't mean it's flimsy. Twenty spiral steel bones are strategically placed throughout the garment to provide structure with a hint of flexibility.
Things to Consider
Since the front busk closure has quite a bit of tension put on it, this is the spot most prone to failure. If there is any weakness in the stitching, it can cause the busk to start poking through the fabric over time.
While the lighter and more breathable mesh can be a huge relief in the hot summer, the fabric is less sturdy overall. If you're looking for extreme waist reduction and shaping from a steel boned waist trainer, a solid fabric will give you more even compression.
It can also be hard to wear discreetly under clothing if you have a lot of lacing cord knotted up at the back. You may need to change it out for a shorter, flatter ribbon cord. The included lacing is a thick, sturdy cord that is less-than-subtle.
What Stands Out
The adjustable lacing at the back allows you to target the waist for extra smoothing and reduction. You can also set your laces in advance so you don't need help getting into this trainer (though, having a friend help you adjust the tightness initially can be useful, and there are methods of lacing that allow you to more easily adjust it yourself). The hook-closure busk at the front lets you get yourself into it quickly.
For more discreet wear, it's a thin, lightweight garment that will smooth your lines in your clothes. It's available in solid or mesh material. The mesh will help keep you cool if you live in a hot climate or simply want to be able to layer it.
The internal waist tape helps the trainer put pressure on that particular point of your body, but won't cause any extreme discomfort or interfere with breathing or daily activities. It adds a more traditional bit of corset structure to a modern waist trainer for targeted reduction.
Overall, this is a great choice for a piece that offers the supportive waist training that only steel boning can. It looks sexy for when you want it to be seen, but it's discreet for when you don't want it to be seen.
Pros
Lightweight and breathable

Don't need help to put it on

Attractive enough to wear as fashion or lingerie

Waist tape and steel bones for structure
Cons
Possible weakness at busk

Mesh doesn't offer as much compression

Lacing cord visible through clothes
---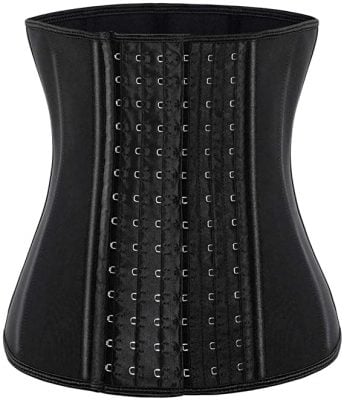 Why we like it:
This well-made latex shaper is fully adjustable and approachable for beginners.
Editor's Rating:
Quick Facts:
Style: Underbust
Boned: Yes, steel
Sizing: 3XS – 8XL, 20 – 42-inch waist
Closures: Hook and Eye
This lightweight underbust shaper features an adjustable front closure. One row of hooks corresponds to 3 rows of "eyes" or loops. This allows you to adjust the tightness over time depending on your body's needs. It also arrives with an additional extender you can use to help you gradually adjust to the cincher during the breaking in period.
This also comes in a variety of colors so you can choose one that will be discreet under your clothing or select one to wear as a fashion statement. You can also choose the length of your trainer. As it ranges from 9.45 inches long to 11.6, you can get a better fit if you have a longer or shorter torso.
While this can be worn for extra back support during workouts, its thin and supportive design makes it best suited to wearing under your clothes day-to-day. For work or formal occasions, this can smooth out your silhouette and give you more confidence and a better posture at any event.
Things to Consider
If you have a latex allergy, stay far away from this waist trainer. The outer is a latex/nylon blend. In spite of the cotton lining of this product, it is still basically plastic on the outside. Wearing it on bare skin, particularly in heat and sunshine, can cause a rash or irritation. This is not a breathable material. It's plastic. If you're looking for a waist trainer made with breathability in mind, try this one with its breathable mesh.
Due to the stretchy material, there is also the possibility of this trainer gradually stretching out. If you purchase it in a size too small, or over-tighten it, that risk increases. Rather than providing consistent pressure to shape your body, it will stretch and mold to you, loosening over time.
What Stands Out
Unlike some latex waist trainers, this one tries to offer a little more breathability. Certain models have small holes throughout the material to give you a break from what is otherwise a solid sheet of stretchy plastic. They also line their trainers with cotton material. It doesn't necessarily mean that you can skip your undershirt, but it helps you stay more comfortable overall.
The shaper's wide size range will fit all sorts of bodies in all sorts of places. Postpartum mothers may find that it does just the trick to help them feel confident in their favorite pair of jeans again. The steel bones provide a rigid structure, but they don't limit your movements. Instead, it helps keep your spine straight throughout the day.
This shaper is a versatile option for those wanting to try latex waist training.
Pros
Thin enough to wear under most clothing

Adjustable hook closure with extender

Size range includes different torso lengths

Supportive and flexible
Cons
Made of potentially irritating latex

Can gradually stretch out
---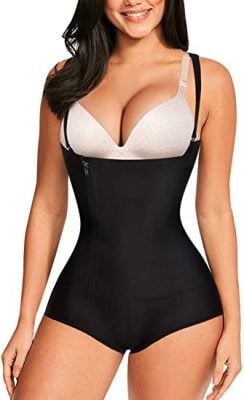 Why we like it:
This shapewear style bodysuit is invisible under clothing and provides bone-free support
Editor's Rating:
Quick Facts:
Style: Bodysuit
Boned: No
Sizing: S – 3XL (US sizes 2-14)
Closures: Zipper
This bodysuit gives your whole body a smooth, pantyline-free look under bodycon dresses and other fitted clothing. In fact, you can skip the underpants while wearing this if you like, since the suit covers you from bum to underbust.
The shoulder straps help hold your shoulders back, improving posture. They also help keep this trainer from slipping down throughout the day. The U-shape it creates around the bust can help amp up your chest to further exaggerate an hourglass look.
Inside, the waist has an extra hook and eye strap to provide extra compression on that target area. This serves the same purpose as a waist tape in corset-style waist trainers.
The core section of the suit is reinforced with latex to provide firming support. It instantly shapes you and provides support to your lower back as well as your waist. The rest of the material is a cotton and spandex blend to allow some breathability and increase your comfort.
Things to Consider
First, we must address the fact that a size 3XL by the Nebility size chart is a US size 14, or a 37.7-inch waist and 44.8-inch hip. That's just plain silly. A shaping product that is supposed to enhance curves is size prohibitive for women with natural curves. A product's accessibility is always a factor when we review, and this product suffers on this account.
While the waist and center back of this trainer are reinforced with latex to provide compression. The rest of the garment doesn't offer as much support. If you're looking to give your lower belly a more toned, flattened look, this may not offer enough coverage. In fact, if the waist compression is tight on you, it may press down on your lower belly, making it look slightly bigger.
For better full belly coverage that you can be active in, try this athletic cincher by Qeesmei.
What Stands Out
This waist trainer was designed to avoid the issues many have with shapewear: bumps and bulges. The sides come up slightly higher around the armpits to prevent tell-tale bulges from the edges of the bodysuit.
It also tackles the issue of what a pain it is to try and wriggle out of tight shapewear to use the bathroom. While it may seem a little strange at first, the crotch opening in this suit will do you a lot of favors when it comes to taking bathroom breaks.
The adjustable straps can help this fit more comfortably if you have a long torso. They can also be tightened to provide more of a bust lift if that's what you want.
Pros
Full-body smoothing

Reinforced waist compression

Crotch opening

Bust lift
Cons
Limited sizing

Not enough support for lower belly
---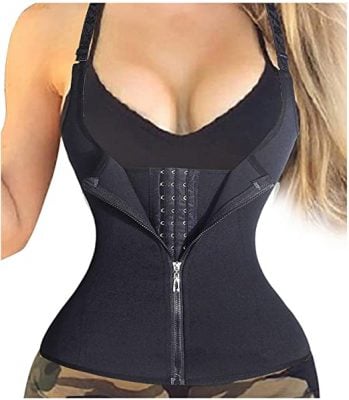 Why we like it:
For longer torsos, this vest-like waist trainer gives full coverage and shaping and does a lot to correct posture.
Editor's Rating:
Quick Facts:
Style: Underbust (with straps)
Boned: Yes, steel
Sizing: S – 4XL, 21.2 – 42.5 inches
Closures: Hook and Eye + zipper
This waist trainer is styled more like a vest than our other options. It features adjustable straps and easily closes at the front. Its 3-row hook and eye closure let you adjust the tightness and a front panel zips shut over the hooks to smooth out your look.
The longline fit of this shaper will work for taller people and extends low enough to give lower belly coverage. The length also places it directly under the bust and the extra tension from the shoulder straps helps give a slight lift to the breasts. This helps encourage good posture and enhances the hourglass look of your shape.
To help prevent it from rolling down, the trainer also has 4 strategically placed spiral steel bones. The placement of the bones assists in lumbar support to relieve back pain.
Things to Consider
While the material is thin and laminated, rather than stitched, it may not be as invisible under your clothing as you would like. The front zipper panel smooths out the look of the hook and eye closures, but the zipper itself isn't very subtle. The bones may also poke out a bit in the thin, stretchy fabric and cause visible lines under your shirt. You also can't wash or dry this trainer at a high temperature or you may melt the lamination and cause the layers to come apart.
The sizing can be a little off as well. Since the material has a lot of stretch, some may find that they need to size down to get the compression that they want. But, due to the length of the garment, if you have a short waist and wider hips, it may be too small when you order based on your waist size.
Someone's waist measurement is part of a much bigger picture of their body shape and torso length. LODAY would be better off including torso length in the measurements like our choice from Ecowalson.
What Stands Out
For a low price, this waist trainer provides a lot of versatility and has many attractive features. With its figure-enhancing shaping, it can offer a smoother hourglass look under your clothing for work and formal occasions.
The addition of bones helps take some strain off of your back and offers more serious waist training support. It's still light and stretchy enough to be worn at the gym for extra protection. It enhances your figure without being too intensely restricting. For a beginner waist trainer, this is a good option that will help you start working toward whatever your goals for training are.
Pros
Adjustable straps and front closures

Boning for back and waist support

Smooths lower belly and lifts breasts with its longer length
Cons
May still show under clothing

Can come unlaminated in washer or dryer

Length can make it difficult to size
---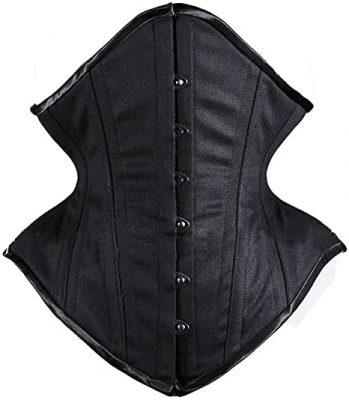 Why we like it:
For more advanced waist training, this is a versatile option that can be worn discreetly or in the open.
Editor's Rating:
Quick Facts:
Style: Underbust
Boned: Yes, steel
Sizing: XS – 3XL, 24 – 39-inch waist
Closures: Lacing and Busk
Fully boned with spiral steel bones, this lightweight waist trainer gives heavy-duty shaping. The poly-spandex blend fabric is thick and sturdy. Even the mesh fabric options for this trainer are breathable and light without being flimsy.
The sturdiness of construction helps better cinch and shape your body, but it also helps the garment be more durable. Bones poking through and jabbing you throughout the day is much less likely to occur with a well-constructed waist trainer.
Things to Consider
Since the material is thicker on this waist trainer than on some others, it's not as low-profile as you may need to wear under bodycon clothing. The edge of the fabric may leave a visible edge, and so can the boning lines. If you want a smoother, thinner option for wearing under tight outfits, this one from LODAY may be a better option.
There were also some issues with this waist trainer not being true to size. Some of the trainers may have a wider waist than promised by the size chart. This doesn't give as much reduction or back support. But, sizing down may not be an option if you have curvy hips.
Be aware too, that while curvy, the shape of this waist trainer is not as ideal for pear body shapes. The hip curve may not be wide enough and if you have a larger bum, the back may not sit high enough for you. It has a slight low point in the center back that can press down on your booty, and no one wants that.
What Stands Out
This is another waist training option that, thankfully, takes torso length into account. This goes a long way to ensuring that you'll get enough coverage if you have a longer torso and won't get stabbed in the chest by the underbust point if you have a short torso.
It's truly a great price for the quality of the materials and is much sturdier than your average discount waist trainer. The spiral steel bones are light and flexible, but much sturdier than the plastic boning sometimes found in less expensive trainers. They are far less likely to break when under pressure.
This waist trainer gives a very distinct hourglass shape and can be a great form of back support while sitting at a desk or during some workouts. If you're ready for more advanced waist training, this might be the right option for you.
Pros
Torso length sizing

Flexible and strong steel boning

Sturdy but breathable material
Cons
Not always true to the size chart

May show under tighter clothing

Sits low in the back for larger bums
---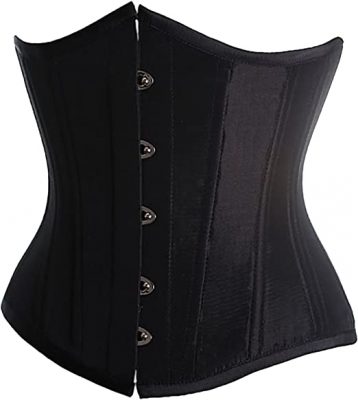 Why we like it:
Thin and lightweight, this gives you a more hourglass look without the intensity of other trainers.
Editor's Rating:
Quick Facts:
Style: Underbust
Boned: Yes, steel
Sizing: XS – 6XL, 21 – 42 inch waist
Closures: Lacing and Busk
This longer line corset-style waist trainer combines warming latex with sturdy spiral steel bones for double duty waist training. It's lined in cotton to make it more comfortable, and it comes in a variety of colors. That's perfect if you intend to wear it as a fashion piece or in a costume or lingerie context some of the time.
The pointed underbust helps push the chest up and the shoulders back. This can help correct your posture while working at the office or doing physical activities like biking or jogging.
There's a modesty panel to cover the back lacing if you choose to wear it as clothing and it comes with a matching g-string for boudoir applications. But, beyond fashion looks, this corset style trainer will help sculpt you into an hourglass shape and promises an average of 2-4 inches of waist reduction.
Things to Consider
This corset may be too light for serious waist training veterans. The fabric is relatively thin and there's no waist tape inside. A waist tape helps provide structure and focuses compression tension around the waist.
The boning is particularly light and thin as well. This makes it a more comfortable choice when you're being physically active, but for solid reduction it may not be enough. Something like our pick from Ecowalson will give you more rigid support for you back and waist.
The included ribbon is also quite slippery and thin, making it hard to cinch yourself in tightly. You may want to swap it out for a sturdier cord to help keep the appropriate tension.
What Stands Out
For a pretty, beginner option, this vintage-look underbust trainer is a fun option. It's light boning and latex compression enhance your curves without inhibiting your movements. This makes it a good choice for wearing during moderate exercise or at parties and events where you'll be dancing the night away.
For the price, the quality and fit are surprisingly good. It's a well-constructed piece for beginners looking to start with waist training. The thin material means you can wear it under clothing (though perhaps not very tight stretchy items) to get used to feeling how a waist trainer corrects your posture and pulls you in.
Pros
Variety of colors

Latex and light boning are flexible

Lightweight compression
Cons
Not for heavy-duty training

No waist tape

Slippery ribbon ties
---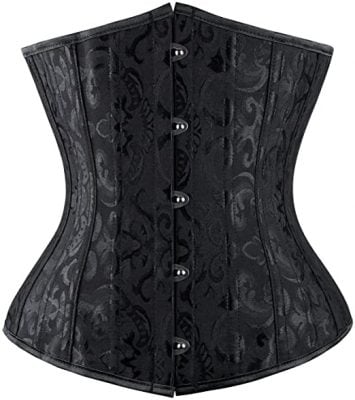 Why we like it:
This waist trainer is beautiful enough to wear as a fashion statement, but it creates a smooth and defined look under your clothing as well.
Editor's Rating:
Quick Facts:
Style: Underbust
Boned: Yes, steel
Sizing: XS – 6XL, 22.8 – 42.3 inch waist
Closures: lacing and busk
This sturdy, but slimline waist trainer combines fashion with practicality. Its rigid boning holds your spine straight and helps correct your posture. This can reduce back pain if you're a chronic sloucher (and aren't we all when working on the computer).
While not designed for super tight lacing (which isn't recommended in general), this will provide the structure and support needed for moderate waist training. It will help shape your torso and may reduce your overall waist measurement by several inches when sized and worn correctly.
It comes in several attractive options including satin brocade designs and mesh options. You can choose the lighter weight mesh to keep you cool when layering it under your clothes, or you can choose a decorative brocade to enhance your outfits when wearing it on the outside.
Things to Consider
This cincher seems to vary in length depending on which material you choose. For example, some of the mesh options seem to be a bit shorter than the brocade options. The red floral cincher features 6 busk hook closures, whereas the other options only have 5. While this might make it a good option for those with longer torsos, it's a bit perplexing that this isn't noted.
Though there seems to be a slight variation in length between styles, their size chart doesn't offer a torso length measurement with can make it difficult to choose which will work best for you. A too-long cincher can press uncomfortably into the underbust, so those with short torsos take note. Even the five hook options still may be too long for very short torsos.
Since this is intended to hold you quite firmly, it may also limit your range of motion slightly. When it comes to bending forward in a boned, corset-style waist trainer, it can be challenging (bend at the knees or put your shoes on beforehand). For more flexibility, an option like the like and stretchy trainer from Ecowalson may suit you better.
What Stands Out
This sturdy and beautiful waist trainer looks like something from a couture lingerie line or part of a cute costume. But unlike many lingerie or costume corsets, this one actually has the necessary rigidity to change your shape.
The length gives full back and belly coverage to its wearers without being too heavy or too thick. It lays flat enough against the body to wear under your everyday clothing. The steel busk is sturdy but low-profile.
Overall, if you're looking for a versatile piece of shapewear that gives moderate waist compression and is pretty enough to wear for its own sake, this is a solid choice. If you're tall or have a long torso, it may also provide more vertical coverage than many others.
Pros
Slim design for wearing under clothing

Suitable coverage for longer torsos

Sturdy steel busk and light spiral boning
Cons
Length can vary depending on style

May dig into the underbust area

Reduces some range of motion
---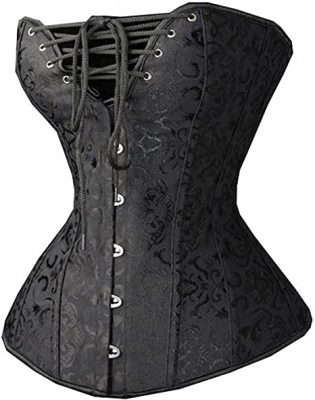 Why we like it:
This is a cute and fashionable way to test drive a waist training garment for those new to the concept.
Editor's Rating:
Quick Facts:
Style: Overbust
Boned: Yes, plastic
Sizing: S – 6XL, 24 – 41 inch waist
Closures: Lacing and Busk
While this is primarily a piece of fashion and lingerie corsetry, it can still be a great beginner waist trainer. Coming up over the bust and featuring an adjustable lacing panel in the chest, it gives enough coverage to be worn without a bra.
The back has fully adjustable lacing and the garment has several plastic bones placed throughout to add flexible support that keeps the fabric from rolling down or wrinkling. The front busk hooks are steel. Since that part of the garment is under the most strain, this stronger material will help prevent any breakage.
The outer layer of this corset is an attractive satin brocade available in several colors to suit whatever fashion you choose. It's also fully lined to make wearing it in a lingerie context more comfortable. Not to mention, it comes with a bonus g-string to match if you want to complete your boudoir look.
Things to Consider
This is not an everyday waist trainer. It isn't something you can easily wear under your normal clothes. It's meant to be worn on its own as a piece of sexy lingerie, part of a costume, or as a daring top for a night out.
Sizing can be an issue with these as well. There is some inconsistency with sizing between colors, so if you purchase one in black and one in white they may fit differently. If you are tall or have a long torso, you may also not get the full coverage you want from this trainer. And, as with any over bust garment, it won't fit every chest. The adjustable bust lacing help with this, but some chestier wearers may find it to be lacking in support.
If you want a more proper waist trainer that can cross over to the sexy lingerie side of things, try this steel boned option from Shaperx.
What Stands Out
If you're new to waist training and want to try it out without spending a lot of money, this might be a good choice for you. It lets you feel what it's like to wear a garment that provides some structure and compression without being too intense.
It will also exaggerate your curves and give you an hourglass silhouette for a cosplay, festival, or a boudoir photoshoot. This is more of a shaping bustier. And that's not a bad thing. It can help shape you and smooth you out for these specific situations. Not everyone wants to start off with serious waist training.
Pros
Adjustable bust support

Steel busk hooks

Sexy lingerie or costume piece
Cons
Hard to wear under clothing

Only gives moderate shaping

Difficult to size
---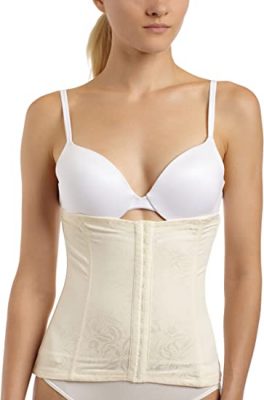 Why we like it:
The classic department store brand, Maidenform, serves up a subtle and stretchy option for comfort and versatility.
Editor's Rating:
Quick Facts:
Style: Underbust
Boned: No
Sizing: S – 3Xplus
Closures: Hook and Eye
There's something nostalgic about this "waist nipper" from Maidenform. The brand has been a staple for women's undergarments since the 1920s. For vintage enthusiasts, this shaping garments might be just the thing to add to their wardrobe as its quite reminiscent of mid-century girdles.
Made of nylon and elastane, this stretch fabric smooths the torso and flatten the belly. As it is strapless, it won't interfere with any of your clothing and it rests under the bust.
It closes by a single row of hooks and eyes in the front and comes in four classic lingerie colors. The nylon material is also subtly printed for a hint of vintage elegance and it's super breathable.
Things to Consider
This product is definitely more along the lines of classic shapewear than something that will really train your waist over time. It will give you a smoother shape and trim your waist while you're wearing it, but it won't "train" your body to maintain that shape the same way a boned waist trainer will.
Since it's reliant on stretch to give shape, there's also only one row of closures making it less adjustable. Over time, this can result in it losing some of its compression due to stretching out over multiple wears and washes (probably why it's hand wash only as well).
We have a small gripe when it comes to the accessibility of this product too. While it comes in a decent range of sizes, there is an issue with the color selection. It comes in black, white, and two classic lingerie "flesh tones:" blush and beige. For someone with darker skin trying to choose an undergarment that won't show under light or semi-sheer clothing, there isn't really a good option here.
What Stands Out
This is one of the thinnest and lightest shapers in our guide. But, for smoothing out everything bump and bulge under a tight dress, it's a good option. The stretchy fabric helps eliminate underarm and lower belly bulging by giving full torso coverage.
It provides gentle pressure around the waist, sides, and back to emphasize an hourglass look and flatten your belly. It's comfortable and safe to wear all day, particularly if you're on your feet a lot. That makes this perfect for a formal event where you'll be wanting to look your best while dancing and mingling all evening.
In spite of not having boning or straps, it more or less stays put, not rolling down or twisting while you wear it.
Pros
Vintage look

Smooths the whole torso

Stays up during full-day wear
Cons
Not strong enough to "train" your shape

Fit not adjustable

Limited skin-tone shades
---
A Guide to Waist Trainers: Best Practices, History, and Controversy
You may still have some questions about waist training. There are a lot of myths and misconceptions, so we've made this section of the guide tailored to the ones that come up the most. By being better educated, you can make the best decision for your health and have the best possible waist training experience.

Is Waist Training Safe?
As with most things regarding health, it depends on the amount and the person. Using a waist trainer can improve your posture and help you shed water weight around your middle. Certain cinchers can also provide support to help prevent injury during workouts. If you tend to slouch at your desk all day, a trainer can help correct your posture and leave you with less neck and shoulder pain.
When it comes to your mental health, which is just as important as your physical health, it can be polarizing. For some users, it may give a boost of self-confidence. Carrying yourself with better posture and feeling like you look good in your clothing can be a huge confidence boost.
For some, though, it can become an obsession. Rather than trying to look your best, you can slip into the trap of trying to look like someone else. It's unlikely that you will ever perfectly replicate Kim Kardashian's famous snatched waist, because you're not her. You're not a celebrity with endless resources for personal trainers, tailor-made diets, and (let's be honest) corrective surgeries to exaggerate your proportions.
Excessive wearing and tightlacing can have a negative impact on your body. Even patients who are prescribed medical corsets for spinal conditions are told not to wear them all day every day. Your body needs to support itself sometimes to avoid your abdominal muscles weakening. Wearing tight compression garments on your stomach for long intervals can also cause acid reflux and constipation.
While some women like to use waist training to help pull in a postpartum belly, it's not advisable to do so during the early weeks of recovery. Since a tight, rigid garment will put more pressure on your abdomen, it can raise your risk of postpartum injuries such as bladder prolapse. Your pelvic floor needs time to build its strength back up and a waist trainer won't do it any favors. Wait until later in your recovery if you want to use one to help tighten up your stomach.
Wearing a waist trainer to help with long-term weight loss is not very effective. While they will help you shed some water weight and provide more heat around your middle, increasing perspiration, they aren't a real solution or a short cut to abs. They can mildly reduce your appetite, especially as you get used to how it feels wearing a waist trainer. But they won't replace the need for a healthy diet and moderate exercise in your life.

Tips for Comfort and Safety
There are several key mistakes many people make that can lead to a bad waist training experience. Avoid a trainer related trauma by taking a few simple precautions.
Never Wear Your Trainer on Bare Skin
In spite of all those sexy bodice-ripping scenes in period dramas, the truth is that women always wore a protective garment under their stays and corsets in the past. This is even more important if you're wearing a latex-based garment. Chafe, itching, and rashes can develop because it's essentially plastic. This traps sweat against your skin. A light natural fiber (cotton is your friend!) tee shirt or tank top worn between you and the trainer will make a world of difference when it comes to comfort.
Snug, Not Tight
A waist trainer or corset should feel like a hug. Firm and supportive, but not taking your breath away. If you can't breathe or eat, that means it's overly tight or hasn't been "seasoned" properly.
Don't Wear More Than 8 Hours a Day
Especially if you are new to waist training, you shouldn't wear a trainer for more than 8 hours a day. In the first few weeks of wearing one, it may be more like 2-4 hours a day. You don't want your abdominal muscles to become dependent and you don't want to slow down your digestion by wearing it for too long.
Adjustments to Eating
While you may notice a reduction in your appetite when you start waist training (similar to the way lap band surgery reduces a patient's hunger by compressing their stomach), you still need to eat. Some recommend taking off your trainer and giving your body a break over lunch.
Leaving it off for a little while after eating can help reduce your risk of acid reflux by letting your body digest without any restriction.
If you can't take it off, it may be more advisable to eat a small meal every 3-4 hours instead of one large meal every 4-6 hours. Make sure you're eating nutritious food with plenty of fiber to keep your digestive tract happy.
Don't Skip the "Seasoning"
No one likes to eat unseasoned food and no one should wear an unseasoned waist trainer. Seasoning is a term used to describe breaking in a new waist trainer or corset. This is especially important for steel-boned garments, but latex trainers benefit from this too.
When seasoning a waist trainer, you wear it looser at first, and only for a few hours at a time. Gradually, over the course of a few weeks, you tighten the garment and wear it for longer intervals while doing more of your daily activities. This helps break-in the garment to better fit you and it helps your body get used to the feeling of wearing something a bit more restricting.

A Brief History of Corsetry and Waist Training
Every time a period drama comes out, an actress is interviewed about the evils of corsets. What most people forget, though, is that neither the costume designer nor the actress wearing it is likely to have any expertise with corsetry. Most of the actresses have never worn a corset before, so of course, it can be a shock to wear such a rigid garment for the first time.
A new corset or waist trainer needs a breaking-in or "seasoning" period (as discussed above) so it adjusts to you and you adjust to it, a few hours at a time over the course of several weeks. Of course, if you tightly lace someone into a restrictive garment on day one and make them wear it on a film set for 12 hours, there will be discomfort. A new pair of shoes or a new bra probably need similar breaking in.
Modern couture corset makers and costumers are creating a visually dynamic piece of art, not a practical garment meant to be supportive. Like a bra or modern shapewear, corsets were chosen by the wearer to suit their needs. Even women who did physical labor on farms or in factories wore some form of support garment. Modern reenactors will wear stays (the 17th and 18th-century precursor to corsets) for work or at events for many hours a day without issues.
The corset we think of today wasn't developed until the mid-19th century, though supportive torso garments were worn for a long time prior to that. Typically, reed or whalebone was used to give the garments shape. Both are flexible materials and modern corset makers often use cable ties as a stand-in for whalebone in historical garments.
The 19th century was the first time that steel was used as a means of support (also like in our modern bra). The rigidity of the steel gave women the ability to create a more dramatic silhouette and tightlacing came on the scene for the first time. These were, in a sense, the first waist-trainers.
Tight lacing was blamed for many medical issues in the 19th century before medical science had better explanations. The term "hysteria", a word which itself derives from the ancient Greek word for uterus, was unfairly used as a blanket diagnosis on women when they didn't conform to the social expectations of the day. The rumors persist even though archeological evidence shows otherwise. Some of the criticisms are similar to what people say about waist training today. Deeper examination proves that the things people pass around as fact when it comes to corsetry are largely myths.
While it's true that tightlacing or wearing a corset or waist trainer for too long can degrade some of your muscular strength or cause acid reflux, being more moderate about your usage can prevent this. Many are shocked to hear that waist training can also shift the position of your organs. However, pregnancy also does this for 24 hours a day for months and no one cites this as a reason to avoid pregnancy. So, it's important to keep a balanced mindset when considering common criticisms of waist training.
Parting Words
Any time you decide to alter your body in any way it's a very personal decision. As with most things, there are some risks to waist training that you should take into consideration before starting on your journey.
Be honest with yourself about why you want to do it. Are you trying to improve your confidence, enhance your curves, and correct your posture? Or are you feeling pressured by others to meet an unrealistic body shape? Making changes for yourself will be more rewarding than trying to meet the impossible standards of others.
Waist training isn't evil. It can be done in a safe way to help you meet certain personal goals. With the information in this guide, we hope you can have a safe and enjoyable experience with waist training.