Mascara is a product most people would call essential in their beauty routine. It can make sleepy eyes look a little more awake or help you create a bold smokey eye. But if you're dedicated to removing animal products from your life, you may have noticed them popping up in products you never expected. That includes most mascaras.
Fortunately, more brands are developing vegan mascaras that are just as effective and beautiful as standard recipe mascaras. Our list takes you through the ten best we've found on the market currently to save you from having to squint at the tiny print on boxes at the store.
What to Look For in a Vegan Mascara
To help you find the perfect option for you, we've broken down exactly what you should look for when choosing a vegan mascara.
Vegan Ingredients
For something to be vegan, it must contain no animal-derived products. Even if the animal isn't harmed in the collecting of the ingredient, it's only truly vegan if exclusively plant-based products are used. Every mascara on our list is vegan, but for a complete breakdown of common animal-derived ingredients in other mascaras, check out our full guide below.
Cruelty-Free
Most brands take this a step further and ensure that their products are not tested on animals either. Several brands on our list have Leaping Bunny certification, but a few just personally guarantee that their particular products have not been subject to animal testing.
Color
Mascaras come in a range of colors depending on how intense or natural you want your eye-look to be. We list the color of every mascara below, so you'll know exactly what kind of look you can achieve with it. For a more detailed breakdown of who each color is best for, check out our full analysis here.
Organic
If you're vegan for the sake of the environment or your health, you likely also care about organic ingredients in your cosmetics. However, not all vegan mascaras are organic. We'll let you know if the vegan options below are organic or not, so you can make the right choice for you.
Whether you're looking for bold impact, extra volume, or a nourishing boost, you'll find a vegan mascara to suit your needs on our list.
Top 10 Best Vegan Mascaras 2023

Why we like it:
This high-end mascara doesn't cut any corners in its vegan recipe.
Editor's Rating:
Quick Facts
Size: 0.24 oz
Colors: Black
Organic: Uses organic ingredients
Cruelty-Free: Yes
Highlights
Tarte has been making a name for itself with its commitment to more ethical cosmetics. Their whole line is vegan, gluten-free, not tested on animals, and free from harmful additives like phthalates and parabens. The brand has also evolved over the years to be more natural and gentle.
Lights, Camera, Lashes is one of their most popular eye makeup products. This black mascara calls itself a 4-in-1 product because it lengthens, curls, conditions, and adds volume with just one coat. Getting maximum impact out of one coat helps keep this from getting clumpy and heavy on your lashes.
Despite not being a waterproof mascara, this is long-lasting. It doesn't run during normal daily wear but will come off fairly easily when you cleanse your face at the end of the day.
Downsides
The brush applicator for this product can pull out a bit too much mascara. It can be too thick and require you to scrape off a bit of product on the mouth of the tube or on a tissue before applying, which can cause you to waste some of the mascara. That's not ideal since it's not cheap.
Our pick from Too Faced has a better brush that helps apply just the right amount of mascara to your lashes.
This also has a thicker texture than some mascaras, which helps to coat your lashes, but you need to use a light hand when applying it. If you layer it on too thick, the excess might flake off during the day, leaving small bits on cheeks.
Who It's For
If you're looking for a vegan and natural mascara that give good coverage and impact, this is a great all-around choice. It's easy to wear and looks great. No one would guess it's a vegan brand. Just one coat will be enough for most makeup looks, but two can amp up the volume even more.
The ingredients are gentle enough for nearly anyone, and the overall effect makes it a good mascara in general and an exceptional vegan one.
Pros
Safer ingredients

4-in-1 treatment for lashes

Doesn't run

Only needs one coat
Cons
Applicator can bring out too much product

If applied too thickly, it can flake off
---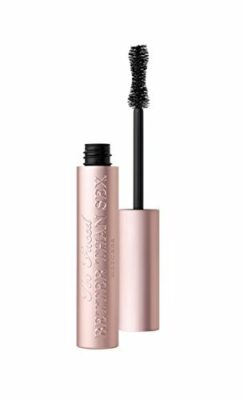 Why we like it:
With a special applicator and a few unique ingredients, it's easy to see why this is a cult favorite.
Editor's Rating:
Quick Facts
Size: 0.27 oz
Colors: Black
Organic: No
Cruelty-Free: Yes
Highlights
While Too Faced isn't an all-natural brand, their commitment to keeping their products free from animal testing is admirable, and they have a long list of products and makeup brushes that are vegan-friendly.
Their "Better Than Sex" mascara has raised a lot of debate over whether it is, in fact, better. While we can't comment on that, it is a favorite for a reason. Its hourglass-shaped applicator helps distribute mascara more toward the edges of your lashes to create a natural curl without getting too clumpy.
The formula contains a special polymer to help set the curl so it lasts all day, not just for a few minutes after applying. It also contains Acacia Senegal tree extract to lightly volumize your lashes.
Downsides
While this does come in a waterproof version as well, the classic formula is washable. This can be a problem. In humid climates or on hot days when your brow can get a little sweaty, this mascara can smudge. It may leave a little halo of black just under your eyebrow.
Better Than Sex is more of a liquid than some mascaras, so it can be harder to get a thick coat on the first pass. However, multiple passes can result in your developing clumps as it becomes heavier on your lashes. Our choice from Tarte gives thicker coverage with one application.
Who It's For
For a mascara that will catch even fine lashes and give them both curl and fanned-out definition, Too Faced offers a great option. This product gives lightweight definition without overly thickening your lashes, giving a more natural look. People won't know if you've simply been blessed with great lashes or have great taste in cosmetics.
The formula is also gentle enough that it's non-irritating for most people, even contact wearers.
Pros
Unique applicator helps distribute mascara

Catches even small eyelashes

Gives light curl and volume

Natural-looking definition
Cons
Moisture can cause it to smudge

Doesn't offer thick coverage
---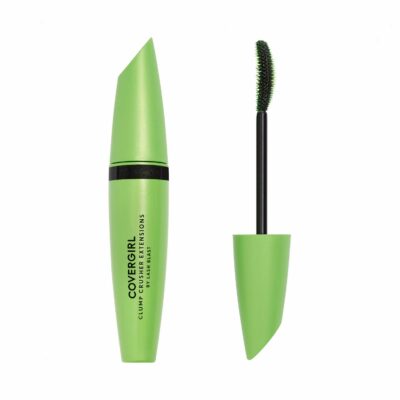 Why we like it:
For a fraction of the price, this mascara gives impressive results.
Editor's Rating:
Quick Facts
Size: 0.44 oz
Colors: Black, black brown, brown, very black
Organic: No
Cruelty-Free: Yes
Highlights
Covergirl has been distinguishing itself from other drugstore beauty brands recently. In 2020 alone, they announced their Leaping Bunny cruelty-free certification as a brand. They also released Clean Fresh, their first entirely vegan line, in 2020.
Their Clump Crusher mascara isn't part of that new line but still features vegan-only ingredients. The product promises to amp up your lashes to twenty times their natural volume. It's meant to mimic the look of eyelash extensions.
The curved, spiny applicator helps to reduce clumping by giving your lashes a light and even coat with each pass. Coupled with their "fiber-stretch" formula, this mascara is designed for multiple coats, allowing you to build up the volume gradually.
Downsides
This mascara is available in both waterproof and "water-resistant" formulas. Perhaps due to the waterproof and water-resistant ingredients, this product tends to dry out rather quickly. As early as one month into using this product, it can start to become thicker within the tube. That makes it harder to apply as intended and lessens its effectiveness.
The waterproof variety in particular shows some minor flaking as well. If you rub your eyes or touch your lashes, you may end up with some flakes on your cheeks.
Who It's For
For people who want a solid product without putting out a lot of money, this is a great performer. It costs far less than most vegan mascaras, but it still gives good results and it's widely available.
If you like being able to build up your lashes with multiple layers, the special formulation of Clump Crusher allows for that. You can keep it as light or as dramatic as you want.
Pros
Curved brush applies light coats

Can build up layers for volume

Extremely good value
Cons
Dries out faster than most mascaras

Minor flaking
---
4.

Best Vegan Mascara for Short Eyelashes:

theBalm Mad Lash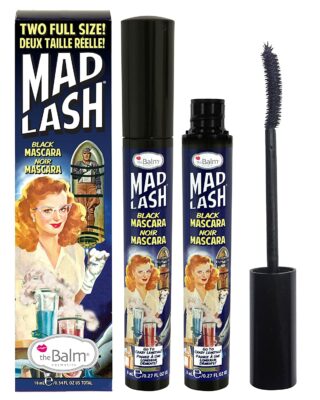 Why we like it:
This fun retro-styled mascara is anything but old-fashioned when it comes to quality.
Editor's Rating:
Quick Facts
Size: 0.54 oz
Colors: Black
Organic: No
Cruelty-Free: Yes
Highlights
theBalm was first conceived in 2004 and has slowly grown with its online presence and distinctive products. They've made the move to incorporate more post-consumer products in their packaging, and they strive to have all their products rank as a two or lower by EWG's clean cosmetics standards.
This Mad Lash mascara meets their goal of using clean and safe ingredients. It also comes in a handy two-pack, making it one of the more economical options on our list.
Though not waterproof, this recipe is water-resistant and volumizing. It stays in place and doesn't smudge during normal wear. The application wand is similar to a normal brush but has a distinct curve to better define individual lashes.
Downsides
Your mileage may vary with the water-resistant aspect of this mascara. It does take some time to dry and set, but after that, it will typically stay in place okay. If it encounters moisture, however, some running may occur. This wouldn't be a good option to wear in intense humidity or during a workout, for example.
The formula is a little thicker than some and may cause eye irritation. If you experience running or if you rub your eyes, it can bother those who are sensitive or wear contacts. Gaya's mascara is a better option for those prone to cosmetic sensitivity.
Who It's For
If you have short lashes or baby-fine eyelashes, this mascara will give you the volume you'd expect from much more expensive brands. It bulks up even the thinnest lashes and lengthens them as well. The formula is buildable, so you can add more to stretch them out as much as you want.
Many users will especially appreciate the curved comb applicator. You won't need to go back over your lashes with additional tools to separate and curl your lashes.
Pros
Excellent value

Water-resistant formula

Defining curved comb applicator

Boosts length and volume
Cons
May smudge when exposed to moisture

Thick texture

Can irritate very sensitive eyes
---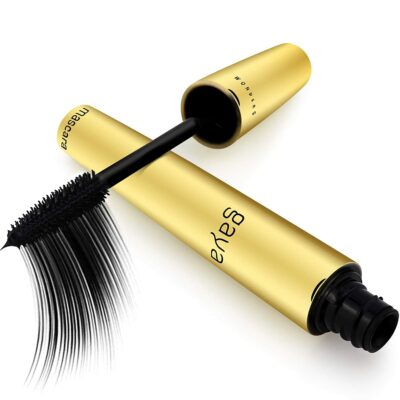 Why we like it:
One of the gentlest mascaras on our list, this pick from Gaya is also high-performing.
Editor's Rating:
Quick Facts
Size: 0.38 oz.
Colors: Black, blue
Organic: No
Cruelty-Free: Yes
Highlights
Made in Italy and formulated specifically for sensitive users, this vegan mascara promises to be gentle on dry and irritated eyes. Contact users or those experiencing lash loss can use this product with peace of mind.
One coat will separate and lengthen lashes for a natural look. Designed to be built up, you can add up to four layers of this mascara to develop a bold and dramatic nighttime look. The soft brush applies the product easily, not going on too thick.
Your lashes also don't develop a hard or crunchy feeling once the product has set.
Downsides
Some users may be disappointed that they have to apply multiple coats to see significant lengthening from this mascara. If you have short lashes that need a bigger boost, you may need to keep layering. For a product that offers more drama from a single coat, you could try this option from Too Faced.
Perhaps due to the need for multiple passes, this product seems to run out more quickly than expected.
Who It's For
When sensitivity makes it hard for you to wear most mascaras without irritation, this mascara can be a life-saver. You can achieve separation and definition without risking red and watery eyes all day.
If you have issues with lashes falling out, this can be a good option as well. It's easy to remove with a mild cleanser or toner, and since your lashes don't clump together with this product, you don't risk pulling out lashes while trying to separate them with a brush or lash comb.
Pros
Gentle formula for sensitive eyes

Can build up layers

Doesn't clump
Cons
Takes a lot of product to lengthen lashes

Runs out quickly
---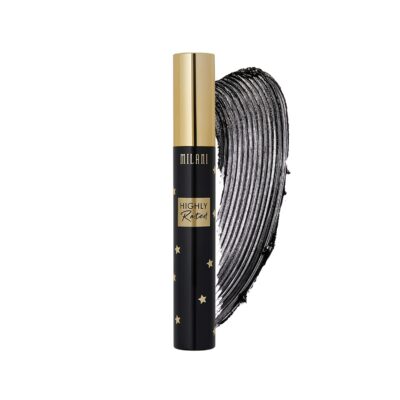 Why we like it:
Add volume without running and smudging? Yes, please.
Editor's Rating:
Quick Facts
Size: 0.41 oz
Colors: Black
Organic: No
Cruelty-Free: Yes
Highlights
Milani is a Los Angeles based brand dedicated to creating high-quality beauty products for a diverse range of people at a reasonable price. Their Highly Rated mascara is just that: a product that suits a wide range of users. This mascara has been honored by several media outlets in recent years as one of the best mascaras on the market.
So what's all the hype about? Highly Rated mascara can double users' lash volume with one coat. The comb-brush evenly distributes the product to give full coverage to every lash.
Despite not being labeled as a waterproof mascara, this has great staying power. It's pretty much smudge-proof once it fully dries. And it has a deep, rich black pigment that feels more high-end than the price would imply.
Downsides
It's recommended to pair this mascara with Milani's lash primer for bests results. This increases the fussiness of your morning routine and doubles the price of what seems like an inexpensive mascara. You can use it without the primer, but that seems to make it more prone to flaking and gives less of a lengthening effect.
If you're looking for great impact from a single coat of mascara, our pick from Tarte might be a better option for you.
This mascara can also be a little messy to use. It can leave a lot of product on the rim of the tube and have a heavier coating of mascara on one side of the brush. This can make it harder to apply.
Who It's For
If you're looking for a product that feels luxurious but doesn't require you to take out a loan every time you need a fresh tube, Milani's Highly Rated fits the bill. It's a good choice for people who may get watery eyes from allergies, or just can't help tearing up when they see a kitten that's just too small.
You can use it without the brand's primer, but for the most dramatic lash volume, it's recommended to layer them together.
Pros
Rich black pigment

Smudge resistant

Reasonably priced
Cons
Needs primer for best results

Messy to use
---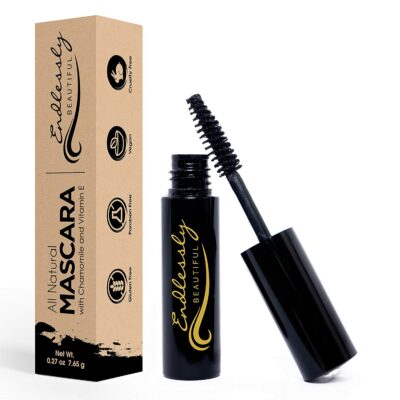 Why we like it:
Boosted with natural moisturizers, this mascara gives an increase in volume.
Editor's Rating:
Quick Facts
Size: 0.27 oz.
Colors: Black and brown
Organic: Uses organic ingredients
Cruelty-Free: Yes
Highlights
Endlessly Beautiful's mascara uses 85% organic ingredients and has one of the most unique formulations we've seen. It avoids many chemical additives and preservatives that might be questionable for human and environmental health, opting instead for a bevy of plant extracts.
Notably, it features chamomile, coffee, and vitamin e among its ingredients. These are meant to help condition your lashes to make them become fuller naturally. It also includes rosemary and grapefruit extract in the formula to stimulate lash growth. That means that over time, this mascara improves the natural look and condition of your lashes. Its benefits aren't just washed away at the end of the day.
For best results, it's recommended to use this along with an eyelash curler and to apply two coats of this mascara. This mascara is water-resistant, so remove it with an oil-based cleanser.
Downsides
While the plant extracts of this mascara can be very beneficial to some, for others it can cause an allergic reaction. For people who are sensitive to most eye makeup, the citrus and coffee components of this formula can be a little harsh, causing redness and irritation.
This mascara doesn't offer the dramatic curl and volume of some other options out there like our pick from Covergirl. It darkens and somewhat lengthens your lashes, but overall the effect is more subtle than you might prefer.
The tube is scaled down to make it easier to travel with. Instead of greatly reducing the amount of product, they shrunk the applicator. It does make this easier to put in your purse or even carry-on, but the smaller brush can make it hard to get an even application with one pass.
Who It's For
People who prefer a natural look when it comes to applying makeup will appreciate the subtle effect of this mascara. It's also a good option if you feel like your lashes are thin and that most mascaras simply cover up the problem. By helping to condition your lashes and stimulate growth, this could gradually make your lashes look fuller even without makeup.
Pros
Free from preservatives

Contains conditioning plant extracts

May help stimulate lash growth

Convenient travel size
Cons
Can cause an allergic reaction

Subtle makeup effect

Applicator can be hard to use
---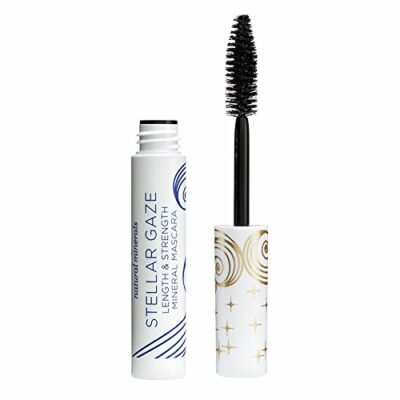 Why we like it:
This mascara contains nourishing oils and vitamins help to strengthen your lashes.
Editor's Rating:
Quick Facts
Size: 0.25 oz.
Colors: Black and brown
Organic: Contains organic ingredients
Cruelty-Free: Yes
Highlights
Pacifica as a brand is 100% vegan and cruelty-free. They offer all-natural cosmetics and fragrances at a moderate price point. There's not a lot to worry about when it comes to potentially harmful ingredients in their products.
Their mascara line uses mineral pigments for color. Stellar Gaze promises to lengthen and strengthen your lashes with a combination of jojoba and coconut oils, and vitamin b and kelp extract. Vitamin b in particular has been linked to healthy lash growth and is recommended as an internal supplement for those looking to grow healthier lashes. Topical eyelash serums are also often infused with it.
This goes on smoothly without clumping and should be removed with an oil-based cleanser to avoid excessive rubbing and better protect your lashes.
Downsides
Similar to our pick from Endlessly Beautiful, this is a more subtle mascara. For a dramatic effect, you'll need to layer it, waiting for it to dry between coats, which is inconvenient if you're in a hurry. Unlike Endlessly Beautiful's mascara, it seems to be gentler overall and less prone to causing irritation for sensitive eyes, fortunately.
However, this formula is a bit runny. It takes a while to dry, but can easily smudge if exposed to moisture. This can leave you with the dreaded raccoon eye look if you're not careful.
The brush for this product is surprisingly large, which can make it more prone to getting on the skin around your eyes as well. It's harder to be precise and catch those small corner lashes without leaving a few flecks of color on your eyelid.
Who It's For
If you have been considering an eyelash serum to use along with a gentle daily mascara, this product does double duty as both. It can help give natural definition to your lashes while giving them a boost to grow faster and stronger.
If you live in a humid climate or want to wear this product while exercising, you may need to do a touch-up to tidy any moisture around your eyes to keep it looking fresh all day.
Pros
Uses natural mineral pigments

Encourages lash growth and strength

Non-clumping
Cons
Takes a long time to dry

Can run or smudge

Brush is very large
---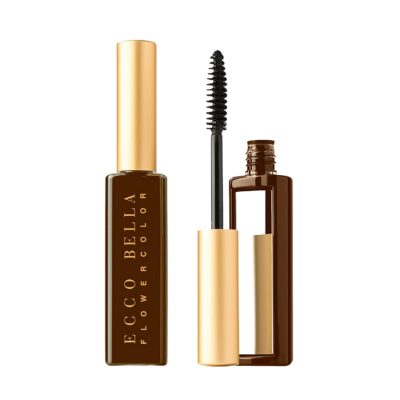 Why we like it:
When looking for a pure, all-natural formula, look no further than this one from Ecco Bella
Editor's Rating:
Quick Facts
Size: 0.38 oz.
Colors: Black and brown
Organic: Made with organic ingredients
Cruelty-Free: Yes
Highlights
Ecco Bella's FlowerColor mascara uses flower cutins, the protective compound found in flower petals that keeps them from losing natural moisture. In this product, that serves to help the mascara's staying power. The recipe also contains clay and iron oxides as natural pigments.
The natural formula goes on smoothly and lightly without adding weight to your lashes or getting clumpy. It's water-resistant but washes off without intense scrubbing which helps keep you from ripping out your lashes. It's gentle enough for most people with sensitive eyes as well.
The straight bristle brush applicator helps separate and define individual lashes. The tube also has a built-in mirror, which makes it handy for application on the go.
Downsides
The light formula of this mascara can make it feel a bit too thin and watery. While this can be good if you want a very delicate coating that you can gradually build, it can also be frustrating if you're looking for something with impact that really volumizes your lashes.
It doesn't add any curl to your lashes either, if that's what you're looking for. It's also not as resistant to tears and sweat as you might hope. For a mascara that's more water-resistant and has a more dramatic impact, you might prefer our pick from Milani.
Who It's For
When it comes to intense natural pigment, Ecco Bella delivers. It will give your lashes an intense, but natural-looking tint without harsh synthetics. This makes it a good choice for people who can be sensitive to chemical additives in mascara or who are simply looking for a cleaner product.
If you prefer a natural look to your makeup, this gives more color and definition to your lashes without screaming, "I'm wearing makeup."
Pros
Intense natural pigments

Moisture trapping cutins

Lightweight coverage

Built-in mirror
Cons
Watery consistency

Doesn't curl or volumize

Not very water-resistant
---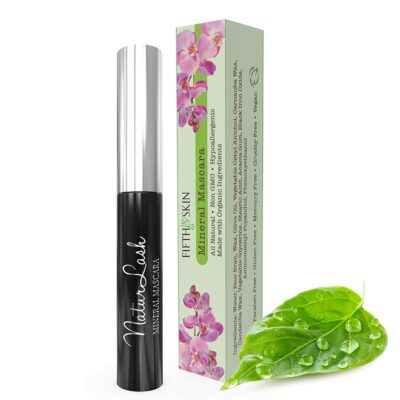 Why we like it:
This creamy formula is very versatile and gentle.
Editor's Rating:
Quick Facts
Size: 0.32 oz.
Colors: Black and brown
Organic: Made with organic ingredients
Cruelty-Free: Yes
Highlights
Fifth and Skin is a smaller brand founded in Bucks County, Pennsylvania. The company is dedicated to using natural ingredients that won't harm your body. All of their cosmetics are gluten-free, paraben-free, and vegan.
Their NaturLash mascara contains mineral pigments and uses vegetable oils rather than petroleum-based mineral oils. This helps condition your lashes which makes them less prone to falling out. The formula is washable, but "tear-resistant" as well.
The gentle formula works well for many people who are sensitive to products around their eyes. It can even double as an eyeliner if you dip an angled brush into the tube. So if you're also struggling to find a gentle eyeliner, this product can help.
Downsides
While this thicker, creamier formula gives an even coat to your lashes, the thicker formula can lead to some negatives as well. It can get overly thick once the product has been open for a few weeks and air is introduced to the product. This can make it harder to apply and more prone to clumping.
Our other naturally pigmented pick from Ecco Bella is just the opposite, a very thin and light formula you might prefer if you find thick mascaras difficult to work with.
This mascara is prone to flaking as well, particularly if you apply multiple coats. By the end of the day, you may need to brush a few dry bits off your face. It doesn't smudge like some vegan mascaras but may still need reapplication if it flakes off too much.
Who It's For
If you prefer a thicker mascara that can give you a good coat of color with one pass, this could be a good choice. If you don't rub your eyes, it has decent staying power, even in humid climates.
When doing makeup on the go, it's also handy to have one gentle product that can do double-duty as both a mascara and a liner. This non-irritating formula can single-handedly give you a subtle smokey look.
Pros
Tear-resistant formula

Gentle mineral pigments

Can be used as a liner too
Cons
Prone to flaking

Dries out and gets clumpy
---
Having the Best Vegan Mascara Experience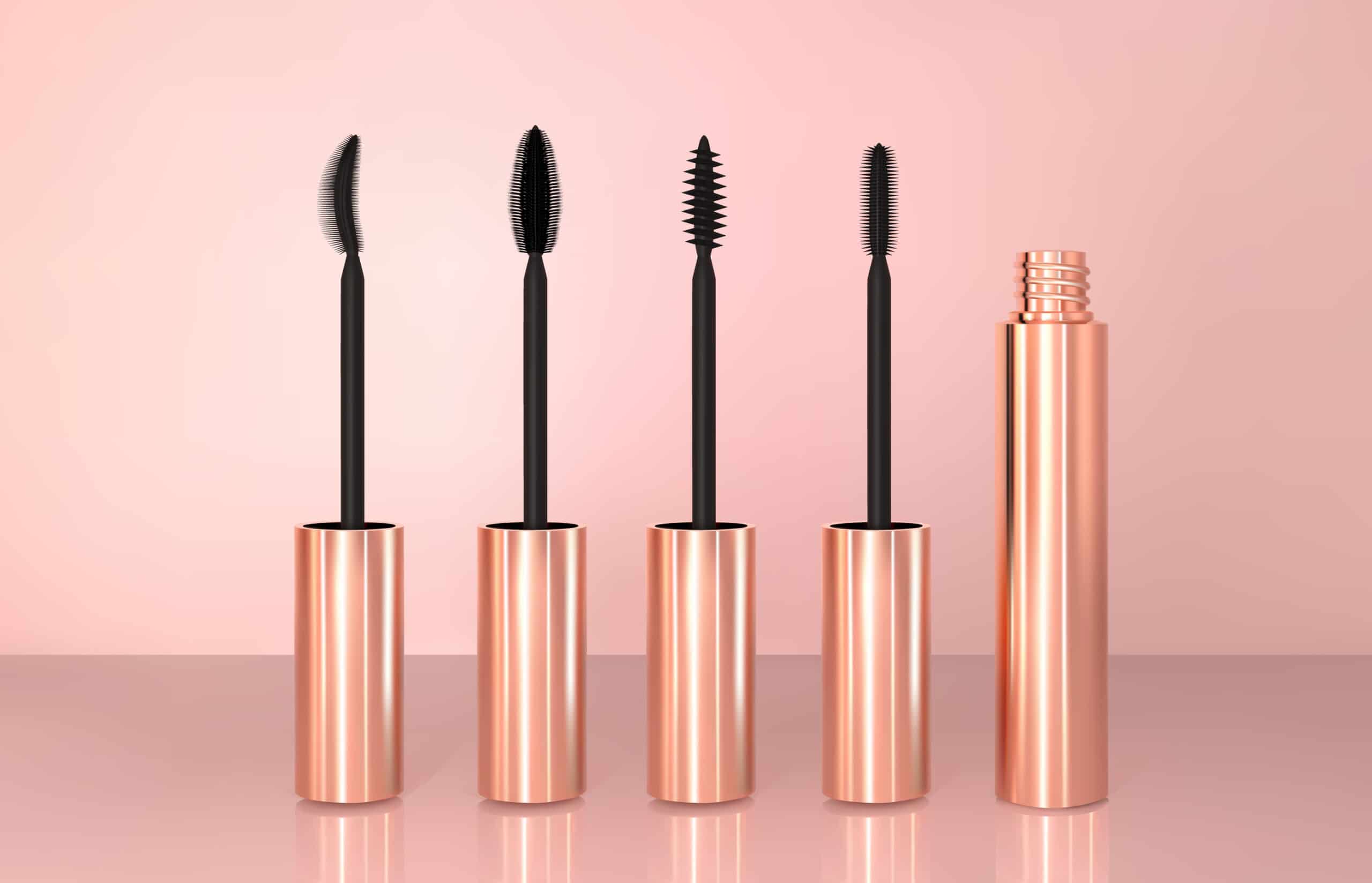 Different people are looking for different features in their mascara. Fortunately, vegan mascara is just as versatile as mascara that features animal products. You'll be able to find a mascara that meets your needs and gives you the best experience by considering a few aspects when making your choice.

Common Animal Products in Mascaras
If you start delving into ingredients lists, here are a few products to look out for. Some are extremely common, but others only pop up in a select few mascaras.
Beeswax
This is one of the most common animal-derived ingredients found in most mascaras. Sometimes it will be called cera alba or cera flava, so watch out for that too. This natural wax helps the mascara coat your lashes and makes them more water-resistant. Carnauba wax is a common vegan substitute, as well as rice bran and candelilla waxes.
Collagen
Found in bones and connective tissue, this is often added to mascaras to increase their plumping and volumizing effect on lashes. Scientists have been developing plant-based collagen for dietary applications, but there's no commonly used cosmetic substitute at the moment.
Lanolin
When sheep get their yearly haircut, the wool is cleaned and that natural oil is extracted. Lanolin is the oil that sheep produce to keep their wool moisturized and water-resistant during the winter months. This is a highly moisturizing oil that will sometimes be labeled as wool wax or oil in some cosmetics. For those with very sensitive eyes, lanolin can be mildly irritating in mascara. It can be replaced in most formulas by plant-based fats like coconut oil.
Silk
Fiber mascaras have started popping up as a solution to short lashes. Some of these products use natural silk fibers to bulk up and extend your lashes. Silk is made from the cocoons of silkworms, and the pupae die in the process. While its use in textiles has raised questions about whether it's ethical and if any alternative synthetic fiber truly offers a better environmental solution, there's no reason to add it to your mascara.
Deciding What Features You Want From Your Mascara
Mascaras may promise to give you all sorts of benefits, but what exactly does that mean? And which features will be most important for you? Here are a few common mascara characteristics and who they work best for.
Curling
If your eyelashes are long but straight, you're probably going to want a curling mascara that gives your lashes more shape. While you can always use eyelash curlers for a dramatic boost, you might want a simpler process for every day.
Choosing a mascara that has a brush that gives a curling effect and a formula that locks in that curl is essential. Our pick from Too Faced is a good option for developing some curl in your lashes without any additional tools.
Lengthening
If your lashes are short, they may need lengthening definition. For this, you'll want a mascara that you can potentially layer to build up length without worrying about clumps. A product with a brush that can catch even the finest lashes and define them is also very helpful when it comes to lengthening.
Our pick from theBalm combines a formula good for layering and a comb brush that catches even the smallest lashes.
Conditioning
For people who find that their lashes are slow to grow and tend to fall out or break, you probably want a mascara that does more for you. Not just something that makes your lashes look better when it's on, but something that will improve the quality of your lashes even when you go barefaced.
Choosing a mascara that has extra moisturizing properties and vitamins like our choice from Pacifica can help improve the overall health of your lashes.

The Best Color of Mascara for You
Most of us left colorful mascaras behind us in the early 2000s. Gone are the days of beauty brands trying to convince us that neon pink or teal belongs on our lashes. That doesn't mean that plain black is always the best option for everyone, however. Here are a few suggestions for choosing your mascara color.
Black
If you have a darker complexion and naturally dark hair, black probably is your go-to mascara color. You won't have to worry about it looking lighter than the hair on your head. People with lighter hair and complexions can still go for black if they are doing a dramatic smokey eye look and want that extra definition.
Brown
If your lashes are naturally very pale– maybe blonde or ginger, brown is probably a better choice for you than black. If you have pale skin as well, then black mascara can look too strong and unnatural. Brown will still give definition while matching your natural coloring better. Brown is also a great contrasting color for blue and green eyes. It can really make them pop.
Black Brown
What does "black brown" even mean? Well, it's a darker shade that's meant to be softer than black, but bolder than normal brown. If you're in the medium range when it comes to your complexion, a black brown shade might be your ideal daily mascara. It's almost universally flattering, though, so it's hard to go wrong with this one.
Navy
Not as common as shades of black and brown, navy does still pop up occasionally. It looks softer than black mascara and adds a subtle hint of blue. Navy can be a great way to make brown or hazel eyes seem even brighter or more richly colored. Brown eyes are beautiful and navy mascara is a great way to show that off.
Tips for Applying Mascara
To get the best effect from any mascara, there are a few tried and true beauty tips that we've found. They might just help you get the best mascara application of your life.
Heat Your Tube
Most mascaras contain a significant percentage of wax. If your mascara feels too thick or heavy, you can try warming up the tube before applying. Simply rub it between your hands for a minute or blast it with a hairdryer for a few seconds. This will help soften up the product to give you a more even coat.
Wiggle While Applying
If you're looking for better separation in your lashes, you may want to try wiggling the brush. As you pull the brush forward from root to tip, gently wiggle it from side to side. This can give you better definition and even help reduce clumps.
Don't Pump the Wand
Pumping your mascara wand in and out of the bottle to coat it with more mascara isn't a good idea. You'll be forcing extra air into the tube which can make it dry out faster. Instead, gently swirl your wand inside the tube if you're running low.
Focus on the Corners
Instead of layering on the same amount of mascara across all your lashes, try adding a second layer to your outer corners only. This will make your eyes look bigger and more open. It can even give a subtle cat-eye effect.
Final Thoughts
We live in a world where it's hard to be a truly ethical consumer. Making conscious choices toward safely and ethically produced products is an important step we can take. While not all animal product replacements currently available are good for the environment (particularly when it comes to fashion), reducing or removing animal products from our lives is undeniably a good step towards healing our overtaxed earth. And more and more healthful alternatives are appearing in the market every year.
Even if you're not vegan, you can still be more plant-based in your daily purchases. Your makeup bag is an easy place to start. There are plenty of safe alternatives to animal-based makeup products. And if you have transitioned to an entirely plant-based life, you want to know that the products you're using are still high-quality and ethically produced.
Whether you're a new vegan or a veteran, hopefully, our list has helped you find a great mascara you can use every day.