Top Picks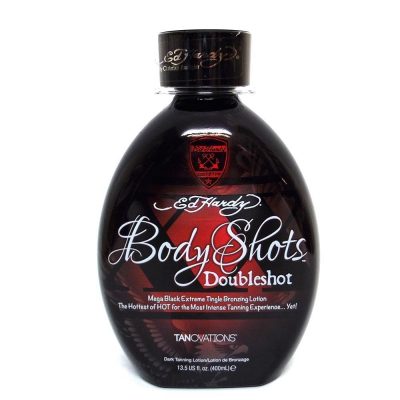 Tanovations Ed Hardy Body Shots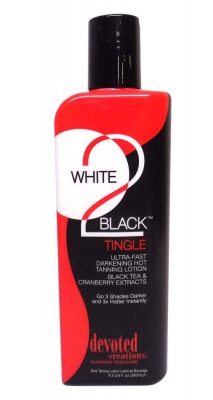 Devoted Creations White 2 Black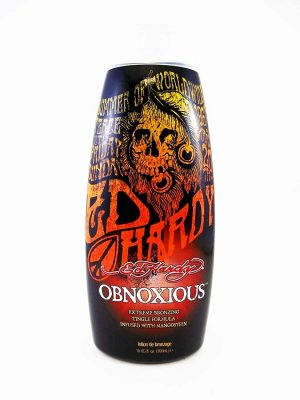 Ed Hardy Obnoxious Extreme Bronzer Lotion
Previous
Next
Everybody is looking for that sun-kissed tan. One of the best ways to get it is to use a tingle tanning lotion.
There are many types of lotion on the market, and it's sometimes hard to tell the difference between them. Tingle tanning lotions are amongst the most popular lotions people buy, especially for established tanners who already have some color and are looking to build it up into the deepest and most luxurious color possible.
What Is a Tingle Tanning Lotion and What Does It Do?
The reason tingle tanning lotions are called tingles is because of the sensation you feel on your skin when you use them.
Put simply, tingle tanning lotions are designed to give you the fastest tan possible, and as part of their process they make your skin go red and 'tingle.' This is because of the active ingredients, which works by opening up capillaries and bringing more blood up to the surface of your skin, almost like you're blushing all over your body.
This lets you absorb more ultraviolet light (UV) which means you naturally tan more, in the same way that you would if you were out in the sun.
What Should I Look for When Buying a Tingle Lotion?
When buying a tingle tanning lotion, there are several factors to keep in mind. First, they vary in strength, with some lotions accentuating your tan more than others. Secondly, some contain bronzers, which augment your existing tan. Lotions also vary in their impact on your skin. Let's go over these in more detail.
How Strong Is the Tingle?
The first thing to realize is that not all tingle tanning lotions are created equal.
Tingle lotions come in many different strengths, from mild blush tingles that you might barely feel, up to super intense tingle lotions that will have an instant reaction within seconds of touching your skin, and might even be too strong for anyone who isn't already super dark.
Generally, the stronger the tingle, the darker the tan you'll get at the end of your session, so it's always worth using the strongest tingle cream you can comfortably use. After one or two sessions, you'll get used to the sensation, and be left with the best color you've ever had.
Does It Have Bronzers in It?
On top of having ingredients that boost your natural tanning, a lot of tingle lotions also contain bronzers, or fake tan.
Unlike a lot of other fake tanning products, bronzers in tanning lotions are designed to work with your tan. This means the more tanned you are, the more you will see a reaction from your bronzers, so the darker you are, the darker you get.
When using a lotion with a bronzer in it, you need to pay a little more attention. Bronzing lotions can be streaky if you don't apply them properly, and can leave a residue around the hands and joints, so make sure you rub it in and have a shower afterward.
Is It Good for the Skin?
It's no secret that tanning can dry your skin out and contribute to aging. This is why more creams are including moisturizing and anti-aging ingredients that lead to healthy looking and feeling skin.
If you're tanning, you should already have a good moisturizing routine, because it's going to look after your skin and boost your color. So a lotion that's good for your skin isn't essential, but it's a great little bonus.
Top 10 Best Tanning Lotions 2021
A Full Guide to Tingle Tanning Lotions
If you're new to tanning lotions, or if you're a seasoned tanner, our guide will take you through everything you need to know about how to use these darkening lotions and how to get your skin looking like you've spent summer in the Maldives.
Why Should I Use a Tingle Tanning Lotion?
Considering the number of tanning creams and lotions out there, why would someone ever use a tingle cream that makes their skin red, and can feel a little strange when it's first put on?
Simple. Tingle tanning lotions tan you the fastest.
Tingle tanning lotions are generally the strongest type of lotion available. They're excellent for getting a deep tan fast and getting the darkest tan possible.
If you're looking for the deepest, darkest, longest-lasting tan you can achieve, you need to try a tingle cream.
Tingle lotions are also excellent if you've hit a plateau and you're struggling to get a darker tan, and they're great for jump-starting a tan quickly. This is because tingle lotions work slightly differently to normal tanning creams.
Non-tingle tanning lotions contain accelerators and moisturizers, which work by increasing your body's natural melanin production, and priming the skin to be ready to tan. This means your body is going to produce more of the chemical that makes you tan naturally.
Some lotions also contain bronzers, which work exactly like fake tan, giving you a rapid boost to your tan the first time you use them.
But tingle creams also contain active ingredients that directly boost the amount of UV you absorb, which makes you tan so much faster. They work by stimulating the blood flow in your skin, which means you naturally absorb more UV into your bloodstream. This is also what makes your skin go red and tingle, as it's like a full-body blush.
Is It an Accelerator or a Maximizer?
When buying tanning lotions, the words accelerator and maximizer are widely used terms you're going to run into again and again.
Accelerators are designed for people who are just starting out. They work on building a base tan, and will give you a solid tan much faster if you're currently light-skinned or going on a sunbed for the first few times.
Maximizers on the other hand are created to build on a base tan. If you've already got a nice deep tan and you're looking to maximize it and make it as deep, dark, and beautiful as possible, you're going to want a maximizing lotion over an accelerator.
What Happens When You Use a Tingle Tanning Cream?
When you use a tingle cream for the first time, you can expect a few things to happen.
First, your skin will normally turn pink or red within a few minutes of rubbing the cream into your skin. This is completely normal, and part of the tanning process. Over time, as your body gets used to your cream, you'll get less red. This doesn't mean that your cream is going to be any less effective. On the contrary, now that you're used to your cream, you may even get a better response from it.
As your skin goes red, you should also feel a tingling sensation. Particularly strong creams, or people who have sensitive skin, might make you experience a stronger tingle that could be described as stinging or burning
The tingling should fade quickly after you exit the sunbed, and the redness will normally last for a few hours after you've finished tanning. If you want to get rid of the redness faster for a reason (for example, you have a social event you need to get to), or you're just not enjoying the tingling sensation, a lukewarm shower will cool down your body and remove the remainder of the tingle cream.
When you're taking a shower, make sure it's only warm. Too hot or cold could react with the tingling sensation, feel uncomfortable, and make it worse.
Sometimes, the redness and tingling won't be evenly covered on your body, and you may have red blotches or uneven patches of redness. This is entirely natural, and despite how it looks, it won't cause an uneven tan, so don't worry. The only thing that can cause an uneven tan is actually applying the cream unevenly and completely missing major parts of your body
Be careful after using tingle creams. The cream can easily stay on your body, especially on your hands and face, for several hours after use, and can easily be transferred to other people by touch.
This means being especially careful around people that might be vulnerable, like small children and pets – as well as people that you know have sensitive skin – until you've had a shower and washed the remnants of the skin clean.
Will I Like the Tingle Sensation?
Strange as it may sound, a lot of people stick with tingle lotions because of the tingle feeling itself. Of course, the amazing color you get from a tingle lotion helps, but once you're used to it, the tingling sensation can actually improve your tanning sessions.
If you're new to tingling creams, a strong tingle can be a strange, even overwhelming feeling. However, once you get used to it, it can be hard to go back. We're sure that once you've used a tingle cream and seen the color it gives you, you'll swear by it and won't use anything else again.
How Does a Tingle Cream Work?
The tingle in a tingle cream normally comes from one of three ingredients
Methyl Nicotinate
Benzyl Nicotinate
Hexyl Nicotinate
All three ingredients work in roughly the same way.
Methyl Nicotinate increases the blood flow to the top layers of your skin which brings more oxygen to the melanocytes, the parts of your skin that produce the melanin that lets you tan naturally. This means they work harder and you tan faster, in a natural way. Methyl Nicotinate is the milder of the three ingredients, and normally only produces a gentle tingle when you use it.
Benzyl and Hexyl Nicotinate works similarly, except they open up the capillaries further resulting in more redness and a deeper burn, and ultimately a stronger tan.
What Does a Tingle Cream Feel Like?
Honestly, this is a hard question to answer. The reason it's so difficult is because the same tingle cream can feel completely different to different people.
Some people might try a mild tingle cream, but because they have more sensitive skin, or they're more susceptible to the active ingredients, they end up having a much stronger reaction. Other, more seasoned tanners might put on the strongest tingle cream and have absolutely no reaction besides a nice healthy glow.
What everyone can agree on is that tingle creams, well, tingle. It can also be described as hot or itchy.
If this is your first time using a particular tingle cream, or a tingle cream in general, there's a specific method you should use to test it out.
Are You Using a Tingle Cream for the First Time?
If you've never used a tingle cream before, the first time can be a bizarre experience. Tingle creams tingle, and depending on the lotion you've chosen the sensation can be as mild as a gentle itch, strong enough to be described as a burning sensation, or anywhere in between.
For this reason, if this is your first time using a tingling sunbed lotion, or you're using a new lotion that's stronger than the lotions you are used to, the best idea is to patch test it.
To patch test your lotion, take a small amount of tingle cream and apply it to a single small area of your body. One of the best areas to test is the inside of your wrist or arm, because the skin on the inside of the wrist is thinner than the rest of the body. This makes it slightly more sensitive, so if you have a good reaction from a tingle cream in this area, you shouldn't have any issues on the rest of your body
Patch testing is especially important if you have sensitive skin or a low pain tolerance. Also bear in mind that a very small amount of people might be allergic to the ingredients used in tingle creams.
There are some areas where you should not use tingle creams. Generally, these are areas where the skin is thinnest, and the lotion could work itself into more sensitive areas such as around the eyes, the nipples, and the genitals.
Is There Any Reason Why I Shouldn't Use a Tingle Cream?
Yes.
As we've already mentioned, some tingle lotions can be very strong, and might not be suitable for people with sensitive skin or allergies, which is why we always recommend spot testing them before using a new lotion over your whole body.
Why Does My Cream Have a Bronzer?
Bronzers in tanning are a contentious issue. Some people love them and swear by them while other people won't touch them.
Used in the right way, bronzers can be a fantastic boost to your tanning experience. They work similarly to a skin cream or other product that has a bronzing agent in it. That means there is fake tan in the lotion, which will sink into and tan your skin as you spread your lotion across your body.
While a bronzing tanning lotion is not normally as dark as regular fake tan, lotions with bronzers like these are created to look good on top of an existing tan. That means these types of creams are a great choice if your tan is already super dark and you're looking to build on top of it, or you're looking for a lotion that offers an instant sun-kissed glow as soon as you step out of the bed.
Why Do So Many Lotions Have Anti-Aging Ingredients in Them?
It's no secret that too much tanning can start to age your skin, whether you're tanning on a sunbed or outside in natural sunlight.
A good tanning lotion can help fight against this by giving your skin all the vitamins and minerals it needs to stay smooth and glowing.
Another ingredient to look out for is caffeine, which is better for a short term boost. Instead of giving you long term benefits like moisturizers and vitamins, caffeine plumps up your skin by getting rid of puffiness and wrinkles, so you'll step out of the tanning booth with a healthy, youthful, natural glow.
I've Recently Got a Tattoo. Do I Need to Use a Lotion With a Tattoo Protector?
UV light, whether it's from the sun or using a sunbed, can fade and damage tattoos, especially new tattoos. And when you've spent so much time, money, and pain working on your body art, having it fade and go patchy is the last thing you want.
Luckily for the tattoo enthusiasts amongst us, a lot of creams have additional tattoo protection built into them. These ingredients are supposed to block all of the UV from the sunbed, protecting your tattoo from damage.
In our experience, if you're worried about your tattoo, it's better to provide a second layer of protection by covering the area that has your new tattoo. For small tattoos, plasters are perfect, and bandages work well for larger tattoos. It's best to keep your tattoo covered for at least two weeks after having work done, then switching to a tattoo protecting cream for at least two more weeks after.
Why Does My Tingle Lotion Have So Many Moisturizers?
Tingle creams tend to have really strong moisturizing elements, both because it helps you tan, and it keeps your skin supple and soft instead of losing moisture to the UV.
A high-quality tingle cream works like a luxury moisturizing beauty cream, and will keep your tan even, so you come out feeling amazing.
Can I Use My Tingle Tanning Cream Outside in the Sun?
While it's true that the ingredients in a tingle tanning cream would boost your tanning outside in natural sunlight, we have to recommend that you do not do this.
The reason is really simple. Tanning creams aren't designed to be used outside, and because of this, they have no built-in sun protection so they won't do anything to prevent sunburn or other skin issues.
You should only use tingle tanning creams when tanning in sunbeds or tanning booths. 
How Can I Get the Best Tan Possible?
If you want the best tan possible, there's a simple routine you should be following to get the best color you can.
Start by making sure there's nothing on your skin: This means exfoliating fully, because dead skin will block some of the UV and prevent you from tanning. For best results, exfoliate fully before every sunbed session.
Moisturize and hydrate: Just like with dead skin, overly dry skin can block you from tanning by reflecting some of the UV rays. Make sure to drink lots of water and keep your skin moisturized, supple, and healthy.
Remove anything that might block the sunbed: This includes make-up and other cosmetics. Not only will most cosmetics block UV just by being on your skin, a lot of modern make-up contains SPF, so it will also activelyblock your tan.
Don't exfoliate or wax afterward: Your tan is focused in the top few layers of skin. If you do anything that removes a layer or two, for example, waxing, you can lose a lot of your color.
Use a good sunbed lotion before you tan: A strong sunbed lotion is the single best step to take if you want a strong, even, glowing tan.
Why Do Some Tingle Tanning Lotions Contain Silicone, and What Is It For?
If you've looked at the ingredients list of a tingle tanning cream in the last few months, you might have seen silicone on that list and wondered why it was there.
There's a lot of myths surrounding tanning, how to get the best tan possible, and what you should be looking for when you tan. In general, if you see silicone in your tanning lotion, it means that you've got a high-quality product on your hands.
Silicone is used in high-quality skincare products, because it creates a barrier on your skin that locks all of the other ingredients in place so they have the biggest effect. On top of this, silicone also provides a barrier that keeps your skin protected, while still letting through oxygen so your skin can breathe.
You might have also heard negative talk about silicone, and that it should be avoided. We're here to say that this is a complete myth, and that silicone is completely safe to use in skincare products like tanning lotions.
The reason you may have heard negative rumors about silicone is from other skincare product providers, as silicone is an expensive ingredient, so only the more expensive products tend to contain it.
The only times you should avoid using a silicone-based product is when you have acne, or particularly sensitive skin. Apart from these cases, silicone should normally be completely safe to use, and only enhance the tan you get from your lotion.
Final Thoughts
A tingle tanning lotion might not be for you. Some people simply don't get on with the sensation, or don't like the redness that can come with a really strong tingle cream.
But for serious tanners who want to get dark, fast, this is the most effective route. If you want to get tanned as quickly as you can, the best thing to do is buy a medium-strength tingle and try it out for several sessions.
Once you've seen the results you get, you'll be addicted to that rush, and looking forward to your next session. If you don't think tingle lotions are for you, this list of indoor tanning lotions might contain something more suitable for you.