Top 9 Best Indoor Tanning Lotions 2023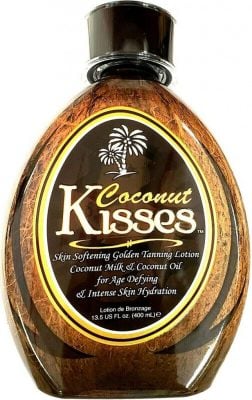 Quick Facts:
Type: Accelerator
Ideal Skin Type: All
Size: 13.5 oz
Ranking as our number 1 indoor tanning lotion, Coconut Kisses by Ed Hardy ticks many boxes. Beautifully scented, the product is enriched with both coconut milk and coconut oil to help to replenish skin's moisture during tanning. Unlike other products, Coconut Kisses is free from bronzing agents and instead works independently to give a deep golden tan.
Formula
This lotion uses a quad tyrosine blend and 'melanobronze' to stimulate melanin formation when tanning for a longer-lasting glow. The active ingredients are designed to continue working after a tanning bed session and the formula is infused with 'Body Fit' to help firm skin. Coconut Kisses absorbs well into the skin—though its thickness means it takes a while to do so.
Performance
It works well across various skin types and doesn't cause any irritation for those with sensitive skin, which is reassuring. Even used during shorter tanning bed sessions (less than 10 minutes) it effectively boosts tanning thanks to the tyrosine ingredient and you're going to notice the visible differences quickly. When compared to other lotions of this category, Coconut Kisses works on average around twice as fast giving great results.
Overall Verdict
For those seeking an accelerating, rich, top-quality indoor tanning lotion free of bronzer, choose Coconut Kisses. The coconut-scented lotion is sure to be a winner!
---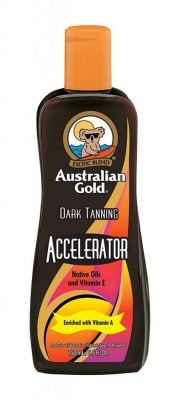 Quick Facts:
Type: Accelerator
Ideal Skin Type: Dry
Size: 8 oz
For those seeking a consistently highly-rated indoor tanning lotion to boost results, Australian Gold Dark Tanning Accelerator is rated as one of the best. Packed with natural ingredients including tea tree oil and Vitamin A and E, this formula works to moisturize your skin while giving a natural darker tan.
Formula
Free from artificial bronzer, this product is amongst the best for its natural results, scent and texture. Tried and tested across all skin types, this indoor tanning lotion is suitable for those with fair skin as it won't cause dreaded streaks. A great 'base tan' builder, it gives a deep enough color to work with when applied regularly. Ingredients used in this lotion make it an effective moisturizer for the skin, helping to prevent breakouts from occurring and the long-lasting scent is a delightful addition. It is runny, though—while this doesn't affect its performance, it can be a bit messy to apply.
Performance
This lotion is effective in achieving a tan that lasts even after just one use. You'll find that only a small amount of lotion each time is required, this product being a perfect example of a little going a long way. We loved the 'Creamsicle' scent which combines vanilla, orange and coconut. Unlike other lotions, because this one is free from a bronzer, it doesn't smell artificial at all.
Overall Verdict
Australian Gold Dark Tanning Accelerator provides long-lasting results in between tanning sessions. It's a great option for those that want an accelerating product that is packed with natural ingredients.
---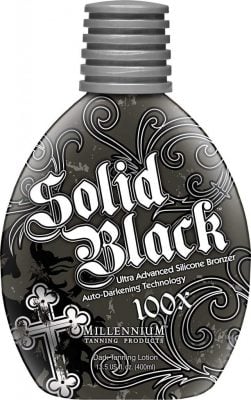 Quick Facts:
Type: Bronzer
Ideal Skin Type: Fair
Size: 13.5 oz
Millennium Solid Black is a winner in our eyes and receives raving reviews for its performance. Using 'auto-tan technology', the lotion works to enhance tanning during every session for a deep color over time. This product utilizes a built-in bronzer that works instantly.
Formula
The formula is very absorbent, but it's extremely important to rub the bronzing lotion in properly until no residue is on skin to avoid streaking. The product works quickly and it features a lovely floral fragrance called 'Orchid Blush.' Be sure to pick up a tanning mitt when purchasing this product, as application will be much messier without one.
Performance
This is a highly effective indoor tanning lotion that delivers results quickly, even after just a few sessions on a tanning bed. Those that choose this product can expect to see results even after the first use, thanks to the addition of a bronzer that doesn't leave an awful typical orange tone. For those with fair skin, this tan lotion comes out on top for its natural color. Unlike other similar products, Millennium Solid Black uses an instant bronzer which provides quick results. If you need to build a solid base tan, this product could be a suitable option.
Overall Verdict
For those that want an indoor tanning lotion that works fast, this product is recommended. While Millennium Solid Black doesn't boast natural ingredients it does give even those with fair skin a great tan as early as the first application and tanning bed session.
---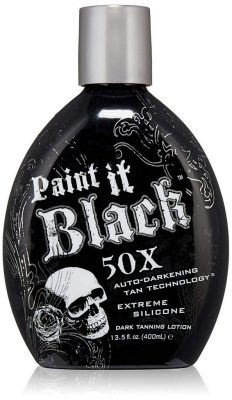 Quick Facts:
Type: Bronzer
Ideal Skin Type: All
Size: 13.5 oz
This product uses a silicone blend of moisturizers which leave skin feeling extra smooth and moisturized after every tanning session. For those that want to achieve a dark tan quickly, this product's 50X auto-darkening technology is designed to do just that.
Formula
Thanks to an extreme silicone blend of moisturizing ingredients, this lotion leaves skin feeling nourished. It features both accelerators and bronzer to help develop a tan quickly and build a deep 'base tan' which can then be topped up. Paint It Black does not use 'tinglers,' making it a great option for those that dislike them. Customers have placed emphasis on ensuring that hands are washed after use if a tanning mitt isn't used, with some stating that the product does stain. Overall the formula is easy to apply and smooth on the skin and it absorbs very well.
Performance
Even those with fair skin favor this indoor tanning lotion for its accelerating qualities and natural results. Effective as early as after one use, Paint It Black's formula gives long-lasting results helping to achieve a dark tan with regular use. If you need to boost your tanning efforts, this product is worth purchasing. Even with just one or two tanning sessions per week, you'll see a beach-worthy tan.
Overall Verdict
Paint It Black is a top product for those that want to achieve a dark yet natural tan. It works very quickly thanks to its 50X auto-darkening technology, and leaves skin feeling moisturized. This lotion delivers on quality, though its scent isn't as natural as others.
---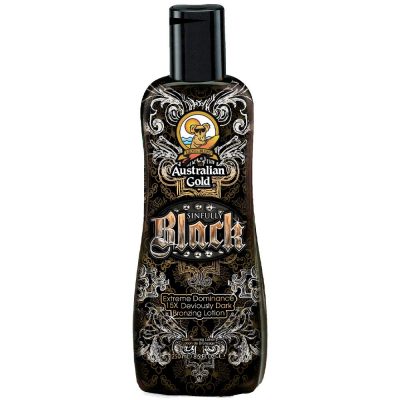 Quick Facts:
Type: Bronzer and accelerator
Ideal Skin Type: All
Size: 8.5 oz
Are you looking for a quality indoor tanning lotion that leaves skin feeling silky smooth? Australian Gold Sinfully Black has been designed to give a natural, deep tan while ensuring that skin is left nourished and smelling great. Using a blend of powerful bronzers, the lotion's formula heightens the effect of ultra-violet lights during tanning bed sessions.
Formula
Rated highly for its consistency and feel, we really liked Australian Gold Sinfully Black's formula which features both bronzing and moisturizing properties. Utilizing a blend of natural ingredient extracts such as walnut shells and sunflower oil, the lotion leaves skin extremely smooth while ensuring it is kept hydrated during the tanning process. It soothes and protects skin while allowing a deep tan to be achieved effortlessly. Customers love this product for its lovely scent and report excellent tanning results even after one use only. The lotion has a thinner consistency than some, however, this helps the product to absorb into skin fairly quickly. Like with other bronzers, you'll still want to use a mitt, but this less concentrated formula won't cause staining as easily as stronger bronzers.
Performance
This lotion certainly works fast and won't leave stains on the skin, unlike other similar products that feature bronzing boosters. Those that have used Australian Gold Sinfully Black say have been converted from other tanning products and turn to it as a regular product as part of their tanning routines. Because of how quickly the formula works, only a small amount of this lotion is required for each tanning session. And, its active ingredients are less concentrated than in most bronzers, making it perfect for a gentle, natural tan.
Overall Verdict
It's no wonder to see why Australian Gold Sinfully Black ranks as one of the best indoor tanning lotions available. Offering quick results and a formula that soaks into skin quickly, the boosting bronzer leaves skin with a natural tan each time.
---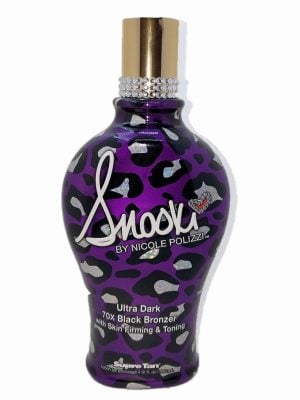 Quick Facts:
Type: Bronzer
Ideal Skin Type: Dry, dark
Size: 12 oz
This bronzing indoor tanning lotion by Snooki works quickly and is packaged into an attractive bottle design. For those that want a natural formula that boasts booth conditioning and firming properties, this lotion is guaranteed to satisfy. Utilizing both almond oil and coconut oil, the product's formula is moisturizing without leaving the skin feeling greasy.
Formula
Snooki Ultra Dark 70X Black Bronzer contains a blend of quality, natural ingredients which leave tan and leave skin feeling nourished after use. Black walnut and henna give the lotion an effective tanning ability, and the addition of DHA ensures that tanning continues after the session has ended. The silky formula is easy to apply and despite featuring a blend of natural coconut and almond oil, customers love this lotion as it doesn't feel greasy. As with most products that use a bronzer, it's advisable to use a tanning mitt during application to avoid any unwanted streaks from appearing.
Performance
Using a powerful bronzing formula, this product gives a deep tan and uses natural oils to boost moisture in the skin. After application, you won't feel greasy after application and won't risk nasty streaks from forming thanks to a quality formula (so long as a tanning mitt is used!). the lotion promises a dark tan and that's exactly what you'll get. However, be wary that if you have fair skin, the color achieved might seem a little unnatural.
---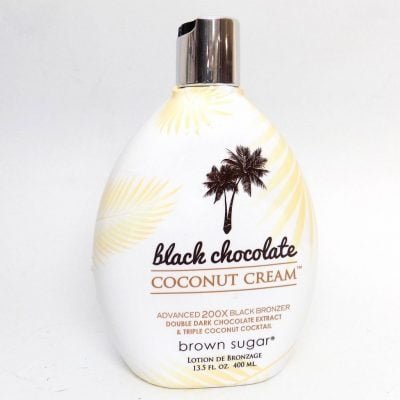 Quick Facts:
Type: Bronzer
Ideal Skin Type: Dark
Size: 13.5 oz
Boasting a beautiful scent and a creamy texture, it's not difficult to see why this tanning lotion is so popular. In addition to its appeal for the senses, Brown Sugar Black Chocolate Coconut Cream works great to bring about a golden glow, and it also contains quality ingredients to help keep skin feeling nourished and soft.
Formula
Thicker in texture than most other tanning lotions, Brown Sugar Black Chocolate Coconut Cream contains a bronzer but does not have an artificial scent. In fact, this lotion is amongst the best smelling on the market and uses anti-aging nutrients and oils to keep skin soft and healthy. Great for those that suffer from sensitive skin, outside of tanning, this lotion moisturizes beautifully. Easy to apply and absorbent, Brown Sugar Black Chocolate Coconut Cream works to boost tanning without a DHA.
Performance
Using a 200X bronzing booster, this lotion works quickly to help you to develop a natural, dark tan any time of the year. However, due to the darker shade of the bronzer, this lotion is not the most natural option for those with fairer skin. With that said, for those with a darker skin tone, this indoor tan lotion works wonders without leaving an orange look, which nobody wants!
---
8.

Best Tingling Indoor Tanning Lotion:

Ed Hardy Obnoxious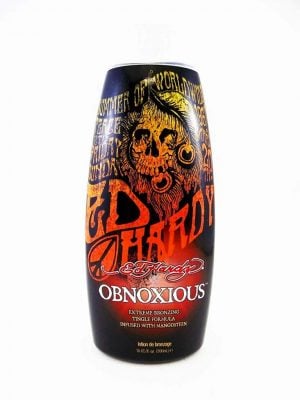 Quick Facts:
Type: Tingler, bronzer
Ideal Skin Type: all skin types
Size: 10 oz
If you're seeking an effective tanning lotion with plenty of tingling sensation, Ed Hardy Obnoxious could be the perfect option. The bronzing tingling formula boosts tanning for a deep tan, while vitamins help to replenish the skin and ensure that it keeps healthy.
Formula
With a medium to runny texture, Ed Hardy Obnoxious is easy to apply. Once applied, it has a tingling effect on the skin to boost the tanning process. The tinglers are more extreme than found in other lotions, so for those that don't like the sensation, this probably isn't the right choice for you. The formula has a nice scent thanks to ingredients such as mangosteen, which leaves skin free from the typical tanning smell.
Performance
As far as performance goes, this tanning lotion will give a fairly light tan. Because of the added bronzer in the formula, it's best to apply the lotion using a tanning mitt to be sure no orange streaks are left behind. This indoor tanning cream is also suitable for those with fair skin as the tingling formula works to boost melanin across all skin types. This bottle of lotion delivers what it sets out to do, though you may need to wait a few sessions to see darker tanning results.
---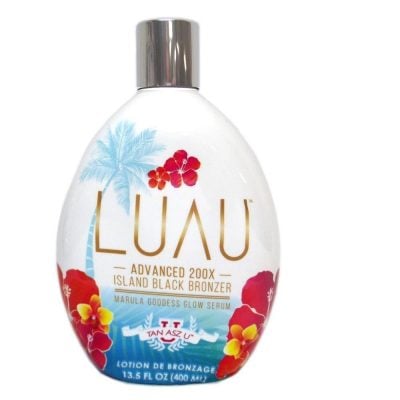 Quick Facts:
Type: Accelerator
Ideal Skin Type: Dry, fair
Size: 13.5 oz
The paradise themed bottle of this tanning lotion certainly matches the product's fragrance and results. For a golden beach tan that can be achieved quickly from a paraben and DHA-free formula, Luau is this way to go.
Formula
You'll get an instant hit of this lotion's floral fragrance as soon as you open the bottle. Unlike other flowery scents, Luau Island Black Bronzer doesn't smell too artificial. The lotion itself has a medium consistency, which means it absorbs well into the skin. While a little oily, it provides great coverage. Free of DHAs, this tanning lotion gives a natural color using ingredients sourced from nature. And, the welcomed addition of marula oil keeps skin soft and replenished.
Performance
For those with skin on the paler side, you may want to steer clear of going in hard with this product. However, with that said, for those looking for a deep tan this product is sure to impress! The lotion is great for those seeking an enhanced tan skin tone that gives lasting results. If you're not a fan of artificial bronzer either, you'll also love this choice, as it's the most powerful DHA-free indoor tanning lotion that we recommend.
---