Top Picks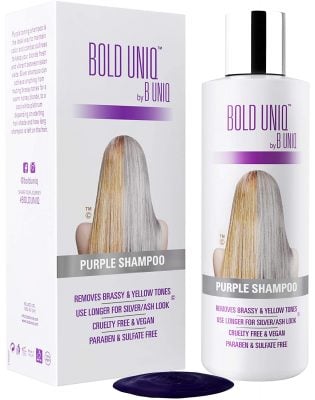 Bold Uniq Purple Shampoo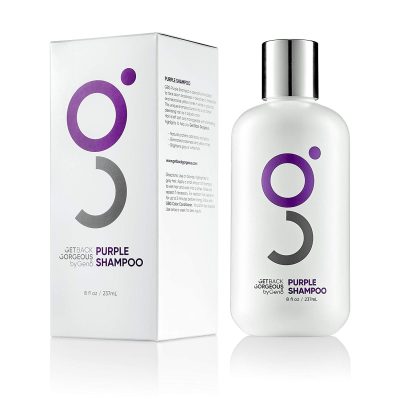 Get Back Gorgeous Purple Shampoo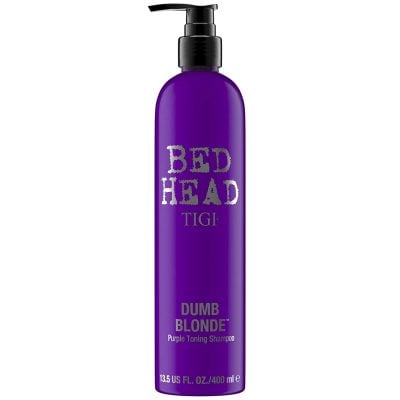 TIGI Bed Head Dumb Blonde Purple Toning Shampoo
Previous
Next
What Is 'Purple Shampoo'?
Purple Shampoo is a specially formulated shampoo for blonde hair – and all its accompanying and adjacent shades and variants. It also works on all shades of silver hair, platinum blonde hair, ash, grey, and white hair.
Blonde hair, whether natural or processed, tends to have deep shades of yellow and brassy orange tones that appear artificial, unnatural, and ungainly. These warm tones need to be color corrected for blonde hair to appear more natural and cool-toned. This is where the cool-toned shade of purple shampoos helps. Why purple? We'll answer this in detail in our FAQ section below.
Things to Consider When Buying a Purple Shampoo
There are some key features you should look for when buying a purple shampoo. They are the ingredients in the formula, how dry they make your hair, how eco-conscious they are, their scent and, of course, their cost. Let's look at each of these in detail now.
Ingredients in the Formula
If the shampoo has a list of ingredients that's never-ending, has names you cannot pronounce, and mentions preservatives, you might want to stay away from it. The best purple shampoos are free of harmful chemical substances that are harsh on the hair and scalp and which cause permanent damage over the long term. Sulfates, phthalates, and parabens should be avoided if possible.
Dryness
Purple shampoos work by depositing purple pigment onto your hair to correct the yellow tones and remove brassiness. In order for the pigment to take hold and work as intended, the purple shampoo needs to be left in the hair considerably longer than regular shampoos. This makes them dry your hair out more than regular shampoos. Most purple shampoos leave your hair brittle, stringy, dry, and in extreme cases, mess up their moisture balance. Look for a shampoo that is gentle on your hair and includes moisturizing agents to restore the hair oil balance.
Environmentally Friendly
While this isn't a prerequisite for a good purple shampoo, it doesn't hurt to use products that do not harm the environment, make use of naturally occurring ingredients, use recycled packaging, and advocate and use cruelty-free testing. A lot of brands these days are also offering 100% vegan shampoos with all the ingredients derived from plant-based extracts. If you can go for one of these, then you can contribute towards protecting the environment with your choice.
Value for Money
Just because a particular purple shampoo has an affordable overall cost, it doesn't automatically mean it's good value for money. Read the review for the product, figure out how much of it you'll need per wash and how many washes you get before the bottle runs out. Then calculate what it will actually cost you in the long run. Some gentle formulas that do not use highly pigmented purples end up being very expensive, whereas a mid-range heavily tinted toner might work out to be cheap based on how little of the product you require per wash.
Scent
Most shampoos, whether purple or regular, have a distinctly pleasant fragrance, specially formulated to keep your hair smelling fresh and pleasant after every wash. Since purple shampoos have the specific purpose of protecting your blonde or bleached hair color by correcting the yellows and toning out the brassiness, some of these concoctions tend to have unpleasant smells. If you are sensitive to scents, pay attention to the fragrance and choose one that has a pleasant scent, uses natural ingredients only, or has no scent at all.
Unsure of where to start or which brands to trust your hair with? Fret not as we have created a list of the best purple shampoos money can buy. We'll also tell you why they made it to our list. Here's the list of the 12 best purple shampoos to buy online.
Top 12 Best Purple Shampoos 2021
Great Purple Shampoos That Didn't Make Our List
That brings us to the end of our list. But there are some other great products we want to mention. We would be remiss to not mention some wildly popular brands, some up and coming stars, and outliers that most people wouldn't have heard of.
If you are of a mind to splurge on a purple shampoo that caters to all your blonde hair needs, then try out the Oribe Bright Blonde Shampoo for Beautiful Color. It is way more expensive than any purple shampoo included on our list, but does have a decent reputation for taming brassiness and yellows.
If you're looking for an ammonia and peroxide free shampoo for your tresses, we recommend the John Frieda Sheer Blonde Colour Renew Purple Shampoo. It's decently priced, and is quickly gaining traction with hair care professionals and stylists alike. It does an excellent job of toning your blonde hair to a much cooler shade.
Paul Mitchell is a name to be reckoned with when it comes to hair care. This guide would be incomplete if we didn't point you to his excellent formula for color correcting blonde hair – Paul Mitchell Platinum Blonde Shampoo. It doesn't stand out from the crowd so it didn't make it to our top 12 list, but the brand name carries weight, and the shampoo works as intended.
Last, but not the least, a little known Italian brand called Fanola, with an inexpensive purple shampoo called No Yellow Shampoo, is making its presence felt in the US market. This shampoo is a delight for people with blonde hair. It does everything that most of our top-rated products are known for.

Frequently Asked Questions
What Is Brassy Hair?
When you get your hair bleached and colored, it looks perfect for a while. A few days or a week later, some strands start turning a deep yellow or orange with reddish undertones. This looks very jarring and gives a fake aura to your hair. The orange tinge is called brass, and it is a warm tone that your hair starts turning to after being colored. Yellow and golden blonde are the other two warm shades that also need to be corrected.
How Do You Take the Brass Out of Your Hair?
By using a purple shampoo. The purple pigment in the shampoo is cool toned and neutralizes the warm-toned brass, yellow, and blonde into a brighter, cooler, silver-ish blonde and does away with the red and orange undertones.
Why Purple?
If you look at the color wheel, you'll notice that the color purple sits right opposite the blonde and yellow band. The 'Color Theory' proposes that in order to neutralize any color on the color wheel, you add a tinge of the color that sits directly opposite it on the color wheel.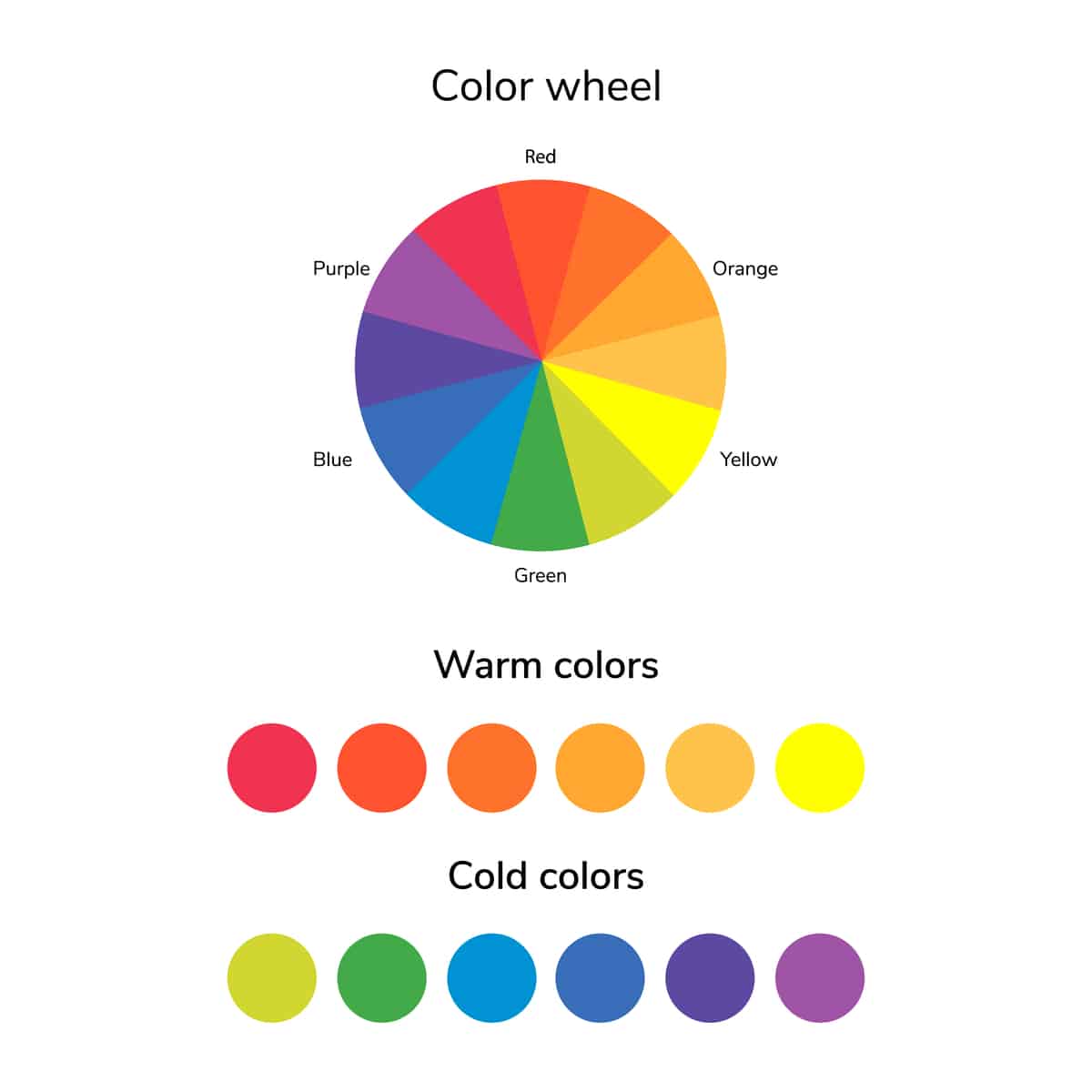 So, as per the color wheel theory, purple is the ideal color corrector for blonde and yellow hair. Likewise, blue is the right hue to correct orange tones, while blue-violet tones down golden hair.
A dash of purple to your blonde hair will make them appear brighter, remove the deep yellow tones, and neutralize the brassiness. It will also brighten up silver, platinum blonde, ash blonde, grey, and white hair.
How Frequently Can I Use Purple Shampoo?
It depends on the formula. There's no single answer to this question. It varies with the brand and formula of the purple shampoo you're using. Look at the ingredients and read the reviews.
If the brand is eco-conscious and uses a gentle formula, you can use the shampoo multiple times a week. If the shampoo has a deep purple pigment and uses harsh chemicals, then it's best to use it only once a week.
A good rule of thumb is to use it whenever you see your hair color turning a little brassy. Even if the directions on the bottle mention alternate day usage, you should stop when you start noticing a purple or a bluish tinge to your hair.
How Long Can I Leave the Purple Shampoo in My Hair?
Frequently, but only as long as is directed by the brand or mentioned on the bottle. If that doesn't work out for you, start with a small quantity of the product and leave it in for less than 3 minutes. Notice the difference in the shade once you rinse it off. Based on how light you want your hair, and how much product you used, you can arrive at the right combination of product and time duration to get the right cool hue.
Note that just because it worked for some people within 3 minutes on the first wash, it isn't a bad product for not giving the same results to you. Your shade of blonde, the texture of your hair, the amount of product in your hair, and how you go about using it can lead to drastically different results with the same purple shampoo.
Be patient, find out the best way of using the shampoo, and give it a couple of tries before discarding it in favor of a different brand. Here's are some good rules of thumb to follow based on the tone of your blonde hair:
Warm toned blonde hues: If you are naturally blessed with very golden yellow hair and have a lot of red and orange undertones, you should wash away the purple shampoo within 3 minutes to see the cooler tones appear. This also holds true for colored hair.
Neutral-toned blonde shades: Blondes with slightly darker hues, that appear brown to wheatish in color, should rinse off purple shampoo within 3 to 5 minutes to get the best results.
Cool-toned blonde hair: Platinum blondes, icy blondes, pearly hued blondes, and blondes with ashy tones are termed as cool-toned blondes. In order to remove the brass from these shades and color correct them, you need to let the shampoo sit in the hair for a long time. Wait for a good 10 to 15 minutes before you rinse off the purple shampoo lest you end up wasting a lot of product with nothing to show for it.
Final Thoughts
Purple shampoo is a boon to those who want to maintain cool blonde locks without making frequent trips to the salon. You can maintain your incredible blonde look with the right kind of purple shampoo in your cosmetics arsenal. It's like a mini-dye job for your dyed blonde hair that you don't have to shell out the big bucks for. Maintain your cool blonde mane with minimal fuss and gift yourself a purple shampoo today!