What Is 'Purple Shampoo'?
Purple Shampoo is a specially formulated shampoo for blonde hair – and all its accompanying and adjacent shades and variants. It also works on all shades of silver hair, platinum blonde hair, ash, grey, and white hair.
Blonde hair, whether natural or processed, tends to have deep shades of yellow and brassy orange tones that appear artificial, unnatural, and ungainly. These warm tones need to be color corrected for blonde hair to appear more natural and cool-toned. This is where the cool-toned shade of purple shampoos helps. Why purple? We'll answer this in detail in our FAQ section below.
Things to Consider When Buying a Purple Shampoo
There are some key features you should look for when buying a purple shampoo. They are the ingredients in the formula, how dry they make your hair, how eco-conscious they are, their scent and, of course, their cost. Let's look at each of these in detail now.
Ingredients in the Formula
If the shampoo has a list of ingredients that's never-ending, has names you cannot pronounce, and mentions preservatives, you might want to stay away from it. The best purple shampoos are free of harmful chemical substances that are harsh on the hair and scalp and which cause permanent damage over the long term. Sulfates, phthalates, and parabens should be avoided if possible.
Dryness
Purple shampoos work by depositing purple pigment onto your hair to correct the yellow tones and remove brassiness. In order for the pigment to take hold and work as intended, the purple shampoo needs to be left in the hair considerably longer than regular shampoos. This makes them dry your hair out more than regular shampoos. Most purple shampoos leave your hair brittle, stringy, dry, and in extreme cases, mess up their moisture balance. Look for a shampoo that is gentle on your hair and includes moisturizing agents to restore the hair oil balance.
Environmentally Friendly
While this isn't a prerequisite for a good purple shampoo, it doesn't hurt to use products that do not harm the environment, make use of naturally occurring ingredients, use recycled packaging, and advocate and use cruelty-free testing. A lot of brands these days are also offering 100% vegan shampoos with all the ingredients derived from plant-based extracts. If you can go for one of these, then you can contribute towards protecting the environment with your choice.
Value for Money
Just because a particular purple shampoo has an affordable overall cost, it doesn't automatically mean it's good value for money. Read the review for the product, figure out how much of it you'll need per wash and how many washes you get before the bottle runs out. Then calculate what it will actually cost you in the long run. Some gentle formulas that do not use highly pigmented purples end up being very expensive, whereas a mid-range heavily tinted toner might work out to be cheap based on how little of the product you require per wash.
Scent
Most shampoos, whether purple or regular, have a distinctly pleasant fragrance, specially formulated to keep your hair smelling fresh and pleasant after every wash. Since purple shampoos have the specific purpose of protecting your blonde or bleached hair color by correcting the yellows and toning out the brassiness, some of these concoctions tend to have unpleasant smells. If you are sensitive to scents, pay attention to the fragrance and choose one that has a pleasant scent, uses natural ingredients only, or has no scent at all.
Unsure of where to start or which brands to trust your hair with? Fret not as we have created a list of the best purple shampoos money can buy. We'll also tell you why they made it to our list. Here's the list of the 12 best purple shampoos to buy online.
Top 12 Best Purple Shampoos 2021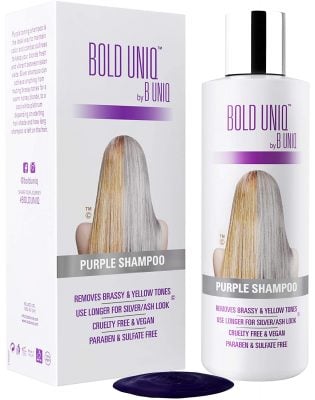 Why we like it:
This is the best purple shampoo for addressing brassiness and neutralizing yellow tones. It is free of sulfates, parabens, and gluten and uses a 100% vegan formula and keeps the testing cruelty free. It also works on all shades of bleached hair.
Editor's Rating:
Review
B Uniq's Bold Uniq purple shampoo is the ultimate purple shampoo for all color correction, toning, brassiness, and maintenance problems for all shades of blonde, ash, silver, platinum, grey, and white hair.
This shampoo is also good for balayage hair as it leaves the dark-toned strands untouched. In addition to neutralizing yellow tones, it also softens the hair as it is infused with Vitamin B3. You'll notice a stark difference in the color of your hair right after the first wash.
This is also the perfect purple shampoo for the environmentally conscious as it is free of parabens, sulfates, and uses exclusively vegan ingredients in the formula. The testing for this shampoo is also cruelty-free and they go one step further by making the packaging recyclable which is why we think it the best product in this category.
Adding to this long list of positives are the long-lasting effects of its treatment. You'll find yourself cutting down on salon visits since this purple shampoo keeps the yellows out of your hair for good, and requires fewer regular washes than other shampoos to maintain the colors.
The only drawback of using this purple shampoo is that it is a little harsh on the hair and totally strips it of its natural oils. No product is perfect and, as with other cosmetics, you can combat this minor defect by using a moisturizing hair oil pack after wash to restore the oil balance.
Pro tip
Use a coconut oil or an argan oil hair mask post-wash to limit the damage caused by the after wash dryness and restore the oil balance to your toned hair.
Pros
Pleasant grapefruit smell

Gloves included in the pack

Vegan formula and cruelty-free

Environmentally friendly product with recyclable packaging
Cons
It's very drying and messes up the moisture balance of your hair

A tad more hair shedding than normal post usage

Pricey
---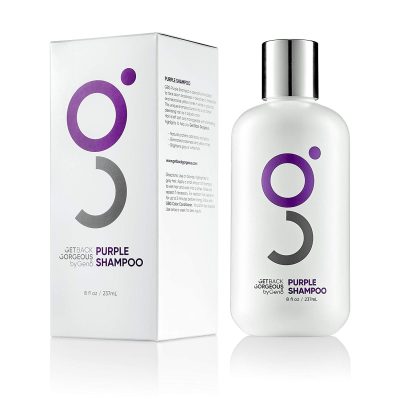 Why we like it:
This is the best purple shampoo for instant toning, correcting yellows, and neutralizing brassy hair. Leaving it on for 4 minutes during the first wash will give you salon-like results.
Editor's Rating:
Review
Gen8's Get Back Gorgeous purple shampoo was created with inputs from celebrity hairstylists and is a big hit with a lot of blonde celebrities. In addition to toning your yellows, it also provides UV protection for your hair. This means your bleached hair requires fewer visits to the salon to retain its freshness.
It has coconut oil-based extracts that ensure soft, deeply conditioned, and smooth hair post-wash that isn't brittle or dry. The formula for this shampoo is enriched with collagen proteins to rejuvenate and strengthen your strands.
Besides getting rid of the brassiness, it also does a good job of removing grime, dirt, and excessive oils from your scalp. The all-natural scents of lavender, bergamot, and citron blossoms leave your hair feeling fresh and clean with a pleasant floral fragrance.
This is an instant effect formula with naturally shiny blonde hair minus the yellows right after the first wash.  On the flip side, it dries out your hands as well as making your hair a little stringy.
Pro tip
Use gloves while washing your hair with this shampoo as it also leaves your hands extremely dry.
Pros
Instant effect - can be seen after one wash

Fresh floral fragrance

Cruelty-free testing

Strengthens the hair with collagen proteins infusion

UV protection for your bleached hair
Cons
Leaves hair a bit stringy

Also dries out your hands
---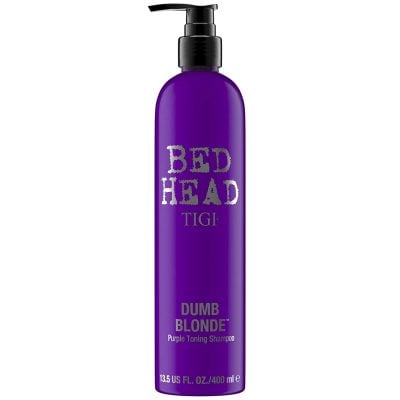 Why we like it:
This is the best purple shampoo for curly hair as the formula is reinforced with Polyquaternium 10 to reduce hair static, prevent flyaways, and control frizzy hair.
Editor's Rating:
Review
Banish the brassiness and yellows from your blonde curls with TIGI's Bed Head Dumb Blonde purple toning shampoo. In addition to natural purple pigments that impart cooler tones to your naturally blonde hair, this formula is reinforced with Polyquaternium 10 to boost hair shine, control static electricity, and make hair more manageable by keeping the tangles at bay.
This purple shampoo is equally good for chemically treated hair or bleached hair. It leaves your blonde curls bouncy and shiny after every wash.  This shampoo is also good for people who have damaged their hair due to excessive chemical treatments.
You need to use a lot of it to get the yellows out. As with all purple shampoos, your hair might feel a little dry, so use an argan oil or a coconut mask to restore the oil balance. You'll need to wait for a couple of washes to get the desired outcome. Thankfully, it is reasonably priced so you don't have to worry about using too much product every single wash.
Pro-tip
Using this shampoo on dry hair and leaving it in for about 10 to 20 minutes before rinsing it off will give you the best results.
Pros
Reasonably priced

Good to revitalize damaged and dull hair

Silky smooth and shiny hair

Reduces static, makes curly and frizzy hair manageable
Cons
Need to use a lot of product per wash

Need a couple of washes before you can see good results

Leaves hair a bit dry
---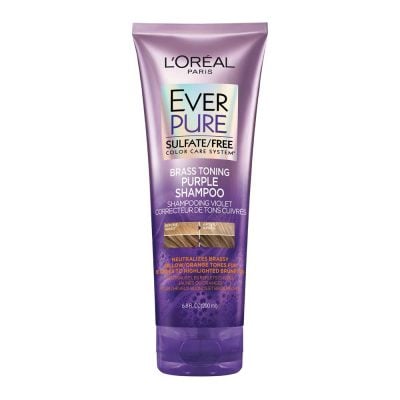 Why we like it:
This is the best purple shampoo for regular and frequent use. Its formula is gentle on the hair, has no harsh chemicals, and can be used safely multiple times a week.
Editor's Rating:
Review
Most purple shampoos are too harsh on the hair and can't be used more than once a week. L'Oréal Paris created this purple shampoo with the aim of letting users with blonde hair shampoo their locks as many times a week as they would like to. Now you don't need to splurge on different shampoos just so you can wash your hair more than once a week.
This formula is free of parabens, harsh salts, and gluten. Being free of sulfates makes it gentle on your hair but tough on the yellows, oranges, and brassiness. It is also good for hair damaged by frequent use of hard water or harsh chemical treatments. You can restore your locks to their former healthy glory by using this shampoo regularly. For toning your hair and removing brassiness, it is best used on alternate days.
Pro-tip
Mix it with a little regular shampoo that smells great to avoid the unpleasant smell after washing.
Pros
Free of parabens and sulfates

Vegan formula made with plant extracts

Cruelty-free testing

Can be used frequently

Gentle on the hair and doesn't leave it dry like other purple shampoos

Affordable
Cons
Distinctly unpleasant smell

Need a couple of washes before the yellows are totally banished
---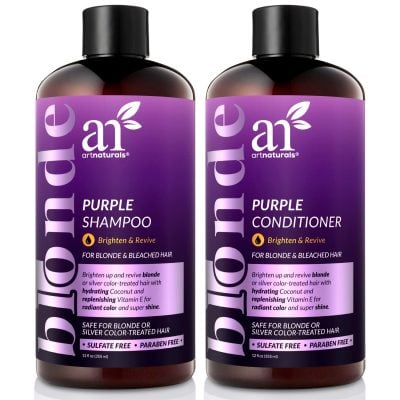 Why we like it:
This is the best purple shampoo for dry, damaged, and fine hair. It has a strong purple pigment that effectively neutralizes the yellows and oranges in your hair, dyeing it in cool silver tones.
Editor's Rating:
Review
ArtNaturals' purple shampoo and conditioner set are designed to be used in conjunction with each other. While the shampoo is gentle and uses mostly natural ingredients, it does leave the hair a bit dry.
This is where the thick conditioner comes in. It is really good to rejuvenate damaged and brittle hair, especially hair that has been processed chemically, fine hair with thin strands, and hair that requires extra care.
The sulfates and parabens free formula is harsh on the yellows but soft on your tresses. You can use this shampoo as and when you require without fear of damaging your hair.
However, this shampoo isn't as easy to use as other shampoos. You need a couple of washes and thorough rinsing with plenty of product to get the work done. This does not make it quite as affordable as the price tag indicates.
To combat the default drying effect of purple shampoo, the accompanying conditioner is thick and doesn't get absorbed easily – creating a thin film of moisture over the hair. While this is really good for those who have damaged hair from harsh chemical treatments, it isn't as good for those who have normal hair. It feels a little greasy and heavy.
Pro-tip
It's a shampoo + conditioner deal and should be used together for the best results. The conditioner corrects the imbalances caused by the toning shampoo making it a complete hair care package.
Pros
Can be used as required and not limited to once a week use

Strong purple pigment - instant effect

Cruelty-free testing

Free of sulfates and parabens
Cons
The shampoo doesn't lather easily

Need a lot of product per wash

Conditioner is too thick and feels greasy

Unpleasant smell after wash
---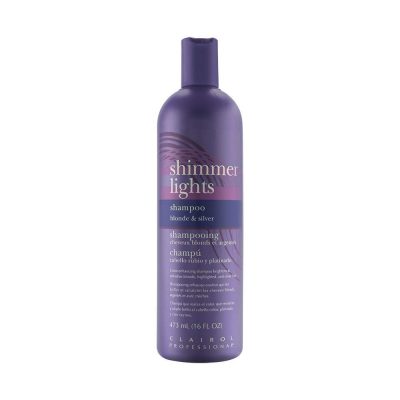 Why we like it:
This is the best purple shampoo for silver hair and the best drugstore brand purple shampoo. It is also good for ash blonde, ash, white, platinum blonde, and grey hair.
Editor's Rating:
Review
This is a deeply pigmented purple shampoo that works best for silver and ash blondes. It is also good for highlights, ombre, and balayage hair as it leaves the brunettes and dark greys alone while brightening the lighter shades, bringing your faded highlights back to life.
This formula has been in the market for a long time and its continued usage is a testament to its effectiveness. It is a safe and affordable option that is available across the globe. As the name indicates, this shampoo gives your hair a healthy glow that's glossy without leaving behind any purple residue.
The formula is enriched with proteins to provide proper conditioning to your hair and strengthen it even as it chases brassy-tones away.
This is a great value for money deal that works instantly and results can be seen just after one wash with a minute of rinsing. The vibrant shade of purple used in the formula ensures that silver, platinum, and ash har types get a lot of value out of this shampoo.
A few drawbacks of using this shampoo are that it is very drying, turns hair stringy and brittle, and it has an unpleasant smell.
Pro-tip
Use as little as possible – the formula is harsh and a little shampoo goes a long way. Mix it with a nice smelling shampoo to combat the unpleasant smell.
Pros
A little goes a long way

Good value for money

Excellent for silver, platinum, and ash blondes

Enriched with proteins to strengthen hair strands
Cons
Smells very unpleasant

Leaves a bluish tinge if left in the hair for too long

Very drying and leaves the hair brittle
---

Why we like it:
This is the best purple shampoo for color-treated hair. It imbues your processed hair with cooler tones and eliminates the warmer tones to give them a natural blonde appearance.
Editor's Rating:
Review
If you aren't a natural blonde but want to maintain a blonde mane, this is the right purple shampoo for you. The 'So Silver' shampoo deposits cool violet pigment to neutralize the brassy tones in your colored hair and corrects the gold tones. If you use it along with the MATRIX Triple Power Toning Hair Mask, you'll see salon-like results. It also reduces coarseness and leaves hair soft and bright when used along with a conditioner. This is because the shampoo takes care of brassy tones and neutralizes the yellows and golds, while the more blue-violet mask addresses the orange and copper undertones.
If you're using both the shampoo and the hair mask, use less product and leave it in for a shorter time period. If not, the shampoo by itself is very mild, requires a lot of product to get results, and you need to be patient with how long you have to leave it in your hair before you can see a noticeable difference.
As a result, you end up going through a bottle in three washes, so it works out to be more expensive than it seems. If you want to use less product, you'll have to use it with the hair mask – which adds to the cost.
Pro-tips
Rinse before the purple turns lavender to avoid purple highlights. Use along with the MATRIX Triple Power Toning Hair Mask for professionally colored blonde hair looks.
Pros
Very easy to wash off - doesn't stain

Can be left in the hair for longer durations

Works well on balayage, ombre, and brunette hair

Doesn't leave your hair dry unlike other purple shampoos

Smells really good
Cons
Need to use a lot of product

Needs to be left in the hair for a long time for noticeable results

Works out more expensive than it initially seems
---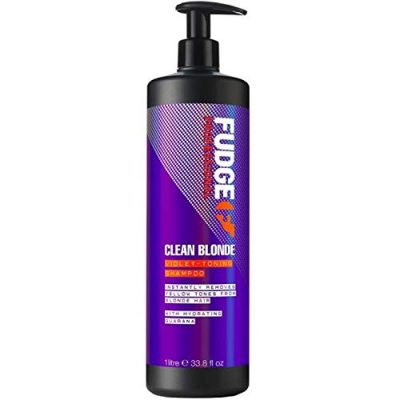 Why we like it:
This is the best purple shampoo for protecting colored hair from sun damage. This shampoo is heavily pigmented and incorporates UV protection to help you keep your colored tresses looking fresh for longer durations.
Editor's Rating:
Review
This is a very strong purple toning shampoo and gives instant results after the first wash. Just leave it in for five minutes in clean, dry hair and then rinse off for the coolest toned blonde hair. This formula also softens your hair, helps in detangling frizzy hair, and gives your hair a healthy-looking shine. It also protects your hair from sun damage.
This purple shampoo works better on processed hair than non-processed hair. So if you are a natural blonde, you might want to look at the purple shampoos mentioned above that cater to naturally blonde hair.
A single bottle goes a long way as it contains a lot of product, so this shampoo does work out to be quite affordable despite the price tag.
Pro tip
Use a cleanser shampoo to rinse off any and all products from your hair before using this purple shampoo. Once you have clean hair, dry it before applying this shampoo from root to tips. Rinse off after 5 minutes to get cool ash blonde hair.
Pros
Dramatic results after the first 5 minutes wash

Doesn't dry out your hair if you have normal hair

Provides UV rays protection

Good value for money
Cons
Stains your hands and other surfaces

Not as effective on non-processed hair
---

Why we like it:
This is the best purple shampoo for deep conditioning naturally blonde as well as processed blonde hair. It leaves hair soft, supple, and hydrated.
Editor's Rating:
milk_shake's Silver Shampoo for correcting yellow tones and brassy hair is made of all-natural ingredients like berry extracts, milk proteins, and purple pigments. This gentle formula can be used daily without causing any damage to hair as the milk proteins make sure that it's properly hydrated, moisturized, and is soft and glossy in texture. These proteins also repair damaged hair and restore to them their natural strength and bounce.
Berry extracts contain a plant chemical called proanthocyanidins. This chemical stimulates hair follicles and promotes hair growth. Berries also provide the benefits of antioxidants to your hair and scalp and enrich them with Vitamins A, C, E, and more. Given all the benefits this formula provides, it's small wonder that it carries an expensive price tag.
Pro tip
Dampen your hair, apply the shampoo evenly all over, lather and rinse after a few minutes for icy blonde hair, or, leave it in for a while to get purple-hued highlights.
Pros
Deep conditioning effect

Gentle formula - can be used daily

All-natural ingredients

Promotes hair growth

Increases volume over time
Cons
Sweet milky fragrance - unpleasant to most people

Lots of problems with packaging and deliveries

Heavy on the pockets
---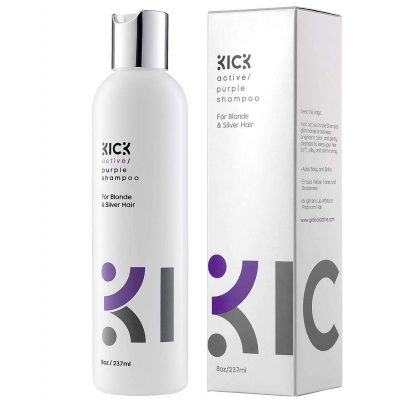 Why we like it:
This formula uses an advanced 'Precise Color Adjustment' technology to maintain colored hair for longer durations and keep the brassy tones and yellows away.
Editor's Rating:
KICK's purple shampoo uses active color protection and enhancement ingredients that gives it its name: 'Active'. In addition to correcting the yellows and washing the brassy tones away, it also acts as an active cleanser that rids your hair of grime, dirt, oil buildup, and grease. It enhances the colored highlights, silvers, and blondes while giving a luminous sheen to your greys, platinum blonde strands, and ash locks. It is the perfect purple shampoo for those who lead an active lifestyle and need to maintain salon-like hair 24/7.
'Precise Color Adjustment' technology, as the name suggests, helps you get the precise shade of silver or platinum blonde that you desire. The longer you leave the shampoo in, the cooler the color tones get. You can wash off the shampoo once you've achieved the desired shade of silver-blonde hair. Obviously, it also corrects the yellows and brassy tones. And, it helps you maintain your processed hair color longer by providing UV protection from sun damage. It is also relatively odorless, so you don't have to worry about any unpleasant scents.
On the flip side, leaving it in too long will result in brittle and stringy hair. Regular use might render your scalp and hair dry.
Pro tip
This is a deeply purple pigmented shampoo and you should use it sparingly to begin with. You can keep increasing the time you leave it in your hair once you learn how potent it is for your hair color. Increase or decrease this time based on your observations. Use it with a deep conditioner to avoid dryness.
Pros
Provides UV protection against sun damage

Helps maintain hair color for longer durations

You can adjust the color tones by varying the 'leaving in' duration

Cleanses hair of dust, dirt, grease, and grime

Makes hair noticeably luminous and bright
Cons
Leaves hair brittle if left in for too long

Dries out the hair and scalp
---

Why we like it:
This is the best purple shampoo to combat frizz and keep your locks shiny and tame.
Editor's Rating:
Review
Joico is a well-known hair care brand and their purple shampoo has been in regular circulation for quite a long time. It is one of the best-known shampoos in the market for neutralizing yellows in blonde hair and addressing brassiness.
It uses a unique formula where the purple pigments deposited on the hair adhere to the strands for much longer than regular shampoos. Each wash adds to the color correcting pigments, making your hair lighter and brighter. Since the pigment doesn't get washed off after rinsing, you can maintain your natural blonde as well as bleached blonde colors for longer durations.
The 'Bio-Advanced Peptide Complex' in the formula tames frizzy hair, giving it a natural glossy sheen, and ensures that your locks are easy to manage. It also protects your hair color from fading with its 'Multi-Spectrum Defense Complex'.
On the other hand, this shampoo isn't for everyone. The pigment buildup might be a problem for some. It also leads to an irritated, dry, and itchy scalp. If you have highlights, balayage hair, ombre colors, or more than two shades of processed colors, avoid this shampoo as the pigment will mess with the color scheme and leave a confused mass of colors behind. Leaving it in too long will also turn your hair slightly greenish.
Pro tip
Test the shampoo on your skin or a small patch of the head before using it. If it irritates your skin or causes itchiness, then this might not be a good choice for you.
Pros
Good value for money

Tames frizzy hair and makes them manageable

Good for repairing damaged hair

Protects hair color with its unique formula

The purple pigment stays in the hair much longer than other shampoos
Cons
Pigment buildup is problematic in the long term

Dry, itchy, and irritated scalp

Not good for colored hair with multiple shades
---

Why we like it:
It is the gentlest and the best smelling purple shampoo in the market. It is good for all hair colors and textures.
Editor's Rating:
This purple shampoo with the coolest name on the list is a big hit with the Instagram crowd and beauty influencers. It's an up and coming brand that is eco-friendly. It employs a formula that is safe to be used frequently as it is free of sulfates, phthalates, parabens, and carcinogenic preservatives like MIT and MCI.
This shampoo is Keratin safe and good for color-treated hair, Brazilian treated hair, bleached hair, and naturally blonde hair. The formula is gluten-free and the testing is cruelty-free. It is infused with avocado oil and mixed berries extract to soften your hair, tone harsh yellows, prevent brassiness, and leave hair luminous, bright, soft, and bouncy.
This shampoo is good for all types of hair textures. The inclusion of sea buckthorn berry in the formula ensures your hair gets a good dose of Omega – 7, usually derived from fish oil, and Vitamin A, C, and E. To top it all, this shampoo smells delicious, just like all other amika products. This shampoo inhibits the production of free radicals while promoting collagen production – excellent for the good health of your hair.
As amazing as this shampoo is, it is a very gentle formula that uses natural pigments so you may not notice any visible difference after a single wash. In fact, unless you use a lot of product and leave it in for a long time, the yellows will stay put.
It's good for rejuvenating dry and damaged hair and improving hair texture, but requires consistent usage to tone down brassiness and correct the yellows in your blonde hair. Since you need to leave it in for longer durations for decent results, it tends to dry your hair.
Pro tip
Use this shampoo if you aren't looking for instant results and can wait for a good few weeks for the right cool tones to show up. Leave the shampoo in for a long while to get decent results.
Pros
Free of sulfates, phthalates, and parabens and harmful carcinogenic preservatives like MCI and CMIT (Methylisothiazolinone and Methylchloroisothiazolinone)

No artificial pigments used

Works equally well on all types of hair - curly, straight, wavy, etc.

Vegan formula and cruelty-free testing

Promotes collagen production

Infuses hair with healthy Vitamins and Omega - 7 fatty acids
Cons
Expensive

Need a lot of product for it to work

Requires to be left in for a long time and takes multiple washes to work

Leaves hair dry due to being left in for longer durations
---
Great Purple Shampoos That Didn't Make Our List
That brings us to the end of our list. But there are some other great products we want to mention. We would be remiss to not mention some wildly popular brands, some up and coming stars, and outliers that most people wouldn't have heard of.
If you are of a mind to splurge on a purple shampoo that caters to all your blonde hair needs, then try out the Oribe Bright Blonde Shampoo for Beautiful Color. It is way more expensive than any purple shampoo included on our list, but does have a decent reputation for taming brassiness and yellows.
If you're looking for an ammonia and peroxide free shampoo for your tresses, we recommend the John Frieda Sheer Blonde Colour Renew Purple Shampoo. It's decently priced, and is quickly gaining traction with hair care professionals and stylists alike. It does an excellent job of toning your blonde hair to a much cooler shade.
Paul Mitchell is a name to be reckoned with when it comes to hair care. This guide would be incomplete if we didn't point you to his excellent formula for color correcting blonde hair – Paul Mitchell Platinum Blonde Shampoo. It doesn't stand out from the crowd so it didn't make it to our top 12 list, but the brand name carries weight, and the shampoo works as intended.
Last, but not the least, a little known Italian brand called Fanola, with an inexpensive purple shampoo called No Yellow Shampoo, is making its presence felt in the US market. This shampoo is a delight for people with blonde hair. It does everything that most of our top-rated products are known for.

Frequently Asked Questions
What Is Brassy Hair?
When you get your hair bleached and colored, it looks perfect for a while. A few days or a week later, some strands start turning a deep yellow or orange with reddish undertones. This looks very jarring and gives a fake aura to your hair. The orange tinge is called brass, and it is a warm tone that your hair starts turning to after being colored. Yellow and golden blonde are the other two warm shades that also need to be corrected.
How Do You Take the Brass Out of Your Hair?
By using a purple shampoo. The purple pigment in the shampoo is cool toned and neutralizes the warm-toned brass, yellow, and blonde into a brighter, cooler, silver-ish blonde and does away with the red and orange undertones.
Why Purple?
If you look at the color wheel, you'll notice that the color purple sits right opposite the blonde and yellow band. The 'Color Theory' proposes that in order to neutralize any color on the color wheel, you add a tinge of the color that sits directly opposite it on the color wheel.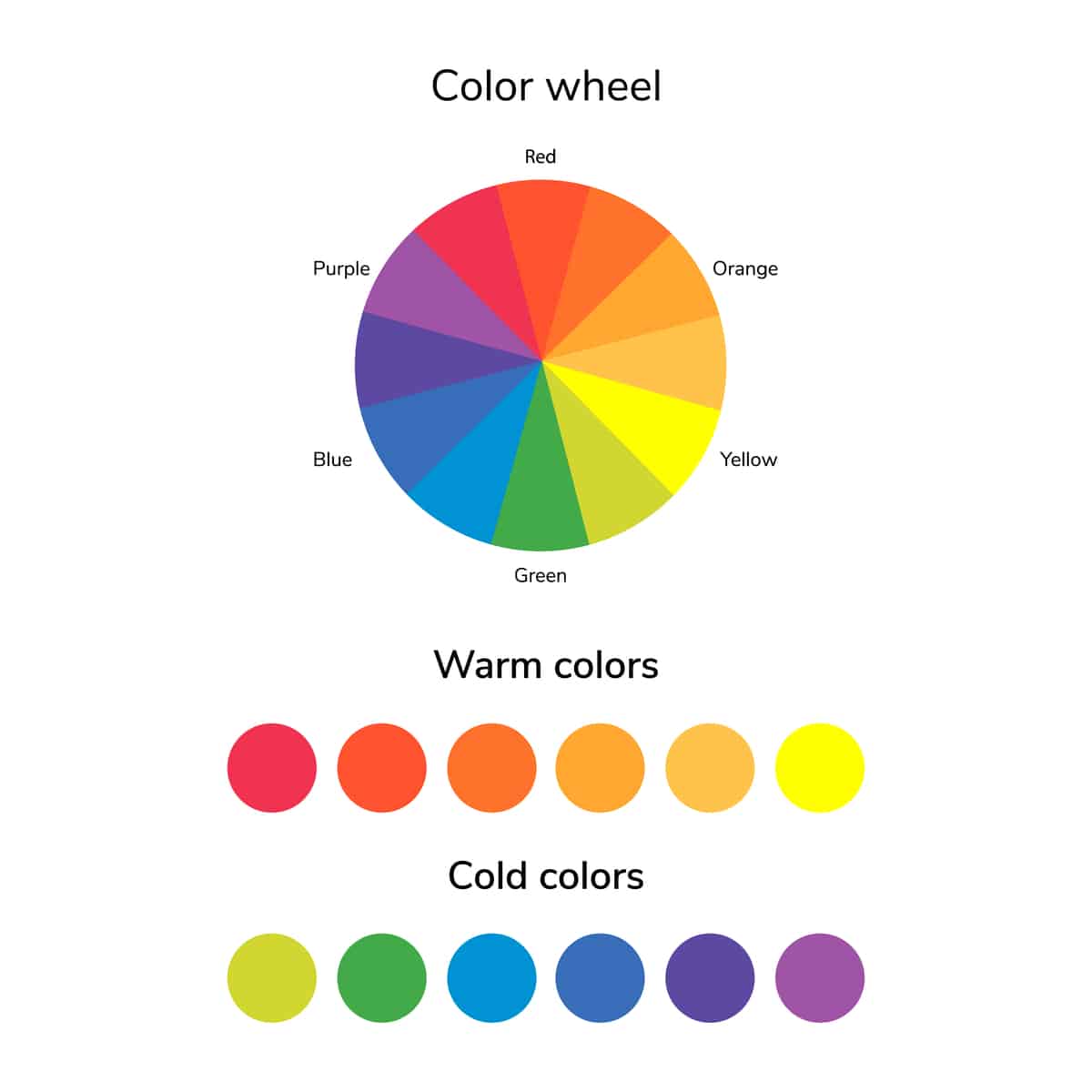 So, as per the color wheel theory, purple is the ideal color corrector for blonde and yellow hair. Likewise, blue is the right hue to correct orange tones, while blue-violet tones down golden hair.
A dash of purple to your blonde hair will make them appear brighter, remove the deep yellow tones, and neutralize the brassiness. It will also brighten up silver, platinum blonde, ash blonde, grey, and white hair.
How Frequently Can I Use Purple Shampoo?
It depends on the formula. There's no single answer to this question. It varies with the brand and formula of the purple shampoo you're using. Look at the ingredients and read the reviews.
If the brand is eco-conscious and uses a gentle formula, you can use the shampoo multiple times a week. If the shampoo has a deep purple pigment and uses harsh chemicals, then it's best to use it only once a week.
A good rule of thumb is to use it whenever you see your hair color turning a little brassy. Even if the directions on the bottle mention alternate day usage, you should stop when you start noticing a purple or a bluish tinge to your hair.
How Long Can I Leave the Purple Shampoo in My Hair?
Frequently, but only as long as is directed by the brand or mentioned on the bottle. If that doesn't work out for you, start with a small quantity of the product and leave it in for less than 3 minutes. Notice the difference in the shade once you rinse it off. Based on how light you want your hair, and how much product you used, you can arrive at the right combination of product and time duration to get the right cool hue.
Note that just because it worked for some people within 3 minutes on the first wash, it isn't a bad product for not giving the same results to you. Your shade of blonde, the texture of your hair, the amount of product in your hair, and how you go about using it can lead to drastically different results with the same purple shampoo.
Be patient, find out the best way of using the shampoo, and give it a couple of tries before discarding it in favor of a different brand. Here's are some good rules of thumb to follow based on the tone of your blonde hair:
Warm toned blonde hues: If you are naturally blessed with very golden yellow hair and have a lot of red and orange undertones, you should wash away the purple shampoo within 3 minutes to see the cooler tones appear. This also holds true for colored hair.
Neutral-toned blonde shades: Blondes with slightly darker hues, that appear brown to wheatish in color, should rinse off purple shampoo within 3 to 5 minutes to get the best results.
Cool-toned blonde hair: Platinum blondes, icy blondes, pearly hued blondes, and blondes with ashy tones are termed as cool-toned blondes. In order to remove the brass from these shades and color correct them, you need to let the shampoo sit in the hair for a long time. Wait for a good 10 to 15 minutes before you rinse off the purple shampoo lest you end up wasting a lot of product with nothing to show for it.
Final Thoughts
Purple shampoo is a boon to those who want to maintain cool blonde locks without making frequent trips to the salon. You can maintain your incredible blonde look with the right kind of purple shampoo in your cosmetics arsenal. It's like a mini-dye job for your dyed blonde hair that you don't have to shell out the big bucks for. Maintain your cool blonde mane with minimal fuss and gift yourself a purple shampoo today!