When it comes to facial cleansing brushes, there are few products that have become as popular as the Clarisonic facial cleansing brush. Unfortunately, the brand was shut down in July of 2020, which means that it can be hard, or even impossible, to get your hands on one of these devices today.
Fortunately, with the variety of cleansing brushes on the market, it is possible to find a dupe for the Clarisonic brush and achieve your skincare goals despite this discontinuation.
Our guide will give you the rundown of the pros and cons of the Clarisonic facial brush and a list of the best dupes out there so you can make an informed decision. We'll also give you some tips on how to use your new facial cleansing brush in order to help you achieve your skincare goals.
What Was so Great About the Clarisonic?
When it first hit the market in 2004, the Clarisonic quickly rose in popularity, partly helped by celebrity shout-outs, such as those from Oprah and Cate Blanchette. The device featured oscillating brush heads and sonic wave technology that worked to clean bacteria, dead skin cells, and dirt from deep down in pores.
Clarisonic advertised its brush as the best choice for makeup removal, deep facial cleansing, and for acne-fighting; many users of the brush swore by these benefits and claimed that their skin has never felt cleaner than after using the Clarisonic brush. It was especially helpful for those with oily skin or those who wanted to exfoliate on a regular basis without having to frequent the spa or invest in multiple exfoliating products.
One major downside to the brush that many users commented on was its price (usually around $200) and that brush heads, which were also expensive, needed to be replaced every 3 months. This alone was enough to turn some consumers away to start their search for the perfect dupe.
So Why Was the Clarisonic Discontinued?
In 2011, L'Oréal acquired Clarisonic and continued producing the famous facial brush, even issuing new designs of the product like the Clarisonic Mia Smart and Mia Prima. But over the years, what we know about skincare has changed and the Clarisonic brand of facial brushes began to be less profitable for the company. After several rounds of layoffs, L'Oréal announced Clarisonic would be discontinued in July of 2020.
The official reason was that L'Oréal wanted to turn their focus to other "core business offerings," but many in the beauty industry suspect that a lack of profit, combined with the brush being slightly too harsh for today's beauty regimens that generally favor soft cleansing, created the downfall of the brand.
However, true faithfuls of the Clarisonic brush and lovers of the results from the device were devastated. Many complained that their investment in the brush was now worthless as there was no way to purchase more replacement heads, which sold out in hours after the announcement. Others turned to the process of finding a dupe for the Clarisonic facial brush in order to keep their skincare routine the same despite the discontinuation.
Below, we've collected the best dupes out there that provide a great alternative to Clarisonic's famous facial cleansing brush.
Top 5 Best Clarisonic Facial Brush Dupes 2023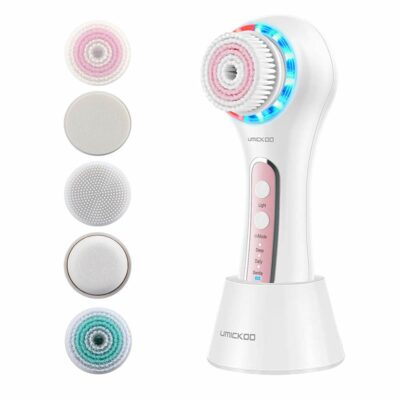 Why we like it:
An Amazon favorite product, the Umickoo Facial Brush is a perfect budget option that delivers deep cleaning results similar to the Clarisonic.
Editor's Rating:
This budget-friendly option is one of the best dupes for the Clarisonic brush around today. An Amazon favorite, this brush offers a cleansing experience that is very similar to the Clarisonic's. It provides users with a serious deep cleaning that can help remove dirt and impurities, leaving your face smooth and clear after several uses.
There are 5 different brush heads included with this product, which is a benefit for those who are moving away from their Clarisonic. The variety of brush heads allow more experimentation and can give users with more sensitive skin a gentler cleansing experience. Plus, the Umickoo brush is waterproof, much like the Clarisonic, which means you can use the product in the shower as part of your routine with no issue.
On the downside, the brush heads can fall off easily and are not as securely attached as the ones on the Clarisonic brush. Additionally, the Umickoo brush rotates a little more slowly than the Clarisonic's. This may not be the best for users who prefer a more intense cleaning experience.
Pros
Budget-friendly option

Serious deep cleaning

5 different brush heads included

Waterproof
Cons
Brush heads fall off easily

Lower speed
---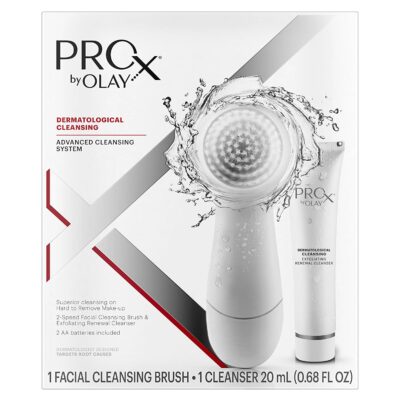 Why we like it:
The Olay ProX Facial Cleansing Brush System comes with an exfoliating cleanser and is often thought to be a fantastic Clarisonic dupe.
Editor's Rating:
Similar to the Clarisonic facial brush, the Olay ProX Facial Cleansing Brush System features a larger bristled brush that is also replaceable, though fortunately, the replacement brush heads are much cheaper than the Clarisonic's. This larger brush style is perfect for oilier skin types or those who want a more intense cleaning.
An exfoliating cleanser is included with this brush, which is a nice bonus. Using them together is a good choice for someone who wants to incorporate the brush into their weekly skincare routine and reveal brighter, smoother skin. And much like the Clarisonic brush, the Olay ProX is fantastic at removing makeup, even down to the most packed on foundation.
Unfortunately, the batteries in this device expire easily, which can be a serious hassle if you are a regular user of the product. The outside of the device may also become stained by water easily, despite the fact it is supposed to be waterproof. Additionally, those with sensitive skin may find that the brush head is too harsh for their skin type.
Pros
Affordable replaceable brush heads

Good for oily skin

Exfoliating cleanser included

Great for makeup removal
Cons
Batteries expire easily

The device can become stained

Can be too rough on sensitive skin
---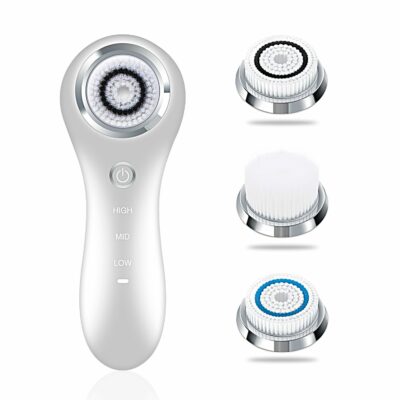 Why we like it:
The rechargeable Hangsun Sonic Cleansing Brush features a strong cleansing setting that is comparable to that of the Clarisonic brush.
Editor's Rating:
The Hangsun Sonic Cleansing Brush is rechargeable, rather than battery-powered, which can be a major bonus for someone who is a regular brush user and doesn't want to change batteries constantly. It also features a cleansing timer, which can help you get the right amount of face scrubbing and exfoliation in without overcleaning – one of the main complaints reported when users tried the Clarisonic brush.
This product has 3 different speed settings, with the lower setting designed to be more favorable on sensitive skin types. The strongest cleansing setting has a lot of power behind it and is comparable to the Clarisonic brush, making it a good choice for anyone who loved the intense clean of the Clarisonic product.
The Hangsun Sonic Cleaning Brush does vibrate instead of spin, which can be a downside for some users. It can still give your skin a fresh, intensely clean feeling, but some users may prefer a dupe that is more true to the original Clarisonic that had a spin setting of around 300 RPM.
Pros
Rechargeable

3 speed settings

Strong cleansing setting

Cleansing timer
Cons
Vibrates instead of spinning
---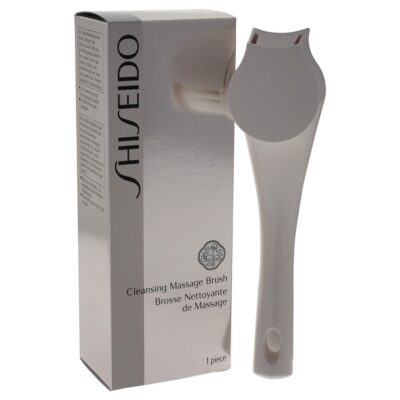 Why we like it:
A gentle brush that features soft, tapered bristles, the Shiseido Cleansing Brush is a great Clarisonic dupe for those with more sensitive skin.
Editor's Rating:
The design of the Shiseido Cleansing Brush allows it to be more suited to those with sensitive skin than the Clarisonic brush, but it still provides an impressive level of deep cleaning. It features soft, tapered bristles that bend and move gently to remove dirt and impurities from the skin, leaving behind a clean, soft face. It is best suited for those who love the Clarisonic facial brush but need a more gentle cleansing experience.
Because this is a manual brush, it does not spin or vibrate, which some lovers of the Clarisonic may have a problem with. And while it does deep clean, it may not provide the intense cleaning and exfoliation that those with oily or blemish-prone skin often desire. The bristles of the brush may also be harder to clean and the brush head is not removable, unlike the Clarisonic device.
Pros
Soft, tapered bristles

Great for sensitive skin

Best for gentle cleansing
Cons
Manual brush

May not clean deep enough for blemish-prone skin

Can be hard to clean
---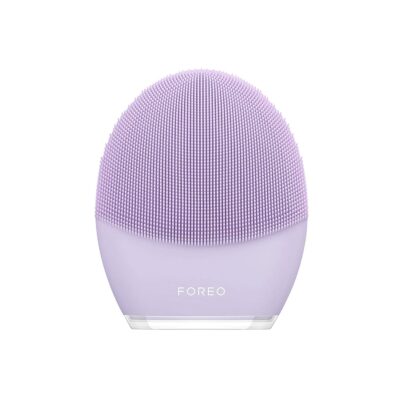 Why we like it:
The Foreo Luna is a trendy, multipurpose face cleaning tool that is quickly rising to the popularity of the Clarisonic.
Editor's Rating:
The Foreo Luna is a small, travel-sized product that provides options for all skin types. The bristles vary in size across the product line which allows users to choose a product that truly works the best for their skin type. Plus, the bristles are created from a hypoallergenic and nonporous silicone, which is better for stopping bacteria growth and gentle deep cleaning.
This product is also designed to provide a facial massage and can be effectively used as an at-home spa tool. It has over 18 different sonic pulse cleaning settings, many of which enable you to relax your facial muscles, reduce fine lines, and cleanse your skin all at once.
In terms of price, the Foreo Luna matches the Clarisonic's price range, often coming in at around $200. For a dupe, this may not be the best choice, as most users are looking for a cheaper alternative to the Clarisonic. Additionally, it has pulse cleaning and silicone bristles instead of a spinning brush, which may not be the best for exfoliation, especially if you are used to the feel and results of a spinning bristled brush.
Pros
Hypoallergenic and nonporous silicone bristles

Provides a facial massage

Multiple sonic cleaning settings

Options for all skin types
Cons
Pulse cleaning instead of a spinning brush

Some users may not like the feel of silicone

Expensive
---
Your Full Guide to Finding a Clarisonic Facial Brush Dupe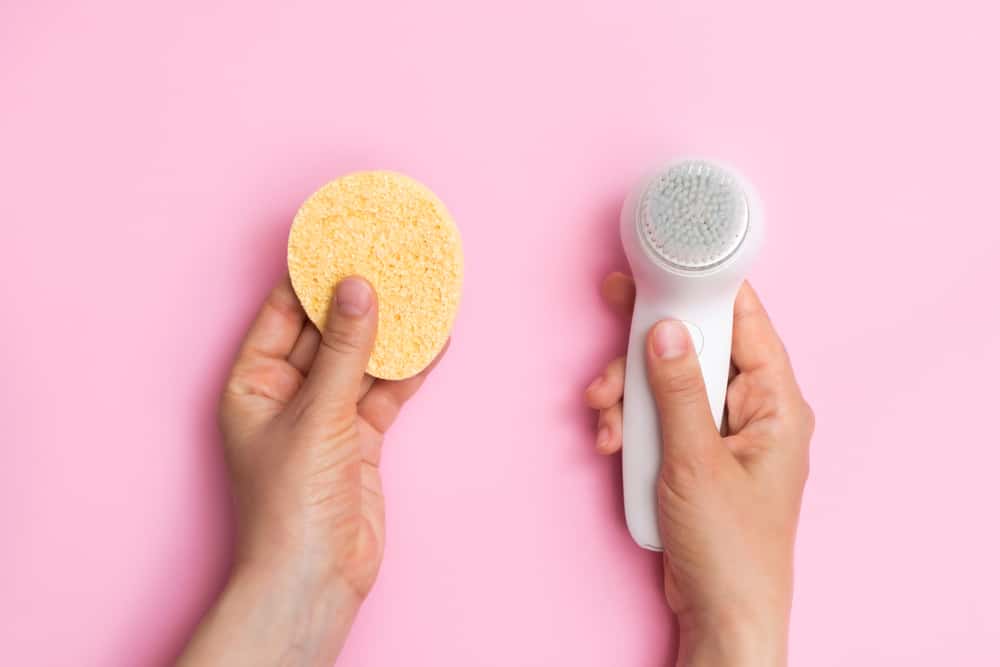 This full guide will help you further understand what made the Clarisonic brush so desirable. It'll help you compare features to any product out there, so you can find the best dupe.
Spin Settings
As far as spin settings go, the Clarisonic facial brush generally hit around 300 RPM. While some users deemed this as too harsh, others loved how fast the brush moved and the deep clean they got from it. You should always check the power or RPM settings of a product when looking for a Clarisonic dupe because this is one of the best indicators on whether or not the product is similar.
And if you want a dupe with a comparable RPM, plus the option to adjust the speed settings, we recommend taking another look at the Hangsun Sonic Cleansing Brush.
Brush Heads
Brush heads are one of the most important things about your facial cleansing brush. The Clarisonic was known for having a deep cleaning brush with firm, but gentle, bristles. This is what allowed it to deep clean the skin so effectively and remove any impurities. The dupe you find should offer similar benefits.
Another aspect of your product's brush head is replacements; Clarisonic did offer replacement brushes before shutting down, and if you want a dupe that is totally similar, you should look for a product that offers this. From our list, we recommend the Olay ProX Facial Cleansing Brush.
Price
The original Clarisonic device was quite expensive, often priced at around $200, so it's no surprise that what many look for in a good dupe is a cheaper price. Always make sure a product is in your budget before evaluating it for the rest of the features you want to see.
And if you are on a budget, the Umickoo Facial Cleansing Brush is a great option for a cheaper Clarisonic dupe.
Extra Features
The Clarisonic facial brush was waterproof, so a good dupe should also be able to be used freely near water. In later years, the Clarisonic Mia Smart was designed to give facial massages and help to depuff eyes, something which several other products have recreated.
To find a good Clarisonic dupe, make sure to pay extra attention to the special features or other advanced options that you can take advantage of in addition to cleansing your face.
What Are the Benefits of Using a Facial Brush?
The benefits of using any type of facial brush, including the Clarisonic and its dupes, are clearer, softer skin, and reduced breakouts. A facial brush helps to scrub off the top layer of your skin, effectively exfoliating dead skin cells and unclogging pores. This allows your skin to become brighter and smoother as impurities are removed.
If you have acne or oily skin, a facial brush can be especially helpful in getting rid of oil and preventing breakouts before they happen. Regular use may also help to clear up any existing breakouts more quickly.
How Often Can You Use a Facial Brush?
Depending on your skin type, you can use a facial brush anywhere from once a day to once or twice a week. Skin types that are oilier or more prone to breakouts will likely benefit from using the brush more often, while sensitive skin types should be careful about using a facial brush more than once a week.
You should not be using any type of facial brush more than twice a day. If you prefer a more intense cleaning experience, it is a good idea to wait a few days between uses. Too much exfoliation and scrubbing can damage your skin, so use the strong cleaning settings on your brush sparsely.
Are There Any Side Effects to Facial Brush Use?
Like with many other cleaning devices, there is a potential to experience some side effects. With the facial brush, this can include skin irritation, breakouts, and redness. You should always be careful when starting to use the facial brush as you don't know how your skin will react to it – try the gentlest setting possible at first and don't apply it to your face for too long.
Occasionally, your skin will "purge" after using a facial brush, meaning that under-the-skin breakouts will be brought to the surface as you start deep cleaning, becoming more visible. This is considered normal, but if these breakouts are too painful, stay past a week or two, or your skin is showing other skins of irritation, you should stop using the facial brush and consult with a dermatologist.
Always make sure to follow up your facial brush use with a moisturizer or other facial serums to help lock in skin benefits and hydrate your skin, preventing any potential skin irritation or dryness in the long run.
Cleansing Your Way to Flawless Skin
Even though the Clarisonic facial brush is not around anymore, there are plenty of dupes out on the market today that can do a similar, if not better, job at cleansing your skin. Remember to keep in mind what you are looking for in a Clarisonic dupe, whether it be a comparable cleaning setting or a waterproof feature, and let this guide you to the dupe of your dreams – you'll be cleansing your way to flawless skin in no time at all!