Top Picks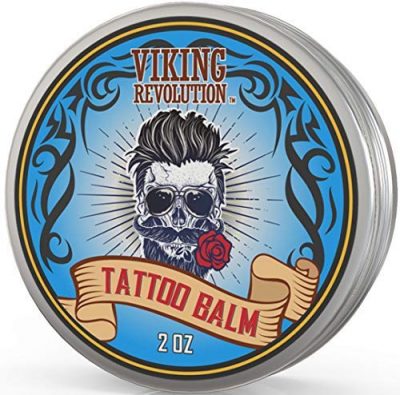 Viking Revolution Tattoo Care Balm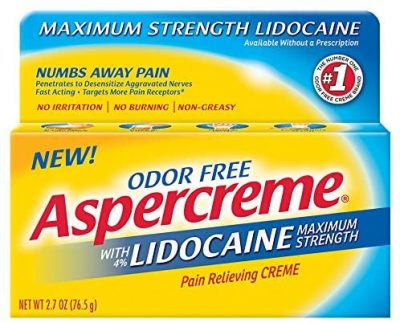 Aspercreme Maximum Strength Pain Relief Cream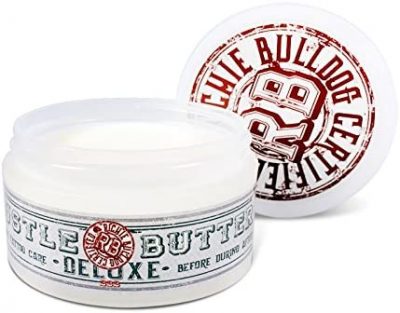 Hustle Butter Deluxe
Previous
Next
There's a sharp divide in the tattooing community over the legitimacy of tattoo pain. Is it a rite of passage or just a (literal) pain?
If you've made it to this article, you probably think that subjecting yourself to pain that you could otherwise avoid is madness. We don't blame you.
Whether you want to block out all pain during your tattoo application or just cut down on itchiness during the healing process, the perfect cream is out there waiting for you. Let's help you find it!
What Is a Tattoo Numbing Cream?
It's no secret that getting a tattoo can be painful. Although some people enjoy that (masochists!), not everyone has a high pain tolerance. No shame in that. In fact, flinching or sudden movement while getting a tattoo is one of the main causes of tattoo blowouts.
Luckily, modern science is sufficiently advanced to block most of that pain out. Just like dentists can give their patients anesthesia, tattoo artists can apply numbing creams to the skin they're about to tattoo. This reduces — and sometimes completely removes — the sensation of pain.
In fact, lots of the strongest numbing creams available are also suitable for other numbing purposes, like waxing or even everyday neck pain.
There are also lots of creams that provide aftercare for tattoos by soothing the skin and reducing irritation. While these solutions don't provide enough pain relief to block out the feeling of a needle continuously pricking your skin, they do an excellent job of making an inflamed area of your body feel normal.
Although we focus on creams, there are products that do the same job in the form of gels, balms, and sprays.
What to Look for in a Tattoo Numbing Cream
Search for "tattoo numbing cream" online and you'll find a selection of products that range from clinical-looking topical anesthetic cream to tubs that look like moisturizers with punky packaging.
Which should you pick? Ultimately, that depends on what you hope to get out of your cream. We recommend paying special attention to the ingredients, scent, hydration, pain relief, and longevity of each product.
Ingredients
When you're applying something to your skin, you want to be sure that it doesn't end up irritating it — or, even worse, causing an allergic reaction. That won't aid the healing process!
If you have sensitive skin or known allergies, the safest option is a cream with natural, organic ingredients. Luckily, this is a growing market, and you'll have a few items to choose from. You can read more about potential allergens and harmful chemicals here.
If you're a vegan, you should also look out for petroleum jelly and beeswax, which are both common ingredients in tattoo creams.
Scent
The odor of a numbing cream might be a triviality compared to choosing something that doesn't make your ankle tattoo blow up like a balloon. Still, you deserve the best of both worlds!
If you're sensitive to scents, select a product that is odor-free or with a more subtle, natural smell. Organic creams infused with essential oils and extracts are an excellent option.
Hydration
Anyone who's ever had a tattoo knows that your skin won't magically return to normal the second you leave the tattoo parlor — for the following few weeks, you can expect soreness, irritation, and dryness.
It makes sense to choose a pain-numbing cream that doubles as a moisturizer. Some creams are so effective with this that buyers continue to use them even after their pain has gone, to keep their skin looking smooth, and to bring out the colors in their tattoo.
Avoid anything that's too greasy. Unless you're into that — in which case, more power to you.
Pain Relief
Pay special attention to the level of pain relief a product promises before buying. Not all the items we've picked out will stop your suffering altogether — some will simply soothe your irritation.
To make sure you choose the right cream for you, make sure you know how numbing creams work.
As you might have guessed, there's a tradeoff between pain relief and hydration. You can't expect the cream that blocked your nerves and stopped all pain during a tattoo procedure to double as a staple in your daily skincare routine. Just buy two creams.
Longevity
You need a numbing cream with the longevity required to get you through your tattoo procedure — if the pain relief wears off before it's finished, you'll be in trouble. Or, rather, in pain.
The strongest creams last for up to eight hours, whereas weaker creams lose their potency after just a few hours.
Aftercare lotions also vary in their longevity. Some remain effective for most of the day, whilst you need to reapply others at regular intervals.
Top 11 Best Tattoo Numbing Creams 2021
How Do Numbing Creams Work?

We've focused on two types of products in this article: creams made of natural ingredients and those with synthetic chemicals and analgesics.
Natural ingredients can reduce the pain you feel by calming your body. For example, lavender essential oil has antihistamine properties, tea tree is antimicrobial, and coconut oil is antibacterial.
However, natural creams are less effective than agents with pain-relieving chemicals. These numbing creams contain one or more of:
Nerve deadeners
Nerve blockers
Vasoconstrictors
Nerve deadeners contain chemicals that stop the nerves from functioning for a short period, preventing you from feeling pain. Lidocaine is one of the most popular nerve deadeners and a common ingredient in numbing creams.
However, the effect of nerve deadeners can be surface-level. They may fail to tackle the deepest, most penetrating pains.
A stronger alternative is nerve blockers, which achieve the same outcome (you not feeling pain) through different means. Instead of stopping the nerves from registering the pain, they stop the nerves from sending the signal to the brain — meaning you won't feel the pain.
Tetracaine and benzocaine are examples of nerve blockers.
Some creams contain both nerve blockers and nerve deadeners, forming a formidable combination to stop the pain.
Finally, vasoconstrictors are a particularly powerful way of numbing pain. As well as simply stopping your brain from registering pain, they tackle the root causes of pain. These chemicals constrict blood vessels and slow down absorption, preventing swelling and bleeding.
The type of agent you choose affects how long it will last, how strong it will be. We've focused on nerve deadeners because they're more widely available and safer to use.
How to Use Tattoo Numbing Cream
First, give the area of skin you're going to apply the cream to a thorough wash. It must be clean and free of dead skin and oil, or you risk getting an infection.
As we've seen, Tattoo Goo offers a kit that includes a cleanser. You could also opt for green soap: an oil-based soap you'll often find in tattoo parlors since it helps to soften the skin and prepare it for a tattoo procedure.
To maximize the effectiveness of the numbing cream, you could also try a numbing wash, like Super Juice 3. This has the added advantage of keeping your skin pH neutral, unlike some acidic soaps that contain alcohol. Overloading your skin with substances that work in different ways is damaging, and it may also slow the effect of numbing cream.
After cleaning your skin and drying it, wait a little while before applying the numbing cream. This ensures you won't overload and overwhelm your skin. If you're applying it over a thin layer of skin, 5-10 minutes will be sufficient. For thicker skin, you may need to wait for half an hour.
After Application
To make sure the effects don't wear off too quickly, it's essential to keep topping up your cream. It's easier to reduce a moderate amount of pain (when the numbing cream is still somewhat working) than to stop a large amount of pain (when the numbing cream has stopped working).
Professionals also apply a pre-deadener before adding the numbing cream, but this step isn't necessary for the numbing creams on this list.

Ingredients to Look Out For
We've discussed some useful ingredients, from chemicals like lidocaine to natural anti-inflammatory agents like lavender oil. However, if you have sensitive skin or allergies, there are also a few ingredients you should be wary of.
Chemicals
You're probably used to seeing "natural" shampoos and conditioners labeled as being free of parabens. Manufacturers often use parabens as preservatives in cosmetic products, but they have a range of adverse health effects, including disrupting hormones. Finding a paraben-free cream is always a plus.
Petroleum is a common ingredient in aftercare treatments for tattoos. Unfortunately, it can hinder rather than help your skin by trapping in moisture and bacteria.
Finally, phthalates, silicones, and sulfates are also harsh chemicals, so it's best to avoid them if you want to look after your skin. However, you'll find there's a tradeoff between short-term pain relief and long-term skin protection.

Potential Allergens
Some of the best and most natural creams on this list contain Vitamin E. Most of the time, this won't cause any problems — it's a powerful antioxidant that can help your skin to repair itself. However, it's also a contact allergen, which means it can occasionally cause conditions like eczema.
Lanolin and mineral oils are two ingredients that have a bad reputation for causing acne, allergies, and skin problems. There's no hard evidence to suggest they're harmful to the majority of us, but some people may prefer to stay clear.
Finally, wheat germ oil is generally safe, but can occasionally cause allergies for some people. It's also not safe for celiacs.
Frequently Asked Questions
Is Tattoo Numbing Cream Safe?
For the most part, tattoo numbing creams are extremely safe. However, some products may have unwanted side effects for certain people, due to the chemical-heavy ingredients list.
If you have sensitive skin or you're prone to allergies, study the ingredients list carefully or opt for a more natural product.
Does Tattoo Numbing Cream Really Work?
As long as you choose a cream strong enough for your procedure and apply a thick enough layer, tattoo numbing creams should be effective at removing pain.
Of course, everybody has a different reaction to products; there's always a chance that a cream won't work on you.
How Long Does Tattoo Numbing Cream Last?
The longevity of numbing cream depends on the specific product and its strength. On average, you can expect a cream to last one or two hours reliably. It's best to reapply the product at regular intervals so you're not left in pain.
Bottom Line
The best way to avoid tattoo pain is to remain tattoo-free. In case that doesn't convince you (which it probably won't, let's face it), then the second-best option is to purchase a great tattoo numbing cream.
Will you opt for a natural, organic cream that makes your skin jump for joy or a product heavy in chemicals that makes your brain jump for joy because it's stopped the pain? The choice is yours.
Of course, if your tattoo doesn't come out as you had hoped, you may find yourself shopping for tattoo removal cream in the future.