There's a sharp divide in the tattooing community over the legitimacy of tattoo pain. Is it a rite of passage or just a (literal) pain?
If you've made it to this article, you probably think that subjecting yourself to pain that you could otherwise avoid is madness. We don't blame you.
Whether you want to block out all pain during your tattoo application or just cut down on itchiness during the healing process, the perfect cream is out there waiting for you. Let's help you find it!
What Is a Tattoo Numbing Cream?
It's no secret that getting a tattoo can be painful. Although some people enjoy that (masochists!), not everyone has a high pain tolerance. No shame in that. In fact, flinching or sudden movement while getting a tattoo is one of the main causes of tattoo blowouts.
Luckily, modern science is sufficiently advanced to block most of that pain out. Just like dentists can give their patients anesthesia, tattoo artists can apply numbing creams to the skin they're about to tattoo. This reduces — and sometimes completely removes — the sensation of pain.
In fact, lots of the strongest numbing creams available are also suitable for other numbing purposes, like waxing or even everyday neck pain.
There are also lots of creams that provide aftercare for tattoos by soothing the skin and reducing irritation. While these solutions don't provide enough pain relief to block out the feeling of a needle continuously pricking your skin, they do an excellent job of making an inflamed area of your body feel normal.
Although we focus on creams, there are products that do the same job in the form of gels, balms, and sprays.
What to Look for in a Tattoo Numbing Cream
Search for "tattoo numbing cream" online and you'll find a selection of products that range from clinical-looking topical anesthetic cream to tubs that look like moisturizers with punky packaging.
Which should you pick? Ultimately, that depends on what you hope to get out of your cream. We recommend paying special attention to the ingredients, scent, hydration, pain relief, and longevity of each product.
Ingredients
When you're applying something to your skin, you want to be sure that it doesn't end up irritating it — or, even worse, causing an allergic reaction. That won't aid the healing process!
If you have sensitive skin or known allergies, the safest option is a cream with natural, organic ingredients. Luckily, this is a growing market, and you'll have a few items to choose from. You can read more about potential allergens and harmful chemicals here.
If you're a vegan, you should also look out for petroleum jelly and beeswax, which are both common ingredients in tattoo creams.
Scent
The odor of a numbing cream might be a triviality compared to choosing something that doesn't make your ankle tattoo blow up like a balloon. Still, you deserve the best of both worlds!
If you're sensitive to scents, select a product that is odor-free or with a more subtle, natural smell. Organic creams infused with essential oils and extracts are an excellent option.
Hydration
Anyone who's ever had a tattoo knows that your skin won't magically return to normal the second you leave the tattoo parlor — for the following few weeks, you can expect soreness, irritation, and dryness.
It makes sense to choose a pain-numbing cream that doubles as a moisturizer. Some creams are so effective with this that buyers continue to use them even after their pain has gone, to keep their skin looking smooth, and to bring out the colors in their tattoo.
Avoid anything that's too greasy. Unless you're into that — in which case, more power to you.
Pain Relief
Pay special attention to the level of pain relief a product promises before buying. Not all the items we've picked out will stop your suffering altogether — some will simply soothe your irritation.
To make sure you choose the right cream for you, make sure you know how numbing creams work.
As you might have guessed, there's a tradeoff between pain relief and hydration. You can't expect the cream that blocked your nerves and stopped all pain during a tattoo procedure to double as a staple in your daily skincare routine. Just buy two creams.
Longevity
You need a numbing cream with the longevity required to get you through your tattoo procedure — if the pain relief wears off before it's finished, you'll be in trouble. Or, rather, in pain.
The strongest creams last for up to eight hours, whereas weaker creams lose their potency after just a few hours.
Aftercare lotions also vary in their longevity. Some remain effective for most of the day, whilst you need to reapply others at regular intervals.
Top 11 Best Tattoo Numbing Creams 2023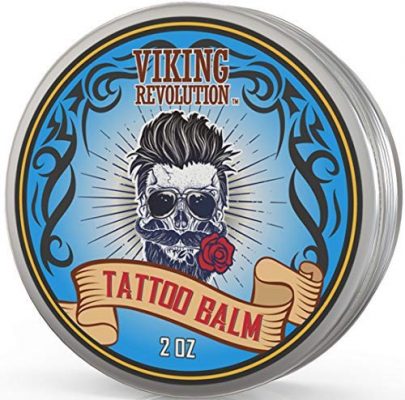 Why we like it:
Viking Revolution Tattoo Care Balm has natural ingredients suitable for all stages of the tattoo process — for a fraction of the price of other products!
Editor's Rating:
Quick Facts:
Ingredients
As a premium beard grooming brand, Viking Revolution knows a thing or two about choosing top-quality ingredients that are kind to both your body and the environment. It's a principle they've carried through to their tattoo care balm.
You'd expect to compromise on ingredient quality when choosing a product costing well under $10 per ounce, but thankfully, this isn't the case.
The Viking balm contains only natural, gentle ingredients with no harmful chemicals. Some of the most active ingredients are:
Shea butter
Grapeseed oil
Coconut oil
Beeswax
Vitamin E
However, note that Viking Revolution also advertises the cream as being vegan friendly, but this claim seems redundant since beeswax is an ingredient.
Another ingredient to be aware of is Vitamin E, which can cause adverse reactions in some people. Read more about it here.
How to Use It
The Viking Revolution balm stands out for its versatility — you can use it before, after, or during a tattoo. Make sure you clean the surface of your skin beforehand, then apply a thin layer.
It normally takes a few hours for the skin to absorb the cream fully, and for the best results, reapply it multiple times throughout the day.
If you've had a tattoo for a while that has dulled over time, the balm also helps with brightening up the design and bringing out its colors. It really is a cure-all!
However, the primary purpose of this balm is to care for your skin rather than to block all pain, so don't expect it to numb you completely.
Scent
The balm has a light but fresh smell thanks to its natural ingredients. Chamomile extract, lavender oil, peppermint oil, and more form a winning combination that isn't too overpowering.
Hydration
This cream is an effective moisturizer and will protect your skin from dryness and irritation. Like any option with natural ingredients, it won't damage your skin with nasty chemicals.
In fact, it helps your skin to heal naturally — working with the body rather than against it and guaranteeing a speedy recovery.
Pain Relief
As mentioned already, this balm is most useful for soothing and moisturizing the skin rather than numbing it. If you apply this before having a tattoo, don't expect a miraculously pain-free procedure.
However, it's still great for some mild relief and a good tool to use with a nerve blocker nerve deadener, or vasoconstrictor
Longevity
The Viking Revolution balm scores reasonably well on the longevity front. The effects will last for a few hours as the skin gradually absorbs the goodness, but it won't last all day.
Pros
Use it before, during, and after your tattoo

Natural ingredients

Nongreasy

Affordable price
Cons
Less effective for pain relief

Not fully vegan friendly as it contains beeswax
---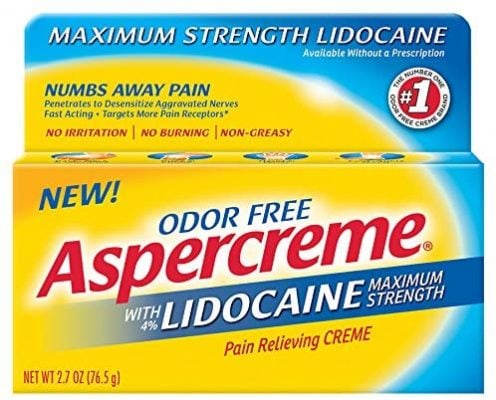 Why we like it:
It's not made specifically for tattoos, but Aspercreme provides excellent pain relief at an affordable price.
Editor's Rating:
Quick Facts:
Type: Cream
Weight: 2.7 oz
Ingredients
This cream contains 4% lidocaine, one of the most popular nerve deadeners for reducing the pain from tattoos.
Note that, although Aspercreme products normally contain aspirin, this one doesn't.
Since it's a chemical-based item, it's possible that some ingredients might cause an allergic reaction. If this is a significant worry for you, consider a solution with natural ingredients instead.
The ingredients include Acrylates, Aloe Barbadensis Leaf Juice, Aminomethyl Propanol, and Cetearyl Alcohol.
How to Use It
Aspercreme is best for numbing your skin during a tattoo. Two hours before the procedure, apply a thick layer of cream on the area. This gives enough time for the skin to become fully numb.
You can also apply a thinner layer after your tattoo if you're experiencing extreme pain, but an aftercare cream might be preferable.
Scent
Aspercreme is odor-free. That might be a letdown if you enjoy creams that smell of oranges or roses, but it's preferable to an artificial odor that makes you gag!
Hydration
Since the cream targets pain and fails to provide aftercare, it doesn't score well on the moisturizing front. However, it contains a few ingredients that treat your skin well, and it's also non-greasy.
If that's important to you, we recommend buying a separate cream built for hydration, as listed in the aftercare section.
Pain Relief
This is a maximum-strength product; over-the-counter products legally can't contain over 4% lidocaine. Although different peoples' nerves respond to products slightly differently, this should be a strong enough solution for most people.
However, it's not as strong as items available by prescription, which can contain 5% lidocaine, or combine stronger ingredients like vasocaine.
Longevity
Depending on how thick the layer you apply is, Aspercreme could last between one and five hours. However, for most people, it will remain effective for around two hours.
Pros
Powerful pain relief

Odor free

Non-greasy

Affordable
Cons
Not effective for aftercare

Contains chemicals that could cause allergic reactions
---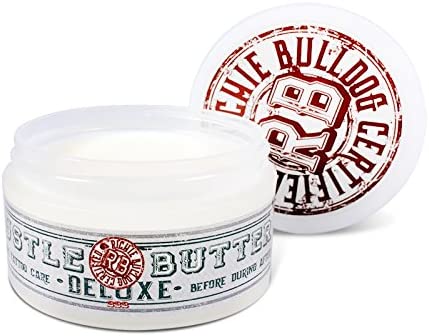 Why we like it:
Hustle Butter Deluxe is a high-quality, vegan-friendly item rated by many professionals.
Editor's Rating:
Quick Facts:
Type: Butter
Weight: 5 oz (1 oz also available)
Ingredients
Hustle Butter prides itself on using only the finest, natural ingredients,
including:
Shea
Aloe butter
Coconut
Rice bran oils
Vitamin E complex
Essentials oils
It was originally developed as a petroleum alternative and also contains no parabens, phthalates, or other dangerous chemicals. However, it's important to note once again that Vitamin E can cause issues for some people.
Unlike the Viking Revolution tattoo balm, Hustle Butter's product is genuinely vegan-friendly — it also contains no beeswax or petroleum jelly, every ingredient is cruelty-free. That's what you're paying for!
How to Use It
The butter aids all stages of the tattoo process, including preparing your skin for a tattoo and aftercare.
When you apply the cream before having a tattoo, it will soften the skin, make application easier, and reduce swelling. It also won't remove stencils during the process.
Finally, it helps the skin heal during aftercare.
Scent
Wild mint, papaya, and coconut extract give the cream a powerful but natural odor.
Hydration
One of Hustle Butter's key strengths is its moisturizing properties. The shea and aloe butter help with cracked skin, relief from itchiness, and making tattoos shine.
Pain Relief
The Hustle Butter is less strong on the pain relief front, but by relieving inflammation, it will also relieve your pain.
Longevity
For the best effect, you must reapply the lotion each time your tattoo dries. You should do this at least three times daily.
Pros
Suitable for before, after, and during the tattoo process

Vegan friendly

Natural, premium ingredients

Won't remove stencils
Cons
Only provides weak pain relief

Expensive
---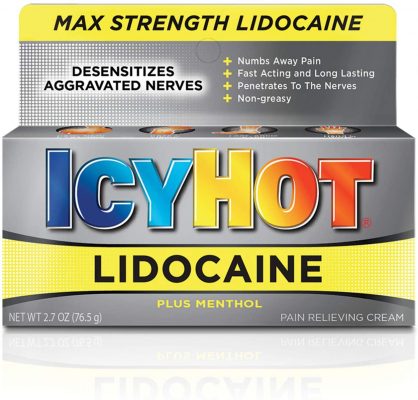 Why we like it:
Icy Hot Max Strength Pain Relief Cream is a reliable option from one of the top pain relief brands in the US.
Editor's Rating:
Quick Facts:
Type: Cream
Weight: 2.7 oz
Ingredients
Just like our top pick, Aspercreme, Icy Hot contains 4% lidocaine (4%), a nerve deadener. It also has 1% menthol (1%), another powerful ingredient for tackling pain.
However, there's a wide range of other inactive ingredients acting as fillers, some of which could cause adverse effects. If you're taking medication or have sensitive skin, be careful to study the full list, which you can find on the Amazon product page.
How to Use It
Because lidocaine is a numbing agent, you can use the Icy Hot cream before having a tattoo to reduce pain — or even get rid of it completely.
One of its best features is how quickly it numbs your skin — expect to feel the effects within just a few minutes.
You can also use the cream for aftercare if you're suffering from significant stinging or soreness. Apply it to the tattooed area every 6-8 hours, up to three times in a 24-hour window.
Scent
Icy Hot isn't scent-free, but its odor is very mild and shouldn't bother most people.
Hydration
As it's a numbing agent, Icy Hot falls short on its moisturizing properties. You must buy a second product if that's important to you.
Pain Relief
Because of the lidocaine and menthol, Icy Hot is one of the most effective pain relievers on this list. Naturally, it's not perfect — we can't guarantee it will make all tattoos pain-free for 100% of people.
Longevity
The combination of ingredients makes this cream a long-lasting solution. The effects should remain for a few hours, although this depends on the intensity of the pain. Some people may find they feel pain again after an hour or two.
Cons
Not specifically designed for tattoos

Doesn't hydrate the skin
---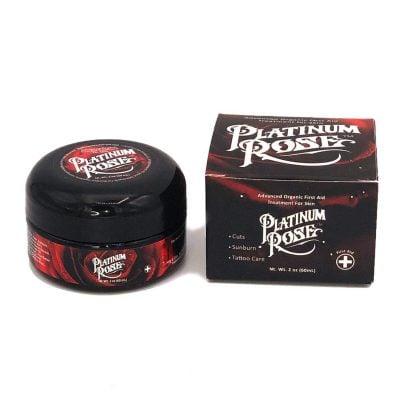 Why we like it:
Platinum Rose Tattoo Butter is both versatile and effective.
Editor's Rating:
Quick Facts:
Type: Butter
Weight: 2 oz (also available in sizes 0.25 oz, 0.5 oz, 4 oz, 8 oz)
Ingredients
The Platinum Rose butter uses only natural, organic ingredients. It's free of petroleum, parabens, synthetic chemicals, and preservatives.
The primary ingredients include:
Shea Butter
Avocado Oil
Cocoa Butter
Aloe Butter
Vitamin E
How to use it
Like the Hustle Butter and Viking Revolution products, the Platinum Rose balm is suitable for before, after, and during a tattoo.
Apply it to the skin and rub in a thin layer. If you want to use it during your tattoo procedure, you won't need to worry about petroleum buildup (the cream is petroleum-free), clogged tubes, or stencil removal.
It's also suitable for treating abrasion, cuts, burns, and rashes.
Scent
Since rose essential oil is one of the main ingredients, this gives the cream its scent. The smell is fresh, but not too overpowering because of the natural ingredients.
Hydration
Although the main purpose of the butter is to aid healing, you can also use it as a moisturizer — it hydrates, lubricates, and nourishes the skin. Once your tattoo has healed, you can continue to use it for this purpose.
The balm helps to regenerate your natural skin tissue along the way whilst solving problems like itching, scabbing, and inflammation.
You can even use it to moisturize other parts of your body, like your lips or sunburns — although, there admittedly are cheaper options out there for these minor issues!
However, it's also very oily, which isn't to everyone's tastes.
Pain relief
As well as giving off a sweet scent, the rose essential oil calms the nervous system. This reduces the pain you'll feel during a tattoo. It also maintains histamine levels and reduces swelling, inflammation, and plasma discharge.
Of course, it's less effective than stronger ingredients like lidocaine, for obvious reasons.
Longevity
As you might expect for a product with a softer approach to relieving pain, the Platinum Rose cream won't keep you out of agony for long periods of time.
However, a small amount goes a long way, and you only need to apply some lotion for it to improve your skin.
Pros
Organic, natural ingredients

Suitable for before, after, and during tattoos

Great moisturizer

Doesn't remove stencils or cause clogged tubes
Cons
Very oily

Not effective for pain
---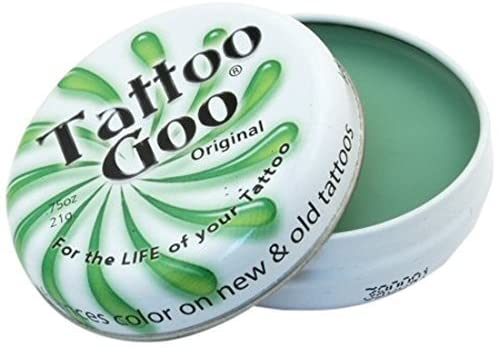 Why we like it:
Tattoo Goo Original After Care Salve is full of natural herbs, oils, and vitamins.
Editor's Rating:
Quick Facts:
Type: Balm
Weight: 0.75 oz
Ingredients
Tattoo Goo is another brand that uses only natural ingredients, giving their balms an edge for anyone concerned about harmful ingredients.
Primary ingredients include olive oil, beeswax, and cocoa butter, plus a selection of natural herbs, oils, and vitamins.
It's free of the most harmful ingredients, like petroleum, lanolin, and mineral oils.
However, it contains wheat germ oil and Vitamin E, both of which can be allergens.
How to use it
Apply the balm after you've had your tattoo to soothe the skin and reduce pain. You should use it the day after your tattoo, or within 24 hours, to numb the pain most effectively.
If your tattoo artist doesn't have an alternative ointment, they can also use it to apply to the skin before bandaging up the area.
To clean the area before application, consider using Tattoo Goo's cleansing soap, as found in the aftercare kit. It contains similar ingredients, so if this balm works for you, it's likely the soap will, too.
Scent
Because of the natural ingredients and the abundance of herbs, the Tattoo Goo balm has a pleasant scent. It's mild and natural.
Moisturizing
The balm soothes and moisturizes the skin to help it recover from the tattoo. It's so effective at its job that it can even bring out the color of old tattoos.
Pain relief
The primary purpose of the balm is to help the skin recover; it's less effective at pain relief.
There's no active numbing agent, but some natural ingredients will relax your body's nerves and reduce inflammation.
Longevity
A thin layer will typically last for a few hours. It's best to apply the balm a few times each day.
Pros
Free of petroleum, lanolin, and mineral oils

Infused with herbs

Can use with corresponding cleansing soap
Cons
Only helps with aftercare

No active numbing agent
---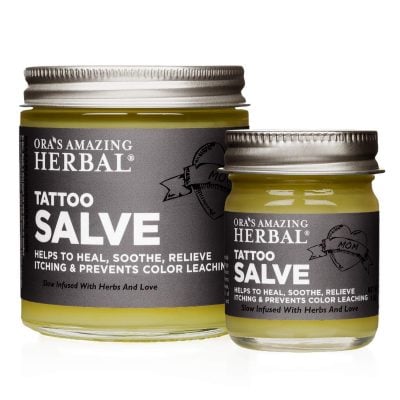 Why we like it:
Ora's Amazing Herbal Tattoo Salve is made by a socially responsible company that uses natural ingredients.
Editor's Rating:
Quick Facts:
Type: Balm
Weight: 4 oz (1 oz is also available)
Ingredients
A primary advantage of Ora's products is the natural ingredients. This salve contains organic herbs — and love, allegedly — whilst being free of nasty items like parabens, synthetic fragrances, and even dyes.
Ingredients include:
Grapeseed
Calentula
Plantain
Coconut oil
Beeswax
Essential oils
How to use it
After making sure your hands and the skin are both clean, you can apply the balm. Load some onto your finger and apply a thin layer on to your tattoo.
The solution also helps with keeping the tattoo and the surrounding skin in good condition, including tackling bruises and bumps.
Since the balm is for aftercare only, it's not suitable for numbing the skin completely before applying a tattoo.
Scent
Ora's balm has a lovely scent thanks to its natural herbs and ingredients, including base oils infused for six weeks. There are also no synthetic fragrances added.
Moisturizing
The balm is extremely moisturizing and does an amazing job of soothing the skin. It even helps to bring out the color of tattoos.
Pain relief
Since the balm is designed primarily for aftercare, it doesn't have the strongest pain relief. It's better suited to anyone who wants to soothe their skin and relieve minor irritation.
Longevity
Like most aftercare lotions, it's best to apply a layer of the balm a few times a day at regular intervals.
Pros
Paraben free

Base oils infused for six weeks

Good moisturizer
Cons
Less effective for pain relief

Only for aftercare
---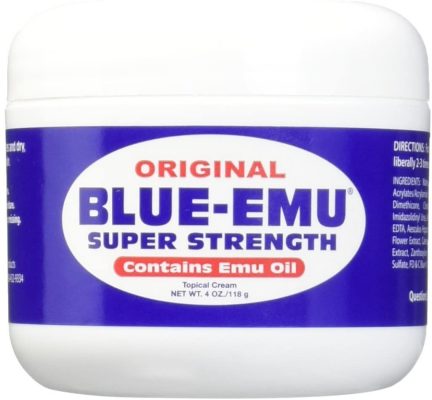 Why we like it:
Blue Emu Original Analgesic Cream provides deep relief using a unique natural ingredient.
Editor's Rating:
Quick Facts:
Type: Cream
Weight: 12 oz
How to use it
It's best to use Emu oil after you've had a tattoo. It does a great job of relieving deep pains and aches, but won't completely numb your skin.
Blue-Emu recommends you to apply the cream two or three times a day for around two weeks.
Ingredients
The standout ingredient in this cream is emu oil, which is known for helping relieve aches and pains and easing the healing of wounds.
The other major ingredients are glycerin and MSM (dimethyl sulfone). These two make a classic combination in alternative medicine and help with muscle and joint pain especially.
However, be aware there are lots of chemicals and alcohol.
Scent
Blue-Emu cream is odor-free, so we'll give it a neutral score on the scent front.
Hydration
Emu oil does a wonderful job of soothing your skin, so you can count on its moisturizing properties. The cream also contains aloe vera, which is well known for having a good effect on the skin.
It's also non-greasy.
Pain relief
Although emu oil can give you deep, penetrating relief, it's geared toward soothing pain rather than numbing your nerves. That's why we recommend choosing something else for use before you get a tattoo.
Longevity
Applying the cream 2-3 times a day will give you the coverage needed for you to be pain-free as you go about your daily activities.
Pros
Odor-free

Emu oil is a natural ingredient

Nongreasy
Cons
Not suitable for during the tattoo process

Contains chemicals
---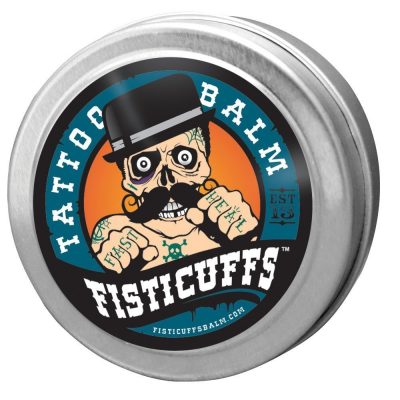 Why we like it:
Fisticuffs Tattoo Balm features natural ingredients and a scent of fresh peppermint.
Editor's Rating:
Quick Facts:
Ingredients
The Fisticuffs healing balm is all natural — you won't find any petroleum jelly or synthetic chemicals.
Ingredients include tea tree, a natural antimicrobial, and lavender, which helps with healing. The only item that might cause concern is Vitamin E, which irritates the skin of a minority of people.
How to use it
First, clean the area you want to treat with soap and water, then pat dry it. Finally, you can apply the balm. Repeat this a few times each day.
Make sure you only apply a thin layer to the area — the tin only contains one ounce and isn't designed for using in large quantities.
The balm is mostly to aid the healing process, but you can also use it to keep your tattoos in tip-top condition.
Scent
We love the sweet peppermint aroma of the Fisticuffs balm, which is a testament to its natural ingredients. If you prefer more subtle, understated scents, it might not be right for you.
Hydration
Although the main purpose of the butter is to aid healing, you can also use it as a moisturizer. The balm hydrates, lubricates, and nourishes your skin as effectively as any commercial lotion.
In fact, you can use it solely for that purpose once your tattoo has healed, or to treat chapped lips or sunburns.
Pain relief
Ingredients like lavender and Vitamin E ensure the balm does a great job of healing your sore skin. However, it's not as effective as creams with active numbing agents at reducing pain.
Longevity
After a few hours, the effects of the balm will wear off, and you'll need to reapply. Depending on how sore you feel, you might need to repeat this process three times a day or more.
Pros
Natural ingredients

Reduces scarring

Nice smell

No petroleum jelly
Cons
Less effective for reducing pain

Vitamin E is a potential allergen
---

Why we like it:
works almost instantly and is very convenient
Editor's Rating:
Quick Facts:
Ingredients
The spray contains 4% lidocaine, our favored nerve deadener. Other inactive ingredients are caprylic/capric triglyceride, isobutane, propylene glycol, and SD alcohol 40.
Clearly, this isn't a natural ingredients list, but the products guarantee pain relief.
How to use it
Although you came here looking for a cream, it wouldn't be fair to finish the list off without providing a great alternative: the Aspercreme spray.
After cleaning the skin, spray it on the area where you'll have your tattoo. It dries quickly and will start to numb within seconds; a clear advantage over some creams, which can take an hour or more to take effect.
Unfortunately, sprays have the disadvantage of spreading their particles. You might not want to inhale a load of chemicals and alcohol, but it's hard to avoid.
You can use the spray for both aftercare and before a tattoo application.
Scent
The Aspercreme spray promises to be odor-free, and it delivers.
Hydration
Have you ever sprayed something on your skin that left you thinking, "wow, this is so moisturizing!" No? Me neither.
The Aspercreme dry spray might not be an effective moisturizer, but it does its job when it comes to numbing pain.
Pain relief
4% lidocaine is the maximum strength that can be used without a medical prescription, so it should be strong enough to help with most levels of pain.
The spray is designed for relieving pain from muscle aches and sores. It also does a good job at numbing the skin from other types of pain, but might not be 100% effective for everyone.
Longevity
For most people, the effects of Aspercreme spray last for a few hours.
Pros
Odor-free

Contains a nerve deadener

No grease

Dries instantly

Takes effect quickly
Cons
Not specifically made for tattoo numbing

Not a moisturizer

You might inhale the fumes
---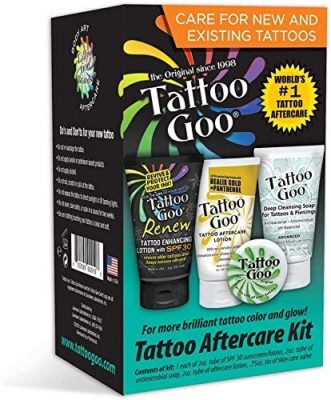 Why we like it:
The Tattoo Goo Aftercare Kit contains multiple products to ensure you get the care you need.
Editor's Rating:
Quick Facts:
Type: Includes a balm, lotions, and a cleansing soap
Weight: 0.75 oz balm, 2 x 2 oz lotions, 2 oz cleansing soap
Ingredients
Just like the individual Tattoo Goo balm we've already reviewed, each item in the aftercare kit contains natural ingredients.
The cleansing wash has antimicrobial and antibacterial properties and a pH-balanced formula to soothe your skin. Ingredients in the aftercare lotion include olive oil, Vitamin A, Vitamin E, Vitamin B5, and glycerine. The SPF lotion has a natural olive oil base. We've already discussed the balm.
How to use it
Use the cleansing soap to clean your skin before applying any of the other solutions. Exposing your skin to lots of different chemicals can overload your system, so using a corresponding cleanser and lotion is a smart idea.
You can apply the balm during a tattoo application or afterward to act as a protective barrier, whilst the aftercare lotion is solely for speeding up the healing process.
Finally, the SPF lotion is a fantastic option when you don't need to numb the pain but want to keep your skin and tattoo in great condition. As you no doubt already know, avoiding sun damage is critical for skincare.
Scent
Each product contains natural ingredients, but they don't have a strong scent. The soap smells of antiseptic — as you might expect — whilst the salve has a light scent.
Hydration
If you're looking for creams to nurse your skin into perfect health, you're in the right place. The lotions and balm will get rid of flaky, scabbed skin and make your tattoo(s) look shiny and presentable.
Pain relief
The soothing creams in this kit do an amazing job of soothing minor pains whilst you go about your daily task, but they're less effective at blocking out more intense pain.
As a result, the pack isn't perfect for everyone.
Longevity
Each item should be applied multiple times a day if you're experiencing pain. If you just want to keep your skin in good condition, using lotion once a day is more than sufficient.
Pros
Helpful to use items with the same manufacture and ingredients

Amazing moisturizing properties
Cons
You may not need everything in the kit

Kit contains nothing for strong pain relief
---
How Do Numbing Creams Work?

We've focused on two types of products in this article: creams made of natural ingredients and those with synthetic chemicals and analgesics.
Natural ingredients can reduce the pain you feel by calming your body. For example, lavender essential oil has antihistamine properties, tea tree is antimicrobial, and coconut oil is antibacterial.
However, natural creams are less effective than agents with pain-relieving chemicals. These numbing creams contain one or more of:
Nerve deadeners
Nerve blockers
Vasoconstrictors
Nerve deadeners contain chemicals that stop the nerves from functioning for a short period, preventing you from feeling pain. Lidocaine is one of the most popular nerve deadeners and a common ingredient in numbing creams.
However, the effect of nerve deadeners can be surface-level. They may fail to tackle the deepest, most penetrating pains.
A stronger alternative is nerve blockers, which achieve the same outcome (you not feeling pain) through different means. Instead of stopping the nerves from registering the pain, they stop the nerves from sending the signal to the brain — meaning you won't feel the pain.
Tetracaine and benzocaine are examples of nerve blockers.
Some creams contain both nerve blockers and nerve deadeners, forming a formidable combination to stop the pain.
Finally, vasoconstrictors are a particularly powerful way of numbing pain. As well as simply stopping your brain from registering pain, they tackle the root causes of pain. These chemicals constrict blood vessels and slow down absorption, preventing swelling and bleeding.
The type of agent you choose affects how long it will last, how strong it will be. We've focused on nerve deadeners because they're more widely available and safer to use.
How to Use Tattoo Numbing Cream
First, give the area of skin you're going to apply the cream to a thorough wash. It must be clean and free of dead skin and oil, or you risk getting an infection.
As we've seen, Tattoo Goo offers a kit that includes a cleanser. You could also opt for green soap: an oil-based soap you'll often find in tattoo parlors since it helps to soften the skin and prepare it for a tattoo procedure.
To maximize the effectiveness of the numbing cream, you could also try a numbing wash, like Super Juice 3. This has the added advantage of keeping your skin pH neutral, unlike some acidic soaps that contain alcohol. Overloading your skin with substances that work in different ways is damaging, and it may also slow the effect of numbing cream.
After cleaning your skin and drying it, wait a little while before applying the numbing cream. This ensures you won't overload and overwhelm your skin. If you're applying it over a thin layer of skin, 5-10 minutes will be sufficient. For thicker skin, you may need to wait for half an hour.
After Application
To make sure the effects don't wear off too quickly, it's essential to keep topping up your cream. It's easier to reduce a moderate amount of pain (when the numbing cream is still somewhat working) than to stop a large amount of pain (when the numbing cream has stopped working).
Professionals also apply a pre-deadener before adding the numbing cream, but this step isn't necessary for the numbing creams on this list.

Ingredients to Look Out For
We've discussed some useful ingredients, from chemicals like lidocaine to natural anti-inflammatory agents like lavender oil. However, if you have sensitive skin or allergies, there are also a few ingredients you should be wary of.
Chemicals
You're probably used to seeing "natural" shampoos and conditioners labeled as being free of parabens. Manufacturers often use parabens as preservatives in cosmetic products, but they have a range of adverse health effects, including disrupting hormones. Finding a paraben-free cream is always a plus.
Petroleum is a common ingredient in aftercare treatments for tattoos. Unfortunately, it can hinder rather than help your skin by trapping in moisture and bacteria.
Finally, phthalates, silicones, and sulfates are also harsh chemicals, so it's best to avoid them if you want to look after your skin. However, you'll find there's a tradeoff between short-term pain relief and long-term skin protection.

Potential Allergens
Some of the best and most natural creams on this list contain Vitamin E. Most of the time, this won't cause any problems — it's a powerful antioxidant that can help your skin to repair itself. However, it's also a contact allergen, which means it can occasionally cause conditions like eczema.
Lanolin and mineral oils are two ingredients that have a bad reputation for causing acne, allergies, and skin problems. There's no hard evidence to suggest they're harmful to the majority of us, but some people may prefer to stay clear.
Finally, wheat germ oil is generally safe, but can occasionally cause allergies for some people. It's also not safe for celiacs.
Frequently Asked Questions
Is Tattoo Numbing Cream Safe?
For the most part, tattoo numbing creams are extremely safe. However, some products may have unwanted side effects for certain people, due to the chemical-heavy ingredients list.
If you have sensitive skin or you're prone to allergies, study the ingredients list carefully or opt for a more natural product.
Does Tattoo Numbing Cream Really Work?
As long as you choose a cream strong enough for your procedure and apply a thick enough layer, tattoo numbing creams should be effective at removing pain.
Of course, everybody has a different reaction to products; there's always a chance that a cream won't work on you.
How Long Does Tattoo Numbing Cream Last?
The longevity of numbing cream depends on the specific product and its strength. On average, you can expect a cream to last one or two hours reliably. It's best to reapply the product at regular intervals so you're not left in pain.
Bottom Line
The best way to avoid tattoo pain is to remain tattoo-free. In case that doesn't convince you (which it probably won't, let's face it), then the second-best option is to purchase a great tattoo numbing cream.
Will you opt for a natural, organic cream that makes your skin jump for joy or a product heavy in chemicals that makes your brain jump for joy because it's stopped the pain? The choice is yours.
Of course, if your tattoo doesn't come out as you had hoped, you may find yourself shopping for tattoo removal cream in the future.