If you have a few pesky stretch marks, don't worry – you're not alone. Stretch marks are a highly common condition and can appear on anyone, of any age or gender. These white or red marks result from a rapid stretching of skin that can be caused by anything from weight loss to pregnancy.
For anyone who wants to rid themselves of stretch marks, a stretch mark cream is just the thing to help. These creams are often packed with skin softening and firming ingredients, and work to hydrate skin while improving its appearance.
With an abundance of stretch mark creams on the market today, it can be difficult to know what to look for. Fortunately, we've created a list of the top 10 stretch mark creams available, so you know where to begin!
What You Should Know About Stretch Mark Creams
There are more to stretch marks creams than meets the eye – before we head to our list, let's first discuss the basics of a quality stretch mark cream.
Formula
There are two basic formulas that most products use to treat stretch marks. The most common one is a cream, but there are oil-based formulas available.
Cream
Creams have a richer consistency and are more likely to be packed with skin softening and hydrating ingredients. They are a mix of water and oil, which is what creates the easy to spread lotion-like texture. On the other hand, creams often have a higher percentage of included preservatives, fragrances, and chemicals.
Oil
Oils are the active part of a cream in its pure form. Oils are typically more potent than creams due to the fact they are not mixed with any other ingredients; you may see results more quickly with oil use. However, oils can be a little hard to spread and not feel as hydrating to the skin like a cream would.
Ingredients
There are several skin healing ingredients to look out for in stretch mark creams that indicate if a product will be useful or not.
Vitamins
Skin healing and repairing vitamins such as A, C, E, and B are perfect for hydrating your stretch marks and improving skin elasticity – all things that work to improve skin appearance.
Hyaluronic Acid
Extremely hydrating, hyaluronic acid allows skin to retain moisture and improves the balance of hydration in the skin. This leads to your stretch marks becoming firmer and an increase in fading.
Shea Butter
Shea butter, along with other nut butters, is incredibly skin softening and moisturizing. It can improve the texture of your stretch marks and prevent the development of new marks. And if you're interested in prevention, we suggest looking at Body Merry's Stretch Mark and Scars Defense Cream.
Collagen
Collagen is one the main structural proteins in your skin. A loss of collagen is partly what contributes to the formation of stretch marks and signs of aging. Adding collagen to your stretch marks topically can improve cell production and fade your marks fast.
Plant Extracts
Botanicals, such as plant oils and extracts, are often combined into stretch mark creams to give the product extra skin healing benefits that range from skin lightening to skin softening. Some may even be used as a fragrance. If you like the idea of plant-based ingredients in your product, check out Kelly's Naturals Scar Removal Cream.
Consider Avoiding
Whether you're pregnant or have sensitive skin, there are a few ingredients everybody might want to consider avoiding for the best skin health possible.
Parabens
Parabens are a group of chemicals used as preservatives. They have been linked to hormone disruptions in the body, adverse birth outcomes, and an increased risk of cancer. You may want to choose paraben-free products to avoid this risk.
Fragrances
Artificial fragrances are often very overwhelming scent-wise. This scent may be unpleasant to those prone to headaches or allergies, and the artificial ingredients that create the fragrance can be irritating to those with very sensitive skin.
Retinoids
More of a concern for someone who is pregnant, retinoids are a compound often used to treat acne and other skin conditions. While highly effective, they may increase birth defects. You can also check out this guide if you wish to know more about ingredients to avoid during pregnancy.
Now that you know what to look out for in a stretch mark cream, let's get to our list of the top 10 products available!
Top 10 Best Stretch Mark Creams 2023

Why we like it:
Palmer's Cocoa Butter Firming Body Lotion is enhanced with elastin and is perfect for moisturizing stretch marks.
Editor's Rating:
This stretch mark cream is blended with elastin, a skin protein that provides structure to the skin and allows it to return to its original shape after stretching. It improves overall skin elasticity, which is a key factor in decreasing the appearance of stretch marks.
The cocoa butter that makes up the base of this formula is intensely moisturizing; the cream is easily absorbed into skin without leaving behind any greasy residue. This product is also good for anyone who has dry skin and stretch marks due to its super hydrating nature.
The pump dispenser for this cream does break easily. This can make it hard to remove the product from the bottle. You may have to completely change containers in order to keep using the cream. If you prefer to avoid this risk and select an easier applied product, skip on down to Burt's Bees Mama Bee Belly Butter.
Pros
Formula enhanced with elastin

Great for dry skin

Light cocoa butter scent

No greasy residue
---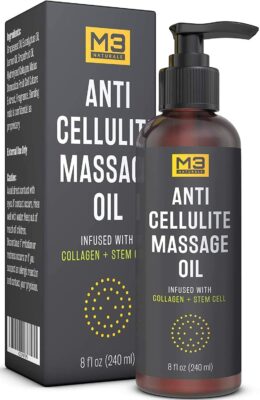 Why we like it:
Packed with premium ingredients, M3 Naturals is fantastic for toning and firming up stretch marks.
Editor's Rating:
Sometimes the best product for stretch marks isn't a cream – it's an oil! The M3 Naturals Massage oil is blended with both collagen and plant stems cells. These ingredients work to boost skin tone and overall appearance, while protecting skin from further damage at the same time. It's a great choice for anyone looking for a potent, premium product.
Essential oils such as grapeseed, eucalyptus, and lemon oil are blended into this product to help moisturize skin and give the oil a light citrus scent. The formula is designed to tighten and tone skin, reducing the appearance of cellulite and deep stretch marks. It is a good option for anyone with deeper stretch marks that need firming up.
Because this is an oil, it does have a slightly harder to apply consistency; it is a little on the runny side and may leave a slight residue on skin. It is also more expensive than other products on our list since it is a little on the premium side. It may not be the best choice if you are shopping on a budget.
Pros
Collagen boosts skin tone and appearance

Plant stem cells protect skin

Includes moisturizing essential oils

Tightens and tones skin
---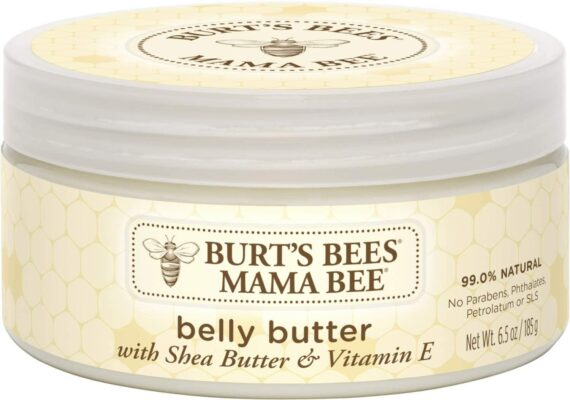 Why we like it:
Burt's Bees' Belly Butter is affordable and easy to apply, making it great for anyone looking for a simple stretch mark cream.
Editor's Rating:
Burt's Bees' Mama Bee Belly Butter is very affordable and comes in a fairly-sized tub. It is created from 99 percent natural ingredients and does not use any parabens, phthalates, or sulfates. It is a great option for someone who prefers natural products but doesn't want to break the bank.
The formula of this product has a very rich, spreadable consistency. It is easily applied and easily absorbs into skin. It is also very skin softening, and you will be able to feel a difference in the texture of your stretch marks after just a few uses.
Even though this product is unscented, it does have a rather waxy, raw smell that comes from the natural shea butter used. Some users may find this scent unappealing and might want to opt for a better scented cream, such as Kelly's Naturals Scar Removal Cream.
Pros
Affordable

Rich, spreadable consistency

Very skin softening

99 percent natural ingredients
---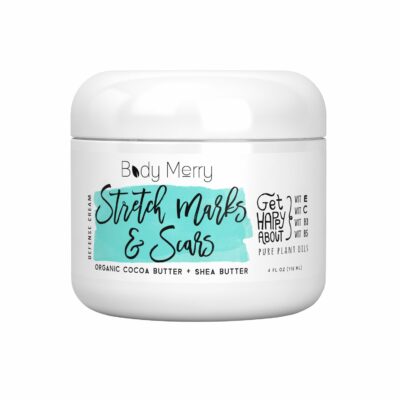 Why we like it:
This stretch mark cream is blended with B vitamins and is great for preventative use.
Editor's Rating:
If you're looking for a product that can help stop stretch marks before they form, Body Merry's Stretch Marks and Scars Defense Cream is a great option. The cream is packed with skin moisturizing ingredients such as shea and cocoa butter, and features B vitamins to improve the health and youthful appearance of skin.
The company that produces this product offers a full money-back guarantee on it. If you do not like the product after trying it for 90 days, you can receive a refund, no questions asked. This makes it a great option if you are not too sure whether you want to commit to a stretch mark cream or not.
This cream has a very thick consistency that some people may find unappealing. The thickness does make it a little harder to spread, and it may not absorb as quickly as other products on our list. To increase its spreadability, you may want to mix the cream with a few drops of water to loosen up the consistency.
Pros
Great for preventative use

Money-back guarantee

Blended with B vitamins for healthy skin
---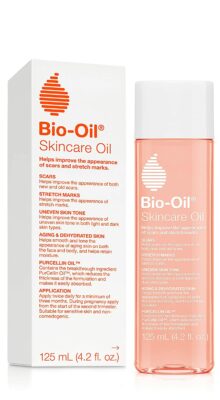 Why we like it:
Bio-Oil Skincare Oil uses a dermatologist approved formula to repair stretch marks and improve skin appearance.
Editor's Rating:
The formula of Bio-Oil Skincare Oil is blended with dermatologist recommended ingredients to ensure safety and potency. The oil formula uses a combination of plant extracts, vitamins, and essential oils to moisturize stretch marks improve skin appearance. This product is a good choice if you are looking for something a little more potent than a cream.
Vitamins E and A are key ingredients in this product and work to improve collagen amounts in skin. This helps to repair stretch marks and lighten skin, fading the mark's appearance. It is a non-comedogenic formula, meaning it won't clog pores or irritate sensitive skin.
Because it is an oil-based product, Bio-Oil may leave skin feeling a little greasy. It can also make your skin itchy if you are sensitive to lots of plant-based ingredients or if you have a skin condition such as eczema. You may want to try a more gentle product if this is the case.
Pros
Dermatologist recommend ingredients

Potent oil formula

Non-comedogenic

Vitamin E and A repair skin
Cons
May leave skin greasy

Can make skin itchy
---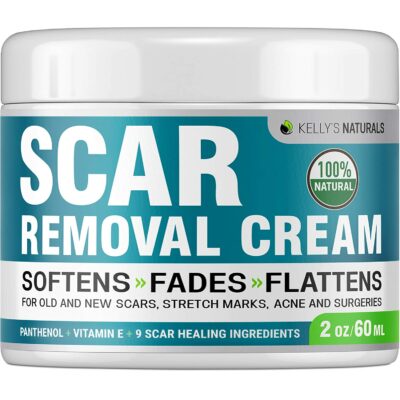 Why we like it:
Full of plant botanicals, Kelly's Naturals Scar Removal Cream softens, fades, and flattens all types of stretch marks.
Editor's Rating:
The advanced herbal formula in Kelly's Naturals Scar Removal Cream features 10 different stretch mark and scar healing ingredients; these ingredients include vitamin B, aloe vera extract, vitamin E, and jojoba oil. All of these ingredients work together to moisturize skin and fade scars and stretch marks.
This cream works very well on older, more stubborn stretch marks. Because it has so many potent ingredients in it working together, you will be able to fade your old marks with consistent use. It also has a pleasant, light scent that is not too overpowering or cloying.
It does take a while to see results with this cream. You should be using it at least once a day for 2 to 3 months before you start to see any fading of stretch marks. If you are looking for a more quick-acting cream, we suggest looking at Mederma Stretch Marks Therapy instead.
Pros
Advanced herbal formula

Designed to fade scars and stretch marks

Works well on stubborn old marks

Pleasant, light scent
Cons
Takes a while to see results
---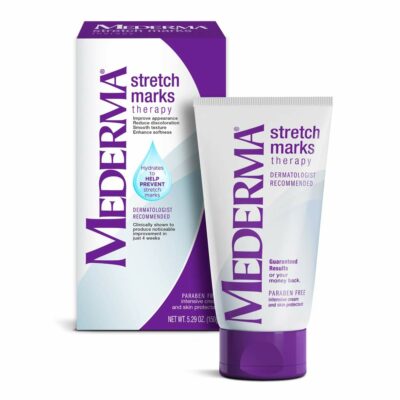 Why we like it:
The quick-acting formula of Mederma Stretch Marks Therapy keeps skin hydrated and lightens stretch marks.
Editor's Rating:
For anyone looking to see rapid results from their stretch mark cream, this product is a good choice. The formula is dermatologist-designed to be fast-acting, and is great for treating both dark-colored and light stretch marks.
Dimethicone is featured as an active ingredient in this cream; it treats skin irritation and keeps moisture locked into the layers of your skin, improving overall hydration. Onion bulb extract works to lighten and fade stretch marks with results visible in just a few weeks. It is a great choice if you want to rapidly reduce the appearance of your stretch marks.
Even though this product is great at improving the coloration of stretch marks, it is not best for evening out the texture or toning the skin. If you are looking for a product that will improve skin elasticity as well as stretch mark appearance, you may want to look back at Palmer's Firming Body Lotion.
Pros
Fast-acting formula

Dimethicone keeps skin hydrated

Onion bulb extract improve stretch mark appearance
Cons
Does not improve stretch mark texture
---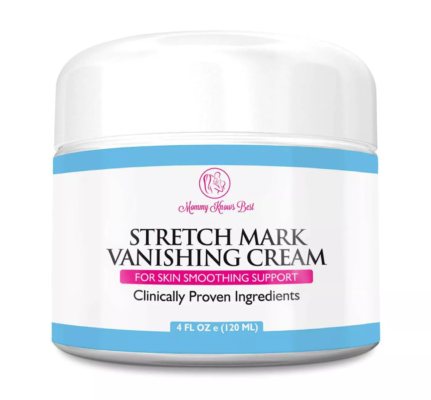 Why we like it:
Formulated with ingredients safe for pregnant women, this cream is perfect for using before and after birth.
Editor's Rating:
Free of most of the common allergens, including gluten, wheat, and dairy, this stretch mark cream is great for use during and after pregnancy. It is formulated with 100 percent pregnancy safe ingredients and does not use any type of retinols to achieve its skin smoothing properties.
This product is great for use on all skin types. It is fairly gentle and will hydrate skin without causing any itchiness or irritation. It can also be used daily without any adverse reactions. And if you are looking for a product that works well on sensitive skin, also check out TriLASTIN Maternity Stretch Mark Prevention Cream.
Unfortunately, this product does not absorb as easily as some of its competitors. It tends to sit on top of skin and can rub off easily onto clothing. It may also leave your skin feeling a little sticky due to its lack of proper absorption.
Pros
Pregnancy safe ingredients

Free of common allergens

Great for all skin types

Can be used daily
Cons
Does not absorb easily

Leaves sticky feeling on top of skin
---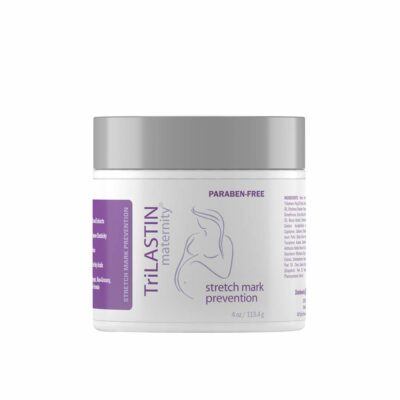 Why we like it:
Great for using on sensitive skin, TriLASTIN is free from harsh ingredients and preservatives.
Editor's Rating:
The certified cruelty-free formula of this cream is blended with antioxidants and essential fatty acids to provide your skin with the nourishment it needs. It also has 15 botanical oils that work to fade away stretch marks and plump up skin.
TriLASTIN's cream is great for sensitive skin due to its hypoallergenic formula. It helps to relieve any skin itchiness associated with the development of stretch marks and can improve the resilience and elasticity of skin.
While this cream is a great choice for nourishing skin, it is not the most intensely hydrating skin. You do need to apply a lot to achieve a soft smooth feeling in your skin. If you are looking for a product that still includes botanicals and is a little better at moisturizing, we recommend M3 Naturals Anti Cellulite Massage Oil.
Pros
Certified cruelty-free

Relieves skin itchiness

Formulated with antioxidants and fatty acids

Great for sensitive skin
Cons
Not the best for intense hydration
---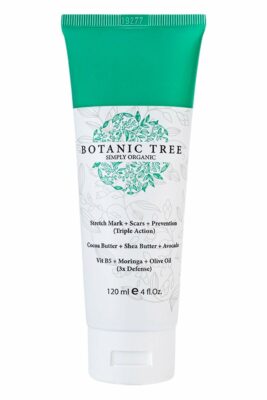 Why we like it:
Created with organic ingredients, Botanic Tree's Stretch Mark Cream comes in a value 2 pack of oil and cream.
Editor's Rating:
Can't decide which formula to buy? Why not try both! Botanic Tree's Stretch Mark Cream is offered in a 2 pack that includes a bottle of massage oil and a shea butter-based stretch mark cream. It is a great choice if you can't make up your mind about which formula will be best for your skin.
This product is created with organic ingredients and uses avocado oil and cocoa butter to treat and prevent stretch marks. Because you can use both the cream and the oil at the same time, it is very moisturizing and a good option for users with dry skin or skin conditions such as eczema that need a little more attention.
On the downside, these are fairly small bottles and they might not last very long if you use them consistently or you plan to use them throughout a pregnancy. They are also not the best for intensive stretch mark repair, so if you have stubborn mark, you may want to select a more potent oil formula like Bio-Oil Skin Care Oil instead.
Pros
Comes in a 2 pack of cream and oil

Created with organic ingredients

Good for use with skin conditions
Cons
Small bottle

Not the best for intense stretch mark repair
---
Full Guide to Stretch Mark Creams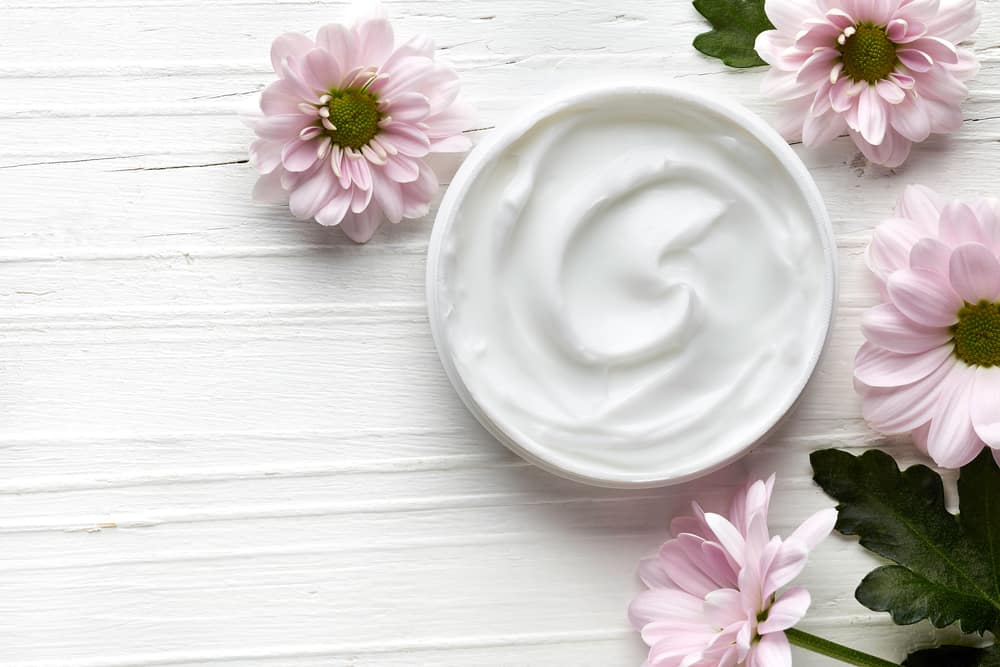 For more information on the cause of stretch marks and what stretch mark creams can do for you, read on our full guide.
What Are Stretch Marks?
Stretch marks are indented marks that can appear on all areas of the skin including the abdo thighs, back, and buttocks, breasts, and hips. They can be dark and almost purple in color, or be a light white color.
These marks are formed by rapid stretching of skin that forms a tear in the dermis – the middle layer of skin. This allows deeper skin layers to show through, which is the creation of a stretch mark.
Most stretch marks will first emerge as raised streaks that are red, brown, or a dark purple in color; these colorings will often fade over time to leave a flatter silvery or white streak.
Signs Stretch Marks Are Developing
You may be able to tell that a stretch mark is developing if areas of your skin have become thin or pink in appearance. These areas may also feel irritated or itchy.
It can take several months for a stretch mark to appear, and it can take several months or years for them to fade naturally.

Reasons Why Stretch Marks Form
Now that we know how stretch marks are formed, let's discuss some of the reasons that can contribute to the development of stretch marks.
Weight Loss
When you are overweight, your skin stretches to accommodate your body's size. If you lose this weight, especially if you experience rapid weight loss, your skin will shrink with your body's size, but will not have enough time to adjust its elasticity to prevent stretch marks.
Losing weight slowly is one option to help prevent significant stretch marks, as is using a preventative stretch mark cream or building muscle to fill out loose skin.
Pregnancy
Pregnancy causes rapid weight gain that often leads to stretch marks. While some women may not experience stretch marks during pregnancy, they may end up with the marks after birth as they lose the added baby weight. A cream designed for use during pregnancy is a good option to combat this.
Weight Gain
Similar to pregnancy, rapid weight gain can cause the skin to stretch too quickly, causing the dermis tears that form a stretch mark. Maintaining a healthy weight is one way to prevent these stretch marks for forming, as well as always making sure your skin is healthy and hydrated.
Medication Use
Medications such as corticosteroids can contribute to a loss of collagen in the skin. This, in turn, leads to a lack of skin elasticity and skin that is prone to developing stretch marks.
Puberty
Rapid growth changes during puberty can cause stretch marks on all genders. These marks can appear all over the body as height and weight are gained.
Medical Conditions
Medical conditions such as Marfan syndrome can lead to decreased elasticity in the skin, while conditions such as Cushing's syndrome can cause rapid weight gain and skin fragility.
Benefits of Stretch Mark Creams
A stretch mark cream can increase the amount of moisture in your skin, promoting skin elasticity and hydration. These elements help skin retain its integrity during periods of rapid weight loss or gain, or intense skin stretching. They may also improve collagen production in the skin, leading to a more rapid fading of stretch marks.
Stretch mark creams can also help improve skin texture on and around stretch marks, help lighten the color of stretch marks, and increase the rate at which stretch marks fade.
How Do Stretch Mark Creams Work?
Stretch mark creams target the areas damaged by skin stretching or growth and add hydration and skin firming benefits. Over time, the ingredients in a stretch mark cream cause the marks to become lighter in color, smoother to the touch, and less noticeable overall.
Can Stretch Marks Be Removed Permanently?
Unfortunately, even though you can fade your stretch marks and make them less noticeable, there is not a guaranteed way to permanently remove stretch marks from your body.
If your stretch marks continue to bother you even after using a stretch mark cream to fade them, you can consult with a doctor about trying an alternative treatment.
How Fast Do Stretch Marks Fade?
Naturally, stretch marks can take several months up to a year to begin noticeably fading. After pregnancy, it can take between 6 and 12 months to see an improvement in stretch mark appearance.
With the help of a stretch mark cream, you may be able to see improvements in as little as a couple of months. Of course, this timeline depends on the product you use, how often you use it, and your unique skin composure. Though if you are interested in seeing fast results, check out our best quick-acting cream, Mederma Stretch Marks Therapy.
Stretch Mark Prevention
While stretch marks are often inevitable, there are a few things you can do that might prevent the occurrence or severity of these bothersome marks.
Use a Stretch Mark Cream
A stretch mark cream is one of the best ways to retain elasticity in your skin that prevents stretch marks and improves the overall appearance of skin. Go back and check out our list for ideas on what to purchase.
Maintain a Healthy Weight
As we discussed above, stretch marks often form due to rapid weight loss or gain. By maintaining a healthy weight and planning out any weight loss to occur at a safe rate, you can prevent stretch marks from appearing.
Improve Your Nutrition
Staying properly hydrated and eating a diet balanced with essential vitamins and minerals such as A, E, C, D, zinc, and protein can help improve your skin and health overall, leading to youthful skin that isn't prone to stretch mark development.
Act Fast to Treat Stretch Marks
If you notice stretch marks starting to appear despite your best efforts, work to treat them fast. Use a potent product like our premium pick, M3 Naturals Anti Cellulite Massage Oil, to increase skin's collagen production and stop stretch marks from becoming too deep.
You can also consult with a doctor or a dermatologist as soon as these marks appear in order to receive a medicated cream or advice on how to further treat stretch marks.

Alternative Stretch Mark Treatments
If you've already tried a stretch mark cream or simply want to know what else is out there, you can look into trying one of these alternative stretch mark treatments.
Exfoliation
Regularly exfoliating your skin can remove the top layer of dead skin cells, revealing new, healthier-looking skin underneath. Consistent exfoliation can also stimulate cell growth and regeneration, leading to fast fading of stretch marks and new, smoother looking skin.
Microdermabrasion
Microdermabrasion increases collagen production in the skin and leads to improved skin repair. This will allow your stretch marks to fade in appearance over time. Microdermabrasion can be done at home or performed by a dermatologist.
Massage
Massaging your stretch marks can stimulate collagen production and cell regeneration. Regular massage can help improve the speed in which your stretch marks fade and work to flatten out any raised marks.
Laser Therapy
Laser therapy for stretch marks involves beaming an infrared light onto marks. This reduces the appearance of stretch marks and creates lighter, flatter looking skin. It is a highly effective stretch mark treatment, but can be expensive and requires several sessions to see results. You will need to consult with a doctor or dermatologist to receive this treatment.
Home Remedies for Stretch Marks
Not ready to commit to a stretch mark cream? There are several home remedies to fade stretch marks that you can try before purchasing a pre-made stretch mark cream.
Aloe Vera
Long regarded as a miracle ingredient for treating skin conditions such as scars, acne, and damaged skin, applying aloe vera gel onto your stretch marks regularly can increase skin brightness, improve skin texture, and help fade your stretch marks.
Coconut Oil
Coconut oil has many skin-smoothing benefits, including speeding up wound healing and hydrating skin. You can apply coconut oil to any area you have stretch marks 1 to 2 times a day in order to prevent stretch marks from getting worse and to fade out existing marks.
Use a Sugar Scrub
You can create a homemade sugar scrub to help you exfoliate any areas you have stretch marks. This can lead to improved skin texture and appearance. Check out this article for a great DIY sugar scrub recipe.
Fading Your Stretch Marks
For many of us, stretch marks are an annoying fact of life. If you've decided that you want to decrease the appearance of your stretch marks for any reason, a stretch mark cream is just the thing to help you out. These creams are full of skin healing and repairing ingredients, so you will soon be on your way to fading out those stretch marks.