With every passing year, our skin gets a little less efficient at refreshing itself. Our natural collagen and hyaluronic acid levels slowly drop, leaving our skin feeling less firm and plump. Frown lines, laugh lines, crow's feet– whatever name you prefer, we are all victims to their progress across our faces.
Those lines tell a story about the life you've lived, but not everyone wants to be an open book. We all know that keeping your skin young and fresh helps you feel more confident and beautiful. Whether you've just started to notice your first fine lines, or you've been battling deep wrinkles for years, finding a good wrinkle filler can help you look fresher and younger without extreme chemical peels or injections.
What Is a Wrinkle Filler?
Wrinkle fillers are topical products that are supposed to help fill in the lines on your face. For the purposes of this article, we're going to look at a range of products that are meant to treat and improve the look of your skin.
A few are fillers in the sense that they produce an almost immediate improvement in the look of your skin. Others are about encouraging long-term improvement to the look and feel of it.
How Does It Work?
Whether a serum or a cream, most wrinkle fillers work to plump and revitalize the skin. Although it's hard to find a topical product with the instant and dramatic effects of a Botox injection, many of these products work to help your skin produce more of its natural collagen and hyaluronic acid to naturally improve look and texture.
We'll lay out the main active ingredients of each product in the review and later in this article, we'll give you a full break-down of each one.
Cruelty-Free/Vegan Products
When it comes to the definition of cruelty-free, things aren't as straight-forward as you might think. By Leaping Bunny standards a brand cannot engage in any form of animal testing to receive their certification.
That means that not only is the brand scrutinized, but they must ensure that at no point in the supply chain are the ingredients or finished products tested on animals. Many brands fail to comply with this due to international laws. For example, Olay, a brand featured in this guide, exports their products to mainland China where third-party animal testing is required before such products can enter their domestic market. While the brand may not use animal testing on their finished products in the country they are based, they will not be granted certification for that reason and will also not be designated as cruelty-free in our guide.
Whether a product is vegan or not is a bit simpler. If a product contains any animal-derived products, even if the animal is unharmed, it is not vegan. Beeswax is one of the most common non-vegan ingredients found in skincare. On our list, several products contain collagen, which is also animal-derived.
Now that you know a few of the basics of topical wrinkle fillers, here are ten that we think are worth your consideration.
Top 10 Best Wrinkle Fillers 2023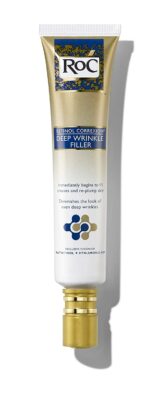 Why we like it:
This filler provides a good balance of instant smoothing and long-term wrinkle treatment for most users.
Editor's Rating:
Quick Facts:
Size: 0.96 oz.
Active Ingredients: Retinol, Hyaluronic Acid
Cruelty-Free: No
Vegan: Yes
RoC's light filler cream is infused with retinol and hyaluronic acid. It promises dual-action treatment of your wrinkles by improving the look of your skin instantly and conditioning it over time to look fresher and younger.
Retinol stimulates your skin's own collagen production to help improve circulation and plump up your skin. Hyaluronic acid helps keep your skin lubricated and helps your tissue retain moisture better. By combining both of these powerhouse ingredients, this product can help the long-term look of your skin by smoothing wrinkles, eliminating crow's feet, and evening skin tone.
This product is also moisturizing, which is important for mature skin. It includes rich shea butter in the formula to nourish your skin.
The Downsides
Like most anti-aging creams and treatments, there are a few ingredients in this product that can be harsh for those with sensitive skin. Retinol isn't recommended for people with eczema.
In particular, there is artificial fragrance in this product, a common culprit of contact dermatitis. Before you put this cream on the extra sensitive skin around your eyes and lips, do a patch test somewhere else first.
It may not be intense enough to give you dramatic results right away. If you have very deep wrinkles, it can take a while to see a difference in them from this product.
Who It's For
If you're just starting out on your anti-aging journey, this is a good starter product. It's also good at reducing the appearance of fine lines while helping to plump and moisturize your skin overall, but it may take time to see results on more mature skin with deeper wrinkles. However, it can make a difference to those deep lines if you have a little patience. For most users, the combination of the instant smoothing effect with the long-term improvement to your skin makes this a good choice.
Pros
Instant smoothing effect

Improves condition over time

Helps skin produce collagen

Moisturizing
Cons
Contains artificial fragrance

Takes a while to help deep wrinkles
---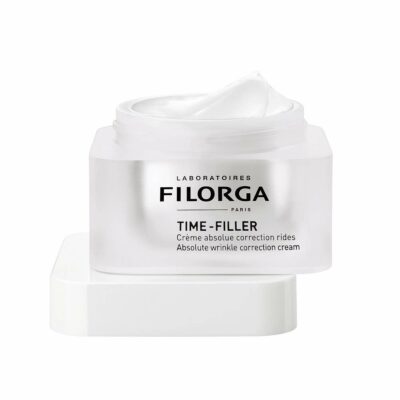 Why we like it:
Filorga offers a super luxurious and deeply moisturizing cream to condition your skin in the long-term.
Editor's Rating:
Quick Facts:
Size: 1.7 oz
Active Ingredients: Tripeptide blend, Hyaluronic Acid
Cruelty-Free: No
Vegan: Yes
This highly concentrated gel-cream comes from the French branch Filorga. The concept behind this product is that it's inspired by aesthetic medicine treatments to combat wrinkles and other signs of aging on multiple levels.
Relying heavily on a tripeptide formula, this cream promises to tackle deep wrinkles as well as surface wrinkles to reduce their appearance by half with two months of regular use. The peptides in this cream combine with plumping hyaluronic acid to further firm up your skin.
It also lightly exfoliates your skin to give it a smoother and fresher appearance. Finally, it moisturizes your skin with rich plant oils and extracts. Most notably, it includes moringa oil and Imperata Cylindrica extract.
The Downsides
For such an expensive product (compared to many of the others we reviewed) some users may feel underwhelmed by their results. If you're looking for instant effects, you'll probably be disappointed. As the company states, you need to give it about two months to start seeing any serious reduction in signs of aging. For a more instant filler look, you can try our pick from L'Oreal.
This product also contains a huge cocktail of ingredients, including some irritants like artificial fragrances, which may bother some users.
Who It's For
If you're in it for the long-haul, not just looking for instant gratification when it comes to skincare, this is a good choice. It truly has an impressive list of ingredients, with real thoughtfulness behind them, but it's definitely more for long-term skincare to gradually improve the appearance of your skin and keep it looking younger for longer. It's also a good choice if you find yourself needing deeper hydration. It soaks in and nourishes all day without leaving your skin feeling greasy.
Pros
Helps lessen even deep wrinkles

Plumping and firming

Lightly exfoliating

Deeply moisturizing, but non-greasy
Cons
Takes time to see results

Contains artificial fragrance
---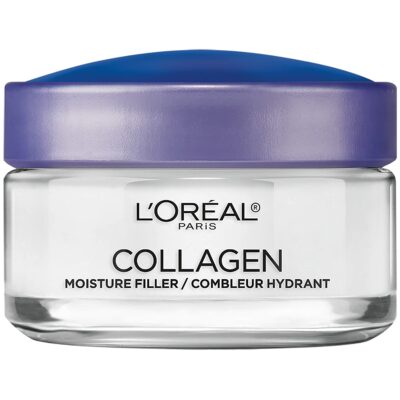 Why we like it:
For a more instantaneous fill-in effect, this thick collagen-infused cream hydrates and protects.
Editor's Rating:
Quick Facts:
Size: 1.7 oz.
Active Ingredients: Collagen
Cruelty-Free: No
Vegan: No
Unlike some products that include retinol to encourage your body to produce more of its own collagen, L'Oreal gets straight to the point by infusing collagen directly into this cream.
This moisturizer can be used as either a day or night cream to richly hydrate your skin. One of the first ingredients is shea butter, a nourishing natural oil. It also includes beeswax to help protect your skin from losing moisture. Beeswax creates a thin, breathable barrier naturally.
The gentle, dermatologist-tested, formula goes on thick and creamy to help fill in any fine lines, giving you results almost instantly. This inexpensive formula is easy to add to your daily skincare routine.
The Downsides
To give an instant "filler" effect, this cream has a very thick consistency. This creates a layer on your skin that can soften the look of your fine lines and wrinkles. However, for some people, it can also make it harder to absorb it, leaving a sticky residue on your face.
While this can soften and firm your face, it doesn't have the same long term effects as our cream from Filorga, for example, which helps improve the condition of your skin so it looks better even when you're not wearing the product.
Who It's For
If you need a heavier moisturizer to give your thirsty skin what it craves, this is a good option. For users who are just starting to notice some fine lines, this will help prevent your makeup from settling in them and emphasizing their look. A collagen boost is always a good idea as we get older and our body starts to make less. L'Oreal provides a budget-friendly way for you to dip your toe into filler products without a big commitment.
Pros
Moisturizing oils

Creates a protective barrier for your skin

Smoothing, filler effect when applied

Added collagen
Cons
Can leave a sticky residue

May not condition your skin long-term
---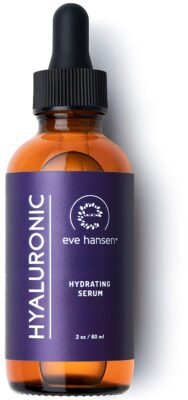 Why we like it:
With anti-inflammatory plant extracts and vitamins, this serum balances skin while fighting signs of aging.
Editor's Rating:
Quick Facts:
Size: 2 oz
Active Ingredients: Hyaluronic Acid, Green Tea
Cruelty-Free: Yes
Vegan: Yes
This serum helps to naturally condition and plump your skin to reduce the look of wrinkles and other signs of aging. Though not a filler, this blend of natural ingredients can protect and heal your skin, reducing the need for other products or clinical wrinkle filler treatments.
It features the darling of anti-aging: hyaluronic acid. As previously mentioned, this recreation of a natural compound helps hydrate your skin, making it plumper and more elastic. This serum has a 5% hyaluronic acid concentration, which is impressive at the price point. Moisturizing aloe and jojoba oils provide extra nourishment to your skin in this blend along with vitamins C and E. These antioxidant-rich vitamins help protect and brighten your skin.
Green tea is a powerful antioxidant and anti-inflammatory ingredient that can reduce redness in the skin. It can also help undo the effects of sun damage. It also includes gotu kola in the formula, which has been shown to boost collagen production and help reduce the look of varicose veins.
The Downsides
Since this is a serum, it's not as deeply moisturizing on a day-to-day basis as a cream. This is meant to be used as a supplement to your other moisturizing or anti-aging products. As such, you may find that it absorbs quickly and doesn't leave you sufficiently moisturized, particularly if you have dry skin. Some may also find that it leaves a slightly sticky residue on skin after absorption.
This product also seems to work best at giving your skin an overall firmer and plumper texture which helps prevent wrinkles and give a more youthful look. If you want a product that tackles already set-in wrinkles and gives an instantaneous "fill" effect, this may not be the one for you. Our pick from RoC might suit you better.
Who It's For
This product seems to work best for people with combination skin. If you're in your thirties and still experiencing breakouts while also combatting the first signs of aging in your skin, this is a great option. It helps to balance the skin without being greasy and helps improve firmness and elasticity to prevent deep wrinkles from forming.
Pros
Naturally conditions your skin

5% hyaluronic acid concentration

Nourishing antioxidant ingredients

Can help boost collagen production
Cons
Not moisturizing enough on its own

Can feel sticky

Better at preventing than actually filling
---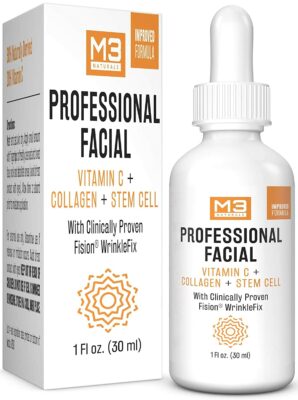 Why we like it:
Combining a powerful dose of vitamin C with plant stem cells helps this product restore your natural glow.
Editor's Rating:
Quick Facts:
Size: 1 oz
Active Ingredients: Vitamin C
Cruelty-Free: Yes
Vegan: No
This product by M3 combines some high-tech science along with herbal extracts to create a smart serum. This serum has one of the highest concentrations of vitamin C we've seen at 20%. It also includes a dose of collagen in the ingredients to help boost your skin's natural glow.
An unusual ingredient that we see in this product is the inclusion of stem cells. The company uses stem cells harvested from plants to give you a shot of antioxidants and anti-inflammatories to help protect your skin from environmental damage.
The other ingredients, including rice and pea protein, are meant to encourage your skin to create more of its own hyaluronic acid. The company promises that the amino acids of this serum will help preserve your skin and prevent further damage.
The Downsides
Despite all the science behind this product, it's easy to feel a little underwhelmed by its performance. This serum is not a miracle in a bottle. It has a somewhat watery consistency that doesn't leave you very moisturized, so as with most serums, it must be used with additional cream or lotion for moisture.
It comes in at a higher price than several other serums that perform just as well, or even better, like our pick from Eve Hansen.
It also should be noted that some caution may be needed when dealing with such a high concentration of vitamin C. Topically, people who are sensitive may experience redness and irritation from using such a strong vitamin C product. Also, remember that whatever you apply to your skin is absorbed into your body. If you take a lot of vitamin supplements and eat vitamin C rich food in addition to taking this product, it is possible to go overboard. Vitamin C overdoses aren't typically serious but can cause nausea, heartburn, and fatigue.
Who It's For
While this product isn't top-tier when it comes to wrinkles, it does have a few benefits. If you are looking for something to help your complexion look more glowing and bright overall, the vitamin concentrates in this can really help with that. It can help reduce the appearance of dark spots on your face. The added collagen can help make your face feel plumper and firmer as well. This product would be a good choice if you're looking to amp up your overall skin radiance.
Pros
High vitamin C concentrate

Protects you from environmental damage

Can encourage hyaluronic acid production

Reduces dark spots
Cons
Watery consistency

Not more effective than less expensive options

Can cause vitamin C sensitivity
---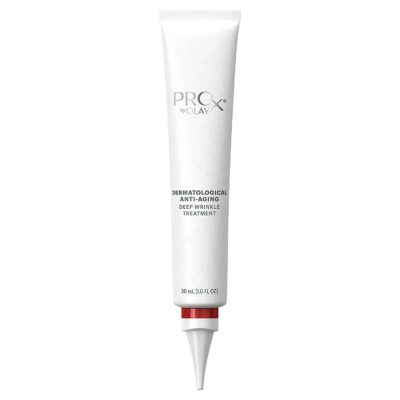 Why we like it:
A strong dose of retinol combines with amino peptides to fight deep wrinkles and strengthen your skin's barrier in this treatment.
Editor's Rating:
Quick Facts:
Size: 1 oz
Active Ingredients: Retinol, Amino peptides
Cruelty-Free: No
Vegan: No
Olay offers this cream treatment as a solution to deep wrinkles and fine lines. The lightweight, non-greasy formula is meant to be applied to target specific areas of concern and combat wrinkles while providing extra hydration.
The main ingredients it leans on are a combination of pro-retinol, niacinamide, and amino peptides. Retinol is a synthetic form of vitamin A and is meant to encourage your skin to reproduce cells faster, healing damage and improving texture. It can also boost your skin's natural collagen production.
Niacinamide is a form of vitamin B3 which can help maintain your skin's protective barrier and make your pores less visible. Added amino peptides help add necessary proteins back into the skin to stimulate your collagen production.
The Downsides
While retinol is used in many aesthetic treatments and can have many benefits, it does have a few downsides. Many people experience some redness, peeling skin, and irritation when first starting on a retinol regime. It will gradually dissipate, but people with sensitive skin from conditions like eczema may have continued reactions. It also makes you more UV sensitive, so if you spend a lot of time outdoors, you should use caution and apply SPF regularly.
This is also a pricier cream, so expectations are understandably high. After a few months of use, it is possible to see the softening of wrinkles from this product, but it's not as deeply hydrating and plumping as you might hope. It also tends to bead up on the face if not thoroughly massaged in and it's difficult to apply makeup on top of this. This makes it better as a night cream than a day cream.
For a luxurious splurge that also offers long-term results, but nourishes your skin more for everyday use, try our pick from Filorga instead.
Who It's For
If you already have an established skincare routine and are looking to supplement with a wrinkle treatment, this isn't a bad choice. You can specifically target spots that need attention, using less product. If you're looking for an inexpensive way to incorporate retinol products into your routine, this is a moderately priced option that packs in a few other ingredients to rejuvenate your skin at the same time.
Pros
Target fine lines and deep wrinkles

Encourages natural collagen production

Strengthens skin's protective barrier
Cons
Retinol is harsh on sensitive skin

Not very hydrating

Doesn't lay well under makeup
---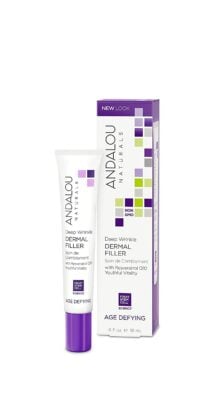 Why we like it:
Andalou Naturals sticks to natural and organic ingredients to work safely with your body to improve your skin.
Editor's Rating:
Quick Facts:
Size: 0.6 oz.
Active Ingredients: CoQ10, Plant Stem Cells
Cruelty-Free: Yes
Vegan: Yes
By combining fruit stem cells with CoQ10 and goji berries, Andalou harnesses natural ingredients to help reduce the effects of aging. CoQ10 is another compound made naturally by our bodies that gradually reduces as we age. By adding it back into the skin, you can fight emerging lines and wrinkles and produce more collagen.
Fruit-based stem cells give a powerful punch of antioxidants and anti-inflammatories in this formula. Goji berry extract is also included to help retain skin's moisture and even out tone and pigment.
This cream contains many organic and all natural ingredients, including some for extra hydration. Aloe vera features prominently in the recipe, along with cupuacu butter. Cupuacu butter is an emollient, meaning that it helps draw water into your skin cells. This helps make skin softer and more elastic.
The Downsides
Despite the impressive list of natural ingredients, this cream has a few failings. While it does seem to help soften and condition skin, which can reduce the appearance of fine lines and other signs of aging, it makes little impact on deeper wrinkles.
It can also cause some sensitivity and stinging on the delicate skin around your eyes, particularly if you're sensitive to aloe. The aloe is very strong in this blend so it can be a concern if you have an allergy.
The softening effect takes a while to be visible, so there is no instant filling effect. If you want something that gives some immediate plumping without the aloe try our pick from L'Oreal.
Who It's For
If you're looking for an all-natural formula (and have no aloe sensitivity), this cream has one of the cleanest ingredient lists we've found. Deriving its nutrients from natural sources, rather than synthetics in a lab can give you some peace of mind. It's also particularly effective at helping revitalize under-eye skin. It works most quickly on fine lines and crow's feet and can even reduce dark circles.
Pros
Natural and organic ingredients

Moisturizing and supports collagen production

Helps with under-eye wrinkles and dark circles
Cons
Little help for deeper wrinkles

Strong aloe concentration can cause stinging

No immediate effects
---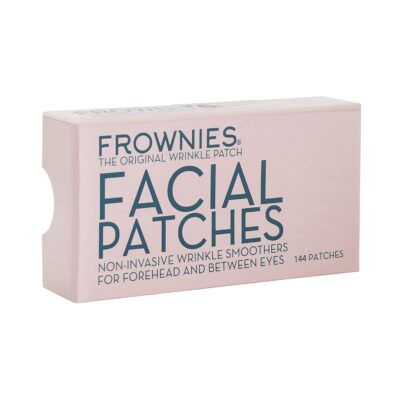 Why we like it:
As an alternative to creams and serums, this patch treatment helps relax your facial muscles to reduce the appearance of wrinkles.
Editor's Rating:
Quick Facts:
Size: 144 patches
Active Ingredients: Vegetable-based adhesive
Cruelty-Free: Yes
Vegan: Yes
What if you could train your facial muscles to relax and avoid the creasing that causes wrinkles in the first place? That's the question that Frownies asks with this unique solution to fine lines and wrinkles.
These paper patches are coated with a natural vegetable adhesive. To use them, you cut the patch to the size and shape you need, then moisten to activate the adhesive, and apply it to your forehead or cheek and mouth area. Wear them for three or more hours at a time (the brand recommends overnight) and re-moisten to remove them when you're done.
By smoothing out your skin, the idea is that it helps prevent deep wrinkles from forming and reduces the look of fine lines when worn regularly.
The Downsides
While these are extremely clever, they don't do as much for your skin as they could. Ultimately, aging skin needs extra nourishment to keep it looking good. These don't have any sort of serum or moisturizer, so users may benefit from "hacking" the product by moistening the patches with a serum or rosewater instead of plain water. For a product that nourishes your skin and works under the surface, our pick from RoC is a better option.
They can also be a little fiddly to apply. It's easy to end up with air bubbles trapped underneath until you get used to the process, and you have to make sure your skin is stretched smooth while applying the patch. It's an exercise in multi-tasking.
This product is more of a preventative measure to keep fine lines from developing into wrinkles. But, for some users, it could help retrain your muscles over time if you have the patience to wait for it.
Who It's For
If you've noticed that you're developing frown lines between your eyes and around your mouth, this product can help stop them from turning into deep wrinkles. It forces your facial muscles to relax while you're sleeping (great for people who tend to frown in their sleep from stressful dreams), taking some of the stress off your skin. If you have a sufficiently nourishing skincare routine already and feel prepared to commit to this product long-term, it could help soften up your frown lines and keep creases from becoming permanent.
Pros
Chemical-free wrinkle solution

Helps your muscles relax

Prevents deep wrinkles from forming
Cons
Doesn't nourish skin

Hard to apply

Takes time for any lasting results
---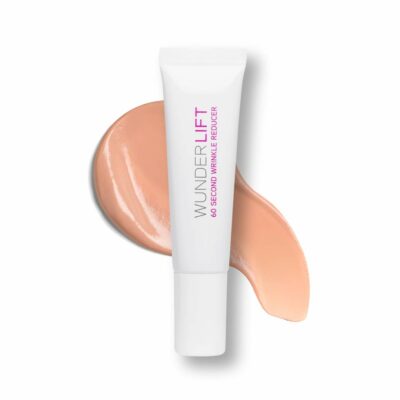 Why we like it:
For instant improvement to puffy and tired-looking eyes, try this 60-second solution.
Editor's Rating:
Quick Facts:
Size: 1.13 oz
Active Ingredients: Retinol, Hyaluronic acid
Cruelty-Free: Yes
Vegan: Yes
Wunderlift is a wrinkle filler that promises results within 60 seconds. This cream is intended specifically for under-eye use, a big problem area for many people. Within one minute of application, the formula is supposed to help reduce wrinkles, dark circles, and puffiness in the area.
This formula combines the popular ingredients of retinol and hyaluronic acid to plump and moisturize skin, boosting collagen production and water retention. This filler includes some tinted pigment as well to serve as a color corrector.
This serum won't flake or cause whitening or dryness around the skin and it can be applied to other areas beyond your under-eye.
The Downsides
Any product that makes dramatic claims sets itself up for a dramatic let-down. The promise of a "60-second facelift" is a bit exaggerated, of course. This product takes about that long to thoroughly soak in, during that time you are instructed by the packaging to not move your face.
This product seems to work better at depuffing under eye bags rather than having a meaningful effect on deeper wrinkles. Any filling effect of the product also seems to be undone as soon as you remove your makeup at the end of the day. It doesn't condition or improve your skin long-term.
It's also not as moisturizing as many of our other offerings, particularly our pick from Maryann Organics. If you need more hydration, that's a better choice.
Who It's For
If you want to have an instant reduction in under-eye bags after a long night, this product can help make your eyes look brighter and less sleepy. It's a filler in the true sense that it offers a temporary bit of coverage and smoothing for targeted areas. If that's what you need to perk you up, then this may not be a bad option. It's not a long-term treatment or a moisturizer, but it can give you some temporary plumping.
Pros
Reduces under-eye bags

Pigment correction

Won't flake or cause whiteness
Cons
Doesn't moisturize

No long-term wrinkle reduction

Limited effects
---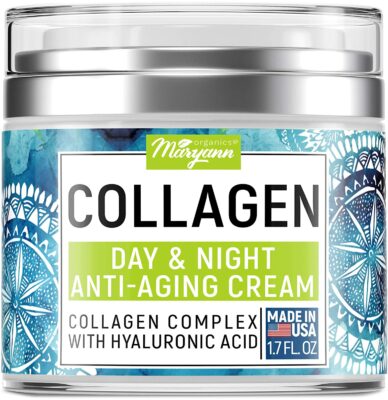 Why we like it:
Packed with natural extracts, this cream helps skin look fresher and feel more elastic.
Editor's Rating:
Quick Facts:
Size: 1.7 oz
Active Ingredients: Collagen, Hyaluronic Acid
Cruelty-Free: Yes
Vegan: No
This collagen cream combines a ton of moisturizing and repairing ingredients to help nourish your skin for a more radiant complexion. The collagen and hyaluronic duo help plump and smooth skin to reduce the appearance of fine lines. The hyaluronic acid also helps encourage your body to produce new skin cells on a regular basis.
Coconut oil, avocado oil, vitamin E, and aloe vera give you a hydrating boost. These ingredients can also help your skin feel more elastic and look fresher overall.
Antioxidant vitamin C also features in this cream. This can help protect your skin from damage and helps reduce skin thinning as we age.
The Downsides
For people with an oilier complexion, this cream may be a little much. It's geared more towards aging skin that has seen a reduction in moisture. If you have oily skin, this may leave you with shine and residue. A light serum, like out pick from Eve Hansen, might suit you better if you have oily or combination skin.
This product also contains aloe vera. Despite this being a staple of many after-sun routines, a small percentage of people have aloe allergies. If you're one of them, this product can cause a burning sensation, along with redness and itchiness on your face.
The pump bottle dispenser of this product can also be a little tricky. It can easily get clogged and makes it difficult to get the last dregs of the product out. You might have to open it up to scoop out the rest.
Who It's For
For a deeply nourishing moisturizer that helps you look your best, this product offers a lot of benefits. The collagen helps make your skin look plumper and fuller almost instantly to help smooth over wrinkles, but the nourishing moisturizers and hyaluronic acid encourage your skin to look better in the long term.
Pros
Helps plump your skin

Encourages smooth, radiant skin

Deeply moisturizing

Protectant vitamin C
Cons
Can feel oily on some skin types

Aloe can cause allergic reactions

Pump bottle is poorly designed
---
Frequently Asked Questions About Wrinkle Fillers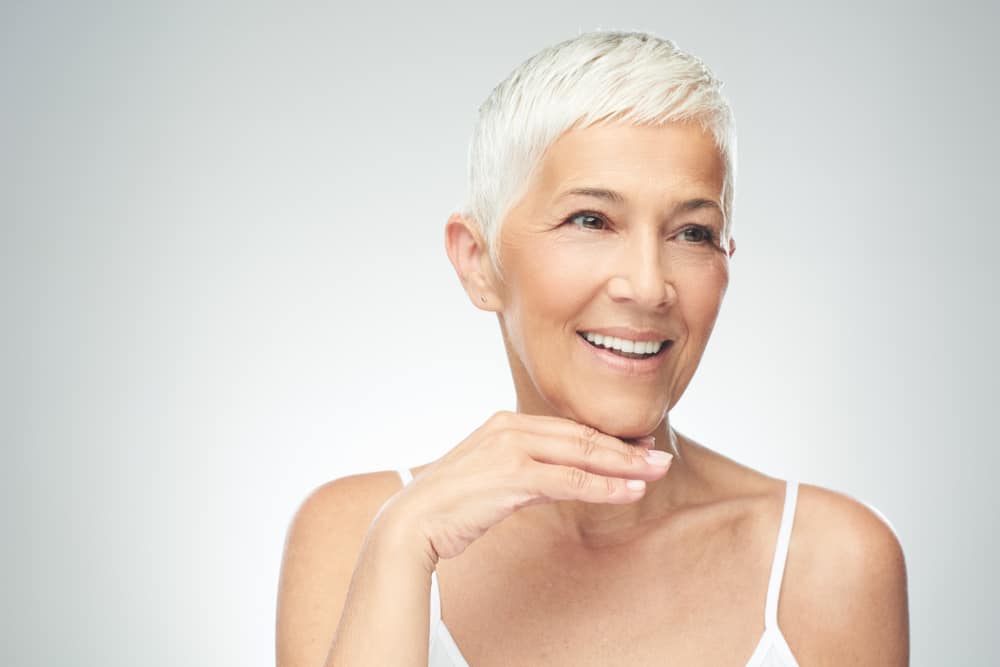 It can be hard to navigate the world of fillers and anti-aging products. A lot of companies make big claims and promise miracles, but what's the truth about these products? In our next section, we'll try to answer a few of the most common questions we see about wrinkle fillers.
Why Choose Topical Fillers Over Injectables?
Injectable wrinkle fillers have become wildly popular due to their almost instantaneous plumping effect. There are several different kinds of fillers offered by aestheticians now. They all aim to fill in furrows in your skin, but in most cases, the results do fade over time and most people need multiple treatments in a year.
Injectables also come with some side effects, however. Immediately after treatment, many people experience swelling, bruising, redness, and discomfort. It can take up to two weeks for these symptoms to fade, meaning you may need to clear your schedule.
There's a chance for more serious side effects as well. Infections and filler leakage from the injection site are most common. There is a chance that damage can be caused to your blood vessels and filler can block blood flow in your face. Depending on where this occurs, serious complications such as tissue death or even blindness can occur.
Topical fillers offer a safer and less extreme alternative. They also tend to be much easier on your bank account. Instead of a dramatic, but often a temporary fix, most topical fillers strive to improve your skin overall. Many will include ingredients that boost your natural collagen production or help you retain moisture better.
While topical filler creams and serums don't have the same dramatic effect as an injection, they can improve the look of your skin and help prevent the formation of wrinkles. For some people, certain products can also soften and reduce the appearance of existing wrinkles.

Which Active Ingredients Should I Look For?
There are many anti-aging ingredients on the market. It can be difficult to know which one will work best for you. Here are the main active ingredients that the products on our list utilize, and how they work:
Hyaluronic Acid
This is a natural compound made by the body. As you start to make less, you can supplement with synthetic hyaluronic acid. This acid helps retain water in your skin, keeping it better plumped and hydrated, adding to the firmness and elasticity of your skin.
Retinol
Retinol is a form of synthetic vitamin A. While this is among the harsher ingredients used in anti-aging products, it's generally considered safe for most people. This vitamin encourages cell reproduction while stimulating collagen production and better circulation, giving skin a youthful freshness.
Collagen
Adding collagen back into your skin is a way to make up for reduced production. This ingredient can help plump up skin making wrinkles softer and less deep. Products with collagen, however, are not vegan since this ingredient is sourced from the bones and connective tissue of animals.
Vitamin C
Vitamin C is a powerful antioxidant, which means it can help protect your skin from environmental damage. It can also help firm the skin by strengthening its top layer which can reduce the look of lines and wrinkles.
Plant Extracts
Products incorporate a variety of plant extracts with various benefits. Plant-based skin products tend to be a bit gentler with fewer side effects than some of the harsher chemicals found in skincare. Some plants are meant to soothe, encourage collagen production, or fight free radicals and inflammation. Any particular plant additives will be described for each individual product on our list.
A few products even make use of plant stem cells, a newer innovation. Much like human stem cells, these have the ability to repair and renew, making them healing for the skin. They also have high levels of protective antioxidants.
CoQ10
This antioxidant coenzyme is made naturally by the body and is often taken in supplement form for its many health benefits. It naturally protects your skin from free radicals. As you age, you produce less and become more vulnerable to damage. When applied topically, it helps repair damage and supports collagen production.
Are Wrinkle Fillers Bad for Your Skin?
As with any skincare product, there is always the chance that a topical wrinkle filler cream or serum can cause irritation. Some of these products do contain harsher synthetic ingredients to try and give more dramatic results.
Retinol is a common wrinkle treatment that can cause topical irritation, particularly during your first couple of treatments. Most people will adjust and stop experiencing side effects, but those with sensitive skin may not be able to use it.
Try to keep track of how your skin reacts to different products to narrow down what potential allergens you have. As mentioned previously, aloe vera is often considered a safe and soothing ingredient, but even it can cause contact dermatitis in some people. With any new product, test it on your arm or jawline first to see if you have any negative reaction before applying it to more delicate skin.
How Can You Prevent Skin Aging?
Caring about your skin is a good habit to get into before you start seeing obvious signs of aging. The younger you start, the less of a chance your skin has to start developing those deeper, harder to deal with wrinkles.
Maintaining a healthy lifestyle is something that reflects in your skin. Smoking and excess alcohol consumption can age you by damaging the blood vessels in your skin. What you eat also affects the look of your skin. Eating a vitamin and antioxidant-rich diet can help nourish your skin and fight environmental damage.
You should also be careful about sun exposure. Getting some sun is a great way to naturally get vitamin D, so you shouldn't avoid it altogether. However, too much sun exposure can damage your skin. Using natural SPF products, such as those enriched with zinc oxide, will offer you non-irritating protection on your sensitive facial skin. If you're spending a day at the beach or working in the garden, you can opt for a big hat to give you protection along with a hint of vintage glamour.
Gently cleaning your skin each day will help remove excess dirt and environmental pollution you might encounter during the day. Mild exfoliation can be beneficial to prevent aging as well. By removing dead skin and stimulating circulation, you can increase your skin's collagen and cell production.
Keeping your skin hydrated is vital. Drinking enough water and running a humidifier if needed indoors can help keep your skin from getting parched. Dry skin can be more prone to showing signs of aging and damage. Richly moisturizing creams and serums can help, even if they aren't labeled as anti-aging. People with dry complexions tend to have more visible wrinkles sooner, so start moisturizing in your 20s to keep your glow longer.
Final Thoughts
Most people want to age gracefully. Going to extreme and unnatural measures to look younger poses several risks and can make you look over-done. Avoiding harsh procedures by upping your skincare routine is a great way to make your skin look fresher. Wrinkle fillers are a great addition to your daily cleansing and moisturizing regimen.
By starting to replenish the nutrients your skin loses before you start getting deep wrinkles, you can hold off the signs of aging longer. Without taking extreme or expensive measures, it's possible to keep looking your best and feeling confident.
We hope our guide has provided you with some useful alternatives to harsh aesthetic treatments that will help you keep your skin feeling young and beautiful.