Top Picks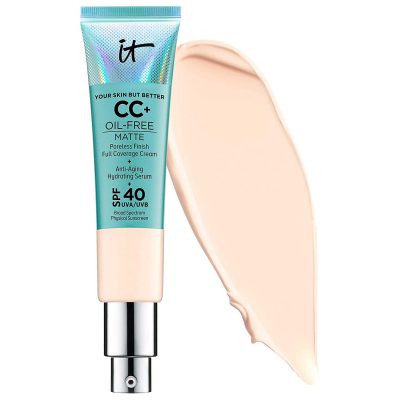 It Cosmetics Your Skin But Better Oil-Free CC Cream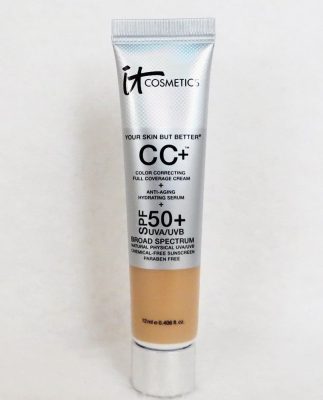 It Cosmetics Your Skin But Better CC+ Cream

Erborian CC Cream
Previous
Next
What Are CC Creams?
The CC in CC Cream stands for 'Color Correcting', 'Complexion Correcting' or 'Color Control'. CC Creams are used as a makeup item to cover up age spots, dark spots, acne scars, tissue scars, redness, pits, pores, sallow patches, and so on. The end goal is to get an even toned, clean, and healthy looking complexion.
What's the Difference Between BB Creams and CC Creams?
Both BB Creams and CC Creams are primarily used to create an even skin tone. CC Creams are mostly used with, or instead of, a foundation. This is because their main goal is to provide concealment of flaws and total coverage. CC Creams address skin issues like rosacea, sallowness, dryness, aging, etc., to create a clear and even-toned complexion.
CC Creams provide cosmetic solutions which are similar to makeup items, while BB Creams provide long term repair and rejuvenation solutions for your skin problems. With CC Creams, the effect is instant and not long lasting.
Why Korean CC Creams?
CC Creams originated in Singapore and are a spin-off of BB Creams. Their popularity soared in South Korea with their branding as tinted moisturizers. Since then, Korean CC Creams have been gaining in popularity across the globe.
The other reason for their widespread usage over non-Korean CC Creams is due to the advanced formulas they use. The Korean patents' approval and granting system is much faster than the system in the west. Newer makeup and skincare formulas are approved and launched much more frequently in South Korea than they are in the western hemisphere. Due to this, their formulas make use of the latest know-how in pharmaceutical technology and medicine, making them much more advanced in composition than their slower moving western counterparts.
What to Look for in the Best Korean CC Creams?
Coverage should be the single biggest factor to consider when buying a Korean CC Cream. You are using it to conceal your skin problems and cover them up to create a smooth complexion.
Compatibility with your skin type should be next on your agenda. A formula that works for one skin type may not work as well for another.
Price, as always, will be an important factor in buying any cosmetic item. Most CC Creams tend to be expensive, so choose wisely.
Based on the above criteria, here's our list of the Best Korean CC Creams available online:
Top 6 Best Korean CC Creams 2021
Guide to Buying the Best Korean CC Creams
Besides the 6 Korean CC Creams listed above, there are other Korean CC Creams that are used extensively in Korea but remain obscure in the United States. Chief amongst these are 3W CLINIC Crystal Whitening CC Cream and Ekel Snail CC Cream. Korean beauty bloggers sing many praises of these CC Creams and they're frequently included in their top ten best Korean CC Cream lists.
Yet others like The Face Shop Face It Aura CC Cream and Lioele Dollish Cera-V CC Cream, are gaining traction here but aren't available for purchase online at the moment. These Korean CC Creams have high SPF ratings, provide broad range coverage from sun damage, are multi-purpose and decently priced. Too bad they are out of reach for now. However, the ones on our list that are available are their equals or better.
We've already learned that Korean CC Creams are preferred over non-Korean CC Creams because they have fresher formulas, employ the latest technology and know-how, work as effective sunscreen lotions and have a faster window of improvements owing to the Korean governments speedy approval of newer patents.
Here's a little more information about these all-in-one magic tubes that will aid you in selecting the perfect Korean CC Cream.
What Kind of CC Cream Is Best for My Skin Type?
Based on the ingredients in the CC Cream, your skin sensitivity, and the level of coverage you require, here's our cheat sheet for selecting the right Korean CC Cream:
Oily Skin: Water based formulas that do not add to your sebum secretion woes, preferably those that provide a matte finish with medium to high coverage.
Normal Skin: Dewy finish formulas that provide light to medium coverage.
Dry Skin: Moisturizer based formulas with a dewy or silky finish.
Aging Skin: Go for CC Cream formulas rich in antioxidants, ceramides, and hyaluronic acid.
Dark Spots and Tissue Scars: Choose CC Creams with broad spectrum UV coverage that have high SPF and PF ratings, preferably with medium to high coverage, and skin hydrating agents.
Sensitive Skin: Stick to CC Creams that use natural ingredients and are free of fragrances.
What Shade of CC Cream Is Best for Me?
There are limited options when it comes to choosing the right shade. Thankfully, most of these creams are heavily tinted so you can always mix a product or two to get the right match for your skin tone.
What Should I Look for in a CC Cream Beside Coverage and Skin Compatibility?
The latest formulas available in the market also provide additional perks like skin brightening, primer functionality, anti-aging properties, complete pore coverage, gradual wrinkles reduction with consistent usage, high SPF and PA coverage, deep moisturizing, and so on. Once you've figured out the coverage and compatibility factors, choose a CC Cream that offers as many of the above listed benefits as possible. This will also ensure you get the most bang for your buck as CC Creams tend to be more expensive than other skincare and cosmetic items like BB Creams and concealers.
BB Creams are designed to provide skincare solutions in the long term, along with some makeup perks like medium to light coverage and sun-blocking.
CC Creams, on the other hand, are geared to replace makeup items like concealers, foundations, and primers. They are like deeply tinted moisturizing primers that also double up as foundation and concealers. And when it comes to Korean CC Creams, which have high SPF and PA ratings, you can totally skip your sunscreen lotions too. CC Creams may or may not provide any skincare benefits in the long run, unlike BB Creams.
Can I Use a CC Cream as a Standalone Product?
Yes! You totally can. CC Creams are basically just advanced concealer/foundation formulas that also provide the benefits of a primer and sunscreen.
Pro tip: Use them as a makeup item during day time rather than as a skincare lotion for healing and protection in the long term.
What Kind of Skin Prep Should I Follow Before Using a CC Cream?
Like all pre-makeup application routines, you need to wash and cleanse your face. Use an additional pore cleanser to get all the gunk out of your pores.
Pat your face dry.
Use a moisturizer even if the CC Cream boasts of a skin hydrating formula.
Use a primer if the CC Cream doesn't mention the functionality of a primer in its features.
If you're going to use a BB Cream, this is where it goes. Let it settle before you use a CC Cream.
You're now all set for the application of CC Cream.
What's the Best Way to Apply CC Cream?
Although CC Creams provide better coverage than BB Creams, they're very lightweight and do not have a thick texture. Depending on the evenness of your skin tone, you'll need a little to a lot of product to get full coverage. Unlike BB Creams, a pea sized dollop will not be enough. Additional dabs of the cream, on problem areas, may be required depending on the texture of your skin and its pigmentation issues.
Use a brush to dab it on to your face in short strokes. Then use a beauty blender or sponge to spread it evenly across your face and neck.
If you're going to use concealers, foundation, and other products, they'll go on after the CC Cream, i.e. Moisturizer -> Primer(Optional) -> BB Cream(Optional) -> CC Cream -> Concealer(Optional) -> Foundation -> Setting Powder/Compact, in that order.
What Are the Advantages of Using Korean CC Creams?
The biggest advantage of using a CC Cream is that you can replace a couple of cosmetics with a single tube of CC Cream. Foundation and concealer are two products you can totally skip. And if you're using a Korean CC Cream, you can also forgo your sunscreen. On the flip side, as CC Creams provide more than one function, they're usually more on the expensive side of the price spectrum. Even if they do serve the function of a few makeup items, they're not very economical for daily use.
They're big time savers if you're in a hurry. Their multipurpose applications save time and effort while getting ready. You can head out after a few brush strokes and sponge dabs, instead of spending time on a long-winded makeup application routine.
Korean CC Creams have a broad spectrum of SPF ratings – much more advanced than the regular SPF sunblocks. These formulas provide protection from a wide range of harmful UV radiations.
Korean CC Creams usually make use of natural ingredients, herbal extracts, and vegan formulas. They put emphasis on avoiding the usage of harmful chemicals that are too harsh on the skin. This makes them much more amenable to daily use. You can safely avoid breakouts, dry skin, and other makeup related problems when you're using Korean CC Creams.
Due to the faster system of granting patents and approving innovations and research in South Korea, Korean CC Creams have the most advanced formulas and provide better benefits than regular CC Creams. For example, the latest formulas with water-based skin hydration are quite an improvement on the oil-based formulas relied on so far.
In addition to providing a high level of coverage, some Korean CC Creams are also designed to create a skin brightening effect. These formulas tone up and tighten your skin giving it a more youthful appearance, and provide it with a healthy glow all day long.
Unlike traditional cosmetics, Korean CC Creams are light, blend in nicely with facial skin, and are very camera friendly. No more caked up or greasy faced pictures – just perfectly natural looking skin and pretty memories to share.
Was this guide helpful in letting you decide what to look for in a CC Cream? Do you now know about the various Korean CC Cream brands available in the United States? We've also provided ample information on how to go about choosing the best Korean CC Cream for your skin type and coverage requirements, how to prep your skin before application of CC Creams, and the best way to apply CC Creams. Do the advantages of using a Korean CC Cream have you thinking about investing in one? Good! Go right ahead!