After receiving Allure's Best of Beauty Award in 2019, Milk Makeup's Hydro Grip Primer became famous. This sticky green gel goes on before your makeup and promises to help grip it in place all day for a flawless look. The "radiant finish" gives a healthy, dewy finish that won't dry out or look oily by the end of the day.
Primers are nothing new in the beauty world, but the idea of a gel primer is what set Hydro Grip apart and it immediately gained a devoted following. While Hydro Grip seems really unique in the world of primers, there are actually some other options out there that have similar ingredients and formulas. Hydro Grip isn't the only gel primer out there. In this guide, we'll break down why  Hydro Grip works so well for most people and steer you toward a few alternatives that might just become your new favorite.
Top 4 Best Milk Makeup Hydro Grip Primer Dupes 2023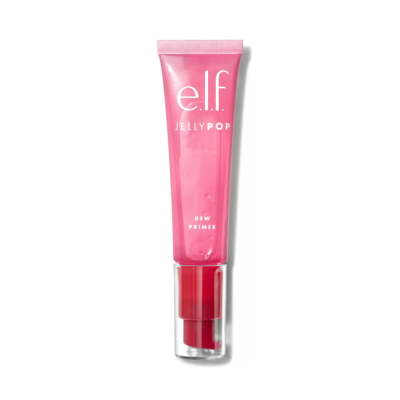 Why we like it:
This budget-friendly primer feels almost exactly the same as Hydro Grip and offers similar staying-power to your makeup.
Editor's Rating:
Quick Facts:
Skin Type: Normal, dry, combination
Active Ingredients: Hyaluronic acid, niacinamide
Cruelty-free: Yes
When it comes to quality makeup at a budget-friendly price, e.l.f. is one of our favorite brands. Like Milk Makeup, they are cruelty-free and avoid potentially harmful synthetic additives. They also offer a very convincing dupe of Hydro Grip at about ⅓ the price.
This lightweight gel primer may not have buzzy additives like agave and cannabis extract like Hydro Grip, but it has the same main active ingredient: hyaluronic acid. This seems to be the key ingredient behind that tacky finish that moisturizes your skin while helping your makeup adhere. This lubricating substance is naturally produced by our bodies, though we produce less as we age, making us more prone to dryness.
Jelly Pop also has vitamins to help brighten and nourish your skin and watermelon extract as its main source of plant-based antioxidants. The product helps minimize the appearance of pores and keeps your makeup from melting off throughout the day while delivering extra hydration.
Things to Look out For
Just like Hydro Grip, the makers couldn't resist adding a bit of synthetic fragrance to the formula to give it a fruity smell. So those with sensitive skin may want to look for something fragrance-free, like our pick from J. One.
This primer also dries pretty quickly, so it can leave a heavy residue if you apply too much and don't work it in quickly enough. This can lead to little clumps of primer that need to be picked off, or else they will disrupt your makeup application, leading to uneven patches.
Pros
Grippy gel texture like Hydro Grip

Extends the life of your makeup

Hydrating and nourishing additives

Minimizes the appearance of pores
Cons
Contains synthetic fragrance

Dries quickly
---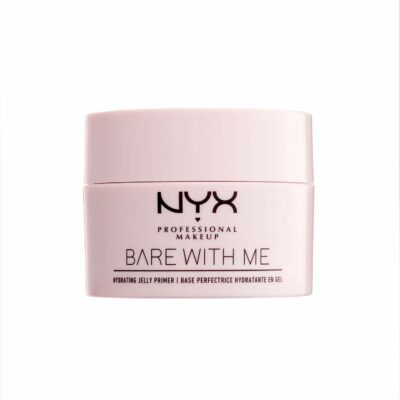 Why we like it:
Super lightweight and enhanced with cooling extracts, this gel can soothe redness away.
Editor's Rating:
Quick Facts:
Skin Type: Normal, dry, combination
Active Ingredients: Aloe, cucumber extract, glycerin
Cruelty-free: Yes
This lightweight clear gel is part of NYX's Bare With Me line. This collection is designed to give a fresh, "no makeup" look with lighter products. Like Hydro Grip, this Jelly Primer gives a tacky, dewy finish to help your makeup stick while giving a more natural finish.
It's a hydrating formula that leans heavily on glycerin, a very popular humectant featured in many skincare products, including Hydro Grip. This formula also contains aloe and cucumber extracts. These cooling and soothing botanicals are great for skin that tends to be red,  dull, or simply needs a bit of refreshment on a hot day.
One of the best things about this primer is how far it goes. While being a little bit more expensive than some of the others on our list, just a small amount of this primer is enough to get light coverage over your entire face.
Things to Look out For
While this primer is light enough to work across most skin types, if you have a very oily complexion, it may not work as well. You may experience some creasing and smudging at your oiliest points by the end of the day with this product.
It's also worth noting that this product contains propylene glycol. While some people use products containing this ingredient with no problems, it's a common allergen. For a gel primer that skips the propylene glycol, try our pick from e.l.f..
Pros
Tacky, makeup-adhering texture

Dewy finish

Only need a small amount
Cons
May not work for very oily skin

Contains propylene glycol, potential allergen
---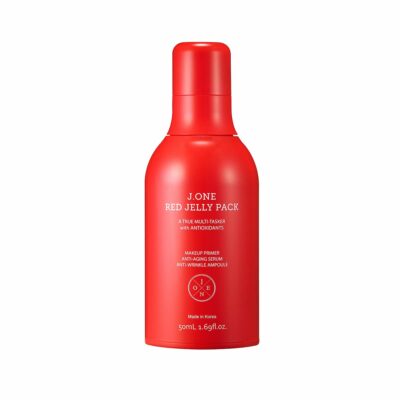 Why we like it:
This unique formula can be a primer or face mask depending on your needs.
Editor's Rating:
Quick Facts:
Skin Type: Mature, dry, oily
Active Ingredients: Peptides, black tea extract
Cruelty-free: Unclear
This Jelly Pack from Korean brand J. One first appeared in the US as the K-beauty craze started to take off about five years ago. Like Hydro Grip, it's a gel formula that is loaded with botanical extracts and vitamins. The J. One Jelly Pack also includes special ingredients like collagen-boosting peptides to help your skin rejuvenate itself. It's also loaded with antioxidants to protect your skin from free radicals, with the added benefit of preventing your makeup from oxidizing and discoloring throughout the day.
If you have been noticing signs of aging, this product promises a firming effect. The powerful cocktail of peptides and antioxidants can help reduce and prevent the signs of aging as well. This product is free from synthetic fragrance, though it contains rosemary and black tea extracts which give it a mild scent.
Thanks to the multitasking nature of the formula, it can be used in a variety of ways to suit nearly any skin type. This product is light enough to be used as an all-in-one by those with oily skin. It will offer nourishing hydration without being too heavy. For drier skin, this can go on top of your regular products as a final step before applying your makeup to help it go on more easily and adhere better.
Things to Look out For
While still less expensive than Hydro Grip, this is our most expensive dupe. It's a mid-range beauty product like Hydro Grip, but the versatility and anti-aging ingredients make it an option worth considering if you're looking to get more out of your primer at a slightly lower cost.
This product takes some time to fully absorb, so after you apply it, you may need to wait 1-2 minutes before putting on your makeup. Otherwise, it may be too sticky and won't have the same smoothing effect under your makeup. It also doesn't have a strong pore-blurring effect, if that's what you're looking for from a primer. Our pick from The Ordinary is a lot more effective at pore blurring.
Pros
Versatile product suits most skin types

Anti-aging peptides and antioxidants

No synthetic fragrances

Prevents makeup oxidation
Cons
More expensive than other dupes

Need to wait 1-2 minutes before applying makeup

Limited pore-blurring effect
---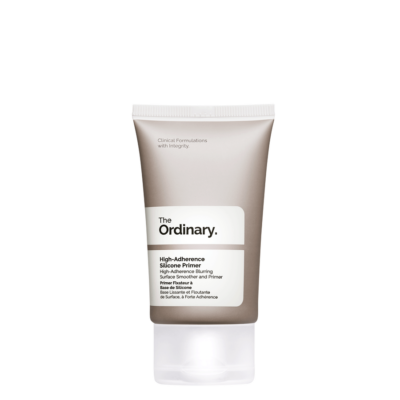 Why we like it:
This primer is one of the best for oily skin types, it's great at staying put and helping with makeup adherence.
Editor's Rating:
Quick Facts:
Skin Type: Oily, combination
Active Ingredients: Silicone
Cruelty-free: Yes
Though not the same gel consistency as Hydro Grip, this somewhat creamier primer has a very similar effect on oily skin. Rather than sliding around or causing excess shine, this primer sinks into your skin and creates a grippy surface for your makeup to cling to without excess stickiness.
If you're looking for a flawless matte finish, this helps blur your pores and prevents shine from seeping through. It's lightweight and can soften the appearance of acne scars and uneven texture by coating your skin.
This primer uses adaptive silicones that help fill in and even out any imperfections. It works particularly well with silicone-based foundations (many long-wear full-coverage foundations contain silicone). The silicone grips your makeup, which may otherwise slide around on an oily complexion. Added silicone can also help your makeup be more water-resistant, which is great if you live in a humid climate.
Things to Look out For
Some users may be concerned about using silicone-based products. While silicone is generally considered safe for topical usage, it can cause an allergic response in some people. This particular product has been evaluated by EWG and is found to be generally safe, though some of the ingredients could be of concern.
If you prefer lighter, water-based makeup, then this won't be a good primer for you. Water-based foundations won't adhere to silicone well, so choosing a water-based primer is a better option, like this one from NYX.
Pros
Helps control shine

Gives a smoothing effect to pores and scars

Grips silicone-based makeup effectively
Cons
Can cause irritation in some people

Won't work with water-based makeup
---
Finding the Best Hydro Grip Primer Dupe
Still not sure which of these Hydro Grip dupes to pick? Here's our advice as to what you should look for in a dupe for this primer.
Dewy, Sticky Finish
Primers are intended to help smooth out your skin's surface to give you a better starting point for your makeup. They help your makeup adhere better so you have a more even application for longer wear. While primers come in a variety of finishes, Hydro Grip gives a dewy, tacky finish to your skin after application.
The slightly sticky feeling it leaves behind may cause some skepticism. However, that is the key to this product extending the life of your makeup. Rather than just giving a more even surface for you to apply your makeup to, this primer gives it something to stick to better so it won't smudge or slide off. You can find that same sticky residue that gives your face more grip in the e.l.f. Jelly Primer.
This finish is better for normal to dry skin. It may not be as effective for people with oily complexions due to its very moist texture. If you do have oily skin, you might prefer the matte The Ordinary Primer.
Moisturizing Ingredients
Hydro Grip is particularly intended for drier skin types. Cannabis seed and blue agave extracts hydrate your skin while providing antioxidants to heal and prevent environmental damage. Hyaluronic acid also adds an extra punch of moisture and regenerative power to the formula. This helps prevent your skin from drying out throughout the day, keeping your makeup fresh, not flakey. It can also help prevent signs of aging. The primer helps give you a dewy glow without any added shimmer or sparkle.
Hydro Grip is also enriched with vitamins and free from the chemicals we tend to steer clear of like parabens, phthalates, and formaldehyde-releasers. It's also silicone-free. Milk Makeup, despite the name, is also a vegan brand and confirmed to be cruelty-free.
If you're looking for a primer with a similar approach to ingredients, the NYX Jelly Primer is your best bet.
While Hydro Grip is a great product and we have little to complain about regarding the ingredients or the company's ethics, no one's perfect. There is still a small amount of synthetic fragrance in this product, which may not bother most people, but those with fragrance allergies and sensitive skin may be irritated by it.
Better Price
As with most products that have people searching for dupes, this primer is a bit expensive. Sold exclusively through Sephora, it costs around $32 for 1.5 ounces of product. For many people, that's a lot to spend on just one piece of their beauty routine. Almost all of the dupes on our list cost less, but the option that offers the best bang for your buck is from The Ordinary.
Look Fresh All Day With a Great Primer
Milk Makeup's Hydro Grip primer is a great product that has a fan base for a reason. However, it's not a perfect product (there's no such thing, after all) and the price is a little steep. Fortunately, there are plenty of alternatives no matter your skin type or budget that can help you create a flawless finish for every day or just special occasions.
We hope our list has opened up the world of grippy primers for you. They can be a lot more effective than traditional lotion primers at keeping makeup adhering to your face for a full day of wear. You just have to decide which one is best for your personal skincare needs.