Editor's Note: As is the challenge with many popular beauty items, many of us find that the holy grail product is out of our budget – this is often true of Dermalogica's Precleanse and its more premium price tag. However, I've always believed in a good dupe, and there's typically a dupe out there for every product you can think of. We've selected the closest alternatives to Dermalogica's Precleanse so you can benefit from high-end beauty at a lower price, which is one of my absolute favorite things to do.
It can be so frustrating to search for a product that sounds perfect (or to sample one that is perfect) only to find that it's way over your beauty budget. High-end skincare has always been something that seems unattainable, but luckily there are dupes for almost everything that work just as well if not better for your skin type.
If you've been on the hunt for a cost-friendly alternative to Dermalogica Precleanse, or if you're hoping to find a similar product that works better with your skin type, we've got you covered!
What to Look For in a Dupe
Before we dive into product recommendations, let's take a look at what makes Dermalogica Precleanse such a good choice and what factors to consider when you're finding the perfect alternative.
About Dermalogica Precleanse
Dermalogica Precleanse is a face wash that removes oils without clogging pores. It can be used to remove makeup and sunscreen, as well as just to take care of pollutants that happen throughout the day. This cleanser works best with skin that's more oily, or with combination skin that has oily zones.
Dermalogica Precleanse uses kukui, apricot, vitamin E, and rice bran oils with no artificial fragrance or colors. This combination is gentle enough for even the most sensitive skin, but it's strong enough to remove waterproof mascara. It's a great ecological alternative to makeup wipes, and part of a dual-step regimen with Dermalogica Cleanser.
While this product has an excellent efficacy rating, it can often be hard to find and very costly when it's available. Check out our recommendations for dupes ahead.
Top 4 Dermalogica Precleanse Dupes 2023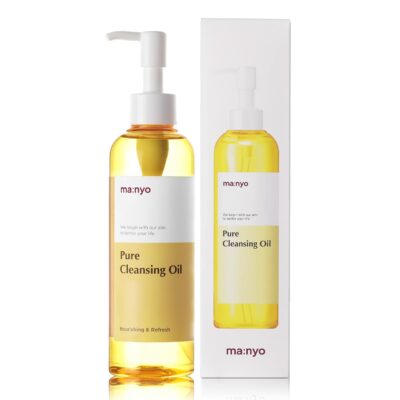 Why we like it:
Manyo Factory Cleansing Oil is made up of all natural oils that come together to cleanse while nourishing the skin.
Editor's Rating:
Quick Facts:
Key Ingredients: Rice bran oil, olive oil, argan oil, jojoba seed oil, camellia oil, evening primrose flower
Skin Type: All
Product Texture: Oil
Manyo Factory Cleansing Oil is a completely natural facial cleanser that works to eliminate blackheads and remove makeup while still hydrating the skin. The way Manyo Factory Cleansing Oil is structured in ingredients makes it the closest dupe to Dermalogica Precleanse.
Application
Using Manyo Factory Cleansing Oil is pretty easy. Simply put a little of the product in your hands and smooth it over your face. After that, apply water and gently work the oil in with your fingers to cleanse. When you're finished, thoroughly wash the product off with warm water. Many consumers use this product in the shower, as it may be messy by the sink.
Manyo Factory Cleansing Oil isn't part of a cohesive line of skincare products. This means that if you're just looking for a facial cleanser, Manyo Factory Cleansing Oil can fit right in. If you want to revamp your beauty routine, however, check out Sukin Foaming Facial Cleanser.
Ingredients
Manyo Factory Cleansing Oil doesn't have any harsh ingredients or fragrances, making this an excellent choice for sensitive skin. The natural fragrance that the formula does have is a subtle one, so even if you are scent-sensitive this cleanser shouldn't be an issue.
Manyo Factory Cleansing Oil uses rice bran oil in its ingredients, which is one of the exact oils incorporated in Dermalogica Precleanse. Dermalogica Precleanse also packs a lot of vitamin E in its formula, which the ingredients in Manyo Factory Cleansing Oil mirrors. For more on the benefits of vitamin E check out our guide on ingredients later on.
Pros
Excellent for sensitive skin

Shares a few key ingredients with Dermalogica Precleanse

Will work in an established beauty routine
Cons
More expensive than other alternatives

Application can be messy
---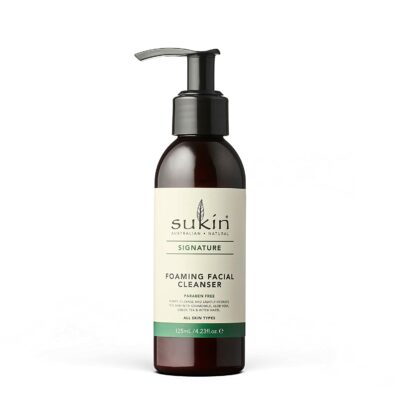 Why we like it:
Sukin Foaming Facial Cleanser is an ecologically conscious choice that uses all-natural ingredients. This product is particularly good for sensitive skin and combating inflammation.
Editor's Rating:
Quick Facts
Key Ingredients: Tea tree oil, aloe vera, chamomile
Skin Type: All skin types
Product Texture: Foaming
Sukin the brand places an emphasis on deriving ingredients from nature as well as being eco-friendly in its packaging and ingredient harvest. If these are important factors that drive your skincare decisions, Sukin Foaming Facial Cleanser is a great addition to your routine.
Application
Sukin Foaming Facial Cleanser can be more frustrating to use than other facial cleansers, as it requires being washed off with hot water on a washcloth (which you massage into your skin).
If you have more oily skin, this may find that the Sukin cleanser is too light, and doesn't effectively cleanse your skin.. If you have more dry or normal skin, this may not be as much of an issue.
Sukin Foaming Facial Cleanser is part of a larger line with products that may enhance the usage of this one. This is a great choice if you're looking to revamp your beauty routine.
Ingredients
Sukin Foaming Facial Cleanser is made with all natural ingredients and is also a cruelty-free product.
Sukin Foaming Facial Cleanser incorporates aloe vera, tea tree oil, and chamomile which makes this a great choice if you have skin inflammation. Chamomile also makes this a great natural cleanser to combat acne, if breakouts are an issue for you.
There aren't any artificial colors or fragrances in Sukin Foaming Facial Cleanser, but the product does have an aroma. If you're sensitive to strong smells, it may be best to find a scentless option, like La Roche-Posay Toleriane Face Wash.
Pros
Great for sensitive skin

Cruelty free

All natural ingredients
Cons
Has a strong fragrance

Doesn't fully cleanse oily skin
---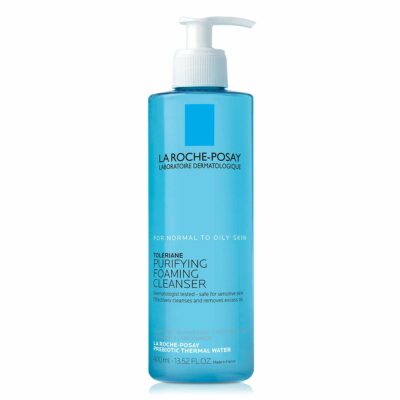 Why we like it:
La Roche-Posay Toleriane Face Wash is a great cleanser for streamlining your end-of-the-day skincare routine.
Editor's Rating:
Quick Facts
Key Ingredients: Prebiotic thermal water, niacinamide (vitamin B3), ceramide-3, glycerin
Skin Type: Normal, oily
Product Texture: Foaming
La Roche-Posay Toleriane Face Wash cleanses your face of makeup, sweat, and other pollutants while still maintaining your skin's protective barrier (and pH). If you're looking to streamline your end of the day facial cleansing routine, this is a great product to have in your arsenal.
Application
Applying La Roche-Posay Toleriane Face Wash is pretty straightforward. When the product comes out of the container, it foams which means it won't be too difficult to maneuver around your face. This also means you need less of it to work, as it won't drip off into the sink.
La Roche-Posay Toleriane Face Wash can be used with the same brand's moisturizer, but it's not necessary to enhance the usage of this wash. This means that this face wash can fit seamlessly into your skincare routine.
Ingredients
The biggest key ingredient in La Roche-Posay Toleriane Face Wash is glycerin, which aids in keeping inflammation away from the skin. This makes it a good choice if you suffer from frequent redness or acne. La Roche-Posay Toleriane Face Wash is an unscented formula, which helps reduce irritants to the skin.
La Roche-Posay Face Wash is suitable for skin that's normal to oily, though they have a twin product that's great for dry skin as well. Both products also work well for sensitive skin for the most part. However, some users find the ingredients to be too harsh. If you know you have allergies to some ingredients, double checking the full list would be a good idea.
La Roche-Posay unfortunately isn't cruelty-free, as the brand is a subsidy of L'Oreal. If you're looking specifically for a formula that's cruelty-free, try Sukin Foaming Facial Cleanser.
Pros
Excellent for skin inflammation

Good for streamlining end of the day skincare

Unscented
Cons
Ingredients aren't all-natural

Not cruelty-free

Hit-or-miss with sensitive skin
---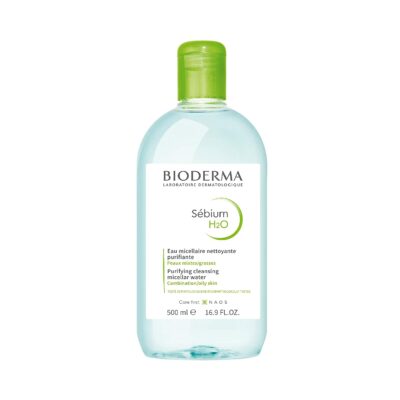 Why we like it:
Bioderma Sébium Micellar Water is a budget-conscious choice that works great for breakouts and has the easiest application process of all our recommendations.
Editor's Rating:
Quick Facts
Ingredients: Glycerides, zinc gluconate
Skin Type: Oily, combination
Product Texture: Watery
While Bioderma Sébium Micellar Water is best formulated for oily and combination skin, it also comes in dry and sensitive skin versions. Even though some people with sensitive skin find this particular product fine to use, others have found that it causes breakouts.
When it comes to product cost per ounce, Bioderma Sébium Micellar Water is the most affordable option.
Application
Bioderma Sébium Micellar Water has the easiest application process of all our recommended products. To apply, soak a cotton makeup remover pad or cloth with the product and gently rub along your face to cleanse. You can rinse your face off afterwards, but it's not necessary.
Bioderma Sébium Micellar Water doesn't need other products to enhance the usage of this one. This means that it can slide seamlessly into your established beauty routine.
Ingredients
The main active ingredients are glycerides which will help your skin retain moisture. Along with this, Bioderma Sébium Micellar Water also contains zinc gluconate, which aids in acne relief. If acne is a problem for you, this is an excellent choice.
However, if you're looking for a formula with strictly natural ingredients try Sukin Foaming Facial Cleanser.
Bioderma Sébium Micellar Water doesn't contain any artificial fragrances or colors. Unfortunately, this product is not cruelty-free.
Pros
Very easy to use

Great for acne/breakouts

Best cost-per-ounce option
Cons
Very hit-or-miss with sensitive skin

Not cruelty-free
---
Buying Guide for Facial Cleanser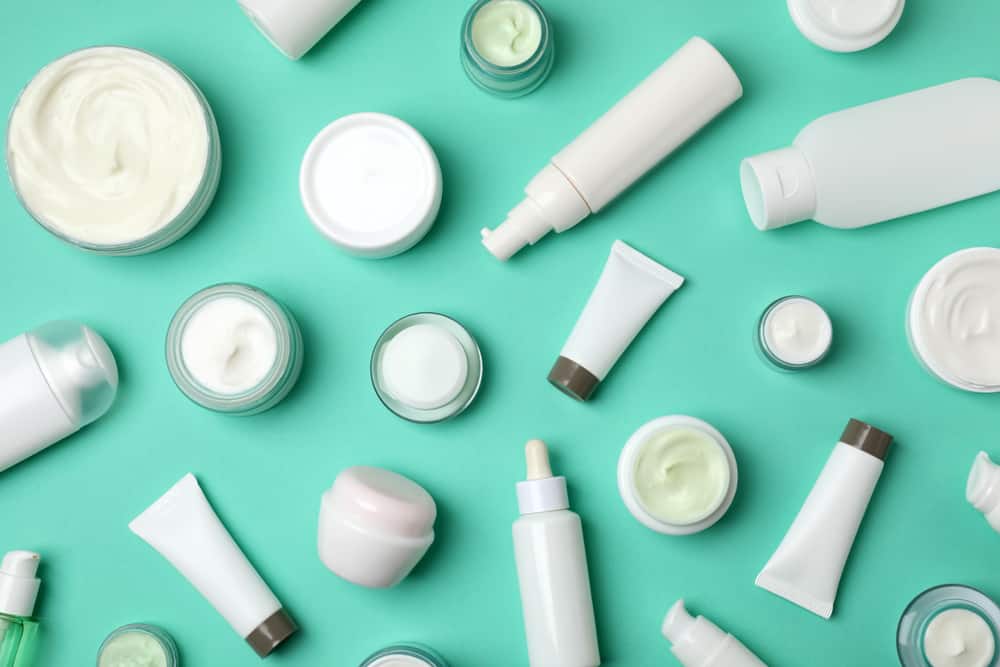 Key Factors to Consider for Dermalogica Alternatives
Several things were very important to us when we weighed the variety of cleansing oils and makeup removers out there. Here are the things we paid the most attention to:
Ingredients
This is by far the most important thing to look at when you're thinking about any addition to your beauty regimen. Your skin is your largest and arguably the most important organ, so what you put on it matters, especially if you have sensitive skin prone to breakouts. For more on what different ingredients contribute, check out our ingredient guide later on.
Skin Type
This dictates which type of skin is most compatible with the product. Skin types can be dry, normal, oily, a combination, and/or sensitive. If you're not sure what type of skin you have, take a look at our tips for determining what it is.
Product Texture
The product texture is what kind of texture you can expect from the product out of the bottle. Some products have foaming qualities, while others are more like an oil.

Cleanser Ingredients
Vitamin E
Vitamin E is an antioxidant that can help protect your skin cells from damage. It works as a great moisturizer and can also reduce itching. There are many oils popular in skincare that are very high in this vitamin like olive, argan, and rice bran oils.
Aloe Vera
Aloe vera is an ingredient that has many uses, though it's most commonly used for inflammation caused by sunburn. Aloe vera has high levels of vitamins A and C, as well as antioxidants that protect your skin. It can be a very moisturizing ingredient, but too much will dry out your skin so be cautious.
Tea Tree Oil
Tea tree oil is an essential oil that has a variety of uses for skin, hair, and nails. It's great for reducing skin inflammation and redness, as well as for acne.
Chamomile
Chamomile is a hypoallergenic herb that's great for skin inflammation. What makes chamomile unique is its antiseptic and antibacterial properties, which makes it a great ingredient to look for if you suffer from acne.
Thermal Water
Thermal water is another option for treating inflammation caused by things like psoriasis or eczema. This works because the water helps balance the healthy and unhealthy bacteria that live on your skin, according to a 2018 study by Zeichner. Unfortunately, there isn't much other research out there to back up additional claims.
Glycerin
Glycerin is great your skincare routine because it helps your skin retain moisture. Glycerin can also make your skin softer and give it a healthy glow.
Ceramide-3
Even though ceramide-3 is a manmade ingredient, it's an asset to have in your skincare products. Ceramides help improve hydration to the skin, and fortify your skin's barrier to keep it from getting damaged by pollutants. It can also be helpful with inflammation.
Niacinamide (Vitamin B3)
Niacinamide, or vitamin B3, helps minimize your pores, even out your skin tone, and can leave you with a healthy glow to your face. Niacinamide is suitable for all skin types, and using multiple products that incorporate vitamin B3 won't be an issue in your skincare routine. Niacinamide can also be helpful with inflammation.
Zinc Gluconate
Zinc gluconate is an ingredient that's most often used in products that treat acne. It's an astringent with antiseptic properties and can help quicken the healing of minor wounds related to acne.
Jojoba Seed Oil
If you have nut allergies, you may want to exercise caution around this ingredient as jojoba seed oil is actually made from the nut of the jojoba plant. Jojoba oil is a moisturizer, making it particularly great for dry skin.
Camellia Oil
Camellia oil comes from the seeds of the camellia oleifera plant and it's packed with vitamins as well as Omega-3 and -6 fatty acids. These fatty acids help combat signs of aging and give your skin a healthy glow. Camellia oil is about the same weight as sebum (your skin's natural oil) which makes it easier for your skin to absorb. Because of this, camellia oil is even more moisturizing than olive oil.
Evening Primrose Oil
Evening primrose oil is an ingredient that contains high levels of Omega-6 fatty acids. This makes it an ideal ingredient for combatting the signs of aging by improving skin hydration. Evening primrose oil can also help you maintain a healthy glow, and soothe inflammation.

On Skin Types
Skin can either be dry, normal, or oily and can come with sensitivity as well. If parts of your face are more oily or dry than others, this is considered combination skin.
You can determine your skin type by gently patting a blotting paper along different parts of your face. The most common zones for oiliness tend to be along the forehead and nose, but there can be oiliness on other parts of your face like your cheeks or chin.
Once you've blotted a few different areas, hold the blotting paper up to the light and take note of the marks. If your paper hasn't picked up any oil from any part of your face, you likely have dry skin. Products that have an emphasis on hydration are best for this skin type.
If there's a little bit of oil, particularly from high-oil zones your skin type is normal. This means a skincare routine that balances exfoliating with moisturizing will keep your face healthiest.
Finally, if the blotting paper has lots of oil on it then that indicates oily skin, which is the skin type least likely to wrinkle over time. Gentle exfoliants will help a lot with any excess oil to keep your pores from getting clogged.
A Word on Counterfeit Products
When you're shopping on Amazon for any beauty products, it's important to be aware of counterfeit items being sold as their name-brand counterparts. For our recommendations we did our best to ensure that we didn't include any that may be fake, but if you plan on browsing then counterfeiting is something to watch out for.
Frequently Asked Questions
Is It Better to Choose a Standalone Product, or a New System?
This depends highly on what you're looking to get from the product you're seeking. If you have a system that already works for you, it may be best just to get a standalone product. However, if you're looking to revamp your routine (or start a new one) you may want to go with a system. If you choose a new beauty system, it's advised to try one product at a time to ensure you won't have skin reactions.
How Do I Test New Products on My Skin Safely?
To do an allergy patch test, take a very small amount of product and put it on your skin somewhere that can be covered easily (like by your ear or the side of your neck). Follow product instructions (so if it's a cleanser, wash it off) and wait at least 24 hours before applying a full dose of the product to your face. If you're trying a new skincare system, test one product at a time and wait at least a week between tests.
Is a Facial Cleanser Better Than Makeup Remover Wipes?
Generally yes. For starters, a facial cleanser is better for the environment because it removes the waste aspect of wipes entirely. Facial cleansers also tend to be more thorough, but there are some good wipes out there like Honest Beauty Makeup Remover Wipes. As with any other cleanser, if you're looking for a makeup wipe it's important to keep an eye on the ingredients to make sure there isn't anything too harsh.
Final Words
You can have all the perks of high-end skin care without having to break the bank, through the magic of dupes. As you can see from our list, there are plenty of Dermalogica Preclease Dupes to choose from. Now that you know what to look for in your search for the perfect facial cleanser, go forth and slay the day.