Shea butter is one of today's most popular DIY ingredients as it contains benefits for both your hair and your skin. Intensely hydrating and incredibly smoothing, a hair mask created with shea butter can also tame your hair and fill it with moisture, revitalizing even the driest locks. And what's better, DIYing your own hair mask recipes allows you to customize the recipe to your exact hair needs.
In this article, we will discuss the benefits of using shea butter on your hair and tell you how to purchase quality, natural shea butter to use in your recipes. Then, we'll give you some of our favorite DIY shea butter hair masks recipes with some suggestions on ingredients to mix and match, allowing you to craft the perfect hair mask for your hair.
The Benefits of Using Shea Butter on Your Hair
Shea butter is a byproduct of shea nuts that are harvested from a specific type of tree in Africa. The shea nuts are then washed and prepared, allowing oil to be extracted from them. This oil becomes shea butter and can then be used to craft all types of soap, shampoo, skin balms, and traditional medicines.
The most popular usages of shea butter today are as a moisturizing ingredient in both hair and skin products. Studies have shown that shea butter is anti-inflammatory and anti-aging, making it a great choice to use on irritated skin or to hydrate damaged skin. In the realm of hair care, shea butter can help prevent hair breakage, reduce dryness and split ends, increase shine in hair, soothe scalp irritation, and condition hair.
Shea butter is especially beneficial for anyone with natural Afro-textured hair, as the product can easily penetrate the shaft of this hair type, hydrating and repairing from the inside out. It is also a great choice for anyone with curly hair, as curly hair is on the drier side and prone to frizzing, which shea butter can help prevent.
How to Purchase Quality Shea Butter
To use shea butter in your DIY recipes, you will need to find a quality source of raw, unrefined shea butter. This is the most effective type for hair masks and DIY recipes, though you can use other types of processed shea butter if you so choose.
When looking for shea butter, you should pick one that is an off-white ivory or yellow color. Shea butter that is bright white has likely been processed. The texture of the shea butter should be firm yet supple but not greasy or overly hard. If you rub some of the shea butter in your hands, it should emulsify quickly and absorb easily into your skin; highly processed shea butter may be harder to emulsify and can leave your skin feeling more greasy.
DIY Shea Butter Hair Mask Recipes
These shea butter hair mask recipes are combined with other beneficial hair ingredients so you can select the one that best suits your hair. You can also mix and match ingredients to craft one of these masks to your exact hair needs.
1. Avocado and Shea Butter Mask
Packed with nutrients, this avocado and shea butter mask is perfect for rejuvenating dry, dull hair.
Take one small to medium avocado and scoop the flesh into a blender or food processor. Blend it until it is smooth (about 2 to 4 minutes).
Add ¼ cup of shea butter into the blender and a few drops of your favorite essential oil. Alternatively, you could add in 1 tablespoon of sweet almond oil.
Blend the mixture until it is smooth and there are no large chunks of shea butter. You may want to warm the shea butter slightly beforehand to ensure that it completely incorporates into the mixture.
Once the mask is fully blended, transfer it to a bowl and apply it to your hair.
2. Coconut Oil and Shea Butter Mask
The mix of coconut oil and shea butter in this mask is great for hair that needs an intense dose of hydration.
Add ¼ cup of shea butter to a blender or food processor. You may want to warm it slightly to ensure it will blend completely.
Add 2 tablespoons of coconut oil into the mixer and blend until the mask is smooth.
Pour the mask into a bowl and apply it to your hair.
3. Shea Butter Mask for Hair Growth
Shea butter combined with select essential oils makes this mask an easy solution to help encourage hair growth.
Place ¼ cup of warmed shea butter into a mixer along with 10 to 15 drops each of lavender and rosemary essential oil.
Add in 2 tablespoons of jojoba oil and a ½ tablespoon of vitamin E extract or biotin.
Blend all the ingredients until smooth, and then pour the mask into a bowl, ready for application.
4. Strengthening Shea Butter Mask
This hair mask uses eggs and olive oil to encourage thick, strong locks.
Add ¼ cup of warm shea butter into a blender or food processor along with one egg. It is ok to include both the yolk and the white.
Place 2 tablespoons of olive oil into the mixer. You can optionally add your favorite essential oils or vitamin extracts at this point.
Blend until the mask is completely uniform, and then transfer the mixture to a bowl. You can now apply it to your hair.
Hair-Friendly Ingredients to Incorporate Into Your Masks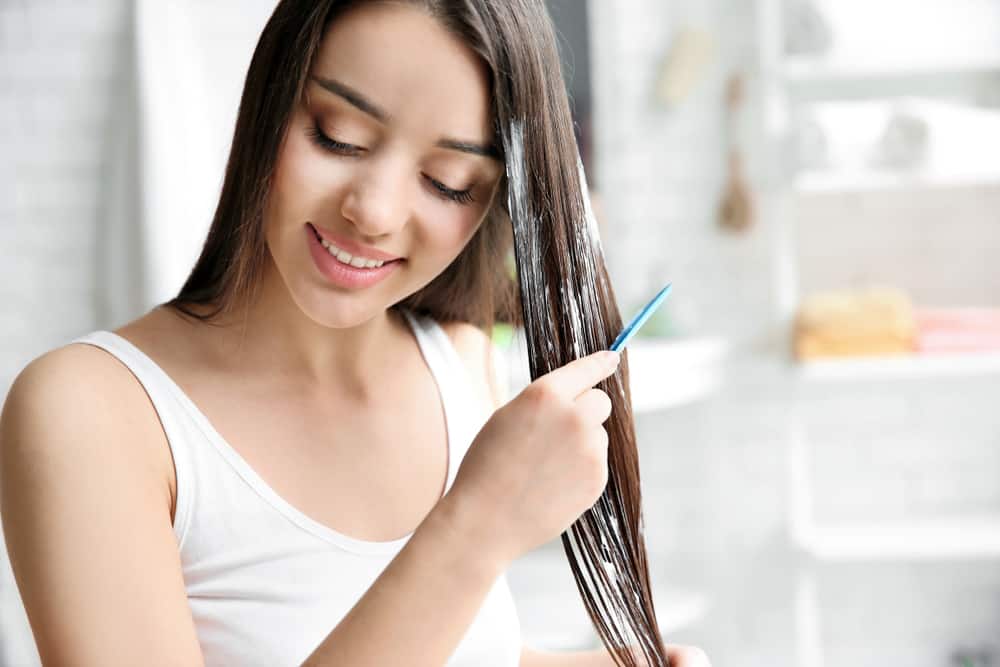 These hair-friendly ingredients are the perfect choice to incorporate into and spice up your shea butter hair masks, packing them full of nutrients and adding extra benefits.
Vitamin Extracts
Vitamin extracts are a great way to pack extra nutrients into your hair masks. Popular choices include vitamin E, which is known for adding shine and repairing hair, and biotin, a B vitamin that helps to encourage hair strength and growth.
Avocado
Avocados are a natural source of biotin and healthy fatty acids, in addition to potassium and magnesium, which can help to fortify hair and prevent damage. They may also leave hair looking shinier and sleeker, making them a good addition for frizzier or coarser hair types.
Egg
Full of vitamin A, E, and biotin, egg yolks are also loaded with fat which can help keep hair full of moisture and nutrients. Adding eggs into your hair masks can also help treat thinning hair and promote thick, healthy locks.
Aloe Vera
A great source of vitamins C, E, and B-12, aloe vera is also very soothing and hydrating. It is also anti-inflammatory, making it a good choice for drier hair, irritated scalps, or for treating dandruff.
Coconut Oil
Coconut oil can prevent protein loss in hair, in addition to smooth cuticles and providing intense hydration. This is a great oil to incorporate in your hair masks if you want to protect your hair, repair damage, and encourage sleekness. Other oils that you could add to your mask recipe include olive oil, sweet almond oil, or jojoba oil.
Essential Oils
Besides adding your favorite scents to a hair mask, certain essential oils can help improve your hair luster and speed up hair growth. Mixing in several drops of lavender or rosemary essential oil can be perfect for enhancing your hair's shine, strength, and growth.
How to Properly Apply a Hair Mask
If you aren't sure of the best way to apply your hair masks, you can follow these simple steps below to ensure that your hair mask goes on the right way and gives you the most benefit.
While you can apply your hair mask onto dry hair, if you want to get the most benefit out of the ingredients, you should add it to damp hair. After shampooing and rinsing out your hair, towel dry it until it is no longer dripping. We recommend using a microfiber towel for this as it prevents frizz.
Once your hair is damp, take your hair mask and apply it liberally to your locks. You can use your hands or a comb to work the mask through your hair (do not use a regular brush on damp hair, this will cause damage), ensuring that you saturate every strand. Make sure also to get some of the mask on your scalp, especially if you are trying to treat irritated or dry skin.
After your hair mask is applied, allow it to sit in your hair for 5 to 15 minutes. During this time, you can braid your hair to keep it out of the way or twist it up in a bun. Just try not to handle it too roughly, as your hair is more prone to breakage when it is wet and in the process of masking.
As soon as your waiting time is up, rinse your hair out in the shower. You should use cool or warm water to do this, as too hot of water can damage your hair while it is in this delicate phase.
Once your hair is rinsed out, you should scrunch out any extra water and allow it to air dry. You can use any styling products that you regularly use in your hair after a hair mask, but it is a good idea to leave your hair untouched after your mask, as this will encourage the utmost benefit absorption.
If you would like further help understanding the hair mask application process, you can check out this video for a visual example.
DIY Your Way to Healthy Hair
Shea butter is one of the beauty world's favorite hair and skin care ingredients, and for a good reason. This helpful plant product produces serious hydration and nutrient benefits to all hair types and is easily used as a part of any DIY recipe. While the DIY recipes in our article can get you started with using shea butter, don't be afraid to mix and match ingredients and experiment on your own, so you can use shea butter to meet your every hair need.