Dewy skin might be trendy, but for some of us, it's just synonymous with "greasy." On the other hand, matte foundations tame those oils and leave the skin looking pristine, which is why they're favorites for anyone with oily skin. Even if you don't have oily skin, you might still prefer the polished and sophisticated vibe of a shine-free complexion.
In our guide, we'll explore everything you need to know about choosing the right matte foundation for you, analyze how to get the most out of it, and review the best matte foundations currently on the market. Get ready to get matte!
Matte Foundation Factors to Consider
We're not about stereotyping–the fact of the matter is that anyone can wear a matte foundation, which is why they come in a few different styles and formats. Here are all of the factors you might need to consider when selecting your ideal matte foundation.
Type of Foundation
Foundations can come as liquids, creams, and powders. Our selection focused on liquid foundations since they are more common, but we also included some powder foundations for their ease of use.
Finish
So obviously, a foundation has to be matte and shine-free to show up on our list, but even within this criterion, there can be levels. Do you want a softer demi-matte look, a traditional velvet matte look, or do you need intense, extra-mattification?
What you choose may depend on your skin type, which we discuss here, or it can just be a matter of preference.
Coverage
Do you love sheer, natural coverage, or do you prefer a flawless, picture-perfect mug? Our selection of matte foundations runs the gamut from light to full coverage. A lot of the options we selected are buildable, which means that depending on your mood, you can increase their coverage by adding more layers.
Color Range
Inclusivity is queen in 2021. If a brand's color range excludes a massive swath of the population, that's a problem for us. We also considered coverage-level and undertones when deciding if a brand is truly offering shade matches for everyone.
Longevity
We'll let you know how long you can expect each foundation to last on your skin before it'll need a touch up. We give an average time range, since factors like skin type, lifestyle, and whether you use a setting powder can also have a big impact.
Packaging
Packaging can make or break a good foundation, and we're not talking about simple aesthetics here. While glass bottles used to be popular because they felt more expensive, they actually make it harder to dispense foundation, which is why we prefer squeeze tubes or bottles fitted with a pump.
Are you ready to get both matte and even? Check out our thoughts on the best matte foundations of 2021.
Top 10 Best Matte Foundations 2023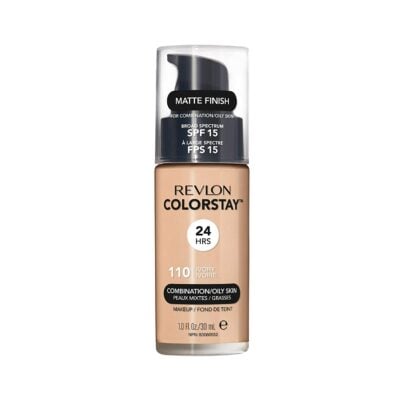 Why we like it:
This foundation is a classic, with almost no flaws. It's affordable, looks beautiful on the skin with buildable coverage, and it comes in a large shade range. You can't go wrong with it.
Editor's Rating:
Quick Facts:
Type: Liquid
Finish: Demi-Matte
Skin Type: All
Coverage: Medium-to-Full
Color Range: 43
Longevity: 10-12 Hours
Packaging: Glass Bottle with Pump
Cruelty-Free/Vegan: No
Revlon's ColorStay foundation has been around for a very long time, and it's been a favorite drugstore matte foundation pretty much from the onset. It's an exceptional option at a budget-friendly price point.
To start, it makes the skin look truly stunning, with a fantastic pore-blurring effect and a demi-matte finish that flatters all skin types. The coverage is medium when it's applied with a sponge, but a second layer or a brush application brings it up to a glamorous full coverage.
Since the coverage can be high, you'll need to find a precise color match. Thankfully, it comes in 43 shades, and Revlon even included a color chart in the Amazon photo gallery to give you an idea of the undertones.
As for longevity, you can trust this foundation to keep you looking put-together even on the longest days. You can expect a minimum of 10-hour wear, but with some powder and setting spray, it even has the potential to live up to Revlon's 24-hour claim.
Beyond the basics, there are few other things we appreciate. To start, the glass packaging feels nice and hefty, with a pump that keeps things hygienic and makes dispensing the foundation easy. We also appreciate that it includes a 15 SPF because every little bit of sun protection helps.
The main drawback to this foundation is that it doesn't like to play nice with primers, so it can pill up or settle into skin texture. However, there are no such issues when you wear it alone, so if anything, using it will save you an unnecessary step.
For some, the fact that it's not cruelty-free may also be an issue, in which case, the HD Foundation by Catrice offers similar finish, coverage, and longevity, although with a much smaller shade range.
Pros
Blurs and hides all imperfections

Buildable to full coverage

Flattering demi-matte finish

Hefty but convenient packaging

Awesome shade range
Cons
Doesn't work well with primers
---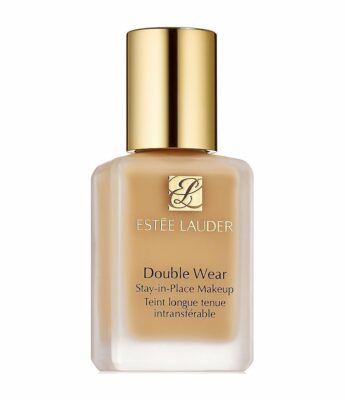 Why we like it:
This glamorous foundation brings the drama with intensely full coverage and an immovable matte finish. It's a heavy-duty product that renders your concealer and powder redundant.
Editor's Rating:
Quick Facts:
Type: Liquid
Finish: Very Matte
Skin Type: Oily and Combination
Coverage: Very Full
Color Range: 42
Longevity: 12-14 Hours
Packaging: Glass Bottle
Cruelty-Free/Vegan: No
As a brand, Estee Lauder doesn't have a reputation for being trendy or youthful, but this foundation managed to strike a nerve, especially with the makeup lovers on Instagram. It's a high-end option that absolutely merits the high-price point.
It's an intensely matte, full-coverage foundation that turns the skin into a flawless canvas, and saves you the need for a concealer. It pairs especially well with the "Instaglam" style of makeup, with sculpted features and pristine brows. It looks gorgeous in photos because it camouflages all discoloration and leaves the skin looking poreless.
It's also impressive when it comes to longevity. Because it's so matte, it sets itself without powder. You can apply it in the morning before work, and it won't need any touch ups throughout happy hour drinks or even a late-night out.
If you love going all-out with your makeup and you want a very mattifying, oil-controlling foundation, there aren't many better options out there. However, keep in mind that it will look like foundation on the skin. It's not possible to apply it lightly and fool people into thinking your skin is naturally flawless. If you'd prefer a more natural look, the Fit Me Matte + Poreless Foundation from Maybelline will be a better fit for you.
The most major drawback to this foundation (other than its premium-level price) is the bottle. It may look elegant, but actually getting foundation out of it isn't very easy. You have to flip the bottle over to get the foundation to drip out, so you can't control the amount of product you dispense. You can buy a pump that fits it, but considering the price point, we think it's Estee Lauder's responsibility to improve the packaging.
Pros
Intense coverage

Incredible longevity

Powerful oil-control

Pore-blurring, photo-ready finish
Cons
Inconvenient packaging

Fairly expensive
---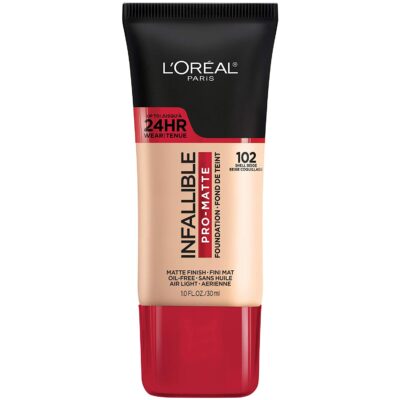 Why we like it:
If you're on a budget but you'd like all-day coverage and oil-control, Pro-Matte is an ideal choice. It's an impenetrable matte foundation that can hold up through any situation.
Editor's Rating:
Quick Facts:
Type: Liquid
Finish: Very Matte
Skin Type: Oily
Coverage: Full
Color Range: 28
Longevity: 9-12 Hours
Packaging: Squeeze Tube
Cruelty-Free/Vegan: No
This matte foundation means business. It has incredible coverage, so it saves you the need for concealer, and its oil-controlling effects rival more expensive foundations.
L'Oreal describes this formula as demi-matte, but we have to disagree. In practice, it has a very powdery matte finish that keeps shine at bay for hours. Even as oils start peeking through, the foundation itself doesn't fade so the skin still looks flawless even if the finish becomes a little less matte.
One factor that really stands out is how quickly this foundation self-sets. Most foundations take a few minutes to dry down, which gives you time to blend them out, but this one dries down within half a minute or so.
If you're a little newer to makeup, you may find that challenging, so our tip is to apply it to the skin in small sections and to blend immediately after laying it down. If you're more experienced, you might appreciate how quickly it sets on days when you need to get your makeup done quickly.
The main drawback to this foundation is that it's not very forgiving of texture issues, regardless of whether they're caused by large pores, dry patches, or anything else. In other words, if you're looking for a smoothing foundation, this one isn't it.
If you're not willing to compromise on skin smoothness but also want the intense matte finish and high coverage, you might want to splurge a little more on a foundation like Double Wear from Estee Lauder.
Pros
Incredible oil-control

Long-lasting

Very high coverage

Affordable
Cons
Doesn't hide texture issues

Dries down very quickly
---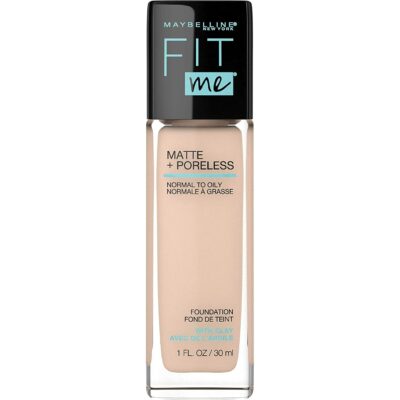 Why we like it:
This matte drugstore foundation is a crowd-pleaser with natural-looking medium coverage and a classic matte finish. The shade-range is large and inclusive, with realistic undertones.
Editor's Rating:
Quick Facts:
Type: Liquid
Finish: Matte
Skin Type: Oily, Combination, and Normal
Coverage: Medium-to-Medium-Full
Color Range: 40
Longevity: 6-8 Hours
Packaging: Glass Bottle or Pouch
Cruelty-Free/Vegan: No
This is one of the most popular foundations in the world, and it's easy to see why. Most matte foundations are designed to have a high-coverage look that leaves the skin looking almost unreal. However, for the average makeup wearer, that's far too much for every day.
This matte drugstore foundation from Maybelline has a medium coverage level, which many shoppers prefer. It looks and feels natural on the skin, without the mask-like appearance that full coverage foundations can sometimes have.
However, its coverage is still buildable. You can start off slow and easy with a thin layer that perfects your skin, and then amp things up just in the areas where you need more coverage. It's excellent for work or school days, when you want that slight oil-control without it being obvious that you're wearing makeup.
The color range is impeccable, with a wide range of shades and realistic undertones. If you normally struggle to find a foundation that matches your skin tone, we think you'll find an option that works for you here.
As for issues, the glass bottle this foundation comes in used to be a point of complaint, since getting the product out could be awkward. Recently, Maybelline fixed the issue by releasing a new, lightweight plastic pouch package. The pouch costs about the same as the glass bottle, but it comes with a little more product and is much easier to use.
The only actual drawback to this foundation is that it doesn't have the same longevity as some of the more intense options on the list. It fades away elegantly, but you can expect reduced coverage and a bit of shine after half a day or so.
If you're not willing to compromise on longevity or a natural look, but you don't mind lower coverage, you can try the Clean Matte BB Cream from CoverGirl, instead.
Pros
Natural-looking, medium coverage

Excellent shade range

Buildable and versatile

Easy to use pouch
Cons
Lower longevity than other matte foundations
---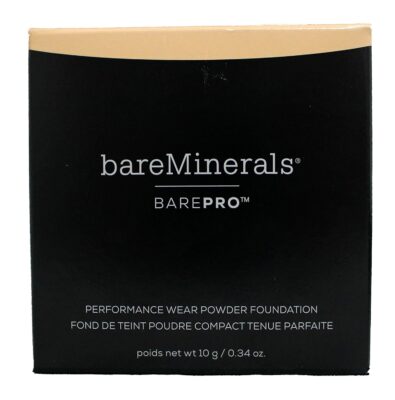 Why we like it:
Nothing beats a powder foundation for ease of use and quick mattification. This powder is the best, with versatile, buildable coverage and awesome longevity.
Editor's Rating:
Quick Facts:
Type: Pressed Powder
Finish: Matte
Skin Type: Oily and Combination
Coverage: Medium-to-Full
Color Range: 35
Longevity: 8-10 Hours
Packaging: Compact
Cruelty-Free/Vegan: Yes/Yes
Powder foundations offer the easiest way to mattify and cover the skin in seconds. There are many out there on the market, but bareMinerals is the OG. This foundation powder comes pressed into a compact, so it's sleek and portable, making it ideal for any situation.
Applying it is laughably simple. You can quickly brush it on with a fluffy brush when you want to smooth out and mattify your skin just a little, or you can take a few extra seconds to buff it in with a firmer brush when you want full-coverage. No matter what kind of coverage you like, you can put it on and be out the door in no time!
This powder is made with quite a bit of silica, a natural mineral with a gorgeous pore-blurring effect, almost like a primer. Because of that, even though it mattifies the skin well, it never makes it look too dry or textured. It also has very decent longevity, as it keeps oils from showing up for around 5-6 hours, while the coverage itself doesn't fade for a few more hours after that.
It's a real workhorse, and if you have a very long day planned, touching it up will be easier than with most other foundations. If you're a busy, working person and don't have time to fuss with your makeup at any point in the day, it's a dream product.
There's not much to complain about with this powder, although the price point might make it inaccessible to some. Additionally, while we love the extensive shade range in which this matte powder foundation is available, we do wish they were kept more consistently in stock.
If your skin is a little drier or you have a tighter budget, you might prefer L'Oreal's True Match Powder Foundation.
Pros
Incredibly quick and easy to use

Gorgeous pore-blurring effect

Versatile coverage level

Great longevity

Looks matte but not powdery
Cons
A little expensive

Shades often out of stock
---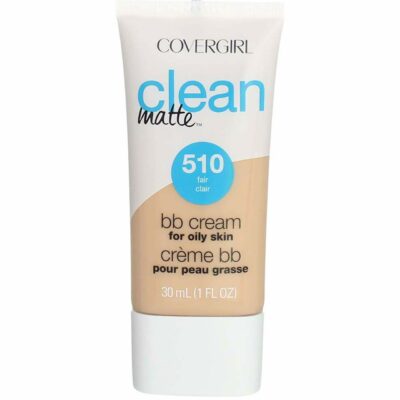 Why we like it:
This is our favorite matte foundation for shine-free "no makeup" makeup. Thanks to its lighter coverage, this is the most natural-looking matte foundation on our list, and yet it manages to stay put and look great for a good long time.
Editor's Rating:
Quick Facts:
Type: Liquid
Finish: Matte
Skin Type: Oily, Combination, and Normal
Coverage: Light-to-Medium
Color Range: 6
Longevity: 10-12 Hours
Packaging: Squeeze Tube
Cruelty-Free/Vegan: Yes/Yes
Just because you want a matte finish doesn't mean you're looking for intense coverage. When it comes to a daily foundation, you might want something that goes lightly over the skin and makes you look a little better while still allowing your natural coloring or freckles to come through. If that's what you'd like, Covergirl's Clean Matte BB cream is perfect!
Since BB creams can be functionally identical to foundations, we had no issues including this lovely product on our list. It's a true matte cream that gives the skin a velvet finish, and its coverage can go from light to medium without any issues. Despite the matte finish, it doesn't emphasize texture or even dry patches, although you shouldn't expect it to cover blemishes or discoloration.
It helps to keep shine at bay, but it's not overly drying. If you have oily skin, it may start developing a slightly dewy sheen after a few hours, while over normal or dry skin it'll look softly and pleasantly matte. Its longevity is phenomenal, which is not necessarily what one expects from such a natural-looking formula.
With only 6 colors available, this isn't a great shade range. It's partially forgivable, since the coverage is low enough that a single shade can work across multiple skin tones, but even so, we think it could include a few more options, especially for deeper complexions.
Pros
Light coverage great for "no makeup" makeup

Amazing longevity

Mattifies without emphasizing texture
---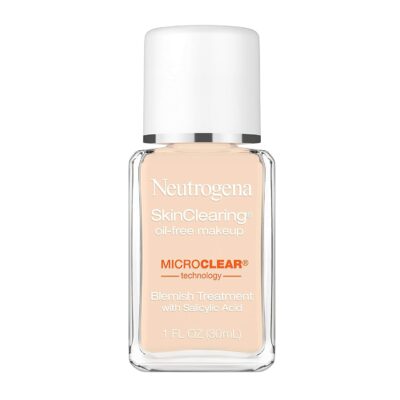 Why we like it:
This light, demi-matte foundation does double duty as an acne-fighting treatment, thanks to a touch of pore clarifying salicylic acid.
Editor's Rating:
Quick Facts:
Type: Liquid
Finish: Demi-Matte
Skin Type: All, Especially Acne-Prone
Coverage: Light-to-Medium
Color Range: 14
Longevity: 6-8 Hours
Packaging: Glass Bottle
Cruelty-Free/Vegan: No
If you prefer a matte foundation, chances are it's because your skin is on the oily side. While having oily skin has major benefits, like being less prone to dehydration and premature aging, it also comes with a higher propensity for acne. That's why we wanted to include this unusual but exciting foundation.
Neutrogena is primarily known as a skincare brand, so it's not surprising that their makeup is also formulated like skincare. The star ingredient in this foundation is salicylic acid, a fantastic acne-fighter that cuts through oils, unclogs pores, and even helps suppress inflammation and bacteria. At 0.5%, it's enough to be effective without irritating your skin. You certainly won't need to worry about it clogging your pores, since it's formulated to do the exact opposite.
The texture is incredibly light, so you won't need to worry about it feeling heavy or gross on your skin. The finish is demi-matte, which is the ideal balance of keeping the skin looking shine-free without enhancing the flakiness that can be caused by active breakouts.
As a makeup product, it's a nice choice for day-to-day. It has light coverage at first, but it builds up nicely when you need a little more. If you do have prominent blemishes, you might still need to layer some concealer on top just to hide those, but on clear skin days, it's perfect. It wears well, so while your skin may get a little shiny after 4-5 hours, your skin is still going to look nice and even.
All in all, it's a fabulous formula for casual makeup days, and our only major complaint is that the shade range is far too small. With more options, it'd be a big winner. The packaging itself also leaves us a little cold, since it's quite fussy without a pump or dispenser, but if you don't mind the effort, it's well worth the minor inconvenience.
Pros
Made with acne-fighting salicylic acid

Natural, demi-matte look

Great for casual, day-to-day makeup
Cons
Tiny shade range

Inconvenient bottle
---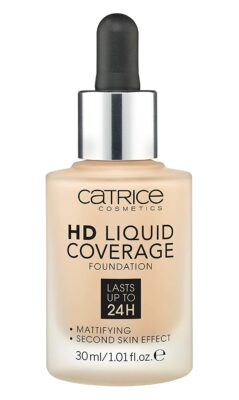 Why we like it:
All of the drama without the intense mattification. This buildable cruelty-free foundation gives the skin a soft demi-matte finish, so it's a nice choice for all skin types, with incredible longevity and controllable coverage.
Editor's Rating:
Quick Facts:
Type: Liquid
Finish: Demi-Matte
Skin Type: All
Coverage: Medium-to-Full
Color Range: 23
Longevity: 10-12 hours
Packaging: Glass Bottle With Dropper
Cruelty-Free/Vegan: Yes/Yes
If you have normal or dry skin, you will like this unusually soft and forgiving matte foundation. It has a very natural looking demi-matte finish that's not powdery at all. It looks like a natural, second-skin, and yet it manages to cover quite well. Additionally, it's one of the few cruelty-free matte foundations that managed to impress us.
The liquid itself is very light and easy to spread. It goes on the skin easily, with a thin, lightweight texture that eventually dries down and self-sets. It's very easy to spread it out for a more natural, medium coverage look, but building it up to full coverage is just as simple. It's definitely a great, versatile option.
Once the foundation is on, it tends to stay put very well. A little bit of shine will peak through after 2-3 hours if you have oily skin, which can be nice if you don't want to look overly matte all day long, but your skin will stay covered easily for the entire day and well into the evening.
The glass bottle packaging can be polarizing. We love how hefty it feels, and there's certainly something special about dispensing your foundation like an alchemist dispensing a magical elixir. However, squeeze tube packaging would be more convenient in nearly all situations. It's still superior to glass packaging without a dispenser, however.
The one area where this foundation disappoints is with its shade range–23 shades are not enough, especially when considering the relatively high level of coverage it offers.
Pros
Cruelty-free and vegan

Natural-looking but matte coverage

Buildable, versatile coverage

Excellent longevity
Cons
Small shade range

Inconvenient packaging
---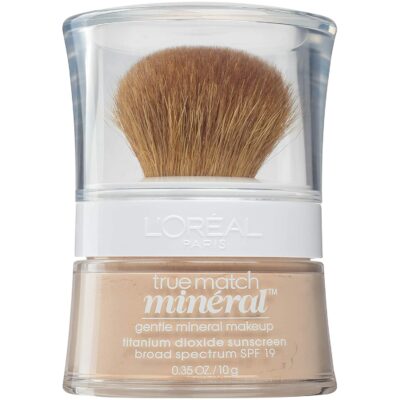 Why we like it:
This easy-to-use loose foundation powder has a demi-matte finish that's flattering to all skin types, but still helps to cover imperfections and tame oil.
Editor's Rating:
Quick Facts:
Type: Powder
Finish: Demi-Matte
Skin Type: All
Coverage: Medium-to-Full
Color Range: 13
Longevity: 6-8 Hours
Packaging: Shaker Jar
Cruelty-Free/Vegan: No
If you want the ease of a powder foundation but with a slightly softer appearance, this foundation from L'Oreal is a phenomenal choice. It offers the same quick application as the bareMinerals BarePro Foundation, with a slightly less matte finish that's better suited for normal skin or those who just don't want such intense oil-control.
Like the barePro Foundation, it's also a medium-to-full coverage option. This means that you can adapt the coverage based on your mood or how your skin is doing on any given day.
It looks very velvety and natural on the skin, and it keeps excess oil from peeking through for at least a few hours. After 5 or 6 hours of wear, however, you might develop a slight dewy sheen, especially if your skin is oily. The actual coverage lasts for up to 8 hours, which is serviceable for a typical workday, but won't be enough for those with very long, demanding hours.
While the powder itself is exquisite, the packaging is a little awkward. It comes in a shaker, with a brush attached to the lid and a clear "cup" over the brush. To use it, you can shake the powder out into the clear cup, and then dip your brush in. It's easy enough to do at home, but it's not portable.
Additionally, we find that the brush that it comes with the foundation isn't very comfortable on the skin, so you're better off applying the foundation with a separate brush or sponge.
Pros
Quick and easy to use

Versatile coverage

Natural-looking demi-matte finish
Cons
Awkward packaging

Poor quality brush

Mediocre longevity
---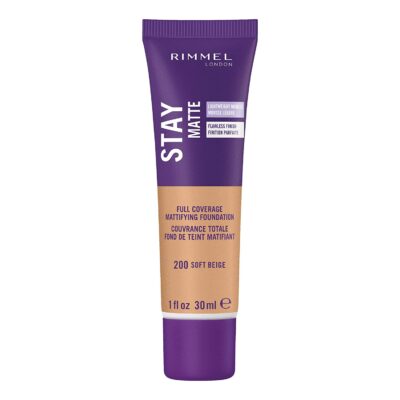 Why we like it:
We like this intensely matte foundation for a younger crowd that needs oil-control. It offers full-coverage and a pore-blurring effect, although it can be a little heavy for those with maturing skin.
Editor's Rating:
Quick Facts:
Type: Liquid
Finish: Very Matte
Skin Type: Oily
Coverage: Full Coverage
Color Range: 26
Longevity: 6-8 Hours
Packaging: Squeeze Tube
Cruelty-Free/Vegan: No
This incredibly affordable matte foundation offers exceptional oil-control and coverage. It has a creamy, mousse-like texture that glides over the skin beautifully and has a really nice pore-blurring effect.
The coverage is high and heavy-duty, so you can rely on it to hide blemishes and discolorations without the need for a concealer. As for matte-ness, it's very matte–so matte to the point that some shoppers find that it dry out their skin. In other words, it's a decent choice for those with oily skin who want coverage and mattification, on a budget.
Despite the intense mattification, however, we find that it doesn't have the best longevity. It'll last you through your school or workday, but you'll probably need to touch it up afterward.
As far as skin texture goes, we find that it's extremely forgiving of large pores or indentations in the skin, but it's not very suitable for dry skin texture issues like fine lines or dry patches. If you have mature skin, you might be nonplussed to find it settling into creases.
In general, we think Stay Matte is most comparable to the Pro-Matte Foundation from L'Oreal, but while it's better at hiding texture issues, it doesn't have the same immense longevity or shade range. If you don't have skin texture issues and you want the intense long-wearing effect, you might prefer L'Oreal over Stay Matte.
Pros
Very mattifying and oil-controlling

Camouflages discoloration, blemishes, and large pores

Very affordable
Cons
Emphasizes dry patches and fine lines

Small shade range

Mediocre longevity
---
Our Guide to Matte Foundations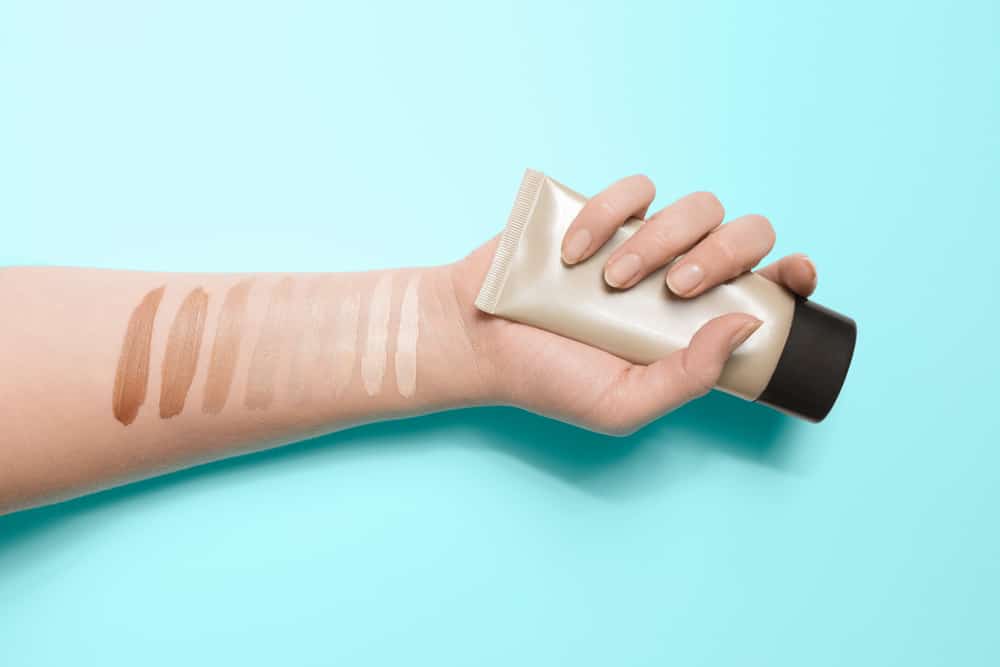 There are a few more things you might want to know before deciding on your ideal matte foundations, so we made sure to cover them all in this section.
Why Wear a Matte Foundation?
Beauty bloggers are conflicted on whether matte skin is trendy or not, with some giving a resounding yes and others firmly believing that dewy is coming back with a vengeance. As for us? We don't think it's that serious.
Every finish is acceptable, and it's just a question of what you'd like. With that said, matte foundations have their own unique benefits:
Matte-foundations dry down on their own, so you can use them without setting powder.
They're fantastic for oily skin because they keep greasiness at bay.
They usually have better longevity than their dewy counterparts.
Their matte, velvet finish can look very sophisticated and polished.
If none of these benefits appeal to you, that's okay, too. Check out our guide to the best dewy foundations if you think those will be a better fit for your skin type and aesthetic.

Choosing a Matte Foundation by Skin Type
The traditional advice is that if you have dry skin, you should use a dewy foundation, and if you have oily skin, you should use a matte one. We disagree–if you like the matte look, you should rock it, no matter your skin type.
However, we still have some tips to help you pick the right matte foundation based on your skin.
Oily Skin
If your skin produces a lot of oil throughout the day, you'll want a foundation that can absorb that oil and keep you looking nice and composed.
Every one of the foundations on our list is a suitable choice for your skin, but a typical matte finish foundation like Maybelline's Fit Me Matte + Poreless is probably the best choice. Throughout the day, as your skin produces some oil, the foundation will become a little more demi-matte and skin-like.
If you want total oil-control for the entire day then you might prefer the Pro-Matte Foundation from L'Oreal, instead.
Dry Skin
If you have dry skin, many foundations will look matte on you by default. This is because your skin doesn't produce a lot of oil, so you don't get that natural, reflective sheen.
Because of that, typically matte or very matte foundation will look powdery on your skin, and dry patches can get emphasized. Instead, choose a demi-matte foundation, so with your natural skin type, the final look will actually be matte. The ColorStay Foundation from Revlon is our favorite because it looks matte yet soft over dry skin.
If you do opt for a more matte foundation formula, it's important that you moisturize your skin thoroughly first to avoid an overly dry appearance. You'll probably want to skip applying a setting powder, as well.
Normal and Combination Skin
If you're somewhere in the middle between dry and oily, with skin that's normal all-over or that has both dry and oily parts, then you shouldn't use a very matte foundation, either. Instead, a regular matte finish foundation like the Maybelline Fit Me Matte + Poreless or a demi-matte foundation like the HD Foundation by Catrice will work better.
Choosing the Right Foundation for Your Skin Tone
When choosing your foundation, you'll need to keep in mind both your skin tone and complexion depth. The latter is pretty easy since it's just a question of identifying how light or dark your skin is within a spectrum.
Figuring out your undertone is a little tougher, but it's extremely important. The main undertones that brands use when classifying their foundations are the following:
Warm, with a yellow or golden tint to the skin and greenish veins.
Cool, with a pink or reddish tint to the skin and purple veins.
Neutral, with either an even mix of warm and cool tones or with a very clear, beige undertone, and blue veins.
Olive, with a slightly greenish undertone and very green veins. Those with olive undertones usually opt for warm foundations, which offer the closest match. Maybelline Fit has a few shades that suit olive undertones.
Matte About You
We said it, folks–matte foundations are for everyone! They can save you the hassle of having to powder, and they look very chic and sophisticated. There are a few other details to keep in mind when selecting the best matte foundation for you, from the type of coverage you like to exactly how matte you want it to be. With so many different matte foundations available, we know you'll find a foundation to go matte for.