Top 10 Best Hair Removal Waxes 2023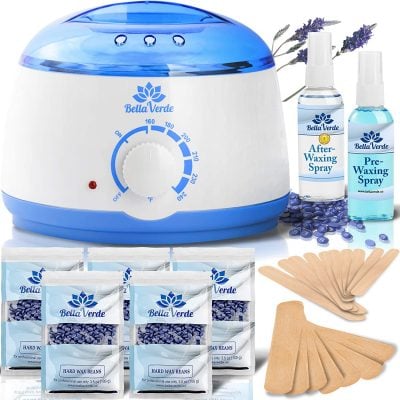 Wax Type: Hard wax beads with included warmer
The Bella Verde Waxing Kit is a convenient product that offers everything you need to remove unwanted body hair. It includes an easy-to-use wax warmer, pre-and post-waxing treatments, five individual packages of wax beads, and a set of applicators.
This hard wax kit includes everything you need to get started. The quick-melting beads are great for any area of the body, and the electric heater can be used for just about any other brand of wax.
Overall Quality
It is an all-purpose wax kit that is excellent for full body waxing and can help you get rid of all unwanted hair. You can use it on the face, bikini area, or underarms. It is gentle, infused with honey extract, and can leave your skin glossy and smooth after waxing. This wax does get quite stiff, which is great for these areas since it means it's less likely to drip and lose precision, but it makes it harder to use on large areas.
Ingredients
The wax beads included in the Bella Verde Waxing kit contain nothing but non-irritating dyes and fragrances. These won't cause pain or redness, but will cause a pleasant lavender scent to waft through the air when you melt them.
---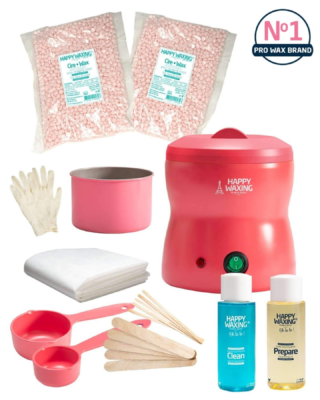 Brought to you by Perron Rigot, the creator of the original hard wax beads, this Happy Waxing at Home Kit is a complete kit you can feel fully confident in. Not only is the hard wax top-quality, but the kit includes everything you could need for salon-level smooth skin: a wax heater, hard wax beads, purifying lotion, nourishing oil, vinyl gloves, a protective sheet, 5 body applicators, 5 face appilcators, measuring cups, and a tin. It's basically an entire salon in a box!
Overall Quality
Our team at Beauty Mag tried out this Happy Waxing at Home Kit ourselves, and we couldn't have been happier with the results. The included measuring cups and chart made the process incredibly easy, even for totally novice waxers. While the hard wax was strong enough for impressive results, it was also gentle enough to use anywhere, so we were able to remove everything from facial to bikini hair. Everything in the kit is cruelty-free, and it's also formulated to be as safe as possible; in fact, they've steered clear of 1,300 ingredients that are proven to be harmful to your body that may show up in other formulas. The only thing we didn't love was the sweet scent, which was a bit strong. However, it was a small price to pay to avoid hitting a salon and instead waxing at home.
Ingredients
The wax, lotion, and oil are all made with safe ingredients, avoiding anything proven to be dangerous.
---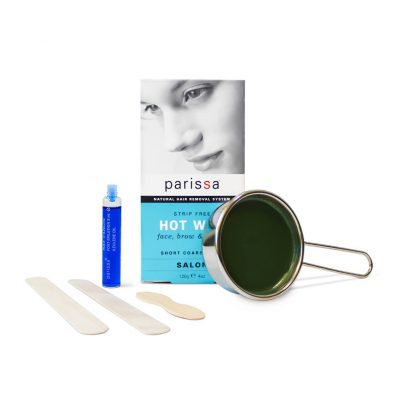 Wax Type: Hard wax block with included heating pan
The Parissa Hair Removal Waxing Kit is formulated to get rid of resilient hair, such as coarse and short hair in small, delicate areas. It is perfect for waxing your underarms, face brows, or bikini area.
Overall Quality
The Parissa Hair Removal Waxing Kit is easy to use and effective. All you need to do is heat the wax and apply one thick layer to the skin. Let it cool down for a few seconds and peel it off for hairless and smooth skin. The product works well and the price is right, but they only include enough wax for a few treatments to the eyebrows, underarms, or bikini zone. It's a bit harder to heat, apply, and clean than our overall and premium picks, but the end result should be the same.
Ingredients
If you are looking for a Brazilian waxing kit at an excellent price, you can't go wrong with Parissa. The wax is made using safe and nourishing organic ingredients, such as colophonium, chamomile extract, cera alba, and brassica napus. All these ingredients are safe for the skin and will leave your skin soft and smooth. This wax is a bit stickier than most, though, so you may need to wash off after use.
---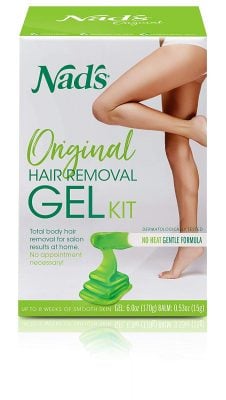 Wax Type: Soft wax with included applicator
Nad's Gel Wax Kit a non-heat, transparent formula that is easy to use and even easier to clean. Nad's wax gel is suitable for all skin types, including legs, arms, face, and bikini area. The kit includes wax gel, cleansing wipes, a wooden spatula, cotton strips, and a soothing moisture balm.
Overall Quality
When compared to other hair removal wax kits, Nad's Kit Get is effective at removing all types of hair and doesn't hurt much. Though the product is easy to apply, it also tends to get a bit runny, so make sure not to overheat it or else you might make a mess. It's water-soluble, so after treatment, you can wash off the extra wax from your skin, towels, or clothing–which is especially helpful since this kit can often become sticky and cause a huge mess.
Ingredients
The formula contains natural ingredients only, meaning it is safe and suitable for sensitive skin. It is hypoallergenic and dermatologically tested.
---
5.

Best Hair Removal Wax for Sensitive Skin

GiGi Honee Soft Wax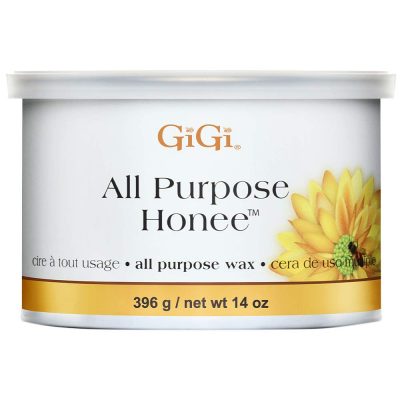 Wax Type: Soft cream
The creamy GiGi Honee soft was is gentle enough for any area of your body, but still strong enough to remove any unwanted hair. Since it's thin and spreadable, it's perfect for full-body waxing or targeting areas with wide hair growth.
Overall Quality
This wax is gentle enough to be used on your eyebrows and bikini zone, but also strong and spreadable enough to use on your legs and armpits. You will need to separately purchase wax strips to use with this product, since unlike hard waxes, the GiGi Honee Soft Wax can't be pulled off by hand. That being said, if properly used it will be very easy to remove and shouldn't leave any residue.
Ingredients
The GiGi Honee is made of all-natural non-irritating ingredients that won't cause redness or pain when used. On top of that, the product is infused with a moisturizing honey extract that will leave your skin smoother and softer than it was before you waxed.
---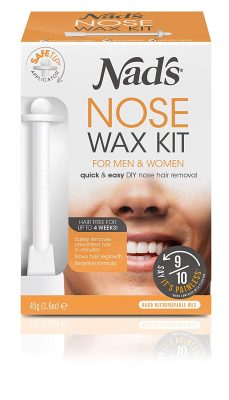 Wax Type: Hard wax with included nasal applicator
Nad's Nose Wax Kit is one of the most effective solutions for nose hair removal. The kit has everything you need for a clean, smooth, hair-free nose. One of the best things about this hair removal kit is that it is extremely easy to use–you can remove nose hair in the comfort of your home or while traveling in just a few minutes.
Overall Quality
Thanks to the pain-free wax formula, anyone can remove unwanted or embarrassing nose hair from the roots. The results can last up to four weeks (the time may vary from patient to patient). Regular waxing can even slow hair regrowth—the more frequently you wax, the slower the hair will regrow. Another great aspect of Nad's Nose Wax Kit is the unique SafeTip Applicator, which fits inside the nose and can remove any visible hairs around the nostrils, not just inside them. The hard wax does a great job of getting rid of every last hair, but it tends to get brittle if you leave it in for too long—so don't forget to follow the instructions and pull it out of your nose after two minutes, or else it might get a little painful.
Ingredients
In addition to the wax base, almond oil, aloe, and chamomile extracts are added to soothe the insides of your nostrils.
---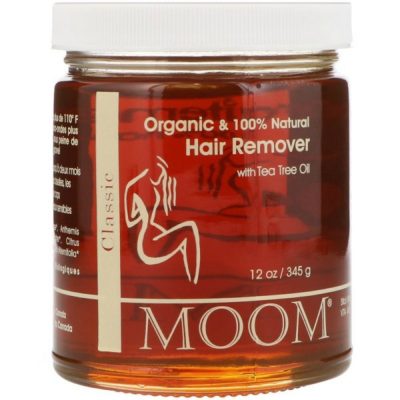 Wax Type: Soft sugar
Priding itself on it's natural, organic ingredients, the Moom Organic Hair Removal wax will gently and safely remove unwanted hair from anywhere on your body—using a short list of ingredients that you can actually pronounce.
Overall Quality
Moom's sugar wax has to be the least irritating product on our list. Though it does need to be warmed slightly, it's far gentler on the skin than any alternative product. Like with most soft waxes you will need to purchase waxing strips to use it, but it should pull off with ease. Unfortunately, there is a trade-off that prevents this product from being higher on our list—while the product is incredibly gentle, it doesn't remove hairs quite as well as its competitors. Its performance is still good enough that you won't be left with visible hairs, but you'll need to reapply more frequently than you would with another wax.
Ingredients
The makers of this hair removal product have managed to create a great wax with just four ingredients—sugar, lemon juice, chamomile, and tea tree oil, all of them organic. The sugar paste removes the hair, while the remaining ingredients help the skin recover and glow.
---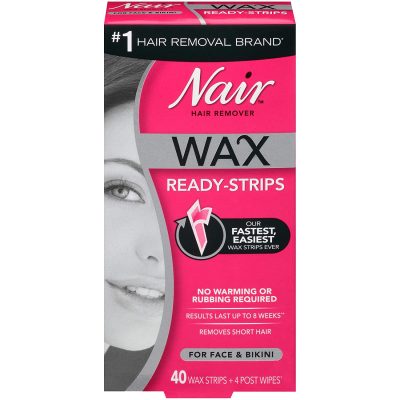 Wax Type: Wax strip
Nair Hair Wax Remover is perfect for getting rid of one, two, or ten errant hairs from your chin or bikini area. We've all been there–you are about to head out when you spot a few hairs showing.
Overall Quality
There is no need to warm them or heat the wax—it is a simple peel-and-stick process. Use a single strip at a time.  After waxing is complete, use a wipe to moisturize and soothe the skin, removing any extra wax effectively—and you'll be left with residue-free skin. What's impressive is that results can last up to six to eight weeks, depending on how fast your body hair grows. The product is dermatologist-approved and is suitable for everyone with sensitive skin.  With repeated use, you'll be able to minimize hair growth. The strips are practical and perfect for using on-the-go, but they are small. This makes them perfect for hard to reach areas and touchups, but not ideal for full-body hair removal.
Ingredients
Wax strips tend to have longer ingredient lists than standalone waxes, and these Nair strips are no exception. Despite that, they did include various moisturizing oils and herbs that do wonders for your skin health, and these strips are dermatologist-approved.
---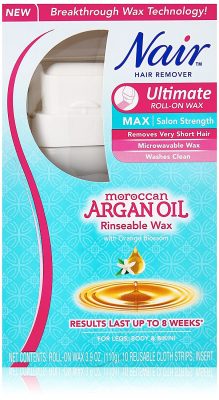 Wax Type: Roll-on wax
The kit comes with one roll-on wax and ten reusable cloth strips. It is suitable to use on legs, arms, and bikini areas. All you have to do is heat the roller in the microwave, apply the wax, and then take it off using the included reusable wax strips—it couldn't be easier.
Overall Quality
Nair's Moroccan Argan Oil Roll-On Wax is excellent when you want to remove unwanted hair with ease. It comes with a convenient roll-on applicator that is easy to apply and doesn't irritate the skin. Itwill remove hair of any length, and can be used all over your body—but it tends to get sticky when overapplied, so make sure you only use a thin layer. It's a bit messier than the equally convenient the Nair strips, but in turn it does a better job of removing finer hairs.
---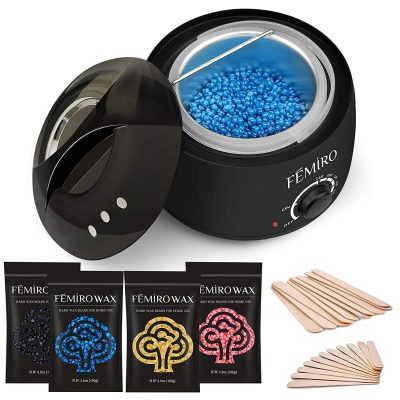 Wax Type: Hard wax beads with included warmer
If you are looking for a premium salon-quality waxing, give Femiro Hair Removal Kit a try. In the kit, you'll find a wax warmer, four different types of wax beads, twenty wax applicator sticks, and a heat assistant material. Thanks to the new generation of wax warmers, you can heat the wax faster than with any other kit. In eight to ten minutes, the hard wax is melted and ready for your hair removal session.
Overall Quality
The wax is useful for all body areas, including legs, arms, armpits, face, bikini area, eyebrows, feet, and upper lips. Ideal for sensitive skin, the Femiro Hair Removal Waxing Kit has an 85 to 99% success rate without any significant side effects.
The waxing kit is easy to use—adjust the temperature, put the wax beads into the heater, use a spatula to stir the wax, and use the wooden applicator to apply on any area. The beads even have different formulations for different areas—the chamomile is made to be good for large areas, while rose is best for small spaces. Still, any hard wax will be less than optimal for wide areas.
Ingredients
This Femiro kit comes with organic hard wax beads in four different natural scents–cream, chamomile, rose, and original. Unlike many cheaper waxes that use harmful synthetic fragrances, the beads included with this kit won't harm your skin.
---