Top Picks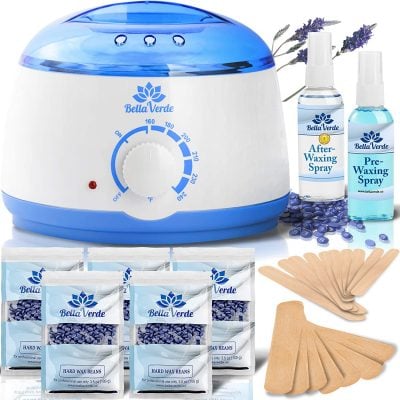 Bella Verde Waxing Kit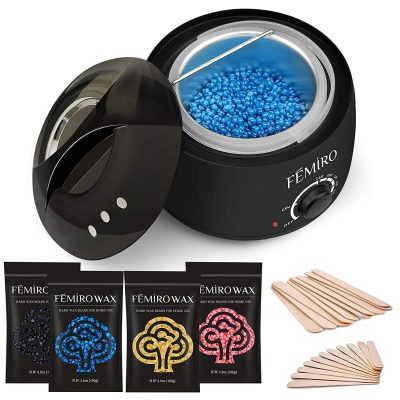 Femiro Hair Removal Waxing Kit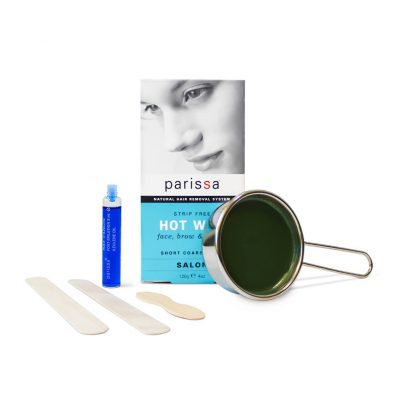 Parissa Hair Removal Waxing Kit
Previous
Next
Waxing is one of the most popular methods of body hair removal, from the bikini area to the eyebrows and all over the body. Shaving, especially sensitive areas, can be irritating, and doesn't last quite as long or remove hair nearly as close to the skin.
Even though waxing may still result in ingrown hair, you won't have to worry about cuts or accidentally damaging your skin like you would if you used a razor or other methods of hair removal. Still, waxing can be painful and pricey—if you don't choose the right waxing product.
There are many hair removal waxes out there that won't give you anything more than a bad rash. Thankfully, there are also many great waxes on the market that will keep your skin smooth and soft, while also easing the burden on your wallet.
In order to help you separate the good from the bad, we've put together this list of the best hair removal wax products available today, which will match any beauty salon treatment at a far more affordable price.
Things to Consider When Buying Hair Removal Wax Products
There are several things that you should consider when choosing a wax product:
Wax Type
The main thing you'll want to consider is whether to use a hair-removal product uses hard or soft wax. Hard wax is applied in thick a thick paste, typically made at home from melted beads (which are also referred to by some as beans). It's normally hot, and although it removes fine hairs better than soft waxes, it's also messy and harder to use. It can work over large areas, but it's effectiveness will be reduced, so it's smart to limit the size of each application of hard wax.
Soft wax, on the other hand, tends to come in the form of easy-to-apply strips. It's typically cool and gentle on the skin, making it great for sensitive areas, but it won't work as well over large areas as a thick application of hard wax. Soft waxes can be further broken down into two categories. There are soft wax pastes and gels, which are a bit messy by the best choice for waxing large areas, and soft wax strips, which couldn't be easier to use but are best suited to small, delicate areas like the upper lip and the eyebrows.
There are also a few alternative types of hair removal wax. Wax strips are easy to use and mess-free, but they typically require more frequent reapplications, and they're more suited to spot hair removal than any large areas or your entire body. The same is true of roll-on waxes, which are almost impossible to misuse, but don't have the same performance as traditional hard or soft waxes. Sugar waxes are easy on the skin, but you'll usually have to reapply them more frequently than you would any other wax.
Overall Quality
Not all hair removal waxes are created equal. Just because a wax claims to effectively remove hair doesn't mean that it works as advertised. For this reason, we've checked to make sure that all of the products on this list effectively get the job done, removing hair from the desired area without causing pain or irritation.
Ingredients
You should always check the list of ingredients, especially if you have sensitive skin, to make sure that the wax you choose doesn't have products that will harm your skin. Many less reputable waxes include irritating alcohol, mineral oil, perfumes, dyes, and other substances that will make your skin irritated and blotchy. You don't want to deal with skin irritation or redness on your first hair removal treatment, so only choose products that contain pure wax and other skin-friendly ingredients.
Whether you are looking to bare it all or only clean up your bikini area, the best hair removal wax products on our list below will get the job done.
Top 10 Best Hair Removal Waxes 2021
Guide to Buying the Right Hair Removal Wax Kit
Waxing can be a complicated process, especially if you haven't done it before. But, with a little bit of research and the right kit, you'll pick it up in a flash and wonder why you've spent so much time and money having your waxes done professionally.
A Note on Waxing at Home
A hair removal wax kit at home is a convenient way of dealing with embarrassing or unwanted hair. Home waxing kits are an excellent option for anyone who wants to keep skin soft and hair-free without dropping big bucks at the beauty salon every four to six weeks.
Unfortunately, without the right kits or products, waxing at home can be an unpleasant experience. It gets hot messy, sticky, and hard to clean.
There are a few important things to look at when it comes to buying a hair removal wax kit that will make the process much easier.
Understanding the Ingredients
As important as the instructions are the ingredients. The effectiveness and sensitivity of the hair removal kit are directly related to the ingredients that you find in the wax. Read the ingredients list to ensure that the product is safe for your skin. If you have a known sensitivity or allergic reaction to any of the ingredients before, avoid it and select another product instead.
A lot of people have no idea what ingredients are right for their skin. Avoid products that contain excessive alcohol and other harmful chemicals. None of the products on our list contain too many of these harmful ingredients, but some go above and beyond when it comes to a commitment to staying natural. If buying a natural product is important to you, the Moom Organic wax makes a great choice.
Hard Wax vs. Soft Wax
Hard waxes like the Bella Verde Waxing Kit are usually applied in thick layers and are best for removing smaller areas of the body or facial hair. The type of wax is mostly used to get rid of bikini, chin, or upper lip hair, for example.
Soft waxes like the Nad's Wax Kit Gel are spread over the area and taken off the skin using paper strips. The soft wax is mostly used on arms and legs, although some brands can be quite useful for other areas, such as the chest, back, and bikini line.
Both types of wax are useful for removing unwanted hair. Hard wax is typically the best choice for small, sensitive areas, while wider coverage is best achieved through soft waxes. Though their forms are different, wax strips like the Nair strips function similarly to hard waxes, while roll-on products like Nair's roller should be used like soft waxes.
Reading the Instructions
The first step to waxing success after you've purchased a new waxing kit is to read the instructions carefully. If you've used a similar product before, you may think the instructions would be similar, but this is not always the case.
Assuming that all hair removal wax products work the same way is one of the most common mistakes when waxing at home. Read the instructions for each product, even if you think that you know how it works. Sometimes, even the most uncomplicated products have specific guidelines. Not following the instructions can not only lead to subpar results, but can irritate or even seriously damage your skin.
Patch Testing
Based on the severity of the irritation or allergic reaction, you might even have to take medication to help with the backlash.
If you have sensitive skin and allergic reactions to some hair removal wax products, you should be extra careful when using a new product. A patch test is the easiest way to determine whether a wax product will work for your skin.
Start by applying a small patch of the product, ideally to somewhere that isn't very sensitive. If you don't have any reaction, you can feel safe using the product on other areas without worrying about skin irritation or redness. If you experience any skin irritation or allergic reaction from using the product, there is only one way to counter it–try a different product, preferably a natural one or one like the Femiro Hair Removal Waxing Kit that's great for sensitive skin.
Wax Warmers: Efficiency & Safety
Another thing to consider when buying a hair removal wax kit is the safety and efficiency of the wax warmer. The warmer should be able to heat the wax to any temperature at any time. It should also be able to keep the wax at that temperature. Some low-quality warmers take a long time to reach temperature, and don't hold that temperature well, so only reputable warmers should be used.
The Femiro Hair Removal Waxing Kit comes with a particularly high-quality wax warmer, though every warmer on our list will work very well.
Contents of the Waxing Kit
Except where mentioned, all of the kits on our list include everything you'll need to start waxing. Do keep in mind, though, that if you're purchasing a standalone wax product, you may need to get some additional products. Most waxes require applicators, while most soft waxes will also need cloth strips for removal.
Wax Pot: Size and Capacity
Make sure to find a kit with a pot of a practical size. A small waxing pot may be a strain because you wouldn't be able to wax your whole body. It would take hours to melt the necessary amounts of wax.
A small pot is only practical if you are planning to use the wax kit on areas such as your armpits, upper lips, or bikini area. If you are planning on waxing your entire body, it is better to get a larger pot. Some products on the market have laughably small wax pots, but each hair removal kit on our list that contains one should be big enough for a full-body waxing.
Area of Use
No one wax is perfect for all areas of your body. Some, like the Cerepil Blue Wax do a fairly good job of handling hair anywhere, but if you're trying to remove hair from small, sensitive areas, a soft wax like Nad's Wax Kit Gel would work best.
If you want to treat yourself to a luxurious Brazilian wax, a hard wax like the the Bella Verde Waxing Kit would be your best bet. It is formulated to get rid of the toughest hair, including coarse and short hair in small, delicate areas.
On top of those two main categories, there are also speciality products like the Nad's nasal wax, and strips tend to do an excellent job for cleaning up stray eyebrow hairs.
Cleanup
All wax users will agree that one of the downsides of home waxing is how messy and sticky everything becomes during the process. Wax can get sticky, and it might be difficult to remove it easily from soft surfaces, such as clothes or towels, and it can leave a residue on your skin after you remove it.
All of the products mentioned here are well above average when it comes to how easy they are to clean up. Still, if you don't want to deal with cleanup at all, your best bet is a strip-based or a roll-on wax, both of which won't require anything more than a quick rinse after use.
Wrap Up
There are many reasons people want to wax at home rather than in a beauty salon. Whether because of discomfort seeing a professional waxer or just convenience, at-home waxing can be faster, easier, and more comfortable than having to book a session at a beauty salon. And, with the right product, the results can be just as good.