As with any career, becoming a professional makeup artist requires training. Makeup school will give you the tools (both literally and figuratively) to succeed in the most beautiful of professions!
As a makeup artist, you can work in a salon with brides and their parties, in the fashion world with photographers and models, or in film and TV where you'll create both beautiful makeup and scary special effects.
It's a diverse career that requires both artistry and people skills. Becoming a makeup artist will allow you to express yourself creatively while also giving you the chance to meet, collaborate with, and delight a wide range of people.
Since there are so many different paths a makeup artist can take, it's important to choose the school that'll prepare you for the industry you're most excited about. Use the handy search function to find an amazing makeup artistry school near you, so you can embark on this new journey.
What to Look for When Choosing a Makeup Artistry School?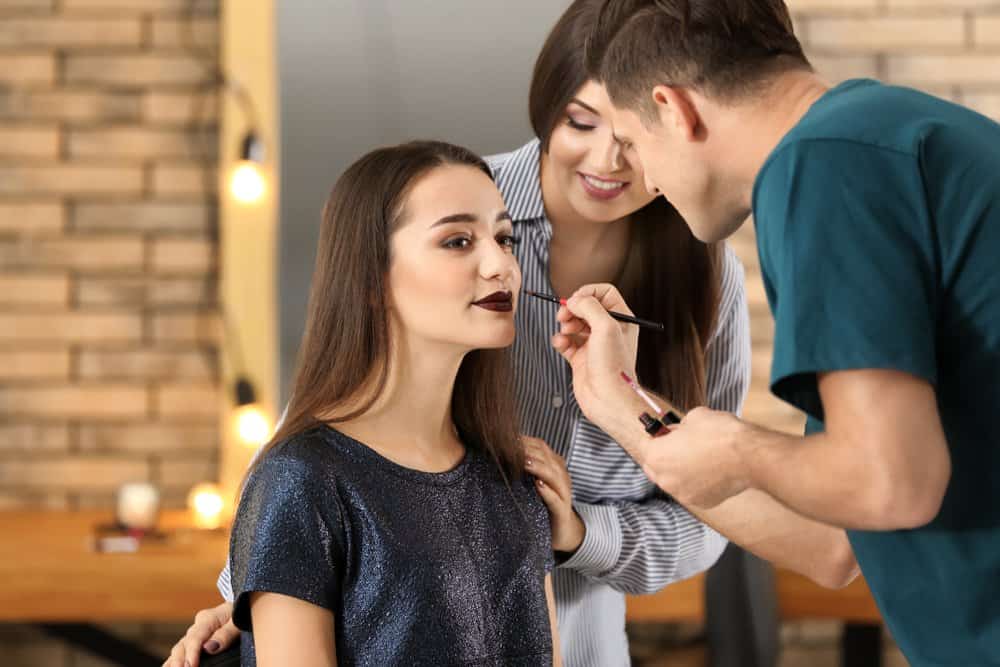 The makeup school you choose will have a significant impact on your career. Different makeup schools often have different specialties, which influences the curriculum, but there's also the question of the quality of instruction and who you'll meet. Makeup school is as much a place to network as it is a place to learn, so take all of these factors into account when deciding on your dream school.
Local Requirements
Before starting your search, look up the laws and regulations in your state. Most states don't require makeup artists to undergo any sort of education or training, and working as a makeup artist doesn't require a license.
However, in some states, like New York and California, it's a little more complicated because the law doesn't distinguish between estheticians and makeup artists, so make sure your school will give you the prerequisites to get licensed.
Union Requirements for Film and TV MUAs
There are also other circumstances where having certification and training is very important. If you want to work as a makeup artist in film or television, you'll have to qualify to join IATSE (i.e., the union that represents makeup artists that work in commercial films and TV), which has very stringent requirements.
Makeup Art as Part of Other Programs
If your main goal is to become an esthetician or cosmetologist (i.e., a hairdresser) but you also want to learn makeup artistry as part of that, then be aware that those careers require specific licensing. The educational requirements for estheticians, barbers, and cosmetologists vary from state to state.
Accreditation
Most makeup artistry schools are privately run, so while they may offer certificates or diplomas to graduates, they do not give out degrees or licenses. One of the surest signs that a makeup school is legitimate is if it's accredited or authorized by a local body that oversees private postsecondary education.
While this accreditation is not always mandatory, it's an added sign of legitimacy.
Type of Curriculum
There are different kinds of makeup artists working in different industries. Look for makeup schools with a curriculum that covers the skills necessary for the kind of makeup artist you want to become.
All makeup schools will educate you on things like hygiene and beauty makeup, for example, but not all will give you the skills to work on fashion photoshoots or to create makeup special effects.
Basic Beauty Curriculum
Most makeup programs should suffice if you want to work with the public at a beauty counter or creating beauty looks for bridal parties, prom-goers, and other special event attendees. These programs will teach basic beauty makeup skills and hygiene, but they may not dive deep into color theory or adjusting your makeup for different lighting.
Complete Beauty and Fashion Curriculum
To become a fashion makeup artist, you will need to learn to create "camera-ready" makeup that'll look great in photoshoots and on the runway. You may also need to learn basic hairstyling skills, like blowdrying or creating updos since, in some fashion scenes, makeup artists are expected to touch-up the model's hair, as well.
Complete programs or fashion makeup programs will usually cover all of these topics along with basic beauty makeup.
Comprehensive Beauty, Fashion, Film and TV Curriculum
To work in film and television, choose a program that will teach you to create "character" makeup. This can include glamorous and no-makeup makeup looks for beautiful actresses, but it often also means historical makeup or basic special effects techniques like aging, creating wounds, and applying small prosthetics or bald caps.
These skills are very different from traditional makeup, and they require a lot of training so specialized programs are mandatory.
Makeup Effects and Prosthetics
To create more specialized makeup special effects, like the scary creatures in Pan's Labyrinth or the aliens in the Mandalorian, you should look for a school that offers robust prosthetic and creature design courses. These can kinds of courses are often available as stand-alones, but they can also be part of a comprehensive makeup curriculum.
Makeup Courses in Esthetician Programs
If you're considering an esthetician diploma, you should be aware that the makeup courses included in the curriculum are usually very short and basic. They usually only cover hygiene and basic makeup, without much focus on fashion or film makeup techniques. Most estheticians that go on to apply makeup professionally usually have to pursue further education.
Teachers With Industry Experience
Always look at the staff bio page of the makeup school you're considering. You want to learn from professional makeup artists who've worked in the industry you'd like to break into. Only teachers with real-world experience can give you the skills, industry tips, and valuable personal connections needed to succeed as a makeup artist.
Graduate Reviews
Make sure to read what those who attended the makeup school you're considering have to say about their experience. For most makeup schools, you can find reviews on Yelp, Google, and Trustpilot.
Student Work Gallery
Most makeup schools take pride in the work their students produce, so they post their creations to an online gallery or on their Instagram page. It's hard to overstate just how much you can learn about a school from the photos they post.
It'll give you an idea of the level of skill students gain as well as for the particular styles that teachers encourage. If you like what the students at the school are creating, it's a sign that the school will be a good fit for you.
Successful Alumni
Many makeup schools boast about the success of their alumni, and rightfully so. It's always a good sign if a famous makeup artist came out of the school you attended. However, it's worth noting that the more famous alumni have come out of a school, the more expensive the tuition is likely to be.
Additionally, consider what the alumni are famous for: if you want to work as a bridal makeup artist, it might be overkill to go to a school with Oscar-winning former students.
Kit & Photoshoots
Your makeup school should set you up with a kit filled with all of the products and tools you'll need to work as a makeup artist, from reputable and high-quality brands. It's also a major benefit if the school also organizes photo shoots to help students build their portfolios.
Career Opportunities
The very best makeup schools put a lot of effort into setting their students up for success in the makeup world. They'll organize all kinds of career opportunities and continuing education seminars, like masterclasses with famous artists and brand representatives, and seminars with agencies or union representatives.
Some schools also have job directories that recent graduates can access to do small gigs either for payment or in exchange for a portfolio picture.
How Much Does Makeup School Cost?
Makeup school costs vary widely from region to region, school to school, and even program to program. You can expect to pay between $2500 and $20000 depending on the program you choose.
Keep in mind that world-renowned schools in big cities like the Make-Up Designatory (MUD) or Cinema Makeup School have higher tuition fees than schools in small cities without big film or fashion industries.
Stand-Alone Makeup Schools
Private makeup schools are the most common, and chances are they're what you're most interested in if you want to only study makeup artistry. The programs they offer can differ in price depending on the length and how many skills they teach.
Basic Programs ($2500-$5000)
On the most affordable end of the spectrum, many makeup schools offer short programs that teach basic "beauty" skills, and they're great for those who want to work with the public or for beauty professionals that would like to add makeup artistry to their existing skillset. They are the most affordable, usually costing between $2500 and up to $5000.
Complete Programs ($7000-$15,000)
The next step up from basic programs are complete programs that train makeup artists to work in a few different sectors. These programs always teach basic beauty makeup, along with more robust fashion makeup skills.
They may also include some light theatrical, fantasy, or special effects skills. These longer programs give you more time for hands-on training, so you will leave them much more prepared to work in the industry. They usually cost between $7000 to $15,000.
Comprehensive Programs With Special Effects ($15,000-$30,000)
The most complex and expensive makeup programs will prepare you to work as a makeup artist in every part of the industry. Because of that they also tend to be the most expensive, costing between $15,000 to $30,000.
Kit Costs
Some makeup schools price the makeup kit separately from the rest of the program, although you'll usually end up paying for everything all at once. The kit alone usually costs around $1500-$2000 for basic beauty supplies, and up to $5000 if it also includes special effects or airbrush equipment.
When you inquire about the cost of tuition, make sure to also ask if the cost of the kit is included in that price. Buying a kit is usually mandatory because it guarantees that all students have access to the same products.
Esthetician Schools
A full, multi-year esthetician program that includes a makeup curriculum usually costs between $10,000 and $20,000. This kind of program will provide you with a license to practice as an esthetician in your state, although the actual makeup component of it will usually be very short.
Online Makeup Schools
Online makeup schools are the most affordable of the bunch. If the classes are video-based with limited real-time instruction, you can expect to pay as little as $250, like at the Online Makeup School.
Courses with live instructors and more interactive training usually cost more, with tuition at schools like the Online Makeup Academy or QC Makeup Academy costing between $700-$1500.
How Long Does Makeup Artistry School Take?
Makeup programs are usually quite short, and there is a lot of flexibility when it actually comes to scheduling.
Basic programs can be as short as a week and may go up to two or three months.
Complete programs for those wanting to focus on beauty and fashion will take from 3 months up to 6 months.
Comprehensive programs that include film and TV training will usually take from 6 months to a year.
Full esthetician programs with a makeup component usually take two years to complete.
Beyond that, if you decide you want to study makeup artistry at night school, over the weekend, or only a few days a week, you'll easily find a program that suits your schedule. However, the shorter or less frequent the lessons, the longer the time period over which the program will stretch out.
What Is the Job Outlook for Makeup Artists?
A makeup artist's career can grow in many different directions. You can run your own business as a freelancer, or you can work for someone else in a salon or a makeup store environment.
Makeup Artist Jobs
The global cosmetics market is projected to grow by $83 billion from 2019 to 2027, so working in cosmetic retail definitely seems like a safe choice, even if it's not the most high-paying.
If you'd rather have the security of a steady job with a regular wage, makeup retailers like MAC, NYX, and Sephora often give their makeup artists a lot of room for growth. At the initial stages, the job primarily requires sales skills, but artists can progress from working on the shop floor to becoming managers and trainers.
Freelance Work
Most makeup artists are freelancers, whether they work in fashion, film, or with the general public. Because of that, the job outlook partially depends on your own skills as a makeup artist and networker.
The fashion industry is projected to continue growing by 5%-6% in the coming years, while things are a little more uncertain for the film industry at the time of writing. Before COVID-19, most sources were projecting similar growth.
However, with both of these industries, it's important to remember that the growth in jobs is likely dwarfed by the number of new makeup artists, so we expect that the competition will remain fierce.
Expected Salary
According to Indeed, the national average salary for a makeup artist is $31.44 per hour. However, it varies very widely from place to place. In some states, like Louisiana and Arkansas, MUA salaries are quite close to the minimum wage.
Working in film and TV is the most lucrative, with the average makeup artist earning $92,200 per year, according to the US Bureau of Labor Statistics (BLS). Keep in mind that this is the industry that requires the most expensive schooling and is the hardest to break into.
Setting Your Rates
It's hard to find trustworthy numbers about what freelance artists make in fashion or as personal service providers. While the BLS provides some estimates, their numbers come from employers—not from freelancers, so they're not entirely accurate.
As a freelance makeup artist, you run your own business and set your own prices, so theoretically, there is no ceiling to your earnings. The average makeup artist charges between $60-$150 for a makeup application or $500-$1000 for a day rate. However, time spent traveling, building a portfolio, or organizing a kit usually doesn't net payment.
Online vs. in-Person Makeup Artistry Schools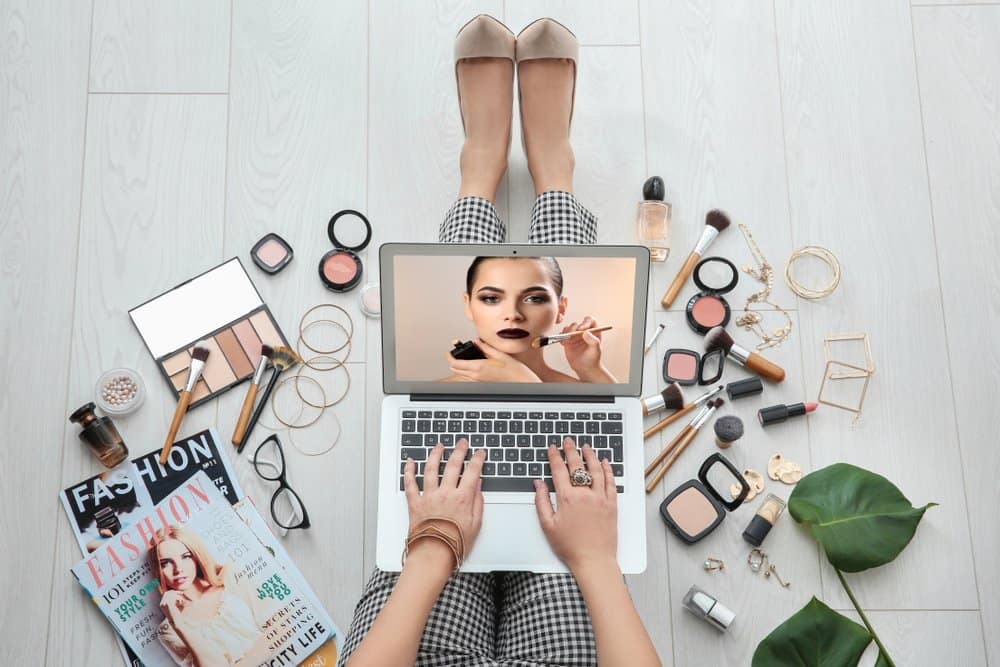 These days, there are so many things that you can learn online, so you might be tempted to choose a more affordable online makeup school. If all you want is a certificate or video lessons from a very specific instructor, then an online makeup school may suffice.
However, we dare say learning from an online school is, at most, a step above self-teaching with the help of professional artists on YouTube. A lot of successful makeup artists are totally self-taught, so it's not like makeup school is mandatory.
The main benefit of in-person schooling is getting hands-on experience. In a school setting, you get to practice applying makeup on other students, while with online schooling, you usually have to resort to practicing on yourself, which is a different skill.
In the school environment, you can see the nuance of what your teacher demonstrates, and as you work, they can direct you and give you advice, which is not usually possible in an online environment.
Our bottom line? If you want to go through the effort of studying makeup artistry formally, opt for in-person schooling. If all you want is certification, it doesn't matter as much and online school may be enough.
Goodluck on Your Journey
If you've decided that a career in makeup art is for you, we wish you the best of luck! It's a fascinating, creative field that resembles no other. Unlike many other careers, makeup artists have a ton of different ways to have their art seen, and they're valuable in a few different industries.
Whether you settle on a short makeup school program so you can beautify real women or decide to delve into the world of prosthetics to create scary movie monsters, we know you will make the most out of this career.