There's a buzz on the streets. Everyone is talking; all the people around you are glowing. Their bright, shiny faces look happy and healthy. When did everyone start looking so good? you ask yourself. Well, it's time to get you out of the dark and into the glow.
The K-Beauty boom started taking off in 2014, and by now, it is at fever pitch. Korean face masks receive a large amount of the attention given their accessibility for all skin types and the benefits they offer. Whether you have sensitive skin, or are just looking for a little extra glow, a Korean face mask might be perfect for you.
First, you should know what a Korean face mask is! They come in two forms: as a sheet mask or as a cream or gel. The sheet mask is a thin, well lubricated piece of fabric that you simply place on your face, while the gels and creams you rub into your face. As with most K-Beauty products, these are made of mostly all natural materials.
Of course, diving into the market can be intimidating. With popularity comes production, and WHOA there are a lot of companies out there. Don't worry, though, we've got you covered. In this article, we'll go over the who, the what and the why. Heck, we'll even show you where. It's time for your glow up, but before that, let's look a little bit at why you would want to use a Korean face mask.
So, Why Am I Putting This Thing on My Face?
As mentioned above, Korean face masks can be for everybody. While not a necessary part of skin care, they can certainly be a boon. So, how do they help with your skin? Here's how:
Cleaning and Anti-clogging
Maybe you have sensitive skin and have found that the cleaning products you have been using feel harsh. This is a common complaint amongst people, and if you are one of them, a Korean face mask could be a great solution for you. This is a gentle process that removes the urge to rub your face clean (we've all done it.) You simply leave the mask on for the prescribed amount of time, and then gently remove it. Doesn't that sound nice? It is nice. It's actually another perk of using a Korean face mask…
It's a Really Relaxing Process
All of our muscles need some relaxation, some relief from the tension of everyday life. Our faces are no different. Upon application, a Korean face mask immediately relaxes the skin, and once it has set for a bit, the muscles underneath follow suit. Not only can you look forward to healthier skin, you can look forward to a spa like experience in the comfort of your own home.
Sounds Great, Right? It Is, but You Have to Make Sure You Know What You're Shopping For.
There are a lot of different types of Korean face masks on the market. You wouldn't want to get something that was super moisturizing if you already have oily skin. Along with our reviews of these products, we'll also explain who should be using what.
Top 10 Best Korean Face Masks 2023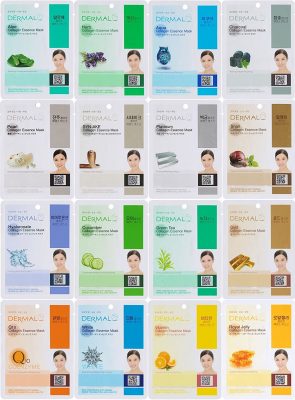 Why we like it:
This is a wonderful introduction to Korean face masks. Dermal has built quite the reputation, and this sample pack will allow you to figure out which Dermal product is right for your skin without being wrong for your bank account.
Editor's Rating:
Product Features
While this is a sampler pack, the main core of ingredients that make Dermal effective remain the same in each mask. The application process is 15 minutes. In that amount of time, the hydrolyzed collagen and vitamin E will seep into your pores, enlivening the skin on your face. This is meant to soften your skin, prevent and get rid of wrinkles, and reduce age spots. Your face will feel revitalized during and after application.
If you have dry sensitive skin, this should calm some swelling. If your face already feels great, it's going to feel even better. Remember, this is a relaxing and enjoyable product to use. Most face masks have eye cut-outs, but not Dermal! These masks have eye flaps that you can choose to have covering your eyes if you want to take a quick 15 minute nap, or keep them up if you are busy doing other things. While these Dermal face masks include a lot of good stuff, what they don't include are mineral oils and sulphates.
The production of this product is cruelty free and environmentally friendly. Dermal makes this with all natural ingredients.
Who Should Use It and How
This is a product for anyone who wants to try a face mask. While other face masks are made for specific skin types, these Collagen Essence masks are meant for general use. They're great for people with dry skin and are great for all round general relaxation.
To use the product, simply line the mask up with your eyes, evenly press the rest of the mask around your face, and then chill out. This product can be used both cold and warm. Once your 15 minutes is up (of face mask, not of fame) you should do… nothing! A lot of people have an urge to further wash their face after use. Don't do that.
Pros
All natural ingredients with Collagen and Vitamin E

15 minutes to use

Can be used three times a week

Good for all skin types
Cons
It's a sampler pack. You might find what you love before using all the samples!
---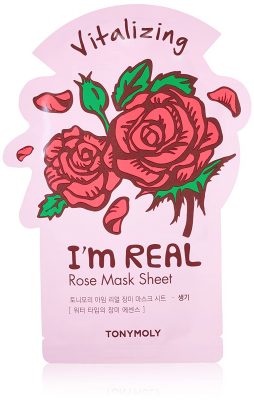 Why we like it:
Have you ever wanted to bathe your face in red wine? With TONYMOLY, you can do exactly that.
Editor's Rating:
Product Features
These are individually packaged face masks which are purchased one at a time. Because of that, you can curate your days, weeks or months depending on your mood. There are all sorts of options here. These sheet masks are loaded with a variety of interesting ingredients which include, yes, red wine. The red wine sheet mask is even red, because it actually contains red wine. No, it will not get you drunk. No, don't try to drink the face mask.
Other available varieties include rose, lemon or even tomato, this three layered mask is meant to leave you feeling refreshed and healthy. This product is excellent for people with sensitive skin. No matter what kind of skin you have, though, this will leave you feeling better than before you used it.
We do have to warn you that sometimes these masks have a bit of a weird odor. It's not too overpowering, but for those who are extra sensitive to smell, it might be a deal breaker.
Who Should Use It and How
There are so many different varieties of this that we won't go into detail about which one is for what type of skin, but there are subtle differences between them all. As for actual use, this face mask is recommended to be left on for 30 minutes. Some might think this takes too long, but we like to think of it as extra relaxing.
These face masks are made out of three layers of pulp. Each layer serves a purpose, and that purpose is maximum hydration. To maximize the effect, after you remove the mask, you'll want to take the excess liquid and put it on your face. Trust us. Also, for an extra cool sensation, TONYMOLY suggests that you throw these in the fridge a day before use.
Pros
Maximum hydration

So many "flavors" to choose from

30 minutes of cooling bliss
Cons
Odd smell

A little more pricey

Individual packs (for the environmentally conscious)
---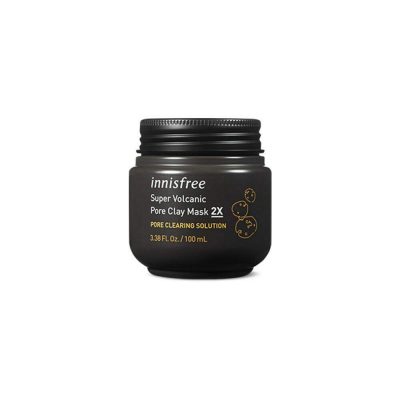 Why we like it:
Call us nuts, but something about putting volcanic ash all over your face just sounds awesome. This product works really well, too!
Editor's Rating:
Product Features
This is the first face mask on our list that isn't a sheet mask, but rather a cream. This cream is packed with volcanic ash. In fact, this is the second edition of this face mask, and this version has twice the volcanic ash in it as the version prior. It should be noted then that this product is thick. Made for people with really oily skin, this mask helps get rid of dirt and dry your face out of excess oils. The result of this is having a cooler feeling face.
Not only does this cream soothe your face, but it does it with a nice floral scent in the process.
Who Should Use It and How
This is meant for people with really oily skin, and also people with combination skin. It's also really good for blemishes. While standard operating procedure is to put this on for 20 minutes and then rinse it off, if you have a trouble spot on your face, you can leave little dabs of volcanic ash on your face overnight.
While some face masks like to dilate pores, this cream mask does the opposite. By narrowing your pores, your oils are more in control, as is the buildup of sebum. The underlying coarseness of this product effectively cleans and exfoliates your face.
Pros
Great for oily and combination skin

Double the volcanic ash of its predecessor

Cooling effect can be felt almost immediately
Cons
Not for folks with dry skin

Very thick
---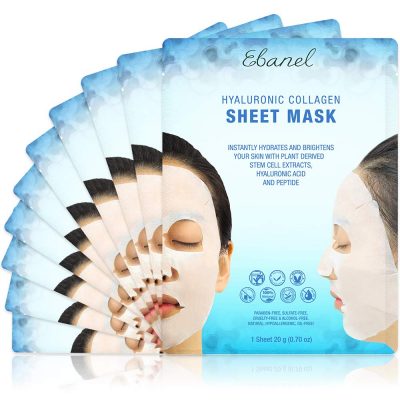 Why we like it:
It seems like dermatology is getting away from alcohol in face products, and this mask is no different. Made from only plant-based materials and ingredients, not only will your face feel good, but so will the environmentalist in you.
Editor's Rating:
Product Features
Ebanel is known as a make-up company, even though their slogan says, "Skincare First & Makeup Second." They clearly care about what you are putting on your face, as they have made a sheet mask with all sorts of good stuff in it. This once a week treatment is made with hyaluronic acid, peptide, and stem cells from fruit. All of these ingredients work together to give you not only a more youthful appearance, but a more youthful feeling as well. The hydrating function of this mask will immediately brighten your face.
This product contains no alcohol, parabens or sulphates.
Who Should Use It and How
This face mask from Ebanel is a jack of all trades and can be used for any type of skin. Whether you are dry or oily, this will prevent you from getting wrinkles, or, if you have wrinkles, will help eliminate them. Simply place this on your face for 20 minutes, and voila! Ebanel recommends that you use this once a week after cleaning your face before going to bed.
Those with really sensitive skin might want to contact their doctor before using this product, as it can cause significant flare ups if your skin is delicate.
Pros
Made with plant extract and fruit stem cells

Hydrates the skin

Prevents or eliminates wrinkles
Cons
Can cause a pretty bad acne breakout or severe reddening of skin
---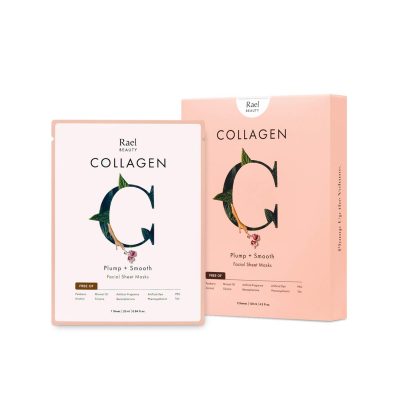 Why we like it:
We think that this is another great offering for those of you who are new to the world of Korean face masks. Each of these can be used for each skin type. You might find that you love all their varied effects, or discover the specific face mask of your dreams.
Editor's Rating:
Product Features
This is the first face mask on our list that is made of bamboo. Used to maintain moisture in the face, Rael has developed a nano technology that uses yarn made from bamboo to give you an awesome, refreshed feeling. This sample pack comes with four different types of face mask. There is a classic Tea Tree face mask, one made of Collagen, one of Vitamin C, and another that is meant to thoroughly hydrate your face.
This four pack is designed to be used at different stages of your menstrual cycle. The hydration mask nourishes the drier skin that appears during your menstrual phase. The Collagen mask is good for adding glow during the Follicular phase. When ovulating,  use the Vitamin C mask, and finally as the Luteal Phase starts, the Tea Tree is there to help purify your congested skin.
This product is free of artificial fragrances, alcohol and parabens.
Who Should Use It and How
This is a good product for anyone, though it might work especially well for those with problems controlling their acne. This is another sheet mask. Recommended time of application is 20 minutes. Rael suggests refrigeration of the mask before use.
Pros
Good for those unfamiliar with Korean Face masks

Different mask correspond with different body phases
---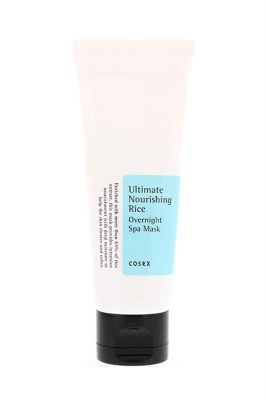 Why we like it:
We like the options you get with this sleep mask. It is recommended that you leave it on overnight, but you can use it as a face wash cream, or even as a spotter for blemished areas.
Editor's Rating:
Product Features
Those of you looking for a short cut or a cheaper alternative, no, you can't just pat your face with rice and get the same results you get as using this face mask from COSRX. This is a lightweight cream that is meant to be left on overnight so it can really get to work. It is made out of a rice extract that is meant to brighten your skin and moisturize it all at the same time. If you would rather not leave it on your face overnight, you can use it as a face wash, but you will probably not get the same results.
One of the things we really appreciate about this cream is that it is 100% fragrance free. However, some skin types can be prone to breakouts with COSRX.
Who Should Use It and How
The rice formula is meant for those with dry and combination skin. If you have oily skin and feel left out, don't worry, COSRX has a product for you as well. For folks with more oily skin, COSRX makes an overnight honey gel.
This should be applied after washing your face before you go to bed. Theoretically, you could wash your face with it and then use it as a night mask.
Pros
Versatile facial product

100% fragrance free

Made with rice extract
Cons
Causes some to break out.
---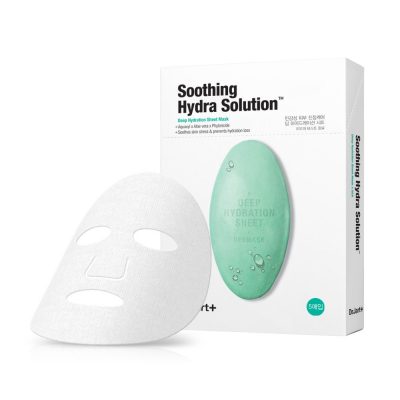 Why we like it:
These are really good for people with severely sensitive skin, or those with rosacea. Dr. Jart is legendary in South Korea for being able to pinpoint skin problems and solve them.
Editor's Rating:
Product Features
The main ingredient in the Dr. Jart face mask is Aquaxyl, which is made out of plant glucose, is used more as protection than cleansing and revitalization. The other main ingredients are Xylitol and Aloe Vera. This product works best when used in combination with the Dr. Jart facial toner. The mask itself is made of a fine cellulose fiber and compared to the other products on this list, is very wet, and even a bit sticky.
Dr. Jart prides itself on working with the best dermatologists to make breakthrough discoveries in skin care. While we like this a lot, they also claim that artists of different disciplines help them with their skin care line.
Some who have used this say it is quite sticky, but if you rub it into your face, the stickiness goes away.
Who Should Use It and How
This is a product for people of all skin types. As this is a deep hydrating formula, those with dry skin and easily irritated skin might find this mask to be particularly helpful. To use, simply place it on your face for 15 minutes, and when you are done, rub the remaining liquid from the package into your skin.
Pros
Great for those with sensitive skin

Helps protect your skin from the harsh elements of the world

Made with Aloe Vera
Cons
Knockoffs and counterfeits becoming common

Expensive

Can be very sticky
---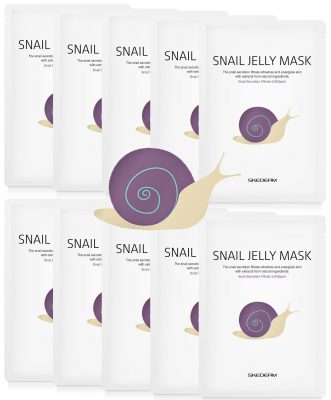 Why we like it:
A unique ingredient that's known to help anti-aging and skin-repair alongside helping your skin look great.
Editor's Rating:
Product Features
Snail Jelly doesn't immediately spring to mind as something you want to be putting anywhere near you. However, this face mask flies in the face of such conventional wisdom by basing its entire product on this not-so-secret ingredient. Clinically proven to help absorption of water and maintain a healthy hydrated face, this strange product, once you look past the snail jelly aspect, is one of the most effective on the market today at getting you back to your deserved glow, while at the same time creating a protective barrier to keep your skin looking good even after use.
It doesn't do this at a snail's pace either. It works relatively quickly to restore moisture to your skin, while it's also infused with hydrolyzed collagen to soothe it. This product is a pack of 10. So a few should last you the month, depending on your usage. Finally, no snails were harmed in the making of this surprisingly heavenly substance.
Who Should Use It and How
It's great for those with dry skin, but all skin types can benefit from this gooey manna. Yet be sure to not leave them on too long or the moisture will begin to get sucked from your face. Leave them on for about 20 minutes. When you remove it, your face will feel slightly slimy – go with it! Rub it in and you skin will feel hydrated and protected in no time at all.
Pros
Incredibly hydrating

Protective after-layer from the mucin in the product.

Makes your skin glow.
Cons
A little "icky"

More expensive than most.
---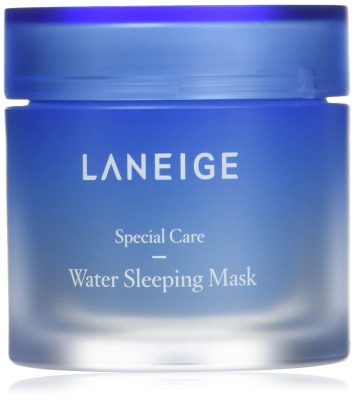 Why we like it:
Maybe it is laziness, but we like that we don't have to take this off until the next morning. Sleeping with this product on makes us feel like it has plenty of time to work its magic.
Editor's Rating:
Product Features
This is a product that you put on and then keep on. You might be worried that you are going to be getting face cream all over your bed, but have no fear, this is a lightweight gel that doesn't cake on when applied. Meant for dry skin, Laneige made this face mask with highly concentrated ionized mineral water. This is meant to replenish whatever your skin has lost in moisture since your last application.
You'll notice a very pleasant smell once you've applied this face mask, and for good reason. Laneige calls this Calming Sleepscent ™ and it is meant to help you doze off into wonderful dreams of how wonderful the skin on your face is.
This gel based product doesn't contain alcohol, parabens or sulfates.
Who Should Use It and How
This can be used for all skin types, but might be especially effective for those with very dry skin. There are some skin types that can react poorly to this face mask, so it is best to contact your doctor if you have particularly sensitive skin.
The trick of this face mask is the time it takes to work. While it quickly hydrates your skin, the extra 6-8 hours it is left on deeply penetrates your face for a fully rejuvenating effect. Made with orange flower, rose and sandalwood, the scent of this face mask will ease you to sleep before it gets to work.
Pros
Overnight formula

Soothes you to sleep

Deeply hydrating
Cons
Some skin types react poorly to this product
---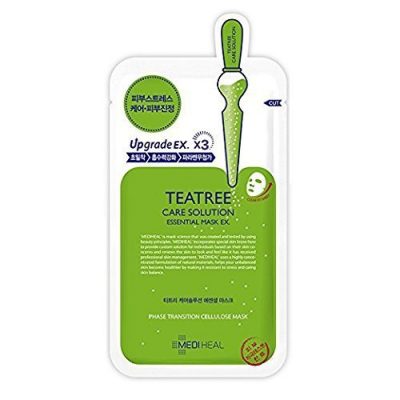 Why we like it:
Tea Tree has proven to be great for a whole host of things, including skin and facial care. This product from Mediheal has a naturally cooling effect without using alcohol.
Editor's Rating:
Product Features
This is another face mask that is meant for people of all skin types. The calming effect that this product has on your skin is almost immediate. Along with Tea Tree, the main active ingredients include pine needles and portulaca oleracea extract which give your face that extra glow. Mediheal isn't shy about the fact that you might not see results right away, but you will feel them. This face mask will unclog your pores and clean your face, leaving you feeling cool. Not like, a-hipster-with-a-fanny-pack-cool, but more like 'wow that breeze feels nice'. This product is meant to get your face back to its natural state, or how it would be if you weren't getting blasted by AC in the office all day.
Who Should Use It and How
Mediheal has made a product that is supposed to be good for all skin types. They've done that by using a list of ingredients that are known to be refreshing. If you are looking for a more medicinal face mask, this might not be the one for you.
This mask is meant to be soothing. It does so by removing blackheads and dirt, while controlling the build-up of sebum. Because of this, your face will feel free. Sensitive skin and those with acne will notice especially favorable results, though in rare cases this face mask can actually make acne worse.
Pros
Tea Tree oil face mask

No harsh ingredients

Easy to use
Cons
Has been known in rare cases to cause acne breakouts
---
Guide to Buying the Best Korean Face Masks
Now that we've gone over some of the products that are out there on the market, let's get to figuring out how to choose the right one for you. Of course, we only went over ten, and the market is huge. Using this advice can help you narrow your search, and mitigate some of the overwhelming feelings you might have going into the buying process.
Sheets or Creams? Are There Others?
First, you'll want to be acquainted with the different types of face masks on the market. Most people think of these as something you gently place over your face, not knowing of the creaming counterpart. Yes, some of them are actual face masks, but you might find that creams and gels work better for you. So, what are the types?
Sheet Masks
Sheet masks are what most people think of when they are thinking of face masks. These products are soaked in healing and soothing goodness until you are ready to open the package and plop it on your face. Some of these can be used warm, though most companies suggest that you refrigerate your sheet mask before using. The cooling effect will leave you feeling fresh, while the mask will have you glowing.
Here's a fun trick!: After you are finished with the application of your sheet mask, check the packaging for any extra liquid. You can rub this into your face or any other part of your body for an extended soothing experience. It's like the crumbs at the bottom of a bag of chips, but if they were still whole chips!
Face Creams & Gels
These can come in a variety of different forms. Sometimes it can be a clear gel, while other times it can come in the form of a charcoal mask. These two examples suit very different purposes. A gel mask is meant to soothe and relax, while a charcoal mask is meant to exfoliate.
With creams and gels, you'll find overnight options as well. These tend to be harder working treatments that really get into your skin. Those with extra sensitive skin or chronic issues might prefer this over the traditional sheet mask.
Some people even use creams and gels as their nightly face wash, but we wouldn't recommend doing this without a little bit of research first, or first consulting your doctor, as most of these treatments are only meant to be used 2-3 times per week.
Here's a fun trick!: Did you know that you can use your cream or gel to help treat specific trouble areas? You sure can! Got a pesky pimple on your chin? Spot it up with your cream or gel!
Honorable Mention: We don't have any on this list, but there are also face masks out there that are rubber. The neat thing is that they don't start out that way. Rubber masks start out as powder and are made specifically to form themselves perfectly to the contours of your face. It's like a personalized face mask every time!
Skin Type
While knowing the different types of face masks, what's really important is that you know yourself. At least your skin type. You've been living with it your whole life, so we're guessing you have a pretty good idea of what you are dealing with, but let's go over the types because you might be surprised to find you have a different type than you first thought! The type of skin you have will determine the type of face mask you should use.
We should point out that it is possible to have bad reactions to these. Even if you find what seems to be the perfect face mask for your type of skin, it could cause some sort of breakout – or worse. Often times, these reactions occur when people are using a formula that is made for their specific issues. If this happens, stop using your face mask immediately. We always recommend talking with your doctor before changing skin care treatments.
Dry Skin
Dry skin is one of the most common skin issues. Not only is it common but it is very persistent. Between being in the sun, sitting in offices being blasted with AC, or working jobs where there is dust everywhere, it is hard to be a human and not be predisposed to having dry skin. Dry skin easily becomes red and inflamed, and is just dying for some nourishment. Here's the thing, you might be adding to the problem with your current skin care routine. Those who use face wash or wipes that have alcohol in them are only further drying their face out.
What we recommend: You will want a face mask that is very hydrating. For this, we recommend hydrogel face masks, or overnight creams and gels. The overnight treatments give the skin on your face plenty of time to soak in the nourishment that the treatment provides.
Oily Skin
If dry skin is one end of the spectrum, it would only make sense that oily skin is on the other end. There are several causes for oily skin. One with oil skin might have a hormonal imbalance, they might have overactive oil glands, or they simply might be really stressed out. A common mistake people with oily skin make is that they try to dry their face out. This almost never works, and only leads to more facial irritation. With that being said, you also don't want to overdo it. You will want a face mask that can lift dirt and oil off of your face while helping to narrow your pores.
What we recommend: Folks with oily skin would benefit greatly from clay, charcoal, or (the coolest of all in our opinion) a VOLCANIC ASH mask. These are nutrient rich and help nourish your face while helping to keep your oil levels in check.
Combination
Combination skin types have both of the above skin types all in one face. This can be particularly annoying because it can make finding the right skin care routine that much more challenging. A common form of combination skin is to have an oily forehead and nose, while the rest of your face is dry. The solution here is a bit more pricey, but it just might work. If you use two different treatments, you can pinpoint the problem areas.
What we recommend: For combination skin, you probably don't want to use a sheet mask. This is so you can use multiple products on your face.
Finally, there is another type of combination skin, and that is skin that is affected by weather. Those with this type of skin will find it more oily in the summer, and dry in the winter. The solution? Either move to a temperate location, or change up your skin care per season!
Wrapping Up
Considering how a treatment of a Korean face mask leaves you feeling, it is no surprise that their popularity has been on the up and up ever since 2014. Whether you need a product that can heal and replenish, or you are looking for a soothing time, you can find a Korean face mask that will fit the bill. You can be confident in what you are putting on your skin as well, as one of the main pillars of Korean Beauty (A.K.A. K-Beauty) is all-natural ingredients.
The market is indeed large and a bit overwhelming, though we believe that if you use this guide as a resource, you'll find yourself an expert in no time. So, off to the store! It's time to finally buy that face mask! You're so excited, you are practically glowing!