Top Picks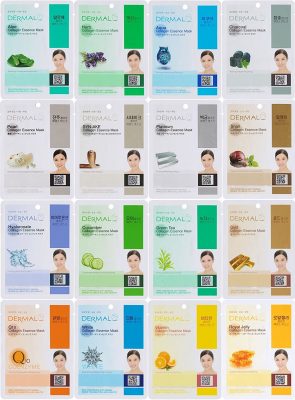 Dermal Korea Collagen Essence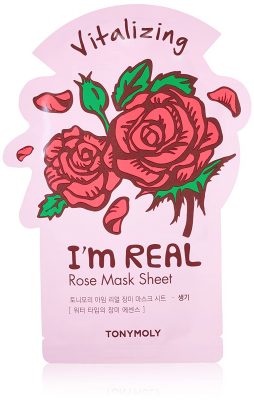 TONYMOLY- I'm Real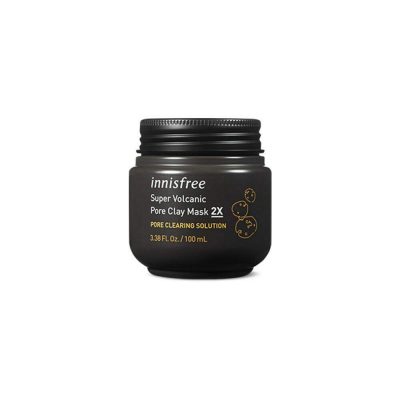 Innisfree Super Volcanic Mask
Previous
Next
There's a buzz on the streets. Everyone is talking; all the people around you are glowing. Their bright, shiny faces look happy and healthy. When did everyone start looking so good? you ask yourself. Well, it's time to get you out of the dark and into the glow.
The K-Beauty boom started taking off in 2014, and by now, it is at fever pitch. Korean face masks receive a large amount of the attention given their accessibility for all skin types and the benefits they offer. Whether you have sensitive skin, or are just looking for a little extra glow, a Korean face mask might be perfect for you.
First, you should know what a Korean face mask is! They come in two forms: as a sheet mask or as a cream or gel. The sheet mask is a thin, well lubricated piece of fabric that you simply place on your face, while the gels and creams you rub into your face. As with most K-Beauty products, these are made of mostly all natural materials.
Of course, diving into the market can be intimidating. With popularity comes production, and WHOA there are a lot of companies out there. Don't worry, though, we've got you covered. In this article, we'll go over the who, the what and the why. Heck, we'll even show you where. It's time for your glow up, but before that, let's look a little bit at why you would want to use a Korean face mask.
So, Why Am I Putting This Thing on My Face?
As mentioned above, Korean face masks can be for everybody. While not a necessary part of skin care, they can certainly be a boon. So, how do they help with your skin? Here's how:
Cleaning and Anti-clogging
Maybe you have sensitive skin and have found that the cleaning products you have been using feel harsh. This is a common complaint amongst people, and if you are one of them, a Korean face mask could be a great solution for you. This is a gentle process that removes the urge to rub your face clean (we've all done it.) You simply leave the mask on for the prescribed amount of time, and then gently remove it. Doesn't that sound nice? It is nice. It's actually another perk of using a Korean face mask…
It's a Really Relaxing Process
All of our muscles need some relaxation, some relief from the tension of everyday life. Our faces are no different. Upon application, a Korean face mask immediately relaxes the skin, and once it has set for a bit, the muscles underneath follow suit. Not only can you look forward to healthier skin, you can look forward to a spa like experience in the comfort of your own home.
Sounds Great, Right? It Is, but You Have to Make Sure You Know What You're Shopping For.
There are a lot of different types of Korean face masks on the market. You wouldn't want to get something that was super moisturizing if you already have oily skin. Along with our reviews of these products, we'll also explain who should be using what.
Top 10 Best Korean Face Masks 2021
Guide to Buying the Best Korean Face Masks
Now that we've gone over some of the products that are out there on the market, let's get to figuring out how to choose the right one for you. Of course, we only went over ten, and the market is huge. Using this advice can help you narrow your search, and mitigate some of the overwhelming feelings you might have going into the buying process.
Sheets or Creams? Are There Others?
First, you'll want to be acquainted with the different types of face masks on the market. Most people think of these as something you gently place over your face, not knowing of the creaming counterpart. Yes, some of them are actual face masks, but you might find that creams and gels work better for you. So, what are the types?
Sheet Masks
Sheet masks are what most people think of when they are thinking of face masks. These products are soaked in healing and soothing goodness until you are ready to open the package and plop it on your face. Some of these can be used warm, though most companies suggest that you refrigerate your sheet mask before using. The cooling effect will leave you feeling fresh, while the mask will have you glowing.
Here's a fun trick!: After you are finished with the application of your sheet mask, check the packaging for any extra liquid. You can rub this into your face or any other part of your body for an extended soothing experience. It's like the crumbs at the bottom of a bag of chips, but if they were still whole chips!
Face Creams & Gels
These can come in a variety of different forms. Sometimes it can be a clear gel, while other times it can come in the form of a charcoal mask. These two examples suit very different purposes. A gel mask is meant to soothe and relax, while a charcoal mask is meant to exfoliate.
With creams and gels, you'll find overnight options as well. These tend to be harder working treatments that really get into your skin. Those with extra sensitive skin or chronic issues might prefer this over the traditional sheet mask.
Some people even use creams and gels as their nightly face wash, but we wouldn't recommend doing this without a little bit of research first, or first consulting your doctor, as most of these treatments are only meant to be used 2-3 times per week.
Here's a fun trick!: Did you know that you can use your cream or gel to help treat specific trouble areas? You sure can! Got a pesky pimple on your chin? Spot it up with your cream or gel!
Honorable Mention: We don't have any on this list, but there are also face masks out there that are rubber. The neat thing is that they don't start out that way. Rubber masks start out as powder and are made specifically to form themselves perfectly to the contours of your face. It's like a personalized face mask every time!
Skin Type
While knowing the different types of face masks, what's really important is that you know yourself. At least your skin type. You've been living with it your whole life, so we're guessing you have a pretty good idea of what you are dealing with, but let's go over the types because you might be surprised to find you have a different type than you first thought! The type of skin you have will determine the type of face mask you should use.
We should point out that it is possible to have bad reactions to these. Even if you find what seems to be the perfect face mask for your type of skin, it could cause some sort of breakout – or worse. Often times, these reactions occur when people are using a formula that is made for their specific issues. If this happens, stop using your face mask immediately. We always recommend talking with your doctor before changing skin care treatments.
Dry Skin
Dry skin is one of the most common skin issues. Not only is it common but it is very persistent. Between being in the sun, sitting in offices being blasted with AC, or working jobs where there is dust everywhere, it is hard to be a human and not be predisposed to having dry skin. Dry skin easily becomes red and inflamed, and is just dying for some nourishment. Here's the thing, you might be adding to the problem with your current skin care routine. Those who use face wash or wipes that have alcohol in them are only further drying their face out.
What we recommend: You will want a face mask that is very hydrating. For this, we recommend hydrogel face masks, or overnight creams and gels. The overnight treatments give the skin on your face plenty of time to soak in the nourishment that the treatment provides.
Oily Skin
If dry skin is one end of the spectrum, it would only make sense that oily skin is on the other end. There are several causes for oily skin. One with oil skin might have a hormonal imbalance, they might have overactive oil glands, or they simply might be really stressed out. A common mistake people with oily skin make is that they try to dry their face out. This almost never works, and only leads to more facial irritation. With that being said, you also don't want to overdo it. You will want a face mask that can lift dirt and oil off of your face while helping to narrow your pores.
What we recommend: Folks with oily skin would benefit greatly from clay, charcoal, or (the coolest of all in our opinion) a VOLCANIC ASH mask. These are nutrient rich and help nourish your face while helping to keep your oil levels in check.
Combination
Combination skin types have both of the above skin types all in one face. This can be particularly annoying because it can make finding the right skin care routine that much more challenging. A common form of combination skin is to have an oily forehead and nose, while the rest of your face is dry. The solution here is a bit more pricey, but it just might work. If you use two different treatments, you can pinpoint the problem areas.
What we recommend: For combination skin, you probably don't want to use a sheet mask. This is so you can use multiple products on your face.
Finally, there is another type of combination skin, and that is skin that is affected by weather. Those with this type of skin will find it more oily in the summer, and dry in the winter. The solution? Either move to a temperate location, or change up your skin care per season!
Wrapping Up
Considering how a treatment of a Korean face mask leaves you feeling, it is no surprise that their popularity has been on the up and up ever since 2014. Whether you need a product that can heal and replenish, or you are looking for a soothing time, you can find a Korean face mask that will fit the bill. You can be confident in what you are putting on your skin as well, as one of the main pillars of Korean Beauty (A.K.A. K-Beauty) is all-natural ingredients.
The market is indeed large and a bit overwhelming, though we believe that if you use this guide as a resource, you'll find yourself an expert in no time. So, off to the store! It's time to finally buy that face mask! You're so excited, you are practically glowing!