As anyone with curly hair knows, it can be a trial to upkeep curly hair. Sometimes, it can be nice to simply straighten your hair and experience what life is like without curls for a change. In order to transform your mane of curls into a perfectly smooth, straight style, you will need the help of a quality flat iron.
Flat irons that are designed for curly hair are the best product you can use when straightening any type of curl. They help to smooth out curly hair types without creating frizz, and many are created with technology that is developed to not ruin the integrity of your curls. Some flat irons are even infused with hair-nourishing ingredients built right into the heating plates.
Selecting the perfect flat iron for your curly hair can be somewhat of a confusing process, which is why we're here to help. We've done our research and created a list of the best flat irons for curls available, so you can narrow down your options and make your decision much more easily!
What You Should Know About Flat Irons for Curls
Before we get to our list, we first need to talk about several important selection factors in choosing a flat iron for curly hair.
Temperature Settings
The temperature settings on your flat iron are extremely important in ensuring your hair gets straightened without excessive heat damage or hair scalding. Curls especially are very prone to becoming dried out with too much heat, so it can be very helpful to select a flat iron that offers a range of temperatures and an easy heat control panel.
From our list, we recommend the FURIDEN Professional Hair Straightener as an incredibly easy-to-control flat iron.
Plate Material
The material that comprises the heating plates of your flat iron determines how the flat iron will act on your hair. There are 3 main options of plate material, and your flat iron plates may feature one or a combination of these materials.
Ceramic
Ceramic plates are the most commonly seen on flat irons. This is due to their lower price point and effectiveness on most hair types. However, ceramics do not have as long of a lifespan as other plate materials and have a tendency to break down with very heavy use.
Titanium
Titanium plates are strong and reliable and most commonly seen on salon-grade flat irons. They are more expensive, but they do last for a very long time and are great for straightening very thick hair or super dense, coily hair.
Tourmaline
Tourmaline is a mineral that is most often blended into ceramic flat iron plates. The mineral emits negative ions when heated that react with hair's positive ions to form incredibly sleek, shiny hair. This type of plating is usually found at a more premium price point, but is perfect for fighting frizz and creating flawlessly sleek looks.
Plate Size
Plate size is especially important when looking at flat irons for curly hair. Those of us with fine curls or type 2 curly hair may benefit more from a flat iron that has a thinner, 1-inch plate. Someone with thicker, longer, or more coily hair could find a flat iron with a wider, more heavy-duty plate (like the KIPOZI Professional Titanium Flat Iron) more helpful.
Additionally, if you need to travel a lot with your flat iron, one with both a small plate and handle size like the AmoVee Mini Flat Iron may be a good choice.
Price
The price range of flat irons goes from more budget items to premium, salon-worthy products. You can find a wide variety of quality products at all price ranges, but it may be helpful to narrow down your selections by budget and then choose a product that matches your needs within those constraints.
Additional Benefits
When looking for a flat iron, you may find that some of them offer additional benefits such as 360-degree swiveling cords, automatic shut off timers, and heating plates infused with hair nourishing ingredients such as argan oil. Look out for these benefits as they can often be bonuses to a product that you have already fallen in love with.
Now that you know what to look for in a flat iron for curly hair, we can get to our list of the top 10 products available!
Top 10 Best Flat Irons for Curly Hair 2023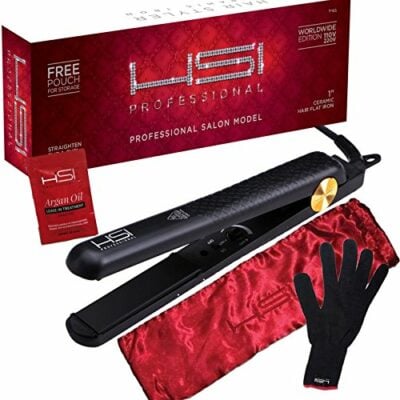 Why we like it:
The HSI Professional Glider is lightweight, easy to use, and perfect for both beginners and pros to flat ironing.
Editor's Rating:
At a Glance:
Plate Material: Ceramic and Tourmaline
Plate Size: 1 inch
The ceramic and tourmaline plates of this flat iron work to straighten out curly hair and leave it wonderfully smooth without any trace of frizz. The flat iron itself is easy to use and features micro sensors that help to evenly distribute heat over your hair, making sure that it has a uniformly straight appearance. This product is a good choice for anyone who loves a simple, effective product.
The handle of this flat iron is lightweight, and the product is not too bulky. You can move it across your curls easily without it catching or snagging on hair. Heat-proof gloves and a sample hair treatment are included with this product, in addition to a 1-year product warranty. It makes a great choice if you love a little bit of extra value in your purchases.
On the downside, you may need to make more than 1 or 2 passes to straighten your hair, meaning it takes longer to use this flat iron. It may also not be the best choice for very thick, coarse hair due to the size of the plates. For hair like this, we suggest checking out the KIPOZI Professional Titanium Flat Iron instead.
Pros
Easy to use

Includes gloves and hair treatment

1-year warranty

Lightweight
Cons
Not the best for thick hair

Need several passes to straighten
---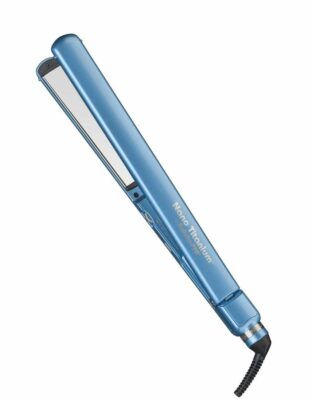 Why we like it:
This premium flat iron features titanium plates and works to give your hair a salon-quality style.
Editor's Rating:
At a Glance:
Plate Material: Titanium
Plate Size: 1 inch
The BaBylissPros Nano Titanium Straightening Iron features titanium plates with nano titanium technology. This technology protects hair from excessive heat damage and smooths out frizz with each pass of the iron. It is a great choice for someone who doesn't mind splurging on a salon-quality product.
This flat iron is very long-lasting, thanks to the titanium plates. The casing of the iron itself is very durable and will not break easily if it is dropped. There are 50 heat settings available on this flat iron, all controlled by a swiveling plate on the side of the flat iron. It is the perfect product if you want both reliability and versatility in your flat iron.
The handle of this product can get very hot which makes it hard to hold, especially if you are trying to straighten your hair near the roots. The best way to combat this is to purchase a pair of heat-proof gloves and be very careful when precision styling with this flat iron.
Pros
Premium, salon-quality flat iron

Very long-lasting

50 heat settings
---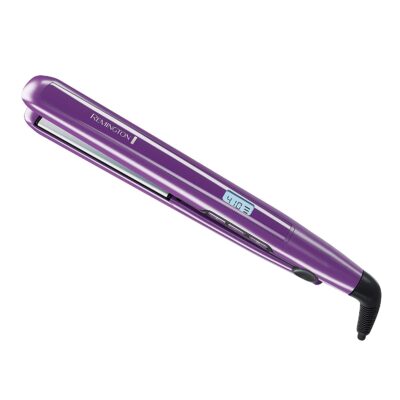 Why we like it:
The Remington S5500 features an affordable price and easily achieved, consistent results that earn it a place at the top of our list.
Editor's Rating:
At a Glance:
Plate Material: Ceramic
Plate Size: 1 inch
The budget-friendly price of this product makes it a great choice for someone who is looking to purchase a quality flat iron without spending too much money. This flat iron features ceramic plates with a titanium protection coating which is perfect for keeping the cost down while providing the same sleek and smooth result as a completely titanium flat iron.
This is a great product for beginners to use as it is economically friendly and very intuitive. There is a 60-minute auto shut off feature included to prevent any accidents from happening if the iron is unintentionally left on. The plates pass over hair smoothly and are fairly snag-free, which is a plus for those of us with very curly hair.
This flat iron does have a strange smell when it is turned up to the very highest heat. This smell is somewhat reminiscent of plastic burning and can be a dealbreaker, especially if you plan to use your flat iron on the higher heat settings. Additionally, this is not the best product for long hair as the plate is slightly too small in length and width to straighten this hair type. We recommend ROSILY Professional Wide Flat Iron instead in this case.
Pros
Budget-friendly price

Titanium protection coating

60-minute auto shut off

Good for flat iron beginners
Cons
Smells strange at the highest heat

Not the best for long hair
---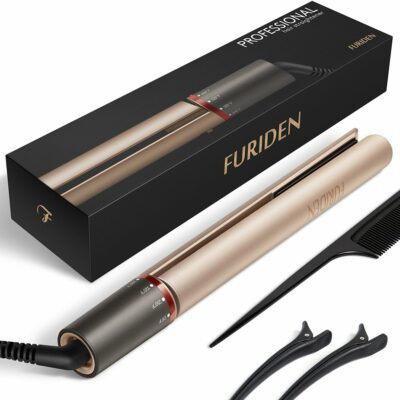 Why we like it:
The FURIDEN Professional Hair Straightener is easy to use and features a simple temperature control function.
Editor's Rating:
At a Glance:
Plate Material: Ceramic and Tourmaline
Plate Size: 1 inch
The temperature controls on this flat iron are easy to use – the design is a swivel handle that is kept out of the way of your styling, making it simple to keep the temperature in place the entire time you are using the tool. An extra-long, 360-degree rotating cord just adds to the ease of use of this product. It makes this flat iron a good option for someone looking for a product they can move around with while styling.
The floating plates on this product prevent hair snagging and make it perfect for smoothing out very curly hair. Heat resistant gloves, a styling comb, and hair clips are shipped together with this product making it a good choice for someone who likes to get the most out of their purchase.
Because the plates of this flat iron are ceramic infused with tourmaline, it is not as long-lasting as some of the other products on our list. Additionally, even though the product is advertised as a 2-in-1 styler, it is not the best product for creating waves or curls with your straightened hair.
Pros
Easy to use temperature controls

Floating plates prevent hair snagging

Extra-long swivel cord

Packed with comb, gloves, and hair clips
Cons
Not as long-lasting

Does not work well for creating waves
---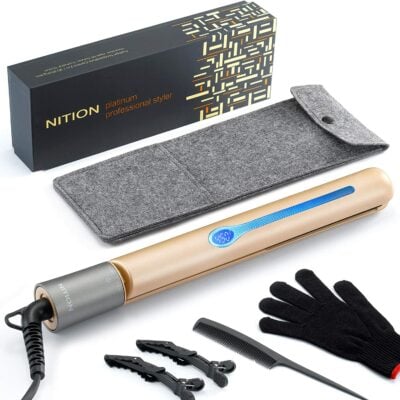 Why we like it:
The NITION Professional Salon Hair Straightener is infused with nano silver and argan oil to help nourish curls as it works to straighten them.
Editor's Rating:
At a Glance:
Plate Material: Ceramic, Tourmaline, and Titanium
Plate Size: 1 inch
The plates on this flat iron are made out of a blend of ceramic, tourmaline, and titanium. They are infused with nano silver and argan oil which helps to leave hair soft, sleek, and frizz-free with every use. It is a great choice for use on damaged or dry hair, as these hair types will benefit greatly from extra nourishment during heat styling.
Coarse and frizzy hair can also benefit from this flat iron as the combination of metals in the plates ensure that all frizz and rough texture is removed from curls as they are straightened. The heating plate is extra long and completely non-stick to protect hair and provide you with a smooth gliding experience.
Unfortunately, the lock feature on this product tends to get stuck easily and may render your flat iron unusable if you cannot get the lock to release. If it does happen to get stuck like this, you will have to contact customer service for a replacement product.
Pros
Nano silver and argan oil infused plates

Great for use on coarse or frizzy hair

Extra-long non-stick heating plate

Works well on damaged or dry hair types
---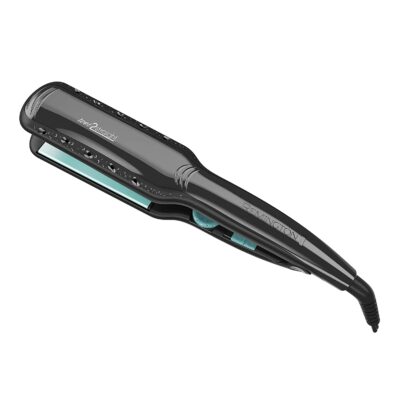 Why we like it:
This flat iron is designed for use on wet or dry hair and can help you speed up your styling time after a shower.
Editor's Rating:
At a Glance:
Plate Material: Ceramic and Titanium
Plate Size: 1.75 inch
The Remington Wet2Straight Flat Iron is perfect for anyone who finds themselves wanting to cut down on their after-shower styling routine. You can use this product on damp hair or dry hair, and it has built in steam vents for the safe styling of damp hair.
There is a digital heat setting display on this product that allows you to easily set the flat iron on your preferred setting and make sure it stays there throughout the styling process. There is an additional styling indicator light that tells you the best temperatures for styling your hair when it is wet and when it is dry.
This product does not work very well on short hair due to the larger and wider plates. It also has a bulkier feel to it and can be slightly heavy to hold. For a small flat iron that is better for straightening short hair, we recommend the AmoVee Mini Flat Iron instead.
Pros
Can be used on damp or dry hair

Added steam vents for safe styling

Digital heat setting display

Wet/dry styling indicator light
Cons
Does not work well for very short hair

Bulky feel
---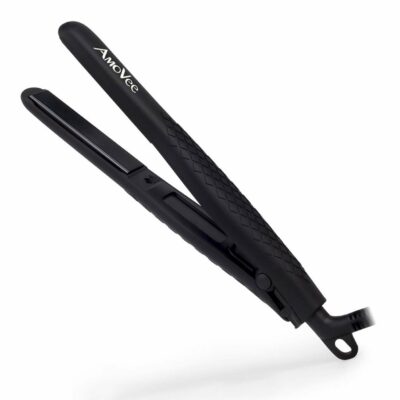 Why we like it:
The compact size and small plates of the AmoVee Mini Flat Iron make it a perfect product for taking on the go.
Editor's Rating:
At a Glance:
Plate Material: Ceramic and Tourmaline
Plate Size: .75 inch
The AmoVee Mini Flat Iron has a compact size that fits well in most purses and travel bags. It is equipped with dual voltage, which means you are able to take it traveling internationally and use it without issue. It is a great choice of product for someone who is always on the go and needs something to keep up with them.
The smaller size of this flat iron also means that is works exceptionally well on shorter curls. You are able to precision style short hair with this flat iron and bring it fairly close to the root for an all-over, pin-straight look. It is a good option for someone with a short hair cut or curly bangs they wish to straighten.
The temperature of this flat iron cannot be adjusted, which makes it not the best option for someone who values versatility or customizability with their flat iron. The temperature heats up to around 410 degrees Fahrenheit and stays there; this temperature is not the best for use on fine or thinner hair. For a more adjustable flat iron, we recommend the HSI Professional Glider.
Pros
Dual voltage for traveling

Mini size fits in most bags

Works well on shorter hair
Cons
Temperature cannot be adjusted
---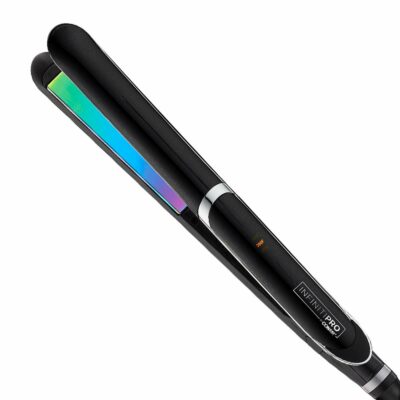 Why we like it:
The InfinitiPro by Conair features quick heating titanium plates to help speed up your styling.
Editor's Rating:
At a Glance:
Plate Material: Titanium
Plate Size: 1 inch
This flat iron features a 30-second heat up time so you can get to straightening your curls as soon as possible. The titanium plates are perfect for conducting heat and work to straighten hair and leave it smooth and frizz-free. This product is a great option for anyone who wants to style their hair as rapidly as possible.
Perfect for anyone with 4C or afro-texture curls, the InfinitiPro conducts a heat evenly and only takes 1 or 2 passes to smooth out this hair type. It is great for doing at home silk presses and is still small enough and easily maneuvered to straighten roots and precision style.
It can be a little hard to use this product for anyone who is a beginner to flat irons. You need to put a lot of pressure on both ends of the tool in order to have the clamps close enough to give you a flawless style; doing this requires heat proof gloves and a little more skill when it comes to gliding the flat iron down your hair.
Pros
30-second heat up time

Titanium plates quickly straighten hair

Works well on 4C curly hair
Cons
Hard to use

Not the best for beginners to flat irons
---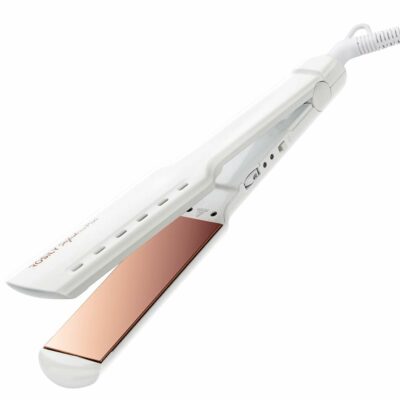 Why we like it:
This smooth gliding flat iron features an extra wide plate and is perfect for using on very long hair.
Editor's Rating:
At a Glance:
Plate Material: Titanium
Plate Size: 1.75 inch
The extra-long and wide plate on this flat iron is perfect for using on hair that is medium length or very long. It is designed to smoothly glide over hair and leaves your strands looking soft and silky with only 1 or 2 passes. It is easy to straighten a large amount of hair in a short time with this product.
The ROSILY Professional Wide Flat Iron works well for virtually any curly hair type, and the titanium plates help keep the heat evenly distributed. The product is easy to maneuver around your head and will give you a straight style that is very long-lasting.
Because of the larger plate size, this product can be a little bit heavy and may weigh down your arm with extended use. It can also snag hair that is very thick or super coarse, causing frizz to appear as it straightens the hair. If you're worried about frizz appearing while you use your flat iron, we recommend a product like NITION Professional Salon Hair Straightener instead.
Pros
Works well on very long hair

Good for all curly hair types

Designed to glide over hair
Cons
Heavy

Not the best for use with thick or coarse hair
---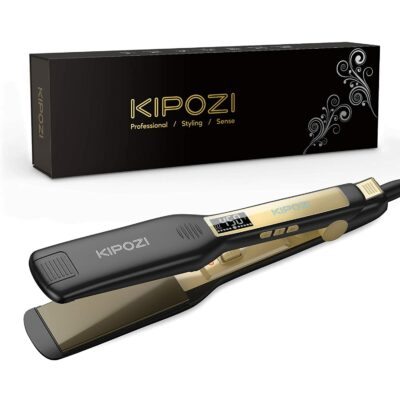 Why we like it:
Perfect for use on thick or coarse hair types, the KIPOZI Professional Titanium Flat Iron leaves hair shiny and smooth.
Editor's Rating:
At a Glance:
Plate Material: Titanium
Plate Size: 1.75 inch
If you have very thick hair or coarse curls, this product may be the best for you. The wide titanium plates are perfect for straightening thicker hair types evenly and preventing frizz with each swipe. It does not take many passes to straighten any hair type with this iron, and your curls will be left shiny, sleek, and smooth after every use.
This iron heats up fairly quickly (though not as quick as our favorite product for rapid styling) and is easy to use. If you have any issues with the product, you can contact the customer service of this brand. They are very responsive and helpful and will assist in fixing any issue you may have.
The temperature buttons on this product are a little hard to control, and they are easily knocked out of place when using this product. You may also find that the temperature control stop working after several months, in which case you would need to get the product replaced. For an easier to control flat iron, we suggest the FURIDEN Professional Hair Straightener.
Pros
Works well on thick hair

Leaves hair shiny and smooth

Heats up quickly

Responsive customer service
Cons
Temperature buttons are hard to control
---
Your Full Guide to Flat Iron Use on Curly Hair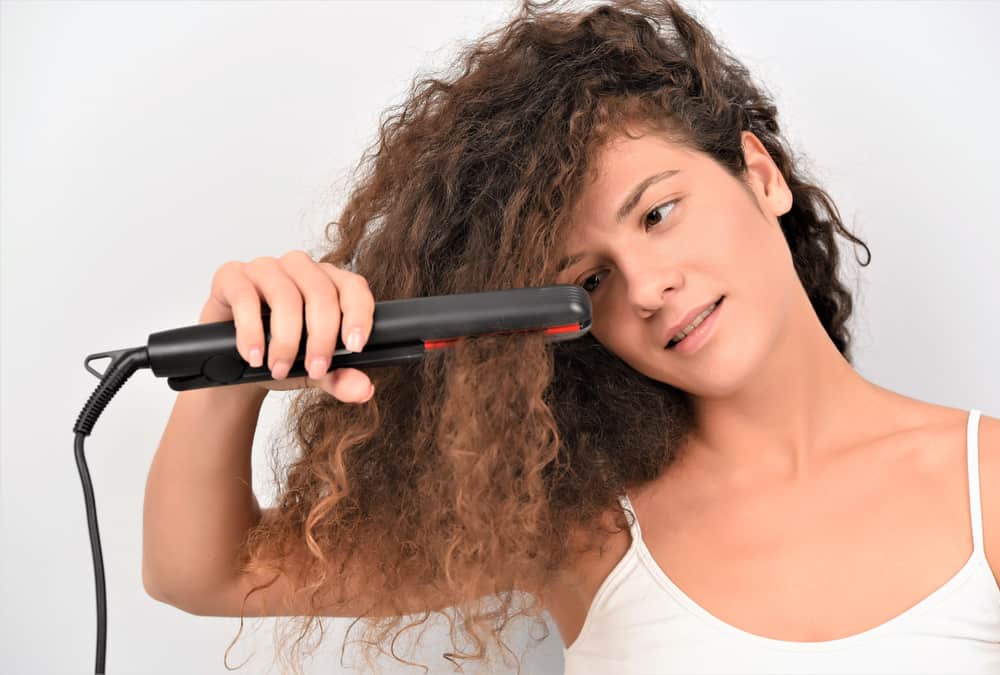 Want to know more about using a flat iron on your curly hair? Our full guide contains all of the information you need to know.
Benefits of Choosing a Flat Iron for Curly Hair
There are several benefits you can partake in if you choose a flat iron specifically designed for curly hair.
Anti-Frizz Technology
Curly hair is prone to frizzing, and this is no different when it's straight. A flat iron that is specifically designed with anti-frizz and sleeking technologies will be much better for curly hair as it stops frizz during the styling process before it can even start.
From our list, the nano technology in the BaByblissPro Nano Titanium Straightening Iron is perfect for fighting frizz.
Less Heat Damage
We all know that heat styling tools can lead to significant hair damage over time. Curly hair is especially vulnerable to this since it is already on the dry side. Flat irons intended for curly hair often have technologies that allow them to style quickly, minimizing the time you spend putting heat on your hair.
Some flat irons, like the NITION Professional Salon Hair Straightener will even have argan oils and hair nourishing materials built-into the heating plates, helping to combat heat damage as it is happening.
Quick Styling
Curls are notoriously hard to straighten, but with a flat iron created for straightening curly hair, you may be able to experience a quicker, long-lasting style. Flat irons with this technology are designed to heat up fast and thoroughly straighten hair, sometimes only requiring one pass over your locks to get things looking sleek.
From our list, the InfinitiPro By Conair Rainbow Titanium Flat Iron is perfect for quickly styling your hair into a flat, sleek look.
How to Use a Flat Iron on Curly Hair
Using a flat iron on curly hair can take a little bit of skill and requires some extra steps compared to other hair types. Read on to learn what to do with your locks before, during, and after straightening.
Before Use
Before straightening your hair, you should be washing and conditioning it with a moisturizing shampoo and conditioner. This helps to get rid of any dirt and oils in your hair that can be potentially scalded and bonded to your hair strands once you use the flat iron.
Your hair should be completely dry before using a flat iron, unless you are using a product like the Remington Wet2Straight Flat Iron, in which case your hair can be damp before use.
A hair protectant should be applied before you use any kind of heat styling product on your hair. This can be either a store-bought protectant or a DIY heat protectant you created at home. Once the protectant is applied, comb through your hair to rid it of any tangles and separate it out into 4 sections. For very long or thick curly hair, you should make anywhere between 6 and 8 sections.
During Use
Set the temperature on your flat iron to the lowest possible setting for your hair. For thinner or fine hair, this is no more than 340 degrees Fahrenheit; for medium hair this is around 380 degrees, and for thick, coily hair, you shouldn't go above 450-degrees Fahrenheit.
Once your flat iron is preheated, pick a section of hair to start with. Take a small section out of your chosen section (it shouldn't be wider than the size of the heating plate on your flat iron) and place the straightener close to your root.
Move the flat iron down in a slow, smooth movement. Don't linger on any one area too long in order to prevent from scalding that section of hair, but be sure not to move too fast or you risk creating frizz. Your goal is to not have to make more than one or two passes over each small section of hair.
Continue on like this until every section of hair is completed and looking wonderfully straight and smooth.
After Use
After all your curls have been straightened out, give them a quick comb through to ensure that your locks are at their silkiest. You can then use a little bit of hairspray or a lightweight oil to keep them free of frizz and smooth all day. Check out our tips for Caring for Straightened Curls for more information on this.
How Long Will Curly Hair Stay Straight?
Your hair will typically stay straight for as long as you allow it to if you don't introduce any water or moisture onto it. You can keep your curls in their straightened look for several days all the way up to 2 weeks, but it is not recommended to keep them straighter longer than this.
Keeping your hair straight any longer than 2 weeks may create issues with the texture and hydration of your hair. In order to keep it straight for an extended period, you will not be able to wash or condition your hair, which may dry out strands.
You will also be putting products in it such as dry shampoo or mousses to help keep the hair straight and oil-free, which can lead to a product build up if not washed out on a routine basis.
How Often Can You Straighten Your Curly Hair?
Truthfully, you can straighten your hair as often as you want, but it is not recommended to be constantly heat styling your locks. Straightening your hair more than once a week can lead to severe hair damage and may dry out or ruin the texture of your curls.
It is recommended to only straighten your hair once a month and make sure to use lots of conditioning and hydrating products in between heat styling sessions.
Combatting Heat Tool Damage
Hair protectants are one of the mightiest products to use in fighting heat tool damage as they can stop or decrease the severity issues before they even begin. But if you find yourself with excessively dry or crunchy hair after a long period of heat styling, there are some steps you can take to combat this.
Use Moisturizing Treatments
Moisturizing treatments, whether store-bought or DIY, are a fantastic way to repair damage caused by your heat styling tool. You can apply these treatments once or twice a month to help with rehydrating and nourishing hair that has been heat-damaged.
Take a Heat Tool Hiatus
One of the best ways to help your hair repair itself is to take a break from using all types of heat styling tools. A hiatus of a month or two is great for giving your hair a head start on reversing any thermal damage it may have.
Try Olaplex
Olaplex is the brand name of a professional hair product system designed to repair the bonds in damaged hair, fixing split ends and nourishing strands. It is known for its supremely hydrating and revitalizing properties and can be a great product to try on hair that is severely heat-damaged.
Can You Straighten Curly Hair Without Heat?
It may be possible to straighten your curls without the use of heat, but it can take longer and not hold as well, especially if you have very thick, coily hair. There are several methods available to straighten your curls without heat, but it may take a trail and error process to figure out which one works the best for you and your hair type.
Do Flat Irons Ruin Curls?
While they may not ruin your curls on the first use, excessively using a flat iron on your curly hair can, in fact, ruin the integrity of your curls. Heat damage combined with constantly forcing your curls straight may lead to your natural curls becoming looser, frizzier, or drier in texture. To avoid this, use your flat iron sparingly and with proper heat protection.

Caring for Straightened Curls
Once your curls are straightened, there are several steps you can take to ensure they stay as healthy looking and feeling as possible until it is time to wash the style out.
Protect Them While Sleeping
Sleeping on your hair immediately after it is straightened without protecting it is a perfect way to ensure your hair becomes tangled and loses its sleekness come the morning. When sleeping with straightened curls, wrap your hair up in a silk head scarf or sleep on a satin pillowcase to prevent knots, tangles, and frizz that can ruin your look.
Don't Be Rough
The last thing you want to do with your straightened curls is to tie them up in a bun, braid them, or be generally rough with them. All of these activities can cause your hair to lose its smoothness and turn back to curly in rapid time. Remember, while straight, your hair is especially vulnerable to the environment around it.
Try Dry Shampoo
If you want your straightened style to last for longer but are struggling with greasy roots, try out some dry shampoo. Dry shampoo will help absorb any excess dirt or oil and set you up for another 2 to 3 days of fabulous looking straightened hair.
Don't Overdo the Product
On the other hand, if your hair is starting to look a little dry and frizzy, be careful not to overdo the application of any smoothing oils or hairsprays. While revamping your straightened hair's sleekness, these products can also cause hair to look greasy or weighed down if you use too much.
Remember to Hydrate
As soon as you wash out your straightened look, remember to rehydrate your curls. Heat styling can be very drying, especially for curly hair, which tends to be naturally dry, so a hydrating hair mask or leave-in conditioner is a great idea to use after rocking a straightened style.
Straightening for a Stylish Look
Straightening your curls can be a great way to change up your look or experiment with new styles. To perfectly execute this look, you should be investing in a flat iron specifically designed for curly hair; flat irons like these will be the least damaging and most rewarding for use on your curls.
When shopping for a flat iron, remember to keep in mind your preference for plate material, temperature settings, and any additional benefits, and you will be on your way to purchasing the perfect product in no time at all.