Top Picks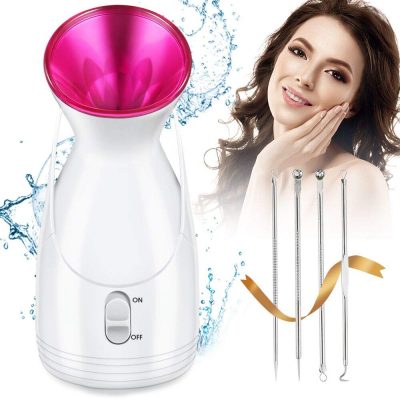 HALOFUN Facial Steamer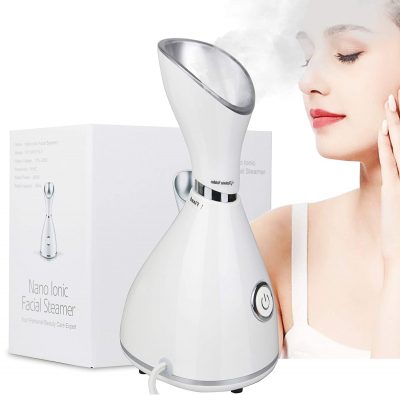 Lumcrissy Facial Steamer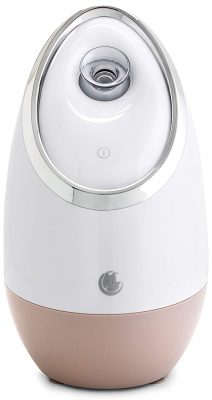 Microderm GLO Facial Steamer
Previous
Next
Steaming your face might not sound like the best idea at first, but once you find out about its many benefits, you might just kick yourself for not doing it sooner. If you've ever received a professional facial, your esthetician undoubtedly used a face steamer to soften up the dirt and oils clogging your pores for a deeper cleanse. You might have enjoyed it, too, which is why you're now curious to find out if an at-home face steamer can help you reap the same rewards.
We're here to tell you that the answer is "yes." Not only can it help you meet your skincare goals but it'll cost you a lot less and be more convenient than monthly facials.
Picking the Best Face Steamer for Your Skin Care Routine
In this guide, we fill you in on the ultimate beauty secret: facial steamers can help you on your journey to have glowing and flawless skin. Before we reveal the best at-home face steamers of the year and how to choose them, let's take a peek at the science behind steaming your face, in the first place.
What Is a Face Steamer and Why Would I Use One?
The goal of an at-home face steamer is to penetrate your skin with nano-ionic steam. To achieve this, an electric heating element and an ultrasonic vaporizer are combined into a portable apparatus that we call a face steamer.
When you add water to your steamer and turn it on, it comes alive with negatively charged ionic nano steam, which then comes into contact with your face to offer it a good steaming. In case you're wondering, here's why you'd want to steam your face to begin with.
To cleanse your skin
To hydrate your skin
To treat acne-prone skin
To relieve sinus congestion
To promote circulation, leading to a healthier glow
To facilitate the removal of blackheads and pimples
To allow your skin to properly absorb skin care products
To have an inexpensive and relaxing spa day from the comfort of your home
To increase the production of collagen and elastin, leading to firm and youthful skin
Factors to Consider When Choosing the Best Face Steamer
These factors will help you choose the best face steamer for your individual needs.
Skin Conditions
Before steaming your face, it's important to take note of the overall condition of your skin. Although steaming your skin is recommended if you have mild acne, it can actually make your skin breakout if you have severe acne. So, be sure to talk to your dermatologist if you have a skin condition, as some may flare up when steamed.
Your Expectations
Another thing to consider when selecting a face steamer is your expectations. Some face steamers come with a slew of features and extras — like a stainless steel extractor kit — whereas others do not. Are you looking for a full-on steam shower or a low-key steam session? Once you know what you want from your face steamer, selecting one will be easy!
Size
Lastly, consider how much counter and storage space you have before ordering your face steamer. Some of our top picks are small enough to fit on your bathroom countertop — provided you have an outlet within reach. Some, however, will need to be stored away under your sink or in a pantry. So, be sure to keep this in mind when making your pick.
Price
If you're used to getting professional facials, you know that steaming your face usually comes with a hefty price tag. Luckily, there are plenty of affordable at-home face steamers that everyone can enjoy. Once you're familiar with your budget, you can shop around for the best face steamer in your price range. Our best budget pick is the Lumcrissy Facial Steamer and believe us when we say: it gets the job done!
What We Considered When Picking the Best Face Steamers
As we go through our picks, in addition to the above factors, we'll focus on the following two categories:
Ease of Use: Each face steamer on our list brings something new to the table. Whereas some are simple to use, others have multiple features that may take some getting used to. As we go through our top picks, we'll let you know whether or not they are easy to use.
What's Included: We'll also fill you in on what's included, so you know exactly what you're getting when you order your new steamer. Some steamers come with facial kits or other fun perks!
If you want to learn a little more about face steamers before we reveal our top picks, we invite you to check out our full guide. Otherwise, let's get steaming!
Top 10 Best Face Steamers 2021
Guide to Buying the Best Face Steamer
There are so many benefits when it comes to steaming your face once or twice a week. If you're curious to find out if your skin can benefit from steam, stick around and read our guide, where you'll find answers to some of the most frequently asked questions and more! We'll cover everything you need to know before buying your first-ever face steamer, including how to choose your base.
How Do I Steam My Face at Home?
There are a few ways you can steam your face at home, but none are as effective as a portable face steamer. Using a face steamer can be a little intimidating at first but you'll become a master steamer in no time. The good news is that face steamers come with instructions so you won't go into it blindly. Generally, however, using a face steamer goes something like this:
Find a comfortable spot near an outlet and place the face steamer on a flat surface before plugging it in.
Fill the apparatus with the liquid of your choosing (water is most commonly used), paying attention to the maximum fill line. Turn on your face steamer, giving it time to warm up and create a steady flow of steam.
As your face steamer warms up, wash your face using your preferred exfoliator or cleanser, making sure to tie up or cover your hair so it doesn't get in the way.
Put on some music or some entertainment, sit down and get steaming! Depending on the face steamer you choose, you might have to place your face into a cone attachment. However, be sure to always maintain a good 5 to 10-inch distance from the steam source to prevent injury.
Breathe deep and relax, allowing the steam to work its magic for 2 to 3-minute intervals, giving your skin a little break between segments.
Turn off your steamer and unplug it once you have completed steaming your face.
Not sure how to proceed with your skin care routine from here? Take a look at our detailed skin care routine section, where we explain what the perfect skin care routine is, from start to finish, according to the experts.
How Often Should I Use a Face Steamer?
When you first start steaming your face, it's best to start slow, giving your skin the time to adapt to the steaming process. For the first month, once every two weeks is plenty. However, during the second month, you can begin steaming your face once a week. Should your skin require extra attention, you can even up your steaming game to twice a week.
It's worth mentioning, however, that over-steaming your face can have adverse effects. So, once your skin condition improves, stick to the once-a-week schedule.

Choosing Your Base
Chances are, if you're interested in buying a portable face steamer it's because you want to feel like you're at the spa from the comfort of your own home. Well, did you know that, depending on the type of base you choose, you can intensify your steaming sessions, making them all the more luxurious? In the end, it all depends on the base you side with.
Tap Water
Tap water is just as good as any of the other options on this list. However, when you use tap water as a base, you may be indirectly shortening the lifespan of your face steamer. This is because tap water makes way for hard water deposits, which can clog up the heating plate that powers your face steamer.
Distilled Water
The majority of face steamers require distilled water because it prolongs the lifespan of the heating plate. However, the steam it generates is not any different than the steam created by tap water.
Tea
If you're in the mood for a supreme steaming session, you can always add cold tea to your steamer's water tank. Some teas, like green tea, can actually promote youthful skin. However, be sure to allow the tea to cool before adding it to your face steamer.
Water Plus Essential Oils
Face steamers have an array of benefits, one of them being aromatherapy. You can add a few drops of essential oils to your face steamer's water tank and breathe in the soothing benefits.
There is no wrong answer when it comes to selecting a base, but not all face steamers can welcome the use of tap water and essential oils. Be sure to read the instruction manual to find out if some of these bases are off-limits.
How to Prolong the Lifespan of Your Face Steamer
When you buy a face steamer, you want it to last for as long as possible. But in order to prolong its lifespan, you need to take a few extra steps. Although not always required, using distilled or bottled water as a base can help your face steamer function properly for many years to come.
It's also important that you empty out any unused water from your face steamer's tank after it has cooled down. Once emptied, wipe off any excess moisture from the steamer to prevent mold from growing inside the water tank.

The Perfect Skin Care Routine
Steaming your face may be exactly what you need to restore your skin's vibrancy and youthful appearance. Adding a face steamer to your skin care regimen can totally transform your skin. But for a complete restoration to occur, you need to follow the right steps. According to the experts, this is the best way to use a facial steamer.
Remove Your Makeup
First things first, use your preferred makeup remover to take off your makeup. You want your skin to be as clean as possible as this will help the steam penetrate it, resulting in hydrated skin. Pay extra attention to your eye makeup, as this can leak into your eyes once the steam gets going.
Cleanse/Exfoliate Your Face
Once you have removed your makeup, gently cleanse your skin using your usual face wash. For an even deeper cleanse, use an exfoliator.
Steam Your Face
Once your face is completely bare, steam your face while following the instructions laid out by the face steamer manual. Typically, you should steam your face for no more than 8-10 minutes (giving yourself little breaks in-between if you're new to steaming).
Use a Facial Mask and Continue Steaming
If you want to kick things up a notch, you can always apply a facial mask midway through the steaming process. Your pores will be nice and open, allowing your skin to soak up the mask's beneficial properties. Be sure to apply the mask quickly as your pores will begin to shrink once in contact with cold air.
Rinse With Cold Water
Whether you have chosen to use a mask or not, it's crucial that you rinse your face with cold water once your steaming cycle is complete. This will ensure that your pores shrink back down to their normal size.
Use a Toner
By now, your face should be feeling soft and replenished — the perfect time to use a toner! Apply toner to your face and neck to further close your pores and balance out your skin tone.
Use a Moisturizer
Last but not least, apply your favorite moisturizer while gently massaging your skin. This is the perfect time to use a jade roller, as it can further massage your face, promoting circulation and giving you a healthy glow.
Frequently Asked Questions
In case you need a little more information, we answered some of the most frequently asked questions about face steamers on the internet!
Is It Bad to Steam Your Face Every Day?
When it comes to steaming your face, it's important not to go overboard. Steaming your face may feel very pleasant and soothing, but your skin conditions can actually worsen if you overdo it. This is because steaming opens up the pores, removing oils and dirt. However, oversteaming the skin can cause it to dry out, as not all oils are bad. Stick to once or twice a week for optimal results.
When Is the Best Time to Steam My Face?
Whether you steam your face at night or in the morning makes no difference. However, many enjoy using their face steamer at night because they do not need to apply makeup afterward. It's also very relaxing so if you have trouble falling asleep, occasionally working a face steamer into your nighttime skin care routine can help you chill out and catch some z's.
Should I Wash My Face After Steaming It?
Wash your face before steaming it and once complete, rinse with cold water to close up your pores. See our guide if you have any more questions about the perfect skin care routine.
How Do I Close My Pores After Steaming My Face?
Use cold water or a cloth drenched in cold water to close up your pores once you have finished steaming your face.
What Should I Apply on My Face After Steaming It?
Rinse your face with cold water before applying toner, followed by moisturizer.
Can I Steam My Face With a Facial Mask On?
Yes you can! However, be sure to steam your face for a few minutes before applying the facial mask. This will ensure that your pores are open, allowing them to soak up as much product as possible.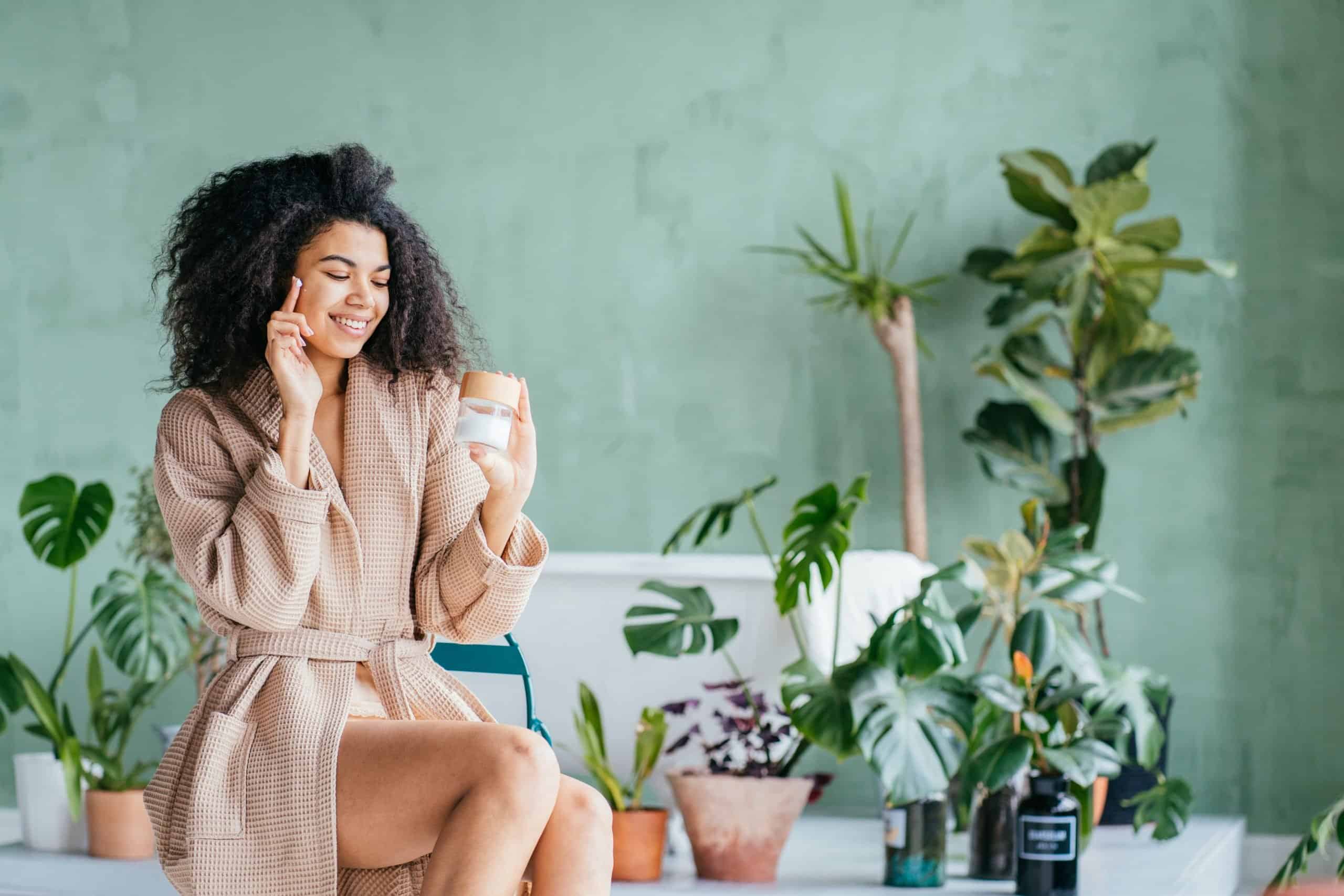 Parting Words
Receiving a professional facial from the comfort of your own home has never been so easy! Whether you have sun-damaged skin or are just looking to brighten up your appearance, there's an efficient and easy-to-use face steamer with your name written all over it. Your entire family will want to steam their face once they see how gorgeous and relaxed you look. And who knows, maybe you'll let them use it — if they're nice!