Throughout the years, stylishly shaped eyebrows have remained one of beauty's top trends – though they can be somewhat difficult to obtain without help. If you are not naturally born with eyebrows that are full and perfectly shaped, you may be wondering what you can do to transform the appearance of your eyebrows. Thankfully, a variety of eyebrow fillers are available to help you achieve all of the latest eyebrow trends.
Eyebrow fillers come in a range of different formulas and colors; each product is designed to help you style, shape, and craft your eyebrows to exactly the right thickness and appearance that you desire. They can also help you expertly fill in eyebrow hairs and leave you with natural-looking, flawless eyebrows.
Shopping for the perfect eyebrow filler can be a little overwhelming due to the amount of product variety on the market today. To help make your decision easier, we've put together a list of the best eyebrow fillers out there. Read on to see our breakdown of each product.
What You Should Know About Eyebrow Fillers
Before we get to our list, we first need to discuss the important factors that set eyebrow fillers apart from each other.
Why Use an Eyebrow Filler?
Anyone who desires eyebrows that are thicker, fuller, or that have a distinct shape can use an eyebrow filler. They are used to define and highlight brows, alter the appearance of your eyebrows, or give a natural full look to thin or fine eyebrow hair.
Formula
There are a few different formulas that eyebrow fillers are available in. Understanding the differences between each can help you select a product more easily.
Gel
Eyebrow gels are formulated to tame and add color to eyebrows. They are often thicker in texture and provide a bolder looking brow appearance. Some of them, like Benefit's Gimme Brow Volumizing Fiber Gel have added fibers to help volumize eyebrow hair.
Pencil
Eyebrow filler pencils are either retractable or come with a sharpener. This kind is the cheapest and easiest to use, and they are great for sketching brow shapes or adding individual hairs. However, they may not be the best for creating a very full, thick eyebrow look.
Pomade
Pomade is similar to a gel, except it has a creamier texture to it. It is typically applied with an angled brush, giving the user more control over the style and shape of their brows. It can add a rich color to brows and is good for styling thick, defined brow shapes.
From our list, Milani Stay Put Brow Color is a great pomade eyebrow filler choice.
Powder
Eyebrow filler powders are great for filling in small gaps of hair and improving the overall color of your eyebrows. They can give eyebrows a softer, more natural look. Powder formulas can be combined with brow wax to better hold the powder in place on your eyebrows.
Our best budget pick includes both brow wax and powders so you have all you need to fill in your eyebrows.
Color
The color of your eyebrow filler should be a close match to your hair or a little darker. When selecting a color, you should make sure it isn't too dark or too light or your eyebrows will look unnatural compared to the rest of your hair. Check out our full guide below for tips on choosing a perfect eyebrow filler color.
Longevity
How long your eyebrow makeup will stay in place is an essential factor in product selection. If you need something to stay in place all day, you may want to consider waterproof products or a pomade or gel; pencils or powders tend to wear off easier.
For an extremely long-lasting eyebrow filler, we suggest skipping down to Maybelline New York Tattoo Studio Brow Pomade.
Now that you know what to look out for in an eyebrow filler, let's jump into our list of the top 10 products available!
Top 10 Best Eyebrow Fillers 2023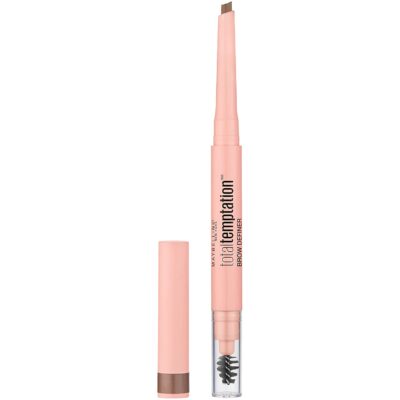 Why we like it:
The Maybelline Total Temptation Eyebrow Definer Pencil is easy to use and great for basic eyebrow filling.
Editor's Rating:
Quick Facts:
Formula: Pencil
Colors Available: 4
For beginners to eyebrow filling, the Maybelline Total Temptation eyebrow pencil is a great option. The angled teardrop-shaped end makes it easy to use and can create natural strokes of color. It has a spoolie attached on the other end of the brush so you can blend out any spots of color.
There are 4 colors of this pencil available, and all of them are true to color. They are natural-looking and buildable, so you can create a bolder looking brow when necessary. This product also works well for filling in thin eyebrows and soft shaping.
Unfortunately, once applied the color of this pencil does not last long. It smudges off easily, so unless you use another product to set it in place, it is unlikely to last you for a whole day without needing a touch up. Check out Maybelline's New York Tattoo Studio Brow Pomade for a more long-lasting product.
Pros
Easy to use

Great for beginners

Colors are soft and natural

Works well for filling in hair
Cons
Does not last long once applied

Smudges easily
---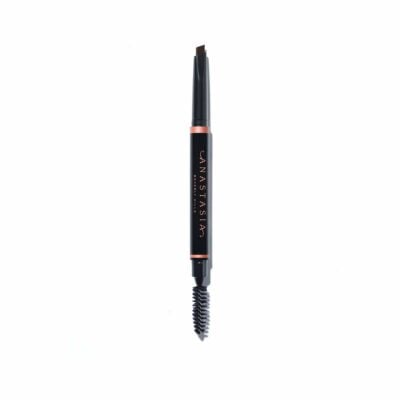 Why we like it:
This premium eyebrow filler features a wide color variety and ingredients suited for sensitive skin.
Editor's Rating:
Quick Facts:
Formula: Pencil
Colors Available: 10
If you have sensitive skin or are prone to skin reactions with cosmetics, this may be a great product for you. The ingredients of the pencil are not too harsh, meaning that there is a low risk of it irritating your skin or causing any adverse reactions.
The Anastasia Beverly Hills Brow Definer has a wide color range, allowing you to select the perfect matching color for your brows. Each color is natural looking and is true to color without being too dark or light. The angled tip on this pencil is slightly thicker and is great for creating a fuller brow.
The formula of this eyebrow filler is a little thicker than with other pencils. This can make it slightly waxier and harder to apply. It may not go on as smoothly as other products. If you are looking for a pencil with an easy application, we suggest Maybelline Total Temptation Eyebrow Definer Pencil instead.
Pros
Good color variety

Works well on sensitive skin

Great for creating a fuller brow
---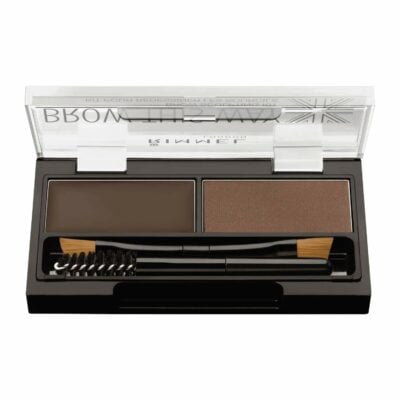 Why we like it:
Rimmel's Brow This Way Sculpting Kit is great for filling in a little bit of brow or sculpting a whole new shape.
Editor's Rating:
Quick Facts:
Formula: Powder
Colors Available: 3
At under 10 dollars, this product is very affordable. It includes a tinted wax and colored powder; you can use the wax before the powder for a bolder look or only use the powder for a soft, natural look. The size of the product is small enough to be carried with you, making it a good option for someone who is always on the go.
This product is good for filling in thinner brows or for sculpting an entirely new brow shape. The wax helps you add color wherever you want it and keep it in place. It washes off easily, so you don't have to worry about staining your pillows after a long day. It is a good choice for someone who wants a versatile budget product.
The colors of this product are slightly limited, with only 3 being available. They also run slightly dark, meaning that this eyebrow filler may not be suited to you if you have very light or blonde hair. We recommend a product with more color variety like Anastasia Beverly Hills Brow Definer instead if your hair is very light.
Pros
Affordable

Good for brow sculpting

Washes off easily

Travels well
Cons
Colors are limited

Colors may run dark
---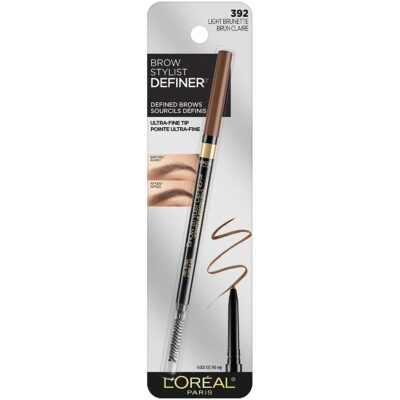 Why we like it:
L'Oreal's Brow Stylist pencil is waterproof and tested to ensure safe use on all types of skin.
Editor's Rating:
Quick Facts:
Formula: Pencil
Colors Available: 10
Similar to the Anasatia Beverly Hill Brow Definer, this product has a lot of color variety. Additionally, all of the available colors are waterproof and will not melt off with sweat or rain. This product is also smudge-proof, so you don't have to worry about accidentally wiping off your brows during the day.
The formula of this pencil is ophthalmologist tested, meaning it is safe for both sensitive skin and anyone who wears contact lenses. The formula is gentle enough for daily use without being overly drying or irritating.
The color of this pencil may flake off of your eyebrows once it has dried. This can be avoided by using the attached spoolie to evenly distribute the color and making sure there are no clumps that will eventually flake. The pencil is also used up very quickly, making this product not the most economical option.
Pros
Waterproof color

Ophthalmologist tested formula

Smudge-proof
Cons
May flake off of brows when dry

Pencil is not long lasting
---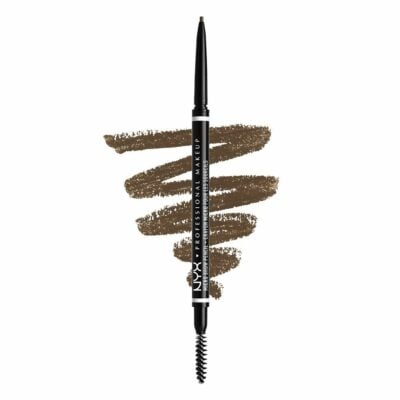 Why we like it:
Perfect for precise eyebrow filling, the NYX Professional Makeup Micro Brow Pencil has a lightweight formula.
Editor's Rating:
Quick Facts:
Formula: Pencil
Colors Available: 7
This product is a great choice for anyone who prefers a light, natural brow look. The tip of the pencil is very small so you can draw on each stroke of hair perfectly, giving you the utmost control over how dark and what shape your brows are. You can expertly create a natural-looking brow with this product.
The tip of this pencil is retractable and does not need a sharpener. It applies smoothly, and the formula of the color itself is lightweight and non-sticky. It will not feel too heavy or itchy on your skin. It makes a good choice for anyone who prefers to forget they are even wearing makeup.
On the downside, the colored part of this pencil breaks off easily. It is very soft, so you need to use very light strokes when applying it or the tip will break off. It can also crumble easily if you travel with it, making it not the best product for touch ups on the go.
Pros
Great for precision shaping

Smooth, retractable pencil tip

Lightweight and non-sticky
---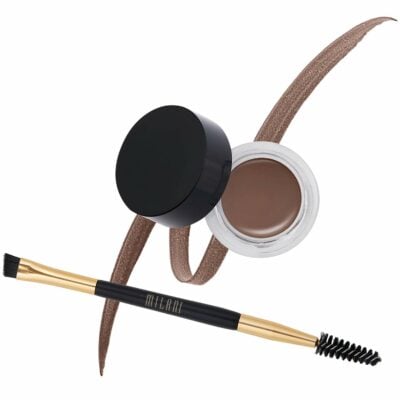 Why we like it:
The Milani Stay Put Brow Color pomade has a creamy, rich texture and works well in creating a variety of brow shapes.
Editor's Rating:
Quick Facts:
Formula: Pomade
Colors Available: 8
The formula of this product is both vegan and cruelty-free. It has a creamy, rich texture and is applied smoothly, making it a great choice for anyone who loves a luxurious feeling product and prefers to purchase more ethically created items.
The coverage of this eyebrow filler is very buildable; you can use it to create thicker brows or more tapered ones. If you are a fan of bold eyebrow looks, you will easily be able to create them with the help of this product. The color layers easily and you can precisely control the shape with the included eyebrow brush.
This eyebrow filler may take a little more skill to learn than other products. The eyebrow brush may be difficult to get a hang of at first, as might the technique of applying the pomade so it is not too thick or unnatural looking. This video can help you understand pomade application technique.
Pros
Creamy, rich texture

Great for creating bold brow looks

Vegan and cruelty-free

Very buildable
Cons
Application needs a little skill
---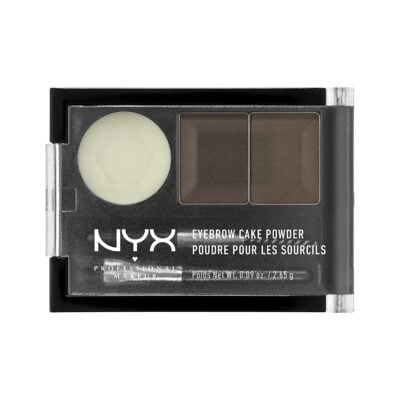 Why we like it:
This eyebrow filler kit has two types of powder and wax so you can create a flawless 3D brow look.
Editor's Rating:
Quick Facts:
Formula: Powder
Colors Available: 6
For fans of a well-outlined and defined brow shape, this product is a good choice. Two types of powders and wax are included in this kit, so you have everything you need to tame your brow hairs, outline a shape, and fill them in. It is great for creating any type of shape and especially arched shapes that need a little more definition.
One powder is slightly darker than the other, allowing you to mix and match colors to your eyebrow hairs. This can help you create a 3D look and enhance the appearance of your eyebrow in a subtle way, giving you a flawless brow that doesn't look clumpy or unnatural.
If you are a daily eyebrow filler user, this product may be too small for you. Both of the powders and the wax are petite-sized and may not last very long if you are using this product on a regular basis. If you would still prefer a powder Rimmel's Brow This Way Sculpting Kit has more product in it.
Pros
Two types of powder included in kit

Works well to create a 3D brow look

Perfect for creating arched shapes
---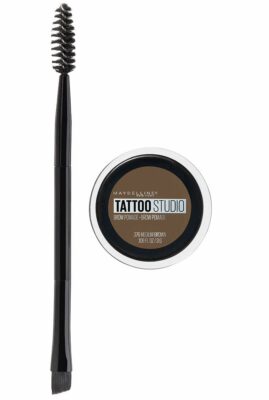 Why we like it:
This long-lasting pomade is highly pigmented, so you can create the dramatic eyebrow look of your dreams.
Editor's Rating:
Quick Facts:
Formula: Pomade
Colors Available: 8
The formula of this pomade is designed to be very long-lasting. It will stay put for at least 24 hours, but can last up to 3 days as long as you aren't exposing it to an excessive amount of water or humidity. It makes a good choice for someone who doesn't want to fuss over filling in their eyebrows daily.
The color in this product is highly pigmented, meaning that a little will go a long way. You can use it for lighter natural brow looks or build coverage up to create fuller, thick eyebrows. The attached spoolie is very soft and blends out the color easily. If you like versatile products and bold colors, this product is a good option.
The brush included with Maybelline's Tattoo Studio Brow Pomade can break easily. The bristles fall out without much pressure being applied to them. You may have to use a different eyebrow brush for application. Additionally, the pomade dries rather quickly when applied, so you will have to work fast during application and blend it quickly before clumps of product dry on your brow.
Pros
Very long-lasting

Highly pigmented color

Attached spoolie blends easily
Cons
Included brush breaks easily

Pomade dries too quickly
---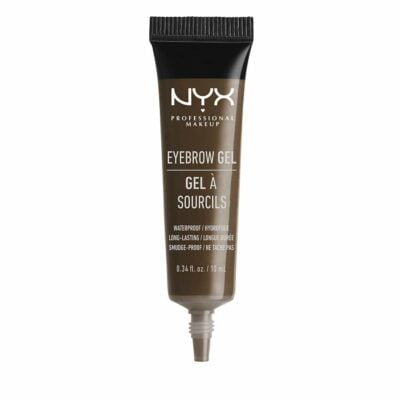 Why we like it:
This gel is designed to be hardy and will keep your brows in shape no matter what your day has to offer.
Editor's Rating:
Quick Facts:
Formula: Gel
Colors Available: 5
If you have thinner brows or very fine hair, this product will work well for you in helping to bulk up your brows. It applies smoothly and is great for transforming your eyebrows into a dramatic look with a bold, defined shape. It works well for creating a short thick eyebrow look or for enhancing an eyebrow arch.
The formula of this product has a very opaque, matte finish. This is part of what gives it a more vibrant look once applied. The formula is durable and will stay put on your eyebrows through sweaty workouts and high humidity. It is a great choice for someone who is active throughout the day.
There is no eyebrow brush included with this product, so you may need to purchase one in order to apply this gel properly. Also, the consistency is a little thick which can make it hard to spread and blend. You may prefer a product with a smoother consistency like Milani Stay Put Brow Color.
Pros
Works well to bulk up brows

Good for dramatic looks

Opaque, matte finish

Formula is very durable
Cons
May need an eyebrow brush for application

Consistency is a little thick
---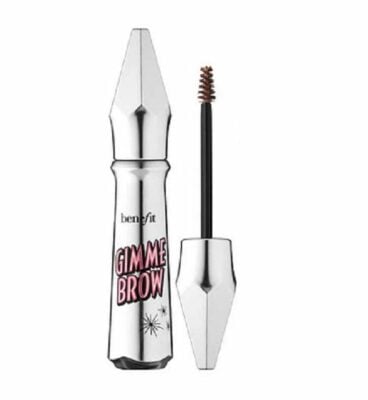 Why we like it:
This volumizing eyebrow filler is filled with fibers that give brows a full, flawless look.
Editor's Rating:
Quick Facts:
Formula: Gel
Colors Available: 6
The microfibers included in the formula of this product stick to your skin and eyebrow hairs, giving your brows the appearance of being very thick and full. This enhances the overall volume of your eyebrows and is perfect if you prefer to create a shorter, fuller brow look.
If you have thin eyebrows or the hair is very sparse, this product is a good option for you. It will help enhance your eyebrows without you need to add a shape or outline your brows. The coverage is buildable, so you can keep adding the filler until you reach your desired level of brow fullness.
This product is a little on the expensive side, which may be off-putting to some users. The handle on the product is also a little bit too short, which can make it hard to apply the product without creating clumps. You may need to invest in an additional spoolie to help you blend out the product once it is applied.
Pros
Fibers in formula help volumize eyebrows

Great for shorter, full brow looks

Good for use on thin eyebrows
Cons
Expensive

Handle is too short
---
Your Full Guide to Eyebrow Fillers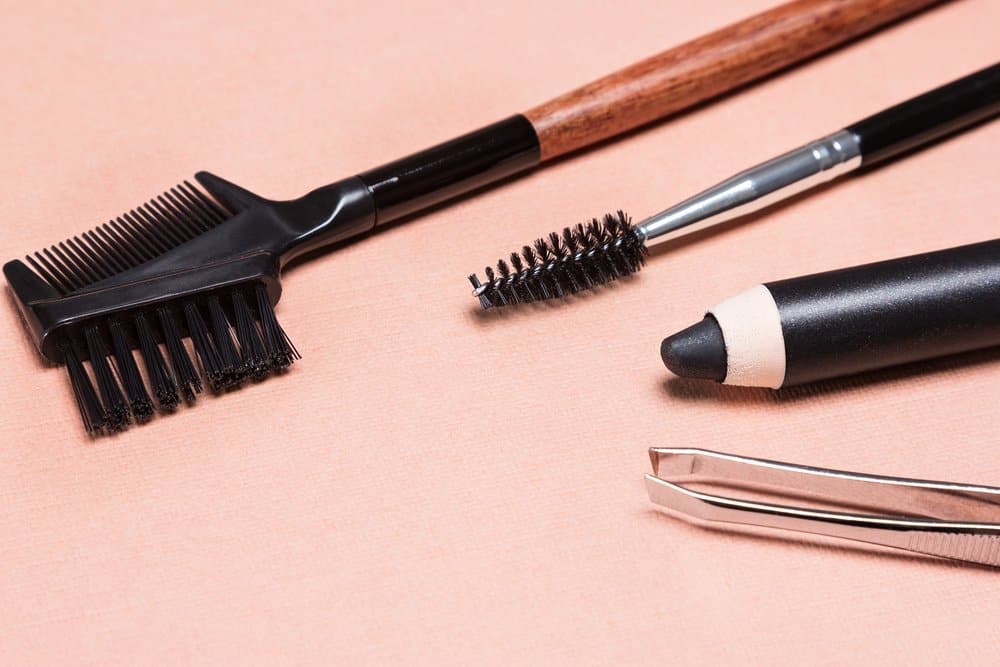 Need to know more about eyebrow fillers? Read our full guide for all the must-know information about getting the most out of your product.
The Benefits of Using Eyebrow Fillers
Besides just shaping up your eyebrows, eyebrow fillers can give you a whole host of other benefits. They can help you complete a full-faced makeup look or provide you with a simple way to look put together on the days you go au naturel. They can also help you alter the appearance of your brows on a daily basis, allowing you to always be on top of the latest eyebrow trend.
Additionally, they are a good alternative to shaping and defining your brows versus other more harmful methods such as plucking and waxing.
How to Fill in Your Eyebrows
The exact method you use to fill in your eyebrows will vary depending on which product you are using. Below, we have a step-by-step basic guide that uses an eyebrow pencil.
Examine your eyebrows in the mirror. Take note of any spots where the hair is thin and make sure you know where the end of your eyebrow (the tail) is.
Take your eyebrow pencil and start in the middle of your eyebrow, using gentle strokes to fill in hair. Use an upwards flicking motion for best results.
Work your way down towards the tail of your eyebrow, being careful not to fill this area in as harshly.
Fill in the front of your eyebrow using the same motion. This area can be filled in with more color to give it a slightly darker appearance.
When substituting powder, pomade, or gel eyebrow products for a pencil, be sure that you have the right tools. A small-angled brush can work well with each product and should be enough to help you make thin precise strokes and fill out your eyebrows naturally.
Remember when filling your eyebrows, that you don't need to get the application correct the first time. Start off with small strokes and light color before building up to a more dramatic look and defined shape. Skip down to our section on eyebrow shapes and styles for help choosing the best eyebrow shape for your face.
Choosing Eyebrow Filler Color
There are a few factors to consider when choosing the right eyebrow filler color for you.
Think About Your Natural Hair Color
When choosing the best color for an eyebrow filler, you want to be sure to consider your natural hair color. If you are after a more natural and softer look, choose a color that is as close to your natural hair color as possible. For a more dramatic brow look, you can select a color that is one or one and a half shades darker.
Keep Your Undertone in Mind
Another thing to consider is the undertones of your skin. An eyebrow filler with matching color undertones is more likely to match your skin and hair color, giving you the most natural look possible.
Mix and Match to Find Your Perfect Look
Don't be afraid to mix and match colors to get the best eyebrow appearance. Using a combination of shades that match your hair and are slightly darker can give your brows a dynamic 3D effect that looks both flawless and natural.
You may want to combine a pencil eyebrow filler with something like a gel or pomade to achieve this look. You could also purchase a product like NYX Professional Makeup Eyebrow Cake Powder that has two different shades of powder included.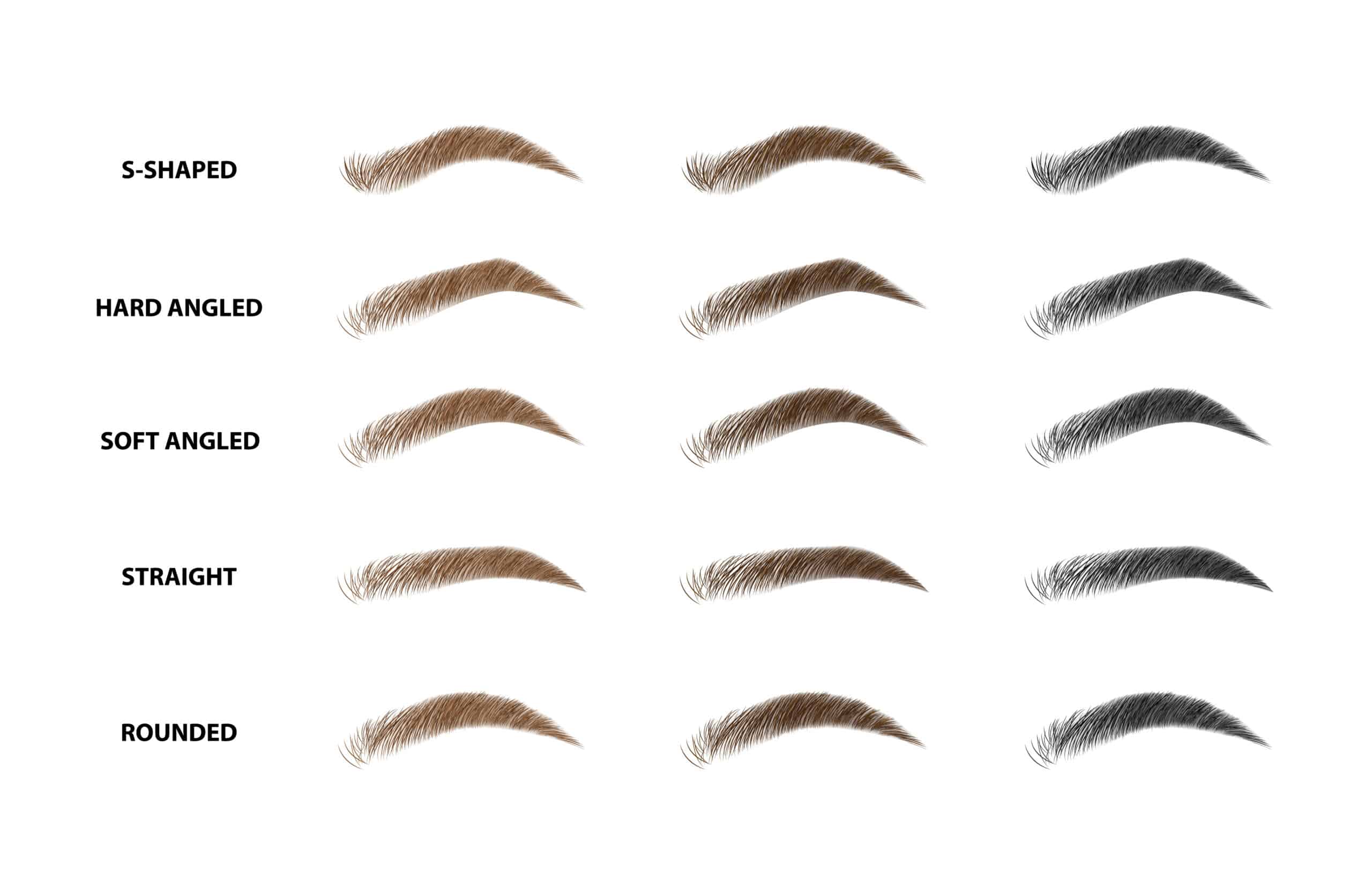 Eyebrow Shapes and Style

Deciding which shape to craft your eyebrows into can be a challenge, especially if you have never tried your hand at shaping brows before. Below, we have a list of the most popular eyebrow shapes so you can select the ones you prefer.
Hard Angled
A hard angled brow has a higher arch in the middle of the brow. This gives a more angled and defined dramatic look.
Soft Angled
With a soft angled brow, the arch is barely there. It is subtle and low maintenance. A pencil like Maybelline Total Temptation Eyebrow Definer Pencil is a good product for creating this look.
Rounded
A soft rounded brow can flatter a more angular face and soften sharp features. There is no noticeable arch in this look.
S-Shaped
This brow shape starts up at the front of the brow and dips slightly before arching just before the tail of the brow.
Straight
Straight brows can be on the thick and full side or slightly thinner. They don't have a visible curve or arch. A volumizing product like Benefit's Gimme Brow works well for this style.
Tapered
Tapered brows are thicker at the front and middle and thinner near the tail of the brow. They require more shaping and maintenance than other brow styles.
Long Tail
Long tailed brows have a tail extending past the corner of the eye. A pencil or pomade is the best product to help you draw on this shape.
Thick
Thick brows are usually shorter, without a long tail. A product like Milani Stay Put Brow Color can help you achieve this bold look.
Middle Arched
This type of brow has a noticeable arch right in the middle of the brow. It is a little more angular and might require plucking or threading to achieve.
End Arched
A classic shape, this type of brow is arched close to the tail of the brow. It flatters almost every face shape.
Keep in mind that if you want your brows to look as natural as possible you should select a shape that is close to their natural shape. This will help you achieve well-filled in brows without having to do much manipulation to your brows via plucking, waxing, or threading.
Do Eyebrow Fillers Have Side Effects?
Eyebrow fillers are a very low-risk beauty product and have almost no chance of causing any adverse side effects. They will not cause your brow hairs to thin or become weak like they would with regular plucking or waxing.
However, if you have very sensitive skin, you may experience itchiness or an allergic reaction to the ingredients in a certain eyebrow filler. If this happens to you, discontinue use of your eyebrow filler and consult a doctor if the reaction doesn't go away. Be sure to always read ingredients labels to check for items you may be sensitive to.
Pro Tips for Eyebrow Maintenance
Maintaining your eyebrows may seem like a difficult task, but there are very simple things you can do daily to keep your brows looking their best.
Threading
If you find yourself wanting to trim up stray hairs, eyebrow threading is a great way to maintain your eyebrows without the pain of waxing or the time-consuming process of eyebrow plucking. It involves using a small thread to remove any unwanted eyebrow hairs and shape up your eyebrows. The process is quick and lasts between 5 and 6 weeks before another trip to the salon is needed.
Try Castor Oil
For healthy, nourished eyebrow hair, try using castor oil at nighttime. Simply massage a small amount of the oil into your brows before bed to strengthen your brow hair and keep them looking full and healthy.
Pluck Carefully
If all you need is a small amount of eyebrow maintenance without any major shaping, you can pluck your own eyebrow hair with a set of clean tweezers. This can help get rid of stray hairs and make your eyebrows look neat. However, you need to be careful not to over pluck as this can cause thinning of your eyebrow hair.
Diet
Proper eyebrow maintenance often starts from the inside out. Follow a diet full of omega-3s, vitamins, and antioxidants in order to grow healthy-looking hair both on your eyebrows and on your head. If you need your eyebrows to grow back ASAP after getting tweezer happy, try adding more iron to your diet.
Eyebrow Filler Application Advice
When applying your eyebrow fillers, keep these tips in mind in order to get the best application every time.
Build Coverage
Starting small and adding filler little by little is the best way to get a complete coverage that looks natural. Building coverage will give you more control over the final shape and color of your eyebrow, leaving it looking flawless.
Blend It Out
After every eyebrow filler application, no matter what filler you use, you should give your brows a swipe with a clean spoolie to break up any clumps in the filler and blend out the product. This will give the most natural-looking brows possible.
Embrace the Uneven
Your eyebrows are not meant to look exactly the same. Naturally, there will be slight differences between the two. For the best, most natural-looking brow, follow your eyebrows' natural shape and don't spend too much time agonizing over whether the arches are perfectly even.
Start Simple
If you are new to filling in your eyebrows, don't go straight for difficult to replicate eyebrow shapes you see online that have definitely been created by professionals. Instead, take your time and learn how to fill your brows in a simple shape. From there, you can work on learning how to create more bold, dramatic brows.
Less Is More
While a bold brow may be popular these days, you may not want to add a large amount of eyebrow filler to your eyebrows. This can leave your brows looking chunky or unnatural. Even if you want a bold, thick brow, you can add a little less filler and blend it out, allowing you to receive the same result.
Alternatives to Eyebrow Fillers
Though eyebrow fillers are a very useful cosmetic product, some users may not like the fact that they have to be applied every day. Read on to learn about some alternatives to eyebrow fillers.
Permanent Tattoo
If you are sure that you never want to use another eyebrow product again, you can invest in a permanent eyebrow tattoo instead. This type of tattoo uses ink to fill in your eyebrows, shaping them and enhancing their color.
Permanent eyebrow tattoos will last for life, but you may have to get touch ups if the ink starts to fade. They are also quite painful to receive, as the skin on your eyebrows is fairly sensitive.
Microblading
Microblading is a type of semi-permanent eyebrow filler and currently one of the most popular long-term procedures available to fill in brows. It is a little less painful than receiving a permanent tattoo, but it will only last between 12 and 18 months as opposed to lifelong. Microblading mimics hair strokes to creates a more natural-looking brow that is still defined and naturally colored.
As with any cosmetic procedure, both of these methods do come with the risk of scarring or infection. However, if you can't live without a perfectly filled in brow, they can be great economical alternatives to using manual eyebrow fillers and can save you significant time during your makeup application routine.
Fill Your Way to Stylish Eyebrows
Sometimes, it takes a little outside help to shape our eyebrows exactly the way we've dreamed about. Fortunately, with the assistance of a quality eyebrow filler, you can fill, shape, and style your eyebrows exactly how you want them.
Be sure to keep in mind color availability and the type of formula you prefer, and you will be on track to obtaining stylish eyebrows all day, every day.