Whether you spent too long in the sun, have mature skin, or are experiencing hormonal changes, dark spots you've never seen before may be springing up to plague you. These pesky little spots may not be harmful, but they certainly are annoying and can contribute to a lack of confidence in your appearance.
If you're looking for the easiest way to fade your dark spots into nonexistence, consider investing in a dark spot corrector. A dark spot corrector is a useful product that can be used on your face and body to gradually lighten skin pigmentation and improve the overall appearance of your skin.
When you first start looking for a dark spot corrector, it can be hard to decide on a product – there are so many great ones to choose from these days. To you help you in making your decision, we've gathered a list of the best dark spot correctors out there and broken down what makes them so great.
What You Need to Know About Dark Spot Correctors
Before we dive into the best products available, let's discuss some of the most important things you need to know about dark spot correctors.
Ingredients
While dark spot correctors come in a variety of different formulas, there are certain skin-brightening ingredients you should look out for.
Vitamin C
Vitamin C is one of the most common, and most potent, dark spot correcting ingredients. It impedes melanin production, fading and preventing dark spots when used topically.
Vitamin E
Widely used as a treatment for scars, vitamin E is full of antioxidants and reduces inflammation. It is can also help prevent signs of aging.
Hyaluronic Acid
Hyaluronic acid occurs naturally in the skin and is used in a range of different cosmetic products. It is best known for its hydrating and skin plumping properties.
Lactic Acid
One of the best ingredients to have in a dark spot corrector, lactic acid brightens, smooths, and evens out skin, reducing the appearance of wrinkles and dark spots. Our premium choice has this ingredient in it.
Plant Botanicals
Added plant botanicals, such as aloe vera, sea buckthorn, and witch hazel, can all contribute to brightening and softening skin. Plant stems cells (like the ones found in InstaNatural Vitamin C Serum) work to repair sun damage and make skin appear more youthful.
Formula
There are a couple of different formula types you can choose from with a dark spot corrector, both of which have their own pros and cons.
Serum
Serums are plant-based oils and other skin brightening ingredients combined into one formula. The formula is similar to an oil, but easier to spread and quicker to absorb. Serums are very popular since you can add many ingredients into them, but they are more prone to leaving behind a greasy feeling or irritating skin.
Cream
Creams are similar in texture to moisturizers. They are typically more intensely hydrating than serums and are a good option for dry or sensitive skin. However, they may not be as potent as serums or have as many beneficial ingredients blended in.
Price
The price range of dark spot correctors ranges from affordable products to items with a more premium price range. You can find quality products with a variety of different ingredient blends across all price ranges, so it is more of a preference of how much you are willing to pay for your dark spot corrector.
Additional Benefits
Many dark spot correctors include ingredients that have additional benefits beyond just fading dark spots.
SPF
Some products may have SPF added into them as a way to help protect your skin while repairing it. A good example of this is found in Neutrogena's Rapid Tone Repair Moisturizer.
Hydrating
Dark spot correctors can be designed to have especially hydrating and moisturizing ingredients. These products are good options if you have both dark spots and dry skin. Check out Olay's Luminous Tone Perfecting Cream if this interests you.
Anti-Aging
Many products work to fight wrinkles as well as dark spots. A dark spot corrector like L'Oreal Paris Revitalift Derm Intensives features anti-aging ingredients such as glycolic acid.
Now that you know what to look for in a dark spot corrector, let's get straight to our list of the top 10 products out there!
Top 10 Best Dark Spot Correctors 2023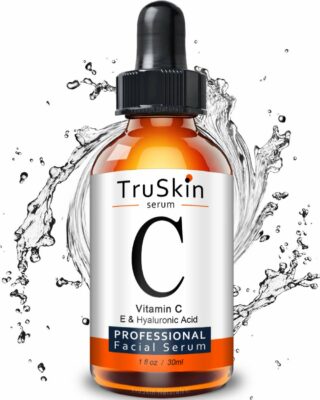 Why we like it:
This vitamin C serum is full of collagen-boosting ingredients that can benefit any skin type.
Editor's Rating:
At a Glance:
Notable Ingredients: Vitamin C, Hyaluronic Acid, Vitamin E
Formula: Serum
Price: Affordable
Added Benefits: Boosts Collagen
The formula of this product is expertly blended to combat both dark spots and signs of skin damage. Vitamin C works to fade spots while hyaluronic acid rehydrates skin and vitamin E reduces visible wrinkles. The brand's trademarked antioxidant blend boosts collagen production in the skin, improving its overall brightness and texture.
This product is certified cruelty-free and has a fragrance-free formula. The company promises a 90-day money-back guarantee, so you can try this product without worrying about whether it will work or not on your skin. It is a good choice if you are new to using a dark spot corrector and want to try out a simple, effective product.
TruSkin may dry out or irritate certain skin types. This is more of a risk if you are already prone to having dry or sensitive skin. If you want a more moisturizing product that still fades dark spots, we recommend Olay Luminous Tone Perfecting Cream.
Pros
Certified cruelty-free

90-day money-back guarantee

Boosts collagen production

Fragrance-free formula
---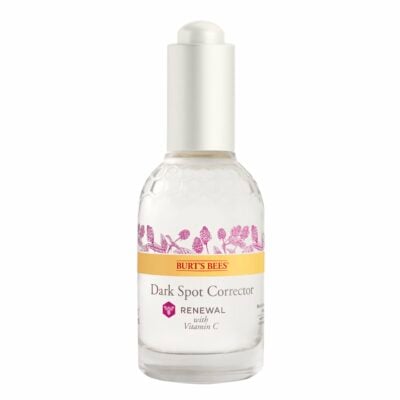 Why we like it:
Burt's Bees Renewal Dark Spot Corrector includes a plant-derived retinol substitute and is comprised almost entirely of natural ingredients.
Editor's Rating:
At a Glance:
Notable Ingredients: Vitamin C, Bakuchiol
Formula: Cream
Price: Affordable
Added Benefits: Plant-Based Ingredients
The star ingredient of this product, bakuchiol, is a plant-derived retinol alternative. Retinol is a strong ingredient that can boost collagen product, but can be very harsh when applied to the skin. Bakuchiol can achieve the same effects as retinol while still being gentle enough for use on sensitive or dry skin.
The formula of this product is 98.6 percent natural and almost entirely made up of plant-based ingredients. This makes the formula very gentle on skin and a great choice if you have sensitive skin or dry skin. Another product to check out if you are a fan of plant-based products is InstaNatural Vitamin C Serum.
The creamy texture of Burt's Bees Renewal can leave your skin feeling slightly sticky. And since it is so gentle, it is not the best choice for someone looking to fade a large amount of intensely dark spots. A more potent product like Admire My Skin Ultra-Potent Brightening Serum is instead recommended for that.
Pros
Features bakuchiol as a retinol alternative

98.6 percent natural ingredients

Gentle formula

Great for sensitive skin
Cons
Leaves sticky feeling on skin

Not the best for intense dark spot correcting
---

Why we like it:
The ultra-potent formula of Admire My Skin targets and lightens even the most stubborn of dark spots.
Editor's Rating:
At a Glance:
Notable Ingredients: Vitamin C, Salicylic Acid, Hydroquinone
Formula: Serum
Price: Expensive
Added Benefits: Very Potent
The key ingredient in this product that makes it so potent is hydroquinone – a skin lightening agent that is used to treat conditions such as melasma. The highest non-prescribed dose is 2 percent, which is in this cream alongside vitamin C and salicylic acid. If you are searching for a dark spot corrector that is strong enough to treat dark spots intensely, this may be the product for you.
Since this product is fairly strong, the results can start showing quicker than with other dark spot correctors. This means you may start to see dark spots fade in as little as a month, though it could take between 2 and 3 months to see significant reduction in spots. It makes a good product choice if you are looking for something fast-acting.
Admire My Skin is not the best product choice if you have sensitive skin. It is very strong and the presence of hydroquinone can leave sensitive skin feeling dry or irritated. This product may also cause a slight burning sensation on any skin type. It may be beneficial to consult with a dermatologist before regularly using this product.
Pros
Potent formula

Great for treating melasma

Hydroquinone lightens skin

Results show in as little as a month
Cons
Not good for sensitive skin

Can leave burning sensation on skin
---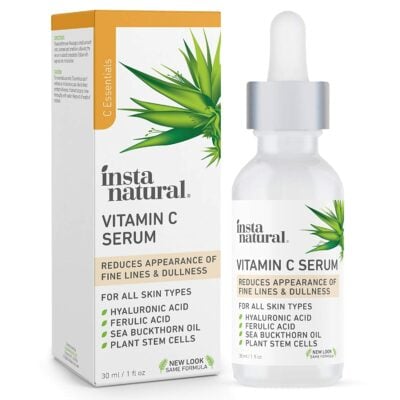 Why we like it:
This organic dark spot corrector absorbs quickly and boasts a natural light citrus fragrance.
Editor's Rating:
At a Glance:
Notable Ingredients: Vitamin C, Hyaluronic Acid
Formula: Serum
Price: Affordable
Added Benefits: Organic Ingredients
Formulated with certified organic ingredients, this product is a great choice for anyone who likes to use sustainable organic beauty products. In addition to vitamin C and hyaluronic acid, plant stem cells are blended into this serum to improve skin appearance and offer extra protection from the sun.
There is a natural citrus fragrance in this product; it is not artificially sourced and is very light. The serum absorbs into skin quickly and leaves skin feeling smooth and hydrated. This product is a good choice if you want a soothing, lightly-scented dark spot corrector.
The packaging of InstaNatural is often faulty, so you do need to be careful when opening it. The bottom part of the dropper cap is very sharp and can cut your hand or fingers if you are not careful. Take care when opening and closing the product to prevent any injury.
Pros
Certified organic ingredients

Plant stem cells for skin protection

Natural citrus fragrance

Absorbs quickly
---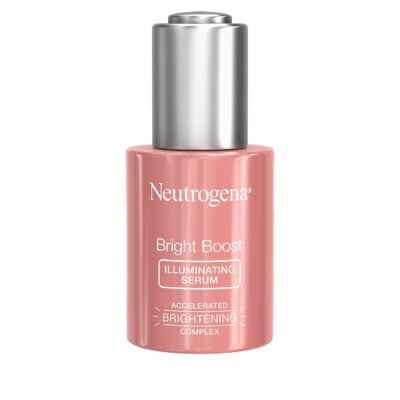 Why we like it:
Blended with gentle exfoliating and skin-lightening ingredients, Neutogena's Bright Boost is just the thing to fade dark spots and revitalize skin.
Editor's Rating:
At a Glance:
Notable Ingredients: Neoglucosamine, Turmeric
Formula: Serum
Price: Affordable
Added Benefits: Exfoliating Ingredients
Neoglucosamine is sourced from N-acetyl glucosamine, a building block of hyaluronic acid. This compound is well-tolerated by most skin types and works to reduce any hyperpigmentation in the skin, fading dark spots and improving the overall brightness of skin. It makes this product a great choice if you want to improve the look of specific dark spots and even out your entire skin tone.
There are exfoliating ingredients in this product, including turmeric extract, which will help to reduce scarring. They also work to remove dead skin cells and inflammation, leaving room for new skin cells to appear. The formula is both alcohol-free and non-comedogenic, meaning it won't dry out skin or clog pores. It is a good choice if you have oily skin or are prone to breakouts.
Neutrogena's Bright Boost does have a very strong flowery fragrance to it. This can be unpleasant or overwhelming to some. Mica is also a component in this product which can leave behind a glittery look on your skin that some may not find appealing. If you are looking to avoid sparkles, but are a fan of Neutrogena, check out their Rapid Tone Repair Moisturizer instead.
Pros
Improves overall skin brightness

Includes exfoliating ingredients

Neoglucosamine for gentle skin lightening

Alcohol-free and non-comedogenic
Cons
Strong flowery fragrance

Leaves behind glittery look
---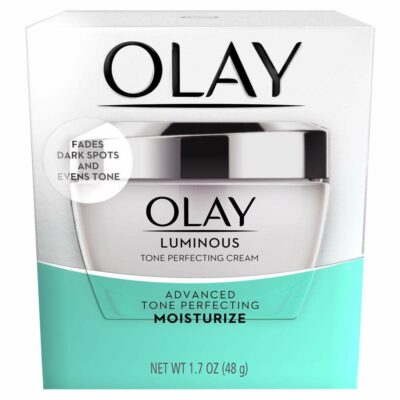 Why we like it:
Olay's Luminous Tone Perfecting Cream is lightweight and designed to perfectly even out skin tone.
Editor's Rating:
At a Glance:
Notable Ingredients: Glycerin, Niacinamide
Formula: Cream
Price: Affordable
Added Benefits: Added Allantoin for Skin Hydration
This highly moisturizing cream is engineered to fade dark spots and even out skin tone. Ingredients like niacinamide and glycerin work to visibly brighten skin and can give you a youthful glow. It is a good choice if you have dry skin and want to combat dark spots as well as hydrate.
Allantoin is a fundamental ingredient in this product. It is non-irritating and soothes and protects skin, locking in moisture and reducing areas of inflammation. The cream of this product is lightweight and is a great choice if you are trying to combat dark spots on your face.
Due to the moisturizing properties of this product, it is not the best choice for someone with oily or blemish-prone skin as it can exacerbate these issues. If you have this type of skin, we recommend a non-comedogenic product like Neutrogena Bright Boost Illuminating Serum that fights dark spots without clogging your pores.
Pros
Highly moisturizing cream

Allantoin increases skin hydration

Designed to even out skin tone

Lightweight
Cons
Not the best for oily skin
---
Why we like it:
A great choice for mature skin, the L'Oreal Paris Revitalift Derm Intensives uses glycolic acid to promote dark spot fading.
Editor's Rating:
At a Glance:
Notable Ingredients: Glycolic Acid, Aloe
Formula: Serum
Price: Affordable
Added Benefits: Anti-Aging Benefits
With a proprietary formula that is designed to resurface skin, smoothing out bumps and boosting brightness, this dark spot corrector is a great choice for those with mature skin or someone who is looking to prevent premature skin aging.
This product features 10 percent glycolic acid which works to exfoliate skin, removing dead skin cells and hyperpigmentation. This also leaves skin plumper and improves the appearance of fine lines, wrinkles, and other signs of aging.
In order to get the best results, you do need to use this product twice a day; you will need to use quite a bit each time, which can end up with you going through an entire bottle very quickly. It may take more than one bottle for this product to work, which can be a downside for those of us on a budget. Glycolic acid can also make your skin more sensitive to the sun and should be used with a broad-spectrum sunscreen during the day as a precaution.
Pros
Formula resurfaces skin

Reduce wrinkles and signs of aging

Great for mature skin

Glycolic acid promotes even skin tone
Cons
Need to use a lot of product

Can make skin sensitive to the sun
---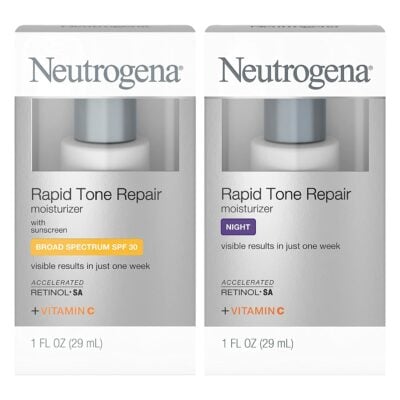 Why we like it:
This bundle of day and night formulated dark spot correctors is a great investment if you don't want to make compromises in your skin care routine.
Editor's Rating:
At a Glance:
Notable Ingredients: Vitamin C, Retinol
Formula: Cream
Price: Expensive
Added Benefits: Day and Night Formulas
If you're looking to make one purchase that takes care of your entire dark spot correcting routine, this may be the product for you. Neutrogena's Rapid Tone Repair Moisturizer arrives in a bundle containing both day time and night time cream-based products.
Each product has a uniquely blended formula; the day cream features SPF for skin protection, while the night cream is designed to gently smooth and hydrate skin as you sleep. Both products contain retinol SA, a sustained-action form of retinol that quickly and effectively works to lighten skin.
There is an added artificial fragrance in this product that has a strong chemical scent. This may be a drawback to those sensitive to strong odors. Additionally, the cream is quite thick and can feel heavy or itchy on the skin. If you are interested in a more lightweight, yet still moisturizing option, we suggest Olay's Luminous Tone Perfecting Cream.
Pros
Value bundle

Includes retinol SA for skin lightening

SPF in day formula
Cons
Feels heavy on skin

Chemically scent
---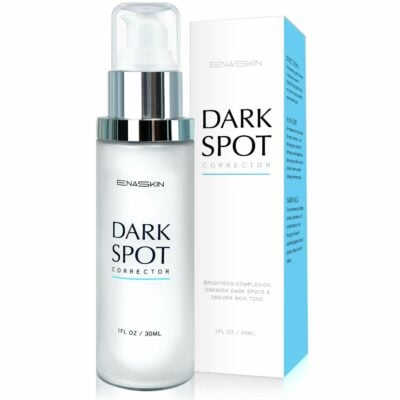 Why we like it:
Featuring skin tone correcting technology, EnaSkin's Dark Spot Corrector provides intense fading for all types of dark spots.
Editor's Rating:
At a Glance:
Notable Ingredients: Lactic Acid, Salicylic Acid
Formula: Serum
Price: Expensive
Added Benefits: Skin Tone Correcting Technology
EnaSkin's skin tone correcting technology consists of an anti-spot ingredient compound featuring kojic acid, lactic acid, salicylic acid. All of these acids work together to smooth out skin and inhibit the production of melanin, preventing and repairing dark spots.
You are able to use this product on all kinds of dark spots, large and small. It can be used both during the day and at night. It is a good choice if you are looking for a versatile product that allows you to combat dark spots as they appear.
Because this formula is blended with so many acids, it may cause skin irritation or breakouts, especially in those of us with sensitive skin. To prevent this, do a patch test before using the product to make sure it is agreeable with your skin and use it sparingly as your skin adjusts to the formula.
Pros
Good for all kinds of dark spots

Skin tone correcting technology

Can be used day and night
Cons
May cause skin irritations
---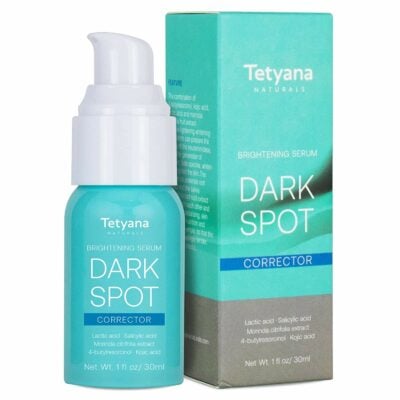 Why we like it:
Great for use anywhere on the body, Tetyana's Dark Spot Corrector is an effective, versatile product.
Editor's Rating:
At a Glance:
Notable Ingredients: Kojic Acid, Lactic Acid, Salicylic Acid
Formula: Serum
Price: Affordable
Added Benefits: Designed for Use on Face and Body
For anyone who wants the benefits of hydroquinone but has sensitive skin, the formula of Tetyana Dark Spot Corrector may be an effective alternative. This product features 4-butylresorcinol, which acts in the same way as hydroquinone, but is gentler on the skin; any adverse reactions to it are also typically less severe.
This product has a sheer consistency. It is not too thick or thin and is easily applied. It is great for using on the face or anywhere else on the body since it does not leave behind any greasy residue. If you are looking for a versatile dark spot corrector that can be used anywhere, this is a good option for you.
It does take a little longer to see results with this product than with other dark spot correctors. This is probably due to the lack of hydroquinone or other abrasive chemicals. You can expect to start seeing results within a couple of months of using this product, which could be a drawback to those looking for a faster-acting dark spot corrector.
Pros
Sheer consistency

Great for face or body use

Good alternative to hydroquinone
Cons
Takes longer to see results
---
Your Complete Guide to Dark Spot Correctors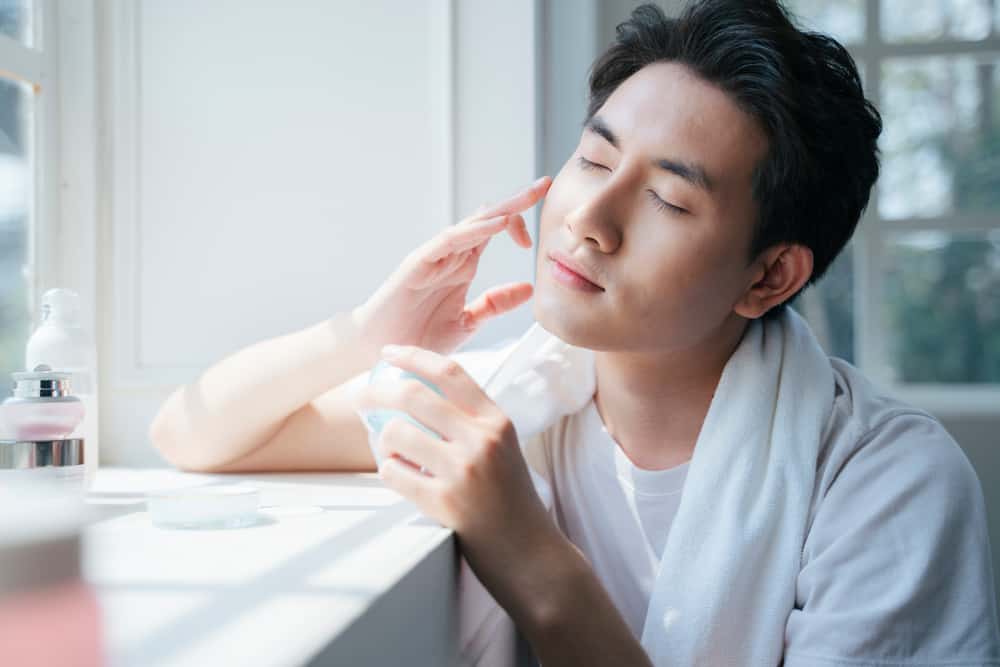 Want to know more about dark spot correctors? Read our full guide to have all of your questions answered about this handy skin-friendly product.
How Do Dark Spots Form?
Dark spots, also referred to as hyperpigmentation, occur when certain areas of the skin produce more melanin than others. They can range in color from light to dark brown depending on your skin tone, and can appear all over the body, including areas like the face, back, shoulders, and the backs of hands. There are several different reasons dark spots form.
Sun Exposure
One of the most common types of dark spot, these darkened areas form on any part of the body that is repeatedly exposed to sunlight without proper protection, most often appearing on the face or arms. They can also appear as a result of tanning bed usage.
Melasma
Melasma is a condition resulting from hormonal changes that leads to the appearance of small areas of skin discoloration. This is more often seen in women, especially during pregnancy.
Diabetes
People with diabetes may notice their skin becoming darker in certain areas. Certain medical conditions associated with diabetes may also alter skin tone.
Medication Side-Effects
Medications such as NSAIDs, tetracyclines, and psychotropic drugs often have side-effects that can increase skin pigmentation and lead to dark spot development.
Inflammation and Wound Healing
Any kind of inflammation, skin irritation, or wound healing can lead to the skin developing dark patches. This includes the aftereffects of acne, insect bites, eczema, psoriasis, burns, and adverse reactions to cosmetic products.
Benefits of Using a Dark Spot Corrector
Dark spot correctors are super beneficial products that can help improve your skin in multiple ways.
Improve Skin Tone
The most important benefit of a dark spot corrector is that it helps to even out skin tone; when used consistently, they will lighten any dark pigmentation and make skin appear more even overall.
Anti-Aging Properties
Many dark spot correctors will also have included ingredients such as retinols, vitamin C, and glycolic acids that help to reduce wrinkles and boost skin elasticity. From our list, a perfect product for anti-aging and dark spot correcting is the L'Oreal Paris Revitalift Derm Intensives.
Improve Skin Texture
Ingredients like vitamin C and acids (like lactic or salicylic acid) work to smooth out skin, improving cell turnover rate and leaving you with soft, bump-free skin.
Skin Brightening
In addition to improving the color of dark spots, many products – like Neutrogena's Bright Boost Illuminating Serum – also have ingredients that will enhance and brighten your overall skin tone. This leaves you with more fresh, youthful-looking skin.
How to Use a Dark Spot Corrector
The exact method you should be using to apply your corrector depends on the type of product you buy. Some may recommend twice a day usage and some may need to be applied at a specific time of day. You can follow this general application guideline for applying dark spot corrector, but always be sure to check your product's specific instructions first.
Wash and dry your face with warm water. Make sure the water isn't too hot as this can dry your skin out.
Apply the recommend amount of dark spot corrector to your fingertips and then gently dab it across your skin, focusing on the areas with the darkest pigment.
Using a circular motion, lightly massage the product into your skin, starting from your jawline and working up.
Wait a few minutes for the product to be fully absorbed and then follow up with a moisturizer to lock in hydration.
This application process can be followed anywhere you have a dark spot. Be sure to perform a patch test with a small amount of product before applying it onto your face or body.
How Long Does Dark Spot Correction Take?
The exact time it will take for you to see results from your dark spot corrector can vary greatly; it depends heavily on the ingredients in your selected product and your own unique skin type.
That being said, expect to see significant results around the 3-month mark of consistent use, with continued fading and maximum correction achieved around a year of use.
Some products, like Admire My Skin Ultra-Potent Brightening Serum may give you results in as little as a month, while others take 2 to 3 months to start visibly working. If you aren't seeing any results within 3 months, considering switching to a different product or consulting a dermatologist about your dark spots.

Foods That Help Reduce Dark Spots
One of the best ways to improve your skin condition is to add foods into your diet that help boost skin brightness and overall skin health from the inside out. These foods may take longer to act, but over time they will leave you looking and feeling your best.
Tomatoes
Tomatoes contain high levels of vitamin C and free-radical fighting properties. These properties allow them to boost collagen levels and combat the dark spot damage caused by sun exposure.
Salmon
Packed with omega-3 fatty acids, vitamin B, potassium, and selenium, salmon is a powerhouse ingredient for increasing circulation and controlling inflammation that can lead to the development of dark spots.
Papaya
Full of essential vitamins such as A, B, C, and K, papayas also have high levels of magnesium, potassium, and calcium. This makes them a great food for boosting skin brightness and overall health.
Sweet Potatoes
Sweet potatoes possess both beta-carotene and retinol which work together to improve skin's appearance and prevent discolorations from forming.
Home Remedies for Dark Spots
Before investing in a dark spot corrector, you can try out these ingredients from around the house to help even out your skin tone.
Buttermilk
One of the most popular home remedies, you can apply buttermilk to your dark spots and leave it on for 15 to 20 minutes before rinsing off. Do this every day, at least once a day, and you should start to see lighter skin.
Apple Cider Vinegar
For this method, combine equal parts apple cider vinegar and water in a bowl, and then apply it to the skin for 20 minutes. Rinse off with lukewarm water and follow up with a moisturizer.
Lemons
Apply a slice of lemon on your dark spots for 10 minutes, morning and evening. If you have sensitive or dry skin, you can combine the juice of a lemon slice with a tablespoon of water and apply that to your skin via a cotton pad.
Aloe Vera
You can use either aloe vera juice or aloe vera gel straight from the plant for this remedy. Apply your aloe to dark spots daily for at least 30 minutes in both the morning and the evening before rinsing off and using a moisturizer.
Castor Oil
Castor oil consists of Omega-3 fatty acids that can help repair skin discoloration. Apply it directly to dark spots with a cotton pad or swab once in the morning and once at night. No rinsing is necessary.
When to See a Doctor About Dark Spots
Dark spot development is very common, especially as we age, and is usually not a medical concern. However, there are certain types of melanomas and other medical conditions that can appear similar to the way a dark spot looks on the skin.
If your dark spot becomes itchy, tingles, bleeds, changes in color or size, or appears suddenly, make an appointment with your doctor or dermatologist to rule out any potential medical issues.
How to Prevent Dark Spots From Forming
Your first line of defense against dark spots is to take preventative actions whenever possible to limit the possibilities of discoloration developing.
Use Sunscreen
Whenever outdoors, you should be using a broad-spectrum sunscreen with an SPF of at least 15. Consider using sunscreen even on days when it is overcast and the sun isn't as bright to give your skin the most protection possible. After all, sun damage is one of the leading causes of dark spots, skin damage, and premature aging.
Another option is to use a moisturizer with SPF included in it, which can help hydrate and protect your skin at the same time.
Block Sunlight
In addition to sunscreen, try wearing a protective hat and sunglasses when out in extremely sunny days. Your sunglasses should have UV protection for maximum efficiency.
Exfoliate
Working exfoliation into your regular skin care routine can help to remove dead and damaged skin cells, revealing brighter skin underneath. Consistently exfoliating can prevent any dark spots from forming – just make sure to follow up with a quality non-comedogenic moisturizer to rehydrate and protect your skin.
Eat Well
Adding antioxidants and certain foods to your diet can help to boost your immune system and skin health, effectively protecting yourself against the formation of dark spots.
Your Journey to Healthy and Bright Skin
For many of us, dark spots are an unfortunate reality. If you're at your wit's end with your uneven skin tone, try a dark spot corrector. A quality product can fade dark spots, brighten your skin, and improve your overall skin appearance. Working a dark spot corrector into your routine is a guaranteed way to jumpstart your journey towards healthy, evenly-toned skin.