Top Picks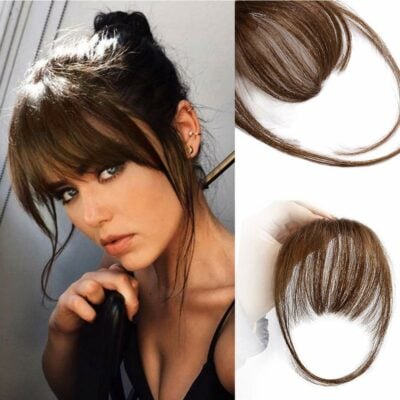 AISI QUEENS Clip-in Bangs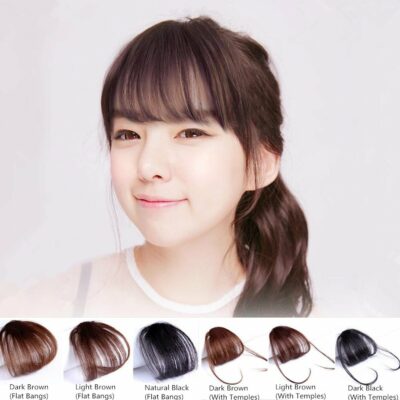 HAIQUAN Natural Clip-in Hair Extension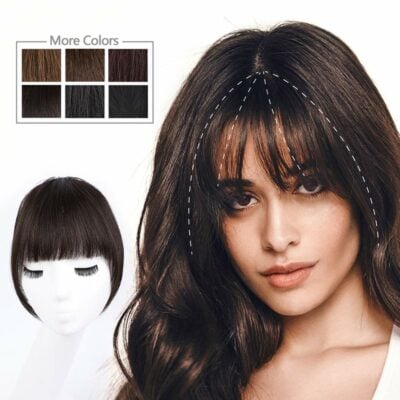 HMD Clip-in Bangs
Previous
Next
At some point in our lives, most of us have wondered about taking the plunge and getting bangs. After all, it is one of the most noticeable hair changes and can seriously mix up your style for the better. But how do you know if bangs are what you really want?
Clip-in bangs are a fantastic alternative to real bangs that allow you to demo your decision before you cut off all your hair. They let you effortlessly change up your style for the day without much, if any, impact to your real hair. And who knows? Maybe you'll love the versatility of fake bangs and skip getting real bangs altogether.
With the wide variety of clip-in bang choices out there, it can be hard to narrow down the perfect product. Thankfully, we're here to help you out and have compiled a list of the best clip-in bangs you can get. Read on to see our top picks and learn about the wonderful accessory that is clip-in bangs.
What You Need to Know About Clip-in Bangs
Before we dive into our product reviews, let's examine the most important info you need to know about clip-in bangs, including how to choose the right ones for you.
Why Use Clip-in Bangs?
Clip-in bangs are most commonly used to change up a hairstyle without altering your original hair. They can be used to enhance wigs, create costumes, and to help you determine if real bangs are a commitment you want to make. Clip-in bangs can also aid you in deciding which style of bangs would look best on you (we talk more about that later in our full guide).
Things to Look Out For
When choosing clip-in bangs, there are a few things to keep in mind that help set products apart from each other.
Style
The style of the bang is one of the most important factors in selecting a product. You want to find a style that flatters your face shape and enhances your natural features.
You also want to decide if you are going for a thicker, full-fringed bang like the one's offered by SLLIE, or if you would prefer a more wispy, airy look like the one found in Swy Hair's Clip-in Air Bangs.
Color
Purchasing a bang that matches your hair color is vital in making sure the bangs look real and blend in easily with your hair. A product with a wide variety of colors available (such as REECHO's Clip-in Fringe) offers greater opportunities for trying out different styles and achieving an overall natural look.
Material
There are two main types of material that clip-in bangs are made out of: real human hair and synthetic hair.
Human hair clip-in bangs can look and feel more real, but they are more prone to damage and are higher maintenance. Synthetic clip-in bangs are more durable and better at holding their style, but they may also look slightly fake or plasticky.
Now that we've discussed what to look for in a set of clip-in bangs, let's get to our top 10 picks!
Top 10 Best Clip-in Bangs 2021
Your Guide to Clip-in Bangs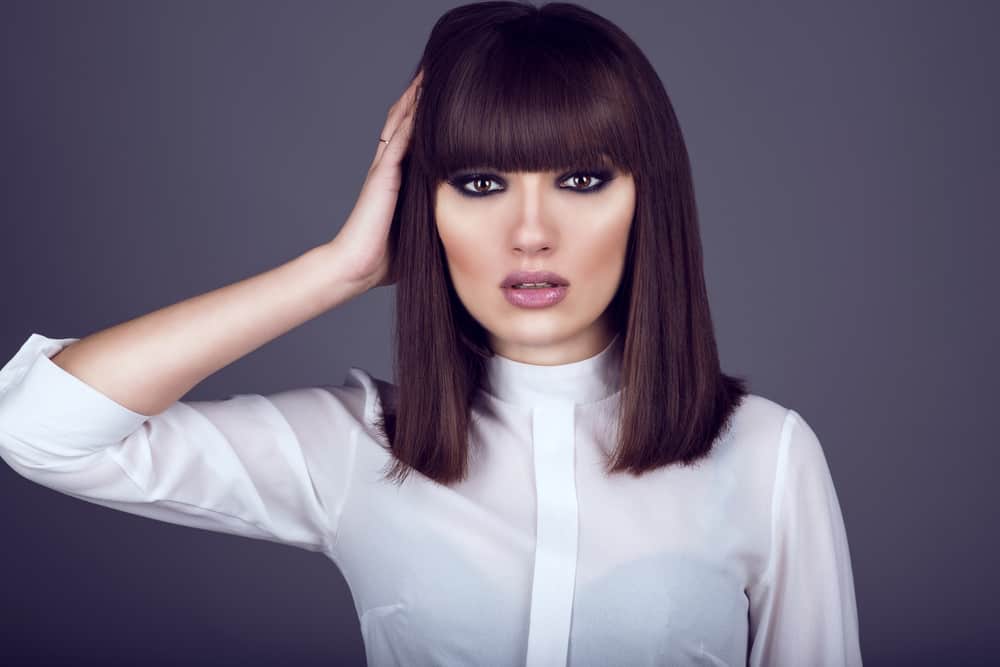 Clip-in bangs can be a confusing accessory to get started wearing. In our full guide, we give you all the information you need to know about wearing and caring for your clip-in bangs.
Benefits of Clip-in Bangs
There are many benefits to investing in a set of clip-in bangs, the main one being the commitment-free style you can achieve with them. A clip-in bang is never permanent and you can take it out whenever you want to switch things up again.
Another benefit of clip-in bangs is that they allow you to try out a variety of styles risk free. They can help you decide if you want bangs, the style of bang you want, and may even help you figure out if a different hair color would look good on you. They can help you bridge the gap between hair styles if you are growing your hair out, and they're perfect for costuming and dressing up hair styles on special occasions.
Plus, unlike hair extensions, clip-in bangs are unlikely to damage your hair. The clips that secure them do not stick to your natural hair or rip anything out when they are removed.
How to Use Clip-in Bangs
Clip-in bangs are fairly easily to learn how to use. Below, we have listed a basic set of steps for how to apply your bangs, but you should keep in mind that the clip-in bang you have may be applied differently. Always check the clip-in instructions before putting anything in your hair.
The first step to applying bangs is to brush through your hair, making sure everything is smooth and even. Part your hair down the center and prepare your clip-in bangs.
Hold the bangs to your head and move them back towards your crown until the end of the fringe falls along the line of your brows. You can adjust this placement by moving the bangs slightly forward or back until you are happy with how they look.
Fasten the clips into your hair, making sure they are secure but aren't pulling on your hair awkwardly.
Brush the bangs into your hair so they blend in.
After your bangs are attached, you can style them however you want. If you are going to trim your bangs in any way, it is recommended that you do this while the bangs are attached to your hair so you can see the results instantly and make adjustments as necessary.
Pro Tips for Styling Clip-in Bangs
Learning how to properly style your bangs is a great way to make the bangs look natural and rock your style with confidence. Follow these pro tips to learn how to expertly style your clip-in bangs.
Use Headbands
If you want to completely cover where your clip-in bangs meet your real hair, consider using a headband or head scarf. These accessories will help the bangs blend more seamlessly into your hair and can be a great addition to your look.
Invest in Dry Shampoo
Dry shampoo can be super helpful in making your clip-in bangs look natural, especially if your bangs are made from synthetic hair. Synthetic hair tends to be on the shinier side, which can look fake and plasticky. Apply a light coat of a tinted dry shampoo to your bangs before wearing them to give them a more matte look.
Embrace Curls
Adding curls and waves to your clip-in bangs and regular hair can be a great way to blend the bangs into your natural hair. It also adds more volume to your hair and distracts from any seam that may be visible.
Try Braids
If you aren't a fan of wearing headbands or scarves, you can try adding a braid over the edge of your clip-in bangs to help them look more natural. A step by step tutorial for this style can be found in this video.
Can You Dye Clip-in Bangs?
Whether or not you can dye clip-in bangs depends on what material you have and if that material has already been pre-colored. Synthetic hair is much harder to dye than human hair and it may not be possible to properly dye it. If you have human hair that has already been treated, you might not be able to dye that either.
That being said, you can dye clip-in bangs. Your best chance at getting positive results is to choose a human hair that has been untreated – something like HAIQUAN's Clip-in Hair Extension in the natural black color is perfect – and a good quality professional dye. You can then dye the clip-in bangs like you would your own hair, making sure to condition them afterwards to prevent any frizz.
How Long Do Clip-in Bangs Last?
Clip-in bangs can last you a surprisingly long time, as long as you take proper care of them.
Human Hair
Human hair clip-in bangs can last up to a year with really good care and not much heat styling. Though with typical use and heat styling, they will likely last between 3 to 6 months before they start to deteriorate.
Synthetic Hair
Synthetic hair does not usually last as long as a human hair clip-in bang would. With heat styling, synthetic hair will last between 2 and 3 months. If you avoid heat styling and take proper care of your bangs, they can last up to 6 months.
Caring for Your Clip-in Bangs
Taking proper care of your clip-in bangs is the best thing you can do to ensure they look and feel natural for as long as possible. There are slightly different care routines depending on if you have bangs made out of human or synthetic hair.
Human Hair Clip-in Bangs
You can treat human hair bangs a lot like you would treat your natural hair. This means you should be washing them on a somewhat regular basis (though you don't want to over wash them and make them frizzy).
Depending on how often you use your bangs, you should be washing them approximately every 30 wears, or if you have a large amount of product built up on the hair strands. Wash them in lukewarm water, making sure to shampoo and condition them before laying them out to air dry.
When not using your clip-in bangs, store them carefully in a designated storage box or case away from sunlight and heat. You also want to make sure they are not wet when storing or bacteria will grow on the hair, ruining it.
Synthetic Hair Clip-in Bangs
Synthetic hair is a lot more temperamental than human hair clip-in bangs are. They need to be washed approximately every 4 to 6 weeks, and maybe more often than that if you use a lot of products, smoke, or wear lots of perfume that the clip-in bangs can absorb.
Synthetic hair cannot be washed in hot water as this has a chance of melting the hair. You need to use cool water during every step of the washing process.
Before washing, gently detangle the bangs with your fingers or a wide-toothed comb. Allow the hair to soak in a combination of shampoo and cool water for 5 minutes before rinsing the bangs until the water runs clear. You can then apply a light coat of conditioner, avoiding the base of the hair (the area where the clips are). There is no need to rinse off the conditioner after applying; simply hang the clip-in bangs up and allow them to air dry.
You should be storing your synthetic hair in the same fashion as human hair – in a designated case or box away from sunlight, water, and heat.
Can You Sleep in Clip-in Bangs?
It is not recommended that you sleep with clip-in bangs attached. This could cause the bangs to pull at your natural hair, potentially damaging it. Sleeping on the bangs may also make the clip-in hair appear frizzy or cause it to start shedding.
Can Clip-in Bangs Damage Your Hair?
With proper use, it is unlikely that clip-in bangs will damage your hair. However, if you are constantly clipping bangs into your hair every day, they could alter the appearance of your natural hairline (but this is rare).
Clip-in bangs that are too heavy might cause hair loss or damage the hair it is clipped onto, so if you feel uncomfortable or weighed down by your bangs, you might want to consider a lighter product. AISI QUEENS makes a great lightweight clip-in bang that can prevent this kind of damage.

Finding Flattering Bangs
The key to finding flattering bangs is to understand what face shape you have, selecting the style of bangs that are best suited to that face shape.
Keep in mind that these face shapes are just approximations; your face may be a combination of any of these shapes. If this happens, pick the shape that seems closest and start trying out styles from there.

Determine Your Face Shape
To figure out your face shape, you need to have a flexible measuring tape and something you can write things down on.
Start by measuring your forehead, taking care to measure the widest part (about halfway between your eyebrows and hairline). Follow up by measuring the width of your cheekbones, starting at the pointiest area up near your eye.
Measure your jawline from the point of your chin to the point where it begins angling upwards towards your ear. Multiply this number by two to get the width of your jawline.
The last step is to measure the length of your face. Place the measuring tape at the tip of your chin and run it up towards the center of the hairline.
Match Measurements to Shape
Once you have all of your measurements compiled, you can begin matching them to the different types of face shapes.
Rectangular Faces: For this shape, your face length will have the greatest measurement with forehead, cheeks, and jaw width having similar measurements.
Oval Faces: The length of your face will be greater than the width of your cheekbones. Your forehead width will be greater than that of the jawline. The overall angle of your jaw will be rounder.
Round Faces: On a round face, your cheeks and face length will have a similar measurement. Your forehead and jaw will have similar measurements and be smaller than the cheeks and face length. Additionally, the jaw is soft and not sharp.
Square Faces: Every measurement on a square face will be fairly similar and the angle of your jaw will be shaper and less rounded.
Diamond Faces: On a diamond face, the face length is the largest measurement, and the cheeks, forehead, and jaw follow in decreasing order. Your chin will be pointed.
Triangular Faces: For this shape, your jawline will have a greater measurement than your cheekbones, and your cheeks will have a larger measurement than your forehead width.
Heart Faces: The forehead width will be greater than that of the cheeks and jawline. Similar to a diamond face, the chin is pointed.
Match Shape to Style
As soon as you know your face shape, you can match it to the style of bangs that would suit you best.
Rectangular Faces: Longer textured bangs or Bardot bangs emphasize the eyes and round out features.
Oval Faces: Softened blunt bangs or medium curly bangs flatter this face shape and bring attention away from a longer chin.
Square Faces: A-shaped bangs or long-layered bangs help to soften the features of this shape and bring attention to the eyes.
Round Faces: Side bangs are the best for this shape. They help to add length and angles to the face.
Heart Faces: Crescent bangs or baby bangs help to balance out this face shape.
Diamond Faces: Long, side-swept bangs or center parted bangs brings attention to the cheek bones and eyes.
Triangular Faces: Curtain bangs that hang on the side of the face are perfect for adding width to the cheeks and forehead.
DIY Clip-in Bangs
If you already own longer hair extensions or a wig, you might be interested in creating your own clip-in bangs. This is a great option if you love crafts or if you want to make a set of clip-in bangs that will perfectly match your hair color.
This video can show you the step by step process of cutting and styling your existing clip-in hair extensions into a natural looking pair of clip-in bangs.
Perfect Bangs Without the Cut
Clip-in bangs are a trending accessory that can help you achieve a number of winning styles without the commitment of cutting your hair. It can be hard to find a great product, but if you keep in mind the styles, color, and material you prefer, your choice should become easy and you'll be on your way to a perfect set of clip-in bangs.