Christmas is, without a doubt, most people's favorite holiday. What's there not to like about food, presents, lights, and time with those we love the most? There are people who don't like Christmas, but if you're here you're likely in love with the holiday season.
Not only does Christmas opens door to endless bold fashion statements, from weird, oversized sweater and fluffy socks to headpieces with lots of glitter, but there are tons of nail designs dedicated to the holiday that will help you bring show off your Christmas spirit.
Choosing the Right Christmas Nail Design
There are quite a few things to keep in mind when choosing the right design for you.
Remember that whatever you choose, it will stay with you for a while! If you have a job that requires you to keep makeup and manicure as simple as possible, you should avoid getting long stiletto extensions with bright colors and complex designs.
You must always think about your daily activities when it comes to shape and length. If you work in a kitchen, you should choose short extensions with a round or oval shape. But if you work a job that doesn't require you to work with your hands, any length and shape is good! So just pick your favorite: round, square, oval, squoval, stiletto, almond, or ballerina.
Different occasions also require different styles: you might not want to go to a fancy office party with your Olaf and Elsa nails. So check your schedule and see what you'll be doing before making your decision.
Christmas Symbols
It all comes down to personal preference, but it's always nice to be aware of what each symbol that shows up on Christmas nail designs represents. Traditional designs like gingerbread, candy canes, tinsel, Santa, and snowmen will be common, as will religious symbols. However, Christmas has become such a staple in everyone's lives that even those with no religious affiliation celebrate it, so there's a Yuletide design out there for everyone.
One of the theories about what candy canes mean in the Christmas context is quite amusing. It is said that a choirmaster in 1670 was worried the kids wouldn't sit still during the nativity so he gave them peppermint candy – a popular flavor at the time. The shape of the candy also represents the Good Sheperd's cane, which was used to bring back the lost sheep.
There are a few theories about this one. Many say they are put up to make people look forward to the spring since Christmas happens during such a dark and cold time. Some see it as a symbol of everlasting life with God since Christmas trees are made of evergreen firs.
And others think it represents the Holy Trinity since the trees have a triangular shape – God, Jesus, and Holy Spirit.
Stars are stunning no matter the time of year. A tiny little star, or several, is always a good addition to any nail design. However, Christmas gives stars a whole new meaning. The 3 Wise Men followed the star of Bethlehem to find baby Jesus, so it is customary to have one on top of your tree to symbolize light and guidance.
People give and receive presents during Christmas to represent the offerings the 3 Wise Men brought for baby Jesus. Nowadays you're more likely to get a pair of socks and a hand-knitted scarf than gold, frankincense, and myrrh; but hey, it's the spirit and intention that counts!
Whether you prefer your nails to feature reindeer, santa, and presents or religious imagery, we've gathered enough ideas for holiday-themed nails that you can keep a fresh look all winter long.
1. Winter Night Nails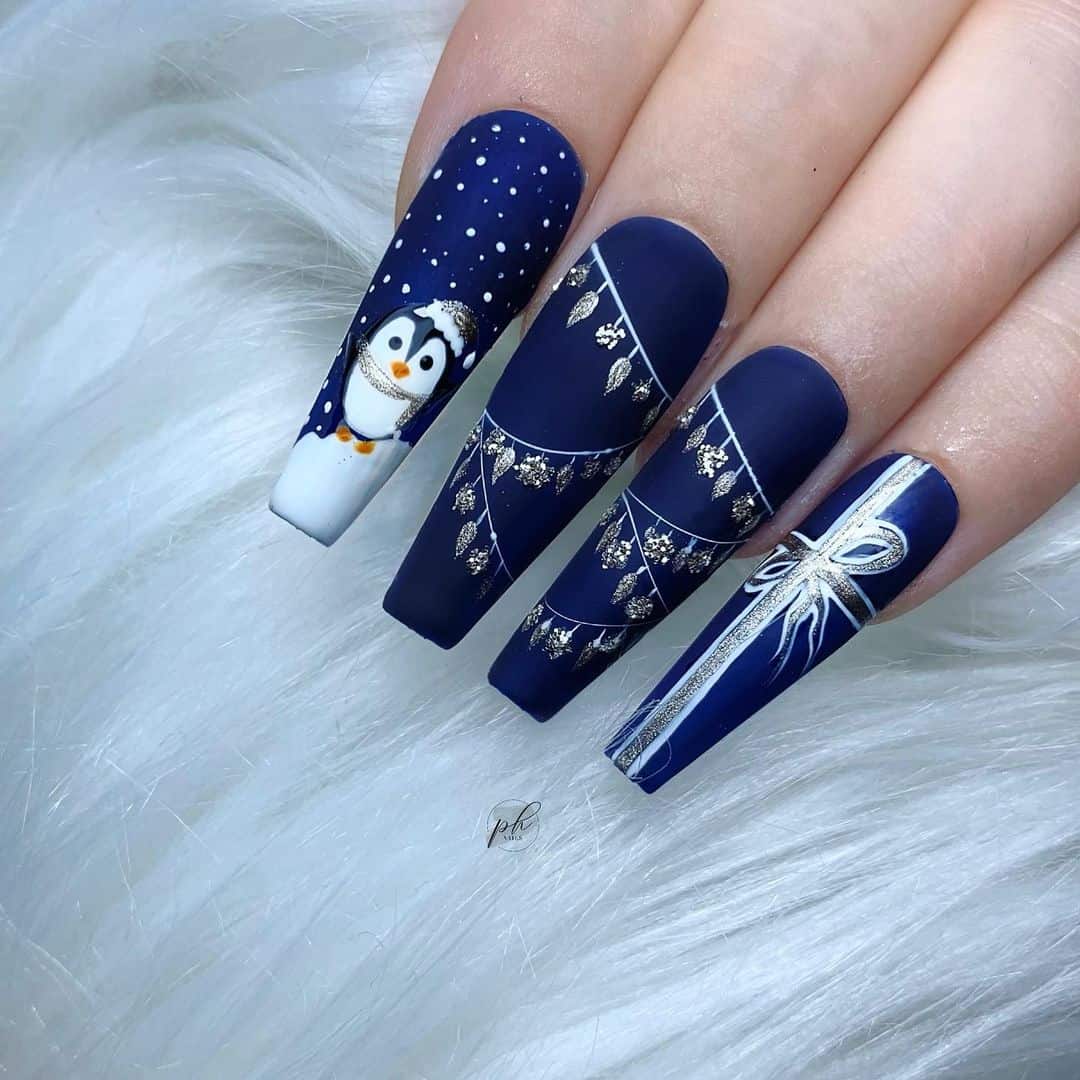 This nail design offers a lot to unravel. The background dark blue gives a cold night atmosphere. That adorable penguin adds a playful tone, whilethe Christmas tree hangings and the present give this design a classy and trendy finish. Perfect for those of us who love long nails since there's a lot of space to fill, however, it wouldn't work so well with a stiletto shape. It will be a hit in family and friends gatherings.
2. Elegant Reindeer Nails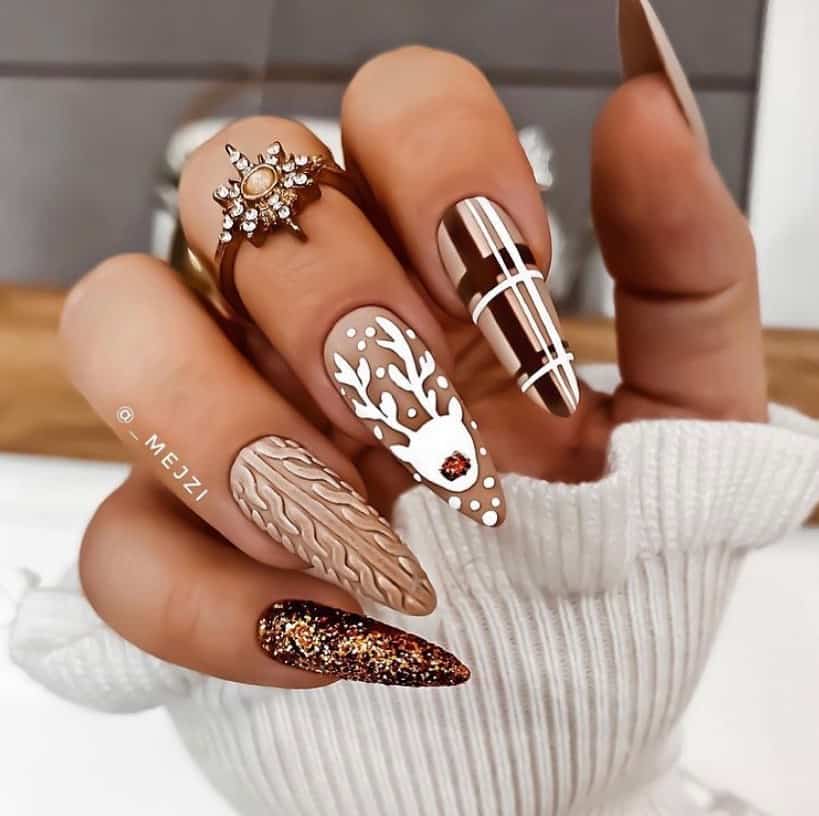 This fancy design features a reindeer alongside everything you could ask for. It's cute, it's fun, it's cozy, and it has glitter! This is perfect for all occasions if you like to have a mix of different styles rather than sticking to just one. Plus, the colors are neutral enough that it works with every skin tone. You can adapt this design to any length and shape you wish but it would work better with longer nails.
3. Mistletoe Nails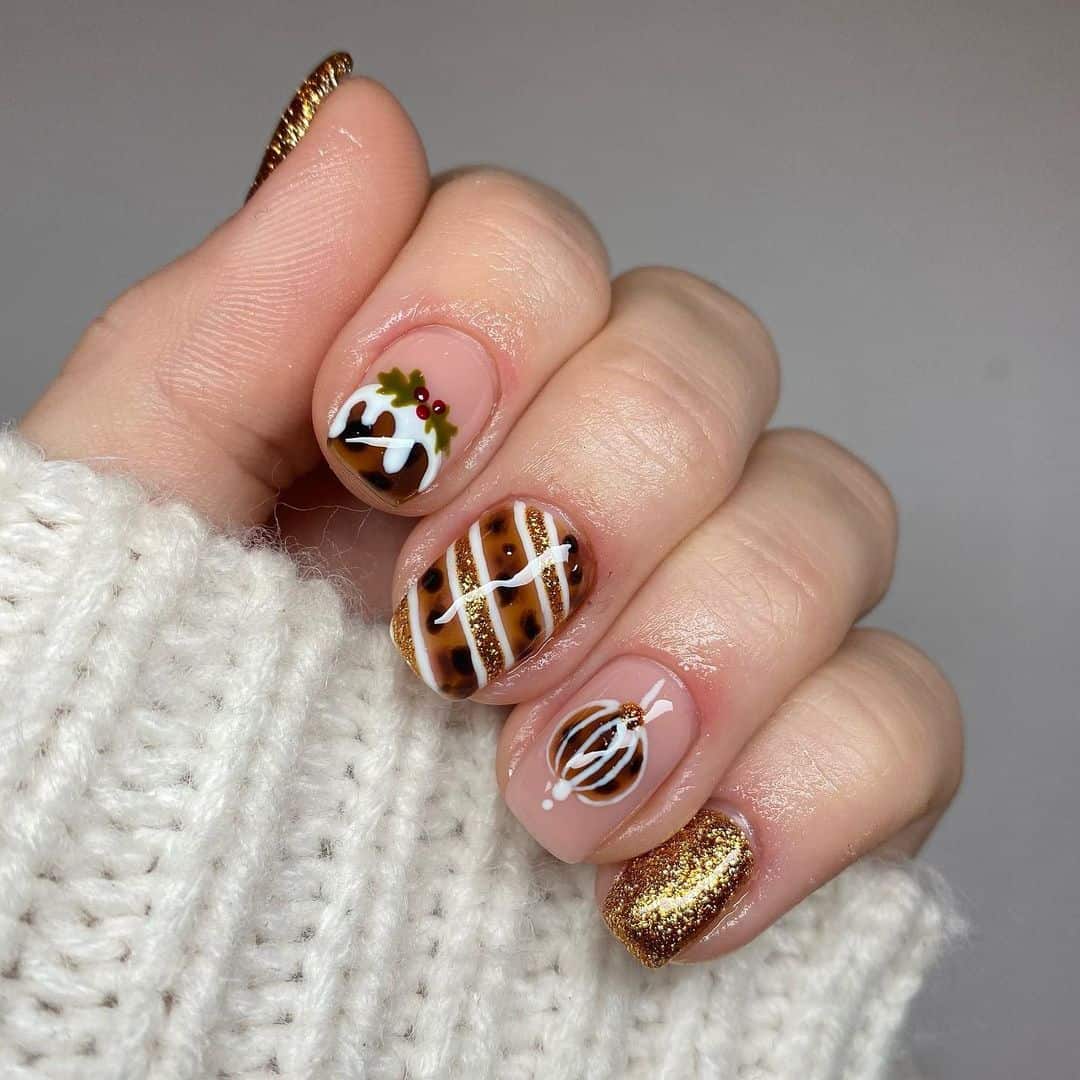 This design offers everything that the design above offers, with a mistletoe symbol replacing the reindeer and an overall more understated look. If you like to mix different styles but still keep yourself away from the spotlight, this design is perfect for you. It also works if you add different designs and symbols, as long as the colors stay the same.
4. Warm Red Nails With Reindeer Accent Nail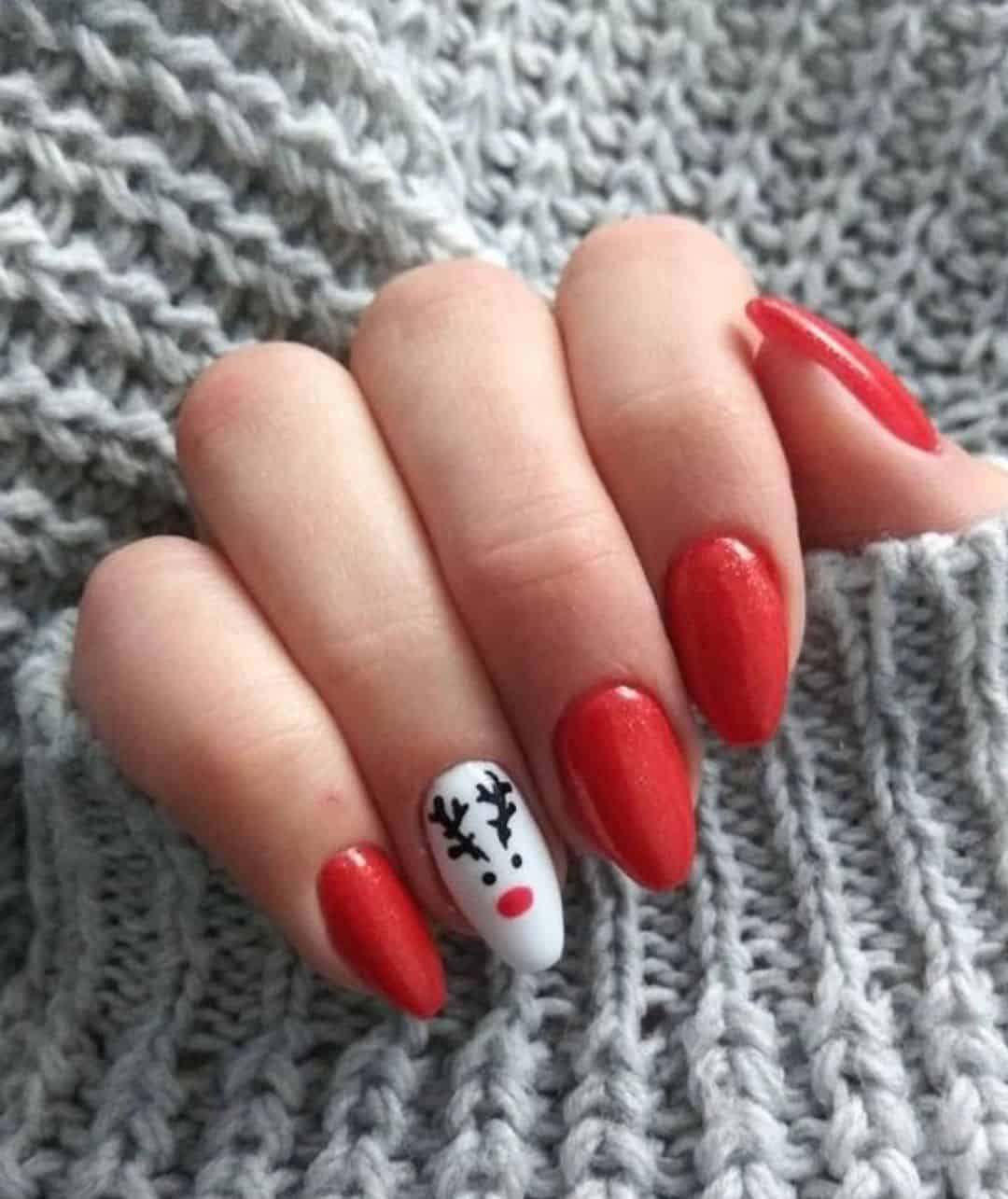 Red is one of the colors most associated with Christmas, and it makes any nail style more romantic and chic. Having all your nails look the same but changing it up with the ring finger is a trend that has been in place for a long time, but it never ceases to look great.
This design is a perfect example of that, and you can adapt it to any length and shape you prefer! The reindeer is on the ring finger with a white background, while every other nail is simply red. The look is versatile and modest at the same time, so it will fit right in on a romantic date and at a family dinner.
5. Holly Nails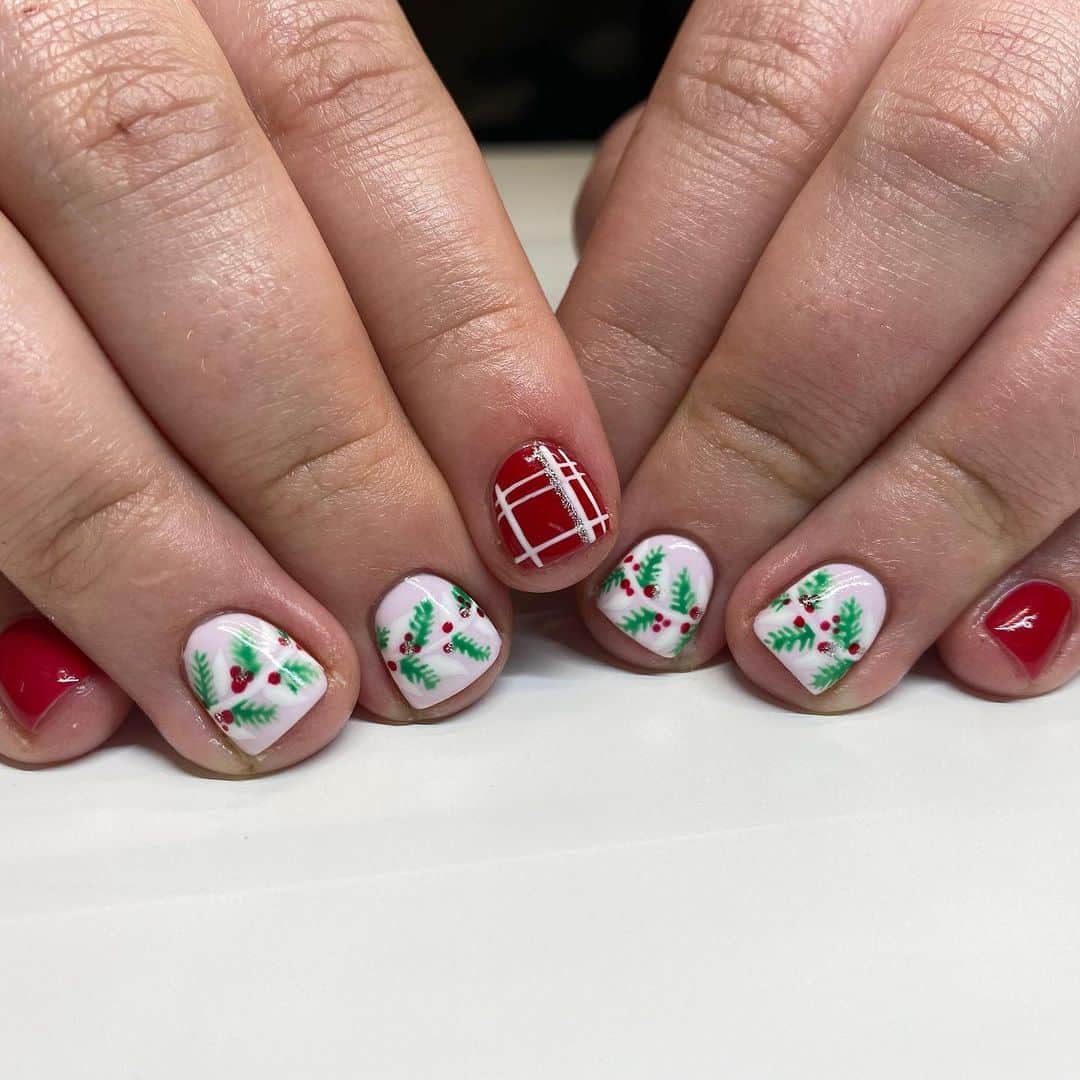 Holly used to be a symbol of fertility in Celtic culture, but since then Christians have adopted the holly tree as a symbol of Christmas. The sharp leaves symbolize the thorns on the crown Jesus wore, and the red berries represent his blood.
This is a great example of how short nails can be as fashionable as long ones. Mixing up the red backgrounds with the white ones always portrays an unmistakable Christmas look, add the Holly stems, and you're full-on equipped for that Christmas party with your friends.
6. Red and White Present Nails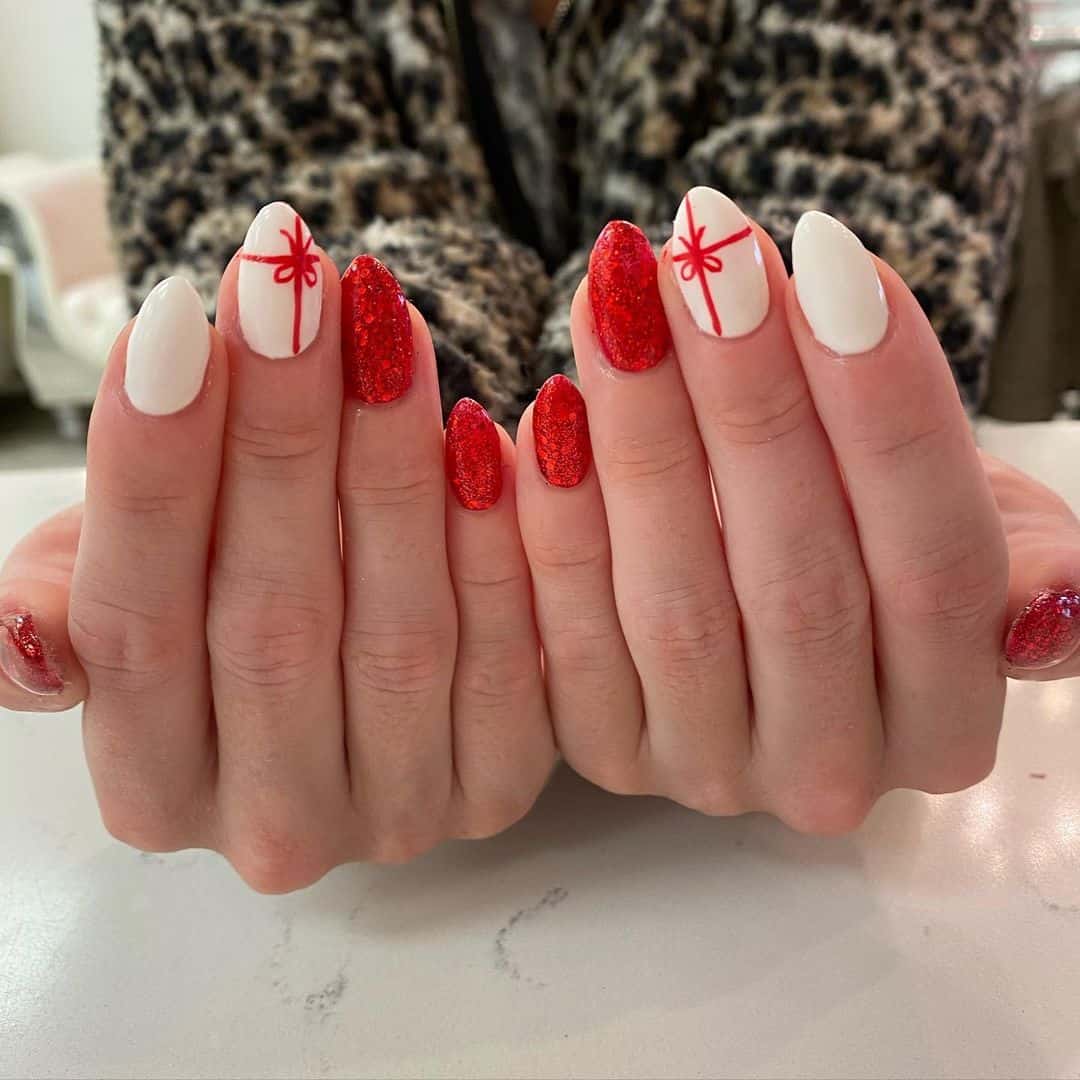 You may be wondering why red and white are everywhere, and that's a valid question. First and foremost, it's a beautiful mix and there's so much that can be done with those two colors. And second, those are two of the most commonly associated colors to Christmas; white is associated with the light God brings to our lives, and red symbolizes the blood of Christ.
This style in particular is very simple, but the red glitter adds all the sparkle necessary to attend a fancy party. It would also work beautifully with a square shape. In either case, the cute present design is going to look great.
7. Grey Nails With White Christmas Silhouettes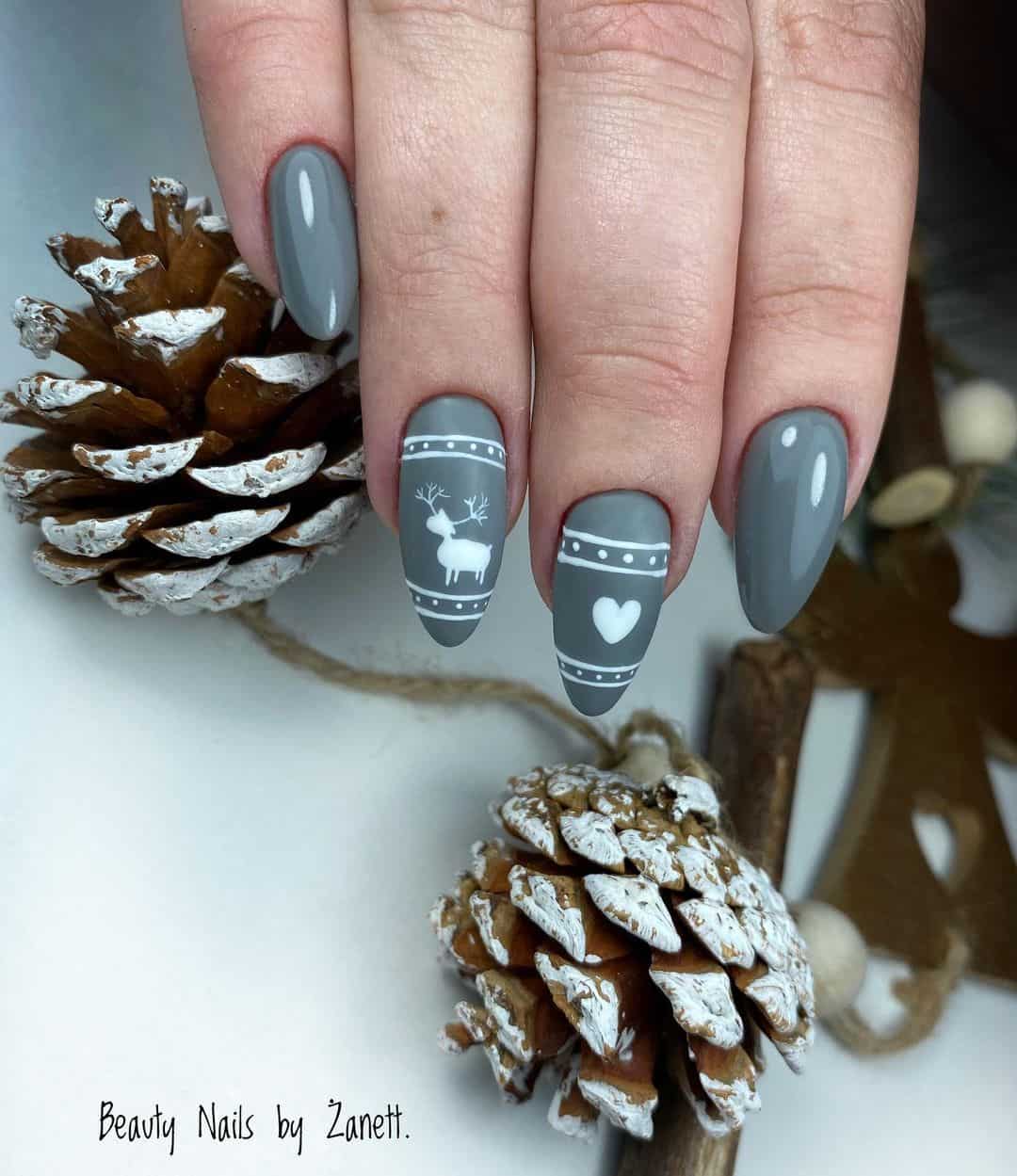 Simplicity is the word here. Grey is one of those colors that looks good almost anywhere. Add the white details, and you have a cute yet understated Christmas style with just two colors. Plus, did you notice how the grey is shiny on the plain nails and matte on the ones with the white details? Just one more factor that makes this style unique.
You can adapt this design to any shape but keep in mind that it will work better on longer nails.
8. Simple Nude Christmas Nails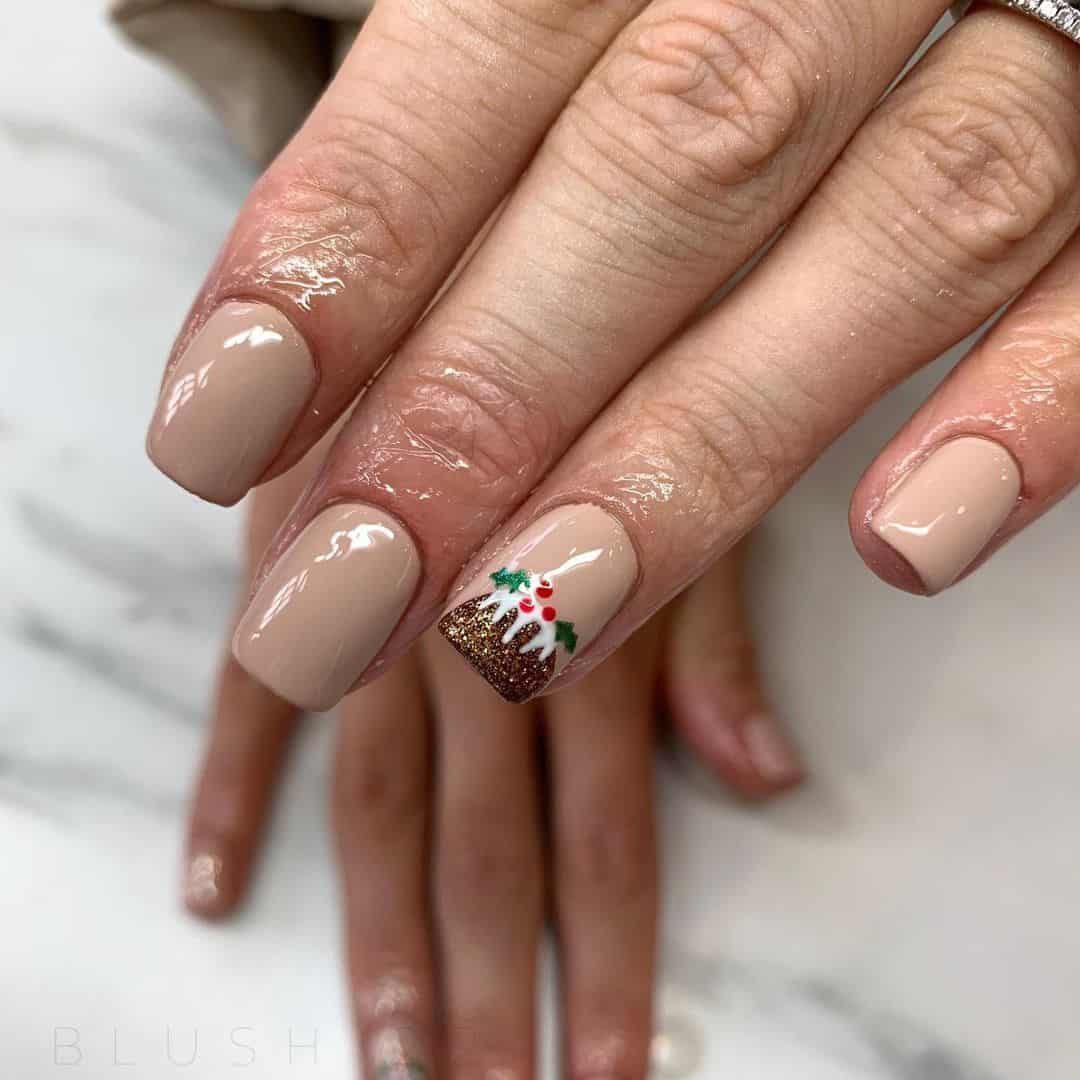 Some employers are strict and don't want you wearing bold makeup looks, nail styles, or even hairstyles. But don't worry, simple nail colors don't have to be boring! Usually in these cases, wearing nude colors is perfectly acceptable, so why not add a little detail? Perfect for when you're at work and for when you're not, this design adds a cute Christmas symbol to a single nail while the rest are plain.
9. Christmas Nails With Red French Tips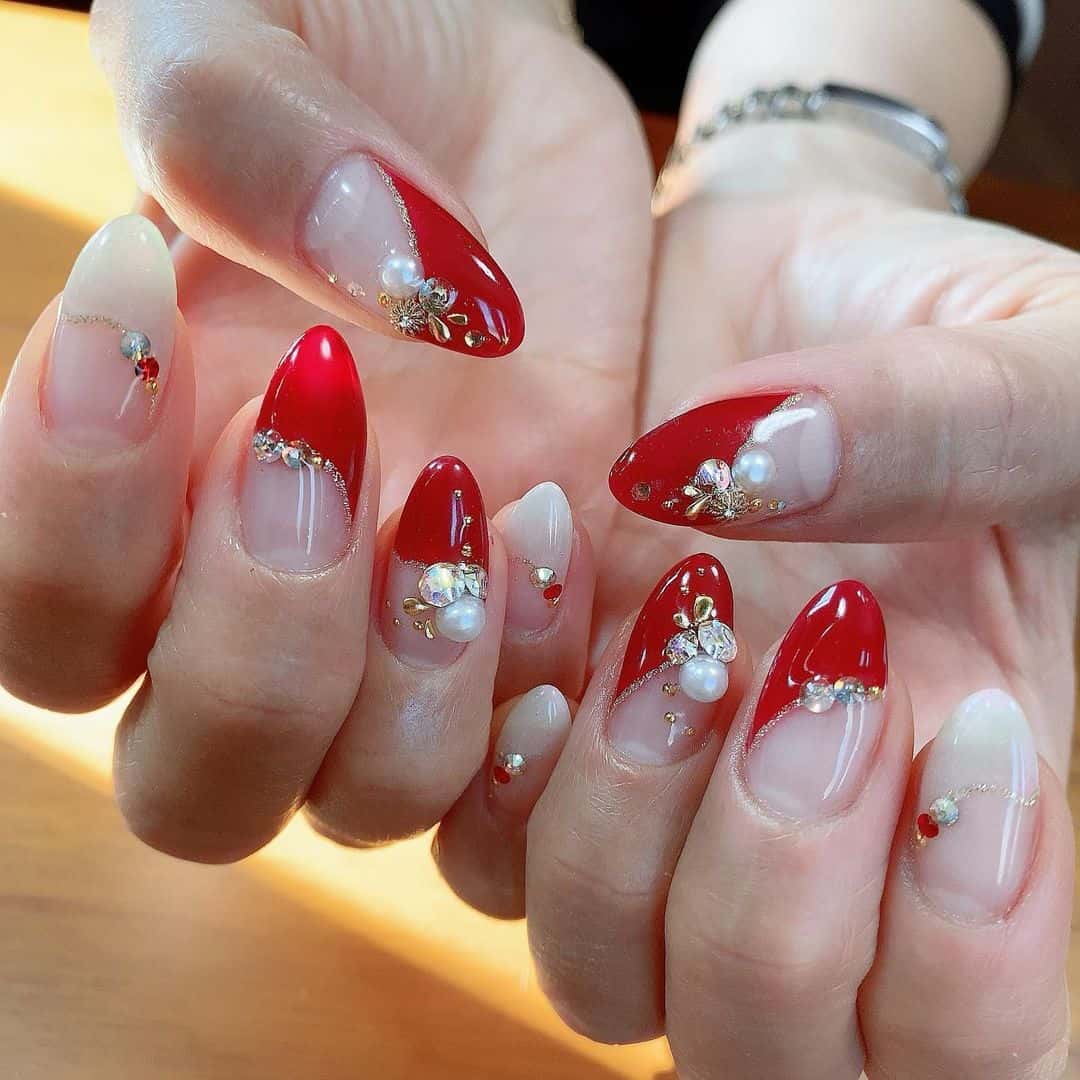 If you love to add jewels to your nails, then this one is for you. This style combines uneven red french tips with some spark, pearls, and fake diamonds. There is no doubt that this is the perfect choice for swanky Christmas parties.
You can combine it with a red, long, fitted dress and be the star of the night. It would suit long nails better, especially with ballerina, stiletto, or almond shapes.
10. Glittery Gold and Green Christmas Nails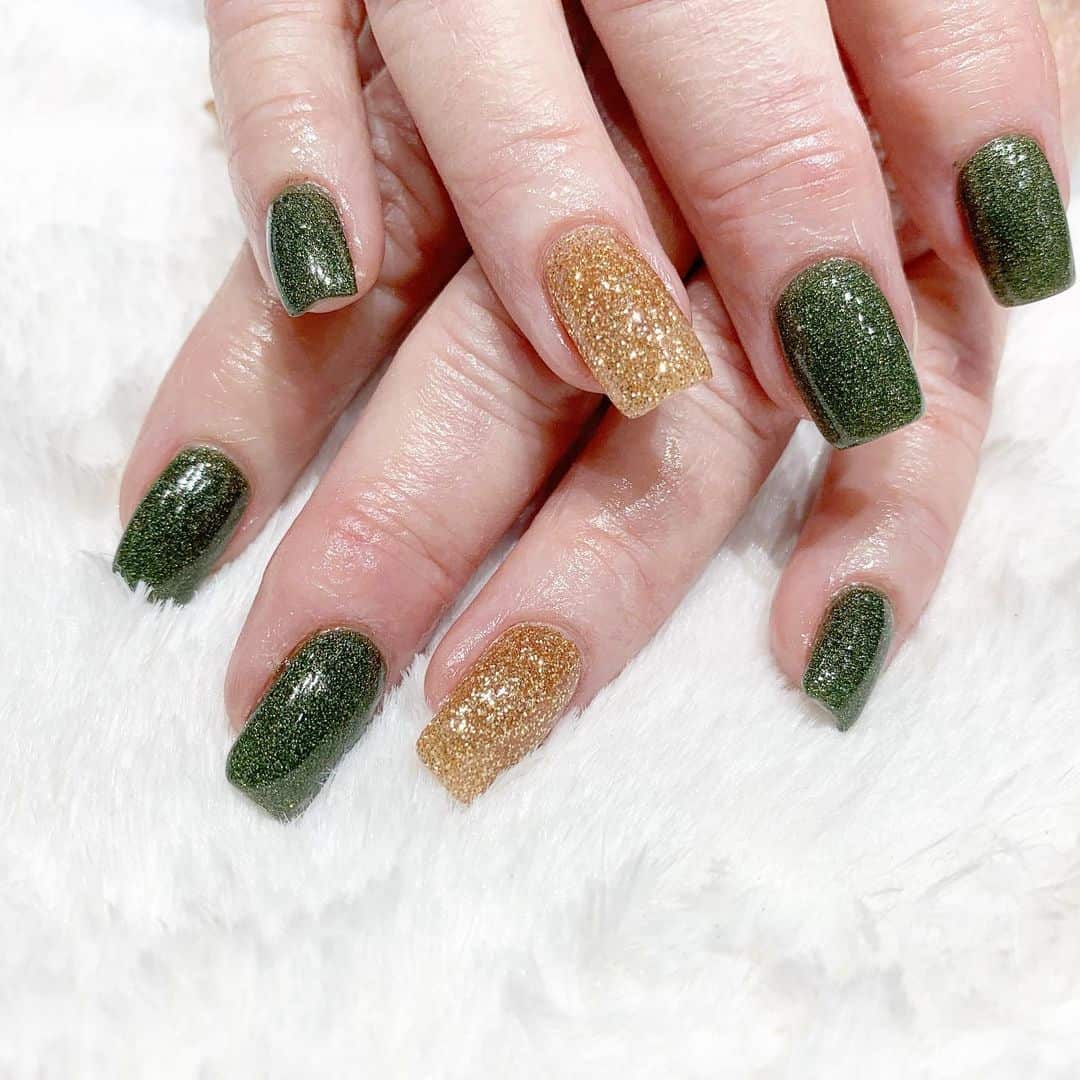 You can use glitter any time of the year, but it fits Christmas and New Year's much better than any other occasion. This style encompasses the classy holiday spirit perfectly. It will give you a fashion-forward look that combines fun with chic in the best possible way. You can wear a simple dress and make your manicure stand out, or wear a sparkly dress and make your manicure blend in. Plus, it suits every length and shape of nails!
11. Christmas Variety Nails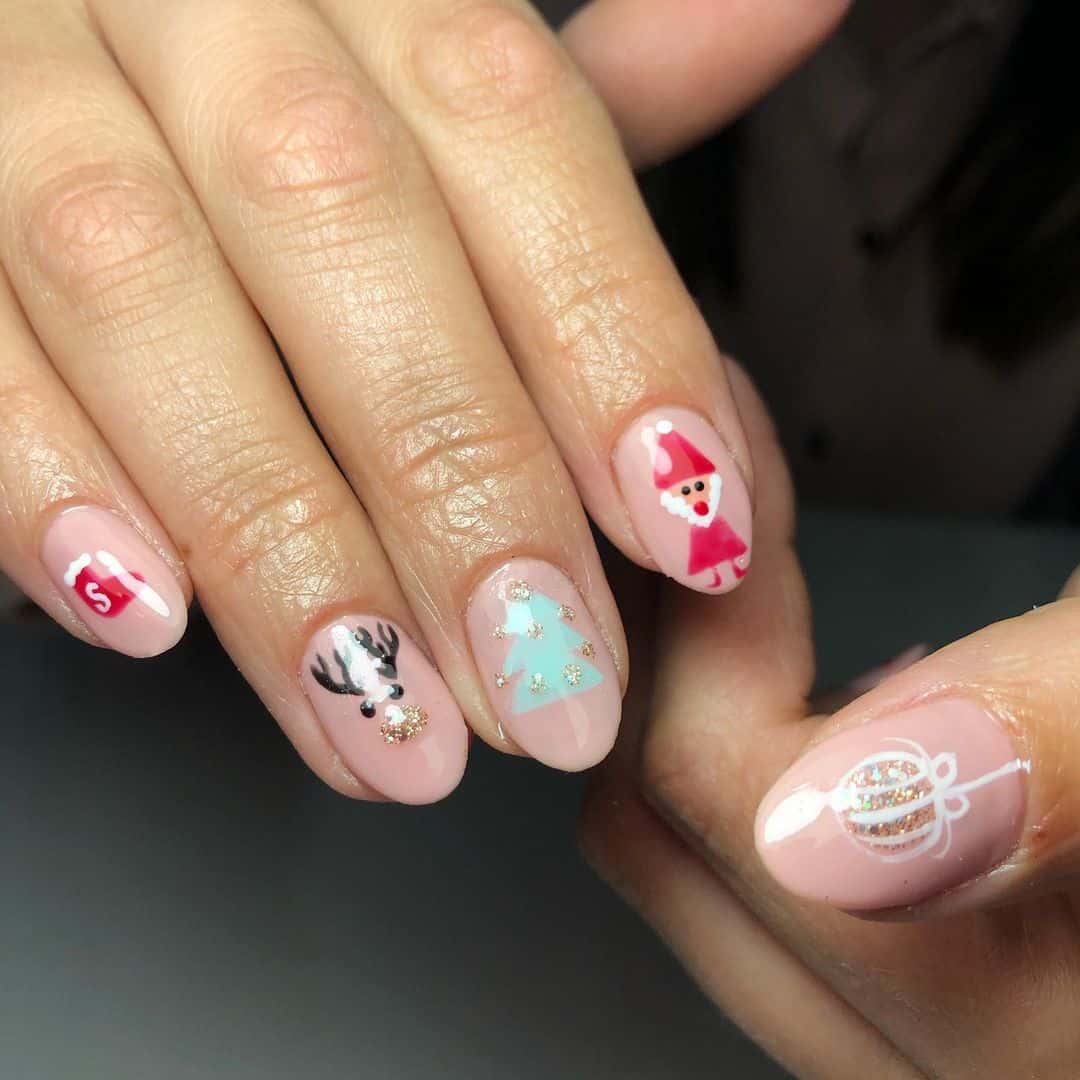 This design features a nude background on every nail but then adds a different element of Christmas to each one. You have Santa, reindeers, trees, ornaments, and stockings! If you are detail-oriented and enjoy admiring everything individually rather than looking at the big picture, then this style would be a great choice for you.
12. Pink Nails With Silver Snowflakes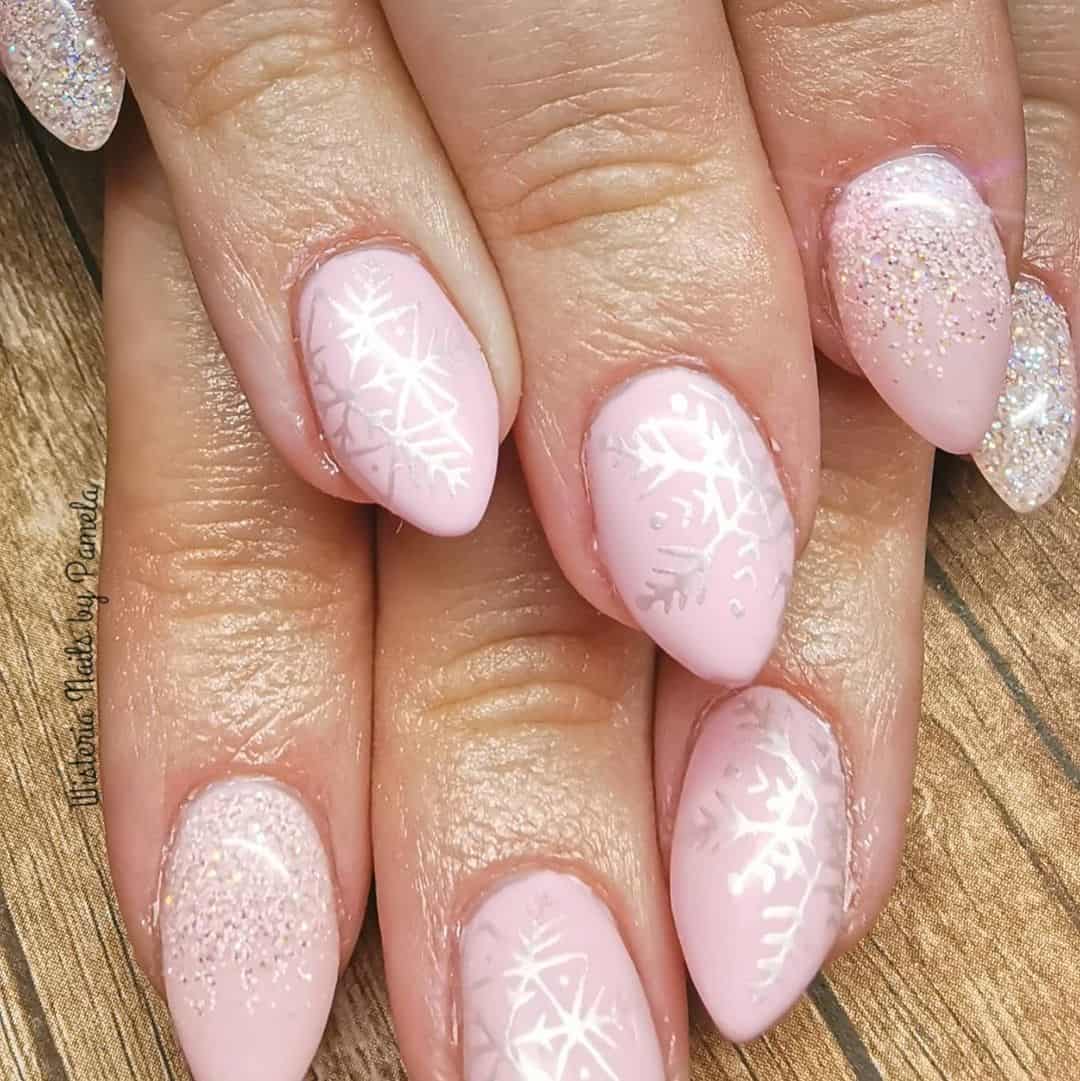 Pink may not be one of the traditional Christmas color,  but there's no reason for you to stop using your favorite colors just because it doesn't exactly fit the theme. You can use any color you wish and still add some Christmas spirit to it. This design also works for every shape and length so you can adapt it to your liking.
In this case, the silver snowflakes make this look tick all the boxes. And of course, some sparkle, because that's what this season is all about.
13. Mistletoe Drip Nails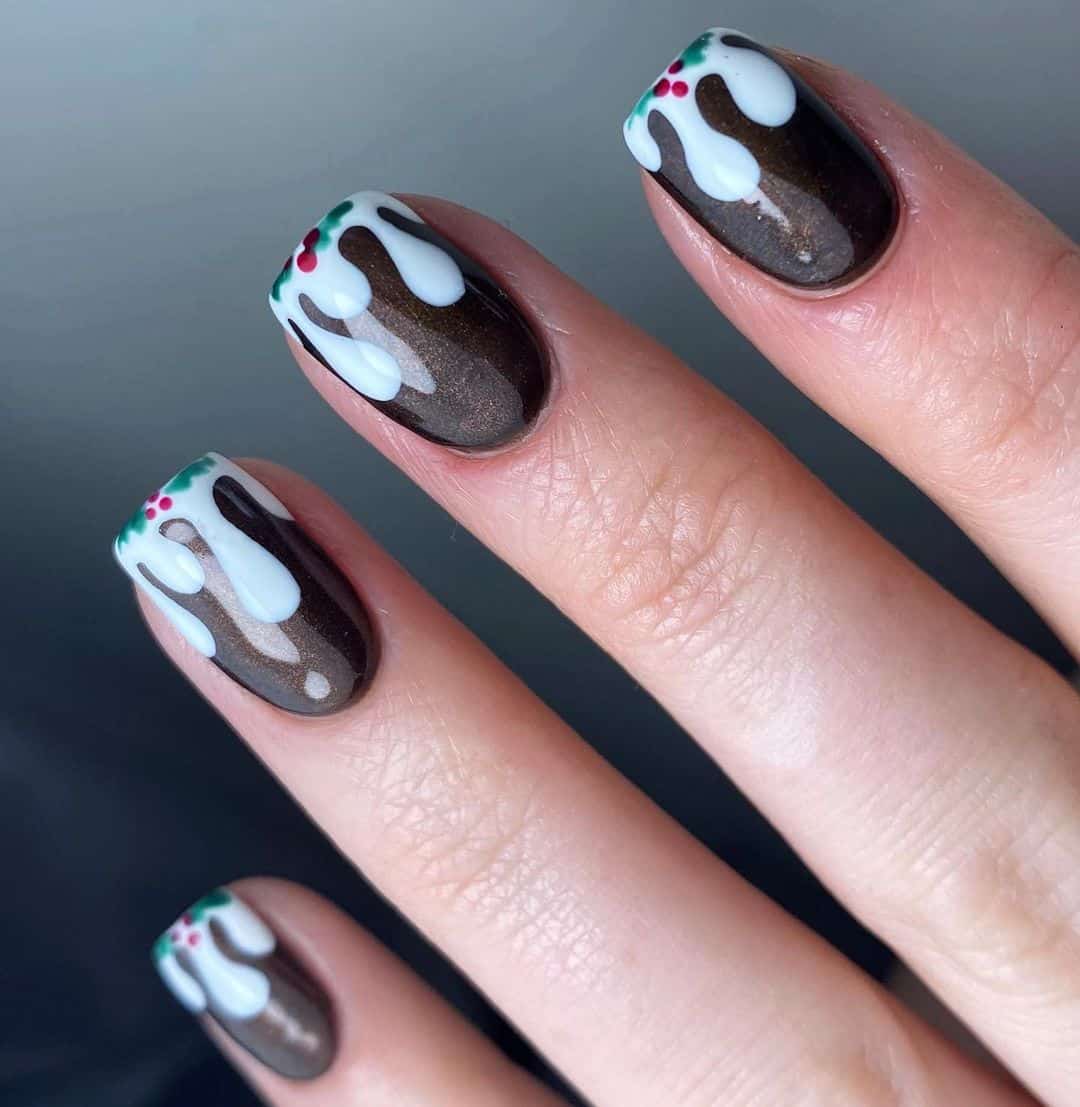 Turning your nails into small Christmas puddings is more glamorous than it sounds. Using chocolate brown as the base and then adding the white and red details to the tips makes for an innovative take on drip art. This style effortlessly turns the simplest things into fashion statements, and is great for those who like square-shaped nails.
14. Black and White Christmas Nails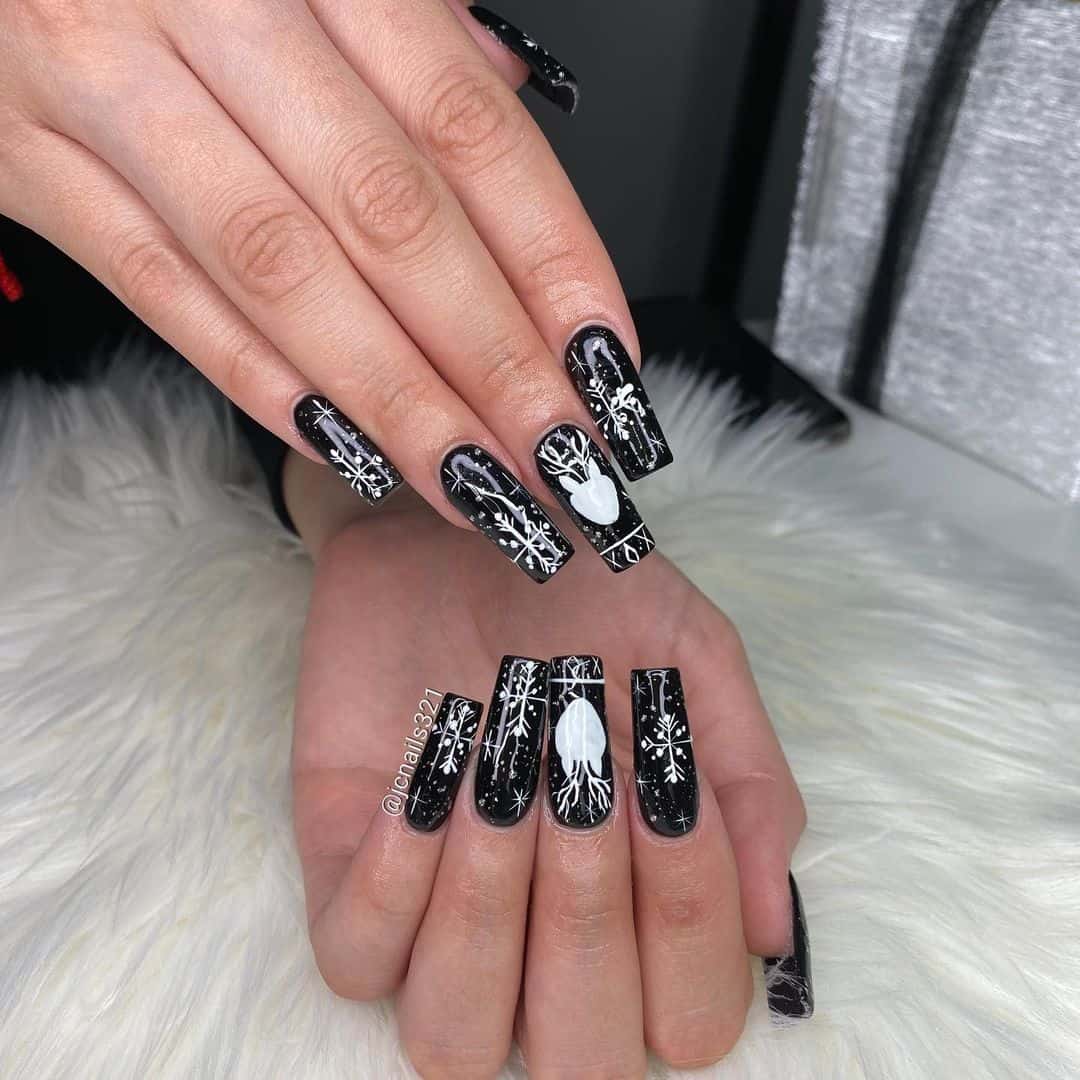 This beautiful nail design shows how much black and white can fit the Christmas season. It's fashionable and modest at the same time, plus, it will go well with anything you wear or any occasion. If you can't decide what to get, you can't go wrong with black and white.
15. Purple and White Winter Nails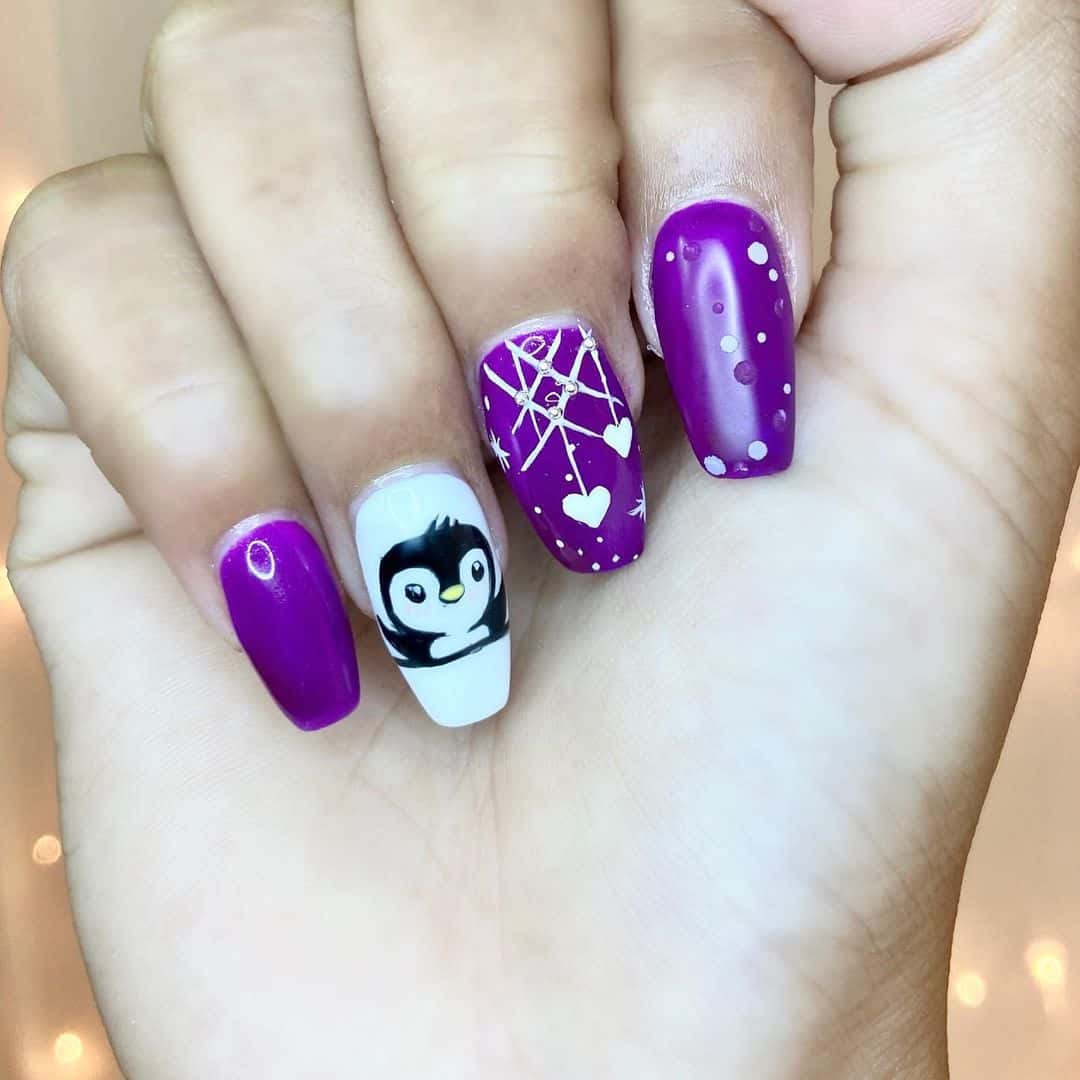 Purple may be an unconventional color to add to your looks on Christmas. Purple plays a role in the Christian church, symbolizing suffering and sorrow, but apart from this unfortunate meaning it is a favorite everywhere and works well with many different styles.
This one features a slightly matte purple with some details, which in itself is already stunning, but add that cute penguin and you hit the Christmas jackpot! I mean, who doesn't love penguins?
16. Polka Dot Reindeer Nails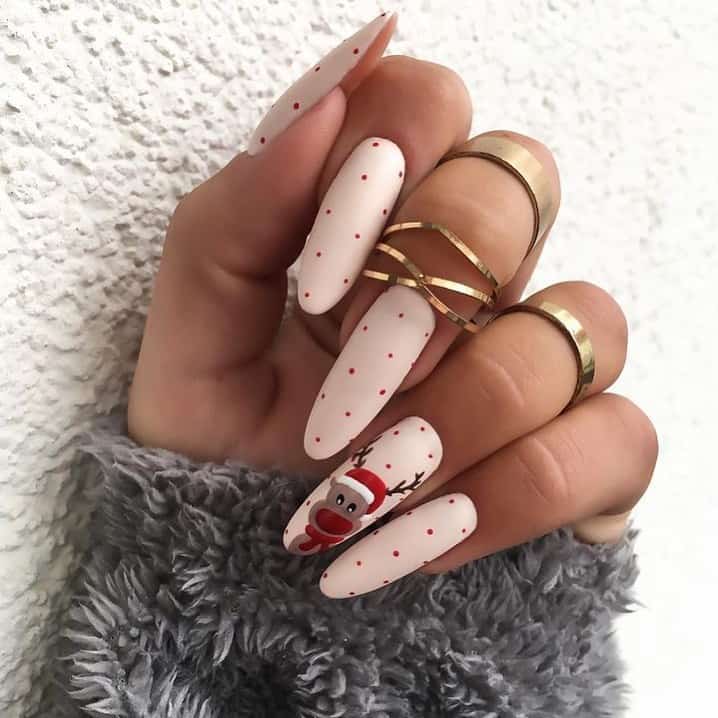 Polka dots are one of those patterns that are evergreen. It fits well with a wide variety of colors and themes. This one shows an eggshell matte background with red polka dots. That would already be perfect, but then you have a reindeer on your ring fingers and you're in season! This style has a fun and slightly childish look to it, but despite this, it will fit perfectly with any age. You can use it with any nail length, but remember to give the reindeer some space.
17. Christmas Light Nails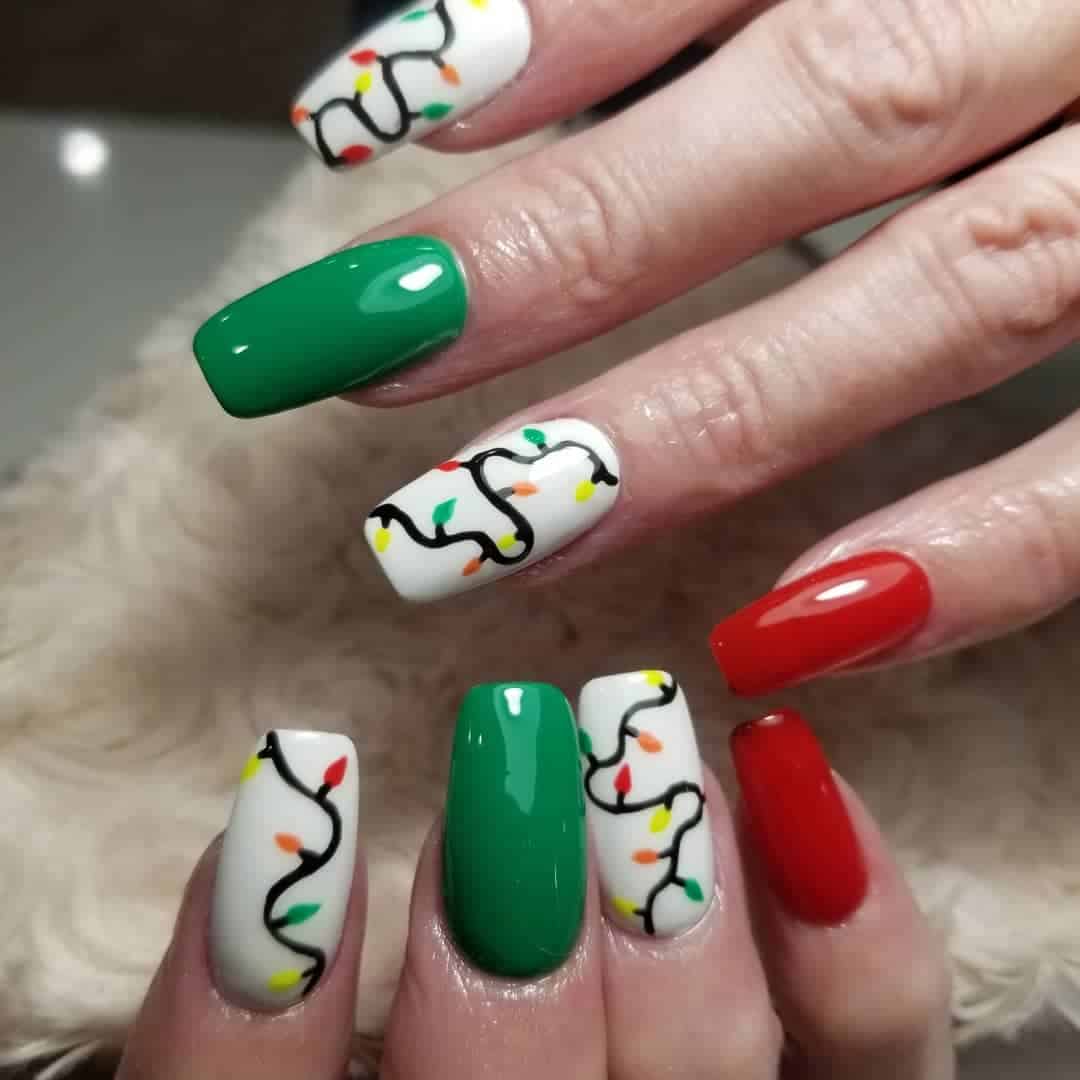 Christmas lights can feature in a variety of styles. It's such a simple thing, yet it gives a fashionable and fun look. Combining the lights with some plain colors on other nails makes this design go well with all kinds of outfits. It may not be the best look for a fancy office party, but it will surely fit in with any other environment.
18. Black and Gold Christmas Nails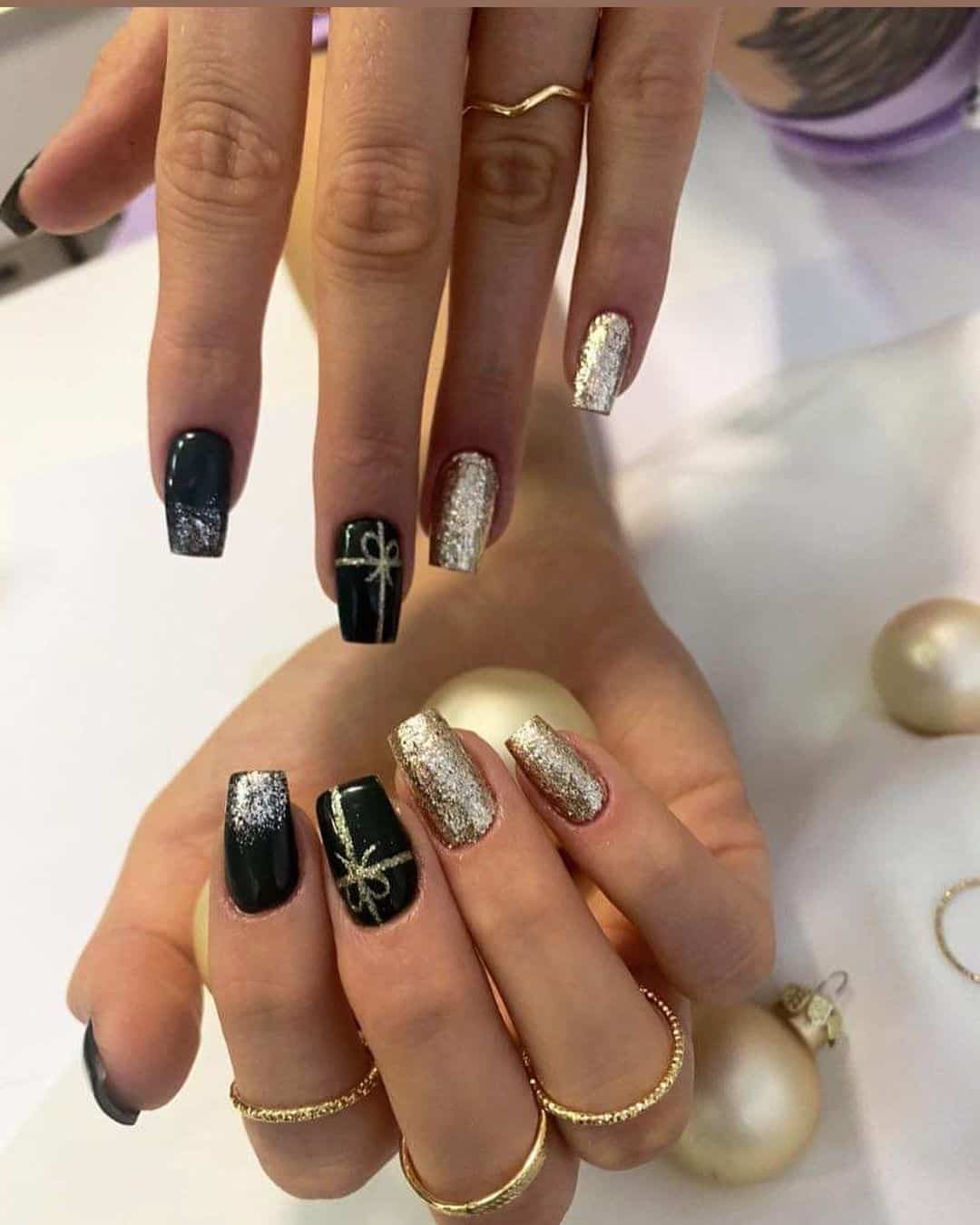 If you're looking for a classy design, then look no further! This design is worthy of the red carpet. Your Holidays will be all about glamour and finesse with this sophisticated design. But just because it would fit high budget events better doesn't mean you can't match it with black jeans and an oversized sweater to attend a family gathering: it just makes any look even classier!
19. Red Candy Cane Nails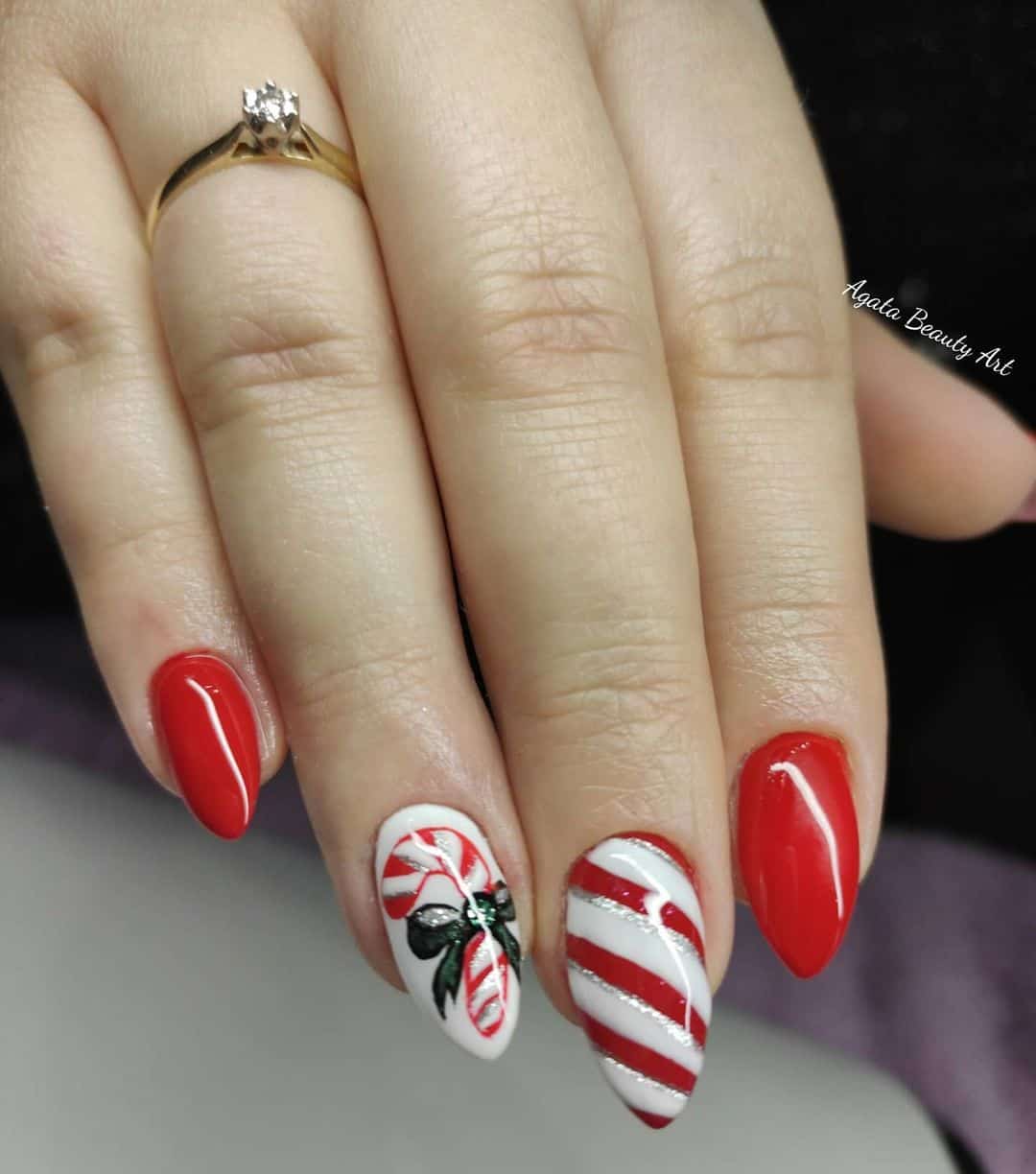 This is such an adorable look. It's undeniably Christmassy with the candy cane and the red and white stripes, and it makes for an amazing addition to any day-to-day outfit. You can try switching the red nails with silver if you want it to appear more festive. Even if it's not your style and something you wouldn't get for yourself, there's no denying that it's beautiful! It looks oddly appetizing, too…
20. Silver and Green Christmas Nails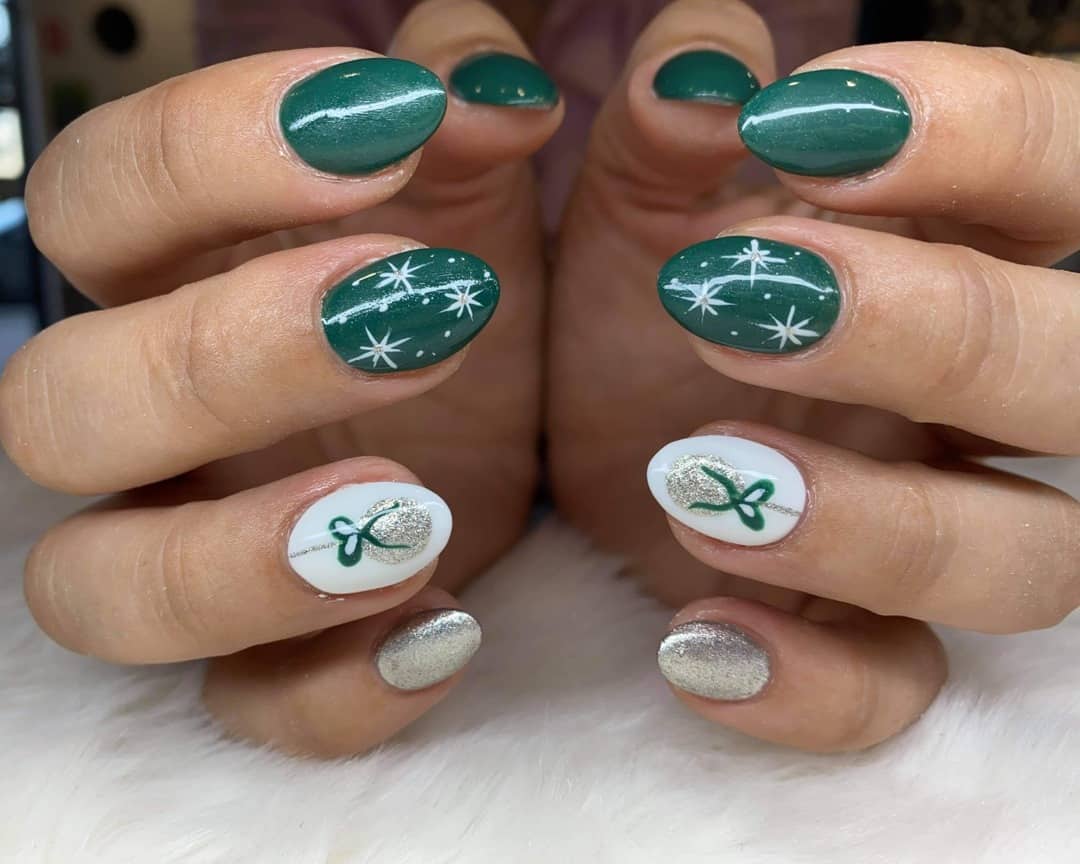 Just like with the color red, the color green and Christmas go hand in hand, so you can't go wrong with it. This design is for you if you own mostly clothing with muted colors, as it would suit most outfits you choose to wear. So if you are looking for a nail design that fits comfortably with your day-to-day life, then keep this one in consideration.
21. Gingerbread Man Christmas Nails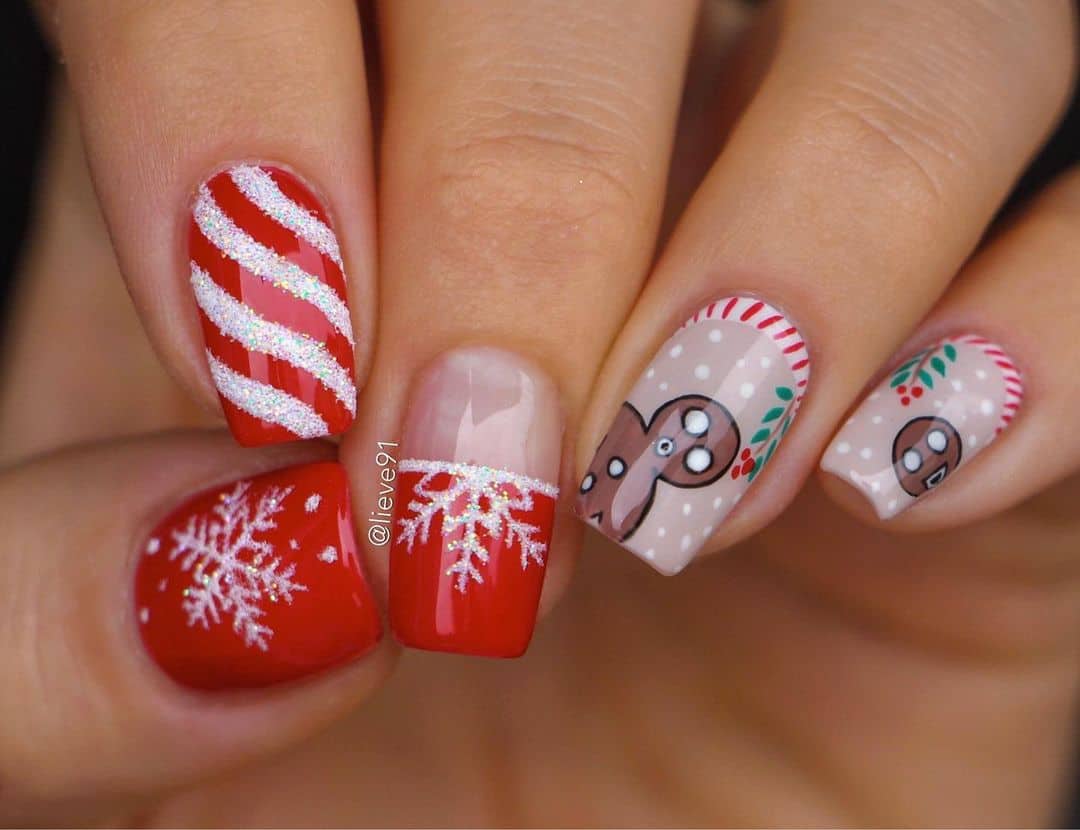 If you're looking for a mix of Christmas staples that go well together with no elements are out of place, then this design may be just right for you. The snowflakes, mistletoe, candy cane patterns, and gingerbread men are all done in a similar style using the same color scheme, creating the perfect Christmas collage. It such a versatile design and it would go well with every length, but steer away from stiletto or ballerina shapes or it could ruin your gingerbread men.
22. Simple Penguin Nails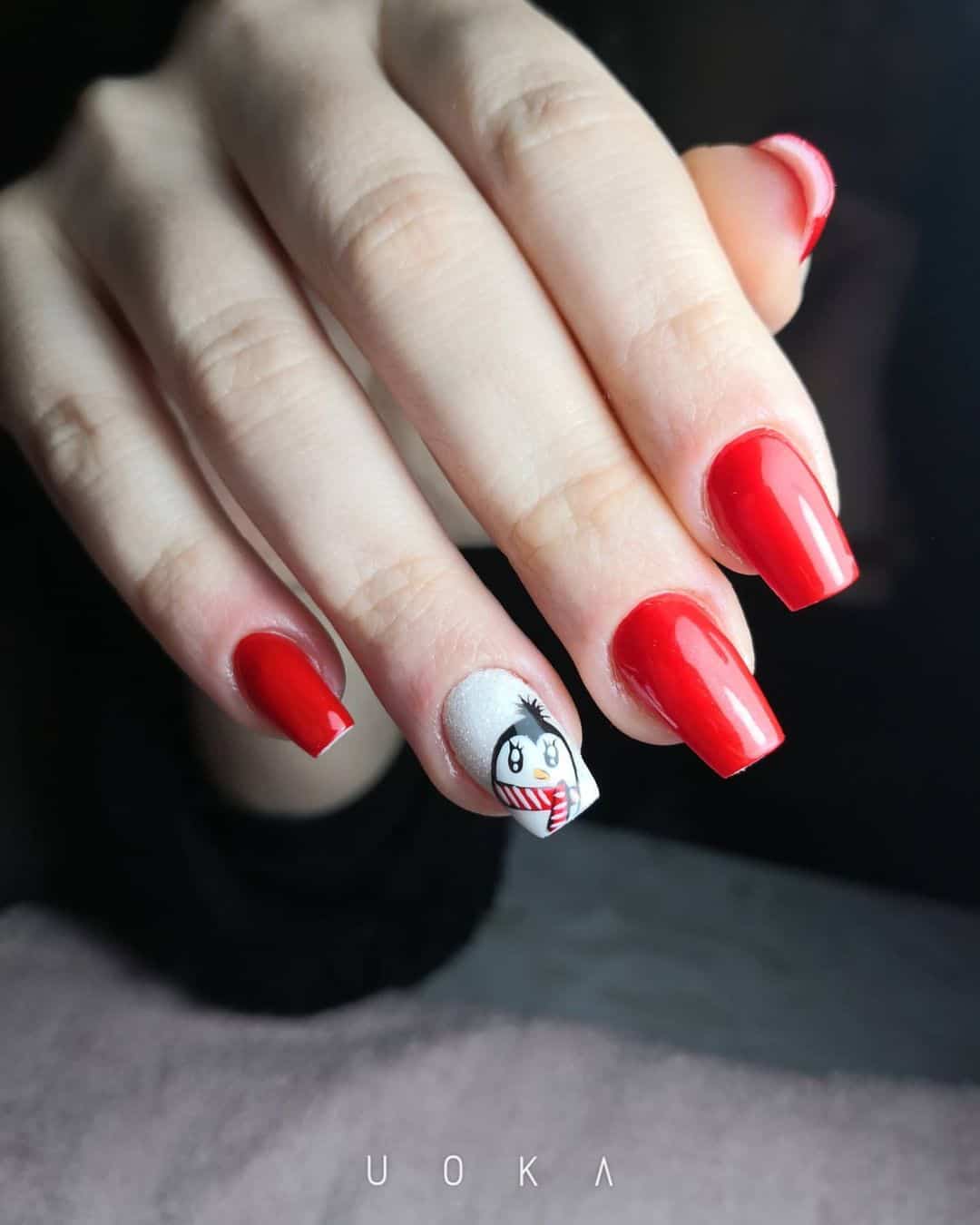 This could just be a simple red manicure, but it's Christmas, so you need to add at least a little hint of it to your nails. A little peeking penguin on your ring finger will do just the trick, and it's adorable. If you're not a fan of penguins, it would also work with a reindeer, a gingerbread man, Santa, an elf… anything you want, really! By keeping the art to one nail, the design remains simple but with some personality thrown into it.
23. Grinch Christmas Nails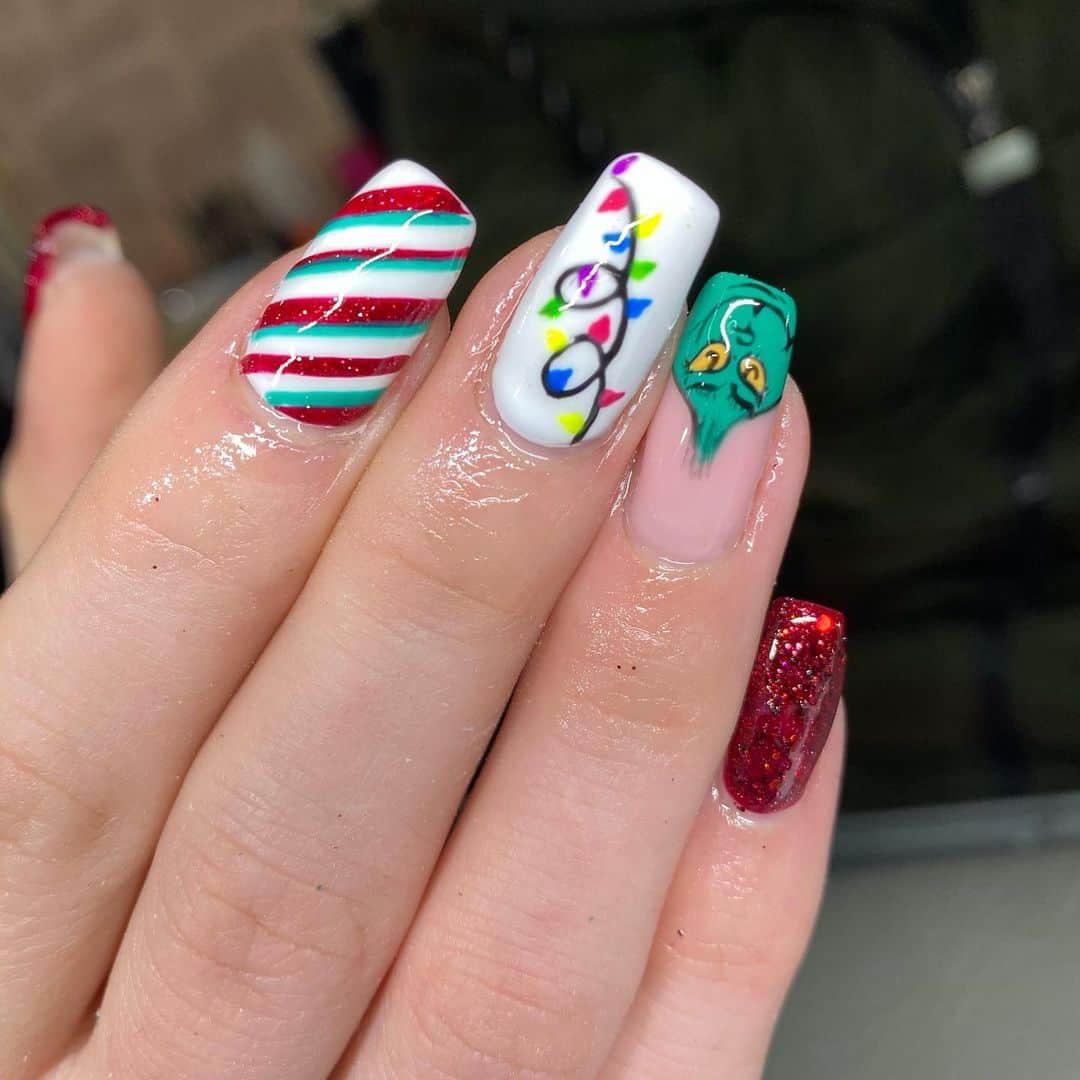 This Christmas-hating fiend is everywhere during Christmas. In this fun design, he's featured on a single nail, but he's still the star of the look. Why not do the same yourself? Choose any nail design and save one nail for the Grinch. It will add a fun element and accentuate the Christmas spirit by referencing one of the nation's favorite movie characters! If you think about it, the Grinch really stole Christmas…
24. Subtle Candy Cane Nails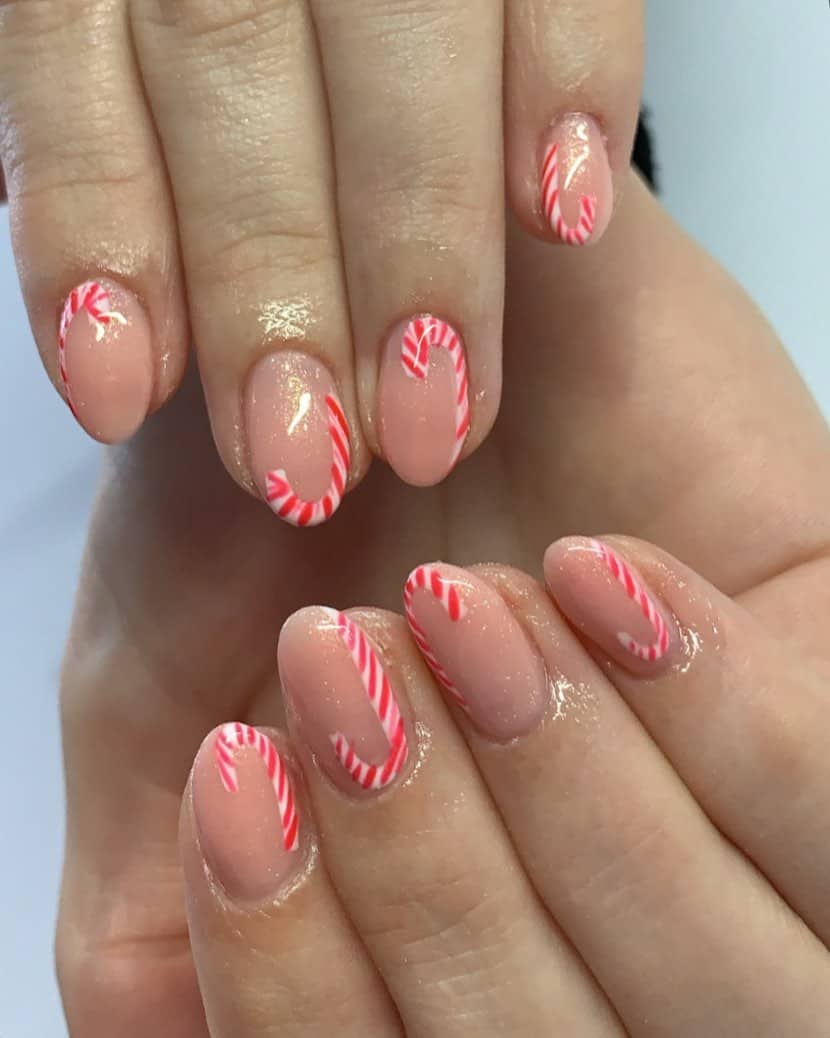 This one's a strong candidate if you prefer understated looks. From a distance, you can barely tell there's any nail design at all. But the fun is all in the details, right? This design will give you the satisfaction of having your nails done, without being too obvious and unnatural looking. You can choose any shape and length: just outline the edges with the candy canes and you're done.
25. Frozen Christmas Nails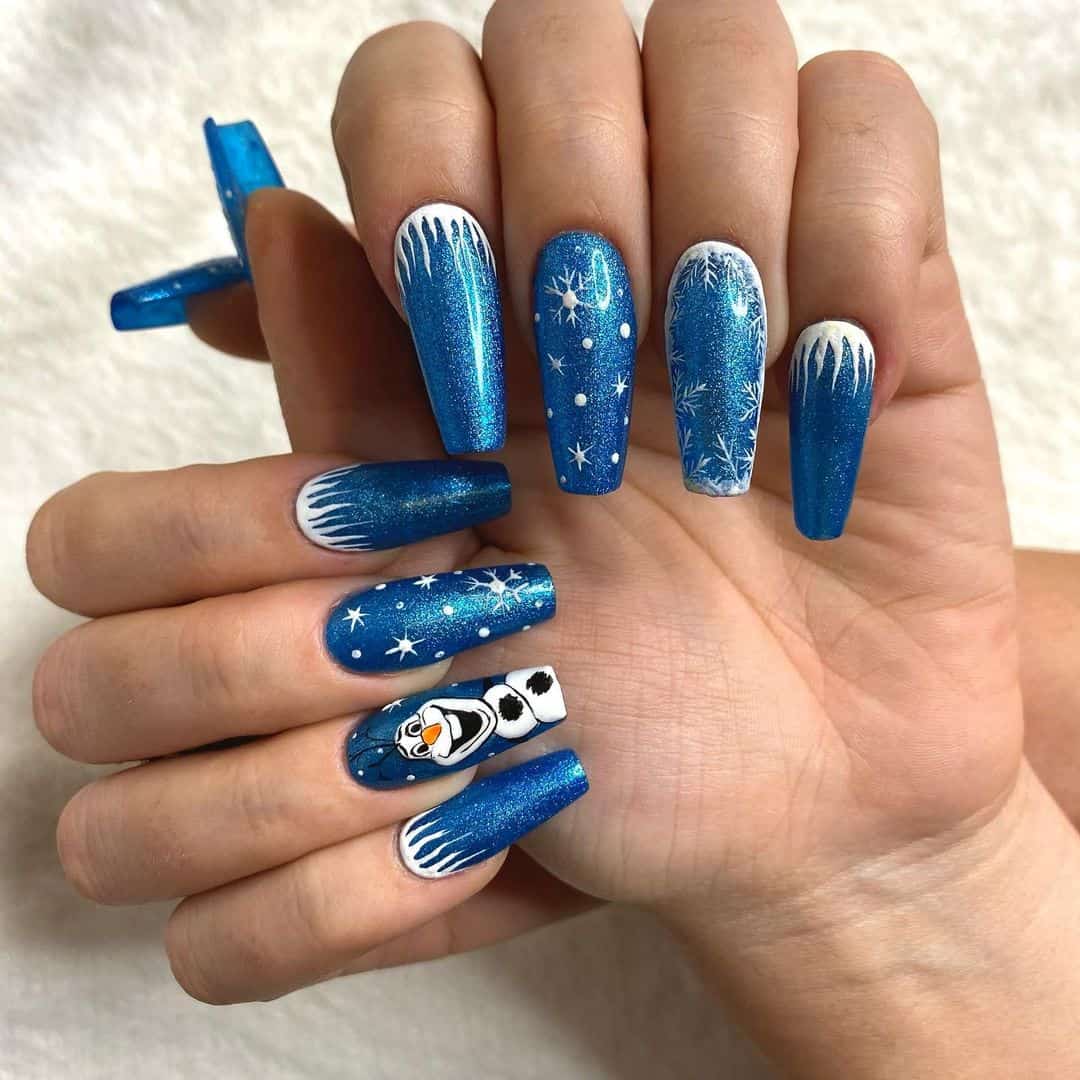 Over the past few years, Frozen has become many kid's favorite. This nail shows a delighted Olaf and snowflakes everywhere, and it's stunningly cute. Though not impossible, this design would be easiest to apply on nails shaped like they're shown here.
26. Peppermint Candy Nails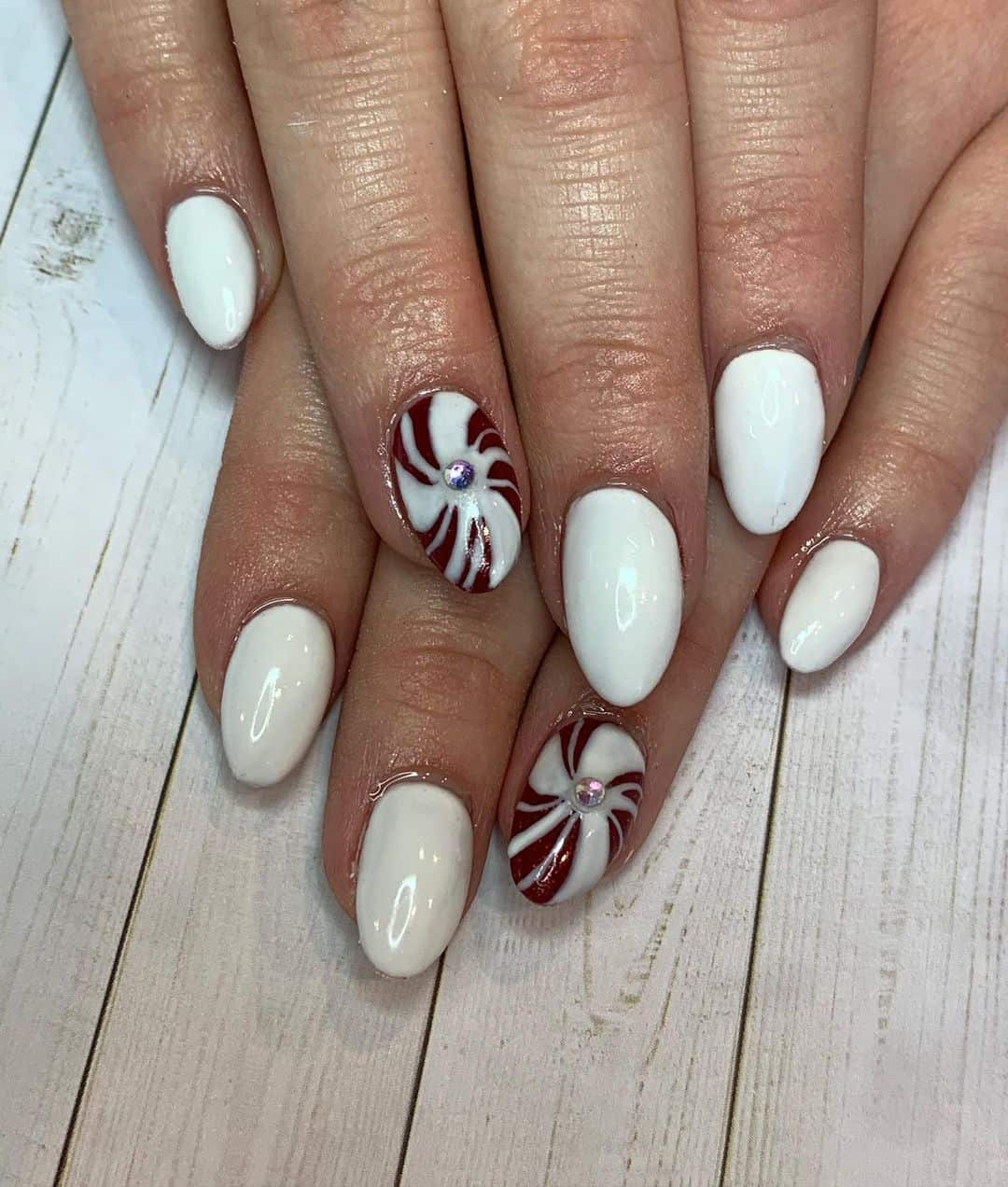 You can see the red and white stripes in many Christmas themed looks, that is a reference to peppermint candy. This design, however, only features this seasonal sweet on the ring fingers, with a jewel in the center. And it works marvelously!
This style would ideally be used in oval, round, or almond-shaped nails. Since the overall look is mainly white, it would look amazing with almost any outfit you choose and any event you attend.
27. Snowflake Nails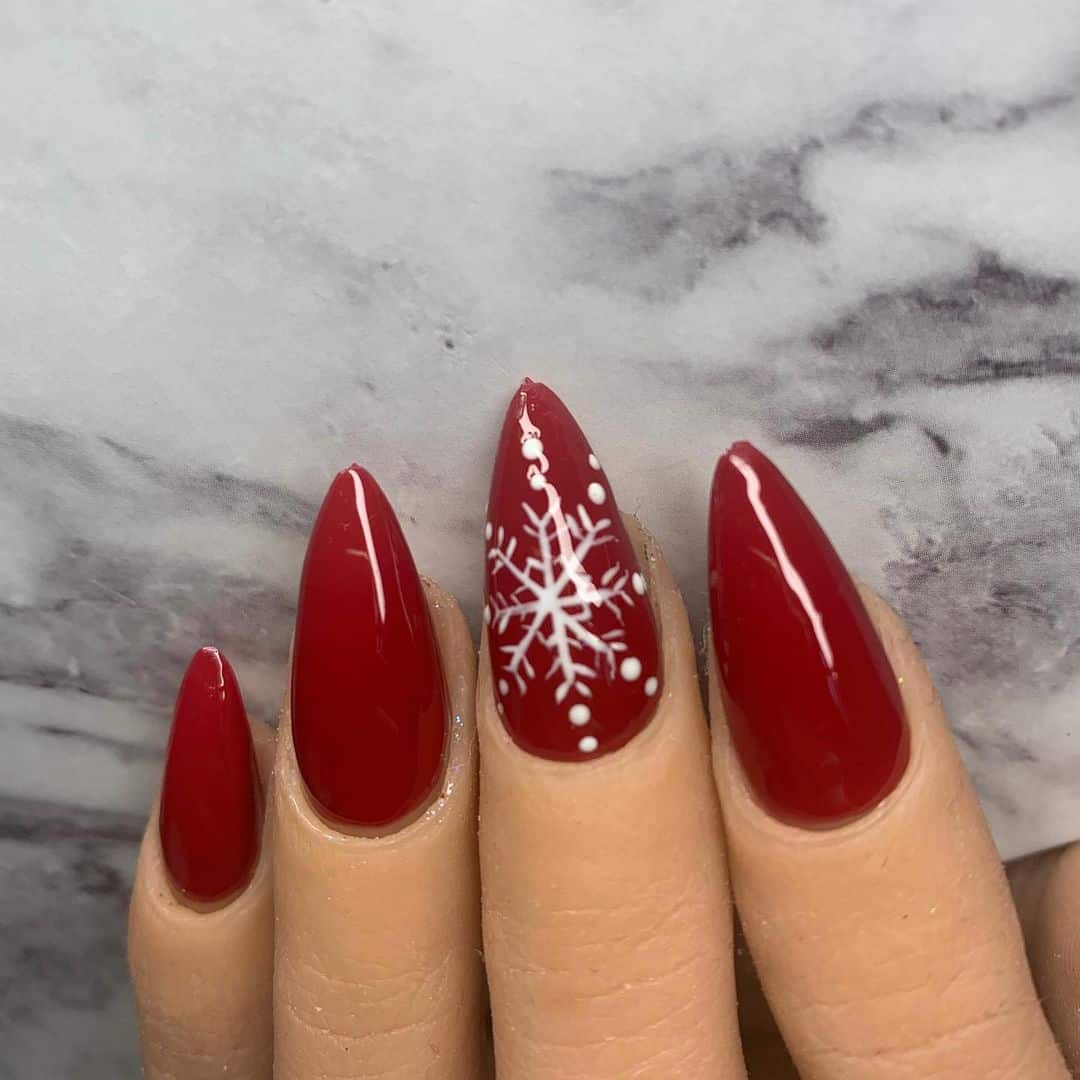 Snowflakes are a classic Christmas decoration. The main issue with this nail shape is usually the space available for a design but that is not an issue if you want to add a snowflake since its symmetry allows for it to work even if it needs to be cut short on some parts. However, this same design would be flawless in any other shape and length. This classy look is bound to attract a few looks wherever you go, in a good way.
28. Simple Gold French Tipped Nails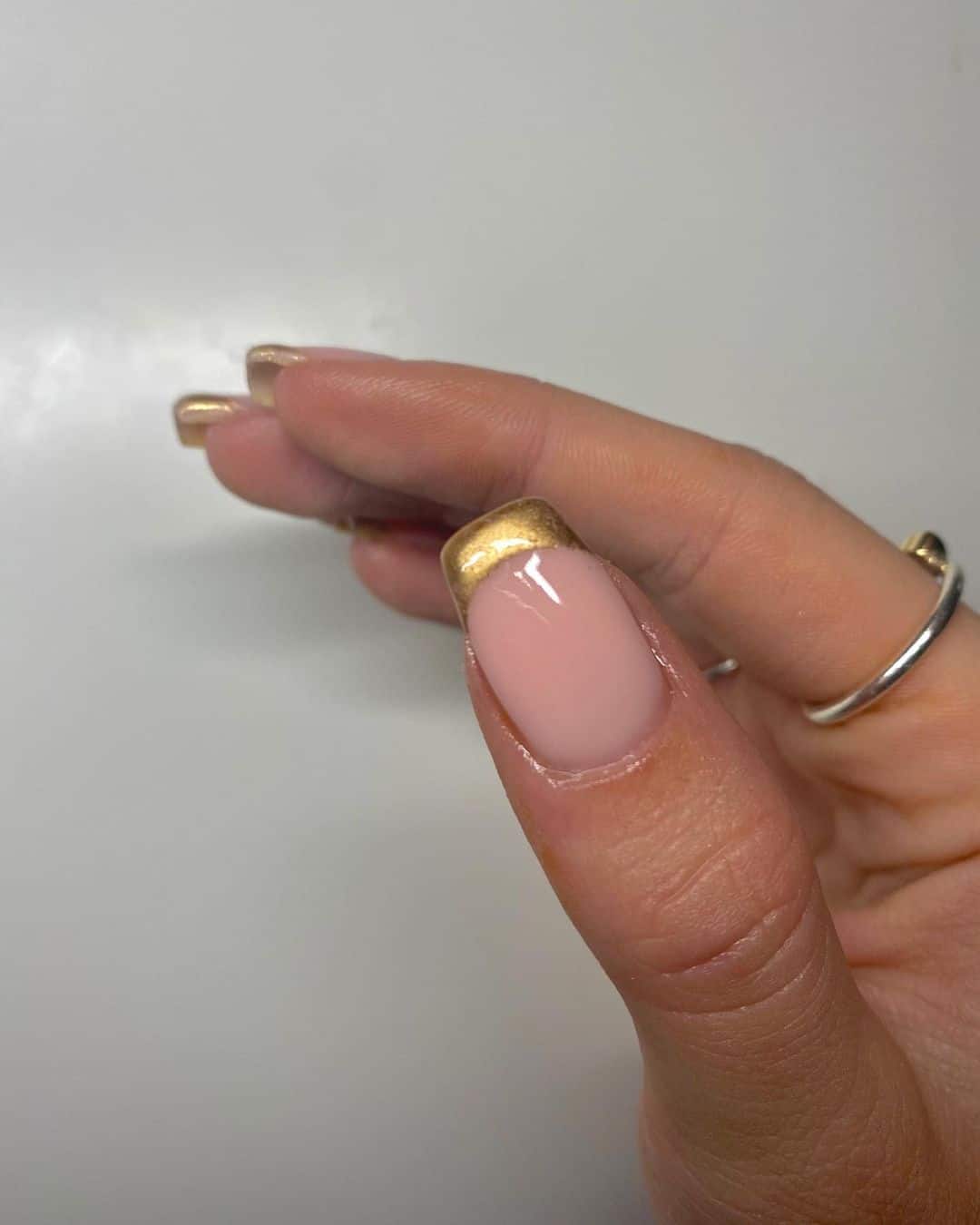 Sparkle and complex designs aren't for everyone but luckily, when it comes to nail designs, there will always be something for all personalities.
If you're a fan of everything natural and your staple choice of manicure is french tips all year round, but you still want to make it just a tiny bit Christmassy, then turn those french tips gold and you're all set! Alternatively, silver or red tips would also look amazing, but keep in mind that French tips may not work to everyone's liking if you prefer a stiletto shape.
29. Classic Santa Nails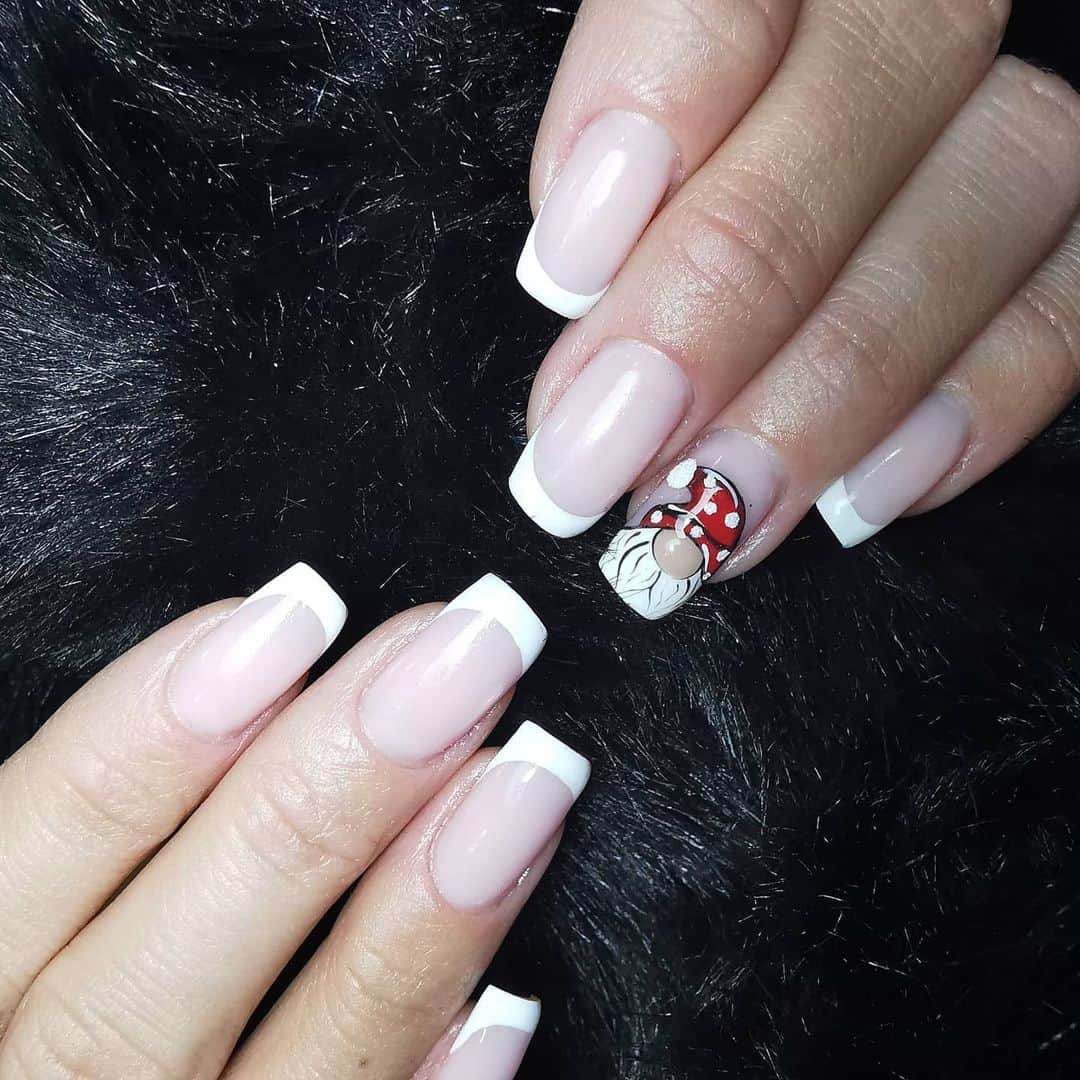 Just like you can add a little element to plain colored nails, you can do it with some classic French tips. This look looks better with Santa over other characters like reindeers or gingerbread men since Santa's beard would go on the tip, it looks almost like an extension to the French tip. Although french tips aren't the best fit for stiletto nails, this particular design would work really well because it would appear like it's the shape of the beard. This is a more playful look and it will fit more relaxed environments.
30. Assorted Candy Nails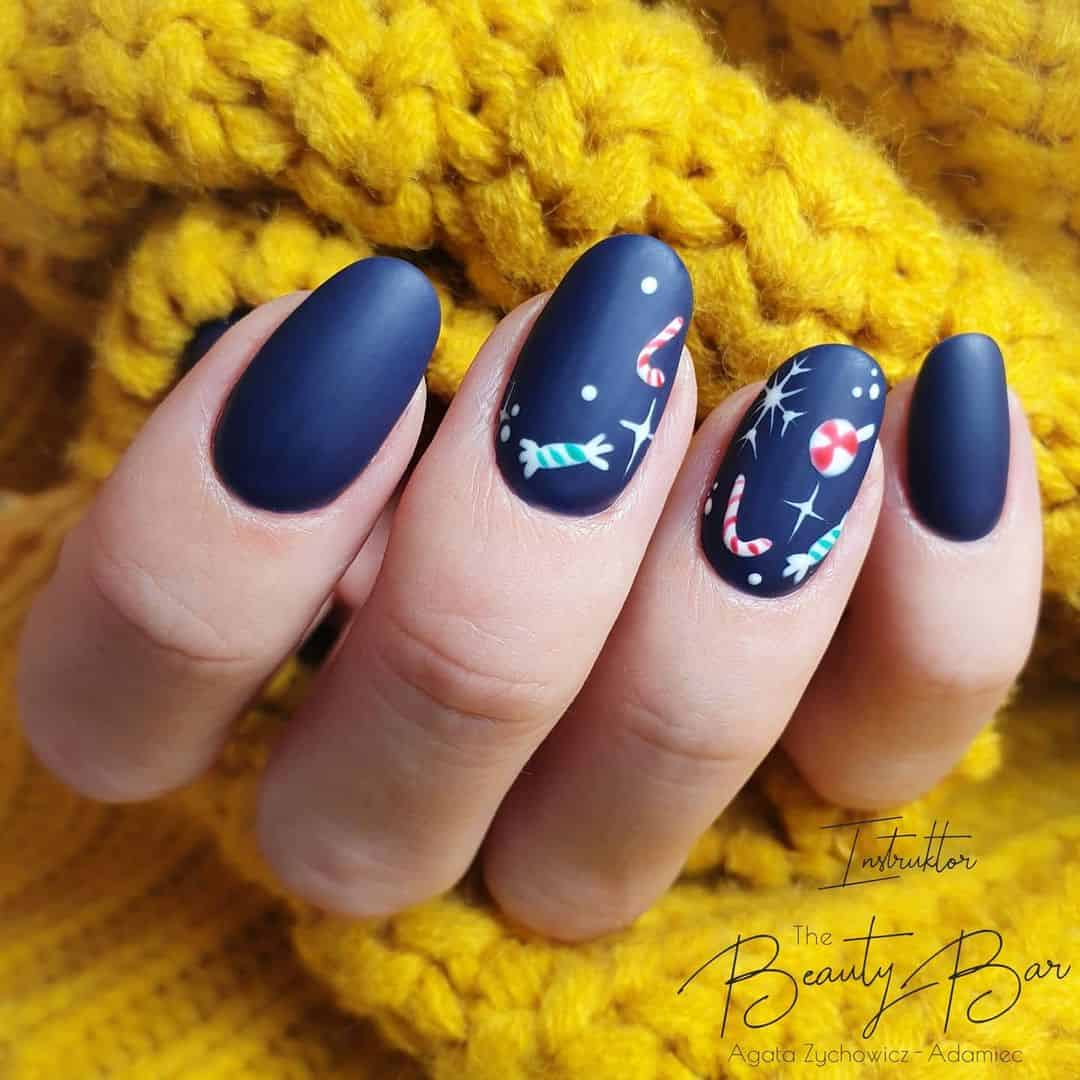 Do you have a sweet tooth? Show it to the world with this beautiful matte look that encompasses everyone's Christmas favorite candy. There are lollipops, candy canes, peppermint drops but you can also add gingerbread men and Christmas pudding if you want to make the design more complex.
31. Nutcracker Nails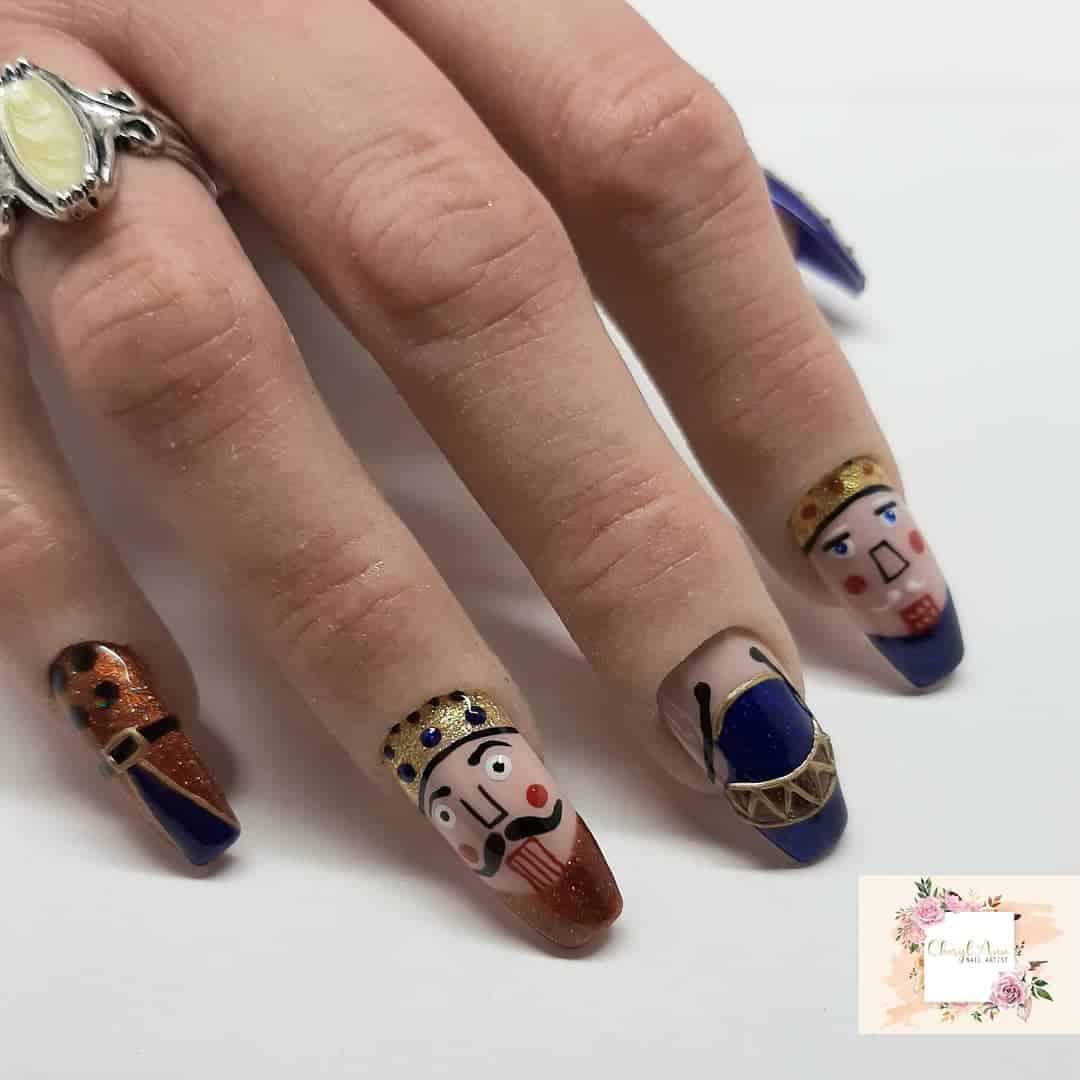 Whether you're familiar with the Nutcracker from the ballet or the Barbie classic movie, there's no doubt that this character looks great in this nail design. If you're looking for a convoluted design and you love to stand out from the crowd then this is way up your alley. Plus, it has a fair amount of different colors so you can mix and match a variety of outfits.
32. Christmas Cat Nails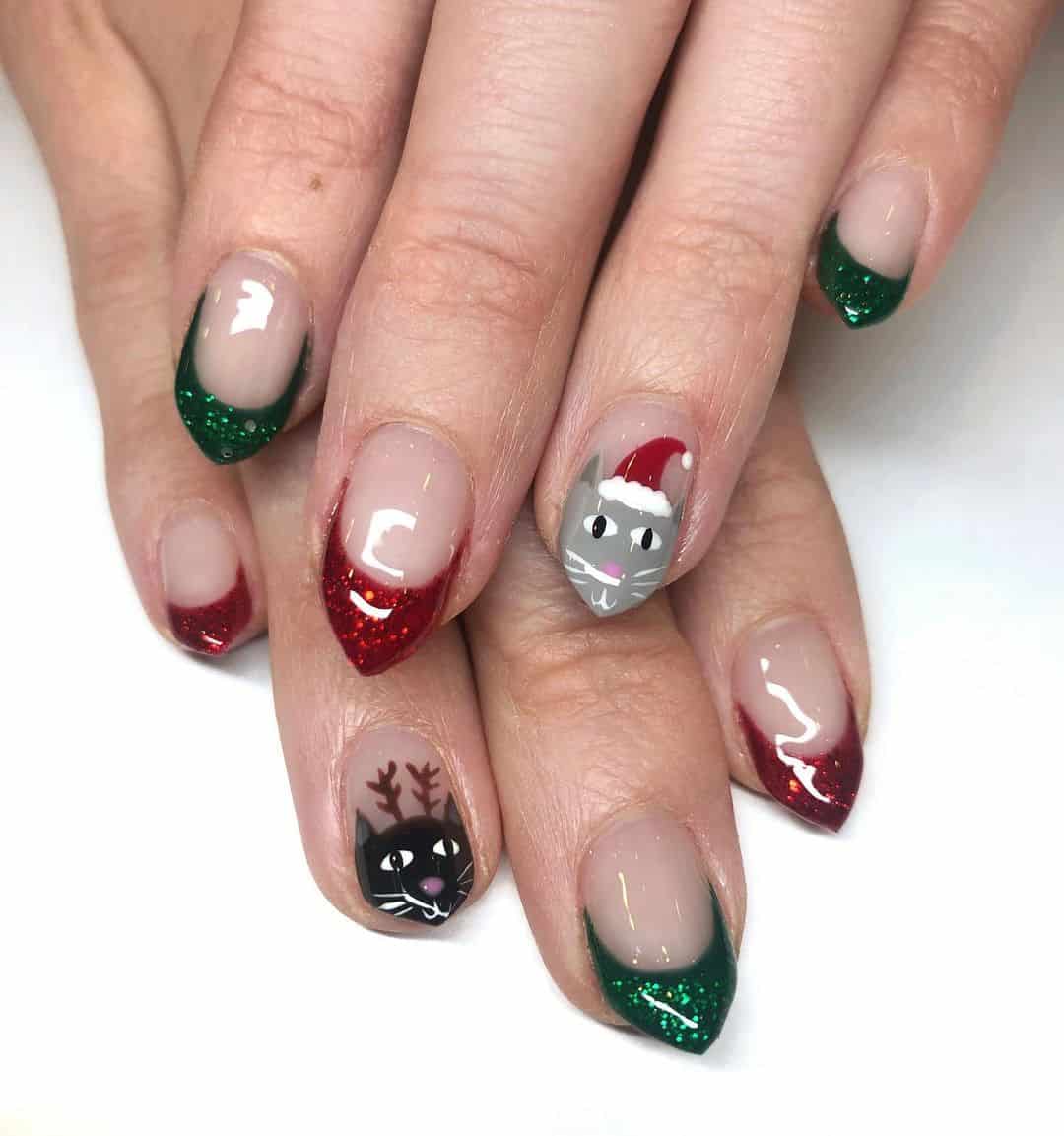 If your cat is the protagonist in every aspect of your life then by all means it should be the main star of the Christmas holiday as well. This design combines glittery tips with some adorable peeking kittens. You can make the cats any color and even add as many cats as you want to honor all your furry friends. As long as you don't have more than 10, otherwise, they'll have to start sharing nails!
Little tip: add a few paw prints here and there to make this design even more cat friendly.
33. Christmas Light Nails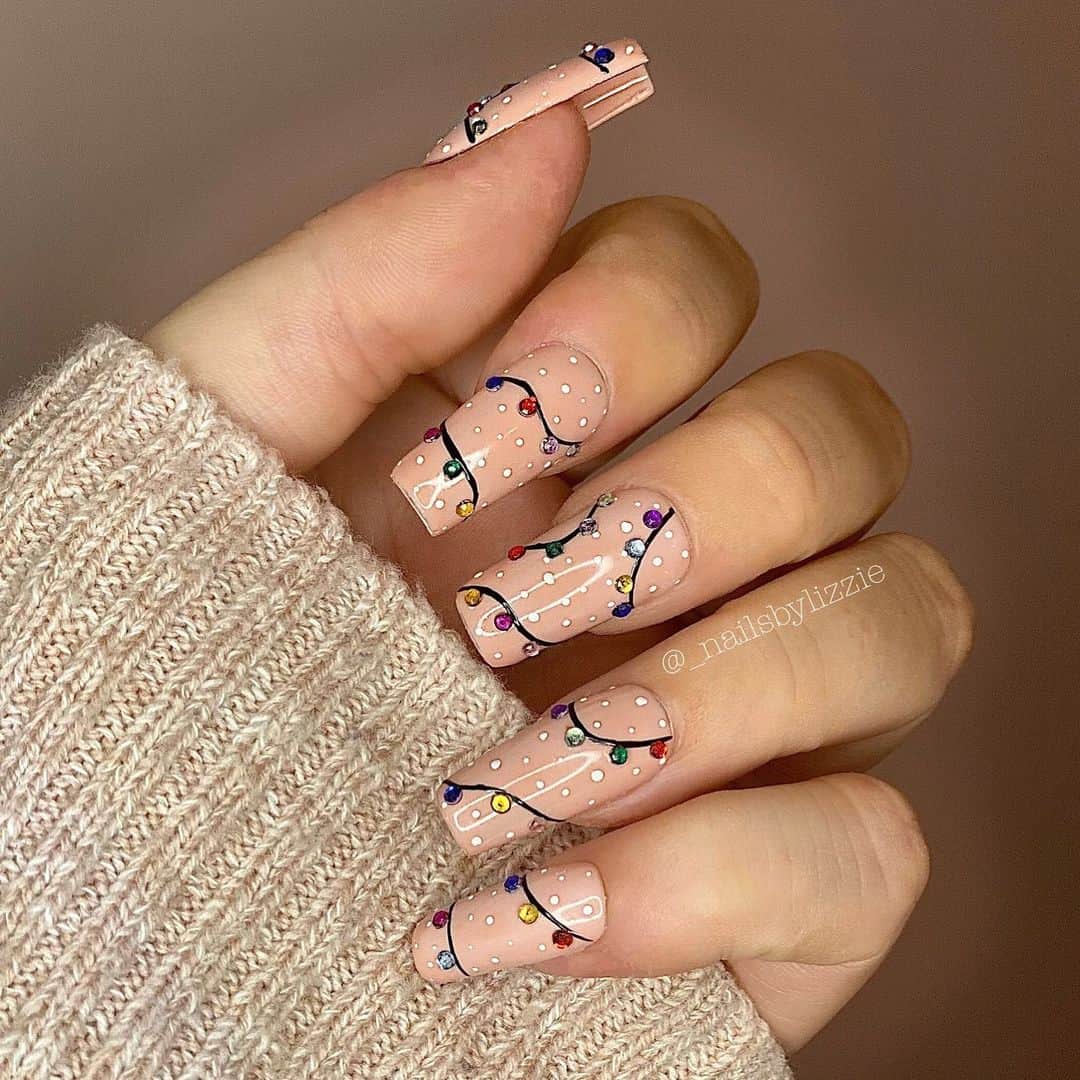 This design is entirely dedicated to Christmas lights, and it's stunning. The lights stand out from the nude background whether you make them with jewels or you decide to just add simple dots of color. These are fun and truly fit any outfit and occasion since the nude background doesn't bind you to a specific set of colors on your wardrobe.
34. Bold Grinch Christmas Nails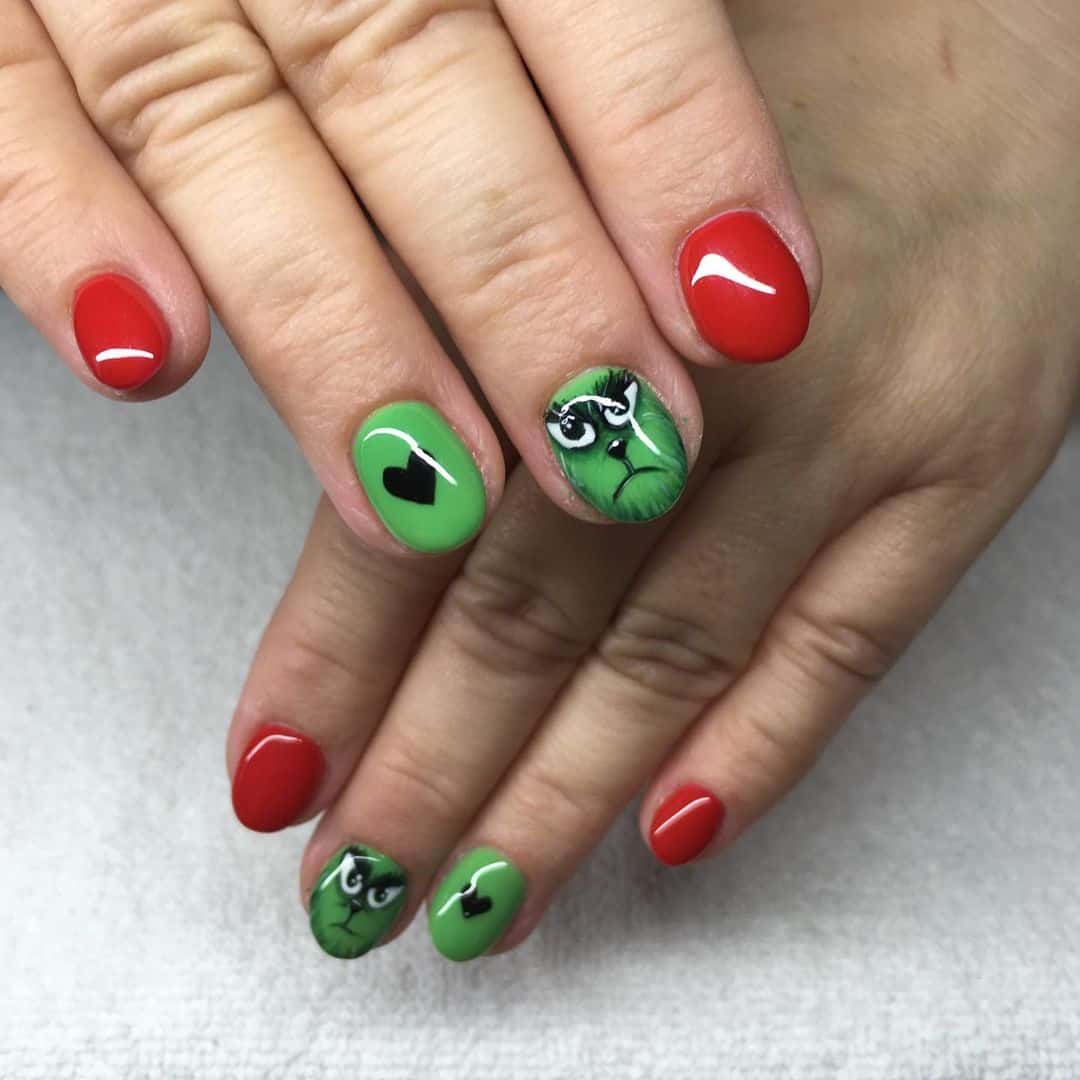 If you love the Grinch and short round nails are your usual choice, this design would be a perfect match for you. You have the green and red to make it Christmas official but then Grinch takes central stage by making one of your green nails his face. If you want to use it on longer nails, preferably stick to an oval shape. This style may not fit into fancy events, but if you're a relaxed and fun person it will brighten up your day-to-day life.
35. Classy Mistletoe Nails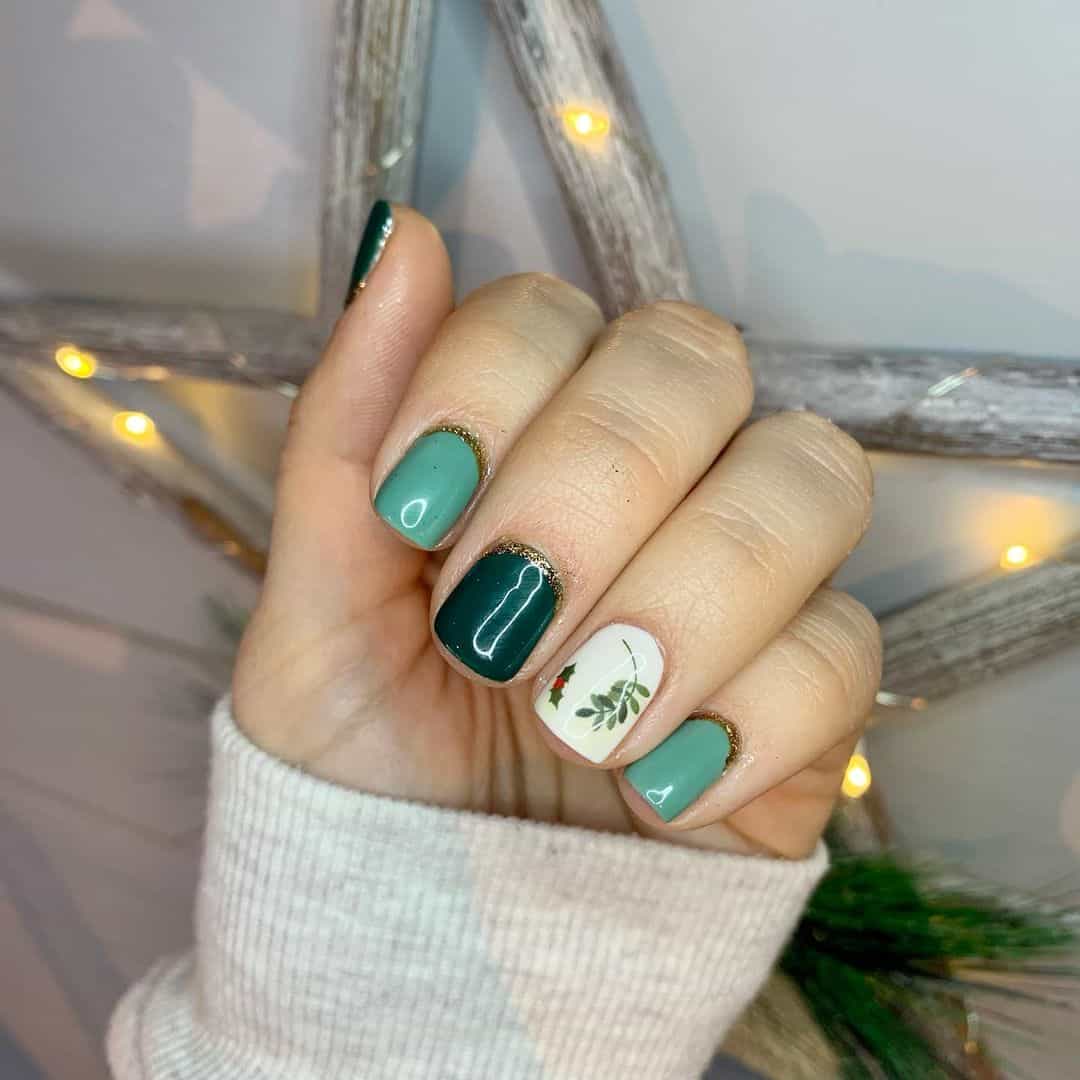 This design shows a mixture of different shades of green that work well together. The golden glittery cuticles give this look some class and the mistletoe on the ring finger is the cherry on top. Everything about this design packs a punch – it has simplicity, it has class, it has fun, it has sparkle. What else can you ask for?
36. Girly Christmas Nails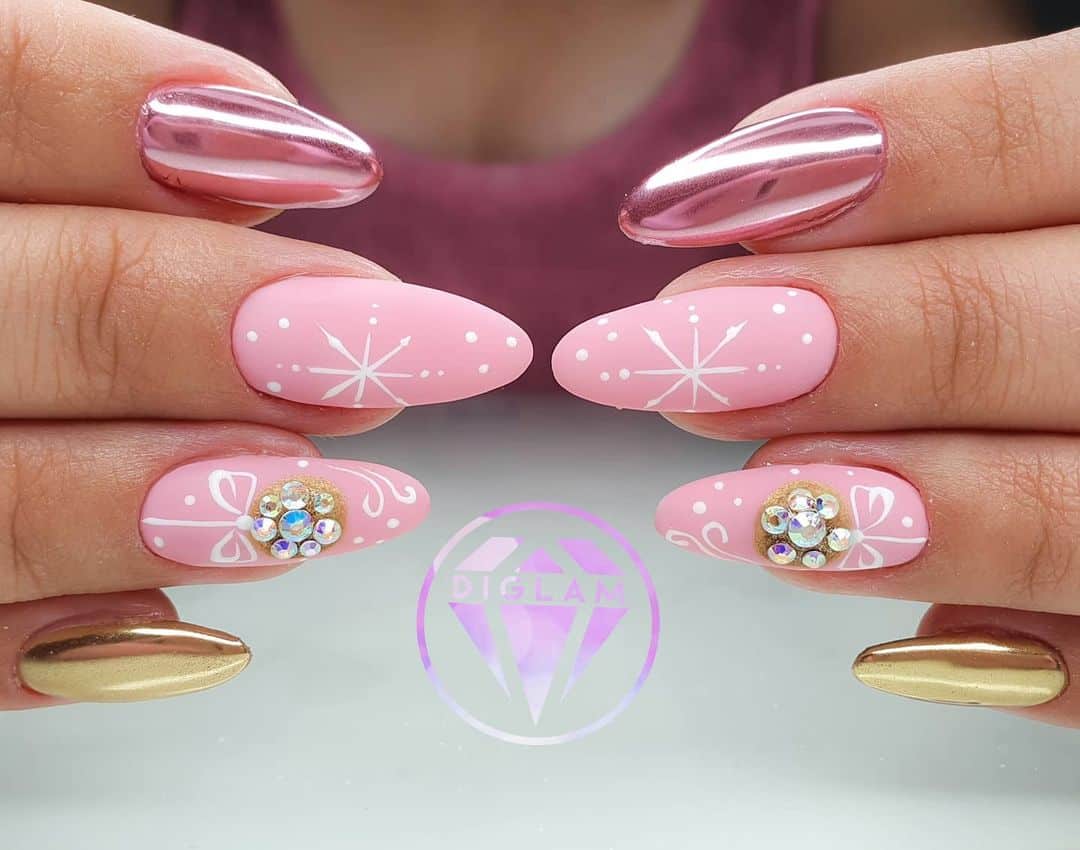 This design is pure cute girly glamour, but what makes it Christmassy are the ornaments and the jewels. Perfect for a girls night out more than a family gathering, although the look would fit both occasions. Some of us just like being feminine all year long, no matter what month it is.
37. Starry Night Christmas Nails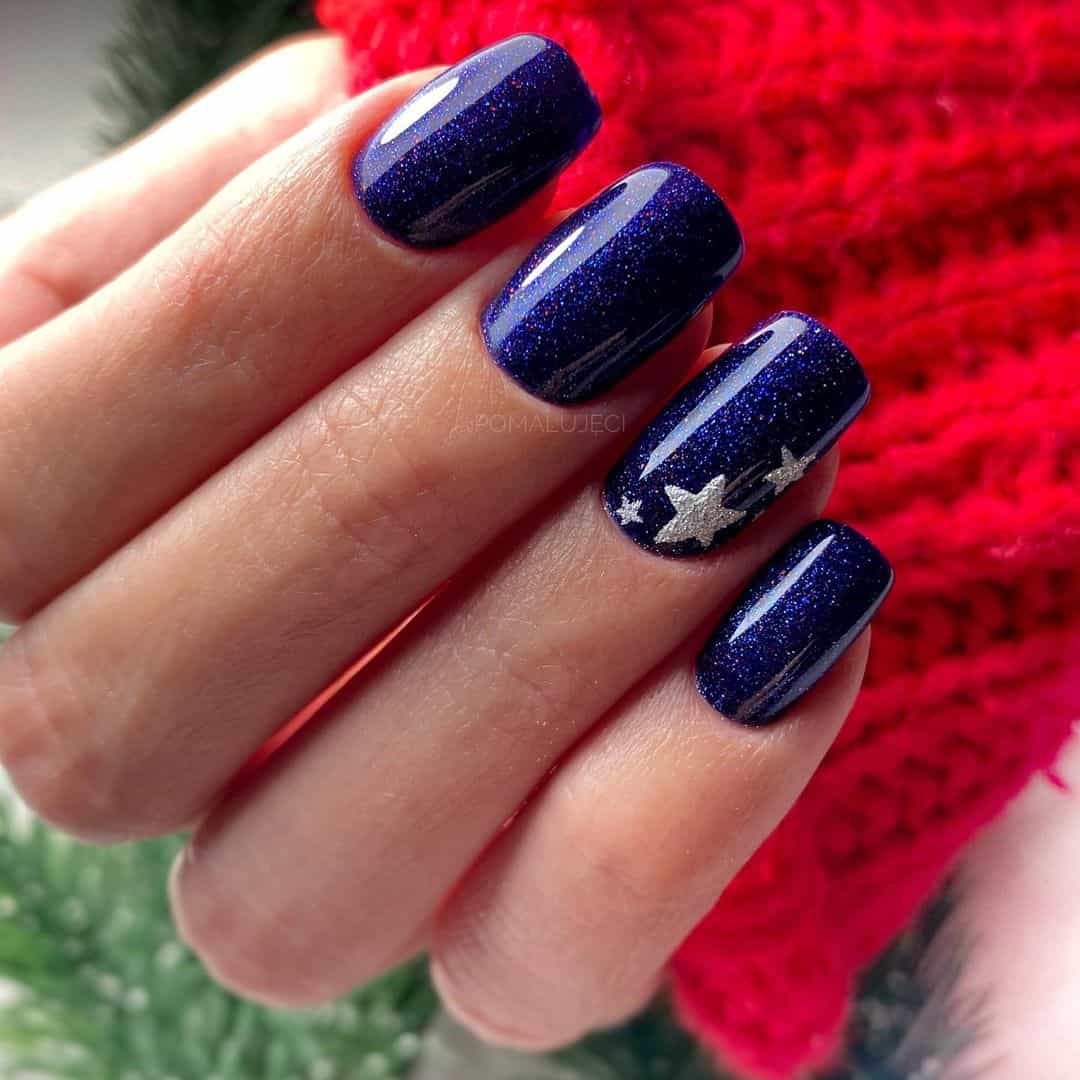 A great example that a simple design can take you anywhere. This fits every occasion perfectly, and it is as Christmas-themed as it gets! Stars have great meaning and are an important feature in the Christmas story. So for a casual but glamorous look that also means something, this is the design to go. Another upside to it is that it's so simple that it will have the same effect no matter the length or shape of nails you choose.
38. Christmas Present Nails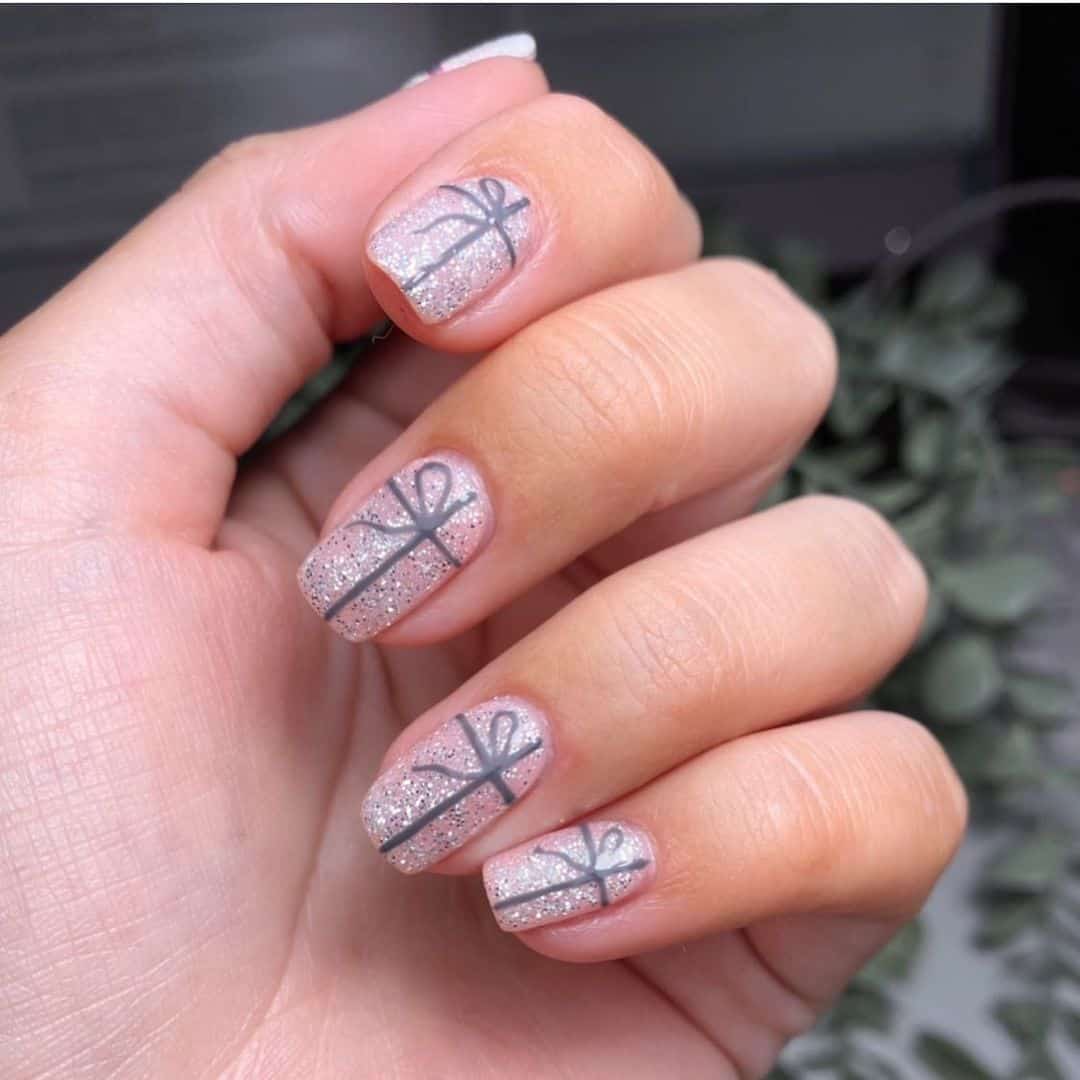 Dinner with family is nice. Partying with friends is great. Socializing with co-workers… can be pleasant. But really, the best part of Christmas is the presents! This design can be done by you, even if you're not a professional. Use any color for the base: just pick your favorite. You can even use more than one color. Then just add some bows and string, and there you have it: a beautiful Christmas nail design that will work on any length and shape – albeit a bit bold on a stiletto.
39. Nightmare Before Christmas Nails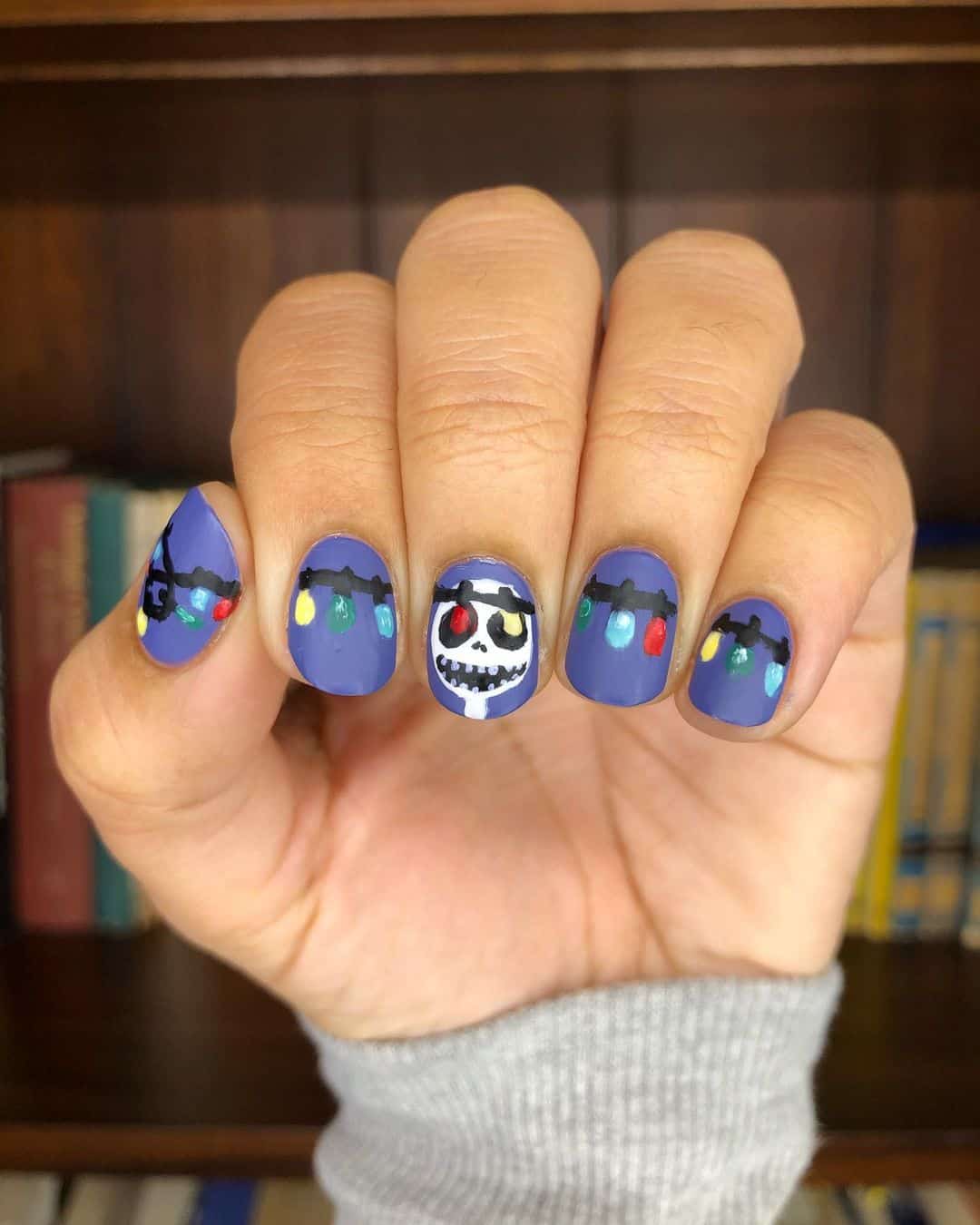 Tim Burton's style is an acquired taste. Those who like it really love it. Those who don't like it really hate it. If you're one of the people who love it, then there is so much you can do if you want some of Tim Burton's elements on your nails. This one features Jack from "Nightmare Before Christmas" alongside some Christmas lights. It's simple, cute, and it can spark some fun conversations.
40. Minimalist Santa Nails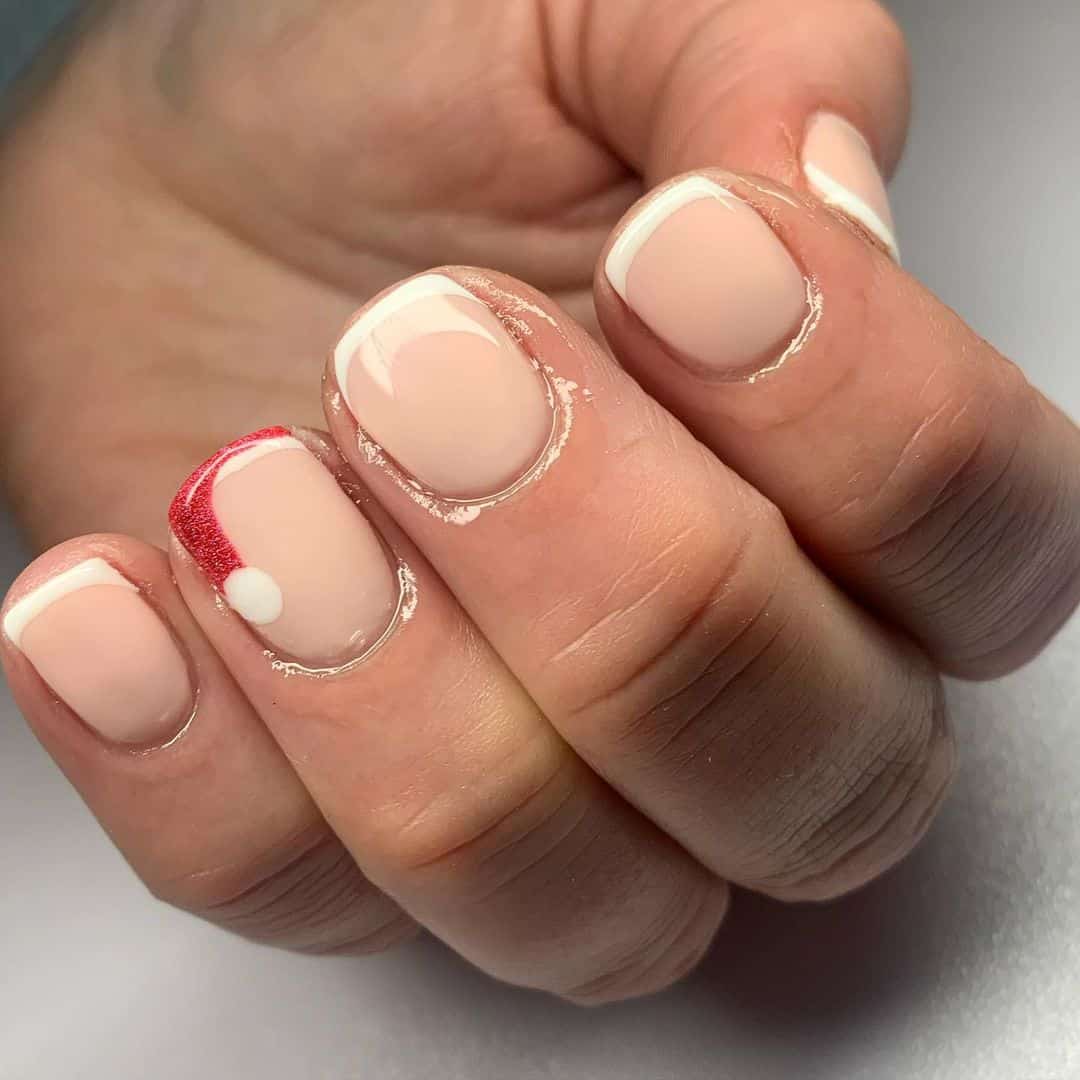 If you prefer to abide by minimalist looks, whether it be your outfit, your makeup, or your hairstyle, this is the perfect design for you. It's as minimalist as it gets: in fact, it's barely there. But once you notice Santa's hat, it's such an adorable little detail that pays homage to the holidays.
41. Mickey Mouse Christmas Nails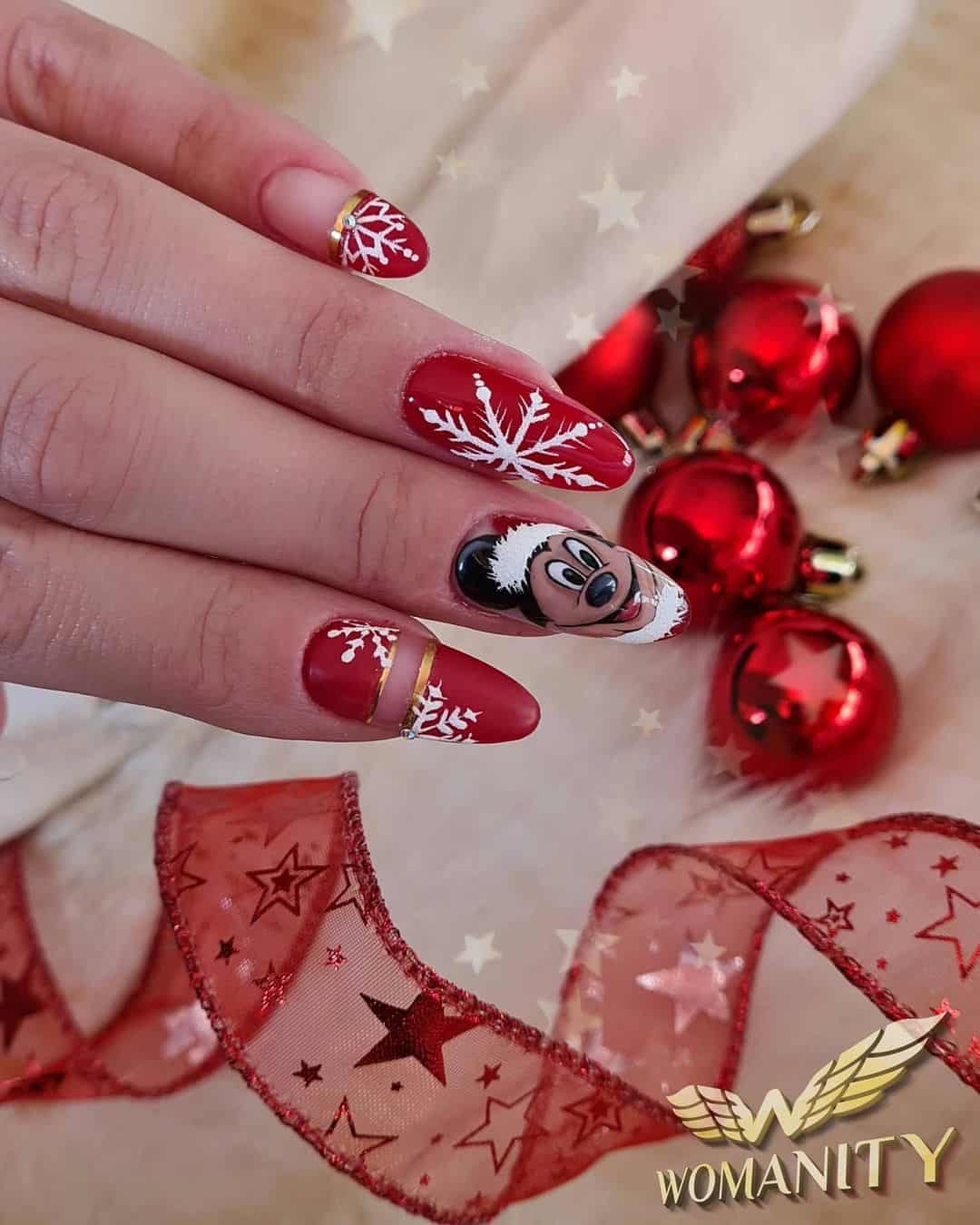 Disney in itself is already such a magical thing. It's part of everyone's childhood, and it has made everyone's lives a little bit brighter at least once. This design has everything – snowflakes, lots of red, and even a hint of gold, but the most important element is Mickey rocking a beard and hat, Santa-style.
42. Matte Gingerbread Nails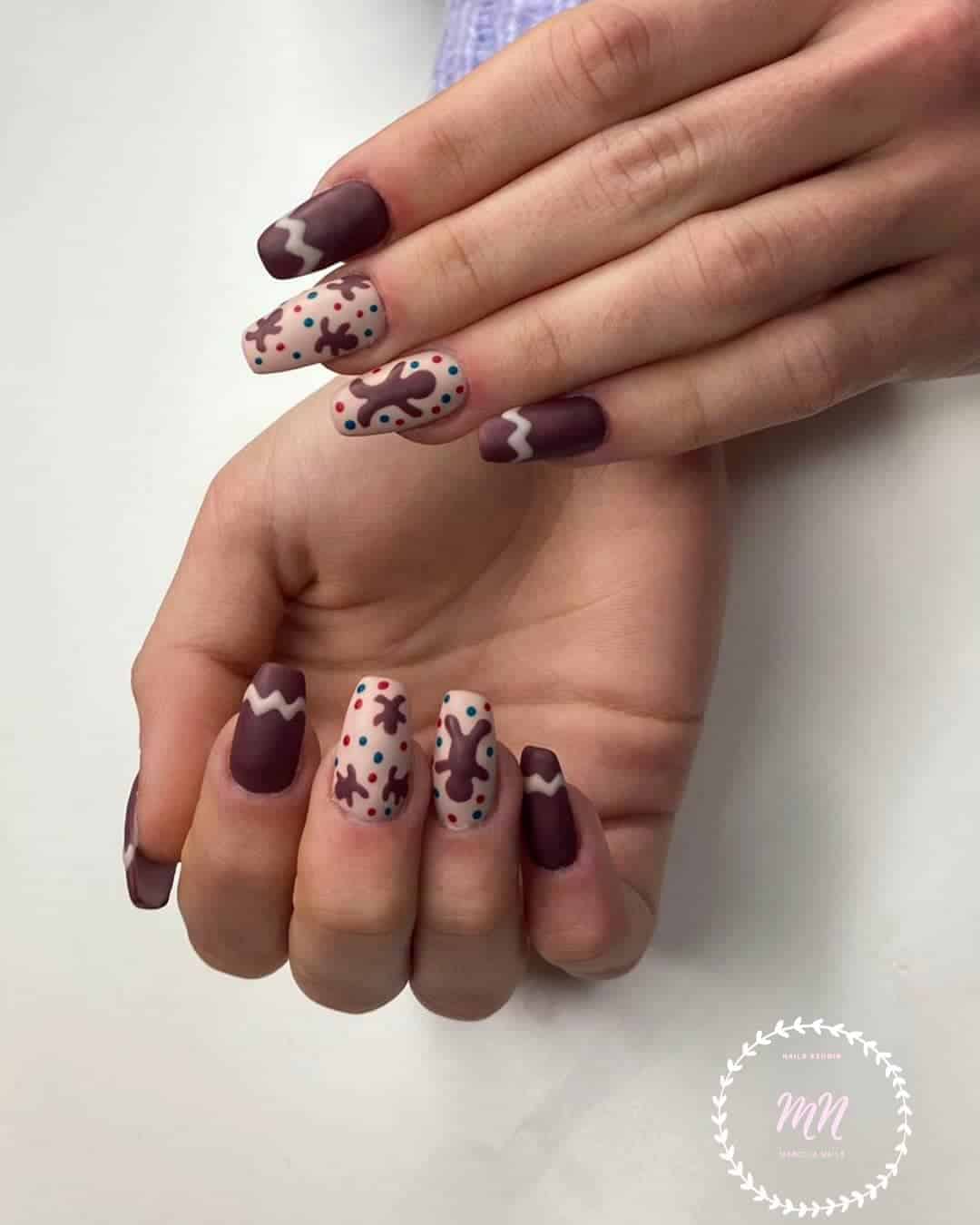 Here's another one for those whose favorite part of Christmas is the biscuits and pastries. It offers a super fun look with all the little gingerbread men and sprinkles, but it also stays chic by making everything matte.
43. Christmas Elf Nails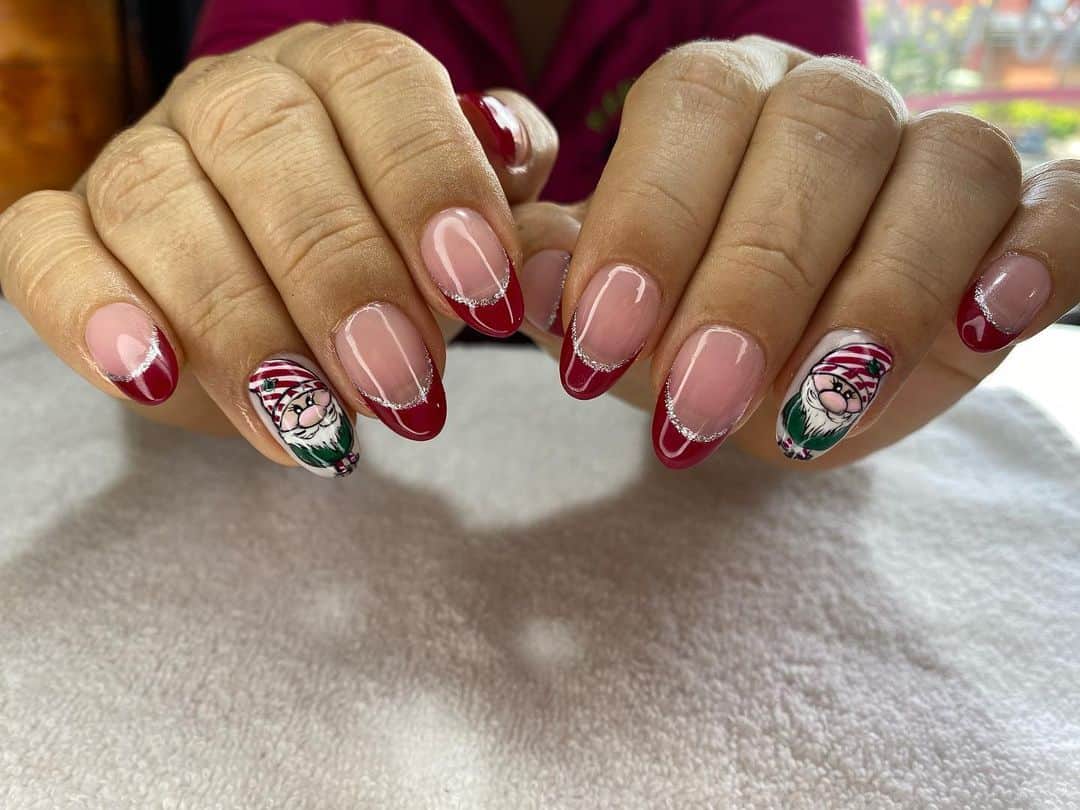 This nail design features an adorable little elf along with red tips and silver glitter, making this design as Christmassy as can be. With an adorable elf on each ring finger, the entire look is the perfectly cute without being overly childish, making it perfect for every occasion from your office's yearly party to a girl's evening with your best friends.
44. Powerpuff Girls Christmas Nails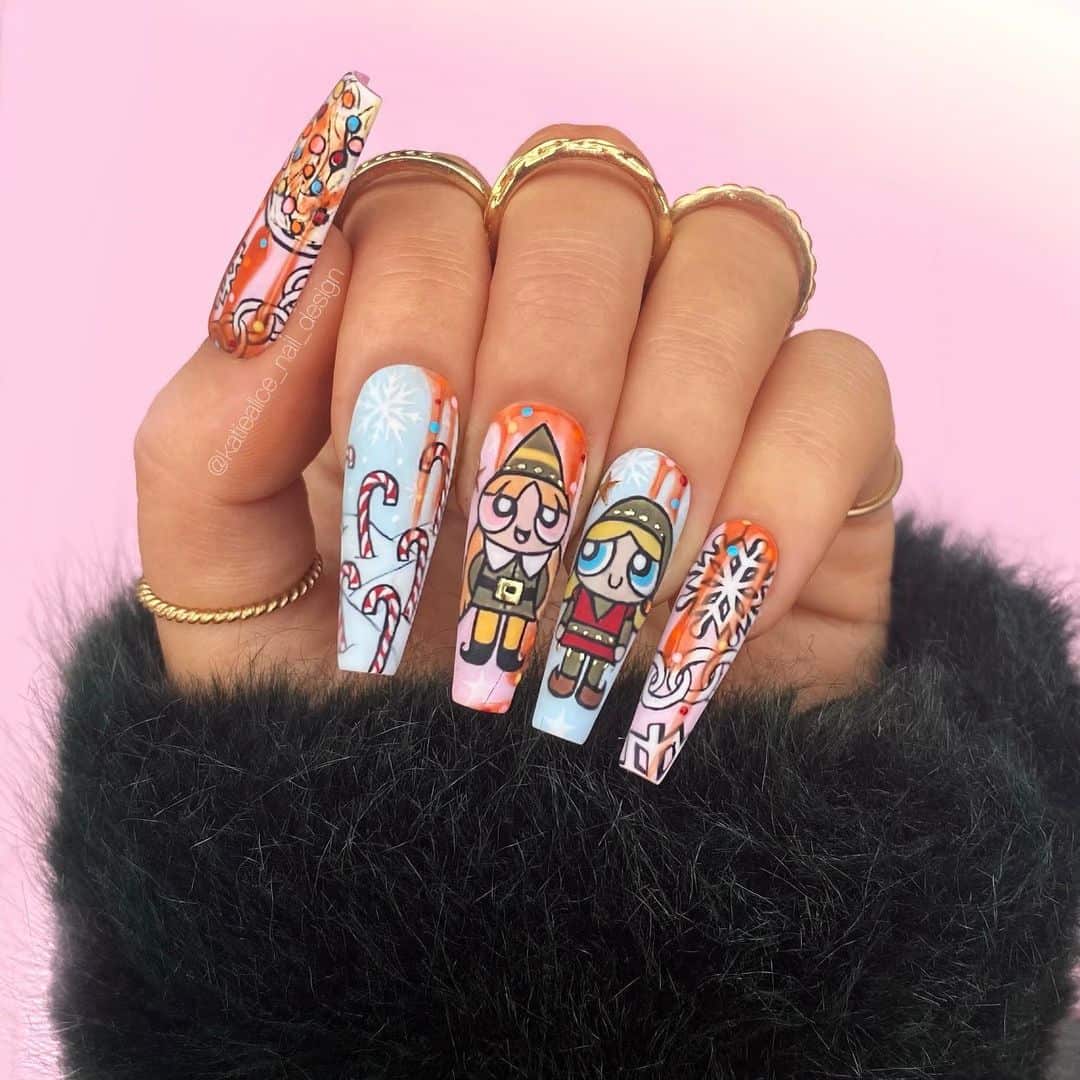 This is proof that you can make anything be about Christmas if you add costumes, snowflakes, and candy canes. Have you ever thought about the Powerpuff Girls as Christmas symbols? It works better than you might expect, which goes to show that with a little imagination you can adapt any of your favorite characters to fit the occasion.
45. Knit Christmas Nails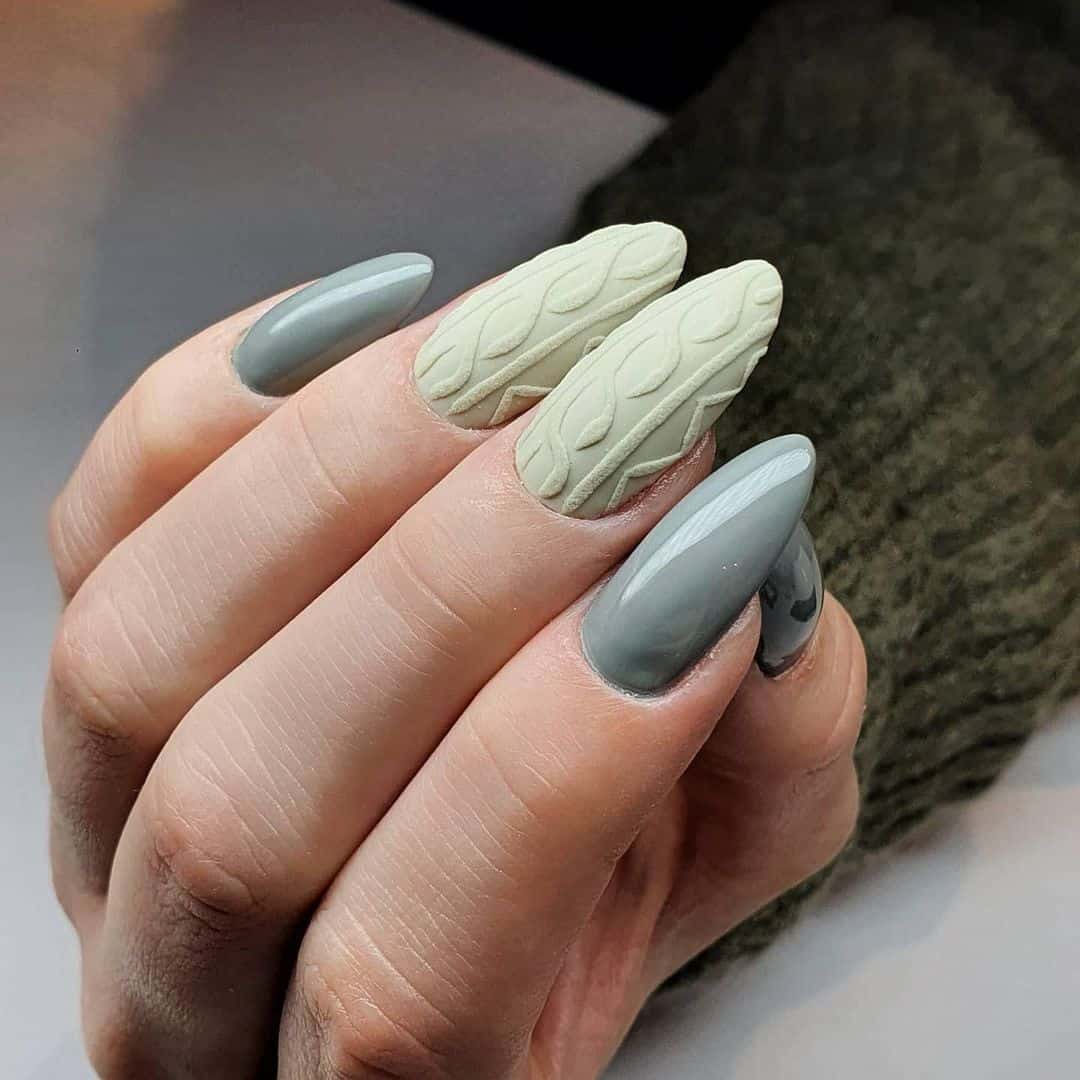 The trend to make nails look knitted has been ongoing for a while, and it seems like its popularity is growing. This technique is featured in all sorts of looks, and it can be added to Christmas-themed designs too.
This one is just a simple design with no specific theme. But as you can see, it would fit the season because it conjures a feeling of warmth and comfort. If you don't want to obviously cater your looks to the time of year but still want a little Christmas cheer on your nails, give this one a try.
46. Christmas Mandala Nails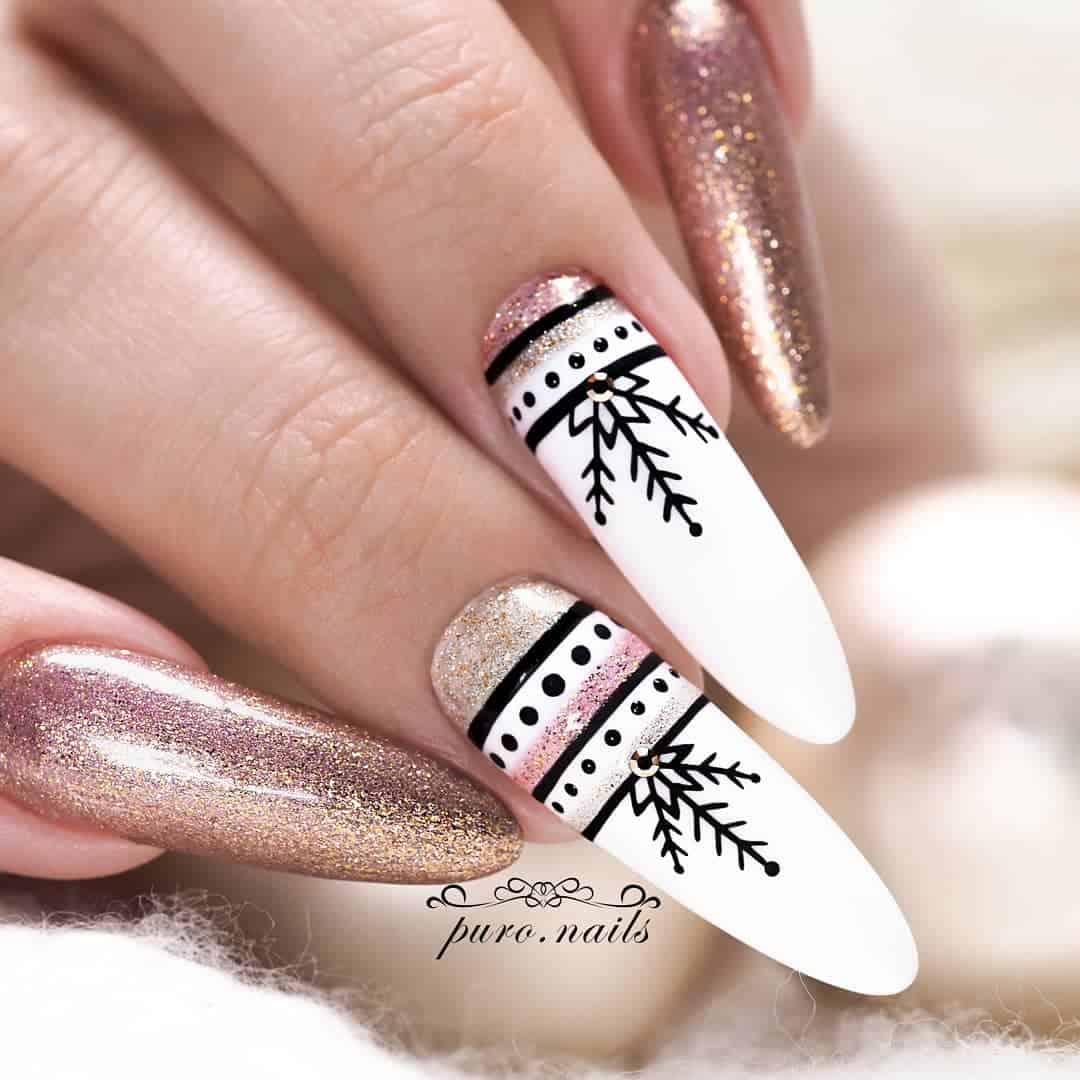 Mandalas are geometric patterns that represent the cosmos. It's a spiritual symbol in Hinduism and Buddhism, however, mandalas are extremely popular everywhere because of how visually appealing they are. This design not only has mandala-esque elements, but it also has sparkly golden nails so the Christmas spirit isn't lost entirely.
47. Winter Wonderland Nails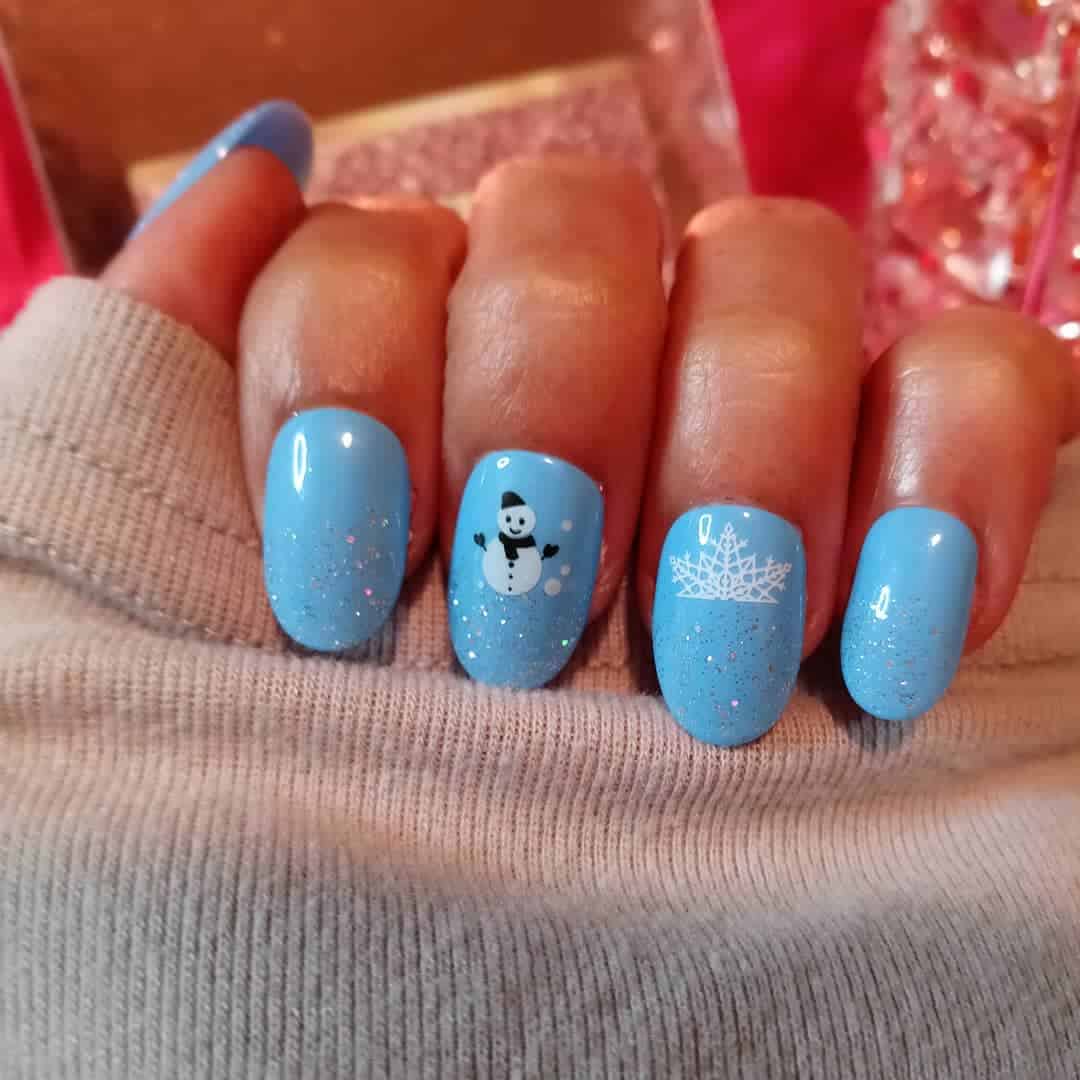 This design goes all out with glitter, a snowflake, and a snowman, not to mention the blue background to give a feeling of serenity, calmness, and cold. This is an ideal choice for those who want to fully enter the Christmas spirit but prefer the color blue to the usual red, green, and glitter.
48. Polar Bear Nails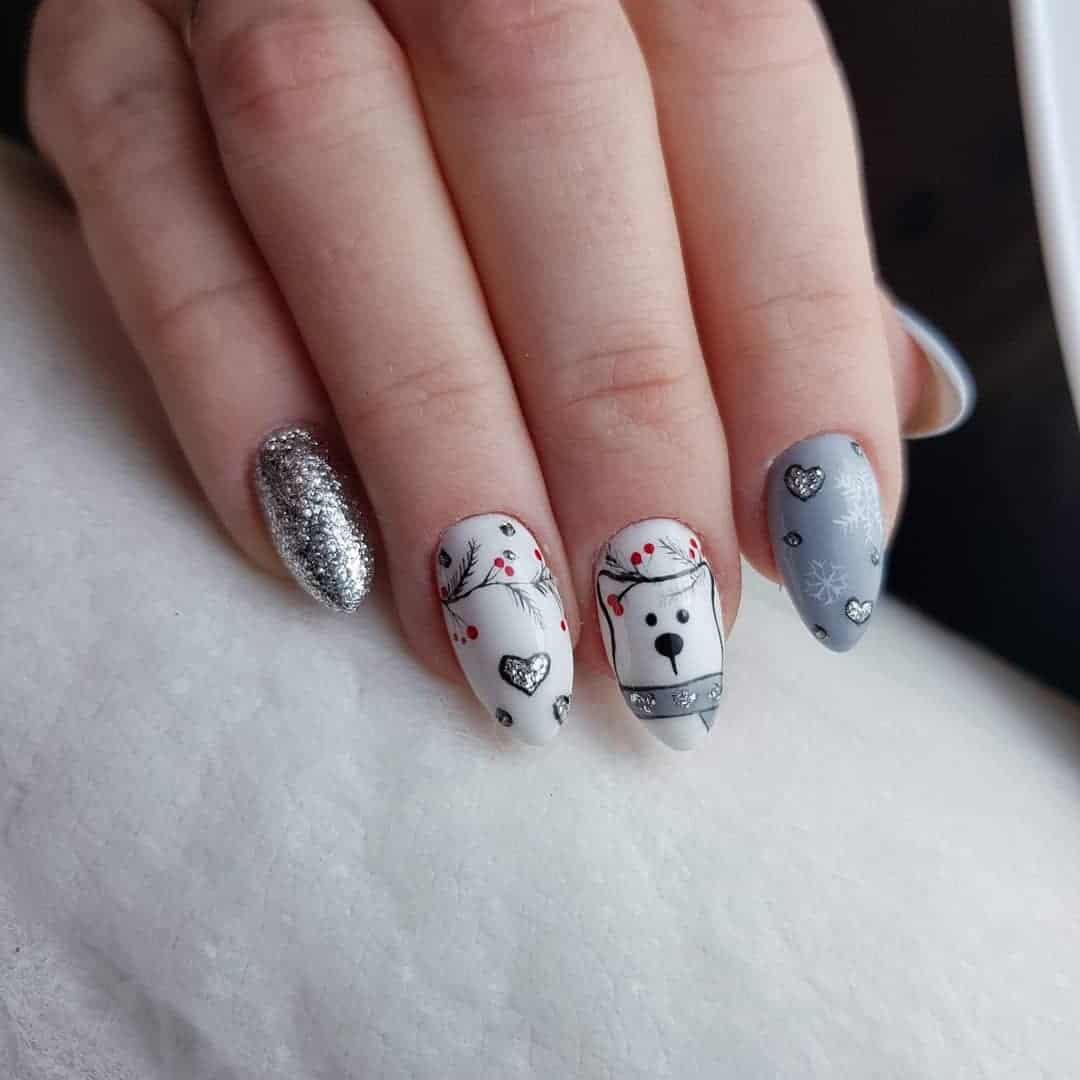 This silver- and white-dominated design is perfect for the season, plus, it has an adorable polar bear for those who don't like the usual Christmas symbols. It would work with a penguin, too, if you like those! The tiny red dots splash this look with just the tiny bit of color it needs to bring it to life.
49. Orange Snowflake Nails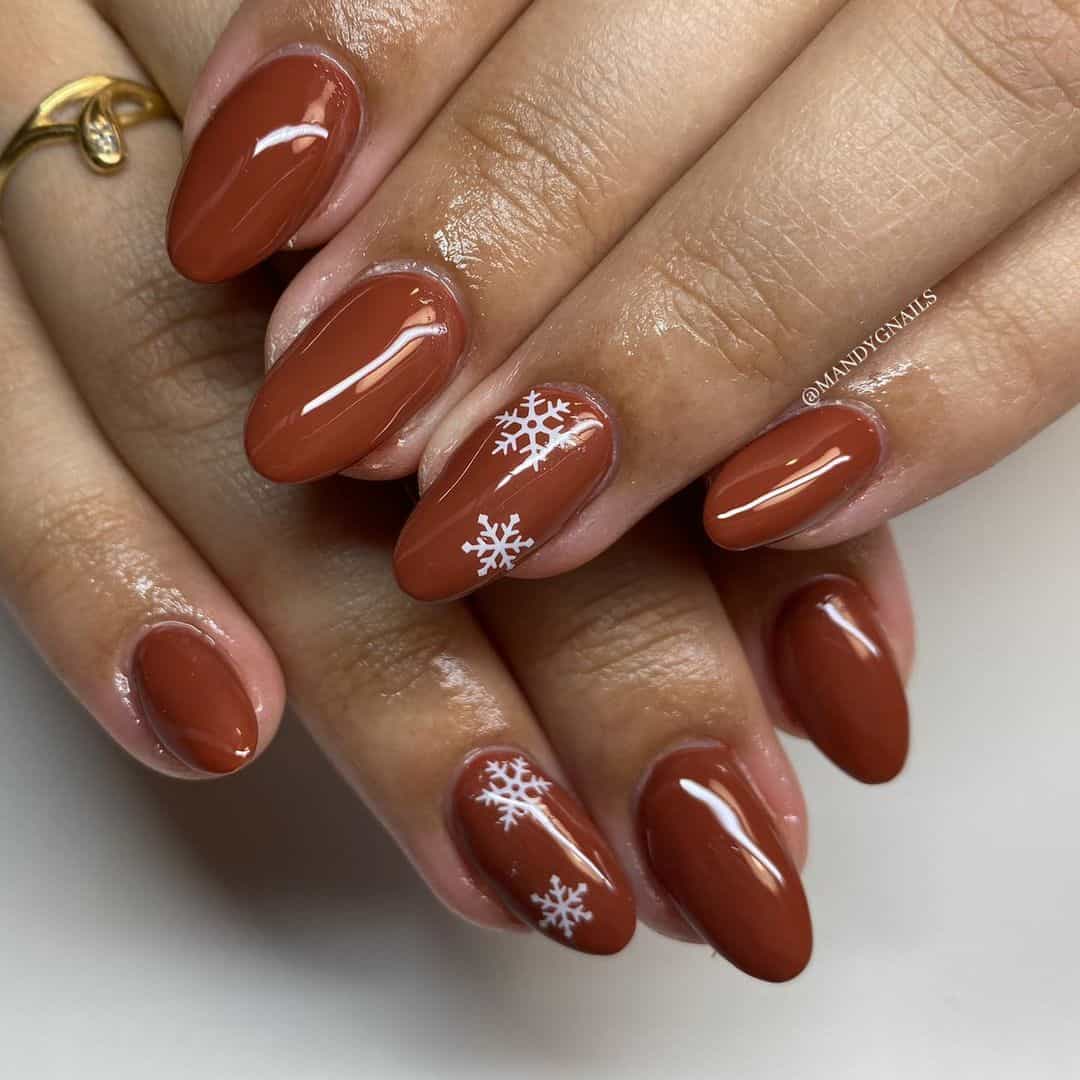 You may think there's no place for brown, yellow, or even orange in Christmas designs, but have a look at how a snowflake can make any color fit the season! Don't shy away from wearing your favorite colors just because they aren't traditional.
50. Understated Christmas-Colored Nails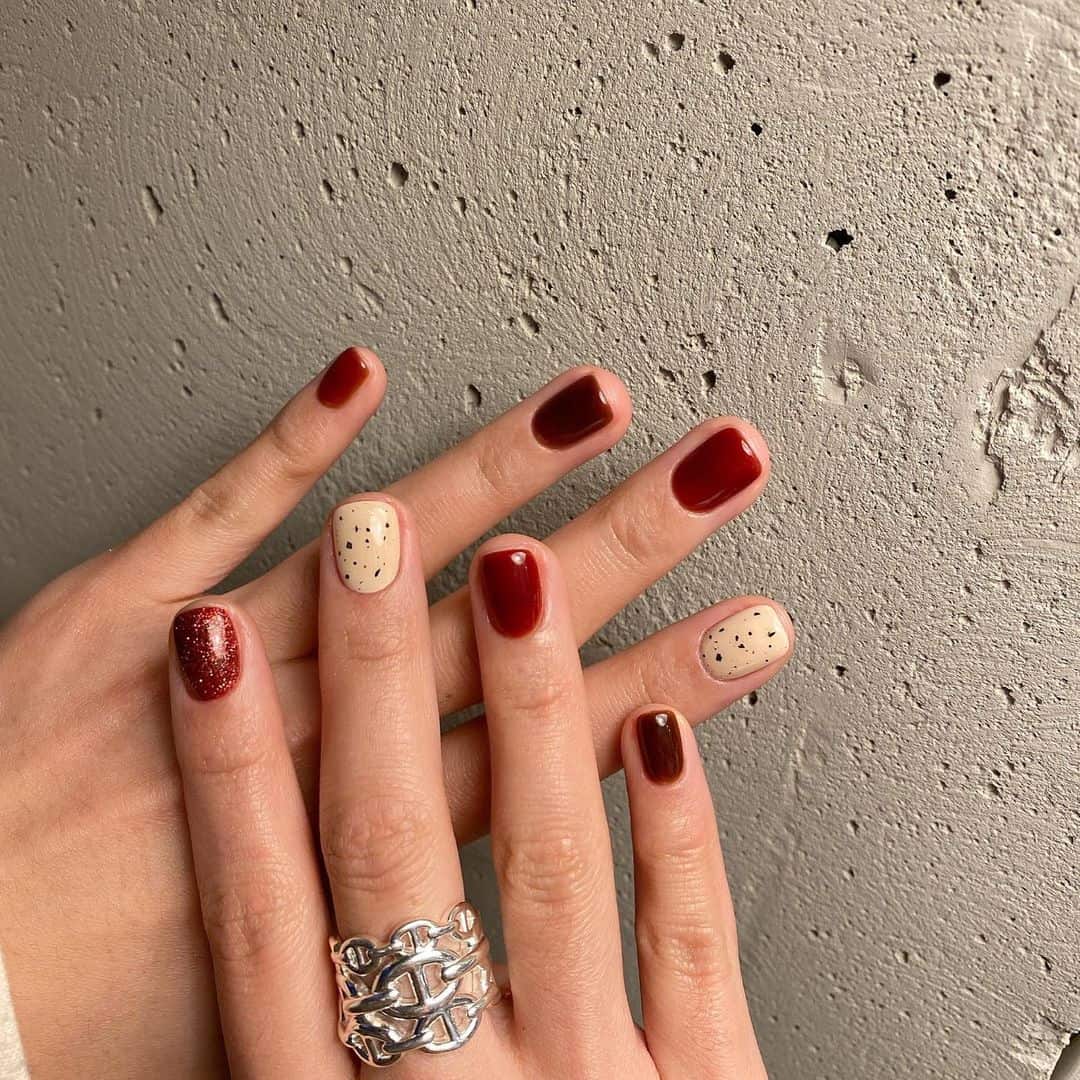 This look doesn't exactly represent any specific symbol of the holiday, but the colors and patterns resonates with Christmas perfectly. It fits any outfit and any occasion. It's definitely the way to go if you want a look that makes you shine without referencing the holiday directly. There are no barriers to how you can use this either, any shape and length work as long as you love it.
You're Never Fully Dressed Without a Festive Manicure
It can be a daunting experience to choose the perfect nail design, mainly because usually and hopefully, whatever you choose it will stay with you for a while.
Perhaps it's about time to try and learn how to do your own shellac manicure or maybe you know someone interested in it, you can get yourself or them a beginner's kit and you never have to worry about when and where to get your next manicure.
Not every design goes well with every shape and length so the most important thing is to decide that before making any choices. Christmas time and Halloween are the holidays that call for a more catered approach when it comes to wardrobe, makeup, and manicure choices because of how many distinguishing elements there are to them.
Of course, you can still wear anything you wish no matter the season but it's much more fun to fully adhere to the spirit and use designs that you wouldn't any other time of the year. Plus, a thematic nail design makes all the difference—so have some fun. Merry Christmas!